Chris Stout
Posts by Chris Stout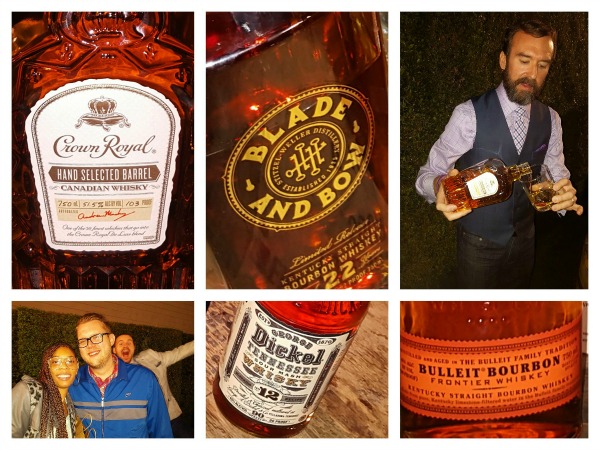 A couple weeks back, we attended the Diageo Whisk(e)y Showcase at the Jimmy Kimmel Backlot. It's always great to catch up with old friends. And I don't just mean Dickel, Bulleit and Crown. There was solid representation from the OG Crown Royal Indy crew. Nobinger was wearing a nice jacket. Hanging with Whiskey Master Stephen Wilson is always a good time (lookin' good, Steve!). Adam Perry Lang served up some of his finest signature barbecue dishes. I have extra-fond memories of this man's brisket game from that 2013 #PocketBrisket moment where I seriously considered smuggling BBQ meat in my pockets so I could enjoy more brisket at the conclusion of a Dickel Whisky tasting event that was also held at the Jimmy Kimmel Backlot.
Anyway, aside from all the friends and good eats, we had a purpose – a real genuine purpose – and that was to sample and talk about some of the finest whisky/whiskeys on the market. So let's get into it.
Crown Royal Northern Harvest Rye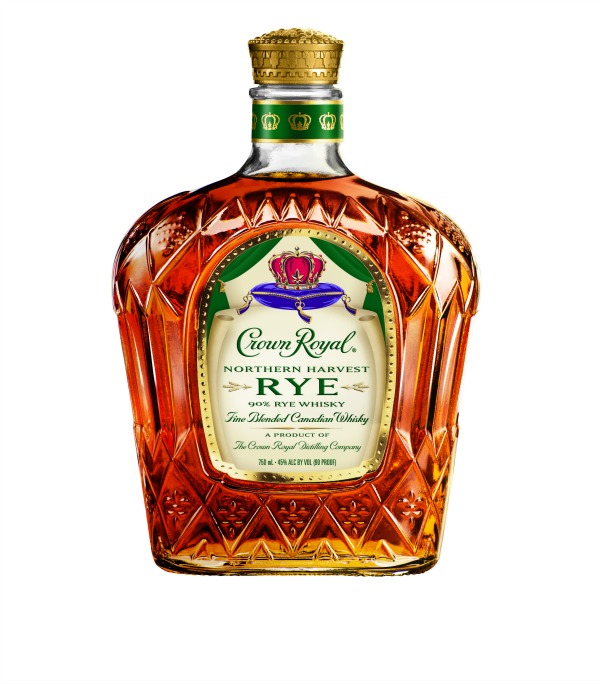 What if I told you that the 2016 World Whisky of the Year can be had for 27 bucks at BevMo? Crazy right? Well according to the 13th edition of Jim Murray's The Whisky Bible, that's what's up. Murray selected Crown Royal Northern Harvest Rye as his top whisky of the year with a score of 97.5 out of 100. This rye isn't a full rye. It's made from 90% rye whisky and new blended whisky from the distillery in Gimli, Manitoba. You can sample this stuff neat, on the rocks, with a soft drink mixer or include it in a classic cocktail. It really doesn't matter. This is a mellow, versatile, user-friendly rye that will make even the most snooty whisky lover pause and take notice. If you need to show up to someone's place this holiday season with a spirit gift in hand, why not choose the under-$30 bottle that comes with a nice side-story of being the world's best whisky for 2016?
Blade and Bow 22-Year-Old Kentucky Straight Bourbon Whiskey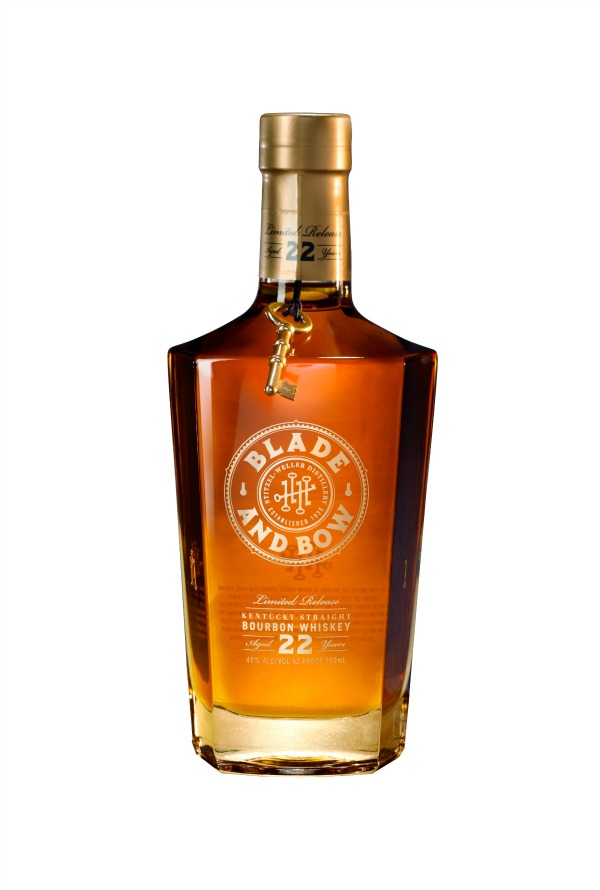 Gerry Graham gave us the lowdown on the Blade and Bow 22, which took home Best Straight Bourbon and Double Gold honors at the 2015 San Francisco World Spirits Competition. Released by Stitzel-Weller, a distillery which has come into possession of some amazing historic whiskeys, this limited release caters to those who who want an extra kick of oak with their smooth whiskey finish. Some people like peety Scotches and some people like oaky whiskies. This finely packaged liquid includes whiskeys distilled at 17th and Breckinridge in Louisville (current address of the Bernheim Distillery) and the distillery historically located at 1001 Wilkinson Blvd. in Frankfort, Kentucky (which is the current address of the Buffalo Trace Distillery). If you need to find a gift for a whiskey archaeologist who can appreciate the limited/historic nature of curated warehouse barrel finds, Blalde and Bow 22 is the answer.
Bulleit Bourbon

Remember when you couldn't find Bulleit anywhere? Now it's a go-to selection for sipping or cocktail construction. And for good reason. We've written about our fondness for Bulleit at length in this space. Here's a post that should sum up our feelings nicely. Bottom line, you can't replicate the value, the utility and the warm reception that you get when you bring frontier whiskey to any party. Whether you go Bourbon, Rye (95% rye and my personal favorite) or 10-year, people will be happy to receive you when you arrive to a holiday event with Bulleit in your hand.
George Dickel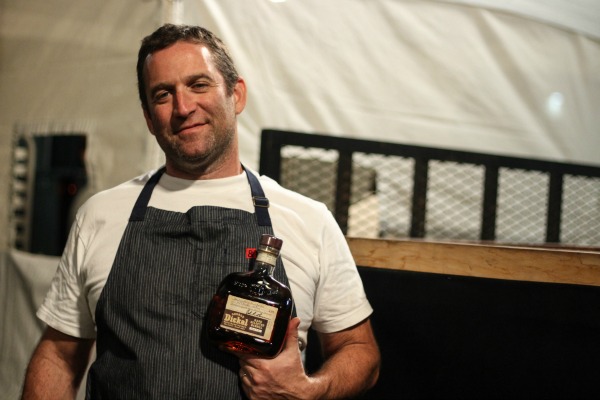 What do you get the foodie fella who appreciates whisky as much as good eats? Well that's simple. Grab a copy of Adam Perry Lang's Serious Barbecue and throw in a bottle of George Dickel. And if you want to see how this whisky plays nice with BBQ sauce, check out this video from the man himself:
Crown Royal Hand Selected Barrel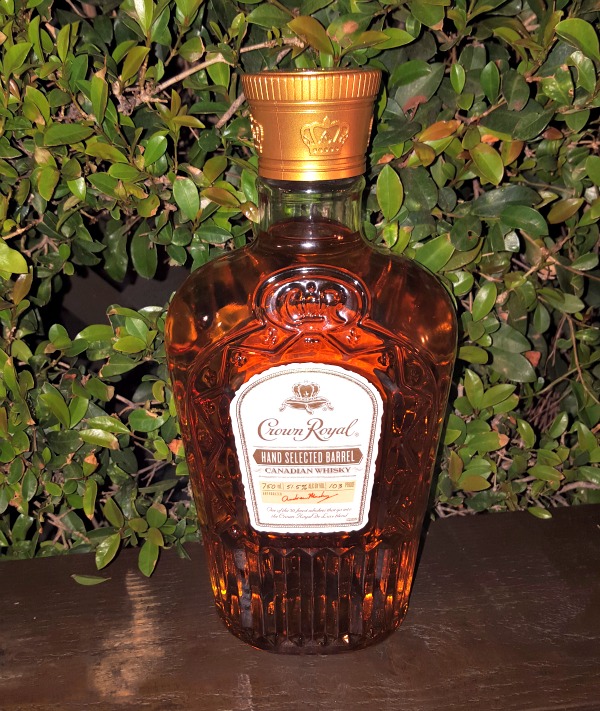 I don't know what it was about the festivities of the night, but for me the star of the Diageo Whisk(e)y Showcase was the Crown Royal Hand Selected Barrel. It's much more affordable than the Blade and Bow 22. It doesn't come with the same accolades as the Northern Harvest Rye. I don't have the same shared personal history with this liquid as I do with Bulleit and Dickel selections. Maybe it was Whisky Master Steve's company that kept me going back for more. I just recall that this whiskey was full-bodied, crisp without kicking your butt and it had a rich, vanilla nose and a firm-but-silky finish. For less than $60 a bottle, it's worth picking up this straight-from-the-barrel sample of Crown's signature Coffey Rye Whisky.
And if all these individual whiskey tasting notes weren't enough to steer you in the right direction, here are some cocktails from the fine mixologists at Scopa that should really put you in the holiday spirit:
Dickel in December

1.3 oz. George Dickel No. 12

0.75 oz. lemon juice

1 whole passion fruit

1 egg white

0.5 oz. honey syrup

Cinnamon on top
Shake/ strain into cocktail glass/ microplane fresh cinnamon on top
Dickel Eastern Sour

1.3 oz. George Dickel Rye

0.75 oz. Lemon

0.75 oz. Orgeat

0.25 oz. Orange Juice
Whip dry/ crushed ice/ garnish orange wedge, wedged in center drank through a straw
Bulleit Boulevardier
1.3 oz. Bulleit Bourbon
0.75 oz. Campari
0.75 oz. sweet vermouth
Orange Peel
Built/ ice/ stir/ peel
Crown Royal Canadian Rye Buck
01.5 oz. Crown Royal Northern Harvest Rye

0.75 oz. ginger syrup

0.5 oz. lime

Soda to fill

Garnish with lime wheel
Whip with 1 cube, dump contents in collins glass, ice soda to fill, stir
As always, whether you're consuming amazing BBQ, sipping on whiskey neat or enjoying some seasonal cocktails, please do it responsibly. Happy holidays!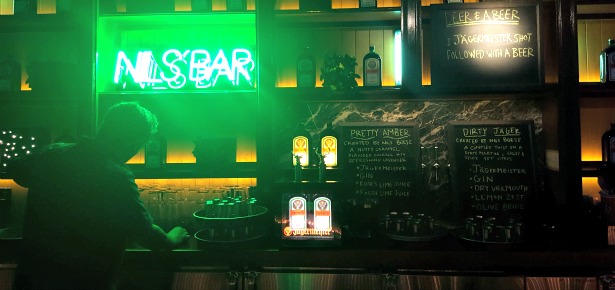 Last week we joined our friends at Jägermeister for a night of creative cocktail delights at Honeycut in Downtown LA. The Jägermeister Stag's Club event was hosted by Global Brand Ambassador Nils Boese and Brand Meister Willy Shine. Shots were had, dance moves were danced, German was spoken and various amusements were on display, including entertainment from a quality beat boxer named Austin and a Jäger-inspired art battle from artists ShaYne and Nathan.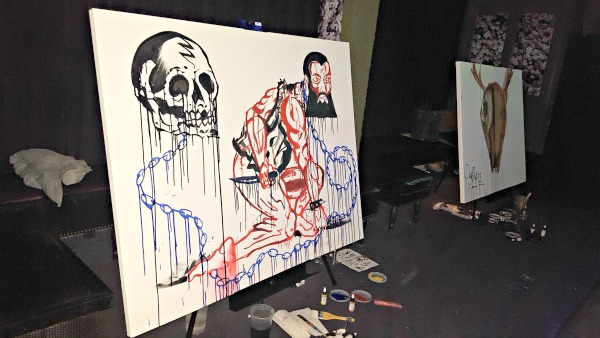 When most people think of Jägermeister, they think of shots. And for good reason.
"We still love to serve shots," Nils explained to the crowd with a thick German accent you'd expect from zee Global Brand Ambassador of Jägermeister.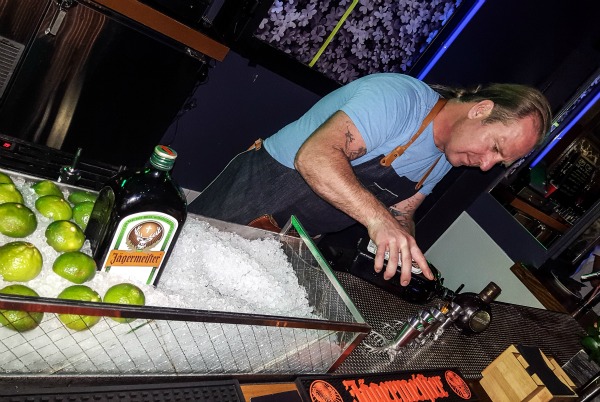 Jägermeister and it's blend of 56 different natural herbs and spices was designed as a digestive drink.
"Basically it's the reason why we are so successful," Nils said. "You drink a shot of Jägermeister and you get a clean palette. There's nothing you don't like. You get a huge amount of pleasure and taste and a nice warming sensation. It's like a warm embrace. And then, it's kind of gone. There's nothing hanging in your mouth, clawing, like you want to get rid of."
But just because shots of Jäger are so popular, it doesn't mean the German digestif can't be consumed in other ways.
"We can do better than just get shit-faced and forget about tomorrow," Nils said. "It's still a good concept nonetheless."
That's where the handy work of Nils, Willy Shine and the cocktail creators of Honeycut came in. They designed six custom Jägermeister concoctions for this event. Check out the selection:
Sacred Grove
Created by Honeycut, Los Angeles
1 part Jägermeister
1 part Brandy
1/2 part Crème de Cacao
1/4 part Dry Curacao
Mint Sprig
Stir with ice and strain into a chilled coupe. Top with smooth whipped cream and one small mint sprig.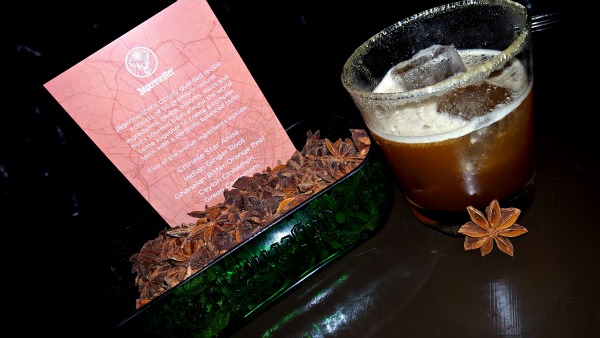 Spice Slice
Created by Honeycut, Los Angeles
1 part. Jägermeister
1 part Sweet Vermouth
1 part Lime Juice
1/2 part Pineapple Gomme Syrup
2 dashes Angostura Bitters
Orange Oil
Pineapple Wedge
Shake all ingredients and strain into a double old fashioned glass with new ice, pre-rimmed with your choice of ginger, cinnamon or pulverized orange peel. Garnish with flamed orange oil and a pineapple wedge.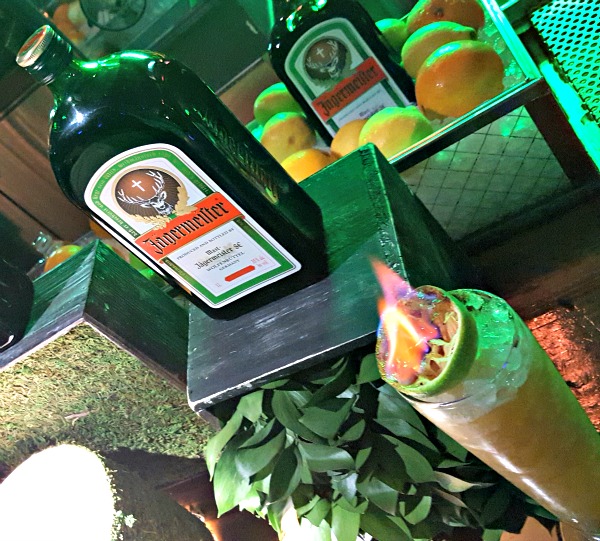 Feisty Meister
Created by Honeycut, Los Angeles
1 part Jägermeister
1/2 part Blended Jamaican Rum
1/2 part 5 Year Old Barbados Rum
1/2 part Orange Juice
1/2 part Lime Juice
1/2 part Passionfruit Syrup
1/2 part Orgeat
Float 1/2 part 151 Proof Rum in an upturned lime. Top with Cinnamon for fire show!
1/2 a Lime
Cinnamon
Whip all ingredients except for 151 Proof Rum and pour into a collins glass. Top with crushed ice and an upturned lime half. Fill with 151 Proof Rum and light on fire. Sprinkle cinnamon into the flame.
Pretty Amber
Created by Nils Boese, Jägermeister Global Brand Ambassador, Hildesheim, Germany
2 Barspoons Jägermeister
1 1/2 parts Gin
1 part Roses® Lime Juice
2 parts Fresh Lime Juice
Stir all the ingredients on ice in a mixing glass and strain in a cold coupette.
Dirty Jäger
Created by Nils Boese, Jägermeister Global Brand Ambassador, Hildesheim, Germany
2 Barspoons Jägermeister
1 1/2 Parts Gin
1/2 Part Dry Vermouth
2 Lemon Zest
2 Barspoons Olive Brine
Stir all the ingredients with one zest on ice in a mixing glass, strain into a cold coupe. Garnish with an olive and remaining lemon zest.
Mexikaner Old Fashioned
Created by Willy Shine, Jägermeister Brand Meister
1 part Jägermeister
1 part Anejo Tequila
1/2 part Agave Nectar
Absinthe Rinse
Orange Peel
Star Anise
Rinse old fashioned glass with Absinthe. Build remaining ingredients in the glass. Stir to temperature. Garnish with orange peel and star anise.
The Spice Slice was super mellow, but the Feisty Meister was definitely a winner. Who knew Jäger, rum, fruit juice and flames would play so nice together?
"I love that name," Nils said. "I'm kind of jealous, really. I have to say that. I am working my ass off for this brand and I never came up with this Feisty Meister."
So the next time you meet a bottle of Jägermeister, put down the Red Bull. Appreciate the shot for what it is, but know that with a little bit of creativity, this 80 year old digestif can be the foundation for some seriously tasty craft cocktails.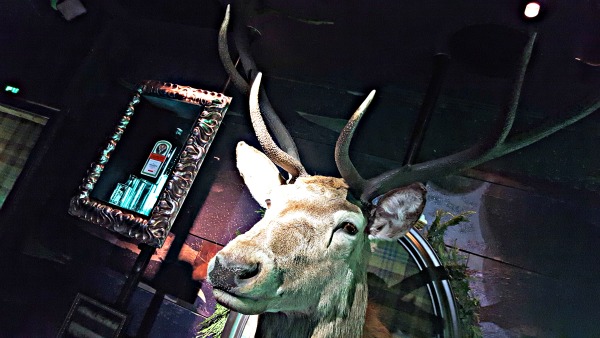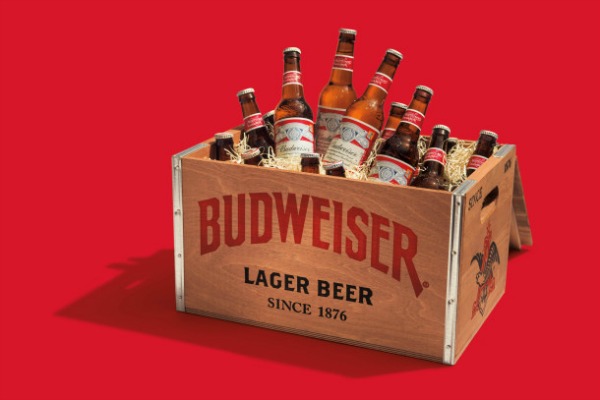 Holidays and nostalgia go hand in hand. Traditions, happy memories, throwbacks to yesteryear – these are all part of the holiday enjoyment process. Budweiser understands this well. Last year, Budweiser released 10,000 limited edition wooden crates during the holidays, and due to popular demand, they released 60,000 crates this year.
The 2015 Budweiser holiday crate is a throwback showpiece to a different time. The handmade wooden crate features classic packaging, 18 bottles of tasty Budweiser and two long and svelte pilsner glasses. The bottles are adorned with labels from 1933, the first label produced after the repeal of prohibition.
And what a happy holiday season it was back in December 1933. On December 5th, 1933, FDR announced the repeal of Prohibition in Presidential Proclamation 2065. After the the ratification of the 21st Amendment (which repealed the 18th Amendment of January 16, 1919) the long national nightmare was over, just in time for the holiday season. The failed social experiment officially went into effect in January of 1920, and 13 years later, Americans could once again enjoy their inalienable right to beer.
So this holiday season, celebrate eight-plus decades of post-repeal good times with a bit of nostalgia from the fine folks Budweiser. This crate is like a warm hug from a great grandparent. Also, it's really good for holding vinyl records.
Happy Holidays! #ThisBudsForYou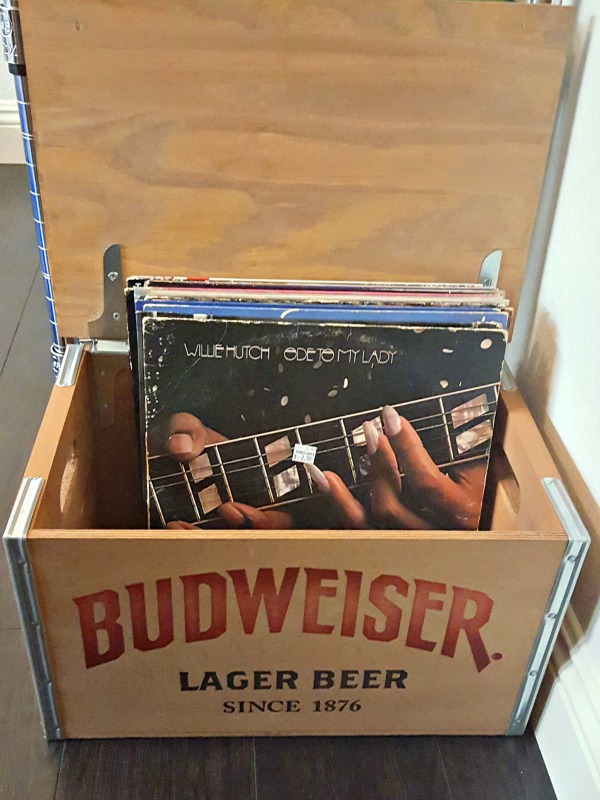 Happy Holidays! #ThisBudsForYou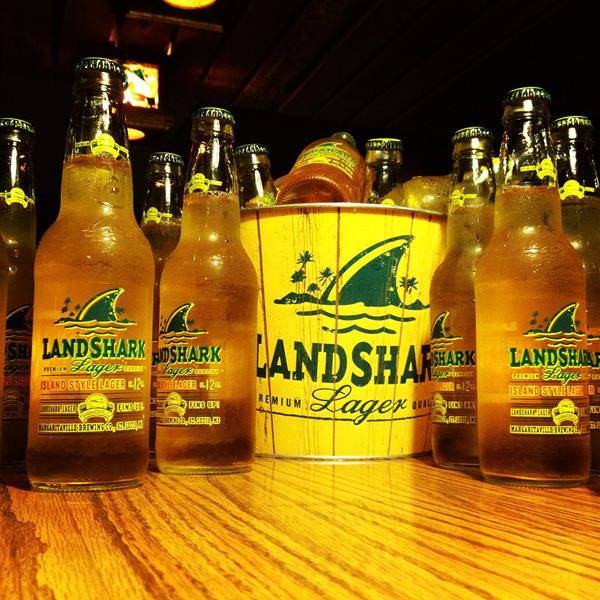 It's cold outside. Even in Los Angeles. Thanksgiving is next week and we're in full-blown holiday mode, folks. There's no getting around it. You can't leave the house without a jacket anymore. Beach plans are on hold for the foreseeable future. Winter is most definitely coming.
But that doesn't mean you have to abandon sunshine entirely. Is that what Jimmy Buffett would do? Of course not. If you invited Jimmy Buffett to a holiday party, the guy's not going to show up with a six pack of dark winter brew. Buffet would arrive with a tropical style lager of some sort. And you know what? You should to the same thing.
This holiday season, don't greet the bitter cold with an overly hoppy winter ale. Choose something lighter, sunnier. Something that reminds people of warmer times; happier times when jackets could be left at home and board shorts could be worn any/everywhere. This season, go against the grain and arrive at your holiday shindig with the beer that took home the 2015 gold medal for tropical style lager from the North American Brewers Association, LandShark Lager.
LandShark is like a mellower Modelo. It's more savory than a Corona. It's light without being water-like. It goes down easy and breezy and it makes you want to avoid closed-toed shoes. It's one of those beers that are best consumed in groups – groups of bottles for groups of good people. LandShark replaced Corona as the official beer of Margaritaville back in 2006, so you know Jimmy Buffett approves. It's brewed in Jacksonville, Florida and the 4.6% ABV brew is part of the Anheuser-Busch family.
LandShark goes great with lime or just on it's own. You can pair this brew with tacos or jerk chicken or fish or plantains or anything that takes you to a happy beach-like environment. While it goes without saying that most beers are best served extra cold, it's especially true for this island lager. The colder, the better, no matter what the forecast says.
While other folks might reach for dark and heavy beers or bitter pales that pucker up your palette, choose sunshine instead this holiday season. This stuff is readily available at any BevMo, but if you want to find the closest LandShark near you, use the official site's store locator.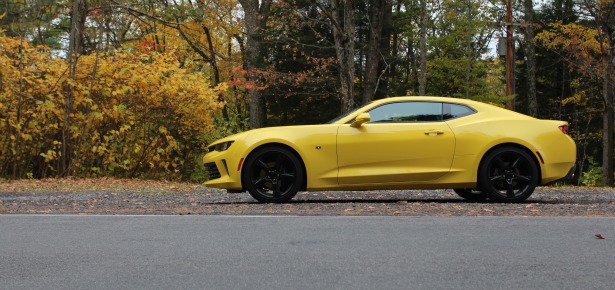 Seasonal change doesn't exist in Los Angeles. Don't get me wrong, I'm not complaining. Who doesn't like wearing shorts in November? It's a pretty sweet perk, actually. But the months do tend to blend together here on the left coast. So when the folks at GM reached out to us to participate in the nationwide #FindNewRoads trip for the 2016 Chevy Camaro, we signed up for some different scenery.
Over 150 outlets participated in the Find New Roads Trip that spanned 48 states, 16 cities and about 160,000 miles over a four week period. Sure, we could've kept it local. LA to San Francisco is a pretty drive, but it's not new to us. We chose the Syracuse to Boston leg of the program because we wanted to experience an actual autumn. And if we could hit up the Baseball Hall of Fame, party in Albany, pay a visit to the Johnson Family compound in Worcester and explore Cambridge and the Freedom Trail on foot in the process, not a bad plan, right?
Well that's what we did. On one tank of gas no less. Can you imagine?
Taking the Scenic Route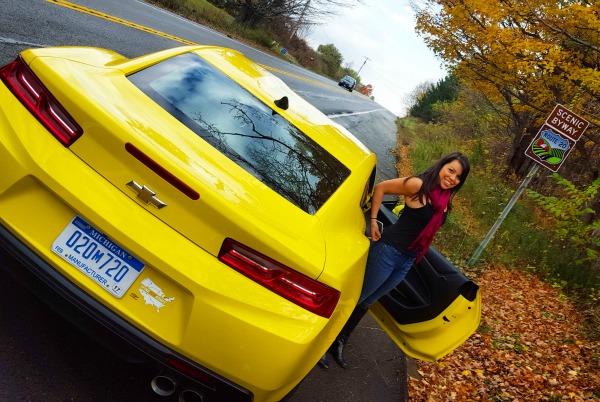 All the media members in Syracuse selected keys from a Camaro bag to see which ride they would end up with. I pulled a manual 3.6L V6 in bright yellow. As I was driving this No. 2 pencil rocket more than 350 miles, I noticed that it turned quite a few heads. But I suspect most of those head turns weren't due to the humming purr of the 335 horsepower engine or the svelte new look of the noticeably trimmer new model. Nope. I think people were honestly tripping on the color and wondering why anyone would take such a pretty machine and paint it to look like a lemon. Luckily, Chevy offers 9 additional color options for folks that believe a high performance sports car shouldn't resemble a banana.
Color aside, it's still a fantastic ride. This sixth-gen Camaro offers up 240 percent more horsepower than the first-gen Camaro's 3.7L six-cylinder that was produced in 1967, so it was nice that I pulled a manual transmission. My camera gal was a little less enthused about the manual option, because you see, your humble car reviewer here hasn't driven a stick since the 90s. I live LA, what can I say. But despite the early cries over safety concerns from my lovely passenger, the whole shifter car thing came back to me real quick, and I made good use of it as we put Syracuse in our rearview and bolted out to scenic Route 20 on our way to Cooperstown.
The designated scenic byway section of US Route 20 was a thing of beauty. I've been to New York City before, but us Angelenos tend to forget that our nation's fourth most populous state isn't just a series of gigantic cities. The 108 mile corridor from Lafayette to Duanesburg cuts across Central New York and rewards motorists with a colorful views of a lost American landscape. Think rolling hills, sprawls of agricultural expanse, derelict barns, every shade of tree and a distinct lack of human inhabitants. Carving through the turns of this scenic country byway made me feel like I was driving inside a warm, comfortable sweater.
Cooperstown to Albany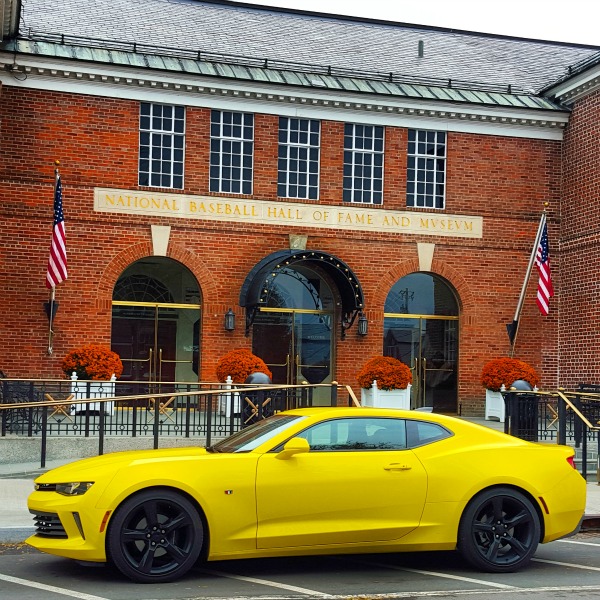 Albany seemed like a reasonable midpoint between Syracuse and Boston, so Cooperstown was a natural stop. Americana was on the agenda in a big way the entire road trip, so why not check out the hallowed halls of America's pastime?
The first thing that struck me about the village of Cooperstown was that it was, without a doubt, a village. Less than 2,000 people live there. When I parked the Camaro on Main Street, I felt like I was on a movie set or something. It's a well maintained area that embraces nostalgia without hesitation. Cooperstown pulls it off so well that it all seems not quite real.
That's probably because by design, this place hasn't changed in generations. The National Baseball Hall of Fame and Museum opened up in the historic district in 1939. The post office directly across the street was completed in 1936 and listed in the National Register of Historic Places in 1988. It's just a time warp experience worth seeing for yourself.
After soaking up some baseball lore and chowing down on New York style pizza (or as the locals call it, "pizza"), it was time to get back on the road.
Inside the 2016 Chevy Camaro, 95 mph feels like 35. It's really quite remarkable. You can be flying down a highway at top speed and the ride still feels pedestrian. The simplest nudge of your foot delivers the sweetest hum of power inside the cockpit. Just a little tap wraps you up in a low frequency sound blanket that you never want to remove. It never feels like you're too much either. You accelerate as you want, when you want, with no hesitation or even the slightest hint of unsteadiness. Going fast in this car just feels right.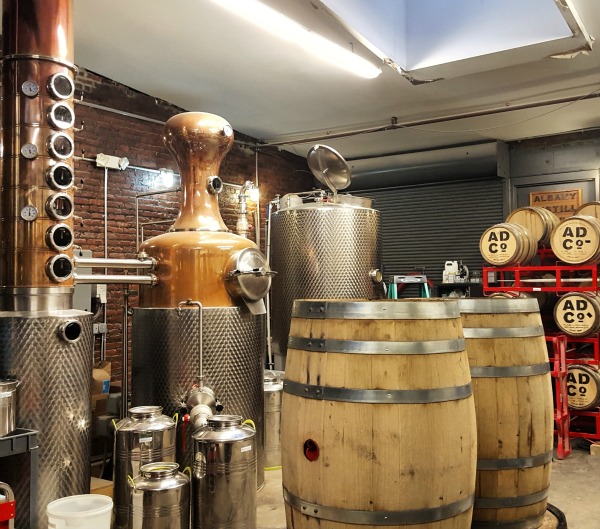 By nightfall we checked ourselves and the Camaro into the 74 State Hotel and went out for a wander. At the Albany Distilling Company, co-founder John treated us like homies, gave us a tour of the joint and sat with us to sample tasty rye whiskey and full-bodied bourbon. He sent us off with good spirits and a recommendation to visit Speakeasy 518.
The Prohibition-era throwback spot on Howard St. was the truth, man. Spotting the dingy red light above the door is the only way to track this dimly lit gem that's unmarked from the outside. Of course, it wouldn't be a speakeasy if you didn't have to go through the motions of knocking on the door and working your way in all clandestine-like. It's good fun though, and the service at this place was matched only by the quality of the craft cocktails they serve. Engaging bartenders, dated décor, live jazz and a no cell phone policy made this stop a real treat.
Onwards to Worcester and Boston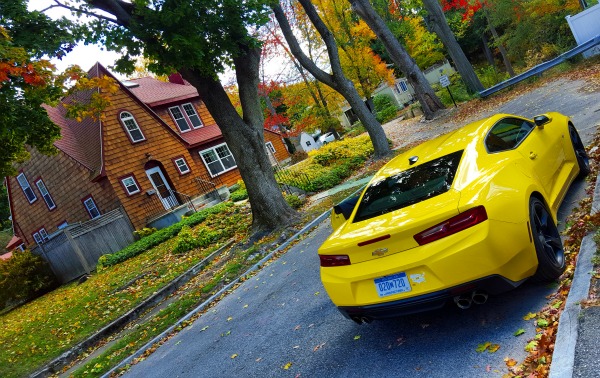 Jeremy Johnson is arguably the more senior auto writer here at MANjr, but he grew up in Massachusetts, so clearly he didn't need to be on this mission. But we couldn't pass through Western Mass on our way to Boston without making a stop in Worcester to visit the Johnson fam. Hanging out with your buddy's parents without your buddy present makes for interesting conversation. It's like I picked up an unauthorized biography that's more authorized than any other source out there. And where else can you expect to find embarrassing childhood photo gold like this?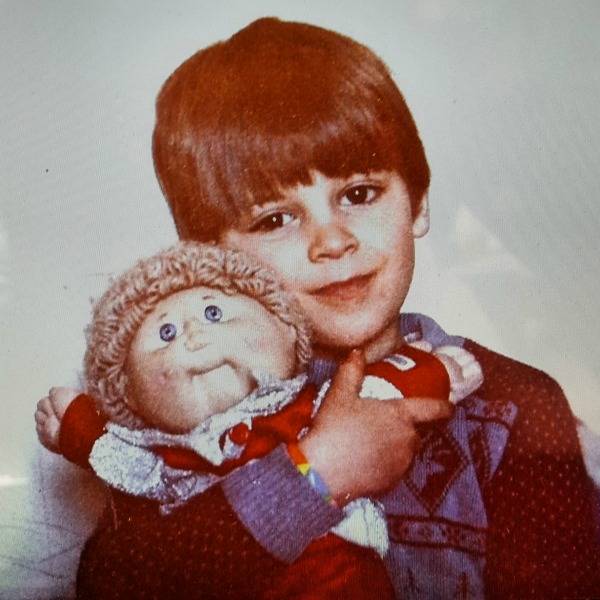 After enjoying the hospitality, lively chats and good eats at the Johnson household, it was time to make the final push to Boston. We rode Highway 90 across the entire state, and I don't know why, but this particular stretch of asphalt just demanded to be driven with all deliberate speed. We weren't in a rush and there was no emergency. There was just something about that fiery foliage backdrop, situational openness and the complete lack of awareness from criminally slow, aging, fast lane-clogging Mass-holes that just made me want to gun it across the state.
As was the case the entire trip, the 2016 Camaro responded well. Maybe it's because the car's more than 200 pounds lighter than the 2015 fifth-gen V6. Maybe it's the increased aerodynamics, reduced drag or the improved chassis. Maybe I was feeling more comfortable in general because I could charge my phone quickly and sync up to Chevrolet Mylink with ease and flip through my phone's Spotify selections using the on-wheel controls while still maintaining top speeds. Whatever the primary cause, the new sixth-generation Camaro is a winner.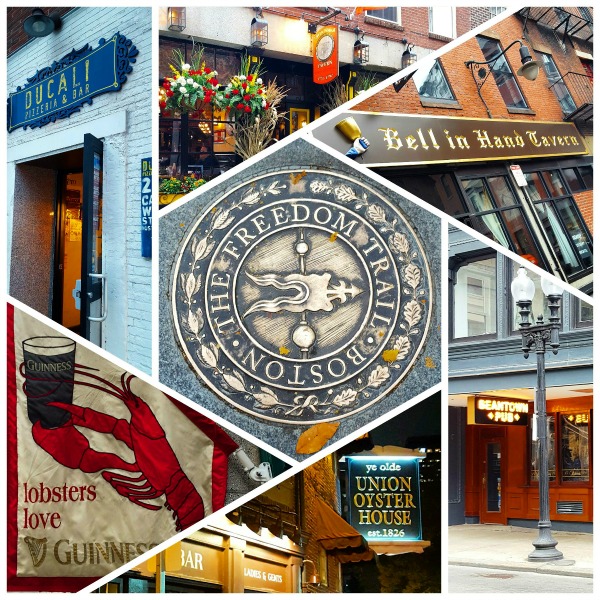 Parting with this machine was bittersweet, but it did free us up to explore Cambridge and Boston on foot and by train. From Beacon Hill to Cambridge Commons, Fenway to the Freedom Trail, we soaked in all Beantown had to offer. If you ever get a chance to drink in historic pubs, dance to quality soul music selections and absorb all the history and character this city has to offer, I highly recommend it. And if you want in on the leaner, more powerful 2016 Camaro, they start at just over $25K. Not bad for a quality first entry of a new generation.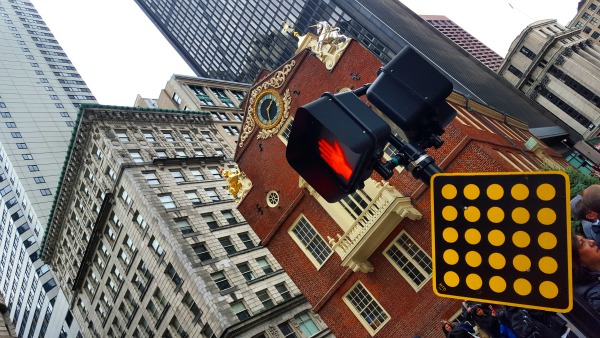 And if this whole road trip recap is just too long for you do read, check the video instead: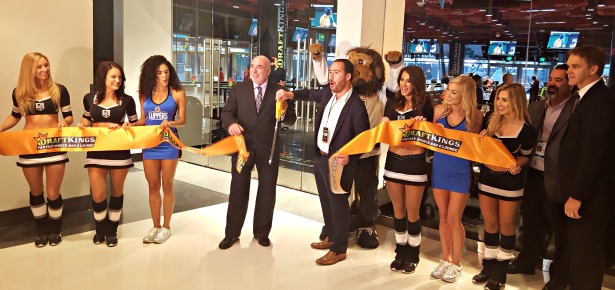 Last week our friends at DraftKings invited us to Staples Center for the official unveiling of the DraftKings Fantasy Sports Bar & Lounge. Located inside the arena just past the box office, the new 4,500-sq.-ft. F&B concept is loaded with monitors and touch-screen tablets so LA sports fans can get their daily fantasy sports fix going while watching the Kings, Clippers and Lakers compete. Designed with the feel of a Vegas sports book, the $1.5 million dollar craft beer and gastro pub was completed in a very quick timeframe and features 35 Toshiba Smart TVs, six Toshiba Virtuoso Screens, 15 Microsoft Surface Tablets and four iMacs. Fans can sign up or log in to their DraftKings accounts through these devices in order to enter tournaments, unlock food discounts and sign up for ticket giveaways.
The menu for this new spot was designed by Josiah Citrin and features some pretty scrumptious takes on classic bar food like hot dogs with mac and cheese. Fans thirsty for a a Bud Light alternative inside Staples will be happy. with the selection of Goose Island options on tap.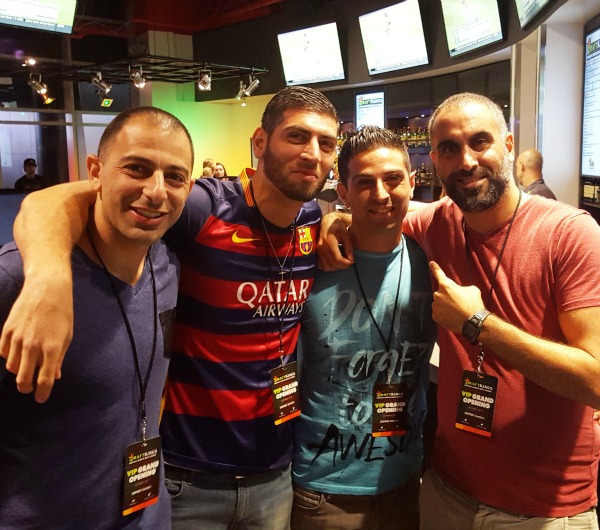 In addition to the AEG and DraftKings cutting the ribbon on their new DFS hangout, DraftKings also presented a $2 million check to week one winner BALLAH who came from behind on the first Monday Night of the season to put up 228.04 points and take home the top spot in the DraftKings Millionaire Maker Week 1 league.
This BALLAH fella and his buddies looked familiar to me. Turns out they all went to my hye school. Glendale High breeds some pretty savvy fantasy football enthusiasts, and these guys were no different. BALLAH and his boys have been playing in yearly leagues for more than a decade. They all knew their stuff, too.
Going into that first Monday Night BALLAH's $2 million winning lineup was sitting in 3,000th place. Carlos Hyde's two scores and final six yards put BALLAH over the top. Here's his lineup: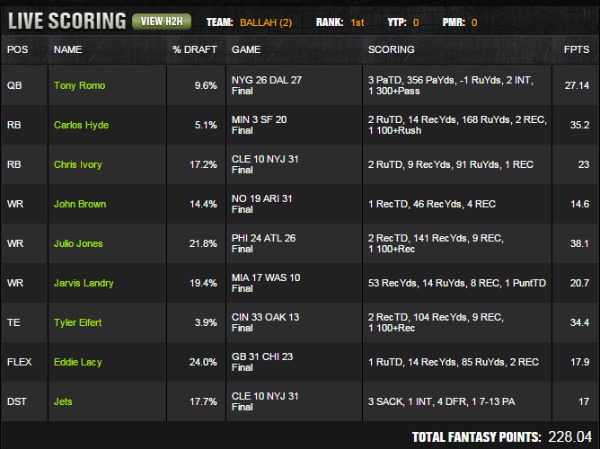 "The thing is," BALLAH told me, "you need like 30 points from each spot. You can maybe miss on one guy but you need that kind of production out of each spot."
That's definitely a different approach from your regular fantasy football decision making. In a standard league, you hope that all your guys will produce, but you're happy to get 10 points out of your flex spot. You want each slot to give you numbers, but with DFS, you're forced to go big. You have to build your lineup using a budget, yes, but you need those home run hitters in there. You gotta go for the boom and bust dude that's undervalued, not for the consistent player who will guarantee you steady production without a ton of upside.
BALLAH's score of 228 was good enough to win it all week 1. The next week's DraftKings Millionaire Maker featured a top scorer who cracked 300 points. Imagine that. Typically your happy if you can crack that 100 point week barrier with your standard annual fantasy team. If you're near 200, you're totally dominating. But when the whole field has access to the same players with the same budget restraints, you need to think bigger. You need to aim for 30 points from each spot.
So keep that in mind next time you dabble in daily fantasy sports. If you're playing to win big, you need big time production from every single start. That likely means passing on trustworthy point scorers so you can swing for the fences on guys who have higher week-to-week ceilings.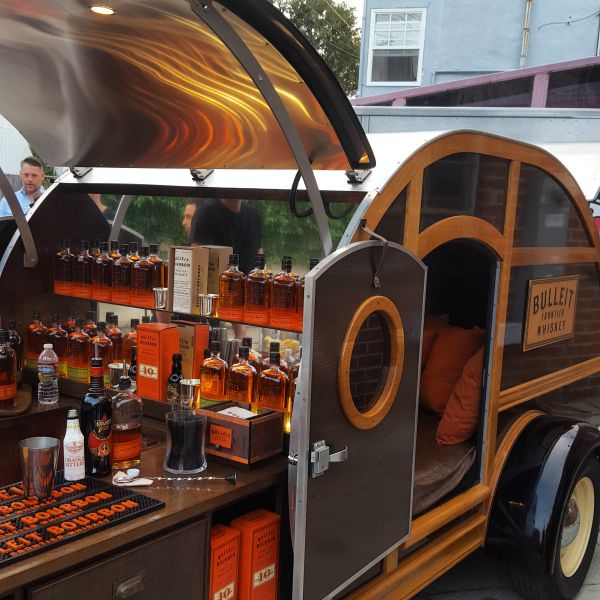 I remember a time, just a few years ago, when I would try to order Bulleit at a bar or restaurant and the bartender or server would look back at me with total confusion. "I'm sorry, Bulleit what now?" was was a common response to my order. People just didn't know. It just wasn't readily available.
That's simply not the case anymore. Bulleit Bourbon is no longer some up-and-coming craft whiskey brand that few people know about. It's everywhere. Nowadays, if you can't spot the trademark Bulleit bottles with their slightly askew labels sitting on the shelf of your favorite bar, it's the exception, not the rule. But what's really interesting is how the brand achieved this, how it went from this modest word-of-mouth spirit to the whiskey sitting at the cool kids table.
I first fell in love with Bulleit three years ago, and I've had a front row seat for this Bulleit boom ever since. After my first Bulleit Bourbon review, I was hooked. I cut single malt Scotch completely out of my rotation. Bulleit Rye became my go-to drink of choice, and it didn't stop with me. Friends and family followed suit. I championed the brand in part because I love the taste, but also because MANjr and Bulleit have had some pretty fun times together.
There was that time we hung out with Isaiah Washington and his wife after the Pan African Film Festival and just talked around a table and sipped Bulleit Bourbon 10 Year in the back of a restaurant. Washington was like me, a Macallan man, but he made the switch to Bulleit and didn't look back.
There was the trip to Austin for SXSW back in 2013, when my love for Bulleit Rye & Coke was first established. From Chef Ben Ford's cookbook launch party in a Beverly Hills backyard to the Bulleit Woody event last night at the Coolhaus in Culver City, my experiences with the brand have always been positive. That's why I push Bulleit like I'm some heavy duty shareholder or something. For me, it's a quality product that's been paired with quality experience, and I genuinely want to share this vibe with other people.
That's why the brand has grown so much in the past few years. Just a couple weeks ago, The Wall Street Journal ran a story about it:
Sales of Diageo's craft-style Bulleit bourbon—inherited in 2001 when it bought Seagram Co.'s wine-and-spirits portfolio—rose 35%, stripping out currency fluctuations, in the year ended June 30, making it the company's fastest-growing unflavored North American whiskey. Mr. Menezes has said Diageo aimed to build Bulleit through word-of-mouth, creating "a lot of experiential stuff" and working with bartenders rather than doing large-scale TV advertising.

"I want to make sure Bulleit stays with the hipsters in Williamsburg and does not become a mass brand," Mr. Menezes said on a January conference call.
And you know what? It worked. It totally worked. You know about the brand because someone who liked it told you about it. You don't see big billboards or huge print ads or any TV coverage whatsoever. Bulleit has built up brand loyalty by creating brand champions who associate a good product with a good time. It's a really smart way to market to a generation that craves authenticity over hype, craft quality over mass production.
Last night's event is just another example of this clever marketing strategy at work. The mission was simple: cultivate an atmosphere where friendly people can enjoy craft culture at work, expose them to quality products and create brand champion converts who spread the good word.
The Bulleit Woody at the Coolhaus in Culver
It starts with the location. Coolhaus in Culver City is an ice cream shop that started as an art project. Co-Founder Natasha Case toyed with the idea of Farchitecture or "Food + Architecture" as a way of "bringing architecture to the people." She partnered with Freya Estreller and started creating uniquely flavored ice cream sandwiches inspired by architecture and architecture movements. They capitalized on the food truck craze, bought a busted postal van on Craigslist and used it to serve ice cream sandwiches at Coachella. Quality product paired with a good time experience led to media attention that was amplified to new levels through Twitter and other social outlets. Now they're blowing up. Multiple store fronts. Fleets of trucks in multiple states. Prepackaged in-store products. Catered events for celebrities. You get the idea.
Coolhaus served up seriously tasty sammies last night. The menu was full of tough choices. I mean you really couldn't go wrong with cookie options like choco chip, double chocolate, snickerdoodle and gluten-free coconut almond supporting ice cream options like fried chicken and waffles, salted chocolate, dirty mint chip, vanilla bean, seasonal sorbet or whiskey lucky charms. I went for the chicken and waffles ice cream on peanut butter cookie. It tasted as amazing as it sounds.
But all this craft culture goodness didn't stop with desert. The main event was the showcasing of the Bulleit Woody, a trailer designed by Brad Ford that features a fully stocked Bulleit bar and 150 year old wood that's been repurposed from Bulleit barrels. The trailer was originally created as a Neiman Marcus Fantasy Gift Guide item. It came with a year's supply of Bulleit and a price tag of $150,000. This thing became so popular at events that Bulleit had three more trailers produced to cater to demand.
And what would a Bulleit event be without tasty Bulleit cocktails? Here's what was on the menu:
BLT (Bulleit, Lemon & Tonic)
1.3 oz. Bulleit® Bourbon
2 lemon wedges
3 oz. tonic
Preparation: Build in a rocks glass, serve over ice.
Bulleit Revolver
1.33 oz Bulleit Bourbon
0.33 oz Coffee liqueur
2 dashes Orange bitters
Orange peel
Preparation: Add all the ingredients to a mixing glass and fill with ice. Stir until well chilled and strain into a chilled cocktail glass. Garnish with a wide strip of orange peel.
It doesn't get much hipper than a well-designed trailer serving whiskey cocktails to bloggers and media folk in the back parking lot of an architectually inspired ice cream sandwich spot. The craft culture was on display all around. Good times were had. Brand champions were made. Stories will be shared.
It's a brilliant strategy that has worked wonders. It has worked and will continue to work on me, my friends and family, bars and restaurants in LA and the entire whiskey marketplace in America. It's cool to be hip, but you can't manufacture hipness with mass production and overexposure. The hipness needs to drip slowly and gather up over time before it spills over and covers everything like it's always been there. That's a difficult, calculated and balance-dependent marketing play, but there's no denying that Bulleit has executed it to perfection.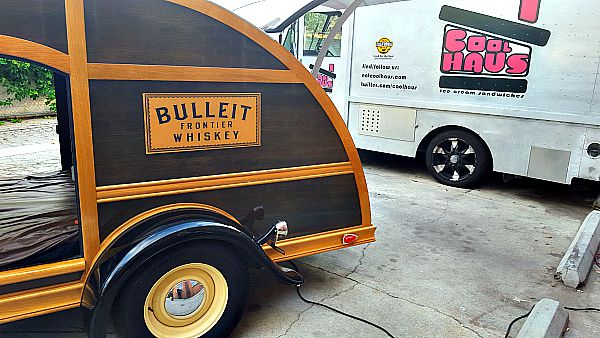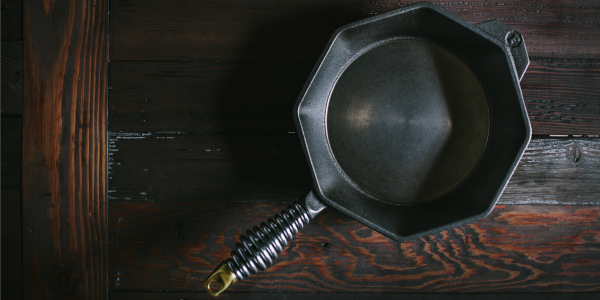 A proper cast iron skillet isn't something you just casually add to your mix of available cooking tools. It's a different sort of cookware beast. It's  both primitive and utilitarian, and timeless in more ways than one. The utility never goes out of style and the actual pan itself – if you can secure a good one – can be a staple of your kitchen for decades or generations to come.
There's a certain degree of mystery surrounding this piece of cooking technology as well. From competing views on how best to use it to various approaches for proper care and maintenance, the cast iron skillet is a surefire conversation starter. Whether you swear allegiance to its superior cooking abilities or you've never owned one before, a cast iron skillet is something every man should have handy.
I've never used a cast iron skillet before. I've heard of them, sure, but I just never had the opportunity to try one out. So when FINEX sent a cast iron skillet for us to review, I wanted to make the most of the opportunity.
FINEX markets itself as the first brand to bring machine-polished, heirloom-quality cast iron cookware back to the States for the first time in over half a century. Founded in 2012, the Portland-based FINEX Cast Iron Cookware Company is helmed by Mike Whitehead, who got the start-up company going with two successful Kickstarter campaigns. According to a 2014 interview, Whitehead was raised in his father's metal fabrication and welding shop. He wanted to know more about where his food came from and what was contained in it and this led the founder to "search for a healthier alternative to chemically lined nonstick pans." With iron being part of his family's fabric, Whitehead was able to push forward with the new start up. His goal was to manufacture a locally produced product that was an improvement on the classic cast iron skillet. That meant developing a new take that focused on an ultra-smooth cooking surface, a quick-cooling hand-polished stainless steel handle and a characteristic octagon shape that looks sexy and helps with pouring liquids. The end result is pretty successful.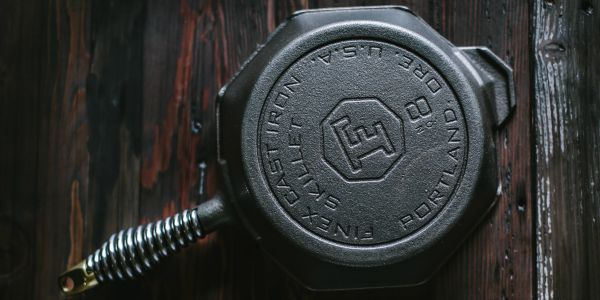 I just moved into a new spot, so once all the boxes were unpacked, I wanted to give this new cast iron skillet thing a try. I read up on the how to maintain your skillet. Figured this was important because the last thing I wanted to do was mess up heirloom quality cookware after my first recipe. The FINEX cast iron skillet comes pre-seasoned with organic flaxseed oil, but the first few times you use it, it's smart to add a little extra oil while the skillet is still new. The more you cook with the thing, the more oil you will add and the more seasoned the skillet gets. This doesn't mean that you can't ever wash the skillet. Don't soak it or put it in the dishwasher or make other rookie moves like that, but rinsing in hot water and using a mild abrasive like a scrubby pad, coarse salt or brush is totally acceptable.
Okay, I knew how to care for the thing, but what to make? You can literally make anything in a cast iron skillet. That's what makes these things so badass. You can do a breakfast hash, sear meat, bake things – you name it. If it needs heat and you can cook it on a stove or in the oven, you can pretty much do it with the skillet.
I decided to make beer glazed citrus chicken because I like all of those things and I wanted to try something saucy with my first skillet run. Here's a link to the recipe. You can click over for the details, but essentially I made a zesty citrus glaze in a sauce pan, seared up some chicken in the skillet and then tossed everything together and into the oven to bake. The results were pretty amazing: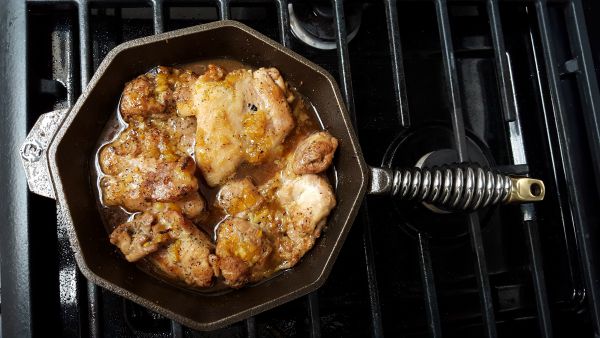 I really love how this thing can go from stove to oven and back with ease. It really opens things up from a cooking perspective. The skillet heats up quickly and evenly and the whole process was made more enjoyable because I know that this first meal is just the foundational layer of seasoning will grow as more meals are made in the skillet over time.
Was the handle quick cooling? On the stovetop yes, after the oven, not so much. I mean that should be painfully obvious, right? Well let the little burn mark on my left hand serve as a cautionary tale. The handle may look safe at all times, but any semi-intelligent human should know that this won't be the case right after you take this thing out of the oven. Lesson learned / I have no idea how that happened. Purely the fault of the absent minded chef here. The skillet did it's job just fine. Just something to keep in mind when working with an overly attractive handle like this.
Bottom line, this is a kitchen investment worth making. FINEX makes a quality product that's completely manufactured in the USA. So I say support your primitive need to cook with iron. Support your country. Support your long term efforts to be a better cook. This is a long play cookware addition that requires a bit of upfront costs, yes, but it'll grow with you and it'll only get better with age.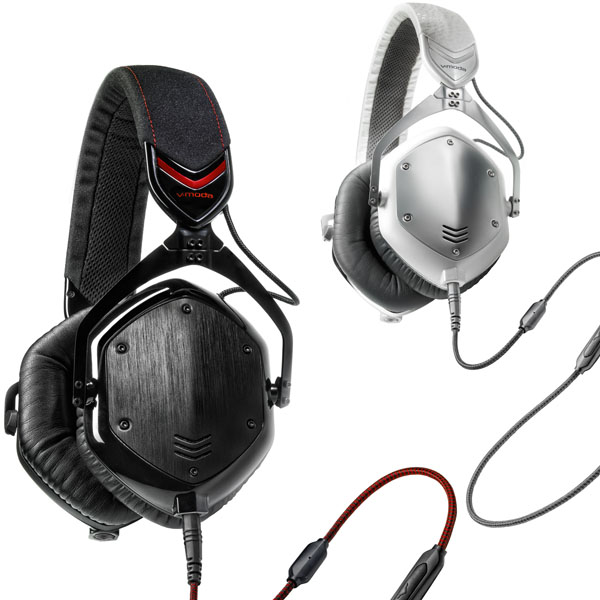 There's been a lot written about the V-MODA Crossfade M-100 over-ear headphones, and most of the reviews have been glowingly positive. This review is no different. These headphones are fantastic. V-MODA is the number one brand of headphones on Amazon for a reason. These things don't get the pop cultural attention that you see with Beats by Dre or other popular brands of over-ear headphones, but they have become a favorite for DJs and audiophiles all over the world.
The thing I like the most about the Crossfade M-100s is that they feel pretty much indestructible. When you have a pair of Beats by Dre headphones in your hands, you get the feeling that with a little bit of force, you could completely crush the plastic that makes up the overall structure. They're not super flimsy, but they don't feel completely study either. Not so with the Crossfade M-100s. These things were built to withstand a nuclear attack. You can drop, twist, stomp, smash, bite, punt, pass or kick these things and they'll be just fine.
This superior durability has been tested to the max. The V-MODA Crossfade M-100 headphones have a STEELFLEX headband and steel frame with interchangeable aircraft grade metal shields. The headband can be bent flat 10 times over without an issue. Theese headphones can survive 70-plus drops on concrete from six feet up, which is 10 times the industry standard. The kevlar reinforced cable and 45-degree plug can bend over 1 million times, which is 100x the industry standard. The traveling case that comes with the Crossfade M-100 is equally sturdy, but more compact than the cases that come with other higher end over-ear headphones.
You get the idea. You can abuse the shit out of these headphones and they just keep on ticking. But anyone can make extra-military-grade durable headphones. Okay, not anyone, but most governments and corporations with means can get the job done. But V-MODA pairs the rugged construction of the Crossfade M-100s with some superior quality sound output.
The best way to describe the sound that these things put out is unmuddied. Highs, kids and lows are crisp and distinct. The lows come in like they're supposed to, rich and warm, loud but not overbearing. Each area of the sound spectrum has room to exist where it should, like a well organized closet. It's quite remarkable actually. I'm a big fan of the low end of the sound spectrum. I listen to music with boom boom and I want to hear that boom boom. But it's refreshing for the boom to have a place that's distinct with room to spare, where clear highs and easy to hear mids can co-exist in the same headphone sound party.
If you've had bad experiences with low quality materials housing what should be top-of-the-line headphones, the V-MODA Crossfade M-100 headphones will be a welcome addition to your personal sound situation. You get the sturdy structure without any compromise in sound quality. I highly recommend these.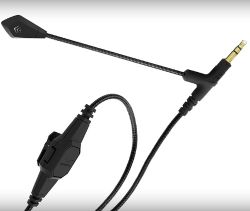 And if you like gaming or podcasts or Skype calls or just super easy voice recording, you can pair these headphones with a $30 BoomPro mic that features a steel flex arm and plug and play simplicity. The mic got the the same rugged, battle-tested qualities that distinguish the headphones from other options in the market, with quick mute and volume controls built-in and easy to access. An all around good combination of quality sound and durability, just like the headphones themselves.
And if all this quality and function wasn't enough, you can now take advantage of the world's first 3D printed personalized wearable technology in the form of custom printed shields for your M-100s. Material options include stainless steel, plated raw and precious metals. These shields run anywhere from $200 on up to $40,000 so you got plenty of range to express yourself.