Dickel Whisky and Serious Barbeque with Adam Perry Lane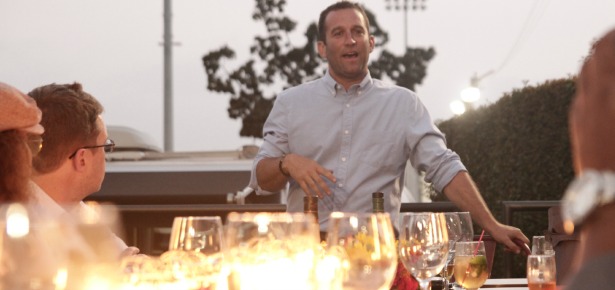 I like barbecue. You like barbecue. We like barbecue. There's even a Stax record about it called Bar-B-Q by Wendy Rene.
You get the idea. BBQ is awesome. It brings people and meat together and makes them both happy. It's a signal for summertime celebration and social enjoyment.
You know what else people like? Whisky. I sure as hell do. Rye, bourbon, Scotch, Irish, all of it. As Mark Twain said, "Too much of anything is bad, but too much good whiskey is barely enough." I tend to agree.
So when I was asked to attend a Dickel Tennessee Whisky tasting paired with some amazing barbecue prepared by Serious Barbecue author and celeb chef Adam Perry Lang at the Jimmy Kimmel Live studio last week in Hollywood, it didn't take much arm twisting for me to say, yes please!
And man, what a fun night it was. The Indy Crew was in full effect (okay, half effect maybe, but all the LA kids were there) and the setting was just amazing. Take a look at this video below to see what we were working with. Jimmey Kimmel invited Adam Perry Lane to set up a posh southern backyard right in the middle of the parking lot outside Kimmel's studio. Lane partnered up with Dickel whisky and this is the result:
Just two great crafts that taste great when crafted together. Of all the items that made it across my plate that night, Adam's brisket was just a heavenly slice of meat-joy that can't be described with everyday superlatives. The meat was so tender that teeth and chewing were optional. The spices collided in a nuanced dance of simple pleasure and subtle sophistication. Needless to say, I put some brisket in my pocket right there at the table so I could enjoy it later.
(Okay so I didn't actually pocket the brisket. But I came damn close. Like hashtag #PocketBrisket close. I was totally willing to sacrifice my jeans and my dignity to preserve and repeat that magical moment of brisket bliss).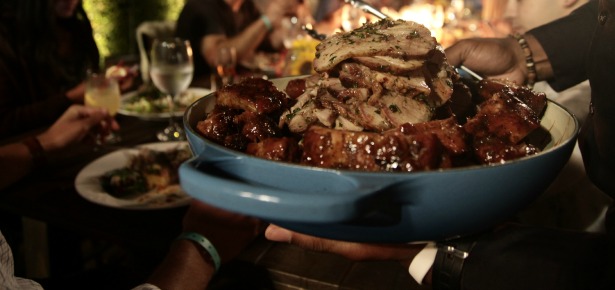 Dickel brand ambassador Doug Kragel was on hand to walk us through the brand's four distinct variations as the group chomped through what seemed like a 17-course meal fit for kings/local bloggers:
Dickel No. 8 was a no-nonsense, straight-to-the point spirit. Simple, smoky, buttery, No. 8 gives you that nice familiar whisky-warmth as it slides down your windpipe.
Dickel No. 12 is not a 12-year-old whisky. It's the No. 12 whisky recipe in the Dickel vault. It's got a longer finish and a sweeter, maple-oaky vibe than the standard No. 8 recipe.
The Dickel Rye was extra mellow. I've been on a steady Bulleit Rye and Coke kick for a few months now and I thought this particular green labeled rye choice was right on par. The newest member of the Dickel spirit portfolio was an instant favorite for me.
I started my night sipping Dickel Barrel Select with Adam and it was a nice way to close the evening out as well. The process by which Dickel Barrel Select is curated is an extensive one. Master Distillers go through multiple rounds of hand sampling specific barrels to isolate the most distinguished blend in the bunch. The result is the smoothest finish of all the Dickel options at a price point that won't bust your wallet. Sipping this stuff is like laying your taste buds on a soft, Tennessee whiskey pillow before calling it a night.
So this was a nice way to spend a Wednesday. Catching a live performance from a British boy band, seeing the back of Oprah's head and sipping Black Lager in the green room of the Jimmy Kimmel Live studio, these were all great lead-ins. But sharing good whisky and ultra-premium (dare I say, serious) BBQ with good friends in a comfy backyard spread setting was the real treat of the evening.
Thanks to Adam Perry Lang, Doug Kragel and the LA chapter of the Indy crew for a fun night out. We should all do it again soon!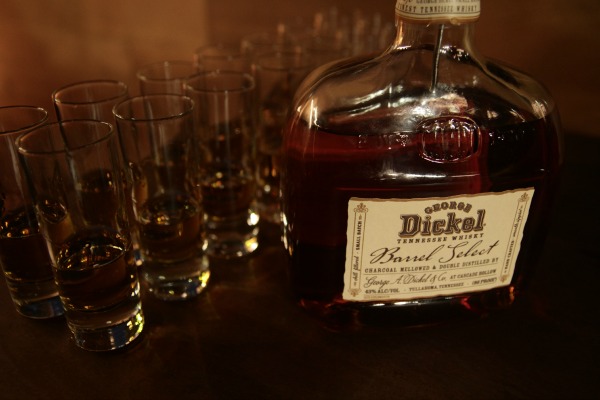 Related Posts
| | | |
| --- | --- | --- |
| | Print article | This entry was posted by Chris Stout on August 19, 2013 at 3:03 pm, and is filed under Lifestyle. Follow any responses to this post through RSS 2.0. Both comments and pings are currently closed. |
Comments are closed.