Chris Stout
Posts by Chris Stout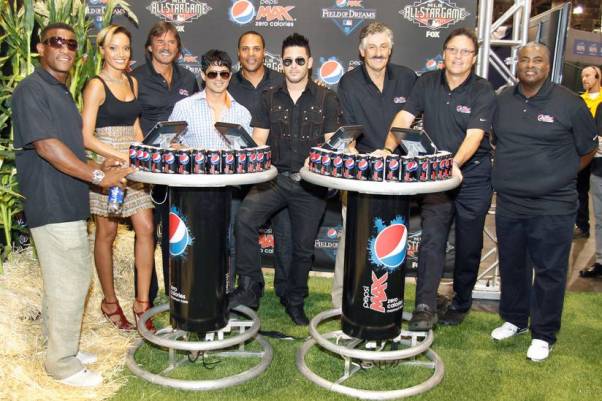 Pepsi MAX kicked off a new promo at the MLB All-Star FanFest in Phoenix this week. The Field of Dreams campaign gives fans the opportunity to create a custom, 11-man dream team comprised of living baseball legends. Until August 31, you can visit MLB.com/PepsiMax to vote for your favorite living legends. Each time you vote, you'll be entered to win a trip to play ball with the Pepsi Max Field of Dreams Team next spring.
The list of living legends is strong. Fans select their favorite players out of a pool of 30 MLB greats (with three living legends for every position). The relief pitcher position is stacked with sweet moustaches. It's hard to select the best stache among guys like Dennis Eckersley, Rollie Fingers and Goose Gossage. Shortstop's a tough choice too, with Barry Larkin going against Cal Ripken Jr. and Ozzie Smith. And the outfield is absolutely stacked. You got guys like stolen base leader Ricky Henderson, recent Hall of Fame inductee Jim Rice, 12-time All Star Dave Winfield. Mr. October Reggie Jackson, hit machine Tony Gwynn and the kid with the prettiest swing of all-time, Ken Griffey Jr.
Fans can vote for their favorite legends up to 25 times per day. Four finalists will be selected in September and they'll battle for votes to see who will bring the Field of Dreams Team to their home town. The winner gets to bring 10 friends along to play ball with the best of the best.
Here's some footage of the launch party and the commercial spots that ran during the All-Star Game: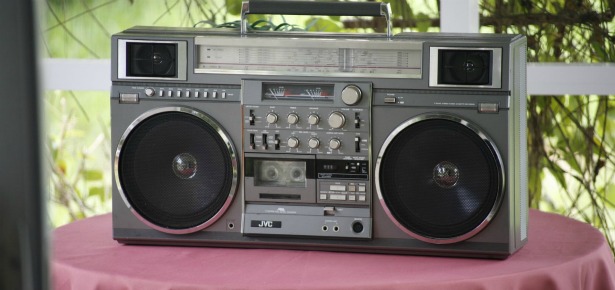 The days of June gloom are past us, people. America just had a birthday party this weekend. Barbeques, beach weather and scantily clad babes are now normal parts of your every day routine. Summer 2011 is in full effect. It's time to start enjoying it.
So how are you going to celebrate this year? There might not be a vacation on the horizon, but you better be planning yourself some good times this summer season. And whatever kind of get-together you conjure up, you'll need some quality tunes to fire up your party. Especially if there are ladies present. And for reasons that are still unclear to me, nothing gets girls more excited in the summertime than 90s RnB jams.
I don't know why it's like that, but it's true. Girls go wild for 90s RnB tunes. They just do, man. Mark that shit down as fact. If for some reason you don't believe me, try a little experiment this month. Plan a little party. Encourage beach attire, and invite some girls over. Then bust out 10 solid summery RnB jams from the 90s and see what happens. If you need a starting point, here are the 10 best RnB summer jams from 1990-1999:
On A Sunday Afternoon – Lighter Shade Of Brown (1990)
That's right, we're talkin' plain and simply apple juice, my friends. The pride of Riverside, California, Lighter Shade of Brown sampled "Groovin" by the Young Rascals and "Crystal Blue Persuasion" by Tommy James & the Shondells to achieve the mellow flavor of this classic 90s jam. You don't need to be a vato in the park to appreciate this song. It reached #39 on the Billboard Hot 100. If you tell me there's a better background BBQ theme song made in the year 1990, I will not believe you.
Summertime – DJ Jazzy Jeff and the Fresh Prince (1991)
Yea, this one seems kinda obvious, but this song still holds up in 2011. It reached #4 on the Billboard Hot 100 and DJ Jazzy Jeff and the Fresh Prince even won a Grammy for the tune in 1991. If you haven't heard Kool & the Gang's extra-relaxing Summer Madness tune, the original track that spawned this beat, you should definitely check it out. It's like a melting marshmellow of funky feel-goodness.
Rump Shaker – Wreckx-n-Effect (1992)
Nothing says summertime like a girl in a bikini playing a saxophone on the beach. Plus, jet skis! Ain't nothing wrong with that. The sax rip came from Lafayette Afro Rock Band's "Darkest Light," and the song also features samples from tracks by The Emotions, Magic Disco Machine and Manzel. Plus, girls seem to know what to do when they hear that sax intro.
Dazzey Duks – Duice (1993)
You can't have a 90s RnB summer party without a little Miami Bass in the mix. And really, no other season promotes the short-shorts quite like that chunk of fun-times between Memorial Day and Labor Day. Toss in an Afrika Bambaataa sample, and you got something that resonates with everyone.
Fantastic Voyage – Coolio (1994)
I like old school music. I always prefer the original to the remake. That said, Coolio's take on Lakeside's "Fantastic Voyage" is a pretty solid homage to the bouncy, synth-funk sound of original. It's also nice to know that if Coolio took a trip to the beach on a hot summer day, he'd probably let you roll in the trunk of his magic bike-turned-hooptie. Did you sae how many people came out of that thing? I counted 4-5 hot chicks, at least one midget and all Three Amgios.
Fantasy – Mariah Carey (1995)
This song just makes you wanna ride rollercoasters. And maybe the '95 version of Mariah while you're at it (yea, I said it). "Fantasy" sampled "Genius of Love" by the Tom Tom Club, which makes it a fun party tune in any season. But the rollerblades just give it that extra-special summer 90s touch. And anything that conjures up visions of ODB in a clown suit has to be good for your summer get down.
California Love – 2Pac Featuring Dr. Dre (1996)
People love this song and I get that, but I'd put on "West Coast Poplock" by Ronnie Hudson & The Street People over "California Love" any day of the week. But if you're hosting a Thunderdome-themed block party, this track has to be your go-to option. They actually filmed the cameo-packed video in the same Thunderdome set. "California Love" hit #1 on the Billboard Hot 100 and was the most commercially successful record of 2Pac's career. The piano riff comes from Joe Cocker's "Woman to Woman," which was also sampled by the Ultramagnetic MC's. Plus, it sure beats Katy Perry in the Don't-Forget-California's-Awesome genre.
Let me just pause here and say that selecting 90s summertime RnB jams is kinda hard after about 1997. Not impossible, mind you. Just much more difficult. In 1997, "I'll Be Missing You" and "Candle in the Wind" were big hits in the distinctively non-summer memorial-pop category. Not really good for party tunes. 1997 also saw the rise of bands like Aqua, Hanson, Backstreet Boys and the Spice Girls. Needless to say, summertimey RnB party music took a big hit that year, but that didn't stop a certain British RnB artist from reaching the Billboard Hot 100 chart for one week in early summer 1997 with, you guessed it…
Return of the Mack – Mark Morrison (1997)
That's right. Thank God the Brits bailed us out of that soulless summer. Morrison's comeback song would've hit number one if "MMMBop" madness wasn't sweeping the nation at the time. How embarrassing, America. The song sampled Tom Tom Club's "Genius of Love," proving once again that Tom Tom samples are like a one-way ticket to party town.
Too Close – Next (1998)
Step one, get lots of girls in bikinis together in a small space. Step two, "Too Close." Everything pretty much unfolds the way you'd expect after that. This may not really be a summer-specific song, especially when you consider the original track it sampled ("Christmas Rappin" by Kurtis Blow)." Still, it's hard to argue with the results. Boner songs are all part of the summertime party program.
Doo Wop (That Thing) – Lauryn Hill (1999)
This Lauryn Hill track came out in 1998, but it really blew up (commercially, critically, music video-ly) in 1999. If you're hosting a summer pool party because of "that thing," might as well come out and say it. What the hell else are you going to play that's 1999 party-time RnB, "Summer Girls" by LFO? Didn't think so.Pretty sure Lauryn Hill has even made a record since '99, but this jam is way more appropriate for your 2011 warm season social gathering. Plus, if you're inviting chicks that were alive in 1999, there's a 100 percent chance they love Lauryn Hill. Those are good odds, bro.
So is this the definitive list of summertime 90s RnB jams? Nah, relax man. It's not even all that comprehensive. You'll notice that there's no Biggie, no Snoop, no Pharcyde, no Mary J and no "Regulate" (and girls friggin' love them some Regulate). Any of those 90s jams will still get your party going. This is just a quick n dirty, West Coast-biased chronological list of 90s RnB hits with a strong summer appeal. We tried to stay with a warm weather party vibe, but if you feel strongly that we missed some fantastic summertime jams, please let us know in the comments below.
Fourth of July, baby! It's time to enjoy a three-day weekend full of BBQ action, beer consumption and gold ole fashion patriotic laziness. 80 percent of Americans will host or attend a barbeque this weekend. 80 friggin' percent! That's a lot of burgers to grill, and if you want to grill 'em up the right way, we got you covered.
We spoke with Celebrity Chef Hubert Keller yesterday about grilling up the perfect burger. We discussed gourmet add-ons, common mistakes, the Budweiser Backyard Burger recipe and the Bud United Big Time Contest that's going down on Facebook. Chef Hubert is also a DJ, so we asked him how spinning records compares with being a chef. Check out the full interview:
Last month, we chatted with Kate Upton and discussed her involvement in the SoBe #TryEverything campaign. She mentioned that there was an upcoming SoBe staring contest competition that was going to feature her going up against a few unsuspecting dudes. Poolside no less. As the footage below demonstrates, these dudes didn't have a chance to compete against the 2011 Sports Illustrated Swimsuit Rookie of the Year. Take a look:

I don't always drink beer. Actually, yes I do. All the time. And nine times out of ten, Newcastle's the beer I reach for. In just about any beer drinking situation, nothing beats a Newkie Brown in a tall, frosted mug. It's got the dark nutty flavor with the not-so-heavy impact. And the Summer Ale's not so bad either.
In a competitive ale market, Newcastle's trying to get the word out by launching their first ever commercial campaign. Here's one of the spots:
We chatted with Charles van Es, Brand Director for Newcastle Brown Ale, about the new campaign, Newcastle's roots and the new line of Newcastle brew options:
MANjr: Why did it take so long for Newcastle to put out their first ever TV campaign?
CvE: We have created spots in the past, but showed them only through digital channels. The only change is that we are now showing them on television. With funny, irreverent shows that have grown in popularity, it felt like the timing was right to launch a full TV ad campaign.  We are excited to share the brand's witty humor with so many more of our Newcastle guys.
MANjr: What do you think are the most distinguishing qualities of Newcastle Brown Ale? What sets Newcastle apart from other ales in the market?
CvE: Newcastle is the dark beer that's easy to drink. It has a unique flavor, lightly hopped taste, and a refreshing, smooth finish that set it apart from other dark ales. It's the lighter side of dark beers.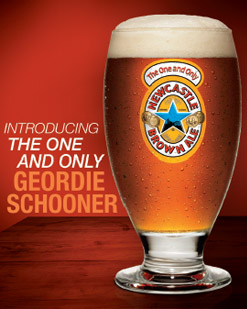 MANjr: Newcastle Brown Ale has been around for a long time. Has the brewing process and final product changed much over the years?
CvE: Newcastle was originally brewed in 1927 in Newcastle-Upon-Tyne, England, but has since moved to Tadcaster, North Yorkshire. The final product has remained true to its roots over the years – the recipe is still the same as how Coronel Porter first brewed it in 1927!
Today, we've expanded to offer a full line of limited edition ales: The first limited edition ale is available now – Summer Ale, which is crisp, refreshing and perfect for summer celebrations. Next we'll be introducing Werewolf, a blood red ale with a definitive bite of bitterness and a distinct autumn taste. Newcastle Winter IPA will debut during the winter months, providing a zesty, full-bodied taste and authentic malt flavors. Then in early 2012 we'll introduce Founder's Ale – a celebratory brew that has a traditional English semi-bitter taste and hoppy aroma.
MANjr: The commercial spots were filmed at an actual pub in London. How important was the authenticity factor when these spots were produced?
CvE: It was very important to us that we remain as true to Newcastle's heritage as possible. We wanted to ensure we didn't lose any of the authenticity the brand is known for. In addition to using a real pub in London as the set, we also hired locals as the talent. The bartender featured in the spots is the actual owner of the pub!

We received a pair of Teva Mush Frio Lace Canvas shoes to review last week and I gotta say, I really like 'em. Sure we're a blog and we like free stuff and all that, but these kicks are pretty sweet. They're based on the Teva Mush flip flop line. Now I'm not a big flip-flop guy myself, so I don't know how the Mush shoes compare to the Mush flops. I do know that the Frio Lace Canvas is super-soft, breathable and comfy as hell.
The Teva Mush Frio Lace Canvas shoes are basically like sturdy socks made out of form-fitting foam. They're crazy lightweight to the point where you feel like you're not wearing shoes at all. The shoes are super wide and non-constricting, but they're also contoured to your feet. There's a bump in the interior that fits perfectly in the bottom bridge of your foot. So with all this soft and gushy flexibility, they still give you a sturdy, stabilizing fit.
One of the drawbacks of the shoe is that the sole is a bit on the slippery side. These aren't your go-to kicks for a rainy day. But if you don't plan on running down a wet staircase, you won't have much to worry about.
The Teva Mush Frio Lace Canvas shoes are the kind of kicks you put on when you don't really want to leave your house. These aren't running shoes. They're not designed for that. These are lazy day, phone-it-in shoes. They're like Styrofoam to-go boxes for your feet. Check 'em out: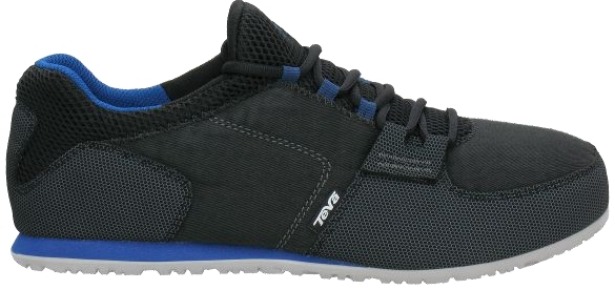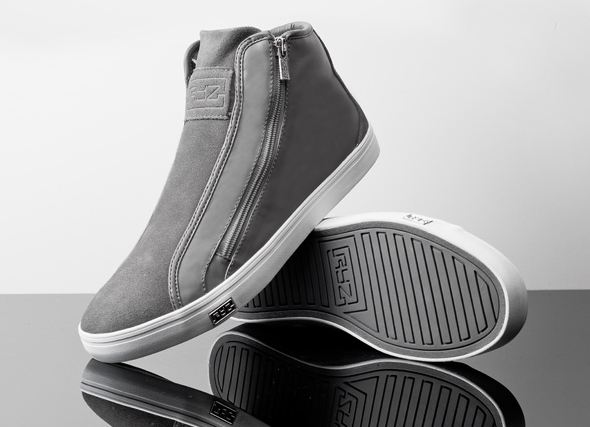 I'm a sneaker guy. I don't like fancy shoes. They're just not for me. Sure, I got some nice shoes for weddings and funerals and such, but I don't break those out unless I absolutely have to. If I have the option to choose comfort over class, comfy shoes win every time. Even if I'm semi-dressed up, there's a good chance I'll complete my look with a pair of Sauconys.
RYZ knows this. They know that most guys prefer sneakers over dress shoes. RYZ's aim is to provide guys with a satisfying middle ground – a combination of comfort and class, sophistication and relaxation.
RYZ was founded in 2008 by Rob Langstaff, the former president of Adidas USA and Japan. Langstaff is a former Captain in the US Air Force and an avid runner (he once held the record for the 1500 meters at the Air Force Academy). Langstaff started working at Adidas back in 1991, so he knows a thing or two about shoes. He speaks English, German and Japanese, and he believes in a open source, democratic take on design. Along with input from consumers, Langstaff paired up with Creative Director Todd Alan Breland to blend athletic footwear with a more refined sense of style.
"We designed a shoe that you could where with a suit and not look like a dork," Langstaff said when describing the H-G3. That pretty much sums up it up. If you can maintain a sporty mindset while still pulling off a touch of class, you'd do it in a heartbeat. And if you could use a side zipper to get the shoe on in like 10 seconds, that's just an added bonus.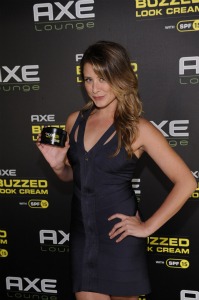 Summertime is here, so it's time to cut that friggin' mop, bro. You don't want to enter the beach season with overly floppy hair. Trim that top proper for the warm months ahead. Plus, studies show that chicks dig the buzz cut. Seriously. Based on a national survey conducted by StrategyOne earlier this year, three out of every four girls say they're more likely to run their hands through a buzz cut because they like the soft feel of the buzz.
But the buzz cut can also lead to too much sun exposure and scalp sunburns. If red, peeling scalp isn't the look you're going for, check out AXE Buzzed Cream + SPF 15. The cream gives your buzz some style while protecting it from the sun's rays.
As part of the product launch efforts, AXE donated $50,000 to the Wounded Warrior Project. This non-profit organization supports troops that are injured in the line of the duty. Lo Bosworth was on hand at the AXE Lounge in Southampton, New York to show her support for the Wounded Warrior Project. If you want to support buzz cuts and a good cause, just head over to the AXE Facebook page and give 'em a thumbs up.