Chris Stout
Posts by Chris Stout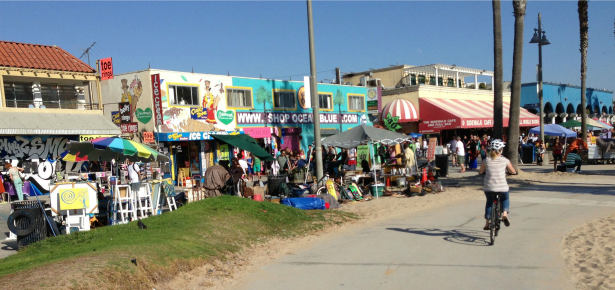 If you live on the Westside of Los Angeles, you've probably hung out in Venice at some point. There's just something about that slice of coastline where the bars the meet beach and tourists, hipsters, homeless folks and beautiful people all share the same gorgeous views and breathe in the same kush-flavored, spray paint-filled air.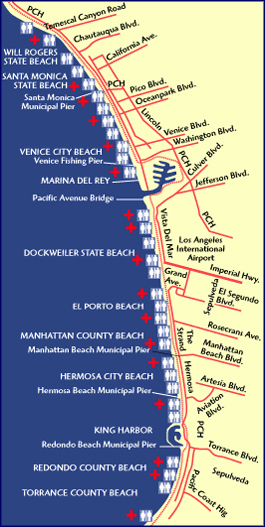 The best way to experience Venice is to combine day drinking with beach cruising on a warm, sunny day. The Venice Beach bike path is one of my favorite spots in the city. That little stretch of beachside boardwalk fun that runs from Venice to Santa Monica is a great spot to eat, drink, cycle and be merry. It's actually part of a larger path called The Strand (aka the Marvin Braude Bike Trail) that starts at Will Rogers State Beach in Pacific Palisades and ends 22 miles down the way in Torrance.
The current path was first proposed in the late 60s, but it didn't receive final approval until 1988. Beachfront homeowners weren't super keen on the development of the bike trail and all the riff raff it would bring to the area. Sullied views and all. These homeowners managed to block the path from reaching Santa Monica for more than two decades. The full path was finally completed in 1989.
My favorite spot on the path is On the Waterfront Cafe. It's on the Venice Beach Boardwalk and it's a great place to eat pretzels, drink Swiss and German beer (Bitburger, hmmmmm) and enjoy fantastic sunsets. Before you hit the Santa Monica Pier, Big Dean's is a great spot to grab a Newcastle, catch some sport and enjoy a really good burger.
You can carve a whole day out on the bike path. Beach cruisers can be rented at the end of Washington in Venice right by The Whaler. The path cuts through the sand and the Boardwalk and Muscle Beach and more herb doctors per square mile than any other place in LA. This place has its own particular character, and it's a must-see for anyone visiting the area.
So we've told you about some of our favorite Taste Escapes, but Pepsi NEXT wants to hear about your local gems. Follow the hashtags #PepsiNEXT and #TasteEscapes to learn about more cool spots. And if you want to win one of four fun getaways, make sure to visit the Unbelievable Taste Escape site today. It's the last day to enter!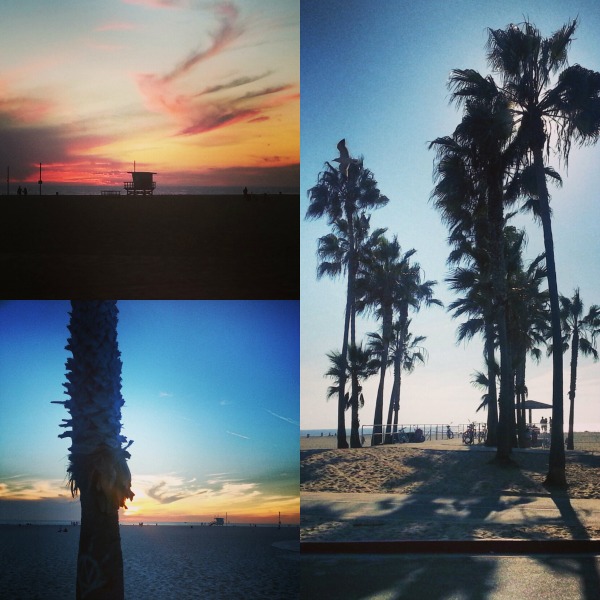 Indianapolis -3 At Tennessee
The Colts got creamed last week in all phases. They don't have any semblance of a run game. Luck and the 6-3 horseshoes are up against a 4-5 team that's hungry for its first divisional victory. Can the top seed in the AFC South cover on the road against a solid, top 10 defense? I think so. Luck doesn't ever suck twice in a row. The spread's not too harsh. The Colts can do this.
Pick: Colts -3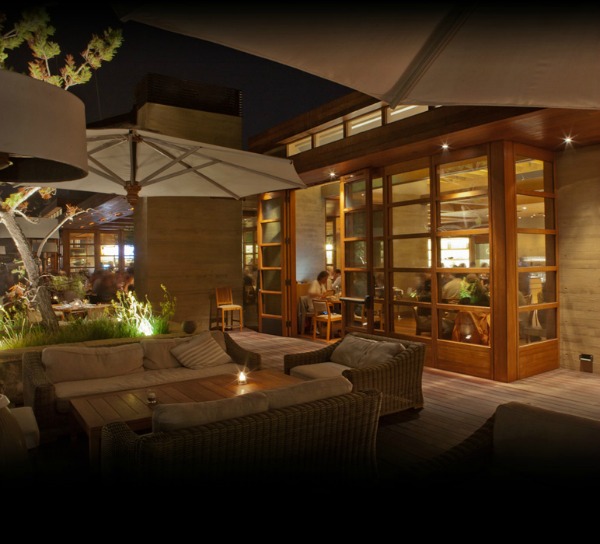 Pepsi NEXT is partnering with Airbnb to send lucky winners to cool destinations as part of their Unbelievable Taste Escape contest. Fans can get involved by sharing notorious hotspots and hidden gems using #PepsiNEXT and #TasteEscapes hashtags. You can also visit the Unbelievable Taste Escape site and win one of four fun getaways.
Our friends at Pepsi NEXT encouraged us to share some of our favorite local hot spots. Well there's are no shortage of amazing places to eat in the LA area. We got food trucks for days, authentic cuisine options from countless cultures, hidden hole-in-the-wall joints, quality fast food (I'm looking at you In-n-Out and Zankou Chicken), and upscale venues in every corner. Everyone fancies themselves a foodie in Los Angeles. It just goes with the territory. And it's not like we're all snobby about it either. We really do have some fantastic places to eat in this town, and we're damn proud of it.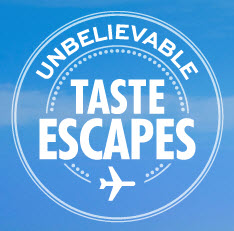 Nobu Malibu is one of these places. It's an experience. An event. Are there more legit hole-in-the-wall sushi joints in town? Most definitely. Hamakaze on Washington in Venice comes to mind. The Malibu location isn't the first or most notorious Nobu spot, either. Celebrity Chef Nobu Matshuisa has opened Nobu restaurants all over the world, from multiple locations in New York and LA to satellite restaurants all the way from London to Dubai to Melbourne to Moscow. There are more than 20 Nobu restaurants worldwide, but the Malibu spot is something to behold.
Nobu Malibu first launched in 1999 as a quaint restaurant couched in the confines of the Country Mart shopping center in Malibu. Last year, the new beachfront location opened up on PCH with tons of fanfare. It's a sprawling, grandiose location with floor to ceiling windows, rustic woodwork and views that can't be beat. I mean check out this sunset:
And that's just during cocktail hour. Things look this gorgeous before you even start tasting the food.
Then you get to the Yellowtail Sashimi with Jalapeno Peppers. I mean, just look at this plate: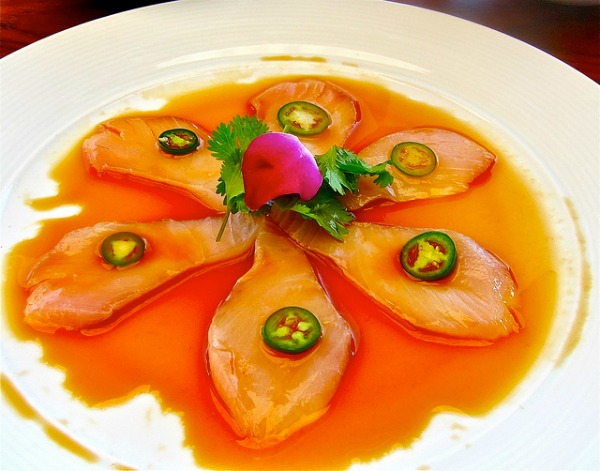 And then you hear the wait staff talk about the Japanese Wagyu Beef and how these cows are treated, how they get daily massages and live a life more luxurious than yours. After sampling top shelf sake in bottles the size of an offensive lineman's leg, you finish everything off with an amazing variety pack of deserts.
So yea, this place is a total trip, man. The wait staff is flawless (no unattended napkin shall remain unfolded!) and the sunsets are gorgeous. The parking lot is lined with supercars and it's a situation where you're like, oh look, there's Sting sitting at that table and there's secret service-level security all about to make sure he gets back into his Sting-mobile safely when he exits. All part of your typical Tuesday night out. Go check this place out!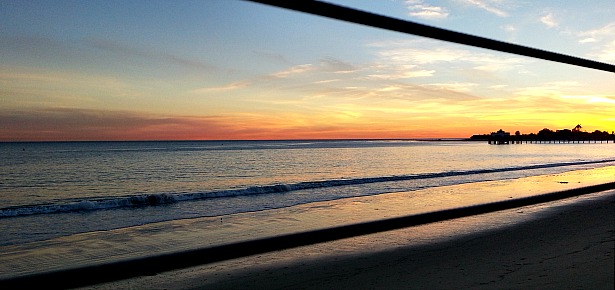 Yellowtail Photo Credit: jayweston@sbcglobal.net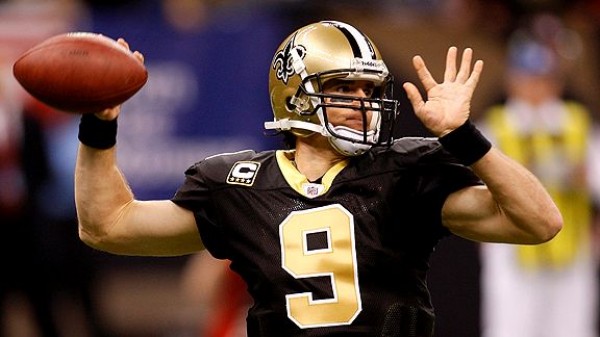 At Tennessee -12 Jacksonville
Spread's a bit high, but so is the talent differential.
Pick: Titans -12
Philadelphia -1 At Green Bay
Foles over Seneca, even if Lacy goes off.
Pick: Eagles -1
At Pittsburgh -3 Buffalo
There's talk that Ben may want out in Pittsburgh. Things couldn't get much worse, so it's now or never for the Steelers.
Pick: Steelers -3
At NY Giants -7 Oakland
The suddenly competitive Giants take advantage of home field and continue to right the ship.
Pick: Giants -7
At Indianapolis -7.5 St. Louis
Why would you pick against Luck at home?
Pick: Colts -7.5
Seattle -4 At Atlanta
Two teams going in the opposite directions. Seahawks keep rolling and avenge last year's playoff loss.
Pick: Seahawks -4
At Baltimore PK Cincinnati
I like the Bengals better, but I think the Ravens will rally at home and finally get a much needed W.
Pick: Ravens
At Chicago PK Detroit
Huge NFC North implications here. Lions take the lead in the division after this one.
Pick: Lions
At San Francisco -5.5 Carolina
Two of the hottest teams in football square off in a battle of win streaks, but the Niners are well-rested and playing at home with an extra week of prep.
Pick: Niners -5.5
At Arizona -3.5 Houston
Will that Case magic work on the road? I'm thinking it may only work in Houston.
Pick: Cardinals -3.5
Denver -7 At San Diego
Broncos win a shootout.
Pick: Broncos -7
At New Orleans -6.5 Dallas
Brees and Rob Ryan get the best of the Boys.
Pick: Saints -6.5
Miami -2.5 At Tampa Bay
Distraction or rally cry? If Miami was a stronger team, they'd use all the unwanted media attention for fuel. I think the Bucs have a chance to win their first game here.
Pick: Bucs +2.5

We're at the midpoint of an exciting NFL season with tons of interesting storylines. Babyface meathead Richie Incognito has been dominating the NFL news cycle lately, but there are more important things to ponder, like why the hell the Steelers are 2-6.
The Pittsburgh Steelers have more championships than any other NFL team, but the 2013 season has been an absolute disaster. From the patchwork set of o-lineman that take each other out at the knees to the aging defense that allowed more points last week than any other game in Steelers' history to the inability to convert and stop conversions on third down, it's been a rough year. As a Steelers fan, I'm open to any and every bit of positive ju-ju that can help stop the bleeding.
So I took a look at the NFL Fan Superstition Index that Bud Light put together. The official beer of the NFL partnered with KRC Research and conducted more than 9,500 interviews among the 32 different NFL team fan bases. About 300 fans per team were asked more than 50 questions in an effort to calculate the superstition level of each NFL fan base.
Baltimore Ravens fans ranked as the most superstitious fans in the NFL. Coming off a Super Bowl victory, that's totally understandable. Jets fans are most likely to try and curse or jinx an opposing team, which also makes sense seeing how miserable the average Jets fan's life must be. Lions fans are most likely to engage in superstitious activities alone, likely so that no one will see them cry.
I thought this tidbit was interesting – Raiders supporters are the fans most likely to wear the same article of clothing (51%) or same hat or non-clothing accessory (38%) in order to help their team's chances of winning. That makes sense when you think of the low football/life IQ of most Raiders fans, and the fact that they rarely wash themselves or their clothes.
Steelers fans rank fourth in the league when it comes to engaging in superstitious activities with their friends. Steelers fans rank seventh when it comes to setting out some type of team memorabilia to impact the outcome of a game. There's a lot of terrible towels you see. And does it work? Well 36 percent of the Steelers fans surveyed believe that their superstitious practices actually influence the outcome of games. Maybe we all should try harder this year.
So there you have it. If you want to learn more about your team's fan base tries to influence games with supernatural tactics, check out the full NFL Fan Superstition Index by Bud Light. Here are some more highlights from the survey: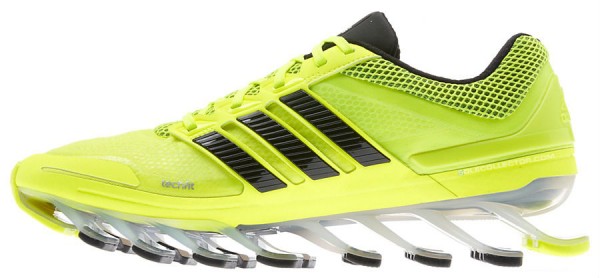 The new Adidas Springblade is the first running shoe that's actually engineered to propel you forward as you run. You can pick these up at adidas.com/Running or hit up #Springblade on Twitter to find out more about this electric shoe that features 16 individually tuned Energy Blades that'll legit give you an extra boost in your step. Check out the video:
Washington -1.5 At Minnesota
The Vikes are riding a four game losing streak. They're a one win team in divison with three other 5-3 squads. Despite some inspired play by Christian Ponder in a near-win last week, Minnesota has nothing to play for but pride. The Skins aren't exactly road warriors (1-3 away from Washington), but they beat a decent Chargers team last week and at 3-5, they're still in the mix in the NFC East. Both these teams are pretty ineffective on the defensive side of the ball, but the edge goes to the better offense.
Pick: Skins -1.5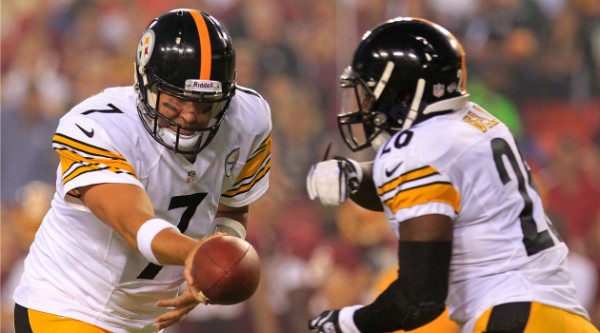 At Carolina -7.5 Atlanta
Panthers got momentum. They get Stewart back as well.
Pick: Panthers -7.5
At Dallas -10.5 Minnesota
Big spread's justified. Cowboys rally behind Demarco as the Vikings look for answers at QB.
Pick: Cowboys -10.5
New Orleans -6 At NY Jets
Jets should find room to run, but could be down early. Brees lights it up.
Pick: Saints -6
Tennessee -3 At St. Louis
Locker gets back to business. Rams are banged up.
Pick: Titans -3
Kansas City -3 At Buffalo
No Thad Lewis. Should be a ground and pound type game that favors the team that doesn't turn the ball over.
Pick: Chiefs -3
San Diego -1 At Washington
Redskins are under siege to change their name and the Chargers are well rested. I like the home team here.
Pick: Skins +1
At Oakland -2.5 Philadelphia
Foles doesn't inspire and Raiders are coming off a big home win.
Pick: Raiders -2.5
At Seattle -16 Tampa Bay
Spread seems a bit too high.
Pick: Bucs +16
Baltimore -2.5 At Cleveland
Browns continue their descent.
Pick: Ravens -2.5
At New England -6.5 Pittsburgh
Upset city as the Steelers bounce back after finding room to run.
Pick: Steelers +6.5
Indianapolis -2.5 At Houston
Colts are hot and the Texans have lost 5 straight. Schaub gets benched and Foster is a game-time call.
Pick: Colts -2.5
At Green Bay -10.5 Chicago
Cutler-less Bears will struggle in Green Bay.
Pick: Packers -10.5
Last Week: 5-8
Season: 55-64-2
Last Season: 136-121-5
Cincinnati -3 At Miami
The Bengals look to tighten their stranglehold on the AFC North with a trip to Miami on Halloween. This Bengals team is winning games that it previously would've tossed away. They've won four straight. After a hot start, the Dolphins have lost four in a row. These are two teams moving in the opposite direction and even if the Fins run the ball consistently, they're up against one of the better run/overall defenses in the league.
Pick: Bengals -3
San Francisco -15 Jacksonville
Sorry, London. Not all football games are this one-sided.
Pick: Niners -15
At Detroit -3 Dallas
Home team gets the edge in a god battle between two 3-4 teams.
Pick: Lions -3
At Philadelphia -5.5 NY Giants
Can the Giants make it two in a row? Not if Vick plays a full game.
Pick: Eagles -5.5
At Kansas City -7 Cleveland
Jason Campbell against the league's best D.
Pick: Chiefs -7
At New Orleans -10.5 Buffalo
Thad's not terrible, but the Saints at home are too much.
Pick: Saints -10.5
At New England -6 Miami
Tom Brady is under pressure to make things happen with less protection and fewer splashy playmakers. The Pats just don't lose two in a row that often though.
Pick: Pats -6
At Cincinnati -5.5 NY Jets
The Bengals are looking like one of the teams to beat in the AFC, but can they be as physical as the Jets?
Pick: Jets +5.5
Pittsburgh -2.5 At Oakland
Pittsburgh doesn't always perform well in Oakland, but with an inspired D and balance on O they'll win three in a row.
Pick: Steelers -2.5
At Denver -11.5 Washington
This game's going to be a points-fest. I think the Skins might be able to hang or at least not get blown out.
Pick: Skins +11.5
At Arizona -2.5 Atlanta
The Cards are hard to read, but the Falcons can still make noise despite all the injuries.
Pick: Falcons +2.5
Green Bay -7.5 At Minnesota
Maybe Freeman settles down a bit. Looks like he still needs more time though.
Pick: Packers -7.5
Seattle -11.5 At St. Louis
Whenever Favre comes up as a viable option for you at QB, you've got problems.
Pick: Seahawks -11.5