Chris Stout
Posts by Chris Stout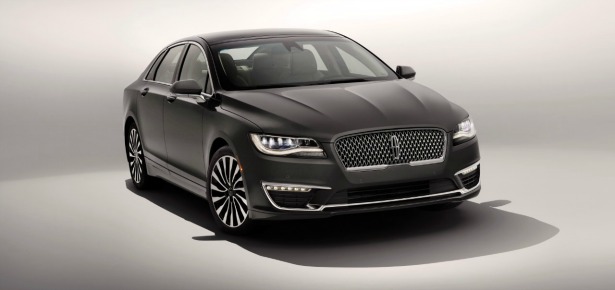 Last month I got to take the 2017 Lincoln MKZ out for a drive around LA. The day started with a lunch at Broken Spanish, a hip spot near the Staples Center where Chef Ray Garcia reimagines classic Mexican dishes with a modern touch. The folks at Lincoln wanted to make sure we were all properly fed before testing out the MKZ, and fed we were. Calabacitas tamal, campechana, ensalada verde, ensalada rusa, birria, ridiculously tasty guac, tres leches cake – you get the idea. It was almost too much, but nothing could go to waste. Even after I hit capacity, the grub was too good to pass up.
During lunch, I met Solomon Song, the Exterior Design Manager for the MKZ. When Song spoke to the group, he introduced himself by saying "I'm a little quirky." I found his quirkiness entertaining and his passion for design refreshing. Song described the amount of detail that went into designing the exterior of the MKZ, which was first introduced in 2013. From the refractive quality of the headlamps (which were inspired by crystal chandeliers and vases) to the need for "quiet luxury" (an appreciation of the finer things that embraces understatement and shies away from in-your-face swagger), Song spoke about the MKZ like a proud parent.
"Treat it like a rocket ship," he said, where every detail is a painstaking decision but function leads the way. Song spoke of the human to machine interface that really defines the driving experience. He also stressed his focus on depth as a core point of design emphasis. He highlighted the tight radius in the front of the car flowing into the bigger radius in the back – pleasing lines that he likened to a well-tailored suit. While most of the media folks in attendance powered through course after course at Broken Spanish, Song sat down with a pen and produced MKZ sketches for everyone. The proud parent's joy was on full display when Song sketched out the familiar lines of the MKZ from memory.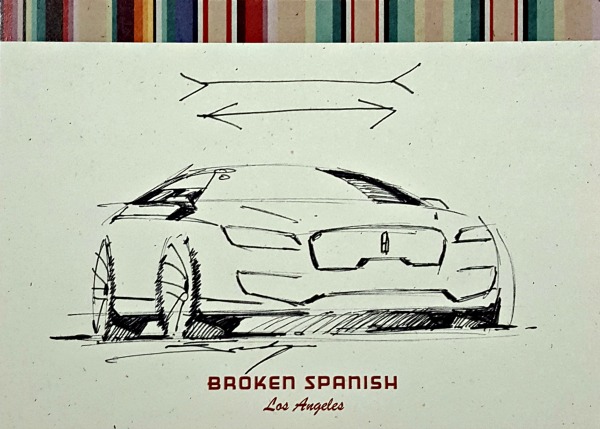 Song's partner in crime is Tom Ozog, the Chief Program Engineer for the MKZ. As Song put it, Song gets to come up with the concepts, like a retractable glass roof, and Ozog has to figure out how to execute it. Continuing with the "quiet luxury" theme, Ozog underscored the isolation from outside noises in the cabin as a core part of the MKZ experience.
"Quality is quietness," Ozog explained. He encouraged all the folks who would be testing out the MKZ to pay attention to this important feature. Ozog also emphasized the exterior design, overall craftsmanship and the "effortless performance" of the driving experience as distinctive features of the new MKZ.
After the good eats and introductory chats, it was time to hit the road. My destination was Hammer & Nails, a manicure/pedicure salon for men located in West Hollywood. I've never gotten a manicure before, so that was an interesting bit of man-pampering that I got to experience. If you're a guy and you need to up your hand/food grooming game in a chill environment with cool people, check em' out.
The 2017 MKZ Reserve AWD was my ride for the day. It came in Magnetic Grey Metallic with an Ebony Leather interior. As advertised, the overall luxury look-and-feel of the car definitely came with a dose of subtly. It's clearly in the luxury class, but it doesn't need to try too hard to flaunt this distinction. The outside lines are pleasing and display a certain depth, something I was keen to look for after chatting with Song. The interior cabin is a like a tastefully designed living room. Nothing gaudy. No gold and marble. Just cozy and comfortable with a touch of class.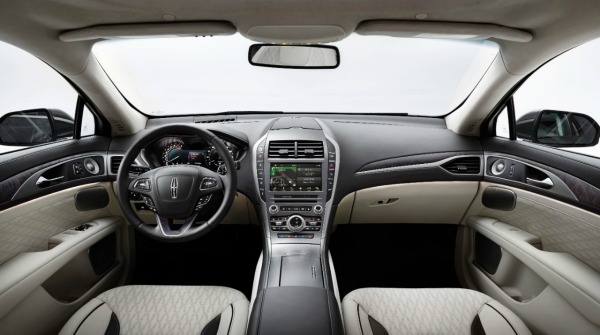 The MKZ had a few features that I knew I had to test out. The first was Auto Hold, a system that allows you to remove your foot off the brake when the car is idle. I was initially hesitant to activate this feature, as I can be pretty absent minded and clumsy at times. After working up a bit of courage, I gave it a go. It's the type of feature that you wouldn't think is really necessary. I've been leaving my foot on the brake when idle my whole life, so I never thought about active foot pressure being an inconvenience. After flipping the switch though, I never went back. It's a subtle indulgence that may seem unneeded, but being able to chill at a red light and adjust your comfort level without having to worry about the brake is really quite nice. There's no hiccup when you want to press the gas and go. It's all pretty seamless.
Another feature that I was keen on testing was the Active Cruise Control. I'm not really a big cruise control guy. I get that it can be convenient for long road trips, but just like using my foot to control the brakes, I'm pretty used to actively driving cars without assistance. With Lincoln's ACC, the cruise control senses traffic slowing ahead and reduces your speed to maintain a preset distance automatically. Your cruising speed resumes when traffic has passed, which is nifty. AAC also includes forward collision warning with brake support. This feature flashes a heads-up display to warn you of potential impact and even pre-charges/increases the sensitivity of brake assist to provide a more responsive braking situation if you're about to smash into someone.
Any review of the MKZ wouldn't be complete without a discussion of the Revel Audio System. The MKZ comes in 14 and 20 speaker options. I'm glad I got the 20 speaker Ultima setup. I just got back from Spain so I was keen on bumping some tunes that I picked up at the Rastro. Like this record. Pairing my phone up to the Revel Audio System was super easy, and I was blasting travel tunes in no time. The sound system really is a major selling point here, especially with the overall quietness of the cabin helping to isolate the sounds you actually want to hear. No matter what seat you end up in, you're going to get a crisp, rich audio experience in this ride. It also helped that the redesigned control panel was as intuitive as advertised, allowing me to jump from Spotify playlists to the navigation map with ease.
There's a lot to like about the new MKZ: the understated luxury, the signature grille, comfort and quality sound for all passengers, clean lines, a fully retractable panoramic glass roof. You can't argue with 41 city/38 hwy/40 combined mpg from the 2.0L Atkinson-Cycle I-4 Hybrid Engine either. It's the little things that go a long way with this car, and with releases like this, it's easy to understand why Lincoln is experiencing double-digit growth in year-over-year sales.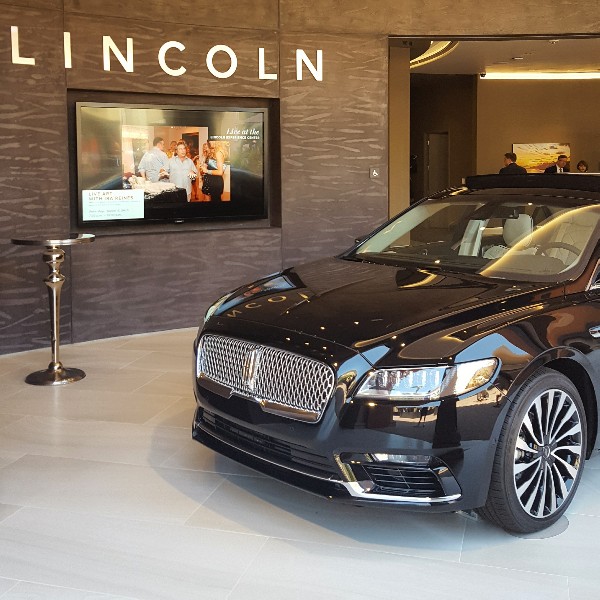 Lincoln is back, baby. Once a shining leader in the American luxury car space, Lincoln hit some hard times a few years back. U.S. sales fell to a 32-year low in 2013, but the brand bounced back in a big way.
The introduction of the MKC crossover propelled a 16 percent year-over-year sales increase in 2014, making it the fastest-growing luxury brand in the U.S. that year. This upward domestic sales trend continued last year, and with six months of sales figures in the books for 2016, the positive trend continues for the luxury-focused company that was founded in 1917 and has been a subsidiary of Ford since 1922.
A big part of the brand's resurgence can be attributed to a renewed focus on "The Lincoln Way." I learned more about this approach when I met up with Andrew Frick, Director of Sales and Service Operations this past week at the new Lincoln Experience Center located inside Fashion Island in Newport Beach (139 Newport Center Dr, Newport Beach, CA 92660).
Frick is a tall, affable dude who's quick to smile and has a sense of humor that's as clever as Lincoln's new brand messaging. The gist of "The Lincoln Way," as Frick described it, is creating a "warm, human, personally crafted" experience for car owners. The words rolled off his tongue quite effortlessly and he revisited this central approach frequently when describing the new Lincoln Experience Center.
Officially launching this weekend, the Lincoln Experience Center is a comfortable, 5,200 sq. ft. space that provides visitors with immersive, tactile opportunities to explore the Lincoln Way.
"Our brand is in a better place than the perception of the brand locally," Frick said. The purpose of the new space is to change that perception. Situating the space in an area with high foot traffic with a local demographic receptive to luxury car buying also helps.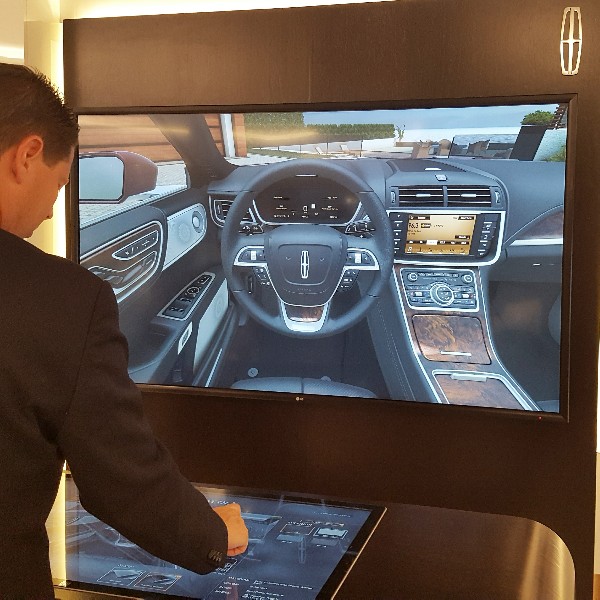 Visitors can pop in and get a break from shopping by chilling (or working with Wi-Fi) in the lounge with a complimentary beverage. Tablets and a large, interactive Technology Wall are available so that guests can learn more about new Lincoln models and explore features and options. Cycling through colors, environments, wheel variations, roof options, interior color tones, back seat views, etc. in real time is a great way to expose more people to the brand's offerings. An app is in the works as well and will likely be released in this fall.
Guests can also take in different design inspirations, schedule a test drive (or a more extended "date night" 24-48 hour weekend test drive) and visit the Revel Audio room to get a first-hand feel for the sound system's capabilities. As Frick mentioned, "we sell a lot of vehicles because of the sound system," and the audio room at the Lincoln Experience Center helps explain why. Visitors can also inquire about guaranteed pickup and delivery services (available for owners of new 2017 model-year Lincolns), leasing and finance options or even Skype directly with dealerships.
"We do believe we are going to sell vehicles through this experience," Frick said, "and we've already started to do so."
Frick went on to explain that "the plan is to learn from this environment" with the goal of opening similar spaces up in the near future. These types of environments also allow the brand to "do business on clients' terms in ways that are important to them," according to Frick.
The Lincoln Experience Center will also be used to host events in an effort, as Frick put it, to "engage the local community and support local businesses." Visitors can reserve spots for events that will feature everything from musicians, artists and jewelers to chefs, sommeliers and cheese mongers. This program to deliver culture and luxury outside of the vehicle is part of Lincoln's plan to reassert itself in the luxury car space in a way that's more "warm, human and personally crafted" than a trip to your local Lincoln dealership.
One of the bigest things I took away from my visit to the Lincoln Experience Center and my conversation with Frick is that most luxury car owners don't really want to get into the specs of a high performance, luxury vehicle. Horsepower, torque – not so important. The actual driving experience and the specifics of the luxury options available — like the curated Lincoln Black Label Collection or the Revel Audio sound system or the new Perfect Position Seats – these are the things that luxury car buyers in the America really care about.
"It's not about what the car can do," Frick said, "it's about what the car can do for you."
If you're curious about the Lincoln Way, the 2017 Lincoln Continental Concept or just you want to find out more about different Lincoln models and options as you sip a free glass of champagne, go check out the space (139 Newport Center Dr, Newport Beach, CA 92660).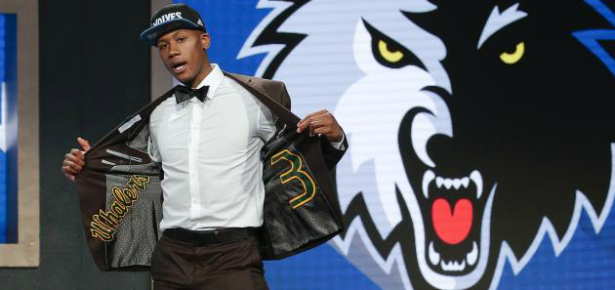 A week before the Minnesota Timberwolves made Kris Dunn the fifth overall pick in the 2016 NBA Draft, we caught up with the young point guard from Providence to discuss his decision to finish four years of school, his thoughts on the changing landscape of the NBA, how his skills will translate to the next level and his experience working with Speed Stick's Coach Speedman aka John C. McGinley. Here's the chat:
CS: Tell me about your decision to return to college for another season, finish up your degree and improve your game.
KS: The main reason why I came back to school was just to get my education. I put a lot of work in my first three years. I stayed in both summer sessions. I felt like I wanted to get that so no one could take it away from me, and just be a good role model for my two little sisters. They're heading off to high school and so just to show them how important education is and how important it is to graduate college. I'm just trying to set the standard high for my family, really. And you know, graduation day, that was a special day for us. It was a celebration for me, but also for the family and Providence College, so that was good.
On the court, I feel like I only had one full year of experience in college basketball, due to my injuries. And as a point guard, you have to be a leader, you have to be knowledgeable of the game, and felt like I needed to learn more to become a student of the game before heading off to the NBA. I felt like I needed to hone a couple more things in my game to be NBA-ready when it's time. Working on my ball handling, my decision making, improving my jump shot and becoming a better defender. A lot of people think I'm a good defender, but I could get even better. So those are the main things. Also, just trying to build a legacy at Providence. Providence hadn't gotten past the first round in 20 years. To be able to accomplish that, it takes a weight off of everyone's shoulders. My four years at Providence were amazing,
CS: Do you think other college players might follow your lead and try to hone their game, secure that education, and just get those skills up before going to the NBA? That definitely hasn't been the trend in recent years.
KS: Yeah, I mean everybody has a different scenario, a different situation at home. Some kids might need the money so that is why they go one-and-done. Some kids might feel like they're ready right away.
CS: Right.
KS: I'm not going to be the first to do this. Down the road, there's definitely going to be another person who does the same thing as me. So if they do that, I'm blessed to know that I showed them that you don't have to be afraid to go back and stick to your education. If you feel like you need to tighten up your game a little bit more, then you should be able to do that. You should be able to be a kid one more last time before going to the NBA. Because everybody knows the NBA is a business, so it's not like how college is where you always have your teammates around. Everybody has different lives though.
CS: The general landscape of the NBA is changing. It's no longer a league dominated by big guys in the paint. You see what the Warriors are doing and you see how the perimeter game is changing things. How do you think your game will translate to the next level?
KS: I think I'll adjust okay. At Providence College, all we did was pick and roll, so I'm very used to different schemes based on what defenses would do to us. I'm very comfortable in a pick and roll offense. I feel like I can get anybody involved. I'm very capable of getting into the lane, attacking at the rim or finding the open man. I've been doing a lot of that at Providence. And I'm very comfortable with my shot as well. Anybody who watches my games — any big time shot I hit, it wasn't due to lay ups, it was due to my jump shot. That shows your right there how confident I am in my shot. And I feel like my defense is going to be my greatest strength. I feel like I can defend. I feel like I can cause havoc.
CS: What players did you look up to when you were just learning the game?
KS: The player I looked up to when I was little was Kobe Bryant. It was just all because of his mentality. He's the type of person that – every day – he's going to bring it. Whether it's practice or in the game. His killer mentality, not too many people have that. That's the type of mentality I'm trying to create for myself. Just bring it every day and don't back down from anybody. That's what I loved about him.
CS: So you won't have the choice to decide where you go in the draft. Is there a certain place you'd like to end up? How do you manage those expectations when it's out of your hands?
KS: No, actually I don't have a specific place that I want to go to. My dream is just to be drafted. As a broke kid, all I wanted to do was play in the NBA. And to have that opportunity, to have a chance to be in the lottery, that is a blessing itself. Whatever team that selects me, I'm going to go there and work hard and try to impact the team the best way possible. If they need me to defend or if they need me to do whatever they want me to do. I just want to go there and I want to play. And I know it takes hard work to get out on the court.
CS: Have you done any preparation to account for any draft day jitters or just the pressure and the uncertainty of that specific day in your life?
KS: No. Right now, I'm just excited. I'm excited I'm just excited because me and my family have been through a lot of ups and downs throughout the years. Draft night, it's a moment for us. I think we deserve to be in this situation because we all worked hard as a family. It wasn't just me. Everybody put effort into helping me get to where I am. I have to appreciate my family. I have a great supporting cast. That night is for me and my family. I came from Northern Connecticut in an impoverished house, so that night is going to be great.
CS: Who is the hardest player you had to defend in college?
KS: The hardest player I had to defend…. Probably my freshman year, probably Pierre Jackson. When he was at Baylor, when he was a senior, he was a really good player. Fast. Changed his speed really well. He had a jump shot. Other than that, I wouldn't say a specific player, but I would say teams. Villanova, they're a hard team. They had so many great players. Seton Hall, they had some great players. Michigan State.
CS: What are you most excited about going from the college game to playing with the big guys in the NBA?
KS: Just going against the other point guards in the league. Everybody knows that this league is starting to get so point guard dominant. There's so many great point guards around the league. And I just want to see my skill level against the other point guards. See what I have to work on and improve on in order to become an elite point guard. I think that is everybody's standard, every day trying to become an elite player. You've got to go against the best in order to understand what you need to improve on.
CS: So I understand you'll be working with Speed Stick and Coach Speedman at the #Speedman Combine, what's that about?
KS: Coach Speedman is John McGinley, the actor. He's unreal. He's unbelievable. I had a great time with him during my set. So we're bringing the media through two circuits. In the first circuit, they're going to have to do their own commercial, their first commercial. They're going to mess up, of course. So they bring us in to help them get past their first commercial. So we tell them to stay true to themselves, you know, not try to get too down. Don't try to be perfect in your first run and whatnot. Just have fun with it. Basically John McGinley taught us to feel comfortable and have a good time with it.
Then the second circuit I think is going to be the best one. It's the pregame ritual. So the media has to do their own pregame ritual. Going through like Russell Westbrook or Kevin and they'll be dancing before the game. Or in my case, before the game I love listening to music to get myself pumped up so I don't have the jitters. It should be really fun.
CS: Is John C. McGinley that hilarious in person?
KS: [Laughs] Oh, he's so funny. It's unreal. Like, even when he doesn't try to be funny he's funny. He's amazing.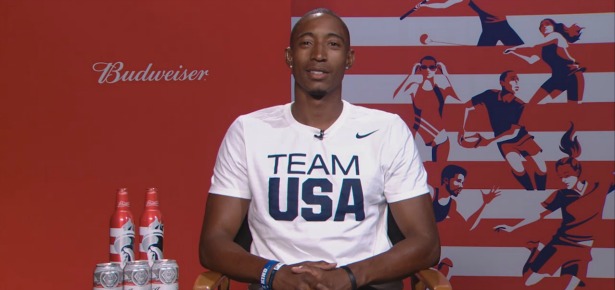 The 2016 Summer Olympics kick off in Rio this August, and we'll be treated to some new events during this edition of the world's most celebrated athletic competition. In addition to golf and kite surfing, rugby sevens will be making it's debut on the Olympic stage. A fast paced game, rugby sevens features two sides of seven players (instead of the usual 15 players per side) that compete in two seven minute halves. The sport of Rugby hasn't been played on the Olympic stage since 1924, and this is the first year that rugby sevens will be featured. Qualification for the event started with the 2014–15 Sevens World Series for both men and women. Twelve teams will compete in the event from August 6 to 11, including the US Men's National Rugby Team.
US National Rugby player Perry Baker is partnering up with Team Budweiser, the Official Beer Sponsor of Team USA, to promote the upcoming games. Baker wasn't always a rugby player. When you're uncle (Wes Chandler) plays a decade in the NFL (including four trips to the Pro Bowl as a wide receiver) and your brother (Dallas Baker) earns the nickname "Touchdown Maker" before being drafted by the Pittsburgh Steelers in Round 7 of the 2007 NFL Draft, football is in your blood. Perry played college football at Fairmont State University in West Virginia. He was signed by the Philadelphia Eagles and played two seasons in the Arena Football League before a knee injury ended his hopes of playing football at the highest level. Undeterred, Perry picked up rugby, a sport he was first introduced to by one of his high school football coaches. Perry began playing rugby full time in 2013 and he made his national team debut at 2014 Gold Coast Sevens in Australia. With a few years under his belt, Perry is ready to represent his country in Rio.
Last week we sat down with Perry Baker to discuss his role with Team Budweiser, the 225-foot Olympic mural designed by artist artist Malika Favre in midtown Manhattan, the pace of rugby sevens and how football has influenced his new career. Here's the interview: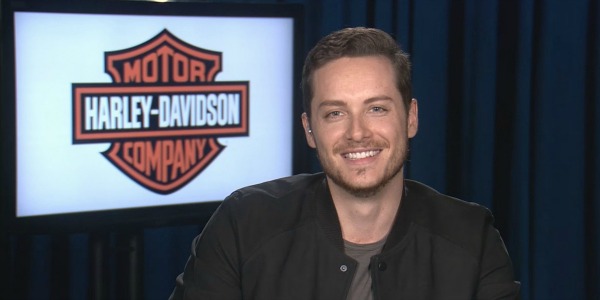 Last week we caught up with Chicago P.D. star Jesse Lee Soffer to talk about the new Harley-Davidson Roadster. Harley is doing this cool ride share program that allows people to test out the new Roadster for just $7 a day. It's a great way to get on this new bike that caters to urban dwellers. Check out h-d.com/roadster to find out how you can visit a pop-up bike share spot in pop-up in select U.S. cities, including Portland, LA and Milwaukee.
We talked with Soffer about his involvement in this new roadster campaign, his love of riding, doing his own stunts, Chicago, the difference between filming a soap opera and a crime drama and that time he played Bobby Brady on an episode of Wings. Here's the interview:
Make sure to check out the season finale of Chicago P.D. tonight on NBC.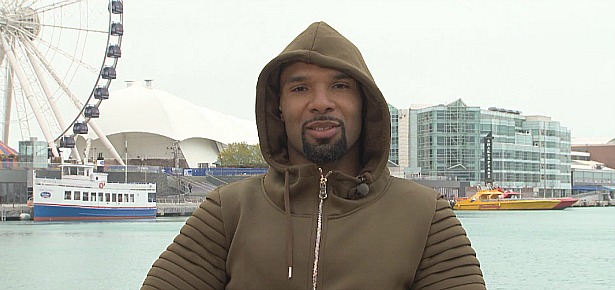 It's the night before the 2016 NFL Draft. Tomorrow night, a bunch of young football players will be millionaires. Almost half of these guys will be busts. That's just how it goes. The stakes are as high as the hopes. And in the NFL, hope is what gets you paid.
NFL teams don't reward yesterday's stars for yesterday's stats. Not like they do in the NBA. Can you imagine the Broncos bringing back Peyton Manning for a Kobe-style victory lap season as a thank you for his past efforts? No way. The NFL doesn't work like that. If you don't produce, you're gone. It's that simple. If you get paid, it has much more to do with your future potential than your previous accomplishments. The next man up is probably more affordable anyway.
Sure, there are exceptions. When the Steelers paid Troy Polamalu after he was gassed, it was more a gesture of thanks than an expectation of All-Pro production. But for the most part, NFL players have to produce to get paid and even when they produce, they may have to get paid somewhere else.
Matt Forte has produced. For eight very solid seasons. Since entering the league in 2008, he has more yards from scrimmage than any other player in football (12,718). Forte has more targets (636) and catches (487) than any running back during that span. He also owns the single-season reception record for a running back (102).
And since he entered the league eight seasons ago, no one has more touches (2,522) than Forte. Nobody.
Therein lies the problem, though. Because of how NFL teams reward players, Forte knew he wasn't going to cash in with a third contract from the Chicago Bears. It became clear last season that the Bears wouldn't even try to re-sign him. Mediocre NFL players are expendable, but ultra-productive NFL running backs turning 30 with more touches and total yards from scrimmage than anyone else over an eight year stretch are expendable, too.
But Forte found a home with the New York Jets, who signed him to a three-year, $12 million deal ($8 million guaranteed) this offseason. If he can stay healthy, he can certainly be a force in that offense. That's the hope, anyway.
Leading up to the most hopeful day on the NFL calendar, we sat down with Matt Forte to chat about his new team, new coach, God, Tom Brady, the most under-appreciated player in football, the 2016 NFL Draft and how Verizon can help you stream draft coverage tomorrow on your mobile device with the Verizon NFL Mobile App. Here's the video: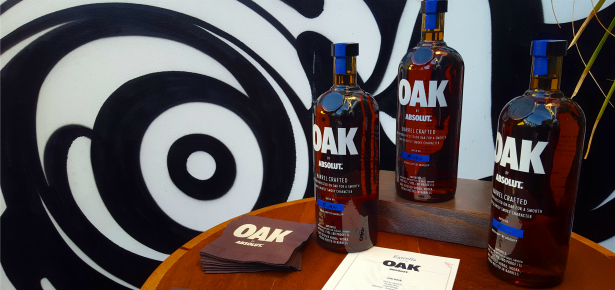 Whiskey is really popular these day, but people still like to party with vodka. Whiskey wins the sipping competition easily. If you're going to sit and sip and you really want to enjoy a well-crafted spirit, you're probably going to reach for whiskey, Scotch or bourbon. But if you want a shot or a cocktail, you may want to explore some vodka options. But what if you can't decide? What if you want the mixability of vodka without sacrificing the flavor of whiskey?
Well, Absolut has an answer for this scenario and it's name is Oak. Oak by Absolut was devised by Per Hermansen, a guy who almost certainly owns the most amazing job title available at Abolsut: Director of Sensory Strategy. I mean that just sounds cool, right? Apparently, Per's job description includes coming up with fun and unique vodka flavor combos. This is something Absolut has been doing for years with variants like Citron, Mandrin, Cilantro, Mango, Vanilla, Berri Acai, Apple, Pears, Hibiskus, Peppar. You get the idea.
So Per came up with the idea of aging vodka in oak barrels and he set about testing different barrel options to see what sort of flavors he could produce. The combination he came up with featured three distinct barrel types: American oak, Swedish oak and American oak barrels that had previously been used to age bourbon. The Swedish oak barrels produced a spicy, chocolatey flavor. The American oak barrels delivered a less spicy and more caramel forward flavor. The ex-bourbon barrels imparted a very strong vanilla vibe.
After the success of one of their most recent variants – Absolut Elyx – the brand decided to release Absolut Oak in a similar, city-by-city test program. Oak was first introduced in May of last year in Denver, Minneapolis and San Diego. Last week we attended the official launch of Oak in Los Angeles at Estrella on Sunset. I admit to being a bit skeptical of the product, but I have to say I was pleasantly surprised. I expected a spirit that would be overly sweet and not quite sure what to make of itself, but instead I found a pretty mellow spirit that's difficult to classify. Yes, its still vodka, but the barrel aging passes along so much additional flavor and color that it can easily be mistaken for a very light, drinkable whiskey.
Sampling the stuff straight up, it really wasn't all that bad. It's real power, though, comes in the form of a utility mixer. It plays nice with other ingredients. Here are the three different cocktails were served at the launch event: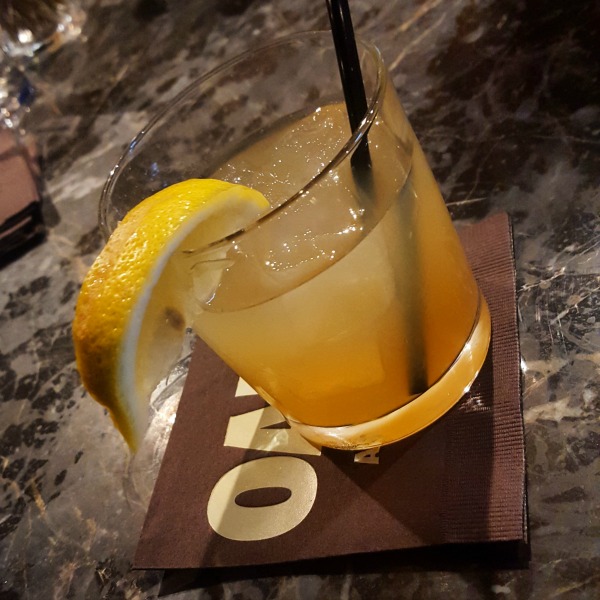 Oak & Cola
Uppsala Sour
2 parts Oak by Absolut
1 part Lemon Juice
.75 parts Simple Syrup
Combine all ingredients in a cocktail shaker
Shake with ice until cold
Strain into a rock glass over cubed ice
Garnish with a lemon wedge
Oak Mule
2 parts Oak by Absolut
.5 parts Ginger Beer
Lime Wedge
Angostura bitters (optional)
Pour all ingredients into a fancy mug
Fill with ice
Garnish with a lime wedge
The Oak and Cola was simple and not too sweet. The Uppsala Sour was tart and refreshing. The Oak Mule was a nice take on the classic cocktail served in a fancy mug. I find traditional Moscow Mules to either be too sour or too sweet, but the extra smoky oak flavor of the vodka mixed well with the bitters and ginger beer to produce a very drinkable cocktail.
I'm still a whiskey guy and Oak by Absolut faced an uphill battle with me. I didn't expect to be fully won over or converted on the spot, but I can definitely see myself partaking in this smoky brown vodka again in the future. I may not order it straight up, but I would certainly welcome the barrel-aged flavors that Oak can introduce to classic vodka-based cocktail options.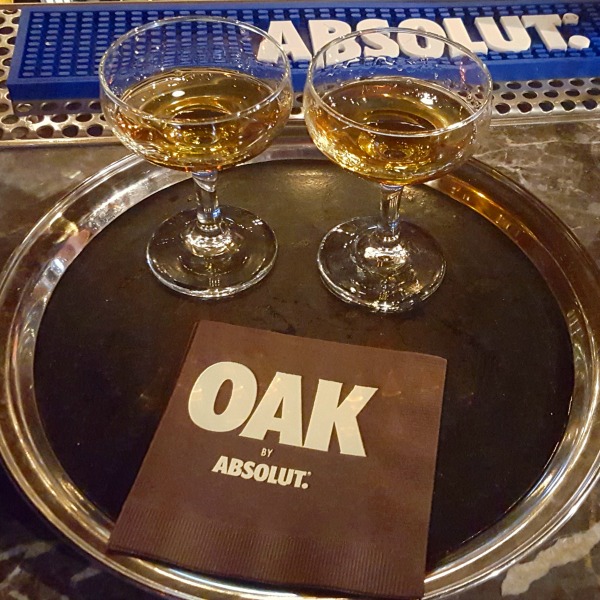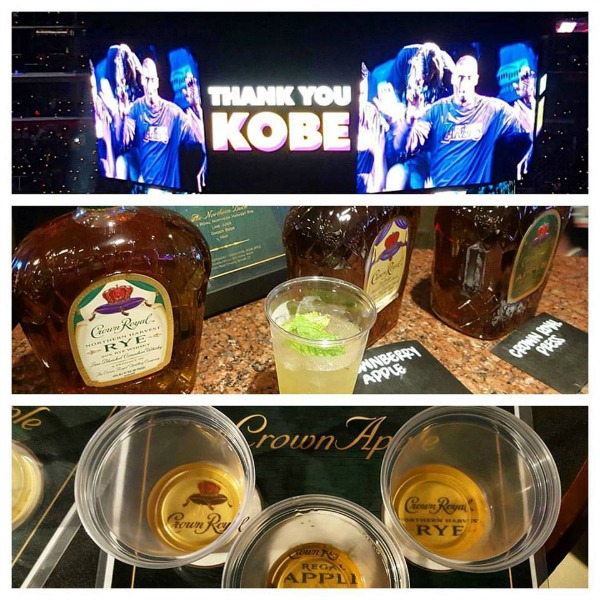 Our friends at Crown Royal invited us out for a night of sweet basketball and tasty Crown samplings at Staples Center this past Wednesday. On display were the lowly Lakers and surging Clippers and of course, inspired cocktails featuring different Crown variants.
The star of the night's festivities was Crown Royal Regal Apple Whisky. The heart of this spirit is the classic Crown Royal Deluxe, which itself is a blend of 50 Canadian whiskies. The Crown Royal Deluxe that serves as the base is infused with Regal Gala Apples and apple flavors. The result is a sweet variant on the traditional Crown taste, which leads with a vibrant apple nose, rests on your tongue with a tart smoothness and finishes with a very apple-forward sweetness.
Crown Apple isn't for everyone. If you like your spirits sweet, you can certainly get down on it. I think it plays well as a cocktail ingredient, where the sweet apple flavor can play nicely with other drink elements.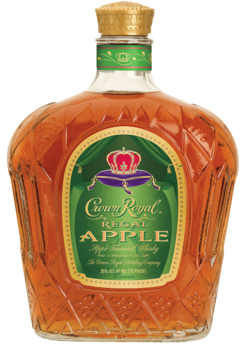 Here are the cocktails that were served at the tasting event:
Crownberry Apple
1.5oz Crown Royal Regal Apple
4oz Cranberry Juice
Garnish with apple wedge
Crown Royal Press
1.5 oz. Crown Royal Deluxe
3 dash (s) Bitters
Top with Lemon-Lime Soda
1 Lemon Wedge
Garnish with a lemon wedge
The Northern Buck
1.5 oz Crown Royal Northern Harvest Rye
.5 oz Lime juice
Top with ginger beer
Garnish with a lemon wedge
The combination of Cranberry juice and Crown Royal Regal Apple was a winning choice. The sweetness of the apple whisky was offset a bit by the tartness of the cranberry juice. Two distinct tastes that taste pretty good together.
The Crown Royal Press makes for a nice warm weather cocktail, good for summer days and sticky nights where a little bitters and a lot of lemon-lime lighten up the classic Crown Royal Deluxe.
The Northern Buck showcases the whisky of the year, Crown Royal Northern Harvest Rye. I found the lime juice to be a bit of a distraction, but I certainly enjoyed the rye + ginger beer combo.
Master of Whisky Stephen Wilson was on hand to guide those in attendance through a tasting of each whisky variant before we moved on to cocktails and one-sided basketball. We trust Steve on all things whisky related, but his detailed overview of the perfect process for experiencing retronasal olfaction and really understanding the flavor of each variant was a real treat.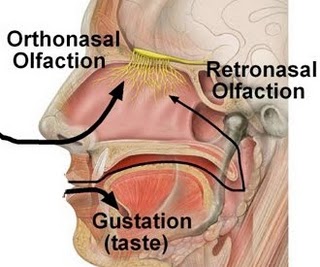 Next time you're trying a neat spirit, go through these steps:
Smell the glass first and take a small swig
Tilt your head left to right to let the spirit coat both of your cheeks
Let the spirit coat your tongue and press your tongue against the roof of your mouth
Swallow your swig
Open your mouth and inhale across your tongue
Close your mouth and exhale through your nose
Enjoy that retronasal olfaction!
After the tasting it was game time. And for the 2015-16 LA Lakers that meant one thing – sadness. The Clippers jumped out to an 18-2 lead and we're never really threatened by the young Laker squad. It was hard to watch Kobe Bryant struggle through 22 minutes of a 2-12 shooting performance from the field on his way to a six point, zero assist, three rebound night. Kobe tried to create when there was nothing to be created and lobbed up tough shot after tough shot. Metta World Peace looked surprisingly effective putting up 17 points, five rebounds, two steals, a block and an assist off the bench. He was also 2-3 from three point land.
The Clippers looked like a team ready to make a deep playoff run. Chris Paul scored 25 points and Jeff Green contributed 21 points off the bench as the Clippers easily dispatched the Lakers 103 to 81.
The love for Kobe was strong, but it's hard to see the guy go out this way. Chants of MVP showered Bryant when he made it to the free throw line. The crowd called out his name when he wasn't on the court. Kobe sat out the entire 4th quarter with his shoulders and knees all wrapped up. Watching the end of the Kobe era coincide with the Lakers' franchise-worse 61st loss was a bittersweet sight.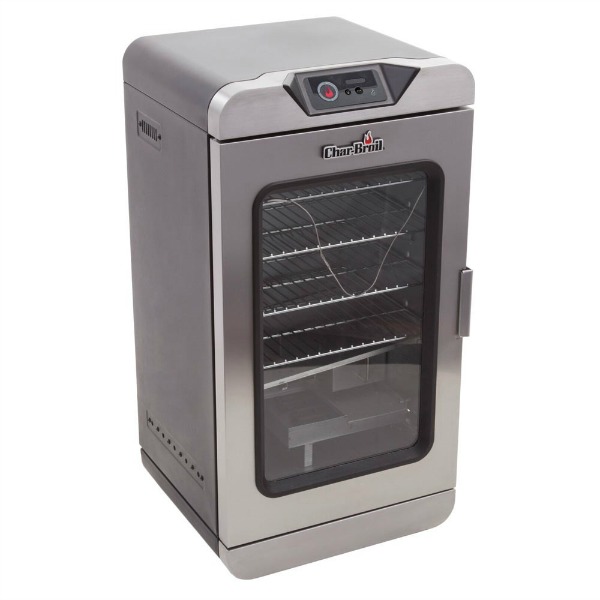 Smoking meat is a cooking technique that predates the modern era. It plays to our best primitive instincts. Early men (and women) were carnivores in need of cooked meat that would keep longer. And if this could be done with the added bonus of extra wood flavor, all the better. This need persists in the 21st Century. So when Char-Broil offered to set us up with a digital electric smoker to review, we were stoked. It's not often we get to review cutting edge meat technology. Test out a smoker that communicates with your smartphone over a wi-fi network? The answer was easy.
Retailing at $399 (for the larger model), the Char-Broil Digital Electric Smoker with SmartChef™ Technology is both simple and complex. It's simple in that it's designed for cooks who prefer the set-it-and-forget-it approach to meat smoking. This helps make the device a nice entry point for novice smokers of meat (like myself). The Digital Electric Smoker is also complex as it it requires the use of Char-Broil app that basically runs everything, from pre-heating and meat settings to monitoring temperature and alerting you when your meat is cooked. If this makes it sound like it's a cooking device from the future, that's because it kinda is.
To be fair, initial setup can be a bit of a challenge, but luckily for you, dear reader, your humble reviewer has already gone through the steps to troubleshoot some of the setup issues you may encounter when using the Digital Electric Smoker for the first time.
For starters, if you have a home wireless setup that has both a 5G and 2.4 network, you need to make sure that the smoker and your cell phone are both using the 2.4 network. The smoker won't connect to 5G. Because it's an outdoor device that is likely to be positioned far way from your home router, the smoker is designed to connect to the more distance-friendly 2.4 network. The manual also recommends that you point the smoker in the direction that your signal is coming from, which does seem to make a difference.
Okay with that out of the way, the first thing you need to do is download the Char-Broil app. The app is a bit buggy, but it gets the job done. After you download and install, the app prompts you to create a DADO account and it's through this account that your phone communicates with the smoker. Pairing is pretty simple once you get everything all set up.
Before you use the smoker, you need to run an initial seasoning setting that removes any residual materials that remain from the manufacturing process. It's just a one time thing, but don't forget to do it. Once you're ready to smoke, that's when the real fun begins.
The first rule of meat smoking is that you need to preheat your wood chips. With the Digital Electric Smoker, you don't have to soak your chips ahead of time. You can even skip using the water pan. But you do need to give your chips time to preheat so they're ready to rock when you put the meat into the device. Deeper wood chip flavors like hickory, mesquite or oak are best paired with darker, heavier meats. Lighter meats are best paired with lighter wood flavors like apple, cherry or maple. But you know, you can also mix and match. Have fun with it, you budding meat smoking artist, you.
Once you get your choice of chips all preheated, the app will send an alert letting you know that it's time to toss in your meat. Now this next step is very important. The meat probe is the key to everything. Place it in a silly part of whatever you're cooking, and you could get a false reading that can result in a bad cook. Put that thing in a unobstructed center area of the meat that's nice and plumb without being to fatty, and you're good to go.
Poor probe placement can lead to meat being undercooked. This happened to me and some chickens I was smoking. It was late, the patio was dark and I used the light of a cell phone to direct my meat probe placement. This was a very rookie move on my part, and as a result, I received an alert on my phone that my chickens were done long before they were actually finished. This is because my meat probe was lodged in a silly spot. Be firm and decisive with the placement of the meat probe. Get that thing in there properly so you don't run into any issues.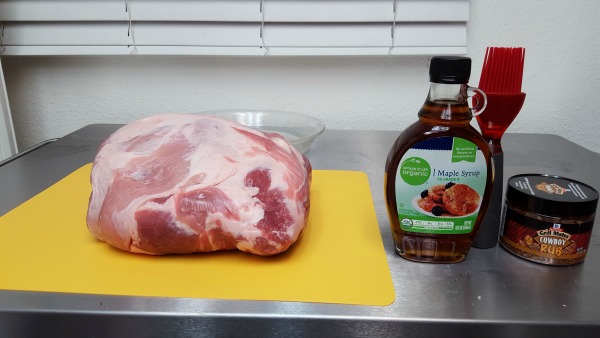 Pork shoulder is another great meat to smoke. Probably a way better option than trying to smoke whole chickens. Get some bone-in pork shoulder, wipe it down with maple syrup, apply a rub, let it sit overnight and then pair that thing with some cherry or apple or cherry apple chips, pair with some light flavored wood chips, get that meat probe in there properly and bam, you get a pretty tasty chunk of meat that's ready to be pulled and mixed with some light, vinegar-based BBQ sauce (like Salt Lick Original). Grab some of those ready made oven biscuits and boom, you're now the mayor of flavor town.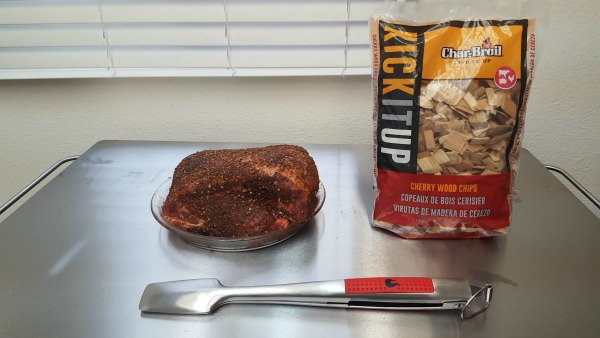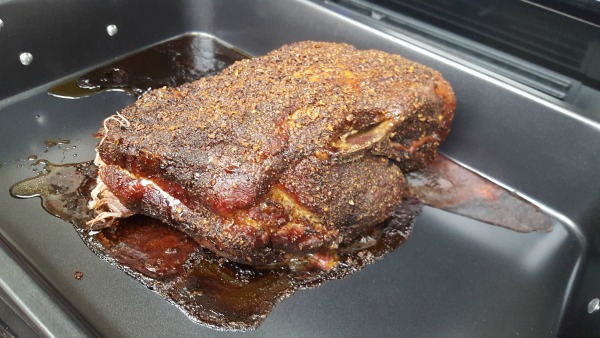 The Char-Broil Digital Electric Smoker features three cooking modes:
Guided Cook mode walks you through a program after you enter the type of meat your smoking, the weight of the meat cut and how it's prepared. The app provides you with instructions and estimated cook times. You just add in all the details and push the button to get things rolling.
Manual Cook mode let's you set up the parameters of the cook yourself. You can enter a target cook time, temperature for the for meat probe or temperature of the chamber itself. You can monitor these things from your phone as the cook runs.
Preset Cook mode let's you operate the device without the use of the app. This lower tech approach let's you skip the whole wi-fi connection situation, but it does have its limitations. The three options available as presets are Pulled Pork, Beef Brisket and Smoked Fish. When you use any of the presets, the preheat cycle runs automatically, but you got to monitor the light ring to see when your meat is ready to be added or when the cook is complete.
The Char-Broil Digital Electric Smoker gives you a balance of simple, slow cooking goodness with the added element of high tech control from the palm of your hand. Rookie meat smokers (like myself) will enjoy the fact that you can walk away from this thing while it works its flavor smoking magic. Experienced meat smokers will enjoy tinkering with different recipes and settings to achieve the perfect cook. Although it's not free of flaws (initial setup hurdles, limited preset options), this device leverages SmartChef technology to re-introduce you to the most primal, fundamental meat cooking technique known to man.
After a botched set of chickens and a really tasty pork experience, I'm going to graduate myself to brisket, the king of of all smoked meats. I might even get weird with it and get some fruits and vegetables in the thing. Experimentation is encouraged, so have fun with this thing. If you prefer to follow some battle-tested recipes, check out the options available at the Char-Broil community site.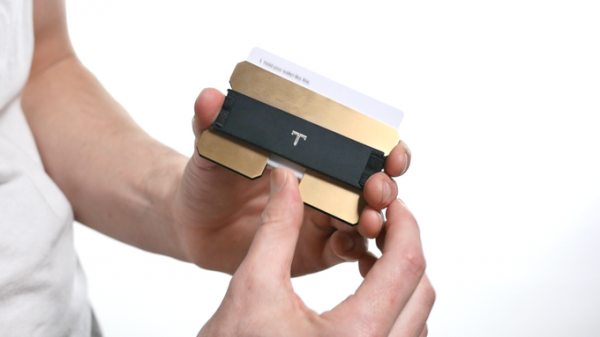 With so many things battling for position in your pockets, the days of carry around a George Costanza wallet are long gone. It's just not practical to pack brick in your back pocket with every receipt, card and form of identification that you've ever owned. Plus, it's uncomfortable as hell to sit down with one butt cheek padded extra high with an overstuffed wallet. You find yourself pulling out your wallet whenever you want to take a seat and that can lead to forgetful wallet misplacement. No one wants that.
Enter the Tribe Wallet. A super-slim alternative to that back pocket brick you're lugging around. The Tribe Wallet features two plates made with aerospace-grade materials fastened together with a tight band. It's available in carbon fiber, texalium or titanium. You place all your cards in between the two plates and use a push and pinch motion to access the specific card you need. The outer band let's you quickly fold and slide bills for safe keeping. This thing features RFID-blocking to shield your card chips and it can even open bottles and prop up your cell phone for hands-free video viewing.
This wallet has front pocket utility written all over it. It takes up minimal space and still let's you keep all your essentials handy. The one gripe is that it's almost too space saving. If you have 20 cards that you want to carry around with you, things are gonna get pretty tight. But do you really need to have your Vegas player cards and SCUBA certification card handy on a daily basis? I didn't think so. The Tribe wallet forces you to streamline your wallet and be judicial about what you carry around with you. And that's a good thing.
To learn more about "the sexiest minimalist wallet" out there, check out the Tribe Wallet Kickstarter page.