The New DraftKings Fantasy Sports Bar and Lounge at Staples Center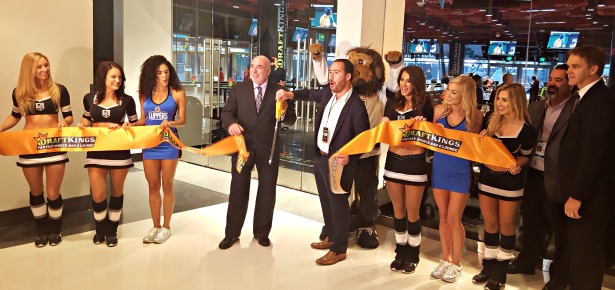 Last week our friends at DraftKings invited us to Staples Center for the official unveiling of the DraftKings Fantasy Sports Bar & Lounge. Located inside the arena just past the box office, the new 4,500-sq.-ft. F&B concept is loaded with monitors and touch-screen tablets so LA sports fans can get their daily fantasy sports fix going while watching the Kings, Clippers and Lakers compete. Designed with the feel of a Vegas sports book, the $1.5 million dollar craft beer and gastro pub was completed in a very quick timeframe and features 35 Toshiba Smart TVs, six Toshiba Virtuoso Screens, 15 Microsoft Surface Tablets and four iMacs. Fans can sign up or log in to their DraftKings accounts through these devices in order to enter tournaments, unlock food discounts and sign up for ticket giveaways.
The menu for this new spot was designed by Josiah Citrin and features some pretty scrumptious takes on classic bar food like hot dogs with mac and cheese. Fans thirsty for a a Bud Light alternative inside Staples will be happy. with the selection of Goose Island options on tap.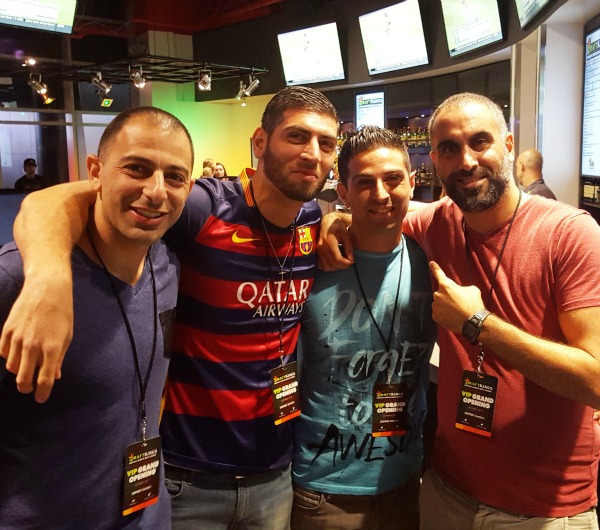 In addition to the AEG and DraftKings cutting the ribbon on their new DFS hangout, DraftKings also presented a $2 million check to week one winner BALLAH who came from behind on the first Monday Night of the season to put up 228.04 points and take home the top spot in the DraftKings Millionaire Maker Week 1 league.
This BALLAH fella and his buddies looked familiar to me. Turns out they all went to my hye school. Glendale High breeds some pretty savvy fantasy football enthusiasts, and these guys were no different. BALLAH and his boys have been playing in yearly leagues for more than a decade. They all knew their stuff, too.
Going into that first Monday Night BALLAH's $2 million winning lineup was sitting in 3,000th place. Carlos Hyde's two scores and final six yards put BALLAH over the top. Here's his lineup: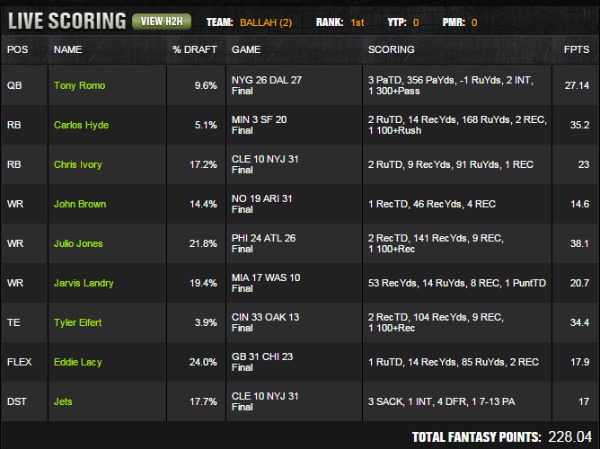 "The thing is," BALLAH told me, "you need like 30 points from each spot. You can maybe miss on one guy but you need that kind of production out of each spot."
That's definitely a different approach from your regular fantasy football decision making. In a standard league, you hope that all your guys will produce, but you're happy to get 10 points out of your flex spot. You want each slot to give you numbers, but with DFS, you're forced to go big. You have to build your lineup using a budget, yes, but you need those home run hitters in there. You gotta go for the boom and bust dude that's undervalued, not for the consistent player who will guarantee you steady production without a ton of upside.
BALLAH's score of 228 was good enough to win it all week 1. The next week's DraftKings Millionaire Maker featured a top scorer who cracked 300 points. Imagine that. Typically your happy if you can crack that 100 point week barrier with your standard annual fantasy team. If you're near 200, you're totally dominating. But when the whole field has access to the same players with the same budget restraints, you need to think bigger. You need to aim for 30 points from each spot.
So keep that in mind next time you dabble in daily fantasy sports. If you're playing to win big, you need big time production from every single start. That likely means passing on trustworthy point scorers so you can swing for the fences on guys who have higher week-to-week ceilings.
Related Posts
| | | |
| --- | --- | --- |
| | Print article | This entry was posted by Chris Stout on October 12, 2015 at 4:17 pm, and is filed under Sports. Follow any responses to this post through RSS 2.0. Both comments and pings are currently closed. |
Comments are closed.