10 Best RnB Summer Jams of the 1990s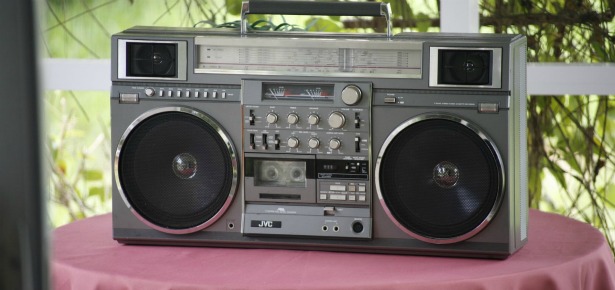 The days of June gloom are past us, people. America just had a birthday party this weekend. Barbeques, beach weather and scantily clad babes are now normal parts of your every day routine. Summer 2011 is in full effect. It's time to start enjoying it.
So how are you going to celebrate this year? There might not be a vacation on the horizon, but you better be planning yourself some good times this summer season. And whatever kind of get-together you conjure up, you'll need some quality tunes to fire up your party. Especially if there are ladies present. And for reasons that are still unclear to me, nothing gets girls more excited in the summertime than 90s RnB jams.
I don't know why it's like that, but it's true. Girls go wild for 90s RnB tunes. They just do, man. Mark that shit down as fact. If for some reason you don't believe me, try a little experiment this month. Plan a little party. Encourage beach attire, and invite some girls over. Then bust out 10 solid summery RnB jams from the 90s and see what happens. If you need a starting point, here are the 10 best RnB summer jams from 1990-1999:
On A Sunday Afternoon – Lighter Shade Of Brown (1990)
That's right, we're talkin' plain and simply apple juice, my friends. The pride of Riverside, California, Lighter Shade of Brown sampled "Groovin" by the Young Rascals and "Crystal Blue Persuasion" by Tommy James & the Shondells to achieve the mellow flavor of this classic 90s jam. You don't need to be a vato in the park to appreciate this song. It reached #39 on the Billboard Hot 100. If you tell me there's a better background BBQ theme song made in the year 1990, I will not believe you.
Summertime – DJ Jazzy Jeff and the Fresh Prince (1991)
Yea, this one seems kinda obvious, but this song still holds up in 2011. It reached #4 on the Billboard Hot 100 and DJ Jazzy Jeff and the Fresh Prince even won a Grammy for the tune in 1991. If you haven't heard Kool & the Gang's extra-relaxing Summer Madness tune, the original track that spawned this beat, you should definitely check it out. It's like a melting marshmellow of funky feel-goodness.
Rump Shaker – Wreckx-n-Effect (1992)
Nothing says summertime like a girl in a bikini playing a saxophone on the beach. Plus, jet skis! Ain't nothing wrong with that. The sax rip came from Lafayette Afro Rock Band's "Darkest Light," and the song also features samples from tracks by The Emotions, Magic Disco Machine and Manzel. Plus, girls seem to know what to do when they hear that sax intro.
Dazzey Duks – Duice (1993)
You can't have a 90s RnB summer party without a little Miami Bass in the mix. And really, no other season promotes the short-shorts quite like that chunk of fun-times between Memorial Day and Labor Day. Toss in an Afrika Bambaataa sample, and you got something that resonates with everyone.
Fantastic Voyage – Coolio (1994)
I like old school music. I always prefer the original to the remake. That said, Coolio's take on Lakeside's "Fantastic Voyage" is a pretty solid homage to the bouncy, synth-funk sound of original. It's also nice to know that if Coolio took a trip to the beach on a hot summer day, he'd probably let you roll in the trunk of his magic bike-turned-hooptie. Did you sae how many people came out of that thing? I counted 4-5 hot chicks, at least one midget and all Three Amgios.
Fantasy – Mariah Carey (1995)
This song just makes you wanna ride rollercoasters. And maybe the '95 version of Mariah while you're at it (yea, I said it). "Fantasy" sampled "Genius of Love" by the Tom Tom Club, which makes it a fun party tune in any season. But the rollerblades just give it that extra-special summer 90s touch. And anything that conjures up visions of ODB in a clown suit has to be good for your summer get down.
California Love – 2Pac Featuring Dr. Dre (1996)
People love this song and I get that, but I'd put on "West Coast Poplock" by Ronnie Hudson & The Street People over "California Love" any day of the week. But if you're hosting a Thunderdome-themed block party, this track has to be your go-to option. They actually filmed the cameo-packed video in the same Thunderdome set. "California Love" hit #1 on the Billboard Hot 100 and was the most commercially successful record of 2Pac's career. The piano riff comes from Joe Cocker's "Woman to Woman," which was also sampled by the Ultramagnetic MC's. Plus, it sure beats Katy Perry in the Don't-Forget-California's-Awesome genre.
Let me just pause here and say that selecting 90s summertime RnB jams is kinda hard after about 1997. Not impossible, mind you. Just much more difficult. In 1997, "I'll Be Missing You" and "Candle in the Wind" were big hits in the distinctively non-summer memorial-pop category. Not really good for party tunes. 1997 also saw the rise of bands like Aqua, Hanson, Backstreet Boys and the Spice Girls. Needless to say, summertimey RnB party music took a big hit that year, but that didn't stop a certain British RnB artist from reaching the Billboard Hot 100 chart for one week in early summer 1997 with, you guessed it…
Return of the Mack – Mark Morrison (1997)
That's right. Thank God the Brits bailed us out of that soulless summer. Morrison's comeback song would've hit number one if "MMMBop" madness wasn't sweeping the nation at the time. How embarrassing, America. The song sampled Tom Tom Club's "Genius of Love," proving once again that Tom Tom samples are like a one-way ticket to party town.
Too Close – Next (1998)
Step one, get lots of girls in bikinis together in a small space. Step two, "Too Close." Everything pretty much unfolds the way you'd expect after that. This may not really be a summer-specific song, especially when you consider the original track it sampled ("Christmas Rappin" by Kurtis Blow)." Still, it's hard to argue with the results. Boner songs are all part of the summertime party program.
Doo Wop (That Thing) – Lauryn Hill (1999)
This Lauryn Hill track came out in 1998, but it really blew up (commercially, critically, music video-ly) in 1999. If you're hosting a summer pool party because of "that thing," might as well come out and say it. What the hell else are you going to play that's 1999 party-time RnB, "Summer Girls" by LFO? Didn't think so.Pretty sure Lauryn Hill has even made a record since '99, but this jam is way more appropriate for your 2011 warm season social gathering. Plus, if you're inviting chicks that were alive in 1999, there's a 100 percent chance they love Lauryn Hill. Those are good odds, bro.
So is this the definitive list of summertime 90s RnB jams? Nah, relax man. It's not even all that comprehensive. You'll notice that there's no Biggie, no Snoop, no Pharcyde, no Mary J and no "Regulate" (and girls friggin' love them some Regulate). Any of those 90s jams will still get your party going. This is just a quick n dirty, West Coast-biased chronological list of 90s RnB hits with a strong summer appeal. We tried to stay with a warm weather party vibe, but if you feel strongly that we missed some fantastic summertime jams, please let us know in the comments below.
Related Posts
Comments are closed.