Chris Stout
Posts by Chris Stout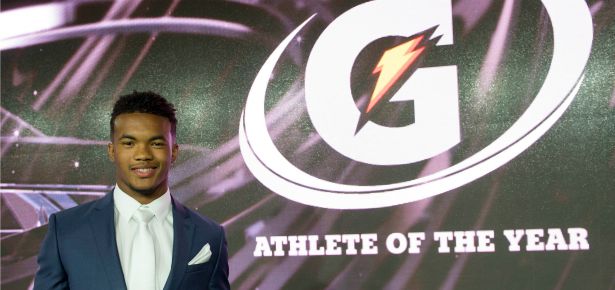 A day before the ESPYs, Gatorade held its High School Athlete of the Year Awards in Downtown Los Angeles. The awards show was packed with the top athletes of today celebrating the achievements of young athletes primed to be the future stars of tomorrow. Gatorade has been honoring high school athletes for the past 30 years, and there are some pretty big names among the past honorees. Names like LeBron James, Dwight Howard, Candace Parker, Allyson Felix and Kobe Bryant. And that's just the Gatorade Male and Female High School Athlete of the Year honorees. Previous Gatorade National Player of the Year winners include names like Peyton Manning, Derek Jeter, Emmitt Smith, Clayton Kershaw, Chris Weber and Alonzo Mourning. It's distinguished company to be in, for sure.
State Player of the Year awards are given to student athletes in 12 sports: boys' baseball, boys' football, girls' softball, girls' volleyball, boys' basketball, girls' basketball, boys' cross country, girls' cross country, boys' soccer, girls' soccer, boys' track & field, and girls' track & field. The students in each category are recognized for individual and team achievement, academic achievement and character and community service. From the pool of state players, Gatorade awards 12 students with National Player of the Year honors. From this pool of 12 athletes, one male and one female are selected to receive Athlete of the Year awards.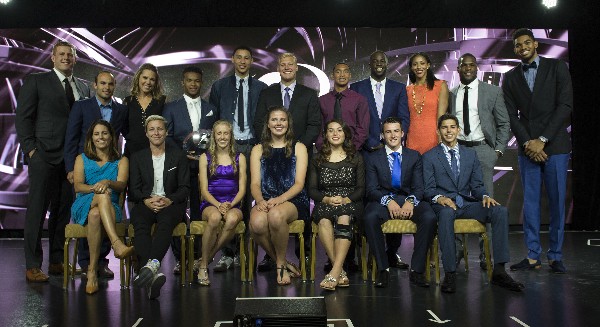 Candace Hill was named Female High School Athlete of the Year. She was the first sophomore to take home the honor and the youngest athlete to ever win the Gatorade National Player of the Year award. She's the first high school female athlete to run a sub-11 second 100-meter dash. She's basically the fastest woman under 20 years old. Oh, and she has a GPA of 4.61. I can't even imagine. Candace was competing at an event and was unable to attend the awards, but by all accounts she definitely deserves all the accolades.
Kyler Murray won Male High School Athlete of the Year honors. The starting QB for Allen High School, Murray led his team to three straight state championships. The guy has never lost a game as a high school quarterback, going 42-0 in his career. In Texas no less. That's crazy talk. He threw for more than 4,700 yards, 56 touchdowns and ran for nearly 1,500 yards and 25 scores. Murray is on his way to Texas A&M where he says he's going to get some time on the field no matter what. Murray had a very quiet confidence about him. His acceptance speech was mellow and humble. But the dude knows he's got what it takes to ball at the next level. Keep your eye on him.
Hannah Storm hosted the awards and gave a heartfelt tribute to Stuart Scott, who had previously handled hosting duties for the event before he passed away this year. His daughters were on hand and gave their dad a great tribute as well, something they would do again at the ESPYs.
After the awards ceremony, we got a chance to talk to a few of the presenters that were on hand. We asked JJ Watt about his role as a tight end. DeMarco Murray talked about the recruiting efforts of Sam Bradford to get him to Philly. Karl-Anthony Thomas chimed in on  Kevin Garnett, and Abby Wambach talked about her experience as a Gatorade Athlete and her upcoming downtime following her World Cup Victory. Here's the video: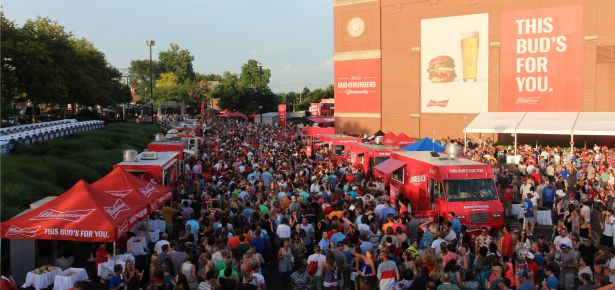 Our pals at Budwesier shipped us to St Louis this past weekend to attend the Bud and Burger Championships held at the storied Budwesier brewery. We first told you about this competition back in April after we attended the launch event hosted by Chef David Chang. Since that time, amateur chefs have been competing at festivals around the country for the chance to battle it out in the finals.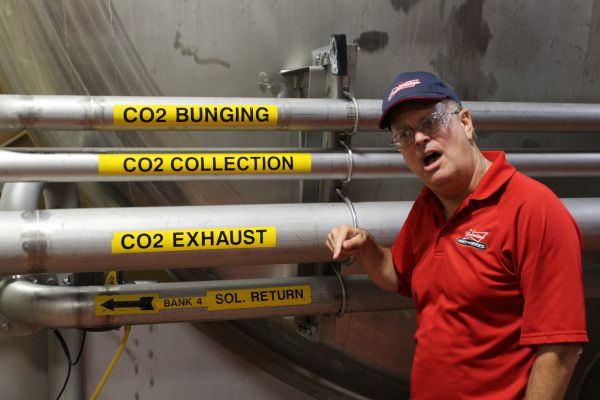 Before the burger action kicked off, we got a grand tour of the Budweiser Brewery from our old friend Brewmaster George Reisch. I met George in LA and we talked for a long time about Kolsch, Austrian vs. German beer, yeast, beechwood aging, all kinds of stuff. George is a fifth-generation brewmaster. His family started brewing beer in the mid 1800s in Springfield Illinois. George also served as the President of the Master Brewers Association of the Americas from 2008-09. Believe me when I say you will never meet a guy who has more passion or knowledge for the art of making beer. Having this master craftsman lead the Budweiser Brewery tour with all his enthusiasm and wisdom was a real treat.
Back in the mid-1800s, German immigrants came pouring through St. Louis and they brought their tasty lager beer with them. Lager is a crafted brew that takes time to make. It needs to rest and chill out. Back in the days before refrigeration, that required a cool dark place to store beer. This is why many lager breweries had underground faults.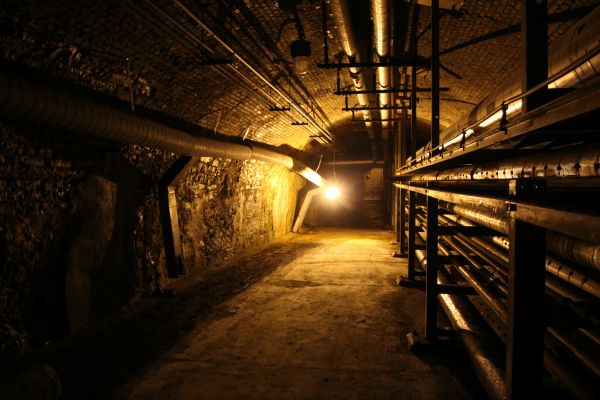 Sampling ice cold Budweiser straight from the source, visiting the Clydesdale stables and seeing beechwood aging and big beer science in action was cool, but I was really digging our visit to the vaults underneath the Budweiser Brewery. Just one of the many perks of having Brewmaster George as your tour guide. As George explained, German immigrants would seek out areas where they could carve vaults out of limestone. This area of the brewery hasn't been used for ages and back in the day, there wouldn't have been any pipes in fault. When I showed George the photo of the vault, he sent me anold advertising tin from the 1870s that shows the vaults as they were originally used.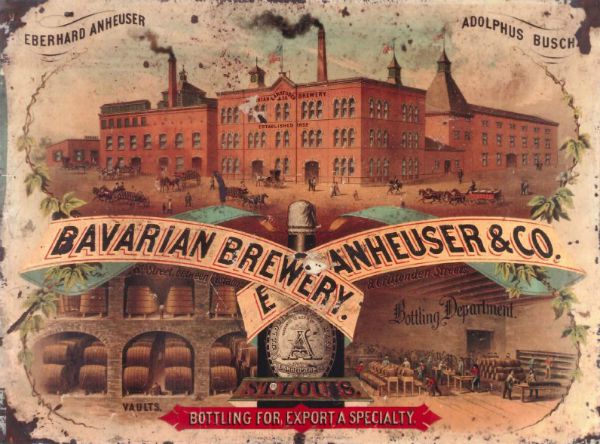 The Bud and Burger Championship wouldn't be complete without the burgers. The finalists and their food trucks lined up to get samples out to everybody and the folks who attended had some serious options to choose from. BBQ pulled pork with bacon in one corner. Smoked bacon with brat sausage in another. Ground veal with a special mesquite steak sauce next to a truck serving burgers with Portobello mushrooms, red onion relish and garlic herb aioli. You get the idea.
In the end though, the people voted and it was the Angie Burger that came out victorious. The creation of Angie Bos, the Angie Burger featured glazed bacon with provel cheese and caramelized onions. Here's the recipe:
The Angie Burger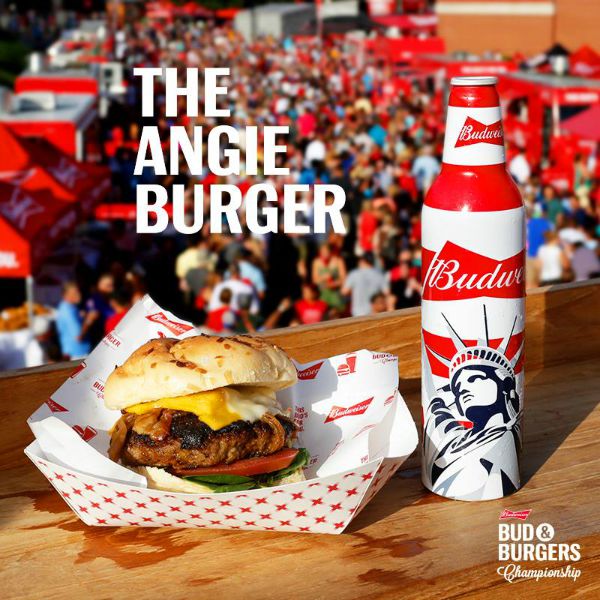 Glazed Bacon, Provel Cheese, Caramelized Onions.
Type of Bun: Onion Bun.
Prep time: 15 minutes.
Cooking time: 20 minutes.
INGREDIENTS
2 lbs. ground beef.
1 lb. ground pork sausage.
8 oz. shredded cheddar cheese.
3 oz. crumbled bacon.
1 egg, beaten.
Seasoning salt: mix salt, pepper, garlic powder, onion powder, minced garlic.
Slice of American cheese.
Slice of Provel cheese.
2 stripes glazed bacon (glaze is 1:1:1: ratio of brown sugar, maple syrup and honey).
Caramelized onion (1/6 of a sliced onion, cooked in 1 tbsp sugar and 2-3 oz. Budweiser).
Fresh spinach for topping.
Tomato slices.
METHOD
ONION
Head skillet to medium heat. Add in butter or oil, then sliced onion. Stir in sugar and Budweiser. Cook until the Budweiser is reduced and the onions are soft.
GLAZED BACON
Heat oven to 400 degrees. Lay out bacon strips on parchment paper or greased rack on baking sheet. Combine brown sugar, maple syrup and honey in a bowl. Bake bacon for 15-20 minutes until it reaches desired crispness. Every 5 minutes, flip and glaze the bacon. (If using a rack, remove bacon to cook so it doesn't stick.)
BURGER
Combine ground beef, ground pork sausage, shredded cheddar cheese, crumbled bacon, egg and seasoning mix. Shape into 8 oz. patty. Put a divot in the center of the patty. Cook patty in skillet over medium-high head. Add a little Budweiser. Flip and cook the other side (flip only once). Place slices of American and Provel cheese on the patty, then cover skillet so cheese melts.
BUN
Assemble the burger: bottom bun, patty with cheese, glazed bacon, caramelized onions, spinach, sliced tomato and top bun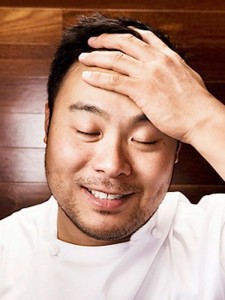 Chef David Chang
Angie took home a check for $100K and will also get the chance to star in a new cooking show that will appear on Esquire. Chef David Chang helped judge the competition and he was also present for a few of the different festivals where amateur chefs battled it out to get the the championship. Part of the reason that Chang signed up was that he wanted to be inspired.
"It was enlightening in ways that I never thought it would be," Chang told me. "I wanted to do it partly to get inspired. As a professional I sorta get stuck in my own ideas or the people I'm surrounded with. It's like being stuck in high school with the same kids your entire life," he said.
"I surround myself with the people I know and it doesn't really change. It gets homogenized. More importantly, even as a professional you get stuck with the ideas that you think you already know. Sometimes wisdom isn't necessarily the best thing," Chang said.
Chang explained that some of the recipes he saw were things that he would never do, but that's a good thing.
"You can learn from anything," Chang said, "and it's stupid to say that you can't."
True learning and growing as a chef comes from the mistakes you make as well as the wild ideas you see from others.
"The real discovery isn't knowing how to do it. The discovery is in fucking it up. Fucking up so hard is something I do less and less and less, even though that's how I know I'm going to learn," Chang said.
All of us can relate to that, especially in the kitchen. So if you want some burger inspiration to get your creative culinary juices flowing, check out the full list of the final Bud and Burger Championship recipes at www.budweiser.com/recipes.html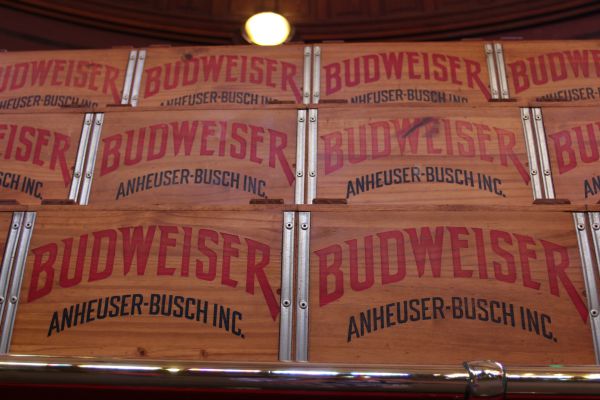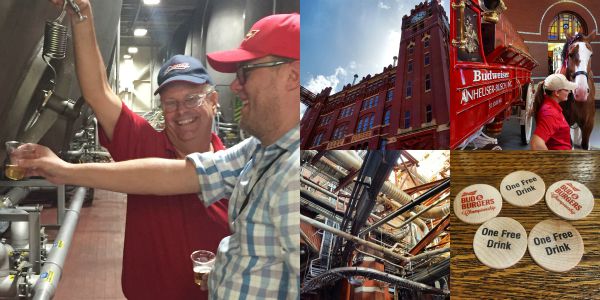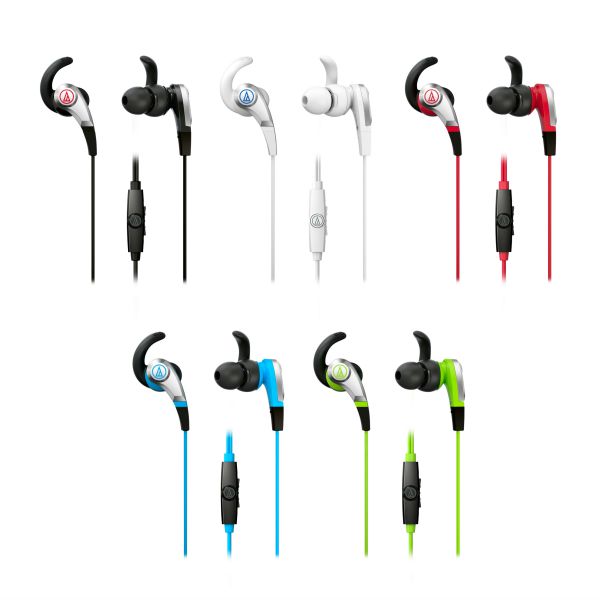 If you use headphones, and let's face it who doesn't, you got options. I'm not talking about brand or sound quality or color fashion statement options. I'm talking about the different types of headphones that are out there. Do you go in-ear buds or on-ear buds? If you go full phones, do you rock the on-ear, small on-ear or go full around-the-ear? What if you want more stability from ear clips or a neck wrap? You get the idea.
For me the choice usually boils down to small buds or big headphones. Earbuds are quick and easy, but sometimes you want that extra ear-enveloping music enjoyment experience. But if you're working in the office or working out, you may not want to go full-on Colin Kaepernick with a massive set of over-ear headphones resting on your dome. There's a time and place for each option.
Setting aside ear clips and neck wraps (because seriously why would you want to do that), there's an interesting new addition to the headphone selection mix – Audio-Technica's fully customizable SonicFuel Headphones. They're not big, expensive headphones. But they're not your run of the mill earbuds either. Sure, they're in the ear bud family, but these things are made for maximum stay-in-place-ability without going clinging to your outer ear like some old school hearing aid device.
These buds do not budge. They derive their stability from an extra little rubber strip that follows the contours of your outer ear along the auricle, providing a subtle but sturdy flap that keeps the actual earbud firmly in your ear canal. That probably sounds less comfortable than you would expect, but these things rest nice in your ears without being to invasive. Jogging will not jar them loose. Nor will a hefty pat on the back from an over-eager coworker. When you put these on (or in?), you need to apply a small degree of force to get em out. Not a lot of force. Just a little, but tug nonetheless.
And most, importantly, these SonicFuel Headphones actually sound good. Solid lows, quality highs and the I'm-not-going-anywhere quality of the ear tip inserts provide a sort of design-based noise cancellation effect which is always nice. The headphones also feature in-line volume and mic controls so you can use em with your smartphone while your driving (if you're into that sorta thing). I prefer speakerphone, personally. There's also a bunch of different tip options so you can get a perfect fit for your specific ear type.
My one big knock on these is that despite the super sturdy construction of the ear tip and supporting c-tip that holds these things in place so nicely, the actual audio cord feels a bit weak. I haven't had any issues with the review unit I received, but holding the cord in your hand or wrapping the headphones up for storage or transport, you just feel like the thin cord might not make it through conditions that come close to extreme. I haven't abused mine so I haven't had any issues, but I'm interested to see how the SonicFuel Headphones hold up over time.
Top of the line over-the-ear headphones these are not. They're buds with benefits. If you value quality sound and in-ear stability over rugged durability, you'll dig these.


Some people are on their phones way too much. I am one of those people. It's not like I'm crazy anti-social or anything, but between all the calls, music streaming, PFT reading, texting, emails and crushing candies, a full cell phone charge in the morning isn't likely to last an entire day. Sure, you can charge your phone at home, at work, in the car and all that, but we all have those days where we need more juice. And as phones get even more smarter, they need for constant charging becomes that much greater.
Enter the myCharge RazorPlus. This portable lithium-ion power bank packs a serious punch for such a small package. Slim, lightweight and easy to stash, the Razor Plus fits just about anywhere. Heading out for the night? Toss this thing in your lady's purse. She won't even know it's there. Living the single life? No worries. This thing is comparable in size to a sleek cell phone. You can drop it the pocket of your jeans and still have room for other carry on items in your pants – like keys or that Costanza wallet you insist on carrying around with you.
The RazorPlus provides up to 13 hours of additional talk time for your smartphone. You can hook up your tablet or your sweet headphones or whatever else you lug around that could use an extra battery boost by the end of the day.
I love that this thing comes with a USB cord, too. Sure you have like 5-10 of those already, but they're already hooked up to other things, right? When manufacturers assume that you don't need an additional USB cord to go with your new digital toy, that irks me. The folks at myCharge know this, so they include an appropriately sized cord that you can easily pack with you RazorPlus.
You can find these things online for like $40. Think of how much you'll use it, though. Day trips, late nights, flights, BBQs, sporting events, train rides, hours of Spotify and Candy Crush tournaments – you get the idea. For as much as you spend on your smartphone – both time and money – dropping $40 to make sure that thing stays on when you need it seems like a no-brainer.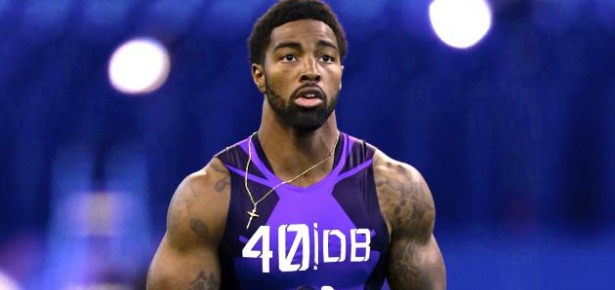 Exactly 256 players heard their names called during the seven rounds of the 2015 NFL Draft. One of those guys was University of Miami (Ohio) cornerback Quinten Rollins, an intriguing prospect that the Packers selected with the 62nd pick overall. Rollins played four years of basketball in college and finished second in school history with 214 career steals. After securing a fifth year of eligibility, Rollins turned his attention to football, a sport he hadn't played since high school.
The results were pretty impressive. Playing in just one season, Rollins racked up 72 tackles and seven interceptions in 12 games. That single season performance earned him MAC Defensive Player of the Year honors. He was invited to the Senior Bowl and kept things rolling, securing an interception in that game as well.
By all accounts, Rollins just knows how to get after it. He's the only basketball player in Miami history to register two 7-steal games. His ball-hawking skills are unquestioned. He was a turnover machine on the football field and the guy likes to tackle, too. He may not have years of experience under his belt, but the dude's a proven athlete who has shown that he can get results. I got a chance to chat with Rollins a couple weeks before the draft.
So what made Rollins go back to football?
"It was the right move," he said. "I thought about playing football out of high school. I was playing both basketball and football, but basketball is the path that I chose for education purposes. It was my first opportunity to get to college. My first scholarship offer my junior year. I always knew that I would get back into football. It was just a matter of when and where. I thought about it after my sophomore year, but it didn't happen. Then my senior year came around and I got an opportunity for a fifth year, and I just took a chance. I decided to sit down and meet with Coach Martin. I was in on a trial basis for spring ball. He gave me the opportunity to come out and earn a scholarship, and that's what I did."
I had read that Rollins considered playing basketball overseas, but ultimately, that idea didn't appeal to him.
"Well, I'm a father. I had already been away from my daughter, being away at college with a 24-7 demanding schedule as far as academics and athletics go. I just didn't want to go that far away from her. I felt like it would be better for me to stay over here in the US and get back into football. It was just a matter of when and where, and it just happened to work out perfect."
Rollins is working with Speed Stick on their #DefyTheDoubt campaign. The experience of going from a student athlete to a professional with corporate sponsors supporting you as you make the leap to the next level has got to be a trip, right?
"It's great," Rollins said. "I'm blessed that Speed Stick gave me the opportunity to share my journey up until this point. Hopefully it continues to get even better as I continue to grow as a person and as an athlete. It's definitely surreal to get opportunity to work with these guys like Speed Stick to get these types of endorsements. But at the end of the day, it still matters what you do and how you represent yourself as a person and as an athlete. I still have a lot of work to do, but it's definitely been a blessing that they've allowed me to share my story and my journey. Hopefully, like I said, it continues to keep getting better."
When tight ends like Tony Gonzalez, Jimmy Graham or Antonio Gates make plays in the NFL, there seems to be some sort of rule that an announcer must always reference the fact that they played basketball. Seriously, has Jimmy Graham ever caught a touchdown without an announcer mentioning the phrase "former basketball player?" It doesn't happen. It gets mentioned every single time the guy scores. And he's scored 51 touchdowns in five NFL seasons. This only seems to apply to offensive players though. I asked Rollins what skills he honed on the court that could make him a defensive difference-maker on the football field.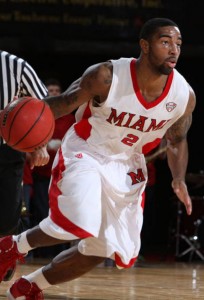 "Man-to-man defense in basketball," Rollins said. "That helps me tremendously in man-to-man coverage on the football field as far as my feet go. In basketball, it's all about your feet. Sliding and moving your feet. It's the same in football, but in the NFL you can't put your hands on a guy past five yards. So that's definitely been one of the most vital things. And then as far as end zone coverage and being point guard, you got to see the whole floor. That's allowed me, in end zone coverage, to open up and get back to my natural instincts of being a point guard and seeing everything that's going on and see the big picture. And anticipation. As a point guard, you got to always be a play ahead. It helps in football, too. I can anticipate things and just see it happen before it does happen. Also, having that next play mentality. As a point guard, you're going to make mistakes. You're going to have turnovers. You're going to have bad plays. But just like in football, you might get beat on a catch, but you got to have that next play mentality. You can't have your head down, because it's most likely going to come right back at you so you got to be prepared for it."
Some scouts have projected Rollins as a safety in the NFL. Does he have a position preference for the next level?
"I really don't care where I play at" he said, "whether it be nickel, outside, inside, back end safety. I'm just ready to get somewhere, learn the system and get going."
So why defense? Rollins played running back at Wilmington High School in Ohio. He had a chance to play running back in college as well, but Rollins chose defense because of the upside potential at the professional level.
"When I gave coach Martin my film," Rollins said, "he obviously saw me at running back in high school. He gave me the option, when we sat down and met, he said you can play offense or you can chose defense. After going over the pros and cons for each, I felt defense was going to be better, especially for longevity purposes. Running backs really don't play that long in the NFL, as opposed to corners. With my size and my athletic ability, I chose the more elite position. It's valued more. So I figured that was the best route for me to go."
Smart move, especially with his existing skill set. Big ballin' tight ends who have size, can get separation and handle the ball in the paint/endzone have certainly become a thing in the NFL. But this could be another trend worth watching. The Packers took Rollins in the second round this year, but last season they selected Baylor CB Demetri Goodson in the sixth. Goodson was also a point guard who didn't have a ton of football experience in college (he played basketball at Gonzaga). The emergence of highly athletic, ball-hawkish point guards in the secondary is worth monitoring. Especially when these top-flight athletes are making the conscience business decision to apply their skills at a premium position that tends to attract big money.
Basketball and football are obviously different. Sure, the similarities help a guy like Rollins, but he appreciates the differences as well.
"I love the way teams bond together, but that's what was different. With basketball, we were a very close team, but you look at the work that a football team puts in, it's totally different. Like how you can get a hundred guys all on the same page, working hard and everything. There's just something about that that's special," he said.
At the end of the day, Rollins just loves to make plays. And big plays can be a lot bigger on the football field than on the basketball court.
"In basketball, there's a lot of possessions. In football, the possessions are limited. So any time you get the opportunity to make a game-changing play to impact the game in a vital way," he said, "it's something special."
Talking with Rollins, it's clear that he loves football.
"Everything that comes with the game, I enjoy," Rollins said. "I actually didn't realize I missed it that much until I got back out there on the field again. I mean, there's nothing like Friday night lights, obviously, but Saturdays are special, too. And I'm looking forward to see what Sundays are like."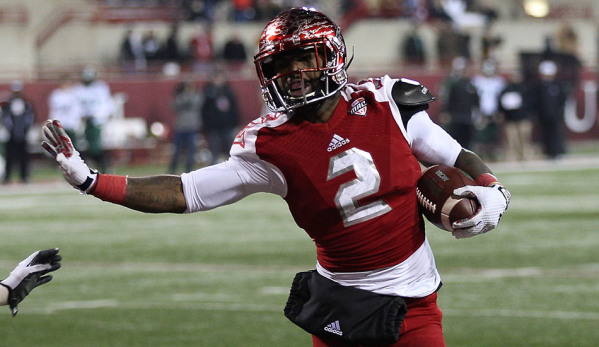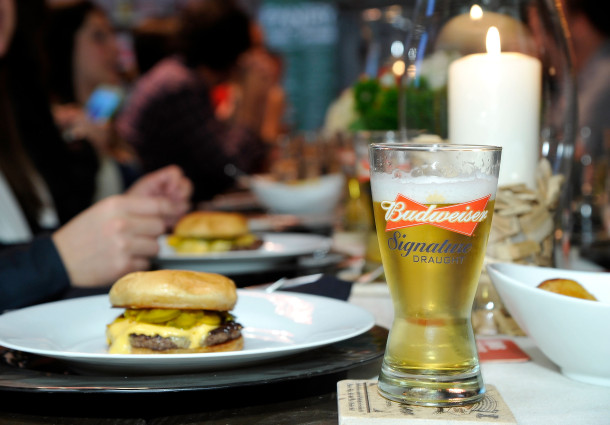 Ah, Burgers and beers. They go together like peas and carrots. Like peanut butter and jelly. Or football and Sundays. This winning food and beverage combo forms the bedrock of the American belly. It's what most of us are made of, really.
We already told you about the announcement of the Bud and Burgers Championship. It's is a three-month nationwide competition where amateur chefs will compete at major festivals across the country. The winner will take home $100,000 to jumpstart their culinary career. The winning chef will also be invited to compete in a new cooking competition show on the Esquire Network.
Last week, I got to experience the higher end of this fine Bud and burger pairing at an exclusive dinner hosted by Budweiser and Chef David Chang. Before Chef Chang was introduced, the folks from Budweiser announced the upcoming burger competition with the bold claim that the burger was first unveiled to the world at the 1904 World's Fair in St. Louis. This meant that burgers and Budweiser were joined at the hip from the get-go.
I decided to look into this a bit, and it turns out the 1904 World's Fair was a pretty big deal. The origins of the burger in America are a bit murky, but one thing's for sure, people were probably chomping on burgers and sipping Budweiser during in St. Louis in 1904.
Also known as the Louisiana Purchase Exposition, the 1904 World's Fair in St Louis lasted for seven months. Sixty-three countries participated in the expo and over 19 million people attended. The first Olympics ever held in the US took place during that summer in St. Louis. Geronimo was on display in a teepee. Helen Keller gave a lecture. Max Weber was there. TS Elliott wrote a short story about his expo experience for his high school newspaper. Jack Daniel and his Tennessee whiskey were awarded a gold medal at the World's Fair, something that's still advertised on every Jack Daniel's bottle.
Was it the first time the world was introduced to hamburgers? Hard to say, but if you believe different accounts, it was arguably the first time people were introduced to things like Dr. Pepper, peanut butter, cotton candy and the waffle cone, too.
So yea, a lot went down at the world's fair that year, but let's get back to burgers in 2015, specifically the burger that was served at the dinner that kicked off this whole Bud and Burgers Championship thing last week in Santa Monica.
Too often a premium burger has too much going on. If you can't hold it in one hand and put it in your mouth, is it really still a burger at that point? I say no. But i'm a simple man. Chef Chang's burger recipe was simple by design.
"Keep it simple," Chang said. "Simple is hard to do."
And simple it was. Simply delicious. Here's the recipe:
Short rib beef blend (or at least a 80/20 lean/fat blend)
American Cheese Slices
Hamburger Buns
2 TBSP Neutral, High heat Oil
Bread & Butter Pickles
Cast Iron Skillet
How You'll Make It
Ask your butcher for a short rib blend (16oz will make four 4oz burgers). If you can't get a short rib blend, make sure ou get a blend that has 20-30% at content
Form the patties. Measure/estimate out 4oz portion and form into 1/4" thick patties
Season liberally with salt on each side
Add oil to cast-iron skillet over medium-high heat
Cook patties for 3 minutes  on each side. During the last minute, add one slice of cheese to the patty and a dab of butter to the pan. Baste burger until cheese is melted and set aside on a cooking rack to rest
In the same pan, toast buns face down until golden brown
To assemble the burger, place the patty on the bun, dress with bread and butter pickles to taste and top with the other side of the bun
What's this, you ask? No veggies?
"If you want vegetables," Chang said, "eat a salad."
The no frills burger was perfect. The short rib provided the proper fat balance, it was just salty enough, and the pickles were a nice crunchy complement. Did it look pretty? Not really, but who cares? Taste should dictate success in any burger sampling exercise, and the taste quality was off the charts. Pair it all with a frosty Budweiser Signature Draught, and you get a room full of happy people. The bud and burger combo wasn't complicated. It was familiar and user-friendly, and according to Chef Chang, that's all part of the appeal.
"Cooking Zeitgeist is changing," Chang said. "The burger is the perfect example of where food is going. You're doing something delicious that's also accessible."
Think you got a winning burger concept? Submit a photo or video of your burger creation to Budweiser.com/burger to see if you can score a festival invite and a chance to compete in the final burger battle at the Budweiser Brewery in St Louis. Good luck, burger lovers!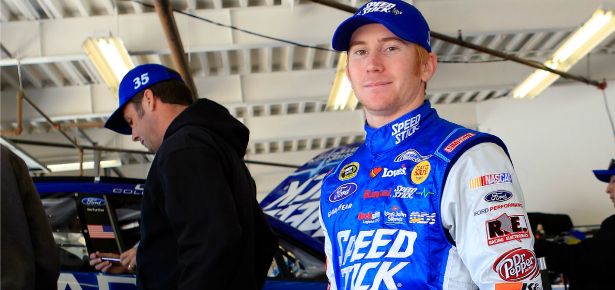 I'm not going to pretend to know Cole Whitt. I mean, how can you really get to know someone after two interviews and a weekend in Daytona? But I think I got a good read on the guy, and if I could use one phrase to describe him, I'd say that he's approachably focused.
He's equal parts humble and hungry. Whitt doesn't carry himself like a superstar race car diva. He's got work to put in and he welcomes that work. That doesn't mean he won't flash a big, genuine smile when meeting a fan or take time to answer silly questions from bloggers like me.
When you meet Cole, you sense quickly that he's a private guy. Not a limelight seeker by any stretch. He prefers CrossFit and the outdoors to press rooms and podiums. Behind this surface of shyness, though, there's a big heart and a ferocious sense of purpose. You don't earn a nickname like the Ginger Lion by being a pansy.
It should be noted, that racing ain't easy, man. Especially if you want to compete in the NASCAR Sprint Cup Series, the nation's highest stock car division. It's a taxing endeavor all around. You need financial backing from your teams and sponsors, and soul support from your family and crew. On a weekly basis, you have to overcome the physical rigors of driving hundreds of miles with inches separating you from disaster. Then there's mental prep required to get your head right before, during and after competition.
This is some seriously stressful stuff, but the stakes are high, my friend. This year's Daytona 500 had a purse of over $18 million. That's a lot of coin for 43 drivers to chase in one day.
Thanks to our friends at Speed Stick, we were able to follow Cole Whitt's full experience of the 2015 Daytona 500. Join us for a moment as we step into his racing shoes…
Imagine you're a pocket-sized, 23-year-old professional driver entering your second full season in the NASCAR Sprint Cup Series. You're a full-blown ginger and your height and weight aren't listed on your NASCAR profile. The biggest expectations you have come from within. You're confident, because you've been racing for more than half your life. There's doubters all around, but not in your inner circle.
Your first season had its set of challenges. Your car got jacked up during practice at the Daytona 500 and there was no backup car available. Your team rallied to make repairs, just to get you into qualifying. With no guarantee that you'd even compete, you make up eight spots on the final five laps of your Budweiser Duel to secure entry in the 2014 Daytona 500.
You showed a ton of promise in your first full Sprint Cup season. You finished better than you qualified in three of every four races you entered. You created some rookie of the year buzz and things looked promising.
With little warning, your racing team shuts down operations in April. You switch teams to close the year out and it's unclear who'll have a spot for you next season. Shoulder surgery that cuts into your offseason prep, but at least you secured a spot a new team. With your second season set to begin, you find yourself back in Daytona needing to fight your way in again.
This is where the Ginger Lion stood, right before the Budweiser Duels. Running in the #35 car for Front Row Motorsports, Cole Whitt was on the outside looking in and needed a good showing to earn a spot in the Great American Race. It's #DefyTheDoubt time for damn sure.
"I told all the guys, it's like, everything kinda rides on the 500," Whitt said after qualifying. "If we can get into the 500, from there, the pressure is a little bit off. We still got a lot of work to do for sure, don't get me wrong. But missing this race could turn the whole career to the wrong side. It could make it pretty hard to get through the season."
So, no pressure, right?
"I've been through this situation more times than I want to be. Last year was very stressful and this year was just as stressful. As far as I was concerned, we had to run top 15. And we did."
Whitt's strong finish in the Budweiser Duels meant that he punched his ticket into Daytona to start the 2015 season.
"To be able to lock ourselves in and get all three cars in and push Front Row down the right path, it's going to be awesome. I look forward to see what we can do this year."
Speed Stick gave us the opportunity to follow Whitt and his #DefyTheDoubt attitude around Daytona for an important weekend in his young career. Here's the beat and video we put together to chronicle the experience:
November Update
The folks at Speed Stick shared this sweet video chronicling our boy Cole Whitt's complete sophomore season in NASCAR. Check it out: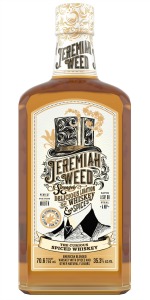 Gear up for the weekend with these tasty Jeremiah Weed cocktail options. Whether you fancy refreshing iced tea with a kick for day drinking, a change-of-pace taste of apple cinnamon spice or nice end-of-the-meal sarsaparilla treat, we got options to cover every occasion.
JW Spiced Tea
Ingredients
Two shots of Jeremiah Weed Spiced Whiskey
Fresh Lemon Juice
Brewed Iced Tea
One can of 7-Up
Mint Sprigs
Ice
Directions
Fill tall glass with ice and fill glass halfway with brewed iced tea.
Add two shots of whiskey
Top off with 7-Up and four to five dashed of fresh lemon juice.
Stir completely and garnish with mint sprig.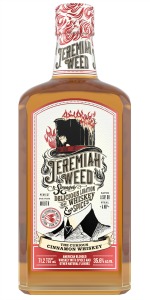 Twisted Apple Cinnamon
Ingredients
1 1/2 oz. Jeremiah Weed Cinnamon Whiskey
1 1/2 oz. Apple Schnapps
Ice
Directions
Mix in a whiskey glass
Finish with some light cinnamon garnish
Sarsaparilla Whiskey Root Beer Float
Ingredients
Two shots of Jeremiah Weed Sarsaparilla Whiskey
One can of root beer
One (reasonably-sized) scoop of vanilla ice cream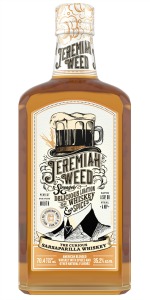 Directions
Combine whiskey and root beer in a large mug
Scoop the ice cream on top
Consume quickly
Enjoy responsibly!
Have a good weekend!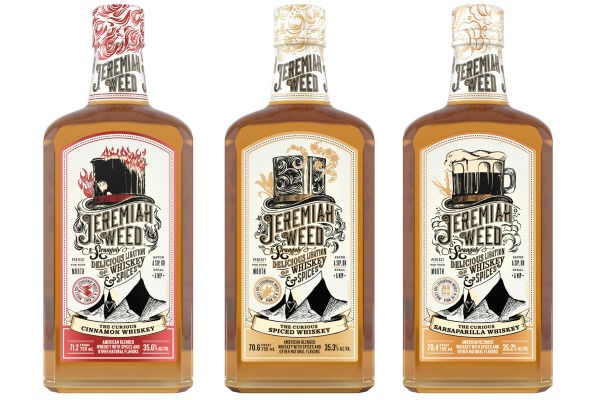 The bourbon whiskey that Jeremiah Weed produces is not for the faint of heart. If you're not a fan of flavor, you should take your whiskey drinking needs elsewhere. This stuff reserved for those select few whiskey enthusiasts who aren't afraid of a little spice. Okay, a lot of spice. Probably more spice than you can handle, man.
In late 2014, Jeremiah Weed released three new whiskey variations:
Jeremiah Weed Spiced Whiskey
Jeremiah Weed Cinnamon Whiskey
Jeremiah Weed Sarsaparilla Whiskey
The attention-grabbing, old-timey packaging of these bottles hints at the palate party that awaits whiskey lovers who reach for this level of zesty flavor. The Spiced Whiskey is sweet with a kick and makes a good mixer. The Cinnamon Whiskey is a spicier alternative for the ever-growing, shot-crazed Fireball crowd. The Sarsaparilla Whiskey harkens back to a time when root-seasoned beverages were the norm. It's like root beer on flavor steroids. All these variations come in at just over 70 proof (35%ABV) and can be enjoyed affordably (and responsibly) for around $19 for a 750ml bottle.
Our friends at Jeremiah Weed invited us to participate in a blogger challenge to design a new t-shirt for the brand. Here are some of the initial designs we came up with, sticking with the curiously strange old-timey theme, of course: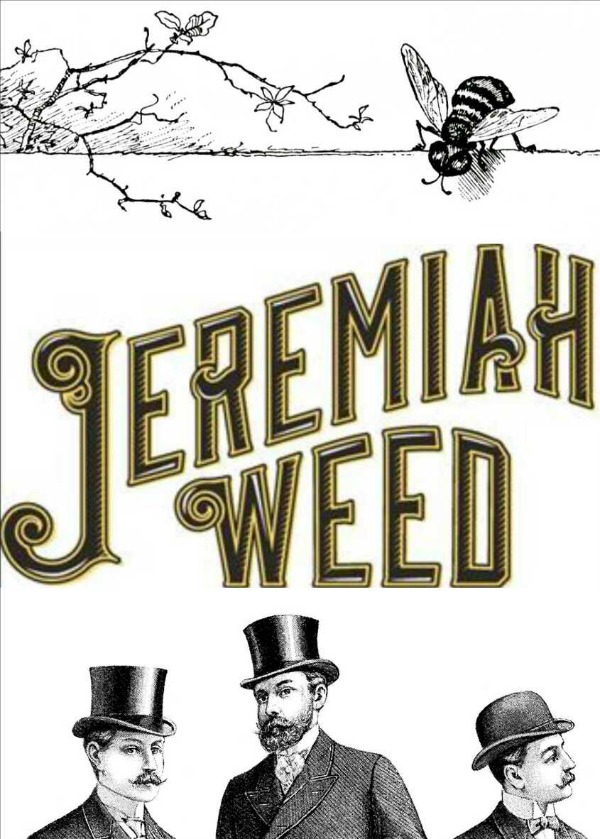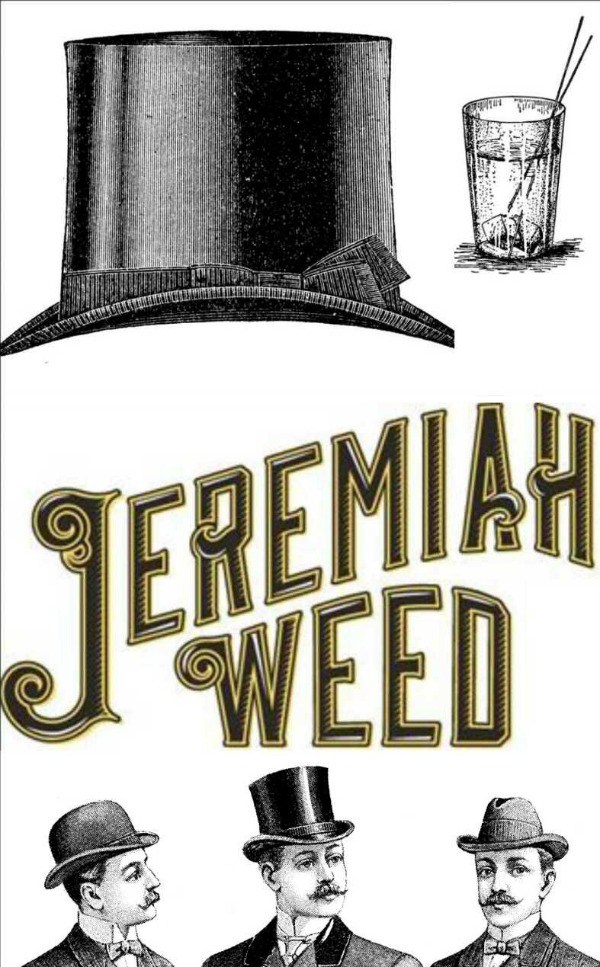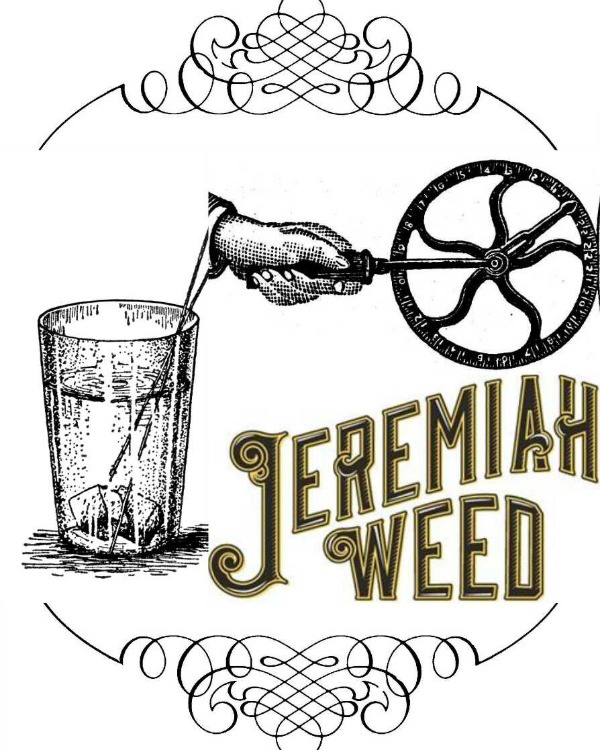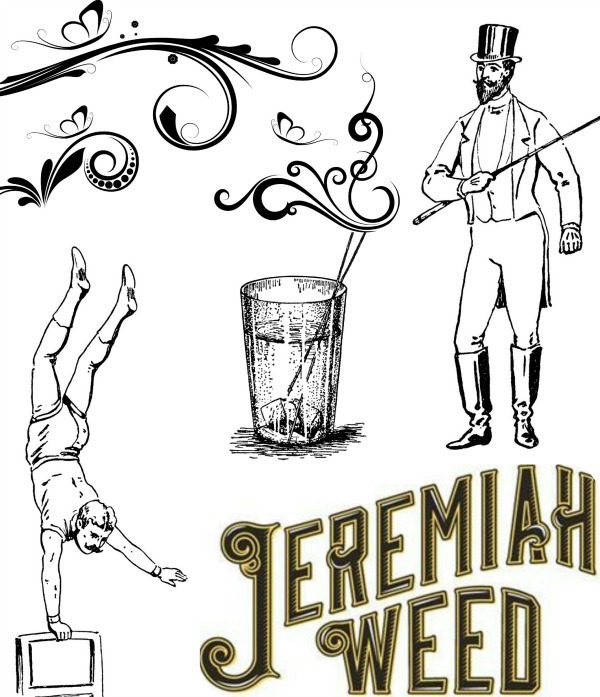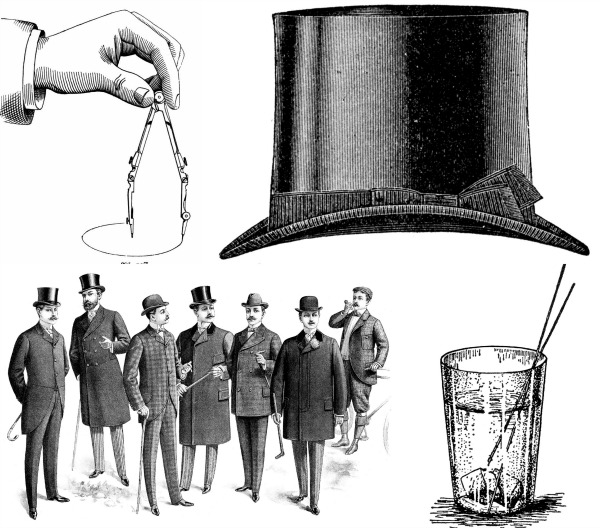 The winning blogger will receive a set of 50 limited edition t-shirts and tickets to a TBD concert, show or sporting event. Wish us luck, guys!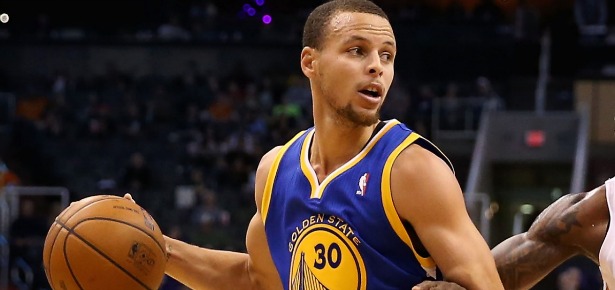 The Golden State Warriors have the best record in the NBA and two-time all-star Steph Curry is a big reason why. An early favorite to win the MVP, Curry's been lighting it up for a while now. But this year just feels different. Everything's clicking for Golden State and first-year head coach Steve Kerr. The Splash Brothers are dominating from the perimeter again, yes, but the high octane offensive attack is now balanced by one of the league's best defenses. Golden State is winning with conviction, too. Enjoying their hottest start in franchise history, the Warriors boast a league-best 11.5 margin of victory to go along with their 38-8 record.
And Curry's just locked in, man. Top ten in points per game. Top five in assists, steals and free throw percentage. It's all coming together for the youthful-looking point guard from Davidson.
Now you may think the guy looks like he's 14 years old, but he's full grown man of 26. That's not to say he wasn't an absolute baller when he was 14. When your dad plays 16 sharpshooting seasons in the NBA, there's a good chance you'll develop an appreciation for the game of basketball. Steph's younger brother Seth is also a professional player who's plying his trade for the Erie BayHawks, the Orlando Magic's NBA developmental team.
So the guy's a natural. Basketball's in his genes. That's not to say he doesn't work hard. You don't develop such a silky smooth jumper without putting in some time. But as Curry explains in this DegreeMen Game Changer spot, finding your own game is a careful balance.
After this spot ran, Steph Curry and John Wall of the Washington Wizards engaged in a playful/promotional exchange on Twitter. The two all-stars are now set to square off against each other for the title of Ultimate Game Changer in the Degree Battle of the Game Changers. It's a shot-for-shot type showdown where each player has to match the other and fans get to vote on which shot they'd like to see by going to Twitter.com/DegreeMen after February 9.
We talked with Curry about the upcoming Battle of the Game Changers, first-time head coach Steve Kerr, who he thinks has the sweetest jumper of all time and what pointers he has for people with no shot whatsoever. Here's the interview:
Make sure to check out the Degree Battle of the Game Changers live on NBA TV during the NBA All-Star Practice on February 14.