Uncategorized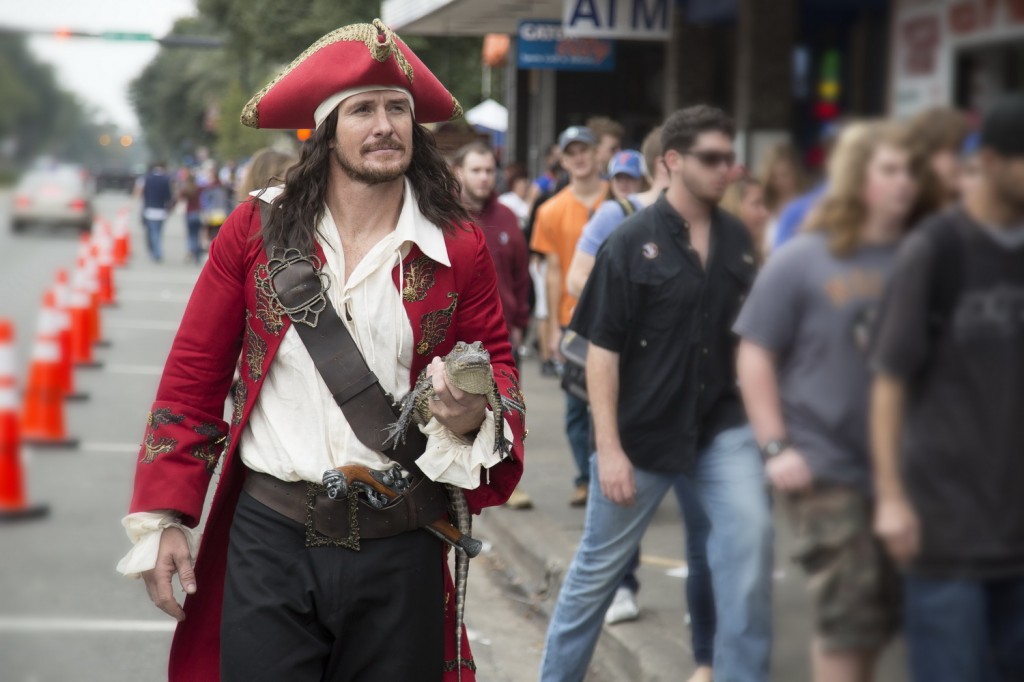 A heated sports rivalry is a cause for tailgates, touchdown dances and raising a CAPTAIN MORGAN® Spiced Rum and cola with friends. To heighten the excitement this season and to ensure responsible decision-making while enjoying a good game, Captain Morgan, the most famous privateer of all time, adopted a pet alligator named Cola.
"Dogs are too traditional, I don't do cats, and let's be honest, parrots are bit cliché," said Morgan. "Every Captain needs a Cola, and I found mine right here in Gainesville. He has a badass personality and is looking for support for all of his gator friends both on and off the swamp."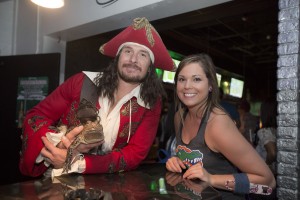 The Captain Morgan brand encouraged consumers 21and older to celebrate with Captain & Cola by capturing a picture of the duo and utilizing the hashtag #CaptainAndCola on social media properties (e.g., Twitter, Instagram, etc.) throughout this past weekend.
For every #CaptainAndCola captured, the rum brand donated $1 to the Crocodile Specialist Group up to $5,000, a worldwide network of biologists, wildlife managers and independent researchers committed to the ongoing preservation and protection of alligators and crocodiles throughout the world.
Born and raised at St. Augustine's Alligator Farm and Zoological Park, Cola joined Captain Morgan in Gainesville, FL this past Saturday, November 30th for the kick-off. Captain and Cola toured the greater Gainesville area on Saturday morning throughout the game.
"There is no better pairing than Captain & Cola," Morgan continued. "I'm looking forward to taking him out on the town this weekend to show Gainesville what true friendship is all about."
Although Florida fans may have lost on Saturday, they gained at least one more fan when Captain Morgan himself showed up, announcing the official adoption of his live, pet gator, naming him Cola. Captain & Cola toured the greater Gainesville area on Saturday, taking pictures and encouraging adult fans to celebrate responsibly.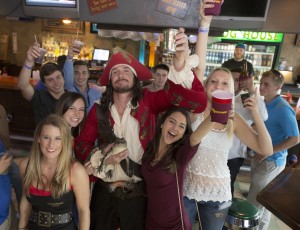 In response to the overwhelming enthusiasm of Florida fans, the brand made a $5,000 donation to the nonprofit organization.
San Francisco -15 Jacksonville
Sorry, London. Not all football games are this one-sided.
Pick: Niners -15
At Detroit -3 Dallas
Home team gets the edge in a god battle between two 3-4 teams.
Pick: Lions -3
At Philadelphia -5.5 NY Giants
Can the Giants make it two in a row? Not if Vick plays a full game.
Pick: Eagles -5.5
At Kansas City -7 Cleveland
Jason Campbell against the league's best D.
Pick: Chiefs -7
At New Orleans -10.5 Buffalo
Thad's not terrible, but the Saints at home are too much.
Pick: Saints -10.5
At New England -6 Miami
Tom Brady is under pressure to make things happen with less protection and fewer splashy playmakers. The Pats just don't lose two in a row that often though.
Pick: Pats -6
At Cincinnati -5.5 NY Jets
The Bengals are looking like one of the teams to beat in the AFC, but can they be as physical as the Jets?
Pick: Jets +5.5
Pittsburgh -2.5 At Oakland
Pittsburgh doesn't always perform well in Oakland, but with an inspired D and balance on O they'll win three in a row.
Pick: Steelers -2.5
At Denver -11.5 Washington
This game's going to be a points-fest. I think the Skins might be able to hang or at least not get blown out.
Pick: Skins +11.5
At Arizona -2.5 Atlanta
The Cards are hard to read, but the Falcons can still make noise despite all the injuries.
Pick: Falcons +2.5
Green Bay -7.5 At Minnesota
Maybe Freeman settles down a bit. Looks like he still needs more time though.
Pick: Packers -7.5
Seattle -11.5 At St. Louis
Whenever Favre comes up as a viable option for you at QB, you've got problems.
Pick: Seahawks -11.5
Carolina -6 At Tampa Bay
In a game that's sure to grab the attention of dozens of football fans throughout the country, the Panthers are a lock. Schiano's brand on Buccaneer Football isn't resonating with his players. Doug Martin's out. It's never a good thing for a winless football team to lose one of their top offensive weapons. Factor in the lost locker room and it's gonna be an uphill battle for the Bucs at home. The Panthers are coming off two straight wins by two scores. They should secure this one pretty early.
Pick: Panthers -6
Pick: Panthers -6