Lifestyle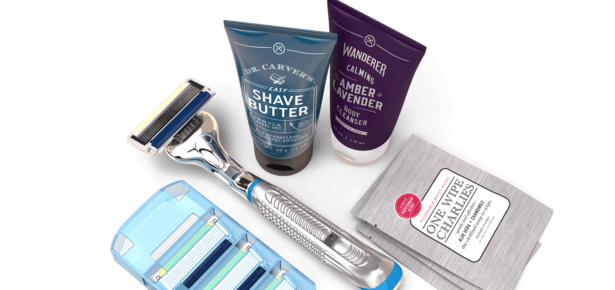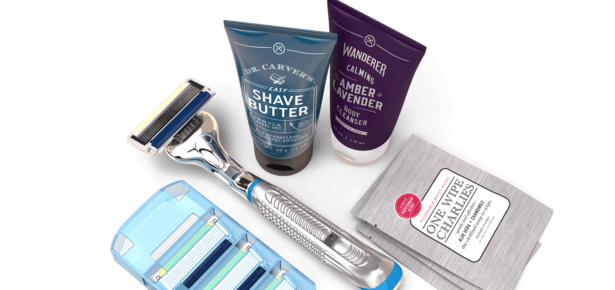 Dollar Shave Club's story – where a savvy founder leveraged a clear vision, investor relationships, improv comedy training and viral marketing to launch an kickass brand in 2011 that sold for a billion dollars in 2016 – is a pretty sick story. If you're not familiar with the brand's origins, read about it here. But there's a good chance you know about these guys already. You've heard about the club, their razors and their business model. What you may not know is that the Dollar Shave Club is looking to overhaul your entire shit-shower-shave routine. They're changing the whole game with an expanded product line to cover all your male grooming needs. And if you missed the first wave of the Dollar Shave madness, you can sign up for the new Daily Essentials Starter Set for only five bucks. And for five bucks you get the much-deservedly-hyped Executive Razor with a full set of cartridges and trial-sized versions of these three new products:
Calming Amber Lavender Body Cleanser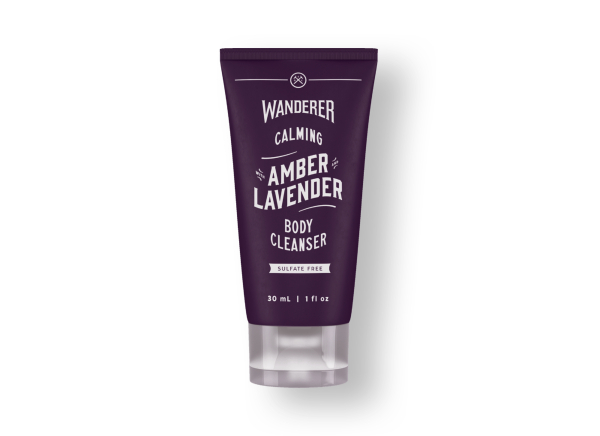 Smelling good is a must, but you don't want your clean scent to overwhelm people. Overpowering people with pungent aromas (even pleasant ones) just isn't a neighborly thing to do. This goes for both sides of the smell-good spectrum. Super-potent man sprays are for teenagers and guys who don't know any better. On the flip side, dudes shouldn't smell like flowers and lady things. The trick is to find a nice balance, a scent that says hey, I showered, but I didn't bathe in roses or cologne. The Calming Amber Lavender Body Cleanser strikes a good balance. It provides just enough soothing smell-good vibe, without the punchy stench of man- or lady-perfume. It's clear and suds up quick. A little goes a long way. The rinse is clean and easy. Don't overthink shower time. Keep it simple with this mellow cleanser.
One Wipe Charlies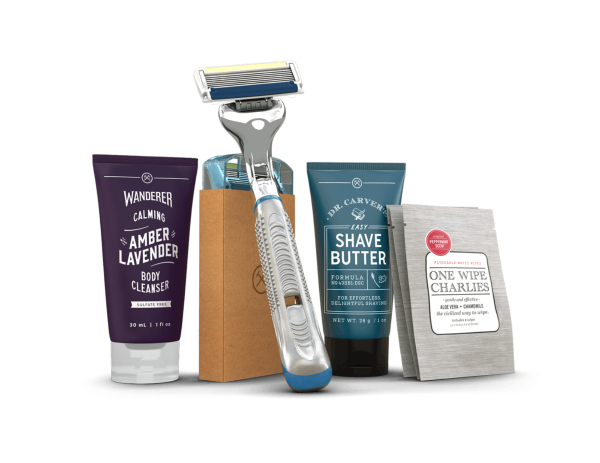 One Wipe Charlies are exactly what they sound like: flushable, moist cloths for bum. Even if personal hygiene is at the very top of your daily priority list, there are times when your bum could use some freshening up. Maybe you can't squeeze in a full shower, but you like feeling renewed after your morning thinker session. Maybe you're traveling. Maybe your crunched for time between appointments. Maybe you ate way too much barbeque, Del Taco or drank too many beers over the weekend and you got a pesky case of mud butt. Whatever the reason may be, backside unfreshness happens, and sometimes you need an immediate solution to address cleanliness problems with your posterior. One Wipe Charlies give you the flexibility to maintain a fresh ass under any circumstances. They work as intended, but with an added bonus of cool minty butt tingle. That's the cucumber extract, aloe, Vitamin E and chamomile working their magic with a peppermint oil finish. It's downright pleasant.
Dr. Carver's Easy Shave Butter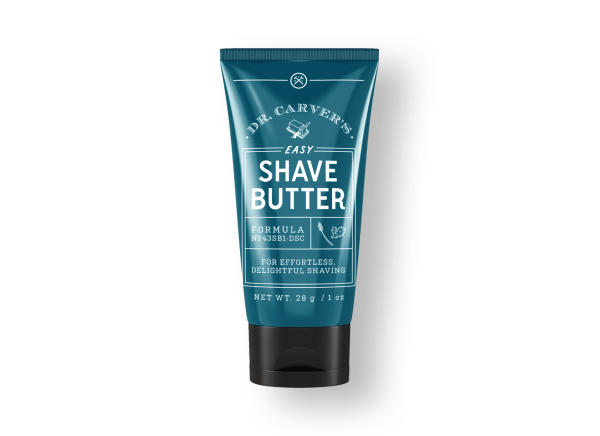 Gone are the days of badger brushes and foamy shaving cream. Don't be concerned that this stuff doesn't come out looking like some neon blue Jello, either. With Easy Shave Butter, you don't need fluorescent jelly or sudsy lather. It's a simple product that's focused on delivering an efficiently close shave. You apply the butter to maximize viscosity when you razor up your face. The butter face approach may sound like a greasy proposition, but it's not really an oily experience. You're not schmearing margarine on your mug. It's an easy-to-apply defense layer that quickly rinses away to leave your skin feeling soft and undamaged by your shaving routine. Thanks to our sponsor Dollar Shave Club, new members get their 1st month of the Daily Essentials Starter Set including trial-sized versions of their Body Cleanser, One Wipe Charlies' Butt Wipes, and Shave Butter along with their Executive Razor for ONLY $5 with FREE shipping. If you haven't signed up for the club yet, see what all the fuss is about and get in on the action. It'll only cost you $5 to sample the goods.
Ready to join the club for only $5?
Sign up here: