Lifestyle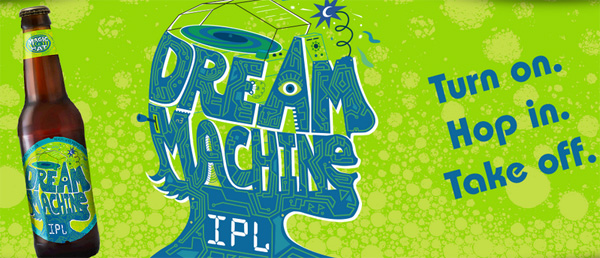 Magic Hat just released a new brew. It is called Dream Machine IPL. This beer is their first new year-round beer in 10 years. Once I tasted it I knew that it was well worth the wait. Dream Machine is an India pale lager. If you enjoy the taste of hops you will want to pick up Dream Machine.
Magic Hat brewed it with lager yeast to give it a crisper body than an ale. It mixes in real nice with the citrus flavors. As I opened up the beer and poured it into a glass I got the nice aromas of orange, grapefruit, and pine. You could also taste the orange, pine, and grapefruit right off the bat.
Dream Machine had a nice finish that was not over the top. The hops in Dream Machine are Nugget and Cascade, as well as a dry hopping with Amarillo and Sterling.
You will not be disappointed from Magic Hat's new offering. Whether you are enjoying a nice steak dinner like I did when I had my first taste of Dream Machine or just having a few with friends this IPL is a nice choice for any evening. Cheers!
From the Magic Hat website:
Dream Machine, an India Pale Lager or IPL, is a melding of varied visions of an India Pale Ale and an Amber Lager. Once poured, its light copper color delights the eyes and a citrusy hop aroma flows through the nose. Upon first sip, a smooth hop bitterness reveals itself – fresh, bold and slightly spicy – before subtle hints of mild maltiness appear. A big hop bite and a crisp, clean lager finish combine for a beautifully balanced beer. Take Dream Machine for a spin and let your reverie begin.
Stats:
Malts: Pale, Munich 20, C-40, C-120
Hops: Nugget, Cascade
Yeast: Lager
ABV: 5.7%
IBUs: 50
SRM: 12
Original Gravity 14.5° Plato
Dry Hopped: Amarillo, Sterling
Availability:
Year Round: 6-Packs, 12-Packs, 22oz Bottles, Draft