Marshall Faulk Interview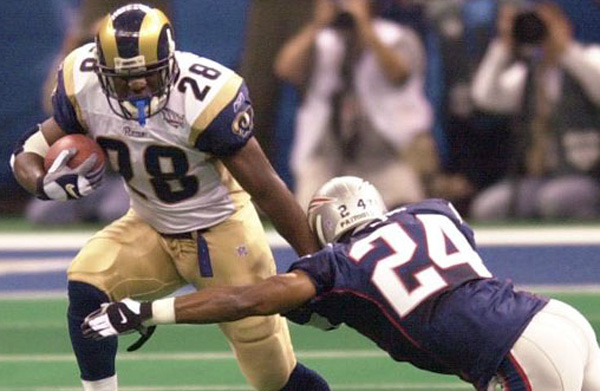 Even before Marshall Faulk played in the NFL many knew that he was going to be a superstar in the league. In college at San Diego State University Marshall was a three-time All-American. The Indianapolis Colts drafted him as the second overall pick in the 1994 NFL Draft. After his time with the Colts, he played for the St. Louis Rams.
Faulk is one of only three NFL players with at least 10,000 rushing yards and 5,000 receiving yards. Marshall has been named the league MVP, helped the Rams win Super Bowl XXXIV, and was selected seven times for the Pro Bowl. He was elected to the Pro Football Hall of Fame in 2011.
Faulk can be seen on TV shows such as "NFL Total Access," "Thursday Night Football," and "NFL GameDay Morning" on the NFL Network.
Before Super Bowl weekend I caught up with Marshall. He was working with Verizon to promote the "Who's Gonna Win?" campaign in connection with the Empire State Building. Besides talking about that promotion we did chat about this year's match up between the Seahawks and Broncos, his time in the NFL, and his induction into the Hall of Fame.
Art Eddy: You are part of Verizon's "Who's Gonna Win?" program, the first-ever social media-driven light show on the world's most iconic building, the Empire State Building. Tell me a little about that promotion?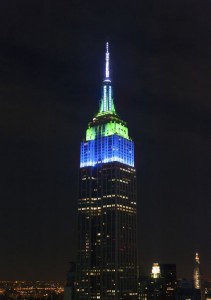 Marshall Faulk: This whole "Who's Gonna Win?" campaign is an initiative by Verizon. They are powering up the Empire State Building. Fans can help decide if their team's colors will go up on the Empire State Building. It is a pretty cool program. Each day is going to be a different program leading up to Saturday.
Obviously everyone wants to know who is going to win. That is the interesting thing to see. Which team's fans will get more involved and how many hashtags will be for Seattle or Denver is going to come into play. We will find out when the Empire State Building will be lit up.
AE: It sounds like a very cool program. Who do you think will win the Super Bowl? Broncos or Seahawks?
MF: I think it can go either way. I don't have a favorite. Usually you can look at the numbers or watch how they play common opponents. It is so tough to tell. I keep telling people that only because Peyton (Manning) is a friend of mine that I just want to see him win another Super Bowl. Outside of that I really don't know. I am not going to lie.
AE: Speaking of the Super Bowl you had the great fortune of playing in two of them. What was the week leading up to the game like?
MF: You want to say that it is all business. You are trying to have a normal week. Last night I saw that a bunch of players from the Seahawks have a team event. They showed some support for the (Brooklyn) Nets by going to the game. Those are the kind of things you want to do. Dinners, going to a basketball game, just things like that with your teammates.
Keep it in a team atmosphere. If you have family here, have dinner with your family. You don't want to be that guy who is drawing negative attention to your team. That is what we are waiting for. We are in the media. We are trying to see who is going to be the idiot to try and do something stupid.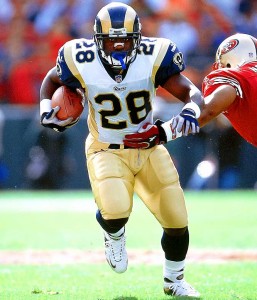 AE: When did the nerves go away when you played in your first Super Bowl?
MF: Let's see here. First you come out of the tunnel. You are excited about the game. You realize the magnitude of the game. You look around and see all the press. You look at the field and say 'God this looks small.'
You hyperventilate. You catch your breath. Probably the second series after you get a hit a couple times and had a few times touching the ball.
AE: With everything that you have accomplished in your phenomenal career from MVP awards to a Super Bowl win what is the number one thing you take away from your time in the league?
MF: Winning the Super Bowl. I am telling you that it is the hardest championship to win. It requires all hands on deck. When you are on the field 11 guys must be pulling towards the same goal. It is the greatest team sport ever. It is the greatest sport ever. I just love how fun it is to win a championship.
The one thing that you know about our game and I love this as well, the best team doesn't always win. It is the best team on that day. In other sports you get seven games to get it right. In our game you get one game to get it right.
AE: Can you imagine playing the best of seven for a Super Bowl? It would be crazy right?
MF: Exactly.
AE: After your time in the NFL you got the call that you would be inducted into the Pro Football Hall of Fame. What was the first thing that entered your mind when you got the news?
MF: I will take you through the whole process. When you first hear that you are on the ballot you are kind of nonchalant about it. It gets down to 35 and you are like alright. When it gets down to 15 you are pretty good. The week of the Super Bowl and pretty much that Saturday was when I started having the pregame jitters feeling.
They are calling names. I am standing up there. My hands are sweaty. My heart is beating. I am saying to myself you can't go in the game. You are not playing, but that natural feeling of anticipation or excitement that you have when things are out of your control when you can't do anything about it. That was what it was. I was quite relieved that my last name ends in F and it was called early out on the list. It was a good day to hear my name called. I will say that.
AE: You and your teammates on the St. Louis Rams had a sick nickname, "The Greatest Show on Turf." What was it like to play with guys like Kurt Warner, Isaac Bruce, Torry Holt, and the rest of that high powered offense?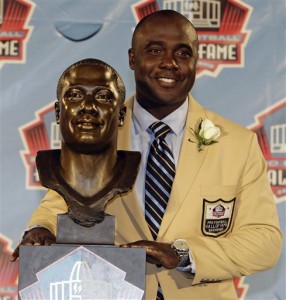 MF: It was fun. I enjoyed playing with those guys. As much fun as it was the one thing that we talk about when we see each other like we did at the Pro Bowl recently. Ricky Proehl, who is now the Carolina Panthers receivers coach, was at the Pro Bowl because the Panthers coaching staff was there for the Pro Bowl.
We just started talking once again. Ernie Conwell, he works for the NFLPA. Me, him, and Ricky were having the same conversation. We always talk about it. The one thing that continues to come up about it is how unselfish we were. When I look at the Denver Broncos that is what you get from them. They really don't care who is catching the touchdowns, who is catching the passes, who is getting the yards, or who is getting the accolades. It is all about a team goal.
It is hard to get that especially from receivers. We had it. It was special. I definitely enjoyed playing with those guys. We talk about it. I always point to Ricky Proehl. The year before Ricky led the team in receptions, receiving yards, and receiving touchdowns. The year we won the Super Bowl he catches one touchdown. It was touchdown that sent us to the Super Bowl against Tampa in the NFC Championship. He doesn't say a word about it the whole season. That is the unselfishness you need in order to win games like that.
Related Posts
| | | |
| --- | --- | --- |
| | Print article | This entry was posted by Art Eddy III on February 3, 2014 at 7:02 am, and is filed under Sports. Follow any responses to this post through RSS 2.0. Both comments and pings are currently closed. |
Comments are closed.