Chris Stout
Posts by Chris Stout

Recycling and caring about the environment isn't just for hippies you know. You can still be a badass and care about the planet, too. We've told you about Valvoline NextGen oil in the past. It's some high-tech, high-sustainability-conscious stuff. It's a motor oil made that's made using 50% recycled motor oil, and the reusability factor doesn't take away from your car's performance. In fact, this stuff fuels cars that win races.
To get the word out about NextGen, Valvoline produced a 30-second spot that gives new definition to the concept of tree hugging. Here's the video:
And here's a behind the scenes look at the Tree Hugger spot:
Next time you get your oil change, think about the choices you have. If you want to reduce our reliance on foreign oil and help save the planet in the process, ask the dudes at the oil change spot to fill up your wheels with some of this good recycled stuff in the green bottle.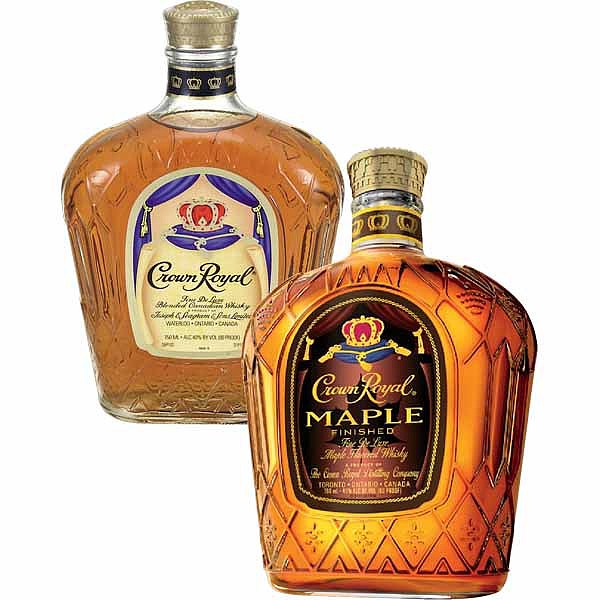 People say that the drink of choice for the Kentucky Derby is the Mint Julep. It's a tradition that's gone back over a century. Churchill Downs stocks more than 1,000 pounds of fresh mint and 60,000 pounds of ice to accommodate all the Julep drinkers over the two-day period for the Kentucky Oaks and Kentucky Derby this weekend.
But who says you have to drink Juleps? You may not even like minty stuff. Why not explore some other whisky cocktail options?
Well our friends at Crown Royal sent us a nice little care package for the weekend and they included everything we need to make some tasty libations for tomorrow's big race. We received a box with a bottle of Crown Royal Maple, a bottle of Angostura bitters, an orange, a lemon and some pineapple juice.
Maple Collins Recipe
1.5 oz Crown Royal Maple
.5 oz Lemon Juice
1.5 Pineapple Juice
2 dashes of Angostura Bitters
.5 oz Simple Syrup
Mix ingredients in a shaker, top with club soda and strain into Collins glass. Garnish with half an orange slice and a cherry.
In addition to the cocktail care package, we also got the names of two horses. If one of these horses wins the race, we get a trip to either The Preakness or The Belmont Stakes. Here are the two horses we have running and their odds to win the Derby:
Vyjack 14/1
Giant Finish 50/1
Orb and Verrazano are the favorites, with each horse coming in at 4/1 odds. Goldencents, Rick Pitino's horse, has the next best odds at 11/2. Forecasts in Louisville predict a 70 percent chance of rain, which could make for very wet and muddy conditions at Churchill Downs.
Crown Royal has partnered up with legendary jockey Laffit Pincay Jr for Derby weekend. If he can successfully predict the top three finishers in order for each leg of the Triple Crown, Crown Royal will donate $1 million to Thoroughbred Charities of America. Here's a clip of Pincay on Jimmy Kimmel so you know just how legit this guy is:
Here's the finish that Pincay predicted for the Derby:
Goldencents
Normandy Invasion
Orb
Notice how he gave our horses zero love? That might be good news for charity, but we wanna see an upset, damnit! We're in a competition here with a bunch of other bloggers. You can follow all the action by checking out @CrownRoyal and the hashtags #Derby and #ReignOn this weekend on Twitter.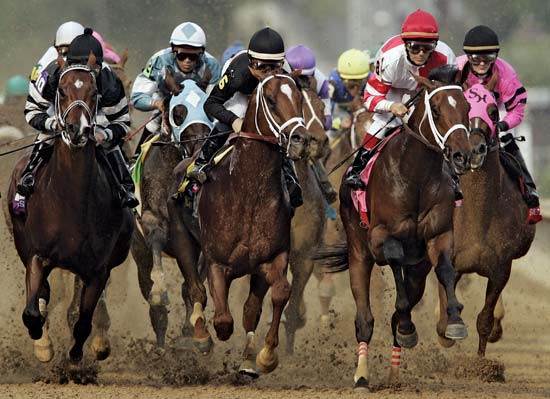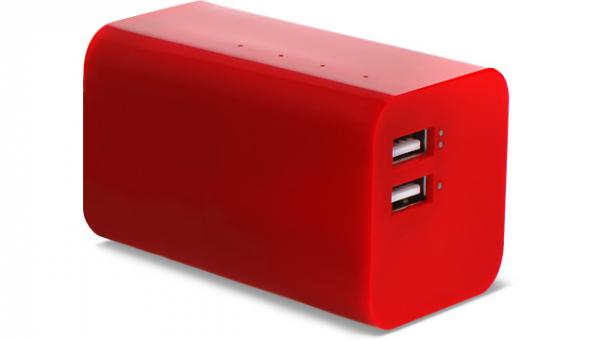 Sometimes you come across a product that makes you wonder what life was like before you possessed said product. Can you remember how you functioned before an Internet-ready smartphone? Can you imagine not having an AUX cable input in your car stereo? Or living without a Bluetooth-enabled portable speaker? It's hard to think back. Your world was way different before these things.
Every single one of us carries around some sort of device that's capable of providing hours of enjoyment, information and productivity. Whether it's a smartphone or tablet (or both), we all walk around with these compact entertainment machines that. We're lost without 'em. These devices have become extensions of ourselves.
But these wonderful bodily tech extensions have a downside. They need a power source or they stop working. If you're not tethered to a desk or a power outlet at home, your device is going to drain until the battery life is all gone. Then all of these wonderful/functional entertainment options will no longer be available to you.
We've all been there. A long day or night out. A long flight or car ride. These things drain your juice, man. There's nothing worse than trying to scramble for an outlet at a bar or an airport just hoping to juice up to send one email or listen to some tunes while you travel. And who hasn't had a point and shoot camera die and an inopportune time. No matter how far you plan ahead, your devices still have power limitations.
Well luckily for you, Eton makes this amazing rechargeable dual USB battery pack called the BoostBloc 6600. It charges phones, tablets, cameras, any USB enabled device, and two at a time no less.
I've been traveling quite a bit lately, and after using this thing for a couple months, I can't remember how I ever travelled without it. It's from the future, dude. Seriously. I've been parked at airport bars with my Boost Bloc sitting on the counter charging up my iPhone and iPad and I've gotten some looks, man. People trip out when they see this. What the hell you got over there, fella? That sort of thing. In almost any situation, most strangers can immediately walk up and see the utility at work. Then they ask what it is cause they want one.
I've taken my little BoostBloc on long road trips, brought it to sporting events, used it in airplanes, my jacket pocket, you name it. This little rechargeable battery pack is already well-traveled. And it's easy to understand why. It weighs 6.5 ounces. It fits in the palm of your hand and can easily be placed in a jacket pocket.
The BoostBloc features a 6600mAh lithium battery that takes some time to get fully charged, but the LED indicators will let you know how much juice you got in the pack at any given time. I usually let it charge overnight before I travel anywhere. When the pack is charged at full capacity, you can recharge an iPhone up to three times. And it charges your phone up pretty quickly, too.
One complaint that I have is that the unit, which retails for $99, doesn't come with its own Micro-USB DC charger. You get the mico USB cord, but you need to pull the DC charger off an existing device. It'd be nice if it came with one.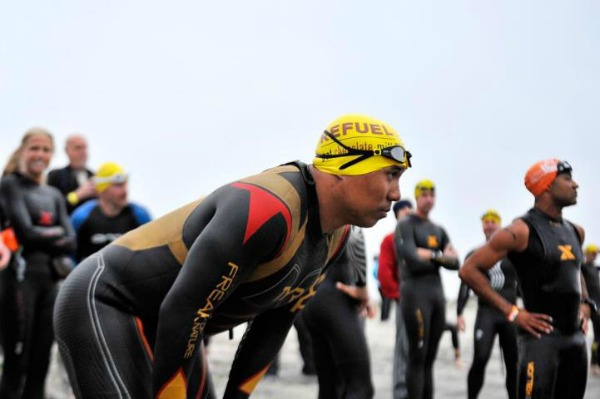 Hines Ward's REFUEL web series, BECOME ONE, highlights the former football star's training efforts as he prepares to compete in the 2013 IRONMAN® World Championship triathlon in Hawaii this October. in our Hines Ward interview that we posted a few weeks back, Ward talked about BECOME ONE and the training that goes into triathlon prep. The first episode of the BECOME ONE documentary web series can be seen at gotchocolatemilk.com.
Being a Steelers fan and a big supporter of anything involving chocolate milk, I definitely wanted to follow along as Hines makes the transformation from retired football menace to endurance athlete extraordinaire. Here's a look at the second episode of the 10-part BECOME ONE series:
This past weekend , Hines competed in the St. Anthony's Triathlon in Florida. Ward must've been happy that the swim portion was cut short due to choppy waters. He completed the triathlon in 2 hours, 26 minutes and 37 seconds. His splits were 15:53 for the swim, 1:33:27 for the 40-kilometer (24.9 mile) bike ride, and 51:27 for the 10-kilometer (6.3 mile) run
To help promote Ward's journey and the BECOME ONE series, we've partnered up with REFUEL | got chocolate milk? to provide a sweet giveaway for one lucky reader. The winner of this giveaway will receive three pieces of REFUEL branded Nike gear: two pro-combat dri-fit black t-shirts and one white mesh cap. We'll even throw in an autographed football from Hines himself.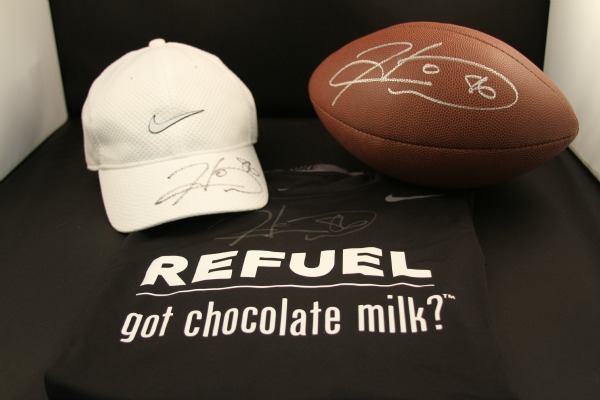 To enter, just follow us on Twitter (@MANjr) and drop us an email below. Good luck!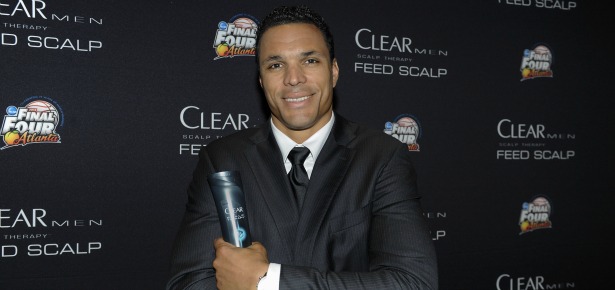 When Clear Men's Scalp Therapy sent us to the Final Four in Atlanta, we got to spend a few minutes with Falcons tight end, future Hall of Famer and all-around gamer Tony Gonzalez. Gonzo just agreed to come back for one more season with Atlanta. Although he signed a two-year deal, he made it clear that the second year was just in there for cap reasons. The upcoming season will be his last.
And what a career he's had. He's a 13-time Pro Bowler (with 10 All-Pro seasons). He's caught more passes (1,242), for more yards (14,268) and more touchdowns (104) than any tight end in history. His spot in Canton must already be reserved. He's slam dunk first ballot hall of famer. And, you know, he can dunk, too.
Gonzalez played college basketball at Cal. During his junior year, he played in 28 games and averaged 6.8 points and 5.4 rebounds as a member of the Cal team that made it to the Sweet Sixteen.
Gonzalez is now a spokesman for Clear Men Scalp Therapy. We caught with him at the Coke Zero Fan Experience in Atlanta the day before the Final Four kicked off. We talked about the thrill of playing in NCAA Tournament, what jersey he was going to wear when he finaly gets to Canton, his excitement for next season and what makes Clear Men Scalp Therapy so awesome. Here's the interview:
While in Atlanta for the Final Four, Gonzalez shot a series of videos for Clear Men that provided tips for creating The Perfect Fanual. Here's the whole series: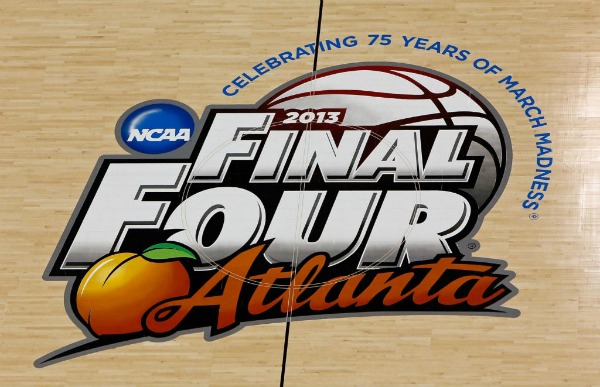 The Madness of March has subsided, but the memories of a fantastic Final Four remain. It's hard not to get caught up in the NCAA Tournament in any given year, but there was something about the 75th anniversary of the Final Four that distinguishes it as one of the better Big Dances in recent memory. I can't remember the last time I saw so many strong finishes, early upsets, busted brackets and broken bones.
It's hard to pinpoint what made the 2013 tourney so special. Watching Harvard and North Carolina A&T win their first tournament games was pretty cool. Maybe it was Florida Gulf Coast becoming the first #15 seed to advance to the Sweet Sixteen, in just their second season of eligibility. I mean, who wasn't cheering for Dunk City at some point? Or maybe it was the Shockers shocking their way from a #9 seed, past Gonzaga and into the Final Four.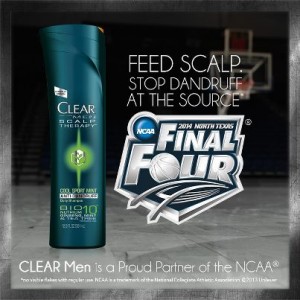 After so many brackets were destroyed, the three Final Four games were definitely ones to remember. Our friends at Clear Men Scalp Therapy sent us to the Georgia Dome in Atlanta to watch the two Final Four semifinal matchups, and it was incredible – great seats, two really good games, a trip to the championship on the line.
For the fourth year in a row, only one #1 seed made it to the Final Four (Louisville). They went on to win it all, but not without some serious challenges and some ridiculously clutch play by Final Four MOP Luke Hancock.
Wichita State became the second #9 seed to advance to the Final Four (Penn did it in 1979). They were also the first Missouri Valley Conference team to make it to the Final Four since Indiana State (also in 1979). It was the first time Wichita State appeared in the Final Four since 1965, and that 48 year gap is the fourth longest Final Four drought streak on record. Only Wisconsin, Stanford, Texas and West Virginia had longer waits between Final Four appearances.
The Michigan and Syracuse game marked the first time in tournament history that two #4 seeds have met in the Final Four. The Wolverines reached their first Final Four since the Fab 5 era. And Syracuse was in the Final Four mix for the first time since Carmelo the Orangemen to a title in 2003.
Wichita State put Louisville in a 12-point hole with 13:35 left in the game, but the eventual champs roared back with Luke Hancock scoring 20 points off the bench. No. 11 fired up the crowd and fed his teammates with energy as the Cardinals rode the emotion to victory.
The Michigan-Syracuse semifinal was a game of runs. The Wolverines attacked Syracuse's zone defense early and often in the first half. With heavy contributions from the bench, Michigan jumped out to an early lead before Syracuse rolled back in the second half. Clutch three point shooting and serious board crashing allowed Michigan to hang on for the win.
The championship game was another gem. Louisville dug themselves a hole again with a 12-point first-half deficit. Hancock contributed 22 points off the bench and picked the team up yet again. The guy hit four huge three pointers in a row to get the Cardinals back into it. Freshman Spike Albrecht answered for Michigan from three point land, but it wasn't enough. It was a back and forth battle that looked like it could go either way, but Louisville just kept getting after it and eventually they pulled away and cut down the net, with injured guard Kevin Ware getting the final honors with the scissors.
It was a great finish to an amazing tournament and a fun experience all around thanks to tournament sponsor Clear Men's Scalp Therapy.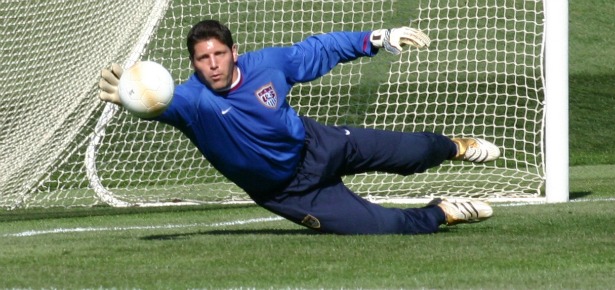 If you're old enough to remember when the US hosted the 1994 World Cup, you know Tony Meola. The former US National Team goalkeeper made 100 appearances for the national squad between 1988 and 2006. Born and raised in Jersey, Meola and his larger-than-life mulleted/ponytailed persona was one of the first true soccer superstars in the States.
Meola was a foundational stud who helped launch Major League Soccer in the US. He's an Italian-American who grew up loving soccer (his pops Vincent played reserve fullback for a second division team in Italy), but Tony also excelled in basketball and baseball. Dude was even drafted by the Yankees. Meola is an engaging guy. He has an awesome radio show called Counter Attack Radio and he also plays the drums.
I caught up with Tony last week when he was in Denver on March 21 when he surprised members of the Future Soccer Academy by hosting an Allstate "Good Hands F.C." Clinic that included free gear and tickets to the US v. Costa Rica blizzard match that took place on March 22. Tony and I discussed the Allstate Clinic future prospects of the USMNT, racism in soccer, the fact that all goalies are a little bit nuts, the '94 World Cup, the birth of the MLS, drummers and a whole lot more. Here's the interview: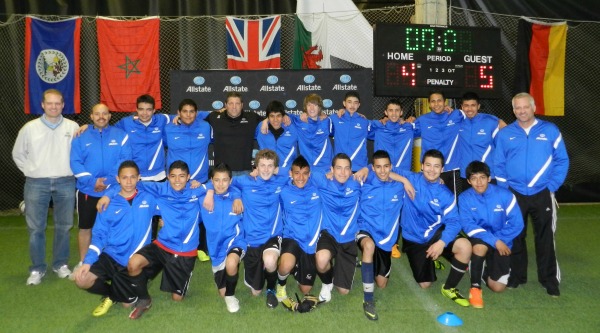 CS: So let's start with the Allstate Good Hands FC Clinic. Tell me what that's all about.
TM: Yeah. So Allstate is in their third year of sponsorship with both Major League Soccer and the US National Team. We get to go around the country. I've been with the program all three years now. Essentially what we do is the night before a game, we go into the community and we barge in on a practice, which has all been set up through the coaches. We give them a clinic and then ultimately we do some shootouts and we give some prices away and all that kind of stuff. And then at the end everyone comes in and everyone gets a gift from Allstate which is a bag with basically everything that they need for the upcoming season. Literally it's a group that's in maybe a little bit more need than some other groups for uniforms, sweat suits, soccer balls, training gear for the coaches. Ultimately, at the end, they're given tickets to tomorrow night's game. And in this case, it's the US-Costa Rica game.
CS: Oh nice. That sounds cool.
TM: Yeah it's really cool. It's a really cool night. Allstate does a great job.
CS: So why aren't there more youth academies in the US? Whether they be from MLS teams or the National Team. You see places in Europe where every club and country has some type of academy where they train these young players. We have such a strong youth soccer culture, but we don't necessarily put a lot of investment into that development and bringing them forward.
TM: We have 100 academies in the country. All MLS teams have them now, as of finals last year. Major League Soccer has committed above and beyond what the club teams are required to commit to the programs now. It has committed upwards of 20 million dollars to the program. One of the primary focuses is to continue to develop youth soccer players. That's the only way we're going to continue to grow in this country.
People started screaming about it a couple years ago when they put the academy program in, but it's not something that is going to happen overnight. It's not something that was considered their first priority when they put the league together, but it's certainly a priority right now. It's going to take a little bit of time to implement it fully, but from what I've seen, everybody is taking steps in the right direction.
CS: You were a foundational contributor to the whole birth of Major League Soccer in '96. How do you think the league has progressed since then and can they do more to gain exposure and increase popularity?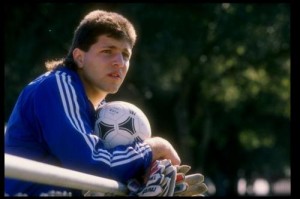 TM: Well certainly there is more exposure, much more exposure. Social media now exists, which certainly didn't when we started. That's huge. The television deals that they have are different than the deals we had, you know? So it continues to grow, and that was the goal for everybody. First we had to figure out, how do we grow it in the right way. And then once we had, do we have the resources to grow? Is there the funding in US Soccer to grow it? And they've come about on all of these things. Do I think it's the end of the growth? No, I think there's still so much more. And I think everyone agrees that there's still a ways to go, but I also think everybody is happy with the direction that it's going.
CS: So if we started to see things like time outs or commercials in soccer, do you think that would attract more advertising dollars and maybe help make the sport more popular and viewable if it had more of that TV exposure?
TM: Good question. It attracts so many different ways to advertise, in soccer. The problem with our sport, and I don't think we're going to start it here in America, is it's 45 minutes of running. That's the one part of the game nobody wants to see change.
CS: Right.
TM: Everyone wants that to flow. From a coaching standpoint, I'm sure a coach wants to have the ability a couple times to have a time out and make some changes, but that's the beauty. Coaches get one chance to make things right and that's halftime. Of course they can make some substitutions along the way, but that's their one time where they can put their imprint on the game.
CS: You were a key member of the '94 World Cup team that really helped advance the game in the States. What's your fondest memory of that whole US World Cup experience?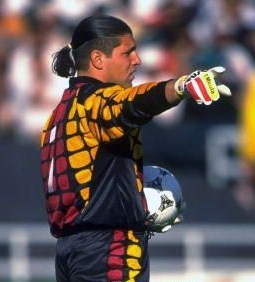 TM: I think the unity of that team. In '94, I mean we had half the team that played in Europe and half the team that played in the United States. When we got together, the cause was always the same and we knew how important it was. They know how important it is here as well, but we had heard for four years that if we didn't qualify in 1990, they were going to take the '94 World Cup away and we knew it was a privilege for us to have it in our country. We understood it and we played as such. Every minute was important to us. Every second we were together was important to us. That's what I remember about that group. That was never something you had to worry about.
CS: Do you think the USA will win a World Cup in your lifetime?
TM: I sure hope so. It's hard to say. Even if you take Brazil or Germany or Italy, it's hard to say if any of those teams will win another World Cup from here on out, in my lifetime. It's just so difficult to win. There have only been eight or nine countries that have won the World Cup and there's a reason for that. But I certainly hope so. And we've had teams that could compete, the team in 2002, the team in 2010, could all compete with anybody in the world. But you know, you have to get the job done on that day. I'd like to think the answer is a solid yes, but I can't give you a solid yes.
CS: I gotcha. Do you like what Jurgen is doing with the direction of the National Squad? What do you think the program has to do to take the next step in the international stage?
TM: When I think about Jurgen, for me, he's going to be –and I say this all the time– he's going to be judged, and should be judged, on the results.
CS: Right.
TM: Right now he's under a little bit of pressure. Which, one, I think is good because it shows that people care. If no one cares you never have any pressure. My concern is that sometimes, from reading the federation, he changes the whole program. For me I'd like his concern just to be strictly on the National Team qualifying for the World Cup and progressing that way. Let everybody else worry about development below the national team. As far as the system, I don't know that the system has changed all that much, if any. I still think it's about results. That's what people want to see. With these World Cup qualifiers it's just vitally important.
CS: The US has such a great track record of producing quality goalies, but it seems that producing that same level of skill with players in other positions has proven a bit more difficult. Why do you think that is?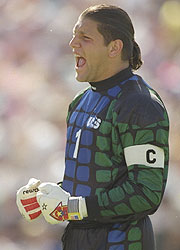 TM: Well it's an athletic position. I think it's one of coordination. Our guys generally grew up playing baseball, playing basketball as well as soccer, and are a little bit more well-rounded. Because it's an athletic position, they can pick it up a lot quicker. We used to have foreigners on our team in multiple positions and we'd play a simple game like basketball or handball and you could tell that their eye-hand coordination was zero. Our field players even, they were good playing basketball, baseball, or whatever else we were playing. So we grew up playing multiple sports, I think it's good. Eventually you've got to concentrate on one to make it to that level, but for the most part I think that's what's up with the goal keeping position.
CS: So why did you choose soccer over baseball and basketball? You were pretty accomplished at both. I mean you were drafted by the Yankees, man. What made you gravitate toward the soccer field?
TM: My goal as a kid was to play in a World Cup. I grew up watching Italy, because of my background and watching Dino Zoff in the 1980 World Cup in goal. That was what I wanted to do, unlike most kids, especially in that era. Now it's probably not so uncommon to have kids dream of playing in a World Cup, but back then it probably was your second or third choice. For me it was just the thing I wanted to do more than anything, and I was lucky enough to be able to live that dream.
CS: Do you think all goal keepers are just a little bit nuts?
TM: (laughs) It would be hard for me to disagree with you.
CS: (laughs) Nice.
TM: I don't know if that's before, during, or after the job. I'm not so sure.
CS: Do you think you could currently help the New York Jets win some games?
TM: No.
CS: (laughs).
TM: (laughs) I don't think so. I think the range has diminished a little bit, but I still think from 45 yards in I'd be alright.
CS: I know you're a pretty accomplished drummer, who is your favorite drummer of all time?
TM: I would say Neil Peart from Rush. Just like you always try to be like someone you're never going to be able to be like. Carter Beuford from Dave Matthews Band. Guys like that. Guys that you can just tell are really good at having fun at what they do.
CS: What do you think can be done about the whole racism in soccer situation? It seems to be pretty rampant and kind of a growing problem.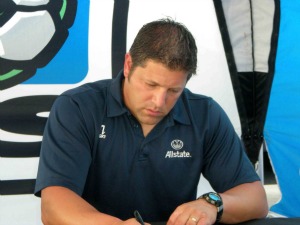 TM: Yeah, unfortunately it is. We have this discussion on our show, it seems like weekly. And it seems like, for whatever reason, in these last couple months it has come to the forefront again. Fortunately we don't have a lot of it here in the United States. I think we've had so much education in the United States, dating back so many years, that kind of helps us. Kids are learning about it in school. I'm not sure what the education is at a young age overseas, but yeah, it's got to stop. It's sickening every time I hear about it and every time we have to talk about it. We talk about the same thing, when is it going to end? When are people going to learn? When are they going to stop being so cruel to each other? But some people just don't get it. They just don't get it. And the scary part is we have guys on our show that have played 20 years ago, played overseas in different places, they'll come out and talk about how bad it is now. They'll give us horror stories about how much worse it was when they were playing. Any offence in that regard is disgusting to me, but to listen to some of the stories they tell, it just blows my mind.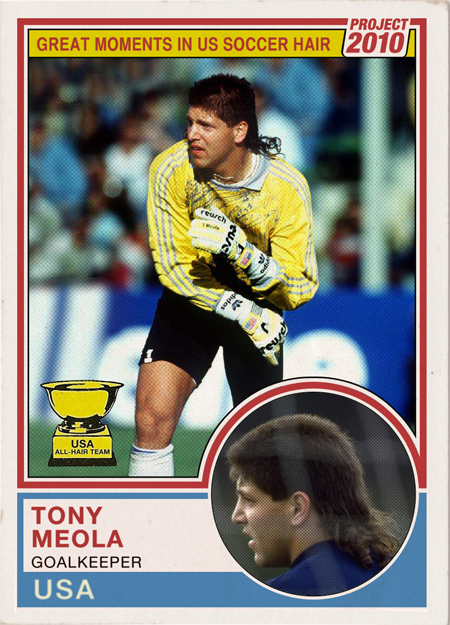 CS: Last question for you. I'll try to end it on a little bit of a lighter note here. Do you think ponytails will ever make a comeback on the pitch?
TM: Oh, that would be my dream.
CS: (laughs)
TM: Even more than the prettier ponytail, would be if the mullet came back.
CS: Oh, that might be asking too much (laughs).
TM: That might be, but hell, bell bottom pants came back for a little, right?
CS: Anything is possible (laughs).
TM: (laughs). Maybe one day. Maybe one day…
The first episode of the BECOME ONE web series is now up on www.gotchocolatemilk.com. We interviewed Hines a few weeks back and told you about his quest to become an IRONMAN. In the first episode of BECOME ONE, Hines is introduced to his new coach, 8-time IRONMAN World Champion Paula Newby-Fraser.
The series will run all the way through the IRONMAN World Championship in October. You can follow all the action on www.gotchocolatemilk.com.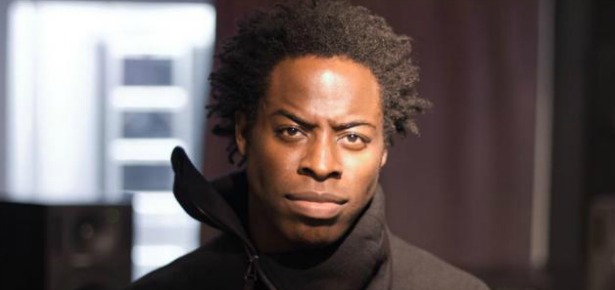 Jeymes Samuel is the type of person you wish they'd make more of. Bursting with energy, his creativity is palatable. The guy's a born storyteller. He's the type of casual wordsmith that reveals his cleverness in everyday conversation. He just can't help it. Articulate, confident and excited, that's his default mode. He's a singer, songwriter, producer, writer, filmmaker, all-around multitasking visionary. He knows he's the shit, too. And the real awesome thing is that he doesn't hold it against you.
I had a casual lunch with Jeymes and a group of other media folks while visiting SWSX in Austin. It was the day of his film debut, They Die by Dawn, a 50-minute Western short with a sick cast that marked Jeymes first foray into film. The guy has created music videos before and worked with the artists like Jay Electronica, Jay-Z, Tori Amos, Charlotte Gainsbourg and a bunch of other people to create some great music. Jeymes has his own music crew too, a group called The Bullitts who will debut their first album this May. They've already released some pretty chill tracks, so check 'em out if you haven't already. I like "Landspeeder" quite a bit.
Anyway, MANjr is friendly with the Bulleit Bourbon brand, who helped sponsor the film, so we got sent out to SXSW to see the premiere of They Day by Dawn at a Bulleit-sponsored event at Viceland. The short film had a great cast (Michael K. Williams, Isaiah Washington, Rosario Dawson, Giancarlo Esposito, Erykah Badu,Nate parker, Jesse Williams, Bokeem Woodbine, Felicia "Snoop" Pearson, you get the point). And by all accounts, everyone had a lot of fun making this short film.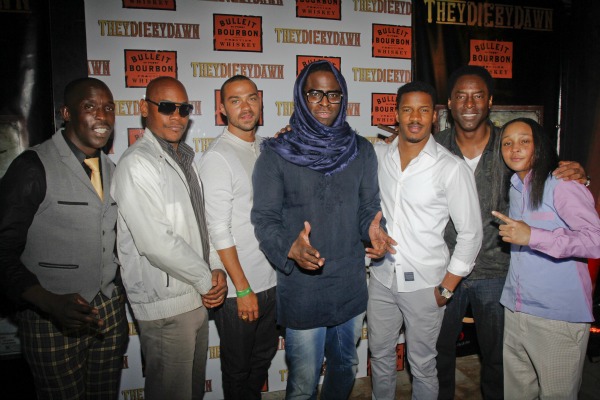 The impetus of the film was Samuel's love of Westerns and his desire to correct a "huge inconsistency" that he saw in Hollywood's historical "disservice" of excluding people of color in Western films. But this short film was just the beginning, just a taste of more to come. As Samuel put it, "This was just a link. What's coming next is a full tub of Haagen Daaz."
That tasty bit of froyo is coming in the form of a full-length feature film called The Notorious Nine. They Time by Dawn was just a sketch, an illustration that Jeymes can do it all.
I had a chance to speak with Jeymes at the premiere of They Die by Dawn at SXSW in Austin. We talked about everything from his original score inspiration to the upcoming feature film The Notorious Nine and a whole lot more. Here's the interview:
CS: So I know you did the soundtrack yourself. I felt a heavy Ennio Morricone vibe, is that where you drew some of your inspiration? Those old spaghetti westerns?
JS: Absolutely, Ennio Morricone is like my favorite film composer of all time. I love that guy, man. "Ecstasy Of Gold" is one of the greatest pieces ever made. So when I was doing They Die by Dawn, I drew a lot of influence from him and what he was doing. Because Ennio Morricone was a guy that didn't have big orchestras at hand, so he would use voices. So he was the first guy that wasn't doing Western music to a Western. He was just doing what he saw in his head. He couldn't afford an orchestra so you'd hear "aaaaaaaaaaaaaah ha ah ah ah" so swag, you know what I mean? He is my favorite composer of all time.
CS: That Mission soundtrack is all super emotional as well.
JS: Ill, man. Ill!
CS: Alright so I know this thing ended on a cliffhanger, is there anything you can tell us about The Notorious Nine or not yet?
JS: Let me tell you something. I'll straight tell you about The Notorious Nine. But even while I'm telling you, that's nothing in comparison to what's coming. I shot They Die by Dawn over four days, right.
CS: Four days?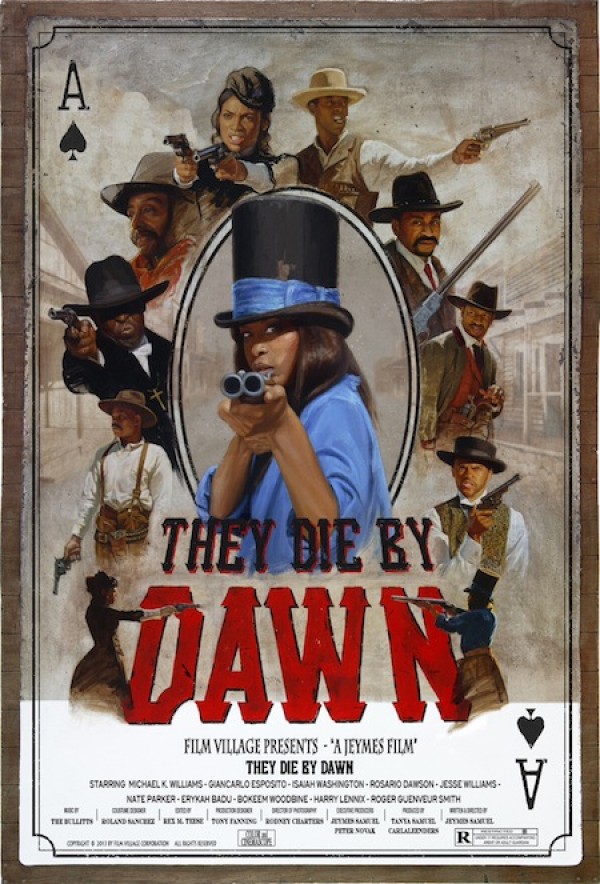 JS: Four days, that's small. For Notorious Nine, there was a guy called O.W. Gurley right, and he got his 40 acres and a mule. He took this place, Greenwood Avenue in Tulsa, Oklahoma, and made black Wall Street. I'm rebuilding black Wall Street for Notorious Nine. I'm bringing back Jack Johnson. There's a big bank heist around Jack Johnson, right. I'm bringing all of these characters back and I'm assembling them in one place at one time. We touched on one town in They Die by Dawn, but for Notorious Nine we're going everywhere. It's much bigger.
CS: Are we going to see some of the same characters?
JS: Yeah, because it continues. This is like a prelude. But The Notorious Nine, you can watch it even if you haven't seen They Die by Dawn. But They Die by Dawn serves as a prelude to what's coming next, when I unleash the most menacing villain in modern day cowboy movies, Rufus Buck. It's like some real, real menace. It's about the pursuit of Rufus Buck and, in turn, his pursuit of The Notorious Nine. You know what I mean? The movie is almost like a heist movie. It's a really great thing.
CS: I've heard you talk about how you're assembling this cast and you thought of it like The Avengers. How did you single out which characters you wanted to bring to life?
JS: Well there were about 150 characters I wanted to bring to life. But I was like, let me save some great ones for the The Notorious Nine and let me just introduce the ones I want to put out there now. Giancarlo Esposito is one of my favorite actors of all time. He's the reason I'm wearing Jordan Force today. He was doing research into his character and I told him I wanted him to play him, it was just natural. Then I wanted to introduce the character of Rufus Buck and I wanted to talk about Bill Pickett, who wasn't really an outlaw. He was more like a rodeo dude and that. But I really wanted to introduce these characters, just a few of them first, the ones that stood out to me the most. That was the easiest to portray. If it was someone like Cherokee Bill I'd want to make it more violent. He's in The Notorious Nine but I'd want to make it even more violent with Cherokee Bill.
CS: Are we going to see some of the same cast members?
JS: Yeah. You're going to see all the same cast members, all the ones that didn't die. You'll see all the same cast members and more. We're going to close down down Hollywood on The Notorious Nine. You're going to see something that you've never seen before in cinema.
CS: So how did you first get involved in the Bulleit Partnership? How did that develop?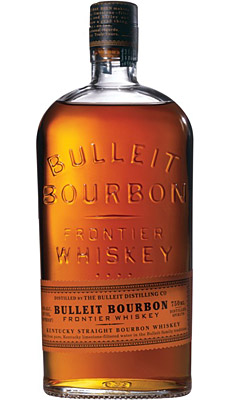 JS: Well what happened was what I see in Westerns, when I see cowboys asking for whiskey, that's unrealistic. That's lazy on the writer's part. They always ask for the same thing, that couldn't happen. If I was a cowboy I'd have a particular drink, if they had particular drinks. Otherwise what is the point of having particular drinks in those days? Everything around the world has just been called whiskey, but they had brands so people would choose a brand. The only time when people would just say "give me whiskey" was in the depression era when they outlawed alcohol.
CS: "Gimme some of that bathtub stuff."
JS: Yeah, give me some moonshine. Musically, I'm the Bullitts so I found this brand called Bulleit Bourbon, and that existed back then, it was meant to be like this couture brand. I was like, if I was a cowboy I'll drink Bulleit," so I just wrote it into the movie just to be authentic. So when people look at the script they can't say "that didn't take place" or "that town in 1890 didn't take place" or "there wasn't all that many black people." I wanted to have all of those aspects and all the realistic aspects, that's why I chose Bulleit Bourbon. The next minute, after I'd done post production, I met someone from Diageo, they told me that they own Bulleit. I was like, "no Bulleit doesn't exist anymore" and they were like, "yes is does." Next thing you know I'm speaking to Tom Bulleit and it's just a whole other –
CS: I heard that guy's a chill dude, right?
JS: He's the most chill. Tom Bulleit is like Keyser Soze – the most chill dude you'd ever get to meet. He's exactly like me with regards to his brand and bringing it back and the audacity of daring. You know what I mean? Dare to dream, almost, you know what I mean?
CS: So what were some of your favorite spaghetti Westerns growing up? That you drew inspiration from for this?
JS: Well, the spaghetti Westerns were a particular type. I love all the Westerns, even the ones that take liberties with black people, like The Man Who Shot Liberty Valance. I love all the Westerns. But as far as my favorite spaghetti Western, my favorite of those is For A Few Dollars More–
CS: With an awesome soundtrack…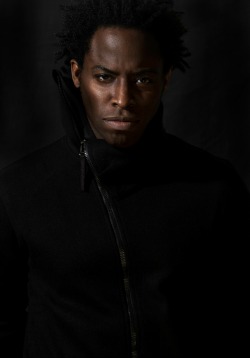 JS: Wicked, man. Obviously The Good, the Bad, and the Ugly. Once Upon a Time in the West with Henry Fonda playing the most evil person you're ever going to meet. Also a film called The Great Silence – Il Grande Silenzio. I think it was by Sergio Corbucci. It was an ill Western starring Klaus Kinski. And it showed a black guy, one of the leads is a black guy, and it has no reason for him being there. He's just there, he's just one of the characters in it. It really stood out to me.
CS: It took a foreign guy to do that.
JS: Yeah man, it took a foreign guy to do that. Like come on man, it took a foreign guy. It took Sergio Leone to cast Woody Stroud in Once Upon a Time in the West. And when he's coming he's not chasing anyone or serving anyone, he's just one of the characters there. They don't call him "that black dude," he's just one of the characters. It took someone who wasn't institutionalized by the Hollywood system to do that. That was my inspiration. Some of those other things were my biggest inspirations when telling the story of They Die by Dawn and The Notorious Nine.
CS: When does that start filming?
JS: I'm going to start filming The Notorious Nine I think in late May or beginning of June. I'm going to start filming in a minute. When I get to London I have to hand in another script and then we go full on into pre-production.
CS: Well, I look forward to that.
JS: It's ill, man. I'm telling you, The Notorious Nine… people like this stuff, and They Die by Dawn was done in four days.
CS: Yeah.
JS: The Notorious Nine is a bank robberies, train robberies, jailbreaks, and a whole other rebuild. I'm rebuilding Yuma and we break out of Yuma. It's a whole other moment. I think it's going to be something really culturally significant. It's going to be dope. The Notorious Nine, baby!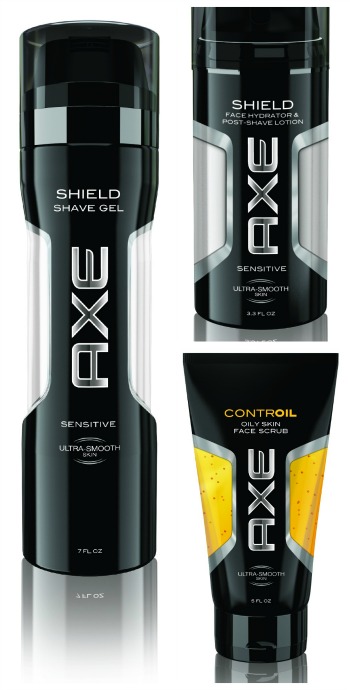 AXE has been making dudes smell better for years now, but the Unilever brand is now branching out into other men's care products that'll help you fix your face, man. A few weeks back, AXE sent the MANjr team a huge bag of AXE Face Care goodies, and after testing the stuff out, we're ready to report our findings.
I should start by saying that I'm a sensitive guy. I like heartwarming films, I have a soft spot for Enya and razor burn is a problem for me and my sweet manchild babyface. Okay, glad I got that out of the way.
So needless to say, I gravitated towards the sensitive skin line of the AXE Men Face Care products. And this stuff is awesome. The AXE Shield Shave Gel for sensitive, ultra-smooth skin is fantastic. It's a gel, but it's not some fluorescent neon color that comes out smelling like a tropical lady drink that you'd order in the Caribbean. It's a gel that foams up like there's no tomorrow and actually feels and smells like men's shaving cream. What a novel idea!
AXE has partnered with Schick and Norelco for a co-branded line of razors and electric shavers. I've used both shaving tools before and I have no complaints there. I probably lean more toward the Schick Hydro, but that's just me.
So after the Schick and sensitive shave gel routine, I moved on to the sensitive AXE Shield Face Hydrator & Post-Shave Lotion. Stuff worked like a dream. Seriously, I usually have some level of post-shave irritation on my baby-soft face skin. It either happens right away or shows up in the evening or the following morning. But not with this stuff. The lotion left me non-irritable and good-smelling. That's what it's supposed to do, right?
Before you can get your shave on though, you need to clean up that face of yours, dude. Being a sensitive fella, I'm not opposed to a little exfoliation every now and then. I usually reach for some St. Ives apricot scrub (or a generic equivalent), but I still like face wash that foams up and leaves your skin oil-free without being too dry and harsh. This is what AXE Controil Oily Skin Face Scrub can do for you. Foamy, a little bit of exfoliation action and a nice, smooth, non-dry skin finish. Go get some.
There's a bunch of other AXE Face flavors available. Check out AXEFacescore.com to learn more about the product line and vote on user uploaded photos using Facescore.