Isaiah Washington, Bulleit and Blackbird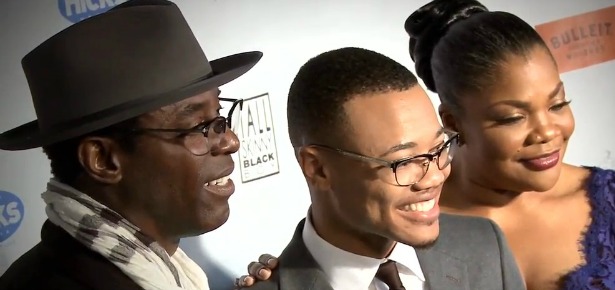 Our friends at Bulleit Bourbon served as a sponsor for the 22nd annual Pan African Film Festival in Los Angeles and they invited us to check it out this past weekend. The festivities kicked off with a Friday night Valentine's Day dinner and whisky tasting with actor/producer Isaiah Washington, his lovely wife Jenisa and Bulleit Mixologist Natalia Castellanos.
Now I should probably just come right out and say that I'm really down with Bulleit Bourbon. Bulleit makes a tasty, user-friendly bourbon, a damn good rye and an affordably-delicious 10-year bourbon that's aged a few years longer in those trusty charred American white oak barrels.
See, I used to be a single malt Scotch and Old Fashioned kinda guy, but ever since I attended the premiere of Jeymes Samuel's They Die By Dawn at SXSW last year, I've been all Bulleit, all the time. Bulleit sponsored that premiere and the Bulleit Ryes and Cokes were free flowing at that event. I developed a hankering for the rye and it's become my beverage of choice ever since.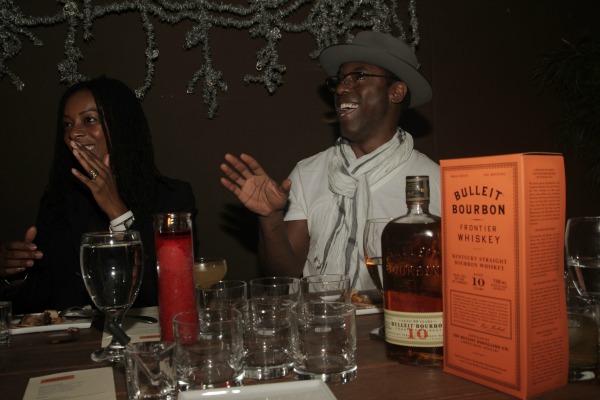 And I'm not the only one. When Isaiah Washington hit Sundance and SXSW last year to promote the premiere of They Die By Dawn, he developed an appreciation for Bulleit as well. During our dinner, when I mentioned that Bulleit Rye and Coke had supplanted other cocktails as my top drink, Washington shared a similar story. Before Sundance, he was more of a Macallan man, but after Sundance and SXSW in Austin, he was fully in the Bulleit camp.
During this chill dinner vibe, me and a few other media folks got to chat freely with Washington and his wife Jenisa (who, incidentally, were celebrating their 18th anniversary that Valentine's evening). We covered a lot stuff – whiskey, acting, producing, Grey's Anatomy, Jasmine Guy, Lance Armstrong and the films that Washington was involved with at PAFF.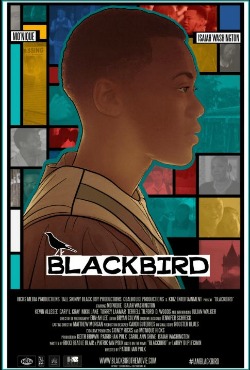 Washington had three projects screening at the Pan African Film Festival. He co-produced Stacey Muhammad's web series For Colored Boys. He starred and served as executive producer for Blue Caprice, a film that examines the relationship between the two men responsible for the 2002 Beltway sniper attacks. He also starred and produced Blackbird, a bittersweet coming-of-age tale about a young black man coming to terms with his sexuality in Hattiesburg, Mississippi.
I asked Washington if there were any films in the festival that he wasn't involved with in some way.
"Apparently it's unprecedented for any producer, particularly after 22 years of the Pan African Film Festival, to have three properties going at the same time," Washington said. "I'm just grateful that I've been supporting them for 18 years and they're supportive of the creativity from other entities that I think deserve a platform to be heard. I'm just thankful that they saw what I saw."
When I saw Blackbird, Patrik-Ian Polk's film based on the novel by Larry Duplechan, I was honestly a bit surprised by how moved I was. Blackbird follows high school choir kid Randy Rousseau, played by new comer Julian Walker, as he balances his Southern Baptist upbringing with questions about his sexuality. Complicating the young man's life is the fact that his sister has been missing for six years, and her disappearance caused his parents to split. Randy's father, played by Isaiah Washington, keeps a watchful eye on his family from afar while his mother, played by Oscar-winner Mo'Nique, is on the verge of a faith-based, god-fearing mental breakdown over the loss of her missing daughter. It's all quite a lot for a 17 year old kid to deal with.
The independent film has its saccharine moments and it can feel a bit unpolished in places, but overall, it was pretty engaging and uplifting. Interspersed laughs and introspective dream sequences were timed well to take the edge off the heavy content. The performance that Mo'Nique turned in was intense, honest and ultimately convincing. Julian Walker's performance was also quite convincing and, as the audience who attended the festival's closing-night gala screening discovered, very personal.
"What you all saw on that screen, was me," Walker explained as his emotions starting getting the best of him. "It was like I was telling my own personal story."
As the first time actor broke down in tears, the crowd began to applaud.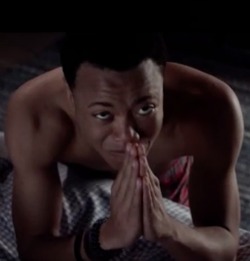 "Randy Rousseau is like millions and thousands of young male guys (and females) out there that are so confused," Walker continued. "They feel like they can't tell their parents, hey, this is who I am. All I want you to do is love me. That's all I want from you," Walker said as he continued to battle back the tears. "And to look out in the audience and see my father and my brother, means the absolute world to me. Because I know that I am lucky, and I am blessed to have a father and a mother and a brother and a family who support me 100 percent, because a lot of people don't have that today."
The film alone packed a pretty powerful emotional punch, but seeing Walker follow his on-screen performance with his on-stage outpouring of emotion was pretty damn moving, man.
We live in a world where a college athlete says he's a homosexual before entering the NFL draft and it's headline news for weeks. Russian President Valdimir Putin declared before the Olympics that despite the country's anti-gay laws, gay people could "feel clam and at ease" as long they "just leave kids alone, please."
We like to think that society's evolved into recognizing essential, fundamental truths like all human beings deserve the same basic freedoms regardless of race, class, gender or sexual orientation, but the fact is we're not there yet.
"Blackbird, the story, is about all blackbirds. It's about all outsiders," Washington said this past Friday.  "It's about people choosing to be who they are no matter what and not apologizing for it. That's what Blackbird is all about."
It's a relevant message that's gonna resonate for some time, and the film's a good vessel to give that message some traction.
Related Posts
Comments are closed.