Chris Stout
Posts by Chris Stout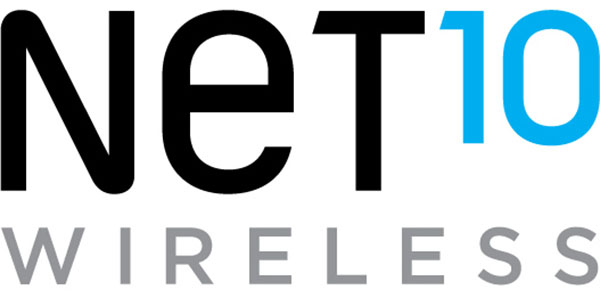 Signing up for wireless services sucks. It's like you're an elite football player in the days before free agency. The players union just isn't organized yet. You can't trust your agent. You're stuck with the team that drafted you (or you know, maybe you signed with them early in your career and now you're stuck). You can't test the waters and bring your talents elsewhere. And then there's that damn contract. It just binds you in ways you can't even understand or collective bargain against.
But it doesn't have to be this way. What if you're mobile provider functioned more like a restaurant and less like a tyrannical professional sports team owner? What if you could pick and choose your own plans, change it all up whenever you want and achieve all this flexibility without a contract?
This is how Net10 Wireless is trying to do business. It's a smart approach to shake up the outdated service relationship that exists between wireless providers and their customers.
I used to sell cell phones back in college. I was terrible at it. Things were just so convoluted and confusing back then. The 2000s just got started and cell phone technology and service plans were totally ridiculous. You name it, things were silly. Imagine paying ten cents a text (and that's after using just a number pad to string along individual letters into words). Or how about local roaming charges? That's LOCAL roaming charges. God forbid you're on the freeway and you ping a cell tower the next town over. Yep, that'll be extra. Want to make an out of state call? Well you better make sure you do it from the hours of 5-10pm on weeknights only.
We've come a long way since those dark, early years of mobile, but there's still work to be done. There are still some outmoded practices that need to be done away with. We all know at least one person who's gotten burned with a crazy bill or some contract-busting stomach punch from a major wireless provider. Net10 Wireless is trying to simplify this stuff.
Net10 Wireless gives you two starting points. Show up with your own phone or buy a new Android phone from them. These guys partner up with the nation's top four carriers so you get a familiar level of coverage across the country. Then you pick a plan. If you want to change your phone or plan at a future date, you can do it without any silly penalties.
You got options on the plans. You can go with a) unlimited talk, text and/or data, b) unlimited international long distance, c) 30-day plans, d) pay-as-you-go plans.  Option A ranges from $35-$75 a month. Option B comes in at $65 a month. Option C ranges from 200 minutes/month for $15 up to 1000 minutes/month for $25. Option D has longer carry over periods and ranges from 200 minutes for $20 to 1500 minutes for $100 that's good for 180 days.
So yea, you got choices. It may seem a bit complicated at first, and sure there's some obvious fine print and whatnot, but those prices are cheap, man. If you're worried about data usage, most phones allow you to set limits and alerts on this sort of stuff.
If you're shopping for someone who needs a new plan, this is worth testing out. If you find yourself in-between mobile providers, check these guys out. If you ever consider getting a second line, this is definitely a smart option.
Mobile phones aren't magic anymore. Phones got smarter. It's about time that phone plans got smarter, too.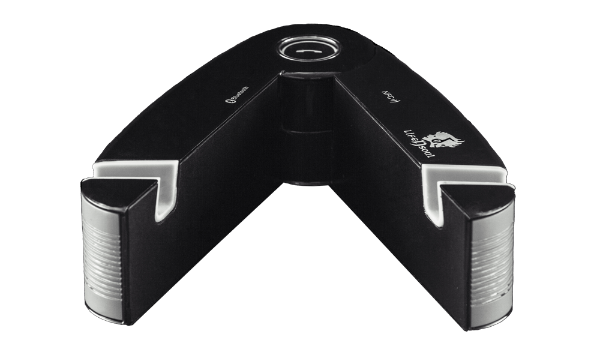 If you're like me, the actual week of Christmas is when you knock out the bulk of your holiday shopping. Sure, there may be a random gift that you pick up ahead of time, but most of us don't think ahead like this. We wait until the ultimate last moment, grab something just in time, and tell ourselves, next year will be different. We know this is isn't true, but that's a holiday routine that most of us can relate to.
So what sort of options are you looking at for last minute gift purchases? I'm of the opinion that you just can't go wrong with a wireless speaker. Who would be upset with gift like this? Nobody, that's who. Everyone's carrying gigabytes of music around in their pocket these days and we all consume insane amounts of tunes and videos on the regular through phones and tablets and so on. If you're wondering what to get that special someone who likely owns a smartphone or tablet, check out the Life n Soul BM211 Bluetooth Stereo Speaker. If you are buying a new monitor with speakers built-in, choosing the right one can be overwhelming.
It's hard to think back to a day when Bluetooth speakers weren't the norm. Auxiliary cables and dedicated, immovable home stereos are just so old hat now. How can you be expected to listen to music or watch videos from one dedicated spot in your house? That's madness. You want to be able to stream Homeland in your kitchen while you're doing dishes. You want the ability to bump music at a picnic in the park without lugging around a boom box. The Life n Soul BM211 Bluetooth Stereo Speaker is good for these things.
The speaker itself is lightweight, but still packs a punch. It's collapsible, so you can easily toss it in a bag or a large jacket pocket. The thing I like the most about this speaker is that it doubles as a phone/tablet stand. Open it up, turn it on, connect your device and couch that baby in there. Boom – instant portable HBO GO machine.
The sound quality isn't terrible. This isn't some $4,000 high-end accessory, here. The Life n Soul BM211 Bluetooth Stereo Speaker leans more toward convenience and functionality than audiophile-approved luxury. But so what. It does the job, it doesn't sound tinny and the volume reaches reasonable, room-filling levels, especially for the size.
The price isn't all that bad either. You can pick this guy up for around $79 all over the place. There's even still time for expedited shipping, so get on it!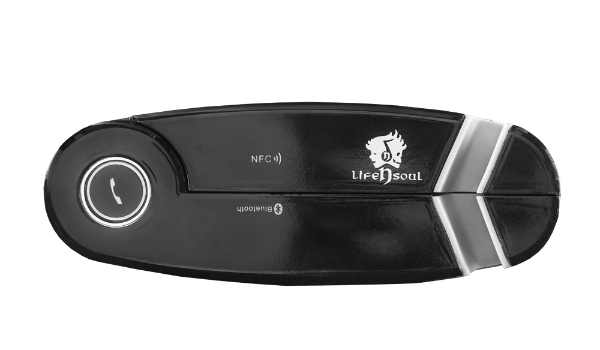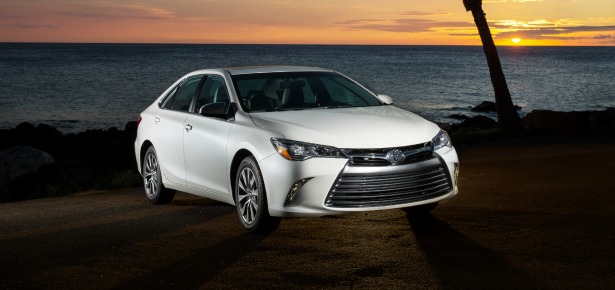 I've never been to Hawaii before, but I always wanted to go. I was actually in the middle of planning a trip out there when our good friends at Toyota hit me up with an invite I couldn't refuse. I've had my share of fun on Toyota trips in the past, mind you. I went on a Toyota Corolla San Diego mission last year that included nude beach paragliding, a helicopter tour and other shenanigans, so I figured, how bad could a week long trip to Hawaii really be?
Well everything you've heard about Hawaii is true. I made the trip to the Big Island and enjoyed things like daily snorkel missions with sea turtles, a night dive with manta rays, a scenic helicopter tour, sunset cruise, volcano visit, kayaking, Mai Tai's on Mai Tai's, you get the idea. Not a bad place to host a press event for test driving the 2015 Toyota Camry, Sienna and Yaris. I mean look at this place: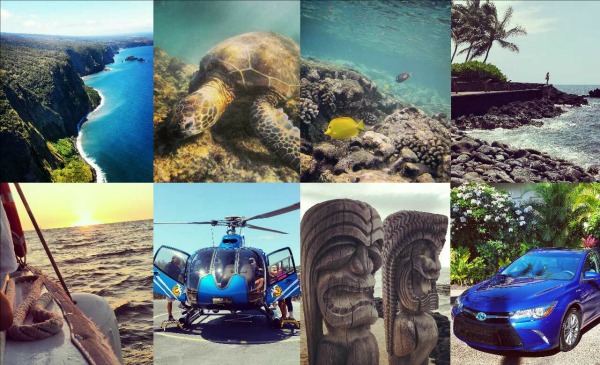 We'll be posting our impressions on the Sienna and Yaris later this week, but first up is the 2015 Toyota Camry.
You probably already know this, but hey, it's worth repeating. The Toyota Camry is an insanely popular car. Like 10.2 million sold since 1983 popular. 6.6 million Camrys still on the road kinda popular. People really enjoy this car and Toyota is happy to cater to this love by producing a brand new Camry every 54 seconds.
They sold over a million of these things in 2011, which was the highest year-over-year volume increase in the ultra-competitive mid-size sedan segment. It's the best-selling car on the road for the past 12 years running,
So yea, people like it. But Toyota changed a lot of stuff with this new Camry. The 2015 has more than 2,000 new parts to it. It's got a new grill, a new hood, a new bumper cover, a bunch of surface interior changes and so forth. Only the roof remained unchanged on the outside.
What makes the 2015 so different? I can talk about the 22 new reinforced spot welds or the percentage of lateral vibration improvement or things like this, but I'm a simple man. I need things explained to me from authoritative sources. So naturally, I went to the Chief Engineer of the Toyota Camry, Monte Kaehr.
Talk to Me, Chief
I first ran into Monte while photographing a gorgeous sunset during a cruise along the Kohala Coast off the Big Island of Hawaii. He seemed like a chill enough guy, so after my first 2015 Camry test drive, I sought him out for some insider info.
Kaehr told me about the premium athletic styling that's become a major theme for the car – a theme that will remain a focus for the foreseeable future. But what I wanted to know was what fired Kaehr up the most about the 2015 Camry.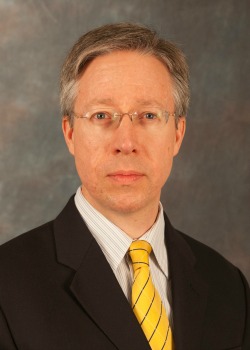 Kaeher explained to me that before ramping up the updates for the 2015 Camry, Toyota hosted driving clinics in three different spots: Long Beach, California; Denver, Colorado; and White Plains, New York. The clinics featured standard midsize segment cars and owners. Drivers were up front doing their thing as a series of preset questions were issued from the back seat, with auto super-geeks like Kaeher sitting in on the sessions to absorb some unfiltered customer feedback.
Kaeher told me about one woman who drove over a bump in Long Beach and commented that the bump felt "harsh." The input forces weren't that big, he said, but it was the sound itself that generated the harsh vibe.
"Taking the edge off the sound," Kaeher said, became a major focus. Toyota used sound absorption materials throughout the cabin to suppress sounds near the frequencies of human speech. Custom-formed foam inserts seal service holes in the doors. They provided 30 percent more insulation while moving the side mirrors out to further reduce noise. They even put in acoustic windshields for the V6 and Hybrid models.
It's that reduction of road noise that really gives the car "a more premium feel," according to Kaeher. Previous Camrys didn't have this. It's really noticeable, too.
In another one of these clinical tests, some dude expressed concern that there wasn't enough reserve braking power. When telling this story, Kaehr had to explain force curves to me, because, as I said earlier, I'm a simple man. Toyota wanted to make the force curve more linear in the Camry by increasing the spring rate to provide stronger feedback.
"Making it linear means you can predict it better and control it better," he said. Linear feedback makes things "more precise, confident and natural," Kaehr explained. The 2015 Camry is the first Toyota to roll this out. You heard it here first.
The model's chief engineer also explained what didn't change in the 2015 Camry.
"We looked at changing the engines and we decided not to," Kaehr said.
Well wait a minute, chief engineer guy. I thought turbos were all the rage, right?
Well you see, the man drives a V6 SE and absolutely loves the engine. This seemed like a point he was more than ready to defend. Switching to Turbo may sound flashy, but Kaehr was eager to produce a Car and Driver article that showed the fuel economy benefits Camry had over similar midsize sedans that featured standard turbo engines.
"It may not sound sexy, but it's the right engine to have," Kaehr said. The man obviously knows his stuff and he had supporting documentation on competitive fuel economy benefits in his back pocket. He passionately made a good case, and I believe him. He wants the Camry to be seen as a balanced machine. One that provides performance pleasure and everyday enjoyment.
"Even if people buy it for its practical characteristics," Kaehr said, "we still want people to love it."
Driving Impressions
I tested a few different Camry models during my time in Hawaii. I tried the sporty XSE so I could test out the paddle shifters. That thing sure took on winding highways with ease (I'm looking at you, Mamalahoa Hwy). I took the Hybrid SE out for an impromptu 200-mile night drive to go see a guy about a volcano. (Side note: if you're ever on the Big Island, do yourself a favor and go check out Kilauea at night. The misty glow from the crater is sight to see and the view of the stars from the top of that volcano are decidedly world class). It was a calm, quiet ride where the gas gauge remained friendly (EPA estimated 43 MPG in the city, baby) and the LED fog lights cut through a pillow of vog (volcanic fog) like nobody's business.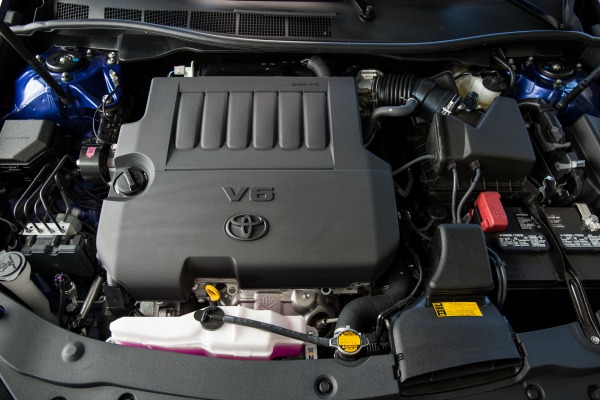 I gotta say that the V6 engines didn't leave me feeling underserved. There were plenty of times when I needed to gun past some lazy island drivers on a two-lane highway situation, and every time I punched it, the V6 Camrys would respond with an appropriate level of thrust.
If you want a detailed breakdown on camshafts, dual-independent variable valve timing with intelligence or K platforms, you can find that stuff from other, more reputable outlets. At MANjr, we take a more simple approach.
Was it comfy? It sure was. The seats can fit a big man and this whole Toyota push for soft-touch interior material throughout was a spot on.
Is it pretty? I mean yea, it's not a bad looking sedan. You got the French stitching and metallic chrome accents on the inside and athletic lines with the piano black honeycomb grill on the outside.
Did it have cool tech? The 4.2" TFT Mutli-Information Display unit with the Entune app suite and a sound system designed by JBL were all pretty solid. Wireless phone charging is a pretty sweet (albeit non-standard) addition. According to Entune Subject Matter Expert Andy Lam, all you need is a $20 Qi wireless charging case from Amazon and you're in business. LED headlamps, lane departure alerts, a pre-collision system, yea, this things got some nice gadgetry to it.
Bottom line, it's an affordable option for drivers looking for reliability with a touch of sport and luxury. People love this car for a reason, and with a near complete overhaul midway through a typical model lifecycle, Toyota's putting in some serious effort to stay ahead of the mid-sized pack. It's worth checking out for yourself.
The 2015 Camry at a Glance
LE base price: $22,970
SE base price: $23,840
XLE base price: $26,150
XSE base price: $26,150
XLE V6 base: $31,370
XSE V6 base: $31,370
Hybrid LE base: $26,790
Hybrid SE: $27,995
Hybrid XLE: $29,980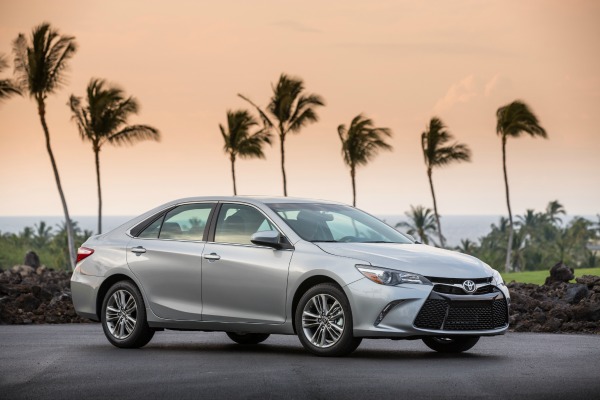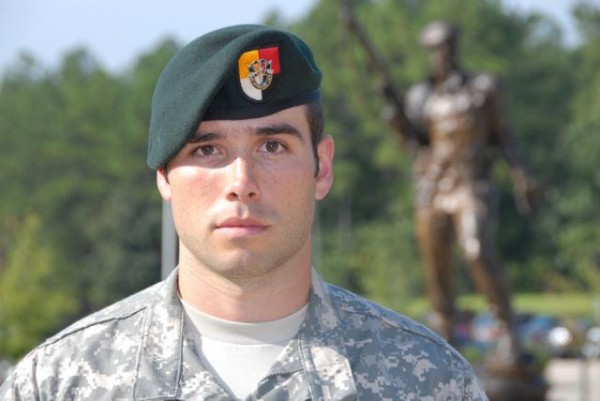 Crown Royal is honoring another hero at this year's Brickyard 400, and like previous recipients of the "Your Hero's Name Here" program, this year's honoree is quite deserving of the recognition he'll receive next month on race day in Indy.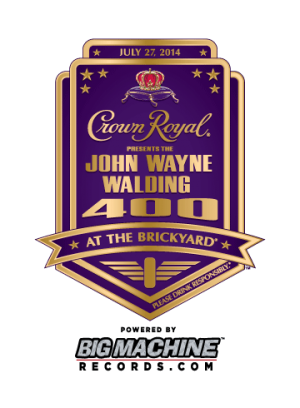 John Wayne Walding is a Green Beret who served our country for 12 years and completed tours in Afghanistan and Iraq. In 2008, during a mission to capture a high value target, Walding was involved in a firefight and lost part of his right leg. Walding went on to become the first amputee to graduate from the Special Forces Sniper School. This father of four, who was awarded the Silver Star, Bronze Star, Purple Heart and Combat Infantry Badge, continues to serve his country. Walding is the founder of Five Toes Custom, an organization the employs wounded veterans in an effort to provide these vets with positive direction and ongoing support.
In honor of Mr. Walding, we've created a custom Crown Royal cocktail recipe and a toast to celebrate the man whose name will be featured at the top of the Indianapolis Motor Speedway for Crown Royal Presents John Wayne Walding 400 at the Brickyard Powered by BigMachineRecords.com.
The Five Toes Texas Cooler
Ingredients:
1 ounce freshly squeezed red grapefruit juice
1/2 ounce simple syrup
2 slices of cucumber, plus 1 thin slice for garnish
4 dashes of Angostura bitters
2 ounces of Crown Royal Black
Ice
In a cocktail shaker, muddle the 2 cucumber slices. Add ice and all of the ingredients except the garnish. Shake well and strain into an ice-filled glass. Garnish with one thin cucumber slice.
And here's the toast:
Life can be bitter and life can be sweet,
But some people know how to handle the heat.
We are all in agreement, we have a consensus,
So let's raise a glass to our hero from Texas.
Let's toast to his courage, his sacrifice, his ongoing service,
With a custom cocktail that won't make you nervous.
It's got red grapefruit from our hero's home state,
Crown Royal Black, bitters and simple syrup for taste.
It's called the Five Toes Texas Cooler,
And features quality ingredients, five in number.
And with this drink, we toast our hero of the hour,
John Wayne, you are cooler than a cucumber!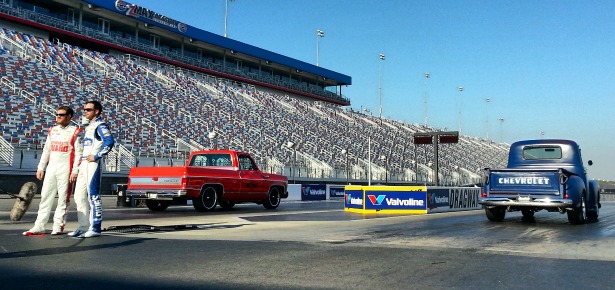 Back in the spring, our friends from Valvoline hooked us up with an amazing trip as part of their Reinvention Project campaign. The Reinvention Project celebrated Vavloline's 140th anniversary and the official partnership of the company that invented motor oil and Hendrick Motorsports, the Rick Hendrick-led four-car auto racing team responsible for winning the last five Sprint Cup races. It was a unique competition that pitted Jimmie Johnson and Dale Earnhardt Jr. in a head-to-head battle to restore two classic trucks (with the help and resources of the full Hedrick Motorsports team) and clash these modified monsters in a series of exciting challenges.
Fans were encouraged to follow all the restoration action, vote on their favorite ride and even build their own custom truck at ReinventionProject.com. Footage of the restoration and subsequent competition can also be viewed at the official site.
Jimmie started off with a '55 Chevy truck and Junior rolled with a C10 from his birth year, 1974. Each truck was modified with an LS3 Corvette V-8 engine and a 4L60 transmission with a limited-slip rear differential. The suspension of each ride was also modified to improve overall handling.
I got an inside look at the Valvoline Reinvention Project when I visited Charlotte in the spring. Before the media trip, Valvoline sent out a survey asking what my level of expertise was when it came to overall car handiness. I answered honestly. On a scale of 1 to 10, I'm about a zero when it comes to overall auto mechanic know-how.
I mean, I know how to change a tire and check my oil. I'm not an animal. But I'm by no means an all-star mechanic either. I've never changed my own oil. Never really repaired my own car. I know enough to know I don't know nearly enough to fix things myself. So yea, in short, when it comes to cars, I basically have no idea what I'm doing.
But that was the old me. That was before I represented #TeamJimmie in an engine building competition that was held at the Hendrick Motorsports Headquarters in Charlotte, North Carolina. Not only did I get to rebuild a NASCAR engine, I also got to see these two sweetly restored rides up close and personal (complete with a #TeamJimmie ride along) and watch as Jimmie and Dale battled through a series of burnouts, drag races and autocross runs. Check out the video:
These two trucks were absolutely gorgeous, and they weren't just build for show. I was partial to Jimmie's '55 Chevy, but then again, I had to represent #TeamJimmie, so maybe I was a bit biased. There was just something to the voluptuous, curvilinear lines on that truck. Just timeless appeal all around. Check the photos of these shiny, well-restored, suped-up beasts below. They're pretty.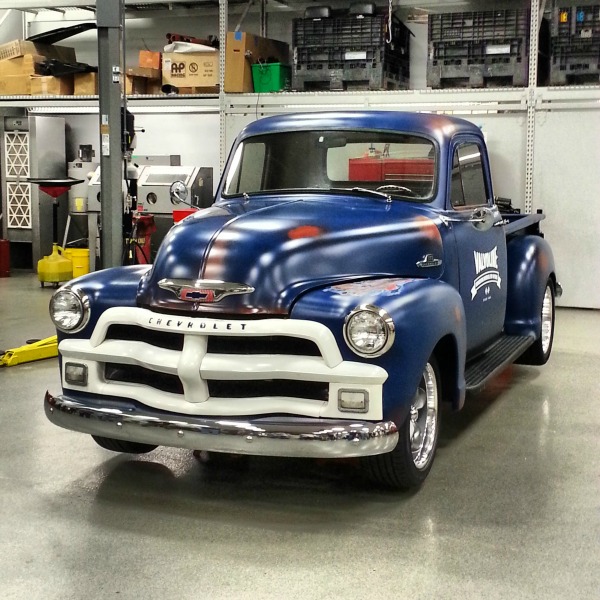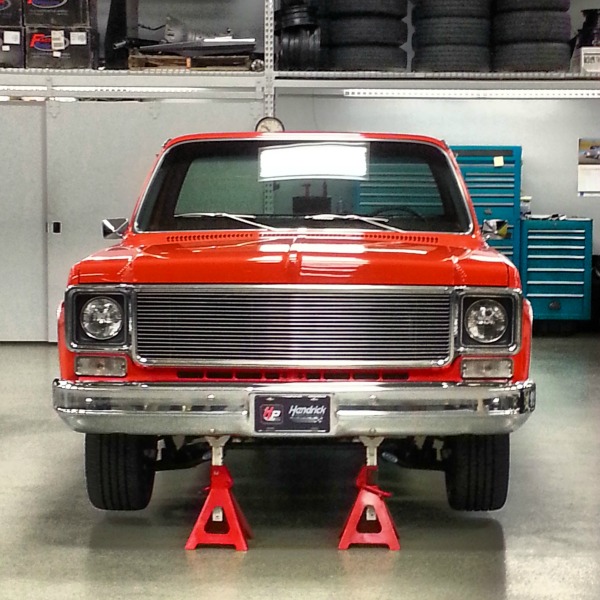 One of the major highlights of the trip was a tour of Rick Hendrick's private car collection. I've never seen so many gorgeous cars in my life. Wall to wall Corvettes. Muscle cars from every conceivable era. It was borderline obscene. I don't know how the man could possibly keep track of all the cars in the collection. Every one of them restored to flawless condition, too. They need to include a box of Kleenex on the tour, because the site of that many amazing cars in one spot is enough to make any grown man cry.
So yea, I'm pretty much qualified to be an official NASCAR pit crew member at this stage. Haven't gotten any calls so far, but I'm ready if need be. Who knows, I may even change my own oil soon. I'll be putting in some Valvoline NextGen in my ride either way!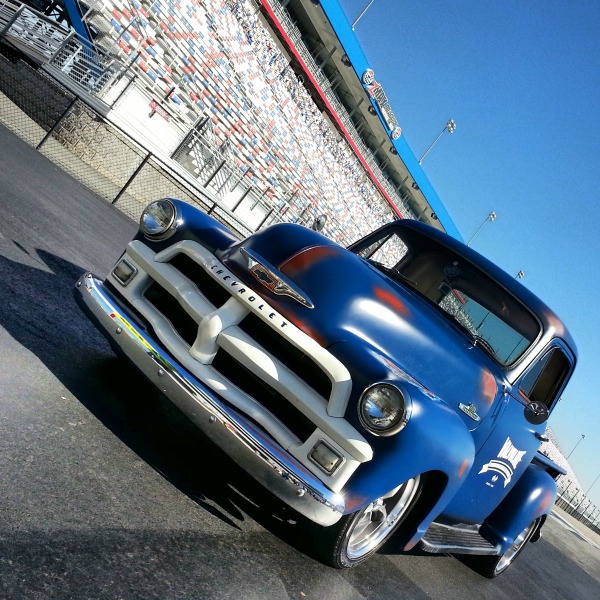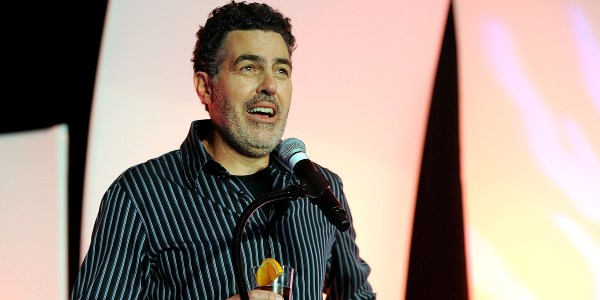 Funnyman Adam Carolla has been making us laugh since his days of doing Mr. Birchum skits on KROQ's Kevin and Beane Show back in the day. Carolla's resume is decidedly manly. He followed up his stint as a co-host of Loveline with a solid run with Jimmy Kimmel on The Man Show. He served as the co-creator of the genius muppet prank-calling series Crank Yankers and had stints as the host of the TLC home improvement show The Adam Carolla Project and Speed TV's The Car Show. Now he produces one of the most popular and entertaining daily podcasts around.
Carolla's also spent some time as a boxer, a serious car collector and he's even won some competitions as a celebrity race car driver. Dude knows his man-stuff. And that includes cars. Carolla owns multiple Lamborghinis and five of Paul Newman's race cars.
Carolla is actually wrapping up a documentary that he made on Newman. The film focuses on Newman's exploits as a race car driver first and foremost and shows additional layers to this titan of the silver screen by shining a bright light on his one true love.
Last week, Carolla partnered up with Edmunds.com for the first ever Car Week. Launched in New York and Los Angeles, Car Week featured hundreds of local dealers offering prices at or below Edmunds.com's True Market Value®.
We had a chat with Carolla to discuss his sweet collection, his involvement with Car Week, his fellow Hollywood car nut homies and his new Paul Newman project. Here's the interview: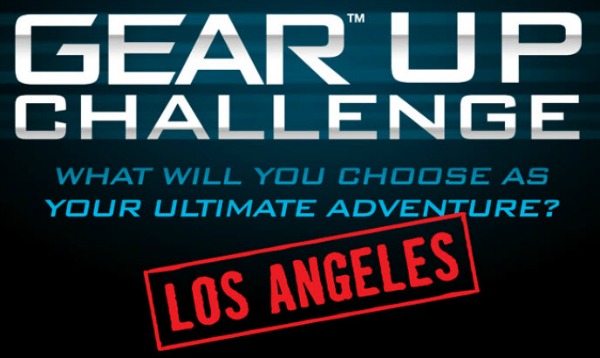 I don't really have an issue with sweaty pits and underarm stank. If I did, you know, I hope my friends and family would say something to me about it. But I haven't heard any complaints, so I don't really consider it a big issue.
But I'm not the most extreme guy out there. Sure, I can get intense sometimes (like when I ride my beach cruiser down the Venice Beach bike path at medium speed), but in general, I'm not put into too many situations that stretch the limits of intensity. So I don't really ask a lot of my deodorant/antiperspirant.
Our friends at Men's Speed Stick wanted to change that. In an effort to put their Dry Core technology to the test, Speed Stick invited me to test out their new Speed Stick GEAR deodorant/antiperspirant during a GEAR Up Challenge designed to put me in an extreme, sweat-inducing situation.
I had the choice of racing an exotic car, climbing some ice (yea, Sujeet!), taking a flying lesson, going to stuntman academy, paragliding or bungee jumping. I went with the exotic car. Had to.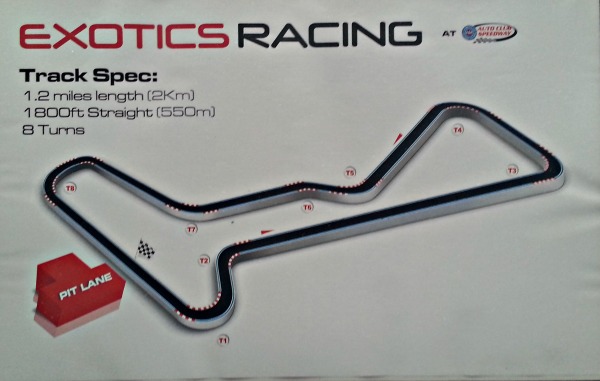 So a few weeks back I took a trip out to the Auto Club Speedway in Fontana with my girl Tam from MankindUnplugged.com. We both chose the racing experience and we were teamed up with Exotics Racing to knock it out. I got five laps in a Ferrari F430 F1 around a 1.2 mile course that featured eight turns and an 1800 foot straight away. The conditions were wet and rainy, but my instructor Theo made sure I got an education while trying not to spin out. Here's the video:
So yea, by the time I got the hang of it, the five laps were done. I didn't spin out or anything, but I do wish I would've pushed things a bit more. Either way, with all the pressure to push the limit and not cause bodily harm to me, my instructor or the Ferrari, I still came out smelling pretty fresh. If Dry Core technology can work under these circumstances, just think what it'll do under the normal, less-intense conditions of your everyday life!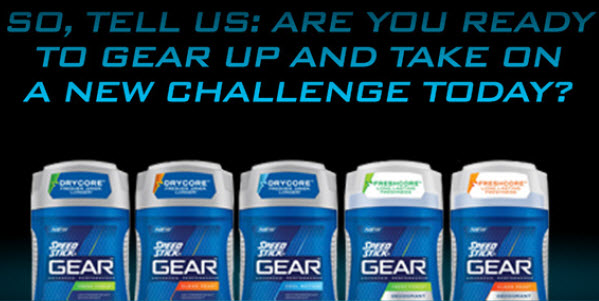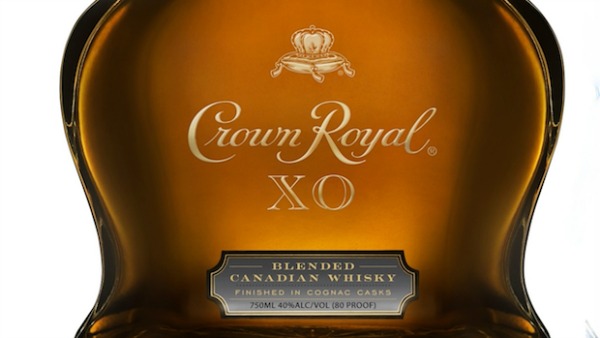 Earlier this year, Crown Royal welcomed a new spirit to the family. You already know the classic Crown. The original Crown Royal DeLuxe is still a favorite. Maybe you've sampled the sweetness of Crown Royal Maple Finished or taken in the fullness of Crown Royal Black and Crown Royal Reserve. If you're really lucky, you've savored the liquid dream that is Crown Royal XR – that rarest of rare Crown blends that includes the final batch of whiskies from the now-closed LaSalle Distillery in Montreal. The exceptionally smooth finish on the XR is well worth the price of a tasting. I highly recommend it.
The new Crown on the block is the Crown Royal XO. It's not as sweet as the DeLuxe or the Maple and it's not as impossibly smooth as the XR, but it does have one strong sensation these whiskies do not: spice. The type of spice we're talking about here isn't overbearing or anything like that. It's not like you're chugging a bottle of Cholula here. But make no mistake, there's some bite to the XO. It's a welcoming bite though – a crisp wave of spice that wakes you up without making you cry.
Maybe it's the blend of more than 50 different Crown Royal whiskies. Maybe it's the fact that XO is finished in cognac casks from the French Limousin Forest. I'm not sure what gives XO its bite, but I think that the feature that sets it apart from the rest of the Crown family.
Other folks have talked about the smoothness and vanilla undertones and hints or dried fruit and so forth, but that's not what I think of when I try this whiskey. I think of that spicy bite, and I like it.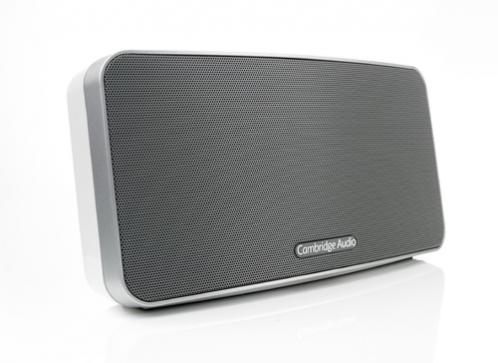 It's hard to imagine, life before Bluetooth wireless speakers became so commonplace. Outside of a boombox that could play cassettes or provide portable radio tunes, most people my age grew up listening to immoveable music stations. Sure, the Discman was a big deal and we were all very happy when we could listen to CDs on the go or even in the car (with the help of a cassette tape converter thing). But now everything's different. Now you can pack gigabytes of tunes on your phone and carry a pretty impressive library with you wherever you go.
But what happens when you want to bump the tunes you have on something outside of headphones? That's when you need a wireless speaker solution. And there are tons of options to choose from.
You can go affordable and keep things under $40. You may save on money and size, but you get what you pay for with these. You can skip to the next tier and keep things under a bill. You'll be looking at a larger unit with better sound quality, but if you're an audiophile of any sort, you're going to want something better than tinny sounds and weak bass lines.
Enter Cambridge Audio and their Minx Go Wireless Bluetooth Speaker. This thing costs about $150, but man, it is solid. It feels like an old school stereo system, but it's completely mobile. The lows thump. The highs are crisp. The unit isn't that large, but it truly provides room-filling sound. You place this thing in a large living room and you can cover every corner with tunes. Want to jam out in the shower? This thing will turn your bathroom into a club with the push of a button.
And 18 hours of battery life? That's pretty sweet, right there. One charge and you can have this thing fueling a party for an entire weekend. And unlike other Bluetooth wireless speaker options, this thing actually looks nice. It's not a big cube or some other clunky/awkward shape. It's got clean, curvilinear lines and a modern feel. Sure, the whole thing is portable and that's the point and all, but the Minx Go can live comfortably on a mantle or other living room space and it won't look goofy.
The unit is super easy to pair with all types of devices. You can stream Internet radio or tunes from your iPhone, Android, laptop, tablet or any other Bluetooth-enabled device. It's a one-button-touch setup process. Couldn't be more simple.
Attractive, well-constructed with amazing battery life and unparalleled sound quality, the Minx Go delivers big, quality sound in a compact, easily portable package. Pass on the cheapo wireless speaker options. Drop the $150 and pick up the Minx Go.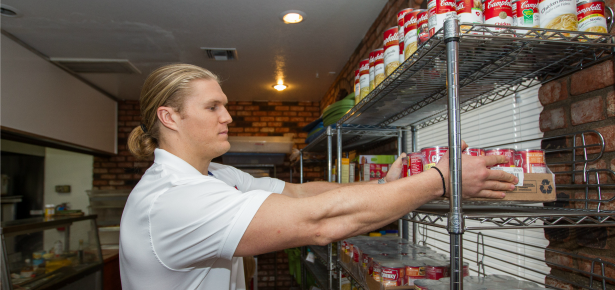 Last week we met up with All-Pro linebacker Clay Matthews at the Greater West Hollywood Food Coalition. Matthews and Campbell's Soup were making a donation of 5,000 cans of Campbell's Chunky as part of the Soup for Sacks program.
Last season, each time Matthews sacked an opposing team's QB, Campbell's donated 1,000 cans of soup to a local food bank in the opposing team's city and 1,000 cans to the local food bank in Green Bay. In total, Campbell's has donated over 40,000 cans of soup to food banks across the nation and they've helped raise $18,000 for Matthew's charity, the CM3 Charitable Fund.
The Green Bay Packers linebacker, who's a native of Southern California and played college ball at USC, was on hand in West Hollywood with his mom, because, you know, that's what Campbell's Chunky Soup is all about. As the face of the Campbell's Chunky Soup "Mama's Boy" campaign, Matthews and his mom were on hand for the donation and we got to spend a few minutes with him talking about the Sacks for Soup program, his football family heritage, Matthew's path to the NFL, Pete Carroll, Kevin Greene, Green Bay's injury woes and draft needs and a whole lot more. Check it out: