Entertainment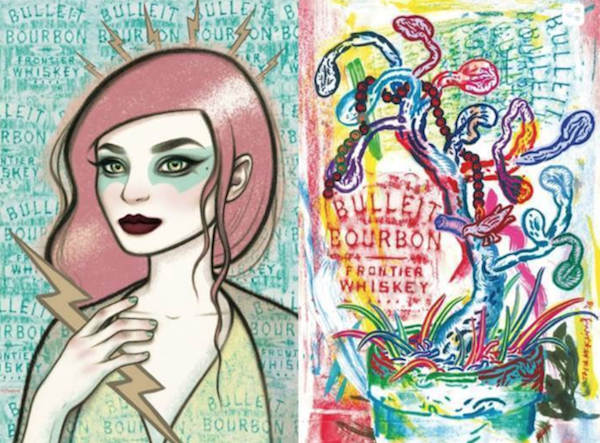 From newly discovered talents to the most influential figures of the 20th century, Frieze New York 2018 showcases the best of what's happening in the international art world. It also sets the stage for the latest collaborative project from Bulleit Frontier Whiskey, where artist and actor Aldis Hodge, New York artists Taylor McKimens and Tara McPherson and thousands of fair goers will celebrate their frontier spirit by creating Impressions artwork inspired by the iconic Bulleit bottle.
For its latest Frontier Works collaboration, Bulleit has partnered with local artists in communities around the country to create Bulleit Bottle Impressions. Whether charcoal, paint or chocolate, artists create their pieces by laying paper on top of the Bulleit bottle and using their medium of choice to create an impression by pressing down on the bottle's raised lettering.
As part of its partnership with Frieze Art Fair, Bulleit is now inviting adult visitors at Frieze New York to join in the project by tagging photos of their own Impressions artwork on Instagram using #FrontierWorks. Festival attendees will also have the opportunity to create their own Impression in the Bulleit Whiskey Lounge at Randall's Island Park May 3-6.  Select consumer-submitted Impressions using #FrontierWorks will be featured as part of the Bulleit Frontier Works: Bottle Impression project later this summer.
"Bulleit is a whiskey living on the edge of culture, making an impact by uniting the imaginations of frontiersmen and women who challenge the status quo every day," said Ed Bello, US & Global Brand Director for Bulleit Frontier Whiskey. "Bulleit Frontier Works: Bottle Impressions celebrates and brings to life the frontier spirit of artistic expression in all of us."
To further celebrate these collaborations, Bulleit worked with local artists across the country to transform their Impressions into unique works of art. Contributors to-date include: Christina Mrozik and Zach Johnsen whose artwork debuted at Soul'd Out in Portland and Ryan Duggan and CHema Skandal! whose artwork was launched at One of Kind Festival in Chicago. Taylor McKimens and Tara McPherson's artwork is currently displayed throughout New York and will be showcased at Frieze New York.