Lifestyle


Did you know that March 3rd is National Moscow Mule Day? Well now you do. Plus we are giving you more info on the Moscow Mule. It was invented in 1941 by Smirnoff, the Moscow Mule has been making a comeback in recent years. March 3 (or 3-3) is significant as there were three people involved in the cocktail's creation, three ingredients in The Original Mule and when turned counterclockwise the numbers become an M-M.
So now it's the perfect time to celebrate with a classic Moscow Mule (easily made with 1.5 oz Smirnoff vodka, 4 oz of ginger beer and a lime wedge or with one of the fun twists below.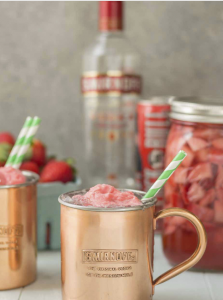 Strawberry Moscow Mule Float (courtesy of Megan Marlowe from Strawberry Blondie Kitchen)
1.5 oz Smirnoff No. 21 vodka
Juice from 1 lime
4 ounces ginger beer
Scoop of strawberry sorbet
Into the bottom of a copper mug, add vodka, lime juice and ice.  Top with ginger beer and a scoop of sorbet.
Cherry Lime Moscow Mule (courtesy of Kendra Darr of Simply Darrling)
3 oz Smirnoff No. 21 vodka
1 bottle Cherry Ginger Beer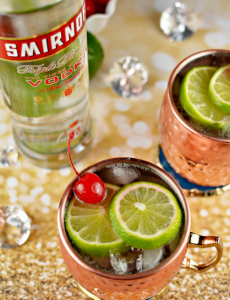 5 oz Cherry Limeade
Cherries and sliced lime for garnish
(Serves 2)
In a cocktail shaker, mix ice, Smirnoff No. 21, Cherry Ginger Beer and Cherry Limeade. Stir until combined and strain into copper mug over ice. Garnish with cherries and sliced limes.
Sunrise Over Moscow Mule (courtesy of Jay and Leah from The Gastronom)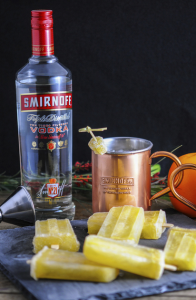 Cocktail:
1.5 oz Smirnoff No. 21 vodka
2 oz Fresh squeezed orange juice
.5 oz fresh squeezed lime juice
4 oz ginger beer
Fill copper mug with crushed ice. Add vodka, orange juice and lime juice into the mug. Stir and top with ginger beer. Garnish with candied ginger.
Ice pops:
1.5 oz Smirnoff No. 21 vodka
4 oz orange juice
.5 oz simple syrup
.5 oz lime juice
4 oz ginger beer
Add all ingredients into a bowl and whisk to mix completely. Pour mixture into ice pop molds and place into freezer. After about 90 minutes, insert sticks into the molds. Allow ice pops to freeze overnight.