Art Eddy III
This user hasn't shared any biographical information
Jabber/GTalk: Art Eddy III
Posts by Art Eddy III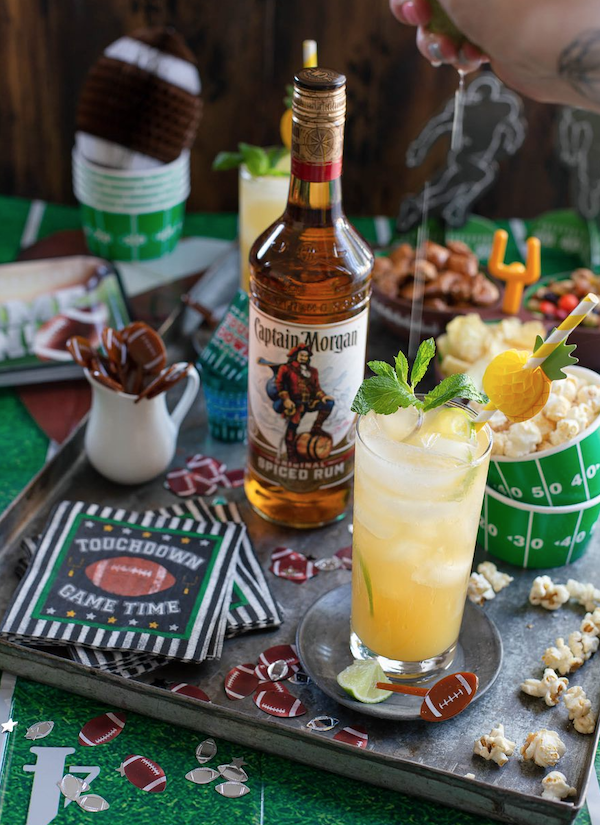 With the big game coming up soon, Captain Morgan has some easy-to-make cocktails to enjoy from the beginning to the end zone. If you're looking to mix things up try adding a special Super Bowl cocktail to the menu. Captain Morgan has you covered with three spirited cocktails.
For a go-to cocktail, you can make our signature serve Captain Morgan and Ginger, or to bring some tropical fun, serve up our Captain Morgan and Pineapple. If you're looking for a serve that's quick to make, whip up our Captain Morgan Apple Crisp. Whichever you choose, you and your team will have something to enjoy throughout the game.
Captain Morgan And Ginger
Recipe:
1.5  oz. Captain Morgan Original Spiced Rum
4  oz. Ginger ale or Ginger Beer
Mint Sprig
Lime
Directions: Muddle mint and lime in the bottom of a tall glass. Add ice, Captain Morgan Original Spiced Rum, and Ginger Ale. Garnish with mint sprig and lime wheel, stir and serve.
Captain Morgan and Pineapple
Recipe:
1.5 oz. Captain Morgan Original Spiced Rum
4 oz. Pineapple Juice
Directions: Combine Captain Morgan Original Spiced Rum and pineapple juice in a glass over ice. Garnish with a fresh slice of pineapple and a mini umbrella
Captain Morgan Apple Crisp
Recipe:
1.5oz Captain Morgan Sliced Apple
½ oz. lemon juice
Lemon Slice
Directions: Pour Captain Morgan Sliced Apple into a shot glass with lemon juice. Squeeze lemon.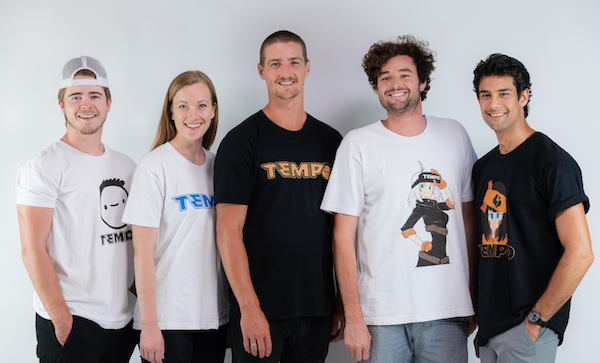 Tempo Storm is a global professional esports franchise at the forefront of the industry, leading strategic minds across the vast field of gaming. They are now looking to share with you some sweet merch this holiday season. One lucky winner can win a few shirts. All you need to do is follow me HERE on Twitter for a chance to win some sweet shirts. Good luck
Founded by Andrey Yanyuk ("reynad") out of his own pocket, the roster now stands among the most decorated of teams in esports and features some of the best competitors and broadcast personalities in PUBG MOBILE, Hearthstone, Magic: The Gathering, Shadowverse, Rainbow Six Siege, Super Smash Bros., PLAYERUNKNOWN'S BATTLEGROUNDS, Brawl Stars, Summoners War, and FIFA.
Despite its various championship titles, the franchise operates as much more than just a competitive team—Tempo is one of the largest esports media companies in the world. Its Hollywood studio is home to innovative, bleeding-edge productions including events, tournaments, and gaming content for one of the highest-trafficked websites in the space. Tempo also continues to deliver best-in-class live content with its proprietary mobile production abilities.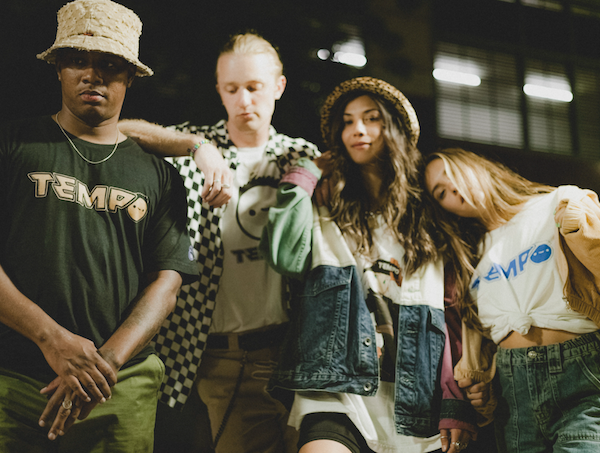 Tempo Storm, the esports franchise and gaming entertainment organization led by CEO Andrey "reynad" Yanyuk, announced today the expansion of its merchandise line with a new collection that includes various graphic t-shirts. Created in collaboration with several talented international artists, the line will explore streaming, gaming, and internet culture with artists that have inspired the Tempo team. Fans can purchase items from Tempo's new merch line HERE!
The first collaboration will kick off with designs from Andre Rojas, (a.k.a. SrGrafo), one of the most popular artists on Reddit. Rojas gained a significant following on the online global community platform beginning in January 2019 after his series of webcomics reflecting various internet trends went viral. Alongside posting his popular artwork daily, Rojas also hosts weekly meme contests based on his comics on his Reddit page.
All net profits from sales will be donated to The Thurgood Marshall College Fund, the nation's largest organization exclusively representing the Black College Community through scholarships, capacity building and research initiatives, innovative programs, and strategic partnerships. The new line, printed on 100% recycled cotton, is proudly made in Los Angeles, CA.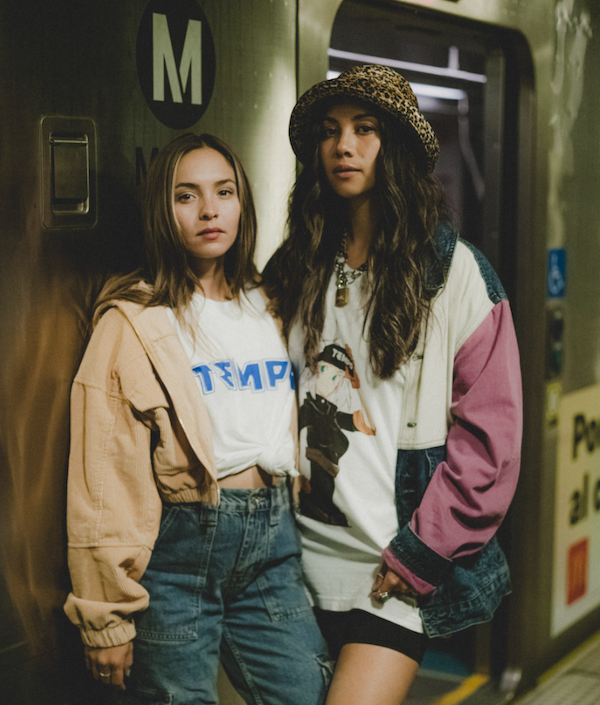 "Working with Tempo to design this new line for their latest collection has been quite fun," said Rojas. "I'm looking forward to seeing people wearing my designs."
"Since we've been expanding and evolving our brand, we wanted to release an apparel collection that our fans haven't experienced before," said Ryan Wagner, Tempo's Brand Manager. "And with all of the current events happening in our socio-political environment, it was important for us to support an organization like the Thurgood Marshall College Fund to help advocate for our vulnerable communities and end systemic racism."
In addition to the new lineup, Tempo's first-ever face mask is also available now as part of the #GamersMasks4Masks campaign to help fight the spread of COVID-19. For every mask purchased, all profits will be used to fund the production of two additional masks that will be donated to hospitals, medical facilities, and frontline workers in the Los Angeles area.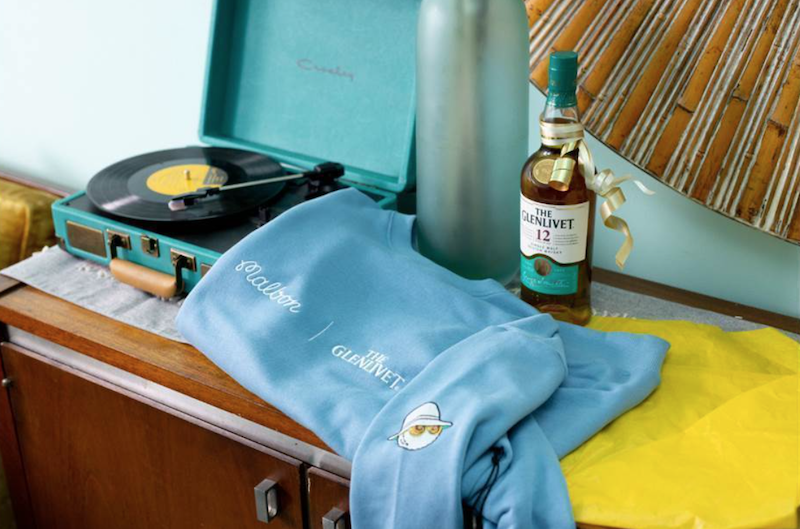 This holiday season, The Glenlivet is teaming up with stylish golf attire company, Malbon to launch a limited-edition capsule collection of merch that breaks from the traditional "day on the course" look.
The unlikely duo are breaking from convention to create the ultimate golf enthusiast line with an emphasis on fashion. The limited-edition collection, which consists of a trendy rope snap back, neon colored golf bag, and cozy but fashionable sweatshirt, will be available for purchase on MalbonGolf.com throughout the holiday season. This is perfect for a lot of people on your holiday shopping list!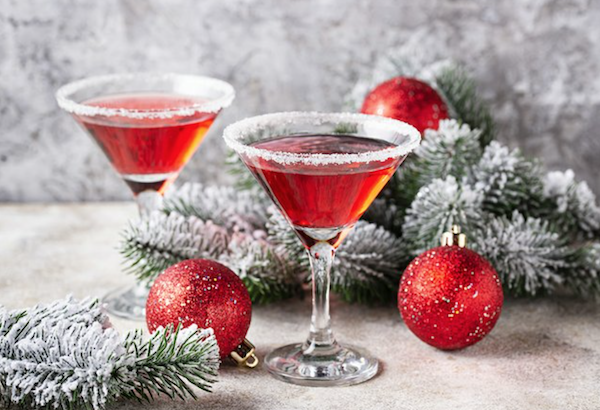 Looking for some great cocktails, beers, hard seltzers and some new drinks this holiday season? We got you covered. Check out these drinks and cocktail ideas below. Please remember to celebrate responsibly.
Smirnoff Seltzer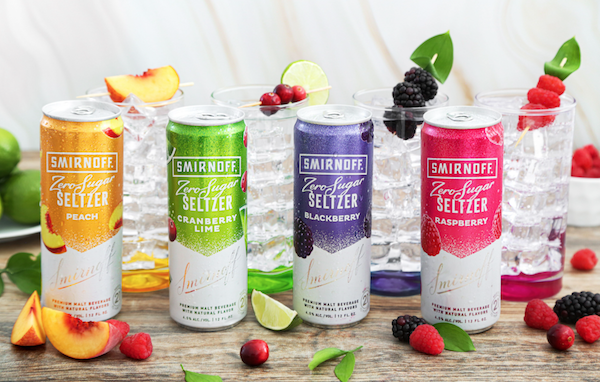 Smirnoff celebrated the launch of Smirnoff Seltzer's two NEW 12-packs that have 8 AHHH-mazing flavors that you're sure to fall for! With the packs delivering delicious flavors like Black Cherry, Peach, Raspberry and Cranberry Lime while having just 90 calories and ZERO SUGAR, they're perfect for any at-home drinking occasion. Smirnoff Zero Sugar Seltzer Core and Fall Variety packs are available in stores nationwide wherever Smirnoff RTD is sold (at a suggested retail price of $15.99).
SMIRNOFF WINTER CRANBERRY MIMOSA
INGREDIENTS
1 oz Smirnoff No. 21 Vodka
2 oz. Cranberry Sorbet
3 oz. Prosecco
DIRECTIONS
Add cranberry sorbet into a flute glass.
Pour 1 oz Smirnoff No. 21 Vodka over the sorbet
Top with prosecco and sugared cranberries.
BULLEIT BOURBON CRANBERRY OLD FASHIONED
INGREDIENTS
Bourbon Soaked Cranberries
2 oz dried cranberries
4 oz Bulleit Bourbon
1 cinnamon stick
Cranberry Old Fashioned
Ice
1 ½ oz Bulleit Bourbon
½ oz infused Bulleit Bourbon, from the dried cranberries
1 spoonful soaked cranberries
1-2 strips orange zest
2-3 drops orange bitters
1 tbsp simple syrup, or to taste
Orange wedges, for garnish
DIRECTIONS
Bourbon Soaked Cranberries
Add the cranberries, bourbon and cinnamon stick to a sealable glass container. Give it a stir and let the mixture sit on the counter for 1 day.
Remove the cinnamon stick and put the bourbon cranberries in the refrigerator.
Keep up to 1 month, refrigerated
Cranberry Old Fashioned
Fill a glass with ice.
Add the bourbon, infused bourbon, some of the bourbon cranberries, orange zest, orange bitters, stir the cocktail and taste.
If needed, add sugar syrup a little at a time until the cocktail is sweetened to your liking.
Garnish with two orange wedges.
SMIRNOFF GREEN APPLE CIDER
INGREDIENTS
1.5 oz. Smirnoff Green Apple
2.5 oz. Apple Cider
2 oz. Club Soda
DIRECTIONS
Rim a cocktail glass with caramel and crushed graham cracker.
Add the Apple Cider and Smirnoff Green Apple into a cocktail shaker with ice.
Shake and strain into a glass with ice.
Top with Club Soda and garnish with an apple slice.
BULLEIT RYE HOT TODDY
INGREDIENTS
1 ⅓ oz Bulleit Rye
4-5 Cloves
1 Lemon Twist
1 Cinnamon Stick
¼ Lemon Juice
1 tbsp demerara or fine brown sugar
Hot water
DIRECTIONS
To begin, fill up the glass, mug or favorite YETI rambler with fresh boiling water.
While the mug is warming up, cut a lemon twist and stud it with cloves.
Next, throw out the water in the mug and add fresh boiling water.
Add 1 bar spoon of demerara or fine brown sugar and stir to dissolve.
Add lemon and clove garnish, ¼ oz lemon juice, cinnamon stick, and stir.
Finally, add 1.3 oz of Bulleit Rye and stir a final time.
MAPLE GINGER MOSCOW MULE
INGREDIENTS
1.5 oz Smirnoff No. 21 Vodka
4 oz Ginger Beer
1 tsp maple syrup
3 tsp Fresh grated ginger
Apple slice
Fresh ginger slice
Cinnamon Stick
DIRECTIONS
Combine Smirnoff No. 21 vodka, chilled ginger beer, and maple syrup along with grated ginger in a copper mule mug.
Stir to combine and garnish with an apple slice, fresh ginger slice, and a cinnamon stick.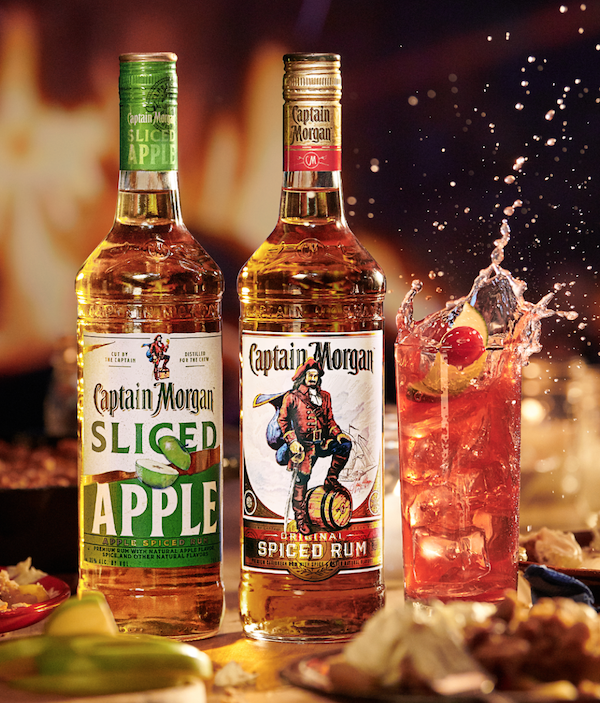 Captain and Ginger
·         1.5oz Captain Morgan Original Spiced Rum
·         4oz Ginger Ale or Ginger Beer
·         Mint Sprig
·         Lemon
Directions:
1.       Muddle mint and lemon in the bottom of a tall glass.
2.       Add ice, Captain Morgan Original Spiced Rum and Ginger Ale.
3.       Garnish with mint sprig and lemon wheel, stir and serve.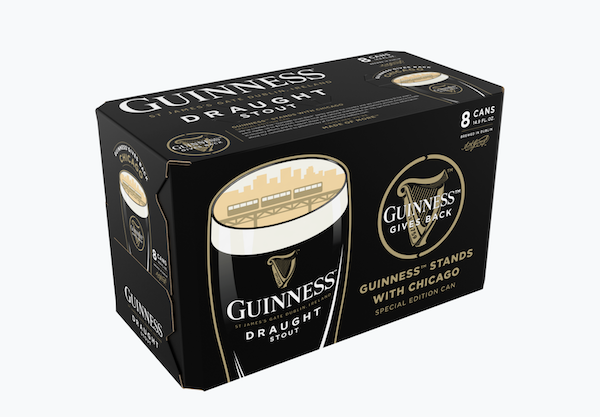 As part of the Guinness Gives Back initiative to provide support to those suffering from food insecurity due to COVID-19 and other causes, Guinness has announced a $750,000 donation to community relief efforts nationwide and introduced a new limited-edition pack for the holiday season.
For every Guinness Gives Back pack made, Guinness is donating $1 ($750,000 collectively) to designated charities in the U.S. The national Guinness Gives Back America pack will trigger donations to the global organization Direct Relief, and four regional versions of the pack will support food banks in the corresponding markets of New York, California, Chicago and Boston.
Already this year, Guinness has committed $2 million to COVID-19 relief efforts and to organizations supporting equality and social justice. The release of the Guinness Gives Back packs re-enforces the brand's commitment to supporting and uplifting American communities.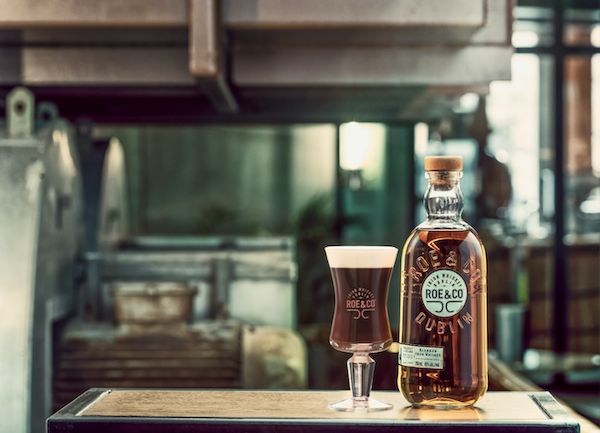 The weather is getting colder. Now is the time for some fun cocktails. The Roe & Co Irish Coffee is a delicious, easy-to-make cocktails that everyone can enjoy.
In case you're unfamiliar with the brand, Roe & Co is a new contemporary blend that is inspired by the once world-famous George Roe & Co Distillery in Dublin. Roe & Co is made from the finest hand-selected stocks of Irish malt and grain whiskies, aged in bourbon casks. Using her 30 years of experience, our Master Blender Caroline Martin has created a versatile, premium whiskey. Roe & Co is a luxuriously smooth blend with a perfect harmony between the intense fruitiness of the malt and the mellow creaminess of the grain whiskies.
Roe & Co Irish Coffee
Ingredients Needed:
40ml Roe & Co
60ml freshly brewed americano coffee
10ml porter syrup/sugar syrup
15ml fresh lightly whipped cream
grated nutmeg & 3 coffee beans
Directions:
Heat the Irish coffee glass with boiling water. Once heated empty the water out and add 60ml of freshly brewed hot coffee and in the syrup. Stir lightly. Pour in 40ml of Roe & Co and layer lightly whipped fresh cream on top. Garnish with 3 coffee beans and a light dusting of grated nutmeg.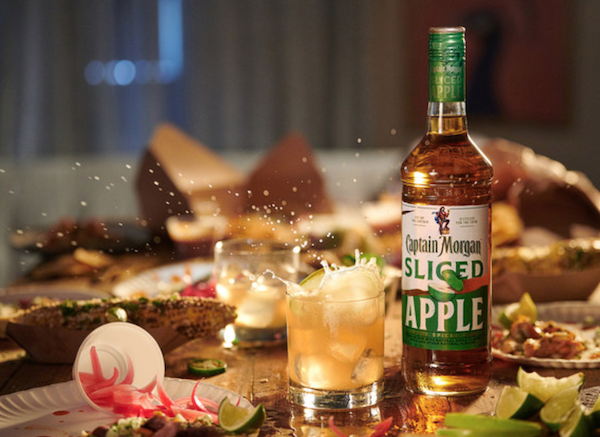 There's something new dropping this fall and it's ripe for the taking. Captain Morgan is hitting the shelves with Captain Morgan Sliced Apple Spiced Rum – something brand new that's sure to shake up the rum category as a spirit that is so delicious it can easily be enjoyed neat or on the rocks.
There's more fun to be had with this twist on a classic – we took the flavor of our signature Original Spiced Rum, added a subtle hint of ginger and fused it all together with the deliciously juicy and crisp taste of fresh cut apples. Captain Morgan Sliced Apple is all about making sure you and your friends can enjoy and celebrate the good times with a flavor everyone loves, whether you're near or far.

Five artists worked with Captain Morgan to design murals in the communities they call home – New York City, Los Angeles, Miami, Austin and Atlanta – that pay tribute to some of the country's most vibrant and iconic cities and neighborhoods. In their own unique, signature styles, each artist's mural showcases some of the diverse flavors, people, art and sounds that make up the irresistible spirits of the communities that Captain Morgan Sliced Apple is out to celebrate.
Nothing screams autumn like sliced apples. They're crisp, refreshing, sweet yet tart, exploding with flavor and perfectly suited for the fall (or any) season. With all that flavor packed into Captain Morgan Sliced Apple, there's something for everyone 21 and over to sink their teeth into – serve it neat, on the rocks or as a chilled shot. Captain Morgan Sliced Apple is so delicious that we recommend giving it a try on its own, but if you're looking to spice things up, it can be used to add variety to some of your favorite signature cocktails like the Captain Morgan Apple Crisp.
Apple Crisp
1 oz Captain Morgan Sliced Apple
.5 oz lemon juice
Cubed ice (in shaker)
Lemon wedge for garnish
Directions:
Pour Captain Morgan Sliced Apple and lemon juice into a shaker over ice.
Shake and pour into shot glass.
Garnish with lemon.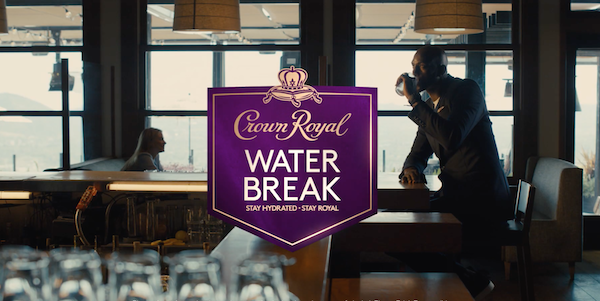 Sports are back and so is Crown Royal, doubling down on its responsible drinking commitment and bringing the Crown Royal Water Break beyond football and to all sports with the help of sports royalty and 15-time All-Star, MVP and NBA champion Kevin Garnett. Crown Royal believes being a royal fan this season means staying safe, generously supporting your community and drinking responsibly while rooting on your team. That's how to Crown Your Game Day.
Even at home, you still get to enjoy your favorite game day cocktails. Just remember: to take a Water Break in between to stay hydrated. Don't be that guy or girl that ruins game day for your friends and family - Stay Hydrated, Stay Royal. As fans host Game Day from home, Crown Royal will continue to encourage fans to elevate their game day spreads and cocktails to take Game Day to a new level. Thanks to "Crown Your Game Day Spreads," fans will never miss an opportunity to pair their favorite local game day eats with Crown Royal, team-inspired signature cocktails. Visit crownroyal.com/game-day for inspiration. Also, see below for cocktail assets.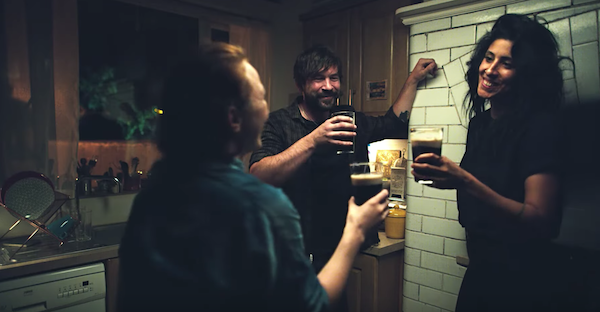 We know that St. Patrick's Day feels different this year. But we've been around for 260 years and learned over time that we're pretty tough when we stick together. However you choose to celebrate St. Patrick's Day this year, stay safe and be good to one another. Guinness today is committing $500,000 through our Guinness Gives Back Fund to help communities where we live, work and celebrate.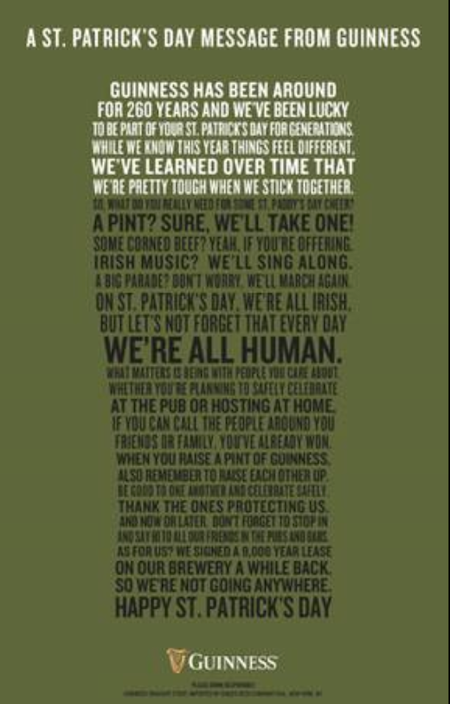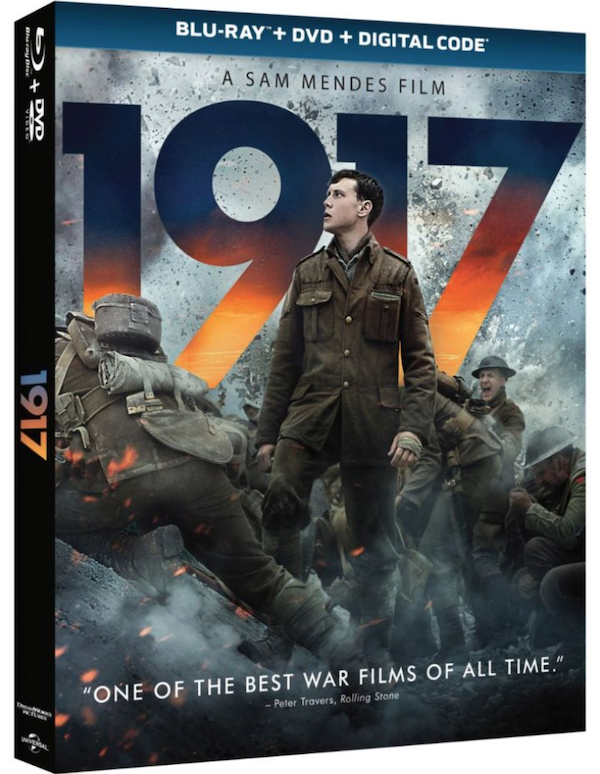 1917, the critically acclaimed, multi-award winning action spectacle including Academy Award® winner for Best Cinematography arrives on Digital March 10, 2020 and on 4K Ultra HD, Blu-rayTM and DVD March 24, 2020 from Universal Pictures Home Entertainment.  Hailed as "One of the most extraordinary cinematic achievements of the year" (JoBlo), the universally acclaimed film combines groundbreaking film making, memorable performances, and an unforgettable insight into the human experience against the shattering background of war. Additionally an Oscar® winner for Best Visual Effects and Best Sound Mixing, 1917 is "a new war movie classic" (NY Post).
In 1917 at the height of the First World War, two young British soldiers, Schofield (MacKay) and Blake (Chapman) are given a seemingly impossible mission. In a race against time, they must cross enemy territory and deliver a message that will stop a deadly attack on hundreds of soldiers—Blake's own brother among them. 1917 comes to Digital, 4K Ultra HD, Blu-rayTM and DVD with bonus content showcasing the incredible craft and artistry behind the immersive feature, including a detailed look into the production design, how the film engineered a one shot, 360-degree format and interviews with the cast and crew.
In 1917, Academy Award®-winning director Sam Mendes (American Beauty, Spectre, Skyfall) brings his Golden Globe® and BAFTA award-winning directorial performance to a script co-written alongside Krysty Wilson-Cairns ("Penny Dreadful"). The film stars breakout actors George Mackay (Captain Fantastic, Pride, Sunshine on Leith) and Dean-Charles Chapman (HBO's "Game of Thrones"). Accompanying Mackay and Chapman are standout performances by Mark Strong (Tinker Tailor, Kingsman, The Imitation Game), Andrew Scott ("Fleabag", Sherlock, Spectre), Richard Madden (Netflix's "The Bodyguard", Rocketman, HBO's "Game of Thrones"), Colin Firth (The King's Speech, Kingsman, Bridget Jones) and Benedict Cumberbatch (Sherlock, Dr. Strange, The Imitation Game). The film was produced by Mendes, Pippa Harris ("Penny Dreadful", "Call the Midwife"), Jayne-Ann Tenggren (Spectre, Extremely Loud & Incredibly Close), Callum McDougall (Spectre, Skyfall, Casino Royale) and Brian Oliver (Rocketman, Black Swan).