Lifestyle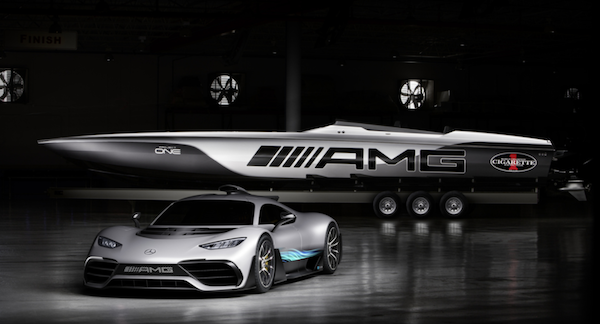 Mercedes-AMG and Cigarette Racing are proud to mark 11 years of collaboration with the debut of the most impressive and innovative performance boat ever constructed by the iconic Miami-based boat manufacturer. Designed from the ground up using the latest technology and methodologies, the Cigarette Racing 515 Project ONE was  inspired by the highly anticipated Mercedes-AMG Project ONE super-sports car.
Representing the ninth special edition boat created from this partnership, the Cigarette Racing 515 Project ONE is 51′ 5″ in length and features an increased beam of 9′ 6″ which allows 6  passengers the ability to be seated comfortably. The new boat offers an increase of  over 30% greater surface area  when  compared to the existing 50′ Marauder, while  still  providing  similar performance and an impressive 140 mph top speed through the use of a highly optimized composite structure consisting of carbon-fiber, Kevlar and E-glass. Cigarette's signature aggressive shoulders, which rise in the  rear  of  the boat, also allow the integration of a large sun cushion on  the  flat exposed-weave carbon fiber hatch – despite the  tall  engines beneath  -  for  maximum comfort and versatility when stationary.
The boat's deck is constructed completely of carbon fiber to reduce the total weight and lower the center mass of the boat. Carbon Fiber is also used for the inner structural laminate of the hull, forward bulkheads, cabin liner, engine hatch, consoles and storage hatches to significantly reduce the overall weight. For example, the air intakes, which are over 7ft long and 14 inches wide, weigh only 4.4 lbs. Overall, the weight optimized Cigarette Racing 515 Project ONE is over ten feet longer than the Cigarette Racing 41′ SD GT3 but it weighs over 5,000-lbs less. Kevlar has also been used for tabbing bulkheads and around the edges of framing for its extreme toughness properties.
The price of this one-of-a-kind boat from the Cigarette Racing Team is available upon request. For additional information on Cigarette Racing, please visit www.cigaretteracing.com.
The Miami International Boat Show is open to the public from February 16-20, 2018 at the Miami Marine Stadium Park & Basin. For more information, please visit www.miamiboatshow.com.