Lifestyle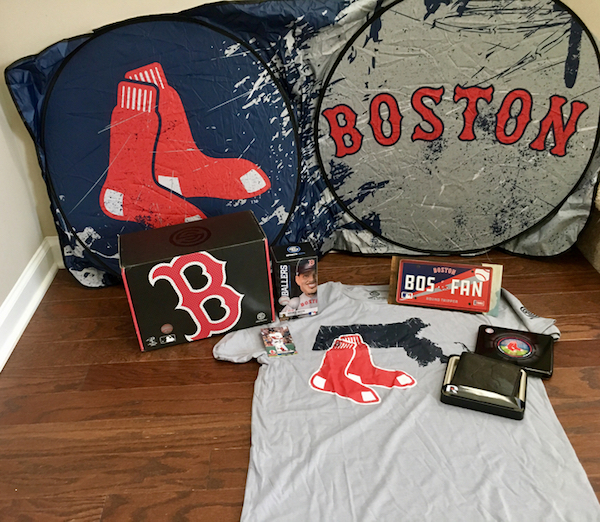 This month I received my third Boston Red Sox Sports Crate. The theme was a road trip or round tripper. The summer season is almost ending and people are taking one last road trip before we go into the fall.
Some people are lucky enough to go see their favorite team play in another ballpark. These road trips are a great way to see the country and create memories with family and friends. I feel that SportsCrate nailed this theme with all of the goodies that were in the crate.
First and foremost if you are driving to your destination that a lot hotter than what you are used to then the sun shade will come in hand. Not only do you get to protect your car from turning into an oven, but you get to rep your team while keeping things cool!
The next item is a really sick shirt. It is the "Hit the Road" shirt that has the Red Sox logo in front of the state of Massachusetts. Love the design, colors and feel to the shirt. This is a must need for when you go on the road to see the Sox play. Well done SportsCrate….well done!
What do you need when you are taking a trip? How about money, an ID and credit cards. Now you can show love to your team by using the Red Sox wallet. Not only can you store the above mentioned items, but you can hold your tickets to the game in there as well.
This month's crate is highlighted by the one and only Mookie Betts. You get an action figure and a Topps trading card. Glad to see SportsCrate is giving the nod to Betts. He is one of my favorite current Sox player.
As you can see SportCrate keeps stepping up to the plate with all of these goodies in each crate. If you are a fan of the teams that are available through SportsCrate you should start up a subscription.
With licenses from Major League Baseball and the Major League Baseball Players Association, Sports Crate is now the Exclusive Licensed Subscription Box of MLB. The new division of Loot Crate, Sports Crate will launch with 10 teams initially, providing fans of the Boston Red Sox, Chicago Cubs, Detroit Tigers, Kansas City Royals, Los Angeles Dodgers, New York Mets, New York Yankees, San Francisco Giants, St. Louis Cardinals and Texas Rangers with exclusive apparel, collectibles, experiences and more every month.
The monthly subscription service will feature exclusive team-focused products and possible VIP one-of-a-kind experiences.