Lifestyle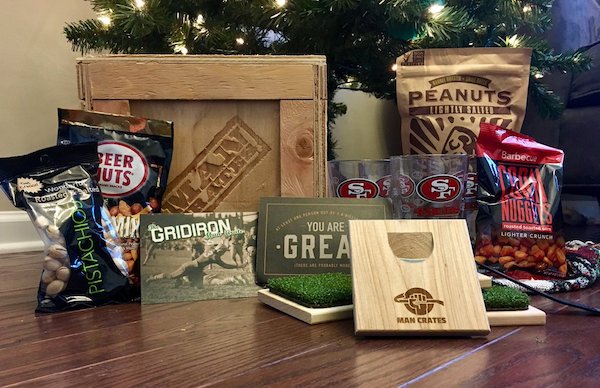 You know when people say this store or site is your one stop shop for the holidays? Well most of the stores don't fit that bill. One site that does is mancrates.com. From sports to fishing to beer to food anything that you can think of that you might like or your friends might like is right there.
The good folks over at Man Crates sent me a 49ers Gridiron Crate. Now just because my team is not doing well this year and is in the rebuilding stage doesn't mean that I still can't support my team or show off my team pride.
When Man Crates dropped off my order right to my doorstep I opened up the box to see a sturdy wood crate with their logo on the crate. I used the crowbar that was given to me by Man Crates to see what was inside my 9ers crate. As I opened up the crate I saw a bunch of items that will make game day that much better.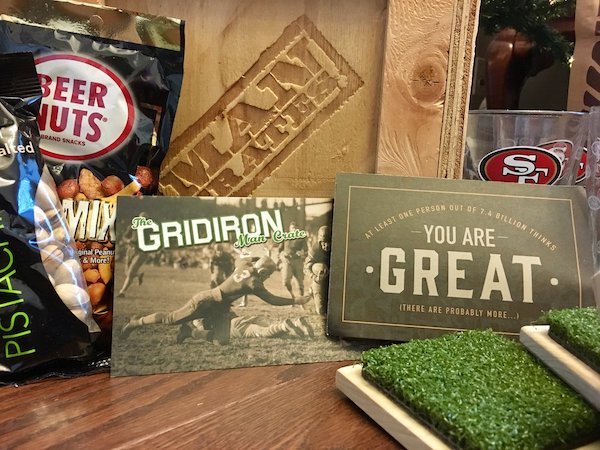 Inside the Gridiron Crate were four brilliant looking pint glasses with the 49ers logo on them as well as some etched footballs. These glasses are officially licensed by Boelter Brands. There were four Turf Coaster/Bottle Openers that will make you use a coaster without being asked over and over again!
What do you need when you are watching your team play on TV? Food of course. Man Crate also added some game day grub in the crate too! In my crate were a 5 ounce bag of pistachios, a 4 ounce bag of Corn Nuggets: BBQ flavor, a 3.25 ounce bag of Beer Nuts: Bar Mix and a 12 ounce bag of CB's In-Shell Ballpark Style Jumbo Peanuts.
Man Crates is a great way to show the ones on your list you know what they are into and that you care to send them the very best this holiday season. You can also remember Man Crates for other special occasions like birthdays, anniversaries or a new promotion at work.
If sports is not your thing check out the different types of crates they offer. Check out some of the themes they have below:
Folding Knife Making Kit
Hickory Grilling Kit
The Sriracha Crate
Personalized Oktoberfest Stein
The Bacon Crate
Whiskey Appreciation Crate
Beard Wrangler Mini Crate
The cool thing is that they have a wide selection of themes and there is not just once price point. There is a Man Crate for every budget. For more on the which Man Crate you want on your list or to give the perfect gift go to mancrates.com!