Chris Stout
Posts by Chris Stout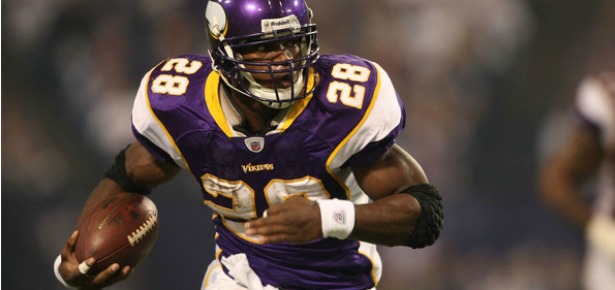 At Tennessee -8.5 Indianapolis
The Colts aren't going to win. They're a bad team. Their defense was allowing more than 27 points per game before the 62-7 shellacking that took place on Sunday night. Curtis Painter isn't the problem. He had a bad game last week, but he's actually been pretty serviceable this season. Both teams are coming off embarrassing blowouts, but the Titans are better equipped for a rebound. And they're playing at home.
Pick: Titans -8.5
At Houston -9.5 Jacksonville
With the AFC Central up for grabs this year, both of these teams have a chance to be dangerous. The Texans snapped a two game losing streak last week when they routed the Titans. The Jags snapped a 5 game losing streak when they upset Baltimore on Monday. I think the Jags have to be fired up and motivated to play, but the Texans present to big of a challenge. The spread may be a bit too high here, but you have to think Houston can handle this team, especially if Andre Johnson is back in the fold this week.
Pick: Texans -9.5
At Carolina -3.5 Minnesota
I like Christian Ponder. I think he brings a much-needed spark. Carolina's dangerous though. Not on defense, of course, but Cam can move the ball. His favorite weapon, Steve Smith, is averaging a ridiculous 21 yards per reception. Adrian Peterson is going to have a huge game against a run defense that ranks near the bottom of the league. It's hard to think that Carolina won't keep it close, but I think Ponder will shine in a game plan that calls for heavy doses of AP.
Pick: Vikings +3.5
New Orleans -13.5 At St. Louis
Let's see, we have a team that scored 62 points last week and going up against a winless squad led by journeyman backup AJ Feely. The two touchdown spread almost seems too low.
Pick: Saints -13.5
At Baltimore -13 Arizona
The Ravens looked bizarre last week. Ray Rice couldn't get going and didn't do much with the measly eight carries he received. Baltimore's offensive woes weren't just limited to last week, though. Joe Flacco has one TD and three INTs in the last three games. Luckily he gets to go up against an Arizona secondary that ranks 28th in the league against the pass. The Cards lost Beanie Wells last week and Kevin Kolb is having a pretty mediocre season. After the ugly loss on Monday, John Harbaugh's going to have his team ready to rock against an inferior opponent.
Pick: Ravens -13
At NY Giants -10 Miami
Nothing is going to stop the Dolphins downward spiral, especially not a trip to the Meadowlands to face a Giants team that's leading the way in the NFC East. NFL teams have been sucking it up after bye weeks, but the G-men are getting guys like Justin Tuck and Brandon Jacobs back. Miami loses again.
Pick: Giants -10
At Buffalo (in Toronto) -6 Washington
The Skins lost Tim Hightower for the year and Santa Moss is going to miss extended time. The John Beck era didn't really start off with a bang either. The Bills have cooled considerably since their hot start, but their ball hawking D, strong run game and steady QB play should earn them a victory.
Pick: Bills -6
Detroit -3 At Denver
Stafford's banged up and Best is likely to miss the game for Detroit. Tim Tebow looked absolutely horrendous for three and a half quarters last week, then he pulled off a miracle comeback that included defensive blunders, diving catches and a whole lot of luck. No one can question that Tebow has something special about him. He just can't throw the ball. And that seems like an important skill for an NFL QB. I'll take a banged up Lions team on the road against an offense with two suspect running backs (Tebow and Knowshon) at the helm. Even if Shaun Hill starts, Detroit's the better play.
Pick: Lions -3
New England -3 At Pittsburgh
There's no questioning the fact that Tom Brady owns the Steelers in Pittsburgh. Playoffs, regular season – you name it – Brady just loves spreading the Steelers out and striking at will. But you know what? The Steelers have some good thing going on offense as well. Big Ben's going to have a big day against New England's suspect secondary. This high scoring game's going to come down to one or two red zone stops. Despite Brady's history against Pittsburgh, I'm taking the Steelers at home.
Pick: Steelers +3
At San Francisco -8.5 Cleveland
Cleveland's defense isn't that bad, but their offense is atrocious. The only time this team has topped 17 points this year was in Week 2 when they put up 27 on the winless Colts. I'm pretty much never picking against the 49ers until I see some super compelling reason to not expect this team to crush it.
Pick: Niners -8.5
Cincinnati -3 At Seattle
Sure, Seattle's a tough place play, but Cincy's young guns and strong D can handle the Charlie Whitehurst-led Seahawks. Even if T-Jack's behind center, I like the Bengals on the road.
Pick: Bengals -3
At Philadelphia -3.5 Dallas
The Eagles haven't lost after a bye week under Andy Reid, but they haven't spent much time at the bottom of the NFC East either. The Eagles are 2-4 this season, and they're also 2-4 against the spread. The Dream Team gets too much respect for a squad that has one win in the last five games. Dallas has blown games they should have won and they haven't lost by more than four points all year. I like the Dallas D to force some mistakes against a team that leads the league in turnovers.
Pick: Cowboys +3.5
San Diego -3.5 At Kansas City
Philip Rivers isn't having a good year. He says that health isn't the issue, but something's going on. He's forcing the ball (three TDs to five INTs last four games), and the Chiefs held Rivers to zero TDs and forced two picks in Week 3. KC has won three straight and the players seem to be buying into what Todd Haley's selling. Arrowhead is always a tough place to play. Add in San Diego's recent mistakes and KC's momentum, and you have a recipe for a home team victory.
Pick: Chiefs +3.5
Week 7: 8-4-1
Season: 58-40-9 ATS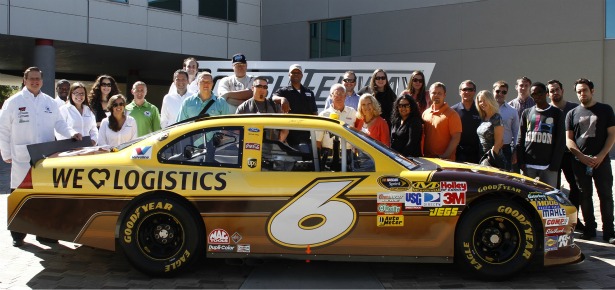 Valvoline did the impossible a couple weekends ago. They got me really, really fired up about NASCAR. I didn't think I'd be so into it. I've never followed the sport and I've never seen a live race before. But when Valvoline flew me out to Charlotte, I went with an open mind. I ended up hanging out with some really cool people, and I learned a ton about recycled oil, stock car manufacturing and what goes into equipping, supporting and maximizing the performance of a NASCAR driver. It was awesome.
Valvoline NextGen Oil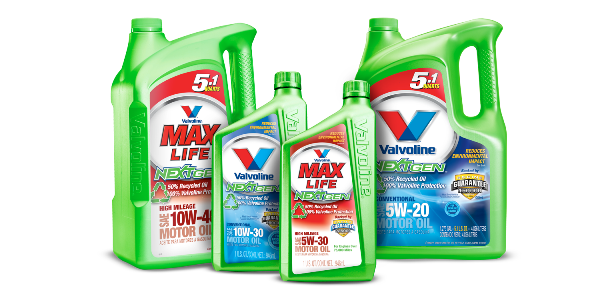 So first things first: the oil. That's the main reason why this whole trip happened. Valvoline wants to get the word out about their new recycled oil, Valvoline NextGen. It's something they've been working on for awhile and it's actually a pretty smart product.
A little bit of back story first. Valvoline was founded by Dr. John Ellis, the guy who invented motor oil way back in 1866. He was futzing around with crude oil, looking for medicinal applications, and boom, he ends up formulating a petroleum-based lubricant that serves as the lifeblood for all car engines today. Valvoline was the first company to produce motor oil specifically for racing, and their racing oil is still the best selling in the industry.
Fast forward to 2005, and you have a convergence of factors that made Valvoline explore the viability of manufacturing recycled motor oil that would be cleaner to produce without sacrificing any performance. Valvoline wanted to explore more sustainable motor oil production techniques. Tech breakthroughs in oil recycling made that option a real possibility. Add in the fact that a critical mass of consumers in America wanted to make a conscious effort to go green, and you had a perfect storm for an advanced leap in recycled oil development.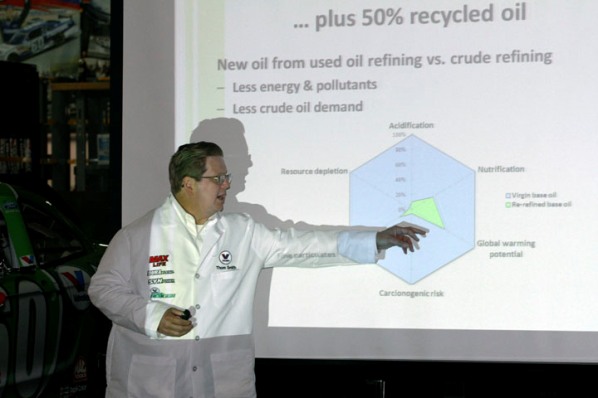 Thom Smith, Valvoline's VP of Lubricating Technology gave media members a full breakdown on the process of recycling oil. Regular motor oil that you put in your car contains 85 percent base oil and 15 percent additives. The additives are what breakdown over time, but the base oil remains usable. You can actually get more out of used oil that you can from crude oil. Used oil has less contaminants than crude and more usable oil molecules. When you extract crude oil, only 15 percent of it is usable as a lubricant. When you're dealing with used oil, 75 percent of it can be re-used as a lubricant.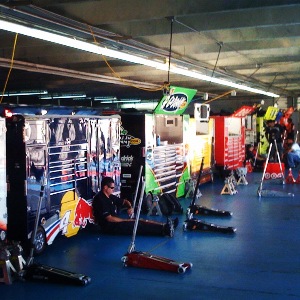 Recycled oil used to be inferior. In the past, the development of recycled oil required an acid clay filtration process that included dewatering and treatment with clay and sulfuric acid. With advanced refining techniques, recycled oil now goes through a flash distillation, thin film evaporation and hydro treating process. The old way of refining used oil created all kinds of nasty leftover materials. The new method creates much less waste.
But the proof is in the high performance pudding. Valvoline recycled oil has been tested under the most extreme conditions and it performs as well or better than conventional motor oil. It's cleaner to produce, results in less wear on your engine (pistons, bearings, etc.) and it's good enough to be used in professional racing. Valvoine partnered with Roush Yates Racing to introduce NextGen oil to professional drivers. If NASCAR and other motorsports drivers can win races with NextGen, it's certainly good enough for consumers to use in their cars.
The NextGen formula contains only 50 percent recycled oil, but the technology is available to produce recycled oil that contains a higher percentage of used oil. Supply is the issue. As more used oil becomes available for refining, the amount of used motor oil that appears in new recycled oil formulas will continue to increase.
Valvoline is encouraging consumers to return their used motor oil to places like Advanced Auto Parts and Auto Zone. One gallon of used oil can contaminate up to 1 million gallons of water. So if you can, turn in your used oil and make sure it can be recycled.
Bank of America 500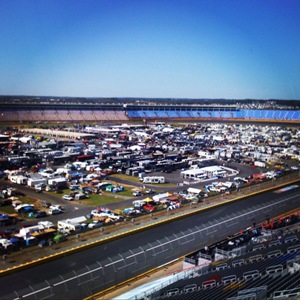 After touring the Roush Yates Racing facilities (where I met Jack Roush and Doug Yates), I got to visit the Charlotte Motor Speedway for the Bank of America 500. I toured pit row, met drivers and pit crew members and I got to see 43 drivers compete in a three-and-a-half hour night race. There were 16 lead changes, eight caution flags and some pretty intense moments. Matt Kenseth finished first, and he's currently trailing Carl Edwards in the Chase for the Sprint Cup.
I watched most of the race from the Valvoline luxury suite, but I also spent some time right at the edge of the track. I wasn't expecting the noise and reverberations to be so addicting. When all those cars scream past you at speeds of almost 200 mph, the sounds and impact of the momentum shakes you to your core. It was a trip. I can see what all the fuss is about now.
All in all, it was a pretty sweet mission to Charlotte. I want to thank Valvoline and Roush Yates Racing for a fun trip and for exposing me to something I never thought I'd experience.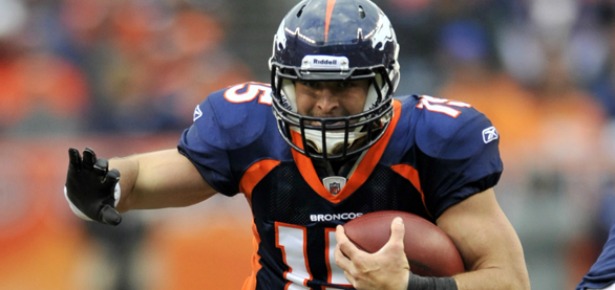 Chicago -1 Tampa Bay (At London)
Last week I complained about how much I hate picking against the Bucs. They bounced back from an absolute beat down loss at the hands the 49ers to pull off an upset win against the Saints. Chicago blew out the Vikings in a hard-to-watch contest that was never really close. The Bucs traveled to London early while the Bears are treating this like any other week. Bears players are getting antsy with management over things like Matt Forte not getting paid. Lance Briggs is saying that the issues with management are starting to impact how players prepare. I don't like the sound of that. The Bucs will be well rested and ready to take on Chicago.
Pick: Bucs +1
At Carolina -2.5 Washington
The John Beck era begins in DC, but how much of an upgrade is he over Grossman? He's kind of an unknown entity at this point, but he gets a chance to prove it against the 1-5 Panthers. Expect the Skins to rely heavily on the run to ease their QB in and take advantage of a defense that gives up 140.3 yards per game on the ground. If you've watched Cam Newton and the Panthers this year, it's hard to believe they only have one W. Carolina keeps 'em close, and they'll do enough to finally earn a second win.
Pick:  Panthers -2.5
San Diego -2 At NY Jets
Rex and Norv are in full blown bulletin material mode. LT's getting the start against his old team, but Shonn Green should still get plenty of touches. The Chargers are moving the ball well, but they haven't faced a defense this good all year. The Chargers seem like the stronger, more efficient team here, but the Jets can't take too kindly to being underdogs at home. Gates didn't practice on Thursday, so who knows if he'll be a factor. It's strength vs. strength here, and I'll take New York's D over San Diego's O.
Pick: Jets +2
At Cleveland -3 Seattle
Charlie Whitehurst gets the nod here with Tarvaris Jackson still hurt. Hillis probably won't roll for the Browns. He's in some sort of hamstring/contract limbo right now. The Browns like Montario Hardesty, they still have trouble moving the ball on the ground, ranking 30th in the league with 81.6 rushing yards per game. Seattle's no rushing juggernaut either, ranking just ahead of the Browns with an average of 83 yards per game. It's going to be up to Whitehurst or McCoy to make it happen. My money says McCoy is better suited to make the extra play.
Pick: Browns -3
At Tennessee -3 Houston
Schaub's banged up and Arian Foster is coming off a sorry output game against the Ravens. Andre Johnson's still out of the mix and the Texans have dropped two in a row. The Titans are coming off an additional week to prepare and they're playing at home. Chris Johnson has been a disappointment, but Hasselbeck's been a pleasant surprise. I think this game is going to be close. It's an important divisional matchup, and I think the Texans are going to find a way to right the ship on the road.
Pick: Texans +3
At Miami -1.5 Denver
Who knew that a game between two teams with a combined record of 1-9 could be so interesting? Tony Sparano is likely coaching for his job, and Denver fans finally get to see the Mile High Messiah lead the way. Will Tebow show that he's a force to be reckoned with or will the Dolphins step up and play hard for their player-friendly coach on the brink? Judging by the way Matt Moore kept chucking the ball to the wrong team last week, I think the edge goes to Tebow taking over. Especially during a cushy road game where they're honoring his former college team at halftime.
Pick: Broncos +1.5
At Detroit -3.5 Atlanta
You know Jim Schwartz is going to have his team fired up to play this week. Nobody puts the Schwartz in a corner. Detroit has some issues at running back. Jahvid Best is likely out after suffering another concussion. The Jerome Harrison/Ronnie Brown trade was voided cause Harrison has a brain tumor. It's up to Maurice Morris and Keiland Williams to carry the load. Luckily, the Lions love to pass, and the Falcons love to give up passing yardage (283.3 yards per game).  Lions bounce back.
Pick: Detroit -3.5
At Oakland -4.5 Kansas City
The Raiders gave up a lot for Cason Palmer. Will he be worth it? Can he come in and take over a team with less than a week to prepare? The Raiders have a lot going for them right now, but it's never easy to replace your QB with an outsider who isn't familiar with the offense. Not saying this is a Kerry Collins situation, but I don't expect Palmer to just slide in and carry this team.  He might not have to though. The Raiders are a run first, run second team. But the Chiefs have a new rushing weapon as well. Was Jackie Battle a one week wonder or can the career special teamer continue to spark KC's offense? The Raiders can be quite gracious when it comes to giving up rush yardage, so Battle should be able to find space to run. Expect a low scoring, clock-eating contest here. I'm giving the edge to the home team.
Pick: Raiders -4.5
Pittsburgh -3.5 At Arizona
The Steelers seem to eek out wins that really should be blowouts, and they just can't seem to put teams completely away. Expect that to change this weekend. The Steelers, in theory, should win this game easy. Mendenhall's coming off a big game, Mike Wallace is lighting it up, Ward gets a couple first down grabs here and there and Antonio Brown has been wide open and overthrown in the end zone for like three straight weeks. The Steelers defense is rejuvenated as well, even if they're not causing enough turnovers. Kolb should be in line for like at least two picks in this game, though. The Steelers need to finish off these easy wins 'cause the schedule's about to get a lot tougher.
Pick: Steelers -3.5
At Dallas -13 St. Louis
High ankle sprains aren't fun. Neither is losing all the time. Sam Bradford's gutting it out though, and he has a new, much needed weapon with Brandon Lloyd now in the fold. The Cowboys went toe-to-toes with the Pats, but they couldn't come away with the W. Dallas will be testing out some combination of Choice and Murray against the worst run defense in football.
Pick: Cowboys -13
Green Bay -9 At Minnesota
McNabb was mercifully handed a clipboard this week, so Christian Ponder gets a chance to show what he can do. First assignment for the rookie is the defending champs.Maybe the rookie will be able to spark a struggling offense, but it's hard to think that the Vikings can slow down a team that's averaging a league-best 32.8 points per game.
Pick: Packers -9
At New Orleans -14 Indianapolis
Brees had a sloppy game last week against the Bucs. He'll bounce back and take advantage of a favorable matchup. Painter's going to have a chance to make plays against the Saints, but even if this game hits shoot-out mode, New Orleans should out shot Indy pretty easily.
Pick: Saints -14
Baltimore -7.5 At Jacksonville
The Ravens are playing scary football in a division that has no room for error. The Ravens D will take away MJD and force Gabbert into making some mistakes. Expect a big game from Ray Rice.
Pick: Ravens -7.5
Week 6: 7-5-1
Season: 50-36-8 ATS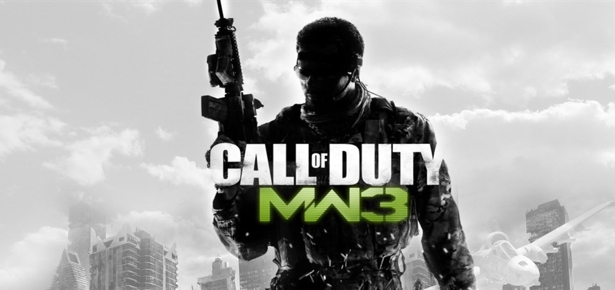 We're partnering up with Gamestop for a sick giveaway to get the word out about the Call of Duty: Modern Warfare 3 "Pick Your Perks" Sweepstakes. Call of Duty MW3 will be available at GameStop stores nationwide November 8, and to ramp up the launch, GameStop has this sweet sweepstakes thing going on at GameStop.com/CallofDuty.
The sweepstakes gives Call of Duty players the ability to craft their own, customizable prize pack full of unique perks. Call of Duty fans can pre-order Modern Warfare 3 and play every day for a chance to win cash, vehicles, VIP experiences and tons of other prizes of their choosing. The perks change weekly, so players need to check back every Monday to see the new perks for the week.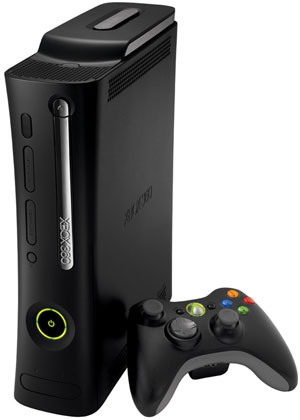 Gamers can combine three different perks to create their own prize pack. The pro pack option is a preselected perk, but you can choose two additional perks out of a list of available prize options. So for example, this week the preselected perk is an extreme flying experience where you get to experience the thrill of skydiving and fly through the air in a vertical wind tunnel. For Perk 2, you can select a Sea-Doo GTI Diver Propulsion Vehicle, an MSI Windpad tablet or a VIP trip to Comic-Con 2012. The options for Perk 3 include a Looxcie Video Bluetooth headset, 100,000 Microsoft Points or Vuzix Virtual Reality Eyewear.
If you love Call of Duty and you're going to buy MW3 anyway, might as well pre-order and enter a bunch of times to win these awesome prizes, right?
So we're giving away a MW3 Prize Pack that includes a copy of the game (once it becomes available), and a 250GB Xbox console. That's a pretty sweet haul right there. What do you need to do to win the game and the Xbox? Follow us on Twitter @MANjrcom and send us an email below telling us why you love playing Call of Duty. We'll pick a winner at random next Thursday.
Good luck!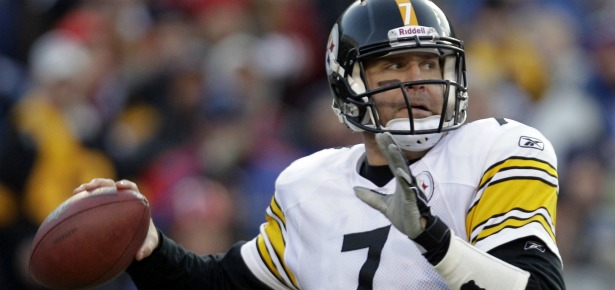 At Green Bay -14.5 St. Louis
Blowout city. The Rams are hurting. The spread is huge and so is the skill differential. Green Bay wins easy.
Pick: Packers -14.5
At Pittsburgh -12 Jacksonville
The Steelers are hurt, but they get Mendenhall back and they're playing at home. The Jags perform well against Pittsburgh historically, but with a so-so defense and a rookie QB, the advantage goes to Pittsburgh. The Steelers continue their rebounding ways and win convincingly.
Pick: Steelers -12
Philadelphia -1.5 At Washington
It's been must-win time for awhile for Philly. And despite all the consistency, I'm still not buying the Redskins as the team to beat in the NFC East. Eagles get a much needed win.
Pick: Eagles -1.5
At Detroit -4 San Francisco
The Lions are really good. So are the Niners. Harbaugh has this team believing, but this is a tough contest on the road. The 49ers have covered every spread they've faced so far, but this is the first week that I'm picking against them. It's not going to be a blowout, but the Lions just have too much going for them right now. They'll take care of business at home.
Pick: Lions -4
At Atlanta -4 Carolina
Atlanta hasn't lived up to the hype. They were supposed to be the next Greatest Show on Turf. Instead, their season is on the brink of being a let down. The Panthers have been in every game they've played so far, but they haven't found a way to win. Carolina's going to get better and win games soon, but not this week.
Pick: Falcons -4
At Cincinnati -7 Indianapolis
Curtis Painter isn't bad. In fact, the dude's pretty good. He loves Garcon. So much so that the Colts are considering shipping free agent-to-be Reggie Wayne out of town. It's funny, cause Wayne was the one who said that Painter should have been the starter all along. That said, the Bengals are legit. Their defense is for real and the whole Dalton to Green connection is something you have to believe in. I like the Bengals at home.
Pick: Bengals -7
At NY Giants -3 Buffalo
The Bills got off to a hot start, but they've faced some adversity the past couple weeks. The Giants are an up and down team searching for answers. Bradshaw's calling out the o-line. Eli Manning is always on the cusp of greatness, but he still makes turnovers that'll make you question his ability, week in and week out. I think the Buffalo D does enough to take advantage of New York's miscues. The Bills pound the rock with Freddy and win on the road.
Pick: Bills +3
At Baltimore -8 Houston
I get that the Ravens are playing really good football and yea, they're playing at home and all, but the spread seems a bit high for this contest. I get that Andre Johnson is out and Baltimore's D is amazing, but this spread just seems a tad too high. A field goal, sure. Six points or seven points, maybe. Two scores? Nah, not buying it. Texans can cover.
Pick: Texans +8
At Oakland -6.5 Cleveland
The Raiders played inspired football last week. That was on the road. Now they're at home. The Browns have the unfortunate pleasure of playing a fired-up Oakland squad that just lost their patriarch. The Raiders would be a good bet against a top-tier team this week. Luckily, they get Cleveland. There's no way the Browns escape Oakland with a win.
Pick: Raiders -6.5
At New England -6.5 Dallas
Who needs a defense? Especially with a ridiculous home winning record. The Cowboys are a yo-yo team that's shown flashes of greatness and stretches of mediocrity. Miles Austin is back, and that's bad news for New England. But picking against Tom Brady at home with a touchdown spread? Can't dot it. Won't do it.
Pick: Pats -6.5
New Orleans -4.5 At Tampa Bay
Tampa Bay is always a tricky team to bet against. Just when you think they suck balls, they pull off an amazing win. But they got manhandled last week, and they lost Blount in the process. The Saints are just too good.
Pick: Saints -4.5
At Chicago -3 Minnesota
The Bears offense went off last week, but their o-line is a mess. Martz is finding creative ways to get Forte the ball. The Vikings defensive front is going to cause problems for Chicago, but I think the Bears can eek out a win here.
Pick: Bears -3
At NY Jets -7 Miami
The Jets need to get their act together if they want to be in the playoff conversation. Miami is beyond desperation mode, but they have Matt Moore under center. I don't like the fact that Santonio keeps calling out his teammates on a weekly basis, but I think the Jets can handle the Fins at home.
Pick: Jets -7
Last week: 7-5-1
Season:  43 -31-7 ATS
I'm on my way to North Carolina this weekend to attend the Bank of America 500 at the Charlotte Motor Speedway. This will be my second visit to the track in Charlotte. A few months back, I took a lap around the track with Martin Truex Jr. as part of a Toyota-sponsored event. This time around I'm heading to Charlotte courtesy of Valvoline, and I'm going to experience a live NASCAR race for the first time ever.
I've never considered myself a big NASCAR guy. I'm more of a football, baseball, soccer and situational Olypmics sports enthusiast. But from everyone I've talked to, attending a live NASCAR event is supposed to be fun as hell. It's going to be loud and there will be drinks involved. How bad could it be?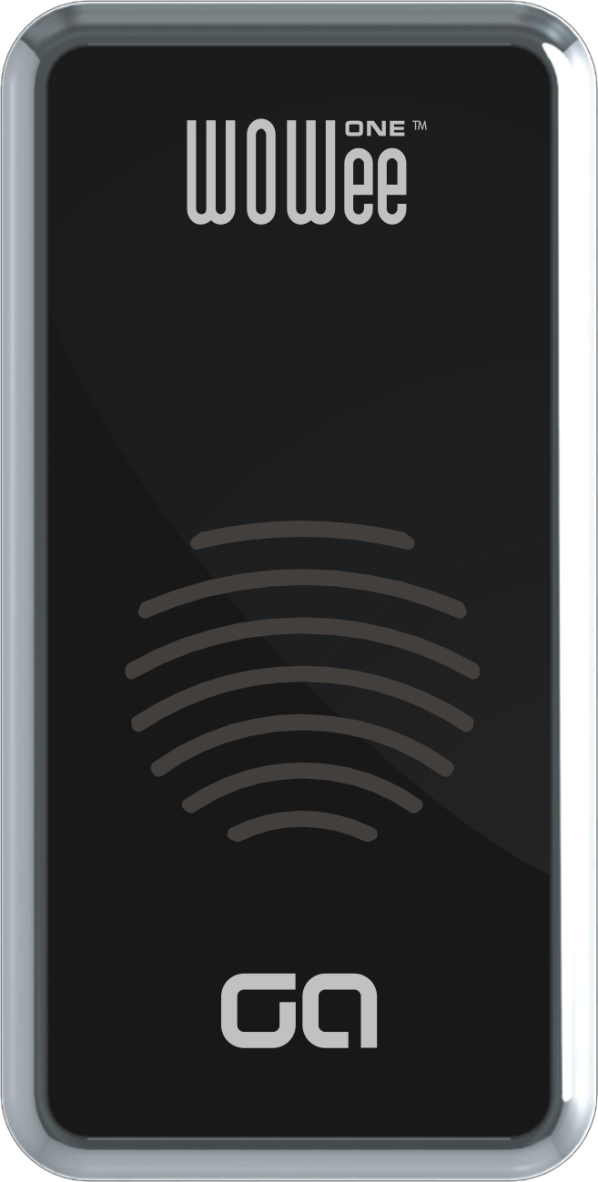 rusbank.net
We all carry tons of music around with us. Whether it's on a laptop, tablet, iPod or smartphone, it's not unusual for people to have gigabytes worth of their favorite tunes with them at all times. Plugging in a set of headphones and blasting your favorite songs is all well and good, but sometimes you want to share your music with the people around you. Sometimes you want to bump your music to the world.

That's why God invented portable speakers. But not all portable speakers are created equal. Some are small, tinny and cheap. Others are expensive, difficult to lug around and require a wall outlet power source. It's not really practical to bring an iPod docking station to the beach. Sometimes you just want an easy-to-carry, compact size portable speaker solution that has its own power source.
Enter the WOWee ONE portable speaker. This little, cell phone-sized device is the coolest thing to happen to portable music since the boom box. What's so great about it? Well unlike most portable speaker solutions, the WOWee gives you the gift of bass – crisp, clean, wonderfully thumping bass. The speaker plugs into your audio device with a standard headphone plug and uses patented gel technology to turn any flat surface into a makeshift subwoofer.
Sounds weird, huh? It is kinda. The WOWee can be placed on different surfaces for different bass-thumping effects. Plug it in, hold it in your hand, and you have a little speaker with minimal bump. Place it on a flatsurface – a table, a box, your car bumper, a cooler, the arm of a couch or chair – and you get unique bass results. It's actually really fun to play around with different surface areas to see what kind of bass comes out. It's also rare to have a little speaker put out quality lows in the 40 Hz – 20 kHz sound range.
The WOWee ONE is rechargeable via USB. There's no on/off switch, you just plug it into an audio jack and it lasts up to 10 hours per charge. The thing looks and weighs about the same as an iPhone, so you can slip it in your pocket for easy transport.
The uses for quality portable beat-bumping are endless. You can easily manage music at work, at home, at a party, outside, on-the-go. You get the idea. If you love blasting tunes on the fly and you appreciate the low end of the sound spectrum, drop the $79.99 and pick one of these up. It's totally worth it.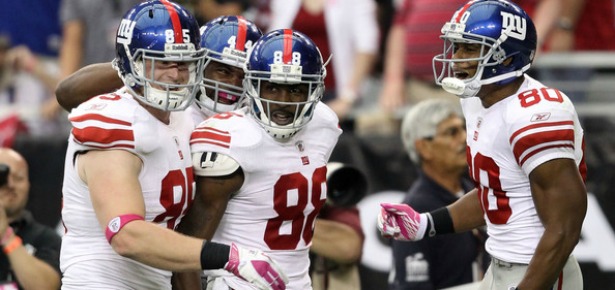 At Indianapolis -2.5 Kansas City
Someone's gotta win this game. I thought Painter settled down and looked half-decent against Tampa Bay on Monday. He deserves to get the nod even if Kerry Collins is healthy. The Chiefs have improved steadily since their first two blowout losses to start the season. This will likely be a close game where the under is the most enticing play. Edge goes to Indy's pass rush and a home crowd hungry for a W.
Pick: Colts -2.5
At Minnesota -2.5 Arizona
Both these teams have looked atrocious this year. The winless Vikings have blown leads and the Cardinals just can't seem to get a rhythm going on offense, even with the great season that Beanie Wells is turning in. I'd stay away from this game cause either side you choose is bound to let you down.  I'm not picking a McNabb team to win anything ever again. If you have to make a pick here, go with the Cards.
Pick: Cardinals +2.5
Philadelphia -2.5 At Buffalo
Despite the painful offensive showing against Cincy, I still love these Bills. The Eagles are bound to turn things around, but all's not right in Philly. I like a rebound win for the Bills over a back-to-the-wall win from the Eagles.
Pick: Bills +2.5
At Houston -6 Oakland
The loss and Andre Johnson is brutal, but lucky for Kubs and company, Arian Foster is back to his 2010 form. The Raiders are tough football team capable of competing for the AFC West crown, but they're outmatched here. Houston builds on last week's win against the Steelers and wins easy at home.
Pick: Texans -6
New Orleans -6.5 At Carolina
This game screams over, and you just know how this one will play out. The Saints will jump out to an early lead and Brees will look dominant. The Panthers will start slowish and then start playing a little looser as they realize their down. Then, the Cam Newton garbage time express will arrive in New Orleans. The Panthers will rack up crazy numbers while the Saints go into their typical mid-to-late game funk. In the end, Brees finds away to maintain the score separation and the Saints end the game with more points on the scoreboard.
Pick: Saints -6.5
At Jacksonville -2.5 Cincinnati
Yea it's only Week 5, but don't look now, the Bengals have the best defense in football! The Bengals aren't going to ride their staunch D, decent ground game and solid rookie QB/WR combo to the playoffs, but they're going to win games like this.
Pick: Bengals +2.5
At Pittsburgh -3 Tennessee
The Steelers are broken. Pouncey's hurt. Mendenhall is likely out for this game. James Harrison is out for awhile with a busted face/eye socket. Big Ben should play, but he can't sustain anymore d-lineman lunching at his knees this year. The Titans are benefiting from a strong defense and steady play at quarterback. I expect the underachieving Steelers to step it up this week and get the most out of their makeshift o-line and battered roster. Isaac Redman will run hard and make the most out of his first start. The Steelers will find ways to get point on the board and edge out the Titans at home.
Pick: Steelers -3
At NY Giants -10 Seattle
Hakeem Nicks and Victor Cruz are suddenly a dominating one-two punch. Eli Manning has looked sharp the past two games; he's thrown six TDs and zero interceptions the last two weeks. If Eli Manning can maintain this career-year pace this week, the Giants should have no trouble beating the Seahawks by a couple scores in the Meadowlands.
Pick: Giants -10
At San Francisco -3 Tampa Bay
The 49ers are legit. They're 4-0 against the spread this year and they've earned the right to be home favorites this week. Tampa Bay's a weird team to judge. They thrive on little dump passes, bruising short-to-medium range runs and solid 4th quarter closing skills. But they still haven't looked all that impressive. San Francisco is playing inspired. Frank Gore's back, Harbaugh's all fired up and even the much maligned Alex Smith has looked more comfortable the past couple weeks. Add in a stingy defense and you got the recipe for a potential division championship.
Pick: Niners -3
At New England -9 NY Jets
The Pats defense is as terrible as their offense is awesome. It's really a crazy contrast. New England had the worst defense in the league before they lost standout LB Jerod Mayo. The Jets have their own set of problems. They can't run the ball and Sanchez just isn't getting the protection he needs to succeed through the air. You just know Rex is gonna whip these guys into shape this week. I'd feel much more comfortable picking the Pats with a friendlier spread. I really don't see this turning into a blowout, but I can't pick against New England's explosive offense.
Pick: Pats -9
San Diego -4 At Denver
As much as I love Eric Decker, I can't really get behind the Broncos on either side of the ball, even at home. This is one of those classic AFC West matchups that I have no interest in watching. I don't know what it is about Chargers games, but they just always feel like the most boring games of the day on Sundays.  It's gotta be that way.
Pick: Chargers -4
Green Bay -5.5 At Atlanta
The Falcons have trouble stopping the pass. The Packers can score at will through the air. We all know that the Falcons play better at home, but that's not enough of an edge for them to take out the high-octane champs. Green Bay gets the best of the Falcons in a shoot out.
Pick: Packers -5.5
At Detroit -5.5 Chicago
The Lions hype won't stop this week or next. This team's just way fun to watch. Nasty big guys upfront on both sides of the ball, dynamic QB play, come-from-behind victories, Megatron dominating in triple coverage, what more could you want?
Pick: Lions -5.5
Last Week: 10-6
Season: 36-26-2 ATS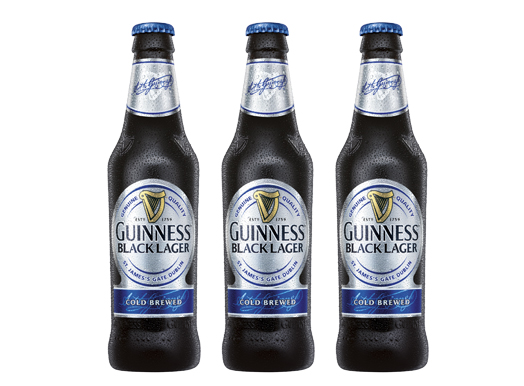 I was sent a bottle of a new Guinness beer – Guinness Black Lager. It's a black colored beer that's supposed to be served cold. It was billed as light, but I had my doubts. Regular Guinness can serve as a meal replacement, so Guinness Black Lager, how light could it be?
Well when I tried that thing, I couldn't believe it. Seriously. It's better than advertised. You're supposed to drink it right out of the bottle, so I did. As soon as that sweet, frosty light/black combo hit my lips, that bottle was toast. It had no chance. Stout – 1, new bottle of Guinness Black Lager – zero.
So what does this thing taste like? Well for starters, it's super refreshing. I like Guinness on occasion, but I wouldn't call myself a habitual stout drinker. The beer bares my name so you'd think it'd be a match made in heaven, but I don't always like the heavy, not-so-brisk taste that comes with stout beers.
That's why I'm such a big Newcastle fan. It's really not that heavy. All that "lighter side of dark" talk rings true with Newcastle Brown Ale. If you like the invigorating effect of a cold Newkie, you'll definitely dig this new Guinness. It's a fantastic extra-cold beverage; black beer that drinks like a light lager but still has distinctive malty undertones and full-bodied flavor.
Now when I say light, I don't mean low-cal. I just mean not heavy and overbearing. I could care less about the calories with this black lager. It's just too damn good.
Now maybe it was the presentation or the special delivery (the bottle of Guinness Black Lager that I received came in a fancy box with its own coozie bottle cooler jacket), but the next time I see this beer — in the store, at a bar — I'm definitely going to reach for it. If you like dark beer flavor without the heavy, heavy impact, you'll enjoy this new Black Lager from Guinness.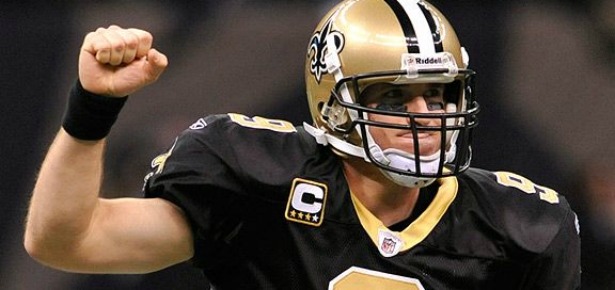 At Dallas -2 Detroit
Like everyone else, I'm fully committed to the Detroit Lions. Megatron's caught two TDs in each game this season. The Cowboys barely beat the Redskins. Romo's missing Miles Austin and the Dallas ground game isn't going anywhere. I'll take Stafford and company to keep the hype machine rolling.
Pick: Lions +2
New Orleans -7 At Jacksonville
Brees is totally dialed in this year. He's completed 68.5 percent of his passes for 1,059 yards, nine TDs and two picks. That comes out to an average of 8.1 yards per pass and a passer rating of 109.7. The Jags strength is their defense, but I don't think they'll be able to stop the second most potent offense in the NFL.
Pick: Saints -7
At Philadelphia -9 San Francisco
The Eagles are 1-2 and staring up at three 2-1 teams in their division. Vick is going to play, but it's McCoy and the ground game that have been the strength of this offense so far this season. The Niners are allowing only 62.7 rushing yards per game (third best in the league). The Eagles are desperate for a W, but San Francisco is 2-0-1 ATS this year. I think the Eagles will win, but I'll take the 49ers and the points.
Pick: Niners +9
Washington -2 At St. Louis
The Rams are still searching for their first win, while the Redskins are coming off of their first loss of the young season. If the Rams want to win, they better do it now. The next three games include trips to Green Bay and Dallas and a home game against the Saints. I say the Rams put it together at home with Steven Jackson back on the field.
Pick: Rams +2
At Cleveland -1 Tennessee
Ever since the Browns let me down in Week 1 of my survivor league, I've been finding ways to hate this team. Tennessee may have lost their best wide receiver, but they still have a hungry running back who's ready to earn his paycheck. Plus, I'm really surprised by the way that Hasselbeck is playing. He's completing 69.6 percent of his passes and averaging over 300 yards per game. Add in a much better defense and the edge goes to the Titans.
Pick: Titans +1
Buffalo-3 At Cincinnati
I like Cincy's D, but I love everything about the Buffalo offense. Fitzpatrick, Stevie, Chandler, Nelson, Fred Jackson leading the league in rushing. The Bills are my new favorite team. I've saw them give up big leads to Oakland and the Pats, but this offense has proved that it can move the ball when it wants to.
Pick: Bills -3
Minnesota -2 At Kansas City
The Chiefs made it interesting there for a bit last week against the Chargers. The Vikings have turned three first half leads into an 0-3 start. I think Minnesota will find a way to play 60 minutes and win this weekend.
Pick: Vikings -2
At Chicago -6.5 Carolina
One week, the Bears are amazing (Week 1), the next week (Week2-3), they just can't get it done. The Panthers can't run the ball or play defense, but Cam Newton's keeping things interesting. Chicago doesn't seem to keen on running the ball at all. It might be a good week to rethink that strategy. The Panthers are giving up 117 yards per game on the ground. It's not easy taking the Bears here, but I'll give them the benefit of the doubt.
Pick: Bears -6.5
At Houston -3.5 Pittsburgh
Damn the Steelers looked terrible on Sunday night when they barely escaped with a win over the Colts. And the Texans almost pulled off the upset against the Saints. I really hate picking against the Steelers, but it's kind of hard not to in this situation. Arian Foster is back. Pittsburgh's ground game is sluggish at best and their o-line is a mess. I'm still not buying into this the Steelers defense is too old business, but I think the Texans get the edge here, especially at home.
Pick: Texans -3.5
Atlanta -4.5 At Seattle
Seattle plays well at home. Atlanta plays poorly on the road. But who are we kidding? The Falcons are just a better team. If they can get Turner involved early and often, Matt Ryan will have an easier time delivering a road win.
Pick: Falcons -4.5
NY Giants -1 At Arizona
The Cardinals have problems. Their defense is atrocious and they only managed one offensive touchdown against the Seahawks last week. Meanwhile, the Giants, despite having tons of injuries, have rebounded to a nice 2-1 start after losing the opener in Washington. Eli's gotten better each game. G-Men win in the desert.
Pick: Giants -1
At San Diego -7 Miami
Desperation time just got even more desperate for the Dolphins. Daniel Thomas is doubtful for Sunday's game in San Diego. The Chargers don't look like an elite team so far this year, but you don't have to be elite to beat the Dolphins.
Pick: Chargers -7
At Green Bay -12 Denver
I don't care how high the spread is here, the Packers are going to crush the Broncos.
Pick: Packers -12
New England -5 At Oakland
This is the trickiest game to call this week. New England has the best air attack in the NFL by far (540.33 passing yards per game). Oakland has the best ground game (185 rushing yards per game). New England can't stop anything on defense. They're the worst team in the league at surrendering passing yards. Oakland's D isn't that great against the run, and they're not all that great against the pass either. It really comes down to offensive strength vs. offensive strength. The Raiders will play keep away while the Pats will get points off of almost every drive. In the end, Brady's arm outperforms McFadden's feet.
Pick: Pats -5
At Baltimore -3.5 NY Jets
Ray Rice is the real deal. You saw what he did against the Steelers. This guy is matchup-proof. Sanchez and the Jets are averaging 27.7 points per game, and all that offense is coming through the air. Shonn Greene's not getting it done and LT can't be expected to carry the load. The Ravens will make sure that the Jets ground game doesn't get going. If they can force Sanchez into making a couple bad plays, they should be able to take care of business at home.
Pick: Ravens -3.5
At Tampa Bay -10 Indianapolis
I'm never betting against the Bucs again, even when they're favored. The Colts played with pride last week, but Curtis Painter's not gonna get it done.
Pick: Bucs -10
Last Week: 7-9
Season: 26-20-2 ATS