Chris Stout
Posts by Chris Stout

Maxim's 16 hottest cover shoot videos (Maxim)
The 50 best raunchy teen comedies of all time (Complex)
5 tips for curing that flabby flat tire around your midsection (COED Magazine)
11 unintentionally dirty font fails (Asylum)
Over the barstool bowling trick shot video (A Blog 4 Guys)
6 teams that will advance to the NFL playoffs in 2010 (SportingNews)
The 10 most important things they didn't teach you at school (Cracked)
Comic: What it's really like to own an Apple product (The Oatmeal)
Cool tutorial on how to use a kettlebell (Primer)
The 100 hottest women of Entourage (BroBible)
Nothing says class act like a good ole' post-beatdown handshake refusal.

The 20 hottest female players of Wimbledon 2010 (BleacherReport)
33 hot Asian women in painted World Cup jerseys (TotalProSports)
Don't blame Zidane for team France's problems (Deadspin)
The top 10 Seinfeld sports moments (Guyism)
Sexy hooters chick squats a guy (ABlog4Guys)
6 world cup coaches that look like Bond villains (Asylum)
A look at the worst in show at E3 2010 (CraveOnline)
Videos featuring 14 idiots walking into glass doors (COED Magazine)
10 professional wrestling moves that can improve your sex life (BroBible)
Awesome article about The LeBron James Effect (The Atlantic)
I mean, there's so many than just these 160, but it's a pretty solid collection to squeeze into 10 minutes.
Not sure if I'm excited or not…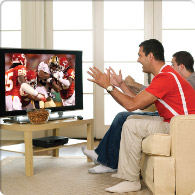 Cost Plus World Market (WorldMarket.com) is running a new promotion that can hook you up with some serious man cave gear this summer. The Win A Man Cave Sweepstakes is running until July 4, and the online sweepstakes gives you the chance to win a total man cave makeover. First place wins a 52" Sony TV and a $3500 World Market gift card. The first runner-up receives a $1000 gift card, and the second runner-up receives a $500 gift card.
In addition to the 52″ Sony, men (and women, 'cause it's open to everyone) will have the chance to score a new leather chair, grilling gadgets or a variety of items, including a collection of Beers of the World. Enter today and you can set yourself up for a fun summer in your own custom Man Cave creation.

Last month, Fantasy Springs Resort and Casino in conjunction with PlayerXT and Wet Peach Swimwear hosted the Ultimate Fantasy Weekend. Attended by scores of beautiful women, a few Playboy Playmates and a handful of NFL players, the weekend kicked off with a Battle of the Bikinis contest where 30 girls competed in a pageant to see who had the best bikini body. Tonya Torres won the bikini contest and took home $1,500.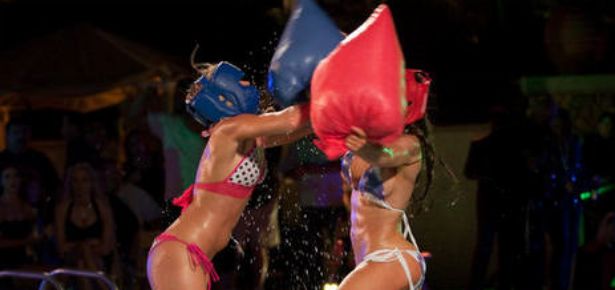 Following the pageant, the girls took to the pool for the 2010 National Bikini Pillow Fighting Championship, an extreme, take-no-prisoners battle where beautiful girls got on a float in the pool and wacked each other with wet pillows. Jazmin Siguenza, a model, rapper and boxer, was the last bikini babe standing. She also took home $1,500.
Here are some highlights from the 2010 National Bikini Pillow Fighting Championship. As you can see, the competition was pretty stiff, and some of the girls really got into it:
The Ultimate Fantasy Weekend concluded with a golf tournament at the Eagle Falls Golf Course, home of the Playboy Scramble. Throughout the weekend Fantasy Springs Resort and Casino hosted mixers at the 12th Floor Wine Bar. Nestled between the Santa Rosa and Chocolate mountain ranges in the Palm Springs Valley, Fantasy Springs served as a comfortable, accommodating backdrop for all of the weekend's activities.

7 Surefire Ways to Increase Workplace Sexual Tension (COED Magazine)
Yep, Maradona is still hilarious (YouTube)
Sexy girls named Summer (Maxim)
The awesome internet drunk hall of fame (Uproxx)
Top 20 sexiest TV scenes (TVSquad)
12 groundbreaking moments in fighting game history (Dorkly)
Files seized from Toronto physician Anthony Galea could mean trouble for NFL and CFL players (NFL Fanhouse)
GQ explains why the brilliant David Simon missed the mark with his latest show – Treme (GQ)
This Paraguayan fan knows how to blow a vuvuzela (TotalProSports)