Chris Stout
Posts by Chris Stout
From the mind of M. Night….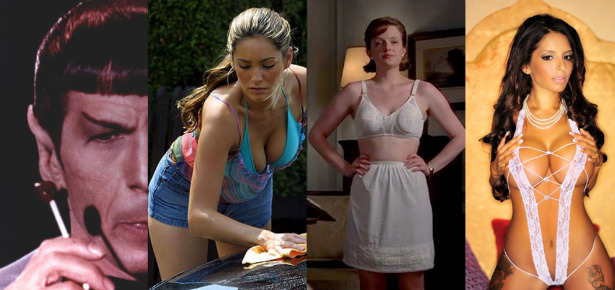 Star Trek off-camera photos (Dave & Thomas)
Tehmeena Afzal is unquestionably fit and sexy (MankindUnplugged)
The 20 hottest celebrity bikini car wash photos (Sub5Zero)
The evolution of Mad Men's Peggy Olson (Nerve)
15 players who've had their fantasy stock drop during the preseason (Rotoworld)
That fat Indonesian baby finally stopped smoking (CNN)
15 badass TV credit sequences from the 70s (Kold Cast TV)
10 Mistakes That Start-Up Entrepreneurs Make (Wall Street Journal)
The first 6 things a girl notices in a guy (Leftos)
10 teams Hard Knocks was made for (Gunaxin Sports)
How Frank McCourt plunged the Dodgers into serious debt (LA Times)
Michael Silver's NFL owner rankings Part 1 (Yahoo! Sports)
Michael Silver's NFL owner rankings Part 2 (Yahoo! Sports)
5 fantasy football predictions for 2010 (AskMen)
10 famous dudes with only one ball (Asylum)
Video of some dumb crazy bitch throwing puppies into a river (Buzzfeed)
How to make hot homemade Sriracha! (Food52)
Ultra-disturbing video of Yoko Ono bustin' out a fake orgasm on the mic at MoMA (YouTube)
6 celebrities who got their fake boobies removed (The Frisky)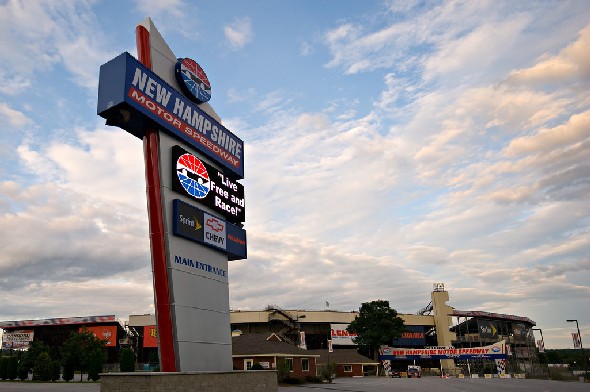 The SYLVANIA 300 is a NASCAR Sprint Cup Series race that's held every year at the New Hampshire Motor Speedway in Loudon, New Hampshire. This year's SYLANIA 300 will take place on Sunday, September 19th. If you've ever wanted to experience NASCAR in style, lighting leader SYLVANIA is running a contest that you need to check out.
The SYLANIA Ultimate VIP Experience contest is a NASCAR lover's dream come true. One lucky fan (and a guest) will get to experience the event in true VIP style. The winner of the contest will arrive at the speedway in a helicopter, tour the NASCAR Sprint Cup garage, attend the drivers' meeting, watch the race from a luxury suite, visit victory lane and receive a gift basket filled with lighting products and race souvenirs.
Anyone who purchases tickets to the race will be entered in the contest automatically, but fans who have not purchased tickets can enter the contest at no cost.
To enter the SYLANIA Ultimate VIP Experience, just visit the New Hampshire Motor Speedway site by September 10 and fill out a quick entry form. The winner will be selected on Monday, September 13.
What the hell is this?  Who the hell is Fred?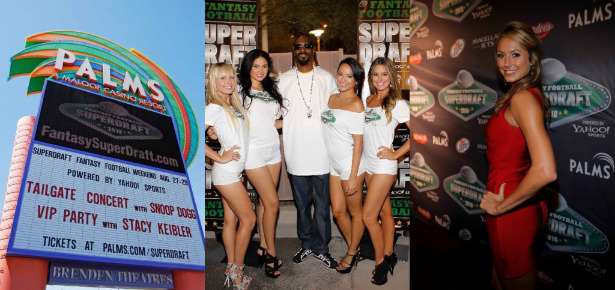 What do you get when you take 2,000 fantasy football nerds, countless beautiful women, tons of football-lovin' celebs, a handful of fantasy experts and put 'em all in the Palms Casino in Vegas? The ultimate fantasy football draft experience, aka Fantasy Football Superdraft 2010.
The MANjr team was more than happy to attend this year's epic fantasy football celebration. We weren't really sure what to expect when we got there, but we were certainly impressed.
The Superdraft was designed to give fantasy football players a more memorable drafting experience. Why make your picks on your laptop at home when you can grab your boys and party it up in Vegas? Saturday was the main draft day. Players who reserved spots were making their picks, consulting with experts and checking out celebs.
Ashton Kutcher, TJ Jefferson and Nathan Zegura (aka The Fantasy Consultant) hosted a live fantasy football show on Friday. Stacy Kiebler hosted a VIP party at the Rain Nightclub inside the Palms. Kiebler knows her stuff too. She's a former Baltimore Ravens cheerleader and diehard Ravens fan who was drafting her squad in the main draft room on Saturday. Shannon Elizabeth had her own Superdraft party at the LAX nightclub at Luxor as well. While Kiebler gets props for being a former cheerleader, Elizabeth gets extra points for sporting a Troy Polamalu jersey on draft day.
Outside of all the celebs, you had throngs of jaw-dropping beautiful girls running around all weekend. Everywhere you turned you'd see babe armies making all the fantasy football heads nervous and happy. Whenever we rounded a corner at the Palms, troops of gorgeous gals (I'm looking at you Miller Lite girls) were marching down the casino floor.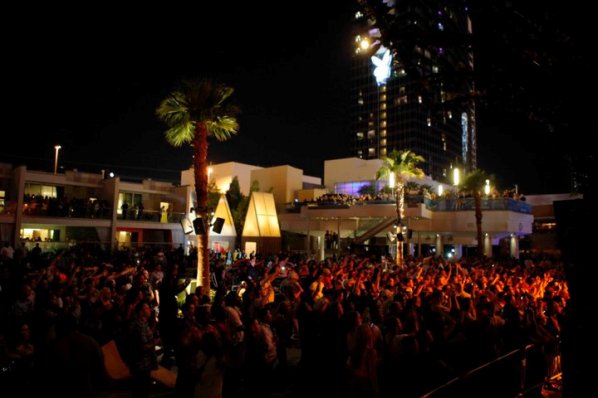 All the draft day action, VIP parties, celebs and eye candy aside, the best part of the weekend by far was the Tailgate Concert that Snoop Dogg put on. What an incredible show. Not like this is news or anything, but that guy Snoop can really rock a crowd. He came out with a bada dada da and the crowd erupted for the "Next Episode." Snoop played all the favorites. He mixed the old with the new:
"Nuthin' But a G Thang"
"Who Am I (What's my Name?)"
"Gin and Juice"
"Drop It Like It's Hot"
"Sensual Seduction"
"I Wanna Rock"
That set would've been amazing by itself, but Snoop showed all kinds of range. He did a "Rock Steady" duet with Fantasia and a cover of "Jump Around." Snoop paid tribute to 2Pac with "Hail Mary" and "2 of Americaz Most Wanted." Everyone in attendance lost it to "Ain't No Fun (If the Homies Can't Have None)" with Kurupt and Warren G both there doing their thing on stage. When Warren G busted out "Regulators," the crowd went nuts.
At one point in the show, Demi Moore got on stage and got all nasty with Snoop while Ashton took photos with his phone. There's something to tweet about, big guy. It's hard to look cool when your hot wife's getting down with the Doggfather, but Ashton was on the receiving end of some Demi freakin' as well. Damn, that lady's fit.
I don't see how this annual draft bonanza doesn't get bigger every year. It's too smart. The formula works too well. Babes (yea, model search!), clubs, fantasy experts, celebs, good music and a party atmosphere for your imaginary football team selection festivities – I can't think of a better way to kickoff the season.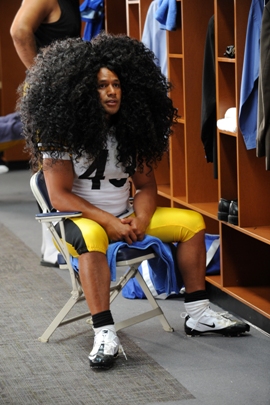 Troy Polamalu is a lot of things. He's a bone-crushing, acrobatic force of nature on the football field. He's a family man, a piano player and a deeply spiritual and soft-spoken dude. He's the key to the Pittsburgh's playoff hopes this season. When he's not covering the entire football field on every defensive snap, he grows flowers, makes furniture and serves as the spokesman for head & shoulders.
It's a brilliant pairing, really. Polamalu's hair has become his trademark. The guy hasn't been to a barber shop in over seven years, so he obviously knows how to take care of that crazy mane.
Well head & shoulders is taking care of Troy's hair, too. Big time. It was announced today that the company has taken out a $1 million insurance policy on Troy's signature hair.
"head & shoulders has gone above and beyond this year by insuring my Samoan locks for a cool $1 million. This reinforces that my full and thick hair is unstoppable," Polamalu said.
Polamalu's hair will be protected throughout the NFL season by Lloyd's of London, one of the most prestigious insurance agencies in the world.
"In developing this unique policy, we recognize that Troy Polamalu's famed head of hair is truly legendary and we are proud to partner with head & shoulders to protect it," said Jonathan Thomas of Watkins Syndicate at Lloyd's of London.
Troy's hair is such a useful marketing tool that it's been given its own website – TroysHair.com. You can visit the interactive site to learn more about Troy's hair (end to end it spans over 100 football fields), Hair Endurance for Men from head & shoulders and possibly win some NFL prizes like a VIP package to Super Bowl XLV.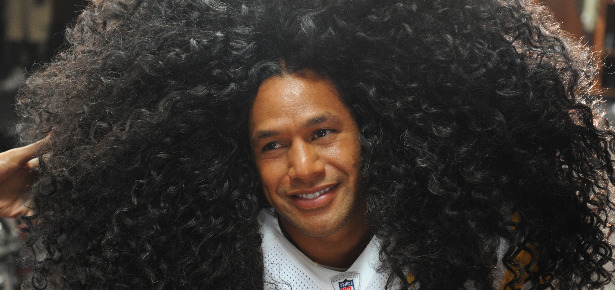 The MANjr team is heading to Vegas this weekend, and we're stoked about our getaway to Sin City. Our trip is going to include a review of world-class gentleman's club Rick's Cabaret. Founded in 1983, Rick's has locations in Manhattan, Minneapolis, Vegas, Dallas-Fort Worth, Houston, Austin and San Antonio.
Fun fact: Anna Nicole Smith met her billionaire husband while dancing at Rick's Cabaret!
We're looking forward to getting the VIP treatment from the team at Rick's in Vegas. They've arranged to pick us up from our hotel and show us a good time at the club. Here's a quick look at what's in store for us: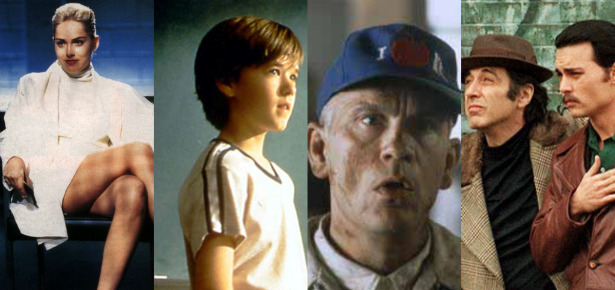 Things are somewhat different in Japan. You know this already. The Japanese have different views on automobiles, pet grooming and hotel bathroom signs. They also have different names for your favorite American movies. Here are 10 awesome examples of Japanese titles for American films.
10. Possible Kingdom (Pay It Forward)
If Haley Joel Osment were king, anything would be possible.
9. If You Find a Writer (Finding Forrester)
You found the writer now, dog!
8. Fortune Cookie (Freaky Friday)
Cause they don't have Fridays in Japan.
7. Melanie Is Going (Sweet Home Alabama)
Where the hell is Alabama?
6. Battlefield Pianist (The Pianist)
Is this movie about a piano? No bro, it's about war.
5. Chocolate (Monster's Ball)
Chocolate, it makes you feel good.
4. Smirk of Ice (Basic Instinct)
Sharon Stone is a sexy, cold-hearted killer, but at least she has a sense of humor!
3. Malkovich's Hole (Being John Malkovich)
Sounds like a porno, but it really makes more sense this way.
2. Fake (Donnie Brasco)
Spoiler Alert!
1. Cheers! (Bring It On)
Like totally cheers me out, I mean right on.

Chad Ochocinco has a Twitter problem. It's nothing new. The guy's been on the tweets for some time now. He loves it. Ochocinco even started his own sports network on the thing. OCNN, the Ochocinco News Network, was launched last year under the slogan "If I break it, you might as well believe it."
But tweets have gotten Ochocinco in trouble in the past. He got some heat for smack tweeting with guys like Nick Barnett, Shawne Merriman, Mark Schlereth, Mike Golic and Mike Florio When the NFL fined Ochocinco $30,000 for sporting a decorative poncho and sombrero, the fine was so stiff because Ochocinco tweeted about the celebration ahead of time."What I've planned for today will get me fined when I score but it's so worth it," he posted in a tweet to Adam Schefter.
Last season, Ochocinco's Twitter obsession prompted the NFL to issue a game day social media policy. The policy prevents all players, coaches and football personnel from posting to social media sites like Twitter and Facebook 90 minutes before the start of the game up until the post-game interviews are completed.
Ochocinco wasn't happy about the policy at the time. "Damn NFL and these rules," Ochocinco tweeted last summer.  "I am going by my own set of rules, I ain't hurting nobody or getting in trouble, I am putting my foot down!!"
After getting hit hard in a preseason game last week, Ochocinco decided to post an in-game tweet about it:
"Man Im sick of getting hit like that, its the damn preseason shit! 1day I'm gone jump up and start throwing hay makers, #Tylenolplease."
And the NFL fined him $25,000 for it.
Ochocinco's response?
"Dear NFL I apologize for tweeting during the game but that was 2 months of my you just took from me, I won't do it again"
So there you have it. Ochocinco says he won't do it again. I say if you're going to get fined $25,000, have it be for something bold, not an in-game preseason tweet. It just doesn't seem worth the 25K.
The NFL has to draw the line somewhere, but the league also needs players like Ochocinco to push the envelope on fun a little bit. I just hope the next fine Ochocinco gets is for something more entertaining than tweeting a Tylenol joke.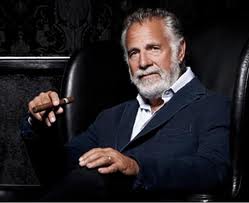 MANjr fans know that we love Jonathan Goldsmith. He's a cool, intelligent guy and a great interview. We also like the killer Cowherd-Beadle combo that is ESPN's SportsNation. So when these two great tastes combine to create something extra tasty, we need to mention it.
Goldsmith appeared on SportsNation today and participated in a couple of games. He also crushed Texas Rangers pitcher Rich Harden in a poll that asked which pitch man was more interesting.
Goldsmith also participated in an online chat with SportsNation fans. Here's a link to the chat on the ESPN SportsNation website.