Chris Stout
Posts by Chris Stout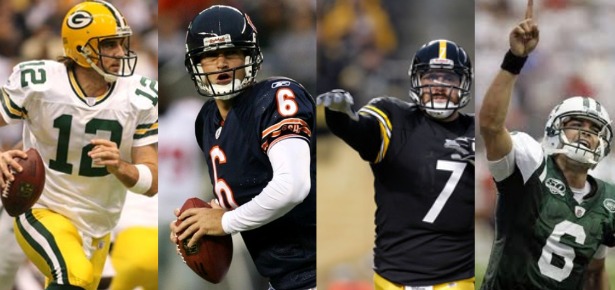 What a sick set of playoff games we got going here, folks. The Seahawks shocked the world in the first round by knocking off the champs. Then they got beaten up in frosty Chicago. Atlanta was 13-3, but they had no answer for the red-hot Packers and their deadly QB. The Ravens stuck it to the Chiefs, but couldn't stop Pittsburgh from coming back to secure their third straight playoff victory against Baltimore.
Then there's the Jets. Everyone loved 'em, then turned on them, and now all the love is back. If the Pats win, Rex Ryan is a pompous fool whose shit-talking ways could not match the evil composure of New England. But the Pats lost, so Ryan's bluster is a strength once again.
The Jets have every right to be all proud and swaggery. They shut down the Colts at home. They neutered New England in Foxborough. They were motivated by so many factors: beatdown redemption, fetish jokes, hell, they were even fighting for Dennis Byrd, who overcame a gruesome neck injury in 1992 and beat paralysis so he could inspire future Jets players to stick it to the Patriots.
So many story lines. So much drama. And now we're down to the final four. With three more meaningful football games left, let's take a look at who we think will make it to the big dance.
Green Bay -3.5 At Chicago
It had to be this way. What a classic NFC matchup. These two teams have such a storied, historic rivalry, but they met in the playoffs only once (back in 1941). Seventy years is long time to wait for a postseason rematch, but these teams know each other well, and they've been preparing for this moment for some time.
Road to the NFC Championship
When he was hired back in 2004, Chicago head coach Lovie Smith laid out his strategy for success: 1) Beat the Packers. 2) Win the division. 3) Win the Super Bowl.
The following year in Green Bay, Aaron Rodgers was brought in to make everyone forget about Favre. He sat in the shadows, growing his beard for a handful of seasons before Green Bay finally pulled the trigger and sent Favre packing. Rodgers has developed into a top-tier quarterback, something the Bears lacked desperately.
Fast forward to 2009. Chicago brings in sleepy face all-star Jay Cutler to run the offense. Things didn't work out that well last season (or during the first half of this year), but with the o-line coming together and Mike Martz making his celebrated in-season strategy adjustment after the bye week, the Bears offense is finally working.
Now on paper, Chicago's had the easiest road to the Super Bowl in the history of the NFL. They got to host the worst playoff team in NFL history, and they follow that up with a visit from the No.6 seed in the NFC. The Packers aren't your typical six seed, and the Seahawks earned some respect by taking out the Saints. Still, the Bears are just one home win away from their second Super Bowl appearance in five years.
The Packers have had their back against the wall since Week 16 of the regular season. To get into the tournament, Green Bay needed victories in two must-win regular season games against the Giants and the Bears. The Packers took care of business. They followed that up by taking out an Eagles team that was favored to win. They were dogs in Atlanta and they dismantled that team. The Packers have been in playoff mode for more than a month. The Falcons and Pats showed this weekend that momentum is a huge factor in the postseason. Like the Steelers in '05, the Giants in '07 and the Cardinals in '08, teams that peak at the right time can do serious damage in the playoffs.
The Matchup
Chicago matches up well against the Packers. The Bears won the first regular season meeting in Soldier Field by a field goal, and with nothing for the Bears to play for, the Packers beat the Bears in Lambeau by a score in the final game of the regular season. Field conditions won't be an issue for either team. These teams compete in the coldest division in football. They're both used to playing in shit conditions.
So the real question is, which Cutler will we see this weekend? The confident, attacking, even-I-can't-believe-I-ran-for-two-scores warrior that we saw for most of the Seattle game? Or the guy who too often targets the wrong color jersey (like he did on that one, unthinkable goal line pass this past Sunday).
Cutler's a question mark, but Rodgers isn't. The guy's on a different level right now. In two playoff games, he's completed 49 passes on 63 attempts for 546 yards, 6 TDs and no picks. Completing 77.8 percent of your playoff passes is pretty ridiculous. He's obviously getting great protection, but even when the pocket collapses, Rodgers has been able to create opportunities. His QB rating this postseason is 134.5.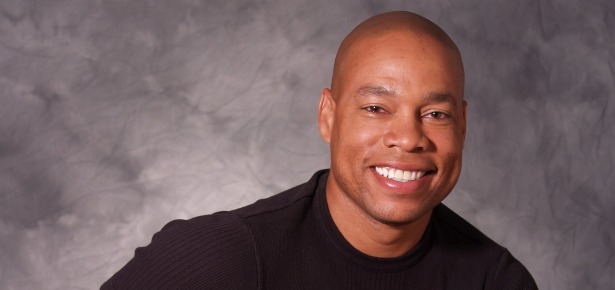 Harvey Walden doesn't want to hear your excuses, bro. The former drill instructor, who has appeared on shows like Fat Club and Celebrity Fit Club, is an all-around fitness badass. He believes that proper fitness isn't a chore. For Walden, living a healthy lifestyle isn't something that you should convince yourself to do. It's the obvious play. Why the hell wouldn't you want to be healthy? It's an easy choice, and one that you need to make every day.
That's not to say that you don't have to work at it. But for Walden, fitness isn't work. It's an investment in your longevity. You only have one body in this life. Why not maintain it, right?
I spoke with Walden this week to get his thoughts on fitness, nutrition, dumbbell exercises, P90X and beer belly trouble. His takes were simple and refreshing. The guy knows how to motivate, and it's hard to argue with his logic and his no-nonsense, quit-your-bitching-you-soft-excuse-for-a-man approach to fitness. Here's the full interview:
CS: Let me ask you first about your motivational style. I know you were in the Marines for like 20 years and you bring a drill sergeant mentality to your approach to fitness, so how exactly do you go about motivating people and what do you think is the best way to motivate people fitness wise?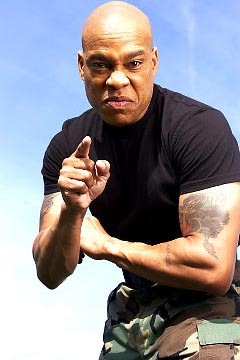 HW: Well that's what works for me, because that's what I know best. I was brought up in the martial arts as a young kid, so I always had an authoritarian type of mentality. Just kind of making people do what they don't really want to do, but helping them come out of their comfort zone. Once they see what they're really capable of, they really enjoy it. They like it. A lot of people get stuck in that rut and don't want to come out of their comfort zone. But once I bring them out of that, it's a good thing and they enjoy it, you know. And that's my gratification, too. Like you said, I was in the Marine Corps. I was in the Marine Corps for over 23 years and there's nothing better than taking somebody who can't even walk and chew gum at the same time and then showing them that they can really rock and roll and kick butt and take initials.
CS: So it's after the New Year and everybody's got their New Year's resolutions to either trim down or just live a healthier lifestyle. What do you think are some essential fitness elements that are missing from most people's routines?
HW: Consistency. Everybody wants to deal with these fad diets. They see these hot new diets out there and that trash don't work. You have to go right back to the basics, man. You know, eating healthy meals, watching your portions, actually busting your butt and doing the work in a gym or power-walking or running. Get yourself a partner, too. You know you can never go wrong if you get a workout partner; somebody who wants to lose that beer belly right along with you. You're going to keep each other honest. You should also keep a journal. Write down everything you've done. Write down how much you're eating, write down what you're eating, put down your moods, if you're having a bad hair day put that down in there, but still get your butt in there and work out and when you get done working out you'll see that your mood has changed. You'll appreciate the fact that you gave it that extra 110 percent and stop making excuses and just get it done.  If you're caught up with the fad diets, it won't last. But if you do it the right way, it'll last forever. You'll put your body in a state that always has what we call "muscle memory." If you fall off that track, it'll be easy for you to get right back in the fight and get all the checks and balances in check.
CS: Now if someone doesn't have a gym membership but they still want to do some sort of daily exercises to kind of start small and get into it – get into that consistency – what are some back-to-basics types of fitness exercises that you recommend people do?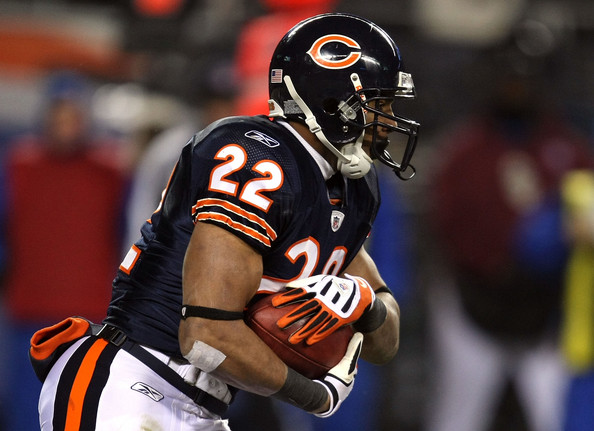 At Pittsburgh -3 Baltimore
You gotta love this matchup. Two brutally physical teams that hate each other and split close games in the regular season get a postseason rubber match to decide who gets to represent the division in the AFC Championship game. Both teams can run and stop the run. Both teams have quality QBs and gam-changing safeties. Linebackers on both sides can wreak havoc on the opposing team's offense. There's no trickery here. No hidden surprises. Just 60 smash mouth minutes of entertaining football. Ray Rice will make more plays in the passing game and he'll have more of an impact than Rashard Mendenhall. Mike Wallace finds the endzone. Big Ben outduels Flacco the road warrior, and the Steelers D makes a couple more impact plays than Baltimore's defense. No room for kicking errors here. It'll be a close one, but after Saturday, Tomlin will have a 7-0 record against the Ravens in games started by Big Ben.
PICK: Steelers -3
At Atlanta -2 Green Bay
The Falcons looked kinda vulnerable against the Saints a few weeks back. I've been underestimating Atlanta all year, but I just don't see this Packers run ending in the divisional round. Rodgers is playing confident, mistake-free football, and he now has the semblance of a running game to pair with his top-notch passing skills. Atlanta isn't without weapons, but the Packers defense is just better. During the regular season, Green Bay allowed fewer points and fewer yards than Atlanta. There will be a good deal of scoring in this game. Matt Ryan will stay composed, Turner will rack up yards, but the Packers win 'cause they're a better team that's peaking at the right time.
PICK: Packers +2
At Chicago -10 Seattle
I've hated on the Bears all year, but this team has managed to really get into a groove. The o-line is protecting better, they're more balanced offensively, the defense has looked sharp and Matt Forte had a great second half. Cutler's a wildcard, though. When he plays good, he looks damn near elite. When he makes mistakes, he makes them in bunches. I didn't think Seattle could win the last two weeks, but they took advantage of their home field, moved the ball well and they reduced turnovers. I think the Bears are going to win this game, but the line doesn't reflect the momentum that Seattle's accumulated. Forte goes off and the Bears win, but not by more than 10.
PICK: Seahawks +10
At New England -9 NY Jets
So many insults. So many foot references. I can't wait for this game to be played so that we can end all the talk and just watch some bitter division rivals play angry football. I didn't think the Jets would get out of Indy, but they did. The Pats look poised as hell, though. They're the favorites to win the Super Bowl for a reason. They don't turn the ball over and their defense is quietly gelling. But the Jets are bitter. They're angry about the regular season beatdown. They're angry about being second-fiddle to the golden boy QB and the genius head coach. The Jets will be high on emotions, but the Pats will be programmatic with their attack. If Sanchez plays throws passes like he did last week, this game has the potential to turn ugly real fast. The Jets deserve to be where they are, but the Pats will remind them who owns the AFC East.
PICK: Pats -9
Last week: 2-2
Season: 129-122-7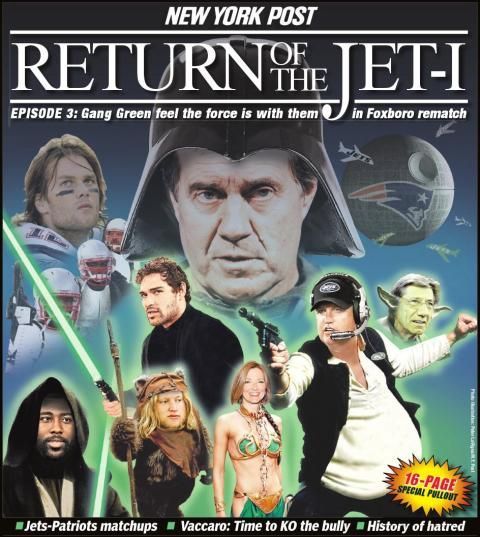 Thanks NY Post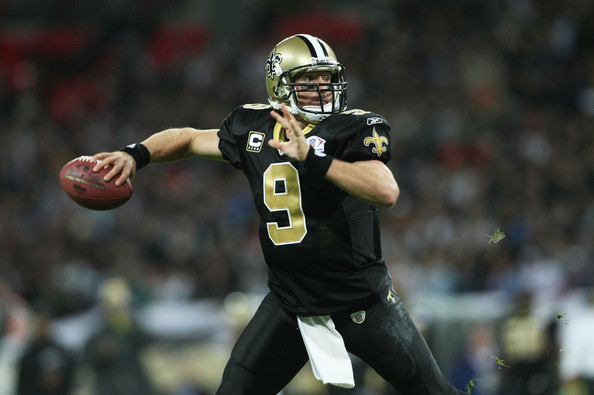 I love the playoffs. Anything can happen in the NFL postseason, but the start of the playoffs also signals that the end is near. Soon, there won't be any more football on Sundays. You'll have no excuse to block off half your weekend for beers, TV and couch time. You'll have to start taking out your lady, going to family events, all kinds of nonsense like that. Might as well enjoy football while you still can. Do yourself a favor enjoy a Saturday and Sunday full of quality Wildcard action. Now on to the picks.
New Orleans -10 At Seattle
Seattle messed up my miracle parlay last week. Everything fell into place with Pittsburgh, Houston, Atlanta and Tampa Bay all covering. Then, the Rams walked into a a fired up home crowd and a surprisingly efficient Charlie Whitehurst. So thanks Seattle for cheating me out of a $400-plus payout. The Saints are banged up, but they still have Brees at the helm. He should do more damage against Seattle than Bradford and a group of wide receivers that couldn't catch a damn thing. The spread's high and I'd like to give some respect to the Seahawks at home, but I can't do it. Hasselbeck's going to get pressured and Brees can create enough big passing plays to cover the wide margin.
Pick: Saints -10
At Indianapolis -2.5 NY Jets
The Jets are a decent team. They beat the Steelers on the road and they rebounded from their late season losses with a strong showing last week. Still, I'm not going to pick against Peyton Manning at home. Collie's gone, but the running game is coming up strong. The Jets will be able to move the ball on the Colts D, but as long as Manning doesn't have shifty-rattled playoff feet, he should be able to lead his team to victory.
Pick: Colts -2.5
Baltimore-3 At Kansas City
Playing at Arrowhead's no easy task, but the Ravens can win playoff games on the road. Cassel's mistake-free season has gotten messy over the least couple games, and the Ravens offense hasn't really been lighting up opponents as of late. This is going to be a low scoring grinder game with Charles and Rice battling for tough yards on the ground. One big turnover should tip the scales, and with an extra-emotional Ed Reed on the field, the edge goes to the visiting team.
Pick: Ravens -3
At Philadelphia -2.5 Green Bay
Vick will face the blitz and still make plays. But will he make mistakes as well? Vick needs to be smart with the ball and the Eagles need a heavy does of LeSean McCoy to keep Green Bay's defense honest. I think Aaron Rodgers is dialed in right now, and I like the Packers to edge out the Eagles in a high scoring game.
Pick: Packers +2.5
Last week: 8-8
Season: 127-120-7

Homeless all-star Ted Williams took the world by storm this week when a video surfaced of his amazing radio voice. The guy went from viral video curiosity to paid talent in no time. He's lined up announcer work with the Cavs, some commercial work for Kraft, a possible job with NFL Films, and he was even contacted by Jack Nicholson. All because of this clip:
But who does Ted Williams remind you of? To some, the homeless guy with the golden radio voice seems to be a copy of Bubs from The Wire: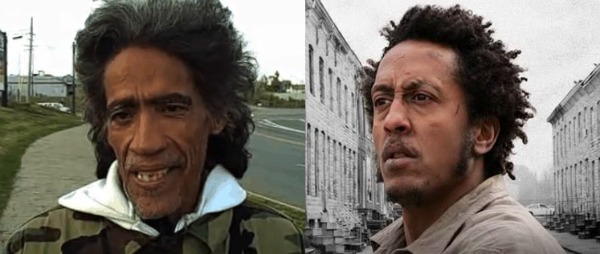 But when he cleaned himself up, Williams looked downright presidential: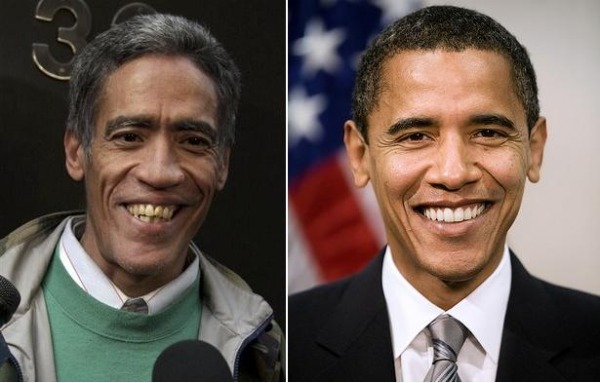 Does Ted Williams look more like Bubs or Barack? We'll let the commenters decide….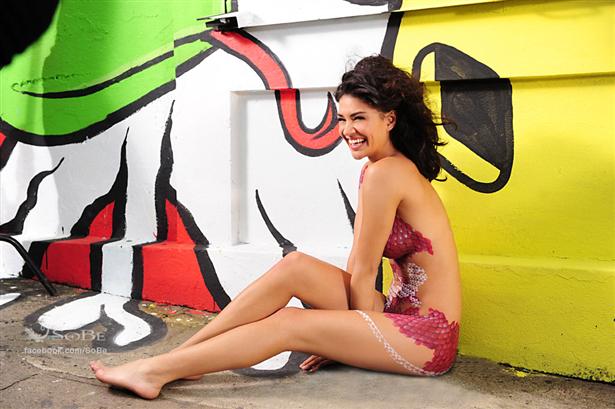 Jessica Szohr is hot. She made the People Magazine's list of 100 Most Beautiful People in the World in 2010, and she's been sizzling it up on Gossip Girl since 2007. When SoBe approached Jessica to do a skinsuit photo shoot to promote the launch of SoBe Lifewater with electrolytes, she jumped at the chance. When MANjr got asked to interview this stunning starlet, we jumped at the chance, too.
Szohr traveled to Costa Rica for the SoBe Lifewater skinsuit photo shoot. Each skinsuit she wore required  11-plus hours or body paint application. She posed in the juggle sporting nothing but body paint inspired by the new SoBe Lifewater bottle, Strawberry Kiwi Lemonade with electrolytes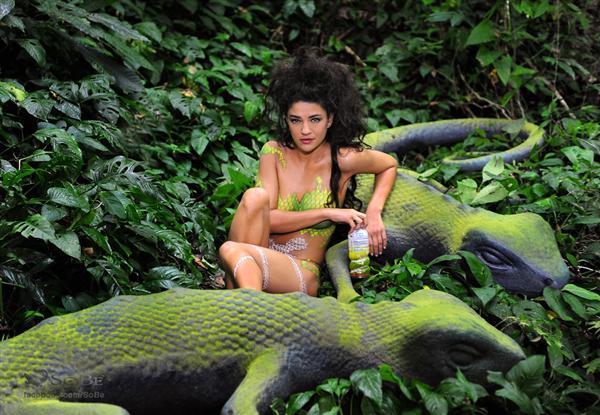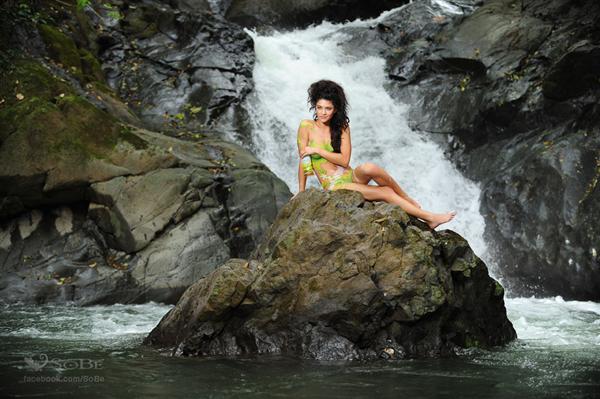 After that, she visited the urban jungle of San Jose wearing a skinsuit inspired by another new electrolyte-packed flavor, Macintosh Apple Cherry.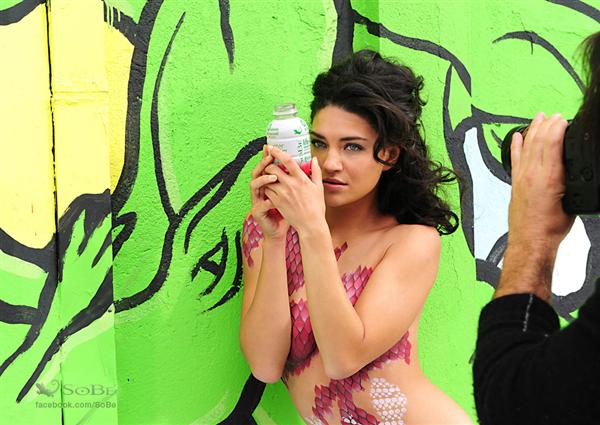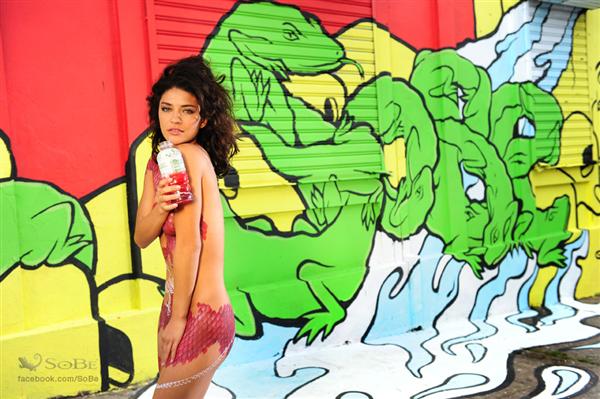 I had chance to speak with Jessica about the shoot, the body paint application, Gossip Girl, Piranha 3D  and her upcoming films. I also got to ask her about appearing on Freaks and Geeks, which didn't actually happen. I scored it as an IMDB fail, but the credit for the misinformation actually goes to Wikipedia (proving once again that you can't always believe everything that you web).  Here's the interview:
Photos from the SoBe Lifewater skinsuit shoot will be appearing in the upcoming Sports Illustrated Swimsuit Edition, which hits newsstands on February 15. You can also check out more from the shoot on SoBe's Facebook page.
I caught this on boing boing yesterday. Visit the UnderCity.org site. Some seriously fascinating stuff on guerrilla history and urban exploration. Check out this video of Andrew Wonder exploring the nether regions of NYC: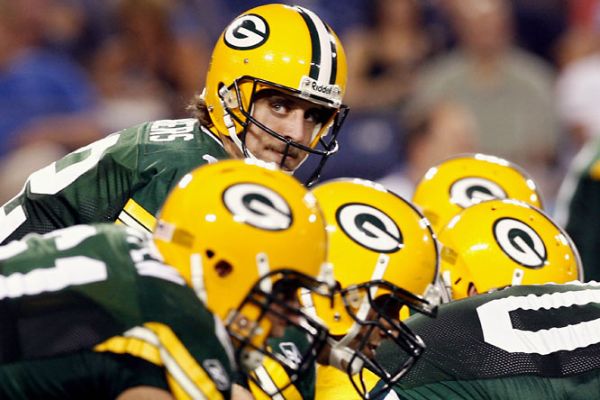 At Kansas City -3.5 Oakland

PICK: Chiefs -3.5

At Green Bay -10 Chicago

PICK: Packers -10

At New England -3.5 Miami

PICK: Pats -3.5

At Philadelphia -7 Dallas

PICK: Eagles -7

At Indianapolis -9.5 Tennessee

PICK: Titans +9.5

At NY Jets -2 Buffalo

PICK: Bills +2

Jacksonville -2.5 At Houston

PICK: Jags -2.5

At Atlanta -14.5 Carolina

PICK: Falcons -14.5

Pittsburgh -6 At Cleveland

PICK: Steelers -6

At New Orleans -7.5 Tampa Bay

PICK: Bucs +7.5

At Baltimore -9.5 Cincinnati

PICK: Bengals +9.5

St. Louis -3 At Seattle

PICK: Rams -3

At Detroit -3 Minnesota

PICK: Lions -3

At San Francisco -6.5 Arizona

PICK: Cardinals +6.5

NY Giants -4 At Washington

PICK: Giants -4

San Diego -3.5 At Denver

PICK: Chargers -3.5
Last week: 11-5
Season: 119-112-7


The 2011 Pro Bowl roster selections are out, and while there are a plenty of familiar faces in the mix, there are quite a few newbies in the bunch this season. The Pro Bowl is going back to Honolulu this year, and the game will be played a week before the Super Bowl. Here's a couple of quick observations on the 2011 Pro Bowl roster selections:
Four rookies made the Pro Bowl this year (pictured above), and all of them deserved the recognition. Lions DT Ndamukong Suh leads all interior lineman with 9 sacks this season. He'll start for the NFC. Steelers center Maurkice Pouncey has been a strong, stabilizing force for an offensive line that's been uncharacteristically shaky the past couple seasons. Plus, he's got a great name for an O-lineman. Pats CB Devin McCourty's racked up six picks, two forced fumbles and 81 tackles for a super-young defense in New England, proving again that the Pats know how to find draft gems at the bottom of the first round. Titans kick returner Marc Mariani amassed 1411 yards and one score on 56 kickoff returns this year. He also added 322 yards and a score on 25 punt returns.
The QB selections shouldn't surprise anyone. The AFC's picks include Brady, Manning and Rivers. Vick, Ryan and Brees will represent the AFC. Solid groups for both squads. Vick and Brady were neck-in-neck as consensus MVP picks before the Eagles fell flat against the Vikings in last night's Tuesday Night Football upset. Brady should lock up his second MVP award without much debate.
Lots of newcomers made the Pro Bowl this year. The NFC is sending seven first-time selections to the Pro Bowl. The AFC is sending 14 fresh faces.
Texans WR Andre Johnson likely won't play in the Pro Bowl. I think Steelers receiver Mike Wallace should get some consideration when the league looks to fill that spot.
The Pro Bowl just isn't big enough to include every awesome player in the league. Notable snubs this year include guys like Aaron Rodgers (101.9 QB rating, 3693 passing yards) and Matt Cassel (27 TDs to 5 INTs), Chris Johnson (1325 yards, 11 TDs), Peyton Hillis (1164 yards, 11 TDs) and LeSean McCoy (over 1000 yards rushing,  leads all RBs with 78 catches for 592 yards), LaMarr Woodley (8.5 sacks, 3 forced fumbles and 2 INTs), Derrick Johnson (116 tackles, 4 forced fumbles) and Shaun Phillips (11 sacks). It's hard to argue against the selections at QB, RB and LB for either squad though.
Is DeAngelo Hall worthy of a trip to Honolulu? I know he's got six interceptions, but it seems like the guy gets burned a bunch.
Old timers like Packers CB Charles Woodson and OT Chad Clifton made the NFC squad on reputation this year.
Tony Gonzalez has been ridiculous for years, but this season the future Hall of Fame tight end didn't do a damn thing. We broke 100-yards just once (in Week 3), and he only had three weeks where he delivered double-digits fantasy points. He's just not the same guy. Useful, sure, but no longer worthy of being named an elite, All-Star-type player.
Here's the complete list:
AFC Offense

NFC Offense

Quarterbacks

Tom Brady, New England

Philip Rivers, San Diego

Peyton Manning, Indianapolis

Quarterbacks

Michael Vick, Philadelphia

Matt Ryan, Atlanta

Drew Brees, New Orleans

Running Backs

Maurice Jones-Drew, Jacksonville

Arian Foster, Houston

Jamaal Charles, Kansas City

Running Backs

Michael Turner, Atlanta

Adrian Peterson, Minnesota

Steven Jackson, St. Louis

Fullback

Vonta Leach, Houston

Fullback

Ovie Mughelli, Atlanta

Wide Receivers

Andre Johnson, Houston

Reggie Wayne, Indianapolis

Brandon Lloyd, Denver

Dwayne Bowe, Kansas City

Wide Receivers

Roddy White, Atlanta

Calvin Johnson, Detroit

DeSean Jackson, Philadelphia

Greg Jennings, Green Bay

Tight Ends

Antonio Gates, San Diego

Marcedes Lewis, Jacksonville

Tight Ends

Jason Witten, Dallas

Tony Gonzalez, Atlanta

Centers

Nick Mangold, N.Y. Jets

Maurkice Pouncey, Pittsburgh

Centers

Andre Gurode, Dallas

Shaun O'Hara, N.Y. Giants

Guards

Kris Dielman, San Diego

Logan Mankins, New England

Brian Waters, Kansas City

Guards

Jahri Evans, New Orleans

Chris Snee, N.Y. Giants

Carl Nicks, New Orleans

Tackles

Jake Long, Miami

Joe Thomas, Cleveland

D'Brickashaw Ferguson, N.Y. Jets

Tackles

Jason Peters, Philadelphia

Jordan Gross, Carolina

Chad Clifton, Green Bay

AFC Defense

NFC Defense

Defensive Ends

Dwight Freeney, Indianapolis

Robert Mathis, Indianapolis

Jason Babin, Tennessee

Defensive Ends

Julius Peppers, Chicago

John Abraham, Atlanta

Justin Tuck, N.Y. Giants

Interior Linemen

Haloti Ngata, Baltimore

Vince Wilfork, New England

Richard Seymour, Oakland

Interior Linemen

Ndamukong Suh, Detroit

Jay Ratliff, Dallas

Justin Smith, San Francisco

Inside Linebackers

Ray Lewis, Baltimore

Jerod Mayo, New England

Inside Linebackers

Patrick Willis, San Francisco

Brian Urlacher, Chicago

Outside Linebackers

James Harrison, Pittsburgh

Cameron Wake, Miami

Terrell Suggs, Baltimore

Outside Linebackers

Clay Matthews, Green Bay

DeMarcus Ware, Dallas

Lance Briggs, Chicago

Cornerbacks

Nnamdi Asomugha, Oakland

Darrelle Revis, N.Y. Jets

Devin McCourty, New England

Cornerbacks

Asante Samuel, Philadelphia

Charles Woodson, Green Bay

DeAngelo Hall, Washington

Strong Safety

Troy Polamalu, Pittsburgh

Strong Safety

Adrian Wilson, Arizona

Free Safeties

Ed Reed, Baltimore

Brandon Meriweather, New England

Free Safeties

Nick Collins, Green Bay

Antrel Rolle, N.Y. Giants

AFC Specialists

NFC Specialists

Punter

Shane Lechler, Oakland

Punter

Mat McBriar, Dallas

Kick-Return Specialist

Marc Mariani, Tennessee

Kick-Return Specialist

Devin Hester, Chicago

Kicker

Billy Cundiff, Baltimore

Kicker

David Akers, Philadelphia

Special-Teamer

Montell Owens, Jacksonville

Special-Teamer

Eric Weems, Atlanta