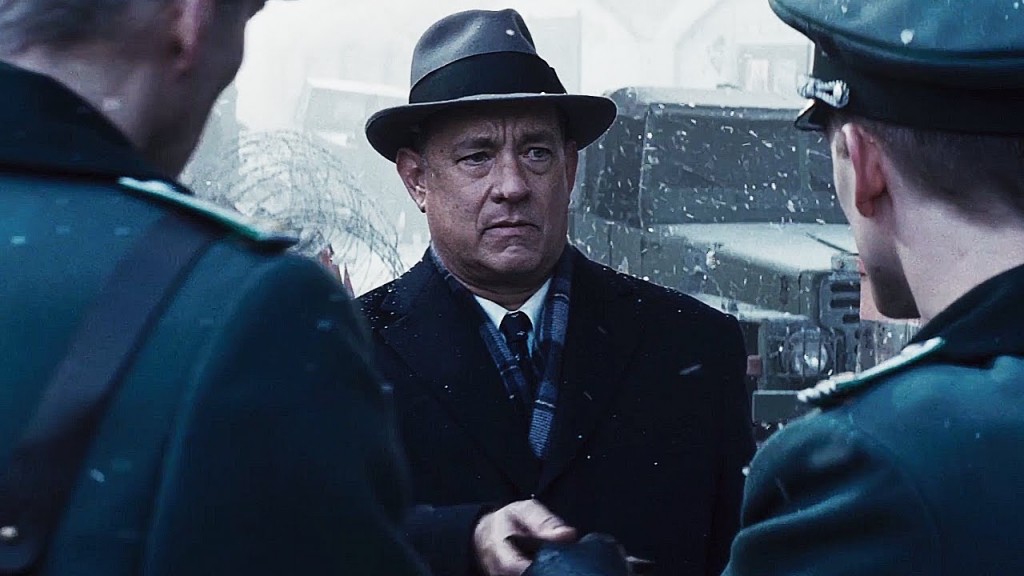 A dramatic thriller set against the backdrop of a series of historic events, "Bridge of Spies" tells the story of James Donovan (Tom Hanks), a Brooklyn lawyer who finds himself thrust into the center of the Cold War when the CIA sends him on a near impossible mission to negotiate the release of a captured American U-2 pilot. High stakes and suspense power a story inspired by true events that capture the essence of a man who risked everything and vividly brings his personal journey to life.
Here are some cool bonus features you will see on the Blu-ray set.
A CASE OF THE COLD WAR: BRIDGE OF SPIES – The story of James Donovan, Francis Gary Powers and Rudolf Abel encapsulates the Cold War era—a tense political cl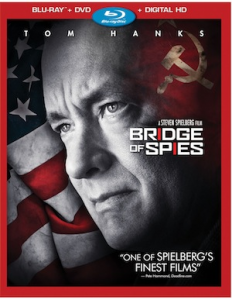 imate shrouded in propaganda, espionage and the threat of nuclear war.  This piece explores the characters and the real-life people they're based on, ordinary men in extraordinary circumstances. Steven Spielberg and Tom Hanks share personal stories of the Cold War, describing how experiences from their youth were part of the attraction to the script, how this influenced the way they approached the film and why the history behind Bride Of Spies resonates across generations and is relevant in today's political climate.
U-2 SPY PLANE: BEALE AIR FORCE BASE – Showcases spectacular footage shot at the Beale Air Force Base of the U-2 plane and the scene where Powers and other pilots are instructed about their spying mission, including a cameo appearance in the film by Francis Gary Powers son, Gary Powers Jr. and discussion with the Air Force liaison about the significance of the scene and why they got behind the film.
SPY SWAP: LOOKING BACK ON THE FINAL ACT – Steven Spielberg and his team stage the pivotal scene of the film at Glienicke Bridge, the very same location where the historic exchange of Soviet spy Rudolf Abel and U-2 spy plane pilot Francis Gary Powers took place. Gary Powers Jr. shares his memories of his father's experience with voiceover recordings from Francis Gary Powers, as filmmakers and the cast recreate a page of Cold War history while filming in the presence of Germany's Chancellor Angela Merkel.
BERLIN 1961: RECREATING THE DIVIDE – A mix of behind-the-scenes footage with iconic archival imagery transports viewers to another place and time as the filmmakers construct the Berlin Wall, envision what it was like to cross through Checkpoint Charlie, and recreate the divide. On set in Berlin just days after the 25th anniversary celebration of the fall of the Berlin Wall, a historian who lived through the experience describes what being there means to her. In Poland, where the Wall was recreated for the film, tanks, hundreds of extras and powerful sequences make the setting feel epic and surreal.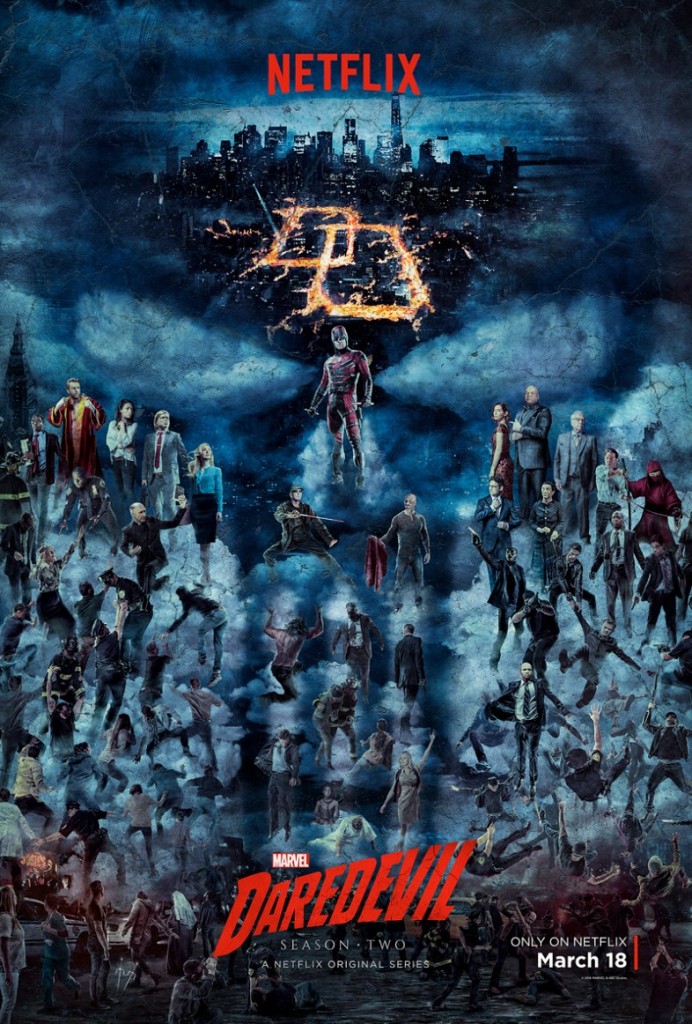 If you don't have Netflix this trailer will make you want to subscribe right now! The new trailer for Season 2 of Daredevil just came out. Just when Matt thinks he is bringing order back to the city, new forces are rising in Hell's Kitchen. Now the Man Without Fear must take on a new adversary in Frank Castle and face an old flame – Elektra Natchios.
Bigger problems emerge when Frank Castle, a man looking for vengeance, is reborn as The Punisher, a man who takes justice into his own hands in Matt's neighborhood. Meanwhile, Matt must balance his duty to his community as a lawyer and his dangerous life as the Devil of Hell's Kitchen, facing a life-altering choice that forces him to truly understand what it means to be a hero.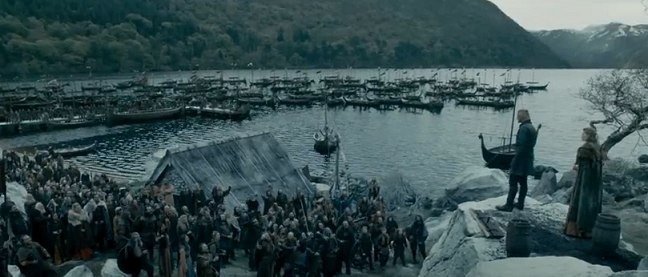 HISTORY's hit drama series "Vikings" returns for a gripping fourth season led by Travis Fimmel, star of the upcoming film Warcraft, on Thursday, February 18 at 10 p.m. ET. The network has added four episodes to its initial 16 episode order. Beginning February 18, a new episode will air every Thursday for ten weeks with the remaining episodes to air later in the year.
Season three culminated with the extraordinary battle in Paris, where Ragnar (Fimmel) seized victory from the jaws of defeat – but still returns to Kattegat dangerously ill. Thoughts of his death galvanize the forces who seek to succeed him as king, including his wife Queen Aslaug (Alyssa Sutherland) and his oldest son, Bjorn (Alexander Ludwig). Meanwhile, Lagertha (Katheryn Winnick) continues power struggles with her calculating, former second in command, Kalf (Ben Robson); Rollo (Clive Standen) betrays his Vikings heritage by remaining in Frankia and Floki (Gustaf Skarsgård) is seized for his brutal actions to the Christian priest Athelstan.
Joining the stellar cast this season is Peter Franzén (The Gunman) as "King Harold Finehair," a complex character who seeks to be King of Norway and a potential threat to Ragnar; Jasper Pääkkönen (Jet Trash) as "Halfdan The Black," King Harold's violent younger brother; and Dianne Doan ("Descendants") as "Yidu," a completely different character within the world of the Vikings who fascinates Ragnar.
"Vikings" is the critically acclaimed series from creator and sole writer Michael Hirst (Academy Award® winning film Elizabeth and the Emmy® and Golden Globe® nominated series "The Tudors") and is a family saga that tells the remarkable tales of the lives and epic adventures of the raiders and explorers of the Dark Ages.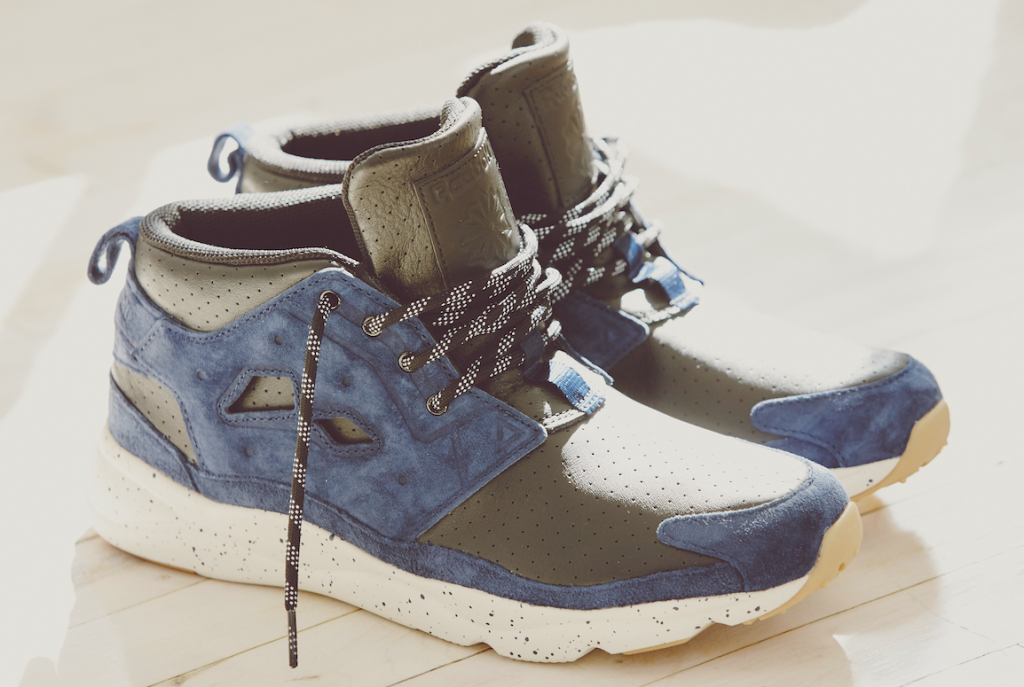 2016 looks to follow 2015 in regards to Reebok brining heat for sneakerheads. Reebok is teaming up once again with Mighty Healthy. Following the success of their summer Ventilator release, Reebok Classic has collaborated once again with Mighty Healthy, to drop a meaty Furylite Chukka silhouette for the cold winter months.
The two brands have partnered to inject a dose of athletic luxe style into the Furylite Chukka sneakerboot, for a shoe that's functional yet fashionable. A supportive mid-top offers extra coverage to protect from the harsher conditions while durable rope laces ensure a secure fit for optimum comfort. Premium pigskin nubuck overlays are executed in timeless collegiate navy and layered with black perforated leather underlays for a unique and contemporary aesthetic. The sleek, dark colorway of the upper contrast against the white and grey speckled midsole and gum outsole, for an eye-catching design detail. Subtle branding details include the Reebok logo featured on the tongue and sole, and Mighty Healthy embossed on the ankle casing.
The Reebok Classic x Mighty Healthy Furylite Chukka launches January 5th, retailing at $100 from Reebok.com, Sneaker Trader and EXTRA BUTTER.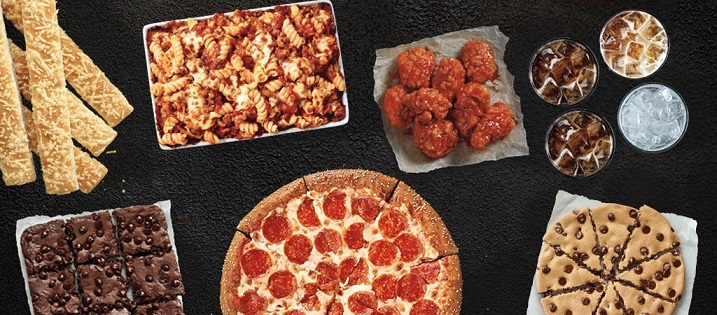 What are some of your New Year's resolutions? If one of them is to save money, well Pizza Hut has got your back. Pizza Hut is responding to its customers' request for a value-driven menu featuring their favorite pizzas, side items and desserts. Beginning today, Pizza Hut restaurants nationwide will introduce a new $5 Flavor Menu, offering an array of items that are just $5 each when two or more are ordered.
The $5 Flavor Menu features the following choices – all just $5 each when ordering two or more of the following: a medium one-topping pizza, eight bone-out WingStreet wings, the Ultimate Hershey's Chocolate Chip Cookie, the Hershey's Triple Chocolate Brownie, Tuscani Pasta, a double order of breadsticks or flavor sticks or four 20-oz. Pepsi beverages.
Consumers will have, subject to availability, a number of options when completing their $5 Flavor Menu order. The medium one-topping pizza from Pizza Hut may include the following ingredients: Pepperoni, Italian sausage, premium salami, classic meatball, slow-roasted ham, hardwood smoked bacon, grilled chicken, beef, seasoned pork, Mediterranean black olives, Peruvian cherry peppers, fresh mushrooms, fresh spinach, fresh red onions, fresh green bell peppers, sliced banana peppers, sweet pineapple, sliced jalapeño peppers, or diced roma tomatoes.
Also, a variety of crust flavors, sauces and drizzles can be added to any pizza. They include: Ranch, Smokehouse BBQ, Hut Favorite, Toasted Parmesan, Salted Pretzel, Honey Sriracha, Toasted Asiago, Fiery Red Pepper, Toasted Cheddar and Garlic Buttery Blend. The available sauces are Classic Marinara, Premium Crushed Tomato, Creamy Garlic Parmesan, Honey Sriracha, Barbeque and Buffalo and drizzles include Balsamic, Honey Sriracha, Barbeque and Buffalo.
We are giving you a chance to win a $10.00 Pizza Hut gift card. Just follow me on Twitter @DadatworkNJ and tell me your favorite menu item at Pizza Hut. We will randomly select winners. Good luck and Happy New Year.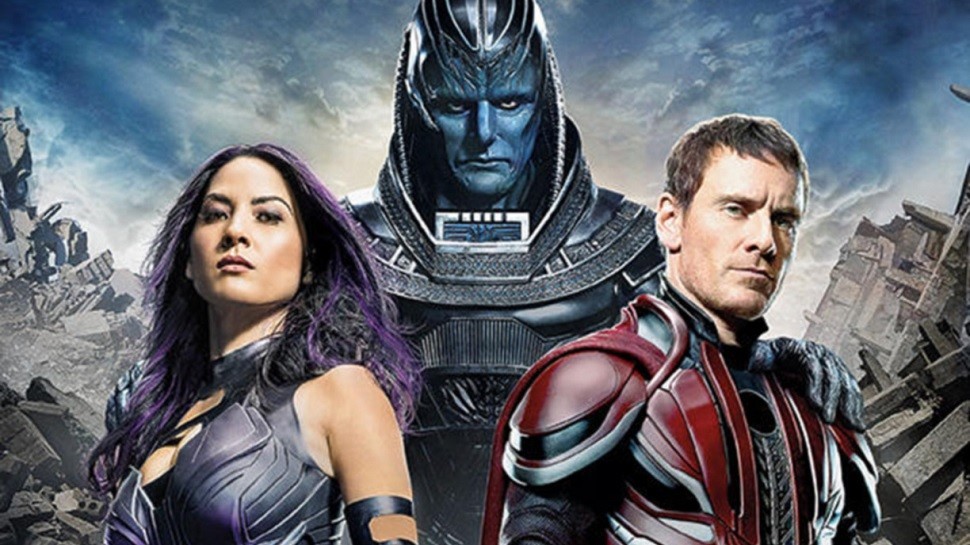 Following the critically acclaimed global smash hit X-Men: Days of Future Past, director Bryan Singer returns with X-Men: Apocalypse. Since the dawn of civilization, he was worshipped as a god. Apocalypse, the first and most powerful mutant from Marvel's X-Men universe, amassed the powers of many other mutants, becoming immortal and invincible. Upon awakening after thousands of years, he is disillusioned with the world as he finds it and recruits a team of powerful mutants, including a disheartened Magneto (Michael Fassbender), to cleanse mankind and create a new world order, over which he will reign. As the fate of the Earth hangs in the balance, Raven (Jennifer Lawrence) with the help of Professor X (James McAvoy) must lead a team of young X-Men to stop their greatest nemesis and save mankind from complete destruction.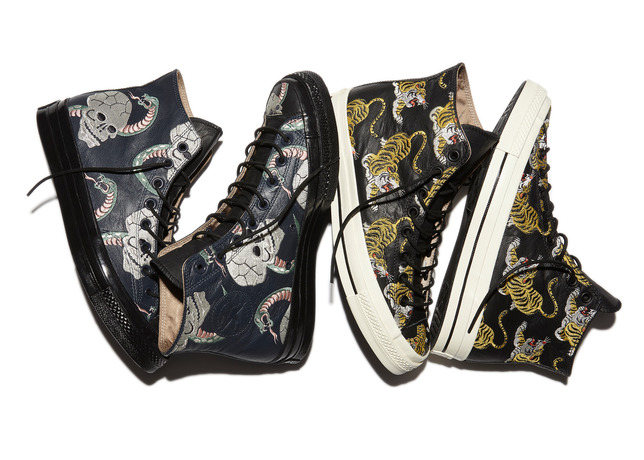 Have you checked out the Converse Chuck Taylor All Star '70 "Souvenir Jacket" Collection? If not you should make sure that you do. The sneakers are available in two premium incarnations of the classic high-top model and draw creative references from the commemorative jackets known as "Sukajyan" that originated in post-WWII Japan.
Departing U.S. servicemen and women commissioned local Japanese craftsmen to produce unique items of clothing that they could take home as a memento of their time in Asia. The jackets were typically created by modifying existing garments or fabricated from excess parachute silk, embellishing simple Western silhouettes with ornate and vibrant embroidery that symbolized Eastern cultures – such as tigers, dragons, flowers and trees. American iconography completed the look with eagles, military regalia, local maps and squadron names featuring regularly. The trend spread to many other places in the Far East where U.S. troops were stationed, but it was the disruptive youth subcultures of the '60s that adopted the jackets as a defiant statement against mainstream conformity.
The Converse Chuck Taylor All Star '70 "Souvenir Jacket" sneakers are offered in soft goat leather, as a seasonally relevant alternative to the lightweight silk and satin garments that inspired them. Bright crouching tigers adorn the black pair, while the dark blue is enhanced by an intertwined snake and skull pattern, with green and pink color pops. Both have contrasting satin linings while leather ankle patches, toecaps and rounded rope laces compliment the refined, rebellious look.
Converse First String is a limited-edition collection that celebrates craftsmanship, authenticity and collaboration at the highest level.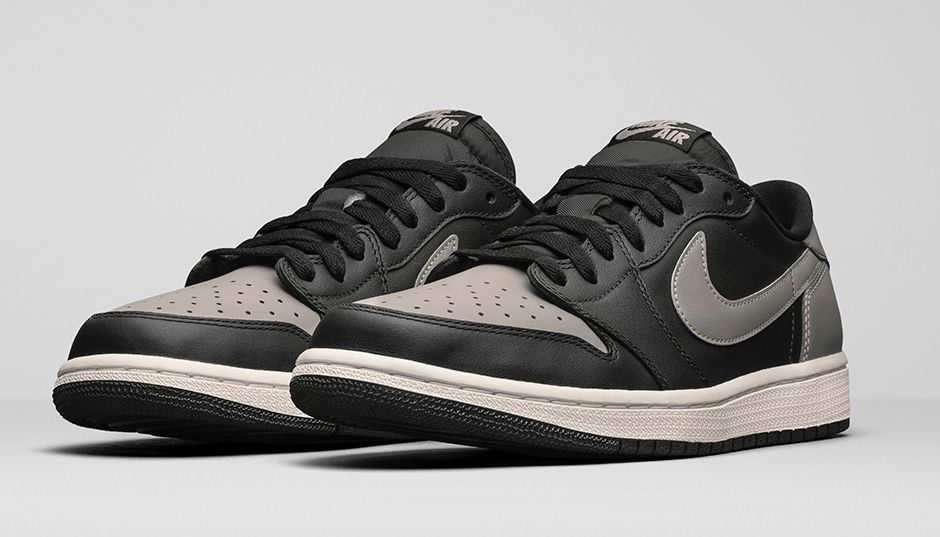 Tomorrow you can get your hands on a slick Air Jordan I Low OG. This colorway features the colors of grey, black, and white. The Air Jordan 1 Retro Low returns again with a clean black leather upper with Medium Grey Swoosh. The remastered low silhouette keeps its classic look with the signature Wings logo on the heel, and OG Nike Air logo on the tongue. The Air Jordan 1 Retro Low OG drops on Nike.com Wednesday, 30 December for $130.00.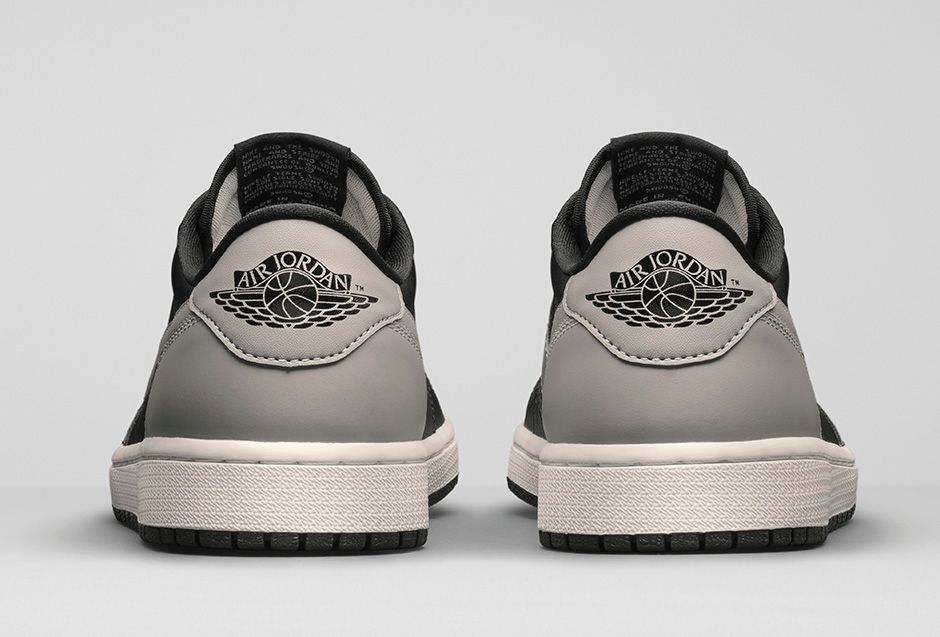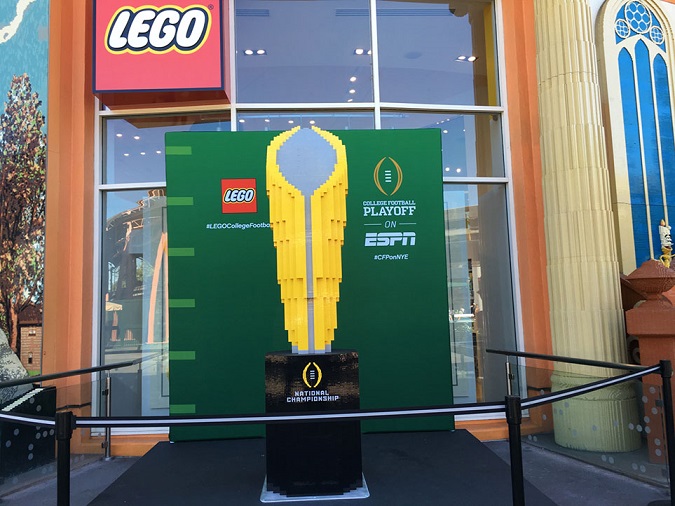 The good folks over at LEGO and ESPN are teaming up to "build" even more excitement for this season's College Football Playoff. They have made some cool college football models that are tiny and also life-sized built using LEGO bricks
There are even some awesome videos about the four semifinal teams and the LEGO models that have been built to celebrate the playoff season. There are mini-models that you can build to decorate your New Year's Eve game viewing party and also a chance to win the LEGO version of the National Championship as well as a trophy signed by the ESPN College GameDay crew. For more info go to https://espn.lego.com/en-us/espn.html