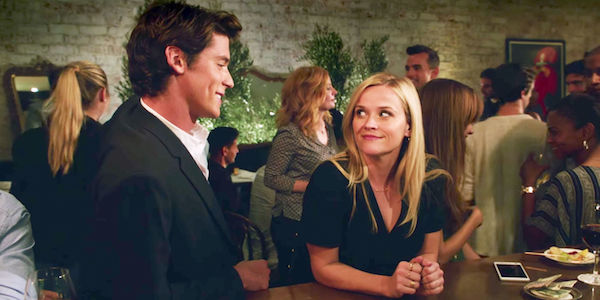 If you are looking for a film to pick up for your lady this holiday season you might want to get her Home Again. The film stars Resse Witherspoon. Home Again is available on Blu-ray, DVD and Digital tomorrow, December 12th and it features a bonus commentary with the director and the producer of the film, taking viewers even deeper into the heartfelt story.
Produced by Nancy Meyers, who brought us beloved films including Something's Gotta Give, The Holiday, and The Intern, Home Again is filled with a talented ensemble cast including Michael Sheen (Midnight in Paris), Lake Bell (What Happens In Vegas), Nat Wolff (The Fault in Our Stars), Pico Alexander (A Most Violent Year), Jon Rudnitsky ("Saturday Night Live") and Candice Bergen (Miss Congeniality).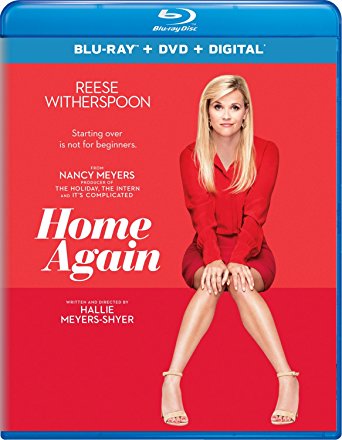 Alice (Witherspoon), a recently separated mother of two, finds her life upended when three young, charismatic filmmakers move into her guest house. Alice's unlikely new family and a budding romance comes to a crashing halt when her ex-husband shows up, suitcase in hand. A story of love, friendship, and the families we create, Home Again is a modern romantic comedy with one very big life lesson: starting over is not for beginners!
You can enter to win a prize pack with the following items. All you need to do is tweet at me @DadatworkNJ your favorite thing about going back home again! Good luck!
1 Blu-ray Combo Pack of Home Again
Elegant bamboo and marble cutting board and coaster set
Wellness journal
Infuser water bottle
Wine glass set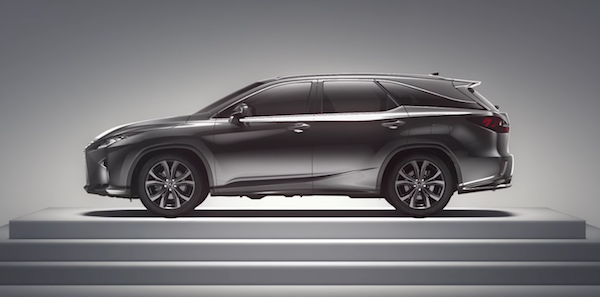 The L.A. Car Show attendees got to be the first ones to check out the Lexus RX 350L. Families will now be able to enjoy more space with their luxury utility vehicle thanks to the new three-row Lexus RX L models. The RX created the luxury crossover segment 20 years ago and has reigned supreme as the most popular luxury utility vehicle on the market. The 2018 RX 350L and RX 450hL models retain their stylish figures, but now offer the choice of six or seven-passenger capability.
With the new RX L models, Lexus drivers will now have the option of a third row without compromising the sleek styling and easy maneuverability that they have long valued. With help through the mastery of vehicle packaging, Lexus extended the body length 4.3 inches (110 mm) at the rear and used a steeper tailgate window angle than on the two-row models – ensuring good headroom for third-row passengers.
The standard seven-seat version uses a 40/20/40 split bench-type second row seat. Access to the third row is made easy with the touch of a lever that slides and folds the second seat forward. The available six-seat configuration features second-row captain's chairs that make third-row ingress/egress easier with "walk-in" convenience.
Lexus designed the third row of the RX L models to offer the same comfort and luxury as in the middle row. The positioning of the second row is slightly higher than the third row, creating more foot room for rear passengers. Standard leather-trimmed upholstery is standard for the first and second rows, in the choice of Black, Stratus Gray, Parchment or Noble Brown. A tri-zone climate control system gives third-row passengers separate heating and air conditioning vents, and for convenience, a power-folding third-row seat and power tailgate are both standard on the RX L models.
Details that enhance three-row versatility in the RX L models include a flat load floor behind the folded third-row, two third-row cupholders, an easily stowable tonneau and covered slide rails. The RX L cabin is designed with impeccable details, including form-fitting seats, and the available richly finished wood trim (Premium and Luxury Packages) that curves gently up from the center console toward the glove box.
Available interior ornamentation includes Matte Bamboo, Espresso Walnut, Matte Linear Dark Mocha Wood, Striated Black Trim (standard) and laser-etched Gray Sapele Wood with Aluminum. For the Striated Black Trim on the base model, a glossy black three-dimensional embossed pattern is applied to create a high-quality film design with a sense of depth.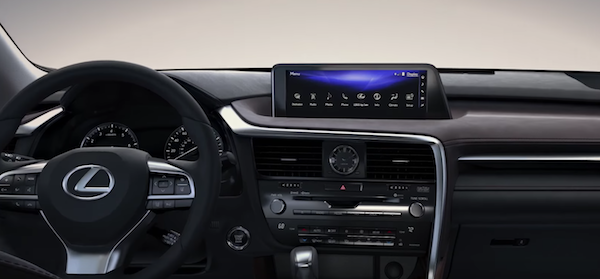 An available full-color Heads-Up Display (HUD) incorporated into the design of the instrument panel can project key information on the windshield to help the driver focus on the road.
For more on the new ride check out the video below.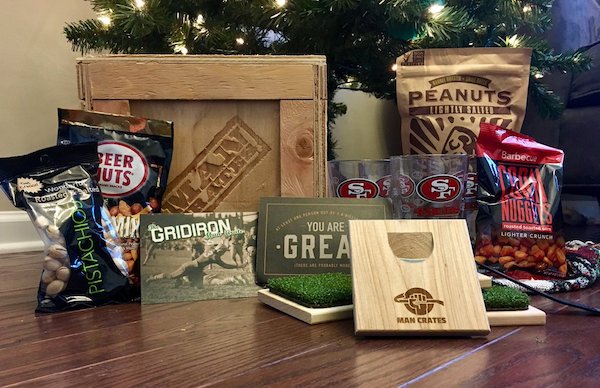 You know when people say this store or site is your one stop shop for the holidays? Well most of the stores don't fit that bill. One site that does is mancrates.com. From sports to fishing to beer to food anything that you can think of that you might like or your friends might like is right there.
The good folks over at Man Crates sent me a 49ers Gridiron Crate. Now just because my team is not doing well this year and is in the rebuilding stage doesn't mean that I still can't support my team or show off my team pride.
When Man Crates dropped off my order right to my doorstep I opened up the box to see a sturdy wood crate with their logo on the crate. I used the crowbar that was given to me by Man Crates to see what was inside my 9ers crate. As I opened up the crate I saw a bunch of items that will make game day that much better.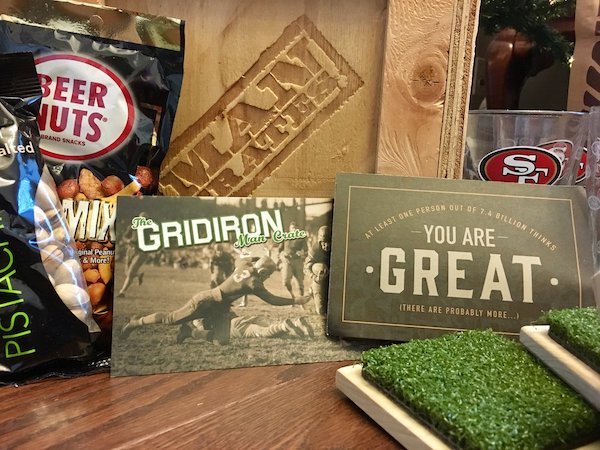 Inside the Gridiron Crate were four brilliant looking pint glasses with the 49ers logo on them as well as some etched footballs. These glasses are officially licensed by Boelter Brands. There were four Turf Coaster/Bottle Openers that will make you use a coaster without being asked over and over again!
What do you need when you are watching your team play on TV? Food of course. Man Crate also added some game day grub in the crate too! In my crate were a 5 ounce bag of pistachios, a 4 ounce bag of Corn Nuggets: BBQ flavor, a 3.25 ounce bag of Beer Nuts: Bar Mix and a 12 ounce bag of CB's In-Shell Ballpark Style Jumbo Peanuts.
Man Crates is a great way to show the ones on your list you know what they are into and that you care to send them the very best this holiday season. You can also remember Man Crates for other special occasions like birthdays, anniversaries or a new promotion at work.
If sports is not your thing check out the different types of crates they offer. Check out some of the themes they have below:
Folding Knife Making Kit
Hickory Grilling Kit
The Sriracha Crate
Personalized Oktoberfest Stein
The Bacon Crate
Whiskey Appreciation Crate
Beard Wrangler Mini Crate
The cool thing is that they have a wide selection of themes and there is not just once price point. There is a Man Crate for every budget. For more on the which Man Crate you want on your list or to give the perfect gift go to mancrates.com!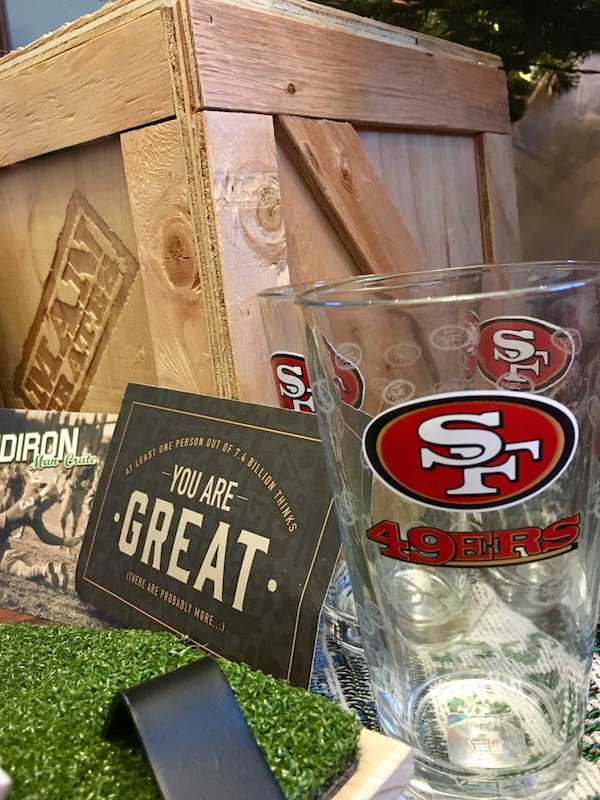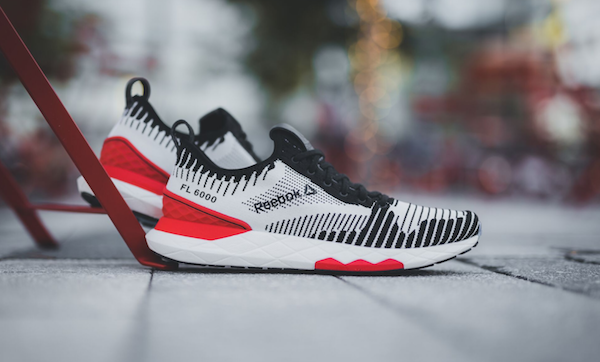 It seems like Reebok keeps on coming with the heat all year long. Reebok introduces the newest hybrid of retro-style and lightweight comfort with the Floatride 6000.
Rooted in Reebok heritage and influenced by contemporary technology, Floatride 6000 combines aesthetics inspired by the iconic Reebok GL6000 and cutting-edge Floatride Foam technology of today to create a stylish silhouette with high-end comfort and flexibility.
Offered in chic neutrals and bold blacks for both men and women, the Floatride 6000 is the new go-to sneaker to pair with everyday casual wear both in the gym and on the street.
The Floatride 6000 is available starting today on Reebok.com for $130.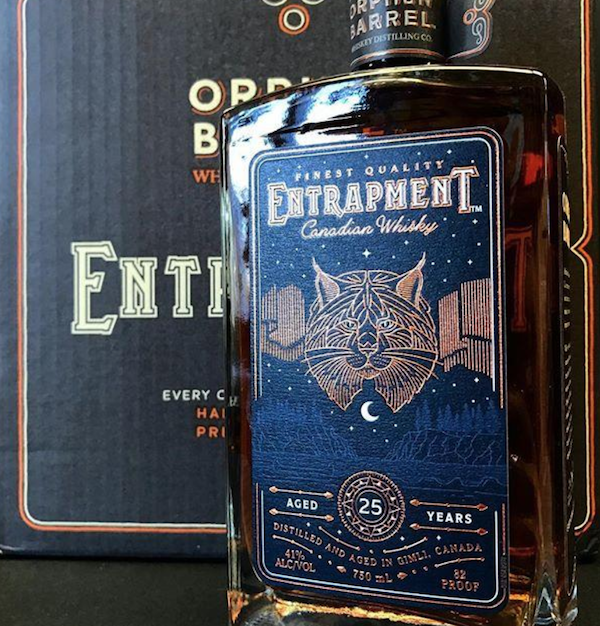 Orphan Barrel just came out with a new release. It is the brand's newest and arguably most unique release, Entrapment. Just in time for the holidays, this new marque is the eleventh release from the Orphan Barrel Whiskey Distilling Company and the first Canadian whisky to be released in the portfolio. As you may know, Crown Royal is one of the most significant growth drivers of Canadian whiskey and leads the category.
Entrapment came to be in 1992, as part of a batch of Crown Royal Deluxe that was left in the barrel at Crown Royal's distillery in Gimli, Manitoba for 25 years. Sometimes when using full blends of Crown Royal, there are small quantities of barrels that didn't fit into the full blend – and Entrapment was born.
The mash bill for Entrapment is 97 percent corn and three percent malted barley. Beginning with a vanilla, toffee and a delicate toasted oak scent, Entrapment tastes light and creamy with hints of tobacco and walnut. The finish is warm with notes of dried fruits reminiscent of plums and raisins.
Entrapment's design captures the promise of adventure and freedom that symbolize the brand's outlaw orphan and is available in limited markets at a suggested retail price of $149.99.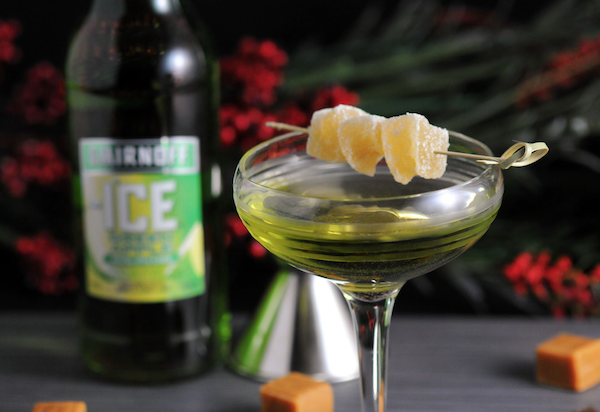 We are in full swing of the holiday season. You will be going to some parties like boozy brunches, family gatherings and holiday feasts after all. If you're looking to kick up your next party platter, boozy brunch or family gathering – Smirnoff Ice has you covered. The below Smirnoff Ice cocktail AND food recipes will steal the show whether you're hosting or just bringing a dish.
1. Holiday Berry Sparkler
Ingredients
For the Cranberry Simple Syrup
·         1/2 cup sugar
·         1/2 cup water
·         1/2 cup cranberries
For the Cocktail
·         .75 oz cranberry simple syrup (recipe below)
·         .50 oz triple sec
·         1.50 oz apple cider
·         1 oz original Smirnoff Ice
·         2 oz strawberry Smirnoff Ice
·         Cranberries and lemon peel for garnish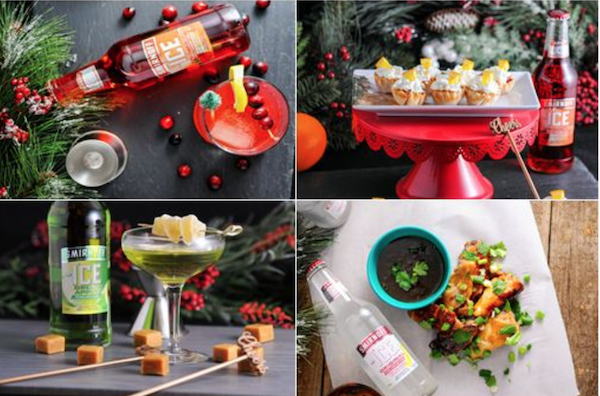 2.   Mini Berry Bites
Ingredients
For the Cranberries
• 1/2 cup cranberries
• 1/2 cup sugar
• 1/2 cup water
For the Bites
• Mini Phyllo dough cups
• 2 pkgs gelatin
• 1/2 cup water
• 1/2 cup Strawberry Smirnoff Ice
• Sugared cranberries (recipe above)
• whipped cream
• orange slices
3.   Caramel Green Apple Cocktail
Ingredients
• 1 oz Smirnoff Kissed Caramel vodka
• .50 oz ginger simple syrup
• 1.50 oz green apple Smirnoff Ice
4.  Citrus Asian Wings
Ingredients
For the Wings
• 2 lbs wings
• 1 bottle Smirnoff Ice – we used the original flavor
• 2 tablespoons soy sauce or teriyaki sauce
• 1 tablespoon sesame oil
• 1 teaspoon powdered ginger
• 2 cloves garlic, diced
• Salt and pepper to taste – about 1/2 tsp each
• 3 green onions, green and white parts diced
• 1 tablespoon cilantro, chopped
For the Glaze
• 2 cups Smirnoff Ice Original
• 2 Tbsp honey
• 2 Tbsp Brown sugar
• 1 tsp corn starch
• 1 Tbsp Teriyaki
• 1/4 tsp chili powder
• black pepper to taste.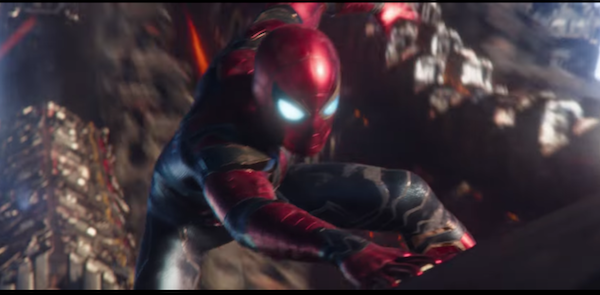 Marvel has done it again!!! Avengers: Infinity War trailer is now up! Marvel officially released this teaser trailer for the new movie. The video features Infinity War characters with Chris Pratt, Robert Downey Jr and Tom Holland. This movie is combining the Avengers, Spider-Man, Guardians of the Galaxy and they all battle Thanos!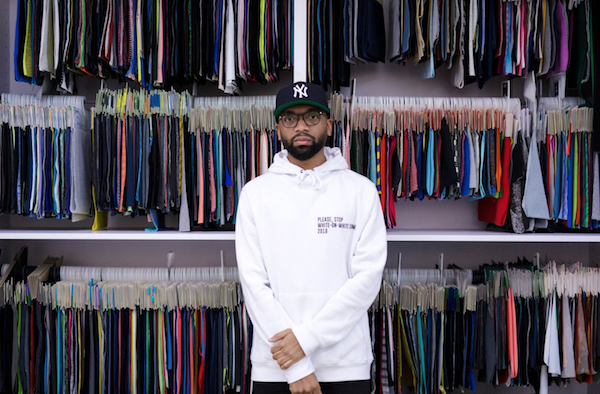 Reebok is always looking to find new designs and designers to work with for the footwear and clothing lines. Global fitness and lifestyle brand Reebok announced today a new creative partnership with innovative label Pyer Moss and its founder, designer and artist Kerby Jean-Raymond. Working hand-in-hand with Reebok designers, the collection of men's, women's and unisex sportswear products will reimagine athletic staples starting in FW18.
The partnership will feature two separate lines for Reebok Classic, with a collection launching in August 2018. Inspired by pieces from Reebok's rich heritage in sportswear, the collection will be designed with modern executions.
"All it took was one conversation to know that Reebok was the right home for our team," said Kerby Jean-Raymond, founder of Pyer Moss, "We are really excited for everything we have coming up."
Using multiple design applications, the collection fuses Reebok's heritage aesthetic with Pyer Moss's visionary take on contemporary styles.
"Pyer Moss exudes the type of fearlessness and authenticity that Reebok Classic stands for," said Todd Krinsky, General Manager, Reebok Classic. "We are excited to welcome Kerby Jean-Raymond and his designers to the Reebok family and look forward to working together on the upcoming collection."
The Ready-to-wear collection will make its public debut in February 2018 in New York City, and will officially launch in August 2018.
For more information, please visit www.reebok.com/us/pyer_moss.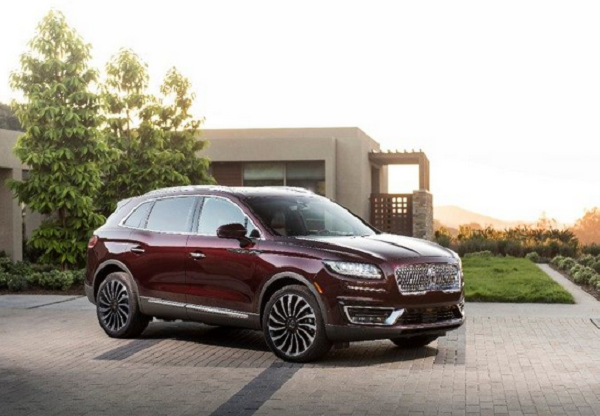 Lincoln Motor Company recently unveiled news and images for the 2019 Lincoln Nautilus. The new Lincoln Nautilus debuts with Lincoln-first technology that inspires driver confidence, like all-new lane-centering feature that helps subtly maintain the vehicle's position in its lane.
The Nautilus is designed to build on the momentum of Lincoln's best-selling midsize luxury SUV by offering enhanced features for a smoother, more connected drive, and even more standard ownership services. Catering to the desire of luxury clients for personalized vehicles, Gala, an opulent new Lincoln Black Label theme, debuts on Lincoln Nautilus, taking its cues from the world of haute couture at New York's Met Gala.
The Nautilus is the successor to Lincoln MKX and joins the recently unveiled 2019 MKC, the elegant Continental, the all-new Navigator, and the stylish MKZ for a lineup of vehicles instantly recognizable as Lincoln.
"With the introduction of Nautilus, Lincoln has a strong, distinctive portfolio with a common and recognizable identity," said Lincoln President Kumar Galhotra. "We're excited to add Nautilus to our Lincoln family of luxury SUVs, along with a new name that better reflects the ideas and attitudes of our clients."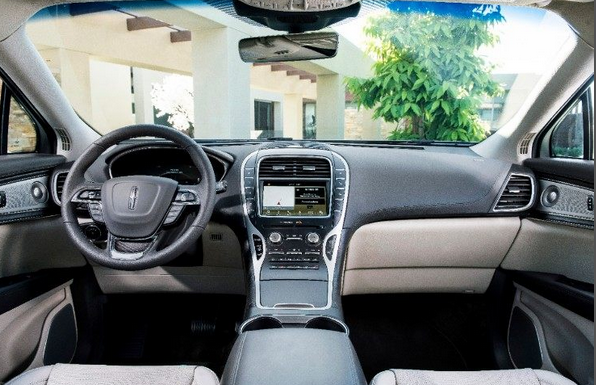 Lincoln's midsize SUV continues to attract new clients to the brand, with a conquest rate of nearly 40 percent. New clients are crossing over to Lincoln from Cadillac, Lexus and more. Sales continue to be strong, and the vehicle is on track to deliver its best sales year since its introduction in 2007. Tasteful design, exceptional craftsmanship and room for up to five passengers make it a popular choice for clients in the market for a luxury crossover vehicle.
Available Ultra Comfort seats can be adjusted up to 22 ways for personalized comfort, providing lumbar massage designed to reduce fatigue. Developed with input from orthopedic surgeons, this feature is especially beneficial on long trips or while waiting in traffic. Heated and cooled seats are available on the Reserve model. Available 13-speaker and 19-speaker Revel® audio systems offer the ultimate sound experience to add to the soothing environment.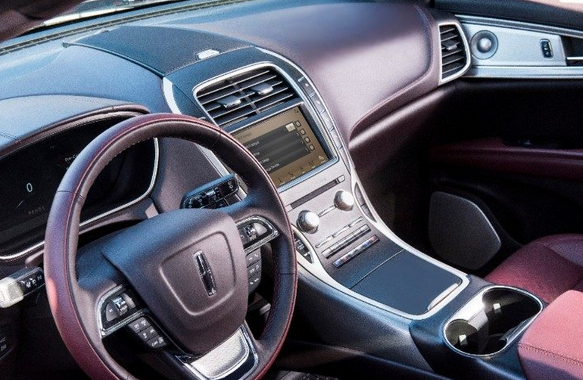 A sleek console serves to open up the cabin, while the sophisticated push-button gear shift integrates seamlessly with classic knobs and buttons. A concealed wireless charging pad allows compatible smartphones to stay connected, and puts an end to the hassle of tangled cords. A large center touch screen serves as the portal to standard SYNC® 3 with both Apple CarPlay™ and Android Auto™ compatibility, enabling clients to manage audio, phone, navigation and more either from that point or steering wheel-mounted controls.
The leather-wrapped, hand-stitched steering wheel is mounted ahead of a 12.3-inch fully configurable digital instrument cluster that displays easy-to-read driver information crisply and clearly.
Lincoln Nautilus moves to an all turbocharged engine lineup for 2019, offering a powerful 2.7-liter engine that delivers an estimated 335 horsepower and 380 lb.-ft. of torque. Power is delivered courtesy of three technologies – turbocharging, direct injection and twin independent variable camshaft timing.
A standard estimated 245-horsepower 2.0-liter four-cylinder engine is efficient and smooth in operation. Both engines include standard Auto Start-Stop capability, plus an eight-speed automatic transmission.
Lincoln continues to increase its focus on service offerings that provide an effortless ownership experience, like standard Pickup and Delivery for the new Nautilus. Lincoln is the only luxury automaker to provide Pickup and Delivery as a standard service for all its vehicles to save clients time and effort.
Additionally, starting Jan. 1, 2018, new Lincoln owners will receive a six-month complimentary CLEAR membership, allowing them to speed through security at participating airports and major arenas nationwide. Lincoln Black Label members will receive a 12-month complimentary membership.
Ease of ownership is also enabled through the Lincoln Way™ app. Lincoln Way allows clients to start, lock, unlock and locate their new Nautilus, as well as schedule remote starts to enable the vehicle to heat or cool to comfortable levels. Owners can use the app to monitor fuel levels, and check tire pressures and battery status. Lincoln Way also allows clients to make monthly vehicle payments or pay for parking.
The new 2019 Lincoln Nautilus will be available at Lincoln dealers this summer.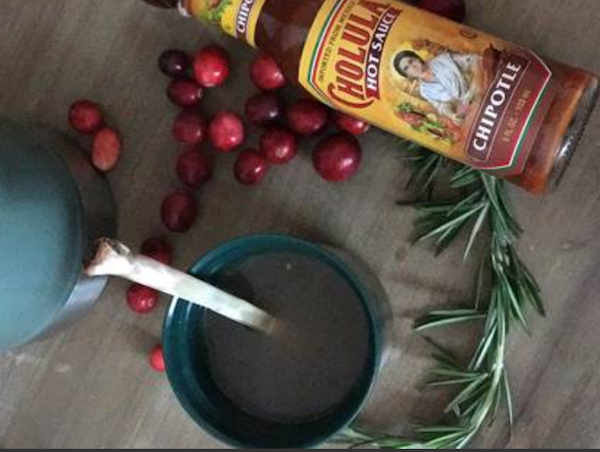 So as we all get ready for Thanksgiving this week we are looking at what we are going to serve. Some people love the leftovers as much as the main meal. What happens the day after Thanksgiving? A less inspired, guilt-laden version of the former…and usually served cold. Let's bring some heat back with this latest cocktail.
Cholula has made a cocktail called Last Friday in November. Below is the recipe. Enjoy.
Last Friday in November
*Makes 6 Cocktails
-          1 oz. Cholula Chipotle Hot Sauce
-          11 oz. Smoked turkey bone stock
-          7 oz. Creyente mezcal
-          2 oz. Cinnamon simple syrup
-          2 oz. Cardamaro Amaro
-          3 oz. Lemon juice
-          5 shakes of mole bitters
Combine all ingredients for a rich, hot, spicy, and smoky cocktail that transports in a thermos extremely well.