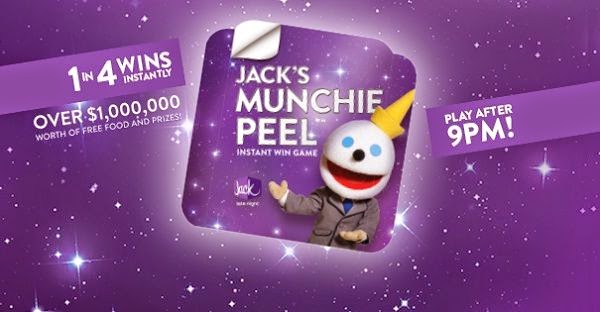 With Jack's #munchiepeel instant win game, Jack in the Box is giving away over $1,000,000 in food and other prizes, with one in four entries being a winner. Play after 9 p.m. by purchasing a Jack's Munchie Meal™ and peel off the sticker from the iconic purple box to see if you're an instant winner!
If you didn't win instantly, don't worry. Jack is giving you and your readers a second chance to win the ultimate prize at JacksMunchiePeel.com: a VIP experience for four in Las Vegas kicking back at the MTV Real World Suite at the Hard Rock Hotel and Casino – money can't buy it and only Jack in the Box can provide it.
Available on Jack's Late Night Menu exclusively from 9 p.m. to 5 a.m., you can enjoy your Munchie Meal combo including the new Chick-n-Tater Melt, complete with 2 tacos, halfsie fries (half regular, half seasoned curly) and a 20 oz. drink. Tweet at @MANjrcom for your chance to win Jack Cash gift cards!
For more info follow Jack In The Box on Twitter and Facebook.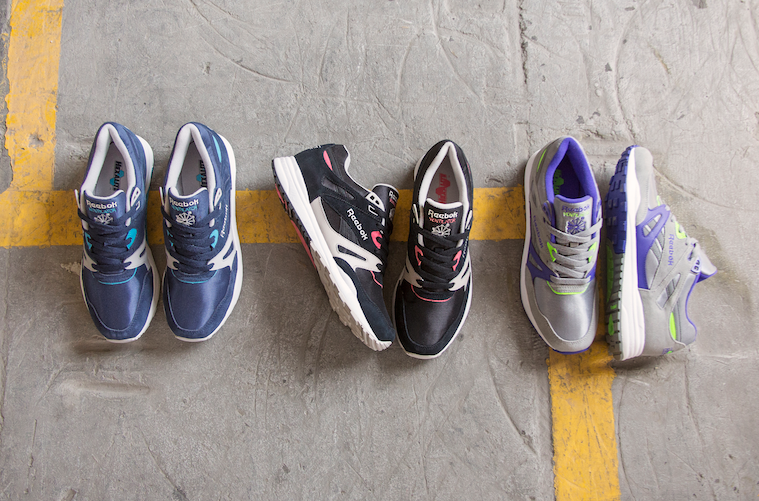 Reebok continues to spin fresh iterations of the Ventilator with the "Heritage" pack this fall.  Inspired by old industrial spaces, the bright pops of color make this shoe anything but ordinary.
Born during the golden era of Reebok design and technology innovation, the Ventilator was a game-changing runner when it was first introduced in 1990.  The first Reebok lightweight runner with a focus on breathability, the Ventilator was a bold, expressive silhouette that was years ahead of its time.  Today the Reebok Ventilator remains an extremely versatile, one-of-a-kind sneaker, with the chameleon-like ability to take both clean and bold executions.
Don't miss an opportunity to grab a pair of these limited edition "Heritage" Ventilators before they're history.
Stop by Shoe Palace, Private, BX Sports, Thrillist and Reebok.com now to cop your pair of the $80 Ventilator "Heritage" sneakers!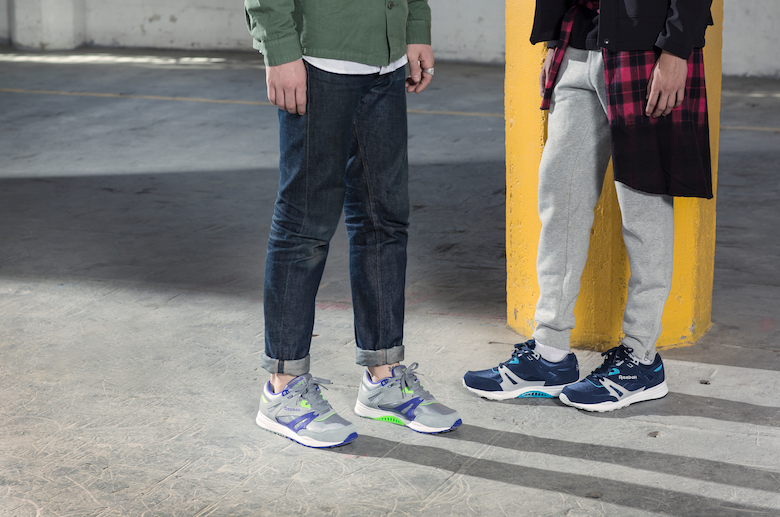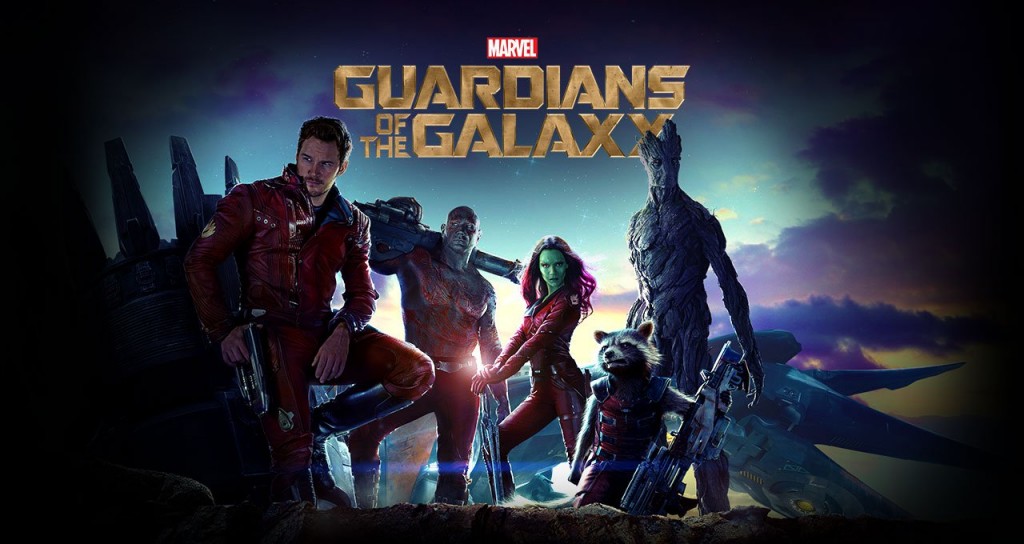 Marvel's GUARDIANS OF THE GALAXY arrives on Digital HD plus Disney Movies Anywhere November 18th and on Blu-ray™ 3D Combo Pack, Blu-ray, DVD and On-Demand December 9th! Earning over $645 million worldwide comes an unlikely new team from the Marvel cinematic universe that must come together in a desperate battle to decide the fate of the galaxy. The comedic adventure is packed with never-before-seen deleted scenes, gag reel, exclusive look at "Marvel's The Avengers: Age of Ultron" and more!
Marvel's Guardians of the Galaxy film has earned over $645 million worldwide and recently passed the $300 million mark at both the domestic and international box offices. Guardians of the Galaxy opened domestically August 1 with $94.3 million to become the biggest August debut of all time and ultimately the biggest August release ever; it's also the highest grossing film of the year and the first to surpass $300 million in 2014 domestically. After becoming the 10th straight Marvel Studios film to open at #1, Guardians of the Galaxy occupied the top spot domestically for four of its first six weekends in release.
From Marvel, the studio that launched the epic franchises of "Iron Man," "Thor," "Captain America" and "Marvel's The Avengers," comes an unlikely new team—the "Guardians of the Galaxy."  The Marvel Cinematic Universe expands into the cosmos when brash space adventurer Peter Quill steals a coveted orb and becomes the object of a relentless bounty hunt. To evade his enemies, Quill forges an uneasy truce with Rocket, a gun-toting raccoon; Groot, a tree-like humanoid; the deadly assassin Gamora; and the revenge-driven Drax. But when Quill discovers the true power of the orb, he must rally his ragtag band of misfits for a desperate battle that will decide the fate of the galaxy. Featuring amazing new characters and exclusive bonus features, this must-own blockbuster will have you hooked on a feeling… of pure adrenaline!
Chris Pratt ("The Lego Movie," TV's "Parks and Recreation") as Peter Quill, Zoe Saldana ("Avatar," "Star Trek") as Gamora, Dave Bautista ("Riddick," "The Man with the Iron Fists") as Drax, Vin Diesel ("Fast and the Furious" series, "Riddick") as Groot, Bradley Cooper ("American Hustle," "Silver Linings Playbook") as Rocket, Lee Pace ("The Hobbit" series, "Lincoln") as Ronan, Michael Rooker (TV's "The Walking Dead") as Yondu Udonta, Karen Gillan ("Oculus," TV's "Doctor Who") as Nebula, Djimon Hounsou ("How to Train Your Dragon 2," "Gladiator") as Korath, John C. Reilly ("Wreck-It Ralph," "Talladega Nights: The Ballad of Ricky Bobby") as Corpsman Dey, Glenn Close (TV's "Damages," "Tarzan") as Nova Prime and Benicio Del Toro ("Traffic," "The Usual Suspects") as The Collector.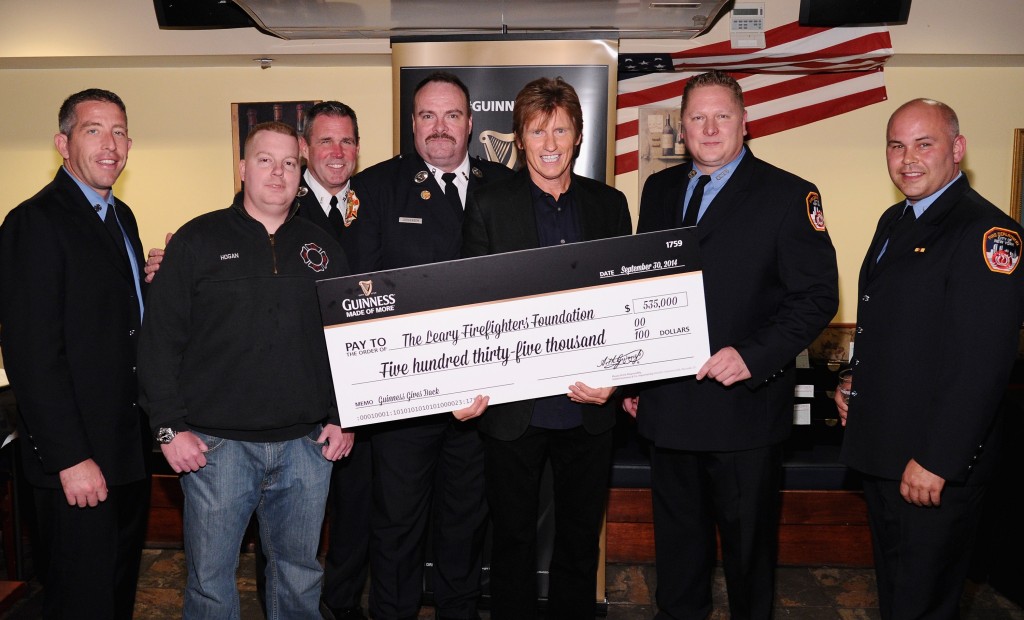 in New York City, Guinness & Co. raised a glass of the iconic beer in honor of the Leary Firefighters Foundation (LFF) during a special event to present the LFF a check for more than half a million dollars in support of firefighters nationwide.
Actor and founder of the LFF, Denis Leary, joined Guinness and Diageo executives to celebrate their combined efforts to support firefighters across the U.S. Throughout the past year, Guinness raised over $500,000, in partnership with the LFF, to help provide quality equipment, education, training and technology for firefighters everywhere. Guinness and the LFF received an outpouring of personal donations and contributions from adult supporters through the brand's fundraising efforts to support the foundation as well as a significant contribution from Guinness itself.
"At Guinness, we celebrate those who are Made of More; those who carry on the legacy of our founder and our company and who demonstrate great character without asking for recognition. Firefighters showcase these qualities with the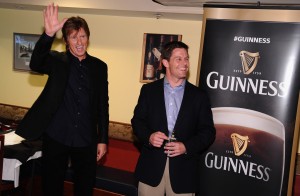 commitments and sacrifices they make every day," said Guinness Brand Director Doug Campbell. "We're very proud of the work we've done alongside the LFF and we're excited to continue that initiative to recognize individuals who do more for their communities throughout the next year."
Guinness' St. Patrick's Day 2014 program hosted a variety of fundraising initiatives through its philanthropic online hub www.GuinnessGivesBack.com, including a limited-edition firefighter themed
t-shirt sold online and in select bars across the country. The makers of Guinness beer also released the Extraordinary Irish Beers Variety Pack, saluting firefighters' extraordinary character, which included Guinness® Draught, Guinness® Black Lager, Smithwick's® Irish Ale and Harp Lager. A percentage of the proceeds from sales of the t-shirts and variety packs were donated to the LFF. The program has been part of the brand's 'MADE OF MORE' campaign, which celebrates the service and selflessness of firefighters.
"We are thrilled to continue our partnership with Guinness for a third year," said actor Denis Leary, founder of the LFF. "Since beginning our partnership two years ago, we've raised more than $650,000 to help firefighters nationwide. It's an honor for the LFF to be recognized for its tireless efforts in support of all the men and women who put their lives on the line every day; the funds raised by Guinness will help our firefighter brothers and sisters in uniform across the country."
The event also kicked off the brand's goal to raise $1 million for local firefighters by St. Patrick's Day 2015, in the third year of its partnership with the LFF. For the next several months, Guinness will publicly recognize those who make great contributions to their communities by raising a Guinness to them at a community event. The brand will carry out additional fundraising activities throughout the year to reach its $1 million fundraising goal.
Join the conversation and share Made of More moments on Twitter at @GuinnessUS. Select images and stories will be featured on the brand's Instagram feed which celebrates those who are Made of More.
To learn more about Guinness' partnership with the LFF, visit www.GuinnessGivesBack.com. To learn more about the work LFF does in support of firefighters, visit www.learyfirefighters.org.
Guinness reminds everyone while raising your glass in support of firefighters, and all the men and women who do more for our communities, to do so responsibly.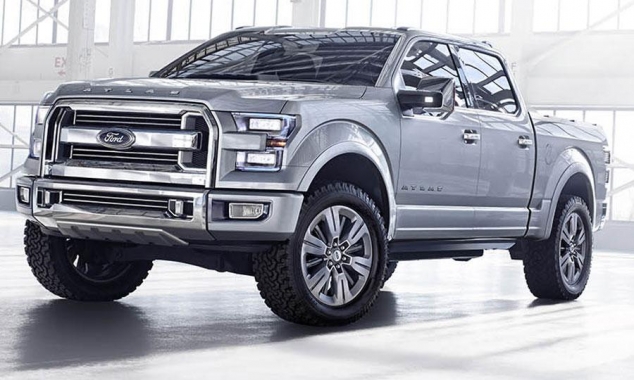 If you are in the market for a new truck you are in luck. The fine folks at Cars.com gave us some helpful hints to think about when purchasing that new truck.
Four Doors, By Any Name
While truck-makers may have different names for it, people will want a truck with four full doors, often known as a crew cab truck. These models make getting in and out easier and provide for more cabin space. Yes, the four-door models are more expensive, but it will be worth it.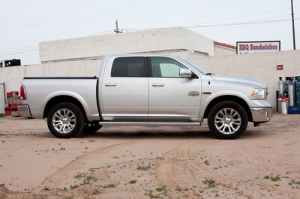 Running Boards
Getting into a truck can be difficult for small people, tall people and basically anyone who is not a giant. It's a long way down from the cabin of a truck to the ground, and running boards function as a stepstool. Ideally, you should look for a truck that has powered running boards that move in and out with each opening and closing of the door. However, even the old-fashioned kind that remain in place are fine, too, so long as they're there. Without running boards, entry and exit have the potential to cost someone an ankle.
Storage
One of the simple yet beautiful things about a pickup truck is its nearly endless storage. You can fit more than you've ever imagined in the bed of a truck. Beyond the bed, there are options like the Ram 1500's RamBox, which are large, lockable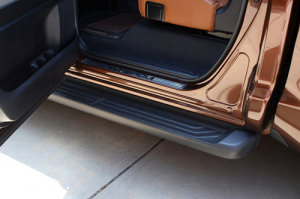 storage boxes embedded in the sides of the truck's bed. These are useful for securing valuables.
Inside the cab, models with front bucket seats offer huge center consoles that can fit a laptop and a handbag without a problem. Models with a front bench seat don't have the enormous console, but many still offer a roomy bin underneath the center seat cushion. Dual glove boxes, multiple cup- and bottleholders and in-door cubbies are also prevalent in most pickups.
Seating Versatility
A full-size pickup truck can fit up to six people comfortably if it has a front bench seat. Without the front bench, a truck accommodates five people. Additionally, trucks like the Toyota Tundra are available with a 60/40-split backseat that can be flipped up in various configurations to create different storage and seating options.
Comfort, Convenience & Safety Features
When it comes to features, safety and finish, trucks can be bare-bones or the height of luxury these days. Bluetooth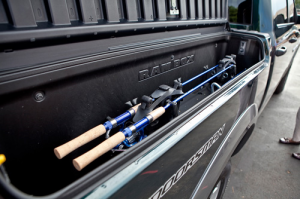 connectivity, dual-zone climate control and integrated multimedia systems are all common among trucks, and features like bed covers or fold-up rear steps to create access into the bed are offered, too. When it comes to safety features, trucks can be outfitted with backup cameras, blind spot warning systems and even parking sensors.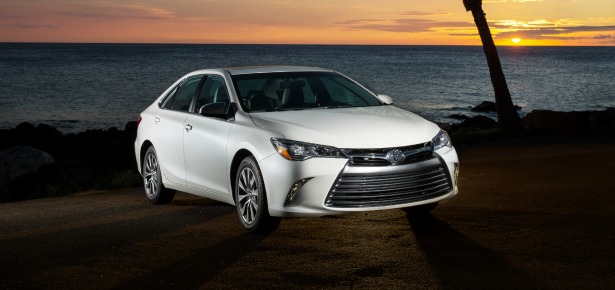 I've never been to Hawaii before, but I always wanted to go. I was actually in the middle of planning a trip out there when our good friends at Toyota hit me up with an invite I couldn't refuse. I've had my share of fun on Toyota trips in the past, mind you. I went on a Toyota Corolla San Diego mission last year that included nude beach paragliding, a helicopter tour and other shenanigans, so I figured, how bad could a week long trip to Hawaii really be?
Well everything you've heard about Hawaii is true. I made the trip to the Big Island and enjoyed things like daily snorkel missions with sea turtles, a night dive with manta rays, a scenic helicopter tour, sunset cruise, volcano visit, kayaking, Mai Tai's on Mai Tai's, you get the idea. Not a bad place to host a press event for test driving the 2015 Toyota Camry, Sienna and Yaris. I mean look at this place: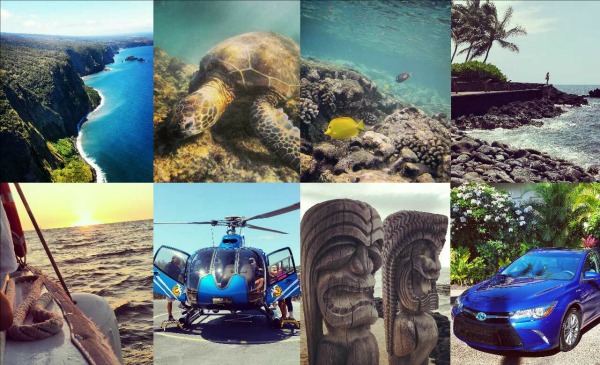 We'll be posting our impressions on the Sienna and Yaris later this week, but first up is the 2015 Toyota Camry.
You probably already know this, but hey, it's worth repeating. The Toyota Camry is an insanely popular car. Like 10.2 million sold since 1983 popular. 6.6 million Camrys still on the road kinda popular. People really enjoy this car and Toyota is happy to cater to this love by producing a brand new Camry every 54 seconds.
They sold over a million of these things in 2011, which was the highest year-over-year volume increase in the ultra-competitive mid-size sedan segment. It's the best-selling car on the road for the past 12 years running,
So yea, people like it. But Toyota changed a lot of stuff with this new Camry. The 2015 has more than 2,000 new parts to it. It's got a new grill, a new hood, a new bumper cover, a bunch of surface interior changes and so forth. Only the roof remained unchanged on the outside.
What makes the 2015 so different? I can talk about the 22 new reinforced spot welds or the percentage of lateral vibration improvement or things like this, but I'm a simple man. I need things explained to me from authoritative sources. So naturally, I went to the Chief Engineer of the Toyota Camry, Monte Kaehr.
Talk to Me, Chief
I first ran into Monte while photographing a gorgeous sunset during a cruise along the Kohala Coast off the Big Island of Hawaii. He seemed like a chill enough guy, so after my first 2015 Camry test drive, I sought him out for some insider info.
Kaehr told me about the premium athletic styling that's become a major theme for the car – a theme that will remain a focus for the foreseeable future. But what I wanted to know was what fired Kaehr up the most about the 2015 Camry.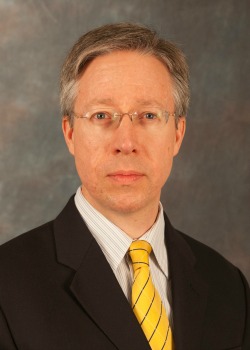 Kaeher explained to me that before ramping up the updates for the 2015 Camry, Toyota hosted driving clinics in three different spots: Long Beach, California; Denver, Colorado; and White Plains, New York. The clinics featured standard midsize segment cars and owners. Drivers were up front doing their thing as a series of preset questions were issued from the back seat, with auto super-geeks like Kaeher sitting in on the sessions to absorb some unfiltered customer feedback.
Kaeher told me about one woman who drove over a bump in Long Beach and commented that the bump felt "harsh." The input forces weren't that big, he said, but it was the sound itself that generated the harsh vibe.
"Taking the edge off the sound," Kaeher said, became a major focus. Toyota used sound absorption materials throughout the cabin to suppress sounds near the frequencies of human speech. Custom-formed foam inserts seal service holes in the doors. They provided 30 percent more insulation while moving the side mirrors out to further reduce noise. They even put in acoustic windshields for the V6 and Hybrid models.
It's that reduction of road noise that really gives the car "a more premium feel," according to Kaeher. Previous Camrys didn't have this. It's really noticeable, too.
In another one of these clinical tests, some dude expressed concern that there wasn't enough reserve braking power. When telling this story, Kaehr had to explain force curves to me, because, as I said earlier, I'm a simple man. Toyota wanted to make the force curve more linear in the Camry by increasing the spring rate to provide stronger feedback.
"Making it linear means you can predict it better and control it better," he said. Linear feedback makes things "more precise, confident and natural," Kaehr explained. The 2015 Camry is the first Toyota to roll this out. You heard it here first.
The model's chief engineer also explained what didn't change in the 2015 Camry.
"We looked at changing the engines and we decided not to," Kaehr said.
Well wait a minute, chief engineer guy. I thought turbos were all the rage, right?
Well you see, the man drives a V6 SE and absolutely loves the engine. This seemed like a point he was more than ready to defend. Switching to Turbo may sound flashy, but Kaehr was eager to produce a Car and Driver article that showed the fuel economy benefits Camry had over similar midsize sedans that featured standard turbo engines.
"It may not sound sexy, but it's the right engine to have," Kaehr said. The man obviously knows his stuff and he had supporting documentation on competitive fuel economy benefits in his back pocket. He passionately made a good case, and I believe him. He wants the Camry to be seen as a balanced machine. One that provides performance pleasure and everyday enjoyment.
"Even if people buy it for its practical characteristics," Kaehr said, "we still want people to love it."
Driving Impressions
I tested a few different Camry models during my time in Hawaii. I tried the sporty XSE so I could test out the paddle shifters. That thing sure took on winding highways with ease (I'm looking at you, Mamalahoa Hwy). I took the Hybrid SE out for an impromptu 200-mile night drive to go see a guy about a volcano. (Side note: if you're ever on the Big Island, do yourself a favor and go check out Kilauea at night. The misty glow from the crater is sight to see and the view of the stars from the top of that volcano are decidedly world class). It was a calm, quiet ride where the gas gauge remained friendly (EPA estimated 43 MPG in the city, baby) and the LED fog lights cut through a pillow of vog (volcanic fog) like nobody's business.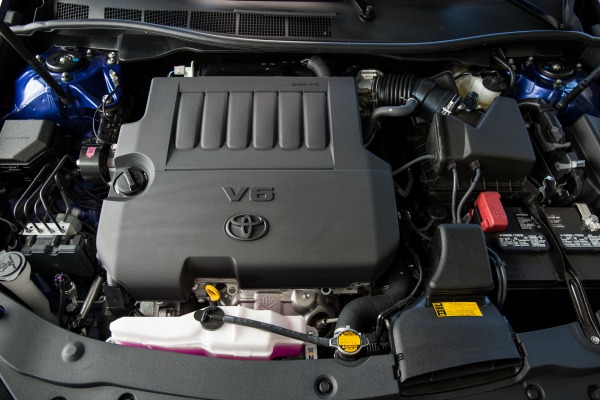 I gotta say that the V6 engines didn't leave me feeling underserved. There were plenty of times when I needed to gun past some lazy island drivers on a two-lane highway situation, and every time I punched it, the V6 Camrys would respond with an appropriate level of thrust.
If you want a detailed breakdown on camshafts, dual-independent variable valve timing with intelligence or K platforms, you can find that stuff from other, more reputable outlets. At MANjr, we take a more simple approach.
Was it comfy? It sure was. The seats can fit a big man and this whole Toyota push for soft-touch interior material throughout was a spot on.
Is it pretty? I mean yea, it's not a bad looking sedan. You got the French stitching and metallic chrome accents on the inside and athletic lines with the piano black honeycomb grill on the outside.
Did it have cool tech? The 4.2" TFT Mutli-Information Display unit with the Entune app suite and a sound system designed by JBL were all pretty solid. Wireless phone charging is a pretty sweet (albeit non-standard) addition. According to Entune Subject Matter Expert Andy Lam, all you need is a $20 Qi wireless charging case from Amazon and you're in business. LED headlamps, lane departure alerts, a pre-collision system, yea, this things got some nice gadgetry to it.
Bottom line, it's an affordable option for drivers looking for reliability with a touch of sport and luxury. People love this car for a reason, and with a near complete overhaul midway through a typical model lifecycle, Toyota's putting in some serious effort to stay ahead of the mid-sized pack. It's worth checking out for yourself.
The 2015 Camry at a Glance
LE base price: $22,970
SE base price: $23,840
XLE base price: $26,150
XSE base price: $26,150
XLE V6 base: $31,370
XSE V6 base: $31,370
Hybrid LE base: $26,790
Hybrid SE: $27,995
Hybrid XLE: $29,980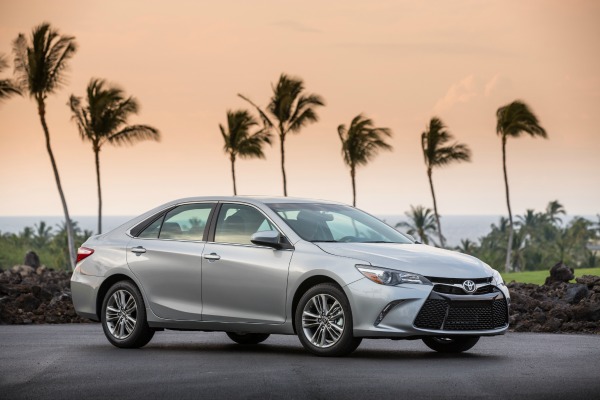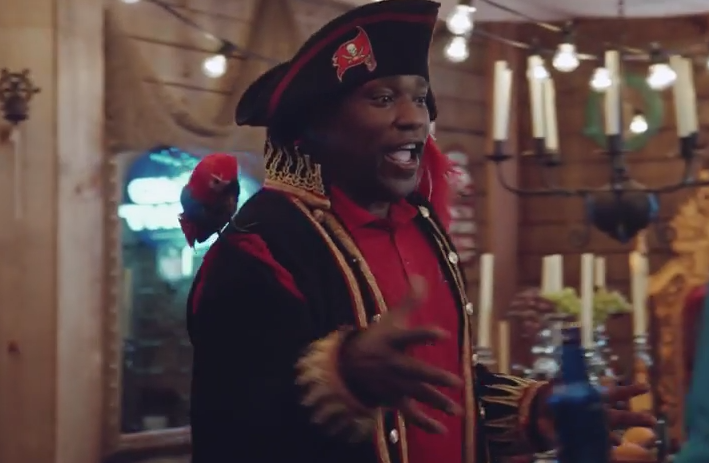 On Sunday, Bud Light, the official beer sponsor of the NFL, kicked off its NFL ad campaign for the season with a new Up For Whatever creative spot. The video features a Buccaneers fan who gets his house "Buccaneer'd" by NFL legend Warren Sapp wearing a parrot on his shoulder while facilitating a backyard cannon firing as beautiful pirate maidens cheer.
And remember, if you're holding a Bud Light in your hand while watching a NFL game this season, it means you're #UpForWhatever – and anything can happen!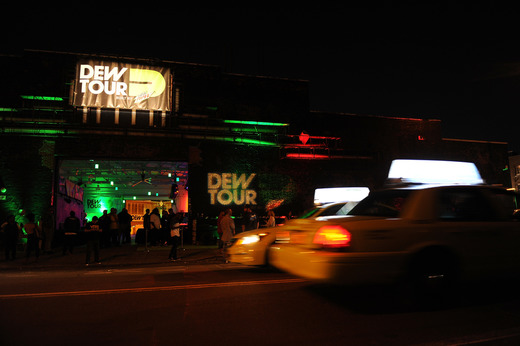 This past week J. Cole and Bleachers performed during Mountain Dew's kick-off party in Brooklyn to celebrate the 10th anniversary of Dew Tour – one of the hottest action sports events, which took place Sept. 20-21 at House of Vans. Questlove also made a special surprise appearance to DJ between sets to get the crowd ready for J. Cole.
Celebs and notable guests attended the event, including: J. Cole, hip hop artist; Jack Antonoff (Bleachers/lead guitarist in Fun.); Questlove, musician and DJ; Zosia Mamet, actress; Sam Worthington, actor; Takeo Spikes, athlete/NBC sports analyst; Paul Rodriguez, professional skateboarder; Danny Davis, professional skateboarding; Scotty Lago, professional snowboarder; Sean Malto, professional skateboarder; Boo Johnson, professional skateboarder; Theotis Beasley, professional skateboarder – and others.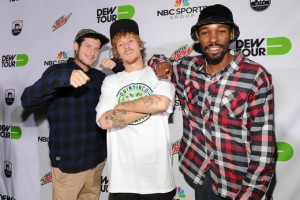 Shutting down Franklin Street in Brooklyn, N.Y. directly in front of the House of Vans, BMX streetstyle set the tone on Sunday for the final day of the Dew Tour Toyota City Championships. Bringing back some of the biggest obstacles such as the shipping container at the start, the Toyota car jump and the 10-stair to close out the course, the crowds were taken back by BMX.
For streetstyle, each athlete receives three attempts at the intimidating course and, although it may not be desired, athletes were encouraged to continue down the course even if they missed a trick along the way. In the end, only their top run counted for their placement.
Moment of Truth
The entire event was full of massive tricks, transfers and bails. As this course can be quite grueling, the athletes realize that despite being encouraged to continue they need to conserve energy in order to pull that perfect run — especially when they see what their competitors are pulling.
The idea to stop and recoup was the route Garrett Reynolds chose on his second run once he slipped up on the beginning of the course. Knowing he was not in the top spot and feeling "completely out of rhythm" after messing up, the pressure was on when he rolled in for his final run. Not to mention Garrett only was able to get 15 minutes of riding in during practice as he was held up in the medical tent waiting to be cleared.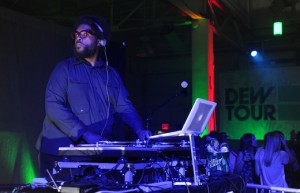 The final came and Garrett went off. He did what he had to, completed his run and impressed everyone on his way to reclaiming his streetstyle title as the original winner of the event.
Top Tricks:
Chad Kerley – feeble grind to hard 360 out off the first box jump, 180 barspin to fakie over the Toyota car jump, crank grind to barspin out off the flat white fence rail, manual through the whoops then up and across the tall long box jump to barspin in and an insane 540 over the planter gap to flat at the end.
Tyler Fernengel – giant truckdriver from the A-frame wedge to roller gap, also a massive tuck no-hander to late barspin on the same gap earlier, tailwhip over the bump to flat and a barspin over the planter gap to flat.
Scotty Cranmer – tailwhip in off the shipping container, backflip tailwhip over the first box jump, enormous double tailwhip from the A-frame wedge to roller gap, double tire ride to barspin out on the Toyota bench and an over double peg on the 10-stair rail.
Dennis Enarson – feeble grind to opposite tailwhip off the shipping container, truckdriver to flat over the Toyota car jump, double tire to tailwhip off the flat white fence rail, 180 tailwhip to flat off the A-frame wedge, feeble to barspin off bump to out ledge and a double tire down the 10-stair handrail.
Winner's Top Tricks:
Garrett Reynolds – feeble to truckdriver in off the shipping container ledge, opposite 360 lookback over the first box jump, opposite tailwhip over the Toyota car jump, barspin 180 to crooked grind to 180 out off the flat white fence rail, truckdriver over the A-frame wedge to flat, barspin ice pick and a tailwhip over the 10-stair handrail to flat.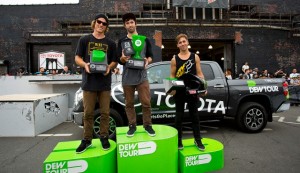 Winner's Quote:
"This event is really fun because you cruise down a hill and you hit what comes your way. It sounds cliché but it feels like you are riding in a video game because no skatepark is this long and you just keep hitting fun stuff the whole way. I have more fun riding this contest than I probably will for the rest of the year." — Garrett Reynolds

I love talking to stand-up comedians for many reasons. One is that I love hearing how they form their craft. It is interesting for me to hear how they form their material and to see if their friends always have a demand for them to be funny. I think the world of stand-up is fascinating. I have a ton of respect for their profession.
Last week I was able to chat with comedian Greg Walloch. Greg currently lives and works in Los Angeles, CA and is the host of the popular live storytelling show, Eat Your Words at The Standard, Hollywood. Greg and I talk about how his career started, his current projects, his time on the Howard Stern show, and much more. To listen to my interview with Greg CLICK HERE. I also asked Greg which comedians we should check out. He said that Ron Funches, Jen Kirkman, Baron Vaughn, Hasan Minhaj, Beth Stelling, and Kurt Braunohler are some very funny people. So if you get a chance make sure you check out their shows.
Greg has appeared on everything from The Howard Stern Show to Kurt Andersen's Studio 360 on Public Radio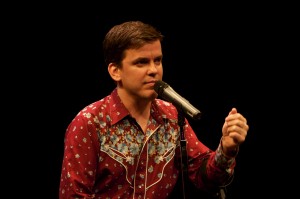 International. Greg performed to a capacity crowd at Lincoln Center's David Rubenstein Atrium in the variety show Sxip's Hour of Charm. He has opened for '60's icon Janis Ian at the World Institute on Disability Gala in the Bay Area, and appeared in The Moth: West Village Stories with Amy Sedaris and Andy Borowitz in New York City.
Greg was featured in USA Network's Characters Unite national tour with sold out engagements at Seattle Center's Marion Oliver McCaw Hall, the Denver Center for the Performing Arts, the Newseum in Washington, DC, and at the Pacific Design Center in West Hollywood.
In conjunction with the Peabody Award winning storytelling collective The Moth, the Characters Unite tour featured Christopher Gorham, Forest Whitaker, Meghan McCain, Kevin Jacobsen, Jeffery Rudell, Pam Grier, Dan Choi, Nathan Lane, Dustin Lance Black, Octavia Spencer, Aimee Mullins, Matt Bomer, John Legend, Willie Garson and more. Greg also appears in USA Network's Characters Unite "I Won't Stand For…" PSA campaign to fight hate and discrimination.
Greg's live solo shows have toured in Moscow, Toronto, Vancouver, London, Ireland, Germany, Australia, Poland, Scotland, Tel Aviv, and in various festivals across the United States. The concert film "F**k The Disabled," based on Walloch's live show stars Greg Walloch with a cast that includes Stephen Baldwin, Jerry Stiller and Anne Meara.
Here is what a few notable actors and comedians have said about Greg.
"ONE OF THE MOST PROFOUND PIECES OF COMEDY IN THE MOST TRUTHFUL WAY. JUST WONDERFUL!" – Jerry Stiller
"WALLOCH DELIVERS WITH BITE AND WITHOUT BOMBAST." -The New Yorker
"WONDERFULLY FUNNY." – Nathan Lane
"Absolutely amazing! I just sat back and took a ride. I listened intellectually, I laughed my ass off and my heart listened too… articulating what it means to be human so eloquently… this is what my soul is supposed to feel, I'm supposed to have more human moments like this!" – Jen Kirkman, Chelsea Lately and After Lately
Check out Greg's website and follow him on Twitter, and his Facebook page for his Eat Your Words show.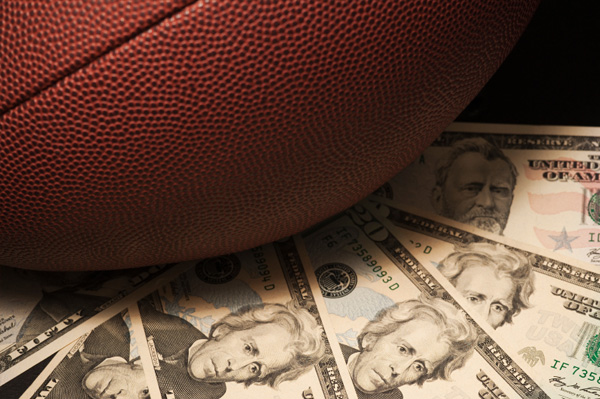 Online sports betting is huge in every part of the world and it's still growing, with sportsbooks now offering betting lines on all major league sports in the States, Europe and beyond.
NFL Football is by far the most popular sport to bet on, with the volume of betting on the Super Bowl setting records, year after year. It may seem straight forward, but understanding betting lines and choosing the smartest wagers to make can be a daunting task for the rookie sports bettor. Here's some basics that'll get you up to speed.
Understanding the Point Spread
The most fundamental thing to understand when betting on the NFL is the point spread. The point spread is a betting line that represents the number of points a team will win or lose by, with sports bettors wagering on whether a team will win, or lose, by more or less than the established line.
For example, let's say the Oakland Raiders are visiting the Denver Broncos, and the Broncos are favored to win by 7.5 points.
This will be represented by a betting line that looks like this:
Oakland Raiders +7.5
Denver Broncos -7.5
The + symbol in the Raiders betting line indicates that they are 7.5-point underdogs and would be a winning bet if they win the game outright or lose by less than eight points. And conversely, the – symbol in the Broncos' line indicates they are 7.5-point favorites, which means they must win the game by eight points or more to "cover the spread:" and win the bet.
Understanding the Moneyline
Another fundamental line to understand in football betting is the moneyline. With a moneyline bet, a team must simply win the game outright for the bet to win. Winners will be paid off according to the posted moneyline odds. For example, let's say that 49ers, as the home team, is the moneyline favorite in a matchup against the Seahawks.
That betting line that could look something like this:
Seattle Seahawks +130
San Francisco 49ers -125
As longshots, a $100 bet on the Seahawks would win $130, while the 49ers are moneyline favorites, meaning  it would require a $125 bet on San Francisco to win $100.
Understanding the Total
The third key element of an NFL betting line is the total, which predicts the total number of points that will be scored by both teams in the game. Total betting lines will look something like this:
OVER (-110)
51.5
UNDER (-130)
The point total in the example above is set at 51.5. You can bet that the total points in the game will finish OVER or UNDER 51.5, with moneyline odds accompanying each option.
In the above example, to win $100 by betting on the OVER requires a wager of $110 while a $130 bet on the UNDER is required to win $100.
It's pretty easy to find explore different online sportsbook options by visting a site like www.bettingsports.com. Check out different site options and tinker with different bet types before actually making a wager.
Once you get the basics down, you can add a layer of complexity to your NFL bets by combining multiple single bets into a parlay wager, or manipulating point spreads using teaser bets.