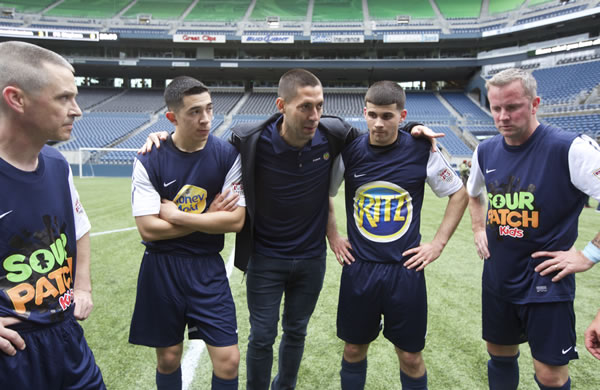 Mondelēz International, the makers of OREO, RITZ, TRIDENT, HONEY MAID and SOUR PATCH KIDS, unveiled an innovative and engaging new campaign which highlights the unique and personal ways that fans and consumers embrace soccer – and invites people everywhere to #PassTheLove.
Beginning this month and continuing as the U.S. Men's National Team prepares for the world's largest sporting event, these beloved cookie, cracker, candy and gum brands – collectively known as the Official Snacks of U.S. Soccer – will partner with soccer stars like Clint Dempsey, Alex Morgan and Omar Gonzalez to create a consumer movement where soccer enthusiasts across the country unite to #PassTheLove of the sport.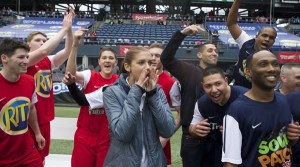 This bold, integrated campaign – the company's largest multi-brand program to date – was designed to be sharable at its core and utilize real-time content, adaptive advertising, experiential events and ongoing consumer engagement to empower and reward consumers when they help celebrate the cheers, anthems, pageantry, rituals and all other elements that feed the spirit of soccer.
For complete details about the contest, including entry requirements, visit www.passthelove.com.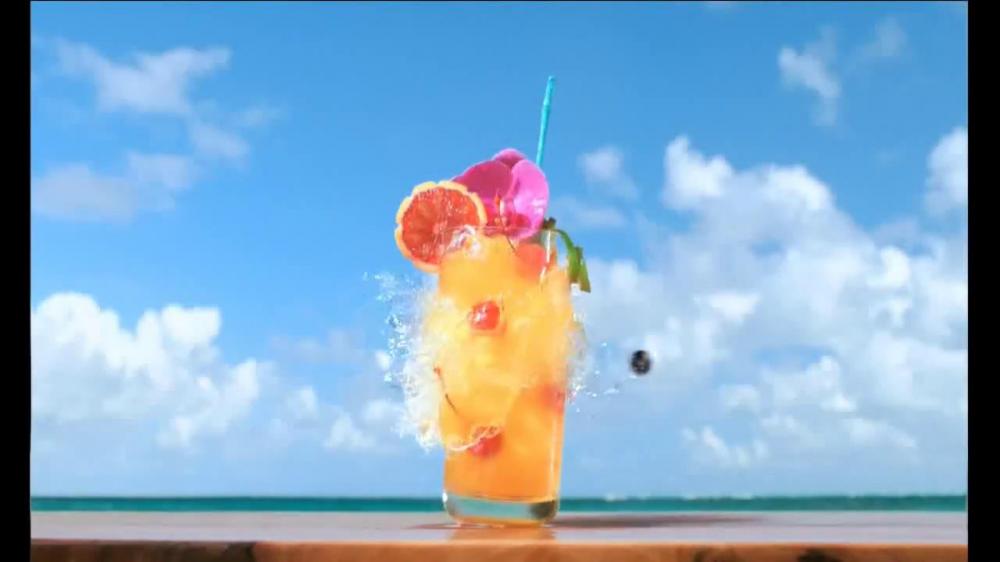 With summer right around the corner, Captain Morgan has teamed up with world-renowned YouTube personalities "The Slow Mo Guys" to remind everyone to break free from the same-old boring daiquiris and piña coladas this year!
The Slow Mo Guys have amassed nearly 4 million subscribers on YouTube thanks to their use of a high-speed camera to film content in slow motion, which provides viewers with an entertaining, and often hilarious perspective on physical contact.
Through a series of explosive videos, the British duo expands on the popular theme integrated into the Captain Morgan White Rum ad spots released earlier this year. In each video, the Slow Mo Guys obliterate traditional summer cocktails in outrageous ways – such as firing off a "Cannon" – while showcasing Captain Morgan White Rum as the new, breakthrough leader in the white rum category.
To support the premiere of this video series, the Captain Morgan brand will be hosting a two-week contest that challenges fans 21+ to guess the number of cocktails that were demolished during the making of "Cannon." The 100 fans who come the closest to the correct amount of cocktail causalities will win a Captain Morgan branded cannonball. The contest will be hosted on Facebook, where fans will be able to submit their entries in the comment section.
Below are a few new drink ideas and the other cool videos from The Slow Mo Guys!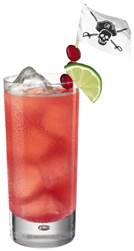 White Madras
Ingredients:
1.5 oz. Captain Morgan White® Rum
2 oz. cranberry juice
2 oz. orange juice
Preparation: In a shaker half filled with ice, add Captain Morgan White® Rum, cranberry juice and orange juice. Shake well and strain into highball glass filled with ice. Garnish with lime.
White Mojito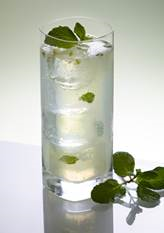 Ingredients:
1.5 oz. CAPTAIN MORGAN WHITE® RUM
0.5 oz. fresh lime juice
0.5 oz. simple syrup
Fresh mint, muddled
Fresh limes, cut into small pieces
1 oz. club soda
1 mint sprig
Preparation: Put all ingredients except club soda and mint sprig into a mixing glass. Add ice and shake vigorously. Add club soda, shake once, and pour into a tall glass. Garnish with a mint sprig.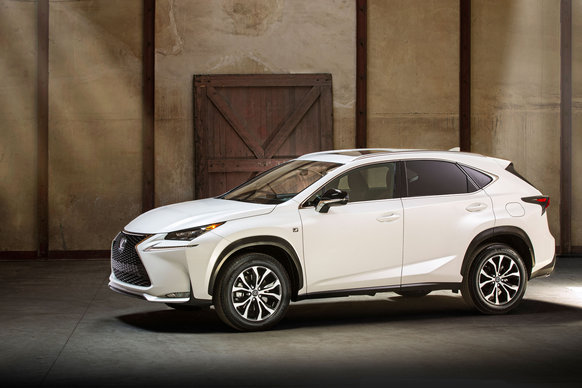 There's a first for everything! The all-new Lexus NX comes to market as the brand's first entry into the luxury compact crossover segment and with the first turbo in the lineup. The NX will also be offered in naturally aspirated and hybrid powertrains. Powertrains will vary by region. The U.S. market will offer the NX 200t turbo and NX 300h hybrid. The NX 200t F SPORT will also be available with unique exterior and interior features.
Lexus will maintain its role as the luxury hybrid leader with six hybrid models including the NX 300h. The NX will be the fourth vehicle in Lexus' luxury utility vehicle lineup and positioned below the popular RX.
Exterior Design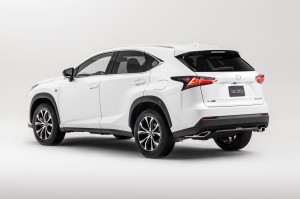 The NX was developed to have more agility than a SUV plus a bold, eye-catching exterior with its low profile and unique roofline.
As with all Lexus vehicles, the aggressive exterior starts with the spindle grille. Innovative LED headlamps and daytime running lamps firmly express Lexus' bold styling.
The front and rear wheel arches add to the NX's wide and low, muscular stance with bold flares.
The arches house standard 17-inch or available 18-inch wheels.
The profile is accentuated by a roofline peak set towards the back of the vehicle to create a tight silhouette and provide ample head-room for rear seat occupants.
Subtle, luxury details are included in the innovative Lexus-first door handle with a hidden key barrel and integrated lighting.
The rear is punctuated by Lexus' signature 'L' shape combination lamps, each with seamless LED lighting, while the bodywork echoes the spindle grille design.
The NX 200t F SPORT will feature exclusive design elements and enhanced driving performance.

Interior Design
The NX's cabin combines the structural beauty of a high-performance machine with luxury materials that maximizes functionality. The combination of hard metallic surfaces and contrasting soft materials help create a unique interior.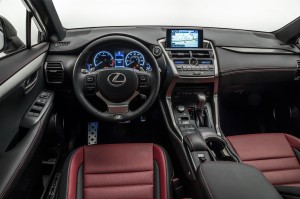 A strong, center silver frame surrounds and defines the center instrument panel. Knee pads located at the base of the center stack help support the driver and passenger. The Human Machine Interface (HMI) technology continues the impression of an advanced vehicle and is also located at the bottom of the center stack.
Seating played a significant role in the cabin design. The NX possesses a low hip point adding to the connection of the driver to the vehicle and increasing overall head room. The NX also has a long cargo area length and a wide front to rear couple distance.
Technology
The NX introduces an innovative all-new 2.0-liter gasoline turbo in NX 200t and a naturally aspirated engine in NX 200 with the choice of front and all-weather drive. Lexus also offers a highly efficient hybrid in NX 300h.
The NX has an array of innovative on-board technology, including an available Lexus-first Wireless Charging Tray to enable a mobile phone to be charged. Other available technology includes the first application of a new Lexus Remote Touch Interface with a touch pad; and a comprehensive Multi- information Display, including a Lexus-first G sensor and boost meter, Heads-Up Display, All-speed Dynamic Radar Cruise Control, Blind Spot Monitor with Rear Cross Traffic Alert.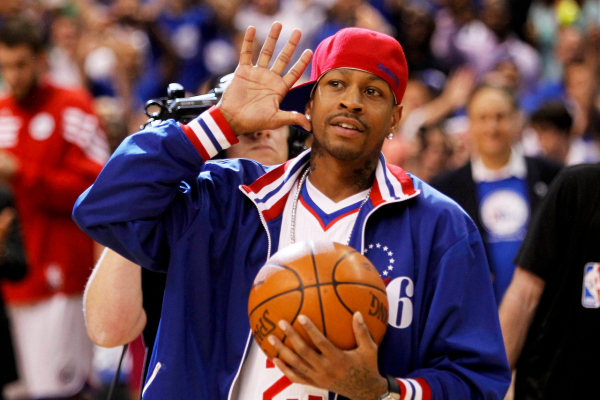 IVERSON is from 214 Productions and first time director, Zatella Beatty.  Beatty produces alongside Ted Faye and Mandalay Sports Media and Moore Entertainment are executive producers. The documentary premieres at the Tribeca Film Festival this Sunday night at 9:30PM and sold out in under 2-hours.
IVERSON is the ultimate legacy of NBA legend Allen Iverson, one of the world's most iconic and controversial sports figures.  Told in his own words, IVERSON is a testament to the power of authenticity and determination; an incredible journey where spectacular success is no protection against demons from the past.
Allen Iverson always turned the voices of haters into white noise, and now Reebok is flipping that into a white shoe that's sure to make noise of its own.
The Reebok Question Mid "White Noise" will hit stores on Friday, May 23rd for $140.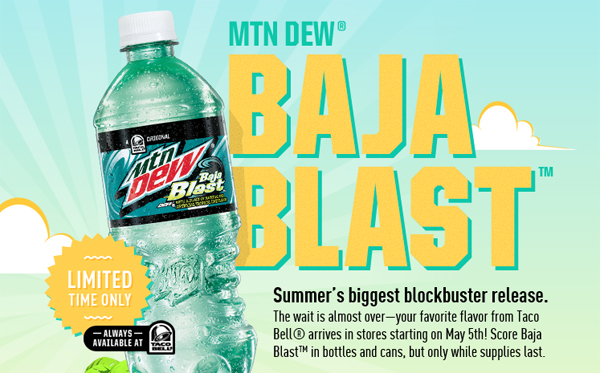 Mountain Dew announced today that, for the first time, Mtn Dew Baja Blast – which was introduced 10 years ago as a "Taco Bell® Original" – will also be available for a limited time in bottles and cans.  The tropical lime flavored beverage will hit shelves starting on May 5.  While Mtn Dew Baja Blast is always available at Taco Bell, consumers will have to move fast to buy it at retail, as the fan-favorite will head back to Taco Bell exclusively at the end of the summer…or when supplies run out.
Mtn Dew Baja Blast will be available in single serve 20 oz. bottles and 24 oz. cans, as well as 12-packs of 12 oz. cans.
On May 5, fans will also be able to download and play the "Baja or Bust" mobile gaming app.  Based upon the widely-played Motocross Elite app, "Baja or Bust" will be available for iOS and Android platforms and will: enable players to enter for a chance to win exciting prizes, including adventure and beach vacations; and be able to enter codes, available under every cap of Mtn Dew Baja Blast, to unlock in-game upgrades and advantages.
Visit www.MountainDew.com/BajaBlast or Facebook.com/MountainDew for more information, and join the conversation at @mtn_dew #SummerOfBaja and  @TacoBell #SummerOfBaja.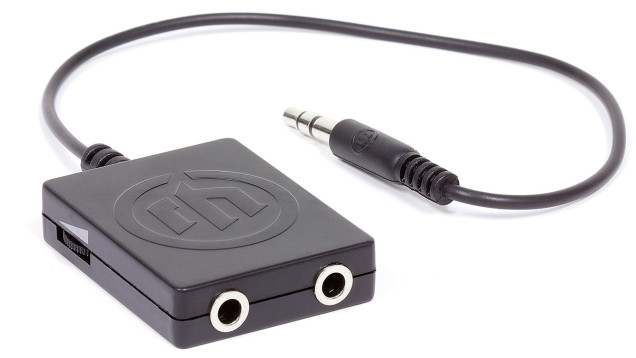 It's not often that you see two people wanting to share a smartphone or tablet, but when that time comes you are now able to do so with the Divy from Wicked Audio. It might have a funny name, but it is a very useful gadget.
The Divy has dual-jacks that allows you to plug in two sets of standard headphones into a standard 3.5mm headphone jack. Just like those sleep number beds where you can split how firm or soft the bed can be this splitter has its own independent volume control for each input.
While most people each have their own smartphone, they may not have Wi-Fi access or a media file that another person has. Now with the Divy you can share that video or audio. It is great for when you are traveling, waiting in the long lines of the DMV, or whenever the moment arises.
One of my buddies never saw the Avengers. I had it on my iPad and our flight got delayed. I could have let him watch it by himself, but I wanted to watch it too. He didn't have anything cool on his tablet so I plugged in the Divy and we were both able to watch and hear the movie without bothering anyone else around us.
The Divy from Wicked Audio sells for $9.99 and is an excellent gadget to have at your beck and call.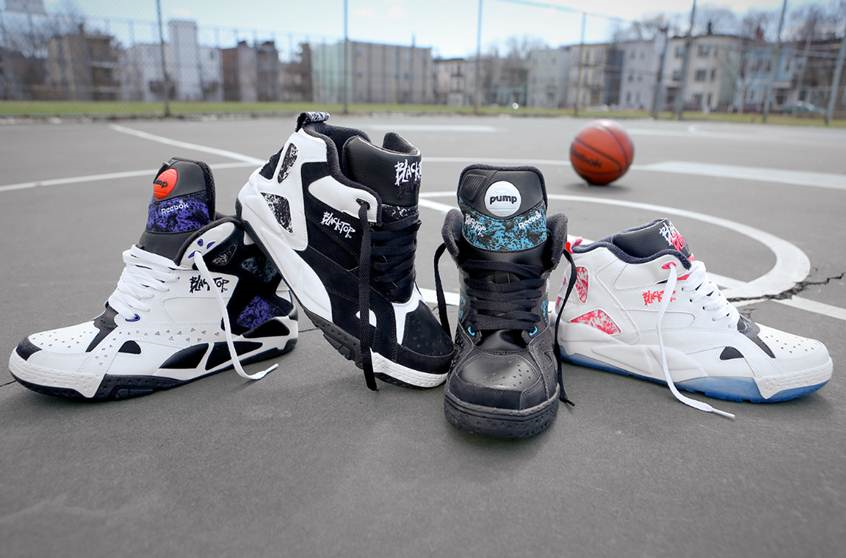 This spring, Reebok Classic will bring back one of the most popular basketball collections ever introduced – the Reebok Classic Blacktop collection. Shoes so bad they gotta be fenced in.
Originally built for the outdoor game, the Reebok Blacktop collection has become synonymous with the glory days of 90s street ball. The two most popular models – the Blacktop Boulevard and Battleground – were not only tough enough for the court, but had sky-high style to match.
On Friday, May 9th, limited pairs of the Reebok Classic Battleground ($125 ADULT/ $90 GS/ $50 TD) and Reebok Classic Boulevard ($100 ADULT/$75 GS) will return to the streets at key retailers Jimmy Jazz, Expressions, Shiekh, City Gear, Villa, DTLR, Reebok.com.
A must-have shoe both then and now, the Blacktop collection will go fast so be sure to get 'em before they're gone!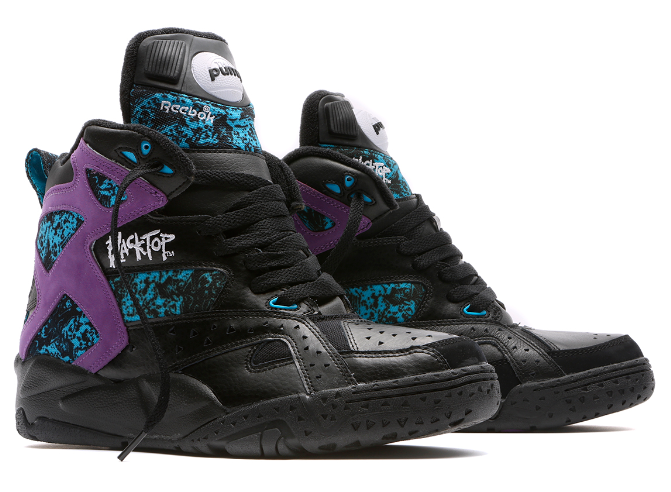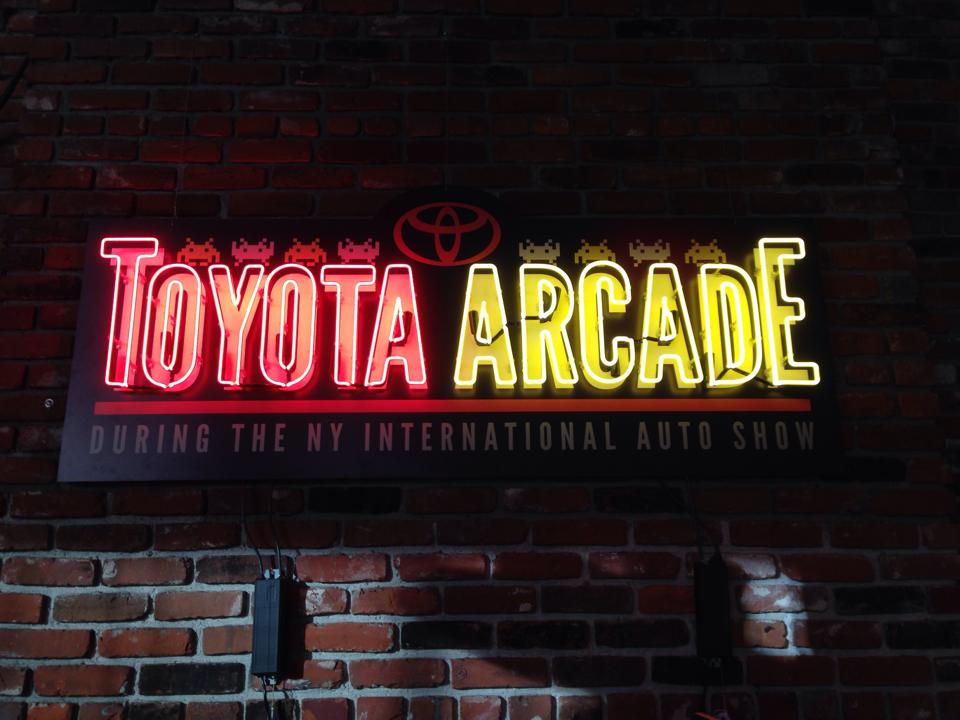 Last week I was at the Standard High Line & Biergarten in NYC to check out the Toyota FT-1. The car was the centerpiece to an awesome night that Toyota hosted. They had an old school arcade theme to it. From Frogger to Rolling Thunder there were many games that took us back in time. All the games were not from the 80's though. Toyota had two custom made driving machine cars set up so we could virtually drive the FT-1 around the track in Sony's Gran Turismo 6, which the FT-1 was created for. Hence that is why Toyota went with an arcade theme.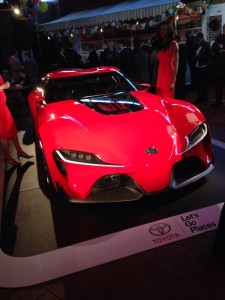 Still let's get back to the main reason why I was there. It was to check out the FT-1. From top to bottom this car is sexy. It has curves in all the right places and it has a hydraulic spoiler and a pop-up display in front of the steering wheel. The seats even have fans in the headrest so that your head doesn't get hot. Crazy right?
The FT-1 concept is a pure performance, track-focused sports car model created by CALTY Design Research, Toyota's North American Design branch. The FT-1 concept is a symbol that captures elements of the emotion and energy we can expect to see in future Toyota vehicles designs. Its design is heavily influenced by Toyota's long sports car tradition that includes vehicles such as 2000GT, Celica, Supra and most recently, FT-86 (Scion F-RS).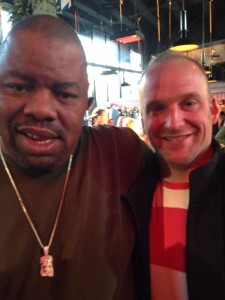 At the Toyota Arcade Biz Markie came to the event to not only DJ the event, but he was looking to test drive the FT-1 and even get one of his own. I can't say I blame him. The food and drink had a German theme to it, which were all very delectable. The Arcade even had a booth where a company was making 3D copies of the FT-1. There were a few large scale models, but they made a lot of them in Matchbox car size. I did take a few of the smaller ones since it will be the closest I will ever get to own an FT-1.
The larger 3D copies of the car went to the people who finished on the top of the leaderboards in the Gran Turismo 6 game. It was safe to say that I had no chance in winning that at all. Still whether I finished in first place or last, Toyota put on one great party where the old school met the future as the FT-1 was proudly on display.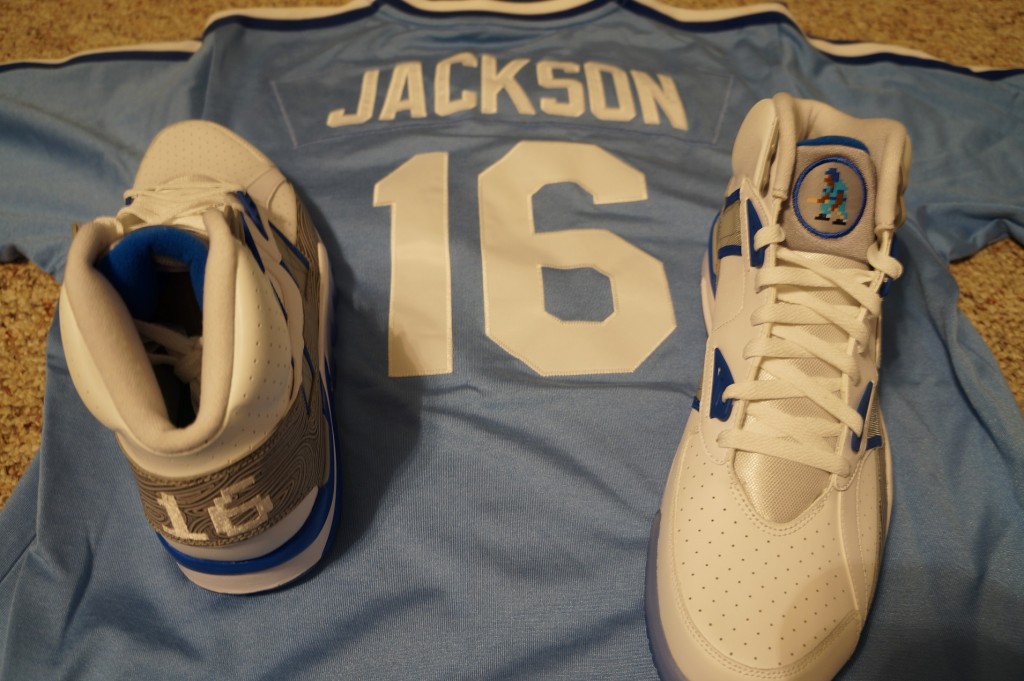 With all the different retro kicks to hit the market the "Broken Bats" SC Trainers are sure to be a hot commodity. Bo Jackson was known for his superhero like strength and agility on the football field and the diamond. Nike is paying tribute to one of his iconic moments on the baseball field.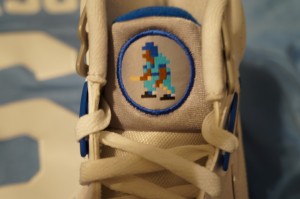 Jackson loved swinging for the fences to try and knock the ball out of the park. Unfortunately he did strike out on occasion. When he did he would take his frustrations out on his baseball bat. He would either break the bat over his head or drive the bat into his thigh and he would need a new bat the next time he was up at the plate.
The shoes already sold overseas, but they are going to be hitting the U.S. this Friday. Thanks to Urban Industry over in the UK, I already got a pair of these limited edition shoes. From my pictures you can see the great detail that Nike put into these SC Trainers.
The shoes not only have his "16″ on the back, but they also have an 8 bit arcade image of Jackson snapping a bat on his knee, swirling wood grain patterned accents on the upper, and the icy blue outsoles read "Broken Bats" when put together. They even have an 8 bit writing of "Bo Knows" inside the shoe.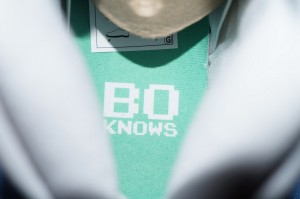 Nike released this statement on Bo Jackson and the "Broken Bats."
"Bo knows this. Bo knows that. And perhaps better than anyone else, Bo knows broken bats. The legendary two-sport phenom had a knack for hurdling over defenders on the gridiron and robbing sluggers of hits with dazzling displays of athleticism. His power in the batter's box was also evident from his first professional at-bat in 1986. However, when his swing didn't connect, he made his frustration clear by famously breaking his bat across his leg.
The latest Air Trainer SC pays homage to Bo's baseball prowess with a Kansas City-inspired colorway. The design also draws from other facets of Bo's legacy with a digitized Bo Jackson logo appearing on both tongues. But the key detailing comes from under the design. An ice blue outsole houses a "BROKEN BATS" graphic print as a nod to the athlete's brute strength. Never before has the classic cross-training silhouette told such a rich, nostalgia-soaked story. And you can bet Bo knows that."
The Nike Air Trainer SC "Broken Bats" are set to release this Friday, April 25th for $130.
Here are some old school clips of Bo making sure that Louisville Slugger stays in business.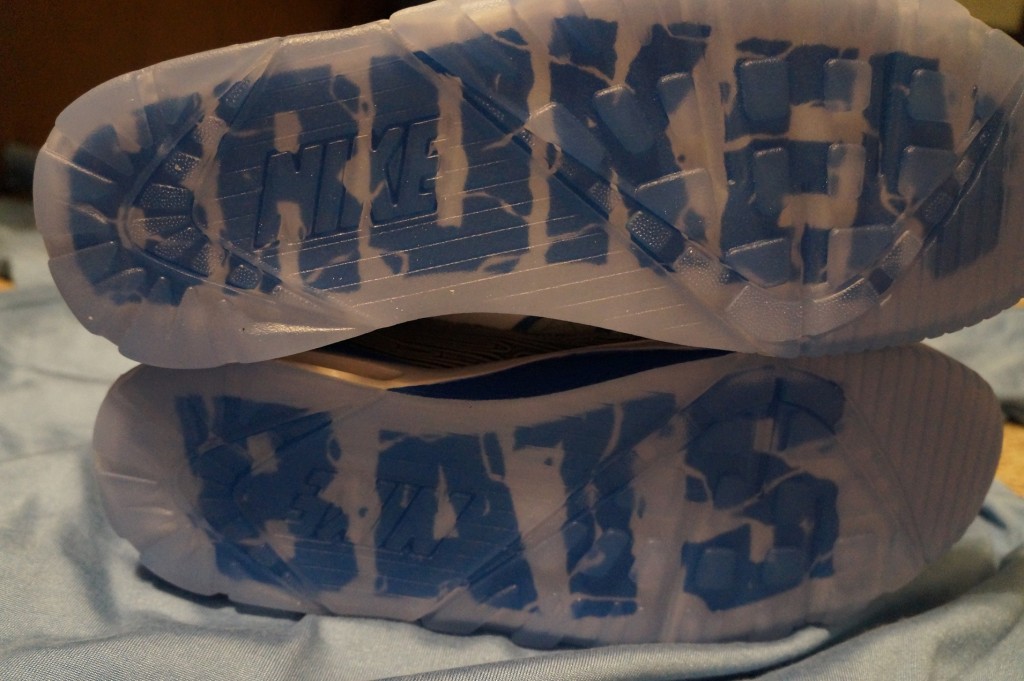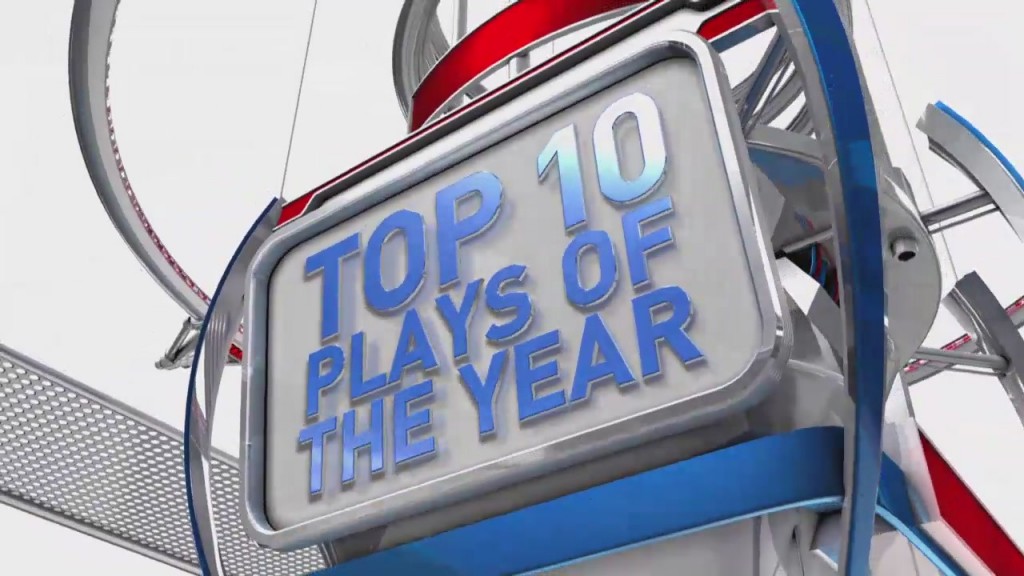 The NBA Playoffs are now in full swing. The regular season is done, but there have been some memorable plays. The NBA and Crown Royal have put together the best of the best plays from this year. From sensational dunks to great defensive stops here they are! Which one is your favorite?
Sit back and watch the plays that make us love this game! While watching the playoffs hopefully my Chicago Bulls will be able to #ReignOn!