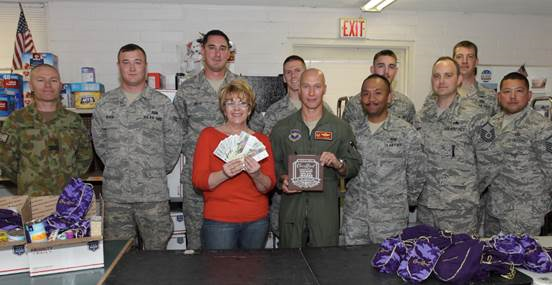 Imagine seeing your name all over one of the country's largest sports venues, and having an event officially renamed in your honor. For the eighth year, Crown Royal will make that dream a reality, as they rename one of the season's biggest NASCAR races after an adult consumer.
The brand is teaming up with Phoenix-based charity Packages From Home, which is dedicated to sending care packages to active-duty troops stationed overseas, this weekend to launch their annual "Your Hero's Name Here" program. The program honors a deserving American hero by re-naming the July NASCAR Sprint Cup Series race at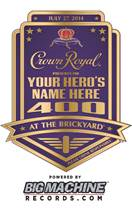 Indianapolis Motor Speedway in his or her honor.
Packages From Home and Crown Royal will treat a group of local heroes from Luke Air Force Base to a VIP experience at this weekend's NASCAR race. In addition to sending 20 military members to the race, two individuals will be recognized as the inaugural program nominees and will have the chance to have the legendary Indianapolis race named in their honor.
Consumers 21+ can visit CrownRoyalHeroes.com to nominate their own heroes, for a chance to win naming rights to the race. Nominations will be accepted through April 13th, with finalists being announced at the end of April.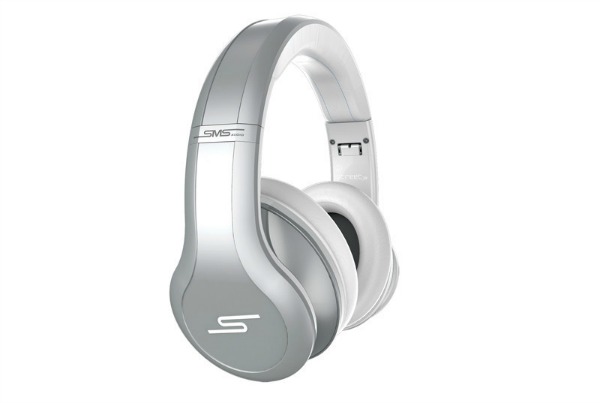 The headphone marketplace has taken a turn for the premium in recent years. Sure, you can get by with those standard, Apple-issue ear buds, but why subject yourself to inferior sound quality when there's such an influx of high-end headphones on the market?
The brand that gets all the attention is Beats by Dre. These headphones first debuted in 2008. By 2012, the company released the Beats Executive noise-cancelling headphones in an effort to compete with higher-end headphone manufacturers like Bose and Sennheiser. With savvy branding and eye on quality, the Beats by Dre line has really taken off.
Not to be outdone, Curtis Jackson (50 Cent) launched his own headphones brand in 2011. SMS Audio (which stands for "Studio Mastered Sound") was created when 50 acquired KonoAudio in August 2011. The founder of that company, former Gillette executive Brian Nohe, serves as president of SMS Audio. Nohe and 50 shared an interest in developing high-end audio equipment and they began releasing high-end headphones in late 2011 and early 2012.
SMS Audio produces the STREET by 50 line of in-ear, over-ear and on-ear wired headphones along with their SYNC by 50 line of wireless headphones. We received a pair of STREET by 50 ANC noise-cancellation headphones to review, and how should we put this… they're kinda amazing.
In no uncertain terms, the STREET by 50 ANC headphones are better than Beats by Dre. Without question. The construction is sturdier, the bass is bassier and the active noise cancellation is quite good.
This ultimate-premium sound experience has one drawback – the headphones are massive. I felt like a cosmonaut with these things on, but if I was going for a jog and I wanted to hear the outside world around me, I'd probably reach for ear buds anyway.
The STREET by 50 ANC headphones are designed to block out any and everything around you so that you can immerse yourself in a rich and truly top-shelf sound experience. I mean you can tab a hand on the table with these things on and you won't be able to hear a damn thing. The battery life for the noise-cancellation action is solid, and you can even get some juice from whatever device you're plugged into.
The headphones fit pretty tight, but hey, you put them on to shut the world out, right? The grip isn't really a big deal. Plus the soft leather cushions have some memory foam action to them which really seals in the sounds you want, while keeping out the sounds you don't need. The design is bulky, but still very stylish and foldable. The set comes with a removable cable that features a built-in mic and a hard shell carrying case.
Bottom line, these are legit headphones for the price. $300 may seem like a lot to drop on a set of headphones, but when compared to other sets in the market, these things hold up, man. It's a competitive price point for the experience you get. Sometimes we all want to retreat from the outside world and be alone with our thoughts (or our favorite tunes). These headphones help you do just that.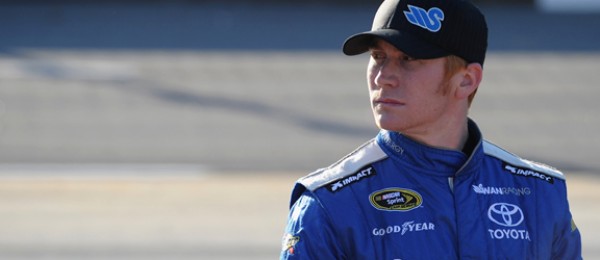 Last week we had a chat with NASCAR Sprint Cup Series Rookie of the Year candidate Cole Whitt as he was preparing for the Daytona 500. Whitt is just 22 years old, but the guy's been racing for years. HE started racing when he saw one of his cousins with a go kart. He moved from go karts to midget cars to sprint cars and trucks and made his NASCAR debut in 2010. He has 11 top ten finished in the World Truck Series, 18 top ten finishes in the Nationwide Series and now he's driving the No. 26 Toyota Camry car for Swan Racing in the Sprint Cup Series. Men's Speed Stick GEAR will serve as Whitt's new NASCAR sponsor, and the brand will be featuring a documentary series on Whitt's journey to the Daytona 500 starting in March on the Speed Stick Power YouTube Channel. After overcoming a bit of car damage adversity to make the race, Whitt finished 28th overall at Daytona.
Whitt told us about his leisurely activities, his participation in the Red Bull Driver Development Search program, his favorite tracks and, after seeing this photo on his website, you know we had to ask the man all about bow season:

CS: So to start off, I was checkin' out your website and it looks like you're into hunting because you got a picture of you front and center with a bow and arrow. Can you explain to me what bow season's all about?
CW: You know the bow hunting is just something that I've enjoy. It's not so much going out and having to harvest something, but just the fact that bow season is kinda the opposite of racing. It's nice to be able to slow down and relax. Bow hunting is all about getting close. There's a whole other challenge to it. I enjoy the tricking part of it. Technically, I just spear hunt mostly, so tricking deer for the most part.
CS: Racing is kind of in your family – well, not kind of, it certainly is. When did you first realize you were going to be a professional race car driver?
CW: I don't know. It's in me right now, you know it can be taken away at any moment I know that that's why I don't take it for granted. You know I'm very blessed to be able to do this and to do it at the level I am right now and I've just been doing it. Even when I was racing go karting, we just never took it for granted and we always knew at any moment things could be taken away. And you know, there's been many times where it has and things have always worked out to come back around for something else. Just staying focused with having a good family behind me and raising me the right way made a big difference and I think just being able to be this far is pretty exciting, regardless of what happens from here.
CS: Can you tell me a bit about your participation in Red Bull's Driver Development Search?
CW: Yeah. That whole thing kind of came together last minute. They were doing that Red Bull driver search looking for actually an F1 driver and I wasn't going to do it. I was actually just kind of racing go karts at the time with my family and just having fun. We were winning a lot of races and championships, but we were just having fun and clearly didn't think anything of it.  And the next thing you know someone's like, hey you really need to go do this thing they're going to let you go straight to a qualifying round. So alright, we go out there and have fun with it and after the whole thing was said and done, long story short, they wanted to meet and it progressed into a sponsorship. They're actually probably the only reason why I've made it this far in the sport. It was a great partnership and it was great while it lasted. Just a great company. They did a lot for me.
CS: Their racing program has since shut down. How did that go down, do you know?
CW: Yeah, I don't know the specifics on it but I think whatever they needed to do was for their best interests and I support every decision that they've ever made just because of how much they've done for me. You know, they were great people. They were great to me and took care of me well. I don't know the logistics behind why or what they did, but I'm sure they had good reasoning.
CS: You're a rookie of the year candidate this year, so you're certainly holding your own and then some. Is there specific preparation that you go through or any kind of rituals or superstitious stuff that you do before each race?
CW: Nah, I'm not superstitious. I kinda feel like it's going to be whatever it's supposed to be. I'm pretty confident that everything will take care of itself. For the most part though, like you said, being in that rookie class, this is one of the biggest rookie classes they've had in the cup series and one of the most talented. To be part of that's a pretty cool honor and to be able to say that we had a good shot of winning it is pretty cool also. It says a lot about me and what we stand for as a team and what we're getting ready to build. I'm pretty excited to see how that turns out.
CS: What's your favorite track ever? Go karts, sprint cars, stock cars, any of the above.
CW: I'd say my favorite track so far is either the Old Phoenix before they repaved it and then probably Kokomo speedway the dirt sprint car track in Indiana.
CS: Nice. Now I also saw that you're pretty up on social media. How do you leverage social media to connect with the fans of the sport?
CW: Yeah, social media is pretty neat and I've actually gotten better with it over time because I really didn't use it to connect with fans at first, but now I've been using it more to connect with fans. It's been a lot more fun once you do that and you realize how much they enjoy it and I like that. You know there's no reason why we can't, it takes two seconds. You're on your phone anyways probably looking at it or reading it and when someone posts something to you and you reply or talk to them or give them something they want to know or give them an inside look at something, that's what gets people excited. And without those fans our sport would be nothing. Just having the gratitude and the mindset that these guys are paying for the seats and coming to watch us at the race track is what drives our sport in the first place.
CS: What would you say is your most anticipated race of the season?
CW: I'd say right now Daytona 500 is probably my biggest anticipation. There's a lot riding on this and there's a lot that could happen here. But at the same time if things don't work out for the best there, I know I can pull through and look forward to Phoenix and other races down the road. I look forward to the whole season, but Daytona 500 right here is something I'm really looking forward to.
CS: I got one more question about your leisurely activities. How good is your golf game?
CW: (laughs) Um, not too well. I actually started playing more in the past little while (laughs), but not too good. I'm more into the cross fit training and a lot of fitness is what I probably do the most.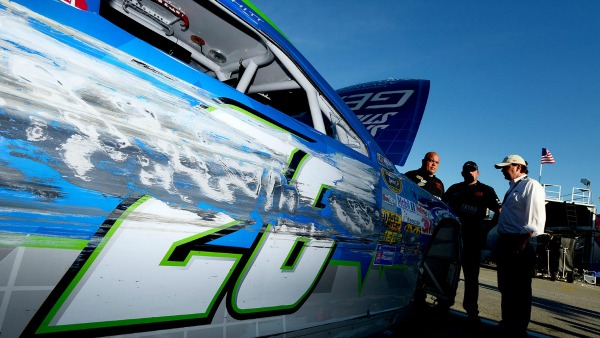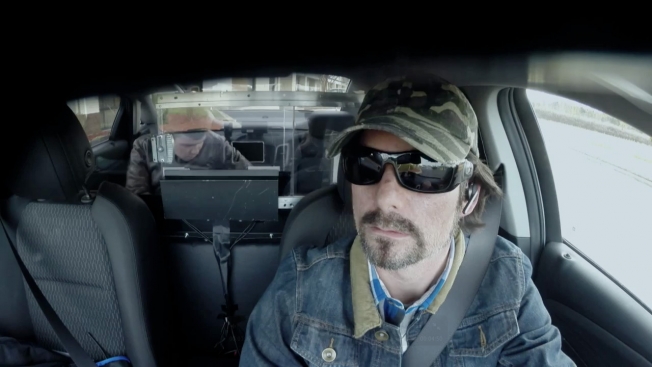 Attention to my fellow bloggers out there. Don't mess with Jeff Gordon. If you don't believe me just ask "Jalopnik" writer Travis Okulski. Last year when Pepsi Max released a commercial that featured the well-known NASCAR driver wearing a disguise to pull a fast one (literally) on an unsuspecting car salesman many thought that ad was staged. Okulski was making his voice heard saying that the commercial was fake.
Well Jeff and Pepsi Max were listening. They teamed up with Okulski's friend to show the writer that these commercials are real. The new Pepsi Max ad has Gordon in the role of an ex-con now taxi driver. When Gordon gets pulled over by the cops he gets nervous and tries to out run the police officer. Next a high speed chase ensues. The ad is priceless and it is a moment that Okulski will never forget.
I was able to talk with the four time NASCAR Cup Series Champion about the new Pepsi Max ad, racing, and which ride in his garage is his favorite.
Art Eddy: I am loving your Pepsi Max commercials. When this idea was first brought up to you what were your initial thoughts?
Jeff Gordon: We did the original one about a year ago. We had so much fun with it. It did really well. Pepsi Max in true max fashion wanted to take it to that next level and max it out. Conceptually how do we make this one even better? There is no use in doing another if you can't step it up.
We knew a lot of people had questions about the first one. So we thought how can I do all the driving, all the stunts, and make sure that they know that this is as authentic as it gets. That was the whole thing about the authenticity of it. This whole production exceeded my expectations. It was unbelievably fun doing it.
There was also a lot of pressure. It was intense knowing that you got only one take to make sure that Travis from "Jalopnik" did not know who I was. Nor did we want him to at any point to think that this was a prank. We wanted to have him think that this was serious. Obviously from his reaction I think we succeeded.
AE: Yes you did. You got him. You got some acting chops there. Ever think about going into acting after NASCAR?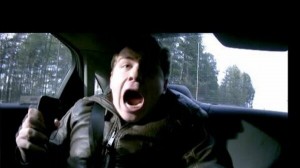 JG: Oh, I don't know about that. They did some really nice editing. It is amazing that when you get in disguise how you can start to adapt into a character. It certainly is not something that I am used to doing, but I love that Pepsi took the risk and wanted to take it to the whole level of disguising me. They gave me a tattoo and I was an ex-con. Turing this Chevrolet into a taxi and looking at every safety precaution to pull this off.
When they take that much risk and go all out like that it makes me want to go all out. So I did. I had a ton of pressure on me to make sure that Travis had no idea who I was.
AE: I think you succeeded there Jeff. I was able to get a firsthand look at a NASCAR race at the Brickyard 400. I was able to walk around the garages and pits. It is incredible to see how much effort goes into your sport. Does it bother you when people that don't know too much about NASCAR say that it is just people racing?
JG: Yeah. Either that or that our cars are not taken to the level of other forms of motorsports like Formula One. I think that when you come and see how NASCAR can keep the cars, the rules and limitations that we are under, and you see what we are actually capable of doing is incredible. 850 horsepower engines, the amount of down force we get in the cars, and the speeds that we carry make you have to look at the great race that is on the track. Like you said all that goes into it I think is a surprise for just about everybody who comes to their first race.
AE: For you which championship or victory do you cherish the most?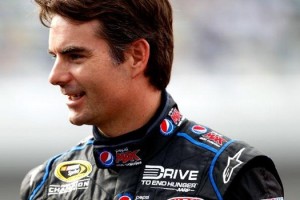 JG: Certainly not just by coincidence that you brought it up, but I would say the Brickyard 400. The first race they had in 1994 was and still is probably the biggest race and win of my career. If I just go to my trophy room in my house, even though that is the smallest trophy I have (both laugh) it is front and center which makes for a good story. The fact that it is so small as well, but definitely that race because I grew up in Indiana. I went to high school there. I always wanted to race at the Indianapolis Motor Speedway. So that was huge. It was a big event throughout the nation.
It is hard to say on the championship because the first one was really sweet and amazing to get. The fourth one because I went through a lot of changes with my team and Ray Evernham wasn't my crew chief anymore. From a pure accomplishment standpoint that one really meant a lot to me. I was able to show what I was capable of bringing to the table as a driver and how Hendrick (Motorsports) can span across several years and many new team members and still go out there and get it done.
AE: Out of all the places you have raced which track is your favorite?
JG: I love Bristol probably the most. I like Atlanta. I like Bristol because it has short track action. Martinsville I really like for the short track action. I l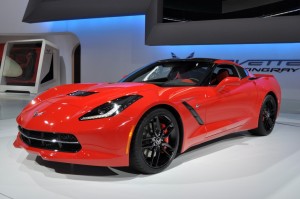 ike a track that you got to slide the car around and really drive it and work with the team to get the car really working well. I think I am best on tracks where you have to have finesse. Atlanta Motor Speedway is that track.
AE: What is your favorite ride in your garage right now?
JG: I just bought a Barrett-Jackson a few weeks ago. It is a 52 Oldsmobile. So right now that is my favorite. It is not the highest performing. I got one of the new Stingray Corvettes that I am pretty excited about. That car is pretty darn cool. The kids seem to like that one too.
If you missed Test Drive 1, here it is!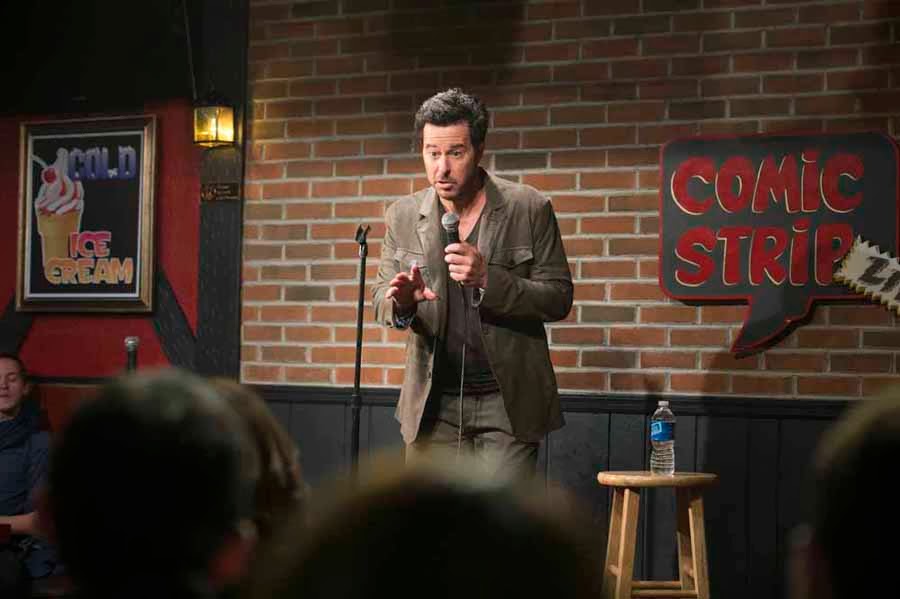 Yesterday there was a conference call with Executive Producer and Show-runner for Law & Order: Special Victims Unit, Warren Leight. SVU guest star Jonathan Silverman who will be in this Wednesday's episode called "Comic Perversion" also joined the conversation.
Here is some of Leight's and Silverman's answers during the Q&A session over the phone.
Warren was asked about Benson's attack by Lewis this season and her eagerness to arrest men. The question of Benson's judgment seems at stake. Would her decline continue throughout this season or can we expect her to gain some stability?
Warren Leight:  Okay, well this is Warren. I guess I'm responsible for her decline so I'll take that. I think that, you know, she's suffering from PTSD and I think she's working through it. I think in the next few episodes we see her comfortably in command of her squad. Although in this current episode Comic Perversion, I think you see some of her – I think you see some anger still leaching through. But I feel like unless Lewis returns maybe the worst is over for her. That's a big unless.
Jonathan Silverman was asked if actors like to play characters who are vulnerable. Silverman responded by saying the following.
Jonathan Silverman: That's a great question. First of all, Warren Leight is a god in my eyes and he knows I would do anything to work with him again. I was lucky enough to be in the – at least the West Coast Premiere of his wonderful play, Glimmer, Glimmer & Shine at the Mark Taper Forum probably. When was that Warren, 12 years ago?
Warren Leight: 1904 I think something like that.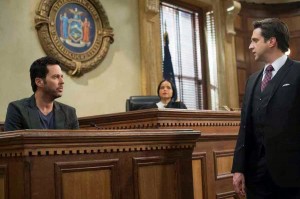 Jonathan Silverman:  Yes, 1904. It was done in black and white even live on stage. Honestly he knows. I would do anything to work with him. So when he presented me with this script I was blown away by how powerful it was and a little scared about just the workload involved. And then of course my next reaction was, "Oh, can I do this?" You know it's obviously a subject matter that is very delicate and to me, to my wife, to some of our dear friends.
And I was somewhat hesitant and even, you know, I had to discuss it with my reps, with my manager, with my agents. And we ultimately decided, you know, this is what I do for a living. And you don't always get to play reputable characters. Sometimes you get your hands a little dirty literally and play the bad guy.
And I'm so glad I did. Obviously I hope people don't respond to my character's inclinations on and off stage. But it was a wonderful opportunity to portray and to get this message out so I'm thrilled I did it.
Warren Leight:  I will say it was very brave with Jonathan. I will tell you now, there's probably not a standup comic in the country who would have dared to do the part because and I am very comfortable with Jonathan because we had done this play together. And I knew he could land every beat of this thing.
And, you know, it has worked out well for Pablo Schreiber playing one of our villains. And I think it will – it should work out well for Jonathan. But it is interesting to me how many people tell me how much they want to be on SVU but they don't want to play a pedophile or a bad guy.
And really that's what we have for, you know, to offer. Our good guys are already on the squad. And I'm very glad that Jonathan stepped up. And he, you know, he's – like Pablo, he didn't flinch for a moment. You know you have to drive into the skate of these characters and man did he drive into this good.
Warren was asked about Twitter and social media. Does social media tend to affect the way the show is produced?
Warren Leight: I like it. I like Twitter. You know I don't have – it's great because you can just – if you have two minutes of downtime you can go on, see what's going on. Drop a couple of bombs and get out. And I like doing that.
And it's – I feel it does get a dialogue going with the fans. And of course with the haters which is also fun. But it gets – it's a way – we're 15 years in so it's not – we have to figure out ways to reach our fans directly. We're not going to – there's not going to be a ton of promo for us or a ton of ads for us.
What I like about Twitter is we get to speak directly to the fans and kind of – it's also good when there's about 30 rumors a week that go out and trying to shut those down as fast as I can. So I enjoy it. Most of the time I enjoy it a lot and we have the entire writing staff now tweeting. We have an SVU writers of account, the entire cast tweets. And it's also a way of just since none of us actually talk to each other in real life, it's a way of finding out what each other's doing all the time.
Jonathan Silverman: I'm amazed by it. And my wife is on Twitter. And actually she just got me on Instagram so I'm going to start playing around with that. I'm just always a couple of years late to the party on all this stuff. So I'll join soon. I promise.
Warren was then asked if we expect to see for the end of this season, can we expect to see any more guest stars?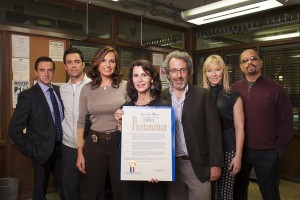 Warren Leight:  Well I think word is out that we have Alec Baldwin will be coming up. I think everyone – he's shooting today in a story. I hope the paparazzi are leaving him alone. And he's shooting in an episode directed by Mariska that will air March 19th. We also have Donal Logue and Sherri Saum airing the week before that.
So we the guest stars will keep coming. It depends on how much money's left in our budget. But I think that they're going to keep coming.
Next Jonathan was asked about what it was like to go from comedic films that people knew him from to kind of doing a more serious show like Law and Order SVU.
Jonathan Silverman: I relish doing anything that's a bit out of, you know, the norm and out of my wheelhouse. I supposed there's a certain comfort level for me in doing comedy. But I've certainly done my share of dramas and anytime I get a chance to play a somewhat nefarious bad guy I leap at it. What was interesting about this is probably around 70% of what I do in this episode is up on stage being a comic.
Lastly Warren was asked if there was going be some big surprises this season. Is the squad going to get a new captain anytime soon and if so can you give us a hint who will play him or her?
Warren Leight:  We're not sure where we're going with that. I have liked Olivia in charge a lot. But there is in certain – there are certain circumstances that could cause her to not be allowed to be in charge of the squad room.
And if – I'm being as – I think now I'm being kind of vague here. But there's certain cases she would not be allowed to handle for her own safety. And if one of those comes up she may be in – she may get boot. She's – as we speak Mariska has been redecorating the captain's office by the way. She's directing our episode now.
And she's been moving in. She moved a plant in. She moved some survivor handbooks and things like that in. So she's making that office a home. But I think technically she's only a sergeant and she's acting commander of the squad. So eventually NYPD may – and we play a lot about – of late we've been writing a lot about the politics of NYPD. Usually when something's going well NYPD likes to muck it up bureaucratically.
And so I think the better the job she does as acting commander of the squad, the more likely it is the Peter Principle will apply and they'll bring somebody else in. It's – I've been loving watching her in command. She's – it's – she's 15 years in. She knows what she's doing, you know.
Make sure to check in to Law & Order: SVU this Wednesday on NBC at 9/8c


Leave it to Jack to give bacon lovers what they want. A bacon triple-threat – the new Bacon Insider burger from Jack in the Box restaurants takes bacon to unprecedented levels with a "craveable" sandwich featuring a juicy beef patty with savory bacon pieces mixed right in, sandwiched in-between six-half slices of hickory smoked bacon, and topped with a creamy bacon mayo sauce. And if that's not enough, you also get lettuce, tomato and American cheese – all served on Jack in the Box's new gourmet brioche bun. The Bacon Insider is available for a limited time only at participating Jack in the Box restaurants.
MANjr is going to help you get to try the Bacon Insider by giving away some Jack Ca$h to some lucky readers. Just fill out the contest form and follow MANjr on Twitter.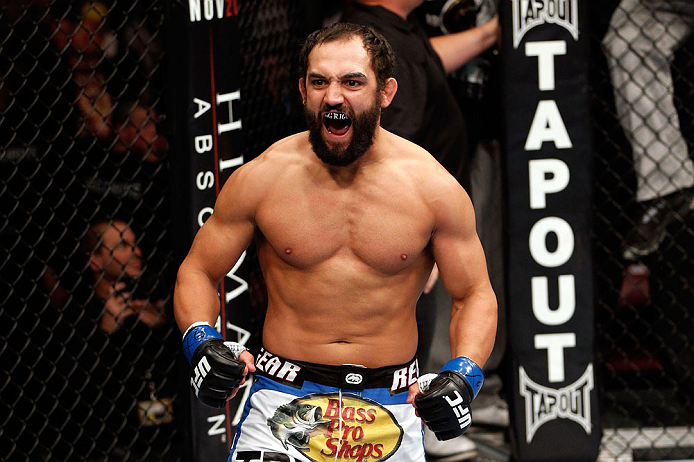 Top UFC Welterweight Contender Johny Hendricks can't wait for March 15th. On that date he will look to win the Welterweight title when he goes up against Robbie Lawler in UFC 171. In his UFC career he has a record of 15-2. He has won eight of those fight by knocking out his opponent. Not that many people want to go into the octagon with Hendricks.
You might have seen Johny in action on TV with his Reebok commercial with fellow athletes Knowshon Moreno and Aly Raisman. When Hendricks is not training he spends time with his family and also loves to go hunting and play golf.
I was able to catch up with Johny while he was taking a break from training to talk about his upcoming fight, training, and the stereotypes of UFC fighters.
Art Eddy: You recently shot a great ad with Knowshon Moreno and Aly Raisman for Reebok. How cool was it shoot that commercial?
Johny Hendricks: It wa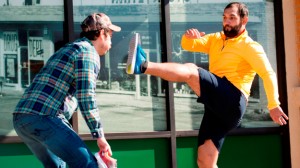 s fun. It was exciting. The new ZQUICK are really great. The concept that they brought to it was great. They also made it fun. I was out there running and doing a bunch of different things. So they made it fun which makes it better for me.
AE: Yeah, I loved how you saved the day in the end to help get that lady's workout gear back to her.
JH: Oh yeah. I had to kick him a couple of times. He took her shoes, but in the end I got them back.
AE: How has the Reebok ZQUICK running shoe helped out your workout?
JH: Yeah, they are really good on turf. I do a lot stuff on turf. I do a lot of stuff on the road too. These shoes have been great for that. They are very light and very flexible. They have been great for me since we do a lot of stuff without shoes on. Even though they apply a lot grip they still form to your foot. If you stop or if you are on an uneven surface it almost feels like you are not wearing shoes.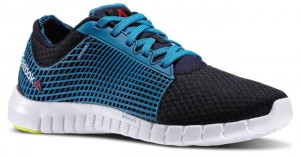 That is what is great about it for me. I can go out there and train with some shoes on, but it is not giving up that foot feel that I have every day.
AE: Speaking of training you are going to be facing Robbie Lawler on March 15th at UFC 171 for the vacant UFC Welterweight title. How has the training been going?
JH: I am a few weeks out. My mindset is good. I am training hard. My shape is getting better, better, and better. I am actually ahead of schedule than I was for my last fight. That is something that I am happy about.
I am super excited. I can't wait for the fight to get here, but I also know that I have to wait for the fight if that makes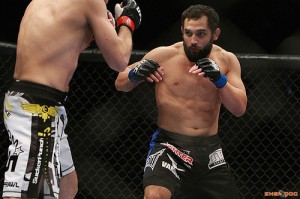 sense. I can't overlook the next few weeks of training. I have to get every bit out that I can out of each day. That is what I am really focusing on now.
I am training and not worrying about who I am fighting.  You just have to worry about what you can do to make the fight go your way.
AE: You wrestled in college and then put your focus on MMA after graduating. What was it about MMA that appealed to you?
JH: MMA, well it really didn't happen at first. I wasn't a big fan of MMA. I trained in it. I like to protect my family. I know that I have a gun, but what happens when you can't get to your gun? Those are the things that come back to me. I would much rather be able to protect myself because I can put a pretty bad whooping on someone right now.
I can make sure that this guy can't do harm to someone else. Does that make sense? Maybe break a couple of bones. If someone tries to do that to my family that is why I want to make sure that they don't threaten anybody else. That is sort of my mindset right now. I know that I can protect them in an easier way.
AE: For you what is the biggest stereotype of UFC fighters that drives you nuts?
JH: When people say that we are barbarians. That is what gets me very heated. People that say that sound uneducated. There are so many people out there like me who have their college degree. It is just turning into an athlete. That is why I think the sport is as popular. You have smart athletes in this sport.
Plus, there is the news and interviews on fighters so that people get to know who we are. I am just a family guy who makes a living by settling it in the octagon. In the same way for you. You have to fight for your job just like how I have to fight for my job. It is a little bit different, but we all have to fight in life.
That is what people are starting to realize. Sometimes it can be brutal. Yet in some of the last couple of fights I didn't see any blood. Some people see all this blood from this or that and make an opinion. It is just one of those things.
AE: When you are not training what do you do in your free time?
JH: I play golf. I hunt. I spend a lot of time with my family. That is pretty much it. Realistically I would say probably 95 percent is family time. The other five percent is spent golfing and hunting. I try and do much as I can with the family because I know that these fights are getting bigger. The bigger the fight, the more I want to train. The more I want to train is the more I am away from my kids and my wife. That is why I try and get back to them as much as possible.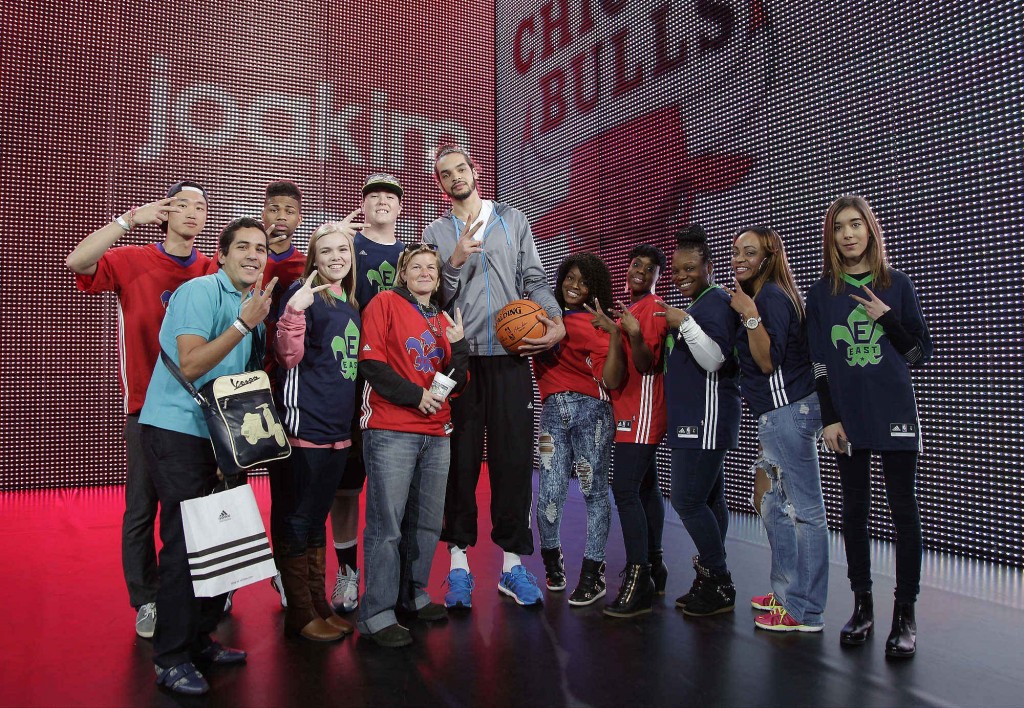 adidas unveils Energy Boost 2 – the running shoe with cushioning returning more energy than any other foam in the running industry. Innovation is the engine of adidas running and Energy Boost 2 is a testament to that as it continues to be an industry first. Energy Boost 2 features a one-piece translucent heel to mid-foot fit cage that locks you on top of the full-length BOOST midsole to create an enhanced, more stable fit. Visually, the new design allows for more a more refined aesthetic.
Energy Boost, originally launched in 2013, changed the industry with BOOST technology. For 2014, adidas refined Energy Boost 2 so it continues to deliver unprecedented energy return. By 2015, the majority of adidas running shoes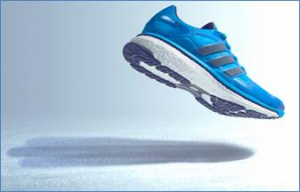 will feature BOOST and, this year, sports like basketball and baseball will benefit from BOOST technology. That news has already excited adidas athletes.
"I've never worn anything like BOOST," said Joakim Noah, All-Star Center for the Chicago Bulls. "They're soft and comfortable, but also responsive – the energy you feel is a difference-maker."
Follow adidas on Twitter at @adidasUS and check out facebook.com/adidasrunning.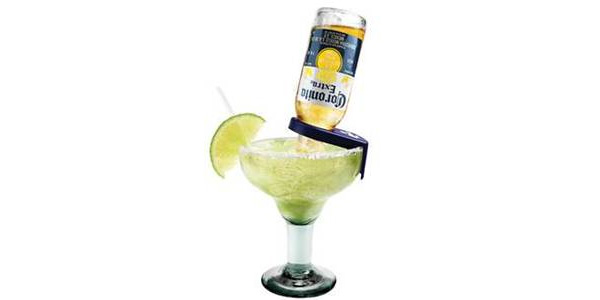 National Margarita Day is coming up on Feb. 22, and folks around the country will be celebrating with the CoronaRita – a deliciously fun twist on the margarita.  The CoronaRita is a traditional or frozen margarita that is accompanied by an upside down Corona, which slowly seeps into the margarita while the cocktail is being consumed, infusing it with subtle yet distinct Corona flavor.
With the margarita as the #1 ordered cocktail and Corona Extra as the #1 ordered import beer, the CoronaRita is perfect for entertaining guests during National Margarita Day celebrations, Cinco de Mayo and throughout the Summer.
The CoronaRita below is made with Coronita, a 7oz. bottle of Corona Extra.  Corona Extra is the #1 imported beer in the U.S. and the #5 beer overall.  Corona offers the perfect balance between heavier European imports and lighter domestic beer, pairing well with spicy cuisine, casual dining, and of course, limes.
CoronaRita
Ingredients:
1 ¼ oz. Tequila
½ oz. Triple Sec
3 oz. Margarita Mix
1 Coronita 7 oz. beer
1 lime wedge
Margarita Rocks
½ Salt rim
Combine ingredients 1-3 in shaker with ice
Shake vigorously
Strain into glass with 2/3 ice
Invert Coronita in clip on glass, garnish with lime wedge and serve
Margarita Frozen
½ Salt rim
Combine ingredients 1-3 in blender with 1 Cup Ice
Blend until smooth
Pour into glass
Invert Coronita in clip on glass, garnish with lime wedge and serve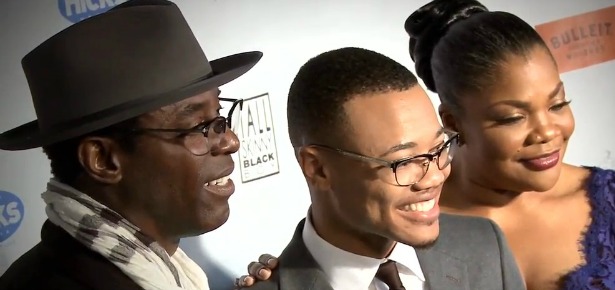 Our friends at Bulleit Bourbon served as a sponsor for the 22nd annual Pan African Film Festival in Los Angeles and they invited us to check it out this past weekend. The festivities kicked off with a Friday night Valentine's Day dinner and whisky tasting with actor/producer Isaiah Washington, his lovely wife Jenisa and Bulleit Mixologist Natalia Castellanos.
Now I should probably just come right out and say that I'm really down with Bulleit Bourbon. Bulleit makes a tasty, user-friendly bourbon, a damn good rye and an affordably-delicious 10-year bourbon that's aged a few years longer in those trusty charred American white oak barrels.
See, I used to be a single malt Scotch and Old Fashioned kinda guy, but ever since I attended the premiere of Jeymes Samuel's They Die By Dawn at SXSW last year, I've been all Bulleit, all the time. Bulleit sponsored that premiere and the Bulleit Ryes and Cokes were free flowing at that event. I developed a hankering for the rye and it's become my beverage of choice ever since.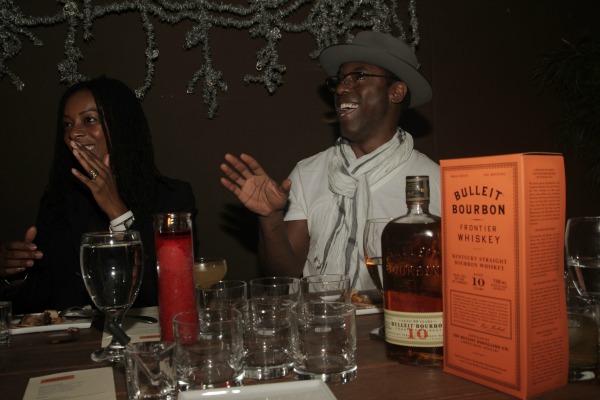 And I'm not the only one. When Isaiah Washington hit Sundance and SXSW last year to promote the premiere of They Die By Dawn, he developed an appreciation for Bulleit as well. During our dinner, when I mentioned that Bulleit Rye and Coke had supplanted other cocktails as my top drink, Washington shared a similar story. Before Sundance, he was more of a Macallan man, but after Sundance and SXSW in Austin, he was fully in the Bulleit camp.
During this chill dinner vibe, me and a few other media folks got to chat freely with Washington and his wife Jenisa (who, incidentally, were celebrating their 18th anniversary that Valentine's evening). We covered a lot stuff – whiskey, acting, producing, Grey's Anatomy, Jasmine Guy, Lance Armstrong and the films that Washington was involved with at PAFF.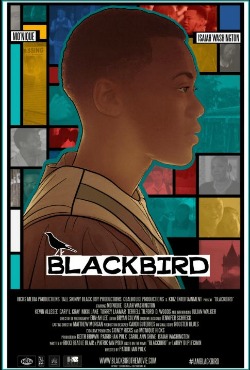 Washington had three projects screening at the Pan African Film Festival. He co-produced Stacey Muhammad's web series For Colored Boys. He starred and served as executive producer for Blue Caprice, a film that examines the relationship between the two men responsible for the 2002 Beltway sniper attacks. He also starred and produced Blackbird, a bittersweet coming-of-age tale about a young black man coming to terms with his sexuality in Hattiesburg, Mississippi.
I asked Washington if there were any films in the festival that he wasn't involved with in some way.
"Apparently it's unprecedented for any producer, particularly after 22 years of the Pan African Film Festival, to have three properties going at the same time," Washington said. "I'm just grateful that I've been supporting them for 18 years and they're supportive of the creativity from other entities that I think deserve a platform to be heard. I'm just thankful that they saw what I saw."
When I saw Blackbird, Patrik-Ian Polk's film based on the novel by Larry Duplechan, I was honestly a bit surprised by how moved I was. Blackbird follows high school choir kid Randy Rousseau, played by new comer Julian Walker, as he balances his Southern Baptist upbringing with questions about his sexuality. Complicating the young man's life is the fact that his sister has been missing for six years, and her disappearance caused his parents to split. Randy's father, played by Isaiah Washington, keeps a watchful eye on his family from afar while his mother, played by Oscar-winner Mo'Nique, is on the verge of a faith-based, god-fearing mental breakdown over the loss of her missing daughter. It's all quite a lot for a 17 year old kid to deal with.
The independent film has its saccharine moments and it can feel a bit unpolished in places, but overall, it was pretty engaging and uplifting. Interspersed laughs and introspective dream sequences were timed well to take the edge off the heavy content. The performance that Mo'Nique turned in was intense, honest and ultimately convincing. Julian Walker's performance was also quite convincing and, as the audience who attended the festival's closing-night gala screening discovered, very personal.
"What you all saw on that screen, was me," Walker explained as his emotions starting getting the best of him. "It was like I was telling my own personal story."
As the first time actor broke down in tears, the crowd began to applaud.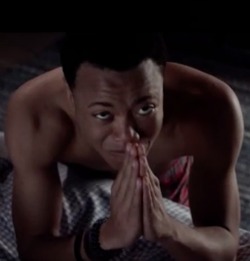 "Randy Rousseau is like millions and thousands of young male guys (and females) out there that are so confused," Walker continued. "They feel like they can't tell their parents, hey, this is who I am. All I want you to do is love me. That's all I want from you," Walker said as he continued to battle back the tears. "And to look out in the audience and see my father and my brother, means the absolute world to me. Because I know that I am lucky, and I am blessed to have a father and a mother and a brother and a family who support me 100 percent, because a lot of people don't have that today."
The film alone packed a pretty powerful emotional punch, but seeing Walker follow his on-screen performance with his on-stage outpouring of emotion was pretty damn moving, man.
We live in a world where a college athlete says he's a homosexual before entering the NFL draft and it's headline news for weeks. Russian President Valdimir Putin declared before the Olympics that despite the country's anti-gay laws, gay people could "feel clam and at ease" as long they "just leave kids alone, please."
We like to think that society's evolved into recognizing essential, fundamental truths like all human beings deserve the same basic freedoms regardless of race, class, gender or sexual orientation, but the fact is we're not there yet.
"Blackbird, the story, is about all blackbirds. It's about all outsiders," Washington said this past Friday.  "It's about people choosing to be who they are no matter what and not apologizing for it. That's what Blackbird is all about."
It's a relevant message that's gonna resonate for some time, and the film's a good vessel to give that message some traction.