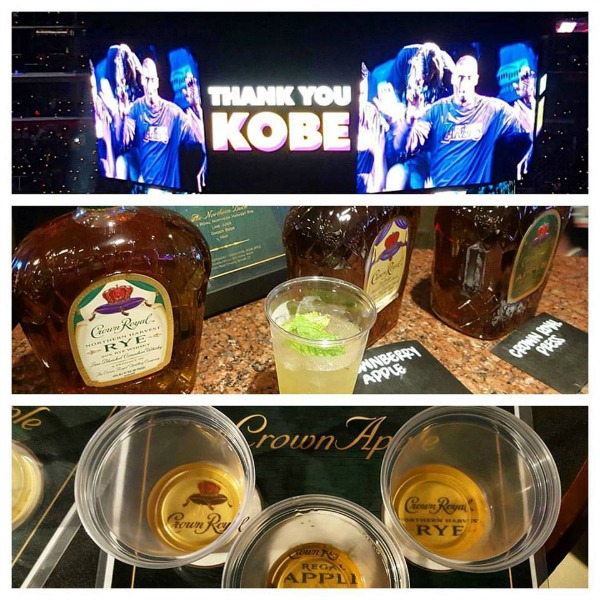 Our friends at Crown Royal invited us out for a night of sweet basketball and tasty Crown samplings at Staples Center this past Wednesday. On display were the lowly Lakers and surging Clippers and of course, inspired cocktails featuring different Crown variants.
The star of the night's festivities was Crown Royal Regal Apple Whisky. The heart of this spirit is the classic Crown Royal Deluxe, which itself is a blend of 50 Canadian whiskies. The Crown Royal Deluxe that serves as the base is infused with Regal Gala Apples and apple flavors. The result is a sweet variant on the traditional Crown taste, which leads with a vibrant apple nose, rests on your tongue with a tart smoothness and finishes with a very apple-forward sweetness.
Crown Apple isn't for everyone. If you like your spirits sweet, you can certainly get down on it. I think it plays well as a cocktail ingredient, where the sweet apple flavor can play nicely with other drink elements.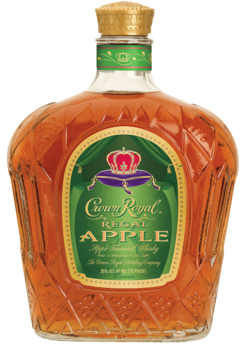 Here are the cocktails that were served at the tasting event:
Crownberry Apple
1.5oz Crown Royal Regal Apple
4oz Cranberry Juice
Garnish with apple wedge
Crown Royal Press
1.5 oz. Crown Royal Deluxe
3 dash (s) Bitters
Top with Lemon-Lime Soda
1 Lemon Wedge
Garnish with a lemon wedge
The Northern Buck
1.5 oz Crown Royal Northern Harvest Rye
.5 oz Lime juice
Top with ginger beer
Garnish with a lemon wedge
The combination of Cranberry juice and Crown Royal Regal Apple was a winning choice. The sweetness of the apple whisky was offset a bit by the tartness of the cranberry juice. Two distinct tastes that taste pretty good together.
The Crown Royal Press makes for a nice warm weather cocktail, good for summer days and sticky nights where a little bitters and a lot of lemon-lime lighten up the classic Crown Royal Deluxe.
The Northern Buck showcases the whisky of the year, Crown Royal Northern Harvest Rye. I found the lime juice to be a bit of a distraction, but I certainly enjoyed the rye + ginger beer combo.
Master of Whisky Stephen Wilson was on hand to guide those in attendance through a tasting of each whisky variant before we moved on to cocktails and one-sided basketball. We trust Steve on all things whisky related, but his detailed overview of the perfect process for experiencing retronasal olfaction and really understanding the flavor of each variant was a real treat.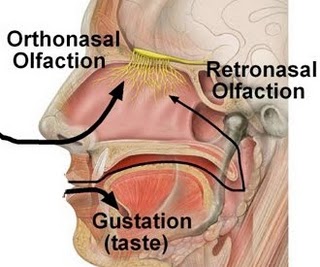 Next time you're trying a neat spirit, go through these steps:
Smell the glass first and take a small swig
Tilt your head left to right to let the spirit coat both of your cheeks
Let the spirit coat your tongue and press your tongue against the roof of your mouth
Swallow your swig
Open your mouth and inhale across your tongue
Close your mouth and exhale through your nose
Enjoy that retronasal olfaction!
After the tasting it was game time. And for the 2015-16 LA Lakers that meant one thing – sadness. The Clippers jumped out to an 18-2 lead and we're never really threatened by the young Laker squad. It was hard to watch Kobe Bryant struggle through 22 minutes of a 2-12 shooting performance from the field on his way to a six point, zero assist, three rebound night. Kobe tried to create when there was nothing to be created and lobbed up tough shot after tough shot. Metta World Peace looked surprisingly effective putting up 17 points, five rebounds, two steals, a block and an assist off the bench. He was also 2-3 from three point land.
The Clippers looked like a team ready to make a deep playoff run. Chris Paul scored 25 points and Jeff Green contributed 21 points off the bench as the Clippers easily dispatched the Lakers 103 to 81.
The love for Kobe was strong, but it's hard to see the guy go out this way. Chants of MVP showered Bryant when he made it to the free throw line. The crowd called out his name when he wasn't on the court. Kobe sat out the entire 4th quarter with his shoulders and knees all wrapped up. Watching the end of the Kobe era coincide with the Lakers' franchise-worse 61st loss was a bittersweet sight.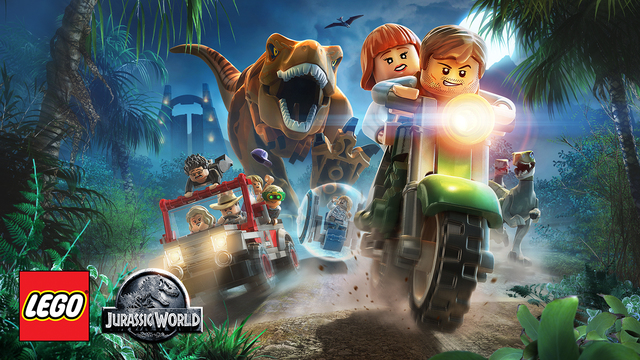 Last summer Warner Bros. Interactive Entertainment and TT Games released LEGO Jurassic World on all the major consoles like PS4, XBOX One and the WiiU. The game was an instant hit. It combined all four Jurassic Park films. You get to play as all the fantastic characters from all four films and the actual dialogue from the movies were placed in the game. That means you hear the voices of Sam Neill, Laura Dern, Jeff Goldblum and the rest of the actors in all of the films. LEGO Jurassic World is one of the best games I played in a while. It is filled with a ton of action that is combined with humor which always makes for a great game. There was one problem though. I couldn't play the game outside of my home.
Thankfully Warner Bros. Interactive Entertainment and TT Games solved that issue by recently making an app version of the game for all iOS and Google platforms. Now that game that is fun and exciting to play can go with you. If you are stuck at the airport waiting for your flight this game makes the time go by so fast. If you are waiting at the DMV for your new license just pull out your smartphone and play LEGO Jurassic World. Waiting just got better thanks to this app.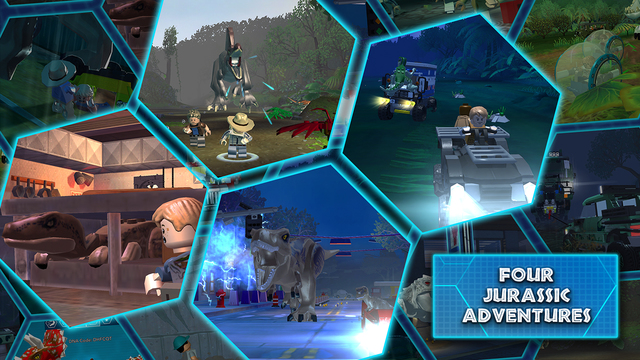 In the app you get to play along the films of Jurassic Park, The Lost World: Jurassic Park and Jurassic Park III, as well as the global smash hit Jurassic World, LEGO Jurassic World is the first videogame where you can relive and experience all four colossal films. Reimagined in LEGO form and told in TT Games' signature classic LEGO humor, this thrilling adventure recreates unforgettable scenes and action sequences from the films, allowing fans worldwide to play through key moments and giving them the opportunity to fully explore the expansive grounds of Isla Nublar and Isla Sorna.
Some of the game's features is that you can relive key moments from all four Jurassic films: An adventure 65 million years in the making – now in classic LEGO brick fun! You can wreak havoc as LEGO dinosaurs: Choose from 16 dinosaurs, including the friendly Triceratops, deadly Raptor, vicious Compy and even the mighty T. rex.
You can even customize your own dinosaur collection: Collect LEGO amber and experiment with DNA to create completely original dinosaurs, like the Dilophosaurus rex. There is a mode where you can populate and explore Isla Nublar and Isla Sorna and even put your unique dinosaur creations in to paddocks as you complete special Free Play missions.
LEGO Jurassic World is rated "E10+" for everyone 10 and older by the ESRB and is now available for $4.99 on the App Store for iPhone, iPad and iPod touch and Google Play for Android devices.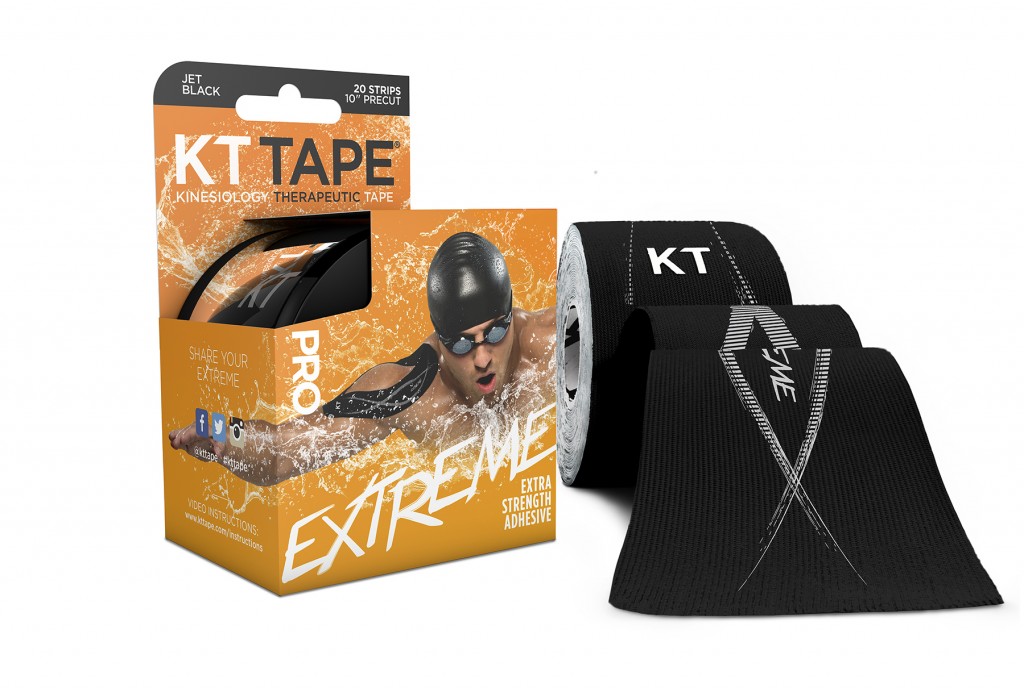 The older I get I find that stretching is not the only thing I need after a workout. Whether I am running outside, playing hoops, or working out at the gym I am sore is a few places. It is not that I am doing the exercise incorrectly, but it is the fact that I am no spring chicken. Thankfully there is KT Tape. I recently have been using this product when I am working out. I like the fact that KT Tape provides 24 hour relief per application for days at a time through sweat, strain and humidity, and can even be worn in water thanks to our specially designed adhesive.
I am able to play a few more games of basketball at the gym. I am can run an extra mile or beat my previous time with the support of KT Tape. I mean it is a good sign that Olympic athletes use many of the different KT Tape products. Partnering with USA Cycling, USA Gymnastics, USA Track & Field, USA Triathlon, USA Rugby and USA Wrestling, KT Tape now has deals in place with seven total NGBs, including its partnership with U.S. Soccer that began in 2014. KT Tape will provide product and support for athletes, coaches and trainers at premier events and competitions, including U.S. Olympic Team Trials. In addition, as the official kinesiology tape licensee of the U.S. Olympic and Paralympic Teams, KT Tape will provide support through Rio 2016 and PyeongChang 2018 Games.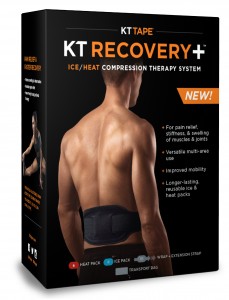 So if you are looking to help your body during a workout I suggest that you check out some of the new KT Tape products.
KT Tape PRO EXTREME: an elastic sports tape for pain relief and support in extreme conditions. PRO EXTREME is made of KT Tape's exclusive synthetic material, engineered for maximum durability with our strongest adhesive for the ultimate adhesion. PRO EXTREME can be worn for 4-7 days at a time and is specially designed to provide effective support during strenuous activity through extreme conditions including wet conditions, high heat and high humidity. It's also perfect for those with oily skin.
KT Recovery+ Recovery Patch: specially designed to reduce swelling and inflammation from muscle injuries and its accompanying pain. KT Recovery+™ patches work by microscopically lifting the skin away from the muscle and fascia below which decompresses the area. This allows for improved circulation in the affected area while also allowing faster removal of lymphatic fluid buildup caused by the injury.
KT FLEX: specially engineered to provide more effective comfortable support for weak or injured knees. KT FLEX is for athletes, fitness enthusiasts, or those recovering from injuries who want extra support for knee joints without the bulk and restriction of a stabilizing sleeve.
KT Recovery+ ICE/HEAT: KT Recovery+ Ice/Heat Compression Therapy System, interchangeable ice and heat packs, is a new way to treat muscles for peak performance or to speed recovery from a challenging workout or injury. The adjustable design provides ice/heat therapy to a wide variety of targeted body areas. Unlike other ice/heat therapy products on the market, KT Recovery+™ Ice/Heat is portable and allows for increased mobility and easier use before, during, or after physical activity.
For more information, go to KTTAPE.com.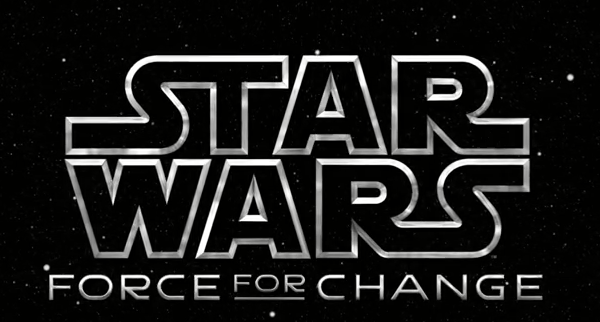 Lucasfilm President Kathleen Kennedy and Star Wars veteran Mark Hamill announced a new campaign sponsored by CrowdRise in support of Star Wars: Force for Change, an initiative that inspires people to make a positive impact on the world. Starting April 5th, Star Wars: Force for Change will match the donations of Star Wars fans to four select charities up to $1,000,000!
To date, Star Wars: Force for Change has raised over $10,000,000 with the help of the amazing Star Wars community. This month-long campaign will lead up to "Star Wars Day" on May the 4th. The four select charities include the U.S. Fund for UNICEF in support of UNICEF Kid Power, American Red Cross, Boys & Girls Clubs of America, and Make-A-Wish®.
"Star Wars fans are some of the most generous, thoughtful, and sympathetic people I have ever met," says Lucasfilm President Kathleen Kennedy. "I am so proud of the charitable work they have done over the years and hope this month-long donation-matching campaign will go some way to express our sincere thanks for their tireless efforts."
Over the course of the four-week period, which culminates at 11:59pm (PST) on May 4th, fans will be able to donate through CrowdRise.com/ForceForChange to these four charities and have their donations matched dollar for dollar up to $1,000,000.During the first week, the first 20 fans to raise or donate at least $500 will win a Blu-ray of The Force Awakens signed by the cast[i], with more incentives to come. All participants who enter will also have a chance to win an all-expense paid trip to Ireland, including Skellig Michael along the Wild Atlantic Way, the location of the dramatic final scene from The Force Awakens.
Show your Force and visit CrowdRise.com/ForceForChange now for more details.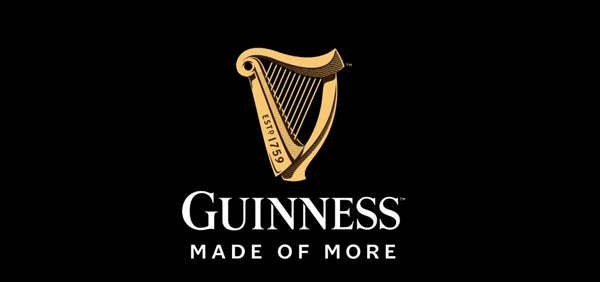 Math might not have been your favorite subject, but math can be used to make your beer better. Now that I got your attention let me explain. I promise that there won't be a test on this. It is just to show you how math can make everything awesome.
Have you ever sat down and wondered how your pint of Guinness Draught gets its iconic creamy head or why the perfect pint requires a two-part pour? The quick answer is nitrogen. A few days ago Guinness released a video explaining the story behind mathematician-turned-brewer, Michael Ash, pioneering Guinness Draught, the world's first nitro beer. The video documents Ash's four-year journey of experimenting with nitrogenation leading up to the launch of Guinness Draught in 1959.
Why nitrogen? As carbonated draft beers became popular in the 1950s, Ash realized that the tiny bubbles from nitrogen not only served as a way to dispense Guinness on tap but the substance also gave Guinness Draught the smooth, creaminess that it's become synonymous with ever since.  So cheers to math and Guinness.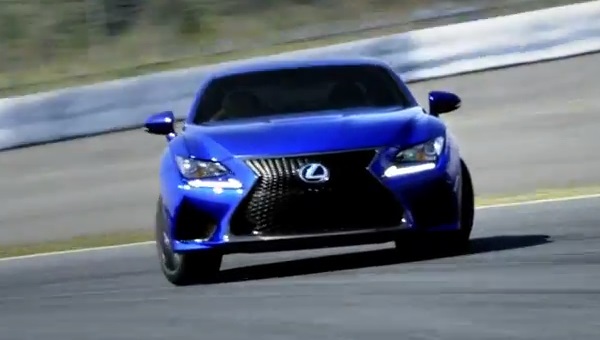 Every year Lexus goes above and beyond with pushing the envelope when it comes innovation. Their latest is a game changer. There will probably never ever be something like it ever again. Lexus just recently announced their V-LCRO Technology. And the world will never be the same.
This tech puts man and machine together in a way that no one ever thought of before. Using carbon fiber to create a lightweight chassis to the special alloys employed in their engines, they work tirelessly to improve our vehicles' performance. So with that they presented the next advancement in man-machine interface: the Lexus V-LCRO Performance Driving Seat for the Lexus RC F and GS F.
There is a ton of tech terms that I don't even understand so I am just going to say watch the video below and prepare to be amazed.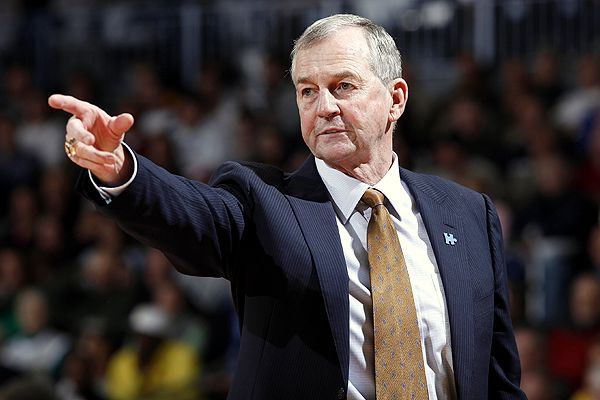 We are a few days from the Final Four. Coach Jim Calhoun knows something about March Madness since he won three National Championships as the head coach for UConn. Thanks to Dove Men+Care I was able to chat with him today about hoops, his work is Dove Men+Care, and coaching.
Since the 2010 launch at the Super Bowl, Dove Men+Care has been committed to representing men in an authentic way, supporting all the caring moments that we all men experience. Learn about what makes a real hero from NCAA basketball coach Jim Calhoun and coach Kevin Ollie. The unique bond that they share is a perfect example of how care makes a man stronger.
"A real hero is not the player that hits the game winning shot, it's the guy that has your back when you miss it."
Visit dovemencare.us to see other highlights that define #RealStrength and learn about the products that Dove Men+Care offers. Care makes a man stronger.
Here is my interview with Coach Jim Calhoun.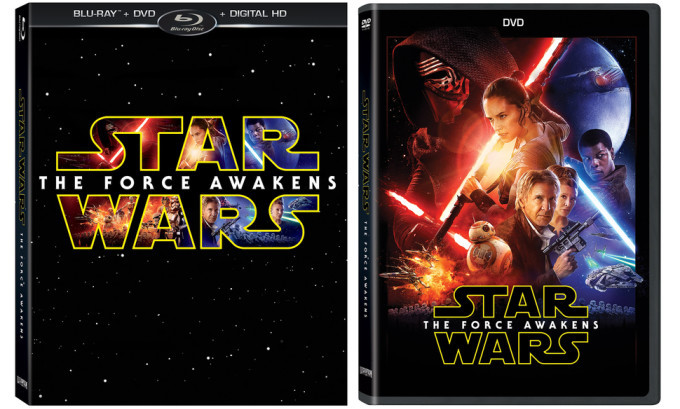 The day is almost here! On April 1st you can digitally download "Star Wars: The Force Awakens" and a few days after that on April 5th you can purchase the Blu-ray/DVD combo pack. I was able to get my hands on the Blu-ray/DVD combo pack last Friday. I couldn't wait to open up that combo pack up and look at all the behind the scenes footage and deleted scenes. Before I did that though I watched the film again!
I was really impressed with the quality of the Blu-ray disc. Disney did a great job of bringing such a powerful movie that rocked us all in the theater and translated it brilliantly to our home theaters. The picture was crisp and the audio was perfect. I feel that some films lose their luster when you purchase them Blu-ray. Thankfully this wasn't the case for "The Force Awakens."
"Star Wars: The Force Awakens" saw the eagerly anticipated reteaming of original Star Wars stars Harrison Ford, Carrie Fisher, and Mark Hamill, along with Anthony Daniels, the only actor to have been in all seven Star Wars films, and Peter Mayhew. The returning cast was joined by Daisy Ridley, who beat out fierce competition to take the principal role of Rey, John Boyega as reluctant stormtrooper Finn; Emmy nominee Adam Driver as the villainous Kylo Ren, and Golden Globe winner Oscar Isaac as Resistance pilot Poe Dameron.
I am guessing most of you have seen the film since it broke all sorts of box office records this past December. So let us get to the bonus features.
In the Secrets of The Force Awakens: A Cinematic Journey, we get to discover the complete story behind the making of The Force Awakens, revealed through in-depth footage and exclusive interviews with the actors and filmmakers in this feature documentary. This is a fascinating documentary style of storytelling that gives us an inside look at what J.J. Abrams and the cast and crew did to make this film a success. We get to see an intense audition from Daisy Ridley. You see from her performance why she was selected to play the lead role.
I loved every minute of this four chapter series. We got to see Star Wars veterans like Harrison Ford, Carrie Fisher, and Mark Hamill share their memories from the past films and what it meant to be back on the set. Then you get the newcomers like Ridley, John Boyega, Adam Drive, and Oscar Isaac get all giddy to be on the same set at Han Solo and Luke Skywalker. I could feel their passion and love of landing these roles.
Another fantastic moment that will give you goosebumps is the feature called The Story Awakens: The Table Read. This is where we see all the cast members share their thoughts from that memorable day they all first came together to read the movie's script. I love who they chose to be the narrator of that table read.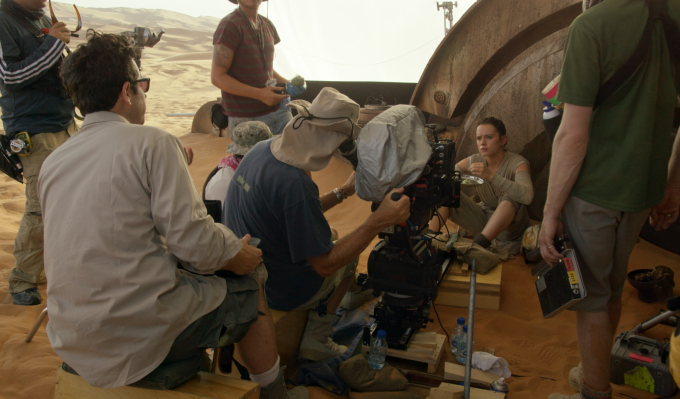 We all know and love R2-D2 and C-3PO, but what about the origins of BB-8? In the Building BB-8 feature we get to see how the filmmakers brought the newest droid to the screen, creating an instant fan favorite in the Star Wars universe.
I remember the VHS tape my parents got me called "From Star Wars To Jedi" (which I still have) that had gave us an inside view on how the aliens and creatures were made for the original trilogy. In a feature called "Crafting Creatures" you get to see how the filmmakers bring a cast of new creatures to life.
In another segment you get to see how the lightsaber fight between Kylo Ren and Rey was set up and choreographed. That feature is called "Blueprint of a Battle: The Snow Fight."
Did you know that back in the day George Lucas wanted to go a different route for music instead of the disco music. Thankfully he did that and went with John Williams to create the music we all know and love. There is segment that highlights John Williams and his music in The Seventh Symphony. Here Williams shares personal insights of his work on Star Wars and The Force Awakens.
There is also the ILM: The Visual Magic of The Force, which is an insider's look into the remarkable digital artistry of the movie's visual effects. Plus there is a feature on the Force For Change campaign, which shows us that heroes come in all shapes and sizes. See how the Star Wars: Force for Change initiative has united Star Wars fans all over the globe to help others.
And last but certainly not least there are a few deleted scenes that give you an inside view of what didn't make the final cut of the film.
This Blu-ray/DVD set is a must have for anyone who is a Star Wars fan or looking to further their Jedi training!
Star Wars: The Force Awakens is available for pre-order on Amazon. Click here.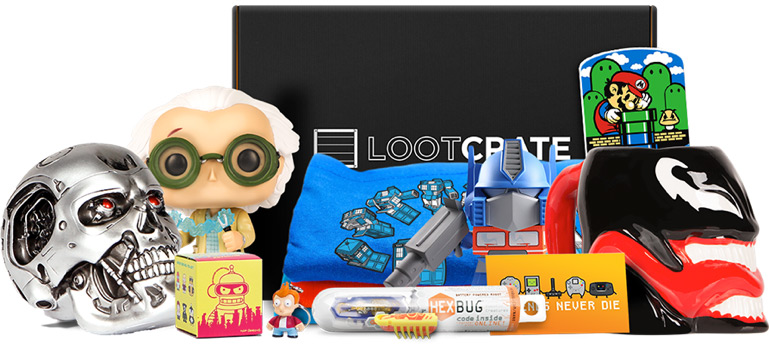 The internet is awesome. You can order so many things whenever you want. Still there is no more mystery. All the fun and excitement is gone. Do you remember when you would go to a store and randomly see something that you might not have seen before and you bought it right away? There is none of that anymore when you shop online…unless you subscribe to Lootcrate.
What is Lootcrate you might ask? For those who aren't in the know Lootcrate is a must have for any geek or nerd out there. If you are into gaming, movies, pop culture or things that are totally awesome then you need to sign up for a Lootcrate subscription. Lootcrate is a monthly subscription service that sends clothes, collectibles, hats, comic books, wallets and other accessories right to your door. The cool part is that you have no idea what you are going to get each month. The items will be fantastic, but you will be pleasantly surprised each time a new box is delivered to your home.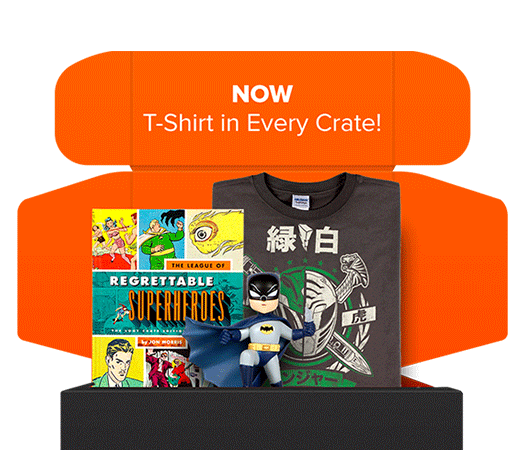 You will be astounded with exclusive products from top gaming and entertainment franchises like Marvel, DC Comics, Nintendo and more. Each month there is a specific theme that will feature a mix of the best in pop culture. In each box you will get limited edition stuff like shirts, vinyl figures, and other collectibles.
You will receive about four to six items over $45 of retail value in every crate. You can even get a discount and special gifts if you sign up for a 12 month plan. These crates are money. Below you can check out my first unboxing video from Lootcrate. I was thrilled to get a ton of exclusive stuff from a Harley Quinn Lootcrate special edition comic book to a Batman V Superman wallet. I never have seen one of those wallets before, but thanks to Lootcrate I am ditching my George Costanza wallet for the slimmer and tougher wallet.
There are different themed crates as well. There is a LootAnime, LootGaming, LootPets, Firefly, and LVLUp. They even have limited edition Star Wars and Call of Duty crates. You can pick out the best one that fits your style and your budget. Go to www.lootcrate.com for more info on each one and to start your subscription today!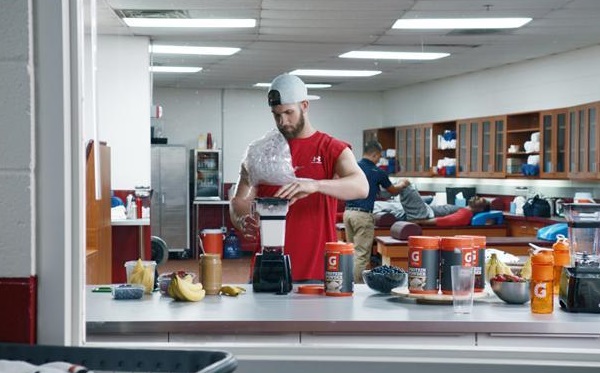 Do they nap? Do they play video games? Do they relax? Well….yes they do all of these things and more. Recently Gatorade showcased what the top athletes in the NFL, NBA, and MLB do when they are done with a hard day's work. Check out the videos below of Cam Newton, Paul George and Bryce Harper in action….well maybe not too much action!