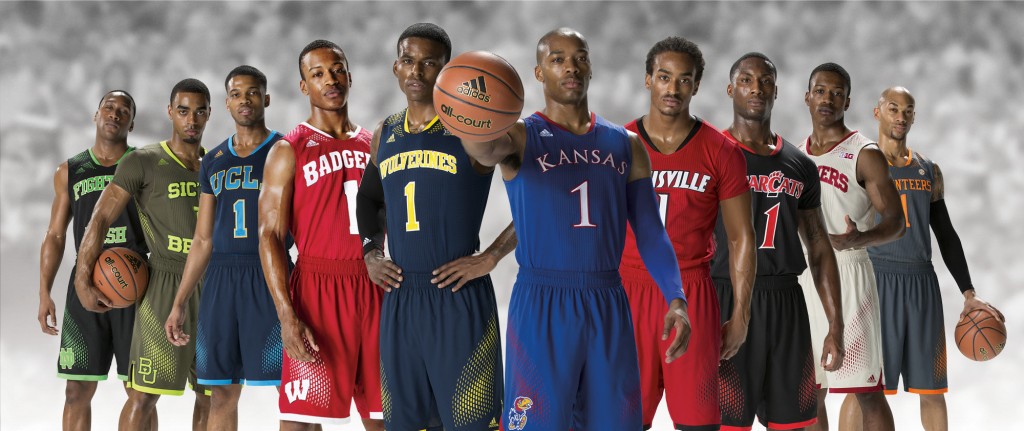 adidas today unveiled the Made in March Uniform System for the 2014 NCAA basketball postseason. The collection was created to provide teams with adidas' most advanced uniform system and basketball apparel technology so they can take on the challenges and intense play of March.
Baylor, UCLA, Cincinnati and Louisville will wear short-sleeve Made in March uniforms and Indiana, Kansas, Michigan, Notre Dame, Tennessee and Wisconsin will wear sleeveless versions.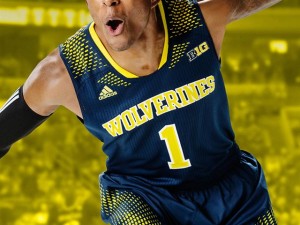 Made in March uniforms feature a functional perforated print pattern along the leg of the stretch woven short to enhance breathability and ventilation, keeping players cool as the clock winds down. adidas' quick-drying jersey technology found in current NBA uniforms along with ClimaCool zones on the chest, back and side, move heat and moisture away from the body to keep the jersey light and dry as players sweat.
To rally fans and spark team unity and pride, several uniforms feature team name logos across the chest, while all jerseys have school mantras selected by the team printed on the inside collar. Several schools will wear new colors exclusively designed for March. Baylor will wear army green as homage to the school's strong military history, while UCLA dons navy blue and gold inspired by the Los Angeles night skyline. Indiana will suit-up in cream as a nod to the program's traditional school colors and basketball team's "crimson and cream" nickname.
The Made in March Uniform System debuts on-court beginning with conference tournament play and fans can grab their Made in March gear at adidas.com and campus bookstores.
Stay tuned to the adidas Basketball Facebook page, and follow on Twitter and Instagram @adidasHoops with #teamadidas , #MadeinMarch.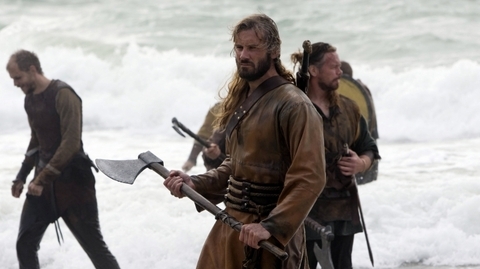 Clive Standen and his fellow actors on the hit History Channel series "Vikings" are now into their second season. Fans are loving the series and if you have seen the show you know why. Clive plays the role of Rollo Lothbrok, who is the main character's brother. Rollo is based on the historical figure, who was the great-great-great-grandfather of William the Conquerer.
I was able to talk with Clive about the success of "Vikings," fans obsession with the crew's hair extensions, fight choreography, and more.
Art Eddy: Season 2 is now here for "Vikings." I loved Season 1. You guys got a lot fans of the show. As an actor do you feel more pressure to live up to the hype for this season?
Clive Standen: Oh definitely. The pressure really came from Season 1. We didn't know if anyone was going to watch it. As soon as we got picked up for Season 2 some of that pressure was taken away. The reason is that you have that faith underneath you. You are riding into battle so to speak. You have a responsibility to get it right. You have to be thankful for the fans because they are the ones that made another season come about.
There are nerves and trepidation obviously, but a lot of it has been okay lets knuckle down and make this story explode. Judging by the first episode this season anyway people will hopefully agree with me and say it is bigger than the first.
AE: Speaking of fans. I see that you do some interaction with fans on Twitter. Do you like having social media as a way to chat with your fans?
CS: I do, but sometimes it can be your worst enemy. (Both laugh.) You can sometimes hear just as many bad comments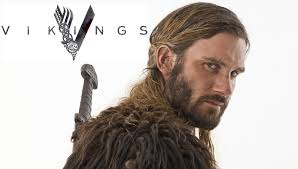 as good comments. You can't please everyone, but it is nice to have that sort of feedback. With social media these days it is good in a sense that you can switch things up a bit if you can get a handle on what people think of it. Producers of the show I am sure listen to everyone's comments on Twitter. We give people a show that they want to watch. So I think it is a good tool to have.
AE: I want to know who is talking bad about the show. (Both laugh.)
CS: It is not necessarily who is talking bad about the show. Some people aren't a fan of Rollo. I think that sometimes is a good thing. When people say, 'Rollo is such a whatever,' I tend to favor those comments. That is what people should be thinking. Hopefully by the end of this season people will feel sorry for Rollo. I think he is going to surprise some people.
AE: Rollo is based on a real historical figure so how much research did you do for the character of Rollo?
CS: I never stop researching any role that I take on. Even if it is not a historical role I try to do everything I can. I need to immerse myself in that world. I like to lose myself. I am still doing that now. Michael (Hirst) can write anything. This world is so unworldly. It is so visceral and fantastical that anything can feasibly happen. Any of these sagas Michael can latch onto and say this is the way we are going to go with an episode.
I want to feel like I am at least ahead of the game. I want to know what I am doing here. I want to be in that world instead of something hitting me from left field. So I am always researching Rollo. What is different from Rangar and Rollo is that Ragnar was a real Viking. He really did live it. A lot of what is documented of him is in the sagas. Some of those are fantastical. They are almost like Arthurian legends.
For Rollo in history books a lot of what happens with him is in France. It is all there. There is so much documented there. He is the great, great, great, great grandfather of William the Conqueror. There is a lineage there that I can draw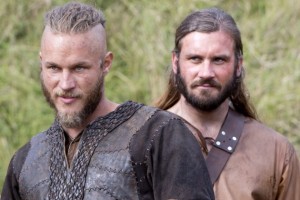 off of.
AE: Your fighting scenes are intense on the show. I take it your background as a Muay Thai boxer and fencing has helped you out with those scenes.
CS: Definitely, but the people that should be given credit for that is Franklin Henson and Richard Ryan. They are our stunt coordinators.  They have worked on films like "Troy" and the modern "Sherlock Holmes" movie with Robert Downey Jr.
We all sat down and talked about things. There are a lot of things on TV and film where the battle scenes look like they are too choreographed. They are almost like a dance. It works for "Lord of the Rings." He can spin around and do all sorts of things because he is an elf. It is fantasy.
We want to bring the audience into the shield. We want to bring them right into the action. We want to make the audience feel like these characters can die at any minute. It has to be brutal. It is a land of kill or be killed. These characters might not come out of it alive. They are not superheroes. Lagertha (Lothbrok) is not "Xena: Warrior Princess." She is going to get smacked in the face. If she is going to take on these guys she is going to go down fighting. You got to feel that.
We work on the choreography. We work tirelessly with Richard to kind of choreograph the scenes. When it comes to the day the weather in Ireland is always changing to say the least. What you learn in the comfort of a studio you suddenly are out on the landscape and it is pouring and the mud is up to your shins. You are slipping and sliding. That choreography that you learned on your feet now might be done on your knees. You just carry on. You do not want to be that guy that puts his hand up when there is a 100 stuntmen running around behind you and say, 'Hey can we do that again?' You just adapt and overcome.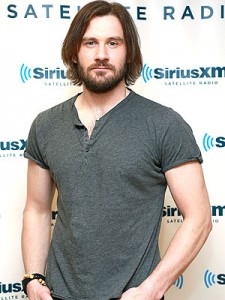 AE: I have been checking out the press for this season. It seems like a lot of people are infatuated about you and your fellow actor's hair extensions. Did you ever think that would be a topic of conversation for the show?
CS: I know exactly, but it is also a thing where you are an actor. I am filming a movie called "Everest" at the moment. It is set in 1996. We are all mountain climbers and I had to get my hair cut short for the role.
Sometimes people are like, 'Whoa.' "Vikings" is six months of my year and I got the other six months of the year to fill up my calendar. I can't go around looking like a Hell's Angel all year. I have to adapt to the character I am playing. The only way around that is to keep my hair long enough to be able to have hair extensions. Otherwise I have become easily typecast as either a Hell's Angel, a Viking, or an 80's rock star.
I do understand the questions though. Some people might not understand that some of this stuff is not real. We finished filming this in November of last year. It is very weird when you see a guy and he has long hair and then the next moment he has short hair and then back to having long hair. I understand why it doesn't add up.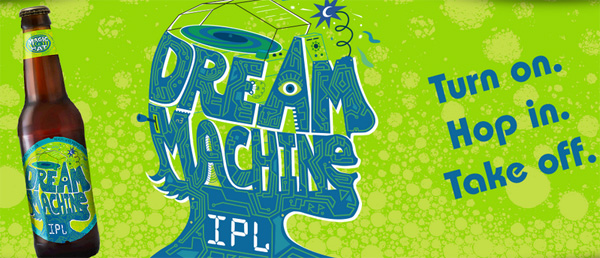 Magic Hat just released a new brew. It is called Dream Machine IPL. This beer is their first new year-round beer in 10 years. Once I tasted it I knew that it was well worth the wait. Dream Machine is an India pale lager. If you enjoy the taste of hops you will want to pick up Dream Machine.
Magic Hat brewed it with lager yeast to give it a crisper body than an ale. It mixes in real nice with the citrus flavors. As I opened up the beer and poured it into a glass I got the nice aromas of orange, grapefruit, and pine. You could also taste the orange, pine, and grapefruit right off the bat.
Dream Machine had a nice finish that was not over the top. The hops in Dream Machine are Nugget and Cascade, as well as a dry hopping with Amarillo and Sterling.
You will not be disappointed from Magic Hat's new offering. Whether you are enjoying a nice steak dinner like I did when I had my first taste of Dream Machine or just having a few with friends this IPL is a nice choice for any evening. Cheers!
From the Magic Hat website:
Dream Machine, an India Pale Lager or IPL, is a melding of varied visions of an India Pale Ale and an Amber Lager. Once poured, its light copper color delights the eyes and a citrusy hop aroma flows through the nose. Upon first sip, a smooth hop bitterness reveals itself – fresh, bold and slightly spicy – before subtle hints of mild maltiness appear. A big hop bite and a crisp, clean lager finish combine for a beautifully balanced beer. Take Dream Machine for a spin and let your reverie begin.
Stats:
Malts: Pale, Munich 20, C-40, C-120
Hops: Nugget, Cascade
Yeast: Lager
ABV: 5.7%
IBUs: 50
SRM: 12
Original Gravity 14.5° Plato
Dry Hopped: Amarillo, Sterling
Availability:
Year Round: 6-Packs, 12-Packs, 22oz Bottles, Draft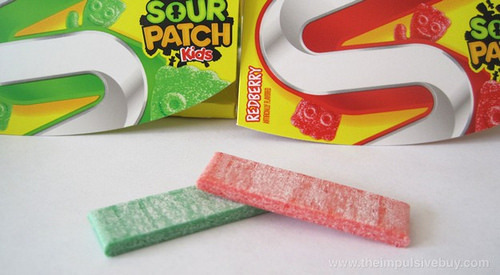 To celebrate the launch of Stride Sour Patch Gum, Stride took over a convenience store for three days to give customers a mad sour, mad sweet experience. Here is what happened next.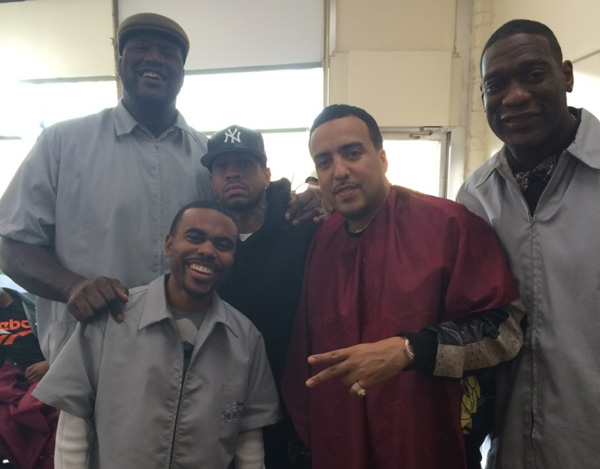 The latest and final episode of the Reebok Classic "The Retro Shop" features a true all-star lineup of Shaq, Kemp, Lil' Duval, French Montana and the one-and-only Allen Iverson.  Watch as a heated discussion blows up at The Shop over old school vs. new school fashion. Some things never go out of style.
Lightning Struck every tim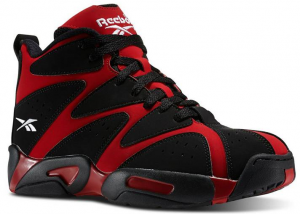 e Shawn Kemp stepped on the court. His larger than life persona set a new pace for basketball, and his groundbreaking athleticism inspired a shoe just as bold: The Kamikaze I. Shawn Kemp and the Kamikaze I, A Cut Above Since 1994.
Reebok Classic will bring back very limited pairs of the Kamikaze I OG black/red on Friday, March 14th at key retailers Foot Locker, Finish Line, Champs, Jimmy Jazz, DTLR, Shiekh, and Reebok.com for $115.
Check out the hilarious commercial below. Like to see Iverson poke a bit of fun at himself.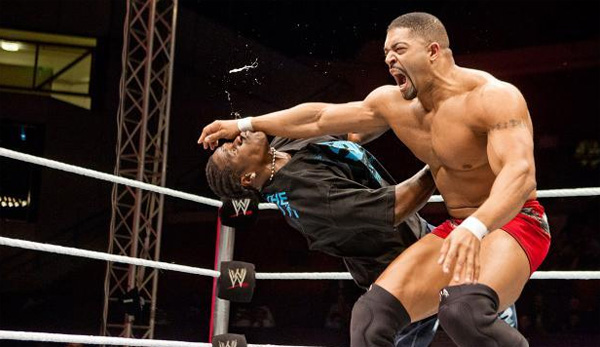 We all have seen some exciting athletes who excel in two sports. Bo Jackson comes quickly to the forefront when this topic is brought up. Yet what about an athlete who not only shines in the sporting world, but also makes a name for himself as a lawyer. Not that many athletes can state that claim unless you happen to be WWE Superstar David Otunga.
David attended Harvard Law School and passed the Illinois' bar exam. Next he joined the Sidley Austin law firm. Even though he loved his job something was missing. Deep down he still wanted to follow his dreams of becoming an actor and a WWE Superstar. Growing up Otunga was a huge fan of Hulk Hogan and had visions of one day stepping into the ring.
Now he is living that dream and loving every minute of it. I was able to talk with David about his career path, the importance of Black History Month, and his favorite WWE moments.
Art Eddy: Let's talk about your career in the WWE. What made you leave your career in law where you earned a Harvard Law degree to being a WWE Superstar?
David Otunga: Ever since I was a kid I always had really big dreams. I knew that I wanted to be in the WWE. I wanted to be an actor. I grew up looking up to guys like Hulk Hogan, who just came back to the WWE. He will host next year's WrestleMania, which is really cool.
I grew up idolizing Hulk. I was a big Hulkamaniac. I like guys like Arnold Schwarzenegger and Sylvester Stallone. Guys who were muscular and had great physiques is what drove me into body building. I always knew that it was something that I wanted to do, but my mom told me that I needed to have a fall back career, which is actually great advice.
I was always trying to make it into entertainment, but nothing was really sticking. All the way I was still going to school and getting good grades. I eventually earned a degree and landed a job at a top law firm in Chicago. I was enjoying it. It was a great firm. I still wanted to follow my dreams. Ultimately I had to make a huge decision. If I stay at the firm I would probably be happy, but I would always regret not going after my dream and seeing what I could do.
I made the decision to leave the firm and go after it. Fortunately I made it. I was able to accomplish my dream. I am glad I decided to that. It turned out to be a great decision.
AE: Love that story. Just goes to show you that you can achieve whatever you want in life as long as you believe in yourself. What has been your favorite moment so far in your WWE career?
DO: It was one of the first big things that I did. It was when I was able to host "RAW." Before that the hosts of "RAW" have been hugely famous people and big time celebrity names. So for me to get to be able to do that as a rookie, who had only been on NXT for a few weeks, it was a great way for me to have a debut.
I was able to host it and be in the main event with John Cena. It was crazy. That really stuck out as wow, I really made it somewhere now.
AE: Who is your favorite person to match up against in the ring?
DO: I always say that some of my favorite matches are against John Cena. One reason is because of our chemistry. I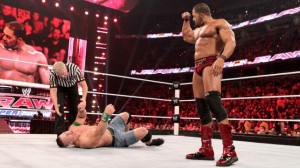 was always allowed to be myself. It was very comfortable. So I would say John Cena. It is always cool and always a pleasure to work with him.
AE: How long did it take you to be comfortable in front of the mic on one of the world's biggest stages?
DO: Actually that was one of the things that became easy for me. Being a lawyer obviously I was very good at speaking. That actually prepared me. That is a question that people ask me a lot. They ask if being a lawyer, an entertainer, and a wrestler, ever intersect.  I say yes. The training is similar in certain aspects. Certain things in law school prepared me for wrestling and acting. Then certain things in wrestling and acting also translate well to becoming an actor.
AE: We are almost out of the month of February and of course this month is Black History Month. What does this month mean to you?
DO: It means a lot. We come so far as a country and being together that I think the youth growing up don't understand how things used to be. They don't understand what people went through in the 60's. That is always something I am trying to teach my son and my nieces and nephews and make sure that they understand. I want them to understand their African-American heroes and people who did amazing things for African-Americans. It is very important for the youth to be able to look up to people and say wow if they can do that than I can do that too.
AE: As a kid growing up who were some of your role models that you liked learning about during Black History Month?
DO: Obviously Martin Luther King Jr. because he was instrumental to all the things that was going on at that time. It is crazy when I think about that it wasn't all that long before I was born that he was killed. My parents got together in the 60's. My dad is from Kenya. My mom is a white American from Ohio. They were in an interracial relationship in college in the 60's in the height of everything.
Just hearing their stories and everything that they went through is amazing to see the strength that they had. They have always been big on making sure that I know my history and that I am aware and conscious. Now I am trying to pass that along to the younger generation.
AE: I remember you being in the film "The Call" with Halle Berry. I know the WWE keeps you busy, but are you looking to be in some films in the near future?
DO: It depends if the right project comes along. I will definitely keep that open. That was always something I said I wanted to do. When I was a kid I always said I wanted to be professional wrestler and an actor.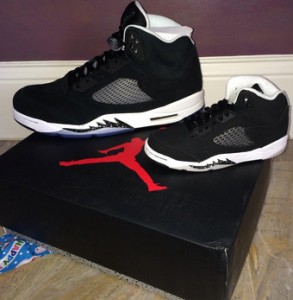 AE: I saw a picture on your Twitter page of some Air Jordans. It was the Air Jordan V's, the "Oreos" I think. I am a sneakerhead. Are you and if so what is your favorite shoe?
DO: I am a little bit. I am getting into it a bit more and more now. I only collect the Jordans. That is my favorite. My sister in law, Julia gets awesome Jordans for my son. I get him ready for school every day. I have so much fun going in and picking out his outfits. I pick out the shoes first. He has everything. He has Jordans. He has got cool Air Maxs.
Air Maxs are big in Chicago. I am actually wearing some right now. Anyway, I started getting jealous of his collection. So for Christmas she got us both the "Oreos." She got a pair for me and then a smaller size for my son, which was really cool. He likes to have whatever I have.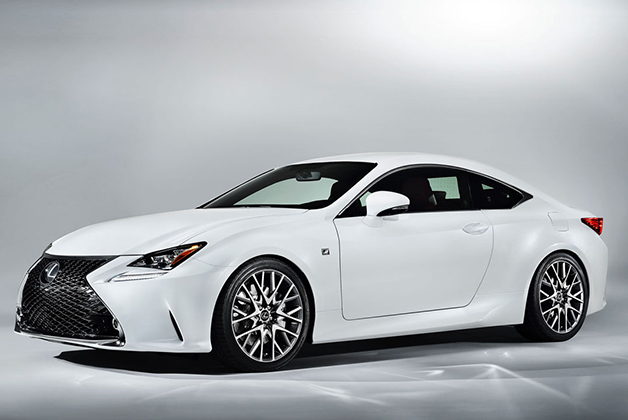 And F SPORT makes three. Driving enthusiasts, get ready for more Lexus RC options from which to choose. When the all-new model launches in the U.S. this fall the 2015 Lexus RC 350 F SPORT will join the recently introduced RC 350 sport coupe and RC F performance model.
The RC 350 F SPORT will make its world debut at the 2014 Geneva International Motor Show.
The RC is a stand-alone model rather than a two-door derivative of a sedan although it is built on the GS sedan platform. It has the same width as GS and a shorter wheelbase than the IS sedan to help achieve spirited handling and agility.
The RC 350 F SPORT, based on the RC 350, will feature exclusive design elements and enhanced driving performance.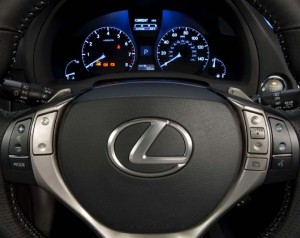 The F SPORT's dynamic upgrades include Adaptive Variable Suspension (AVS) and the available Lexus Dynamic Handling (LDH) system. These features provide drivers with an even more rewarding and engaging driving experience.
Design
Readily identified by a model-specific "F" mesh design, the RC 350 F SPORT features a further evolution of the Lexus spindle grille.
The unique 19-inch F SPORT mesh alloy wheels feature machine-finish and dark metallic paint.
The RC 350 F SPORT also inherits a descendant of the innovative LFA driver's meter with a moving center ring, and an F SPORT perforated leather steering wheel and shift knob. The interior design is completed by Silver Performance trim, an F SPORT-exclusive Rioja Red interior and seats with unique contrast stitching.
Driving Dynamics
Adaptive Variable Suspension (AVS) is part of the F SPORT package. In response to driving operation, vehicle body motion and road surface conditions, AVS automatically and independently adjusts the performance of the damping at all four wheels. When the vehicle's SPORT+ drive mode is selected, AVS changes to allow the driver to feel improved body control and precise responses to steering input.
The suspension enhancements of the RC 350 F SPORT are complimented by the available four-wheel steering benefits of the Lexus Dynamic Handling (LDH) system. This leading edge platform technology offers the integration of Dynamic Rear Steering (DRS) and Variable Gear Ratio Steering (VGRS).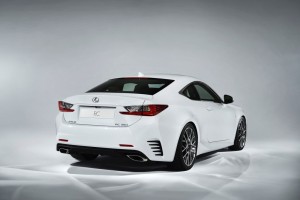 Monitoring vehicle speed, steering direction and driver inputs, the system calculates the optimum angle for all four wheels. Using VGRS in the front and DRS in the rear, the system can independently manage both front and rear wheel steering angles to help improve turn-in response, rear grip, vehicle control and overall agility when cornering.
The LDH system monitors vehicle speed and yaw rate, steering angle and speed, and lateral G to calculate the required rear wheel steering input up to a maximum rear wheel angle of 2.0 degrees. The front and rear wheels turn in opposite directions at lower speeds, and in the same direction at higher speeds.
Lexus will introduce the RC 350 F SPORT at a press conference on March 4, at 8:45 a.m. Central European Time at Palexpo's hall 4, stand number 4211.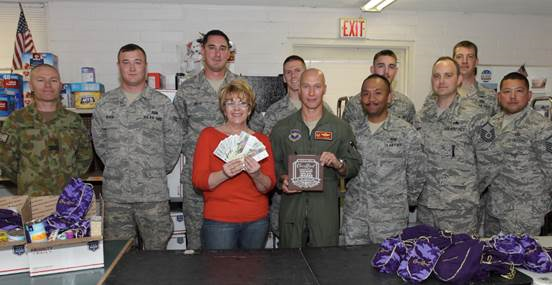 Imagine seeing your name all over one of the country's largest sports venues, and having an event officially renamed in your honor. For the eighth year, Crown Royal will make that dream a reality, as they rename one of the season's biggest NASCAR races after an adult consumer.
The brand is teaming up with Phoenix-based charity Packages From Home, which is dedicated to sending care packages to active-duty troops stationed overseas, this weekend to launch their annual "Your Hero's Name Here" program. The program honors a deserving American hero by re-naming the July NASCAR Sprint Cup Series race at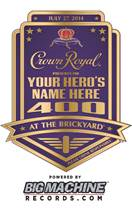 Indianapolis Motor Speedway in his or her honor.
Packages From Home and Crown Royal will treat a group of local heroes from Luke Air Force Base to a VIP experience at this weekend's NASCAR race. In addition to sending 20 military members to the race, two individuals will be recognized as the inaugural program nominees and will have the chance to have the legendary Indianapolis race named in their honor.
Consumers 21+ can visit CrownRoyalHeroes.com to nominate their own heroes, for a chance to win naming rights to the race. Nominations will be accepted through April 13th, with finalists being announced at the end of April.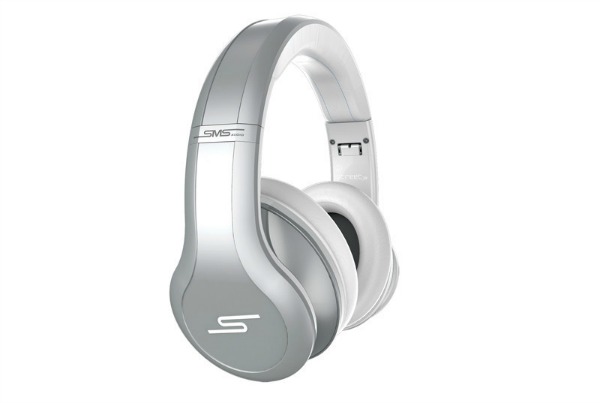 The headphone marketplace has taken a turn for the premium in recent years. Sure, you can get by with those standard, Apple-issue ear buds, but why subject yourself to inferior sound quality when there's such an influx of high-end headphones on the market?
The brand that gets all the attention is Beats by Dre. These headphones first debuted in 2008. By 2012, the company released the Beats Executive noise-cancelling headphones in an effort to compete with higher-end headphone manufacturers like Bose and Sennheiser. With savvy branding and eye on quality, the Beats by Dre line has really taken off.
Not to be outdone, Curtis Jackson (50 Cent) launched his own headphones brand in 2011. SMS Audio (which stands for "Studio Mastered Sound") was created when 50 acquired KonoAudio in August 2011. The founder of that company, former Gillette executive Brian Nohe, serves as president of SMS Audio. Nohe and 50 shared an interest in developing high-end audio equipment and they began releasing high-end headphones in late 2011 and early 2012.
SMS Audio produces the STREET by 50 line of in-ear, over-ear and on-ear wired headphones along with their SYNC by 50 line of wireless headphones. We received a pair of STREET by 50 ANC noise-cancellation headphones to review, and how should we put this… they're kinda amazing.
In no uncertain terms, the STREET by 50 ANC headphones are better than Beats by Dre. Without question. The construction is sturdier, the bass is bassier and the active noise cancellation is quite good.
This ultimate-premium sound experience has one drawback – the headphones are massive. I felt like a cosmonaut with these things on, but if I was going for a jog and I wanted to hear the outside world around me, I'd probably reach for ear buds anyway.
The STREET by 50 ANC headphones are designed to block out any and everything around you so that you can immerse yourself in a rich and truly top-shelf sound experience. I mean you can tab a hand on the table with these things on and you won't be able to hear a damn thing. The battery life for the noise-cancellation action is solid, and you can even get some juice from whatever device you're plugged into.
The headphones fit pretty tight, but hey, you put them on to shut the world out, right? The grip isn't really a big deal. Plus the soft leather cushions have some memory foam action to them which really seals in the sounds you want, while keeping out the sounds you don't need. The design is bulky, but still very stylish and foldable. The set comes with a removable cable that features a built-in mic and a hard shell carrying case.
Bottom line, these are legit headphones for the price. $300 may seem like a lot to drop on a set of headphones, but when compared to other sets in the market, these things hold up, man. It's a competitive price point for the experience you get. Sometimes we all want to retreat from the outside world and be alone with our thoughts (or our favorite tunes). These headphones help you do just that.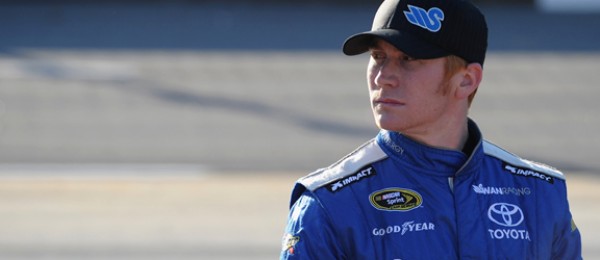 Last week we had a chat with NASCAR Sprint Cup Series Rookie of the Year candidate Cole Whitt as he was preparing for the Daytona 500. Whitt is just 22 years old, but the guy's been racing for years. HE started racing when he saw one of his cousins with a go kart. He moved from go karts to midget cars to sprint cars and trucks and made his NASCAR debut in 2010. He has 11 top ten finished in the World Truck Series, 18 top ten finishes in the Nationwide Series and now he's driving the No. 26 Toyota Camry car for Swan Racing in the Sprint Cup Series. Men's Speed Stick GEAR will serve as Whitt's new NASCAR sponsor, and the brand will be featuring a documentary series on Whitt's journey to the Daytona 500 starting in March on the Speed Stick Power YouTube Channel. After overcoming a bit of car damage adversity to make the race, Whitt finished 28th overall at Daytona.
Whitt told us about his leisurely activities, his participation in the Red Bull Driver Development Search program, his favorite tracks and, after seeing this photo on his website, you know we had to ask the man all about bow season:

CS: So to start off, I was checkin' out your website and it looks like you're into hunting because you got a picture of you front and center with a bow and arrow. Can you explain to me what bow season's all about?
CW: You know the bow hunting is just something that I've enjoy. It's not so much going out and having to harvest something, but just the fact that bow season is kinda the opposite of racing. It's nice to be able to slow down and relax. Bow hunting is all about getting close. There's a whole other challenge to it. I enjoy the tricking part of it. Technically, I just spear hunt mostly, so tricking deer for the most part.
CS: Racing is kind of in your family – well, not kind of, it certainly is. When did you first realize you were going to be a professional race car driver?
CW: I don't know. It's in me right now, you know it can be taken away at any moment I know that that's why I don't take it for granted. You know I'm very blessed to be able to do this and to do it at the level I am right now and I've just been doing it. Even when I was racing go karting, we just never took it for granted and we always knew at any moment things could be taken away. And you know, there's been many times where it has and things have always worked out to come back around for something else. Just staying focused with having a good family behind me and raising me the right way made a big difference and I think just being able to be this far is pretty exciting, regardless of what happens from here.
CS: Can you tell me a bit about your participation in Red Bull's Driver Development Search?
CW: Yeah. That whole thing kind of came together last minute. They were doing that Red Bull driver search looking for actually an F1 driver and I wasn't going to do it. I was actually just kind of racing go karts at the time with my family and just having fun. We were winning a lot of races and championships, but we were just having fun and clearly didn't think anything of it.  And the next thing you know someone's like, hey you really need to go do this thing they're going to let you go straight to a qualifying round. So alright, we go out there and have fun with it and after the whole thing was said and done, long story short, they wanted to meet and it progressed into a sponsorship. They're actually probably the only reason why I've made it this far in the sport. It was a great partnership and it was great while it lasted. Just a great company. They did a lot for me.
CS: Their racing program has since shut down. How did that go down, do you know?
CW: Yeah, I don't know the specifics on it but I think whatever they needed to do was for their best interests and I support every decision that they've ever made just because of how much they've done for me. You know, they were great people. They were great to me and took care of me well. I don't know the logistics behind why or what they did, but I'm sure they had good reasoning.
CS: You're a rookie of the year candidate this year, so you're certainly holding your own and then some. Is there specific preparation that you go through or any kind of rituals or superstitious stuff that you do before each race?
CW: Nah, I'm not superstitious. I kinda feel like it's going to be whatever it's supposed to be. I'm pretty confident that everything will take care of itself. For the most part though, like you said, being in that rookie class, this is one of the biggest rookie classes they've had in the cup series and one of the most talented. To be part of that's a pretty cool honor and to be able to say that we had a good shot of winning it is pretty cool also. It says a lot about me and what we stand for as a team and what we're getting ready to build. I'm pretty excited to see how that turns out.
CS: What's your favorite track ever? Go karts, sprint cars, stock cars, any of the above.
CW: I'd say my favorite track so far is either the Old Phoenix before they repaved it and then probably Kokomo speedway the dirt sprint car track in Indiana.
CS: Nice. Now I also saw that you're pretty up on social media. How do you leverage social media to connect with the fans of the sport?
CW: Yeah, social media is pretty neat and I've actually gotten better with it over time because I really didn't use it to connect with fans at first, but now I've been using it more to connect with fans. It's been a lot more fun once you do that and you realize how much they enjoy it and I like that. You know there's no reason why we can't, it takes two seconds. You're on your phone anyways probably looking at it or reading it and when someone posts something to you and you reply or talk to them or give them something they want to know or give them an inside look at something, that's what gets people excited. And without those fans our sport would be nothing. Just having the gratitude and the mindset that these guys are paying for the seats and coming to watch us at the race track is what drives our sport in the first place.
CS: What would you say is your most anticipated race of the season?
CW: I'd say right now Daytona 500 is probably my biggest anticipation. There's a lot riding on this and there's a lot that could happen here. But at the same time if things don't work out for the best there, I know I can pull through and look forward to Phoenix and other races down the road. I look forward to the whole season, but Daytona 500 right here is something I'm really looking forward to.
CS: I got one more question about your leisurely activities. How good is your golf game?
CW: (laughs) Um, not too well. I actually started playing more in the past little while (laughs), but not too good. I'm more into the cross fit training and a lot of fitness is what I probably do the most.