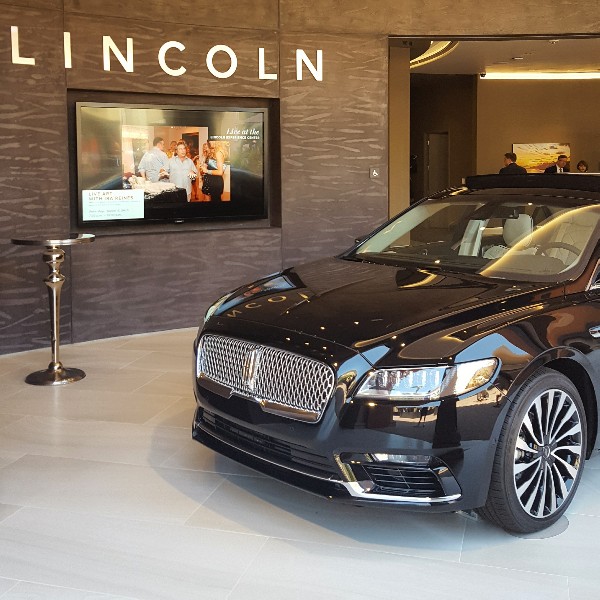 Lincoln is back, baby. Once a shining leader in the American luxury car space, Lincoln hit some hard times a few years back. U.S. sales fell to a 32-year low in 2013, but the brand bounced back in a big way.
The introduction of the MKC crossover propelled a 16 percent year-over-year sales increase in 2014, making it the fastest-growing luxury brand in the U.S. that year. This upward domestic sales trend continued last year, and with six months of sales figures in the books for 2016, the positive trend continues for the luxury-focused company that was founded in 1917 and has been a subsidiary of Ford since 1922.
A big part of the brand's resurgence can be attributed to a renewed focus on "The Lincoln Way." I learned more about this approach when I met up with Andrew Frick, Director of Sales and Service Operations this past week at the new Lincoln Experience Center located inside Fashion Island in Newport Beach (139 Newport Center Dr, Newport Beach, CA 92660).
Frick is a tall, affable dude who's quick to smile and has a sense of humor that's as clever as Lincoln's new brand messaging. The gist of "The Lincoln Way," as Frick described it, is creating a "warm, human, personally crafted" experience for car owners. The words rolled off his tongue quite effortlessly and he revisited this central approach frequently when describing the new Lincoln Experience Center.
Officially launching this weekend, the Lincoln Experience Center is a comfortable, 5,200 sq. ft. space that provides visitors with immersive, tactile opportunities to explore the Lincoln Way.
"Our brand is in a better place than the perception of the brand locally," Frick said. The purpose of the new space is to change that perception. Situating the space in an area with high foot traffic with a local demographic receptive to luxury car buying also helps.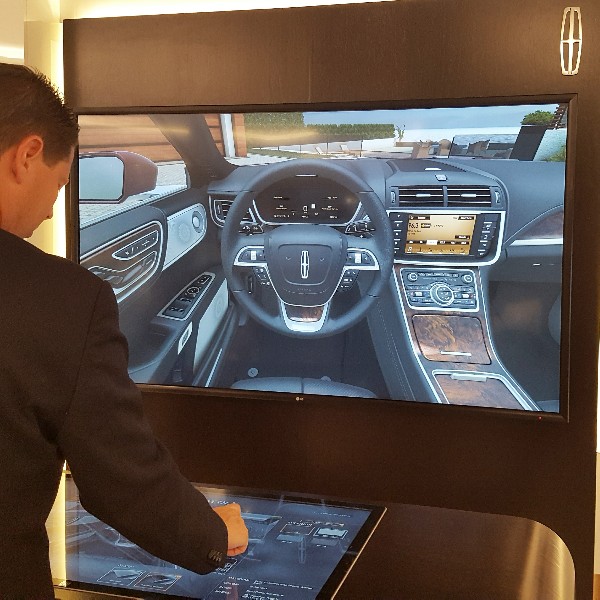 Visitors can pop in and get a break from shopping by chilling (or working with Wi-Fi) in the lounge with a complimentary beverage. Tablets and a large, interactive Technology Wall are available so that guests can learn more about new Lincoln models and explore features and options. Cycling through colors, environments, wheel variations, roof options, interior color tones, back seat views, etc. in real time is a great way to expose more people to the brand's offerings. An app is in the works as well and will likely be released in this fall.
Guests can also take in different design inspirations, schedule a test drive (or a more extended "date night" 24-48 hour weekend test drive) and visit the Revel Audio room to get a first-hand feel for the sound system's capabilities. As Frick mentioned, "we sell a lot of vehicles because of the sound system," and the audio room at the Lincoln Experience Center helps explain why. Visitors can also inquire about guaranteed pickup and delivery services (available for owners of new 2017 model-year Lincolns), leasing and finance options or even Skype directly with dealerships.
"We do believe we are going to sell vehicles through this experience," Frick said, "and we've already started to do so."
Frick went on to explain that "the plan is to learn from this environment" with the goal of opening similar spaces up in the near future. These types of environments also allow the brand to "do business on clients' terms in ways that are important to them," according to Frick.
The Lincoln Experience Center will also be used to host events in an effort, as Frick put it, to "engage the local community and support local businesses." Visitors can reserve spots for events that will feature everything from musicians, artists and jewelers to chefs, sommeliers and cheese mongers. This program to deliver culture and luxury outside of the vehicle is part of Lincoln's plan to reassert itself in the luxury car space in a way that's more "warm, human and personally crafted" than a trip to your local Lincoln dealership.
One of the bigest things I took away from my visit to the Lincoln Experience Center and my conversation with Frick is that most luxury car owners don't really want to get into the specs of a high performance, luxury vehicle. Horsepower, torque – not so important. The actual driving experience and the specifics of the luxury options available — like the curated Lincoln Black Label Collection or the Revel Audio sound system or the new Perfect Position Seats – these are the things that luxury car buyers in the America really care about.
"It's not about what the car can do," Frick said, "it's about what the car can do for you."
If you're curious about the Lincoln Way, the 2017 Lincoln Continental Concept or just you want to find out more about different Lincoln models and options as you sip a free glass of champagne, go check out the space (139 Newport Center Dr, Newport Beach, CA 92660).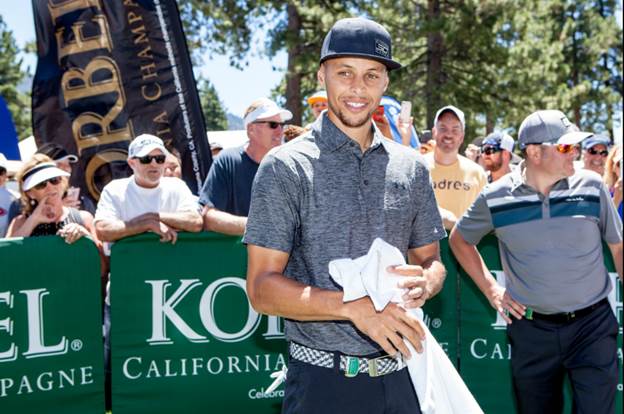 He might have lost to the Cleveland Cavaliers in NBA Finals, but Steph Curry is popping bottles of champagne. It is all part of the 2016 Celebrity Spray-Off took place on July 21st in Lake Tahoe at the American Century Celebrity Golf Championship with celebrity and athlete competitors including Steph Curry, Jerry Rice, Roger Clemens, Alfonso Ribeiro, Aaron Rodgers and more!
Just before celebrity superstars teed off on the 18th hole, Korbel California Champagne challenged them to show off their champagne celebration skills as part of the Celebrity Spray-Off. Contestants competed to see how far they could shoot the cork from the top of a bottle of Korbel.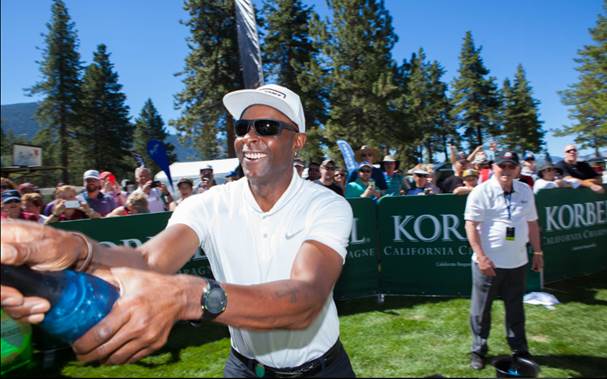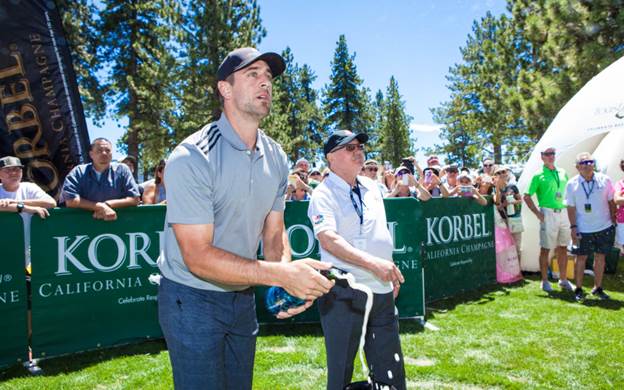 Right now some of you are getting to check out the wonderment of San Diego Comic Con. That is one of the things that I still need to check off my bucket list. If you are like me and couldn't make it to San Diego I have a very worth alternative. It is Loot Crate.
Loot Crate sends you a month box of goodies. Each box has about four to six items over $45 of retail value in every crate. You can even get a discount and special gifts if you sign up for a 12 month plan. These crates are money. Below you can check out my unboxing video from the month of July. The theme for this month's Loot Crate was futuristic. I was thrilled to get the Futurama Planet Express Ship in this month's crate.
Like what you see? Get a subscription. July's crate had items from some of pop culture's favorite predictions of science and the future like Star Trek, Futurama and more.
There are different themed crates as well. There is a Loot Anime, Loot Gaming, Loot Pets, Firefly, and LVLUp. They even have limited edition Star Wars and Call of Duty crates. You can pick out the best one that fits your style and your budget. Plus all subscribers are entered to win our monthly Mega Crate and Mini-Mega Crate Free Giveaway. Some of those crates are valued at $2,000. How cool is that? Go to www.lootcrate.com for more info on each one and to start your subscription today!

When it comes to Michael Jordan and his signature sneakers everyone stops to look at the latest edition of the most popular shoe line. Last night Jordan Brand showcased the new Air Jordan XXXI in Las Vegas. Defiance is at the heart of Michael Jordan's success. Throughout his career, the champion faced hurdles — injury, repeated defeat, illness — and continuously soared above them to realize the unexpected. Along the way, he redefined basketball's relationship to style, the sport's connection to youth counter-culture and the game's creative potential.
When Jordan's footwear arrived during his rookie season, it shared with the world some of its namesake's tradition-breaking bravado. A black and red colorway violated the league's uniform policy, earning a stern letter from league officials and generating a $5,000 fine each time the player wore the shoes on court. "Around this time, if you knew anything about Nike…Nike stood on this kind of rebel behavior," recalls Jordan Brand VP Howard "H" White, in reference to the runners and tennis players connected to the Swoosh. "This Jordan, that color of the Air Jordan I, kind of galvanized that universal scope."
The Air Jordan I set the tone for Jordan's future, and his eponymous brand, transcending the court and finding favor across a broad spectrum of society, even with, as White reminds, skateboarders. "You just can't make those stories up," he says. "If somebody said, 'Hey, here it is: Take the pen, take the pencil and draw it up just the way you want it,' you probably couldn't have drawn that up the way it came out."
The Air Jordan XXXI represents a balance of Jordan Brand's tradition of game-changing performance and its transcendent style: lightweight support for the world's highest-flying athletes, including Russell Westbrook, and rich material details that exude an off-court sensibility.
The shoe's first-of-its-kind Flyweave and leather upper incorporates a number of iconic Jordan elements, reintroducing the original Air Jordan "Wings" logo and a subtle Swoosh — not seen on a Jordan shoe since the Air Jordan I and the first time it has appeared alongside a Jumpman logo. And in its launch colorway the Air Jordan XXXI pays homage to the "banned" story.

Informed by Jordan himself, the Air Jordan XXXI also follows on a tradition of low-profile cushioning. "He needed to feel closer to the floor — that was his thing," recalls White of the origin of Jordan's desire for low-to-the-ground sole units. As such, the Air Jordan XXXI features FlightSpeed technology with full-length Zoom Air that enhances court feel, responsiveness and lateral support. "We really wanted to focus on propulsion in the forefoot, so when you're coming down you're engaging the FlightSpeed with the Zoom Air bag," notes Kuerbis.
The Air Jordan XXXI "Banned" will be available globally September 3 in select retail stores and on Jordan.com. Stay tuned to @Jumpman23 on Instagram and Twitter for more information on the Air Jordan XXXI.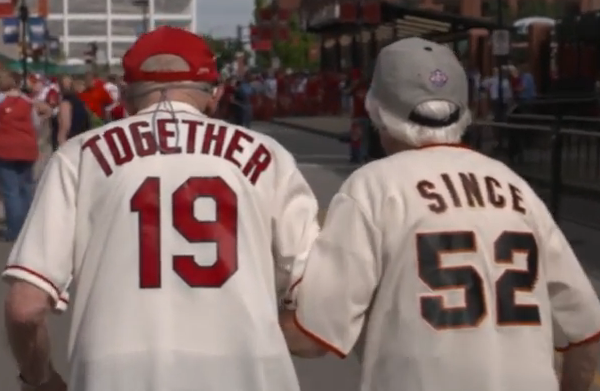 Baseball has been a staple in our country for some time now. It brings people together. To illustrate that point Bank of America is sharing a great video from their  #MLBmemorybank program. Bank of America invited Carol and Warren Reckmeyer, whose "Together Since 1952" jerseys went viral last year – to a VIP experience at the Cardinals/Giants game earlier this season. The couple, who has been married for 64 years, received a variety of surprises during the day, which icluded throwing out a double first pitch to Cardinals manager Mike Matheny and Giants manager Bruce Bochy, and a visit from Hall of Famer Ozzie Smith.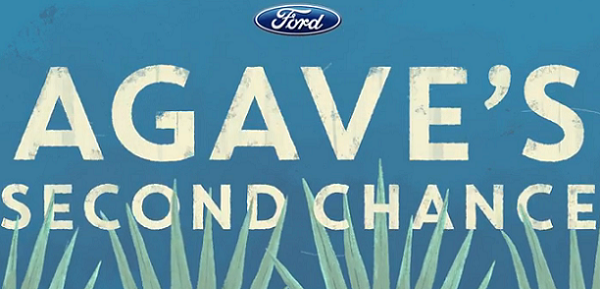 Now it may not seem like the Ford Motor Company and Jose Cuervo have a lot in common, but they do.  They are working together to explore the use of the tequila producer's agave plant byproduct to develop more sustainable bioplastics to employ in Ford vehicles.
Ford and Jose Cuervo are testing the bioplastic for use in vehicle interior and exterior components such as wiring harnesses, HVAC units and storage bins. Initial assessments suggest the material holds great promise due to its durability and aesthetic qualities. Success in developing a sustainable composite could reduce vehicle weight and lower energy consumption, while paring the use of petrochemicals and the impact of vehicle production on the environment.
"At Ford, we aim to reduce our impact on the environment," said Debbie Mielewski, Ford senior technical leader, sustainability research department. "As a leader in the sustainability space, we are developing new technologies to efficiently employ discarded materials and fibers, while potentially reducing the use of petrochemicals and light-weighting our vehicles for desired fuel economy."
The growth cycle of the agave plant is a minimum seven-year process. Once harvested, the heart of the plant is roasted, before grinding and extracting its juices for distillation. Jose Cuervo uses a portion of the remaining agave fibers as compost for its farms, and local artisans make crafts and agave paper from the remnants.
Now, as part of Jose Cuervo's broader sustainability plan, the tequila maker is joining forces with the automaker to develop a new way to use its remnant fibers.
Like Ford Motor Company, Jose Cuervo is family-owned and operated. Founded in 1795, it has been making tequila for more than 220 years with the same experience, craftsmanship and recipes that have been handed down generation through generation.
The collaboration with Jose Cuervo is the latest example of Ford's innovative approach to product and environmental stewardship through the use of biomaterials. Ford began researching the use of sustainable materials in its vehicles in 2000. Today, the automaker uses eight sustainable-based materials in its vehicles including soy foam, castor oil, wheat straw, kenaf fiber, cellulose, wood, coconut fiber and rice hulls.
"There are about 400 pounds of plastic on a typical car," said Mielewksi. "Our job is to find the right place for a green composite like this to help our impact on the planet. It is work that I'm really proud of, and it could have broad impact across numerous industries."
Pretty cool huh?


Did you all see the Republic National Convention? Some loved it and some didn't know what was going on. Yet there is no question that the upcoming election has generated opinions across the spectrum, from ongoing policy discussions to international affairs to which candidate is the optimal choice to lead this country – and with more than 75.4 million in the US alone, Millennials have replaced Boomers as America's most populous and arguably most influential generation.
Ranging from 21-34, some of our country's most important technological, creative, and economical advancements can be directly attributed to the Millennial age group, yet the opportunity to hold the nation's highest political office is being withheld from the very people who are changing the face of the nation and the world.
Today, Captain Morgan has launched a petition for Article II, Section I of the United States Constitution to be changed, which restricts those under the age of 35 from becoming president.
As part of the campaign, the Captain Morgan brand has teamed up with a crew of influential and notable Under 35s who are making an impact and changing the world in their own right – including Mogul's Tiffany Pham, JASH's Mickey Meyer, Thrillist's Ben Lerer, Thinkful's Dan Friedman, and more – to support the cause.
To join the movement, adults 21+ are encouraged to visit UNDER35POTUS.com in order to sign the petition. If 100,000 signatures have been acquired by August 12, 2016, the White House will review the petition, distribute it to appropriate policy officials and issue a response.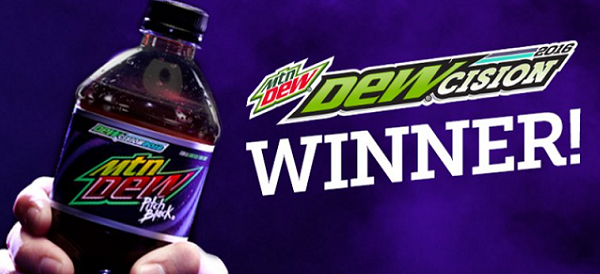 There has been a battle for the top spot of MT. Dew beverages. It has been going on for the past three months. The country has been engaged in a passionate election that has changed the course of history forever: DEWcision 2016. Members of DEW Nation have cast their votes for either MTN DEW BAJA BLAST or MTN DEW PITCH BLACK, two specialty flavors that developed cult followings over the years, and after months of voting and wild online challenges, the results are now in. With more than 2.9 million votes, PITCH BLACK has edged out BAJA BLAST by less than a half of a percent of the total 5,789,284 million votes. PITCH BLACK has won the election. And PITCH BLACK will become a permanent member of the MTN DEW retail lineup, making its debut on shelves this September.
"Over the course of DEWcision 2016, you, the members of the DEW Nation, pulled out all of the stops to show your passion for these two flavors," said Ryan Collis, senior director of marketing, Mountain Dew. "You dyed your hair. You built towers. You conquered mountains. Although there could only be one victor, you showed us that neither flavor was going to go out without a fight. And that's the relentless, unyielding, no-holds-barred spirit that DEW Nation stands for."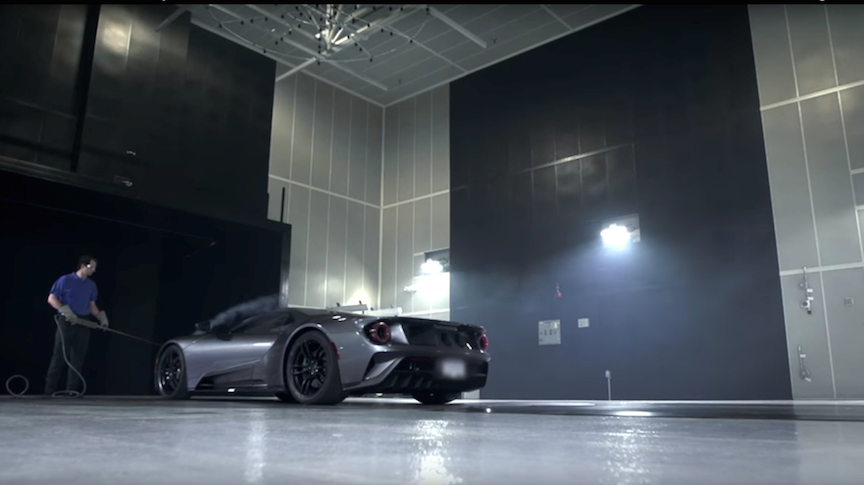 The Ford GT has been going through some serious testing. Ford is not messing around when it comes to design and development for the GT. The all new Ford GT is expected to go on sale before the end of this year. An innovation showcase in efficient EcoBoost engines, lightweighting and aerodynamics, the Ford GT is a study in functional design and active airflow management.
Ford engineering supervisor Nick Terzes takes us behind the scenes at Wind Tunnel 8 in Allen Park, Michigan, where a Ford GT pre-production verification prototype undergoes wind tunnel testing. The footage is of just one of multiple sessions to prove out the extensive computer aided aerodynamic models with physical wind tunnel data, at airspeeds approaching 125 mph (200 km/h).
Part of working on a program with compressed timing, Terzes and the Ford GT engineering team were in the Allen Park facility in the early a.m. hours of a Monday, demonstrating the non-stop nature of vehicle development. "Being the GT program," Terzes said, "we effectively test 24/7."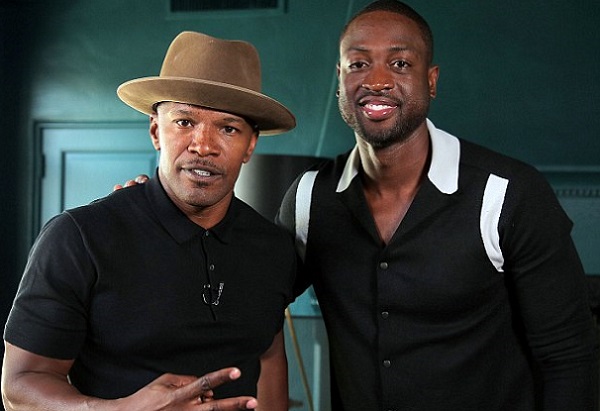 The stars from the entertainment world and sports world were out in full force earlier this week. Mercedes-Benz and Variety Magazine brought them all together for a star studded night. Variety's Sports Entertainment Summit showcased some of the most noteworthy voices in sports and media in Los Angeles for a full-day of discussions about the state of the industry. The event included keynote speeches from Kobe Bryant and Dwyane Wade, as well as appearances from Jamie Foxx, Hannah Storm, and many more.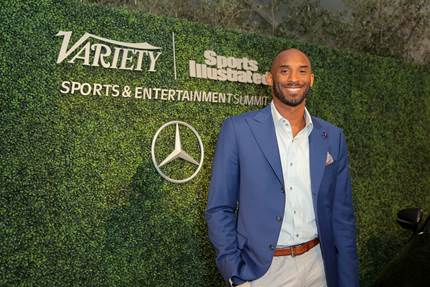 As a presenting sponsor, Mercedes-Benz displayed a new 2017 S-Class Cabriolet outside the Vibiana in Los Angeles for athletes and celebrities to check out upon arrival.