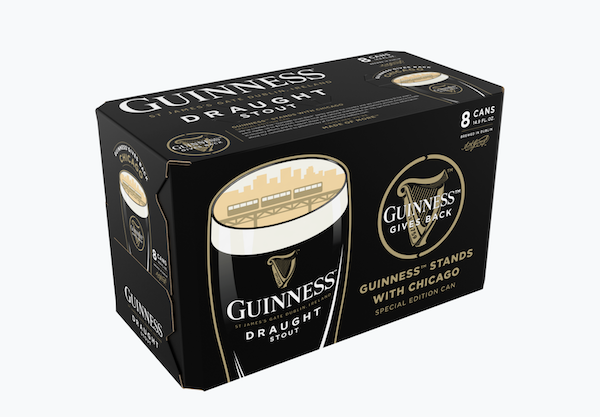 As part of the Guinness Gives Back initiative to provide support to those suffering from food insecurity due to COVID-19 and other causes, Guinness has announced a $750,000 donation to community relief efforts nationwide and introduced a new limited-edition pack for the holiday season.
For every Guinness Gives Back pack made, Guinness is donating $1 ($750,000 collectively) to designated charities in the U.S. The national Guinness Gives Back America pack will trigger donations to the global organization Direct Relief, and four regional versions of the pack will support food banks in the corresponding markets of New York, California, Chicago and Boston.
Already this year, Guinness has committed $2 million to COVID-19 relief efforts and to organizations supporting equality and social justice. The release of the Guinness Gives Back packs re-enforces the brand's commitment to supporting and uplifting American communities.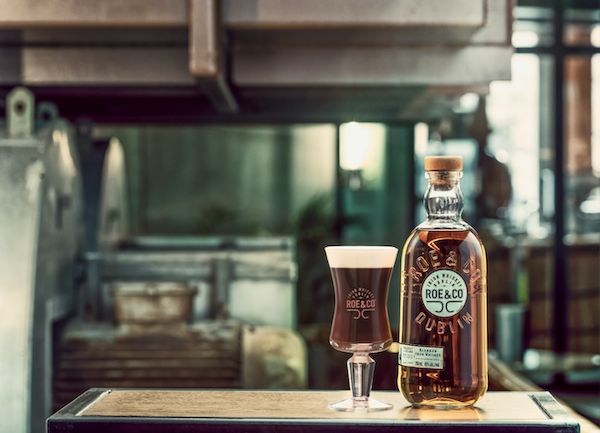 The weather is getting colder. Now is the time for some fun cocktails. The Roe & Co Irish Coffee is a delicious, easy-to-make cocktails that everyone can enjoy.
In case you're unfamiliar with the brand, Roe & Co is a new contemporary blend that is inspired by the once world-famous George Roe & Co Distillery in Dublin. Roe & Co is made from the finest hand-selected stocks of Irish malt and grain whiskies, aged in bourbon casks. Using her 30 years of experience, our Master Blender Caroline Martin has created a versatile, premium whiskey. Roe & Co is a luxuriously smooth blend with a perfect harmony between the intense fruitiness of the malt and the mellow creaminess of the grain whiskies.
Roe & Co Irish Coffee
Ingredients Needed:
40ml Roe & Co
60ml freshly brewed americano coffee
10ml porter syrup/sugar syrup
15ml fresh lightly whipped cream
grated nutmeg & 3 coffee beans
Directions:
Heat the Irish coffee glass with boiling water. Once heated empty the water out and add 60ml of freshly brewed hot coffee and in the syrup. Stir lightly. Pour in 40ml of Roe & Co and layer lightly whipped fresh cream on top. Garnish with 3 coffee beans and a light dusting of grated nutmeg.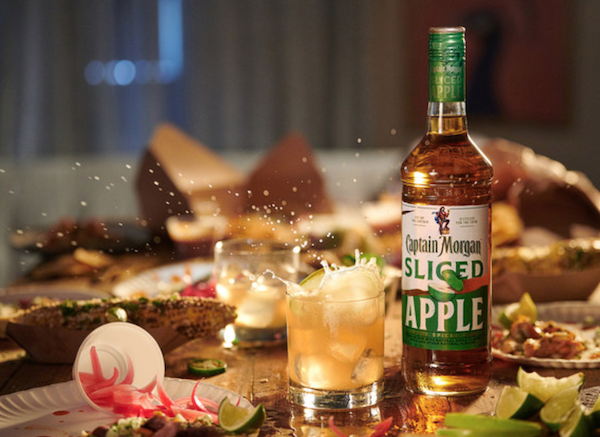 There's something new dropping this fall and it's ripe for the taking. Captain Morgan is hitting the shelves with Captain Morgan Sliced Apple Spiced Rum – something brand new that's sure to shake up the rum category as a spirit that is so delicious it can easily be enjoyed neat or on the rocks.
There's more fun to be had with this twist on a classic – we took the flavor of our signature Original Spiced Rum, added a subtle hint of ginger and fused it all together with the deliciously juicy and crisp taste of fresh cut apples. Captain Morgan Sliced Apple is all about making sure you and your friends can enjoy and celebrate the good times with a flavor everyone loves, whether you're near or far.

Five artists worked with Captain Morgan to design murals in the communities they call home – New York City, Los Angeles, Miami, Austin and Atlanta – that pay tribute to some of the country's most vibrant and iconic cities and neighborhoods. In their own unique, signature styles, each artist's mural showcases some of the diverse flavors, people, art and sounds that make up the irresistible spirits of the communities that Captain Morgan Sliced Apple is out to celebrate.
Nothing screams autumn like sliced apples. They're crisp, refreshing, sweet yet tart, exploding with flavor and perfectly suited for the fall (or any) season. With all that flavor packed into Captain Morgan Sliced Apple, there's something for everyone 21 and over to sink their teeth into – serve it neat, on the rocks or as a chilled shot. Captain Morgan Sliced Apple is so delicious that we recommend giving it a try on its own, but if you're looking to spice things up, it can be used to add variety to some of your favorite signature cocktails like the Captain Morgan Apple Crisp.
Apple Crisp
1 oz Captain Morgan Sliced Apple
.5 oz lemon juice
Cubed ice (in shaker)
Lemon wedge for garnish
Directions:
Pour Captain Morgan Sliced Apple and lemon juice into a shaker over ice.
Shake and pour into shot glass.
Garnish with lemon.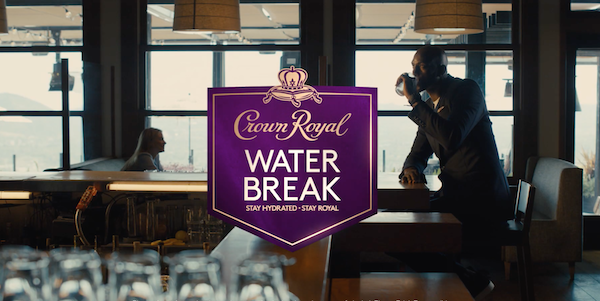 Sports are back and so is Crown Royal, doubling down on its responsible drinking commitment and bringing the Crown Royal Water Break beyond football and to all sports with the help of sports royalty and 15-time All-Star, MVP and NBA champion Kevin Garnett. Crown Royal believes being a royal fan this season means staying safe, generously supporting your community and drinking responsibly while rooting on your team. That's how to Crown Your Game Day.
Even at home, you still get to enjoy your favorite game day cocktails. Just remember: to take a Water Break in between to stay hydrated. Don't be that guy or girl that ruins game day for your friends and family - Stay Hydrated, Stay Royal. As fans host Game Day from home, Crown Royal will continue to encourage fans to elevate their game day spreads and cocktails to take Game Day to a new level. Thanks to "Crown Your Game Day Spreads," fans will never miss an opportunity to pair their favorite local game day eats with Crown Royal, team-inspired signature cocktails. Visit crownroyal.com/game-day for inspiration. Also, see below for cocktail assets.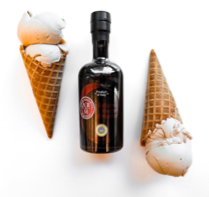 During the pandemic, ice cream sales have soared. People need treats in their lives. And if you're going to leave the house for some socially distant enjoyment, might as well schedule something that's a bit out of the ordinary, right?
Well it doesn't get more out of the ordinary than Balsamic Vinegar gelato. Yes, you read that right. The Consortium of Balsamic Vinegar of Modena (Aceto Balsamico di Modena) has partnered with Gelato-Go to offer up a limited-edition gelato flavor that can only be sampled this week at the Gelato-Go in Hollywood (5633 Hollywood Blvd) and Beverly Hills (252 S. Beverly Drive).
I can attest to the quality of the gelato at Gelato-Go in El Segundo (the dark chocolate is fantastic), but I have not yet had the pleasure of sampling this limited edition Aceto Balsamico di Modena flavor that's available in Hollywood.
If you want to check out this non-traditional collab treat, make sure you hit up the Hollywood or Beverly Hills locations before August 30th!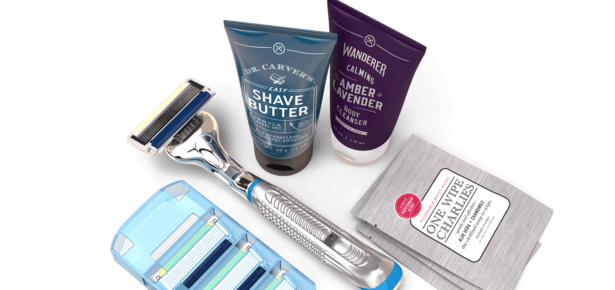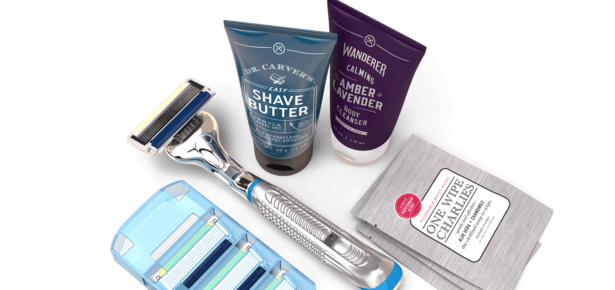 Dollar Shave Club's story – where a savvy founder leveraged a clear vision, investor relationships, improv comedy training and viral marketing to launch an kickass brand in 2011 that sold for a billion dollars in 2016 – is a pretty sick story. If you're not familiar with the brand's origins, read about it here. But there's a good chance you know about these guys already. You've heard about the club, their razors and their business model. What you may not know is that the Dollar Shave Club is looking to overhaul your entire shit-shower-shave routine. They're changing the whole game with an expanded product line to cover all your male grooming needs. And if you missed the first wave of the Dollar Shave madness, you can sign up for the new Daily Essentials Starter Set for only five bucks. And for five bucks you get the much-deservedly-hyped Executive Razor with a full set of cartridges and trial-sized versions of these three new products:
Calming Amber Lavender Body Cleanser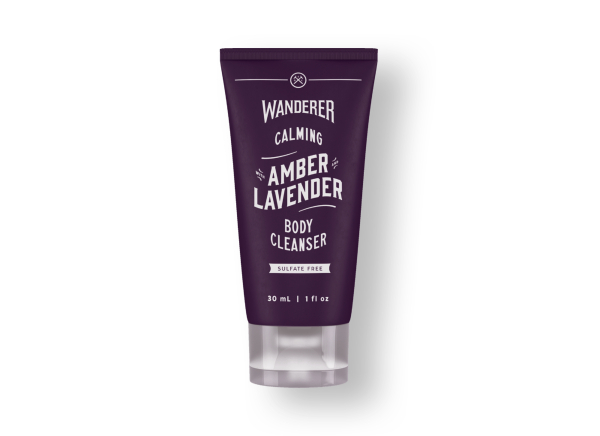 Smelling good is a must, but you don't want your clean scent to overwhelm people. Overpowering people with pungent aromas (even pleasant ones) just isn't a neighborly thing to do. This goes for both sides of the smell-good spectrum. Super-potent man sprays are for teenagers and guys who don't know any better. On the flip side, dudes shouldn't smell like flowers and lady things. The trick is to find a nice balance, a scent that says hey, I showered, but I didn't bathe in roses or cologne. The Calming Amber Lavender Body Cleanser strikes a good balance. It provides just enough soothing smell-good vibe, without the punchy stench of man- or lady-perfume. It's clear and suds up quick. A little goes a long way. The rinse is clean and easy. Don't overthink shower time. Keep it simple with this mellow cleanser.
One Wipe Charlies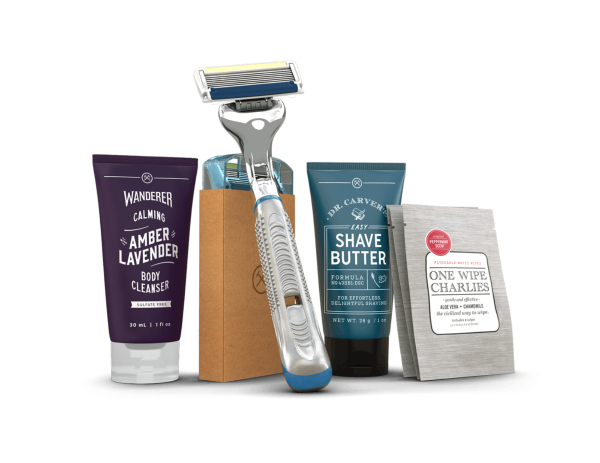 One Wipe Charlies are exactly what they sound like: flushable, moist cloths for bum. Even if personal hygiene is at the very top of your daily priority list, there are times when your bum could use some freshening up. Maybe you can't squeeze in a full shower, but you like feeling renewed after your morning thinker session. Maybe you're traveling. Maybe your crunched for time between appointments. Maybe you ate way too much barbeque, Del Taco or drank too many beers over the weekend and you got a pesky case of mud butt. Whatever the reason may be, backside unfreshness happens, and sometimes you need an immediate solution to address cleanliness problems with your posterior. One Wipe Charlies give you the flexibility to maintain a fresh ass under any circumstances. They work as intended, but with an added bonus of cool minty butt tingle. That's the cucumber extract, aloe, Vitamin E and chamomile working their magic with a peppermint oil finish. It's downright pleasant.
Dr. Carver's Easy Shave Butter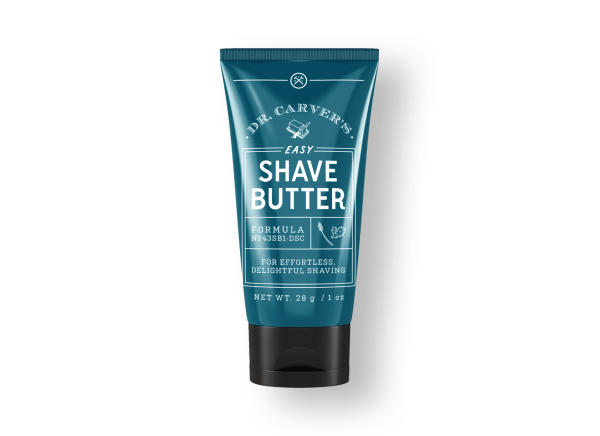 Gone are the days of badger brushes and foamy shaving cream. Don't be concerned that this stuff doesn't come out looking like some neon blue Jello, either. With Easy Shave Butter, you don't need fluorescent jelly or sudsy lather. It's a simple product that's focused on delivering an efficiently close shave. You apply the butter to maximize viscosity when you razor up your face. The butter face approach may sound like a greasy proposition, but it's not really an oily experience. You're not schmearing margarine on your mug. It's an easy-to-apply defense layer that quickly rinses away to leave your skin feeling soft and undamaged by your shaving routine. Thanks to our sponsor Dollar Shave Club, new members get their 1st month of the Daily Essentials Starter Set including trial-sized versions of their Body Cleanser, One Wipe Charlies' Butt Wipes, and Shave Butter along with their Executive Razor for ONLY $5 with FREE shipping. If you haven't signed up for the club yet, see what all the fuss is about and get in on the action. It'll only cost you $5 to sample the goods.
Ready to join the club for only $5?
Sign up here: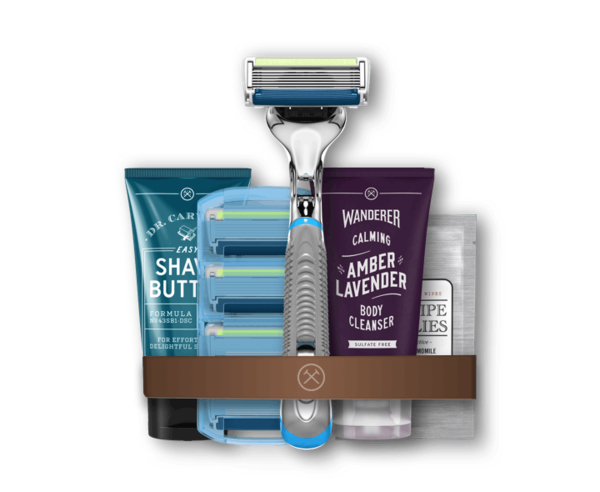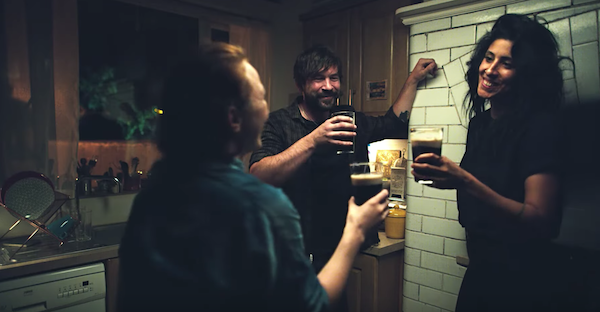 We know that St. Patrick's Day feels different this year. But we've been around for 260 years and learned over time that we're pretty tough when we stick together. However you choose to celebrate St. Patrick's Day this year, stay safe and be good to one another. Guinness today is committing $500,000 through our Guinness Gives Back Fund to help communities where we live, work and celebrate.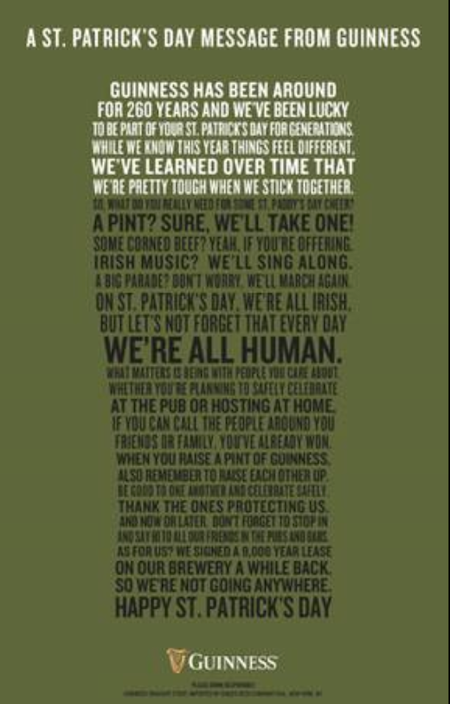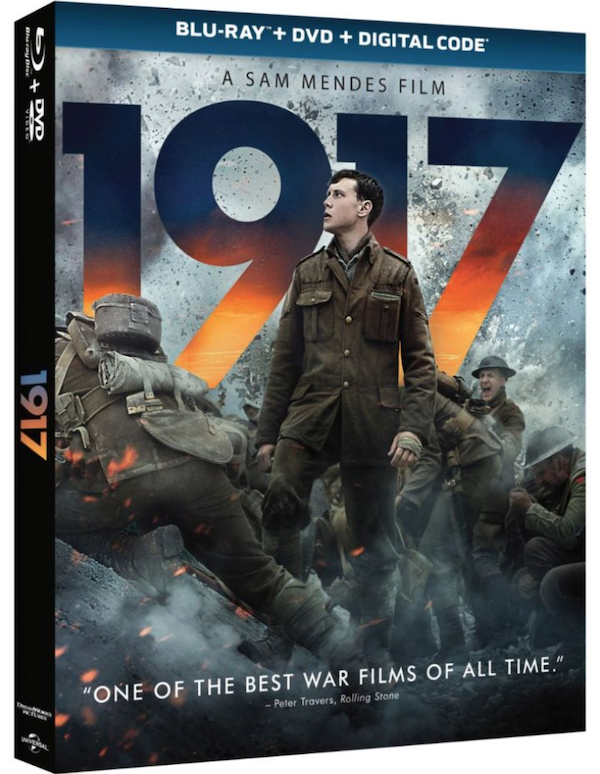 1917, the critically acclaimed, multi-award winning action spectacle including Academy Award® winner for Best Cinematography arrives on Digital March 10, 2020 and on 4K Ultra HD, Blu-rayTM and DVD March 24, 2020 from Universal Pictures Home Entertainment.  Hailed as "One of the most extraordinary cinematic achievements of the year" (JoBlo), the universally acclaimed film combines groundbreaking film making, memorable performances, and an unforgettable insight into the human experience against the shattering background of war. Additionally an Oscar® winner for Best Visual Effects and Best Sound Mixing, 1917 is "a new war movie classic" (NY Post).
In 1917 at the height of the First World War, two young British soldiers, Schofield (MacKay) and Blake (Chapman) are given a seemingly impossible mission. In a race against time, they must cross enemy territory and deliver a message that will stop a deadly attack on hundreds of soldiers—Blake's own brother among them. 1917 comes to Digital, 4K Ultra HD, Blu-rayTM and DVD with bonus content showcasing the incredible craft and artistry behind the immersive feature, including a detailed look into the production design, how the film engineered a one shot, 360-degree format and interviews with the cast and crew.
In 1917, Academy Award®-winning director Sam Mendes (American Beauty, Spectre, Skyfall) brings his Golden Globe® and BAFTA award-winning directorial performance to a script co-written alongside Krysty Wilson-Cairns ("Penny Dreadful"). The film stars breakout actors George Mackay (Captain Fantastic, Pride, Sunshine on Leith) and Dean-Charles Chapman (HBO's "Game of Thrones"). Accompanying Mackay and Chapman are standout performances by Mark Strong (Tinker Tailor, Kingsman, The Imitation Game), Andrew Scott ("Fleabag", Sherlock, Spectre), Richard Madden (Netflix's "The Bodyguard", Rocketman, HBO's "Game of Thrones"), Colin Firth (The King's Speech, Kingsman, Bridget Jones) and Benedict Cumberbatch (Sherlock, Dr. Strange, The Imitation Game). The film was produced by Mendes, Pippa Harris ("Penny Dreadful", "Call the Midwife"), Jayne-Ann Tenggren (Spectre, Extremely Loud & Incredibly Close), Callum McDougall (Spectre, Skyfall, Casino Royale) and Brian Oliver (Rocketman, Black Swan).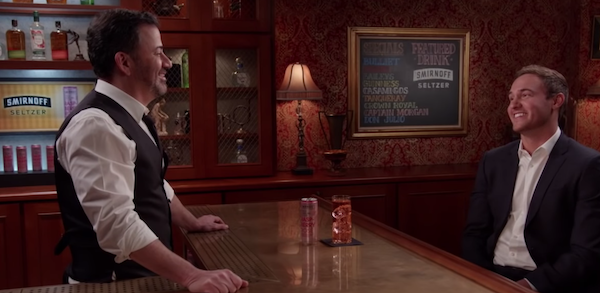 Ahead of one of the most anticipated Bachelor finales on ABC, The Bachelor himself, Peter Weber, sat down with Jimmy Kimmel to answer four ridiculous questions with a Smirnoff Seltzer, the "Official Hard Seltzer of The Bachelor"  in hand!
Three of the four ridiculous questions aired last night on Jimmy Kimmel Live!, but you can view an additional ridiculous question in the link below. Following into the segment last night, we have the never before seen video moment where Pilot Pete answers a question in the most pilot-esque fashion.
Quote from Peter: "I actually have a hat that says airplane mode. It's just a picture of an airplane…mode."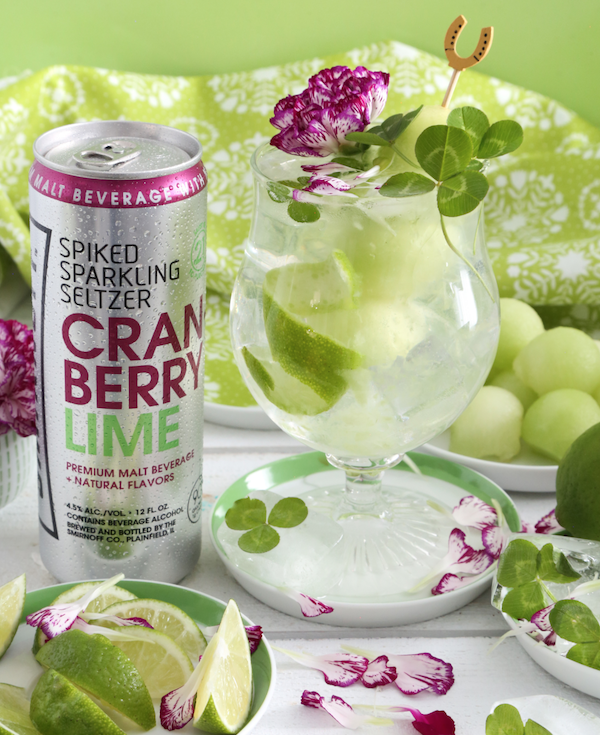 At Smirnoff, they are all about providing you options, and this year, they are sharing three new recipes – Our St. Paddy's Spritzer, Fizzy Leprechaun and our Lucky Melon Cooler – all of which highlight the different flavor profiles of each of their products – Smirnoff Cucumber-Lime Zero Sugar Infusions, Smirnoff Ice Green Apple and Smirnoff Seltzer Cranberry Lime. Even better, their spritzer and melon cooler recipes contain zero added sugar.
St. Paddy's Spritzer
(1 serving)
2 oz. Smirnoff Cucumber-Lime Zero Sugar Infusions
1 oz. cucumber puree
1 oz. brewed green tea
1 oz. bottled sparkling water
1 Lime wheel
1 cucumber wheel
Directions: In a cocktail stirring pitcher, combine the Smirnoff Cucumber-Lime Zero Sugar Infusion, cucumber puree, brewed green tea and sparkling water. Pour over ice. Garnish with fresh lime and cucumber.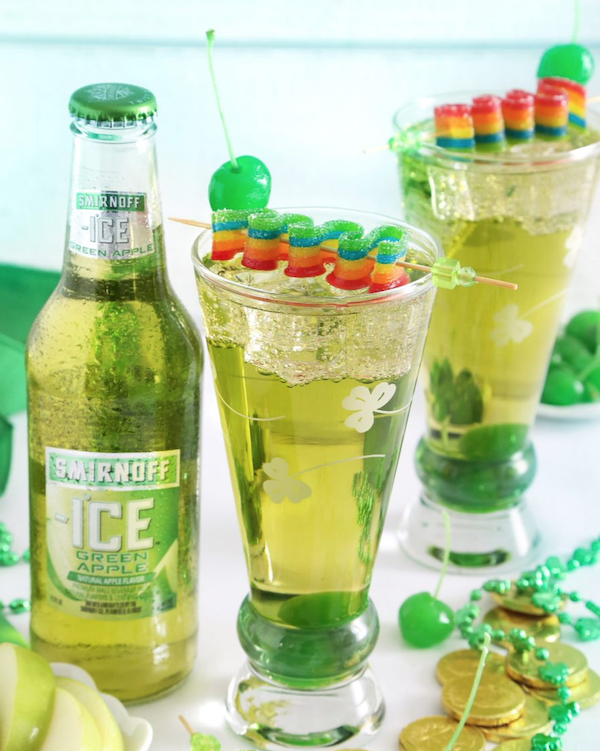 Fizzy Leprechaun
(1 serving)
6 oz. Smirnoff Ice Green Apple
2 oz. sparkling lemonade
1 maraschino cherry
1 sour candy rainbow belt
Directions: Combine Smirnoff Ice Green Apple and sparkling lemonade in a cocktail stirring pitcher; mix well. Pour over ice in a cocktail glass. Thread the maraschino cherry and rainbow candy onto a cocktail stirrer and garnish drink.
Lucky Melon Cooler
(1 serving)
4-6 honeydew melon balls, chilled
4 oz. Smirnoff Seltzer Cranberry Lime
1 oz. honeydew puree
2 oz. lime juice
Lime slices for garnish
Fresh clover sprigs (or clover frozen in ice cubes)
Directions: Fill a tall cocktail glass with honeydew melon balls. Mix seltzer and lime juice in a cocktail stirring pitcher.  Pour over chilled melon and garnish with lime slices and fresh clover sprigs.