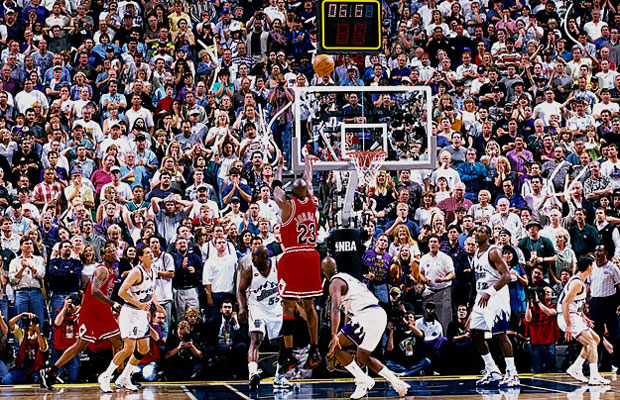 No matter the sport every fan has their own beloved moments that they will always cherish when they think about their favorite team. For me I feel I grew up in the right era as a Chicago Bulls fan. In the 1990's I was living in a suburb outside of Chicago. As a kid I loved pretending I was like Mike when I was playing hoops with my friends.
Besides having Air Jordan on the team, I also got to watch Scottie Pippen, John Paxon, Horace Grant, B.J. Armstrong, Bill Cartwright, Stacy King, and many more. Once Jordan knew that he needed others to help him get a title, the Bulls were hard to beat. Chicago was able to three-peat not once, but twice. They won Championships from 1991-1993 and also in 1996-1998.
Recently while watching the Bulls take on the Miami Heat I was reminiscing about my favorite moments of the Chicago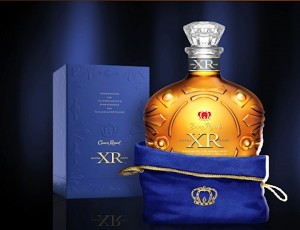 Bulls. To relish that moment even more I was enjoying Crown Royal Extra Rare Whisky. It is the second edition in the series. It is an exquisite blend crafted to include a small reserve of the final batch of whiskies that were saved from the renowned LaSalle Distillery (located on the island of Montreal), opened in 1924 by the Bronfman family. The distillery was closed in 1993, but LaSalle remained a bottling facility until 2003 and to this day still operates as a warehouse for many fine Crown Royal whiskies.
Just like the Bulls in the 1990's, Crown Royal XR has become legendary.  The aroma of this Crown Royal XR has hints of pear with complimentary floral bouquet notes.  The honeyed pear maintains upon first taste and is joined by tones of dried apricot and raisins mid palate.  The finish is exquisite with an elegant touch of cocoa and brown sugar.
So with that here are my five iconic #ReignOn moments from the Bulls during the 1990's.
5. Scottie Pippen Posterizes Patrick Ewing.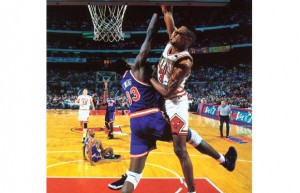 When Jordan left the Bulls to pursue a career in baseball, Scottie Pippen took over as the main man in the Windy City. During Game 6, 1994 Eastern Conference Semifinals Pippen met up with New York Knicks All-Star Patrick Ewing. In that moment Pippen won that battle over Ewing by slamming home right over the big fella.
Pippen recalls that moment by saying, "It was one of those games where we were playing against the Knicks and we were frustrated and tired of them holding and pulling and doing things of that nature. I think that after that dunk, I sort of overreacted, almost trying to push [Ewing] into the stands,"
He might have overreacted after the dunk, but he sure threw it down at that moment.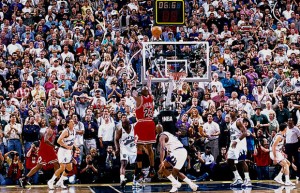 4. Completing the Three-peat In Dramatic Fashion.
MJ knows how to close out a game. Even more he knows how to finish out an NBA Finals series. In Game 6 of 1998 Finals the Bulls were trailing the Utah Jazz by one point. Could the Jazz hold on and force a Game 7? The answer was no.
MJ stole the ball from Karl Malone which set up one of those memorable MJ moments. Everyone in the building knew that Jordan would take the final shot. MJ brushes by Byron Russell and pulls up for what is known as "The Shot." The ball goes in and the Bulls are once again NBA Champions.
3. He can Fly!
In their first appearance in the NBA Finals the Bulls were looking to knock off the Los Angeles L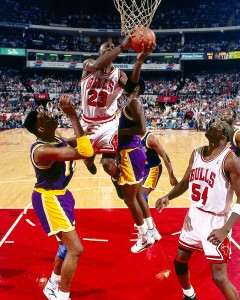 akers from the top of the NBA mountain. In Game 2 of the 1991 Finals MJ rocked one of the craziest moves. As if to almost make things harder than needed Jordan drove the lane and looked to make an easy dunk.
Then what seemed to be like an eternity MJ was hanging out in the air and decided to change his scoring attack from a dunk to a very difficult left handed lay-up.  As he was in the air deciding what to do he passed by teammates and opponents like it was nothing. He moved the ball from his right hand to his left hand, the ball went off of the backboard and went in.  It was almost as if Jordan wanted to send a message to Magic Johnson by saying we are now taking over the NBA.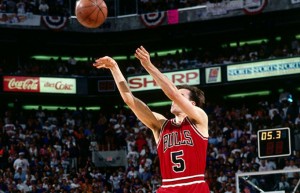 2. John Paxon is Clutch.
The Bulls were always lead by Jordan and Pippen. Some fans do forget that the Bulls has a strong supporting cast. One of those guys was guard John Paxon. In Game 6 of the 1993 NBA Finals the Bulls were down by two points against the Phoenix Suns. As the Bulls brought the ball up the court the Suns looked to double team Michael and eliminate Scottie as scoring threats.
When you double team someone that will always leave a guy wide open. With excellent passing by the team, Horace Grant found an open John Paxon behind the three point line. With ice in his veins Paxon took the role of hero and scored the game winning basket. That Bulls completed their first three-peat by defeating the Suns.
1. MJ is Sick…no I mean Flu-like Sick!
One thing a champion must have is heart. No matter what lies in their path they look to find a way to win. Right before Game 5 in the 1997 NBA Finals reports were coming out that Michael Jordan had flu-like symptoms. Doctors told him that he shouldn't play. He didn't listen.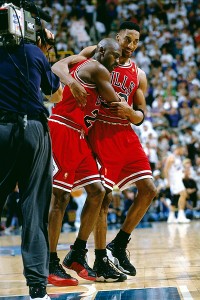 All he did was score 38 points to help the Bulls win that game, in which three of those points was the go ahead three pointer to secure a victory. Now known in NBA lore as "The Flu Game," that moment will always stick out to me as one of my favorite games in all of Bulls history.
So what are your favorite #ReignOn moments from your favorite NBA team? How does it stack up against mine? I would love to hear your thoughts!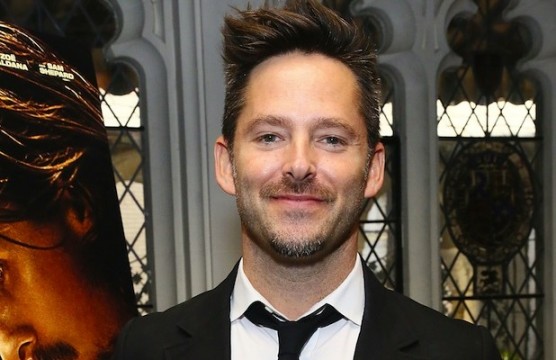 If you are into films that are gritty and show real life drama than you must have already seen "Out of the Furnace." If not I suggest you pick it up on Blu-ray or DVD. Scott Cooper directed and co-wrote the screenplay. The film is a tale about a family that just can't keep its head above water. "Out of the Furnace" has an all-star cast that includes Christian Bale, Casey Affleck, Woody Harrelson, Zoe Saldana, William Dafoe, and Forest Whitaker.
Bale plays the role of Russell Baze, who works all day at the steel mill and then goes home to care for his terminally ill father. To add more stress in his life, his brother Rodney comes back from Iraq from his service in the military. Rodney not wanting to follow his family's lead by working in the mill starts to enter an underground bareknuckle boxing league. That league is run by a drug dealer played by Woody Harrelson. Russell tries to help out his brother before anything bad can happen. I will stop there so I don't ruin the film for you, but take my word for it you will be pulled right in as soon as the film begins.
I was lucky enough to talk with Scott Cooper about the film and how his experience as an actor helps him now as a director. Also enter for your chance to win a copy of "Out of the Furnace" on Blu-ray below.
Art Eddy: "Out of the Furnace" has gritty feel to it. You grew up in an area similar to where the film took place. Did you have any knowledge of things like underground fighting that took place where you grew up?
Scott Cooper: I grew up on the coal fields of Virginia. My grandfather was a coal miner. I always knew that kind of blue collar work ethic. I grew up among people like that. I wanted to write and set the story in steel country. There is no better place to do that then in Western Pennsylvania. In particular this town called Braddock, Pennsylvania that I have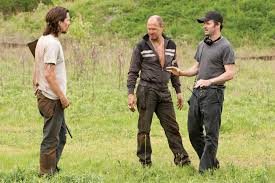 grown very fond of.
Just like my protagonist played by Christian Bale, this town also has been beset by this relentless fate. They have had a very, very difficult time. The bareknuckle fighting society can easily just as happen in the lower side of Manhattan, or the Midwest, or Deep South. We all have been some type of gladiators of one nature or another. That is a kind of metaphor for a man who in Casey Affleck's character who has been trained by the United States government to fight in both Iraq and Afghanistan. So nothing is too literal in its own.
AE: While watching the film it seemed that every character had that moment where they could just lose it. Was that your vision and if so what did you tell the actors to do to create that sense of being volatile?
SC: When you are dealing with actors of this caliber, who truly are the best screen actors that we have here in America, they come in with fully formed opinions and a point of view. They read a script like "Out of the Furnace" and they understand those moments that can best be dramatized.
So you don't really have to direct them to go to those moments. You want to take them up to that edge before they ultimately explode. That is where it is most exciting. I wanted the film to really be an intense experience from the opening moments with Woody Harrelson in a very public setting in the drive-in that is a relic in its own right all the way through the final frames of the film. I didn't want it to be going with narrative conventions or otherwise Casey's character would have been dead on page nine.
AE: Not only do the actors give the viewer a sense of hopelessness, but the way the scenes were shot also has that vibe. Was that something you made sure of while filming the movie?
SC: It was very conscious to me. I have only made two films, but I guess that both of these films are similar. They have this sense of immersive realism and a kind of observational photography. There are many fine directors who are very technically astute and proficient. Yet you realize that you are watching a movie.
I wanted to make it feel like you are watching real life. There is a difference in the way you photograph and stage scenes. The way the actors move and the way they interact. It is just a different style. It is not for everybody. People want a sense of escapism and go see a movie where they can laugh, have fun, and see actors in crazy costumes. I prefer a much truthful and emotionally true experience. Some audiences don't want to embrace those harsh realities of life. I understand that. If they don't there are certainly other movies that they can go and see.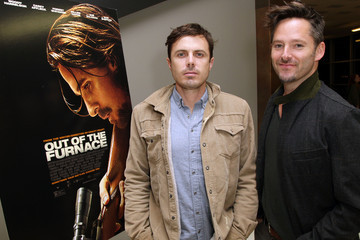 AE: What is the main message you hope the audience takes away from this film?
SC: I would say resilience. You have a man in Christian Bale's character who is beset on all sides by this relentless fate. Yet he is able to overcome that. He is based on someone who is very close in my life, who has suffered similarly. He experienced great tragedy and loss, but he was also able to overcome it. He is one of the most positive people I know.
So regardless of how bad it gets he continues to be resilient and positive and is able to get through those tough moments in life.
AE: How did you form relationships with Christian Bale, Woody Harrelson, Zoe Saldana, William Dafoe, Casey Affleck, and Forest Whitaker on set while filming to create a bond with those actors?
SC: It helps that I am also an actor. I understand their language. I understand their preparation. I understand that every actor in that film and mostly every actor that I have worked with is that we are all different human beings with different personalities. They all had different ways of accessing a character. You have to treat each actor separately and differently.
I have such respect and reverence for actors that feel that the performance is the most important thing in a film. As long as they are authentic and emotionally truthful which comes from casting actors who are not afraid to take their own risks. Actors that will push the artistic boundaries. Christian, Casey, Zoe, Woody, and the rest of the cast have done that. They give very human and raw performances as opposed to performances where you often see them acting in a very technical way and what they are doing is artificial.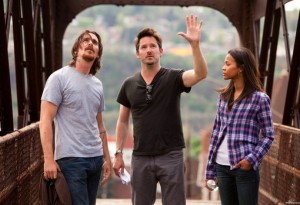 AE: Going along with what you just said about the level of acting I have to say the scene where you have Christian getting out of jail was fantastic. You shot it in a way that people could see his wide range of emotions that he felt on becoming a free man. I just want to say for me that was a tremendous scene.
SC: It is all the things we take for granted. Once you are incarcerated those things go right out the window. You really have to treat each day as if it would be your last and live in the moment. That is the truth. We all have the same fate.
Enter below for you chance to win "Out of the Furnace" on Blu-ray and follow MANjr on Twitter.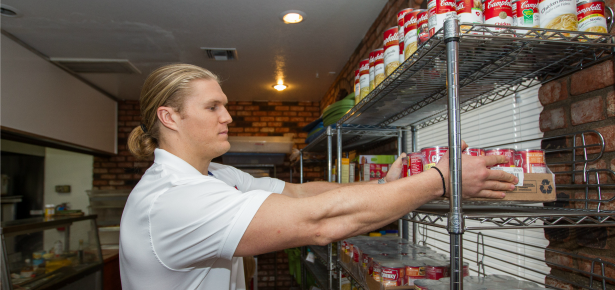 Last week we met up with All-Pro linebacker Clay Matthews at the Greater West Hollywood Food Coalition. Matthews and Campbell's Soup were making a donation of 5,000 cans of Campbell's Chunky as part of the Soup for Sacks program.
Last season, each time Matthews sacked an opposing team's QB, Campbell's donated 1,000 cans of soup to a local food bank in the opposing team's city and 1,000 cans to the local food bank in Green Bay. In total, Campbell's has donated over 40,000 cans of soup to food banks across the nation and they've helped raise $18,000 for Matthew's charity, the CM3 Charitable Fund.
The Green Bay Packers linebacker, who's a native of Southern California and played college ball at USC, was on hand in West Hollywood with his mom, because, you know, that's what Campbell's Chunky Soup is all about. As the face of the Campbell's Chunky Soup "Mama's Boy" campaign, Matthews and his mom were on hand for the donation and we got to spend a few minutes with him talking about the Sacks for Soup program, his football family heritage, Matthew's path to the NFL, Pete Carroll, Kevin Greene, Green Bay's injury woes and draft needs and a whole lot more. Check it out: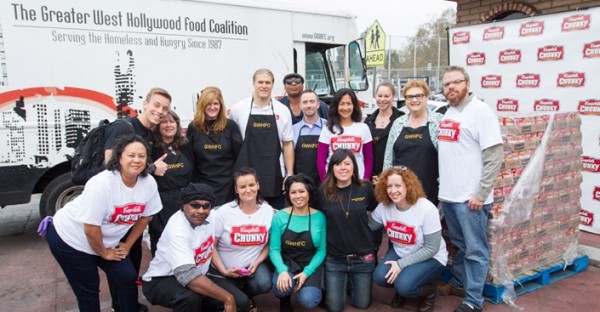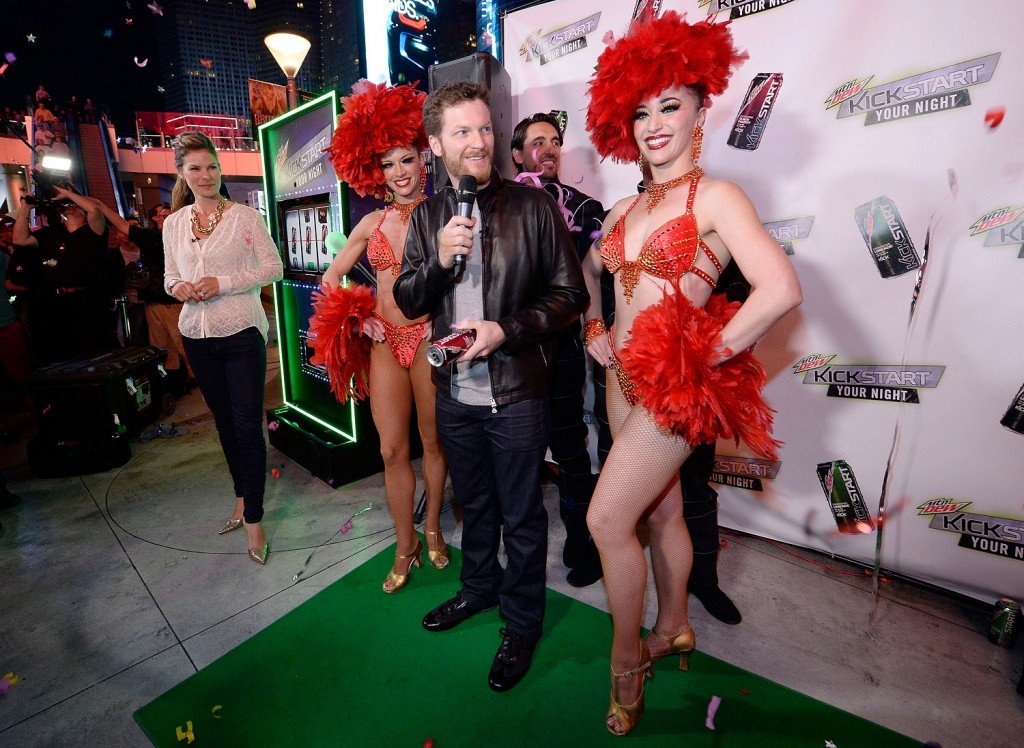 Mtn Dew Kickstart and Dale Earnhardt, Jr. recently helped racing fans kick start Las Vegas race weekend. Hundreds of fans gathered on the plaza outside Planet Hollywood Resort & Casino on the Las Vegas Strip on Wed., March 5 where they were surprised by a visit from Dale Jr. who pumped them up for the big race on Sunday where he'll debut, for the first time ever, his Mtn Dew Kickstart paint scheme and firesuit.
As an added bonus, Dale Jr. personally invited fans to join him at the "Kickstart Your Night" party held at Koi Restaurant & Lounge. Inside the party fans mixed and mingled with Dale Jr. to rev up their Las Vegas race weekend experience.
Mtn Dew Kickstart recently launched two new refreshing flavors – Black Cherry and Limeade – to get DEW Nation ready for whatever the night will bring.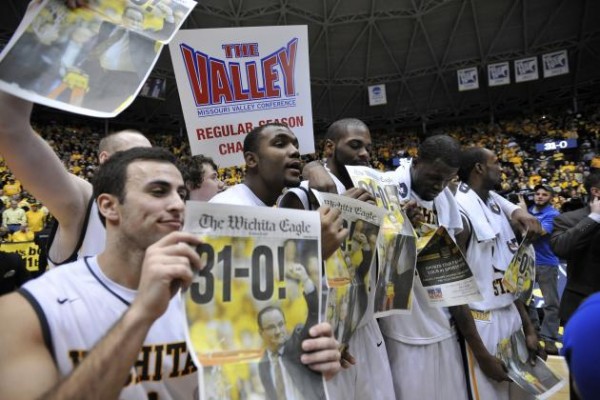 Selection Sunday is just a couple weeks away, so the madness of March will soon be upon us. One team to keep a close eye on is Wichita State. The Shockers finished the NCAA basketball regular season with a perfect 31-0 record and became the first team in 10 years to go into the college basketball postseason undefeated.
After a convincing win against Missouri State to end the season, the Shockers are going to be an interesting bet throughout the tourney. You can check out odds and reviews of different betting sites at SportsBookReview.com.
Wichita State was the home team and led the last game of the regular season from the start. Missouri State gave the Shockers a hard time back in January, but they blew a 19 point lead in the second half and ended up losing 72-69.
After the victory, Coach Marshall said how proud he was of his team and what they have accomplished. He's looking forward to grabbing the No. 1 seed in the NCAA tournament by winning the Valley tournament.
Marshall came to Wichita State in 2007 to give a fresh start to the program and finally got to the Valley Tournament Championship game in 2010, when the Shockers lost to Northern Iowa.
"We've been to the championship game now," Marshall said. "But now we need to win it."
If the Wichita State wins the Valley Tournament Championship it will be the first time in 27 years that the Shockers grabbed the top seed entering March Madness.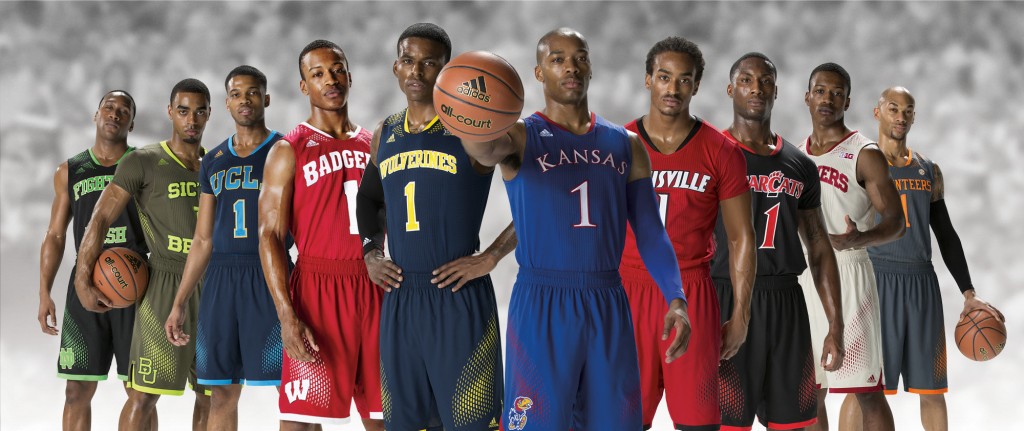 adidas today unveiled the Made in March Uniform System for the 2014 NCAA basketball postseason. The collection was created to provide teams with adidas' most advanced uniform system and basketball apparel technology so they can take on the challenges and intense play of March.
Baylor, UCLA, Cincinnati and Louisville will wear short-sleeve Made in March uniforms and Indiana, Kansas, Michigan, Notre Dame, Tennessee and Wisconsin will wear sleeveless versions.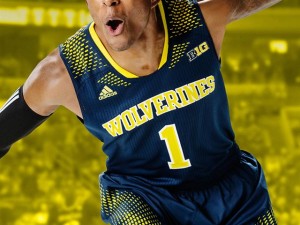 Made in March uniforms feature a functional perforated print pattern along the leg of the stretch woven short to enhance breathability and ventilation, keeping players cool as the clock winds down. adidas' quick-drying jersey technology found in current NBA uniforms along with ClimaCool zones on the chest, back and side, move heat and moisture away from the body to keep the jersey light and dry as players sweat.
To rally fans and spark team unity and pride, several uniforms feature team name logos across the chest, while all jerseys have school mantras selected by the team printed on the inside collar. Several schools will wear new colors exclusively designed for March. Baylor will wear army green as homage to the school's strong military history, while UCLA dons navy blue and gold inspired by the Los Angeles night skyline. Indiana will suit-up in cream as a nod to the program's traditional school colors and basketball team's "crimson and cream" nickname.
The Made in March Uniform System debuts on-court beginning with conference tournament play and fans can grab their Made in March gear at adidas.com and campus bookstores.
Stay tuned to the adidas Basketball Facebook page, and follow on Twitter and Instagram @adidasHoops with #teamadidas , #MadeinMarch.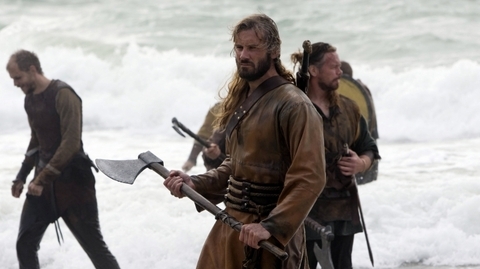 Clive Standen and his fellow actors on the hit History Channel series "Vikings" are now into their second season. Fans are loving the series and if you have seen the show you know why. Clive plays the role of Rollo Lothbrok, who is the main character's brother. Rollo is based on the historical figure, who was the great-great-great-grandfather of William the Conquerer.
I was able to talk with Clive about the success of "Vikings," fans obsession with the crew's hair extensions, fight choreography, and more.
Art Eddy: Season 2 is now here for "Vikings." I loved Season 1. You guys got a lot fans of the show. As an actor do you feel more pressure to live up to the hype for this season?
Clive Standen: Oh definitely. The pressure really came from Season 1. We didn't know if anyone was going to watch it. As soon as we got picked up for Season 2 some of that pressure was taken away. The reason is that you have that faith underneath you. You are riding into battle so to speak. You have a responsibility to get it right. You have to be thankful for the fans because they are the ones that made another season come about.
There are nerves and trepidation obviously, but a lot of it has been okay lets knuckle down and make this story explode. Judging by the first episode this season anyway people will hopefully agree with me and say it is bigger than the first.
AE: Speaking of fans. I see that you do some interaction with fans on Twitter. Do you like having social media as a way to chat with your fans?
CS: I do, but sometimes it can be your worst enemy. (Both laugh.) You can sometimes hear just as many bad comments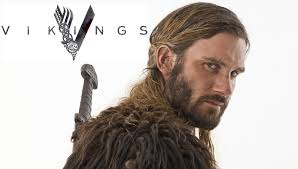 as good comments. You can't please everyone, but it is nice to have that sort of feedback. With social media these days it is good in a sense that you can switch things up a bit if you can get a handle on what people think of it. Producers of the show I am sure listen to everyone's comments on Twitter. We give people a show that they want to watch. So I think it is a good tool to have.
AE: I want to know who is talking bad about the show. (Both laugh.)
CS: It is not necessarily who is talking bad about the show. Some people aren't a fan of Rollo. I think that sometimes is a good thing. When people say, 'Rollo is such a whatever,' I tend to favor those comments. That is what people should be thinking. Hopefully by the end of this season people will feel sorry for Rollo. I think he is going to surprise some people.
AE: Rollo is based on a real historical figure so how much research did you do for the character of Rollo?
CS: I never stop researching any role that I take on. Even if it is not a historical role I try to do everything I can. I need to immerse myself in that world. I like to lose myself. I am still doing that now. Michael (Hirst) can write anything. This world is so unworldly. It is so visceral and fantastical that anything can feasibly happen. Any of these sagas Michael can latch onto and say this is the way we are going to go with an episode.
I want to feel like I am at least ahead of the game. I want to know what I am doing here. I want to be in that world instead of something hitting me from left field. So I am always researching Rollo. What is different from Rangar and Rollo is that Ragnar was a real Viking. He really did live it. A lot of what is documented of him is in the sagas. Some of those are fantastical. They are almost like Arthurian legends.
For Rollo in history books a lot of what happens with him is in France. It is all there. There is so much documented there. He is the great, great, great, great grandfather of William the Conqueror. There is a lineage there that I can draw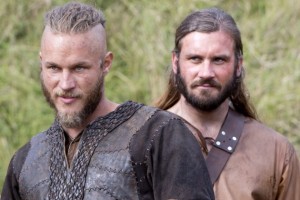 off of.
AE: Your fighting scenes are intense on the show. I take it your background as a Muay Thai boxer and fencing has helped you out with those scenes.
CS: Definitely, but the people that should be given credit for that is Franklin Henson and Richard Ryan. They are our stunt coordinators.  They have worked on films like "Troy" and the modern "Sherlock Holmes" movie with Robert Downey Jr.
We all sat down and talked about things. There are a lot of things on TV and film where the battle scenes look like they are too choreographed. They are almost like a dance. It works for "Lord of the Rings." He can spin around and do all sorts of things because he is an elf. It is fantasy.
We want to bring the audience into the shield. We want to bring them right into the action. We want to make the audience feel like these characters can die at any minute. It has to be brutal. It is a land of kill or be killed. These characters might not come out of it alive. They are not superheroes. Lagertha (Lothbrok) is not "Xena: Warrior Princess." She is going to get smacked in the face. If she is going to take on these guys she is going to go down fighting. You got to feel that.
We work on the choreography. We work tirelessly with Richard to kind of choreograph the scenes. When it comes to the day the weather in Ireland is always changing to say the least. What you learn in the comfort of a studio you suddenly are out on the landscape and it is pouring and the mud is up to your shins. You are slipping and sliding. That choreography that you learned on your feet now might be done on your knees. You just carry on. You do not want to be that guy that puts his hand up when there is a 100 stuntmen running around behind you and say, 'Hey can we do that again?' You just adapt and overcome.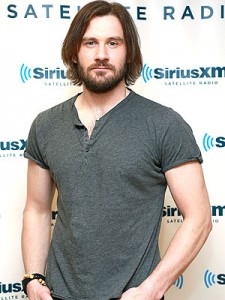 AE: I have been checking out the press for this season. It seems like a lot of people are infatuated about you and your fellow actor's hair extensions. Did you ever think that would be a topic of conversation for the show?
CS: I know exactly, but it is also a thing where you are an actor. I am filming a movie called "Everest" at the moment. It is set in 1996. We are all mountain climbers and I had to get my hair cut short for the role.
Sometimes people are like, 'Whoa.' "Vikings" is six months of my year and I got the other six months of the year to fill up my calendar. I can't go around looking like a Hell's Angel all year. I have to adapt to the character I am playing. The only way around that is to keep my hair long enough to be able to have hair extensions. Otherwise I have become easily typecast as either a Hell's Angel, a Viking, or an 80's rock star.
I do understand the questions though. Some people might not understand that some of this stuff is not real. We finished filming this in November of last year. It is very weird when you see a guy and he has long hair and then the next moment he has short hair and then back to having long hair. I understand why it doesn't add up.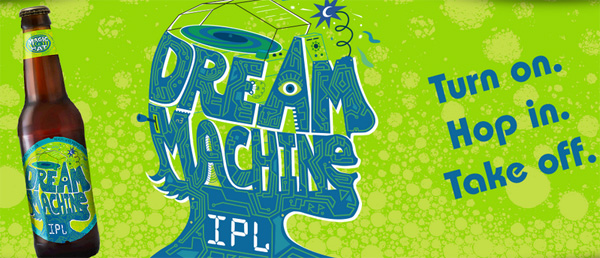 Magic Hat just released a new brew. It is called Dream Machine IPL. This beer is their first new year-round beer in 10 years. Once I tasted it I knew that it was well worth the wait. Dream Machine is an India pale lager. If you enjoy the taste of hops you will want to pick up Dream Machine.
Magic Hat brewed it with lager yeast to give it a crisper body than an ale. It mixes in real nice with the citrus flavors. As I opened up the beer and poured it into a glass I got the nice aromas of orange, grapefruit, and pine. You could also taste the orange, pine, and grapefruit right off the bat.
Dream Machine had a nice finish that was not over the top. The hops in Dream Machine are Nugget and Cascade, as well as a dry hopping with Amarillo and Sterling.
You will not be disappointed from Magic Hat's new offering. Whether you are enjoying a nice steak dinner like I did when I had my first taste of Dream Machine or just having a few with friends this IPL is a nice choice for any evening. Cheers!
From the Magic Hat website:
Dream Machine, an India Pale Lager or IPL, is a melding of varied visions of an India Pale Ale and an Amber Lager. Once poured, its light copper color delights the eyes and a citrusy hop aroma flows through the nose. Upon first sip, a smooth hop bitterness reveals itself – fresh, bold and slightly spicy – before subtle hints of mild maltiness appear. A big hop bite and a crisp, clean lager finish combine for a beautifully balanced beer. Take Dream Machine for a spin and let your reverie begin.
Stats:
Malts: Pale, Munich 20, C-40, C-120
Hops: Nugget, Cascade
Yeast: Lager
ABV: 5.7%
IBUs: 50
SRM: 12
Original Gravity 14.5° Plato
Dry Hopped: Amarillo, Sterling
Availability:
Year Round: 6-Packs, 12-Packs, 22oz Bottles, Draft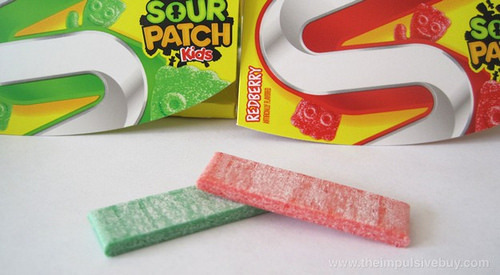 To celebrate the launch of Stride Sour Patch Gum, Stride took over a convenience store for three days to give customers a mad sour, mad sweet experience. Here is what happened next.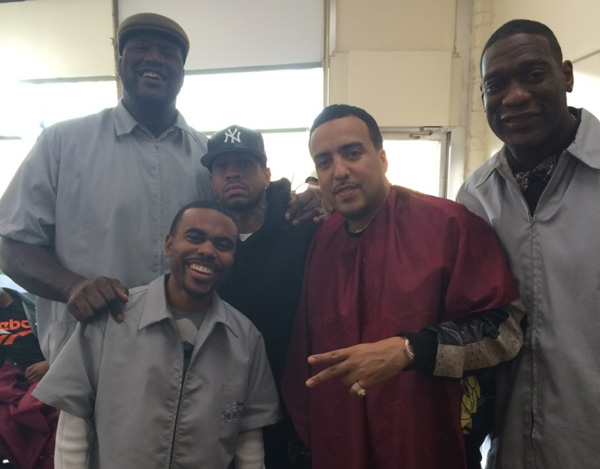 The latest and final episode of the Reebok Classic "The Retro Shop" features a true all-star lineup of Shaq, Kemp, Lil' Duval, French Montana and the one-and-only Allen Iverson.  Watch as a heated discussion blows up at The Shop over old school vs. new school fashion. Some things never go out of style.
Lightning Struck every tim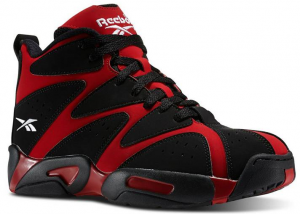 e Shawn Kemp stepped on the court. His larger than life persona set a new pace for basketball, and his groundbreaking athleticism inspired a shoe just as bold: The Kamikaze I. Shawn Kemp and the Kamikaze I, A Cut Above Since 1994.
Reebok Classic will bring back very limited pairs of the Kamikaze I OG black/red on Friday, March 14th at key retailers Foot Locker, Finish Line, Champs, Jimmy Jazz, DTLR, Shiekh, and Reebok.com for $115.
Check out the hilarious commercial below. Like to see Iverson poke a bit of fun at himself.