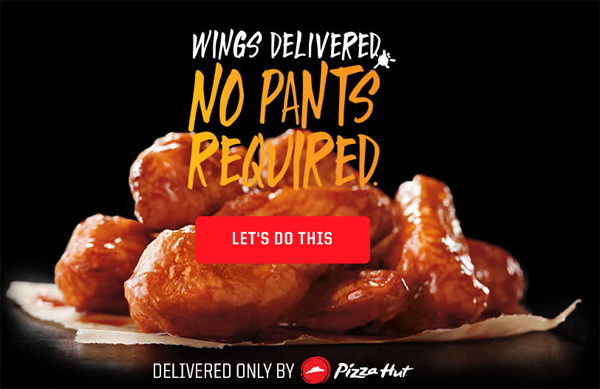 March Madness is starting this week! One of the best times for anyone who loves sports. To show some more love Pizza Hut is only one restaurant can deliver 68 million wings with a "No Pants Required" WingStreet by Pizza Hut has a partnership with the largest dry cleaner in the country. WingStreet is offering FREE mobile dry cleaning to select fans across the country on Thursday, the first day of the tournament.
Interested? Here is how it works. On Thursday, March 17, select WingStreet deliveries will come with a custom laundry bag that can be used to redeem cleaning of one pair of pants, for free – shorts, jeans, sweats slacks, you name it.
Martinizing Delivers and its affiliated brands 1-800-DRYCLEAN and Pressed 4 Time will provide the cleaning service for winners across the country. From pickup to drop off, they'll take care of it all.
Pretty cool right? Plus for a limited time only, WingStreet will also be featuring a Jim Beam® Devil's Cut Spicy Bourbon BBQ sauce which won first place in creative BBQ at the National Buffalo Wing Festival in Buffalo, NY during product testing.
Boneless WingStreet wings are one of the most popular items on the pizza restaurant company's new $5 Flavor Menu which also includes a medium one-topping pizza, the Ultimate HERSHEY'S Chocolate Chip Cookie, HERSHEY'S Triple Chocolate Brownie, Tuscani Pastas, a double order of breadsticks or flavor sticks and four 20-oz. Pepsi beverages for just $5 each when ordering two or more.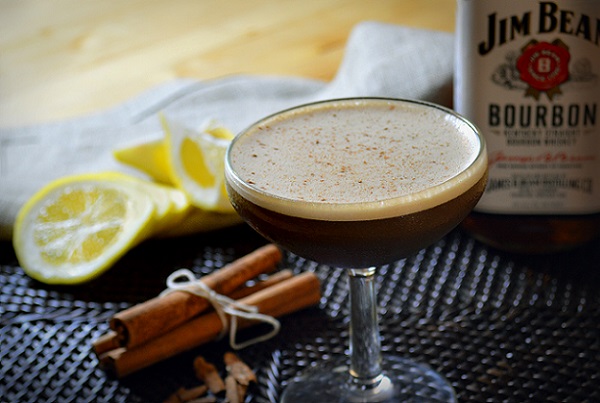 Jim Beam creating a new holiday cocktail called "The Irish American." There are 39.6 million Irish Americans living in the U.S. today – seven times more than the entire population of Ireland. Jim Beam created this cocktail to help celebrate the melding of these two proud cultures.
"The Irish American" combines the classic American ingredients of bourbon and cola  with Cider to produce a cocktail that captures the crisp, fruity flavors of a traditional Irish cider all while mimicking the look and slightly bitter taste of Ireland's favorite dark stout.
So this St. Patrick's Day, make history and forge your own holiday traditions by mixing up this new classic.
The Irish American
2 parts Jim Beam® Bourbon
1½ parts infused cola syrup
½ parts apple cider
¼ parts lemon juice
1 egg white
Cinnamon stick for garnishing
Making infused cola syrup: Combine everything in an appropriately sized stainless steel pot and turn on to medium heat. Reduce by half and strain out the coffee and cinnamon. Continue reducing until only 1½ cups remain. Cool. Refrigerate.
Infused cola syrup ingredients
5 cups cola
4 tablespoons coffee grounds
2 cinnamon sticks
Cocktail Instructions: Build cocktail in shaker. Dry shake until frothy. Add ice. Shake till cold. Strain into a rocks glass or coupe. Grate cinnamon into the top of cocktail as garnish/aromatic.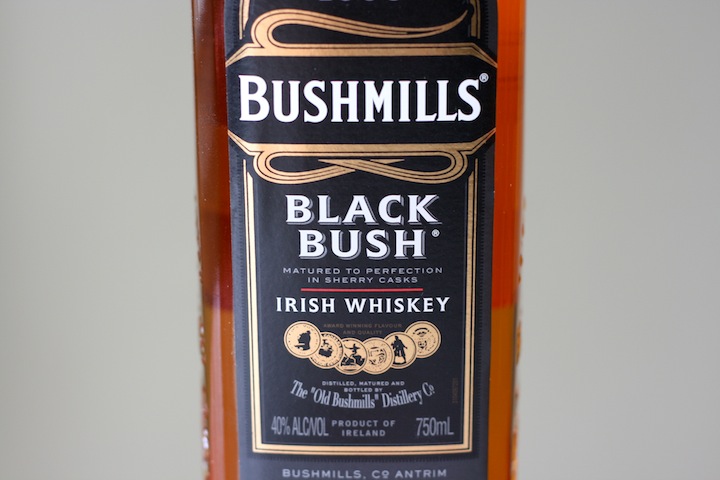 Black Bush by Bushmills is a sure fire way to enjoy your St. Patrick's Day with all of your friends. Bushmills is offering two very interesting cocktails for you to sip responsibly this St. Patrick's Day.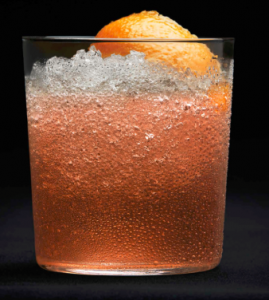 Waltzing Matilda
INGREDIENTS
2 oz. Bushmills Black Bush
½ oz. Lemon Juice
¼ oz. Eden Barley Marley Syrup
¼ oz. Cinnamon Syrup
1 bar spoon Monin Almond Syrup
1 dash Angostura Bitters
PREPARATION
Cinnamon Syrup: Break up 5 cinnamon sticks and toast. Add 2 cups of granulated sugar and 2 cups of water. Allow to come too just under a simmer and let stand for 20 minutes. Remove from stove and place in an airtight container. Allow to sit in refrigerator for 24 hours before straining.
Combine all ingredients in a mixing glass. Add ice and give a quick integration shake. Strain into a rocks glass and top with crushed ice. Garnish with fresh shaved cinnamon and a long orange twist.
The Burning Bush
INGREDIENTS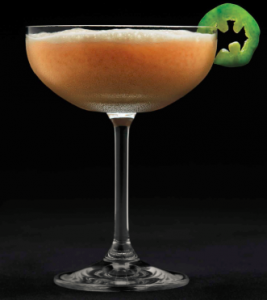 2 oz. Bushmills Black Bush
¾ oz. Jalapeño Infused Maple Syrup
¾ oz. Fresh Squeezed Lemon Juice
½ oz. Lustau Los Arcos Amontillado Sherry
2 Egg Whites
Angostura Bitters
PREPARATION
Jalapeño Infused Maple Syrup: Add 4 oz. of hot water to 16 oz. of maple syrup and stir. Add one sliced jalapeño and let sit for 8 hours. Strain and refrigerate. Dry shake, then shake over ice, serve in a coupe glass with Angostura bitter garnish and a jalapeño.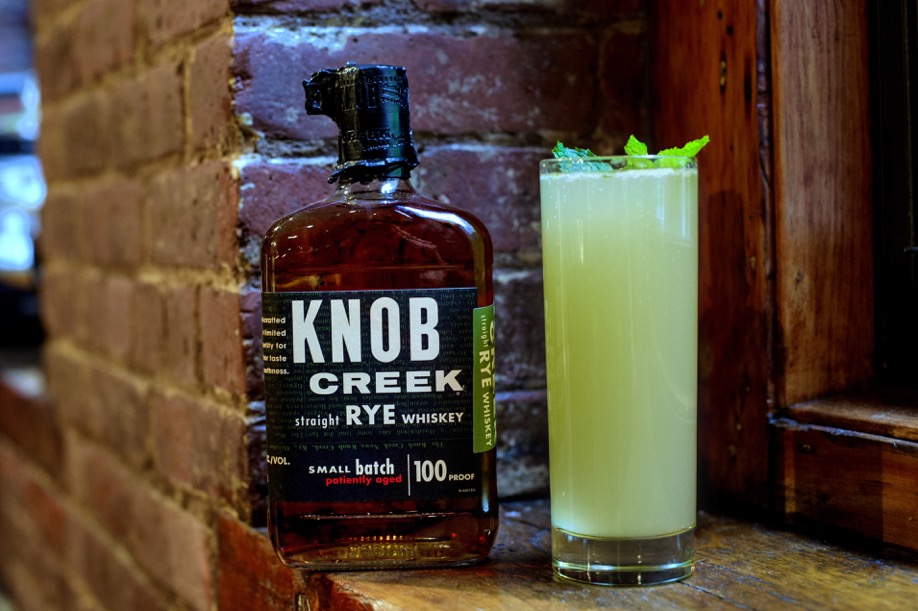 If you are looking for something totally different to enjoy with your friends this St. Patrick's Day we got something for you. Instead of sipping the traditional stout or Irish Car Bomb on March 17, why not sip a festive libation that's a bit more unique and unexpected? This year, raise a glass, shake your shamrock, and toast "Erin go Bragh" with Cruzan Rum, Laphroaig Scotch Whisky, Midori Melon Liqueur, Basil Hayden's and Knob Creek.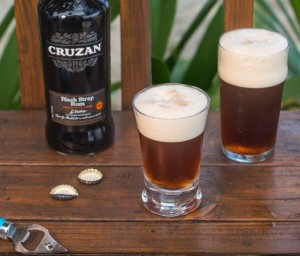 Cruzan Strapped Stout
Ingredients:
1 ½ parts Cruzan® Black Strap Rum
1 bottle of Chocolate or coffee stout beer
Method: Combine ingredients in a pint glass. Stir gently.
Luck of Laphroaig
Created by Tyson Buhler (New York, NY)
Ingredients:
1 1/2 parts Laphroaig Select
1/4 part Sarsaparilla Syrup
2 dashes Angostura Bitters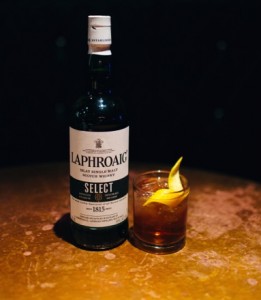 Orange twist
Method: Combine ingredients in a rocks glass with ice. Garnish with orange twist.
Basil Hayden's Lucky Ginger
Created by Zachary Brian Taylor (San Francisco, CA)
Ingredients: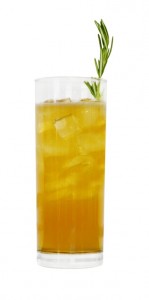 1 1/2 parts Basil Hayden's Bourbon
3/4 parts Lemon Juice
1/2 part Brown Sugar Syrup
1 spring of Rosemary
Ginger Beer
Method: Combine Basil Hayden's® Bourbon, lemon juice and brown sugar syrup into a cocktail shaker. Remove rosemary needles from the bottom 3/4 of the spring and add to the shaker. Save the top of the spring for use as a garnish. Add ice to shaker and shake. Double strain into a Collins glass filled with ice. Top with ginger beer. Garnish with the remaining rosemary spring.
*Brown Sugar Syrup
1 part Water
1 part Brown Sugar
Method: Combine water and brown sugar in a saucepan and warm. Stir until sugar is fully dissolved into the water. Pour into an empty container and set aside.
KNOB CREEK MINT GINGER OLD FASHIONED
Created by Celebrity Chef Michael Symon
Ingredients:
1 ½ Parts Knob Creek Rye Whiskey
Ginger Beer
½ Part Lemon Juice
¼ Part Green Chartreuse
6-8 Mint Leaves
Method: Combine all ingredients (except ginger beer) in a bar tin with ice and shake well. Strain into a chilled Collins glass, top off with ginger beer and garnish with a single mint leaf.
Midori and Ale
Ingredients:
1 part Midori Melon Liqueur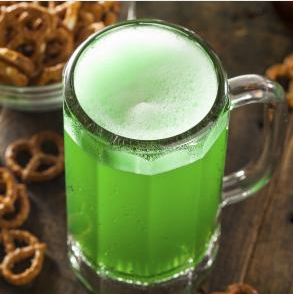 1 bottle Light Beer
Method: Combine Midori and light beer in a tall glass. Stir and enjoy!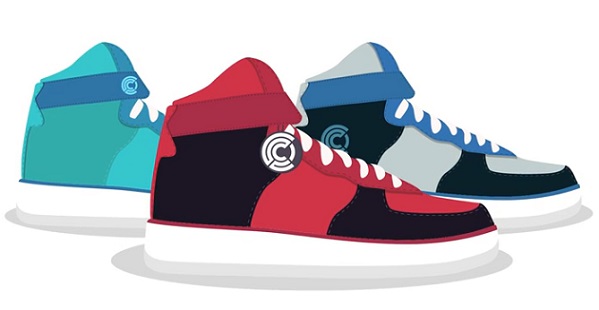 Have you ever purchased something online and wonder if it is real or a knockoff? Well thanks to the folks over at Chronicled we don't have to worry any longer. Chronicled, whose latest innovation in the sneaker industry is out to crack down on the sale of counterfeit kicks.
Counterfeit products are getting better every day and proliferating across the Internet. Chronicled offers a platform for 100% authentic products to be tagged, registered, verified, and traded from a mobile app. The technology lets consumers know if their products are authentic at the tap of a mobile phone.
Chronicled has an impressive Advisory Board roster that includes Marshawn Lynch (Former Seahawk), James Bond (Co-Founder of Undefeated) and D'Wayne Edwards (Founder of Pensole Footwear Design Academy). Lynch's Beastmode 2.0 "Royale Chukka," which launched on Black Friday, came equipped with a tag leveraging the Chronicled technology.
The Chronicled App is currently available in the Apple App Store and Google Play Store.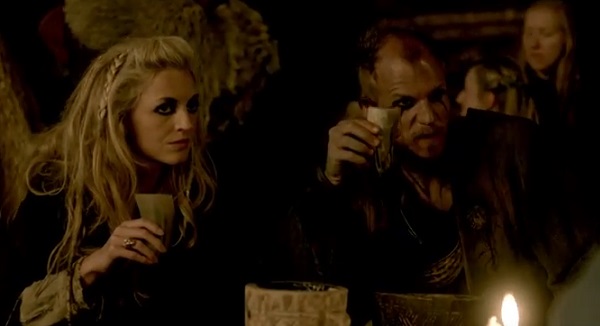 There's an air of betrayal at Court in Paris and Wessex as those whom Odo trusts plot against him and Ecbert agrees to support Kwenthrith in Mercia, but is Ecbert a true ally? Ragnar confides in Yidu his darkest secret. The next episode of VIKINGS called "Promised" airs on Thursday, March 17 at 10 p.m.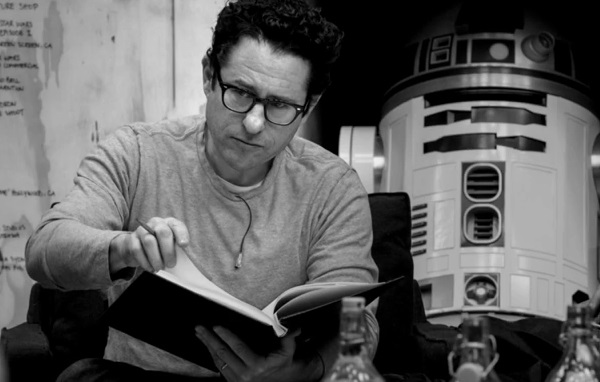 In celebration of the documentary "Secrets of The Force Awakens: A Cinematic Journey" premiering at SXSW Film Festival, The First Order TIE Fighter and stormtroopers landed in Austin today.  The feature-length documentary, which is an in-depth bonus feature on the upcoming Digital HD and Blu-ray Combo Pack debuts at the Paramount Theatre on March 14th in Austin, Texas.  The TIE Fighter will be stationed at South Bites at SXSW throughout the weekend for festival goers to experience the landing!
Star Wars: The Force Awakens is coming home on Digital HD April 1 and is available on iTunes and other digital providers for pre-order now.
Fans can also explore all things Star Wars at iTunes.com/Starwars.  It comes home on Blu-ray Combo Pack and DVD on April 5.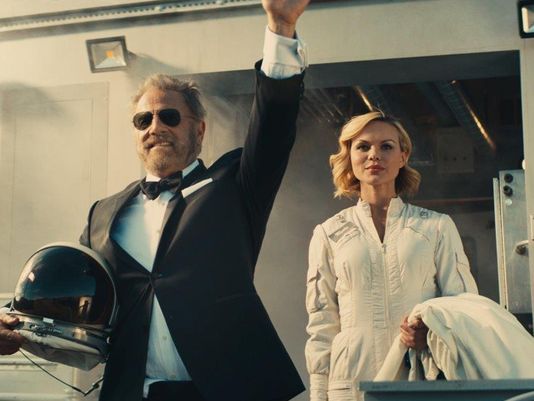 Saying good-bye is always tough. What if you are the most interesting man in the whole world? It is still tough to say farewell?
Dos Equis is saying #AdiosAmigo to The Most Interesting Man in the World, as he heads on a one-way "Mission to Mars." The latest spot from Dos Equis, "Mission to Mars," will be the last commercial featuring actor Jonathan Goldsmith as "The Most Interesting Man in the World." The spot launched today on Dos Equis' YouTube channel, and the full 60-second spot will exclusively air tomorrow (March 10) during the Cleveland Cavaliers and Los Angeles Lakers NBA game on TNT (the last match-up between Kobe Bryant and LeBron James). Fans can rest assured that Dos Equis will reveal a new Most Interesting Man in the World in 2016, as this is not the end of the campaign, but an evolution.
Dos Equis created one of most celebrated advertising campaigns of the 21st century with "The Most Interesting Man in the World." Since the launch of the campaign, Dos Equis has continued to be one of the fastest growing beer brands in the U.S., with the business nearly tripling since 2007, while making The Most Interesting Man a cultural icon.
Dos Equis also recently conducted research which shows that 72% of men describe themselves as interesting today, but are not satisfied, as 83% of them want to live an even more interesting life. This reinforces the time is right to evolve the campaign and ensure Dos Equis "Stays Thirsty" by remaining fresh and relevant for the consumer.
In preparation for this extraordinary journey and to help fans make this Cinco de Mayo even more intriguing, The Most Interesting Man will be giving away his Coveted Collection of worldly possessions including the tuxedo he wore to his last Masquerade, his Spanish guitar and matching mariachi suit, and even his astronaut suit from his 2010 stratosphere. For more details, visit DosEquis.com in early-April.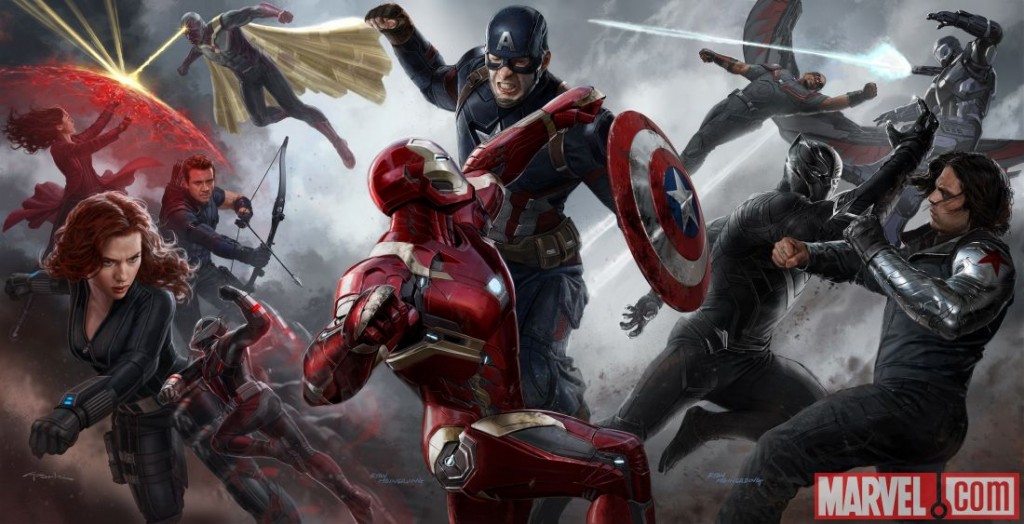 Marvel just released the second full trailer for "Captain America: Civil War." There are some new players added to the film. Wait until the end to see the best addition to the film. Many fellow geeks are freaking out just like me. May 6th can't come quick enough.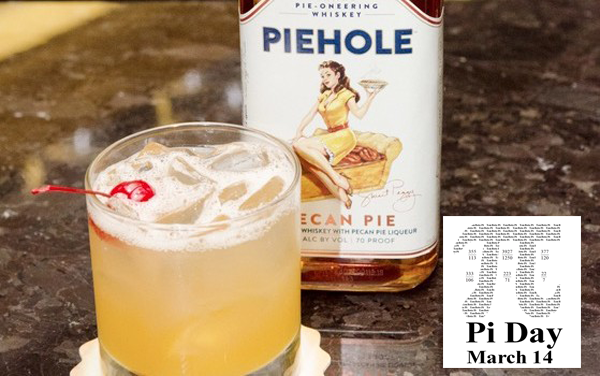 Every day it seems like we are celebrating something. From National Pretzel Day to Wear Your Clothes Backwards Day each day seems like a new adventure. What you might not know is that on March 14th we are celebrating a mathematical holiday. Pi Day is this Monday, March 14. Even if Pi Day is not a holiday you would normally celebrate, it's another great reason to whip up a cocktail—and what better to include in your Pi(e) Day drink than PIEHOLE Whiskey?
As always please enjoy these cocktails responsibly.

Lucky Apple
1.5 oz. PIEHOLE Whiskey with Apple Flavored Liqueur
3 oz. Ginger Beer
A splash sour mix
A splash of lemon-lime soda
Garnish with lime wedge
Cherry Punch
1.5 oz. PIEHOLE Whiskey with Cherry Flavored Liqueur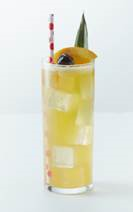 4 oz. Ginger Ale
.5 oz. Pineapple Juice
.5 oz. Orange Juice
Juice from half of a lemon
Garnish with a cherry and orange
Pecan Sweet Tea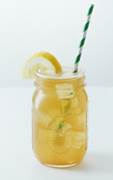 1.5 oz. PIEHOLE Whiskey with Pecan Flavored Liqueur
1 oz. Orange Juice
Top with Iced Tea
A dash of bitters
Lemon juice
Garnish with lemon wedge