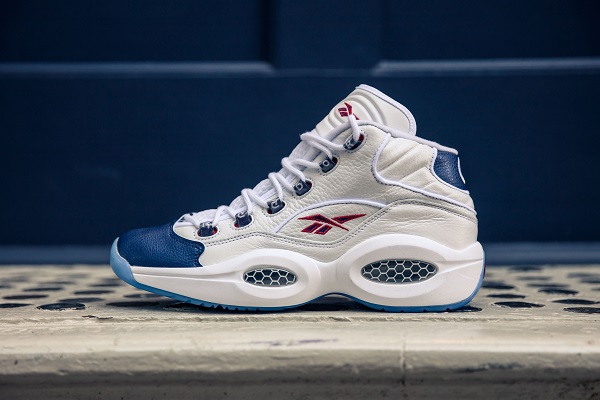 There were a lot of great kicks that are coming out this month to round out 2016! Reebok Classics is adding to that list with an OG sneaker. The Year of the Question started with the Prototype, and as it nears the end, comes back with a classic.
For one of the final installments of the 20th anniversary of the Reebok Question Mid in 2017, Reebok is re-releasing the Question Mid OG Blue Toe, which Allen Iverson wore on the court regularly in his rookie year, and was the shoe he wore during his iconic "crossover" moment.
The style of the shoe is emblematic of his game; the Hexalite midsole construction, bold shades, and ice sole complemented his game and team's classic colors. The crisp white leather upper is the perfect canvas for vibrant red hits of the classic Vector branding on the tongue and side panels.
The Reebok Classic Question Mid OG Blue Toe releases this Friday, December 9 for $140 at Reebok.com and select retailers including Finish Line, Footaction and Champs Sports.
You can also go check out the full collection of 20 for 20 Year of the Question at reebok.com/2020.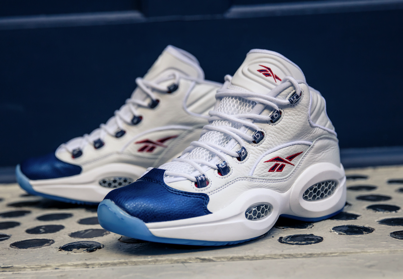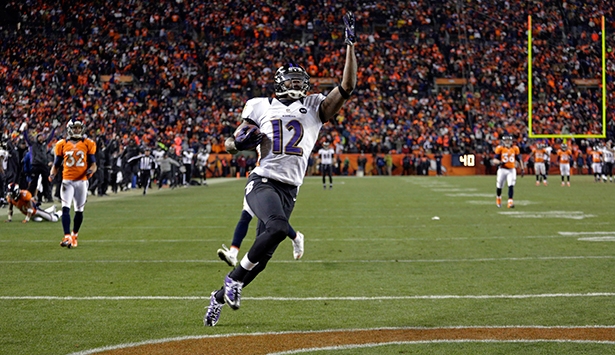 While you are our running errands for the holidays this weekend you might miss out on your favorite games. Well no need to worry. Verizon subscribers can watch NFL and NBA games thanks to go90.
With go90, Verizon subscribers can watch ANY of the best NFL games for free from their smartphones, at any time and from anywhere and without using data. Some of the big games featured on go90 this week include the Raiders at Chiefs, Bears at Lions, Seahawks at Packers, Cowboys at Giants and Ravens at Patriots.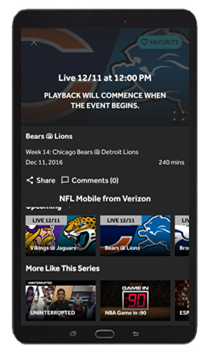 NFL on go90 also includes the opportunity to re-watch games including highlights, best and worst plays and additional sports programming. go90 will be streaming all of the post-season, Pro Bowl and Super Bowl LI.  The app is available to download for free via the App Store or Google Play and does not require a traditional subscriptions or have hidden fees.
Fortunately for NBA fans, go90 is offering one more free preview weekend of NBA LEAGUE PASS. Fans can stream go90 on their smartphone or tablet, to catch any of the games from December 9 -10. Download go90 via the App Store or Google Play, and enjoy this free preview. Remember, fans can also purchase an NBA LEAGUE PASS full season package from go90.com/NBA.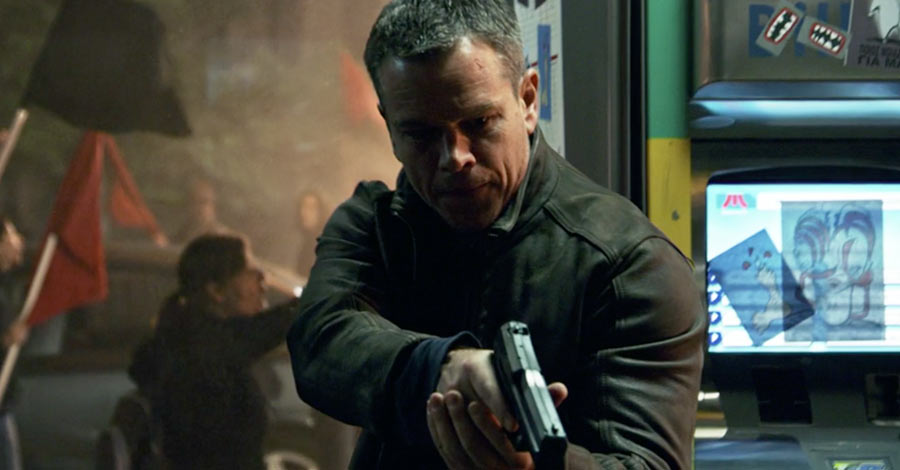 There are few sequels that live up to the original. Some of those movies are from the Jason Bourne movie franchise. The latest one that brings back Matt Damon is called Jason Bourne. This is the fifth installment of the blockbuster franchise and it is out now on Digital HD and comes on 4K Ultra HD, Blu-ray, DVD and On Demand on December 6, 2016. The film is from Universal Pictures Home Entertainment.  Nearly a decade since fans last saw the former operative, the explosive return brings Jason Bourne into a whole new era, revealing key secrets about Bourne's origins to a new generation. The 4K Ultra HD, Blu-ray, DVD and Digital HD include commentary from the cast, filmmakers, stunt performers and fight coordinators, plus behind-the-scenes features that take viewers inside the making of the film's intense stunt choreography and one of the wildest car chases in Bourne history.
Paul Greengrass, the director of The Bourne Supremacy and The BourneUltimatum returns for the next chapter of Universal Pictures' Bourne franchise, which finds the CIA's most lethal operative drawn out of the shadows.  Damon is joined by Academy Award winner Alicia Vikander (Ex Machina, The Danish Girl), Vincent Cassel (Black Swan, Irreversible) and Academy Award winner® Tommy Lee Jones (Captain America: The First Avenger, No Country for Old Men), while Julia Stiles (The Bourne Supremacy, The Bourne Ultimatum) reprises her role in the series.
Some of the bonus features on Jason Bourne are:
Bringing Back Bourne – Matt Damon and Director Paul Greengrass discuss how they brought a beloved character back to the big screen.
Bourne to Fight – A behind-the-scenes look at the fight sequences in Jason Bourne. ◦Bare-Knuckle Boxing – Matt Damon discusses his love for boxing and how he prepared for the bare-knuckle fight sequences.
Close Quarters – A behind-the-scenes look at the brutal fight between Jason Bourne and Christian Dassault.
Underground Rumble – Matt Damon, Vincent Cassel, and fight coordinator Roger Yuan discuss how they staged Bourne's final showdown with The Asset.
The Athens Escape – Matt Damon, stunt coordinator Gary Powell and second unit director Simon Crane discuss the challenges of shooting a chase sequence through cramped city streets.
Las Vegas Showdown – For the final act of Jason Bourne, filmmakers wanted something bigger and bolder than ever before.  Here's an inside look at how they pulled it off. ◦Convention Chaos – Join the cast and crew on location in Las Vegas as they film the final act of Jason Bourne.
Shutting Down the Strip – A behind-the-scenes look at one of the wildest car chases in Bourne history.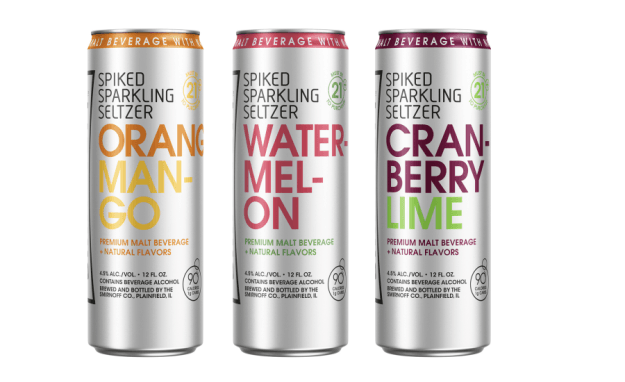 Looking for a new drink? How about something mixes a bubbly refreshing drink with some alcohol? Seltzers have long been a top choice when it comes to mixers, so it is no surprise that hard seltzers are quickly becoming one of the new favorite bubbly alcohol beverage options for adult consumers. SMIRNOFF Spiked Sparkling Seltzer premium malt beverage is the newest addition to the hard seltzer category — but with fewer calories than the leading hard seltzer brands currently on the market.
In addition to only being 90 calories per 12 oz. serving, the new premium malt beverage has only 1g carbs, zero sugar and no artificial sweeteners. When reaching for bubbly this holiday season, go for SMIRNOFF Spiked Sparkling Seltzer, as one 12 oz. can offers the same calories as only one 4 oz. glass of most champagnes.
Consumers 21 years of age and older will be able to pick up SMIRNOFF Spiked Sparkling Seltzer in three refreshing-tasting flavors – Orange Mango, Cranberry Lime and Watermelon  beginning in November. Served chilled in its slimline can, the three flavors are crafted to remove gluten and are infused with natural fruit flavors.
SMIRNOFF Spiked Sparkling Seltzer is 4.5% alcohol by volume and is best served chilled in the 12 oz. slimline cans or in a glass on the rocks with a fruit garnish. The new product will be available nationwide with a manufacturer's recommended retail price of $8.99 for a 6-pack of 12 oz. cans.
SMIRNOFF asks consumers to enjoy this bubbly goodness responsibly.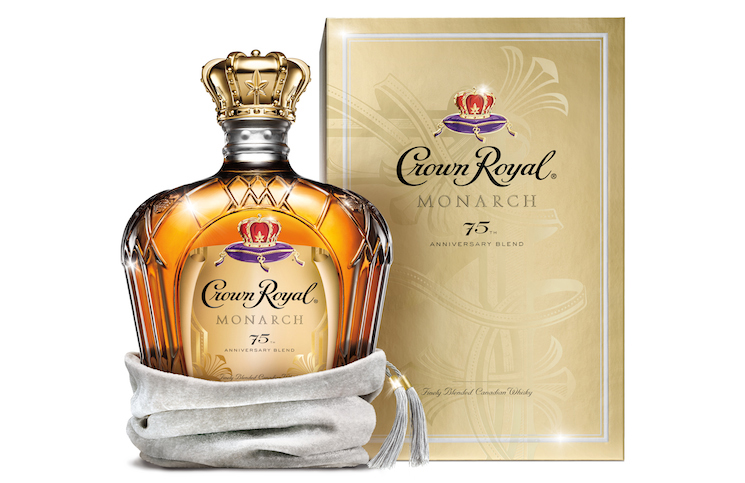 One of the great things about this part of the year is that people reflect on what they have and what is really important to them. That notion set the idea of #GivingTuesday in motion. Crown Royal is looking to help too. They started the "Live Generously and Life Will Treat You Royally" campaign. Their mission is to inspire and facilitate generosity in all of its many forms. In celebration of #GivingTuesday, Crown Royal is partnering with GoodWorld, a tech startup that fuels charitable giving on social media. Together they are encouraging people to support worthy causes by commenting #donate on participating charities' Facebook posts, tweeting #donate at a cause's username or by signing up at GoodWorld.me to trigger real-time donations.
As an incentive, Crown Royal will donate $1 to our longstanding partners at Packages From Home for every person who registers with GoodWorld between #GivingTuesday and the end of the year, up to $50,000. Crown Royal and Packages From Home have worked together to send nearly half a million Crown Royal Care Packages to active duty troops overseas over the past five years. If you are looking to help out go to GoodWorld.me or packagesfromhome.org

One of the things that I am thankful for is the Loot Crate. As a collector each month I can't wait to see what is in the crate. This month's theme was magic. It had items from Dr. Strange, Fantastic Beasts, Big Trouble In Little China and MORE!
The crate came with an exclusive Doctor Strange Q-Fig made by Quantum Mechanix. The figure art is superb and you see Dr. Strange making a mystic shield while wearing the cloak of levitation. I really enjoyed the movie and felt that Benedict Cumberbatch did a great job playing Dr. Strange.
Another movie that is out in theaters is Fantastic Beasts and this month's crate had a rare Fantastic Beasts and Where to Find Them Obliviator T-shirt made by Bioworld. Then there was the Game of Thrones "Melisandre" journal made by Caden Concepts that had The Red Woman with lettering that reads "The Night is Dark…" on one side, and "and Full of Terrors." on the other side.
I also got the Big Trouble in Little China / Escape from New York #1 from BOOM! Studios which is a great read.  I love the artwork in that book. The Loot Pin is an Elder Scrolls pin made by Loot Crate
Like what you see? Get a subscription. December's theme is Revolution! You will get items from Assassin's Creed, Mr. Robot, and Firefly.  Plus there are different themed crates as well. There is a Loot Anime, Loot Gaming, Loot Pets, Firefly, and LVLUp. They even have limited edition Star Wars and Call of Duty crates. You can pick out the best one that fits your style and your budget. Go to lootcrate.com for more info on each one and to start your subscription today!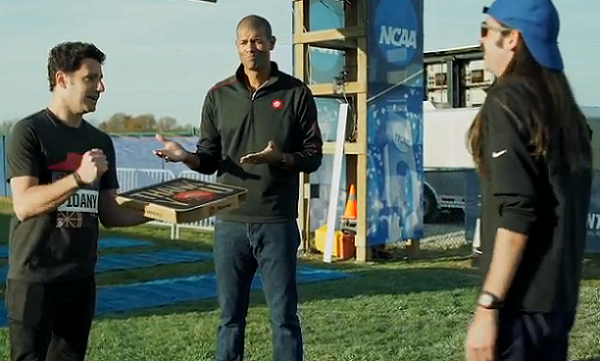 If you are in the cross country field you have heard of cross country running folk hero Noah Droddy. Pizza Hut asked Noah to participate in some friendly competition. The also got the help of former NCAA All-American Shane Battier to help with this challenge.
Pizza Hut officially kicked off its NCAA Sponsorship and Pizza Hut All-American program in Terre Haute to celebrate the NCAA 2016 Cross Country Championships. The newly named Pizza Hut All-American took the celebrations up a notch. While onsite, Droddy challenged the Pizza Hut All-American to a race – can Droddy run the miles-long cross country course before the Pizza Hut All-American can make and deliver a pizza? Here is the video below to see who wins.
Plus throughout the course of the 2016-17 NCAA season, the Pizza Hut All-American will visit as many NCAA Division I championships as possible, sharing his journey on social media along the way.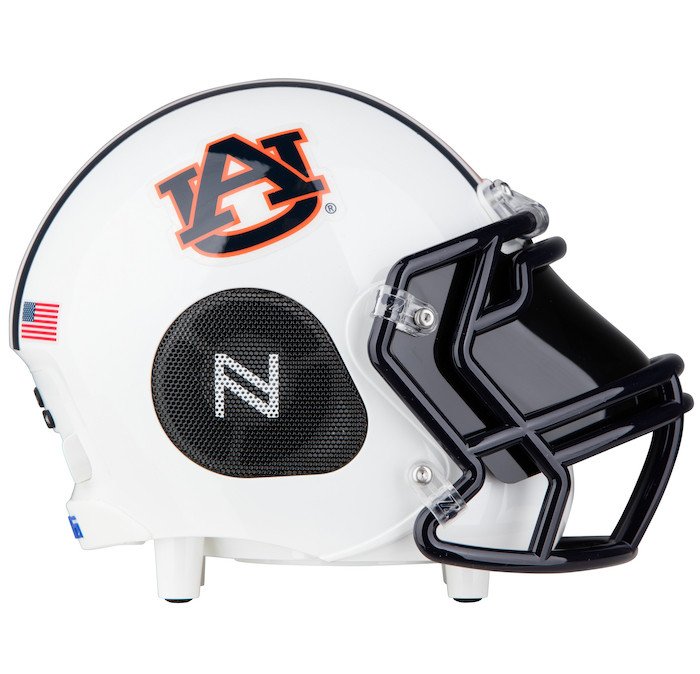 If you truly believe that you are the number one fan for your team you need to check out the one of kind Bluetooth speaker from Nima Sports. It will improve your office, TV room, or wherever you want to show off your team pride. Just in time for the holidays you can get a gift for the sports fan on your list or even for yourself.
Just imagine you sitting in your house watching your favorite college football team on TV and you wanted to hear your favorite radio host call the game. With the Nima Sports helmet speaker you can. You just sync up your new football helmet speaker to your phone. Then just mute the TV and listen to the game from your favorite college team's helmet. Even when it is not game day you can listen to your favorite sports talk shows that discuss your team's performance from the weekend or listen to music.
There are three sizes for each helmet. You can pick up any size and you will be happy with your purchase. I was able to test out the small version of the Auburn Tigers helmet and was very pleased with the performance of the speaker as well as the look of the helmet. There are certain Bluetooth speakers that spend too much time on the design of the speaker and neglect the performance of that speaker. You can tell once it starts trying to play off your synced device. The sound quality is poor and at some points even irritating. Then there are others that focus way too much on the speaker. The look of that speaker is flimsy and often tends break and looks horrible in your office or game room. So you end up with a speaker that either under delivers in sound or look. Why would you spend money on that?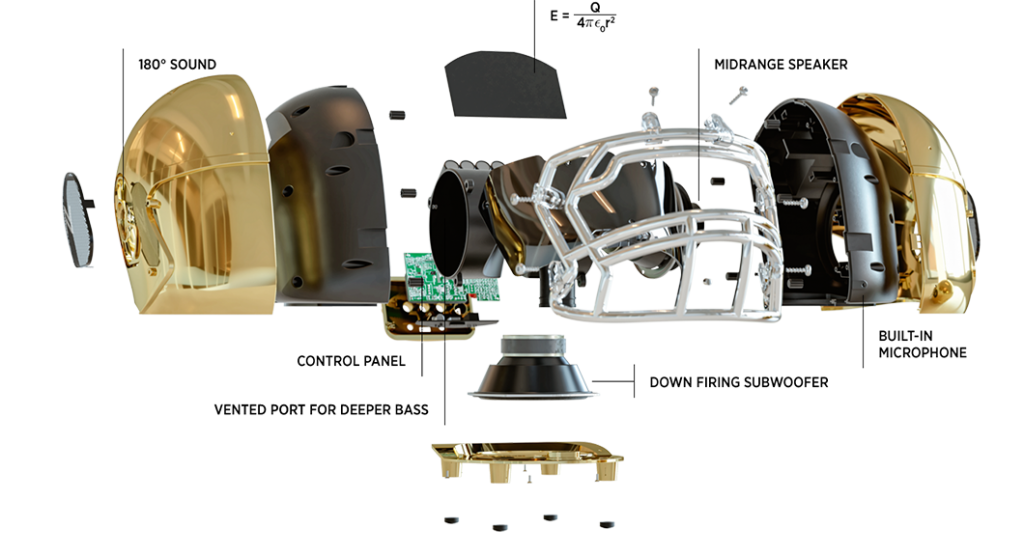 For the Nima Sports helmet speaker you can instantly tell that they put their heart and soul into the development of the design and sound. Any sports fans will tell you that when they rep their team they want something that looks authentic and real. Nima provides that slick look. These helmet speaker look like a mini version of the helmets they wear on game day.
What about the sound from the Nima Sports helmet? It comes with one down firing subwoofer for massive bass beats, two midrange speakers for clear sound, and seven preset equalizer options. The NIMA Sports helmet is compatible with any Smartphone, Tablet, MP3, PC or Mac with Bluetooth connectivity. Stream wirelessly and seamlessly control every feature of the speaker from anywhere within 65 feet. So this helmet from Nima is perfect for when you are tailgating right before the game.
Nima developed with the goal of connecting the sports fan with the music that invigorates them. The speakers come as extremely realistic NCAA team helmets, with NFL helmets and NBA basketball are soon to be released. From pumping up your fellow fans at a tailgate to displaying your team pride at work, this helmet is the perfect way to fervently display your fandom. The products come in various sizes, please check out the website for further details.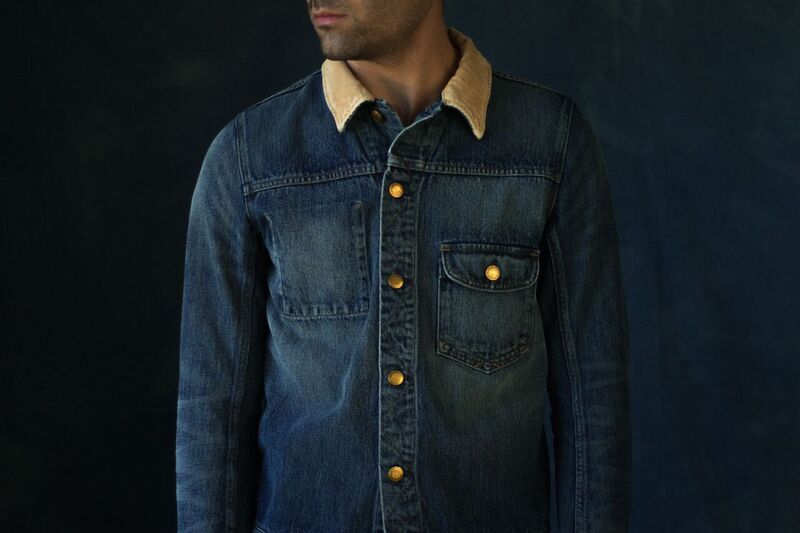 What do you get when you have a two great companies work together? In this case you get great bourbon and a great jacket. Bulleit Bourbon and NOBLE Denim continue to find unique ways to combine two of the best materials in the world: denim and whiskey. Building on the partnership that began with barrel aged jeans in 2014, Bulleit and NOBLE are again joining forces to bring whiskey lovers NOBLE jean jackets aged in Bulleit barrels.
The jackets will be available in limited quantities on NobleDenim.com, at the Bulleit Frontier Whiskey Experience at Stitzel-Weller in Louisville and at select retail outlets beginning in late-November. They are perfect for anyone you know who can rock a good looking jacket.
To celebrate the launch, Bulleit and NOBLE teamed up with indie-rock band Houndmouth, to record exclusive videos incorporating the NOBLE jean jackets and, of course, Bulleit cocktails. Make sure you are on the lookout for these videos that will be available soon. Check out the teaser trailer HERE.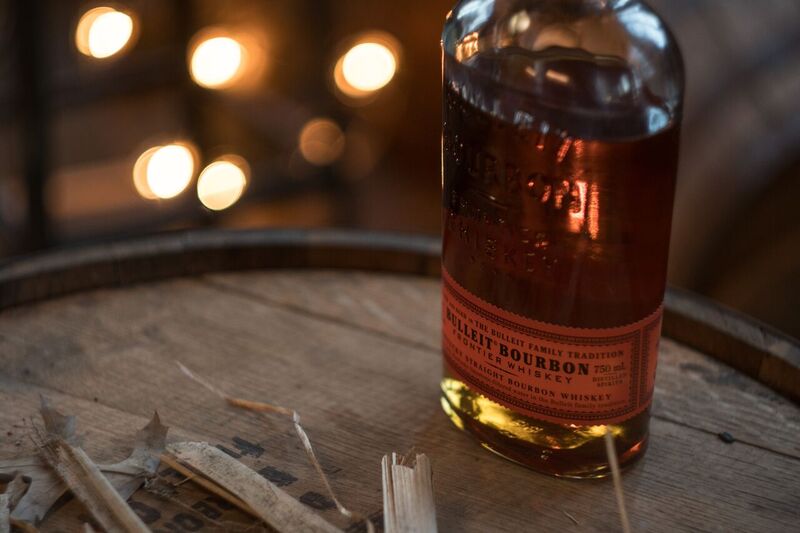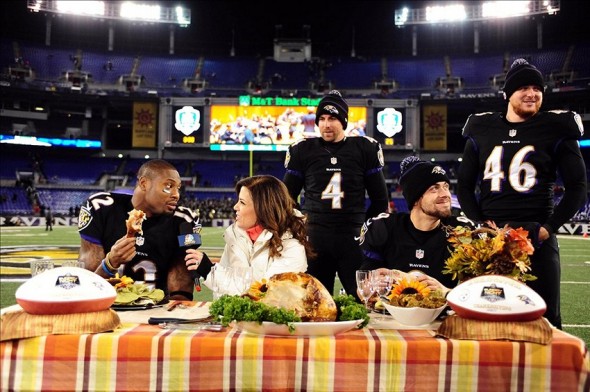 We are passed the halfway point this year in the NFL season. If you are in a few fantasy football leagues like me then you know it is crunch time to see if your team gets in. With all the travel this week going to visit family and friends you might miss out on catching NFL games. Now with go90 you won't.
With go90, Verizon subscribers can watch some of the best NFL games for free from their smartphones, at any time and from anywhere – and without using data.   Therefore, fans traveling into 'enemy' territory can still watch their favorite game on their smartphone, even if the main TV is being used for another rivalry.  And for those trapped at an airport, in the kitchen cooking up a storm or stuck in traffic during the long ride home, go90 ensures they never miss a moment of heart-stopping football.
The big games featured on go90 over the coming holiday include the Thursday games of Vikings @ Lions, Redskins @ Cowboys and Steelers @ Colts.
Plus you can watch Sunday's games of Cardinals @ Falcons, Jaguars @ Bills, Giants @ Browns, Rams @ Saints, 49ers @ Dolphins, Chargers @ Texans, Bengals @ Ravens, Titans @ Bears, Seahawks @ Buccaneers, Panthers @ Raiders, Patriots @ Jets and Chiefs @ Broncos as well as the Monday night game of  Packers @ Eagles.
NFL on go90 also includes the opportunity to re-watch games including highlights, best and worst plays and additional sports programming.  The app is available to download via the App Store or Google Play.