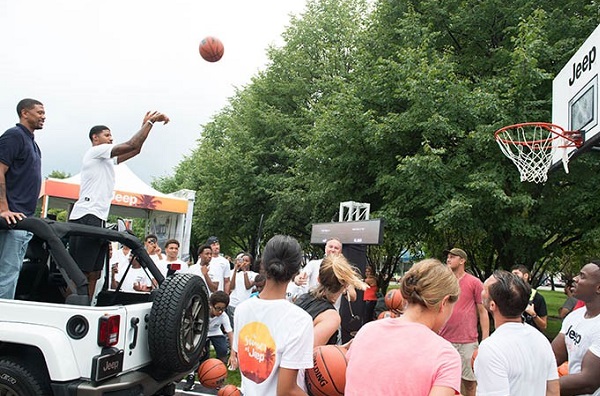 For those who are missing the NBA take heart. Current players and retired players are missing it as well. It seems that Paul George and former NBA player and now ESPN analyst Jalen Rose played a unique game of HORSE. Why is it unique? It took place from the back of a Jeep Wrangler.
This took place at the "Summer of Jeep" event at Navy Pier in Chicago last week.. The event celebrated the Jeep brand's partnership with USA Basketball.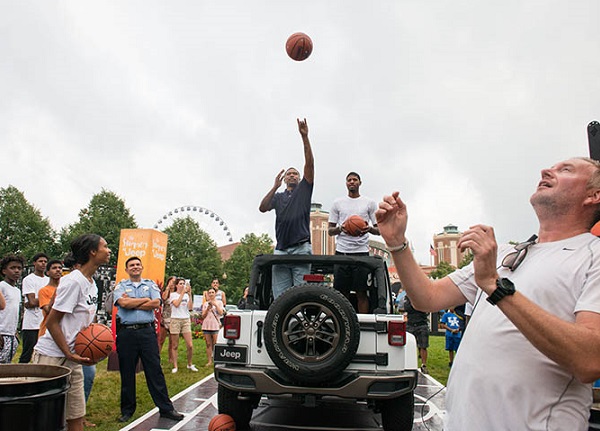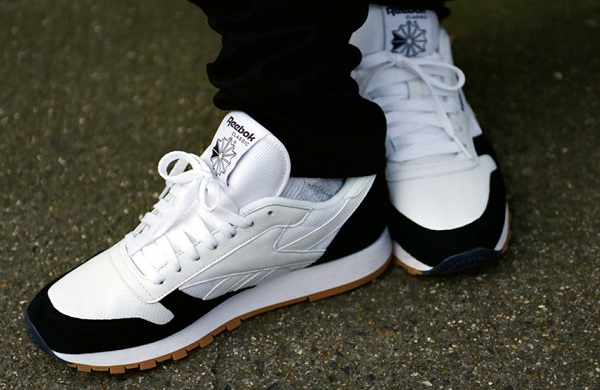 Earlier this summer Kendrick Lamar's kicks from Reebok sold out immediately. Now following the black and white campaign earlier this month, Reebok Classic is launching the final installment in the photography series with acclaimed director Nabil and Grammy Award winning artist Kendrick Lamar.
Reinvigorated in color, the new shots bring to life the previous B&W campaign, and feature Kendrick in his new Classic Leather Perfect Split pack, which reflects the split sides to Kendrick's personality across a distinctive men's and women's design.
In respect to the authenticity and originality of both Reebok Classic and Kendrick Lamar, globally acclaimed director Nabil shot the campaign entirely on vintage camera equipment to celebrate creative art forms in their most real, original and unique formats. A series of beautifully candid and nostalgic portraits capture Kendrick at his most raw and characterful, in a range of poses that are natural to him and reflect the different sides of his personality.
The Classic Leather Perfect Split pack brings Kendrick's split personality to life, as the silhouette's understated white and stone base is updated with contrasting color blocked accents, alongside 'split' rubber outsole combing retro GUM with contemporary ICE.
The Classic Leather "Perfect Split" is available now for $74.99 at retailers including Reebok.com, Champs and Footaction.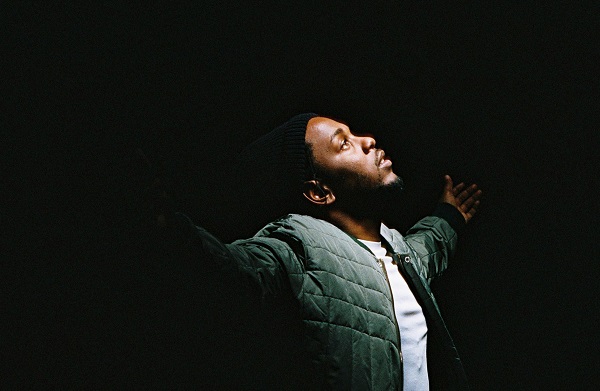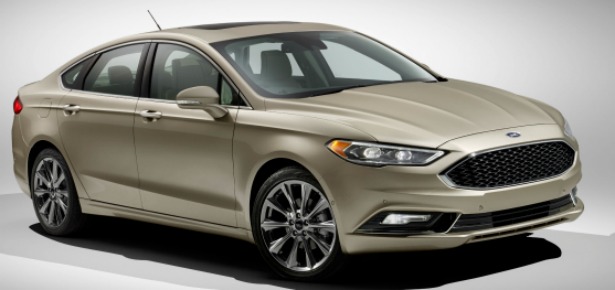 While the Fusion remains one of the standard bearers of the mid sized sedan category, it faces increased competition from all sides. Traditional segment customers are flocking to crossover SUV's while the more well heeled continue to be enticed by the comfort and high tech offerings of luxury brands. It's this market sweet spot that the 2017 Platinum Fusion takes aim at, combining the steady style of the 2nd generation Fusion and the luxury of the Lincoln MKZ into the highest level Fusion available.
Bold on the Nose, Mellow on the Finish
Ford stuck with their wildly successful 2013 redesign with a few subtle additions. Chrome trim is everywhere, most notably wrapped around the headlights and now signature oval shaped grill. The Platinum benefits from the sharp accents of LED head and tail lights and the 19" wheels give the car a stout and bold profile. The front quarter angle allows the car to really shine, showcasing the premium sport grill and the strong lines down the sides. The dual exhaust and slight flare on the trunk help finish the design with character and flow.
A Steady and Capable Drive
Though the 2017 model year will offer a Fusion Sport Trim level (325-hp twin-turbo V-6!!!), the Platinum Model is not engineered for overt performance. The drive is smooth, utilizing continuously controlled damping technology to adjust the shock absorbers to current road conditions. This allows the suspension to be firm in the corners without rattling your jaw every time the tires find a bump. The "S" mode creates a more aggressive shift that can be controlled by paddle shifters on the wheel and does provide a noticeable difference in performance. Steering is responsive and provides good driver feedback while the 2.0L Ecoboost engine proved capable in negotiating freeway on ramps and passing lanes.
Inside it's Time to Shine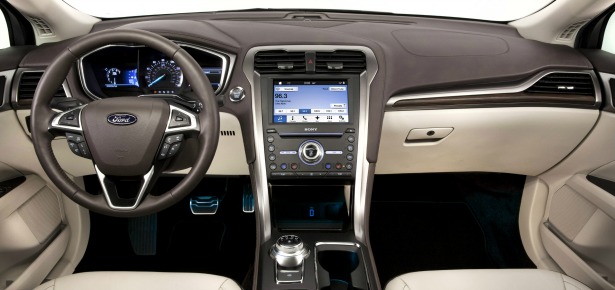 This is where you stop and say whoa.
The interior of the Platinum is not what you expect from a Fusion, not one bit. Glove soft leather is mended with big attractive stitches and diamond shaped patterns on the seats and door panels. The steering wheel is hand wrapped in supple leather that is equal parts luxurious and functional. The slightly bolstered seats promise hours of driving comfort with their deep cushion and firm support. Chrome trim is tastefully applied throughout the cabin and useful space is prominent. The dial shifter frees up space in the center console for two cupholders and easy to access device storage. The minimalist design of climate and media controls proved to be as functional as it is modern, giving the dash a clean and uncluttered look.
Don't Sleep on the Technology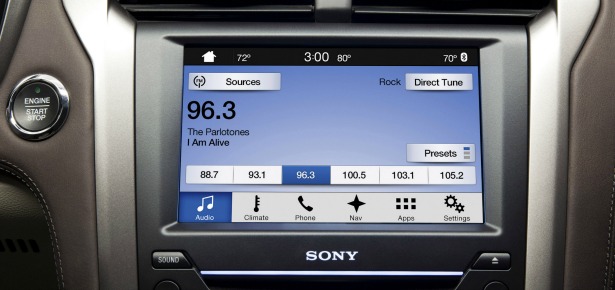 Ok first things first and if you've read our reviews you know this is a big one.
The new Sync 3 software is hands down the best infotainment interface we have seen in a car to date. Its simple and intuitive layout knocks all other suites out of the water. Finally gone is the clunky and frustrating Microsoft powered Sync system, the Sync 3 wins because everything is easy to find, easy to touch and right where you think it should be. The strip at the bottom of the screen provides constant access to Audio, Climate, Navigation, Phone and Settings. It features the smartest and fastest phone pairing process to date, and buttons large enough to touch while you're paying attention to the road. It requires no learning curve for the reasonably tech savvy and enough RAM onboard to switch between menus with little to no lag. Simply put, the Sync 3 is now our new standard bearer in infotainment software.
Outside of that, the Platinum offers an automatic parallel and perpendicular park that is actually useful in real life applications, rear cross traffic alerts, blind spot monitoring, and a lane keeping system that helps to keep the car between the lanes if it starts to drift. Heated and cooled seats continue the luxury, as does a power moonroof and a 12 Sony speaker audio system.
Smashing the Line Between Economy and Luxury
Ford's newest offering to the Fusion line hits all the marks of a mid sized sedan while raising the bar on the segment's highest trim levels. From the curb, the Platinum refreshes and accents the successful Fusion design but it's on the inside that really counts. With premium luxury and class leading comfort, the Fusion Platinum comes a whisper away from joining a new class entirely. The late summer addition of the Fusion Sport will join the Platinum in rounding out a full slate of styles for most types of mid sized buyers. If the goal is to surprise and coddle, the 2017 Platinum hits all the marks. Whether it has enough to slow the tide towards crossover SUV's remains to be seen.
2017 Ford Fusion Platinum
MSRP $36,620
231 hp 2.0L Ecoboost Engine
6 Speed Automatic Transmission
0-60 in 6.7 seconds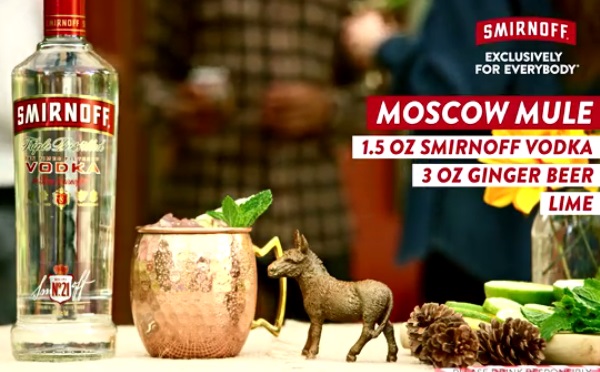 You might have recently ordered a Moscow Mule. You have seen them being showcased in bars and clubs, but did you know that this cocktail is 75 years old?  Now more than ever you will see cocktail menus across America feature the Moscow Mule and creative variations of the recipe—but there's only one original. As the co-creators of the original Moscow Mule in 1941, SMIRNOFF vodka and Cock'n Bull Ginger Beer are celebrating seventy-five years of America's first vodka cocktail.
In the late 1930s, John G. Martin was the president of an American alcohol company, Heublein, which owned the rights to SMIRNOFF vodka.  One historic day seventy-five years ago, in 1941, Martin sat at the bar of The Cock'n Bull, an iconic pub on Hollywood's Sunset Strip, with owner Jack Morgan.  At a time when brown spirits were king, Martin was struggling to market his newly acquired vodka to American palates.  Morgan, too, had a dilemma: few people cared for or even knew about his ginger beer. Martin and Morgan made cocktail history when they created a solution to sell both products by combining SMIRNOFF™ No. 21 vodka with Cock'n Bull Ginger Beer and a spritz of lime in a copper mug. This was the world's first Moscow Mule.
Following the creation of the cocktail at The Cock'n Bull, Martin travelled to bars around the United States encouraging bartenders to make a Moscow Mule, giving each of them an instant photograph of themselves with the final creation. Martin took a copy of the instant photograph on to the next bar, encouraging other bartenders to make the cocktail and eventually sparking a frenzy for the Moscow Mule across the country.
To kick off the celebration of this milestone anniversary, SMIRNOFF hosted a series of immersive dinners at the 14th Annual Tales of the Cocktail, one of America's premier spirits festivals that highlighted the Moscow Mule during an annual cocktail competition. Throughout the evening, invited guests of legal drinking age were transported back in time to experience the story of the Moscow Mule in a pop-up restaurant modelled on the historic meeting between John G. Martin and Jack Morgan.  Guests responsibly sampled original Moscow Mules, made with SMIRNOFF No. 21 vodka and Cock'n Bull Ginger Beer.
For 150 years, the SMIRNOFF brand has been enjoyed by legal drinking age consumers around the world, but it wasn't until the Moscow Mule was created that vodka became a popular spirit in the United States. The mixability of SMIRNOFF vodka and its quality have inspired other vodka varieties across the globe and served as the basis for popularizing some of the world's most famous cocktails.
No matter when or where you craft an original Moscow Mule to commemorate this tremendous milestone, please remember to always enjoy it in a copper mug and drink responsibly.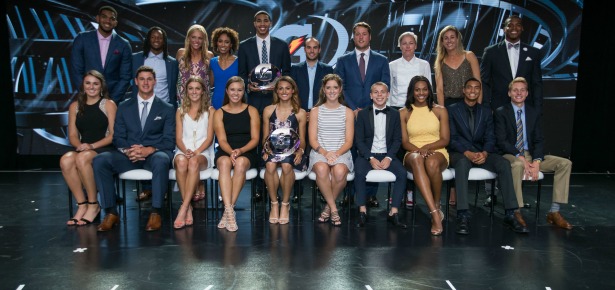 The 2016 Gatorade Athlete of the Year Awards ceremony honored the top high school athletes in the country for their accomplishments. The prestigious event was held at the LA Hotel in Downtown.
Hosted by ESPN's talented anchor Sage Steele, the star-studded affair featured prominent pro stars like NFL MVP Cam Newton, NBA Rookie of the Year Karl-Anthony Towns, NFL Rookie of the Year Todd Gurley, Matt Stafford and Jenny Finch.
Earlier in the day, Gatorade hosted a panel emceed by Sage Steele to promote their new endeavor, PlayItForward, which focuses on the decline of youth sports and seeks to provide young athletes access to achieve their athletic dreams by enlisting support from current pro athletes.
The panel featured Minnesota Timberwolves big man Karl-Anthony Towns, US Beach Volleyball star April Ross, Gatorade marketing director Jeff Kearney, Director of Marketing & Fan Engagement for the Atlanta United FC and founder of Catalyst author Kevin Carroll.
The primary focus of PlayItForward is to empower athletes to give back and reverse the decline in youth sports participation. The Male and Female athlete of the year winners receive 1,000 grant to bestow on a local or national youth sports organization of their choice.
Male nominees for the 2016 award were Jacob Eason for Football, Jayson Tatum for Basketball, Drew Hunter for Cross Country, Michael Norman for Track & Field, Lucas Mendes for Soccer and Kyle Muller for Baseball.
Future Duke baller Jayson Tatum of Chaminade College Preparatory School (St. Louis, MO) took home the prestigious honor after leading his squad to a state championship.
The 2016 Female Athlete of the Year award was presented to Rio-bound 16-year old Olympic hurdler Sydney McLaughlin from Union Catholic in New Jersey. McLaughlin qualified for the 400m hurdles by breaking her own national high school record.
Other female nominees included USC bound Khalia Lanier for Volleyball, Erin Boley for Basketball, Katie Rainsberger for Cross Country, Ella Stevens for Soccer and Madilyn Nickles for Softball.
After the ceremony, we had the opportunity to speak with some of the pros in attendance. Carolina Panthers QB Cam Newton offered his thoughts on 7v7 football and his belief that athletes should specialize in one sport.
Detroit Lions QB Matt Stafford spoke about the retirement of Calvin Johnson and who will step up to make the new transition as smooth as possible.
We got to catch up with Karl-Anthony Towns and USA softball legend Jenny Finch as well. Special thanks to Gatorade for organizing such a fabulous event.
The Gatorade Athlete of the Year Awards exudes excellence and champions the value of sports in society. Salute to the all the nominees for their hard work and continued success in the future.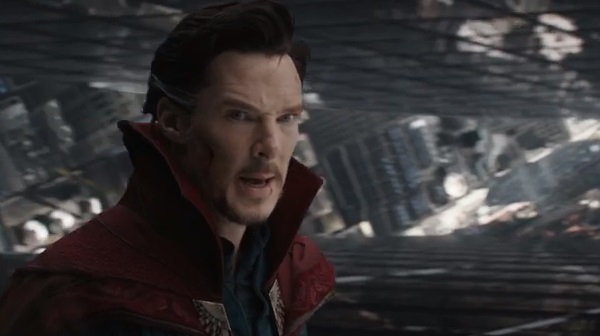 San Diego Comic Con is known for showcasing a ton of new trailers each year. Marvel just released the new Doctor Strange trailer and man does it look good. The film showcases the good doctor, who discovers the realms of magic and alternate dimensions after his hands become crippled in a devastating accident. This looks to follow Marvel's tradition of making great films for their fantastic characters. What do you think of the trailer?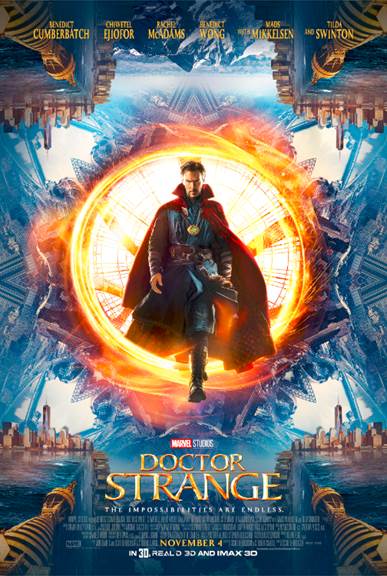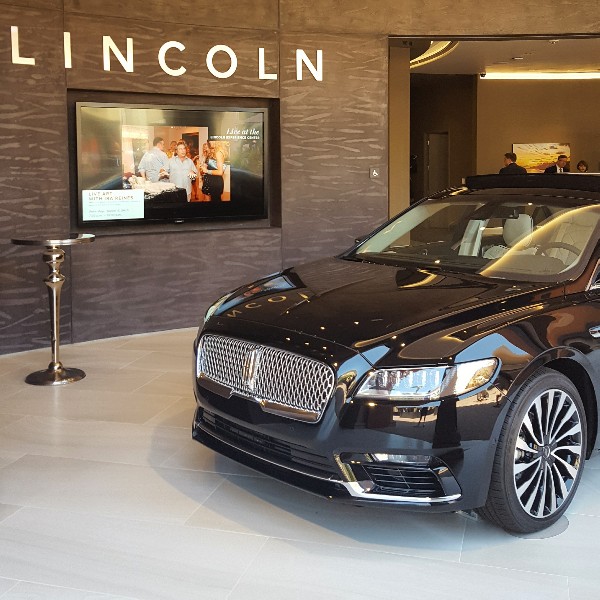 Lincoln is back, baby. Once a shining leader in the American luxury car space, Lincoln hit some hard times a few years back. U.S. sales fell to a 32-year low in 2013, but the brand bounced back in a big way.
The introduction of the MKC crossover propelled a 16 percent year-over-year sales increase in 2014, making it the fastest-growing luxury brand in the U.S. that year. This upward domestic sales trend continued last year, and with six months of sales figures in the books for 2016, the positive trend continues for the luxury-focused company that was founded in 1917 and has been a subsidiary of Ford since 1922.
A big part of the brand's resurgence can be attributed to a renewed focus on "The Lincoln Way." I learned more about this approach when I met up with Andrew Frick, Director of Sales and Service Operations this past week at the new Lincoln Experience Center located inside Fashion Island in Newport Beach (139 Newport Center Dr, Newport Beach, CA 92660).
Frick is a tall, affable dude who's quick to smile and has a sense of humor that's as clever as Lincoln's new brand messaging. The gist of "The Lincoln Way," as Frick described it, is creating a "warm, human, personally crafted" experience for car owners. The words rolled off his tongue quite effortlessly and he revisited this central approach frequently when describing the new Lincoln Experience Center.
Officially launching this weekend, the Lincoln Experience Center is a comfortable, 5,200 sq. ft. space that provides visitors with immersive, tactile opportunities to explore the Lincoln Way.
"Our brand is in a better place than the perception of the brand locally," Frick said. The purpose of the new space is to change that perception. Situating the space in an area with high foot traffic with a local demographic receptive to luxury car buying also helps.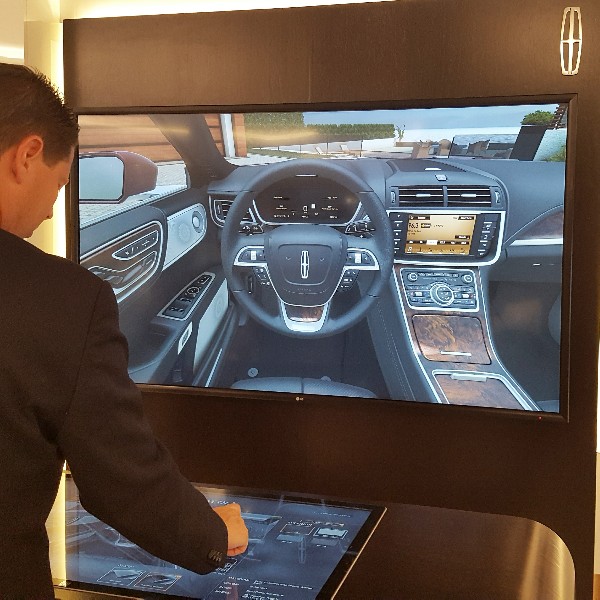 Visitors can pop in and get a break from shopping by chilling (or working with Wi-Fi) in the lounge with a complimentary beverage. Tablets and a large, interactive Technology Wall are available so that guests can learn more about new Lincoln models and explore features and options. Cycling through colors, environments, wheel variations, roof options, interior color tones, back seat views, etc. in real time is a great way to expose more people to the brand's offerings. An app is in the works as well and will likely be released in this fall.
Guests can also take in different design inspirations, schedule a test drive (or a more extended "date night" 24-48 hour weekend test drive) and visit the Revel Audio room to get a first-hand feel for the sound system's capabilities. As Frick mentioned, "we sell a lot of vehicles because of the sound system," and the audio room at the Lincoln Experience Center helps explain why. Visitors can also inquire about guaranteed pickup and delivery services (available for owners of new 2017 model-year Lincolns), leasing and finance options or even Skype directly with dealerships.
"We do believe we are going to sell vehicles through this experience," Frick said, "and we've already started to do so."
Frick went on to explain that "the plan is to learn from this environment" with the goal of opening similar spaces up in the near future. These types of environments also allow the brand to "do business on clients' terms in ways that are important to them," according to Frick.
The Lincoln Experience Center will also be used to host events in an effort, as Frick put it, to "engage the local community and support local businesses." Visitors can reserve spots for events that will feature everything from musicians, artists and jewelers to chefs, sommeliers and cheese mongers. This program to deliver culture and luxury outside of the vehicle is part of Lincoln's plan to reassert itself in the luxury car space in a way that's more "warm, human and personally crafted" than a trip to your local Lincoln dealership.
One of the bigest things I took away from my visit to the Lincoln Experience Center and my conversation with Frick is that most luxury car owners don't really want to get into the specs of a high performance, luxury vehicle. Horsepower, torque – not so important. The actual driving experience and the specifics of the luxury options available — like the curated Lincoln Black Label Collection or the Revel Audio sound system or the new Perfect Position Seats – these are the things that luxury car buyers in the America really care about.
"It's not about what the car can do," Frick said, "it's about what the car can do for you."
If you're curious about the Lincoln Way, the 2017 Lincoln Continental Concept or just you want to find out more about different Lincoln models and options as you sip a free glass of champagne, go check out the space (139 Newport Center Dr, Newport Beach, CA 92660).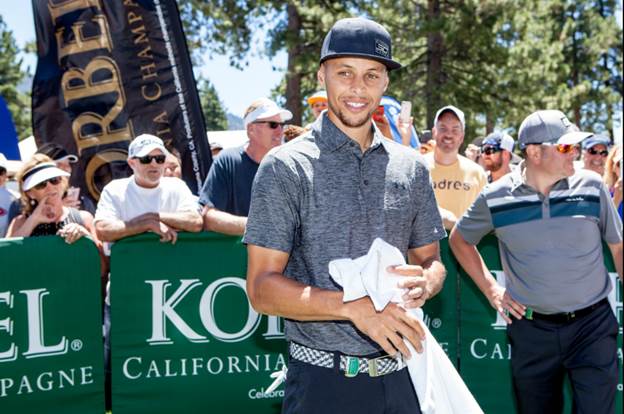 He might have lost to the Cleveland Cavaliers in NBA Finals, but Steph Curry is popping bottles of champagne. It is all part of the 2016 Celebrity Spray-Off took place on July 21st in Lake Tahoe at the American Century Celebrity Golf Championship with celebrity and athlete competitors including Steph Curry, Jerry Rice, Roger Clemens, Alfonso Ribeiro, Aaron Rodgers and more!
Just before celebrity superstars teed off on the 18th hole, Korbel California Champagne challenged them to show off their champagne celebration skills as part of the Celebrity Spray-Off. Contestants competed to see how far they could shoot the cork from the top of a bottle of Korbel.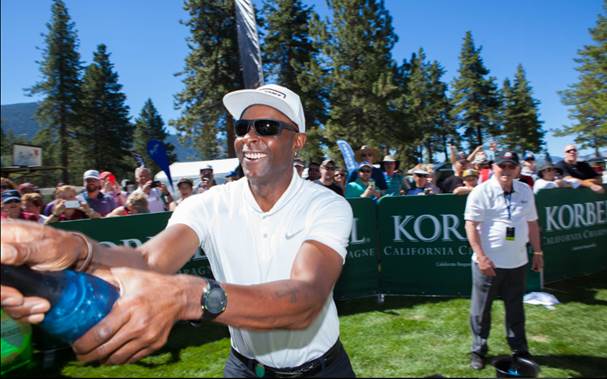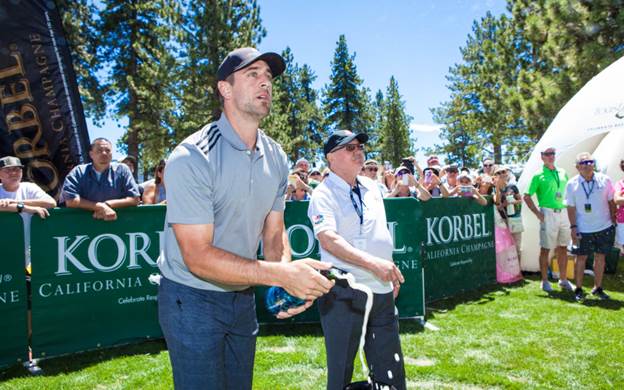 Right now some of you are getting to check out the wonderment of San Diego Comic Con. That is one of the things that I still need to check off my bucket list. If you are like me and couldn't make it to San Diego I have a very worth alternative. It is Loot Crate.
Loot Crate sends you a month box of goodies. Each box has about four to six items over $45 of retail value in every crate. You can even get a discount and special gifts if you sign up for a 12 month plan. These crates are money. Below you can check out my unboxing video from the month of July. The theme for this month's Loot Crate was futuristic. I was thrilled to get the Futurama Planet Express Ship in this month's crate.
Like what you see? Get a subscription. July's crate had items from some of pop culture's favorite predictions of science and the future like Star Trek, Futurama and more.
There are different themed crates as well. There is a Loot Anime, Loot Gaming, Loot Pets, Firefly, and LVLUp. They even have limited edition Star Wars and Call of Duty crates. You can pick out the best one that fits your style and your budget. Plus all subscribers are entered to win our monthly Mega Crate and Mini-Mega Crate Free Giveaway. Some of those crates are valued at $2,000. How cool is that? Go to www.lootcrate.com for more info on each one and to start your subscription today!

When it comes to Michael Jordan and his signature sneakers everyone stops to look at the latest edition of the most popular shoe line. Last night Jordan Brand showcased the new Air Jordan XXXI in Las Vegas. Defiance is at the heart of Michael Jordan's success. Throughout his career, the champion faced hurdles — injury, repeated defeat, illness — and continuously soared above them to realize the unexpected. Along the way, he redefined basketball's relationship to style, the sport's connection to youth counter-culture and the game's creative potential.
When Jordan's footwear arrived during his rookie season, it shared with the world some of its namesake's tradition-breaking bravado. A black and red colorway violated the league's uniform policy, earning a stern letter from league officials and generating a $5,000 fine each time the player wore the shoes on court. "Around this time, if you knew anything about Nike…Nike stood on this kind of rebel behavior," recalls Jordan Brand VP Howard "H" White, in reference to the runners and tennis players connected to the Swoosh. "This Jordan, that color of the Air Jordan I, kind of galvanized that universal scope."
The Air Jordan I set the tone for Jordan's future, and his eponymous brand, transcending the court and finding favor across a broad spectrum of society, even with, as White reminds, skateboarders. "You just can't make those stories up," he says. "If somebody said, 'Hey, here it is: Take the pen, take the pencil and draw it up just the way you want it,' you probably couldn't have drawn that up the way it came out."
The Air Jordan XXXI represents a balance of Jordan Brand's tradition of game-changing performance and its transcendent style: lightweight support for the world's highest-flying athletes, including Russell Westbrook, and rich material details that exude an off-court sensibility.
The shoe's first-of-its-kind Flyweave and leather upper incorporates a number of iconic Jordan elements, reintroducing the original Air Jordan "Wings" logo and a subtle Swoosh — not seen on a Jordan shoe since the Air Jordan I and the first time it has appeared alongside a Jumpman logo. And in its launch colorway the Air Jordan XXXI pays homage to the "banned" story.

Informed by Jordan himself, the Air Jordan XXXI also follows on a tradition of low-profile cushioning. "He needed to feel closer to the floor — that was his thing," recalls White of the origin of Jordan's desire for low-to-the-ground sole units. As such, the Air Jordan XXXI features FlightSpeed technology with full-length Zoom Air that enhances court feel, responsiveness and lateral support. "We really wanted to focus on propulsion in the forefoot, so when you're coming down you're engaging the FlightSpeed with the Zoom Air bag," notes Kuerbis.
The Air Jordan XXXI "Banned" will be available globally September 3 in select retail stores and on Jordan.com. Stay tuned to @Jumpman23 on Instagram and Twitter for more information on the Air Jordan XXXI.