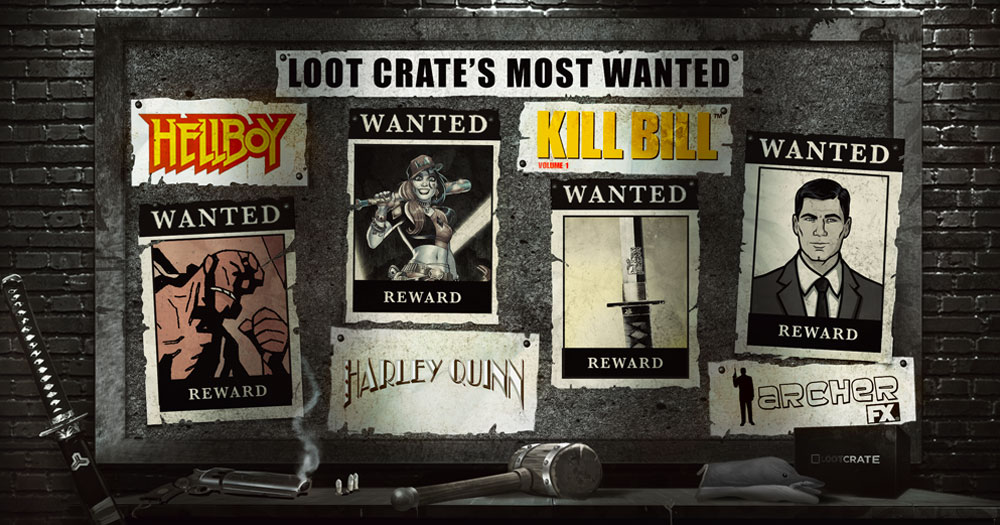 These days there are a ton of Anti-Heroes that are getting into the spotlight. From Harley Quinn to Hellboy to The Punisher, the list goes on and on. We are starting to root for them even over the traditional heroes like Spider-Man and Superman.
Loot Crate is seeing the love and dedicated a whole crate to those fantastic Anti-Heroes. In this month's Loot Crate we see items from Archer, Hellboy, Harley Quinn, and much more. You get the Harley Quinn Q-Fig. It is her with her signature mallet and one of her pet hyenas and a word bubble whiteboard. There is the Sterling Archer T-Shirt as well as the Hellboy Coin Bank.
Next there was the Kill Bill Socks and the Loot Pin was a Sylvanas Pin. It features Warcraft's Banshee Queen herself. The Loot Crate Magazine has an awesome Hellboy chicken wing recipe, Harley Quinn's origins and even a sneak peek of a Suicide Squad comic.
Another month done right by Loot Crate. Like what you see? There are different themed crates as well. There is a Loot Anime, Loot Gaming, Loot Pets, Firefly, and LVLUp. They even have limited edition Star Wars and Call of Duty crates. You can pick out the best one that fits your style and your budget. Go to www.lootcrate.com for more info on each one and to start your subscription today!