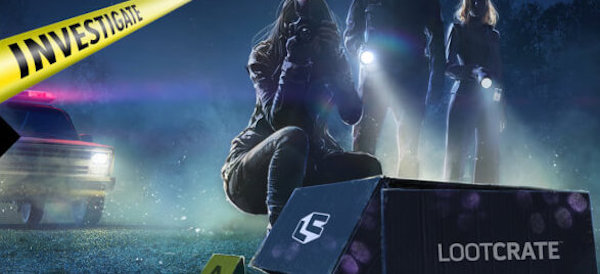 Loot Crate wanted to see if the truth is out there for the month of April. To do that they connected with some of the best in the game. This month you have items from Batman, X-Files, Jessica Jones, Stranger Things and more.
In the create you get an exclusive Marvel's Jessica Jones Q-Fig. This is another awesome and exciting Loot Crate exclusive figure from Quantum Mechanix. As a fan of the X-Men I loved seeing the Stranger Things shirt as it gives a nod to Uncanny X-Men. How can you not have a themed crate without the X-Files? Loot Crate knows you can't so they added some X-Files pencils, made by A Crowded Coop. These pencils have the phrases from the classic series: "I Want to Believe," "That's Why They Put the 'I' in F.B.I.," "The Truth is Out There," and "Trust No One" on them. Loot Crate even provided a pencil sharpener! The Loot Pin is a tape recorder. You can use that pin to get four digital comics: The X-Files (2016) #1, The X-Files: Origins #1,Metropolis #1, and Metropolis #2.
The two inserts in this month's crate are the Loot Crate Investigate-themed house advertising booklet and the Investigate edition of The Secret Order of Keys, which resembles a dossier, and contains Batman and The X-Files themed puzzles.
Like what you see? Get a subscription. Plus there are different themed crates as well. There is a Loot Anime, Loot Gaming, Loot Pets, Firefly, and LVLUp. They even have limited edition Star Wars and Call of Duty crates. You can pick out the best one that fits your style and your budget. Next month's crate theme is Guardians.  It will have items from Guardians of the Galaxy, Star Wars and more. Go to www.lootcrate.com for more info on each one and to start your subscription today!