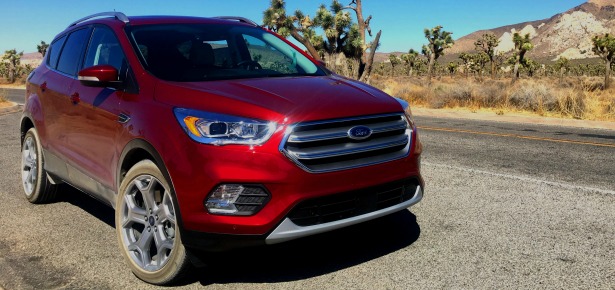 MANjr writer Jeremy Johnson takes the 2017 Ford Escape to Joshua Tree, CA
The desert has a way of putting you in your place. One step out of our press fleet Ford Escape and the hot air stuck to my face like the oven door was open. I was stunned by the sudden shift from a dual climate controlled cocoon to the bone dry desert air and took a moment to get my bearings. The Mojave desert is definitely not Los Angeles. The barren moonscape is dotted with mystical rock piles and joshua trees straight out of a Dr Seuss book. With red tailed hawks circling overhead, we departed the electronic influence of civilization, flipped on the satellite radio and cranked the AC. Our peaceful retreat to the desert had begun, and with it our test of the 2017 Ford Escape was underway.
The Briefing
Though still a flagship vehicle for Ford (306,492 sold in 2015) the Ford Escape is under heavy fire from competitors at home and abroad. It's not hard to see why the compact SUV segment is in such demand, the size and accessibility offers a little bit of everything for everyone. Increased competition by automakers has resulted in an arms race of features and comfort, traditionally found in more luxurious brands. This one-upmanship helped get us to the 2017 model year, where Ford has focused on refreshing the design of the Escape, offering new engine sizes, a tightened up exterior, and a more upscale and open interior.
We gave the Escape a fair shake, asking it to perform in many varied terrains. It delivered.
The Look
From the front, the Escape benefits from some minor tweaks. The trapezoidal grill and headlights are framed in chrome while the air intakes and fog lamps have a more subdued finish. Side panels follow two clear lines with slightly concave door panels and gray matte rocker panels run the length of the doors. Up top the Escape pinches smoothly towards the back and manages to appear aerodynamic without losing all of its aggressive notes. The rear finishes with strength in the corners and a broad shouldered roofline. The 2017 refresh ends all comparisons to older Explorers and latches firmly on to the styling embraced by the newer Explorer and Edge models.
The Interior
Clearly a lot of attention paid here. The gear shifter has been moved back and the traditional pull parking brake has been replaced with an electronic model, opening up the center console for two cup holders and device storage. The arm rest is wide and useful and the instrument panel remains simple and clearly laid out. Nearly all surfaces have been refreshed with more high end materials and the cabin succeeds in offering a more open and useful space. The two rows of seating offer enough to comfortably seat four full size adults and the split fold 60/40 rear seats give an already substantial cargo area in the rear more than double the space. We packed a 3 night weekend, including groceries, with room to spare and the back seats upright. Plenty of space for glamping and play dates alike.
The Drive
My favorite part. In city driving, the Escape showed off it's car chassis and modest size with a smooth ride and easy parking. The optional Parallel Park Assist and Adaptive Cruise Control offer more than a glimpse of self driving technology to great success. Swinging into a perpendicular spot between two cars was a breeze, the added height of the driver's seat position combined with the slightly tapered nose gave great visibility in and out of tight spots. Mostly seamless automatic start and stop helped save fuel mileage (20 city, 27 highway) and the constantly monitoring blind spot indicators helped keep an extra eye on adjacent lanes. Out on the open road the 2.0L turbocharged engine flashed enough power to overtake semis and commuters with ease and managed little to no turbo lag. The 6 speed automatic transmission shifts smoothly through it's paces and a "Sport" setting offers the option of paddle shifters and a more responsive throttle. We spent most of our time in the sport mode, where the Escape was able to showcase it's relatively nimble handling and effective acceleration in turns and straightaways. Ford's claims of best in class handling may be up for debate but the 2017 Escape showed an athleticism rarely found in the Small Crossover SUV marketplace. Out of the city and off of the road, the optional 4WD proved very capable in loose sand and gravel across the California Desert. There was little to no backslide and when encouraged to do so, the Escape found its nose and continued on with little oversteer at all.
The Finish Line
The 2017 Escape grew on me the more we asked it to do. It is an exceptionally useful vehicle, combining practicality with some premium touches to offer a definite upgrade of years past. 2017 seems to be a year where Ford addresses some of their critics biggest complaints by fixing the infotainment system and focusing heavily on more upscale interiors. The Ford Escape starts at $23,600 and tops out fully loaded at just over $38k.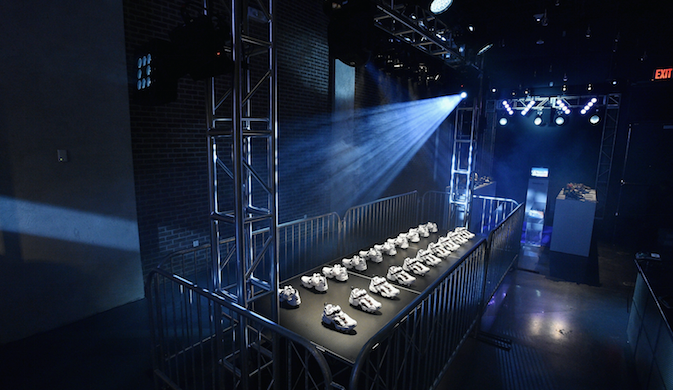 Are you going to be in NYC today or tomorrow? If so Reebok has a cool pop up store for the next two days. Reebok Classic will open the new Reebok Fury Pop Up (in partnership with Footaction) in NYC today at 125 W 33rd St, NY, NY 10001 to celebrate the iconic Instapump Fury sneaker as well as the Reebok x Future partnership, which was announced in July this year.
This is the first time that consumers will be able to purchase the new Instapump Fury Overbranded sneaker that Future has been wearing on tour from Tuesday, October 11th from 4-8pm, and Wednesday, October 12th from 12-8pm.
The store includes a "Fury Print Workshop" featuring live pencil sneaker drawings by famed illustrator Steph Morris as well as a "Back to the Fury" Instapump area that features some of the top Reebok collaborations from years past including John Maeda, Voltron, Chanel, and Marvel.


There is always something good coming out of the New York Comic Con. With that notion Marvel released the trailer for the Netflix upcoming series Iron Fist. Fifteen years after being presumed dead in a plane crash, Danny Rand (Finn Jones) mysteriously returns to New York City determined to reclaim his birthright and family company. However, when a long-destined enemy rises in New York, this living weapon is forced to choose between his family's legacy and his duties as the Iron Fist.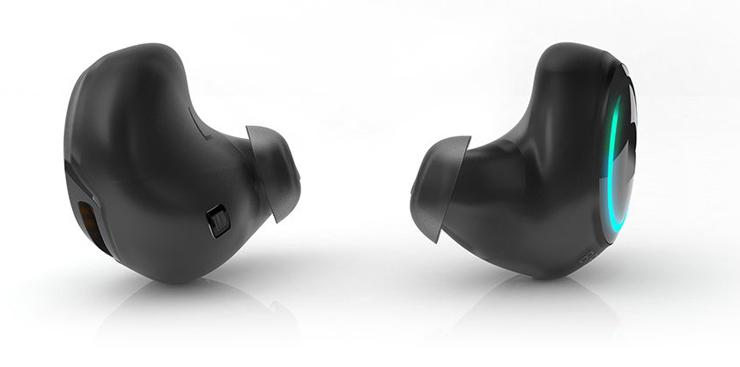 Did you feel the tremor in the tech community when Apple said that the iPhone 7 wouldn't have a headphone jack? People were reacting like it was the end of the world. I understand some of the frustration, but a few people were taking it really hard.
Thankfully a company called Bragi will be able to talk all of those people off the ledge. They created the Dash, which is world's first truly wireless Hearable, a smart device that fits in your ears. I was able to test this out. I have tried wireless headphones before, but the Dash in a class by itself. You may say to yourself that you have heard this before with other tech. I ask you to read on and listen to my experience with the Dash.
Right off the bat before I put them into my ears I was a bit skeptical on how they would fit me. Truth be told I have weird ears. In the past I couldn't wear earbuds because they would fall out of my odd shaped ears. The Dash has different sizes through their PerfectFit system. So when I found the overlays that worked for me I took in one sigh of relief.
The Dash has at least three hours of battery life per charge depending on your use. You can load music right into them since they come with an integrated 4GB music player. You load your music while you are charging them on your computer. You can also stream audio through the Bluetooth technology. There is an EarTouch interface that allows you to mute surrounding ambient sounds. This is perfect for when I was running outside I would turn the ambient sounds on to hear oncoming traffic or other people around me.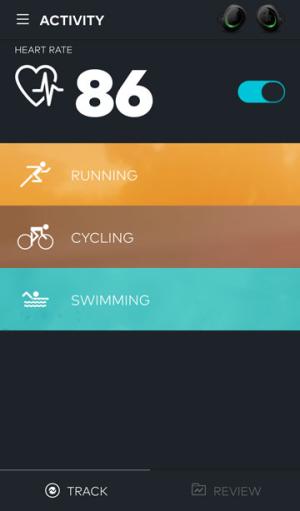 When I was in home after a run I turned the ambient sound off and jumped in the shower with the Dash still in my ears. No I am not crazy. The Dash is waterproof. You can take them in the shower or if you are in the water going for a swim up to 1m. So to all of you who compete in Ironman events you might want to pick up the Dash!
Speaking of health and competing in Ironman events, for those who want to track their movement, the Dash does that as well. When I was using the Dash Coach I was able to get live audio feedback in regards to my heart rate, how many steps I took each day and told me how active I was for that day. To help streamline your fitness goals the Dash allows you to create a profile with your gender, weight, height, and running step length to better track your fitness. So as you can see so far the Dash goes way beyond your typical tech.
Another fantastic feature is the fact that it has built in wireless call handling by the use of the mini- computer processor and how it reacts to your gestures. I can take a call with the movement of my head and not having to worry about touching my phone. This is a great feature when you are not able to reach for your phone.
I was really satisfied with the Dash. In my radio days I have used a lot of headphones and earbuds that touted great clarity and volume. The Dash is right up there with the high end headphones. I really like how the engineers of the Dash thought about how they could integrate this tech with your everyday life.
The Dash is compatible with iOS, Android and Windows 10 for mobile phones. The list price for the Dash is $299.00 and you can pick them up at Bragi's website.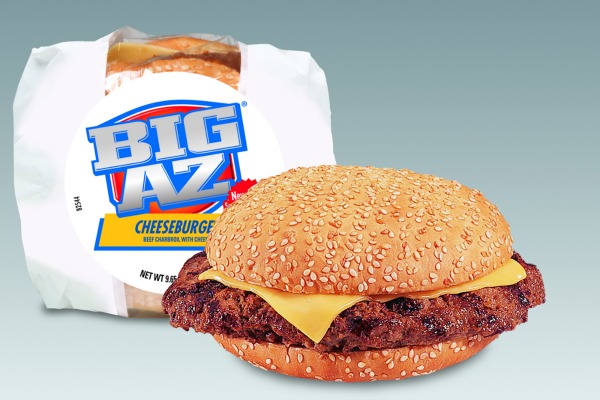 Men get hungry. It happens every single day. Sometimes we plan ahead for our hunger needs. There are times that we actually go to the store, prepare meals and anticipate hunger. More often than not, though, we don't have a plan. It just always seems to work out that way. And when guys without a food plan get hungry, we tend to get cranky. No one likes a cranky-hungry guy. You don't want to be that guy.
So if you're out and about and you don't have time for elaborate food planning, don't wait too long before you transform into full-on hungry bear. Address that hunger quickly and easily with an accessible snack that's hearty and convenient with a name that's easy to remember.
We're talking about Big AZ burgers. As the name suggests, they are not small. These are definitely not sliders. They're hand-sized man meals. I tried the Big AZ Cheeseburger last night before Thursday Night Football, and I didn't need to eat again for the rest of the evening. Look at the size of this thing: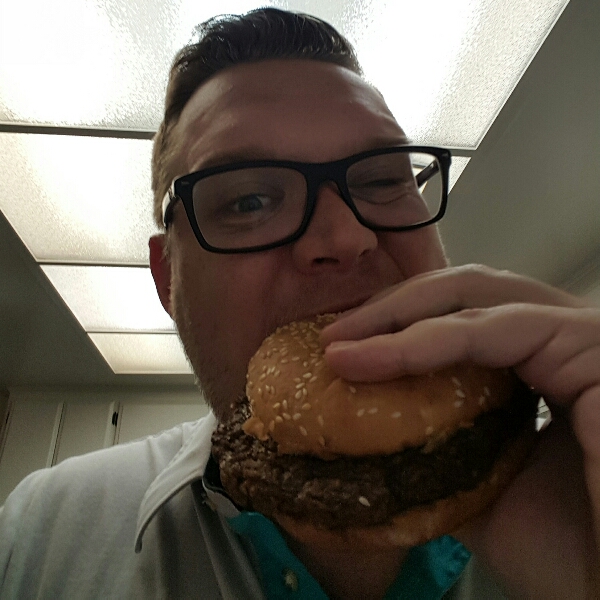 You can dress these guys up with condiments if you want, but it's not really necessary. The cheeseburger is just fine on its own. Beef charbroil with cheese. Simple, but effective. You can up the spice factor with the Kickin' Jalapeno burger or add some hot sauce to the Big Az Country Fried Chicken with cheese.  To learn more about Big AZ Burgers, check out the BIGAZ Facebook page or scope the full product line at www.advancepierrepromos.com.
If you find yourself in a convenience store in an emergency hungry bear situation, pass on the hot dogs, sad pizzas and frozen burritos. Grab a Big Az Burger and stop the hunger madness.
This is a sponsored blog; while the views expressed here were genuinely mine, consideration was paid to me by BIG AZ to review this product.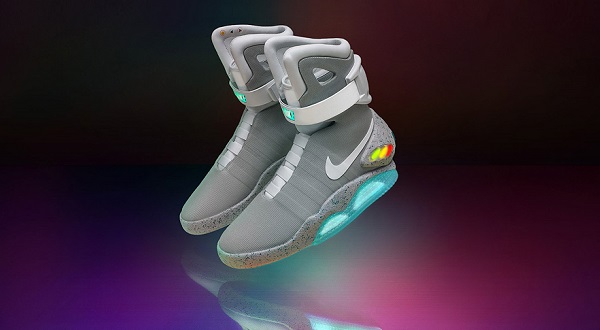 The wait is over for Back to the Future fans and sneakerheads. The sneakers that Marty McFly made famous in Back to the Future 2 are up for grabs. In partnership with the Michael J. Fox Foundation (MJFF), Nike will provide everyone an opportunity to win one of the only pairs of the adaptive-lacing Nike Mag.
In total, there are fewer than 100 pairs available globally through The Draw, which begins today, October 4, and ends October 11, 2016. The winners will be notified on October 17, 2016. Each ticket costs $10, and there's no limit to the number of tickets you can buy. Most importantly, 100% of the proceeds will go to the MJFF to help find a cure for Parkinson's. Click here for your chance to enter the raffle.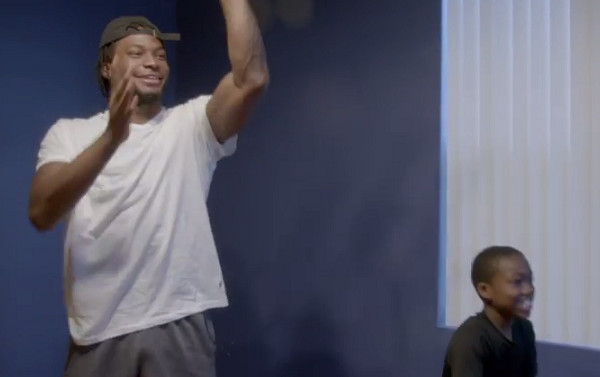 There are great guys in the sports world. All you need to do is just look at the young star in Miami. This touching video explores Justise's work with Son of a Saint, a New Orleans-based organization that focuses on enhancing the lives of fatherless boys. As someone who saw his parents' divorce at an early age, the mission of Son of a Saint immediately resonated with Justise. Knowing firsthand how crucial it is for a young man to have a father figure in their life, Justise considers his work with Son of Saint to be one of the greatest accomplishments of his young career.
First Step is an all-new series on The Players' Tribune that explores an issue or cause important to an athlete and how they are doing his or her part to help and enact real change in the community. Whether it's Richard Sherman inspiring students in Seattle, Donald Driver helping underserved adults get back into the workforce in Milwaukee or Justise Winslow spending time with children missing a father figure in New Orleans, each athlete is taking the first step to help people overcome the hurdles they face in everyday life.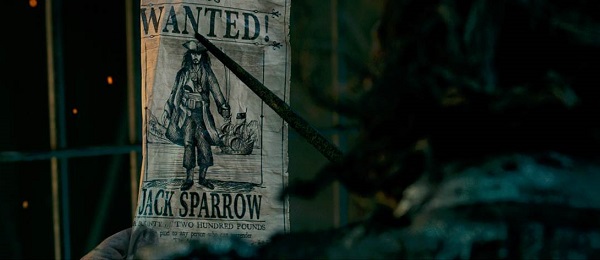 Guess who is back? It is your favorite pirate, Jack Sparrow. Johnny Depp returns to the big screen as the iconic, swashbuckling anti-hero Jack Sparrow in the all-new "Pirates of the Caribbean: Dead Men Tell No Tales." The rip-roaring adventure finds down-on-his-luck Captain Jack feeling the winds of ill-fortune blowing strongly his way when deadly ghost sailors, led by the terrifying Captain Salazar (Javier Bardem), escape from the Devil's Triangle bent on killing every pirate at sea—notably Jack. Jack's only hope of survival lies in the legendary Trident of Poseidon, but to find it he must forge an uneasy alliance with Carina Smyth (Kaya Scodelario), a brilliant and beautiful astronomer, and Henry (Brenton Thwaites), a headstrong young sailor in the Royal Navy. At the helm of the Dying Gull, his pitifully small and shabby ship, Captain Jack seeks not only to reverse his recent spate of ill fortune, but to save his very life from the most formidable and malicious foe he has ever faced.
"Pirates of the Caribbean: Dead Men Tell No Tales" also stars Kevin R. McNally as Joshamee Gibbs, Golshifteh Farahani as the sea-witch Shansa, Stephen Graham as Scrum, David Wenham as Scarfield and Geoffrey Rush as Captain Hector Barbossa.
Espen Sandberg & Joachim Rønning are directing "Pirates of the Caribbean: Dead Men Tell No Tales" with Jerry Bruckheimer producing. The executive producers are Mike Stenson, Chad Oman, Joe Caracciolo, Jr. and Brigham Taylor. Jeff Nathanson wrote the screenplay. "Pirates of the Caribbean: Dead Men Tell No Tales" drops anchor in U.S. theaters on May 26, 2017.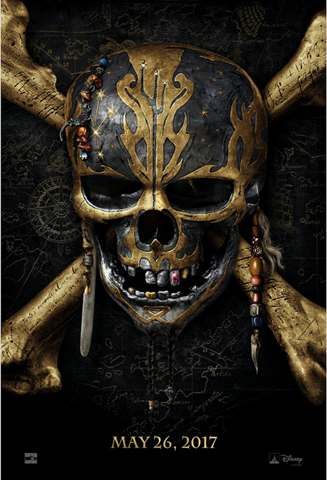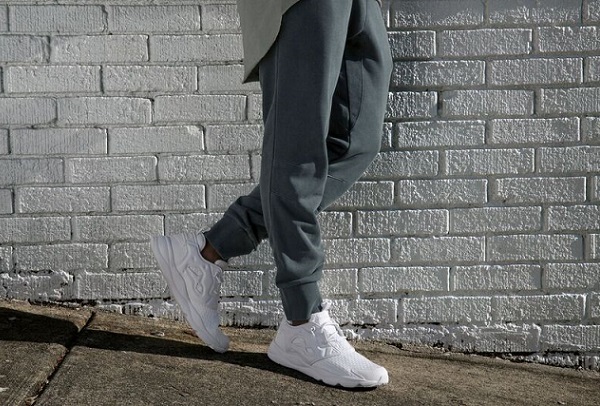 This week we got some fantastic news in the world of sneakers. If you are looking to pick up a fresh pair for the fall Reebok Classics has some kicks you need to look at. Reebok Classic is proud to announce the latest iteration of the esteemed Fury franchise with the launch of the white and black InstaPump Fury Overbranded.  Including an abstracted, overblown black Reebok vector against a clean white upper, this unisex style has been a tour favorite of Future's this summer and will be available to purchase for the first time at the new Reebok Fury Pop Up Shop in NYC on October 11th and 12th.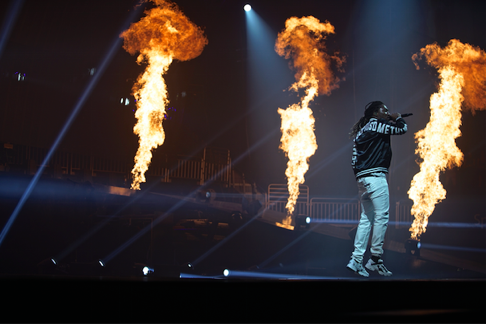 The InstaPump Fury is one of the crown jewels of the Reebok Classic collection.  First launched in 1994, the futuristic silhouette was very advanced for its time with its inverted Pump air bladder, cutouts, and split midsole, and inspired many collaborations with artists, designers and retailers over the years.  Ahead of its time since day one, the InstaPump Fury remains a cult favorite amongst collectors and consumers alike.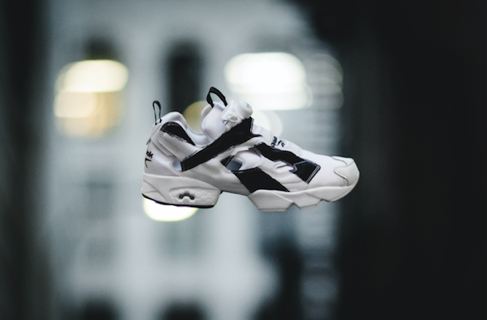 The Fury Adapt and Furylite round out Reebok Classic's Fury collection this Fall with the same DNA and spirit that inspired the original. True to its name, the Fury Adapt is a modern take on a global icon. Geometric and bold like its predecessor, but with a slimmed, sportier silhouette, the Fury Adapt is a look that stands alone.  The Furylite is the next generation of a classic. With striking, angular layers of graphics and texture, the Furylite radiates with individuality and is primed to unleash its own legacy.
The white and black InstaPump Fury Overbranded ($175) will be available for purchase at the Reebok Fury Pop Up Shop in NYC from 4-6pm on October 11th (pre-sale) and October 12th from 12-6pm.  The model will officially launch nationwide on October 12th at Footaction and Reebok.com
The Fury Adapt ($100) is available at Champs and Reebok.com and the Furylite ($75) is out now at Finish Line and Reebok.com.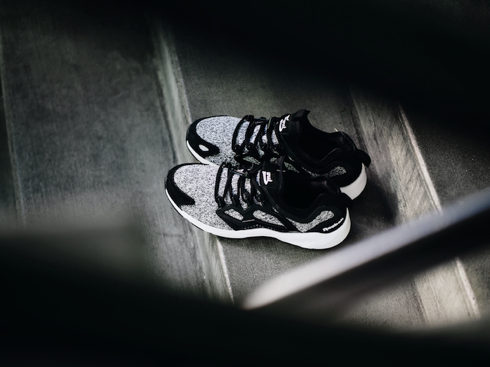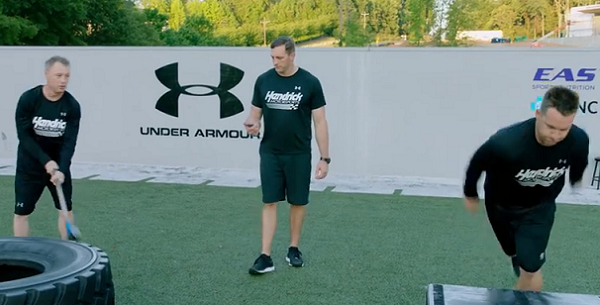 A lot of NASCAR fans are getting ready for the Bank of America 500. Even veterans are getting into the mix. To celebrate service members ahead of the Bank of America 500 next week, the bank, USO of North Carolina and Hendrick Motorsports gave three N.C. veterans a special lesson in what it takes to be a NASCAR pit crew member. Lead by Team 48 Crew Chief Chad Knaus, the vets took part in a typical pit crew workout and a hands-on pit crew training session. They were also surprised with a special invitation to the Bank of America 500.
It's all part of Bank of America's longstanding support for service members and veterans, especially as they transition from their service to civilian careers. The company will continue this tradition by honoring members of the military at the Bank of America 500, as well as by hosting military service organizations from across the country throughout the race weekend.