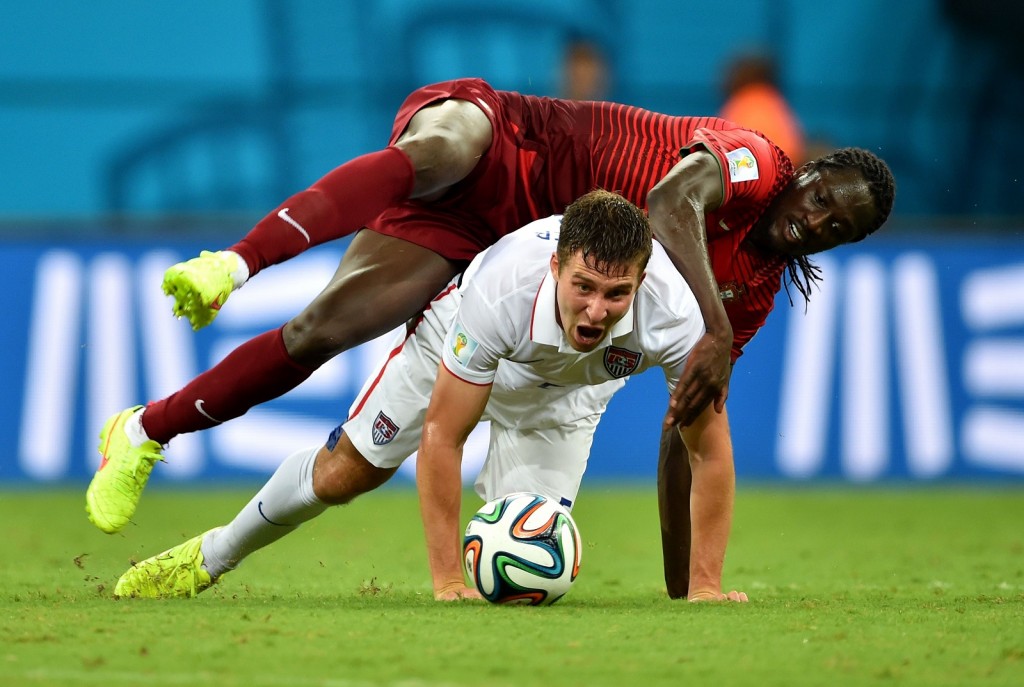 Ever since Olympic gold medal volleyball player Kerri Walsh donned the colorful kinesiology therapeutic tape on her shoulders during the Olympic Games, it has been as commonplace to see it on athletes– from gold medalists and world champions to amateurs and weekend warriors.
You probably saw the US Men's National Soccer Team wear it as they play in the World Cup. KT Tape has been chosen as The Official Kinesiology Therapeutic Tape Supplier of the U.S. Soccer Federation (USSF) through 2016.  The 3-year partnership ensures that all USSF players – from its Development Academy through the U.S. Men's National Soccer Team (USMNT) competing in the World Cup will gain support and relief for their aches and pains from KT Tape.
In addition to sporting the colorful KT Tape in their ankles, calves, knees, thighs, hamstrings, necks and backs during training and competition, USMNT players will be featured in advertising, promotion and marketing for the brand.  KT Tape will produce a special USSF logoed KT Tape – exclusively for USMNT players to wear during the 2014 World Cup.
We had the chance to chat with the Jim Jenson the founder of KT Tape about their product.
Art Eddy: What does it mean your company that you were selected by the U.S. Men's National Soccer Team to use your tape for the World Cup?
Jim Jenson: As the category leader, we are excited to serve as the official kinesiology tape for the U.S. Men's National Team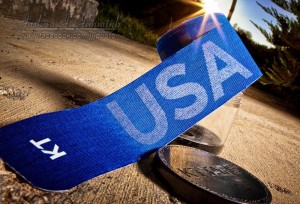 over the next three years. Since the 2008 Olympics when Kerri Walsh appeared on the sand wearing our tape, athletes from a variety of sports have been using KT Tape to help with for muscle, ligament and tendon pain relief and support.
AE: How does your tape help athletes?
JJ: Competitive athletes don't like to be weighed down by anything that can slow them down or hinder their movements. KT Taps is great for these athletes because it enables them to perform their best by providing pain relief and support to sore muscles or injuries before, during, and after activity without restricting motion.
AE: What about people who may not be all-star athletes. How can they get the benefits from the KT Tape?
JJ: Everyone can benefit from KT Tape, from Olympians to 'weekend warriors'. KT TAPE is lightweight, comfortable to wear, and can be used for hundreds of common injuries such as lower back pain, knee pain, shin splints, carpal tunnel syndrome, and tennis elbow.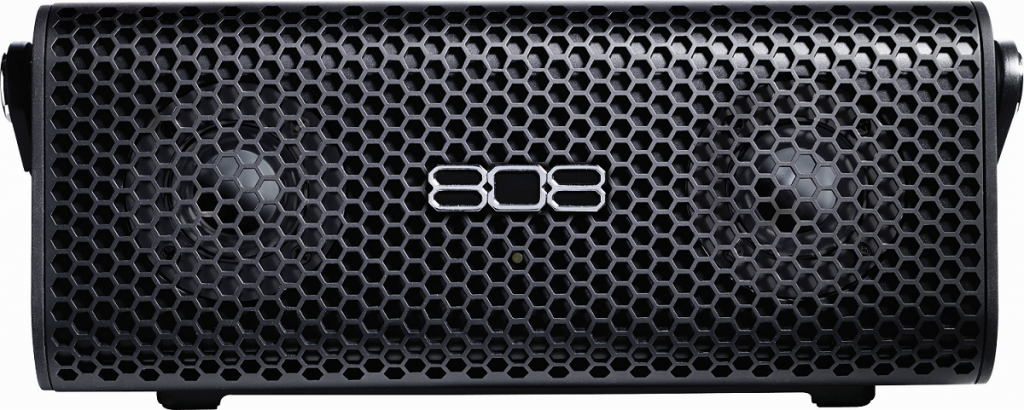 The "HEX" TL Portable Bluetooth Speaker gives users their own two-way concert stack, with a 2-way acoustic design, delivering clear highs through a dedicated tweeter. The "HEX" TL offers a balanced response from a full-frequency driver and thumping bass from a rear bass resonator. The result is rich, detailed, room-filling audio for any musical style. The 808 "HEX" TL is available in black, red and white for $79.99 MSRP.
This speaker is legit. I was having fun blasting some tunes from my iPhone this week. The sound is crisp and clear. You can play music wirelessly anywhere from your smartphone or tablet. You get up to 10 hours of play time (normal volume) from rechargeable Lithium-ion battery.  It is easy to pair and connect. There is an aux input with a wireless 30 feet range. It comes with a AC power adapter, USB charging cable, Aux-in cable. It is worth every penny.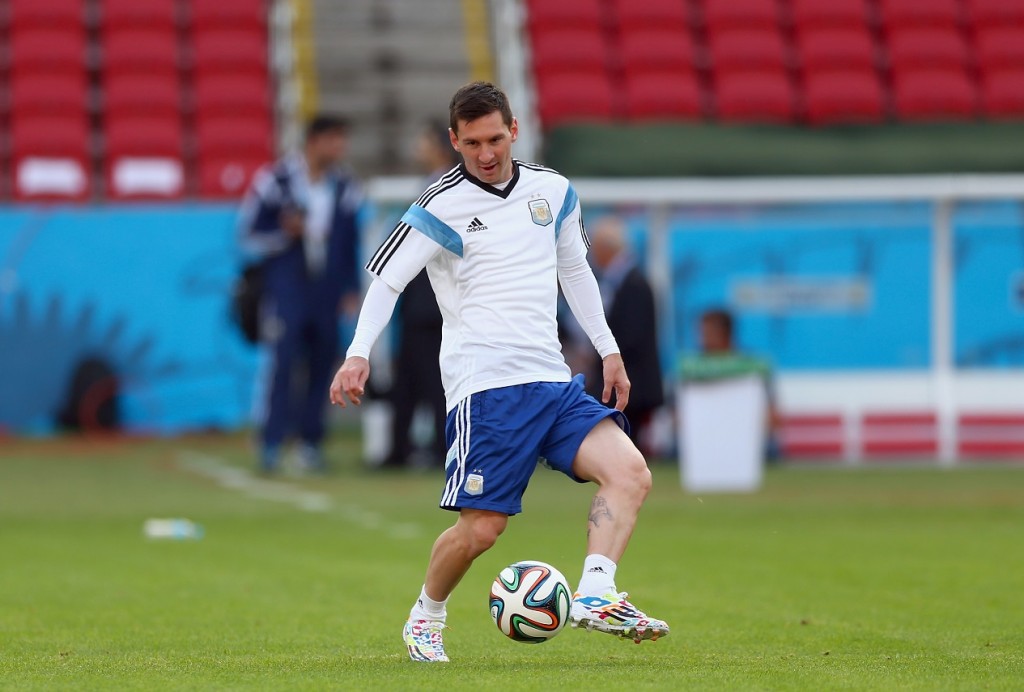 To celebrate Lionel Messi's 27th birthday today, adidas has unveiled a special edition Battle Pack adizero F50.
The Argentina star is scheduled to wear his birthday cleats in training today ahead of his final group match tomorrow against Nigeria.
adidas made only 27 pairs of these cleats, which feature the Battle Pack design in an exclusive green, blue, pink, orange and white color scheme.  Fans can win autographed pairs of Messi's birthday cleats today via @teammessi on Twitter.
For more World Cup information visit @adidasSoccer #WorldCup #allin or nothing.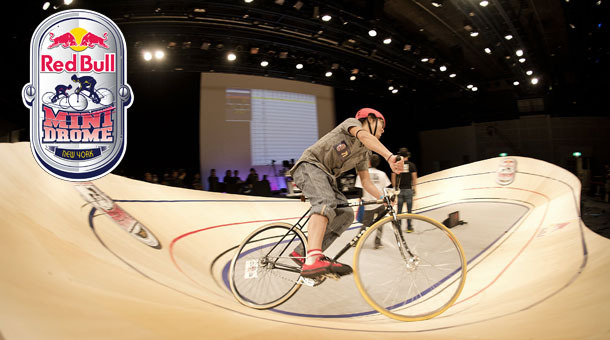 On Friday, June 27, Red Bull Mini Drome will make its triumphant return to Brooklyn where top fixed gear cyclists from across the five boroughs and beyond will compete on a shrunken velodrome that measures about the length, width and height of a New York City subway car.
Although it's only in its second year in New York, this unique high octane race has quickly become a top cycling competition on the east coast bringing speed, balance and bravado together on a steep and shrunken velodrome, custom constructed to give competitors a treacherous challenge. Riders will reach speeds of 25 mph forcing them to test their mental stamina, technical precision and raw strength.
Fifty teams of two riders have been invited to participate in this pinnacle fixed gear competition. Each rider will clock in heats of ten laps with the top eight combined team times advancing. The night will culminate in a showdown bracket of the top eight teams with one squad being crowned the 2014 Red Bull Mini Drome victors. There will also be an individual competition with riders going head-to-head with the better time advancing.
Tickets to the event are free and on a first come first serve basis. For more information, please visit minidromenyc.eventbrite.com.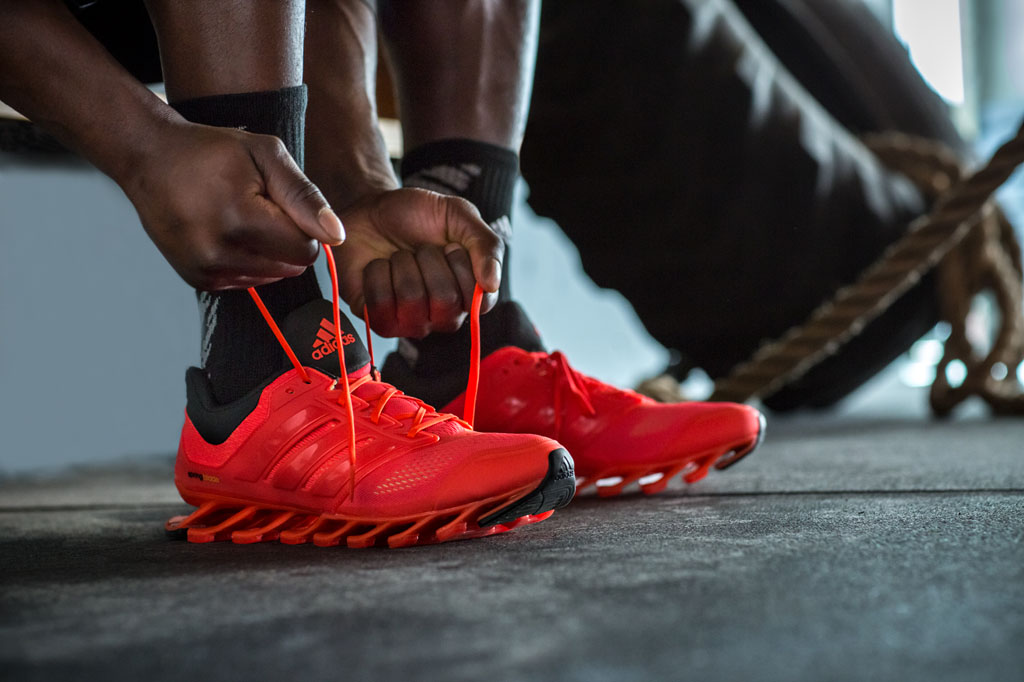 adidas launches Springblade Drive in an aggressive spot with Buffalo's Sammy Watkins. Shot using phantom slow motion, drone helicopter and infrared cameras that detect heat, the eruptive wide receiver explodes off the turf and speeds through stadium stairs.
The simplified silhouette features a 360-degree engineered air mesh upper and a suede tongue and collar for additional breathability, comfort and premium details. Inspired by the Energy Boost 2, the one-piece heel to mid-fit cage provides extra stability. The shoe's 16 individually tuned blades instantaneously react to any environment, compressing and releasing energy. For the first time, the blades come to life through vibrant color application.
Springblade Drive is available Wednesday for $180 at adidas.com, adidas Sport Performance stores and select retailers nationwide.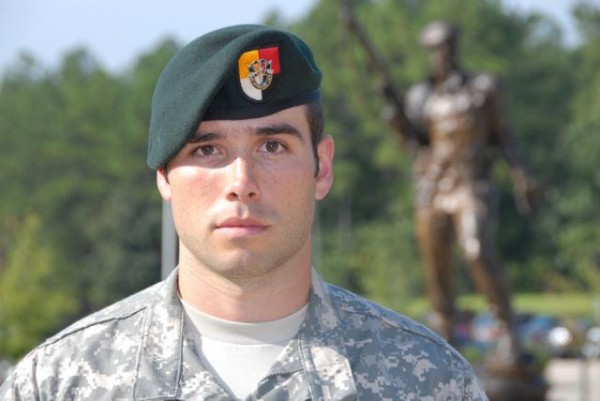 Crown Royal is honoring another hero at this year's Brickyard 400, and like previous recipients of the "Your Hero's Name Here" program, this year's honoree is quite deserving of the recognition he'll receive next month on race day in Indy.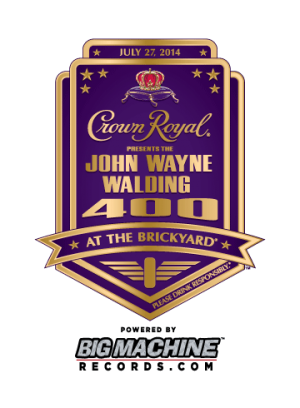 John Wayne Walding is a Green Beret who served our country for 12 years and completed tours in Afghanistan and Iraq. In 2008, during a mission to capture a high value target, Walding was involved in a firefight and lost part of his right leg. Walding went on to become the first amputee to graduate from the Special Forces Sniper School. This father of four, who was awarded the Silver Star, Bronze Star, Purple Heart and Combat Infantry Badge, continues to serve his country. Walding is the founder of Five Toes Custom, an organization the employs wounded veterans in an effort to provide these vets with positive direction and ongoing support.
In honor of Mr. Walding, we've created a custom Crown Royal cocktail recipe and a toast to celebrate the man whose name will be featured at the top of the Indianapolis Motor Speedway for Crown Royal Presents John Wayne Walding 400 at the Brickyard Powered by BigMachineRecords.com.
The Five Toes Texas Cooler
Ingredients:
1 ounce freshly squeezed red grapefruit juice
1/2 ounce simple syrup
2 slices of cucumber, plus 1 thin slice for garnish
4 dashes of Angostura bitters
2 ounces of Crown Royal Black
Ice
In a cocktail shaker, muddle the 2 cucumber slices. Add ice and all of the ingredients except the garnish. Shake well and strain into an ice-filled glass. Garnish with one thin cucumber slice.
And here's the toast:
Life can be bitter and life can be sweet,
But some people know how to handle the heat.
We are all in agreement, we have a consensus,
So let's raise a glass to our hero from Texas.
Let's toast to his courage, his sacrifice, his ongoing service,
With a custom cocktail that won't make you nervous.
It's got red grapefruit from our hero's home state,
Crown Royal Black, bitters and simple syrup for taste.
It's called the Five Toes Texas Cooler,
And features quality ingredients, five in number.
And with this drink, we toast our hero of the hour,
John Wayne, you are cooler than a cucumber!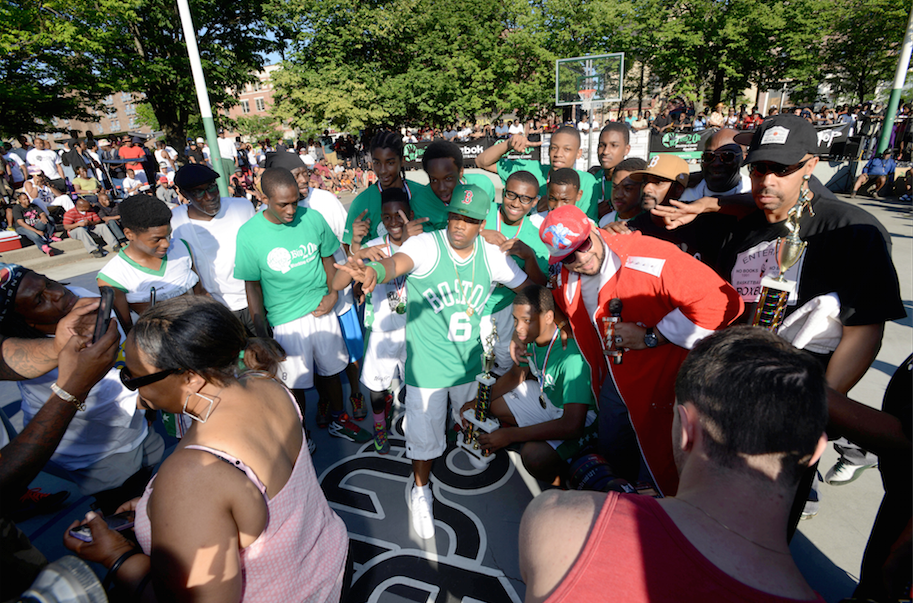 Yesterday the best and toughest streetballers from Boston and NYC competed on the blacktop in the 7th annual Biv20K Blacktop Classic, a rematch between the two cities from last year's championship game.  The outdoor battle took place at the legendary courts of Ramsay Park in Boston.
Michael "Biv" Bivins (of legendary groups New Edition and Bell Biv Devoe) grew up playing outdoor basketball on the courts of Boston and created this tournament to bring "one day of peace and positivity in the hood."  The tournament remains one of the most revered local community basketball events in the Boston area.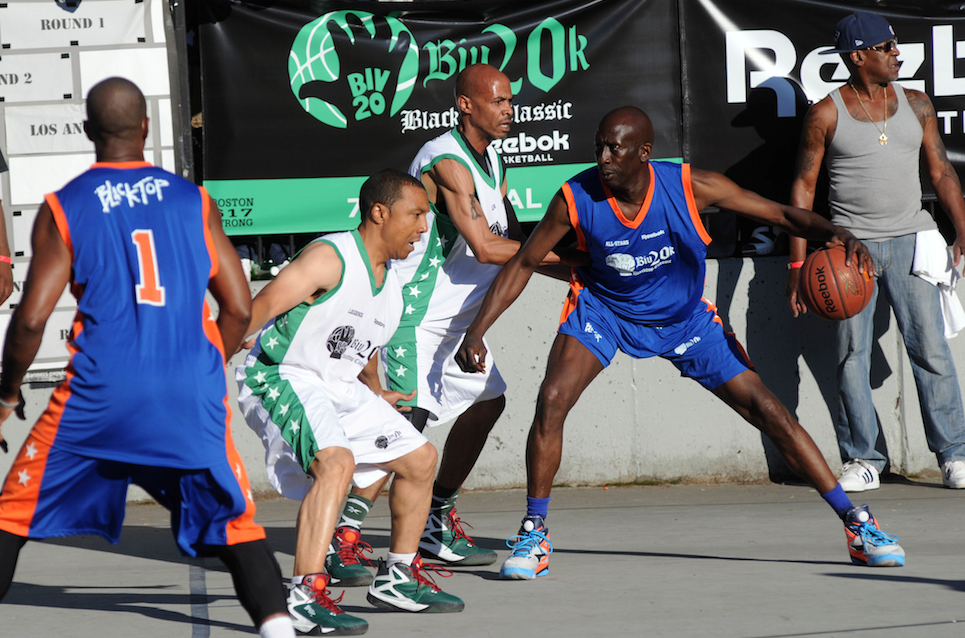 The tournament consisted of three different games for 14 and under at 5pm, the Legends at 6pm and the 7pm rematch of the Boston Streetballers and Entertainers Basketball Classic (NY) team.  The Boston team started strong by winning the 14 and under game, while NY came back strong by winning the Legends game at 6pm.
However, with the hometown advantage, the Boston Streetballers team won the last championship game and won the $20K prize, donated by Reebok Basketball.
All teams played in Reebok Basketball apparel as well as shoes from the recently launched Blacktop Retaliate collections (available at Reebok.com for $125) specifically designed for the competitive and aggressive style of play outdoors.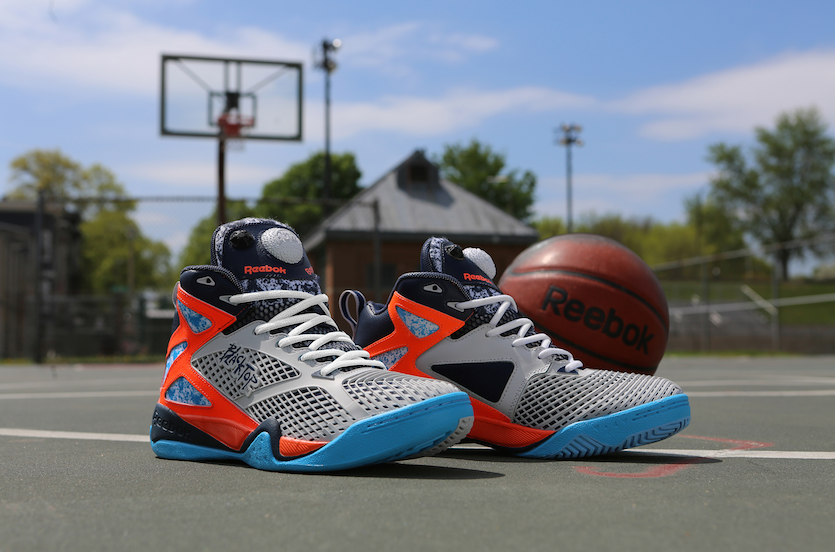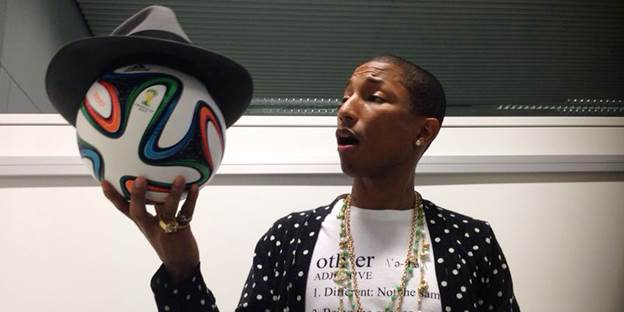 To celebrate the 2014 FIFA World Cup official match ball @brazuca surpassing 2 million Twitter followers, Pharrell Williams let the ball wear his famous hat.
Follow @brazuca for ongoing tournament updates, news and insights directly from the official match ball and for further information please @adidasSoccer #WorldCup #allin or nothing.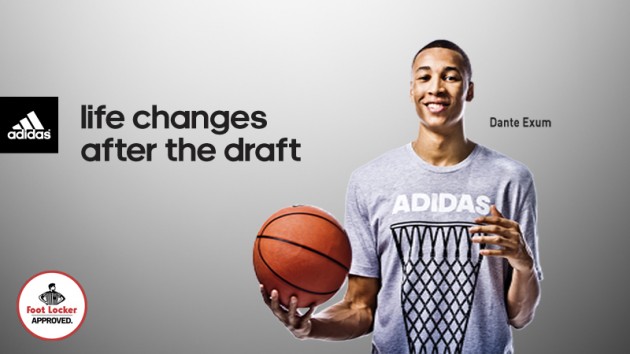 Today Foot Locker has launched on YouTube a series of five new commercials with adidas featuring NBA Draft prospect Dante Exum of Australia.  The latest ads are part of Foot Locker's successful "Approved" marketing platform and poke fun at Exum's current "celebrity status," or lack thereof, while centering on the idea that "Life Changes After the Draft."
In one of the spots, entitled "Paparazzi," Exum expresses concern about going to a Foot Locker store due to the possibility of paparazzi being there, to which his friends respond by laughing uproariously, knowing he's a relatively unknown commodity in the United States.
Each of the five spots will debut digitally on Foot Locker's YouTube channel. The spots will also takeover NBA.com on Wednesday, June 25 and make their television debut on ESPN during the NBA Draft on Thursday, June 26th.
Here is Dante looking to work on his autograph skills.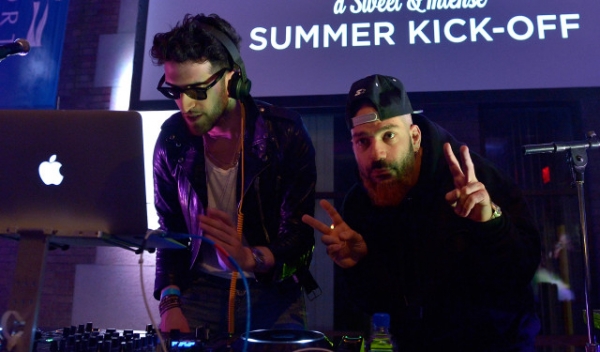 On Thursday, June 19, thousands of partygoers flocked to Boston's Seaport District for a chance to see – and drink from – the World's Largest Ice Luge by Johnny Appleseed Hard Apple Cider. Ice Pro of Central Florida began hauling pieces of the giant ice sculpture into the Seaport World Trade Center as early as 6 a.m. on Thursday, completing a massive build-out of the World's Largest Ice Luge by 5 p.m. for the evening event.
The event, which coincided with Saturday's official start of summer, included a performance by electrofunk duo Chromeo, whose hit song "Jealous" is featured in Johnny Appleseed's national television spot and was recently named to Time magazine's "Best Songs of 2014" list. Boston's hometown-turned-national sports reporter Jenny Dell was a natural in the role of sideline serving as host and emcee for the evening.
At 25 feet tall, the World's Largest Ice Luge surpassed the current record holder by two feet and weighed in at an impressive 25,000 lbs. And while the luge itself required 600 man hours to build from start-to-finish, the party heated up quickly, resulting in nearly 1,200 gallons of melted ice that was donated to the Johnny Appleseed Trail Association to water the trees and flowers along the trail.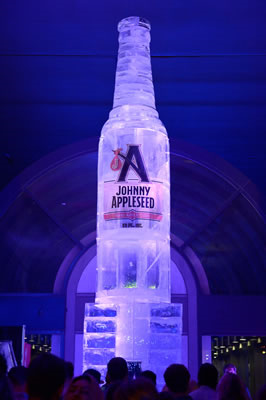 I was able to chat with Chromeo and ask the guys how they started working with Johnny Appleseed, touring,  and which artists influenced them and their sound.
Art Eddy: How did you guys start up working with Johnny Appleseed?
Chromeo: They used our song "Jealous" in their commercial. We wanted to make it an even more organic partnership, hence the idea of doing an event that the fans can enjoy and participate in.
AE: You guys are in Boston to be part of the biggest ice luge in history. What will you guy be doing there?
Chromeo: DJing and performing Jealous. And hopefully interacting with fans, taking pics. And marveling at a 25 foot ice sculpture in the middle of June.
AE: How did you guys meet and was it around music?
Chromeo: Absolutely. We met in high school and discovered funk and soul music together. That's how we bonded: jamming and record shopping.
AE: Who has influenced you guys as musicians?
Chromeo: Prince, Zapp, Hall & Oates, Rick James, Robert Palmer. But also Daft Punk, Justice and Stuart Price. And hip hop producers like Pete Rock and J Dilla whom we used to worship growing up.
AE: Who would be the number one artist you would love to work with on a future project?
Chromeo: Haim! They're our gals.
AE: Are you guys touring this summer?
Chromeo: Yep, all summer and beyond. Every major American festival, we're hitting.
AE: What is the funniest moment that has happened to you guys while on tour?
Chromeo: Bribing Serbian border agents with cigarette cartons in the middle of the night just so we could get our equipment in the country — after the legit protocol had been followed to a tee of course.
AE: What you most like about the music scene today and what is the worst thing?
Chromeo: Can't think of a worst thing. I love everything about it: especially the fact that music is more democratic and shareable than ever. You can be a kid on a laptop and have a hit record. Music discovery is facilitated and accelerated by platforms like SoundCloud and Bandcamp. It's limitless. Dizzying sometimes, but limitless.