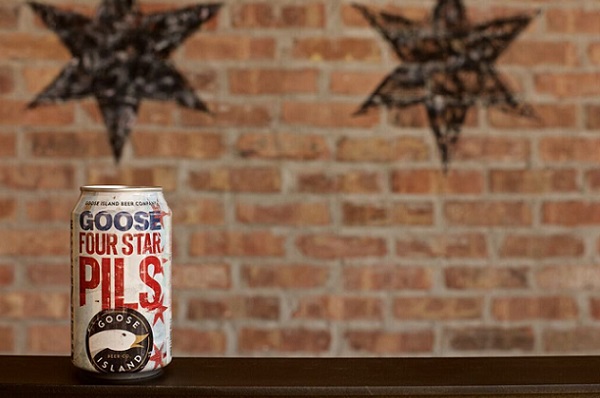 Goose Island always seems to stay true to its roots. They are continuing with that tradition with the Four Star Pils. In 2015, the brewery released a draft-only, and Chicago-only, beer by the name of "Blue Line." It was a chance to share the brewery's take on the traditional pilsner. A pilsner made with a little more hops and a lot more flavor. Turns out, Chicagoans were just as ready for a hoppy pilsner as the brewers were. So when the once small batch pilsner began to run dry, Goose decided it was time to share their take on the classic German-styled lager with beer fans everywhere.
Reborn as Goose Four Star Pils the newly re-packaged brew is making its national debut on February 29 on shelves and will be available in bottles, cans and on draft. The name and design for Goose Four Star Pils pays homage to its hometown of Chicago by donning the four stars on the Chicago flag emblematic of The Great Chicago Fire, The World's Columbian Exposition of 1893, The Century of Progress Exposition of 1933 (Chicago World's Fair) and Fort Dearborn.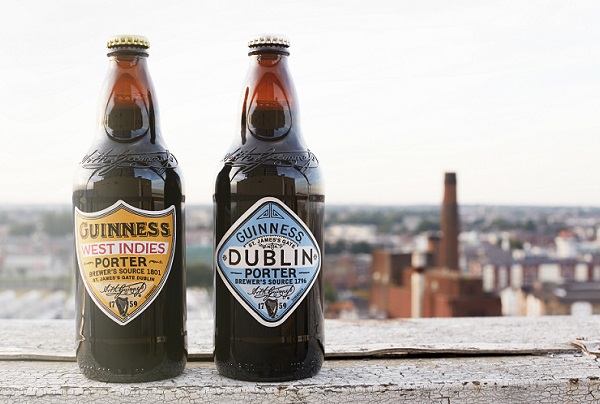 Just when you thought you couldn't love the folks at Guinness anymore they bring two new more beers into the mix. Two beers from The Brewers Project are making their official debut in America for a limited time – the West Indies Porter and Dublin Porter.
Rooted in the history and showcasing the brand's innovative spirit of creating great beer beyond the iconic stout, the West Indies Porter and Dublin Porter have been reinvented from old recipes found in the Guinness Brewers' diaries.
With origins in a 1796 entry in the Guinness brewers' diaries, the Dublin Porter was inspired by the golden age of porter in the 1800s. This was a time when porter was the working man's beer and after a long day's work in Dublin or London, Guinness would have been a respected choice. The West Indies porter is based on an 1801 diary entry for the first Guinness purposely brewed to maintain its freshness, on long sea voyages to the Caribbean and beyond. To guarantee the best quality upon arrival, Guinness brewers made a porter with more hops and a higher gravity.
They're available now, along with Guinness Extra Stout, at participating Costco, Sam's, BJ's, and Total Wine & More locations nationally as part of The Brewers Project Pack for manufacturer's suggested retail price of $21.99. Whether enjoying a beer from The Brewers Project Pack or any Guinness beer, please drink responsibly.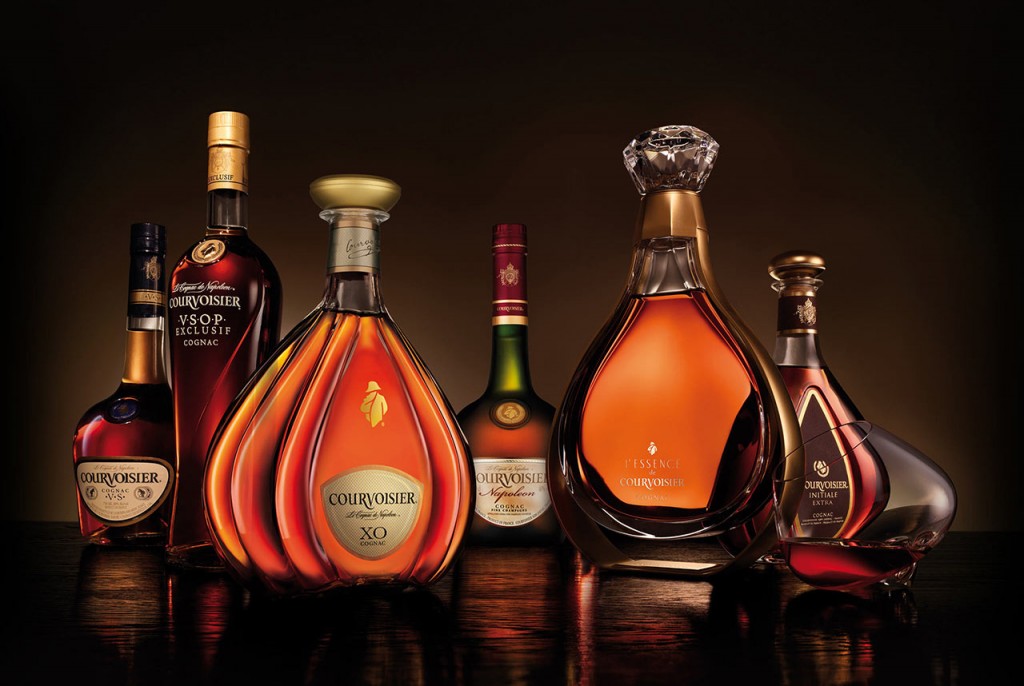 This weekend coming up we get see which films will be bringing home the golden statues. Which film are you pulling for? I hope "Star Wars: The Force Awakens" wins a few awards.
No matter if you are going to a party or staying at home for the big event Courvoisier Cognac created some themed cocktails that you will enjoy during that night. The cocktails are evocative of the exceptional journeys and triumphs experienced by some of this year's most talked about nominees such as Michael Fassbender's portrayal in Steve Jobs, Matt Damon's performance in The Martian, and Sylvester Stallone in Creed.
As always please enjoy responsibly.

Apple of My Eye
1 part Courvoisier VSOP Cognac
1 part Fresh Lemon Sour
½ part DeKuyper Apricot Brandy
4 parts Apple Cider
Shake all ingredients with ice and strain into a cocktail glass.
Garnish with a lemon spiral twist and a dash of fresh ground cinnamon.
Courvoisier One-Two Punch
2 parts Courvoisier VS Cognac
1 part Fresh Squeezed Grapefruit Juice

½ part Fresh Squeezed Lemon Juice
½ part Honey Syrup
Mix all ingredients in punch bowl with sliced grapefruit & lemon wheels. Serve over fresh ice.
Zero Gravity
½ part Courvoisier VSOP Cognac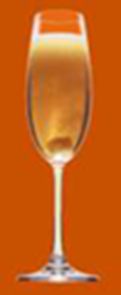 Fill Glass with Champagne
1 Sugar Cube (optional)
Serve in a champagne flute.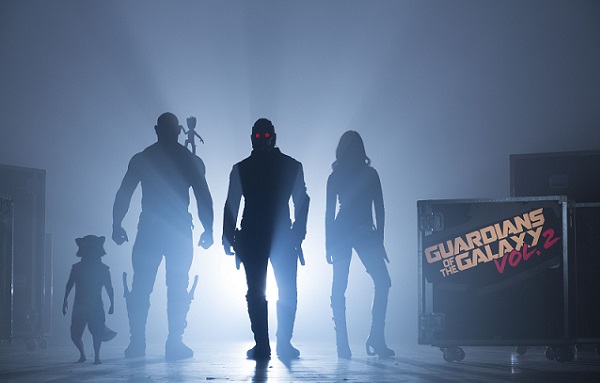 Marvel Studios has begun principal photography at Pinewood Studios in Atlanta, Georgia, on Marvel's "Guardians of the Galaxy Vol. 2," which is slated to hit U.S. theaters on May 5, 2017. The production will shoot at Atlanta's Pinewood Studios.
"Guardians of the Galaxy Vol. 2" is written and directed by James Gunn ("Guardians of the Galaxy," "Slither"). The film marks the return of the original Guardians, including Chris Pratt ("Jurassic World," "Guardians of the Galaxy") as Peter Quill/Star-Lord;  Zoe Saldana ("Guardians of the Galaxy," "Star Trek Into Darkness") as Gamora; Dave Bautista ("Spectre," "Guardians of the Galaxy") as Drax; Vin Diesel ("Guardians of the Galaxy," "Furious 7") as the voice of Groot; Bradley Cooper ("Joy," "American Sniper") as the voice of Rocket;  Michael Rooker ("Guardians of the Galaxy," "Jumper") as Yondu; Karen Gillan ("Guardians of the Galaxy," "The Big Short") as Nebula; and Sean Gunn ("Guardians of the Galaxy," "Gilmore Girls") as Kraglin. New cast members include Pom Klementieff ("Oldboy"), Elizabeth Debicki ("The Great Gatsby," "Everest"), Chris Sullivan ("The Knick," "The Drop") and Kurt Russell ("The Hateful Eight," "Furious 7").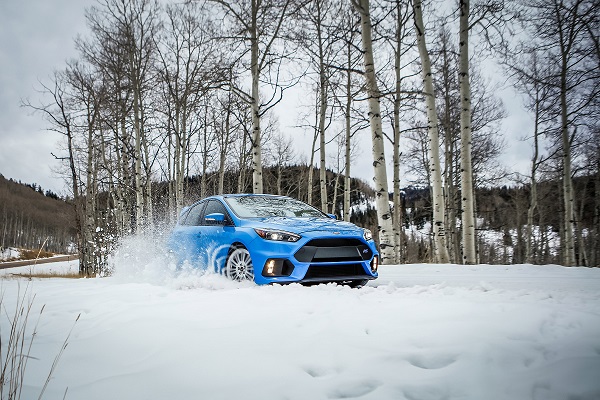 For those who live in the cold climate areas and have to deal with winter I have a ray of sunshine for you. Ford looks to change the driving game in winter. Customers of Ford's all-new all-wheel-drive 350-horsepower Focus RS will now be able to order a fully certified winter tire kit for great driving enjoyment in the snow.
The Focus RS Winter Wheel & Tire Package offers customers a unique set of wheels and tires – the first time an original equipment manufacturer is making a check-the-box winter tire option available in North America.
"We started this project knowing what our RS customers really want out of their cars," says Adam Wirth, chassis supervisor, Ford Performance. "This tire package allows RS owners to continue spirited driving even in the snow."
Ford Performance developed this package so the most demanding Focus customers can be outfitted with optimum equipment for winter conditions. The challenge was that normal vehicle testing procedures require certification with production wheels and tires; winter-only standards had never been authored. To bring this package to owners, the first step Ford Performance had to undertake was creating a new set of standards specifically suited for brutal winter conditions.
These new standards were put to the test in extreme cold and snow in Northern Michigan and Sweden, to guarantee the quality and performance Ford customers expect. Engineers and technicians tested a wide variety of high-performance winter tire and wheel setups to determine the optimum combination for ride, handling and performance in various wintry conditions.
The winning setup is a 225/40R18 Michelin Pilot Alpin PA4 tire mounted to a new 18×7.5-inch wheel, which looks very similar to the base Focus RS option, but is finished in sparkle silver to hide salt spray. The set is complete with tire pressure monitoring sensors and center caps fully mounted and balanced and ready for installation at the dealer.
The wheel and tire are narrower, to provide improved snow traction, while the overall diameter is smaller, so owners can fit chains if necessary.
Focus RS Winter Wheel & Tire Package is available only in North America – a $1,995 option. For customers in Canada, the package comes standard on Focus RS.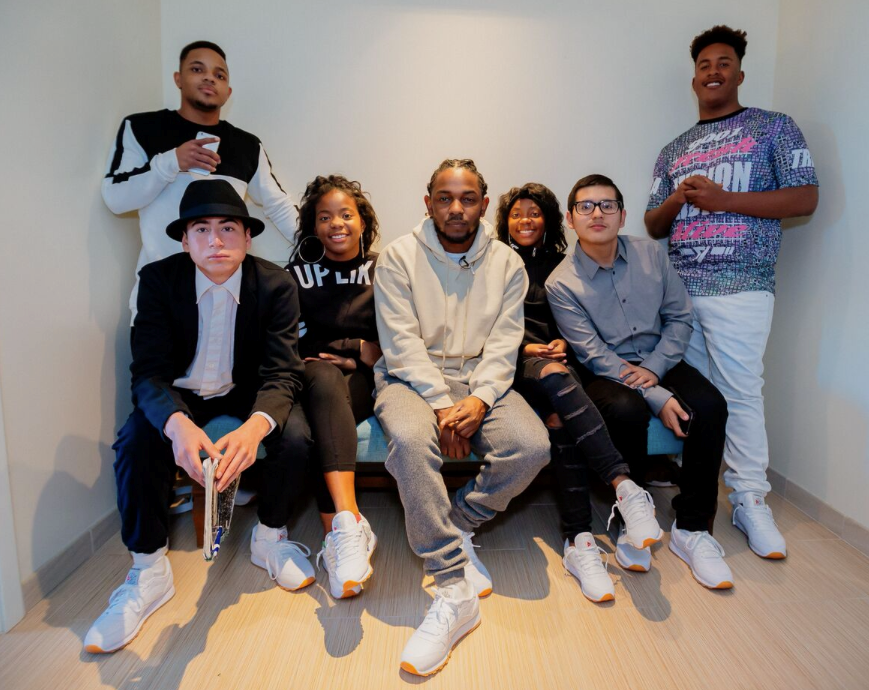 Even though Kendrick Lamar has made a name for himself he doesn't forget the road he traveled to get where he is today. Believe it or not it is just 11 miles from Compton, California to the red carpet of the Staples Center in Los Angeles. Earlier this week Lamar made the journey along with a few important guests.
With help from Reebok Classics, the multi-award-winning musician hosted six students from Centennial High School in his hometown, and source of inspiration, Compton. Lamar was the most nominated hip-hop artist at the night's ceremony, but it was his moments with the students beforehand that really set him apart.
"Seeing them out here reminds me of where you come from," Lamar says. "They're full of energy. The same as I was."
As one of Compton's most celebrated sons, Lamar often draws creativity from his hometown and doesn't shy away from using the city as the muse for his lyrics. But it was Lamar's once-in-a-generation work To Pimp a Butterfly that inspired Compton instead earlier that tonight.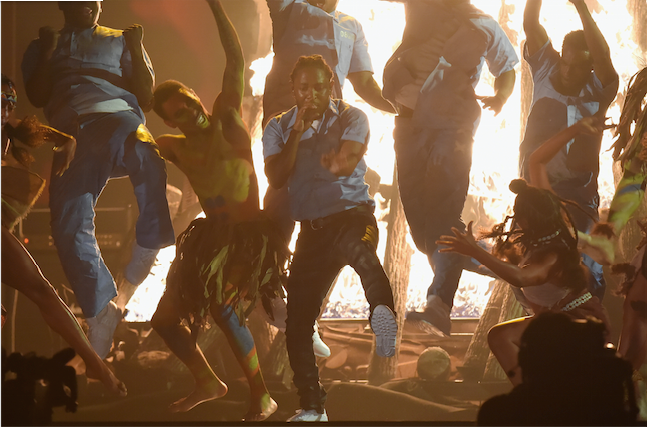 The students' symbolic journey from Compton to Los Angeles was capped off with several epic surprises. In addition to meeting the iconic rapper, the students were able to express their own creativity for Lamar.
With nothing more than a pair of Lamar's favorite Classic Leather shoes and a black marker, the students created works of art on the pristine leather and gave the decorated shoes, along with their own words of congratulations, to the rapper before the ceremony.
The simple gesture spoke volumes in light of the glitz and glamour of pop music royalty that gathered in Los Angeles last night. While many were focused on award counts and performance details, Lamar practiced a raw exchange of respect and reverence with the students he inspired.
"Hopefully in the next 10 years, they'll be even further from where I'm at," Lamar explains.
Unpretentious and unapologetic, the Classic Leather shoe symbolizes the blank canvas offered to all of us in life. The style, the swagger and the story are what we make of it.


Okay, so I know some of you haven't seen Star Wars Episode VII: The Force Awakens yet. You still have time, but for those like me who are excited for Episode VIII this is for you. Star Wars: Episode VIII, which is written and directed by Rian Johnson and continues the storylines introduced in Star Wars: The Force Awakens, welcomes back cast members Mark Hamill, Carrie Fisher, Adam Driver, Daisy Ridley, John Boyega, Oscar Isaac, Lupita Nyong'o, Domhnall Gleeson, Anthony Daniels, Gwendoline Christie, and Andy Serkis.  New cast members will include Academy Award winner Benicio Del Toro, Academy Award nominee Laura Dern, and talented newcomer Kelly Marie Tran.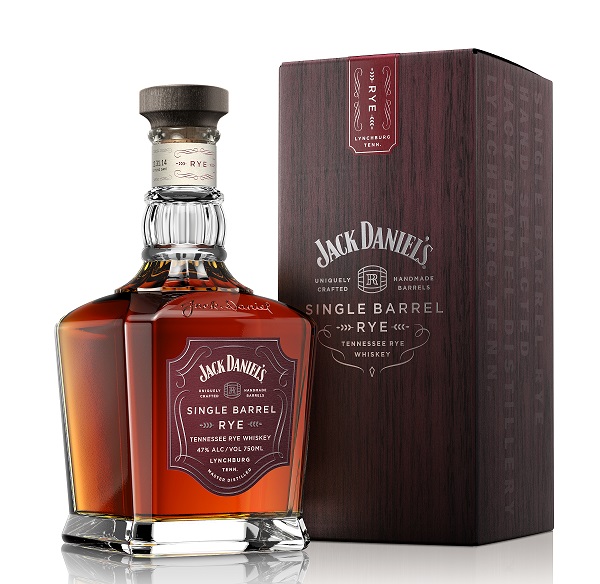 Fans of Jack Daniel's will be happy to hear this news. The Jack Daniel Distillery announces the nationwide release of the brand's third offering within the Single Barrel Collection and first new grain bill in 100 years, Jack Daniel's Single Barrel Rye. This expression marks the first time consumers can experience a fully matured rye product from Jack Daniel's. The newest member of the Jack Daniel's Family of Brands will be on shelves February 2016 and will be available across the U.S.
"Rye was one of the earliest forms of American whiskey and as the Master Distiller at Jack Daniel's, I'm proud to honor that history with the release of Single Barrel Rye. There is a reemerging trend of rye whiskeys and we are excited to be able to give friends of Jack Daniel's a chance to experience it," said Jeff Arnett, Jack Daniel's Master Distiller. "You never want to over-barrel a rye whiskey so it was important for us to stay true to the style with grain forward character rather than barrel character while still allowing our barrels to interplay with the whiskey. I'm confident that everyone will be as impressed as I am with the taste and character of this bold new rye offering."
Rye, at 94-proof, is the Jack Daniel Distillery's third offering in the Single Barrel Collection which includes Jack Daniel's Single Barrel Select and Barrel Proof. Select is a 94-proof single barrel Tennessee Whiskey and Barrel Proof ranges from 125 to 140 proof. Each expression in the Single Barrel Collection offers a robust, full-bodied flavor complemented by Jack Daniel's smooth character. Together, Select, Barrel Proof and Rye combine to create the world's finest collection of single barrel Tennessee Whiskey.
Single Barrel Rye completes the distillery's journey into rye whiskies, following limited release batches of Rested Rye in 2014 and Unaged Rye in 2012, allowing fans to taste the maturing rye over time. Rye starts off lightly sweet and mid-palate opens up to a dried fruit and trail mix flavor, finishing slightly shorter than the other Single Barrels as Rye is much more about grain rather than barrel character. Rye is a complex and robust whiskey that brings something unique to the palates of Jack Daniel's friends and whiskey enthusiasts alike.
Jack Daniel's Single Barrel Rye will be available nationwide beginning February 2016. The product will be priced approximately $49.99 per 750ml.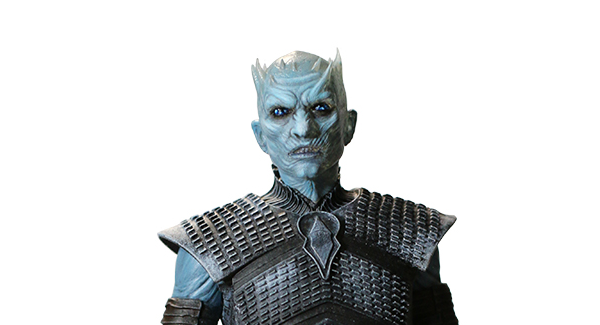 Dark Horse Deluxe, an imprint of Dark Horse Comics, has revealed the latest figure in an ongoing series of characters from the critically acclaimed HBO series Game of Thrones: the Night King.
The masterfully sculpted figure finely details the leader of the White Walkers. It measures eight inches in height and is packaged in a collectors' window box. The Night King will be the twenty-fourth figure in the series and is slated for in-store release in September of 2016.
"The Night King's confrontation with Jon Snow in the aftermath of the Hardhome battle is one of the most dramatic moments of Game of Thrones to date. We are very excited to have captured the power of this character in a stunning new figure," Dark Horse Product Development head David Scroggy remarked.
Response to the Game of Thrones collectible figure line has been overwhelming, and additional characters are in development for release in summer and fall 2016. The Night King figure will be joined by Ygritte, Margaery Tyrell, Oberyn Martell, Grey Worm, and Varys.
Dark Horse also recently announced a limited-edition bust statue of the Night King, which will be released in March 2016. Game of Thrones figures have a suggested retail price of $24.99 and are packaged in deluxe window box packaging.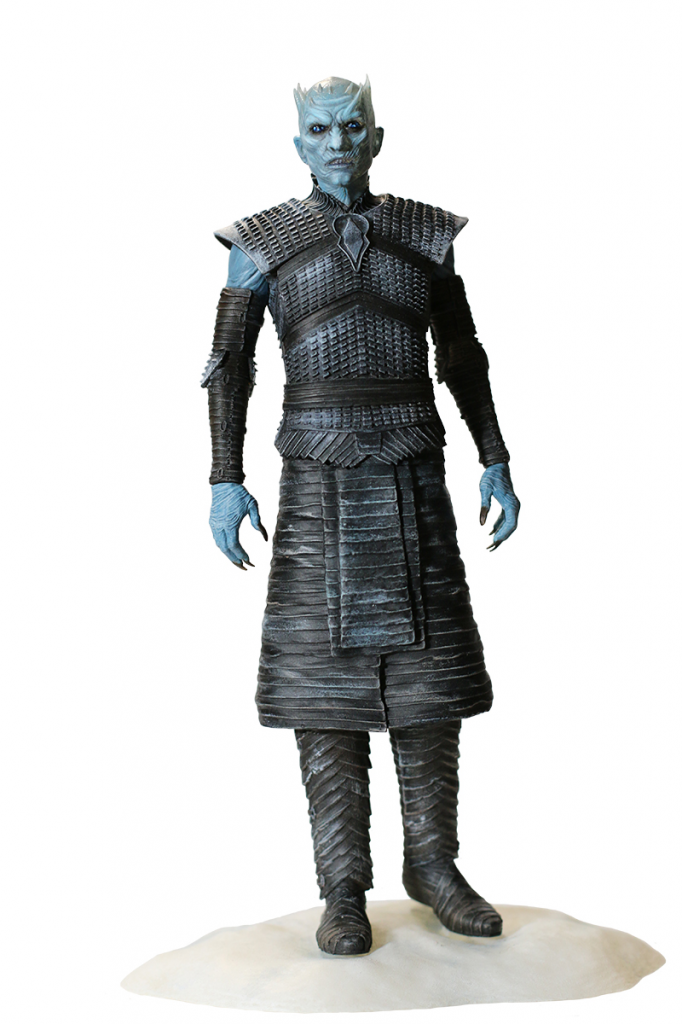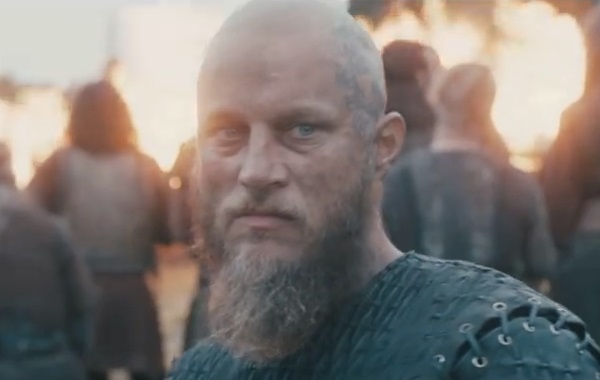 Who else here is excited for the Season 4 premiere of History's VIKINGS? The first episode in this season is called "A Good Treason" airs this Thursday, February 18 AT 10PM ET/PT
Entry to Valhalla eludes Ragnar but as he lies in his sick bed in Kattegat events unfold beyond his control. Bjorn orders the arrest of Floki for Athelstan's murder while in Paris, Rollo betrays the last of his Viking supporters to strengthen his position in the French Court. Meanwhile, in Hedeby, Kalf announces joint Earldom with Lagertha, but is power-sharing Kalf's true intention and is Lagertha actually willing to share what once was hers?