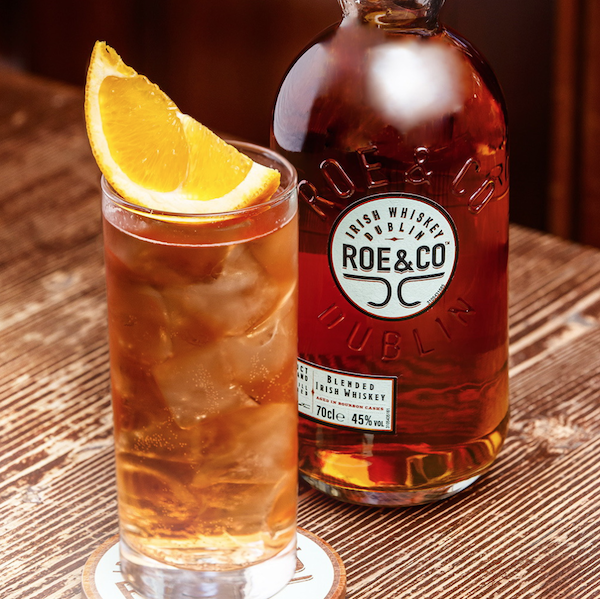 As we get closer to International Whiskey Day that takes place next week on March 27, Roe & Co Irish Whiskey has officially landed in select U.S. markets, most notably behind your favorite cocktail bar as a unique foundation for mixologists to build new, innovative libations. Created in partnership between Diageo Master Blender Caroline Martin and five leading Dublin-based bartenders, Roe & Co ushers in a new era of Irish whiskey with its contribution to cutting-edge cocktail culture.
Additionally, Roe & Co's launch in U.S. markets comes ahead of the St. James's Gate distillery opening in Dublin this May. The new distillery will honor the brand's heritage at its location on Thomas Street, adjacent to where the old George Roe & Co distillery once sat in the converted former Guinness Power House.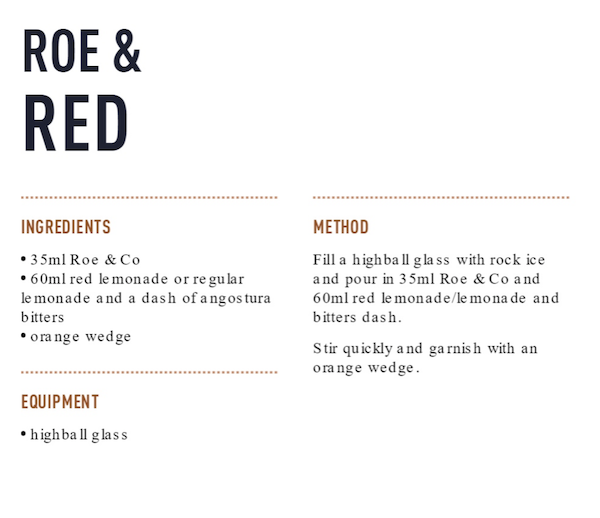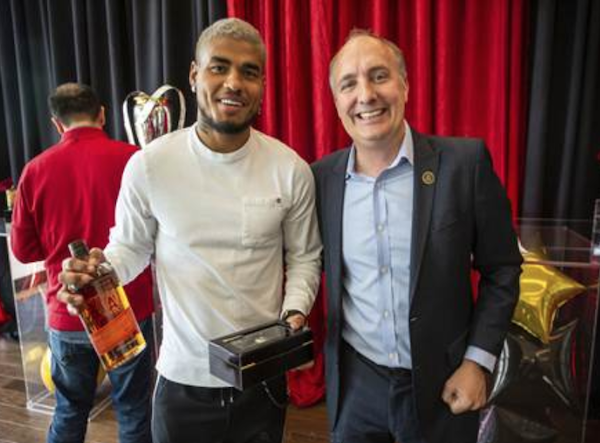 Atlanta United FC has been continuing their celebrations on the heels of the MLS Cup Championship victory and preparing for their next regular season match on Sunday. After practice, the team was recognized in a special ring ceremony where President Darren Eales presented their championship rings and gifted custom engraved bottles of Bulleit Bourbon to the entire squad.
The award-winning frontier whiskey was engraved with the Atlanta United logo and personalized with the players' name, number and position to recognize their contribution to the team's MLS Cup victory. TeammatesMichael Parkhurst, Josef Martínez, Brad Guzan and Héctor Villalbawere among the players and staff who were recognized for the winning season.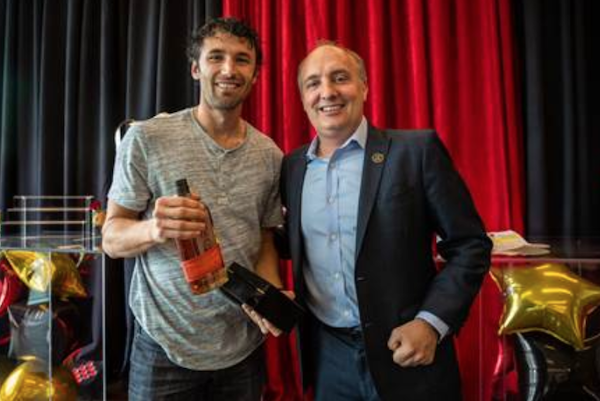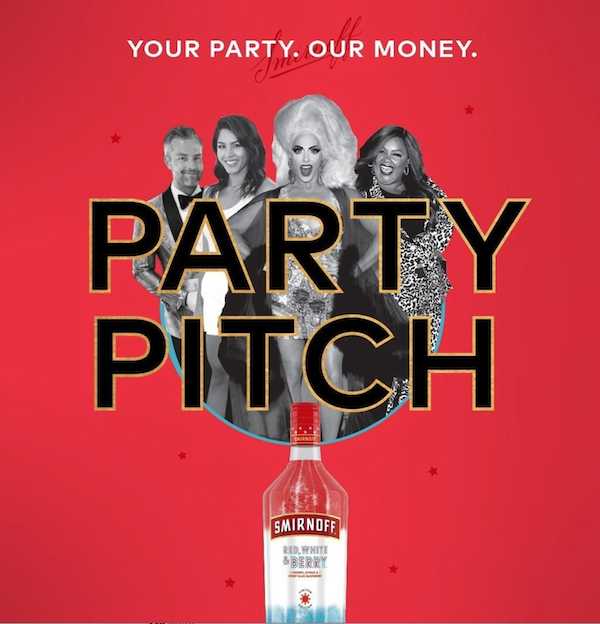 Smirnoff believes that fun times are even better when everyone's included, and you don't need an exclusive guest list or fancy charcuterie plate to turn up the fun! That's why the brand is launching Smirnoff Party Pitch to celebrate the upcoming return of the summer fan favorite, Smirnoff Red, White & Berry.
Smirnoff has enlisted the help of a panel of awesome party people, including LGBTQ reality star and dancing queen, Alyssa Edwards, comedian, actress and life of the party, Nicole Byer, reality television star, real estate mogul and party-thrower extraordinaire, Ryan Serhant and YouTube star, choreographer and party-host-turned-panel-host, Megan Batoon, Smirnoff hopes to find the most exciting, outrageous, silly and wild ideas to celebrate America where fun is the limit – all with responsible drinking in mind, of course.
So, how does Smirnoff Party Pitch work?
From now through March 27, party people across America (25 and older) can submit their party pitches at www.smirnoff.com/contest/party-pitch. As part of the entry submission, each contestant will need to share how they'd serve SmirnoffRed, White & Berry at their party. Whether it's red, white and boozy ice pops, gelatin shots or patriotic cocktails, out-of-the-box thinking is encouraged, and the possibilities are sure to be endless! Smirnoff will then review all the exciting entries and choose finalists who will get the chance to pitch their patriotic part in a video to our expert party panel.
In true Smirnoff fashion, fun times are better when more people are included so in addition to the one grand prize winner, three runner-up contestants will also receive $2,500 and some swag to fund their own Fourth of July bashes. Smirnoff Party Pitch is the latest extension of Smirnoff's "Welcome to the Fun%" campaign and is telling the world that you don't need to be on the VIP list to have a good time by asking consumers to bring the most creative party concepts that bring everyone together.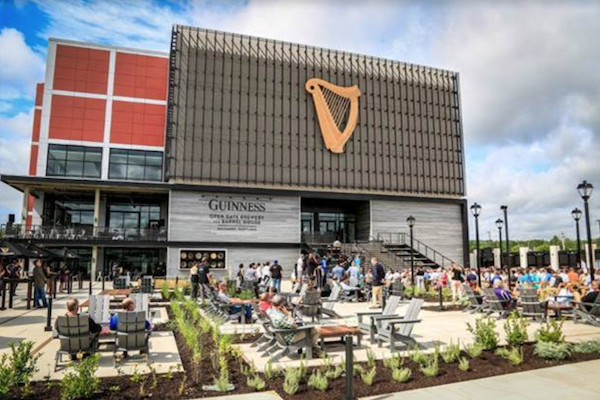 Whether someone can trace their entire ancestry back to the Emerald Isle, has no Irish blood at all or falls anywhere in between, St. Patrick's Day is a time for everyone to enjoy. Guinness wants to make it as easy as possible to have fun during the festive weekend by releasing the Guinness Guide to St. Patrick's Day – a collection of digital content, real life experiences and physical takeaways designed to help make this March 17th the best one yet.
"There are countless ways to celebrate St. Patrick's Day, but I'll let you in on a little secret: as long as you're celebrating with a pint of Guinness, you're doing it right," said Guinness Brand Director, Emma Giles. "You might be spending time at home with family, grabbing a cab to the pub or stopping by a party to see some old friends and meet some new ones. Whichever way you choose to celebrate, we promise that with the help of the Guinness Guide to St. Patrick's Day, this will be one to remember."
So, what can one expect from the Guinness Guide to St. Patrick's Day?
THE ST. JAMES'S GATE HOTLINE
The Irish word for a 'good time' is craic, so dial it up – literally. Step into a green Guinness phone booth and connect live with an 'expert' at the Guinness brewery at St. James's Gate via video chat to ask all the burning questions about St. Patrick's Day, Guinness and what it means to really be Irish. The booths will be available free of charge to guests 21+ at the Magnificent Mile in Chicago on March 1st from 12pm-2pm CST and at the Madison Square Park triangle, across from the Flatiron Building, in New York on March 13th from 12pm-2pm EST
DIGITAL ADVICE FROM THE EXPERTS
From getting the perfect Guinness 'Stache, to toasting like a native Gaelic speaker, to how to dress for the occasion, to pairing each beer in the Guinness family with the perfect Irish cuisine, a suite of digital videos and content starring a brewery ambassador from St. James's Gate will be available through @GuinnessUS on Instagram, Twitter, Facebook and Pinterest. Think of them as helpful tips for the big day on March 17th.
GUINNESS THREADS
These Guinness t-shirts are a whole lot truer to the heritage than that "Kiss Me I'm Irish" shirt. Imprinted with iconic fixtures from the Guinness brewery at St. James's Gate like the harp plaque on Vathouse No. 2 or the cobblestones from Rainsford Street, the shirts are available in a very limited quantity on the Guinness Webstore.
#STACHEFORCHARITY BACK FOR YEAR THREE
That great 'Stache can do some good. For the third consecutive year, adult beer lovers can take part in the Guinness #StacheForCharity initiative from now through March 31, 2019 by sharing photos of their 'Staches – self-grown and groomed, drawn-on, or Guinness-enhanced – on social media (tagging @GuinnessUS and, of course, using #StacheForCharity). For each 'Stache shared, Guinness will donate $1 (up to $100,000) to the Guinness Gives Back Fund*, which supports nonprofits that contribute to the common good in our communities, like Team Rubicon – an organization of veterans and first responders, who are some of the first boots on the ground when natural disasters occur.
GUINNESS OPEN GATE BREWERY IN BALTIMORE
For those lucky enough to live in the Maryland area – or those enthusiastic enough to make the trip – the Guinness Open Gate Brewery in Baltimore will be celebrating its first official St. Patrick's Day in 2019 (after its grand opening in August of last year). Complete with its own Guinness phone booth, the Open Gate Brewery will host ticketed celebrations in support of local charities with classic Guinness favorites and a special locally-brewed St. Patrick's Day stout on tap. Keep up with what's brewing in Baltimore at www.GuinnessBreweryBaltimore.comand @GuinnessBreweryUS on Instagram and Facebook.
Nobody needs the official Guinness Guide to St. Patrick's Day to know that drinking responsibly is always a good idea. On March 17th and every other day of the year, drink like a brewer, and respect the beer.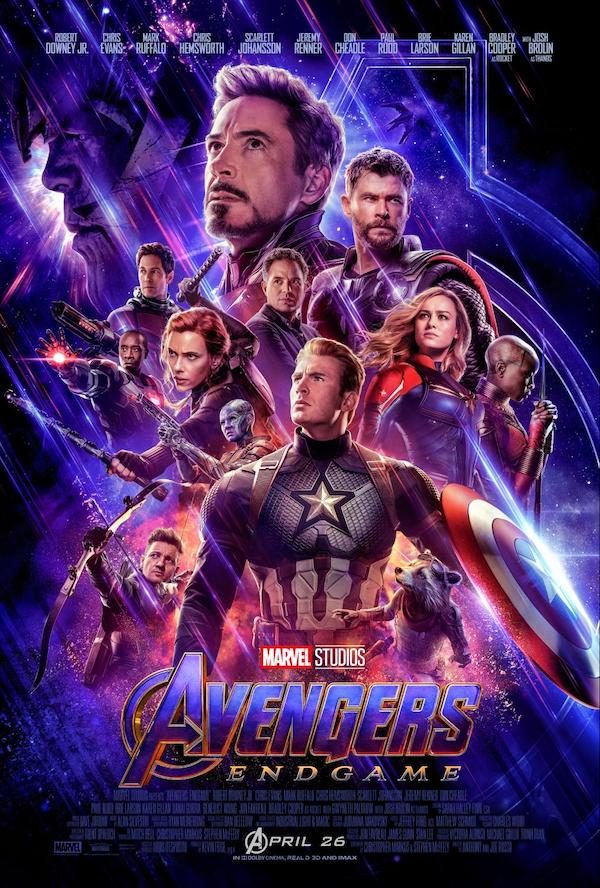 The grave course of events set in motion by Thanos that wiped out half the universe and fractured the Avengers ranks compels the remaining Avengers to take one final stand in Marvel Studios' grand conclusion to twenty-two films, "Avengers: Endgame." Kevin Feige produces "Avengers: Endgame," and Anthony and Joe Russo are the directors. Louis D'Esposito, Victoria Alonso, Michael Grillo, Trinh Tran, Jon Favreau and Stan Lee are the executive producers, and Christopher Markus & Stephen McFeely wrote the screenplay.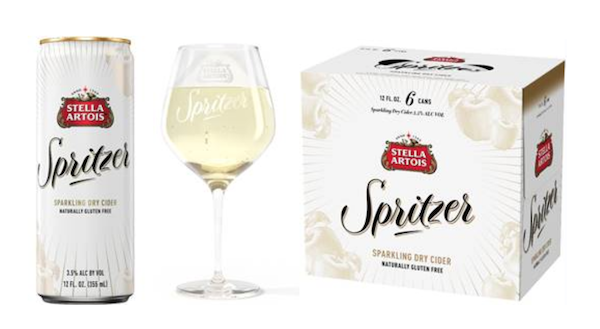 Warmer weather may be a few months away, but Stella Artois is introducing the brand new light, crisp, Stella Artois Spritzer! New to the Stella Artois family, Stella Artois Spritzer is an effervescent dry cider made from a blend of crisp apples and hibiscus flavors. It has a clean, sparkling taste at 3.5% ABV and is now available nationwide. Keep a few of these naturally gluten-free Spritzer cans chilled, or mix them into a cocktail for your guests.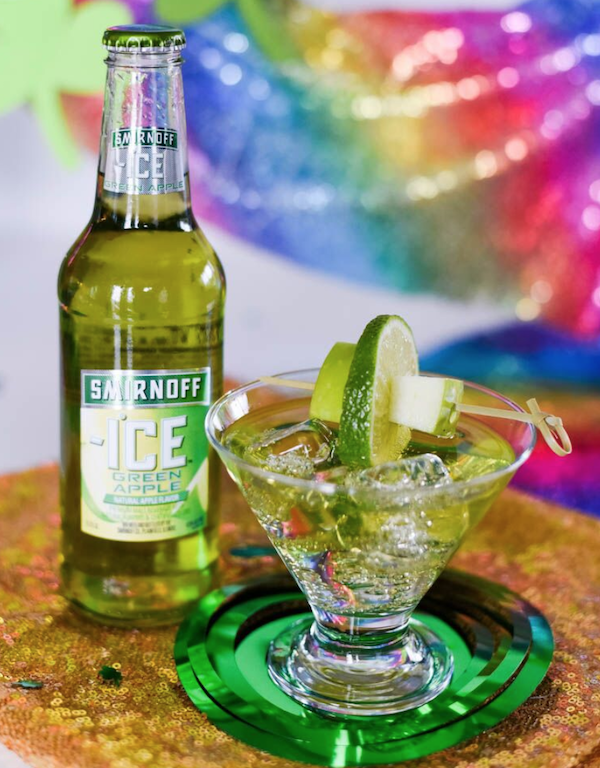 Whether you're Irish for life or Irish for the day, Smirnoff Ice will make sure you and all your guests are feeling lucky. So, put down the beer and bring the fun with these easy, St. Paddy's recipes.
Enjoy a delicious Lucky Leprechaun cocktail that will make you feel like you found a pot of gold. You'll want your drink to be cool, so don't forget to add some Shamrock SMICE Cubes to any of your festive, fun and boozy cocktails to avoid watering down your favorite drink. This will keep your cocktail chilled and ready for the 'gram' – talk about a win-win!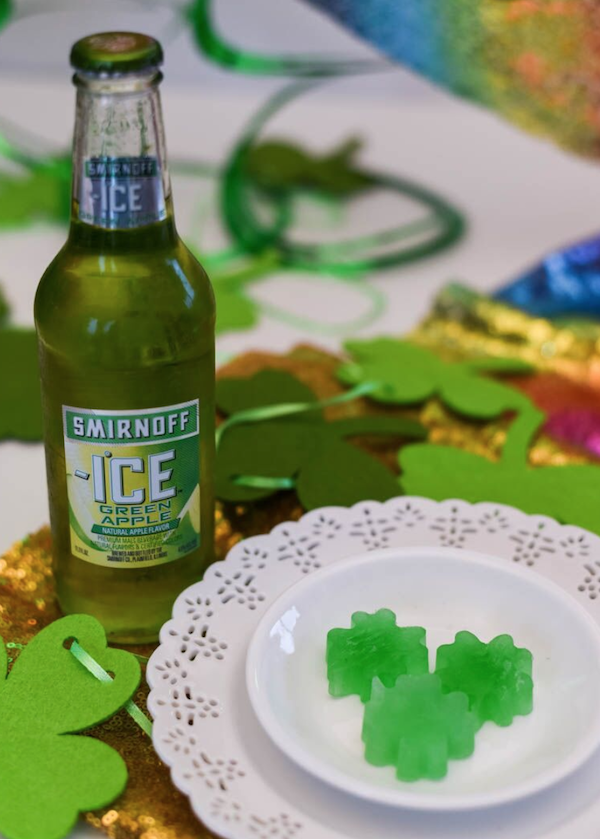 Leprechaun (Makes 4)
Ingredients:
4 oz. Smirnoff Ice Green Apple
4 oz. Smirnoff No. 21 Vodka
4 oz. Ginger Ale
Directions:
In a cocktail shaker, add ice, Smirnoff Ice Green Apple and Smirnoff No. 21
Shake
Strain into a martini glass and top with ginger ale
Enjoy!
Shamrock SMICE Cubes
Ingredients:
1 bottle of Smirnoff Ice Green Apple
4 oz. of water
Green food coloring (optional)
Directions:
Combine Smirnoff Ice and water in a glass.
Stir in one to two drops of green food coloring (optional)
Pour into shamrock shaped ice tray
Add festive ice cube to your favorite St. Patrick's Day cocktail and enjoy!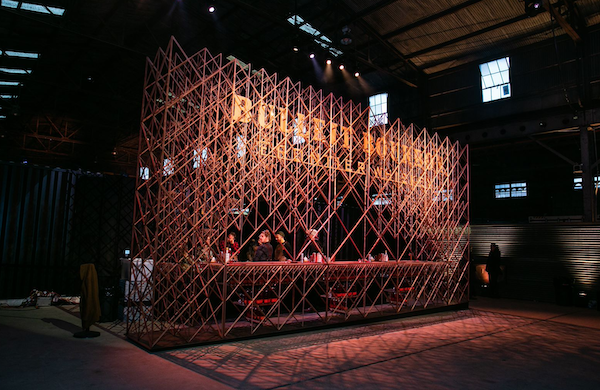 Bulleit Frontier Whiskey celebrated the Austin reveal of its Bulleit 3D Printed Frontier, an event series that unites the latest 3D printing technology with art, design and culture.
At the center of our latest Frontier Works project is a fully-functional 3D printed cocktail bar that is currently touring cultural hotspots across the country. The Bulleit 3D Printed Frontier will stay in Austin through March 4 before continuing its journey to other cities. Its permanent home will be at the soon-to-be-opened Visitor Experience at The Bulleit Distilling Co. in Shelbyville, Ky.
The event featured 3D-printed cocktails, food and music from top Austin creatives, including Walker Lukens, Hard Proof and Chulita Vinyl Club. Robotics pioneer Benjamin Grimeil was also behind the bar to create cocktails with edible 3D-printed designs.
Check out some fun facts about the Bulleit 3D printed bar:
The 3D printed bar was designed by the architecture and design practice FAR, and fabricated by the Machine Histories team
It stands at nearly 30ft long x 15ft high and took more than 2,000 hours of labor to complete, excluding the hundreds of hours invested in design and engineering
The bar was completed in a little over three months, an impressive feat that usually would take years
The one-of-a-kind structure's intricacy was inspired by the iconic Bulleit Bourbon label and its copper color is reminiscent of the award-winning whiskey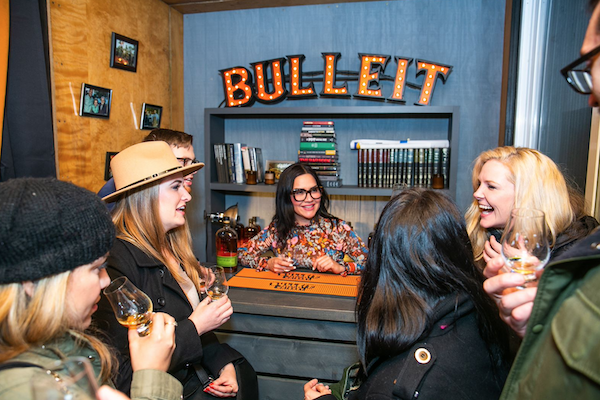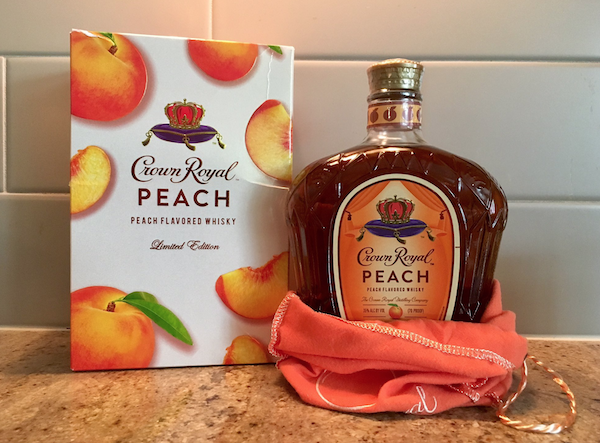 Crown Royal just launched the hottest flavored whisky for spring, perfect for backyard BBQs, brunch at the trendiest rooftop bar in town and hanging with family and friends. Crown Royal Peach features the brand's signature smoothness with the sweet and flavorful taste of the world's finest peaches.
This limited-edition offering will be available nationwide beginning later this month. Enjoy it on the rocks or mixed with iced tea for a peach-perfect cocktail that embraces the upcoming season.
Check out these tasty cocktails with new Crown Royal Peach flavor.
Crown Royal Peach Cocktails
Royal Peach Tea
- 1.5 oz Crown Royal Peach
- 6.0 oz Iced Tea
- 1 Slice of Lemon or Peach
Fill a mason jar with crushed ice. Add Crown Royal Peach and iced tea. Stir gently then garnish with a lemon or peach slice (or both!)
Royal Peach Fizz
- 0.5 oz Crown Royal Peach
- 0.5 oz Orange Juice
- 4.0 oz Champagne
- 1 Mint Sprig
Add Crown Royal Peach and orange juice to a stemless champagne glass. Top with champagne. Garnish with a mint sprig.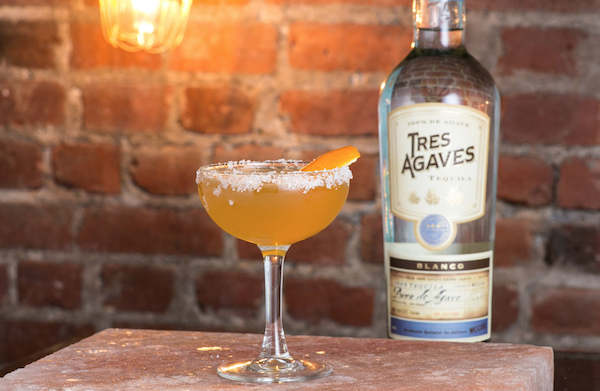 National Margarita Day is tomorrow. Tres Agaves just switched to solely producing ALL organic tequilas in addition to their mixers constructed a brand new state-of the art distillery in Tequila Valley, Mexico and brought on the very first female master distiller apart of a multi-generational tequila family- so there is a lot of exciting things happening for Tres Agaves.
So tomorrow pick up a bottle of Tres Agaves and celebrate the day with these cocktails below.
Feeling Hot, Hot, Hot: Margarita Caliente
Bring the heat with Jalapeño-infused agave syrup, which gives this drink a little extra kick.
1 ½ parts Tres Agaves Reposado Tequila
1 part fresh lime juice
¾ parts Cointreau
¼ part jalapeño infused Tres Agaves agave syrup*
3 dashes Sriracha
Lime wedge for garnish
Combine all ingredients in a cocktail shaker with ice, shake and strain into a rocks or margarita glass over ice, garnish with lime wedge.
*Jalapeño agave syrup:
2 cups Tres Agaves Agave Nectar
1 jalapeño, cut lengthwise, seeds removed (2 if you're feeling bold!)
Over medium heat simmer agave nectar. Add jalapeño and let simmer at least one hour (then rest overnight for maximum flavor), strain through a mesh sieve and store in refrigerator.
Go Big or Go Home: Smokin' Volcano Margarita
For the bartender in you, here is one that's sure to impress your friends.
2 parts Tres Agaves Añejo Tequila
¾ parts fresh lime juice
¼ part smoky simple syrup*
Lava salt and dried red chili pepper for garnish
Shake all ingredients with ice and strain over fresh ice in rocks glass. Garnish rim with lava salt and add dried chili pepper.
*Smoky simple syrup: Pour equal parts sugar and water into a saucepan with one dried chili pepper. Simmer until sugar is dissolved. Remove from heat and let the mixture cool. Remove chili pepper and set syrup aside.
Tres Strawberrita
4 oz Tres Agaves Blanco Tequila
1 tsp Tres Agaves Cocktail Ready Agave Nectar
2 cups frozen strawberries
¼ cup water
3 oz triple sec
2 limes juiced
Salt
Strawberry syrup: Combine frozen strawberries, Agave Nectar and water in a small pot over low to medium heat. Continue to cook on low for about 30 minutes until strawberries have broken down and mixture is thick. Remove from the stove, pour into container and refrigerate until chilled.
Margarita: Add about a third cup of the strawberry syrup to blender. Then add tequila, triple sec, lime juice and ice. Pour mixture into two glasses, rimmed with salt if you like and garnish with a fresh strawberry.
Ginger con Hielo
Tres Agaves Margarita Mix (to fill ice cube tray)
2 parts Tres Agaves Reposado Tequila
¼ parts Triple Sec
Candied Ginger 
For the ice cube, mix together Triple Sec and Margarita Mix. Pour into king ice-cube tray and place piece of candied ginger in liquid. Freeze overnight. For preparing the cocktail, pour two parts of Reposado tequila over