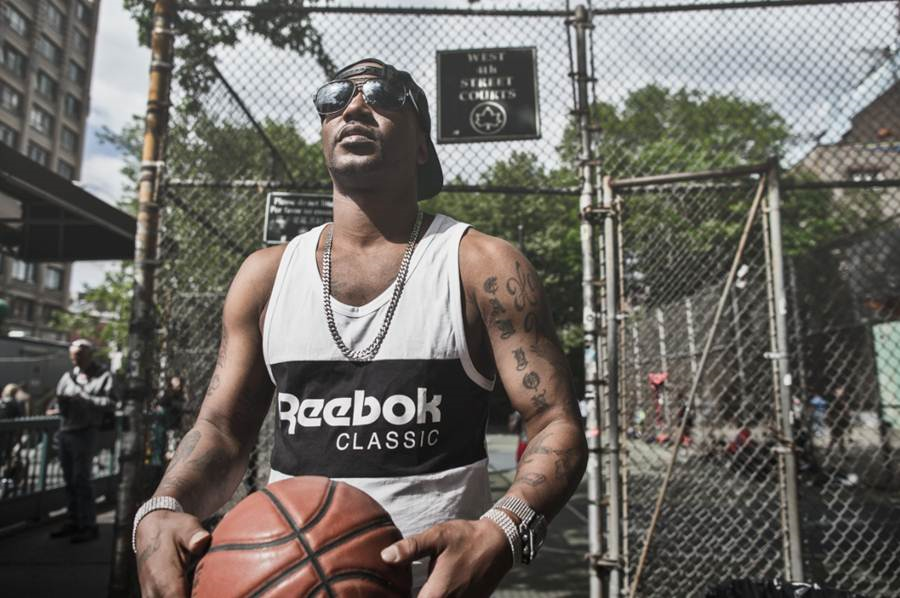 Cam'ron hits the West 4th Street Courts in NYC to ball in the Reebok Blacktop Retaliate. Take your game outside and check it up with the Blacktop Retaliate, the latest performance basketball model from Reebok Basketball.
Built to meet the demands of athletes without compromising style, the Blacktop Retaliate takes inspiration from the incredibly popular Reebok Blacktop collection originally introduced in the 90s.
Reebok Blacktop: on-court technology, off-court style.
The Blacktop Retaliate will hit shelves at key retailers Jimmy Jazz, City Gear, Expressions, Shoe City and Reebok.com for $125 on June 1st.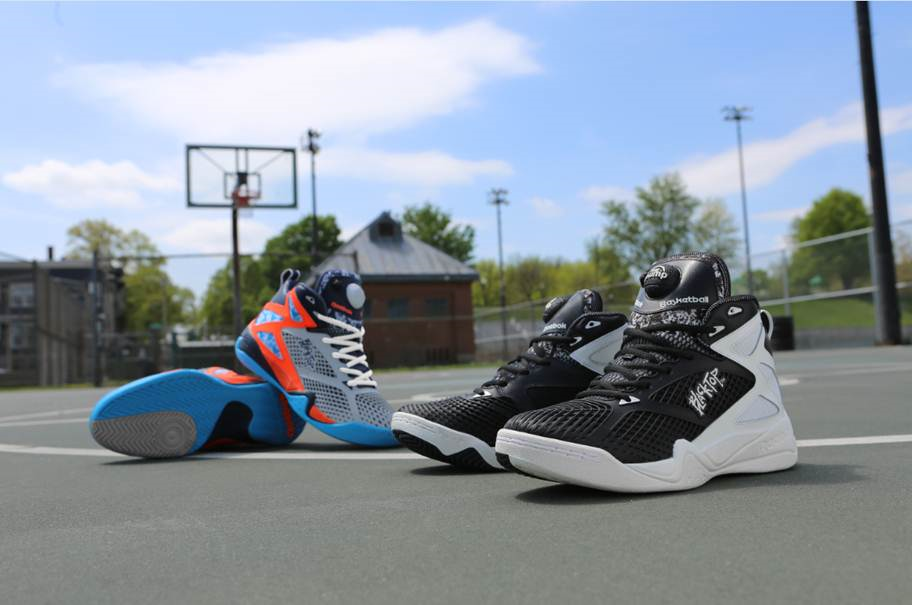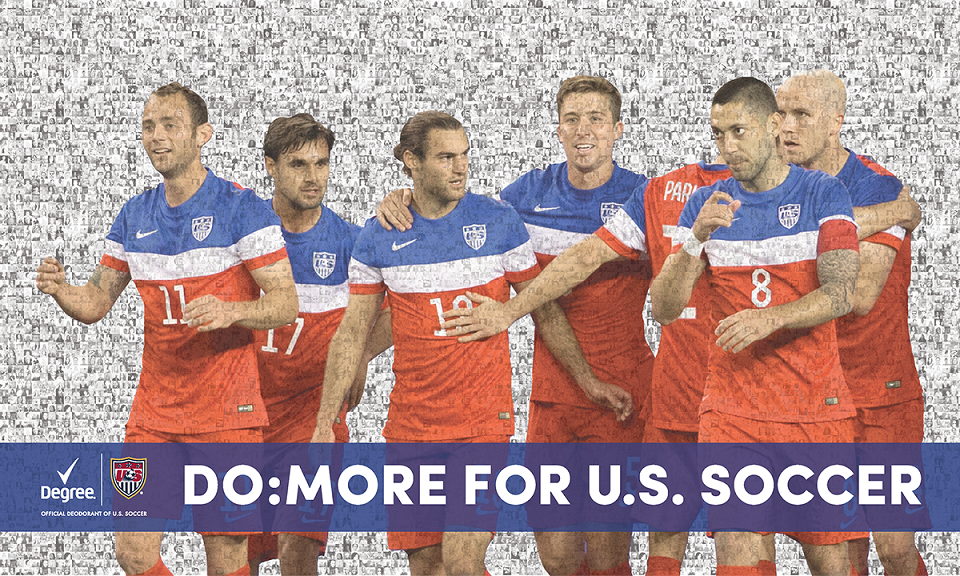 As soccer fever heats up in America and around the world, the official deodorant of U.S. Soccer, Degree Men® teams up with the U.S. Men's National Team to unveil a massive Fan Banner today in New York's Central Park. Measuring 30′ high by 50′ wide, the banner portrays the faces of thousands of U.S. Soccer fans showing their individual support for the team. The patriotic Fan Banner design will follow the team down to Brazil to be displayed at the U.S. Soccer Training Facility in Sao Paulo and fan rallies across the country – providing additional motivation and encouragement for the team to DO:MORE and IMPROVE each match.
Since February, fans have been demonstrating their national pride and support for the U.S. Men's National Team by uploading photos to DegreeSoccer.com. The images were then arranged in a unique red, white and blue photo mosaic design that represents the fans back in the U.S. and features several players from the U.S. Men's National Team with "DO:MORE FOR U.S. SOCCER" prominently displayed. Starting June 12, fans can also interact with the digital version of the Fan Banner at DegreeSoccer.com to search and find their photo within the mosaic design.
"Soccer is growing in popularity here in the states and it's amazing to see the fans' support displayed through the Degree® Fan Banner," said Clint Dempsey, U.S. Men's National Team Captain. "Degree Men® has provided a truly unique way for fans to be a part of the action in Brazil even if they can't physically be there. Seeing the Fan Banner and knowing it represents all of the great support we're getting back at home will definitely motivate the team to DO:MORE throughout the tournament."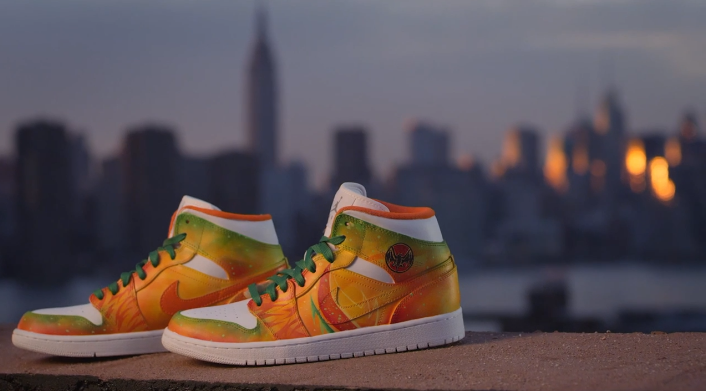 Bacardi has partnered with Mache Customs to create a custom sneaker inspired by the newest flavor in the game, BACARDÍ Mango Fusion.
Mache takes you behind-the-scenes and into the design process by walking through his childhood roots and what drives his inspiration for unique and fresh sneaker style.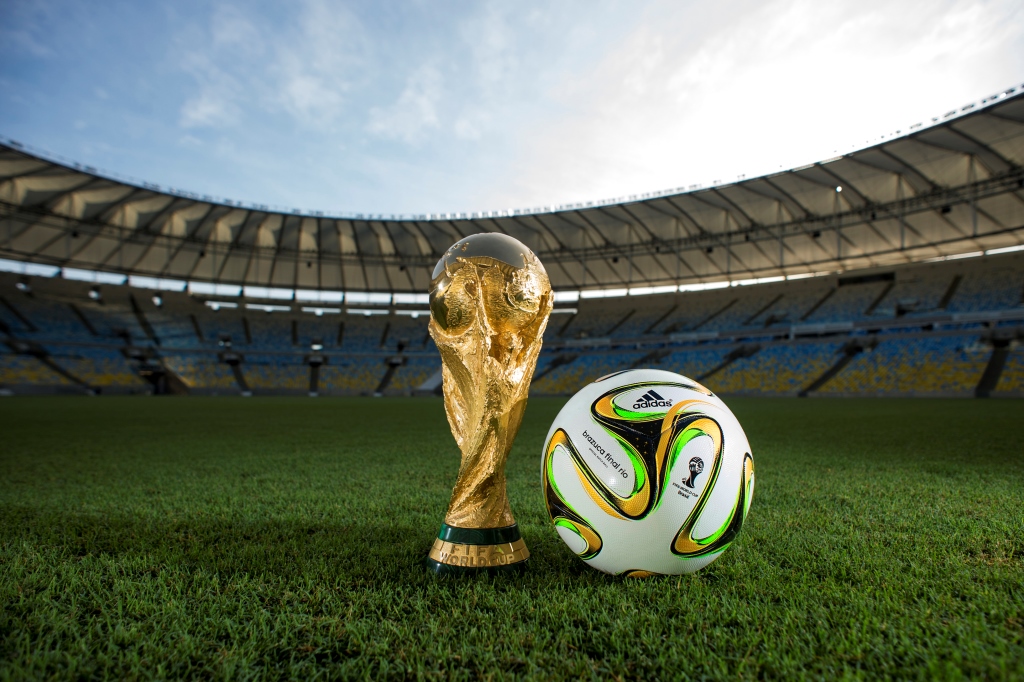 With the 2014 FIFA World Cup kicking off in two weeks, adidas today unveiled the brazuca Final Rio, the official match ball for the championship on July 13 at the Maracana in Rio de Janeiro.
The brazuca Final Rio design mirrors the brazuca official match ball with new green and gold colors inspired by the World Cup trophy.
Prior to the launch of brazuca and brazuca Final Rio, both balls went through a two and a half year testing process involving more than 600 of the world's top players and 30 teams in 10 countries across three continents, making it the most tested ball ever by adidas.
brazuca is a breakthrough innovation featuring a revolutionary six-panel design. Created for every player on the field, the ball features six identical panels alongside a unique surface that will provide improved grip, touch, stability and aerodynamics on the field. brazuca has been thoroughly tested to meet and exceed all FIFA metrics for an official match ball, ensuring top performance for every condition.
The brazuca Final Rio goes on sale June 1 and you can pre-order it now HERE.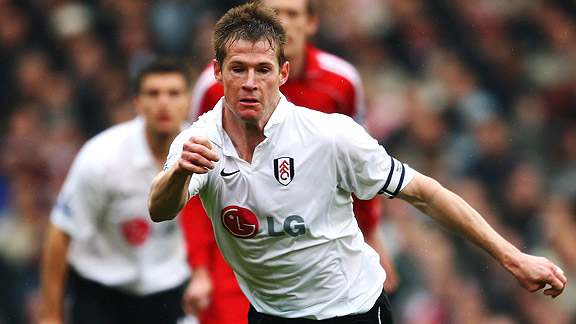 With the World Cup almost here fans all over the globe are getting excited for soccer. Brazil, Germany, Spain, and Argentina are the four countries who seem to be poised to make it far into the tournament. Still as former U.S. Men's National Team and MLS legend, Brian McBride says there is always a surprise team in the World Cup that shocks everyone.
McBride knows this because he played in the World Cup in 1998, 2002, and 2006. From playing for Fulham in Europe to the MLS league in the United State McBride has had an outstanding career. Just this year he got inducted to the U.S. Soccer Hall of Fame.
Now McBride has teamed up with Allstate for the "Good Hands F.C." soccer clinic. They will surprise local soccer teams in a few areas across the country with soccer gear and a coaching clinic run by McBride.
I was able to catch up with Brian to talk about his work with Allstate, the World Cup, and more.
Art Eddy: You are working with Allstate before some of the friendly games that take place before the World Cup. Can you tell me what you are doing with Allstate?
Brian McBride: Yeah. It is two things. I think the first part and the most important and most enjoyable part is that Allstate formed this Good Hands F.C. It is basically this opportunity where I get to go into the community with Allstate and provide a coaching clinic and we hand out some really nice gear. The club that we go to will have new uniforms and new balls. For the most part it is really a great opportunity because these clubs don't usually have the opportunity to have these things.
It is a really special time. During that time I will put on a special clinic and do some teaching, but it is mostly about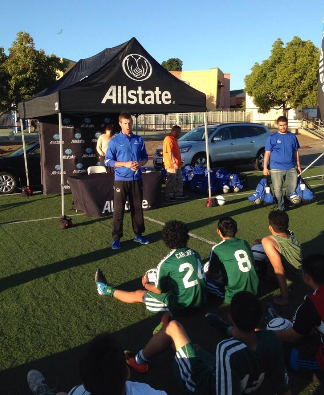 having fun. It is a great few hours.
AE: Sounds pretty cool. What is the best part about surprising these kids at their practices?
BM: There is no end to the joy of seeing their faces light up and them grasping the fact that they are getting new uniforms. They are getting new backpacks and training suits. It is fun watching them take in the training part of it. That is the coaching side of me, but I think the most enjoyable part is seeing their reaction to when they realize what they are getting.
AE: Switching to the World Cup the buzz from Team USA is that Landon Donovan didn't make the cut. What is your take on that? Is the media making too much of the fact that Donovan is not on the team?
BM: No, I don't think you can make too much of it. The nice thing now is that the soccer community is so large and there is so much interest into it now. It was a huge news story. It definitely is something that came as a surprise. It is a big step for Jürgen (Klinsmann). He has shown that he is a bold coach.
For me it wouldn't be a decision that I would take, but you have to look at the past and he has always had the support of the players. Last year people had their questions, but the players showed their commitment to the team and each other and the coach. I hope it doesn't become an issue on the field. It is a big statement to leave off a player that I quite frankly wouldn't have left off.
AE: Who do you feel has the best opportunity to win the World Cup?
BM: For me there are four teams that stand out. There are of course some teams that could pull some surprises, but for me Brazil, Argentina, Germany, and Spain look the strongest. The great thing about a World Cup is usually there is one surprise team. Who will it be? I hope that it is the U.S. That would be awesome, but those four teams I mentioned would be the strongest teams going into this.
AE: What was your favorite World Cup moment as player?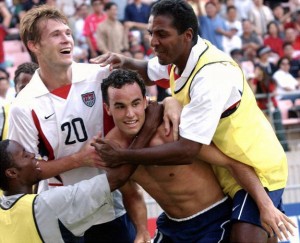 BM: The 2002 World Cup was by far the most memorable and enjoyable period of soccer. We had great results on the field. The team off the field was such a solid group. I was just married. My family was there. My wife and my daughter was there. We were able to spend time together. It was such a perfect situation and scenario.
AE: You were the CONCACAF Gold Cup MVP, Chicago Fire team MVP, and you just got elected into the U.S. Soccer Hall of Fame. Congratulations on that achievement. What stands out the most to you from your great career?
BM: For me I was just so blessed to play the game for so long and to have some great memories. My time in England was just amazing. The chance to get into the fabric of a club like Fulham, be accepted by the fans, and getting a chance to see what soccer is like at the top level were really exciting things. To see a culture that is all about soccer day in and day out and to see fans get excited was great. It is starting to happen here in the states too, but we still have a long way to go.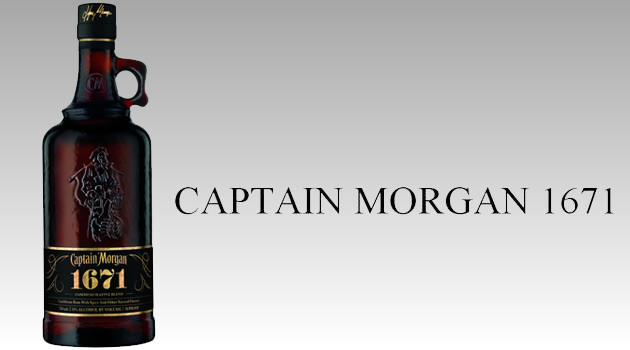 In 1671, Captain Henry Morgan set his sights on Panama City, the richest city in the western hemisphere. Amidst his raid and ultimate capture of Fort San Lorenzo, Morgan lost five ships, including his famed flagship The Satisfaction. What will forever stand as a historic battle in Panamanian history now serves as inspiration for the Captain Morgan Rum Co.'s newest offering – the limited edition Captain Morgan 1671 Commemorative Blend Spiced Rum.
The Captain Morgan 1671 is instilled with a unique blend of spices that provide a luxurious, full-bodied flavor. The distinct spices create a taste of chocolate and dark fruits with hints of vanilla. Finished in Spanish Oak, the commemorative blend contains palatable elements derived from the type of barrels that were believed to have been on board The Satisfaction.
Available only for a limited time, Captain Morgan 1671 Spiced Rum not only celebrates the brand's legacy, but also provides adult consumers with a rare opportunity to enjoy a bold take on the Captain Morgan Rum Co. original blend. The recipient of a gold medal at the 2014 San Francisco World Spirits Competition, Captain Morgan 1671 is packaged in a unique jug designed in a nod to the 17th century.
At 70 proof (35% ABV), Captain Morgan 1671 is available now for a suggested retail price of $19.99 (750 mL bottle). The limited time offering is best enjoyed on the rocks or mixed with cola for a new take on the Captain Morgan brand's signature drink.
This commemorative rum is very smooth. Whether you enjoy it on its own with some ice or in a cocktail you will love the taste. It is perfect for the summer. It is not heavy and there are endless options to mix the Captain Morgan 1671 rum with. If you are using it for a classic rum and coke or a Captain's Colada you can't go wrong. This past weekend I was enjoying the rum with each BBQ I would be at, but I made sure I enjoyed it responsibly.
If you are a fan of Captain Morgan you will be very satisfied with the Captain Morgan 1671 commemorative blend. Like I said earlier though it will be available for only a limited time so don't let the Captain's ship pass you by!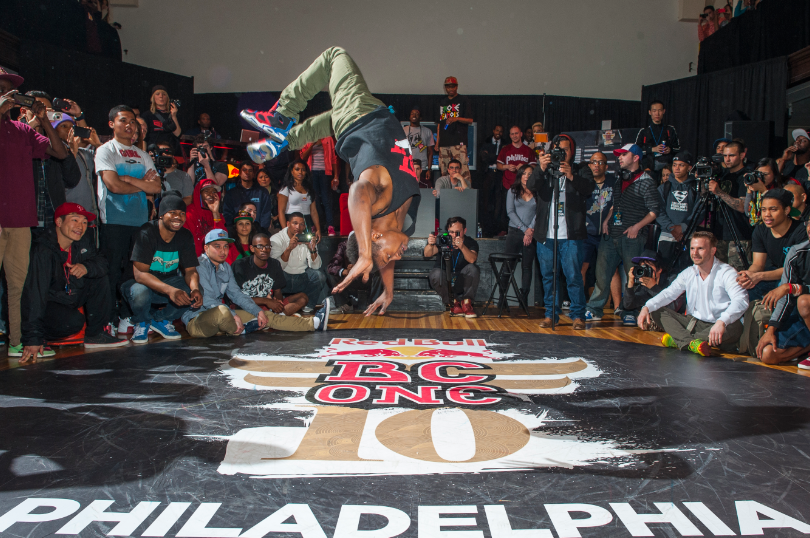 The one and only Tyree Dillihay and Red Bull are presenting the Red Bull BC One cypher in Philadelphia, PA at Skybox this Saturday, May 31st at 3pm.
The Red Bull BC One is one of the longest running B-Boy/breaking competitions in the world.  For the East Coast, U.S. stop of this global competition, the Philadelphia cypher will feature 16 hand-picked B-Boys, representing the best of the best from all over the Northeast, who will compete in intense one-on-one battles to win a spot at the North American Final (August 15, 2014).
To commemorate the host city of Philadelphia, Red Bull worked with Tyree Dillihay to illustrate four of the Philly breakers who will be taking part in the competition on Saturday – Box Won, Mighty Mouse, Napalm and Ookie.
Tyree Dillihay, aka R E E, is a director on the FOX animated sitcom, "Bob's Burgers" by day, and the creator of the popular web comic about sneakerheads called "SN'EADS" by night.  In between time, R E E is a style agnostic "curator of cool" who strives to blend his love of fashion, hip hop, and art collectively in all his creative endeavors.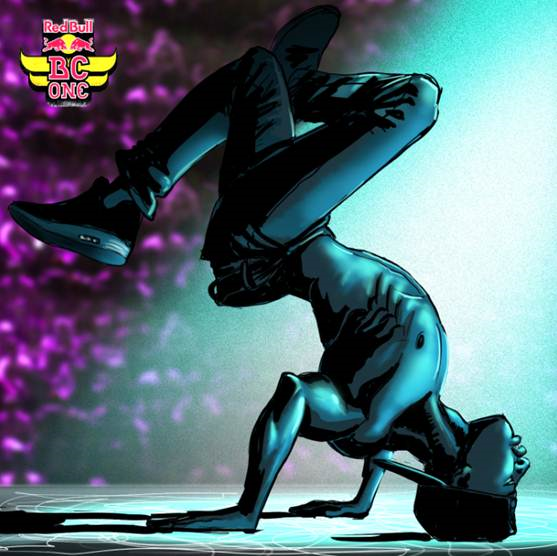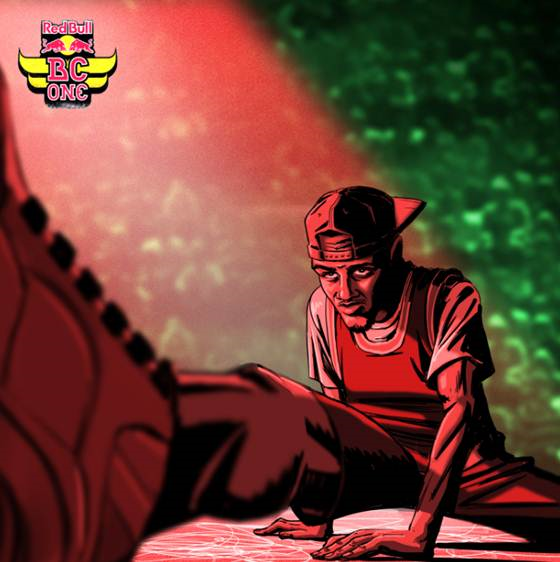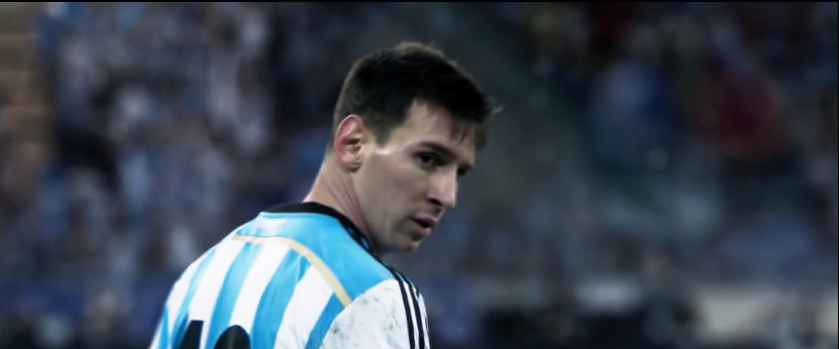 adidas has launched it's All Or Nothing campaign and their latest ad previews a new Kanye West track titled, "God Level."
With the 2014 FIFA World Cup only a month away, the excitement and anticipation for the world's best soccer players to represent their countries is at an all time high. In the commercial titled "The Dream," West raps over visuals of some of the best in soccer giving fans a spirited and competitive show unlike any other.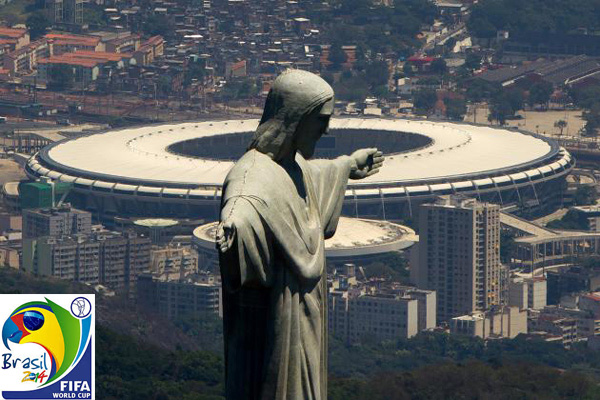 The 2014 FIFA World Cup kicks off Thursday, June 12th. The stage is set for one of the greatest World Cups of all time. Five time World Cup champions Brazil host the event for the first time since 1950. Every nation that has previously won the tournament is going to Brazil. No European nation has ever won a World Cup in South America. Defending champion Spain looks to become the first nation to ever win two World Cups in a row. Columbia and Belgium pose a threat as dark horses seeking their first World Cup win.
Even with protests in the streets over corruption, delayed stadium construction and infrastructure concerns, FIFA anticipates a smoother event than the trainwreck that was the Sochi Winter Olympics. With the next two World Cups controversially given to Russia and Qatar amid accusations and evidence of bribery, this is the World Cup to attend.
Leave your vuvuzela at home. Vuvuzelas are out. Samba drums are in. The atmosphere in Brazil should be the most electric in World Cup history. Samba drums echoing throughout Rio de Janeiro's legendary Maracanã stadium. Brazilian girls dancing in the streets like its Carnivale.
World Cup 2014 – Group A
Brazil
Croatia
Mexico
Cameroon
Brazil are heavy Group A favorites, but Cameroon, Croatia or Mexico all have a chance to get past the group stage. All three suffered inconsistent form during qualifying. How intimidated will these teams be playing Brazil with the crowd firmly behind the hosts? Mexico crumbled against Brazil last year in the Confederations Cup when facing a fired up Brazilian team. If Brazil don't win this group there literally could be riots in the streets.
Brazil
Fifa Rank: 4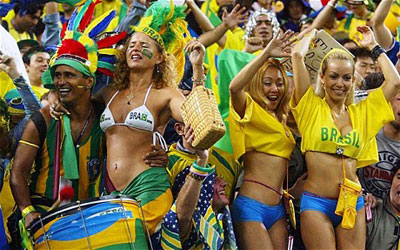 Odds: 3-1
Manager: Luiz Felipe Scolari
Key Players: Thiago Silva, Neymar, Dani Alves, Hulk, Marcelo
Best World Cup Finish: Champions (1958, 1962, 1970, 1994, 2002)
Fun Fact: Brazilian legend "Doctor" Socrates earned a Medical Degree while playing professionally.
Forget the FIFA national rank, Brazil enter this tournament as the betting favorite. Brazil has not lost a home game since 1975. But fans expecting to see Brazil play their traditional Joga Bonita (Beautiful Game) might be in for a surprise. Scolari built this team around a rock solid defense that gives his creative players a platform to excel. Team captain Thiago Silva, widely regarded as the best center defender in the world, anchors the defense. Dani Alves and Marcelo are two of the best fullbacks in the world carrying on a long tradition of powerful, quick Brazilian attacking fullbacks.
When goals are needed, Brazil looks to Neymar. Dubbed heir to the Brazilian goal scoring tradition of Pele, Zico, Romario and Ronaldo, the Barcelona attacker has a huge opportunity. If his performances in last years Confederations Cup win can be repeated, Neymar will play himself into the pantheon of immortal Brazilian legends. Neymar is already 7th on Brazil's all-time goal scoring list at only 22-years-old.
With Scolari choosing to bypass the experience of players like Kaka, Brazil relies on their next generation for creativity. Last year during the Confederations Cup, home crowds visibly boosted Brazil's young team. With talented emerging stars like Oscar and Bernard competing in their first World Cup, the roaring Brazilian fans could make the difference in inspiring this young team to lift a record 6th World Cup Trophy.
Croatia
Fifa Rank: 20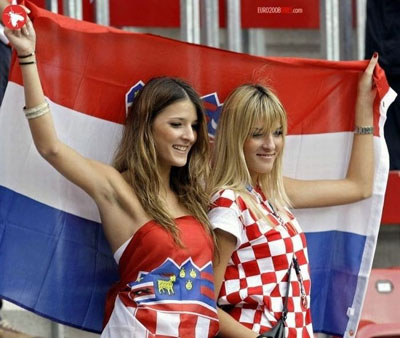 Odds: 175-1
Manager: Niko Kovac
Key Players: Luka Modric, Mario Mandzukic, Darijo Srna, Ivan Rakitic
Best World Cup Finish: 3rd (1998)
Fun Fact: Niko Kovac's only prior experience managing a team is 10 months in charge of Croatia's U-21 squad.
This year's Croatian team hopes to replicate their best ever finish in 1998. Croatia put their fans through an emotional roller coaster during qualification. They switched managers before a playoff with Iceland following a string of poor results. Former Croatian team captain Niko Kovac took over and settled down the dressing room but his credentials are untested at this level.
Croatia fields a balanced team of youth and experience led by playmaker Luka Modric and team captain Darijo Srna. Modric has been one of Real Madrids most consistent players all season. Ivan Rakitic's good form was integral for his club team Sevilla. Talented young players Dejan Lovrens and Mateo Kovacic have impressed at times and could emerge on the international stage.
On paper, Croatia has a deeper and more experienced squad than either Mexico or Cameroon. If players like Modric can replicate their club form, the Vatreni enter as favorites to qualify after Brazil. However, Croatia's striker Mandzukic might be facing a three-match ban which would make him unavailable for the entire group stage. That might leave Croatia toothless in front of goal.
Mexico
Fifa Rank: 19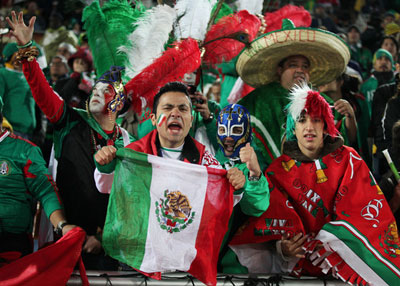 Odds: 125-1
Manager: Miguel Herrera
Key Players: Javier "Chicharito" Hernandez, Giovanni dos Santos, Oribe Peralta
Best World Cup Finish: Quarterfinals (1970, 1986)
Fun Fact: Mexico has suffered more defeats (20) in World Cup matches than any other nation.
This Mexican team exists as an enigma. Usually a shoe-in World Cup competitor, Mexico suffered their worst qualifying campaign since 1990. After a team of European based Mexican stars turned in lackluster performances, charismatic Mexican manager Miguel Herrera replaced his team of foreign based talent with a team almost exclusively of players based in Mexico's home league. This tactic worked as Mexico went on to beat New Zealand in a playoff with a hat-trick from Club America striker Oribe Peralta.
Yet this gives Herrera a dilemma. Does he continue to go with mostly Mexican league based players for the World Cup? Or does he return to the Mexican stars playing in Europe? Both Spain and Germany benefit from many of their players being on the same club and in the same league as that breeds familiarity.
Herrera's provisional squad list includes some of Mexico's European stars like Manchester United based Chicharito but leaves out other foreign based stars. Carlos Vela had a breakthrough year at Real Sociedad but won't be playing in Brazil. If media savvy Herrera's mix of European based players and Mexico based players can come together as a team, Mexico has a chance to advance. If not, El Tri could go home without a point.
Cameroon
Fifa Rank: 50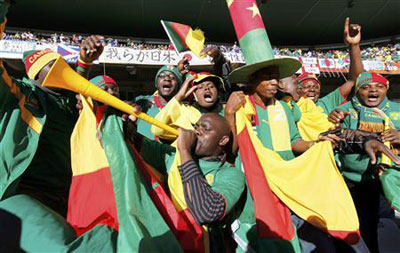 Odds: 1000-1
Manager: Volker Finke
Key Players: Samuel Eto'o, Alex Song, Jean Makoun
Best World Cup Finish: Quarterfinals (1990)
Fun Fact: Cameroon legend Roger Milla is oldest player to ever score a goal at the World Cup at 42 years.
One of Africa's soccer powerhouses, Cameroon has qualified for the World Cup seven times, more than any African nation. At this World Cup Cameroon are distinct underdogs. As the first team mathematically eliminated in the 2010 World Cup, the Indomitable Lions will be hungry to improve upon their results from 2010 but will find that a tough challenge.
Like Mexico and Croatia, Cameroon overcame some scares in qualifying. They were bolstered by Togo using an ineligible player and being awarded points for a match they lost. Their captain, Samuel Eto'o is a legendary player having won the Champions League three times. However, after two years in the weaker Russian league, Eto'o struggled to make an impact this year playing in England at Chelsea. If Eto'o still has enough left in his tank to produce some world class goals, Cameroon has a shot at upsetting Mexico or Croatia.
Cameroon's Volker Finke managed Freiburg in Germany for 16 years, winning plaudits for his tactics at times and being relegated at others. Finke has more club management experience than either Croatia's Kovac or Mexico's Herrera. Cameroon needs Finke's tactical expertise to shine at the international level for them to have a chance at making it past Mexico and Croatia.
Group A Match Schedule
June 12
Brazil v Croatia, 12:30 PM (Pacific)
June 13
Mexico v Cameroon, 8:30 AM (Pacific)
June 17
Brazil v Mexico, 11:30 AM (Pacific)
June 18
Cameroon v Croatia, 2:30 PM (Pacific)
June 23
Cameroon v Brazil, 12:30 PM (Pacific)
Croatia v Mexico, 12:30 PM (Pacific)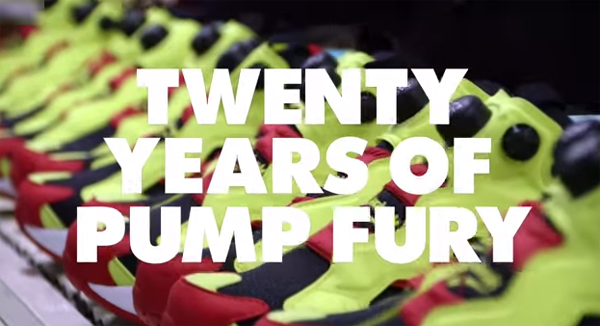 To celebrate the 20th anniversary of the Instapump Fury, Reebok has partnered with Sneaker Freaker magazine to produce a short film that shines a light on one of the most intriguing and polarizing footwear designs of all time.
Our story starts in Fuzhou, China, where the Instapump Fury is currently being produced. As the striking citron yellow, red and black componentry passes through the production process, it seems incongruous that this sci-fi masterpiece is now two decades old.
The film reunites two veterans of the sneaker industry who revel some of the frustrations and challenges they faced turning the complex Instapump Fury design into a legitimate performance runner.
Steven Smith penned the first sketch of the Pump Fury in his notebook. A renowned free-thinker, Smith is still highly passionate about his time working on the Instapump Fury. As he recalls of the era, "It was a no-holds barred street fight between the companies on who could come up with the most radical product!"
Shot by Alister Robbie from The Post Project, the film was directed by Sneaker Freaker magazine founder and editor, Simon 'Woody' Wood. With more than a decade covering the sneaker industry from his base in Melbourne, Australia, Wood relished the chance to soak up the factory experience.
A feature article in Issue 30 of Sneaker Freaker was accompanied by Wood's report from Fuzhou. "In more than a decade of covering the sneaker industry, this was my first 'official' factory visit with a big-time brand. To their immense credit, Reebok were very, very cool. There was no ulterior motive or red carpet roll-out – this was purely business as usual – real sneakers being made by real people in a real factory. Who could say no to an offer like that?"