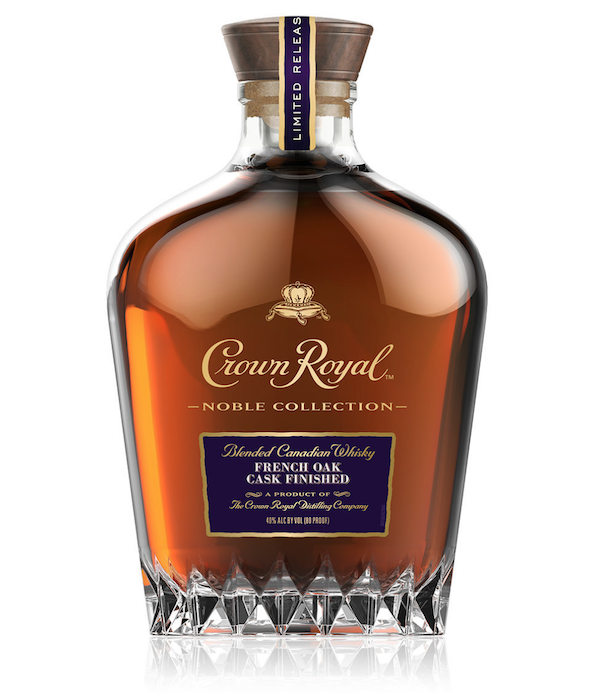 The fourth release in Crown Royal's award-winning Noble Collection, this limited-edition expression combines the smoothness of Crown Royal Deluxe with rich dark notes of caramel, vanilla and fruit along with a body and structure that can only be achieved through French Oak. Sip neat or on the rocks to experience the captivating character that only French oak can have on our signature blend. Crown Royal Noble Collection French Oak Cask Finished is now available in select markets nationwide.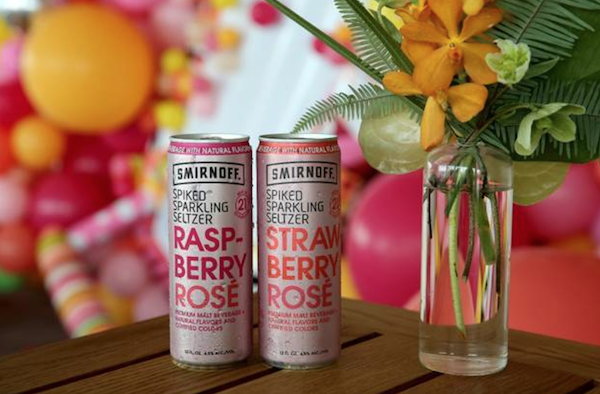 Nothing beats a warm summer day with your special someone and an ice-cold can of Rosè to help beat the heat. National Rosè Day is quickly approaching and with Smirnoff's 4 different Rosè flavors, we have just the 0 sugar beverage for you. Even if you don't normally reach for the Rosè, why not join in on the holiday fun?
Smirnoff Seltzer offers a delicious, refreshing-tasting Rosè without the hassle (or extra calories) and you don't even need a wine opener! Smirnoff Seltzer recently launched the new Four Ways to Rosè variety pack which features twelve cans of the most delicious Rosè flavors including brand new White Peach Rosè, Strawberry Rosè, Pink Apple Rosè and the fan favorite from last summer, Raspberry Rosè.  The perfect fit for everyone, Smirnoff Seltzer's new Rosè flavors are 90 calories and ZERO SUGAR—no need to use a cheat day to enjoy!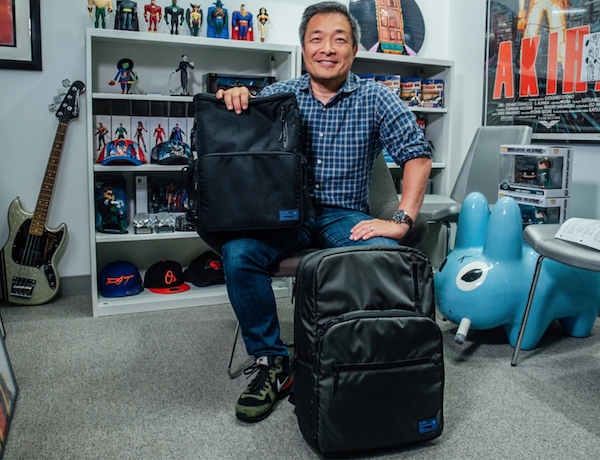 The HEX x Jim Lee Artist Backpack was created to allow artists like Jim to carry both art supplies and an art portfolio around safely. The HEX x Jim Lee Comic Collector Backpack was designed specifically for comic convention goers to safely store new and rare comics while traveling.
The Artist Backpack features a removable 11" x 17" portfolio, an art supply organizer including a waterproof section to hold ink and paint, a fleece lined laptop pocket and a padded tablet pocket. The outside of the backpack features a phone and passport pocket and a versatile a mesh side pocket.
While this backpack is focused on functionality, it also carries the unmistakable design signature of Jim Lee. There is a Jim Lee luggage tag and the lining features a subtle nod to Jim Lee's Batman with an electric blue original Batman sketch.
Jim Lee explained that, "the aim was to provide a subtle call out to the origins of the bag without it becoming a Batman bag."
The HEX x Jim Lee Collectors Backpack has been created for comic book collectors as a way to safely transport comics. Comic convention goers routinely carry hundreds if not thousands of dollars of comics around in flimsy bags. This backpack provides secure and safe storage for comic book enthusiasts.
Inside the top of the backpack is a file folder with individual sleeves so that multiple bagged and boarded or slab comics can be held securely. Additionally, there's a fleece lined laptop section. It's even possible to lock the top of the files for extra security. There is an easy access pocket that is the exact size of the Overstreet Price Guide. Plus, there's an expandable mesh pocket on each side to carry poster tubes.
The Collectors Backpack features the same custom Batman lining as the Artists Backpack. There is also a Special Edition version of the Collectors Backpack that extends the Batman artwork to the external pocket. Other unique features include "Batarang" zipper tags.


World Environment Day was yesterday and Budwieser is signing a 5-billion year contract – the world's longest – with the sun. The terms of the contract are that as long as the sun is shining Anheuser-Busch will be committed to using renewable electricity from solar power. More below:
Anheuser-Busch's domestic beers – including Bud Light, Golden Road, Michelob ULTRA, Busch and more – will soon be brewed with renewable electricity from solar power. Through a partnership with Recurrent Energy, Anheuser-Busch will be getting 50% of its renewable electricity from a new, colossal Pecos County, TX 2,000 acre solar energy facility (the size of 1,500 football fields) that is being specifically developed for the brewer.
The official contract signing is taking place at a brewery in Fairfield, CA where Anheuser-Busch CEO Michel Doukeris will be using heliography, a technique that uses mirrors and lenses to focus the sun's powerful rays, to sign the contract using the power of the sun. The life-sized 5-billion year contract with the sun has been created by California-based solar artist Michael Papadakis.
The launch of this new solar energy facility will enable Anheuser-Busch to meet its goal of brewing with 100 percent renewable electricity* by 2021 in the U.S. – four years earlier than expected.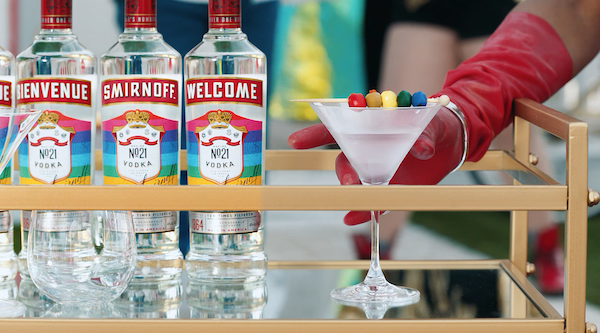 The world's No. 1 vodka and longstanding ally to the LGBTQIA+ community, Smirnoff Vodka announced the launch of its "Welcome Home" campaign to roll out the welcome mat for the millions of global LGBTQIA+ community and allies expected to travel New York for Pride celebrations later this month.
For Smirnoff, inclusivity and pushing for LGBTQIA+ equality is part of our brand's DNA, and the brand is proud to have been a supporter of theLGBTQIA+ community for nearly half a century. Because of this, LGBTQIA+ representation in our marketing efforts is something that we do year-round as evidenced through our yearlong partnerships with Jonathan Van Ness, Laverne Cox and Alyssa Edwards.
The Smirnoff "Welcome Home" campaign is multifaceted and will come to life through not one – but two – limited-edition Smirnoff No. 21 vodka Pride bottles. The Smirnoff "Love Wins" bottles were launched in June 2017 and feature an iridescent rainbow aesthetic and photographs of real couples and real love. For every bottle made, Smirnoff has pledged to donate $1 to HRC totaling nearly $1.5 million by 2021. These bottles are available for retail purchase nationally.


MTN DEW today launched the DEWnited States limited-edition bottle series, all inspired by the pride DEW fans have in their home-state. The 50-bottle collection, featured on all specially-marked Original MTN DEW and Diet MTN DEW, will showcase a unique piece of artwork specific the state it represents – such as the Brooklyn Bridge in New York or the Bean sculpture in Chicago.
Liberty Brew: alongside the DEWnited States series, MTN DEW is also unveiling Liberty Brew - a blend of 50 different signature flavors combined to make one truly unique DEW. Collectible DEWnited States bottles: Original MTN DEW, Diet MTN DEW and MTN DEW Liberty Brew bottles will be available at retail stores nationwide only for a limited time this summer.
You can win $100 by collecting all 50 specially-marked DEWnited States products and visiting dewnited.com. There are also DEWnited Snapchat filters, a locally-relevant augmented reality experience with Walmart that will bring the labels to life and Dollar General customized DEWnited gear.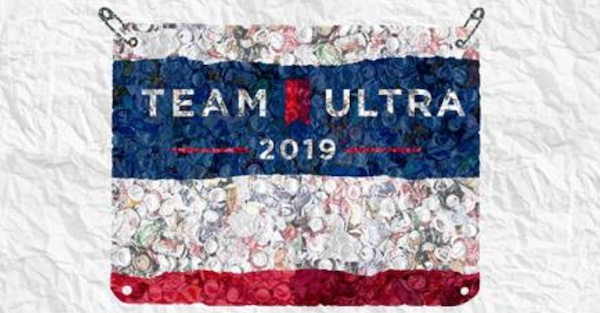 With both Global Running Day and World Environment Day falling this week on June 5th, thought you'd be interested to know that Michelob ULTRA is bringing back Team ULTRA at the NYC Marathon for the third year, but with a twist. To earn one of the coveted 95 Team ULTRA bibs, runners will have to demonstrate their passion for the environment by showing how they incorporate plogging into their fitness routine to help make the environment a better place.
2019 entry opens today! Fans who wish to participate can learn how to submit their entry at https://www.michelobultra.com/teamultra.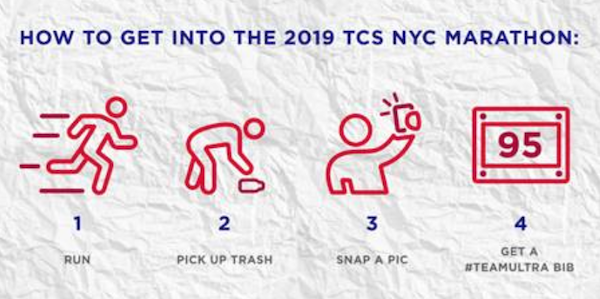 If you're not yet familiar with plogging, it's a fitness trend that originated in Sweden and combines jogging with picking up litter. By making plogging the ticket to entry for this year's Team ULTRA, runners will do good for the environment while doing good for themselves.
Michelob ULTRA has also partnered with Keep America Beautiful, a leading national nonprofit that inspires and educates people to take action to improve and beautify their communities. Keep America Beautiful is also a major champion of plogging in the U.S.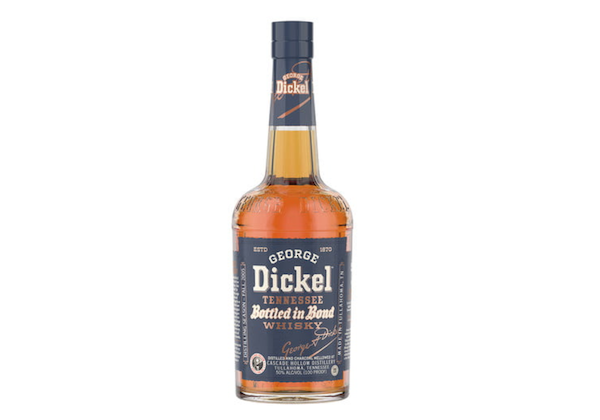 George Dickel is entering the Bottled in Bond category with the brand's latest limited release - George Dickel Bottled in Bond Tennessee Whisky - that's not only a high quality whisky but a great buy (as it's available for a MSRP of $35.99 for a 750ML bottle) for whisky lovers.
What makes this whisky so special? Well, to start off it's the first new whisky innovation led by Cascade Hollow Distilling Co. General Manager and Distiller, Nicole Austin since she came onboard a year ago. It's also a Bottled in Bond Whisky, and as you may know, the Bottled in Bond Act of 1897 was enacted in order to help guarantee a spirit's authenticity and level of quality. In today's world where consumers are craving more and more transparency, Bottled in Bond spirits are starting to make a resurgence.
To be labeled as Bottled in Bond, a spirit must be aged and bottled according to a special set of regulations from the U.S. Government that includes:
Be the product of one distillation season by one distillery (George Dickel Bottled in Bond has been distilled by Cascade Hollow Distilling Co. at Cascade Hollow Distillery, DSP-TN-2, during the fall season of 2005)
Be stored in oak containers a federally bonded warehouse under U.S. government supervision (George Dickel Bottled in Bond was stored at Cascade Hollow Distillery in Tullahoma, TN) for at least four years (13 years old)
Be bottled at 100 proof (50% ABV) and reduced in proof only by the addition of water to not less than 100 proof
At 100 proof (50% ABV), George Dickel's Bottled in Bond offers a bold and balanced profile highlighted by tastes of light honey, tropical fruit, warm spices, and a touch of leather. This batch comes from barrels that were maturing since Fall 2005, and while the 13-year-old whisky will made its debut at Cascade Hollow Distilling Co. earlier this month and rolling out to shelves nationwide now that hasn't stopped it from already winning awards. In fact, George Dickel Bottled in Bond took home Gold at the San Francisco World Spirits Competition and racked up a score of 95 (on a scale of 100), earning the designation of "Best Buy" from Wine Enthusiast Magazine. This whisky can be enjoyed neat or on the rocks in addition to being well-suited for many of your favorite cocktails.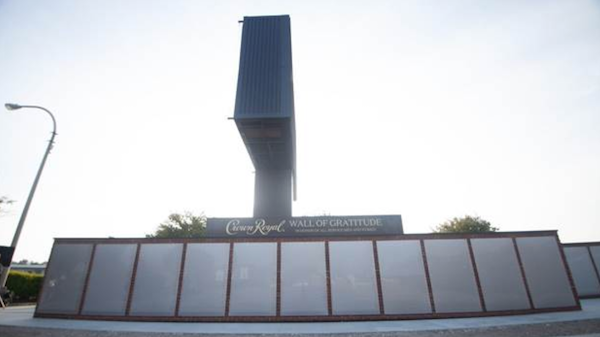 As part of a near decade-long support for military service members, Crown Royal has honored servicemen and women at Indianapolis Motor Speedway for the last two years. In support of The Crown Royal Purple Bag Project, the brand's largest generosity commitment to-date, yesterday morning they unveiled the new Crown Royal Wall of Gratitude, a structure honoring more than 50,000 military members and their service to our country, alongside 2016 Indy 500 winner Alexander Rossi and the Crown Royal Director of Whisky Engagement, Stephen Wilson.
"I think the Wall of Gratitude is such a perfect name for what is behind us because without the men and women who have fought for this country and made the ultimate sacrifice to give us the opportunity to follow our dreams and do what we love is really astounding. This is such a wonderful memory to see how far its come since our first press conference in Long Beach when myself, Marco and Michael put our first gold plaques on the temporary wall, and to see what it is now in this beautiful setting is really something I'm proud to be a part of." – Alexander Rossi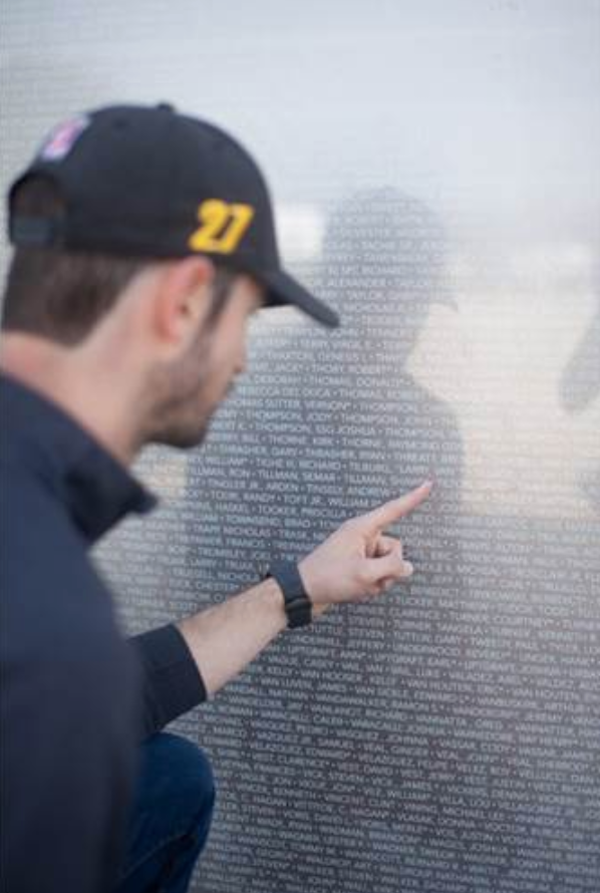 Over the past two years, racing fans across the nation submitted more than 50,000 military heroes for the Crown Royal Wall of Gratitude. Since then, the brand has been working with Indianapolis Motor Speedway to create a new home for this year's Wall of Gratitude where consumers 21+ can visit and find the military member's name they submitted.
Crown Royal, The Official Whisky Sponsor of the Indy 500, will also have a consumer activation space during Armed Forces Weekend where consumers 21+ can:
·         Help Crown Royal Fill the Wall – Consumers can visit the Crown Royal Wall of Gratitude and share additional names of military service members, past and present, who they'd like to honor and help to fill the remaining spaces.
·         Pack a Purple Bag – The Crown Royal Purple Bag Project will have a bag packing station in the fan midway where attendees can pack iconic Crown Royal purple bags with essentials to be shipped overseas to men and women currently serving in our armed forces. All bags packed will be counted towards Crown Royal's goal of 1 million bags by 2020.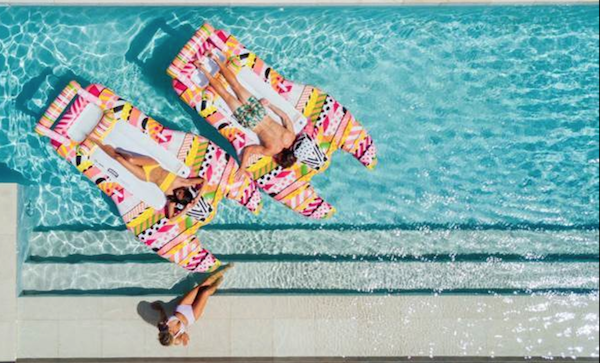 It's time for warm weather, beach trips and plenty of fun in the sun – which means its pool float season! Step aside swan floats, Smirnoff Seltzerand FUNBOY teamed up with muralist Jason Woodside to bring you the must-have float of this pool party season, and it's even more colorful and epic than you could imagine.
The new, first-of-its-kind hydroplane float (structure created by FUNBOY with art by Jason Woodside) uses colors directly from Smirnoff Seltzer's full line of products, including the brand-new flavors Pina Colada, Pink Apple Rosé, White Peach Rosé and Strawberry Rosé. You can now purchase the Smirnoff Seltzer x FUNBOY hydroplane float HERE for $99.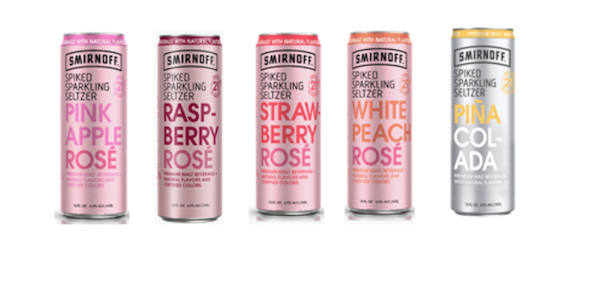 The float design falls in-line with Jason's style of work as vivid colors and contrasting geometric patterns and shapes collide to create a playful yet cohesive design. Jason's large scale, exterior works can be found in cities around the world including Sydney, Madrid, London, Paris, Los Angeles and New York.
The net profits from float sales will support Smirnoff Seltzer's new Fun Fund, which will literally fund fun for some lucky consumers (21+) throughout the summer. Smirnoff Seltzer will be rolling out more details on how to enter on the brand Instagram page (@SmirnoffUS).