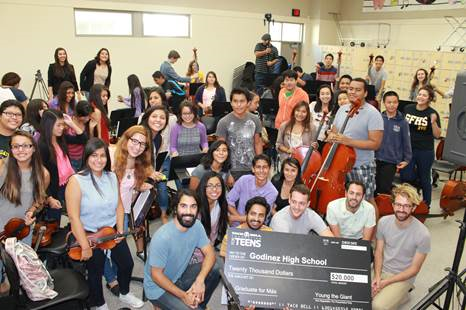 On Monday, October 6, Godinez High School music class in Santa Ana got the surprise of a lifetime when Irvine-based band, Young the Giant (toured with Kings of Leon) came by to make an appearance and join in on a special jam session with the students. And it's all for a good cause – Taco Bell Foundation for Teens (partner of Young the Giant) will be making a $20,000 donation to the school in the band's name!
Once class commenced, the students started practicing the song, as usual. About five minutes into class, the band made their secret entrance and joined right in, harmonizing with the students without skipping a beat. The students got the experience of a lifetime, but the band felt even more rewarded by seeing their reactions. The day was packed with music, inspiration and happy faces!
Young the Giant was so touched and inspired by the students (many who have overcome serious struggles and remain upbeat and on track every single day), they chocked up on several occasions.
Taco Bell Foundation for Teens and celebrity ambassadors Young the Giant are bringing inspiration to high school students to empower them to achieve más. The Foundation is committed to inspiring and enabling America's teens to graduate and accomplish great things through its programs, partnerships, and direct financial assistance. As part of its commitment, we have partnered with celebrity ambassadors like Young the Giant to help reach students and inspire them in new ways.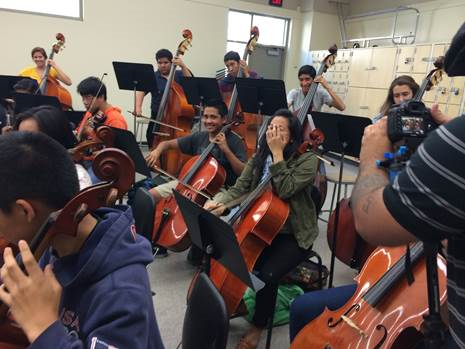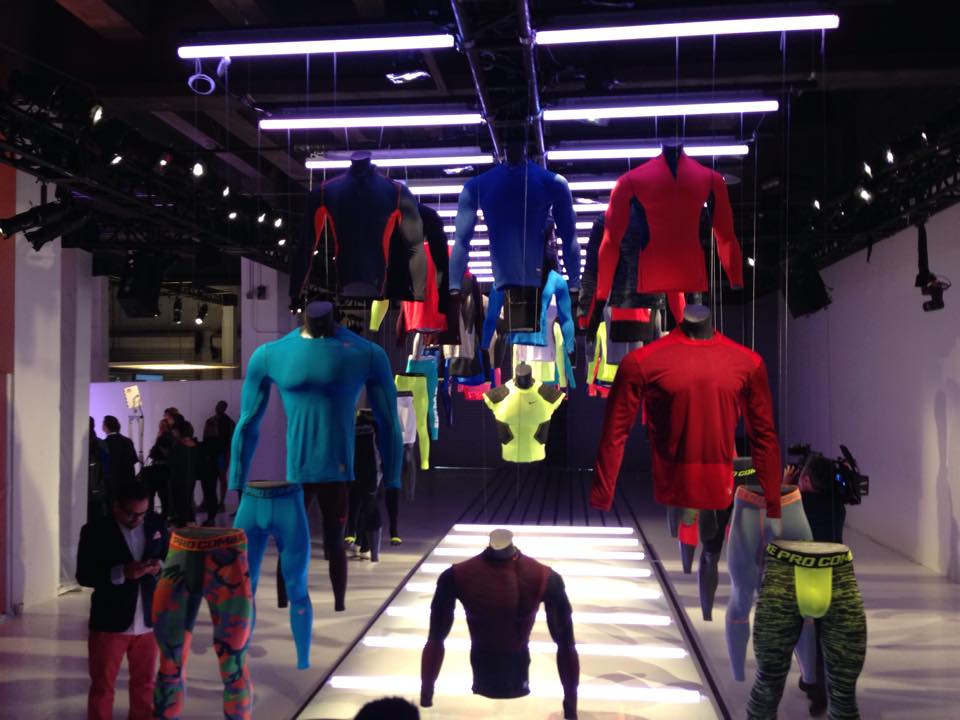 This week I was invited to go back to school. Now some might cringe to think about going back to school, but this was a very cool campus. It was Nike's Hyperschool. The curriculum was taught by Nike's finest tech guys and gals. There was even a surprise guest, who shared his thoughts on why he loves playing in Nike gear. It was Atlanta Falcons running back, Steven Jackson. Here is a fun fact. Did you know that Steven was an intern at Nike? Well believe it or not he was.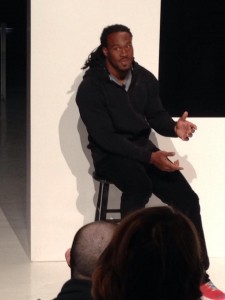 And like Steven Jackson many athletes not only wear Nike sneakers, but the clothing from Nike. The technology and research that goes into Nike's sneakers and clothing is tremendous. Parker Mangum is the Product Lead for Nike Pro Combat. I spoke with him about the development of the clothing and how they talk with athletes to improve their gear. Usually it is about a two to three year process from the initial talks to the finished product.
The Hyperschool went over a few items from their Nike Pro Hyperstrong, Nike Pro Combat Baselayer, and Hyperwarm Flex lines.
Over the past two years, Nike partnered with Stats, Inc. for an unprecedented analysis and look inside football's significant uptick in pace and contact across all levels of the game. Using a proprietary database, historical play frequencies and balance charts were created to help analyze how the game is changing. In addition, countless hours of game film were used to quantify and specify contact – both in frequency and location.
Stats, Inc looked at a cross section of NCAA teams over the course of the 2012 and 2013 seasons, as well as six areas of an athlete's body: shoulder, chest, hip, knee, thigh and back.
Over the years athletes have said that they want lightweight padding that isn't distracting – without sacrificing speed or performance. Pads have gone from "big and bulky" to "fast and flexible," just like the athletes. Originally launched in 2009, Nike Pro Combat Hyperstrong is ergonomically designed to provide sport-specific protection to athletes without restricting flexibility or speed. Today, Nike has re-engineered its Nike Pro Combat HyperStrong collection to be stronger, more breathable, and 30 percent lighter than before. Hyperstrong is designed to integrate seamlessly into the football uniform as a lightweight extension of the body.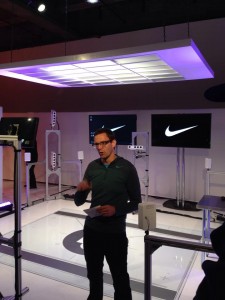 Here is a breakdown of some their products.
•The Nike Pro Combat Hyperwarm Flex Tight is engineered for warmth and moisture-wicking. Dri-FIT pods are strategically placed for zoned warmth where you need it most. Breathability-variant mesh areas provide strategic ventilation for optimal thermoregulation. Seamless knit construction adds mobility and flexibility while also eliminating distraction in cold-weather conditions.
•The Nike Pro Combat Hyperwarm Dri-Fit Max Shield Fitted Mock keeps out rain and wind through a stretch-woven overlay in the chest and sleeves.  Dri-Fit Max fabric wicks sweat for comfort in the cold.  Mesh back pods increase airflow to keep you cool.
•The Nike Pro Combat Hyperwarm Dri-Fit Max Mock implements a Dri-FIT Max twill interior to accelerate the pull of moisture away from the skin's surface, keeping the body dry and eliminating the chilling effect. Side mesh gussets allow for extra breathability and full range of motion, while lightweight jersey panels help reduce bulk and lock in warmth.
•The Nike Pro Combat Hyperstrong 3.0 Compression 4-Pad Top and ¾ Pant is part of Nike's sport-specific range that includes strategically placed padding for impact protection. With newly-designed, ultra-flexible 7mm DeTech foam padding at the shoulders and ribs, it provides maximum protection and less bulk than its predecessor.  Dri-FIT fabric wicks away sweat as four-way stretch material provides enhanced range of motion and optimal breathability when the action heats up.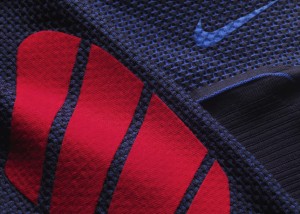 •The Nike Pro Combat Hypercool Fitted Sleeveless 3.0 Top features open-mesh zones for ventilation and Dri-Fit fabric to help keep athletes dry and comfortable.  Warp-knit material in the back creates tear-resistant durability.
•The Nike Pro Combat Recovery Hypertight is designed to be worn during active recovery, in between competition. The graduated compressive design strategically targets different zones of the leg at different pressures to reduce muscle swelling — firmest at the ankle where swelling can be the most severe. Foot stirrups are integrated for a secure fit. Dri-FIT material assists in keeping athletes warm and dry.
Nike designers, researchers and developers start with athlete insights in order to determine their needs. From there, they unlock these athlete insights in the Nike Explore Team Sport Research Lab by looking at athlete performance data. These insights help inform next steps in apparel innovation such as materials testing, fit and flexibility analysis, and more, in order to help designers create the best apparel to protect and prepare athletes for any condition.
To that end, Nike Pro Combat baselayer apparel keeps the body regulated for inclement weather through thermoregulation, breathability and a body-contoured streamlined fit. Nike Pro Combat Hyperwarm and Hypercool apparel provide an optimal fit with added mesh in high-heat zones for ventilation and comfort.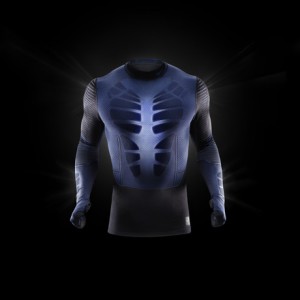 To dive a little deeper and better understand extreme weather conditions, Nike took a look at the traditional NFL "strength of schedule" from a very different perspective – the weather.
Although every team will face their share of formidable contenders this season, athletes will also compete with their external environment – extreme cold and heat, snow, rain and wind. As such, if extreme weather is considered, it requires a different level of protection and preparation – both in training and when it comes to baselayer. To that end, Nike explored the previous 10 years of Farmer's Almanac weather data as well as the 2014 temperature predictions for every NFL game and team this season.
Leading into the 2014-2015 NFL season, it was predicted that the Oakland Raiders would have the toughest strength of schedule, while the Indianapolis Colts were perceived to have the easiest. But when looking at the schedule only through the lens of "predicted weather and temperature" it's a very different story. The Green Bay Packers have the most extreme cold weather predictions, Seattle Seahawks have the mildest schedule, and the Miami Dolphins have the hottest.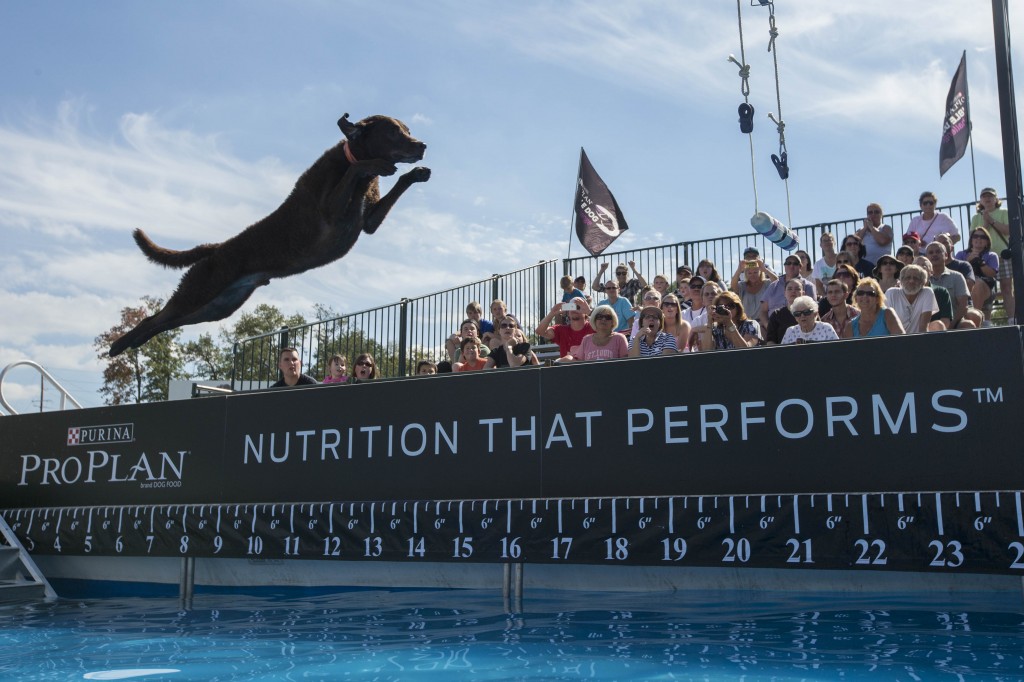 Ever wanted to feel what it be like to be man's best friend? Well with the help of a GoPro camera, Purina did just that. The top dogs in the world of canine sports descended on Purina Farms this weekend for the 17th Annual Purina Pro Plan Incredible Dog Challenge National Finals.
This one-of-a-kind competition features a lineup of six canine athletic events testing strength, speed and physical endurance, including Large and Small Dog Agility, Diving Dog, Freestyle Flying Disc, head-to-head Weave-Pole Races, Jack Russell Hurdle Racing and Fetch It, a variation of a long jump. Top competitors from the 2014 Eastern and Western regional events and the 2013 National Champions come together in the National Finals to see who will be named Top Dog.
The Purina Pro Plan Incredible Dog Challenge highlights Purina Pro Plan's mission to support active dog owners and their pets by providing them with high-quality nutrition and expert resources to help them perform at their absolute best.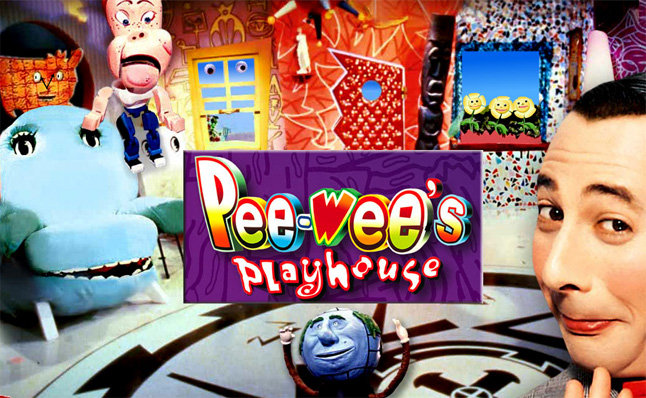 Experience Pee-wee's Playhouse like never before! All 45 wacky episodes, plus the Pee-wee's Playhouse Christmas Special, have been meticulously remastered from the original film elements — and now you can see this ground-breaking series for the first time in beautiful high-definition!
Scream along to the secret word with Pee-wee Herman and his pals: Jambi the Genie, Miss Yvonne, Cowboy Curtis, Reba the mail lady, Captain Carl, Magic Screen, Conky, Globey, Chairry, Pterri, Randy and all the rest. Pee-wee's Playhouse: The Complete Series Blu-ray box set, with special bonus content, debuts on home entertainment shelves October 21, 2014 from Shout! Factory.   Also available to own on the same day is Pee-wee's Playhouse: Seasons One and Two in a high-definition 4-DVD set. Mecka-lecka hi, Mecka-hiney ho!
Winner of an amazing 22 Emmy Awards, Pee-wee's Playhouse is a cultural touchstone for a generation, and its visually dynamic design and offbeat sense of humor were a genuine phenomenon.  Whether reliving childhood memories or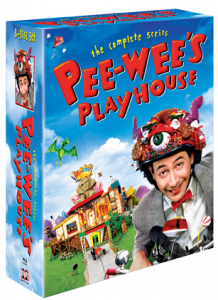 introducing this beloved series to a new generation, the newly re-mastered Pee-wee's Playhouse will take you back to being a kid.  This is an essential Blu-ray collection for loyal fans and collectors.
TV Guide named Pee-wee's Playhouse #10 on their list of THE TOP 25 CULT TELEVISION SHOWS EVER!  For over 25 years, the enormously popular Pee-wee Herman and innovative television series Pee-wee's Playhouse, created by, and starring Paul Reubens, has captured a special place in the hearts of millions of viewers, young and old.  Since its initial premiere on CBS in 1986, this highly acclaimed children's program became Saturday morning appointment viewing for kids in the '80s and '90s and has been a staple in the pop culture zeitgeist ever since.
With its innovative production design and Reubens' rich original characters and humor, Pee-wee's Playhouse is a magical place that sparks creativity and imagination—and brings joy to children and adults alike. Parents and grown-ups have always enjoyed the show's many double entendres. The series features beloved regulars Cowboy Curtis (Laurence Fishburne), Reba the Mail Lady (S. Epatha Merkerson), Miss Yvonne (Lynne Marie Stewart), Captain Carl (Phil Hartman), The King of Cartoons (William Marshall), Jambi the Genie (John Paragon), Ricardo (Vic Trevino) and Mrs. Rene (Suzanne Kent). And of course, Chairry, Pterri, Conky, Magic Screen, Clocky, Cool Cat, Dirty Dog, Chicky Baby, Penny, the Dinosaur family, and the rest of the gang!
Pee-wee's Playhouse: The Complete Series Blu-ray box set contains OVER 4 HOURS of brand-new interviews with the cast and crew, plus never-seen, behind-the-scenes footage—all part of TEN FEATURETTES, including:
Building the Playhouse
Opening the Playhouse
Writing for the Playhouse
The Look of the Playhouse
Music of the Playhouse
The Cast of the Playhouse
Puppets of the Playhouse
Animating the Playhouse
A Very Merry Christmas Special
Fans and Memorabilia of the Playhouse
You can pre-order Pee-wee's Playhouse: The Complete Series HERE!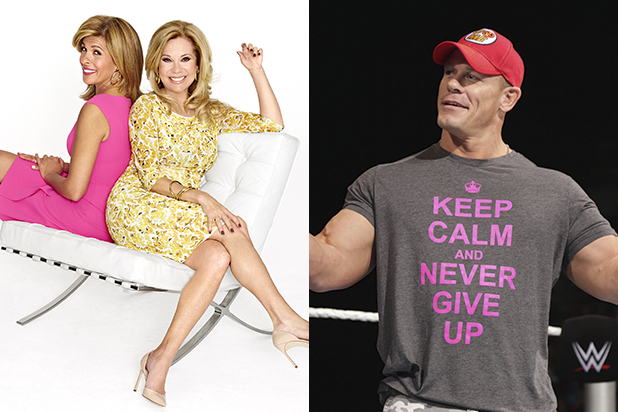 The lively, funny and entertaining co-stars of NBC TODAY's fourth hour are putting down their wine glasses and joining WWE® as guest stars on Monday Night Raw® on October 6 at 8PM ET/7PM CT on USA Network.
Kotb, who is a seven-year breast cancer survivor, and Gifford will join WWE for its third consecutive year supporting Susan G. Komen and National Breast Cancer Awareness Month. Before Kotb and Gifford rule the ring, WWE Superstar John Cena® will make a guest appearance on the TODAY show in the iconic fourth hour segment to give them a pep talk to prepare for the show.
Additionally, journalist, Joan Lunden, who was recently diagnosed with breast cancer, will sit ringside as a special guest along with other breast cancer survivors. As TODAY's special #PinkPower correspondent for Breast Cancer Awareness Month, Lunden is celebrating survivors, supporting those currently battling cancer and remembering those we have lost. Lunden was also featured on the cover of last week's People Magazine talking about her personal fight against breast cancer.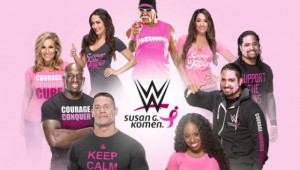 "We've been wrestling every day at 10AM in our own ring for the past seven years, and it gets down and dirty.  So bring it on!" said Kotb and Gifford.
"WWE is thrilled to have Kathie Lee Gifford, Hoda Kotb and Joan Lunden join Monday Night Raw to help shine a light on the battle against breast cancer," said Stephanie McMahon, Chief Brand Officer, WWE. "These women continue to be a voice for the millions that are affected by this devastating disease. We are honored to have their support in raising awareness and funds to continue the fight."
For the month of October, the WWE Superstars and Divas will wear co-branded Komen and WWE apparel and all WWE platforms will "go pink." The "Courage Conquer Cure" campaign will continue throughout National Breast Cancer Awareness month, and WWE will donate to Komen 20 percent of the retail sales price of all co-branded merchandise sold on WWEShop.com and at WWE live events, as well as 5 percent of all other WWE merchandise sold on WWEShop.com. For the first time, fans will have the option of donating $1, $5 or $10 upon checkout from WWEShop.com with all proceeds benefiting Komen.
Monday Night Raw is the most-watched, regularly scheduled, year-round program on cable, airing live every Monday night, 52 weeks a year on USA Network.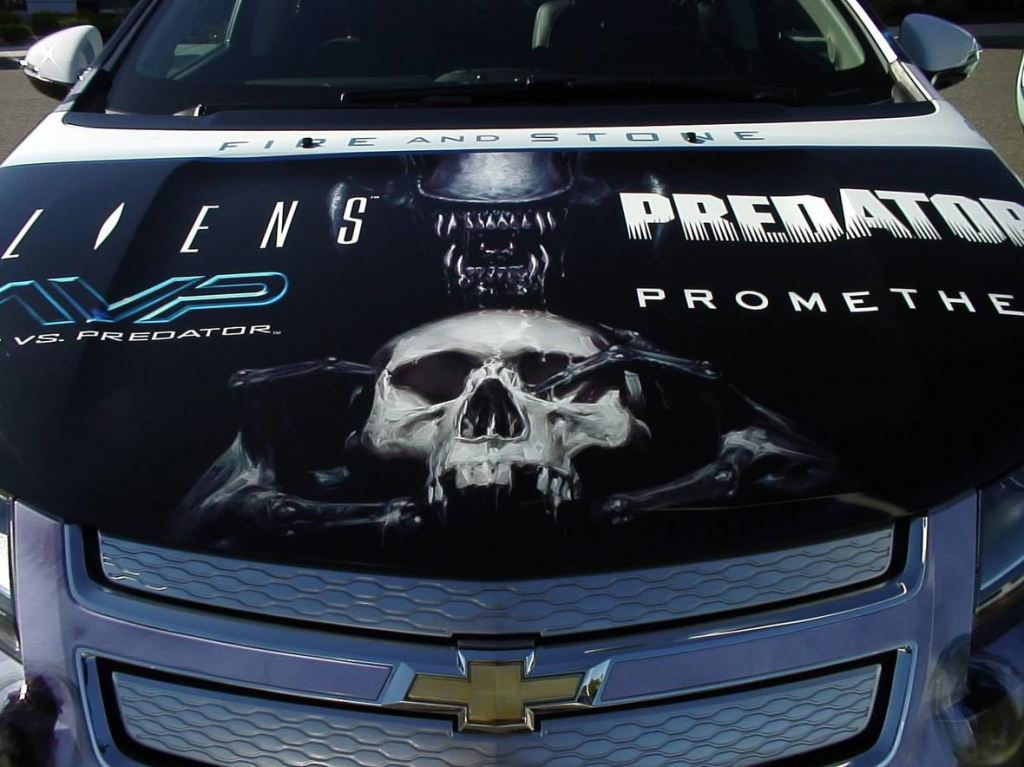 New York Comic Con announced a partnership with Chevrolet and Uber that will put fans in the driver's seat of convenience at this year's events. As part of the partnership, Chevrolet will custom wrap nine different car models with some of the most iconic characters from comics, video games and literature that fans can Uber to events all across the city. The partnership will kick-off on October 3 and run through October 7.
Comic Con fans will also have a chance to win exclusive access to great prizes and collectable thanks to the Chevrolet and Uber partnership. For instance, those who ride in the New York Super Week Chevrolet Tahoe will be eligible to receive New York Comic Con and New York Super Week t-shirts, tickets to New York Super Week events and much more, including the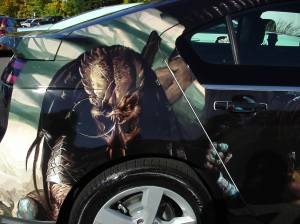 daily grand prize of 3-Day Tickets to New York Comic Con.
Fans will also be eligible to win a trip to NYCC 2015 with VIP Tickets and a Chevy Car Exclusives Prize Pack through the "Chevrolet Gives You the Keys to NYCC" contest. Starting on October 3, fans are encouraged to tweet creative photos of one of the cars, using the hashtag #ChevyNYCC. Following the completion of New York Comic Con on October 13, NYCC and Chevrolet will pick the 10 best photos as finalists.
As part of the partnership, Chevrolet will wrap nine different vehicles that fans can Uber to New York Super Week, throughout New York City. Some of these cars will also be on display at the Javits center during NYCC. The full lineup of cars can be found below:
• BOOM! Studios – Chevrolet Cruze will be wrapped with various characters from Boom! Studios.
• Dark Horse – Chevrolet Volt will be wrapped in characters from the Fire & Stone comic book series featuring Aliens, Predator, Prometheus, and Alien vs. Predator.
• Image – Chevrolet Sonic will be wrapped with imagery from the new hit series WYTCHES, by comic superstars Scott Snyder and Jock.
• Valiant Entertainment – Chevrolet Equinox will be wrapped with artwork from the upcoming series The Valiant – by New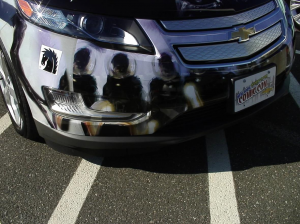 York Times best-selling writers Jeff Lemire & Matt Kindt and Eisner Award-winning artist Paolo Rivera.
• IDW – Chevrolet Equinox will be wrapped with images of the famed Eric Shanower and Gabriel Rodriguez comic character Little Nemo.
• New York Super Week – Chevrolet Tahoe will be wrapped with New York Super Week artwork.
• Random House – Chevrolet Tahoe will be wrapped with classic characters and scenes from George R.R. Martin's new book, The World of Ice and Fire: The Untold History of Westeros and the Game of Thrones.
• SEGA – Chevrolet Suburban will be wrapped with Sonic the Hedgehog and friends from SEGA's upcoming Sonic Boom video games and animated series.
• TBS – Chevrolet Impala will be wrapped with characters from Seth McFarlane's hit series American Dad.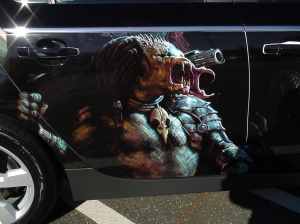 New York Super Week will take place October 3-12, leading into the East Coast's biggest and most exciting convention – New York Comic Con. The New York Super Week Card will offer fans access to dozens of special offers including drink specials at venues and bars, discounts to citywide tours and in- store merchandise discounts at retailers including Midtown Comics and Discovery Times Square.
How to download:
1. Open up your Uber app
2. Enter promo code: ChevyNYCC14
3. Request 'COMIC CAR'
For more information about New York Super Week and to purchase tickets, please visit www.NewYorkSuperWeek.com and New York Super Week's social media pages (Facebook, Twitter & Instagram).
For more information about New York Comic Con please visit www.NewYorkComicCon.com.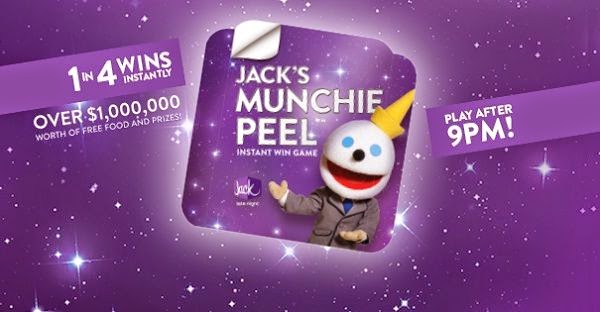 With Jack's #munchiepeel instant win game, Jack in the Box is giving away over $1,000,000 in food and other prizes, with one in four entries being a winner. Play after 9 p.m. by purchasing a Jack's Munchie Meal™ and peel off the sticker from the iconic purple box to see if you're an instant winner!
If you didn't win instantly, don't worry. Jack is giving you and your readers a second chance to win the ultimate prize at JacksMunchiePeel.com: a VIP experience for four in Las Vegas kicking back at the MTV Real World Suite at the Hard Rock Hotel and Casino – money can't buy it and only Jack in the Box can provide it.
Available on Jack's Late Night Menu exclusively from 9 p.m. to 5 a.m., you can enjoy your Munchie Meal combo including the new Chick-n-Tater Melt, complete with 2 tacos, halfsie fries (half regular, half seasoned curly) and a 20 oz. drink. Tweet at @MANjrcom for your chance to win Jack Cash gift cards!
For more info follow Jack In The Box on Twitter and Facebook.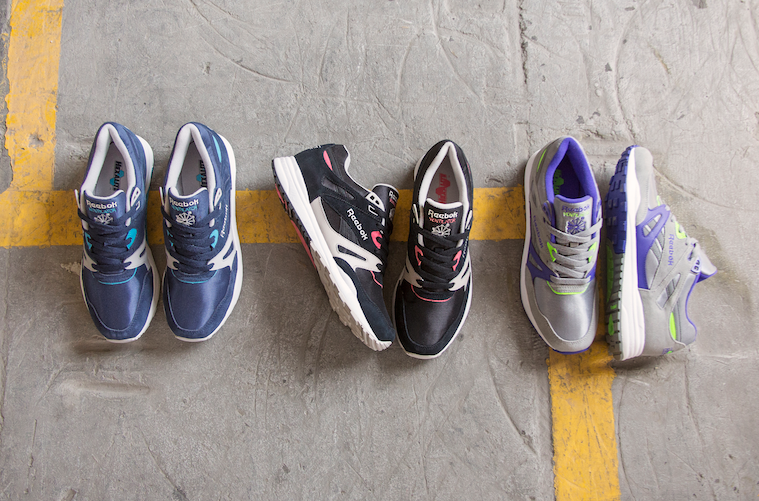 Reebok continues to spin fresh iterations of the Ventilator with the "Heritage" pack this fall.  Inspired by old industrial spaces, the bright pops of color make this shoe anything but ordinary.
Born during the golden era of Reebok design and technology innovation, the Ventilator was a game-changing runner when it was first introduced in 1990.  The first Reebok lightweight runner with a focus on breathability, the Ventilator was a bold, expressive silhouette that was years ahead of its time.  Today the Reebok Ventilator remains an extremely versatile, one-of-a-kind sneaker, with the chameleon-like ability to take both clean and bold executions.
Don't miss an opportunity to grab a pair of these limited edition "Heritage" Ventilators before they're history.
Stop by Shoe Palace, Private, BX Sports, Thrillist and Reebok.com now to cop your pair of the $80 Ventilator "Heritage" sneakers!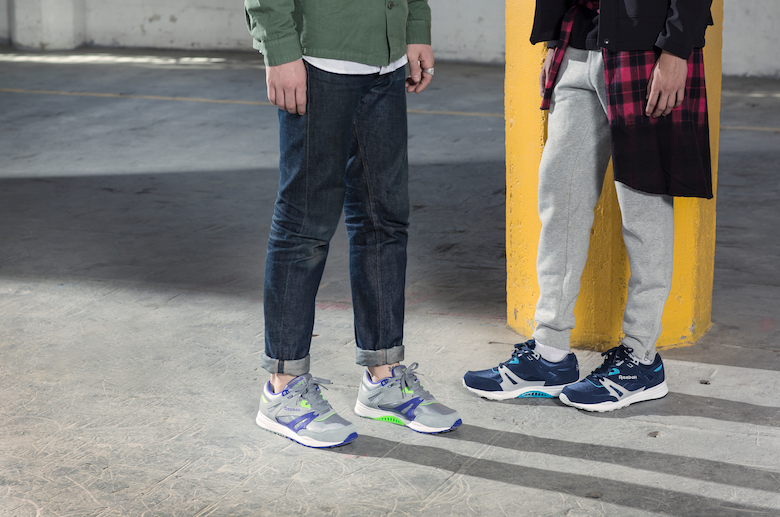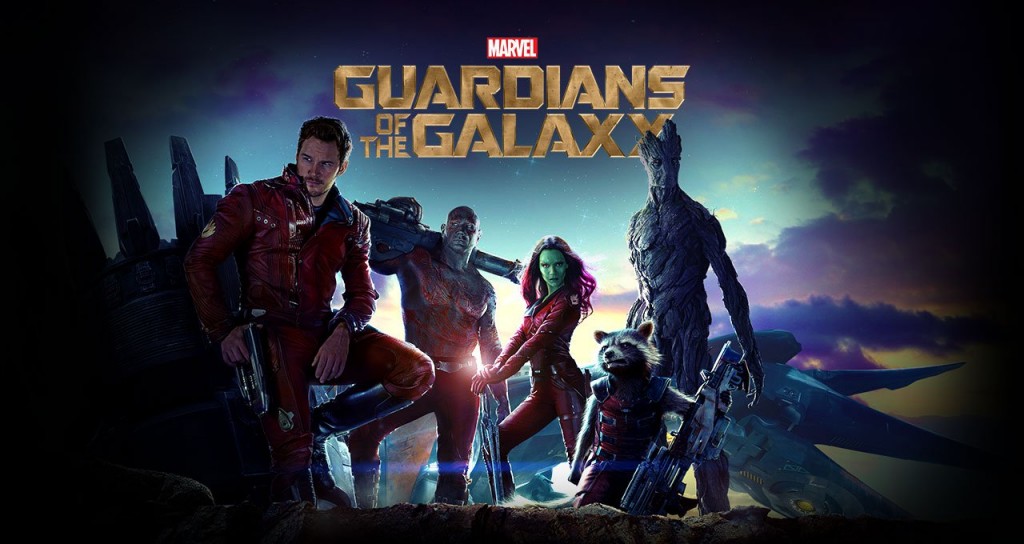 Marvel's GUARDIANS OF THE GALAXY arrives on Digital HD plus Disney Movies Anywhere November 18th and on Blu-ray™ 3D Combo Pack, Blu-ray, DVD and On-Demand December 9th! Earning over $645 million worldwide comes an unlikely new team from the Marvel cinematic universe that must come together in a desperate battle to decide the fate of the galaxy. The comedic adventure is packed with never-before-seen deleted scenes, gag reel, exclusive look at "Marvel's The Avengers: Age of Ultron" and more!
Marvel's Guardians of the Galaxy film has earned over $645 million worldwide and recently passed the $300 million mark at both the domestic and international box offices. Guardians of the Galaxy opened domestically August 1 with $94.3 million to become the biggest August debut of all time and ultimately the biggest August release ever; it's also the highest grossing film of the year and the first to surpass $300 million in 2014 domestically. After becoming the 10th straight Marvel Studios film to open at #1, Guardians of the Galaxy occupied the top spot domestically for four of its first six weekends in release.
From Marvel, the studio that launched the epic franchises of "Iron Man," "Thor," "Captain America" and "Marvel's The Avengers," comes an unlikely new team—the "Guardians of the Galaxy."  The Marvel Cinematic Universe expands into the cosmos when brash space adventurer Peter Quill steals a coveted orb and becomes the object of a relentless bounty hunt. To evade his enemies, Quill forges an uneasy truce with Rocket, a gun-toting raccoon; Groot, a tree-like humanoid; the deadly assassin Gamora; and the revenge-driven Drax. But when Quill discovers the true power of the orb, he must rally his ragtag band of misfits for a desperate battle that will decide the fate of the galaxy. Featuring amazing new characters and exclusive bonus features, this must-own blockbuster will have you hooked on a feeling… of pure adrenaline!
Chris Pratt ("The Lego Movie," TV's "Parks and Recreation") as Peter Quill, Zoe Saldana ("Avatar," "Star Trek") as Gamora, Dave Bautista ("Riddick," "The Man with the Iron Fists") as Drax, Vin Diesel ("Fast and the Furious" series, "Riddick") as Groot, Bradley Cooper ("American Hustle," "Silver Linings Playbook") as Rocket, Lee Pace ("The Hobbit" series, "Lincoln") as Ronan, Michael Rooker (TV's "The Walking Dead") as Yondu Udonta, Karen Gillan ("Oculus," TV's "Doctor Who") as Nebula, Djimon Hounsou ("How to Train Your Dragon 2," "Gladiator") as Korath, John C. Reilly ("Wreck-It Ralph," "Talladega Nights: The Ballad of Ricky Bobby") as Corpsman Dey, Glenn Close (TV's "Damages," "Tarzan") as Nova Prime and Benicio Del Toro ("Traffic," "The Usual Suspects") as The Collector.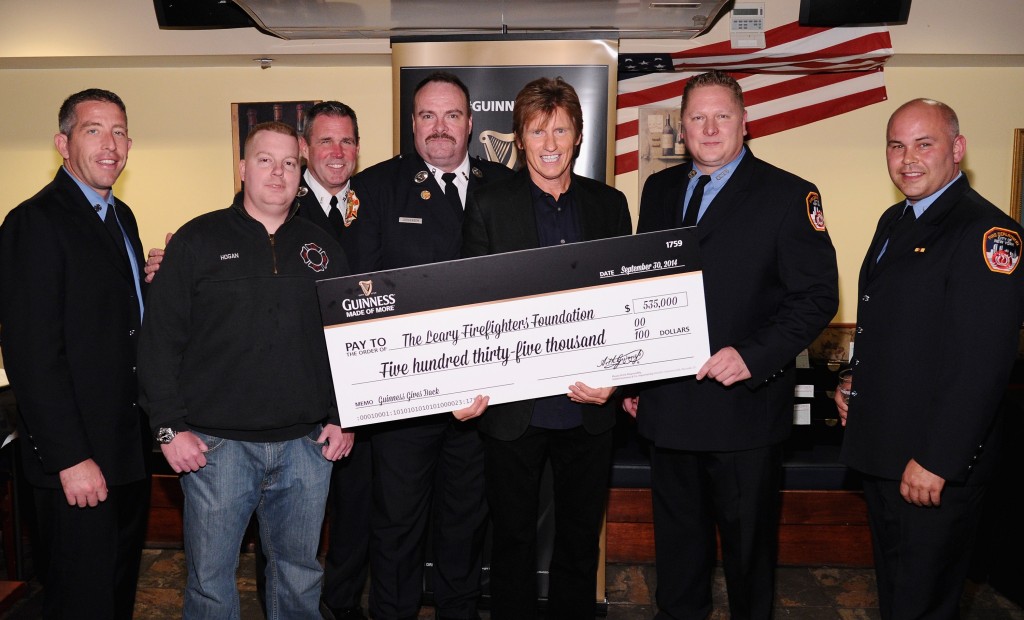 in New York City, Guinness & Co. raised a glass of the iconic beer in honor of the Leary Firefighters Foundation (LFF) during a special event to present the LFF a check for more than half a million dollars in support of firefighters nationwide.
Actor and founder of the LFF, Denis Leary, joined Guinness and Diageo executives to celebrate their combined efforts to support firefighters across the U.S. Throughout the past year, Guinness raised over $500,000, in partnership with the LFF, to help provide quality equipment, education, training and technology for firefighters everywhere. Guinness and the LFF received an outpouring of personal donations and contributions from adult supporters through the brand's fundraising efforts to support the foundation as well as a significant contribution from Guinness itself.
"At Guinness, we celebrate those who are Made of More; those who carry on the legacy of our founder and our company and who demonstrate great character without asking for recognition. Firefighters showcase these qualities with the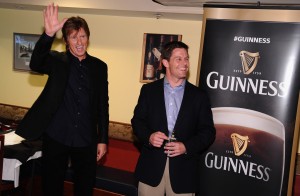 commitments and sacrifices they make every day," said Guinness Brand Director Doug Campbell. "We're very proud of the work we've done alongside the LFF and we're excited to continue that initiative to recognize individuals who do more for their communities throughout the next year."
Guinness' St. Patrick's Day 2014 program hosted a variety of fundraising initiatives through its philanthropic online hub www.GuinnessGivesBack.com, including a limited-edition firefighter themed
t-shirt sold online and in select bars across the country. The makers of Guinness beer also released the Extraordinary Irish Beers Variety Pack, saluting firefighters' extraordinary character, which included Guinness® Draught, Guinness® Black Lager, Smithwick's® Irish Ale and Harp Lager. A percentage of the proceeds from sales of the t-shirts and variety packs were donated to the LFF. The program has been part of the brand's 'MADE OF MORE' campaign, which celebrates the service and selflessness of firefighters.
"We are thrilled to continue our partnership with Guinness for a third year," said actor Denis Leary, founder of the LFF. "Since beginning our partnership two years ago, we've raised more than $650,000 to help firefighters nationwide. It's an honor for the LFF to be recognized for its tireless efforts in support of all the men and women who put their lives on the line every day; the funds raised by Guinness will help our firefighter brothers and sisters in uniform across the country."
The event also kicked off the brand's goal to raise $1 million for local firefighters by St. Patrick's Day 2015, in the third year of its partnership with the LFF. For the next several months, Guinness will publicly recognize those who make great contributions to their communities by raising a Guinness to them at a community event. The brand will carry out additional fundraising activities throughout the year to reach its $1 million fundraising goal.
Join the conversation and share Made of More moments on Twitter at @GuinnessUS. Select images and stories will be featured on the brand's Instagram feed which celebrates those who are Made of More.
To learn more about Guinness' partnership with the LFF, visit www.GuinnessGivesBack.com. To learn more about the work LFF does in support of firefighters, visit www.learyfirefighters.org.
Guinness reminds everyone while raising your glass in support of firefighters, and all the men and women who do more for our communities, to do so responsibly.