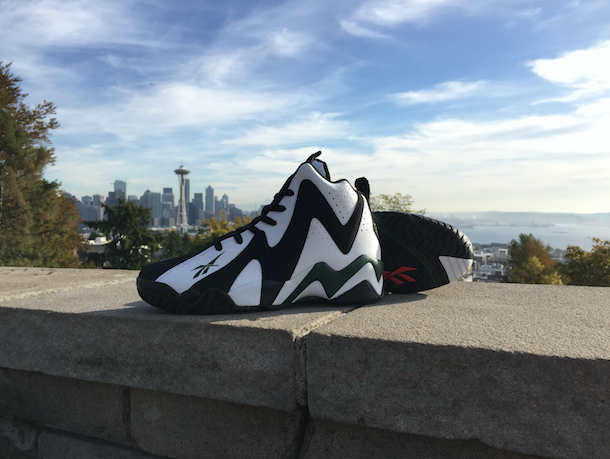 The original Kamikaze silhouette proves that an OG model will never go out of style. The shoe worn by Seattle basketball legend Shawn Kemp is black and white with hints of green, which pay homage to his heritage on the court.
Although the shoe was first launched in 1996 as a nod to the Reign Man, this ground breaking style has remained one of the most iconic basketball shoes of all time. Both the basketball player and street fashion connoisseur will love the aggressive design which is paired with Hexalite technology for incredible support as well as style.
Pick up your pair of Kamikaze II OG's on Black Friday, November 27th, for $114.99 at Finish Line, Sneaker Villa, Jimmy Jazz and Reebok.com.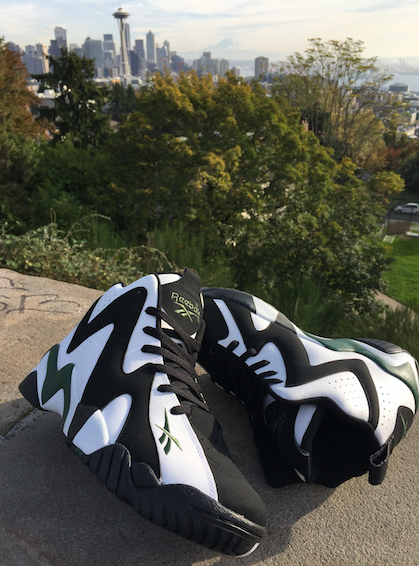 I have been lucky enough to be part of the Crown Royal Your Hero's Name Here program. Crown Royal, NASCAR and The Brickyard 400 team up to support those who make this country great. Crown Royal just released the nominations for the 2016 Brickyard 400 race. The past winners are very deserving and humbled by the honor. I am so glad to see their story told.
Concluding a weeklong celebration of heroes, individuals across the country were recognized as inaugural nominees for the program. Each individual was given access to a special experience – receiving tickets to award shows, professional football games and the upcoming Phoenix NASCAR race.
Here are some of nominees: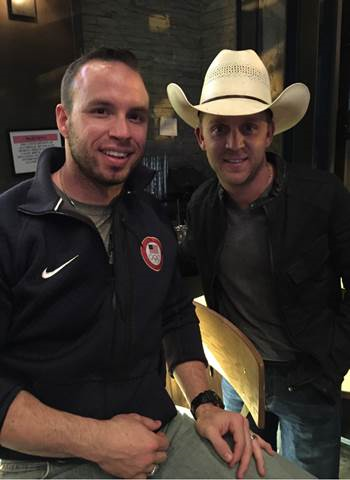 US Army Veteran and Olympic Bobsledder Dallas Robinson, nominated by country music singer Justin Moore. Moore invited Robinson and his wife Chelsea to Nashville for one of country music's biggest weeks, during which they went to the big show and attended VIP parties alongside artists.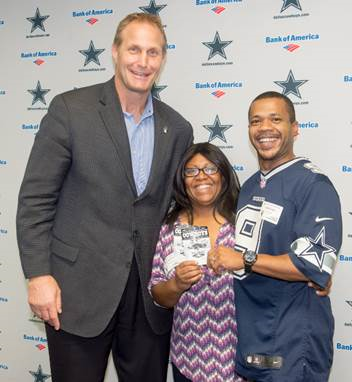 In Dallas, TX two local heroes, Army Veterans Trista Hopkins-Neal and Phil Robertson, received tickets to last Sunday's Dallas game, delivered by US Air Force Veteran and former Cowboy Chad Hennings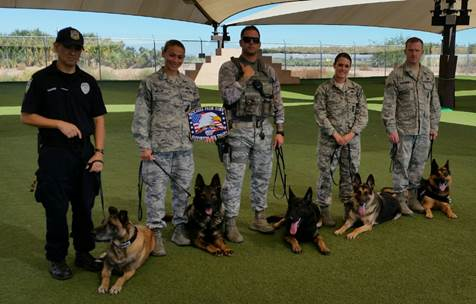 In Phoenix, Packages From Home nominated a group of active duty Air Force officers from Luke Air Force Base and presented them with tickets to this weekend's NASCAR race
Last night in honor of Veteran's Day, veterans and their families were treated to unforgettable performances by some of country music's biggest stars including Justin Moore, Little Big Town and The Band Perry at CBS Radio's first ever Stars and Strings concert. Before the concert kicked off, guests had the chance to submit nominations.
To nominate a hero, adults 21+ can visit CrownRoyalHeroes.com and submit their heroes for consideration from now until February 28, 2016. After, five finalists will be chosen and adult consumers will be able to vote for the hero they think is most deserving of the honor where one individual will see their name in lights at Indianapolis Motor Speedway.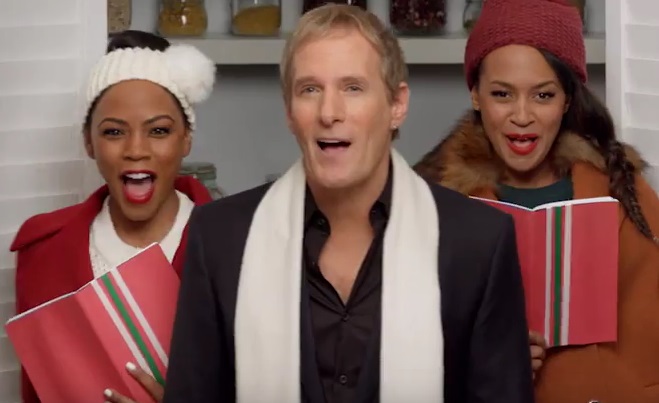 Some might know Michael Bolton from his singing career while others know him from the hilarious Jack Sparrow video with The Lonely Island group. Now Bolton is teaming up with former NFL quarterback Matt Leinart to vie for a family's attention for the holidays. Would you rather play football with Matt or sing with Michael?
See what this family chose in the video below. Make every day a holiday with the new Triple Treat Box from Pizza Hut which includes two medium one-topping pizzas, an order of bread sticks or flavor sticks and a Hershey's Ultimate Chocolate Chip Cookie for just $19.99.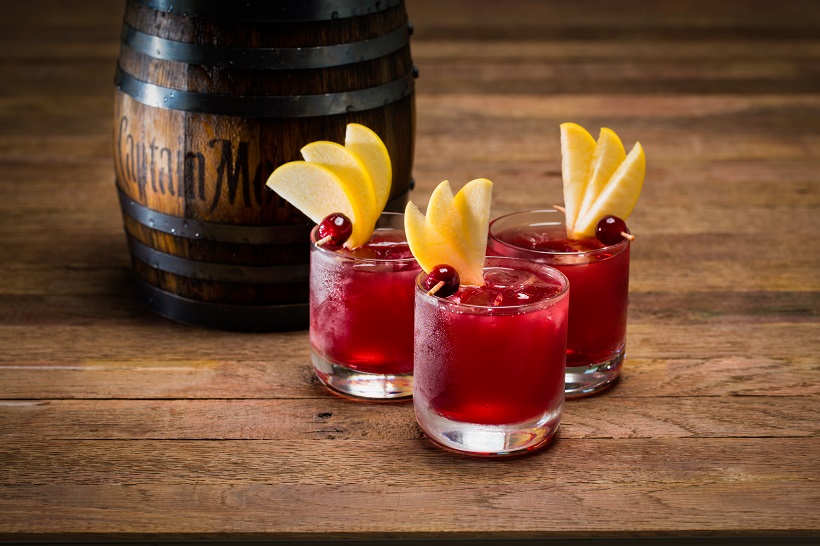 At the end of this month we get to hang out with family and friends as we sit down to a Thanksgiving meal. If you are hosting or going to someone's house we here at MANjr are looking to help out with some festive cocktails.
There is the Captain Cider that is a simple cocktail with Captain Morgan Original Spiced Rum, cranberry juice and cider. The Spiced Ginger Ale is also a bar favorite to enjoy with friends and family on Thanksgiving Eve. Finally, Captain Morgan's Crannon Blast and Blasted Apple are the perfect shot options for the group toast.
The Captain Cider
1 oz. Captain Morgan Original Spiced Rum
1.5 oz. Cranberry Juice
1.5 oz. Hard Cider
Combine all ingredients in a rocks glass filled with ice, garnish with apple wedges and cranberry.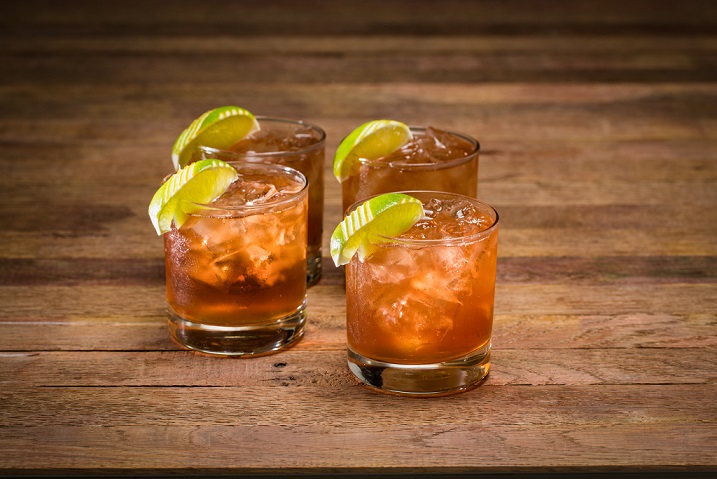 The Spiced Ginger Ale
1.5 oz. Captain Morgan Original Spiced Rum
0.5 oz. Sour Mix
1.5 oz. Ginger Ale
Aromatic Bitters
Lime Wedge
Combine all ingredients in a rocks glass filled with ice, stir and serve.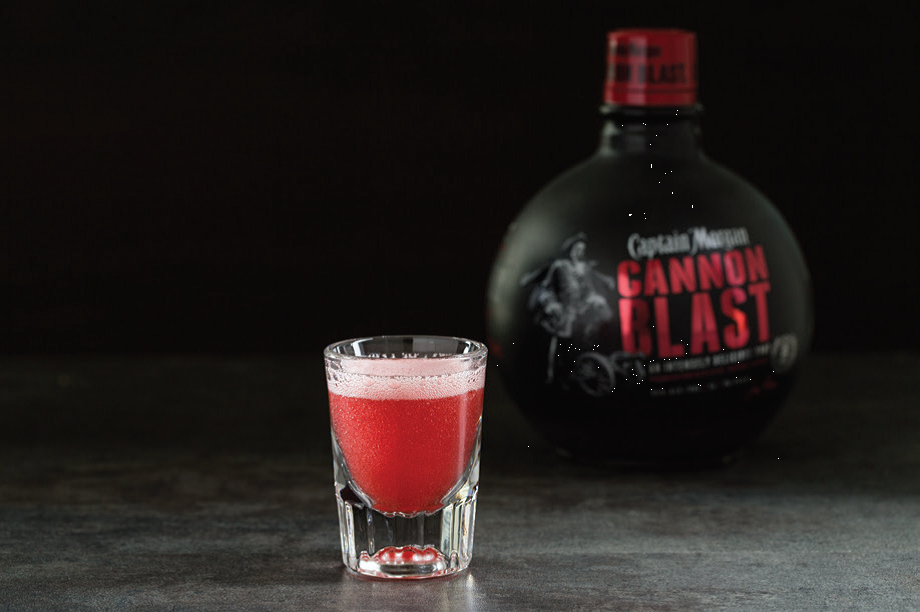 Crannon Blast
1.5 oz. Captain Morgan Cannon Blast
0.5 oz. Cranberry Juice
Shake with ice and strain into a shot glass.
Blasted Apple
1.25 oz. Captain Morgan Cannon Blast
0.25 oz. Crown Royal Regal Apple
Shake with ice and strain into a shot glass.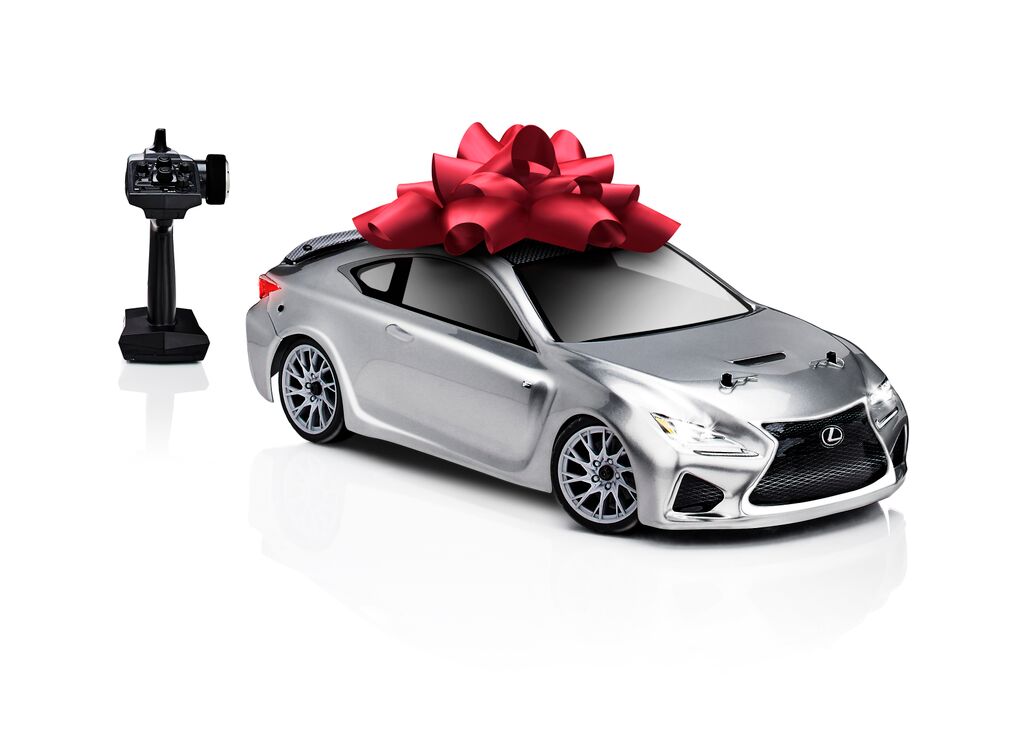 For those who never got that remote control they always wanted for Christmas this is for you. Check out the Lexus RC F Ready-To-Run Remote Control Car. It sells for $350.00 and is created exclusively for Barneys, the limited-edition Lexus RC F remote control sports car is this year's ultimate holiday toy for kids big and small.
This miniature, high-performance vehicle is built on an all-wheel drive Apex chassis and driven by the powerful Reedy 3300k V 540 brushless motor. High-grip racing tires wrapped around 20-spoke rims put that power to the ground, and detailed brake components complete the aggressive look.
The Barneys-only edition of this performance coupe replica features fully operational LED headlights and taillights in a silver and black finish, colors that aren't available anywhere else. The vehicle is fully assembled and ready-to-run with batteries included.
The Lexus RC F remote control car is approximately 16.0″ length x 7.5″ width x 5.5″ height, and recommended for those ages 14 and up. This specialty holiday gift item is only available in the Barneys New York holiday catalog, in the retailer's New York and Beverly Hills stores and on Barneys.com.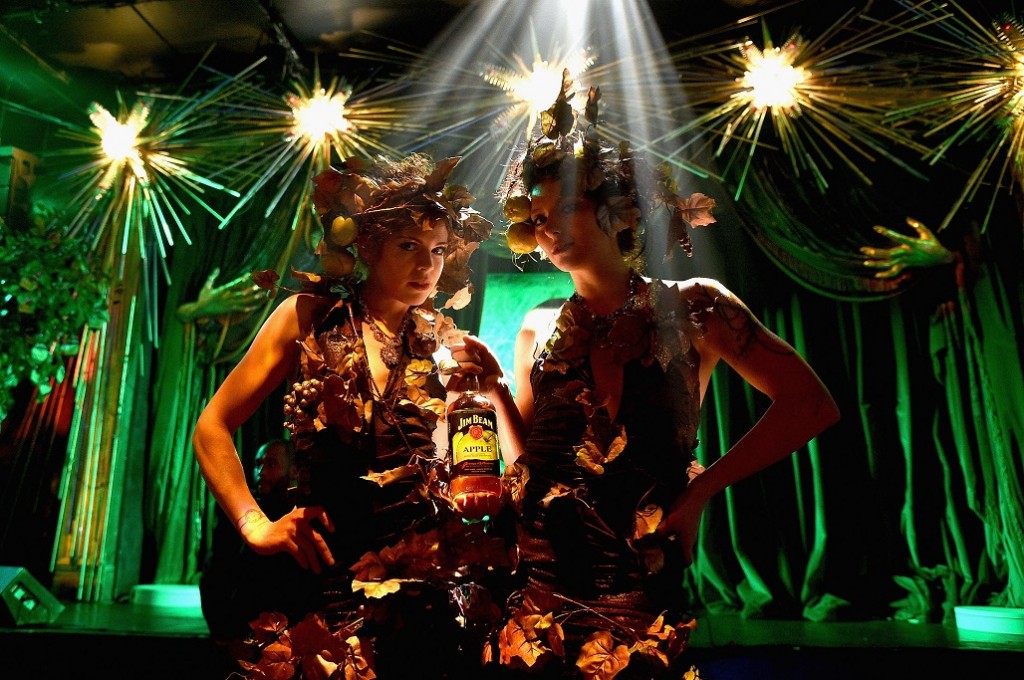 There are some new bourbons out there that are looking to spice things up a bit. Fruit infused liquor is becoming very popular in bars and at gatherings. Now Jim Beam is looking to show their support for this with Jim Beam Apple. It is the fourth flavored whiskey from the world's number one bourbon, containing the pride and heritage from the Beam family's 220-year history.
With a refreshing take on family tradition, Jim Beam distillers have brought together the taste of crisp, green apples and Kentucky Straight Bourbon Whiskey. The result is a perfect balance of apple and delicious bourbon, rich with American heritage, with a light, juicy twist. The Signature Cocktail, "Jim Beam Apple and Soda", mixes Jim Beam Apple and club soda over ice, with a wedge of lemon, for a delicious, refreshing cocktail all year round.
If you are looking to try Jim Beam Apple out here is recipe you might want to try out.
Jim Beam Apple & Soda
Ingredients:
1 part Jim Beam Apple
2 parts Club Soda
Lemon Wedge
Preparation: Build over ice in a tall highball glass. Garnish with a lemon wedge.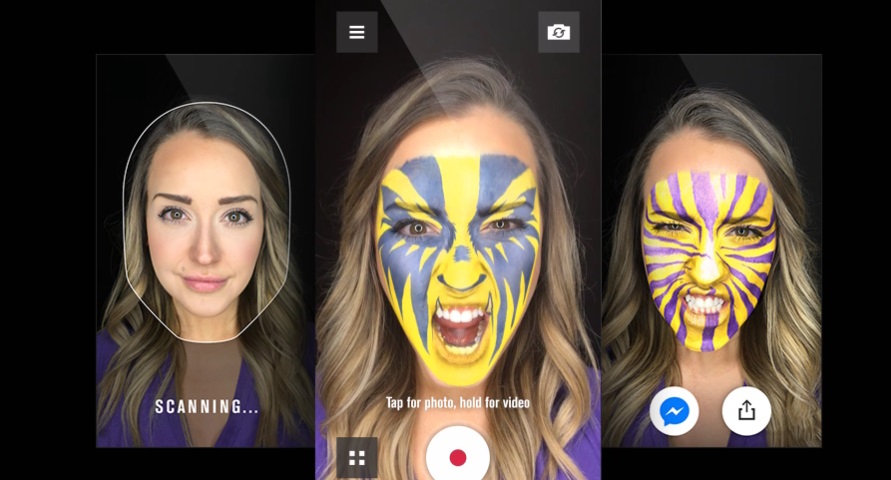 For some college football is the be all and end all. They will make sure that they are near a TV when their team is playing. As technology improves we are able to watch games on our tablet or smartphone. So before you start streaming the next college football game download the Diehard app.
With the app you will be able to choose your college team and favorite design, instantly 'paint' on your game face, and share with a picture or video. It's easy, completely lifelike, and moves as naturally as you do in real time. The app is brought to you by Nissan, which is a proud supporter of NCAA Football.
So you can pull a David Puddy and support the team without actually painting your face.
The app lets you choose from authentic face paint designs in a variety of colors and you can share with friends via Vine, Instagram, Twitter, YouTube, Vimeo, Tumblr, Facebook and E-mail. Plus you can share directly via Facebook Messenger and save your videos and photos to your personal gallery. You can even check out celebrity game faces in the Hall of Fame.
For more info and to download the app go to the Diehard Fan' App page.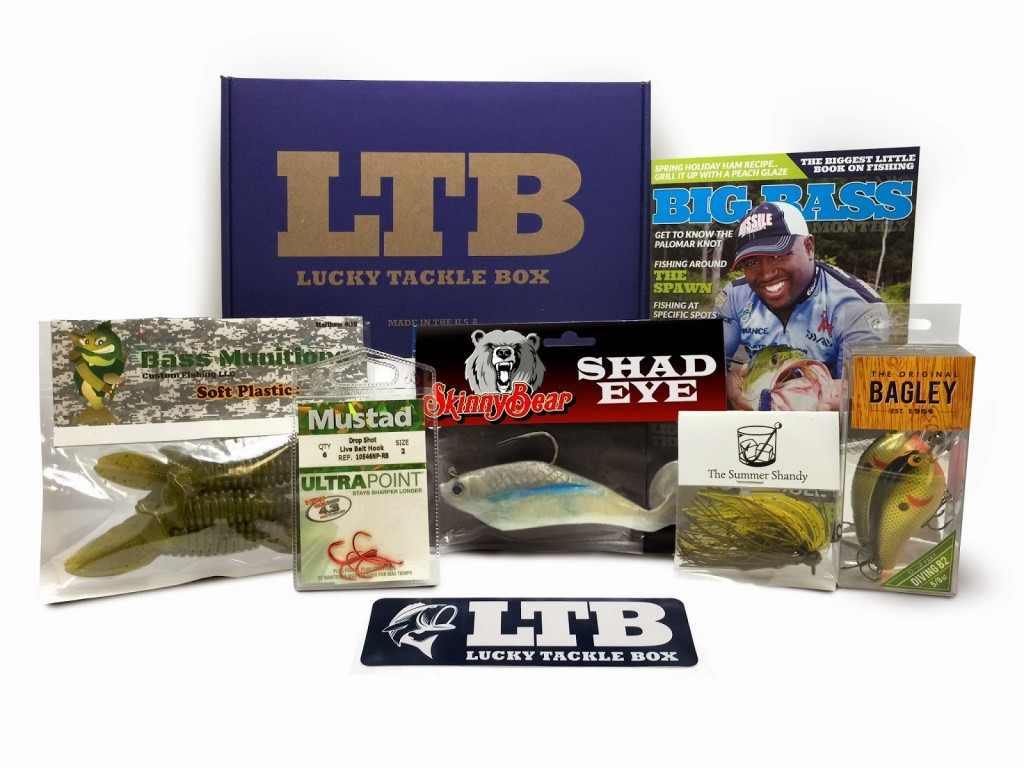 If you or anyone else you know that you will be buying holiday gifts for loves to fish then you might want to check out Lucky Tackle Box. Lucky Tackle Box is the number one monthly subscription box in fishing. For one low monthly fee, Lucky Tackle Box will deliver you a box jam-packed full of new lures and baits on the 10th of every month. Shipping is free everywhere in the United States, there's no contracts to sign and you can cancel at any time. If you're looking to fish with the products that professional anglers use to catch big fish, then Lucky Tackle Box is the only monthly subscription box you'll ever want.
Other subscription services might send you sample packs in a box, but Lucky Tackle Box will send the same number of baits per box. Lucky Tackle Box thinks that sending sample packs sucks.
Richard Marks and Rick Patri are the innovators and creators of fishhound.com and the Lucky Tackle Box. Founded in 2009 these two sites have been the premiere destination for anglers and industry professionals providing a unique platform for rich content and engagement, along with news, forums and reports to keep fishing enthusiasts and pros up-to-date.
These fishing tackle gift boxes are perfect for a variety of fish including: largemouth & smallmouth bass, redfish, trout, snook, striper and, coming soon, crappie and other panfish. Every month the contents change, fitting your preference, to include the best brands for the season as well as magazines to read up on the latest news from the pros.
For more info go to http://www.luckytacklebox.com.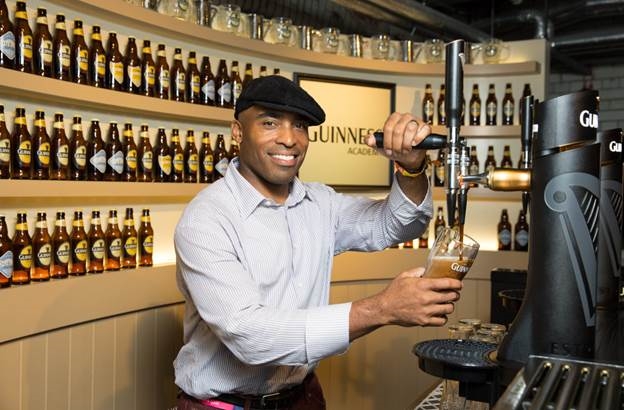 Lot of people load up on carbs the night before a marathon, but what do people do after they have run one? Some might rest. Some might get a massage. Others might celebrate with a pint! Well at least one runner did. Former professional football player Tiki Barber celebrated finishing the New York City with a flight to Dublin and pour a perfect pint of Guinness.
Days after beating last year's finishing time for the New York City Marathon, Barber traded in his running shoes for a pint glass during a visit to St. James's Gate which is the Guinness brewery in Dublin, Ireland.
While there, Barber tried the newest beer from the brewery, Guinness Nitro IPA, and received a tour of the Guinness brewery and a one-on-one session with the brewery team to learn how to pour the perfect pint of Guinness.
Not a bad way of celebrating if you ask me.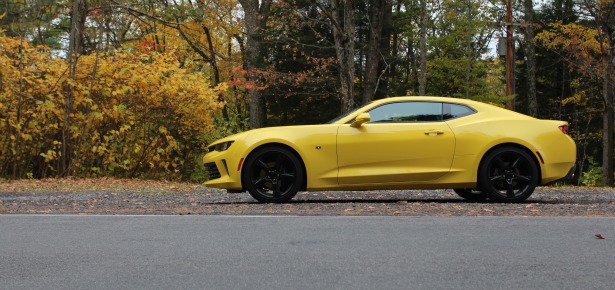 Seasonal change doesn't exist in Los Angeles. Don't get me wrong, I'm not complaining. Who doesn't like wearing shorts in November? It's a pretty sweet perk, actually. But the months do tend to blend together here on the left coast. So when the folks at GM reached out to us to participate in the nationwide #FindNewRoads trip for the 2016 Chevy Camaro, we signed up for some different scenery.
Over 150 outlets participated in the Find New Roads Trip that spanned 48 states, 16 cities and about 160,000 miles over a four week period. Sure, we could've kept it local. LA to San Francisco is a pretty drive, but it's not new to us. We chose the Syracuse to Boston leg of the program because we wanted to experience an actual autumn. And if we could hit up the Baseball Hall of Fame, party in Albany, pay a visit to the Johnson Family compound in Worcester and explore Cambridge and the Freedom Trail on foot in the process, not a bad plan, right?
Well that's what we did. On one tank of gas no less. Can you imagine?
Taking the Scenic Route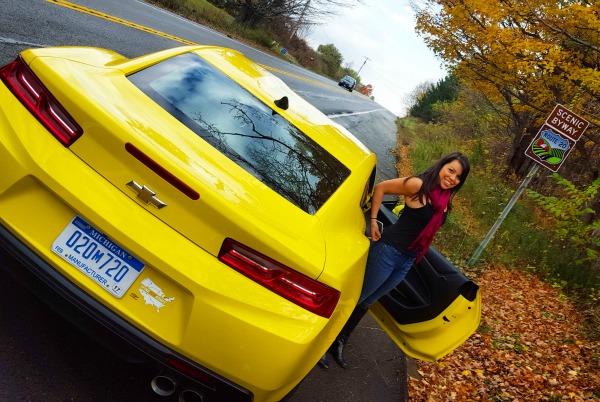 All the media members in Syracuse selected keys from a Camaro bag to see which ride they would end up with. I pulled a manual 3.6L V6 in bright yellow. As I was driving this No. 2 pencil rocket more than 350 miles, I noticed that it turned quite a few heads. But I suspect most of those head turns weren't due to the humming purr of the 335 horsepower engine or the svelte new look of the noticeably trimmer new model. Nope. I think people were honestly tripping on the color and wondering why anyone would take such a pretty machine and paint it to look like a lemon. Luckily, Chevy offers 9 additional color options for folks that believe a high performance sports car shouldn't resemble a banana.
Color aside, it's still a fantastic ride. This sixth-gen Camaro offers up 240 percent more horsepower than the first-gen Camaro's 3.7L six-cylinder that was produced in 1967, so it was nice that I pulled a manual transmission. My camera gal was a little less enthused about the manual option, because you see, your humble car reviewer here hasn't driven a stick since the 90s. I live LA, what can I say. But despite the early cries over safety concerns from my lovely passenger, the whole shifter car thing came back to me real quick, and I made good use of it as we put Syracuse in our rearview and bolted out to scenic Route 20 on our way to Cooperstown.
The designated scenic byway section of US Route 20 was a thing of beauty. I've been to New York City before, but us Angelenos tend to forget that our nation's fourth most populous state isn't just a series of gigantic cities. The 108 mile corridor from Lafayette to Duanesburg cuts across Central New York and rewards motorists with a colorful views of a lost American landscape. Think rolling hills, sprawls of agricultural expanse, derelict barns, every shade of tree and a distinct lack of human inhabitants. Carving through the turns of this scenic country byway made me feel like I was driving inside a warm, comfortable sweater.
Cooperstown to Albany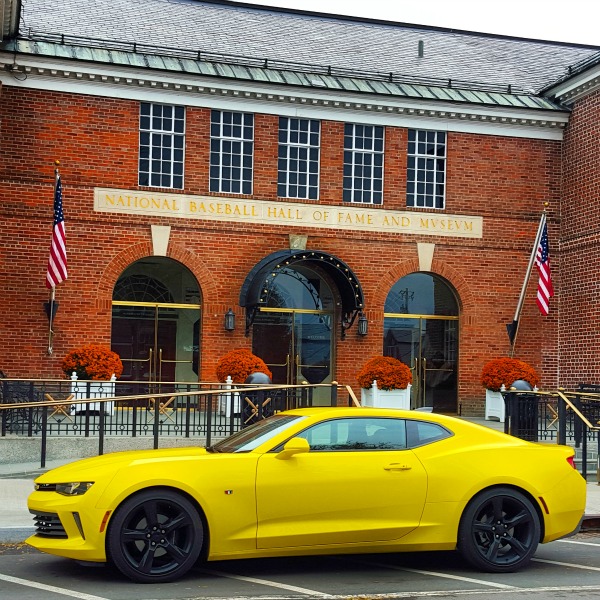 Albany seemed like a reasonable midpoint between Syracuse and Boston, so Cooperstown was a natural stop. Americana was on the agenda in a big way the entire road trip, so why not check out the hallowed halls of America's pastime?
The first thing that struck me about the village of Cooperstown was that it was, without a doubt, a village. Less than 2,000 people live there. When I parked the Camaro on Main Street, I felt like I was on a movie set or something. It's a well maintained area that embraces nostalgia without hesitation. Cooperstown pulls it off so well that it all seems not quite real.
That's probably because by design, this place hasn't changed in generations. The National Baseball Hall of Fame and Museum opened up in the historic district in 1939. The post office directly across the street was completed in 1936 and listed in the National Register of Historic Places in 1988. It's just a time warp experience worth seeing for yourself.
After soaking up some baseball lore and chowing down on New York style pizza (or as the locals call it, "pizza"), it was time to get back on the road.
Inside the 2016 Chevy Camaro, 95 mph feels like 35. It's really quite remarkable. You can be flying down a highway at top speed and the ride still feels pedestrian. The simplest nudge of your foot delivers the sweetest hum of power inside the cockpit. Just a little tap wraps you up in a low frequency sound blanket that you never want to remove. It never feels like you're too much either. You accelerate as you want, when you want, with no hesitation or even the slightest hint of unsteadiness. Going fast in this car just feels right.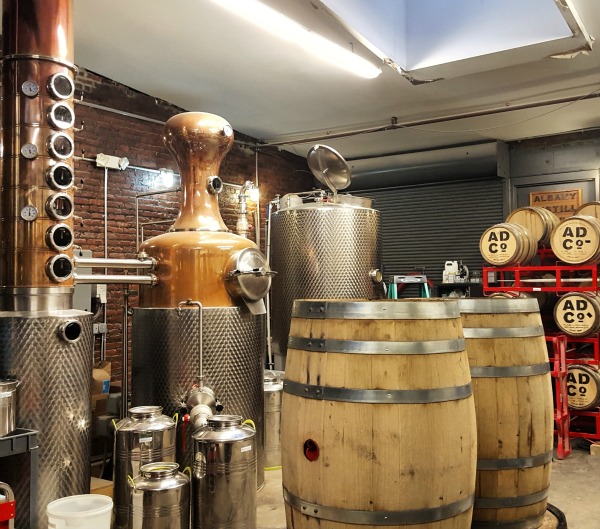 By nightfall we checked ourselves and the Camaro into the 74 State Hotel and went out for a wander. At the Albany Distilling Company, co-founder John treated us like homies, gave us a tour of the joint and sat with us to sample tasty rye whiskey and full-bodied bourbon. He sent us off with good spirits and a recommendation to visit Speakeasy 518.
The Prohibition-era throwback spot on Howard St. was the truth, man. Spotting the dingy red light above the door is the only way to track this dimly lit gem that's unmarked from the outside. Of course, it wouldn't be a speakeasy if you didn't have to go through the motions of knocking on the door and working your way in all clandestine-like. It's good fun though, and the service at this place was matched only by the quality of the craft cocktails they serve. Engaging bartenders, dated décor, live jazz and a no cell phone policy made this stop a real treat.
Onwards to Worcester and Boston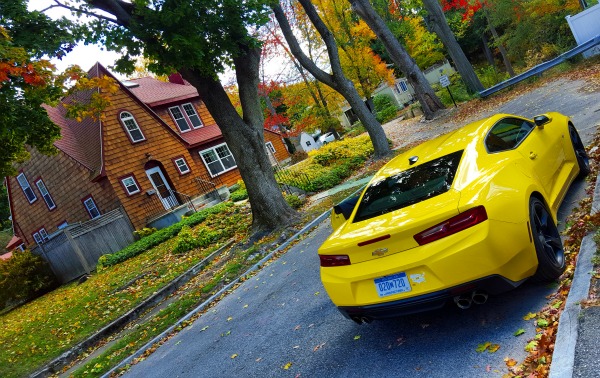 Jeremy Johnson is arguably the more senior auto writer here at MANjr, but he grew up in Massachusetts, so clearly he didn't need to be on this mission. But we couldn't pass through Western Mass on our way to Boston without making a stop in Worcester to visit the Johnson fam. Hanging out with your buddy's parents without your buddy present makes for interesting conversation. It's like I picked up an unauthorized biography that's more authorized than any other source out there. And where else can you expect to find embarrassing childhood photo gold like this?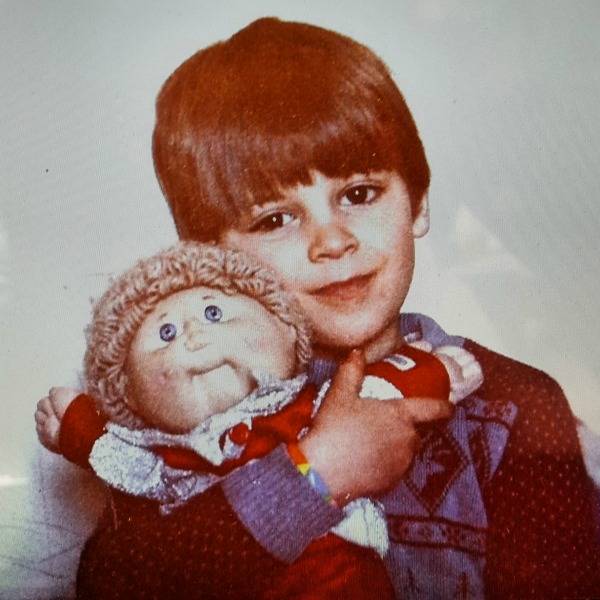 After enjoying the hospitality, lively chats and good eats at the Johnson household, it was time to make the final push to Boston. We rode Highway 90 across the entire state, and I don't know why, but this particular stretch of asphalt just demanded to be driven with all deliberate speed. We weren't in a rush and there was no emergency. There was just something about that fiery foliage backdrop, situational openness and the complete lack of awareness from criminally slow, aging, fast lane-clogging Mass-holes that just made me want to gun it across the state.
As was the case the entire trip, the 2016 Camaro responded well. Maybe it's because the car's more than 200 pounds lighter than the 2015 fifth-gen V6. Maybe it's the increased aerodynamics, reduced drag or the improved chassis. Maybe I was feeling more comfortable in general because I could charge my phone quickly and sync up to Chevrolet Mylink with ease and flip through my phone's Spotify selections using the on-wheel controls while still maintaining top speeds. Whatever the primary cause, the new sixth-generation Camaro is a winner.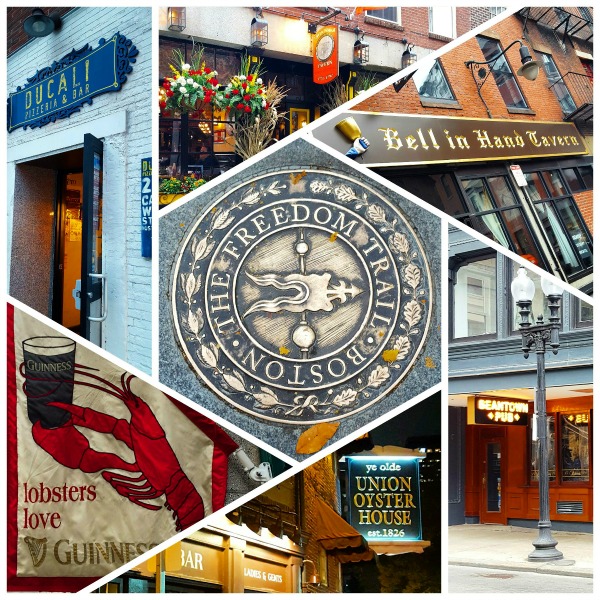 Parting with this machine was bittersweet, but it did free us up to explore Cambridge and Boston on foot and by train. From Beacon Hill to Cambridge Commons, Fenway to the Freedom Trail, we soaked in all Beantown had to offer. If you ever get a chance to drink in historic pubs, dance to quality soul music selections and absorb all the history and character this city has to offer, I highly recommend it. And if you want in on the leaner, more powerful 2016 Camaro, they start at just over $25K. Not bad for a quality first entry of a new generation.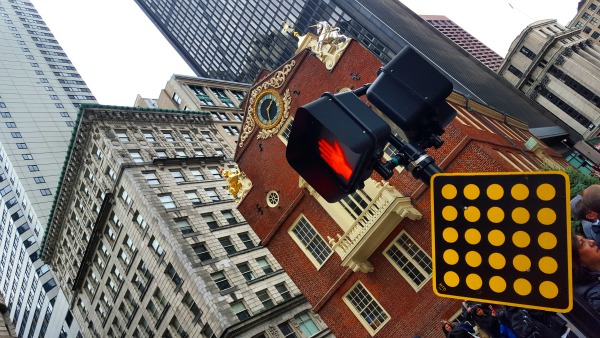 And if this whole road trip recap is just too long for you do read, check the video instead: