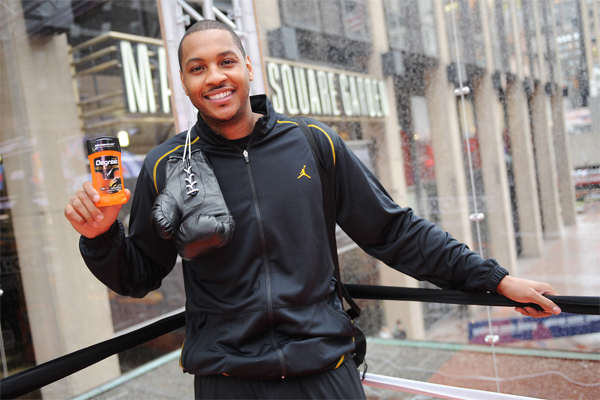 Carmelo Anthony has always been a dual threat on the basketball court, a leading scorer and a fierce defensive threat, but now he's showing the world how he can DO:MORE off the court with his love for boxing. Last night Anthony helped Degree Men launch its new DO:MORE campaign with an afternoon workout event with some of New York's top amateur boxers in a pop-up boxing ring atop the Madison Square Garden marquee. From above the Madison Square Garden marquee, Carmelo helped inspire guys everywhere to DO:MORE in their own lives by hopping in the ring for a brief workout with his boxing trainer.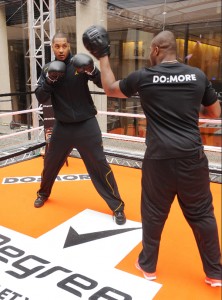 Complacency is not an option – especially for America's elite athletes. As you may have already seen or heard, basketball superstars Carmelo Anthony & Kevin Durant are teaming up with Degree Men deodorant to help launch a new campaign encouraging men to go beyond their comfort zone and test their limits – they're challenging guys to DO:MORE. With national TV advertising featuring Anthony & Durant airing this month during the NCAA tournament, the guys – who are known and recognized around the world for basketball – are showcasing their individual passions off the court with the support from Degree Men, in hopes to inspire guys everywhere to DO:MORE in their own lives.
With the support of Degree Men with MOTIONSENSE, Anthony has the confidence and protection needed to take his game to the next level and DO:MORE whether he's running 94-feet up and down the basketball court or going 12-rounds in the boxing ring.
It's not your fault. It's not your fault. It's not your fault.
There's a reason why you can't turn away from March Madness. Even at work. Coke Zero explains:
You get the feeling that making a commercial with these two would be awesome/impossible.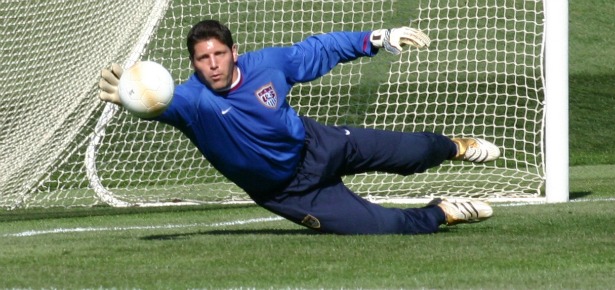 If you're old enough to remember when the US hosted the 1994 World Cup, you know Tony Meola. The former US National Team goalkeeper made 100 appearances for the national squad between 1988 and 2006. Born and raised in Jersey, Meola and his larger-than-life mulleted/ponytailed persona was one of the first true soccer superstars in the States.
Meola was a foundational stud who helped launch Major League Soccer in the US. He's an Italian-American who grew up loving soccer (his pops Vincent played reserve fullback for a second division team in Italy), but Tony also excelled in basketball and baseball. Dude was even drafted by the Yankees. Meola is an engaging guy. He has an awesome radio show called Counter Attack Radio and he also plays the drums.
I caught up with Tony last week when he was in Denver on March 21 when he surprised members of the Future Soccer Academy by hosting an Allstate "Good Hands F.C." Clinic that included free gear and tickets to the US v. Costa Rica blizzard match that took place on March 22. Tony and I discussed the Allstate Clinic future prospects of the USMNT, racism in soccer, the fact that all goalies are a little bit nuts, the '94 World Cup, the birth of the MLS, drummers and a whole lot more. Here's the interview: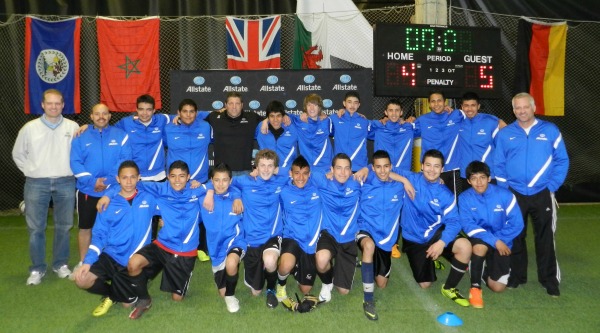 CS: So let's start with the Allstate Good Hands FC Clinic. Tell me what that's all about.
TM: Yeah. So Allstate is in their third year of sponsorship with both Major League Soccer and the US National Team. We get to go around the country. I've been with the program all three years now. Essentially what we do is the night before a game, we go into the community and we barge in on a practice, which has all been set up through the coaches. We give them a clinic and then ultimately we do some shootouts and we give some prices away and all that kind of stuff. And then at the end everyone comes in and everyone gets a gift from Allstate which is a bag with basically everything that they need for the upcoming season. Literally it's a group that's in maybe a little bit more need than some other groups for uniforms, sweat suits, soccer balls, training gear for the coaches. Ultimately, at the end, they're given tickets to tomorrow night's game. And in this case, it's the US-Costa Rica game.
CS: Oh nice. That sounds cool.
TM: Yeah it's really cool. It's a really cool night. Allstate does a great job.
CS: So why aren't there more youth academies in the US? Whether they be from MLS teams or the National Team. You see places in Europe where every club and country has some type of academy where they train these young players. We have such a strong youth soccer culture, but we don't necessarily put a lot of investment into that development and bringing them forward.
TM: We have 100 academies in the country. All MLS teams have them now, as of finals last year. Major League Soccer has committed above and beyond what the club teams are required to commit to the programs now. It has committed upwards of 20 million dollars to the program. One of the primary focuses is to continue to develop youth soccer players. That's the only way we're going to continue to grow in this country.
People started screaming about it a couple years ago when they put the academy program in, but it's not something that is going to happen overnight. It's not something that was considered their first priority when they put the league together, but it's certainly a priority right now. It's going to take a little bit of time to implement it fully, but from what I've seen, everybody is taking steps in the right direction.
CS: You were a foundational contributor to the whole birth of Major League Soccer in '96. How do you think the league has progressed since then and can they do more to gain exposure and increase popularity?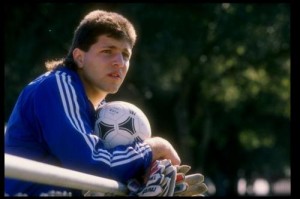 TM: Well certainly there is more exposure, much more exposure. Social media now exists, which certainly didn't when we started. That's huge. The television deals that they have are different than the deals we had, you know? So it continues to grow, and that was the goal for everybody. First we had to figure out, how do we grow it in the right way. And then once we had, do we have the resources to grow? Is there the funding in US Soccer to grow it? And they've come about on all of these things. Do I think it's the end of the growth? No, I think there's still so much more. And I think everyone agrees that there's still a ways to go, but I also think everybody is happy with the direction that it's going.
CS: So if we started to see things like time outs or commercials in soccer, do you think that would attract more advertising dollars and maybe help make the sport more popular and viewable if it had more of that TV exposure?
TM: Good question. It attracts so many different ways to advertise, in soccer. The problem with our sport, and I don't think we're going to start it here in America, is it's 45 minutes of running. That's the one part of the game nobody wants to see change.
CS: Right.
TM: Everyone wants that to flow. From a coaching standpoint, I'm sure a coach wants to have the ability a couple times to have a time out and make some changes, but that's the beauty. Coaches get one chance to make things right and that's halftime. Of course they can make some substitutions along the way, but that's their one time where they can put their imprint on the game.
CS: You were a key member of the '94 World Cup team that really helped advance the game in the States. What's your fondest memory of that whole US World Cup experience?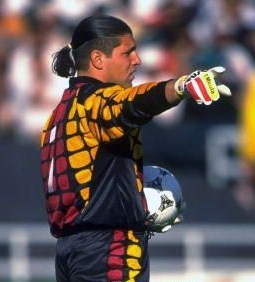 TM: I think the unity of that team. In '94, I mean we had half the team that played in Europe and half the team that played in the United States. When we got together, the cause was always the same and we knew how important it was. They know how important it is here as well, but we had heard for four years that if we didn't qualify in 1990, they were going to take the '94 World Cup away and we knew it was a privilege for us to have it in our country. We understood it and we played as such. Every minute was important to us. Every second we were together was important to us. That's what I remember about that group. That was never something you had to worry about.
CS: Do you think the USA will win a World Cup in your lifetime?
TM: I sure hope so. It's hard to say. Even if you take Brazil or Germany or Italy, it's hard to say if any of those teams will win another World Cup from here on out, in my lifetime. It's just so difficult to win. There have only been eight or nine countries that have won the World Cup and there's a reason for that. But I certainly hope so. And we've had teams that could compete, the team in 2002, the team in 2010, could all compete with anybody in the world. But you know, you have to get the job done on that day. I'd like to think the answer is a solid yes, but I can't give you a solid yes.
CS: I gotcha. Do you like what Jurgen is doing with the direction of the National Squad? What do you think the program has to do to take the next step in the international stage?
TM: When I think about Jurgen, for me, he's going to be –and I say this all the time– he's going to be judged, and should be judged, on the results.
CS: Right.
TM: Right now he's under a little bit of pressure. Which, one, I think is good because it shows that people care. If no one cares you never have any pressure. My concern is that sometimes, from reading the federation, he changes the whole program. For me I'd like his concern just to be strictly on the National Team qualifying for the World Cup and progressing that way. Let everybody else worry about development below the national team. As far as the system, I don't know that the system has changed all that much, if any. I still think it's about results. That's what people want to see. With these World Cup qualifiers it's just vitally important.
CS: The US has such a great track record of producing quality goalies, but it seems that producing that same level of skill with players in other positions has proven a bit more difficult. Why do you think that is?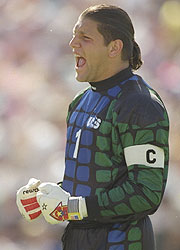 TM: Well it's an athletic position. I think it's one of coordination. Our guys generally grew up playing baseball, playing basketball as well as soccer, and are a little bit more well-rounded. Because it's an athletic position, they can pick it up a lot quicker. We used to have foreigners on our team in multiple positions and we'd play a simple game like basketball or handball and you could tell that their eye-hand coordination was zero. Our field players even, they were good playing basketball, baseball, or whatever else we were playing. So we grew up playing multiple sports, I think it's good. Eventually you've got to concentrate on one to make it to that level, but for the most part I think that's what's up with the goal keeping position.
CS: So why did you choose soccer over baseball and basketball? You were pretty accomplished at both. I mean you were drafted by the Yankees, man. What made you gravitate toward the soccer field?
TM: My goal as a kid was to play in a World Cup. I grew up watching Italy, because of my background and watching Dino Zoff in the 1980 World Cup in goal. That was what I wanted to do, unlike most kids, especially in that era. Now it's probably not so uncommon to have kids dream of playing in a World Cup, but back then it probably was your second or third choice. For me it was just the thing I wanted to do more than anything, and I was lucky enough to be able to live that dream.
CS: Do you think all goal keepers are just a little bit nuts?
TM: (laughs) It would be hard for me to disagree with you.
CS: (laughs) Nice.
TM: I don't know if that's before, during, or after the job. I'm not so sure.
CS: Do you think you could currently help the New York Jets win some games?
TM: No.
CS: (laughs).
TM: (laughs) I don't think so. I think the range has diminished a little bit, but I still think from 45 yards in I'd be alright.
CS: I know you're a pretty accomplished drummer, who is your favorite drummer of all time?
TM: I would say Neil Peart from Rush. Just like you always try to be like someone you're never going to be able to be like. Carter Beuford from Dave Matthews Band. Guys like that. Guys that you can just tell are really good at having fun at what they do.
CS: What do you think can be done about the whole racism in soccer situation? It seems to be pretty rampant and kind of a growing problem.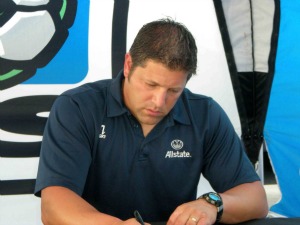 TM: Yeah, unfortunately it is. We have this discussion on our show, it seems like weekly. And it seems like, for whatever reason, in these last couple months it has come to the forefront again. Fortunately we don't have a lot of it here in the United States. I think we've had so much education in the United States, dating back so many years, that kind of helps us. Kids are learning about it in school. I'm not sure what the education is at a young age overseas, but yeah, it's got to stop. It's sickening every time I hear about it and every time we have to talk about it. We talk about the same thing, when is it going to end? When are people going to learn? When are they going to stop being so cruel to each other? But some people just don't get it. They just don't get it. And the scary part is we have guys on our show that have played 20 years ago, played overseas in different places, they'll come out and talk about how bad it is now. They'll give us horror stories about how much worse it was when they were playing. Any offence in that regard is disgusting to me, but to listen to some of the stories they tell, it just blows my mind.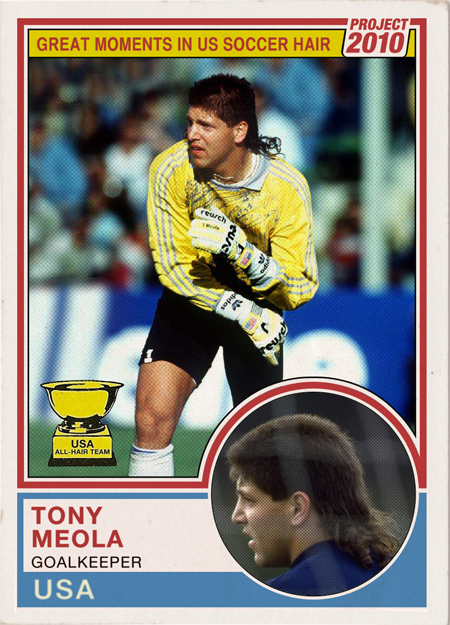 CS: Last question for you. I'll try to end it on a little bit of a lighter note here. Do you think ponytails will ever make a comeback on the pitch?
TM: Oh, that would be my dream.
CS: (laughs)
TM: Even more than the prettier ponytail, would be if the mullet came back.
CS: Oh, that might be asking too much (laughs).
TM: That might be, but hell, bell bottom pants came back for a little, right?
CS: Anything is possible (laughs).
TM: (laughs). Maybe one day. Maybe one day…
The first episode of the BECOME ONE web series is now up on www.gotchocolatemilk.com. We interviewed Hines a few weeks back and told you about his quest to become an IRONMAN. In the first episode of BECOME ONE, Hines is introduced to his new coach, 8-time IRONMAN World Champion Paula Newby-Fraser.
The series will run all the way through the IRONMAN World Championship in October. You can follow all the action on www.gotchocolatemilk.com.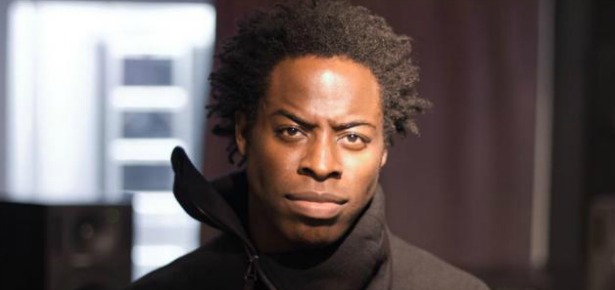 Jaymes Samuel is the type of person you wish they'd make more of. Bursting with energy, his creativity is palatable. The guy's a born storyteller. He's the type of casual wordsmith that reveals his cleverness in everyday conversation. He just can't help it. Articulate, confident and excited, that's his default mode. He's a singer, songwriter, producer, writer, filmmaker, all-around multitasking visionary. He knows he's the shit, too. And the real awesome thing is that he doesn't hold it against you.
I had a casual lunch with Jeymes and a group of other media folks while visiting SWSX in Austin. It was the day of his film debut, They Die by Dawn, a 50-minute Western short with a sick cast that marked Jeymes first foray into film. The guy has created music videos before and worked with the artists like Jay Electronica, Jay-Z, Tori Amos, Charlotte Gainsbourg and a bunch of other people to create some great music. Jeymes has his own music crew too, a group called The Bullitts who will debut their first album this May. They've already released some pretty chill tracks, so check 'em out if you haven't already. I like "Landspeeder" quite a bit.
Anyway, MANjr is friendly with the Bulleit Bourbon brand, who helped sponsor the film, so we got sent out to SXSW to see the premiere of They Day by Dawn at a Bulleit-sponsored event at Viceland. The short film had a great cast (Michael K. Williams, Isaiah Washington, Rosario Dawson, Giancarlo Esposito, Erykah Badu,Nate parker, Jesse Williams, Bokeem Woodbine, Felicia "Snoop" Pearson, you get the point). And by all accounts, everyone had a lot of fun making this short film.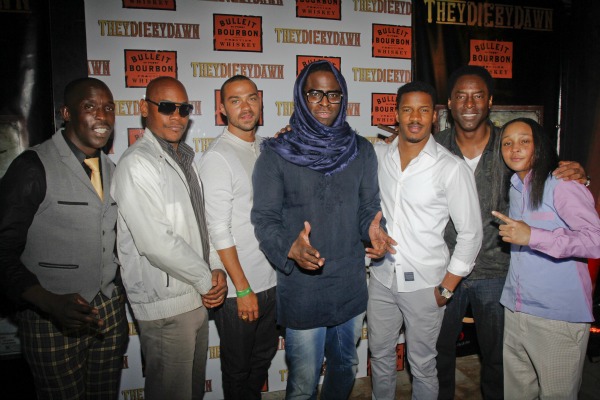 The impetus of the film was Samuel's love of Westerns and his desire to correct a "huge inconsistency" that he saw in Hollywood's historical "disservice" of excluding people of color in Western films. But this short film was just the beginning, just a taste of more to come. As Samuel put it, "This was just a link. What's coming next is a full tub of Haagen Daaz."
That tasty bit of froyo is coming in the form of a full-length feature film called The Notorious Nine. They Time by Dawn was just a sketch, an illustration that Jeymes can do it all.
I had a chance to speak with Jeymes at the premiere of They Die by Dawn at SXSW in Austin. We talked about everything from his original score inspiration to the upcoming feature film The Notorious Nine and a whole lot more. Here's the interview:
CS: So I know you did the soundtrack yourself. I felt a heavy Ennio Morricone vibe, is that where you drew some of your inspiration? Those old spaghetti westerns?
JS: Absolutely, Ennio Morricone is like my favorite film composer of all time. I love that guy, man. "Ecstasy Of Gold" is one of the greatest pieces ever made. So when I was doing They Die by Dawn, I drew a lot of influence from him and what he was doing. Because Ennio Morricone was a guy that didn't have big orchestras at hand, so he would use voices. So he was the first guy that wasn't doing Western music to a Western. He was just doing what he saw in his head. He couldn't afford an orchestra so you'd hear "aaaaaaaaaaaaaah ha ah ah ah" so swag, you know what I mean? He is my favorite composer of all time.
CS: That Mission soundtrack is all super emotional as well.
JS: Ill, man. Ill!
CS: Alright so I know this thing ended on a cliffhanger, is there anything you can tell us about The Notorious Nine or not yet?
JS: Let me tell you something. I'll straight tell you about The Notorious Nine. But even while I'm telling you, that's nothing in comparison to what's coming. I shot They Die by Dawn over four days, right.
CS: Four days?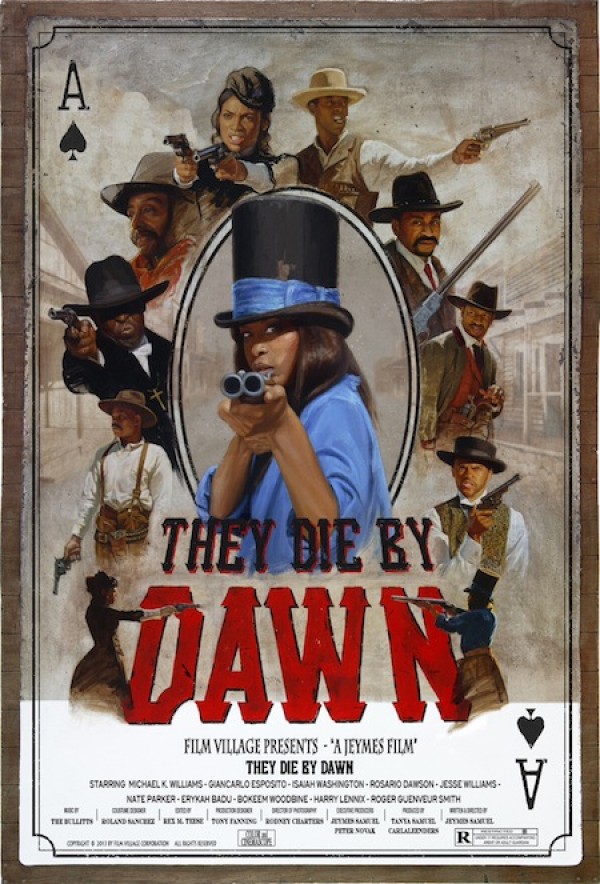 JS: Four days, that's small. For Notorious Nine, there was a guy called O.W. Gurley right, and he got his 40 acres and a mule. He took this place, Greenwood Avenue in Tulsa, Oklahoma, and made black Wall Street. I'm rebuilding black Wall Street for Notorious Nine. I'm bringing back Jack Johnson. There's a big bank heist around Jack Johnson, right. I'm bringing all of these characters back and I'm assembling them in one place at one time. We touched on one town in They Die by Dawn, but for Notorious Nine we're going everywhere. It's much bigger.
CS: Are we going to see some of the same characters?
JS: Yeah, because it continues. This is like a prelude. But The Notorious Nine, you can watch it even if you haven't seen They Die by Dawn. But They Die by Dawn serves as a prelude to what's coming next, when I unleash the most menacing villain in modern day cowboy movies, Rufus Buck. It's like some real, real menace. It's about the pursuit of Rufus Buck and, in turn, his pursuit of The Notorious Nine. You know what I mean? The movie is almost like a heist movie. It's a really great thing.
CS: I've heard you talk about how you're assembling this cast and you thought of it like The Avengers. How did you single out which characters you wanted to bring to life?
JS: Well there were about 150 characters I wanted to bring to life. But I was like, let me save some great ones for the The Notorious Nine and let me just introduce the ones I want to put out there now. Giancarlo Esposito is one of my favorite actors of all time. He's the reason I'm wearing Jordan Force today. He was doing research into his character and I told him I wanted him to play him, it was just natural. Then I wanted to introduce the character of Rufus Buck and I wanted to talk about Bill Pickett, who wasn't really an outlaw. He was more like a rodeo dude and that. But I really wanted to introduce these characters, just a few of them first, the ones that stood out to me the most. That was the easiest to portray. If it was someone like Cherokee Bill I'd want to make it more violent. He's in The Notorious Nine but I'd want to make it even more violent with Cherokee Bill.
CS: Are we going to see some of the same cast members?
JS: Yeah. You're going to see all the same cast members, all the ones that didn't die. You'll see all the same cast members and more. We're going to close down down Hollywood on The Notorious Nine. You're going to see something that you've never seen before in cinema.
CS: So how did you first get involved in the Bulleit Partnership? How did that develop?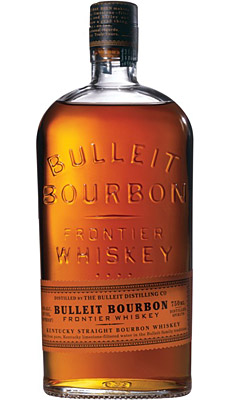 JS: Well what happened was what I see in Westerns, when I see cowboys asking for whiskey, that's unrealistic. That's lazy on the writer's part. They always ask for the same thing, that couldn't happen. If I was a cowboy I'd have a particular drink, if they had particular drinks. Otherwise what is the point of having particular drinks in those days? Everything around the world has just been called whiskey, but they had brands so people would choose a brand. The only time when people would just say "give me whiskey" was in the depression era when they outlawed alcohol.
CS: "Gimme some of that bathtub stuff."
JS: Yeah, give me some moonshine. Musically, I'm the Bullitts so I found this brand called Bulleit Bourbon, and that existed back then, it was meant to be like this couture brand. I was like, if I was a cowboy I'll drink Bulleit," so I just wrote it into the movie just to be authentic. So when people look at the script they can't say "that didn't take place" or "that town in 1890 didn't take place" or "there wasn't all that many black people." I wanted to have all of those aspects and all the realistic aspects, that's why I chose Bulleit Bourbon. The next minute, after I'd done post production, I met someone from Diageo, they told me that they own Bulleit. I was like, "no Bulleit doesn't exist anymore" and they were like, "yes is does." Next thing you know I'm speaking to Tom Bulleit and it's just a whole other –
CS: I heard that guy's a chill dude, right?
JS: He's the most chill. Tom Bulleit is like Keyser Soze – the most chill dude you'd ever get to meet. He's exactly like me with regards to his brand and bringing it back and the audacity of daring. You know what I mean? Dare to dream, almost, you know what I mean?
CS: So what were some of your favorite spaghetti Westerns growing up? That you drew inspiration from for this?
JS: Well, the spaghetti Westerns were a particular type. I love all the Westerns, even the ones that take liberties with black people, like The Man Who Shot Liberty Valance. I love all the Westerns. But as far as my favorite spaghetti Western, my favorite of those is For A Few Dollars More–
CS: With an awesome soundtrack…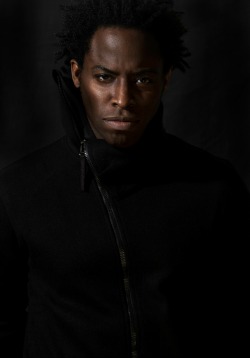 JS: Wicked, man. Obviously The Good, the Bad, and the Ugly. Once Upon a Time in the West with Henry Fonda playing the most evil person you're ever going to meet. Also a film called The Great Silence – Il Grande Silenzio. I think it was by Sergio Corbucci. It was an ill Western starring Klaus Kinski. And it showed a black guy, one of the leads is a black guy, and it has no reason for him being there. He's just there, he's just one of the characters in it. It really stood out to me.
CS: It took a foreign guy to do that.
JS: Yeah man, it took a foreign guy to do that. Like come on man, it took a foreign guy. It took Sergio Leone to cast Woody Stroud in Once Upon a Time in the West. And when he's coming he's not chasing anyone or serving anyone, he's just one of the characters there. They don't call him "that black dude," he's just one of the characters. It took someone who wasn't institutionalized by the Hollywood system to do that. That was my inspiration. Some of those other things were my biggest inspirations when telling the story of They Die by Dawn and The Notorious Nine.
CS: When does that start filming?
JS: I'm going to start filming The Notorious Nine I think in late May or beginning of June. I'm going to start filming in a minute. When I get to London I have to hand in another script and then we go full on into pre-production.
CS: Well, I look forward to that.
JS: It's ill, man. I'm telling you, The Notorious Nine… people like this stuff, and They Die by Dawn was done in four days.
CS: Yeah.
JS: The Notorious Nine is a bank robberies, train robberies, jailbreaks, and a whole other rebuild. I'm rebuilding Yuma and we break out of Yuma. It's a whole other moment. I think it's going to be something really culturally significant. It's going to be dope. The Notorious Nine, baby!
This commercial will start airing in April, but here's your first look at Gillette Fusion ProGlide Styler spot featuring Kate Upton, Hannah Simone and Genesis Rodriguez. The campaign will lead up to a live body hair styling event on April 18th. The event will be streamed online and will feature Kate, Hannah and Genesis fielding questions and chiming in on their male body hair styling preferences. Fans can send in questions via Twitter (@gillette #whatwomenwant), on YouTube or Gillette's Facebook page.

Logan Miller started out as a child actor on a few shows like "I'm in the Band" and he voiced the character Nova from the animated series "Ultimate Spider-Man." Now Miller can be seen portraying a sex crazed maniac in an independent film called "Plus One" that premiered at SXSW this year. Before the party of the century for a group of college freshman, a small meteor hits earth and instead of any physical damage, the meteor causes molecular damage and every person develops a duplicate of themselves. It's up to 'Teddy' to band everyone together and save his friends from the potential threat of the duplicates.
Miller was also on NBC's "Grimm," Adult Swim's "Children's Hospital" opposite Rob Corddry, Michael Cera and Megan Mullaly, and more. I was able to talk with Logan about his current projects, SXSW, and his career.
Art Eddy: You were at South by Southwest promoting the film you are in "Plus One." Tell me a bit about the film and your role.
Logan Miller: The film concept is one that you have not heard before. It is a very crazy sci-fi thriller mixed with a teenage party movie. This small, small meteor comes to Earth and is very insignificant and it doesn't affect anyone physically. It has this electric current that creates a tremor in the time space continuum. This causes everyone to have duplicates of themselves, but it is not just duplicates. It is you but you in an hour from that past. So everything you duplicate does you already have done. Add that with a sex crazed party movie and you have a great time at the movie theater.
AE: How did you get involved into this film?
LM: I auditioned my ass of for it. I started with some tapes and then I flew all the way to New York. I then flew to London to test for it and then went back to L.A. to test for it. I was definitely committed to do this project. It had been something that I had never done before and it was a branch out of my previous work. I think this is as fresh as you can get. I really wanted to grab a hold of this role immediately and it worked out to my benefit. I think we have something here in the film that we can be proud of.
AE: Wow that audition process you did alone should be made into a movie.
LM: (Laughs) Right. Once I flew to London I told myself if I didn't get this role I would be very upset.
AE: So you were showcasing the film at this year's South by Southwest festival? Did you get a chance to meet some cool actors or musicians?
LM: Well I was very busy promoting the film so I didn't have a chance to meet some of the people I wanted to that were there at the fest. It was great and I had a blast. I am actually from Texas so I knew a lot of the cool places to take people when I had down time. The vibe of the fest is great. I love the collection of Indie film makers and great music melded together. It is really a fun, fun town to lose yourself in and I really enjoyed my time there.
AE: Do you have any other projects that you are currently working on?
LM: I have another movie called "Deep Powder" that just got accepted to the Tribeca Film Festival. I also have this movie called "Night Moves" that Kelly Reichardt directed that also stars Peter Sarsgaard, Dakota Fanning, and Jesse Eisenberg. That movie is actually coming out in the summer. I am trying to finance my own short film. It is called "Risen." You can check it out on my indiegogo website.
AE: You also voice the character Nova in the "Ultimate Spider-Man" animated series. For you what are some differences between live acting and voice acting?
LM: Voice acting I wouldn't say is ten times easier, but I will because it is. It is so much fun. We do the show like an old radio show where we all get together and voice the show. We have such a blast doing the show. You just show up and read your lines and you can be as comfortable as can be and you don't have to get any makeup on for voice over work. It is great.
AE: Are you a fan of comic books? Did you know a lot about the character of Nova before the series?
LM: Of course. Well I didn't know too much about Nova, but I read up on him. I know he is part of the Guardians of the Galaxy. I am glad that film is coming along and maybe I can play him in the film. It would be an awesome role to play.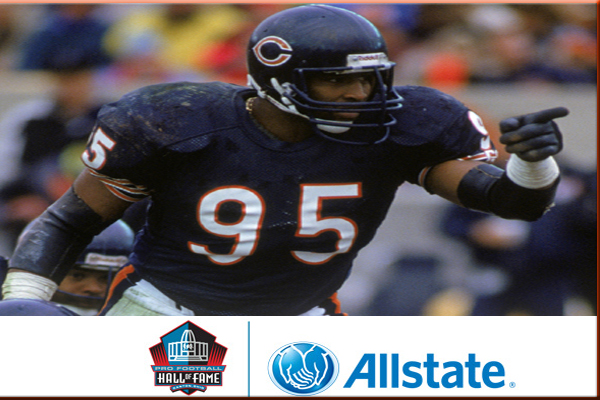 Richard Dent, former NFL defensive end and Atlanta football legend, will be honored in his hometown community as part of a special program called "Hometown Hall of Famers" presented by the Pro Football Hall of Fame and Allstate."
Dent will be recognized by representatives of the Pro Football Hall of Fame, Allstate Insurance Company and the Atlanta community during a special ceremony at Crim Open Campus High School. The event will take place Wednesday, March 27.
The four-time Pro Bowl honoree was named Super Bowl MVP for his dominating performance against the New England Patriots in the Bears' decisive 46-10 victory in Super Bowl XX. Dent was inducted into the Pro Football Hall of Fame in 2011.
Art Eddy: You are being honored in Atlanta for the "Hometown Hall of Famers" program presented by the Pro Football Hall of Fame and Allstate this week. How did it feel when you heard the news about this great honor?
Richard Dent: It is a great honor. When members of the Pro Football Hall of Fame and Allstate come together to help people like myself go back into the community and say thanks to your neighborhood and places where you grew up it is a great feeling.
There is going to be a bunch of kids from the Atlanta school systems there and the message will be that you should strive to find yourself. For me I didn't play sports in high school until my junior year. I was able to go to college on a scholarship and go play in the National Football League. If you play at a certain level you might be able to make it into the Hall of Fame. I never really thought about that, but did dream about going to the Super Bowl and winning it. Had a chance to see those things happen.
Now Allstate and the Hall of Fame have allowed me to get on the road and get into the communities and tell these stories. I am able to thank those who were able shape young men in the community like me.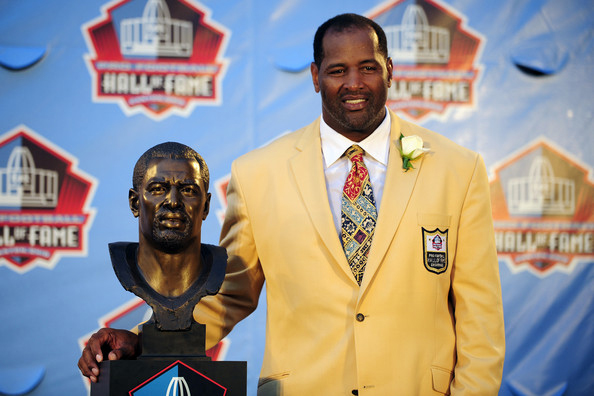 AE: Henry Adams, who is one of your former coaches, will present you with the historic plaque. Talk to me about your relationship with your former coach.
RD: He was the defensive coordinator and Coach William Lester, who was the head coach, would have probably introduced me into the Hall of Fame, but he has passed. I had a chance to thank him at the Georgia Hall of Fame. William Lester has had touched so many thousands of students that went to college.
Henry Adams was the head coach of the basketball team. He made me be the water boy for one year. Then I played my senior year and made All-State. I thought I had something there and didn't really think about football too much. William Lester help me stay at Mercy High School when my family moved out of the community. He would give me rides to and from school for two years.
It just goes to show you what people would do for you if you put a flag in the ground and work at a goal and find yourself. I wanted to be someone in my community and be looked up to. My family appreciated that. This is why I appreciate Allstate and the Pro Football Hall of Fame to come back and say thanks to some people. Plus if you can save some lives by what you say and they envision theirs lives on what they can be it is a good thing.
AE: You were part of the great 46 Chicago Bears defense with Mike Singletary, William Perry, Wilber Marshall and many others. What was it like to play with those guys?
RD: When I look back it was me, Dan Hampton, William Perry, Walter Payton, and Mike Singletary. I think we had probably seven to eight Hall of Famers on that team. When you have all those guys in life just like in football you can reach your goals. We should have been the first team in the NFL to win three Super Bowls in a row. In four years we only lost ten games.
If you look at all the dominant teams in the NFL from decade to decade it would be hard to find a team to match what we did in those four years. It just goes to show you how tough it is to accomplish what we did.
AE: In the 1985 season you guys were so close to going undefeated and match the record of the '72 Miami Dolphins. Ironically enough it was the Dolphins who were the only team to beat you that year. At that time did you guys care about that or just focused on winning the Super Bowl?
RD: When we lost the Championship game the year before to San Francisco we vowed to each other on the plane ride back that we were going to win everything hands down. We didn't say we were going to go undefeated. The first game of the year we were down 21 points at halftime. That was Tampa Bay.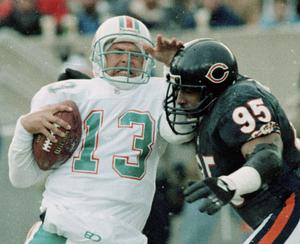 We had a conversation at halftime and we came back to win that game. In Week 13 we faced the Dolphins and we looked at the calendar and thought this was going to be the team to beat since everyone else was kind of mediocre. We lost that game got back home around 2:30 in the morning. We woke up about 12 the next day and went to the studio to record "The Super Bowl Shuffle."
We were like so what we lost. We will see those guys down the road. If they do their thing we will see them in the big game. We were looking for them. I am glad we didn't see them because Dan Marino is a good friend of mine. I would have hated to put on Dan what I wanted to do to him. If he showed up it wouldn't have been a nice day.
AE: Speaking of Super Bowl XX you guys beat up on the New England Patriots and you took home the MVP trophy. I am guessing 1985 was a great year for you.
RD: Yea it was a great year for me. That was my first award I received for a particular thing I did in a season. I led the league the year before and lead the league that year and I didn't get anything for it. So for me it was my first award. I was really honored to win that MVP award in the Super Bowl.
AE: After playing with the Bears, you played with the 49ers, Colts, and Eagles. You even won another Super Bowl ring with the 49ers. How was it for you to adjust to playing for those different teams?
RD: No it wasn't for me. God gave me the physical abilities to play football. You go out and give your best each week. Sometimes there are people who talk about their play and don't match it with their performance on the field. That was the tough part. You try to work with people and tell them that where there is a will there is a way.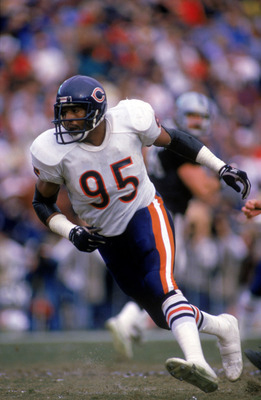 AE: You also were one of the all-time greats in the NFL for sacking quarterbacks. You at times made it look very easy. What was the secret to your success?
RD: Well I am a geek when it comes down to technology and tendencies and data. I would break a person down in about 15 minutes. The point is your ability can go to a certain extent.  Your talent can go anywhere you want it to go. You look and listen and you start to know what you need to do.
You might be able to take those tendencies from a player and know about 80 percent of what they are going to do. So I don't have to run crazy. For me when I start moving I am looking at 80 percent of what could take place and I'll fight for the other 20 percent. You start to have fun during the game because you most likely know what will happen. That gives you longevity. If you are out there bouncing around and running around at some point the game catches up with you.
Everybody can play, but what level can you play at? That is the key for me to be the best you can be.

AUSTIN- The symbolism of the setting was not lost on me. In early March, while the youth and energy of South by Southwest swirled all around us, I joined fellow media members at the more traditionally luxurious Barton Creek Resort and Spa. Our welcome assignment was to push and test the 2014 Lexus IS series on roads and the track. While we were given unfettered access to the entire IS line, my focus was primarily on the IS 350 F-Series.
2014 Lexus IS – The Look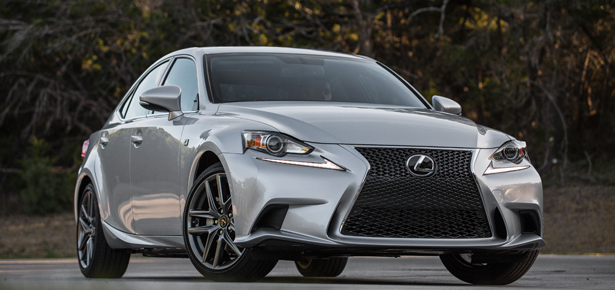 Whether you love it or hate it, you can not help but notice the new spindle grill. It's not only the clear focal point of the car but it represents a design shift throughout the brand favoring a more modern, aggressive look. People saw this car coming, I counted at least four head turns and two double takes during our road test. The roof line, like much of this car, leaves you with the not so accidental impression of the LFA super car. When still, the car takes on a very strong and dignified air. It waits patiently for you, like some massive exotic pet waiting to be led on a stroll around the grounds. The new look translates well in the flesh, the controversial grill is simultaneously the beginning and the end of each line. This continuity gives it a sense of belonging and purpose that doesn't translate well in photographs.
2014 Lexus IS – The Feel

The tech and amenity packed cabin continues the intuitive and driver centric theme.The bolstered seats in the IS 350 F series hold you securely in place. The driver's seat quickly gave me the impression of a cockpit as I adjusted the electronic seat and steering column controls to fit my preferences exactly. At 6′ 4" tall I found the leg room to be more than sufficient and perhaps more surprisingly there to be enough head room for me to keep my neck straight up and down without my head touching the ceiling. The remote touch system allows you to interact with the onboard computer system with far less driver distraction than a traditional touch screen. The analog clock sits proudly in the center of the dash, a nod towards traditional standards in the sea of sleek modern elements. The car was designed around the driver and it shows. All of the minor flaws I found were passenger specific. The back seat had enough leg room to fit me comfortably but the head room was decidedly lacking. It was a non issue amongst my smaller counter-parts, they found the back seat to be a comfortable and pleasant ride. The passenger seat mostly succeeded as well. The comfortable bolstered seats held you tightly while both screaming around the track and coasting through a school zone. I found the cup holder's placement to be a bit awkward for the passenger's left arm and interacting with the car's controls from the passenger side was at times less than ideal. A lack of a designated position for the ever present smart phone was a surprising omission in such a modern and well thought out car. Bluetooth does allow for considerable control over your phone through on board buttons and voice activated commands. The car manages to pack in the technology and amenities expected in a luxury sedan without feeling clunky or crowded.
2014 Lexus IS – The Drive

Our driving experience really went up another notch at the Driveway Track on the edges of Austin.
The "sound optimized" exhaust begins to growl at just over 4,000 r.p.m.'s and the S+ driving mode really shone as I came out of my first turn and put the accelerator to the floor. There was little to any body roll and the car shifted seamlessly through it's 8 speed automatic transmission. It found and passed 60 MPH in about 5 seconds, quickly climbing into the high 80's before leveling out a little. The car, when pushed on the straightaway, gathered another burst of momentum as it crossed from the mid 90's to over 100 MPH. The "G Force Artificial Intelligence" feature helped the automatic transmission down shift quickly and smoothly as I approached the linked turn at 106 MPH. The car decelerated to under 60 MPH as I entered the turn and got down to the safer speed of 46 MPH coming out of the apex. From there it was back on the throttle, testing the body roll at over 80 MPH with some well timed tugs on the steering wheel. Overall the car felt stable at high speeds, though it did jump and bump a bit in the various elevation changes despite it's 3,700 pound heft. It outperformed the competitor cars provided to us easily. It honestly wasn't a fair comparison, the IS 350 F Series was raised on tracks around the world, the competitor cars, though in the same class in comfort and price were certainly not born, bred and optimized for such aggressive driving and it showed. At all times behind the wheel of the Lexus I felt in complete control. I came out of my track day feeling like I had ridden a roller coaster a dozen times, surely a good sign for a sportster.
2014 Lexus IS – The Bottom Line
The 2014 Lexus IS may stop just short of a full redesign but it does signify a clear adjustment in the aim and scope of the brand. It represents a successful combination of luxury and track inspired engineering to give you a sportster that is truly fun and exciting to drive. Overall, aside from the lack of available manual transmission, the car left me wanting little. The paddle shifters certainly shift quickly and they do allow you to use your RPM's to harness the power of the engine. I'm just partial to the more traditional clutch and stick shift available on many other sports cars. Though the automatic is dynamic and responsive it does seem a shame to not even offer one the opportunity to drive such an exciting car with a manual. Maybe next year. Europe's sales numbers await.
2014 Lexus IS
Est MSRP $35k – $61k
Available June, 2013