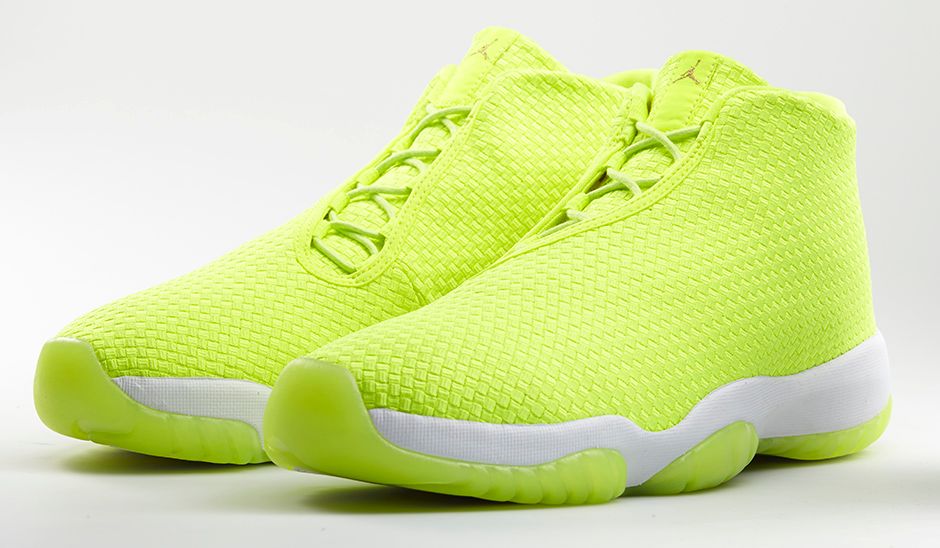 Paying tribute to the symbiotic relationship between the court and the street, the Jordan Future blends one of the most iconic designs with a one-piece woven upper to create an entirely new look. The deconstructed upper forgoes a heel counter and toe enforcer for a futuristic, minimalist style.
The Future gets bright with a blast of Volt on the one-piece woven upper and full-length Air outsole. Stand out in the latest colorway of the Jordan Future. Available on Nike.com May 17.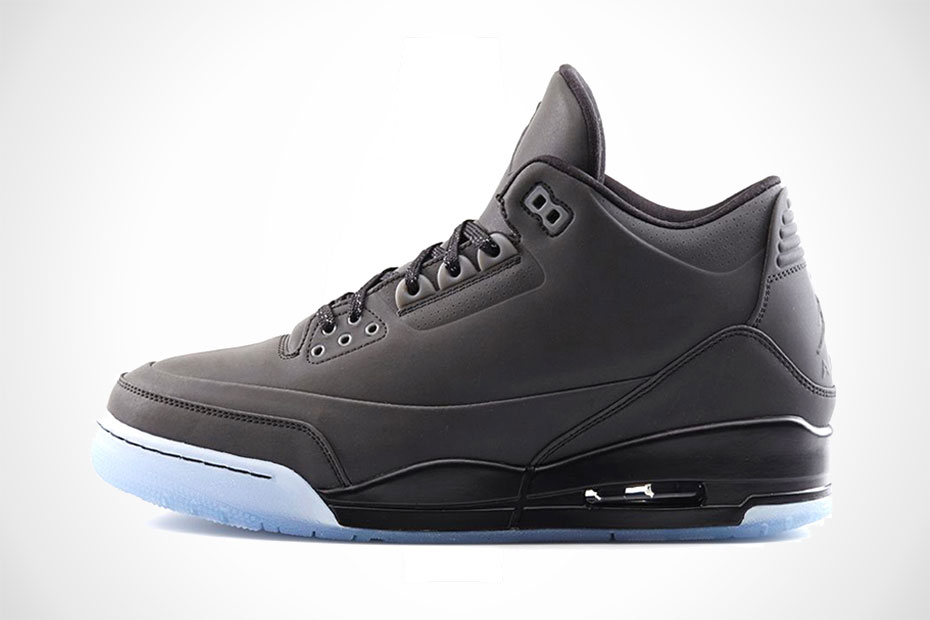 The newest colorway in the Air Jordan Elements collection, the Air Jordan 5Lab3 combines the body of a classic Air Jordan 3 with the iconic reflective elements of the Air Jordan 5. This model's all-black, smooth upper fully reflects light. Just like the Jordan Future the 5Lab3 will be available on Nike.com on May 17 at 8am EDT/5 am PDT.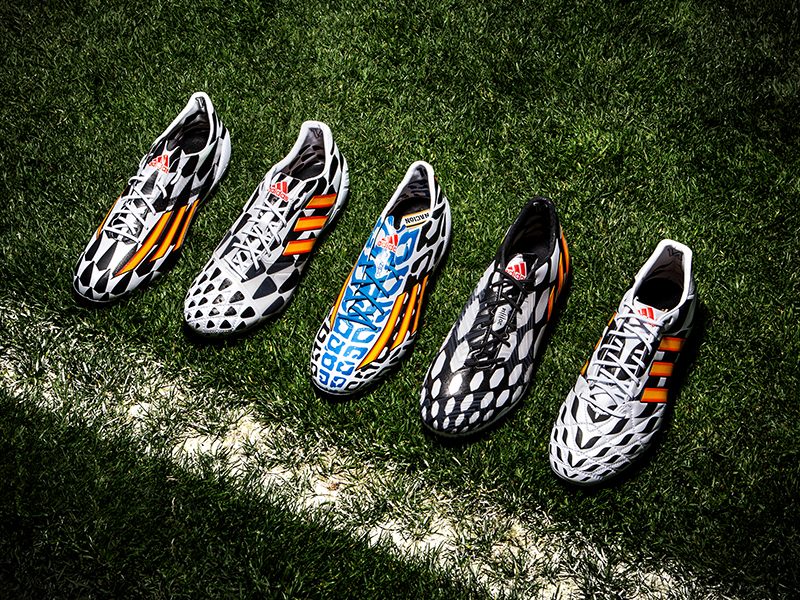 A month before the 2014 FIFA World Cup kicks off, adidas today unveiled the Battle Pack cleat collection. adidas Battle Pack features a new cleat from the brand's five silos including Lionel Messi's signature adizero F50, the latest Predator, Nitrocharge, 11Pro and adizero F50, each with its own disruptive black and white pattern.
Every adidas player will wear Battle Pack during the 2014 FIFA World Cup including Messi, Mesut Özil, Dani Alves, Luis Suarez, Oscar, Philipp Lahm, Karim Benzema, Javi Martinez and Jozy Altidore.
The unique black and white design of Battle Pack is inspired by the war paint of native warriors and features gold stripes representing the FIFA World Cup trophy.  Messi's Battle Pack signature adizero F50 includes a blue and white pattern to celebrate the Argentina federation.
The adidas Battle Pack debuts on field for the first time during the UEFA Champions League Final in Lisbon on May 24.  The collection will be available via pre sale on May 12 at www.adidas.com and hits stores on May 26 at www.adidas.com, adidas sport performance, sporting goods and soccer stores.
Fans can join the conversation on Twitter via @adidasSoccer #WorldCup or at www.facebook.com/adidasSoccer.
ADIZERO F50 MESSI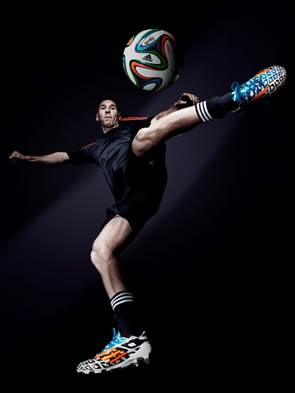 Lionel Messi's signature adizero F50 combines revolutionary technology with the precision engineering of the four-time Ballon d'Or winner. At only 5.3 ounces the adizero F50 Messi is one of the lightest cleats in the game. In addition to the black and white design, Messi's World Cup cleat features a blue and white pattern to celebrate his Argentina federation.
PREDATOR
The 20th anniversary Predator, the Battle Pack version includes the five control zones and provides a new focus on the sixth zone, the outsole of the cleat, through control frame technology.  Worn by Mesut Özil, Oscar, Fernando Torres and Graham Zusi.
NITROCHARGE
adidas' energy cleat, Nitrocharge includes a specialized highly elastic ENERGYSLING around the forefoot that supports side cuts and precision turns to sharpen reactions on the field.  adidas' ENERGYPULSE spring technology provides strong push offs for players while they sprint.  Worn by Dani Alves, Daniele De Rossi, Javi Martinez and Omar Gonzalez.
11PRO
The 11Pro provides maximum comfort and improved touch for players.  A newly designed outsole with conical studs and a comfort frame provides better pressure distribution and a TPU overlay minimizes ground impact.  The 11Pro features an updated upper that uses memory foam embedded into the quilted Taurus leather upper.  Worn by Philipp Lahm, Frank Lampard and Sacha Kljestan.
ADIZERO F50
Built for speed, the 5.3 ounces adizero F50 features SPEEDTRAXION, a new, high speed stud alignment that maximizes acceleration and traction, and SPEEDFOIL, a revolutionary material that combines lightweight, softness and durability for a comfortable, yet locked down heel fit.  Worn by Luis Suarez, Arjen Robben, Karim Benzema and Jozy Altidore.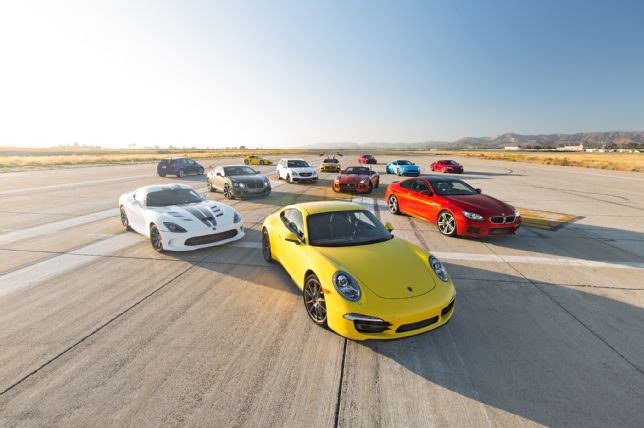 When commuting to work in a boring 4-door sedan, who hasn't passed (or been passed by) a slick roadster and day dreamed about how fun it'd be to pilot such a car.
To help spur such fantasies, the esteemed automotive magazine Motor Trend identifies the "Best Driver's Car," a method of analyzing new sports cars that best deliver a balance of useable performance, accessible handling, and driver-friendly design.
Now Mobil 1 and Motor Trend, are partnering to give fans a chance to live that work commute fantasy in Motor Trend's annual Best Driver's Car competition. Five lucky fans will get a unique behind-the-scenes invitation to Motor Trend's high-stakes, high-octane experience of a lifetime. The winners will not only get the chance to ride shotgun next to pro racer Randy Probst as he pushes each car to their limit in an all-out hot lap at Mazda Raceway Laguna Seca, but they will also be given the chance to test drive these high performance supercars through Monterey's best roads. Fans can visit www.BestDriversCarExperience.com to enter.
Last year's winners got the chance to get behind-the-wheel of some of the greatest sports cars you can buy in America. These vehicles included:
·         SRT Viper
·         Bentley Continental GT Speed Le Mans Edition
·         Aston Martin Vanquish
·         Mercedes-Benz SLS AMG Black Series
·         Audi R8 V10+
·         Jaguar F-Type V-8 S
·         Porsche Cayman S
·         Nissan GT-R Track Edition
·         Mercedes-Benz E63 AMG S Model
·         BMW M6
·         Ford Focus ST
·         Porsche 911 Carrera 4S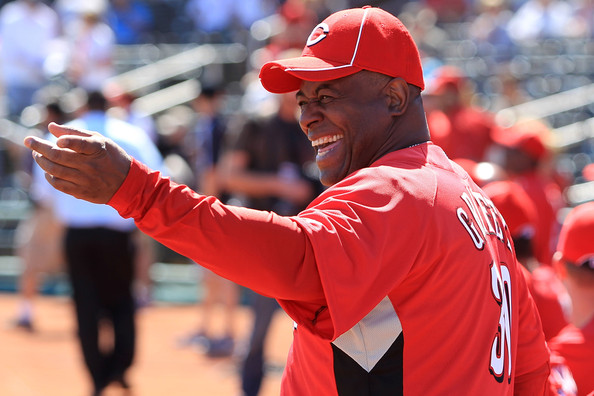 One of the greatest memories I have with my dad is playing football outside in the backyard. He would throw me passes and I would run to go get them. Playing sports with my dad was such a fun experience. Now picture playing with your dad at the professional level.
One duo can say they did that as they both played baseball in the Major Leagues. That duo is none other than Ken Griffey, Sr. and Ken Griffey, Jr. In 1990 they got to play together for the Seattle Mariners. They made history by becoming the first father and son combination to hit back to back home runs.
Ken Griffey Sr. recently had his book "Big Red: Baseball, Fatherhood, and My Life in the Big Red Machine" hit store shelves and is also available as an e-reader. This book is a great read no matter if you are a sports fan or not. His book chronicles him growing up, playing baseball, and the life lessons he learned along the way. You get to hear the two time World Series champion's take on baseball, fatherhood, and life.
Art Eddy: Let's talk about the book, "Big Red: Baseball, Fatherhood, and My Life in the Big Red Machine." What inspired you to write this book?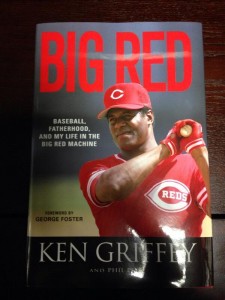 Ken Griffey, Sr.: I have been thinking about it for the last ten years when I got out of baseball. Knowing the fact that things for me and Junior was something different and something new, especially when we got a chance to play together and hit back to back home runs together. Plus all the things that happened to me during the Big Red Machine years and in New York made me decide to put all of that down on paper and see how it comes out.
AE: What were some of the topics you wanted to make sure were in this book?
KG: Well the topics for the Big Red Machine for one. Plus the topics with the Yankees. A lot of people really don't understand why Junior wouldn't play for the Yankees. That was one of the reasons that I put things in the book about that. Plus just a little bit of tidbits of stuff.
There was stuff about my relationship with George Foster and how well we got along the first year when he got sent down from the big leagues to Triple A.  There were a lot things that were involved with that. I just hope people enjoy reading this book.
AE: Your book is very interesting. I loved learning about your transition from high school to possibly going to college or going to work to help out your family. With all the different ways your life could have gone it looks like things worked out just right for you?
KG: Well it did. It was a strange scenario. I had the opportunity to go to a few colleges on a football scholarship. A couple of them were basketball scholarships, but not many baseball scholarships. We didn't play that much baseball in terms of high school ball in Pennsylvania because of the weather.
So it was a situation where I had to make up my mind to help the family. My mother raised five boys and one girl by herself. It was a burden on her. It was tough. So I had the opportunity to do that. I decided to make money as soon as possible to help her out as much as possible. Even though I couldn't do that much with 500 dollars a month, but I figured out if I worked hard enough eventually I would be able to help her.
AE: Switching to baseball. You have so many great moments that happened in your career. You won the World Series twice, won the MVP award for the All-Star Game, and played with your son. Is there a moment that tops the rest?
KG: There are a few moments really. One that stood out more than others was getting the opportunity to play with Junior. We went on the field together on August 31st in 1990. The scenario as tough for me to get there to Seattle after I retired and looked at the whole thing. Bill White called to tell me to sit still and don't move. The thing is if you retire you have to wait 60 days before you can be reinstated. The biggest issue with that this was at the end of August. We only had 31 days before the season was over.
Tim McCarver had mentioned this on television. He said that would be a story and a half if he had the chance to go play with his son. That's when he mentioned I had to wait 60 days. Bill White called about an hour later and told me that he would let me know what happens. He called me back. He said call Marge Schott and thank her. You are on your way to Seattle. Getting the opportunity to play with Junior was the highlight of my career.
AE: I love watching the replay of you and your son hit back to back home runs back in game in 1990. Take me back to that moment and tell me what you remember from that game?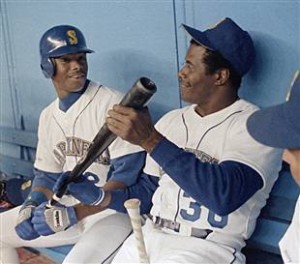 KG: I remember Harold (Reynolds) being on first base. I hit a home run to left-center field. So I am rounding third heading home. The first one that is going to meet me is (Junior). Looking into his eyes I see a difference in him. It was a transition. I knew his concentration level was sky high. After he gave me a high five he got in the batter's box.
Harold Reynolds and I were talking on our way back to the dugout. He says, 'You know if he hits this home run it will be the first time a father and son ever did it.'
I didn't think of it that way. I guess Harold and Junior had been talking about it. That is what happened. When he went to 3-0 I didn't think he would have a chance. He hit a fastball or a sinker low and away. He hit it to left-center field. Dante Bichette in left field was like, 'You gotta be kidding.'
It was an amazing night for both of us. When he got to home plate he was looking for me the whole time. He was grinning from ear to ear. That was such a fun time when he was just grinning at me. He gave me a big hug. I was like oh my God, he did it. All the pressure was on him. He was a stud. He was the man.
AE: That was such a great moment. To hear it from you is amazing. For you was there a team or player that would get you more pumped to play against?
KG: I used to get pumped up against every team. It didn't make a difference. It didn't matter the team or the player. It was just the idea of getting the chance to play baseball and being competitive. That was most important to me. It didn't matter. I was very competitive. I didn't care who I was playing against. Even though I might do research on certain pitchers, like a Tom Seaver or a Steve Carlton it still didn't matter. I was just thrilled to be able to play.
AE: Are you a fan of instant replay being added to the game?
KG: Well, I am still old school I guess. I like the idea of where there is a mistake made by the umpire of a safe or an out call or something of that nature. Let it stick. The game is human. When you start adding instant replays and all that stuff it makes it a bit more mechanical and longer. Now you have to stop the game and decide what is going on. Is it fair or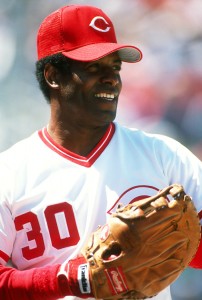 foul and all of that.
Years ago they would tell us that we need to speed up the game because it was too slow. In the Minor Leagues it is funny because they tell you that you can't get out of the box unless you break the bat or it slips out of your hands. You can't get out of the box to get more pine tar so it is a little strange.


Sneakerheads and Kicksologists are looked on by others as a different sort of breed. My passion for sneakers started up when I was in middle school. The Air Jordan V was the hottest pair of kicks around at that time. Even the Fresh Prince would rock them in Bel-Air. I never got a pair of the AJV's, but I did score the Bo Jackson Nike SC Trainers.
From then on I was always fascinated by what sneaks NBA players were wearing. Now more than ever the shoe game has gotten as big as a line outside a Footlocker for a Jordan retro release. People are loving the fact that things like Facebook, Twitter, and Instagram exist. It now allows them to show off their collection or the pair the just scored after waiting five hours in front of a computer on a Saturday morning waiting for their kicks to go into the virtual shopping cart. Some understand this. Others are shaking their heads. We all have our passions. Some of us just love sneakers.
One company is helping to spread the love of kicks in a very sweet way. The SneakGeek is a site that takes the love for sneakers to a whole new level. This site has phone cases, key chains, USB drives, air fresheners, clothes, and you guessed it shoes.
Recently I stumbled upon this site. (Don't know why it took me so long actually.) As soon as I saw these phone cases I wanted one. No matter if you have an iPhone, Samsung, HTC and in some "cases" (see what I did there?) iPads you can show off your love for kicks in a whole new way.

I got the iPhone 5c case with the Air Jordan XIII design. The case protects the phone. It is durable and the colors jump right off the case. To match the case I also got the AJ XIII key chain and air freshener for the car. Sneak Geek sells cases with the designs of Air Jordans, Foamposites, Air Yeezy's, Kobe's, and LeBron's and more.
So for those of you looking to take your sneaker game to a whole new level check out Thesneakgeek.com Better go check it out now because just like some kicks being released on a Saturday these cases at SneakGeek sell out fast.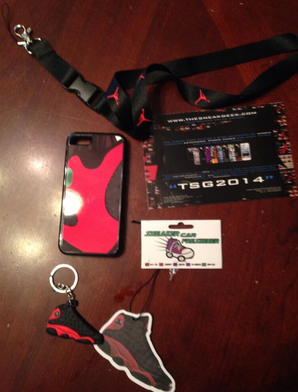 Nothing compliments warm weather quite like a scoop of delicious ice cream. To celebrate spring and the warm days ahead, the Häagen-Dazs® brand is bringing back Free Cone Day on Tuesday, May 13.
From 4 p.m. to 8 p.m. local time, customers can stop by local participating Häagen-Dazs® shops and enjoy a complimentary scoop of their favorite flavor. This year, two of the new Häagen-Dazs Gelato flavors – Caramelized Banana Chip and Tiramisu – will also be available for customers to experience a little taste of Italy.
167 Häagen-Dazs Shops in 27 states and the District of Columbia will participate in Free Cone Day. Additional participating stores can be found on the Häagen-Dazs Facebook page using the shop finder.
Last year, Häagen-Dazs Shops scooped more than 200,000 cones and they are looking forward to breaking that record this year! Customers are encouraged to Tweet about their favorite flavors using the hashtag #HDfreeconeday.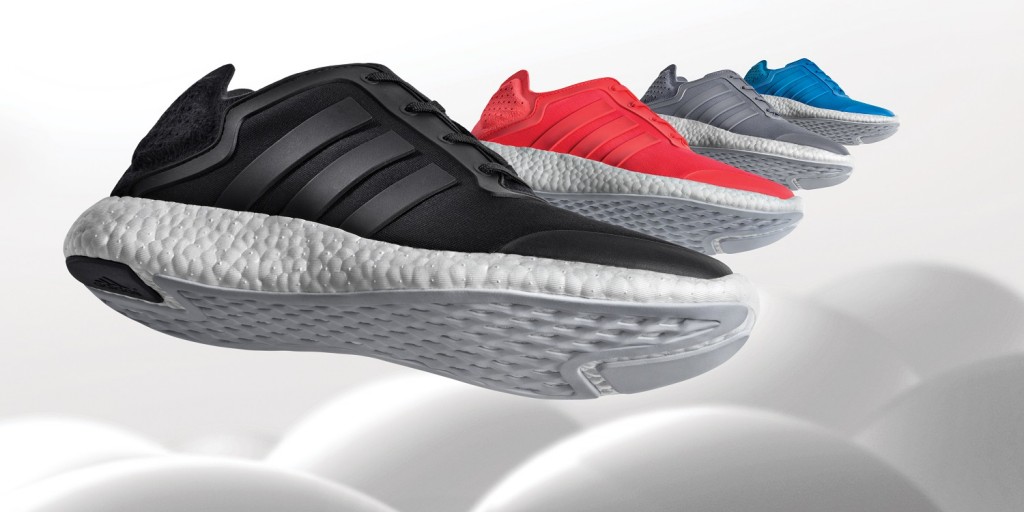 Combining the ultimate in style and performance, adidas today unveils Pure Boost. Pure is the first shoe with an entire Boost cushioning midsole, providing maximum energy return and comfort in a simple, pure design.
Top designers from adidas Sport Performance, Y-3 and Originals combined their expertise to create a stylish, lightweight, comfortable shoe that can be worn with anything in the closet.
"This visually stunning shoe is the purest iteration of Boost," said James Carnes, global creative director of performance at adidas.  "With Pure Boost, we designed the shoe to be stripped down to its rawest form and to highlight the innovative technology in a totally clean and modern look."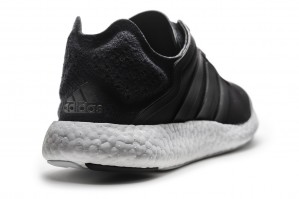 Carnes continued, "The fresh silhouette and simple upper make Pure Boost a blank canvas for you to combine with any outfit."
At only 8.3 ounces for men and 6.3 ounces for women, Pure Boost features a breathable four-way stretch seamless upper and no sockliner to enhance the feeling of standing directly on Boost cushioning. The TIRRENINA suede heel, a sustainable luxury fiber that is made without any solvents during the manufacturing process, adds a fashion element and keeps your foot in place without restricting movement.
Pure Boost is available for $120 on May 14 at adidas.com, adidas Sport Performance stores and exclusively at footlocker.com, Foot Locker, Lady Foot Locker and SIX:02 stores.
Launch colorways include four for men (Black/ White/Clear Grey, Solar Blue/Solar Blue/Clear Grey, Tech Grey/Metallic Silver/Clear Grey, and Infrared/Infrared/Clear Grey) and four for women (Black/ White/Clear Grey, Clear Grey/White/Clear Grey, Bold Pink/Bold Pink/Clear Grey and Solar Pink/Core Pink/Clear Grey). Additional colorways and prints will be available this summer.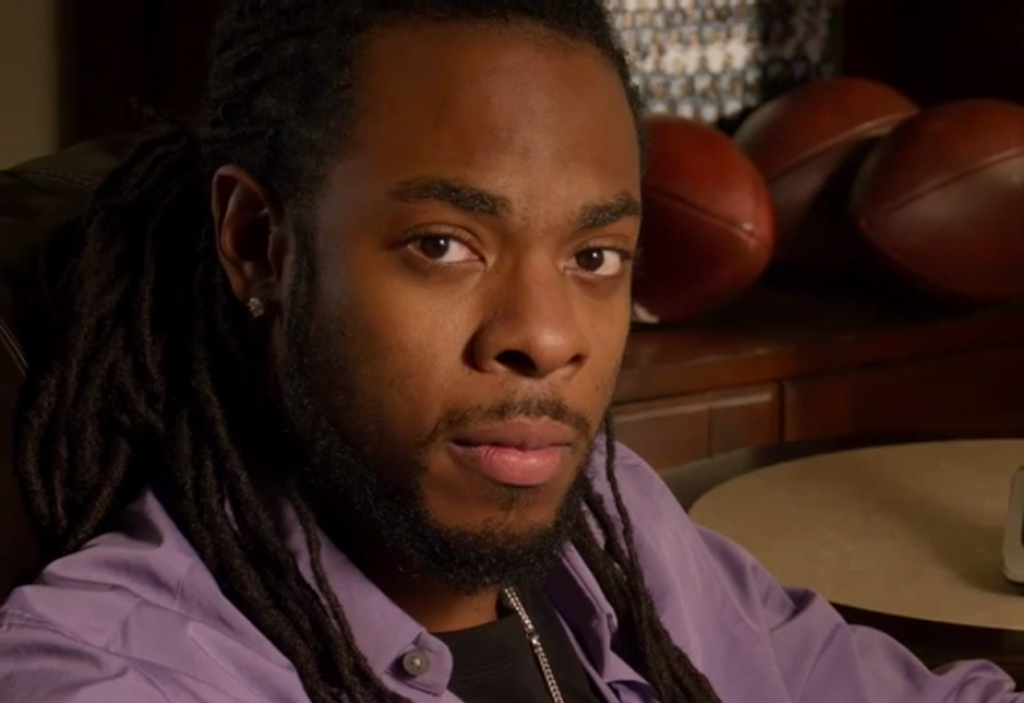 Every pro football player remembers what it's like to receive "The Call." That suspenseful moment when you wait to hear your destiny as a lover of the game. It's the moment on which everything hinges. Pro football champion Richard Sherman has an inspirational congratulatory message for the young men who will make the cut this year. At Oberto, they believe what you put in your body and your life directly affects what you get out of it. That's why their tasty all natural beef jerky has no preservatives or artificial ingredients.
As Richard Sherman says, "Big day for the guys in the draft. It doesn't matter if you are the 1st or the 254th."
#YouGetOutWhatYouPutIn.


Saturday, May 17th is a very special day. It is a day to celebrate the spirit of whisky. That Saturday is known as World Whisky Day. Now more than ever with the growing popularity of whisky, this day becomes more relevant each year. Whether it's enjoying the liquid on the rocks or mixing it in a classic or modern cocktail, fans are continually finding ways to incorporate whisky into their drinks. Plus here is a little fun fact for you! Whisky consumption has risen 5% in the last year.
With that said, we wanted to share some of the best whiskies and cocktails for you to enjoy on the day of whisky appreciation. From Bulleit Rye Manhattans to the Manitoba you will find a great cocktail recipe below.  Looking for a great cocktail for the summer, try the No. 1 Cooler.
So to those who will celebrate with us on World Whisky Day we say, "Cheers!" And as always please enjoy responsibly.
Manitoba
1.5 oz. Crown Royal Maple Whisky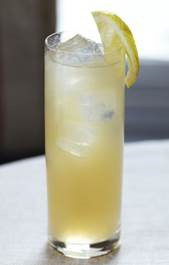 .75 oz. Lemon Juice
.5 oz. Simple Syrup
Top with Ginger Beer
Directions: Shake & strain into a highball glass. Garnish with a lemon wedge.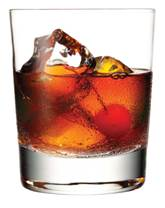 Bulleit Rye Manhattan
1 oz. Bulleit Rye
.5 oz. Sweet Vermouth
3 dashes of Aromatic Bitters
Directions: Strain into a rocks glass. Garnish with a cherry.
No. 1 Cooler
1.5 oz. George Dickel No. 1
.75 oz. Lime Juice
.75 oz. Simple Syrup
3 Slices of Cucumbers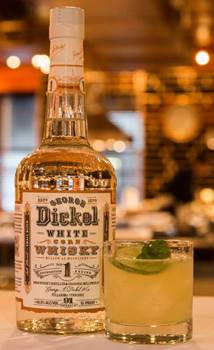 6 Mint leaves
Pinch of Salt
Directions: Stir all ingredients and strain into old fashioned glass over ice. Finish with mint leaves and pinch of salt.
George Dickel Rye
George Dickel Rye is a straight rye small-batch whisky, offering a 95% rye mash whiskey. Perfect for cocktails like the Old Fashioned and Manhattan. 90 proof, Suggested Retail Price $24.99.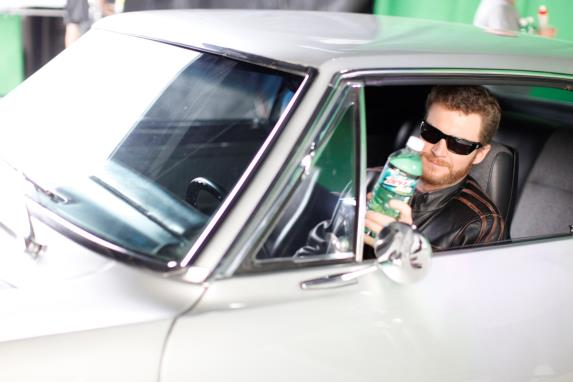 In April Mountain Dew announced that, for the first time, Mtn Dew Baja Blast – which was introduced 10 years ago as a "Taco Bell Original" – will also be available for a limited time in bottles and cans.  The tropical lime flavored beverage hit shelves starting on May 5.  While Mtn Dew Baja Blast is always available at Taco Bell, consumers will have to move fast to buy it at retail, as the fan-favorite will head back to Taco Bell exclusively at the end of the summer…or when supplies run out.
Mtn Dew Baja Blast is the second largest and fastest growing fountain beverage sold at Taco Bell.  It is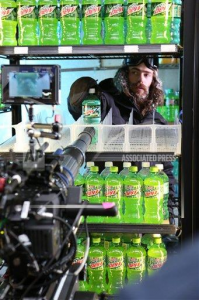 the most requested flavor among the DEW Nation, and has generated more than 30,000 mentions on Twitter in the past three years.
Mtn Dew Baja Blast will be available in single serve 20 oz. bottles and 24 oz. cans, as well as 12-packs of 12 oz. cans.
On May 5, fans will also be able to download and play the "Baja or Bust" mobile gaming app.  Based upon the widely-played Motocross Elite app, "Baja or Bust" will be available for iOS and Android platforms and will enable players to enter for a chance to win exciting prizes, including adventure and beach vacations; and be able to enter codes, available under every cap of Mtn Dew Baja Blast, to unlock in-game upgrades and advantages.
Visit www.MountainDew.com/BajaBlast or Facebook.com/MountainDew for more information, and join the conversation at @mtn_dew #SummerOfBaja and @TacoBell #SummerOfBaja.