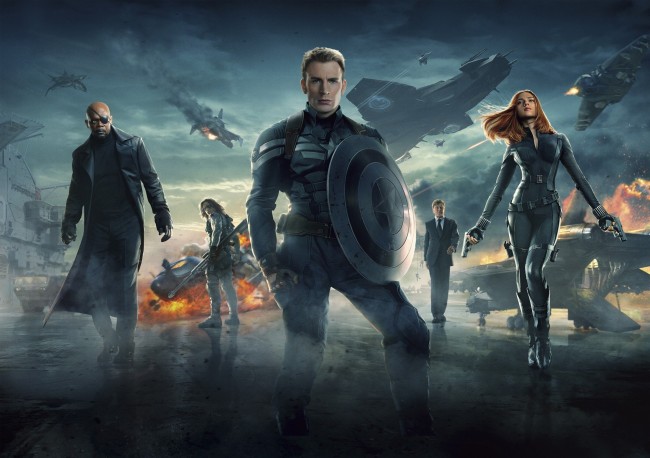 From the studio that brought you the biggest Super Hero movie of all time, Marvel's The Avengers, comes this year's #1 live-action adventure, Marvel's Captain America: The Winter Soldier, available early on Digital 3D and HD August 19th, 2014, and on 3D Blu-ray Combo Pack, Blu-ray, DVD and On-Demand September 9th, 2014, from Walt Disney Studios Home Entertainment. Saluted by critics as "action-packed" (NY Daily News), "thrilling" (Cinema Blend) and "better than The Avengers" (Access Hollywood), this blockbuster second chapter in the Captain America series teams Marvel's First Avenger, Captain America, with Black Widow and new ally The Falcon as they battle their most mysterious and powerful enemy yet, the Winter Soldier.
Directed by Anthony and Joe Russo from a screenplay by Christopher Markus & Stephen McFeely and starring Chris Evans as Captain America, Scarlett Johansson as Black Widow, Sebastian Stan as The Winter Soldier, Anthony Mackie as The Falcon, with Robert Redford as Alexander Pierce and Samuel L. Jackson as Nick Fury, Marvel's Captain America: The Winter Soldier arrives on 3D Blu-ray Combo Pack and Digital HD armed with explosively entertaining bonus features, including Making-of Featurettes, Audio Commentary, Never-Before-Seen Deleted Scenes, Bloopers and More.


As we are now in the month of June we look to celebrate the dads and those who have graduated. We here at MANjr are looking to hook you up with some great gift ideas. From geeks to gadget lovers we got you covered.
LifeLogger
Check out the smallest and lightest wearable video camera captures your memories and broadcasts them as they are happening in real time. The LifeLogger is a cloud based metadata processing software automatically uploads, stores and makes life's moments easily searchable. It shoots in 720p HD video at 30 fps, as well as still images at 5 megapixel. Android and iOS app allows users to control their device and manage existing info. The footage goes through image stabilization, face and voice detection, optimal character recognition and GPS positioning before being stored and made searchable.
Booq: Boa flow
The Boa flow is a rugged backpack that fuses inimitable design with rock solid protection, for the roving professional. It has a flexible interior and collapsible main compartment acclimates to accommodate and protect all your gear, including a DSLR. The back laptop compartment is densely padded, keeping up to a 17" Mac/PC free of bumps and scratches. The ergonomic shoulder strap system has three points of adjustment for load distribution and comfort. There is a plethora of interior/exterior pockets and features keep your fundamentals safely stowed and in place. It also is weatherproof. The 1680 denier ballistic nylon with water repellant coating keeps your gear dry and protected in all conditions, plus reflective rain cover adds added protection and keeps you visible in low light conditions.
Blackfire: Clamplight Lantern

Meet the world's first dual-action LED lantern doubles as a flashlight and clamps onto virtually anything, illuminating all your adventures. Equipped with two separate CREE LED's and up to 230 lumens for better optics and ultimate performance. Easily switch between, hi, low, and strobe modes for lantern in addition to flashlight mode. Pivoting head illuminates any space or area. Rubberized coating offers extra grip and added durability. And it meets IPX4 international weatherproof standard, making it perfect for camping, fishing, and boating.

Wicked Audio: Helix
These vibrant, dual-color earbuds feature earhugger technology for a comfortable and snug fit. The earhugger design allows you to be as active as you'd like without earbuds falling out. I have had this issue while working out, but not anymore with the Helix. They are crafted with 10 mm driver and features maximum noise isolation, for crisp sound quality. The cord measures 1.2 meters long guaranteeing maximum flexibility while on-the-go. They are available in three color patters, Blue/Orange, Black/White, and Magenta/Yellow
Xventure Smartphone Handlebar Clamp Mount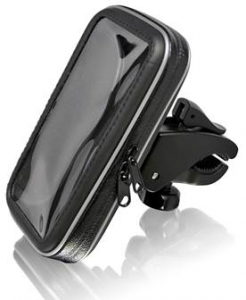 The Xventure Smartphone Handlebar Clamp Mount is an ergonomic, portable handlebar mount universally designed for smartphones, GPS devices and MP3 players. Perfect for the recreational biker, this bike mount protects your device and keeps you connected on your ride. Store your credit cards, money, directions and other personal items in a separate compartment while you're riding. The easy-to-use consists of a weather-resistant case to securely hold and protect your device and a heavy-duty adjustable clamp that connects to the case using a sturdy T-Notch with a Quick Lock & Release switch. With a ball joint for 360-degree rotation, your device can be positioned and tilted for optimal viewing from any angle.
Star Wars Gift Items from ThinkGeek
Star Wars Set of Four 16oz Pint Glass Set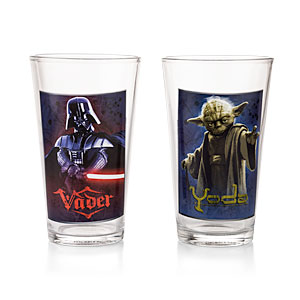 Star Wars was destined to change the face of cinema forever. It was an instant classic and an unparalleled box office success. The epic space fantasy introduced the mystical Force into cultural vocabulary, as well as iconic characters such as Darth Vader, Luke Skywalker, Princess Leia, Han Solo, Obi-Wan Kenobi and Yoda. Star Wars products include merchandise, gifts and memorabilia featuring timeless images on mugs, lunch boxes, clocks, glasses and more. The Star Wars 16 Ounce Glass Set is a 4-piece set of 16 ounce glasses features distinct Star Wars images on front and back of the glass. It has a full color open window gift box packaging, and hand washing is recommended. This set is the perfect gift for any Star Wars fan.
Star Wars R2-D2 Measuring Cup Set
A ThinkGeek exclusive that allows you to bake recipes from a long, long time ago. It is a set of measuring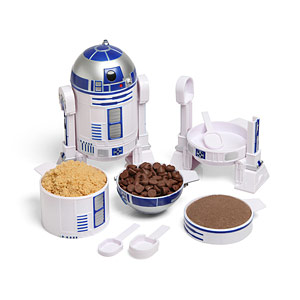 cups that look like R2-D2. I really don't need to say more, but it is an officially-licensed Lucasfilm product and is a ThinkGeek creation and exclusive! The body is built from 4 measuring cups: 1/4, 1/3, 1/2, and 1 cup. It has detachable utility arms turn into nested measuring spoons: 1/4, 1/2, 1 tsp, and 1/3 tbsp. The dome is both 1/2 cup and 1 tbsp and the materials are Food-grade ABS plastic (BPA-free). May the baking be with you.
Star Wars Athletic Shirt
Here is a cool shirt that has the Star Wars logo in distressed orange, yellow, and green ink on a grey athletic shirt. Made from a close-weave athletic mesh. 100% polyester. It is perfect for a chilling with friends on Hoth or sweating it out on a run on Tatoonie.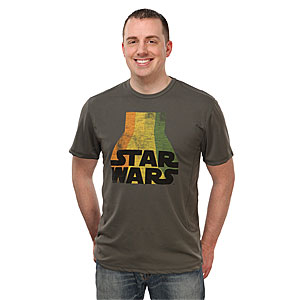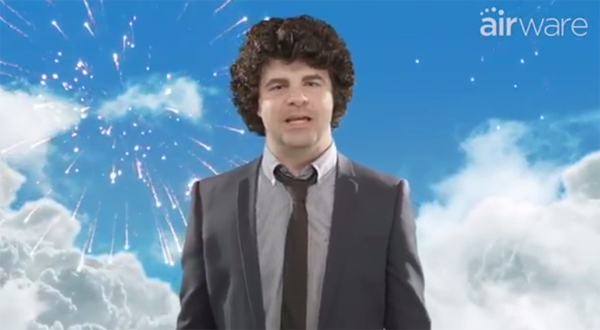 AIRWARE LABS cast a wide net in search of our next spokesperson. In the process we discovered Bubble Boy, who burst from his prison of allergies with the help of AIR ALLERGY™: The simple and comfortable nasal insert.
http://WWW.AIRWARELABS.COM
Mad Men's Vincent Kartheiser and Adam Herschman (Accepted, Soul Men) star in "Bubble Boy."
Flowers, hikes, family BBQs, you name it. AIR ALLERGY™ keeps you there in the moments that matter. Our discreet nasal filters protect you from irritating airborne allergens like pollen, dust and pet dander. Don't believe it? Check the video!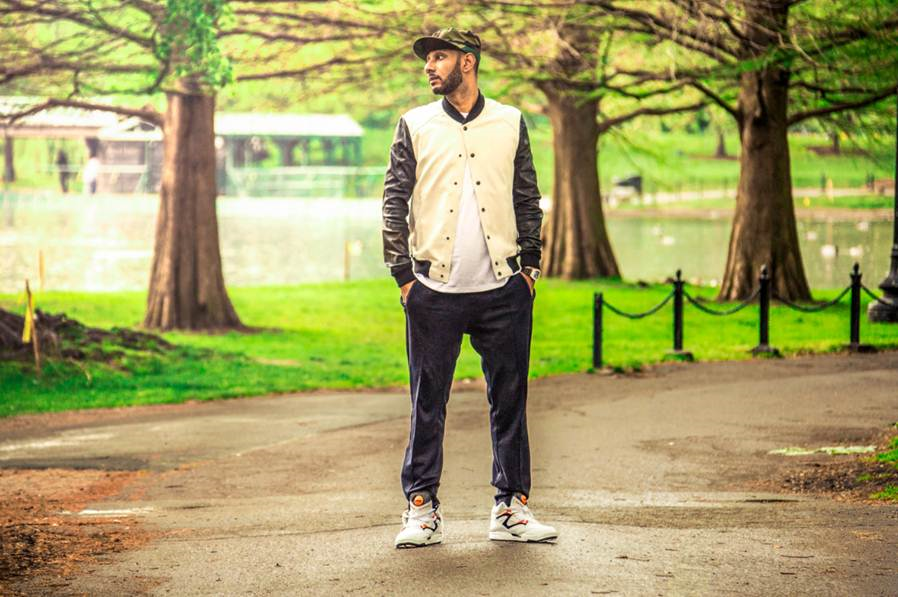 The Reebok Pump Omni Lite is a favorite of Reebok Classic Creative Director Swizz Beatz who was among the first to receive an early pair.  Check out how he styles out his Pump Omni Lite here.
School is out!  Time to pick up one of the hottest retro releases of the summer courtesy of Reebok Classic– the white/black/swag orange Pump Omni Lite OG.
The rare "home" colorway to the iconic black/white/orange, the white/orange Pump Omni Lite is back in all its glory on Friday, June 6th at key retailers for $115.
Please follow @reebokclassics for upcoming information on the release.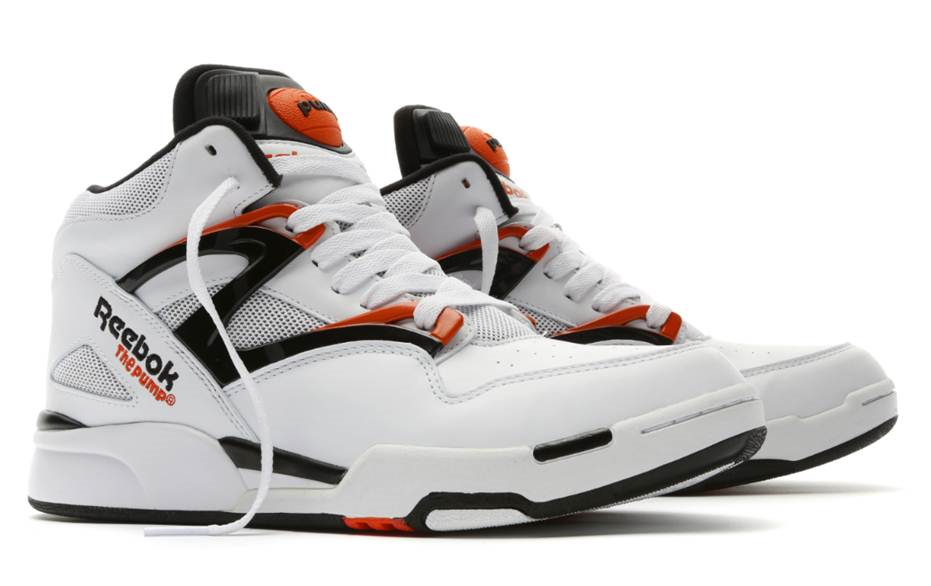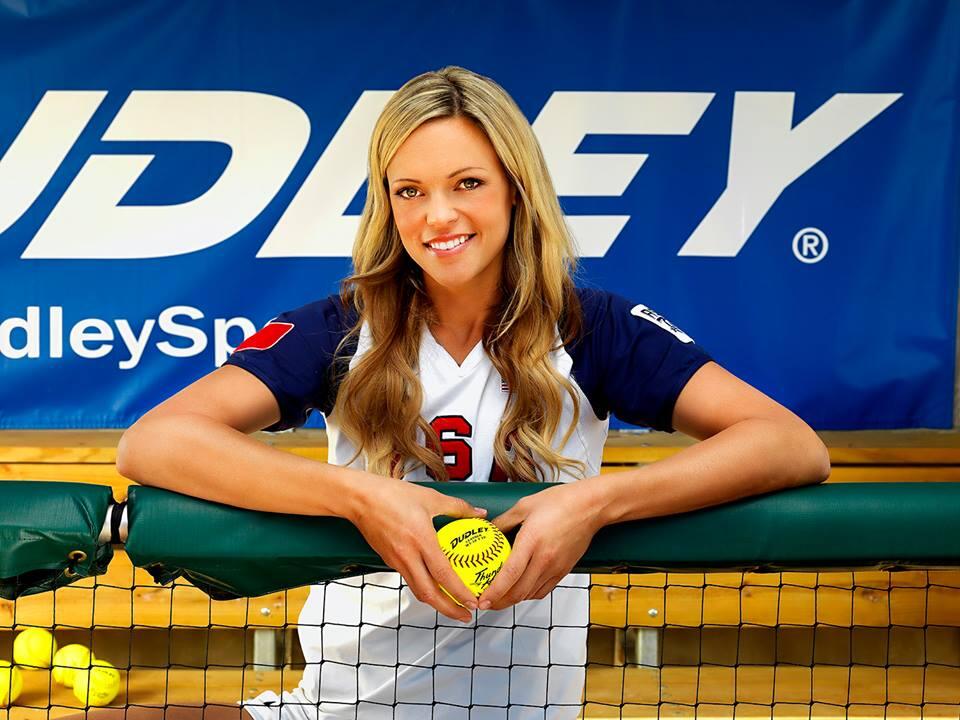 If you going to want to learn about softball then listening to Jennie Finch is probably a smart move. Finch is a winner on every level. She was the 2001 Women's College World Series Champion, an Arizona 3-time All-American Player, an NCAA Record Holder 60 Consecutive Victories, and is a 2004 Olympic Gold Medalist and 2008 Olympic Silver Medalist.
She is now working with Capital One to find out who will win the Capital One Cup. The Capital One Cup honors NCAA Division I athletics. This promotions rewards the top men's and women's college athletics program in the country. These colleges compete all year round to gain points to win the Capital One Cup. The scoring is based on their Top 10 finishes in fall, winter and spring sports. Whoever wins on the men's and women's side will win the Capital One Cup trophy and a $400,000 scholarship at the end of the spring athletics season.
I was able to chat with Jennie about this year's Women's College World Series, her time in college and the Olympics, the Capital One Cup, and more.
Art Eddy: The Women's College World Series is underway. Who are some of the favorites for this year's World Series?
Jennie Finch: Florida looks really good. Offensively they are on fire. Kentucky has been on a roll. Alabama has been on a roll too. This World Series is going to be tough.
AE: Are there any underdog teams we should look out for?
JF: At this point if they are here they are not too much of an underdog. Yet in the parody of this game it is anyone's chance to win it all. It is definitely up for grabs for all the teams that are here.
AE: From your time playing in college to now, has the game evolved or has it stayed the same?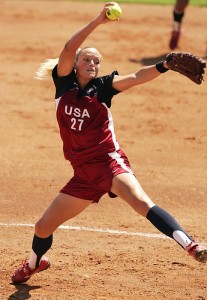 JF: No, it has absolutely evolved. It is incredible to see how much it has grown and continues to grow. There are more TV games than ever. Each year it continues to increase because more people are tuning in. It is very exciting. It is fun on all the different levels and aspects to see the game evolve and grow.
AE: You played in the College World Series with Arizona. What was your preparation like going into that game?
JF: It was more just trusting everything you have been doing the entire year. You also are trying not to make the game bigger than it is even though this is what you have dreamed about your entire career. The minute you step on campus that is immediately what you are thinking about. So you just have to stay within yourself, trusting your teammates, and playing your game.
AE: You are working with Capital One to promote the Capital One Cup to help provide scholarship money to the winning universities. Tell me about your work with this promotion.
JF: I am excited to be on the athlete advisory board for the Capital One Cup as the spring season championships begin to play out. One reason is that one of the sports is softball. There are many schools that are close in the standings for the Capital One Cup.
This program honors the best Division I program that has the most cumulative wins in on the field performance across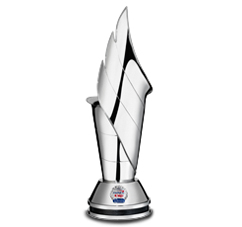 39 total men and women's sports. The winning school gets over $400,000 in total scholarships for student athletes. Not only is it fun for the school, but for the fans to see how their school is doing.
AE: Right now who is in the lead for the men and women's brackets for the Capital One Cup?
JF: UCLA is in the lead for the women and Notre Dame is in the lead for the men.
AE: Is there a college out there in the World Series that if they win they will help move their college up in the Capital One Cup standings?
JF: Yes. If Florida win it they will be in the lead for the women's side. So it is pretty exciting to see if they not only win the World Series, but move their college into the lead.
AE: You pitched in the 2004 and 2008 Summer Olympics where you and Team USA won gold in 2004. I am guessing in your great career that winning gold is the top moment.
JF: By far. Being up there with women that I looked up too and being able to represent your country and having the name U.S.A. across your chest, there is nothing greater than that. All of those moments were great, but it is also the journey. When you are done and look back you are able to appreciate all of your accomplishments by thinking of how you got there.
AE: You have been a strong voice in trying to get baseball and softball back into the Olympics. Do you think baseball and softball will be back in the Olympics?
JF: It is going well. We are still trying to fight and get it back in. We are building a campaign. Our hope right now is for the Olympics in 2020 in Japan. Luckily baseball and softball are the two most popular sports in Japan. The campaigning they did to become the hosts in 2020 we hope will help them be able to reinstate softball and baseball for 2020. Hopefully it will be a success and we will be then locked in for the future.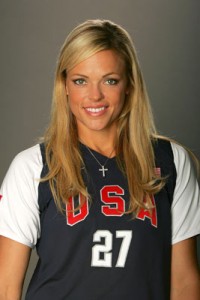 AE: Lastly, you have some fantastic softball camps. Looks like you are setting those back up for this year.
JF: Yes. Go to my website, jenniefinch.com. We are going to places like Dallas and Chicago. We will be all over the country going from coast to coast.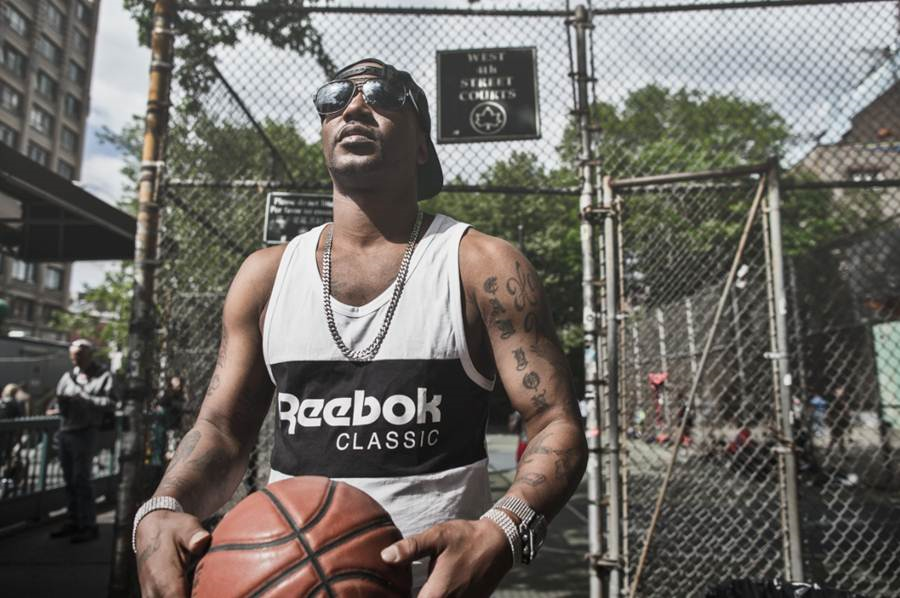 Cam'ron hits the West 4th Street Courts in NYC to ball in the Reebok Blacktop Retaliate. Take your game outside and check it up with the Blacktop Retaliate, the latest performance basketball model from Reebok Basketball.
Built to meet the demands of athletes without compromising style, the Blacktop Retaliate takes inspiration from the incredibly popular Reebok Blacktop collection originally introduced in the 90s.
Reebok Blacktop: on-court technology, off-court style.
The Blacktop Retaliate will hit shelves at key retailers Jimmy Jazz, City Gear, Expressions, Shoe City and Reebok.com for $125 on June 1st.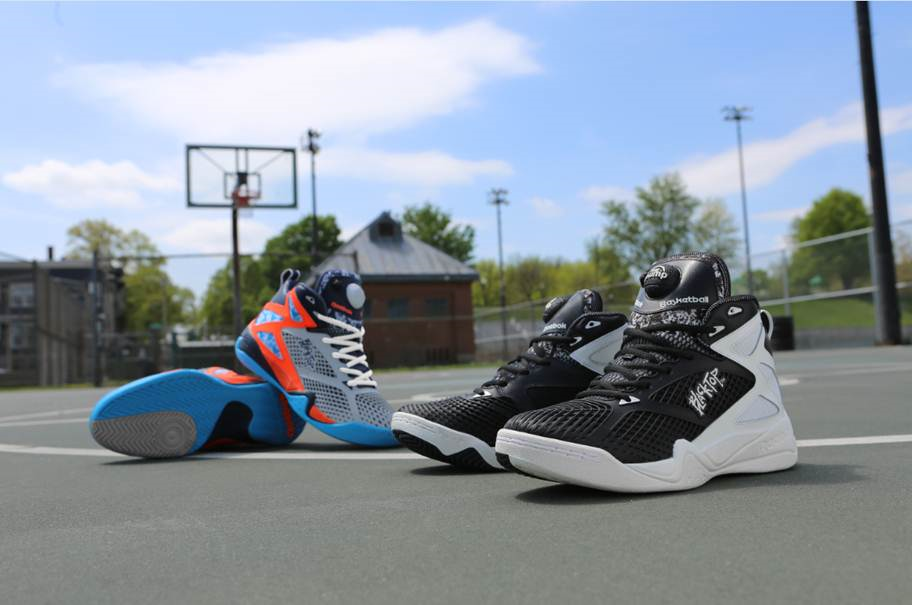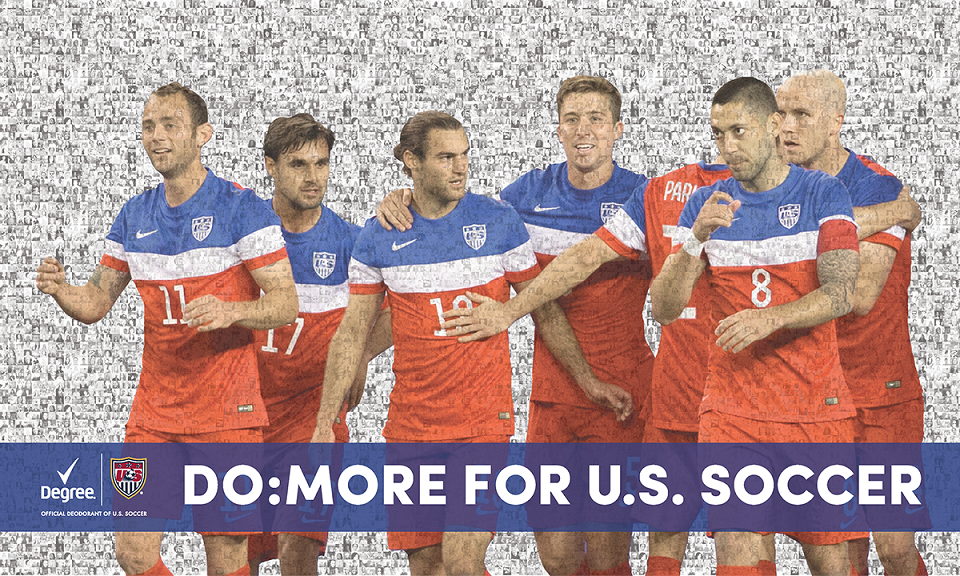 As soccer fever heats up in America and around the world, the official deodorant of U.S. Soccer, Degree Men® teams up with the U.S. Men's National Team to unveil a massive Fan Banner today in New York's Central Park. Measuring 30′ high by 50′ wide, the banner portrays the faces of thousands of U.S. Soccer fans showing their individual support for the team. The patriotic Fan Banner design will follow the team down to Brazil to be displayed at the U.S. Soccer Training Facility in Sao Paulo and fan rallies across the country – providing additional motivation and encouragement for the team to DO:MORE and IMPROVE each match.
Since February, fans have been demonstrating their national pride and support for the U.S. Men's National Team by uploading photos to DegreeSoccer.com. The images were then arranged in a unique red, white and blue photo mosaic design that represents the fans back in the U.S. and features several players from the U.S. Men's National Team with "DO:MORE FOR U.S. SOCCER" prominently displayed. Starting June 12, fans can also interact with the digital version of the Fan Banner at DegreeSoccer.com to search and find their photo within the mosaic design.
"Soccer is growing in popularity here in the states and it's amazing to see the fans' support displayed through the Degree® Fan Banner," said Clint Dempsey, U.S. Men's National Team Captain. "Degree Men® has provided a truly unique way for fans to be a part of the action in Brazil even if they can't physically be there. Seeing the Fan Banner and knowing it represents all of the great support we're getting back at home will definitely motivate the team to DO:MORE throughout the tournament."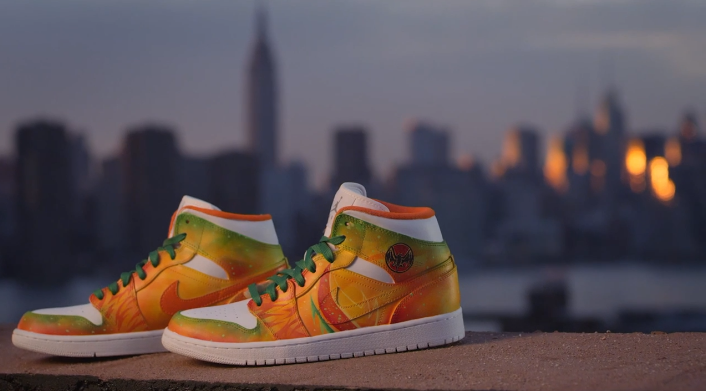 Bacardi has partnered with Mache Customs to create a custom sneaker inspired by the newest flavor in the game, BACARDÍ Mango Fusion.
Mache takes you behind-the-scenes and into the design process by walking through his childhood roots and what drives his inspiration for unique and fresh sneaker style.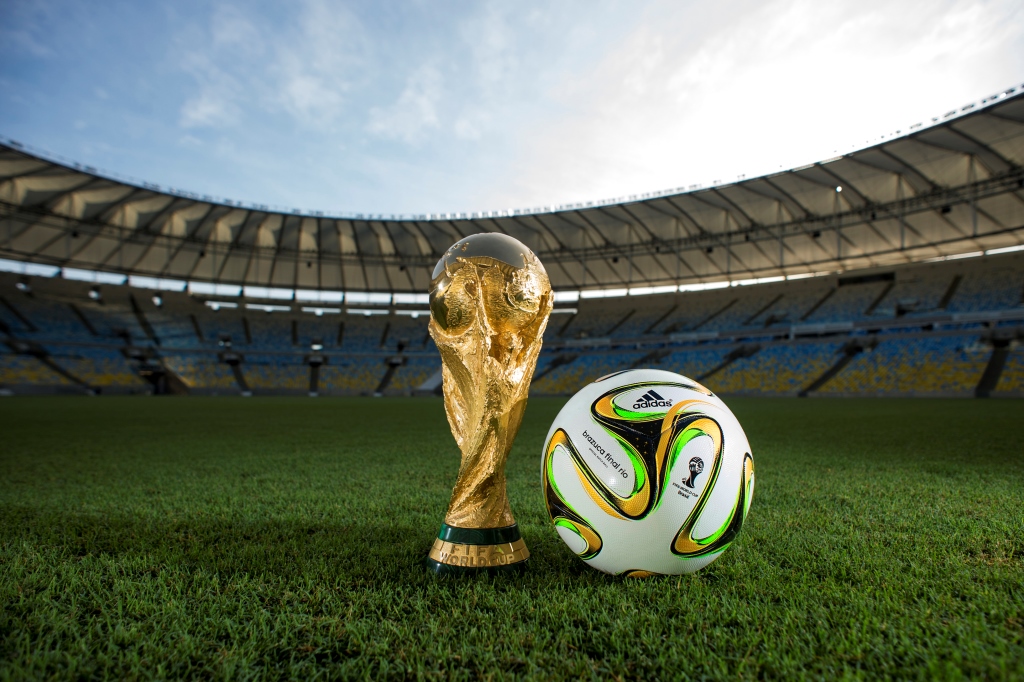 With the 2014 FIFA World Cup kicking off in two weeks, adidas today unveiled the brazuca Final Rio, the official match ball for the championship on July 13 at the Maracana in Rio de Janeiro.
The brazuca Final Rio design mirrors the brazuca official match ball with new green and gold colors inspired by the World Cup trophy.
Prior to the launch of brazuca and brazuca Final Rio, both balls went through a two and a half year testing process involving more than 600 of the world's top players and 30 teams in 10 countries across three continents, making it the most tested ball ever by adidas.
brazuca is a breakthrough innovation featuring a revolutionary six-panel design. Created for every player on the field, the ball features six identical panels alongside a unique surface that will provide improved grip, touch, stability and aerodynamics on the field. brazuca has been thoroughly tested to meet and exceed all FIFA metrics for an official match ball, ensuring top performance for every condition.
The brazuca Final Rio goes on sale June 1 and you can pre-order it now HERE.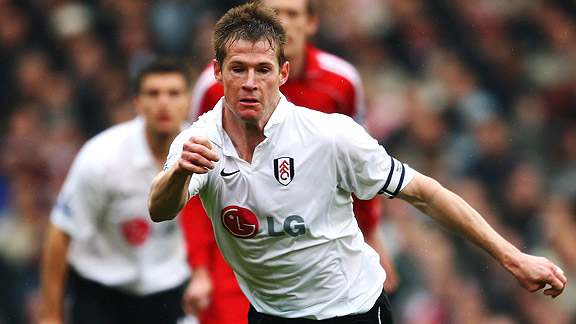 With the World Cup almost here fans all over the globe are getting excited for soccer. Brazil, Germany, Spain, and Argentina are the four countries who seem to be poised to make it far into the tournament. Still as former U.S. Men's National Team and MLS legend, Brian McBride says there is always a surprise team in the World Cup that shocks everyone.
McBride knows this because he played in the World Cup in 1998, 2002, and 2006. From playing for Fulham in Europe to the MLS league in the United State McBride has had an outstanding career. Just this year he got inducted to the U.S. Soccer Hall of Fame.
Now McBride has teamed up with Allstate for the "Good Hands F.C." soccer clinic. They will surprise local soccer teams in a few areas across the country with soccer gear and a coaching clinic run by McBride.
I was able to catch up with Brian to talk about his work with Allstate, the World Cup, and more.
Art Eddy: You are working with Allstate before some of the friendly games that take place before the World Cup. Can you tell me what you are doing with Allstate?
Brian McBride: Yeah. It is two things. I think the first part and the most important and most enjoyable part is that Allstate formed this Good Hands F.C. It is basically this opportunity where I get to go into the community with Allstate and provide a coaching clinic and we hand out some really nice gear. The club that we go to will have new uniforms and new balls. For the most part it is really a great opportunity because these clubs don't usually have the opportunity to have these things.
It is a really special time. During that time I will put on a special clinic and do some teaching, but it is mostly about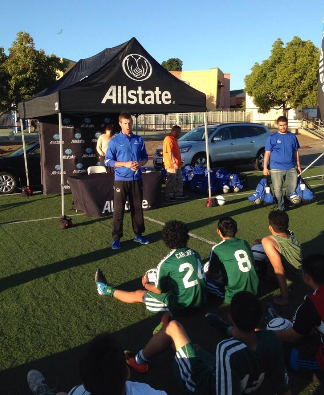 having fun. It is a great few hours.
AE: Sounds pretty cool. What is the best part about surprising these kids at their practices?
BM: There is no end to the joy of seeing their faces light up and them grasping the fact that they are getting new uniforms. They are getting new backpacks and training suits. It is fun watching them take in the training part of it. That is the coaching side of me, but I think the most enjoyable part is seeing their reaction to when they realize what they are getting.
AE: Switching to the World Cup the buzz from Team USA is that Landon Donovan didn't make the cut. What is your take on that? Is the media making too much of the fact that Donovan is not on the team?
BM: No, I don't think you can make too much of it. The nice thing now is that the soccer community is so large and there is so much interest into it now. It was a huge news story. It definitely is something that came as a surprise. It is a big step for Jürgen (Klinsmann). He has shown that he is a bold coach.
For me it wouldn't be a decision that I would take, but you have to look at the past and he has always had the support of the players. Last year people had their questions, but the players showed their commitment to the team and each other and the coach. I hope it doesn't become an issue on the field. It is a big statement to leave off a player that I quite frankly wouldn't have left off.
AE: Who do you feel has the best opportunity to win the World Cup?
BM: For me there are four teams that stand out. There are of course some teams that could pull some surprises, but for me Brazil, Argentina, Germany, and Spain look the strongest. The great thing about a World Cup is usually there is one surprise team. Who will it be? I hope that it is the U.S. That would be awesome, but those four teams I mentioned would be the strongest teams going into this.
AE: What was your favorite World Cup moment as player?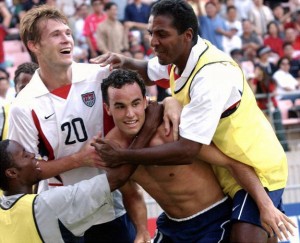 BM: The 2002 World Cup was by far the most memorable and enjoyable period of soccer. We had great results on the field. The team off the field was such a solid group. I was just married. My family was there. My wife and my daughter was there. We were able to spend time together. It was such a perfect situation and scenario.
AE: You were the CONCACAF Gold Cup MVP, Chicago Fire team MVP, and you just got elected into the U.S. Soccer Hall of Fame. Congratulations on that achievement. What stands out the most to you from your great career?
BM: For me I was just so blessed to play the game for so long and to have some great memories. My time in England was just amazing. The chance to get into the fabric of a club like Fulham, be accepted by the fans, and getting a chance to see what soccer is like at the top level were really exciting things. To see a culture that is all about soccer day in and day out and to see fans get excited was great. It is starting to happen here in the states too, but we still have a long way to go.