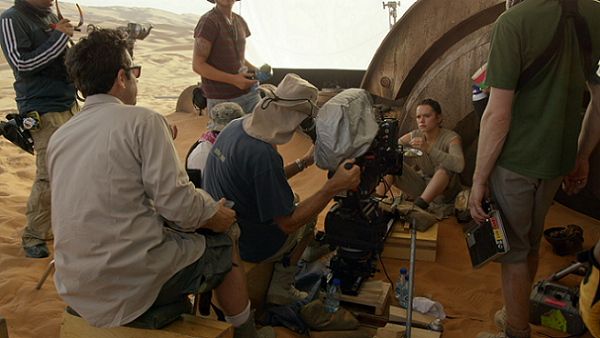 You will be able to go and get an inside take on the making of Star Wars: The Force Awakens. This film shattered box office records upon its debut to become the cinematic event of a generation with over $926 million domestic and $2.05 billion worldwide. As announced this morning by Chairman and Chief Executive Officer Robert A. Iger at The Walt Disney Company's Annual Meeting of Shareholders, the epic movie will be available to own early on Digital HD and Disney Movies Anywhere on April 1. It comes home on Blu-ray Combo Pack and DVD on April 5.
Discover the complete story behind the making of Star Wars: The Force Awakens with in-depth documentary and bonus material that will take fans on an exciting journey behind the scenes.  Secrets will be revealed through extensive footage, never-before-seen deleted scenes, and exclusive interviews with the actors and filmmakers. Bonus features include:
Secrets of The Force Awakens: A Cinematic Journey – For the first time, discover the complete story behind the making of The Force Awakens, revealed through in-depth footage and exclusive interviews with the actors and filmmakers in this feature documentary.
The Story Awakens: The Table Read – Cast members familiar and new reflect on the memorable day they all first came together to read the movie's script.
Building BB-8 – See how the filmmakers brought the newest droid to the screen, creating an instant fan favorite in the Star Wars universe.
Crafting Creatures – Watch movie magic as the filmmakers bring a cast of new creatures to life.
Blueprint of a Battle: The Snow Fight – Go deeper into the epic, climactic lightsaber battle between Rey and Kylo Ren.
John Williams: The Seventh Symphony – The legendary composer shares personal insights of his work on Star Wars and The Force Awakens.
ILM: The Visual Magic of The Force – An insider's look into the remarkable digital artistry of the movie's visual effects.
Force For Change – Heroes come in all shapes and sizes. See how the Star Wars: Force for Change initiative has united Star Wars fans all over the globe to help others.
Plus Deleted Scenes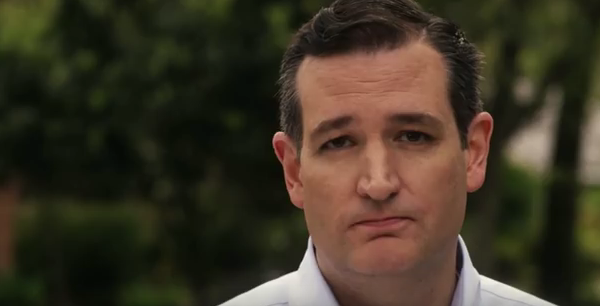 If you are like me politicians can drive you nuts. They say one thing one day and change it the next. I honestly feel that they speaking nonsense. It looks like the entertaining folks over at Bad Lip Reading agree with me. This month they just released the Ted Cruz – A Bad Lip Reading video on him. It is fantastic. Here is a great way to start your Monday off with a laugh.

Spike TV's hit show Bar Rescue will air its 100th episode this Sunday at 9/8c! You can watch this milestone episode as the show begins a new season.  We here at MANjr. were able to get our hands on one of the cocktails made with Crown Royal Northern Harvest Rye that will be featured in the episode.  When watching the show you might want to make it yourself.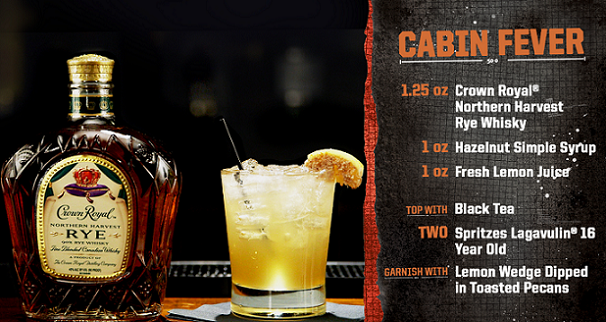 Crown Royal also helped throw a party in New York City for Ron Taffer as he celebrated 100 episodes with friends and family at a special party.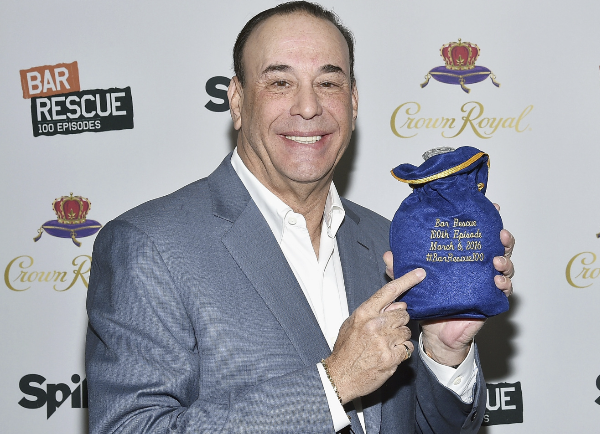 Sacha Baron Cohen is back at it again! Nobby (Cohen), a sweet but dimwitted English football hooligan, reunites with his long-lost brother Sebastian (Mark Strong), a deadly MI6 agent, to prevent a massive global terror attack and prove that behind every great spy is an embarrassing sibling.
Nobby has everything a man from Grimsby could want, including 11 children and the most gorgeous girlfriend in the northeast of England (Rebel Wilson). There's only one thing missing: his little brother, Sebastian, who Nobby has spent 28 years searching for after they were separated as kids. Nobby sets off to reunite with Sebastian, unaware that not only is his brother MI6's deadliest assassin, but he's just uncovered plans for an imminent global terrorist attack. On the run and wrongfully accused, Sebastian realizes that if he is going to save the world, he will need the help of its biggest idiot.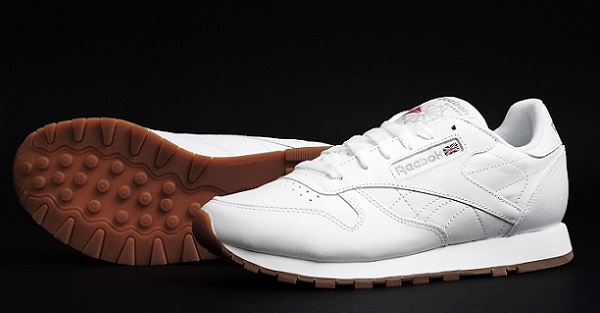 Just in time for spring you can keep it crisp, clean, and Classic with the most iconic dual gender sneaker: the Reebok Classic Leather.
The crown jewel of Reebok Classic, the Classic Leather is true to Reebok's heritage and DNA, while it's understated and timeless design make it a necessary staple for every sneaker collection. Ever since the Classic Leather broke onto the scene in '83 it has withstood the test of time, providing a blank canvas for generation after generation to express its own fearless style.
Joining Reebok Classic in re-introducing the sneaker is Grammy winning Top Dawg Entertainment artist Kendrick Lamar, who has a deep connection and relationship with the Classic Leather, having worn the sneaker throughout high-school.  A powerful representation of the integrity, depth and authenticity that the Classic Leather stands for, Kendrick Lamar is the ultimate embodiment of self-expression and perfect champion of one of Reebok Classic's most iconic shoes.
Reebok Classic is honoring the original and revered release of this must-have shoe for the spring season by keeping the sneaker's iconic design details intact. A clean white, premium leather upper provides the perfect building block to highlight your own unique style, while the streamlined, chic simplicity of the shoe boasts the signature Reebok Classic branding and retro gum outsole.
With its legendary heritage and modern significance, the Classic Leather represents the authenticity and originality of Reebok Classic, with a relevance that grows even stronger over time.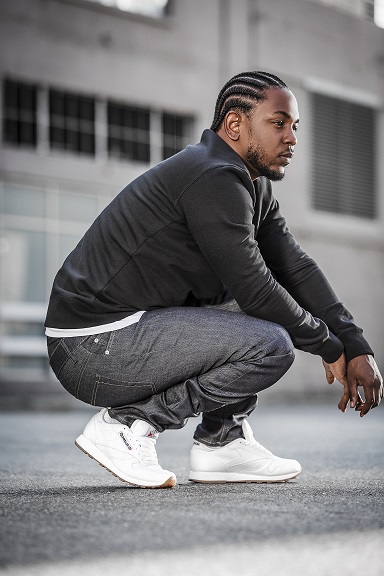 The Classic Leather is available now online at Reebok.com and will be hitting shelves at Finish Line on March 11th.  The Classic Leather styles is available for the whole family.  Adult sizes retail for $75, Grade School for $55, Pre-School for $50 and Toddler for $38.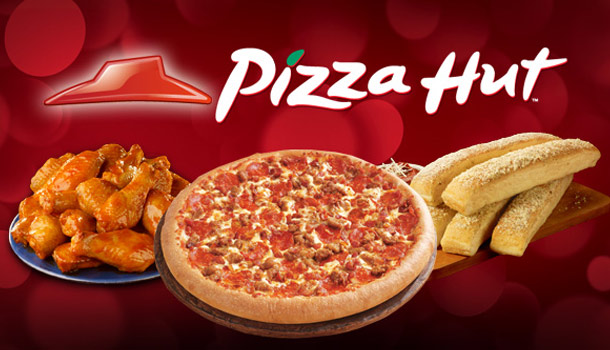 Having a birthday on February 29th has some upsides and some downsides. For the nearly 200,000 Americans born on Leap Day, the true joy of celebrating their birthday only comes once every four years. But this Leap Day Pizza Hut will help those "Leaplings" make up for the birthdays they've lost.
Nationwide, anyone who visits a participating Pizza Hut restaurant on Feb. 29 and shows a government-issued photo ID to prove they were born on Leap Day will receive a free, one-topping Personal Pan Pizza for carryout.
Pizza Hut will also make the annual birthday party parade in Anthony, Texas – known as the "Leap Year Capital of the World" – better than ever with the choice of a free cheese or pepperoni Personal Pan Pizza for those in attendance, thanks to the pizza restaurant's mobile kitchen.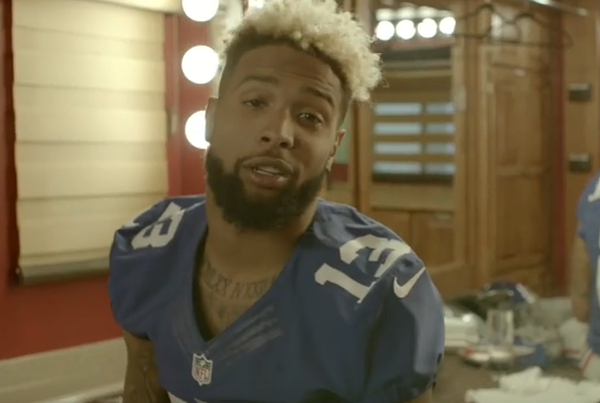 Technology has gotten so good to the point where we might not know what is real and what is not. Verizon and Giants star Odell Beckham Jr. look to have some fun with some fans. Odell Beckham Jr. puts the "reality" back in virtual reality, as he catches passes from real, unsuspecting Verizon customers. After having some fun with each of these lucky fans — and of course making his signature one-handed catch — Odell brings them all back to reality, leading to some very memorable reactions. Because the only thing better than virtual reality is #BetterReality, from the #BetterNetwork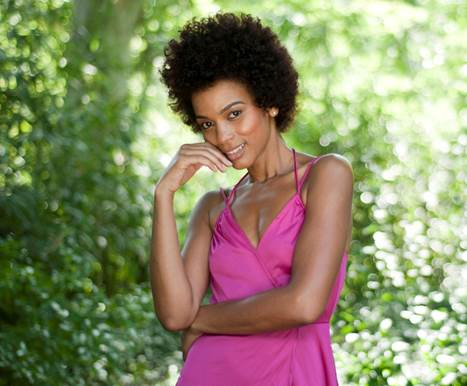 I had the great opportunity to chat with Nicole Roderick about her role on the the hit show, "The Good Wife," her upcoming role on "Vinyl," and what her dream role would be.
Currently Nicole recurs with the role of Nora on CBS's top show, "The Good Wife" alongside Julianna Margulies. Prior to that, she appeared on ABC's hit comedy "Ugly Betty" and has also completed filming an episode of HBO's newest show "Vinyl".
Aside from her TV/film success, she has modeled for multiple high profile brands including Bevel eyewear, Uniqlo, Speck, Colgate, TJ Maxx, Kate Spade and Hallmark, to name a few. Before she was even 17 years old her modeling took her around the world, including Japan and Australia.
Being a New Yorker has given Nicole the opportunity to study at The School for Film & TV, The William Esper Studio and The Susan Batson Studio.  She continues honing her craft by attending various workshops and working with private coaches.
Listen to the interview here.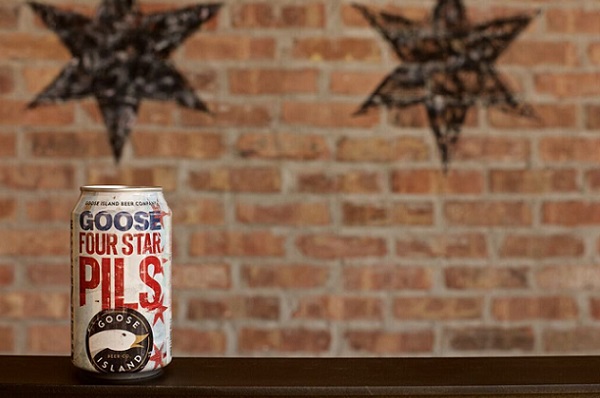 Goose Island always seems to stay true to its roots. They are continuing with that tradition with the Four Star Pils. In 2015, the brewery released a draft-only, and Chicago-only, beer by the name of "Blue Line." It was a chance to share the brewery's take on the traditional pilsner. A pilsner made with a little more hops and a lot more flavor. Turns out, Chicagoans were just as ready for a hoppy pilsner as the brewers were. So when the once small batch pilsner began to run dry, Goose decided it was time to share their take on the classic German-styled lager with beer fans everywhere.
Reborn as Goose Four Star Pils the newly re-packaged brew is making its national debut on February 29 on shelves and will be available in bottles, cans and on draft. The name and design for Goose Four Star Pils pays homage to its hometown of Chicago by donning the four stars on the Chicago flag emblematic of The Great Chicago Fire, The World's Columbian Exposition of 1893, The Century of Progress Exposition of 1933 (Chicago World's Fair) and Fort Dearborn.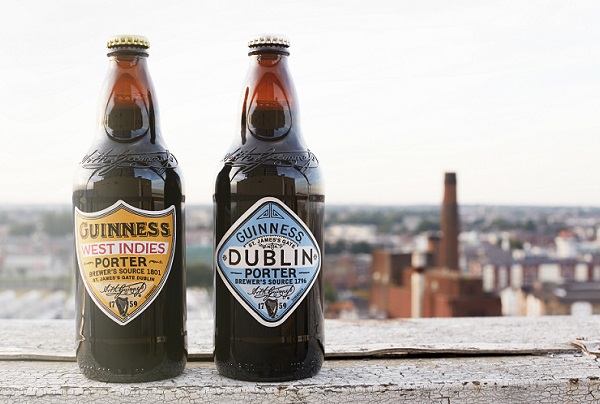 Just when you thought you couldn't love the folks at Guinness anymore they bring two new more beers into the mix. Two beers from The Brewers Project are making their official debut in America for a limited time – the West Indies Porter and Dublin Porter.
Rooted in the history and showcasing the brand's innovative spirit of creating great beer beyond the iconic stout, the West Indies Porter and Dublin Porter have been reinvented from old recipes found in the Guinness Brewers' diaries.
With origins in a 1796 entry in the Guinness brewers' diaries, the Dublin Porter was inspired by the golden age of porter in the 1800s. This was a time when porter was the working man's beer and after a long day's work in Dublin or London, Guinness would have been a respected choice. The West Indies porter is based on an 1801 diary entry for the first Guinness purposely brewed to maintain its freshness, on long sea voyages to the Caribbean and beyond. To guarantee the best quality upon arrival, Guinness brewers made a porter with more hops and a higher gravity.
They're available now, along with Guinness Extra Stout, at participating Costco, Sam's, BJ's, and Total Wine & More locations nationally as part of The Brewers Project Pack for manufacturer's suggested retail price of $21.99. Whether enjoying a beer from The Brewers Project Pack or any Guinness beer, please drink responsibly.