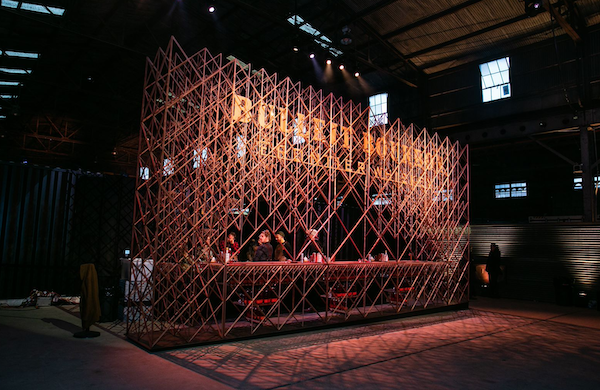 Bulleit Frontier Whiskey celebrated the Austin reveal of its Bulleit 3D Printed Frontier, an event series that unites the latest 3D printing technology with art, design and culture.
At the center of our latest Frontier Works project is a fully-functional 3D printed cocktail bar that is currently touring cultural hotspots across the country. The Bulleit 3D Printed Frontier will stay in Austin through March 4 before continuing its journey to other cities. Its permanent home will be at the soon-to-be-opened Visitor Experience at The Bulleit Distilling Co. in Shelbyville, Ky.
The event featured 3D-printed cocktails, food and music from top Austin creatives, including Walker Lukens, Hard Proof and Chulita Vinyl Club. Robotics pioneer Benjamin Grimeil was also behind the bar to create cocktails with edible 3D-printed designs.
Check out some fun facts about the Bulleit 3D printed bar:
The 3D printed bar was designed by the architecture and design practice FAR, and fabricated by the Machine Histories team
It stands at nearly 30ft long x 15ft high and took more than 2,000 hours of labor to complete, excluding the hundreds of hours invested in design and engineering
The bar was completed in a little over three months, an impressive feat that usually would take years
The one-of-a-kind structure's intricacy was inspired by the iconic Bulleit Bourbon label and its copper color is reminiscent of the award-winning whiskey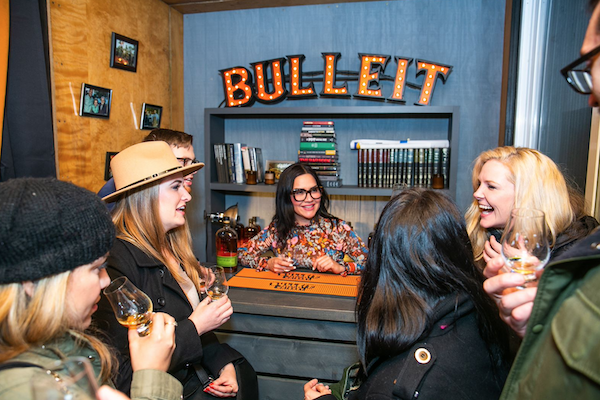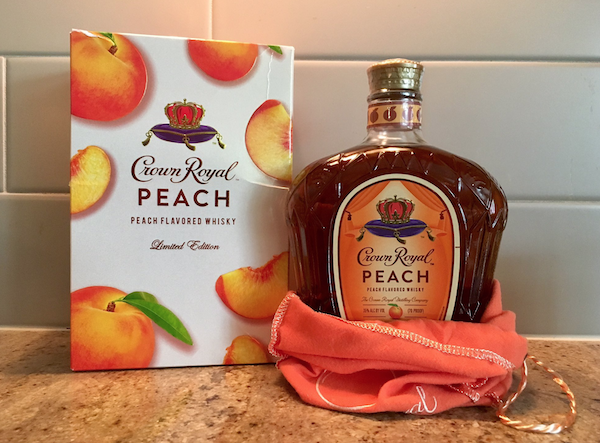 Crown Royal just launched the hottest flavored whisky for spring, perfect for backyard BBQs, brunch at the trendiest rooftop bar in town and hanging with family and friends. Crown Royal Peach features the brand's signature smoothness with the sweet and flavorful taste of the world's finest peaches.
This limited-edition offering will be available nationwide beginning later this month. Enjoy it on the rocks or mixed with iced tea for a peach-perfect cocktail that embraces the upcoming season.
Check out these tasty cocktails with new Crown Royal Peach flavor.
Crown Royal Peach Cocktails
Royal Peach Tea
- 1.5 oz Crown Royal Peach
- 6.0 oz Iced Tea
- 1 Slice of Lemon or Peach
Fill a mason jar with crushed ice. Add Crown Royal Peach and iced tea. Stir gently then garnish with a lemon or peach slice (or both!)
Royal Peach Fizz
- 0.5 oz Crown Royal Peach
- 0.5 oz Orange Juice
- 4.0 oz Champagne
- 1 Mint Sprig
Add Crown Royal Peach and orange juice to a stemless champagne glass. Top with champagne. Garnish with a mint sprig.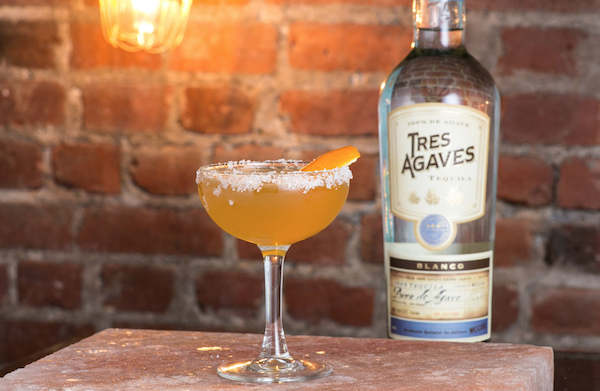 National Margarita Day is tomorrow. Tres Agaves just switched to solely producing ALL organic tequilas in addition to their mixers constructed a brand new state-of the art distillery in Tequila Valley, Mexico and brought on the very first female master distiller apart of a multi-generational tequila family- so there is a lot of exciting things happening for Tres Agaves.
So tomorrow pick up a bottle of Tres Agaves and celebrate the day with these cocktails below.
Feeling Hot, Hot, Hot: Margarita Caliente
Bring the heat with Jalapeño-infused agave syrup, which gives this drink a little extra kick.
1 ½ parts Tres Agaves Reposado Tequila
1 part fresh lime juice
¾ parts Cointreau
¼ part jalapeño infused Tres Agaves agave syrup*
3 dashes Sriracha
Lime wedge for garnish
Combine all ingredients in a cocktail shaker with ice, shake and strain into a rocks or margarita glass over ice, garnish with lime wedge.
*Jalapeño agave syrup:
2 cups Tres Agaves Agave Nectar
1 jalapeño, cut lengthwise, seeds removed (2 if you're feeling bold!)
Over medium heat simmer agave nectar. Add jalapeño and let simmer at least one hour (then rest overnight for maximum flavor), strain through a mesh sieve and store in refrigerator.
Go Big or Go Home: Smokin' Volcano Margarita
For the bartender in you, here is one that's sure to impress your friends.
2 parts Tres Agaves Añejo Tequila
¾ parts fresh lime juice
¼ part smoky simple syrup*
Lava salt and dried red chili pepper for garnish
Shake all ingredients with ice and strain over fresh ice in rocks glass. Garnish rim with lava salt and add dried chili pepper.
*Smoky simple syrup: Pour equal parts sugar and water into a saucepan with one dried chili pepper. Simmer until sugar is dissolved. Remove from heat and let the mixture cool. Remove chili pepper and set syrup aside.
Tres Strawberrita
4 oz Tres Agaves Blanco Tequila
1 tsp Tres Agaves Cocktail Ready Agave Nectar
2 cups frozen strawberries
¼ cup water
3 oz triple sec
2 limes juiced
Salt
Strawberry syrup: Combine frozen strawberries, Agave Nectar and water in a small pot over low to medium heat. Continue to cook on low for about 30 minutes until strawberries have broken down and mixture is thick. Remove from the stove, pour into container and refrigerate until chilled.
Margarita: Add about a third cup of the strawberry syrup to blender. Then add tequila, triple sec, lime juice and ice. Pour mixture into two glasses, rimmed with salt if you like and garnish with a fresh strawberry.
Ginger con Hielo
Tres Agaves Margarita Mix (to fill ice cube tray)
2 parts Tres Agaves Reposado Tequila
¼ parts Triple Sec
Candied Ginger 
For the ice cube, mix together Triple Sec and Margarita Mix. Pour into king ice-cube tray and place piece of candied ginger in liquid. Freeze overnight. For preparing the cocktail, pour two parts of Reposado tequila over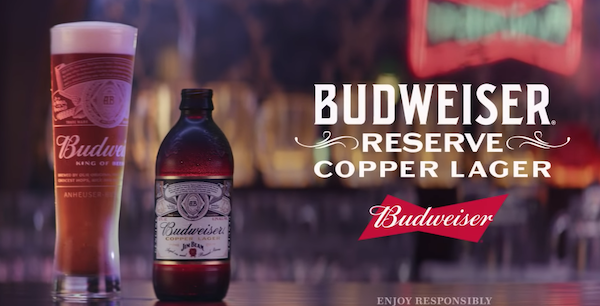 Budweiser revealed its commercial starring Oscar-winning actress, Charlize Theron, alongside the brand's limited-edition Budweiser Reserve Copper Lager. The :60 commercial, titled "The New Bud in Town," is set to Run-D.M.C's "Tricky" and features Theron, as she kicks ass in games across the bar all while never spilling a drop of her beer. The new creative brings the limited edition brew to the national stage, with the King of Beer's new Reserve Series front and center.
First launched in August 2018, Budweiser Reserve Copper Lager is an American lager-style beer, brewed with two-row barley and aged on Jim Beam bourbon barrel staves. Packaged in a vintage stubby bottle, the beer was first created to celebrate the 85th anniversary of Prohibition and is a nod to Budweiser's impressive Prohibition survival story. With Budweiser's 143-year history of delivering a high quality beer, the Reserve Series offers up a modern drinking experience for fans to enjoy.
"We're thrilled to partner with the incredibly talented Charlize Theron and to bring Budweiser Copper Lager to the coveted Oscars stage," said Ricardo Marques, VP of Marketing Core & Value brands at Anheuser-Busch. "The Budweiser Reserve series and Copper Lager in particular continue to gain fans from across the country which is also why we're excited about this new bold campaign."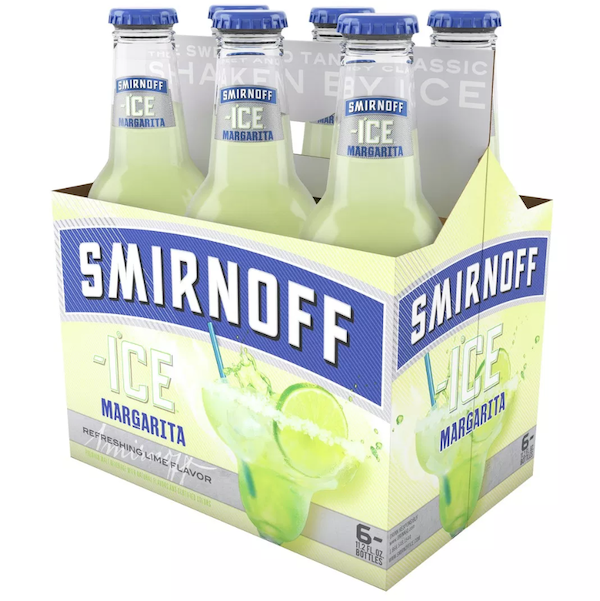 National Margarita Day is tomorrow, but who has time to go get limes, salt, margarita mix and all of the other ingredients that go into making a great marg? Not us! Smirnoff Ice Margarita takes all the hassle out of making the perfect, refreshing marg with its citrusy flavor and crisp taste, it's sure to help you turn up any fiesta – all the goodness of the America's #1 cocktail, without the fuss of squeezing 50 limes.
Simply pour Smirnoff Ice Margarita into your favorite glass over ice and enjoy!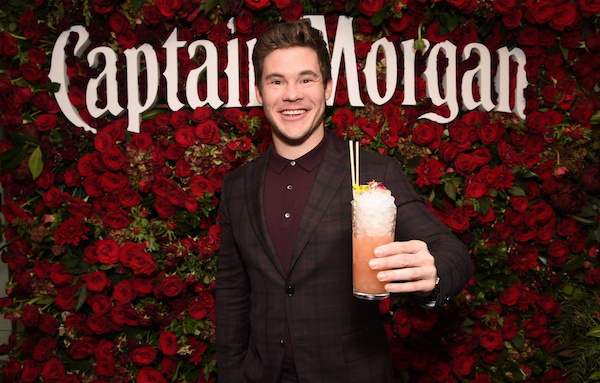 Love is in the air with Captain Morgan. This week the Isn't It Romantic premiere sponsored by Captain Morgan saw Captain Morgan Chief Party Officer Adam Devine kick off the week of love. Captain Morgan brought fun, delicious rom-com and Valentine's Day themed rum cocktails to the pink carpet at the Ace Theater in LA.
Ahead of the screening, celebrities and their guests enjoyed hanging out at the Captain Morgan bar while sipping a specialty Captain Morgan Love Bites cocktail named appropriately for the movie and the upcoming holiday. Following the screening, guests and media members attended the Captain Morgan sponsored after party at the NoMad Hotel where they could take photos in front of the Captain Morgan floral wall, use the onsite photo-booth and enjoy the premiere specialty cocktails once again. Check out these cocktail ideas below.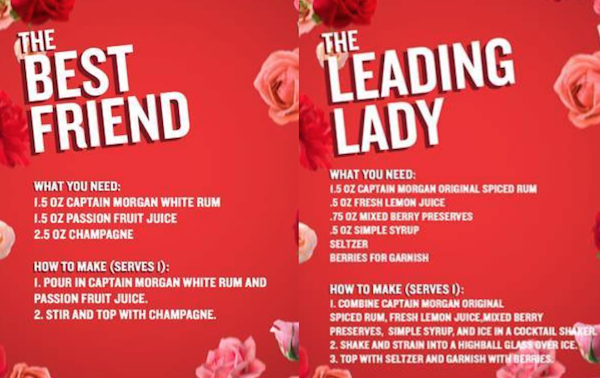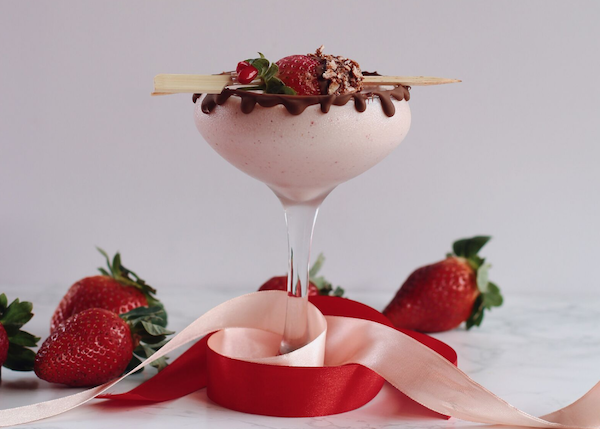 If you are looking for a cool new way to celebrate Valentine's Day might we suggest Max Brenner. Max Brenner is creating a new chocolate culture worldwide. Creating a chocolate sensory immersion that encourages you to open your mind about how you connect with chocolate. With unique products, desserts, and our iconic presentation, they have become the ultimate experience for chocolate lovers around the globe.
Their chocolate creations made with the highest quality cocoa beans and the finest raw materials. Their unique designs elevate the everyday chocolate experience to an extraordinary sensory immersion. These handcrafted chocolate creations and unique gifts are every chocoholic's dream come true!
Check out some very cool Max Brenner cocktail recipes below.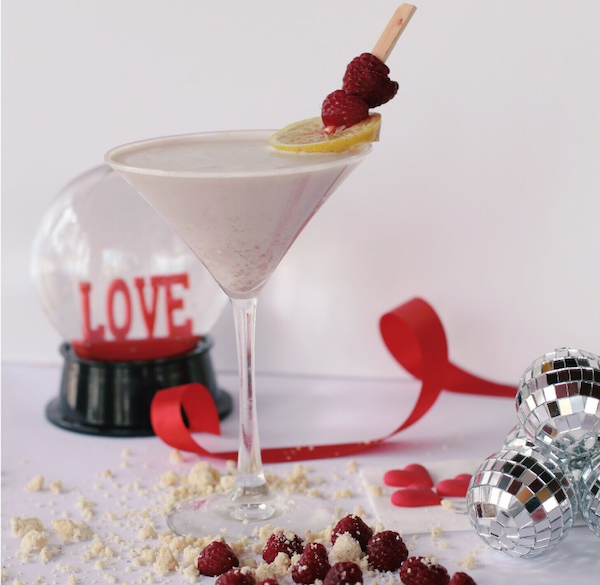 Raspberry French
Equal parts vodka and Chambord
Combine with 2 parts melted milk chocolate shaken over ice
Strain and serve up
Garnish with fresh raspberries
Raspberry lemon drop
2 parts vodka
Equal parts Triple Sec and Chambord
Combine with 2 parts sour mix
Shake with ice, strain and served up in a martini glass
Garnish with a raspberry and lemon slice
Chocolate Strawberry
Rim glass with melted chocolate
In a blender combine 2 parts vodka to 1 part crepe de cacao
Add 4 oz of strawberry puree and 2 scoops of vanilla ice cream
Blend until smooth
Pour in glass and garnish with a chocolate dipped strawberry
Votre pharmacie en ligne Meds-EU vous conseille dans le choix et l'utilisation de vos médicaments et produits de parapharmacie https://www.meds-eu.com/ . Nos pharmaciens sont disponibles pour vous écouter et vous conseiller dans l'achat de vos médicaments sur internet.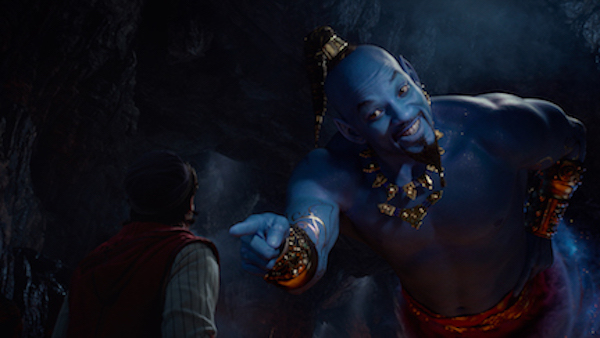 A thrilling and vibrant live-action adaptation of Disney's animated classic, "Aladdin" is the exciting tale of the charming street rat Aladdin, the courageous and self-determined Princess Jasmine and the Genie who may be the key to their future. Directed by Guy Ritchie, who brings his singular flair for fast-paced, visceral action to the fictitious port city of Agrabah, "Aladdin" is written by John August and Ritchie based on Disney's "Aladdin." The film stars Will Smith as the Genie; Mena Massoud as Aladdin; Naomi Scott as Jasmine; Marwan Kenzari as Jafar; Navid Negahban as the Sultan; Nasim Pedrad as Dalia; Billy Magnussen as Prince Anders; and Numan Acar as Hakim.
"Aladdin" is produced by Dan Lin, p.g.a., and Jonathan Eirich, p.g.a., with Marc Platt and Kevin De La Noy serving as executive producers. Eight-time Academy Award®-winning composer Alan Menken provides the score, which includes new recordings of the original songs written by Menken and Oscar®-winning lyricists Howard Ashman and Tim Rice and includes two new songs written by Menken and Oscar and Tony Award®-winning songwriters Benj Pasek and Justin Paul.


Celebrate the iconic and heart pounding music of Queen and Freddie Mercury with the highest-grossing biopic of all-time when Bohemian Rhapsody comes to Digital and Movies Anywhere January 22 and 4K Ultra HD, Blu-ray™ and DVD February 12. Fans can experience the story behind the band and the making of "Bohemian Rhapsody," the #1 streamed song of the 20th century and other favorites like "We Will Rock You," "Somebody to Love," "We are the Champions" and more, for a music adventure that will make you laugh, sing, dance and cry.
Nominated for two Golden Globe® Awards including Best Motion Picture – Drama and Best Actor in a Motion Picture – Drama (Rami Malek), and two SAG Awards for Outstanding Performance by a Cast Motion Picture and Outstanding Performance by a Male Actor in a Leading Role (Malek), Bohemian Rhapsody has captured the hearts of fans globally.
Bohemian Rhapsody is an enthralling celebration of Queen, their music, and their extraordinary lead singer Freddie Mercury (Malek), who defied stereotypes and convention to become one of history's most beloved entertainers. Following Queen's meteoric rise, their revolutionary sound and Freddie's solo career, the film also chronicles the band's reunion, and one of the greatest performances in rock history.
For the first time, fans can experience a truly one-of-a-kind music movie event with the complete "Live Aid" Movie Performance featuring two never-before-seen songs ("Crazy Little Thing Called Love" and "We Will Rock You) packed into a 22-minute collective experience recreating the original event. In addition, on Blu-ray & Digital, fans will get a look behind the making of the film including interviews with Queen, the cast and creative team.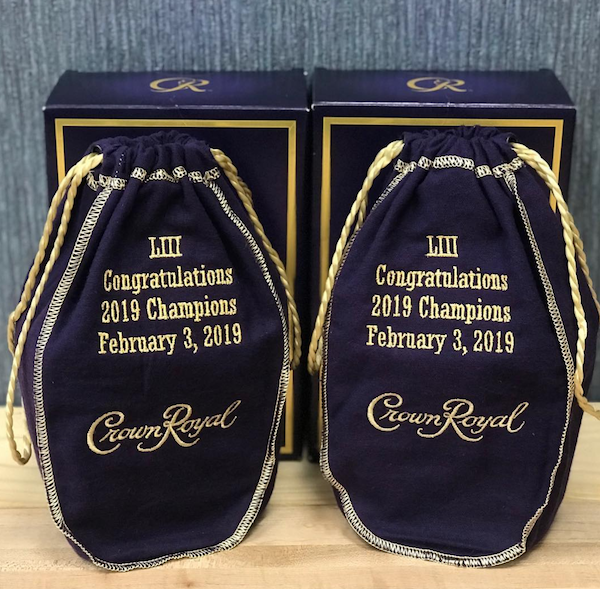 In honor of their Big win, twins and teammates Jason and Devin McCourty are gifting the 2019 championship team with two bottles of Crown Royal – one for them and one to share with someone who helped them achieve their dreams. Jason and Devin will be gifting their mom who has loved and supported them over the years.
The McCourty brothers had the following to say about their accomplishment:
"It's undeniable that this has been such an incredible journey for both of us as brothers, but it's even more special to have made it here with our team. We're excited to gift each member of this historic team with two bottles of Crown Royal featuring special embroidered bags – one to enjoy and one to gift to those special people who helped them realize this dream. We're giving our bottle to our mom for her love and support over the years. Today, we toast as brothers and as champions!"