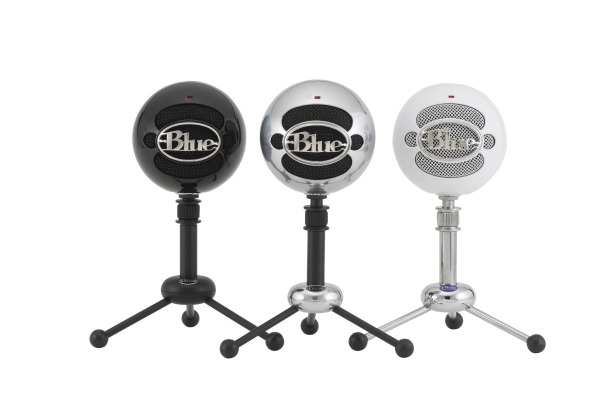 Sometimes you want to record professional-quality sound without having to be a professional sound engineer. For people with plug-and-play sound recording needs, it doesn't get much easier than the Snowball USB Microphone from Blue Mic.
We received a Snowball mic to review and the thing is pretty impressive. It comes in at just over two pounds, sits sturdy on any flat surface and gives you crisp, clean sound straight from your USB port. The mic uses a proprietary condenser capsule and as a sample rate of 44.1 kHz. The Snowball features three different recording settings: cardiod, cardioid with pad and omni-directional. The cardiod capsule is ideal for recording speech and vocals.  The cardioid with a -10dB pad is best for capturing live music and louder sound sources. The omni capsule is best used for interviews, conferences or any recording that requires the capturing of larger, more environmental sound sources. It works for podcasters, musicians and anyone who needs quick, clean and easy-to-use voiceover recording.
The mic is available in white, chrome or solid black. It comes with a sturdy swivel mount that functions as a desktop tripod. You can't use the thing with a traditional analog mixer, but digital setup is quick and easy. You can also connect the Snowball Mic to an iPad using the Apple Camera Connection Kit.
Whether you chat, play music, conduct interviews or if you just need to record your voice on something, you can't go wrong with the quality and ease of use that the Snowball Blue Mic provides. The MSRP for the mic is $99.00, but you can get in online for a lot cheaper than that.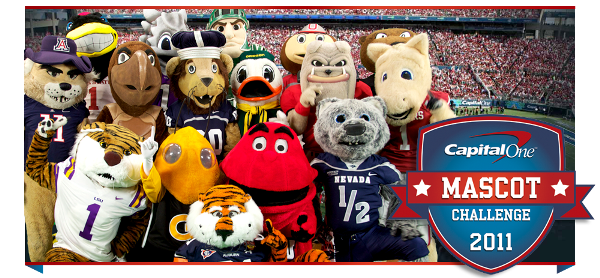 Who doesn't love college mascots? And who knew that all these goofy sports icons had such intricate back stories? Capital One's putting on their 10th Annual Mascot Challenge this season. Sixteen college mascots from nine different conferences are going to go head-to-head throughout the season to determine who will be crowned the Capitol One National Mascot of the Year at the 2012 Capital One Bowl.
Check out this week's head-to-head matchup featuring The Oregon Duck vs. Aubie from Auburn:
You can vote for your favorite mascot at CapitolOneBowl.com.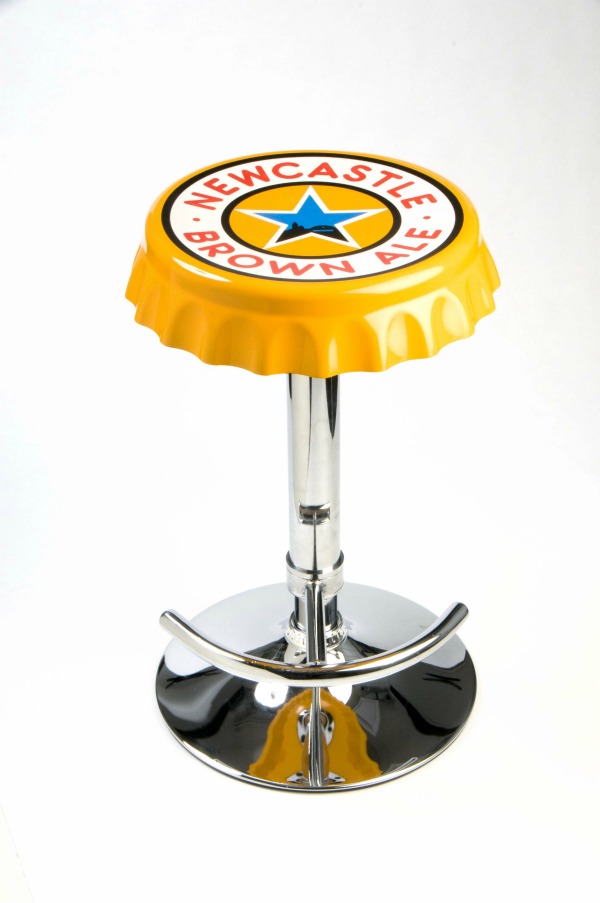 In anticipation of our Newcastle Walk the Dog Day event this weekend, we're giving away tons free stuff all week. From now till Saturday, we're giving away one Newcastle Cooler Bag and one Newcastle Bar Stool a day. How do you score this stuff? A few different ways. Here's what you need to do:
Post a Tweet to @MANjrcom and tell us about your favorite Walk the Dog story (sneaking out to grab a pint). Please use the hashtags #Newcastle and #WalkTheDog.
Send us an email using the submission form below.
Hit us up on Facebook and tell us why you love Newcastle!
And remember, if you want to attend the MANjr Newcastle Walk the Dog Day event in Santa Monica this Saturday, just email your Full Name and "Finn McCool's" to WalkTheDogDay@gmail.com. Hope to see you there!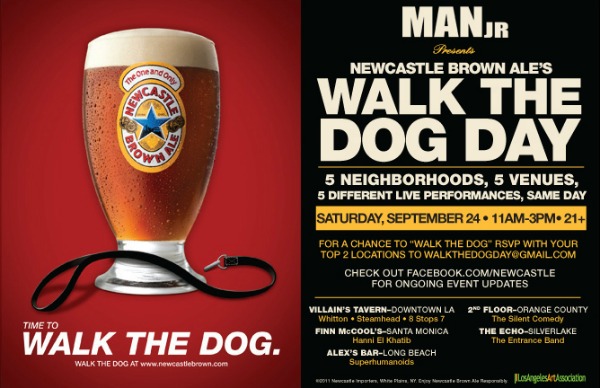 It's no secret that we love Newcastle around here, so we're all fired up about an event that we have planned with Newcastle on Saturday, September 24 at Finn McCool's in Santa Monica. This weekend, Newcastle is celebrating Walk the Dog Day all across LA, and we're proud to be a part of the festivities.
What does it mean to Walk the Dog? Glad you asked! Basically the phrase "Walk the Dog" is a classic excuse that British dudes give when they want to duck out and enjoy a pint with their mates. So instead of telling your lady that you're heading down to the pub to put back a few rounds with your bros, you just say that you're going to Walk the Dog (even if, you know, you don't even have one).
So this Walk the Dog Day event is going to be pretty sweet. The Walk the Dog Day celebrations are taking place in five different spots around Los Angeles, but the MANjr event will be held on the Westside.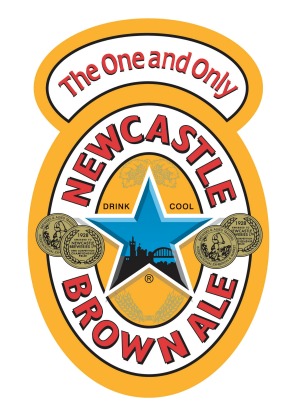 Date: Saturday, Sept. 24, 2011
Time: 11AM – 3PM
Locations: Five Walk the Dog Day events will take place simultaneously at Finn McCool's (Santa Monica), Villains Tavern (Downtown LA), Alex's Bar (Long Beach), 2nd Floor (Orange County), The Echo (Silver Lake)
We'll be posting up at Finn McCool's, a "painstakingly dismantled" Irish pub that was brought over from the Old World in 2002. The owner, Geraldine Gilliland, packed up the entire contents of her late step-father's pub in Ireland and reconstructed it on Main Street in Santa Monica. Finn McCool's features 18 craft beers, over 200 whiskeys and some pretty decent grub.
But Saturday, September 24 will be a day for Newcastle lovers. Sure, there will be food served as well, but if you love Newkie Brown, you won't want to miss this. The entry for the event is $1, a small price to pay for drinking a bunch of free Newcastles. That dollar is going to charity as well, so your low-low entry fee is actually going to support the Los Angeles Art Association).
The event will take place from 11am to 3pm and will feature live music by Hanni El Khatib, original art by Ron English, tons of t-shirts and giveaway opportunities and of course, delicious Newkie Brown Ale.
Guests will need to RSVP by sending their name and location preference (yea Finn McCool's in Santa Monica) to WalktheDogDay@gmail.com. Make sure to get your name on the list cause they're not letting just any old walk-in riffraff into the event. This is strictly for Newcastle lovers in the know.
We're ramping things up this week in anticipation of the event, and that means tons of giveaway opportunities for you, loyal reader. Every day this week we'll be giving away one Newcastle Cooler Bag and a Newcastle Barstool.
We'll have more info on the giveaways and the original art that you can score from Ron English. Just remember to RSVP and stay tuned for more details!
Tissot's been making sick watches since 1853. The new Tissot T-Touch II is a luxury watch with some crazy touchscreen features. Here's a video of Tony Parker showing off all the stuff you can do with the newest model from Tissot: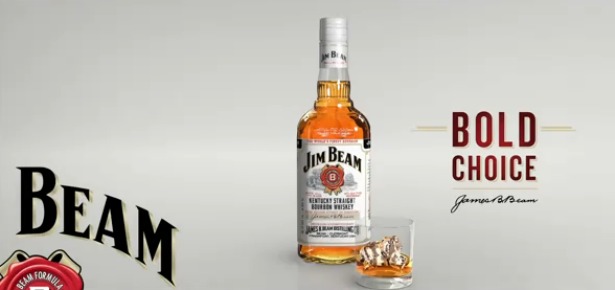 We're partnering up with Jim Beam on a really cool initiative called the Jim Beam Bold Choice Campaign. Basically, MANjr was selected by Jim Beam to act as a Bold Choice blog partner. As part of the campaign, Jim Beam is providing me with the means to make my Bold Choice dreams a reality. I should disclose that the opinions expressed on this site are entirely my own and I have not been paid to publish positive comments. Jim Beam is just hooking me up with the chance to make a Bold Choice and write about it.
Here's a well-put take on the whole Bold Choice idea, courtesy of Willem Dafoe:
So what sort of Bold Choice am I going to make? Well, I narrowed it down to three options which I'll outline below. It's up to you, loyal readers, to decide which Bold Choice I end up going with. Here's what's on the table:
Diving in the Great Barrier Reef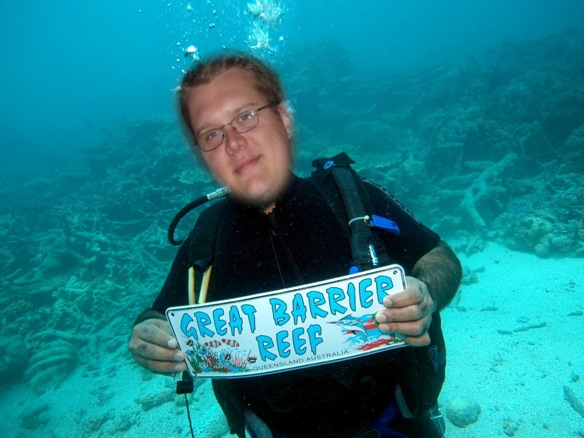 I've always wanted to see the Great Barrier Reef up close. The world's largest reef system is a World Heritage Site and it's visible all the way in outer space, man. There are nearly 3,000 individual reefs and 900 islands that make up the 130,000-mile plus Great Barrier Reef system. It's off the coast of Queensland and pretty much any photo you take can be licensed as a default desktop background. With coral bleaching, climate change, overfishing, pollution and such, this natural wonder of the world isn't going to be around forever. I'd like to check it out before it's gone.
Hiking a Volcano in Hawaii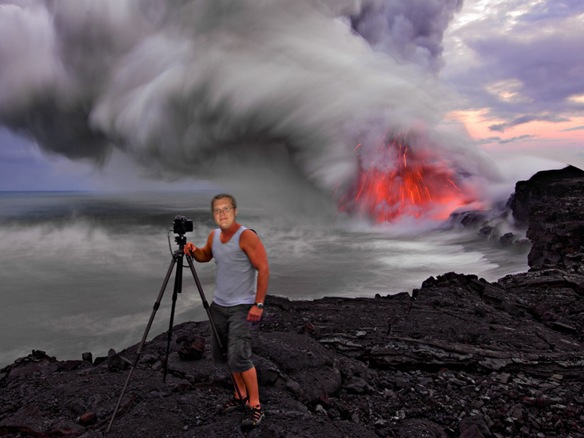 I've never been to Hawaii, but I hear it's awesome. Trekking up a volcano or checking out some massive craters created by Mother Nature's fury sounds like a damn good time to me. Plus, a little bit of beach time and relaxation never hurt anybody.
Skydiving in Austria and Attending Oktoberfest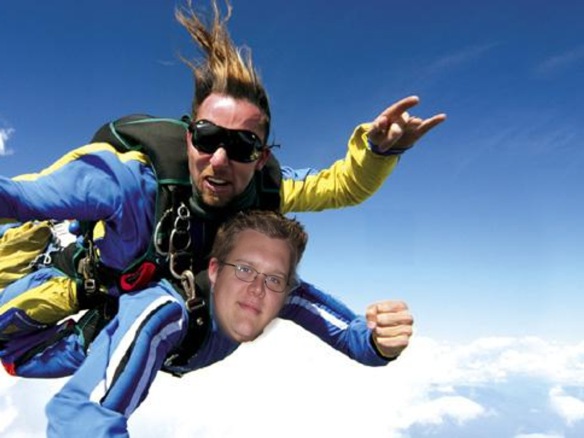 Austria's a good-looking country. You got the old imperial center of Vienna and panoramic Alpine views all rolled up into a country that's slightly smaller than the state of Maine. I think it'd be fun as hell to jump out of a plane and check out the view at 10,000 feet or so. If I survive that, it's off to Oktoberfest to enjoy some celebratory brats and brews with red-faced folks in lederhosen.
These are the Bold Choice candidates that I have to work with, but the decision is up to you, MANjr fans. Drop us an email below and let me know which Bold Choice you'd like me to make. I promise to write all about it with photos and good stories.
Thanks again to Jim Beam for including us in this sweet campaign. I have a chance to try out some once-in-a-lifetime experiences, and I can't wait to see which one I end up enjoying. I'll keep the voting open for a couple of weeks and let you guys know which Bold Choice wins out on September 30.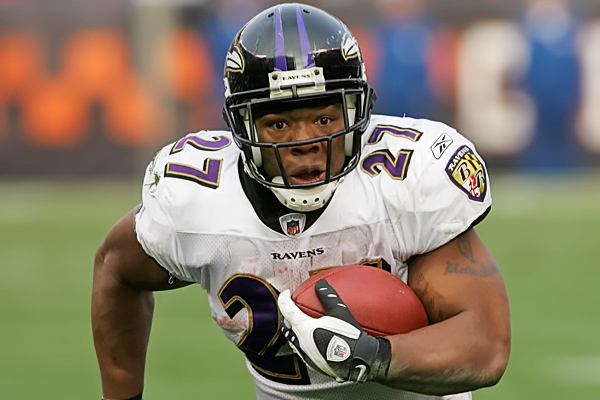 Week 1 is in the books and it was filled with sloppy tackling, big special teams plays and tons of passing yards. Big fellas looked winded all across the league, and clearly there are a ton of teams that need to work out the kinks after the lockout-shortened offseason. The entire NFC South is winless, the Vikings are already on the bottom looking up in the NFC North, same deal with the Dolphins in the AFC West. All that can change in Week 2 of course. Here's a look at our picks:
At New Orleans -6.5 Chicago
The Bears looked legit in Week 1, but it's hard not to like the Saints offense at home in the dome. Still, there are other factors to consider. The Packers did whatever they wanted to on offense against the Saints. I also feel like the Bears are going to rally around Brian Urlacher after his mother passed away this week. An underrated, emotionally hyped-up team could spell trouble for the Saints. Bears cover in an emotional seesaw battle:
Pick: Bears +6.5
At Detroit -8 Kansas City
The Chiefs look like a mess and the Lions did nothing to quiet they hype. The loss of Eric Berry for the season is dire for KC. Detroit fans finally have something to cheer for. Look for Stafford to put up big numbers again in the Lions home opener.
Pick: Lions -8
At NY Jets -9 Jacksonville
The Jets got some lucky breaks at the end of the game and took one from Dallas last week. The Jags didn't ask new starting QB Luke McCown to do too much (175 yards, no TDs and no picks). MJD and Deji Karim provided most of the offense for Jacksonville with 43 rushing attempts. The Jets gave up 315 passing yards to Dallas, but the Cowboys only gained 45 yards on the ground. Look for the Jets D to bottle up the run and force some mistakes from McCown.
Pick: Jets -9
At Buffalo -3 Oakland
The Bills absolutely lit up the Chiefs in Week 1. Fred Jackson gained 112 yards and Ryan Fitzpatrick tossed four touchdowns. The Bills had trouble stopping the run last year, but they held Jamaal Charles to only 56 yards. Still, KC was down early and never had a chance to get the ground game going. KC finished with 108 rushing yards on 18 attempts, so the team still averaged six yards per carry. The Raiders ground game led the way in Denver. Darren McFadden rushed for 150 yards on 22 carries. The Bills are going to have some trouble with McFadden, but Fitzpatrick will be able to pass the ball on an Oakland team that allowed 304 passing yards from Kyle Orton. I like the Bills at home.
Pick: Bills -3
At Washington -3.5 Arizona
Expect a shootout in DC. Grossman's going to pick apart a secondary that allowed over 400 passing yards to a QB making his first NFL start last week. Kolb looked good in the opener and I expect him to build on this success with another strong passing effort.
Pick:  Cardinals +3.5
Baltimore -6 At Tennessee
The Ravens destroyed Pittsburgh at home and now they'll hit the road and take on the Titans. The Titans had trouble stopping the run in Week 1, and if it wasn't for a couple big plays by WR Kenny Britt, the Titans would've lost in more convincing fashion. Chris Johnson isn't going off this week. Ray Rice will run wild and the Ravens will take care of business on the road.
Pick: Ravens -6
At Pittsburgh -14 Seattle
I'd hate to be a Seahawk this week. The Steelers are going to come out angry after suffering their worst defeat in years. This game features the largest spread of the week, and for good reason. Reports of the demise of the Steelers aging defense are greatly exaggerated. I saw a lot of missed tackles and winded defenseman in week 1 of this post-lockout season. The Steelers D is the same unit that got the Super Bowl last year. James Harrison isn't 100 percent after two offseason back surgeries, but this unit will be fine. Big Ben will play smart, the defensive playmakers will show up and the Steelers cover easy.
Pick: Steelers -14
Green Bay -10 At Carolina
I don't care how terrible the Arizona secondary is, Cam Newton still looked extremely comfortable in his first NFL start. He stood tall in the pocket, moved around when he needed to and connected on 24 of 37 passes for 422 yards, two TDs and a rushing score. The kid can play. So can Aaron Rodgers. I don't remember seeing a Packers third down last Thursday against the Saints. Green Bay moved the ball at will. I love the feel-good nature of the Panthers, but the champs can cover 10 points on 'em.
Pick:  Packers -10
At Minnesota -3 Tampa Bay
39 yards? Really McNabb? More than half the leagues QB's passed for more than 300 yards in Week 1, but Donovan couldn't crack 40. The Vikings lost but still covered the spread last week against the Chargers. Now they get a chance to right the ship at home. The Bucs are coming off a tough home loss to the Lions where LeGarrette Blount was barely used (5 carries, 15 yards). Look for that to change this week. Still, I like the Vikings to rebound in a close game.
Pick: Vikings -3
Cleveland -2.5 At Indianapolis
I picked Cleveland in a Survivor Pool last week, and it cost me. I was betting against Andy Dalton, but then the Bengals broke out the Polish Rifle, Bruce Gradkowski. He found AJ Green for his first NFL reception/TD. The Browns couldn't answer and I'm bitter about it. As sad as it was watching the Colts get demolished by the Texans, there are still some decent players on that team. These guys are professionals, and they have to be pretty fired up about everyone writing them off. All this talk of a winless season and an Andrew Luck draft pick pisses the Colts off enough to cover at home against a Browns team that couldn't handle the friggin' Bengals.
Pick: Colts +2.5
Dallas -3 At San Francisco
For three quarters, the Cowboys looked sick in the Meadowlands. Romo was making plays, Dez Bryant was everywhere, Miles Austin was breaking loose and Jason Witten got tons of looks. Then came the inevitable Dallas meltdown. Dez won't be 100 percent this week. I like the 49ers, and not just cause Ted Ginn found the endzone on two returns. Alex Smith dinked and dunked his way to 124 yards, completing 15 of 20 passes against Seattle. Gore didn't impress, tallying 59 yards on 22 carries. San Francisco's D kept Marshawn Lynch in check and they were able to pressure Tavaris Jackson. The top weaponm for the Niners may end up being David Akers again this week. The Cowboys aren't bad, but there's something brewing with Harbaugh at the helm in SF. I'm going with an irrational gut pick and taking the Niners this week.
Pick: Niners +3
Houston -3 At Miami
After surrendering 622 yards of offense to Tom Brady and company, Miami gets the unfortunate task of trying to stop a Texans team with too many weapons. Arian Foster's likely to play, but even if he doesn't, the Texans proved they can run the ball with anyone in the backfield. Toss in Andre Johnson, Owen Daniels and Schaub at the helm, and this looks like another tough day for Miami's D. I really like Owen Daniels this week. You saw what the Pats TEs did last week – Hernandez and Gronkowski combined for 13 catches, 189 yards and two scores. I don't care how good Henne looked. Brandon Marshall can call him the White Vick all day long. The Texans are just too explosive. The Fins will lose again.
Pick: Texans -3
At New England -6.5 San Diego
The Chargers may get Tolbert back, but it's hard to not like the Pats here. Sure, the defense has some serious issues stopping people. And yea, the Chargers know how to move the ball, but these Norv Turner-led Chargers just don't win that many away games in September/October. The team lost their first four road games last season (against these teams no less: the Chiefs, Cards, Raiders and Rams). The Chargers will score points, no doubt, just not enough to cover against a locked-in Pats squad.
Pick: Pats -6.5
At Denver -3.5 Cincinnati
I'd stay away from this game at all costs. The Broncos looked pretty weak against the Raiders and the Bengals pulled off a surprise win in Week 1. Not sure what to make of either team at this point. Denver's kind of banged up. Brandon Lloyd hurt his groin. Champ Bailey hurt his hamstring. Elvis Dumervil hurt his shoulder. Knowshon is questionable with a hamstring injury as well. DJ Williams wasn't healthy enough to play in Week 1. That's a lot of big names to have hurt. Factor in the home crowd calling for the starting QB's demise and that's tough sledding for any team. The Bengals are still the Bengals, but their defense was solid in Week 1. If they can take advantage of the ailing Broncos D, this game should be close. Still, I'll give the edge to the home team. Hopefully the crowd can avoid turning on Orton.
Pick: Broncos -3.5
Philadelphia -2.5 At Atlanta
Vick returns to ATL, where Matt Ryan loves to play. If you take a look at his game logs, Ryan is just way better in the comfort of his own dome. This game will be close. Expect lots of points on both sides. It's hard to not like what the Eagles can do, but I just feel like Atlanta's the smarter choice at home. Start any fantasy player on either squad, but expect the Falcons to come out on top.
Pick: Falcons +2.5
At NY Giants -6 St. Louis
I like the G-Men at home here. There are big injuries on both teams and holes all around. I'll give the Giants the benefit of the doubt at home.
Pick: Giants -6
Last Week:
10-5-1

In the beginning of September, Pepsi MAX announced the final fan-selected roster of the Field of Dreams Team. The team was selected out of a field of 36 living baseball legends, a list that included 20 Hall of Famers, 20 MVPs, 15 Cy Young Award winners and 32 world champions. Here is the final roster that baseball fans came up with: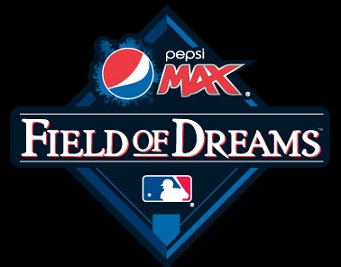 Starting Pitcher – Randy Johnson
Catcher – Johnny Bench
First Baseman – Frank Thomas
Second Baseman – Rod Carew
Third Baseman – Mike Schmidt
Shortstop – Cal Ripken, Jr.
Outfielders – Ken Griffey, Jr., Tony Gwynn and Reggie Jackson
Relief Pitcher – Dennis Eckersley
Designated Hitter – Edgar Martinez
Not a bad squad. I certainly wouldn't want to go up against a lineup like that, but one lucky fan is going to win the chance to put together a team of friends and go head-to-head against these legends. Pepsi MAX announced the four finalists who have a chance to field a team against this real-life fantasy squad: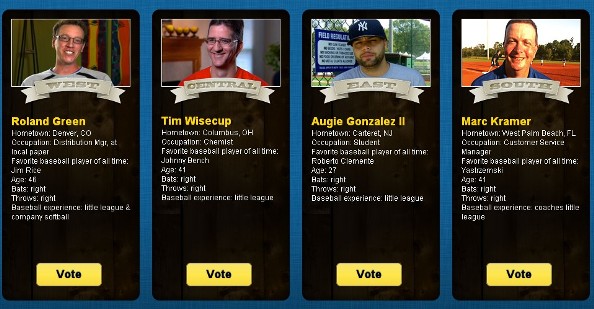 These four finalists will campaign for your votes on MLB.com/PepsiMax. So head over to the site and vote for the fan who you think is the most deserving to battle the Fields of Dreams Team.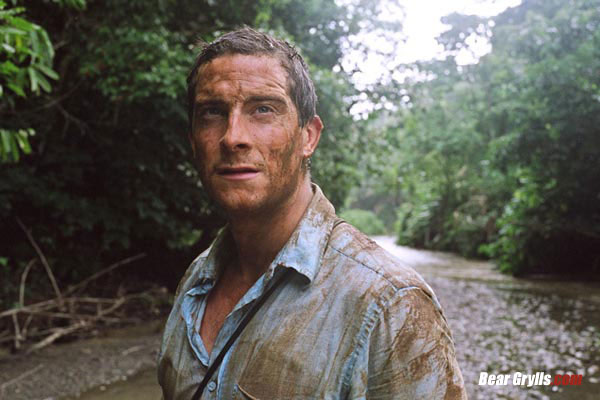 Ever wanted to chat up Bear Grylls? You can right now on Reddit.com. Grylls is answering questions on anything, so if you want know what extreme situation will make him drink his own you know what, head over to Reddit and hit the guy up. Video and text responses to specific questions will be posted on the Degree Men YouTube Channel later this afternoon.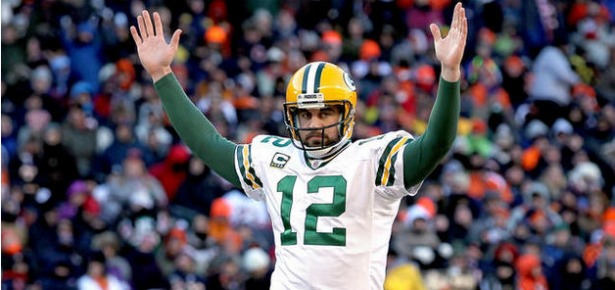 Oh yes. Week 1 is finally here. After a painful lockout and a super-slow summer for football news, the free agent frenzy is over, the preseason is behind us and the games start counting this Thursday. It's about friggin' time. Let's get right to the picks.
At Green Bay -4 New Orleans
The champs open things up at home against a Saints team that has to be hungry to start the season. New Orleans got getting bounced out of the Wildcard round last year by the worst playoff team in NFL history, the 7-9 Seahawks. While most football players we're working out on their own away from their teammates, Drew Brees led the charge for player-organized workouts. Will all that extra time together pay off against a stacked Green Bay team that's returning guys like Jermichael Finley and Ryan Grant? I'll take the defending champs at home to cover the spread in a high scoring game.
Pick: Packers -4
At Baltimore -2.5 Pittsburgh
This is the game I'm looking forward to the most. Good ole fashion physical football; a low-scoring brawl to set the tone for the AFC North this season. These two teams always go to war, but the Steelers have the edge. Since 2004, the Steelers are 9-2 in games where Big Ben starts against the Ravens. They split the regular season last year and Pittsburgh won the rubber match in the playoffs. Look for Big Ben to make some big plays in the air against the new Ravens secondary. Sit Ray Rice and take the Steelers to win on the road.
Pick: Steelers +2.5
At Tampa Bay -1.5 Detroit
It's the battle of the sexy NFC hype picks! Too bad both these teams couldn't play the Rams in Week 1 as well. To be fair though, both of these squads are on the rise. They both have that perfect storm of a confident, culture-changing head coach, promising young skill players and a little bit of nastiness. There's a reason why this spread is so low. It's basically a coin-flip. The Lions finished last year with five straight wins. The Bucs ended the year with a 4-1 finish. Expectations are high all around.
Pick: Lions +1.5
Atlanta -3 At Chicago
There's talk that the Falcons will enjoy an offensive explosion this year. Combining consistency at running back (Turner), wide receiver (White) and tight end (Gonzalez) with rookie sensation Julio Jones, healthy former-sleeper Harry Douglas and a quality young QB coming off his best season, it's hard to argue with the high expectations in Atlanta. Chicago got further than anyone thought last year. I don't think Jay Cutler's as big of a wuss as people make him out to be, but even with a solid defense, the Bears can't hang with the Falcons, even in Chicago.
Pick: Falcons – 3
At Kansas City -5.5 Buffalo
I'm not sure what to make of this game. Are the Chiefs really as good as everyone thinks? Is Buffalo really that bad? Here's the thing that stands out the most to me in this game: The Chiefs led the league with 164.2 rushing yards per game last year and the Bills were the worst in the league at rushing yards allowed (169.6). Cassel may not be 100 percent, but he probably doesn't need to be. I'm a big Ryan Fitzpatrick fan and I think the Bills will be better than people think, but the matchup favors KC. Take the reigning AFC West champs at home.
Pick: Chiefs -5.5
At Houston -8.5 Indianapolis
You can feel the anticipation in Houston. Peyton Manning's size 20 neck isn't right. The Jags gave Garrard the boot. The division is there for the taking! Will Houston find a way to blow it? Probably, but that'll likely happen much later in the season. I'll take the high octane Texans offense over the Kerry Collins-led Colts any day of the week. Even with the spread so high, you gotta go with the Texans taking advantage of this early season opportunity.
Pick: Houston -8.5
Philadelphia -5 At St. Louis
The Rams may be a feel good story this year, but not this week. The Eagles are stacked. Vick's healthy. Maclin is too. DeSean Jackson isn't holding out and McCoy is slippery as hell. The Eagles loaded up on defense in the offseason. Bradford may be an emerging star, but Philly's just too much for the Rams right now.
Pick: Eagles -5
At Cleveland -6.5 Cincinnati
That's an awfully high spread for Cleveland, but then again, the Bengals are an awfully bad team. The consensus this offseason is that Cincinnati will be the worst team in the NFL this year. They have a rookie QB with a rookie wide receiver as his top option. Their starting running back didn't get any sniffs in free agency and he's coming off a quick prison stint. McCoy played decent last year. Hillis faded down the stretch, but the Browns can take it to a Bengals team that's in full-on rebuilding mode this year.
Pick: Browns -6.5
At Jacksonville -3 Tennessee
I don't like Matt Hasselbeck, but I like Luke McCown even less. McCown is 1-6 in seven career NFL starts. Del Rio must see something in this guy to give him the gig just days before the start of the season, but I can't pick this guy's team to win. Can't do it. Won't do it. MJD's a beast without any threat of a timeshare, but the guy Chris Johnson can run pretty hard, too. This game feels like the kind of contest where you'll see both offenses run on third and long, just to avoid turning the ball over. Not the kind of game I wanna see Week 1.
Pick: Titans +3
NY Giants -3 At Washington
The Giants had their flaws last year (Eli Manning's 25 picks come to mind), but the team still moved the ball well. The Chargers, Eagles, Texans and Colts were the only teams that gained more yards per game on offense last season. If Eli can contain his mistakes, he has plenty of options to throw to.  Plus, Brandon Jacobs, who averaged 6.1 yard per carry in the preseason, is back in the fold and playing in an incentive-loaded contract situation. On the flipside, the Redskins are starting Rex Grossman. Since 2007, Grossman has started 11 games. He's 3-8 in those games. Tim Hightower may have found new life in DC, but I like the Giants to take it to the Skins this week.
Pick: Giants -3
At Arizona -7 Carolina
Bo Jackson may think that Cam Newton is gonna blow up the league this year, but his preseason performances showcased his rawness. He's going to need some time to develop. I really like Kevin Kolb. I think he was a good pickup for the Cards. I'm not sure if Beanie can be a workhorse, and I'm not sure how the carries are going to shake out in Carolina. Both defenses seem bendable. I think the Kolb-Fitzgerald combo gets the edge here.
Pick: Cardinals -7
At SF -5 Seattle
Can the addition of a new head coach really transform a team into a contender? It feels like the Niners have been on the verge of not sucking for awhile. Maybe Harbaugh will be the answer, but is Alex Smith really going to collect Ws in the short term? Will Braylon Edwards be an impact player from the get-go. Frank Gore and Vernon Davis give the Niners a chance, but it remains to be seen how the team is going to fit together. Seattle has its own questions, too. Is T-Jack the answer at QB? Can Rice and Lynch add more sizzle to this offense? Both these teams have identity issues they need to sort out, but one thing's for sure, San Fran has a better defense. Give the edge to the home team.
Pick: 49ers -5
At San Diego -8.5 Minnesota
McNabb looked less-than-serviceable last year, but he's in a much better situation in Minnesota. If he can minimize mental mistakes and embrace his role as a game manager, this team can be good. We all know the Chargers are good, but they never come out of the gates firing on all cylinders. They don't play well on the road early in the year, but this game will be played in bright glare of the San Diego sunshine. The Chargers will probably win, but not by a margin that wide.
Pick: Vikings +8.5
At NY Jets -4.5 Dallas
The Jets are for real. The Cowboys might be too, but their secondary has holes. The Jets don't have holes on D, and they re-upped on offensive weapons this offseason. If Sanchez doesn't make any stupid throws, the Jets should be able to handle the Cowboys in the Meadowlands.
Pick: Jets -4.5
New England -7 At Miami
The Pats win easy. In two regular season matchups last year, the Pats beat Miami by a combined score of 79-21. I think that trend we'll continue on Sunday.
Pick: Pats -7
At Denver -3 Oakland
The Raiders beat the entire AFC West last year and still didn't win the division. You get the feeling that this team could put together a respectable 8-8 campaign this year, maybe even better. I don't feel the same about Denver. I like the Raiders to come out swinging for their new head coach.
Pick: Raiders +3
Last season: 133-125-7 ATS