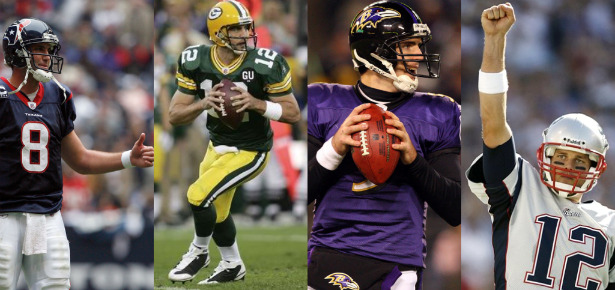 An eighth of the season is behind us, and so far our picks haven't been all that impressive. I followed a 7-6-3 Week 1 with a 8-7-1 Week 2. While 15-13-4 doesn't sound like advice you'd pay for, at least I've got the same record from last week and one less loss on the season than Bill Simmons. I've been making some good cash on the Steelers quick start, too, and that's a trend that's going to continue this weekend. Anyway, on to the picks:
At NY Giants -3 Tennessee
These two teams both need a rebound win. Last week, the Giants got spanked in the Manning Bowl and the Titans got pile-driven by the Steelers. Does Vince Young come in and reclaim his job? Chris Johnson will be facing another tough run defense, but he'll certainly do way better than his 34-yard rushing performance in Week 2. Titans bounce back.
PICK: Titans +3
At New England -14 Buffalo
Another week, another huge point spread for whoever's playing the Bills. Make no mistake though, the Pats are going to crush this team on Sunday. Brady is a Bills killer, and Ryan Fitzpatrick won't be able to hang with a guy who's beaten the Bills 15 times in 16 games while completing 65.3 percent of his passes with an average QB rating of 100.6. Brady has thrown more TDs (33) and put up more passing yards (3,713) against the Bills than he has against any other team in the league. This trend will continue in Week 3.
PICK: Pats -14.5
At Baltimore -10.5 Cleveland
Joe Flacco needs this game. He's looked horrible through two games, but he'll bounce back against the winless Browns. Lock it in.
PICK: Ravens -10.5
Pittsburgh -2.5 At Tampa Bay
Still not sold on the Steelers? I could line up under center for that team the Steelers would still kick ass. They have the best defense in football and Tomlin wants a W against the team that gave him his first shot as an NFL coach. At some point the oddsmakers are going to give the Steelers more respect. Until they do, keep cashing in.
PICK: Steelers -2.5
Cincinnati -3 At Carolina
The Bengals couldn't score a touchdown last week, but five field goals were enough. Cincy's strength is its defense. If they can make Joe Flacco throw four picks, imagine what they'll do to Jimmy Clausen.
PICK:  Bengals -3
At New Orleans -4 Atlanta
The Falcons are a good football team. They had a tough loss to start the season and they totally crushed the Cardinals in Week 2. The Saints are just too good though. Even though the 49ers almost took them out on Monday Night, the Saints return back to the comfort of their dome. This team's just clicking too much to bet against them at home. The Falcons will put up points, but not enough to win.
PICK: Saints -4
At Kansas City +3 San Francisco
The Chiefs are 2-0 baby! The Niners looked impressive at home last week, but I'm going to roll with the Chiefs at home on this one.
PICK: Chiefs +3
At Minnesota -11 Detroit
Who are the Vikings at this point? Are they a run first team with a gray-beard game manager under center or are they a team that likes to fling it? The Lions are facing their toughest defense yet, but who wants to bet against Jahvid Best?
PICK: Lions +11
At Houston -2.5 Dallas
The Texans are clicking and the Cowboys are answerless. Dallas doesn't have a run game and the Texans can beat you in so many ways. The battle for Texas is going down in Houston. The Cowboys are desperate, but the Texans will stay hot and take this one.
PICK: Texans -2.5
Washington -3.5 At St. Louis
The Redskins almost pulled off a shocker last week, taking the Texans to overtime, but their upset fell short. Portis is questionable, but his play this season has been questionable as well. The Rams are averaging on 13.5 points per game, but they've only allowed 16.5 points in the first two weeks of the season. The Skins proved last week that they can put up points and hang with a good team. The Rams aren't a good team.
PICK:  Skins -3
Philadelphia -2.5 At Jacksonville
D avid Garrard was miserable last week against the Chargers. He threw four picks and got benched. Luke McCown came in and tore his ACL again and Garrard was back in action. Meanwhile in Philly, Vick has played so well that the team told Kevin Kolb to keep his ass on the pine. It's easy to look good when you're playing the Lions, but Vick's the better QB and the Eagles are a better team. They should take care of business in Jacksonville.
PICK: Eagles -2.5
Indianapolis -5.5 At Denver
Peyton Manning ruins Laurence Maroney's big day. Colts cover in Denver.
PICK: Colts -5.5
San Diego -5 At Seattle
Mike Tolbert puts up big numbers in place of Ryan Mathews. San Diego will win the most unwatchable game of the afternoon
PICK:  Chargers -5
At Arizona -4.5 Oakland
The Polish Rifle makes Oakland a better team. The Cards must've been put through the ringer by Coach Wiz after last week's beatdown. I don't like this game; too many questions. Does Gradkowski light it up? Does Beanie Wells make an impact? Do Arizona's receivers see anything resembling a catchable pass? Steer clear of this one, but if you have to choose a side, take Oakland, their rushing attack and their confident new QB.
PICK:  Oakland +4.5
At Miami -2.5 NY Jets
Another tough call. The Jets got a big win in Week 2, but the Fins have been solid through two weeks. Which Mark Sanchez will we see? The dude who was shackled by a conservative game plan in Week 1? Or the guy who had the game of his life last week and is on the fast track for an MVP award? With Revis out, I'm taking the Fins at home.
PICK: Fins -2.5
Green Bay -3 At Chicago
For two straight weeks I've picked the Bears to lose, but they're 2-0. I guess I should believe in Cutler and Company, but I don't. Not against the Packers. Sorry. Green Bay seizes the spotlight on Monday Night and the Bears show their home crowd that they don't deserve to be lossless.
PICK:  Packers -3
Listen to DMC. Don't text and drive. Or to put it another way,
When you're on the road,
Don't L-O-L,
Cause it's real,
Keep both hands on the wheel.
Tell 'em D:
Thanks PFT

Who doesn't love Philip Seymour Hoffman? He's got three names, he was awesome in Boogie Nights and he's not content with just acting. Nope, PSH wants to get behind the camera, too.

Jack Goes Boating is Hoffman's directorial debut. The film had a limited release on September 17, but it's going into expanded nationwide release this weekend. Check out the trailer:
To pump you up for PSH's directorial debut, we're giving away a Jack Goes Boating prize pack that includes:
Jack Goes Boating Movie Poster
Jack Goes Boating Soundtrack
Capote DVD
The Visitor DVD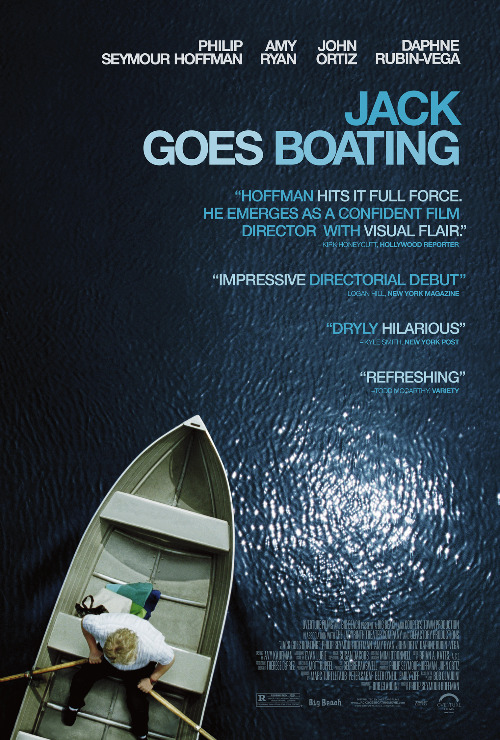 Here's how to enter:
Follow us on Twitter (@MANjrcom)
Drop a comment below and tell us what you think about Philip Seymour Hoffman
Winner will be chosen at random
Giveaway ends next Friday, October 1st

So Stephen Colbert testified before Congress this morning. He made his comments at the House Judiciary Committee hearing on immigration. Here's transcript of his opening statements: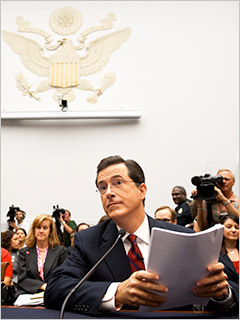 "Good morning. My name is Stephen Colbert: television personality, comedian and resident of New York. I would like to thank the committee and its members for their time today and their open minds as I present my statement for the record.
In July of 2010 — in the midst of Arizona's immigration firestorm — I welcomed Arturo Rodriguez, president of United Farm Workers of America, as a guest on my television show to discuss the impact on harvests in California's Central Valley. During our interview and subsequent conversation, I learned of his "Take Our Jobs" campaign; offering unemployed Americans farm work, providing necessary training and addressing the chronic and endemic shortage of agriculture laborers across the country. While an enthusiastic endeavor, the project recruited a mere three participants. As a comedian and satirist, the temptation of subjecting my character to manual labor proved impossible to resist. I offered to be the fourth.
Joined by Congresswoman Zoe Lofgren — longtime advocate for farmworkers' rights — I traveled to Upstate New York, where I spent 10 hours picking beans, packing corn and learning about the stark reality facing American farms and farmers. I learned that many farms are closing, growers are planting less or switching to other crops, and the production of fresh foods and vegetables is moving abroad. I learned that American farmers have moved at least 84,155 acres of production and 22,285 jobs to Mexico, and that between 2007 and 2008, 1.56 million acres of U.S. farmland were shut down; 1.56 million acres is about twice the size of Delaware.
At the request of Congresswoman Lofgren, I am here today to share my experience as an entertainer turned migrant worker and to shed light on what it means to truly take one of the millions of jobs filled by immigrant labor. They say that you truly know a man after you've walked a mile in his shoes, and while I have nowhere near the hardships of these struggling immigrants, I have been granted a sliver of insight.
Thank you very much for the opportunity to share my testimony."
Check out the full video of Stephen Colbert's testimony: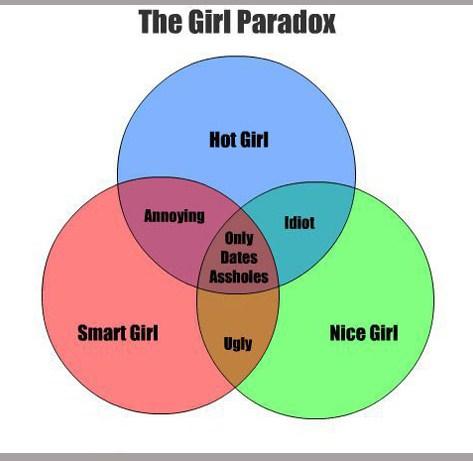 Via: Imgbit


Via: Attu World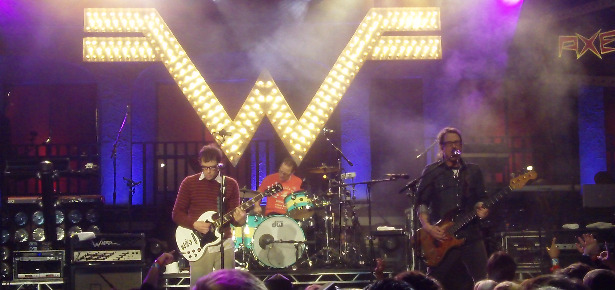 Weezer played a secret show sponsored by AXE at the Dunes Inn Motel in Hollywood on Tuesday, and it was sick. The second installment of the AXE Music "One Night Only" concert series was definitively a hit (the first One Night Only concert was a TI show in New York that sounded like a pretty sweet time as well). The Weezer show featured an open bar, free food, celebs and a chance to see a great live band in the intimate setting of a motel courtyard on Sunset and Western.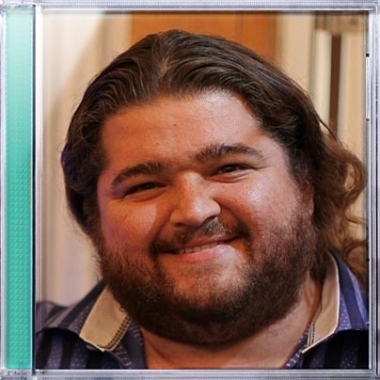 Khloe Kardashian and Lamar Odom were there (Odom looked bored as hell, but hey, way to support the band, Lamar). Vanessa Hudgens, My Chemical Romance and the big guy from LOST were also in attendance. Jorge Garcia (aforementioned big guy) had his face selected by Weezer for their new album cover, Hurley. Jorge got to introduce the band and even did a number with them on stage.
AXE puts on great events, and this was no exception. The line outside was massive, but once people got in, they were treated to free drinks & snacks, great music and good energy. You can't ask for much more than that on Monday night in Hollywood.
Rivers Cuomo and company certainly know how to put on a show. The band played "My Name is Jonas" with My Chemical Romance, did that entertaining MGMT/Lady Gaga cover, played some newer stuff, a lot of older stuff, and just jammed out and kept the crowd involved throughout the entire set. Check out the videos:
Weezer – Jorge Garcia Intro and Hash Pipe – AXE One Night Only – MANjr.com from Chris Stout on Vimeo.
Weezer – Say It Ain't So – AXE One Night Only – MANjr.com from Chris Stout on Vimeo.
Weezer – Surf Wax America – AXE One Night Only – MANjr.com from Chris Stout on Vimeo.
Weezer – Undone-The Sweater Song – AXE One Night Only – MANjr.com from Chris Stout on Vimeo.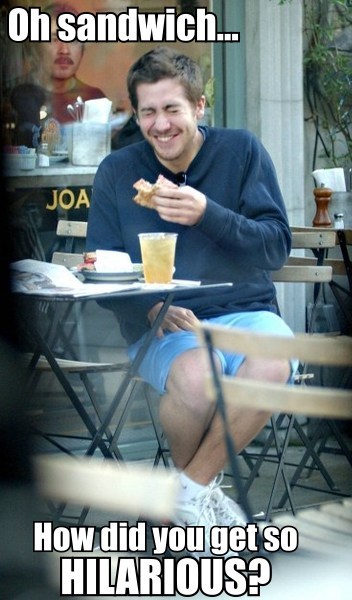 Via: Imgbit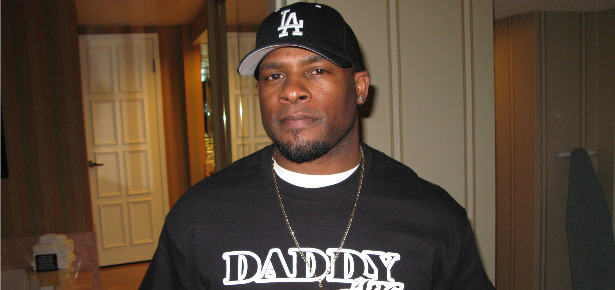 If you've ever wanted to do it like a porn star, Mr. Marcus is happy to help you out. The adult film superstar wrote a book called The Porn Star Guide to Great Sex, and it's a fantastic read. Witty, illustrated and full of useful techniques, mood-setting tips and advice on love and intimacy in general, Mr. Marcus's book is well worth the purchase.
We chatted with Mr. Marcus about his new book, the perks/drawbacks of being a porn star, how couples can keep things spicy in the bedroom, his secret move (he didn't tell us) and who he likes to work with. Here's what he had to say:
What inspired you to write The Porn Star Guide to Great Sex?
I wanted something that stood out in the sex section at the book store. Not a memoir or anything biographical, just something that could help people in the bedroom right here, right now. Most of the books that I read before were written by a doctor or a woman or a combination of both, I hadn't seen or read anything written from the male perspective, especially from a male porn star. I thought I'd be the first.

When did you know you wanted to be a porn star?
To be honest I never wanted to be a porn star, I just wanted to have sex with the girls I saw in adult magazines. I knew that pretty early on, right around the time I saw my first porn magazine, I was 16. Magazines like Hustler, Club and Black Tails were the driving force behind my decision to pursue adult, I wanted to be in those pictures, besides the normal masturbating fantasies I had bigger aspirations and have been driven by that.

What's the best thing about being a porn star? What's the worst?
Probably the best thing about being a porn star is the variety of women you meet and have sex with, each sexual partner your with teaches you something about yourself (what you like and what you don't like) so through that I've learned a lot about myself and others. Through all those sexual partners, I've learned what works well and what doesn't work well for me, but might work well for others. So the best thing is you learn a lot about yourself and others, sexually. And you become a sort of sexual guru. The worst is the reputation you get by having sex with so many people. I've been called a lot of names so writing the book was my effort to beat back some of those negative comments.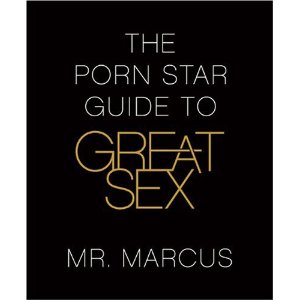 What tips do you have for couples who need to spice up their sex life?
I tell them to read my book…slightly kidding. It's funny because most of the things we do sexually in the beginning of relationship somewhere down the line we tend to stop doing. You have to make an effort to stay sexually in tune with your partner. But you also have to evolve together. A challenge without a doubt, but if you're with a forgiving partner, it's possible. I say forgiving, because it's not easy and you'll make some mistakes, but if your partner is willing to try new things, then it should extend your sexual life together. With that being said, I encourage flirting with one another or with others flirting has a way of boosting our sexual confidence, try getting out of having sex in the same place in the same way, visit hotel rooms, do it at a friend's house, in the car, late night in a park (just don't get caught). Role playing is good way to create an alter ego, a more promiscuous ego. And don't hold yourself responsible for what that alter ego might sexually do.
What's one thing that guys tend to neglect when they're pleasing a woman?
I think the simple things, women are complicated when it comes to shoes, clothes and hair styles, but with relationships they just want attention and presence. Ultimately respect goes a long way with both sexes, so if you can show your woman an appreciation and a respect in the bedroom, she'll respond favorably. A favorite thing I like to do for my woman is give her late night massages, she loves it and has never turned down one, it's that little bit of attention to detail, doing what she responds to and likes, that keeps it a happy home.
Who's the hottest porn star you've ever done a scene with?
I've been with a lot of hot and horny porn stars, over the years they've come and gone. But one, Heather Hunter, has made a lasting impression. Beauty, smarts and sexual ability that comes across easily and naturally.
Who's the most skilled porn star you've ever done a scene with?
Jenna Haze puts in a mean handjob. Monique Alexander knows how to give it as well as take it. There is a new girl Bethany Benz who has quickly become a personal favorite.
Who do you see as the biggest up and coming starlet in adult film?
I've always liked Sasha Grey, not only because of her intelligence, but her lack of fear when it comes to sex. Her ability to maintain crossover appeal while being a porn star, makes her interesting to watch. Another girl I see with some major potential is Bethany Benz, coming from reality tv and trying her hand in adult, she shows a sexual side that's always been there, porn just brought it out.
What's your secret move?
Why would I tell my secret move? What I can tell you is a technique I know that works. Something I learn from the set, is that constant intercourse during sex is not necessary, don't let the situation fool you, pulling it out and stroking yourself while you watch her or while changing positions, can give you the time you need to subside the urge to cum or achieve a more desired erectness. Plus it gives the woman some sexual insight into how you arouse yourself which in turn she can learn from and use to keep you aroused and erect.
What are you working on now?
Currently working on an untitled 3-D porn movie. Using 5 women with different looks and appeal and I'm the guy who offers a sexual suggestion for each of them to do throughout the movie. Plus working on my clothing line Daddy, Inc. You can check out www.daddyinc.net for more info. Also working on another book with more of a memoir appeal. So you can read where and how all this sexual insight came about.