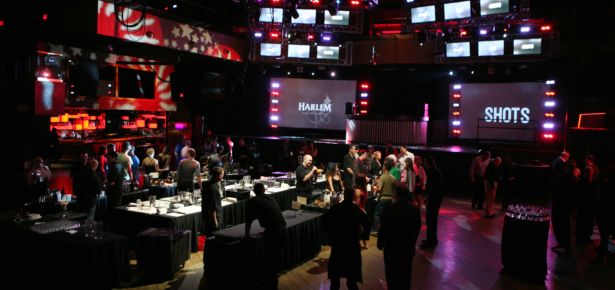 Earlier this month, the MANjr team attended a SHOT Showcase for HARLEM Kruiden Liqueur at the Palms in Las Vegas. Named after Haarlem, a town just outside of Amsterdam, the Dutch liqueur is produced by the Nolet Family, the fine people that make Ketel One Vodka. Haarlem is the town where Carl Nolet Jr.'s grandmother was born. HARLEM is the first product that Nolet has introduced since 1983.

HARLEM is basically a more nuanced, Jager-like liqueur that's full of subtle herbal and citrus tones. It's a bit darker and stiffer than Jagermeister (HARLEM is 80 proof, Jager is 70 proof), and it has a fuller, more complex-tasting edge to it. The actual ingredients in HARLEM are a secret, so the blend of aromas and flavors is rather difficult to describe. Kruiden is the term the Dutch use to describe the herbs used to give HARLEM it's bold and earthy flavor. Meant to be served as an ice cold shot, HARLEM has this orangey root beer bite that kicks the back of your throat and coats your palate with a balanced combo of bitter and sweetness.
The SHOT Showcase, which took place at the Rain Nightclub inside the Palms Casino & Resort in Vegas, was a coming out party for the liqueur. The culmination of a national contest, the Showcase featured bartenders throughout the US who won The HARLEM® Make Your Best Shot Competition. Judged by Tasting Panel Magazine, the competition invited bartenders to create their own custom shots using HARLEM as the main ingredient. The results were quite impressive.
Local bartenders from Chicago, LA, Miami, Vegas, New York, San Francisco and Orange County showed off their winning 2 oz. concoctions to rave reviews. Every bartender brought a unique spin to the liqueur.
Some bartenders played on the sweetness of the shot. Mike Miller and Adam Garvanian from Chicago created two shots, The Red Light and Harlem Night, that accentuated the after-dinner desert quality of the liqueur. The Red Light featured 1 oz. of HARLEM with ¾ oz. Effen Black Cherry Vodka, ¼ oz. Vanilla Flavored Alcoholic Whipped Cream with a cherry on top. The Harlem Night combined HARLEM with equal parts Bailey's Irish Cream, chocolate liquor and a dash of Goldschlager. This shot was served in a glass rimmed with cinnamon sugar.
Richie Petronzi, a Miami bartender from the Burger N Beer Joint decided to throw bacon in the mix. His Harlem Nights shot included an oz. of ample smoke bacon fat washed HARLEM, ½ oz. fresh pressed apple juice, ¼ oz. fresh lemon juice and ¼ oz. grade-A maple syrup. This hearty shot was served with fresh tarragon and a slice of honey smoked bacon.
Phoenix-based Andrew Record from Hacienda del Sol decided to play up the zesty citrus quality of the liqueur. His HARLEM Renaissance shot included lemon cello, rosemary-infused simple syrup, fresh lemon juice, soda water and a thin orange zest garnish.
Another Phoenix winner, Gail Riley from My Ole Man's, played on the liqueur's fruity flavors. Her shot, Harlem Rage, combined vanilla vodka, raspberry vodka, pineapple juice and cranberry juice with the Dutch liqueur.
My favorite shot came from LA bartender Justin Long from First and Hope and STK. Long's Harlem Express combined 1 oz. of HARLEM with ¾ oz. chilled espresso, ¼ oz. vanilla syrup and ¼ oz. cream. Served in a mini-Guinness-pint shotglass, Long's HARLEM Express was a creamy, fluffy coffee treat with a kick.
From sweet to fruity to bacon to coffee, each bartender's take on HARLEM was worthy of being showcased. Each shot enhanced a different undertone or highlighted a distinct flavor. HARLEM shots are going to be a staple at the Rain Nightclub from now on. The club announced the opening of the new HARLEM Kruiden Liqueur VIP room this week. Visitors to Rain can enjoy shots of HARLEM in this lavishly furnished VIP room that's decorated with Kristall chandeliers, massive horizontal mirrors, black carpet, and bold red paint. Framed by bright LED lights, the new VIP room will be easy to spot, even inside the 25,000-sq. ft. of club Rain. The HARLEM Kruiden Liqueur VIP room at Rain will serve the brand's signature drink, The Slamsterdam, along with a variety of other cocktails made exclusively for HARLEM.
All-in-all it was a great Vegas trip. We met a bunch of cool people from Manolith, Complex Magazine, Thirsty in LA, Bourbon Blog, Imbiber and Liquor Snob, and we got to sample some tasty shots and experience Sin City in style. A big thanks to all the bartenders who participated in the Showcase. Everyone enjoyed the good times.

This week, MANjr is giving away three DVD copies of the film Leaves of Grass. Written and directed by Tim Blake Nelson, Leaves of Grass is a film is about drugs, murder and brotherly love. It stars Edward Norton, Keri Russel, Richard Dreyfuss and Susan Sarandon. The story centers around two identical twins, both played by Ed Norton. One brother is an Ivy League professor who returns to his hometown in Oklahoma to help his other brother, a weed-growing genius, get out of a jam with a local drug lord. The film features plenty of laughs, action and Norton-on-Norton banter. Here's a trailer for the movie:
Here's what you need to do to get your DVD copy:
Follow us on Twitter (@MANjrcom)
Leave us a comment telling us why Ed Norton is awesome
Winners will be chosen at random
Giveaway ends next Monday, October 25th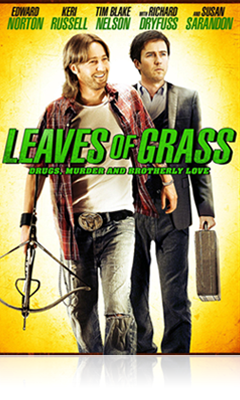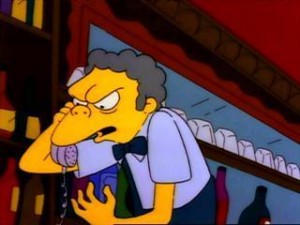 Remember when you were a kid and the best form of entertainment in the world was finding the perfect victim to prank call? Well, even though the advent of caller ID has made this pastime much more difficult, the trend still carries on. Whether you're looking for inspiration for your next call, wanting to take a walk down memory lane, or just get a good laugh—you just have to hear these recorded prank calls.
1. Looking back, I was probably about 12 years old when I used to prank call. Here's a kid of the same age calling… drum roll… a prostitute.
2. Sometimes people use prank calls for good. This radio show host calls a guy while his girlfriend secretly listens on the line. The guy reveals that he has a wife and the unknowing girlfriend lets him have it.
3. These days, impersonating a celebrity is easier than ever with character sound boards. With a little help, Peter Griffin gives Geico a call.
4. Have you ever prank called your own parents? This girl sets up her parents and exposes their racism.
5. Another classic thing to do is call a store and ask for an embarrassing product. Butt plugs anyone?
6. Becky wants her school destroyed. So she calls a demolition crew.
7. Can you believe even Al Pacino prank calls people? Okay, it's not really him. But it sounds like him. And he sounds like he wants to kick someone's ass.
8. Sometimes it's most fun to call a random number with no plan at all. Free style it.
9. Have you ever dealt with the people at Best Buy? So annoying. Here they get a taste of their own medicine.
10. It seems that not even governors are immune to prank calls. Radio shows always do it right.
11. I've never called a customer support line that wasn't a complete pain in the ass. Why haven't I ever thought of prank calling them?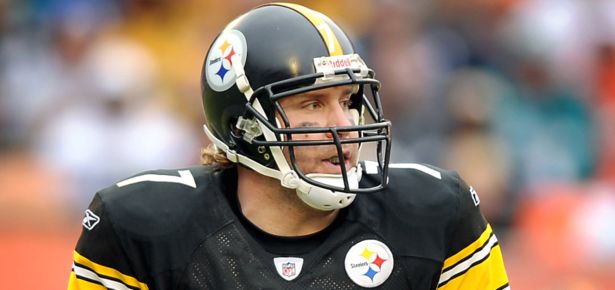 San Diego -8 At St. Louis
PICK: Chargers -8
At Green Bay -3 Miami
PICK: Packers -3
At Houston -4.5 Kansas City
PICK: Chiefs +4.5
At Pittsburgh -13.5 Cleveland
PICK: Steelers -13.5
At New England -2.5 Baltimore
PICK: Patriots -2.5
NY Jets -3 At Denver
PICK: Jets -3
New Orleans -4 At Tampa Bay
PICK: Saints -4
At San Francisco -6.5 Oakland
PICK: Raiders +6.5
At Philadelphia -2.5 Atlanta
PICK: Falcons +2.5
At Minnesota -1.5 Dallas
PICK: Vikings -1.5
At NY Giants -10 Detroit
PICK: Lions +10
Indianapolis -3 At Washington
PICK: Colts -3
At Chicago -6.5 Seattle
PICK: Bears -6.5
Tennessee -3 At Jacksonville
PICK: Titans -3

I recently received a pair of Ahnu hiking shoes, and I gotta say, they're pretty comfy. I consider myself more of a couch-potato than an outdoorsy type, but I decided to give my pair of Ahnu Men's Moraga Mesh shoes a proper test drive. So I went for a quick hike in some drizzly weather conditions.
The shoes fit comfortably – not too tight, not too loose. My hike was by no means extreme, but I did hit some rocky-wet terrain. The shoes breathed well, but didn't let any puddle splatter in, which was great. No overheating and no exposure to the elements, which was a nice balance.
The bottom sole is both firm and flexible, allowing for stable foot placement that wasn't too rigid and still left me with good range of motion. The bottom traction action is the best part about these shoes. Even in slippery conditions I was able to get solid foot planting while hiking in the hills. If I was sporting my usual pair of Sauconys, I would've been treading super lightly, but the grip action of the bottom sole let me hike at a brisk pace without any fear of skids or slippage.
It also helps that these shoes look cool. Most hiking shoes look like paramilitary accessories, but I'd wear these things with some jeans and not even think twice about it. The back hoop makes for quick entry into these shoes too, so whenever I need some quality walking or hiking kicks, I can slap these guys on real quick.
Again, I'm not a super all-terrain type guy, but the Ahnu hiking shoes might make me rethink that. It's nice to get out and about and conquer some nature, even in small doses. The balance, fit, appearance and traction on slickness certainly make these kicks a worthwhile addition to your closet.
Check out the Ahnu website to see more examples of outdoor shoes that provide comfort and support for a variety of outdoor activities.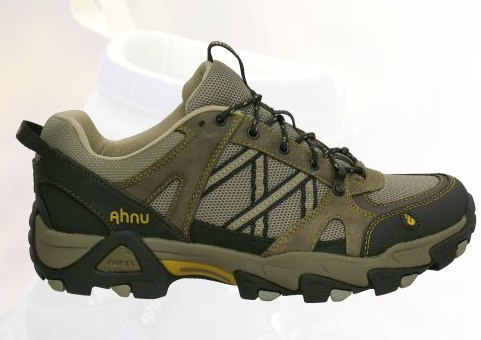 Whenever you're in Vegas, you come across some interesting people. There's the stereotypical loud types, super drunk types, drop dead gorgeous types and so on, but there's also a bunch of other random characters that you'll encounter when you're in Sin City. Here's 21 random people you'll see in Vegas:
The Old Asian Dude Who Knows Dice Control and Can Win You Bank at the Craps Table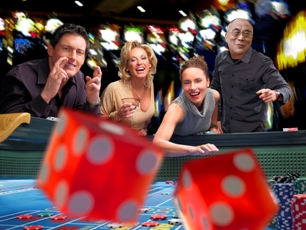 If you like craps, find the table with the four-foot Asian dude with the glasses and the slouch. If you see him setting the dice as he picks 'em up, camp out at that table and just enjoy your winnings. When he leaves, you need to leave too.
Aggressive Mechanical Wheelchair Guy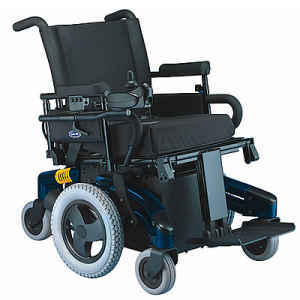 Dude, I'm trying to get out of your way but you need to slow down on those turns, buddy. I know you got a disability and all, but that doesn't give you the right to mow people down with your high-speed bulldozer-chair.
The Chick with the Bad Boob Job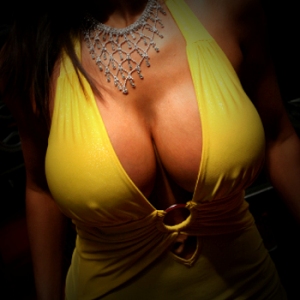 Wait a minute, there's something wrong with those basketballs bolted on your chest. They might look good from afar, but when you get too close, the cross-eyed nipples start staring at you in opposite directions. Big boobs look great and all, but those south-by-northeast nips just ain't right.
Pornstar Asian Chicks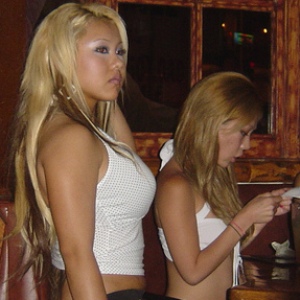 Wait a minute, that super-stacked, blond-haired blue-eyed shorty  isn't a white girl? Nope, she's one of those pornstar Asian chicks. These down-to-get-down Tila Tequilla-types never travel alone. There's always at least seven or eight of 'em. You'll know their coming when you hear the click-clack-shuffle of massive heels being dragged on the marble floor at the Venetian.
The Pool Prowler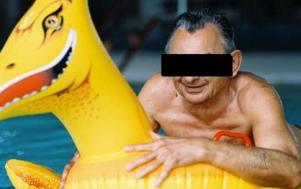 Young kids who go to Vegas don't even have a gambling agenda. They just want to live the Jersey Shore dream with a $1500 poolside cabana complete with vodka bottle service and your choice of mixer. Tanned dudes flex their six-backs and big-breasted 90-pound birds showcase more T&A than you'll see at strip clubs that serve booze. In this environment, you'll always find that Creepy McCreepster guy who's too old and filthy-looking to be hanging around the pool. He's probably not even lookin' for action. He's just categorizing images for his spank bank and hoping to see a nipple slip when some blondie's using a towel to remove wetness from her pink string bikini.
The Bald Guy with the Fanny Pack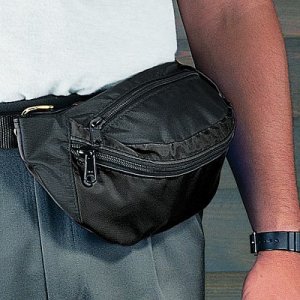 Look man, I know you're on vacation and I know you have a ton of shit to carry, but the tucked-in t-shit and shorts with a fanny pack and comfortable running shoes just sends out a rob me signal to the entire world. Man up, put some pants on, store stuff in your pockets and tell your nagging wife to shut the hell up.
The Explosive Shitter in the Bathroom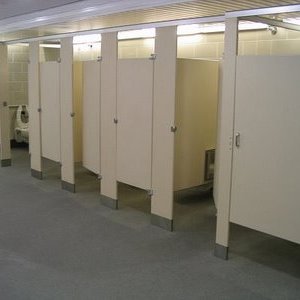 I don't know if it's the beer-shits or the buffet-shits or some killer combo of the two, but you can't visit a casino bathroom without hearing some sort of crazy asstastrophe going on. Dude, can I get a courtesy flush on that butt-shrapnel?
The Girl Who's Just Not Hot Enough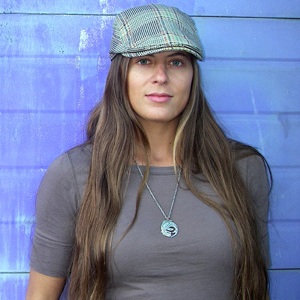 Vegas makes you horny. Maybe it's the booze or the pros or all the titties on display, but when you're in Vegas, you start to think that anyone's shaggable. Well, almost everyone. There's always that girl who's just not hot enough. Maybe she's got a poor face-to-body or body-to-face grade. Maybe's she's just a little too chunky or too crazy. Whatever it is, you'll always find a chick on the bubble who just misses the cutoff, even when you're blasted and seeing double.
The Old Local Lifer with the WTF Haircut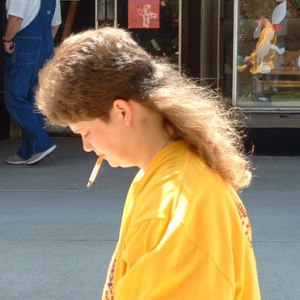 Oh man, Vegas locals are a trip. They got their funny t-shirts and physical deformities (like a neck barnacle or an extra back or some shit). A majority of these locals have the most ridiculous haircuts you've ever see. Like the lady with the 5-2 step-mullet-fade that's half highlighted and half spikey. Strange.
The Dude Who Just Got Out of Jail and Needs Money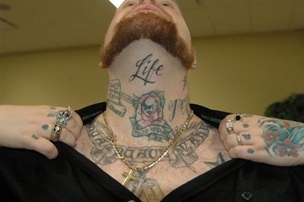 If some shady white dude with neck tats tries to chat you up at the slots, don't engage. The dude just got out of jail and he needs money to get back home. He was put in jail because of a long story involving his girlfriend, a crowbar and peanut butter. Don't offer him a ride and don't give him any money.
Raider Fans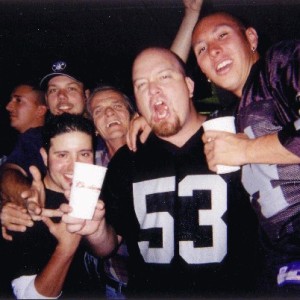 Raider fans are everywhere, especially in Vegas. Raider fans have the dumbest football IQ of any fan group. These guys yell stupid shit at the Sportsbook to cheer their team on even when the Raiders aren't playing. They always think the Raiders are going to win, and a couple times each year, they're right.
Fat Chicks Who Travel in Packs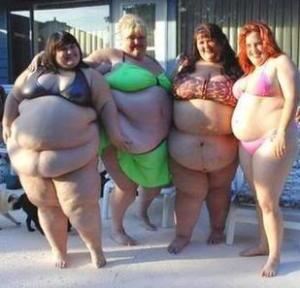 With all the amazing tail on display in Vegas, chubby girls have it rough. They need to stick together. When was the last time you saw one fat girl by herself in a casino? It doesn't happen. Large girls know they need to travel in packs to minimize their maximum exposure.
Drunken Business Bros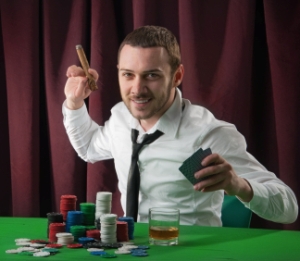 We're at a conference bro! I'm gonna get so wasted that I may even untuck my shirt at 3am. No promises though! Let's high-five and yell whenever we double down or split 8s at the blackjack table. I can't believe you didn't hook up with Kimberly from marketing, bro. She was so into you!
Three Greasy Hipster Dudes with One Grimy Skinny Chick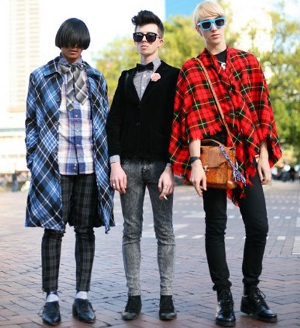 Hipsters travel in disproportionate girl-to-guy ratios. Typically you'll see three flanneled ironic-facial haired PBR drinkers to every one bright-plastic-eyeglass-wearing pale and depressed looking skinny gal with satirical high tops and a haircut from the future. I don't know why this is.
Old Oxygen Tank Guy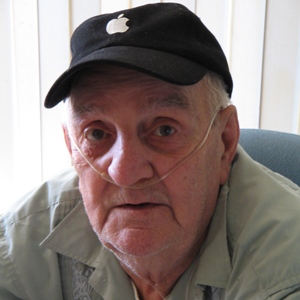 Look, I'm no doctor, but if you're wheeling around an oxygen tank in a smoke filled slot pit, maybe you need to find another spot to spend your Tuesday afternoons. I know they pump extra oxygen in the casino, but that's gotta be offset by the cancer cave-like conditions near the Wheel of Fortune games.
Prostitute?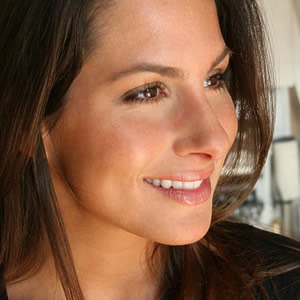 Wait is this smoking hot broad laughing at my jokes because it's 5am and we're the only two people left at the bar? Or is my bankroll about to take a surprise hit from a professional lady of the night? It's really hard to tell sometimes. Girls in Vegas like to go extra slutty with it. If you're unsure whether or not the hot chick you hit it off with is a pro, don't ask her. That's just bad form. If for some reason she's not, you're gonna blow it. Concoct a story of lost wealth so she knows you got nothing left to spend for the evening. If she is a professional, she'll move on.
The Dapper Old Dude with Cut Up Plastic Jailbait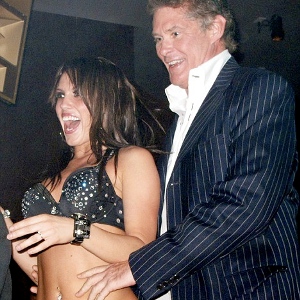 Nothing's creeper than seeing some slick old-timer with huge shades, a fitted burgundy suit and gold chains walking around with a 17-year old brunette who just got done with her 17th augmentation surgery.
Bachelor/Bachelorette Parties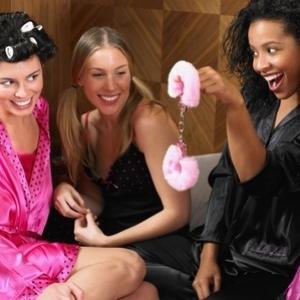 There's nothing funnier than a large group of horny bachelor party dudes who can't get into a club 'cause there's not one chick among them. Well, that's not true. Seeing a wild back of bachelorette party girls who are walking around with hungry eyes and dildos and goofy matching t-shirts is also pretty entertaining.
The Cheapskate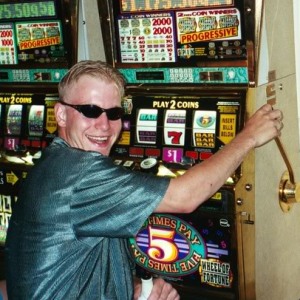 You know, the guy who camps out at the buffet so he can catch the breakfast and the lunch rotation. Or the guy who lingers around the slots to get a free drink and then doesn't tip the waitress. In Vegas, cheap bastards are everywhere. You can spot them by their shifty eyes and willingness to fake gamble for long periods of time just to score a Bud Light.
Wedding Party Girls Looking for Action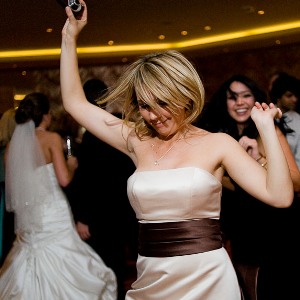 Nothing's more romantic than getting married in Vegas. It's every girl's dream, really. Well, maybe not every girl, but girls who are around other girls who just got married want to get down something fierce. That's a fact. If you see a pack of casino skirts who look like they're going to church, you know what to do.
Sad Children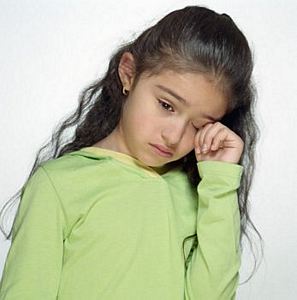 Vegas is so much fun for adults. Things get tricky when you bring the kids, though. Sure there are responsible parents who just love spending family time together watching those outrageous blue man guys do their outrageous blue man thing, but most of the time, if you see kids at a casino in Vegas, they look sad as hell. There's only so much TV you can watch when mom and dad are burning through your college tuition during a 13-hour slot bender. Don't park junior at the buffet. Leave the kids at home.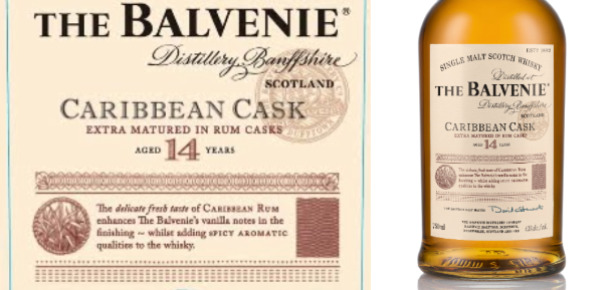 Last week, the MANjr team attended the LA launch of Balvenie's 14 Year Old Caribbean Cask, an extra smooth single malt scotch that starts it's life in a whisky barrel and finishes up in a golden Caribbean rum cask. The Cuban/Carribean-themed tasting event took place at La Descarga, a nifty bar that gives you a taste of old Havana in Hollywood.
The entrance to the venue set the tone for the night. After climbing up some stairs you walk into a plain-looking office room and are greeted by a host. The host then opens up a cabinet door and instructs you to enter. After you push aside some Hawaiian shirts you see a metallic spiral staircase in front of you that descends into a chill bar/lounge with an intimate speakeasy vibe.
A special Caribbean-inspired cocktail menu was prepared that featured five different scotch concoctions:
Stirred Up Scotsman
Wembley Sour
Caribbean Swizzle
Blood and Sand
Caribbean Handcraft Punch
After sampling the light and breezy Stirred Up Scotsman, I shifted my attention to the Blood and Sand. I sipped quite a few drinks that night (including the frothy, egg-white powered Wembley Sour), but this cocktail was by far my favorite.
A quick journey to the back of the bar revealed a walkway to a much appreciated, semi-outdoor cigar lounge where the awesome Aussie bartender was serving up single-malt tasters of multiple Balvenie bottles. The Balvenie Caribbean Cask was a smooth vehicle, but I enjoyed the entire Balvenie fleet.
After knocking back a few drinks, it was time to grab a snack. The event was catered by a fantastic Cuban food truck. Café Con Leche had great coffee, delicious sandwiches and they even incorporated the Caribbean Cask action into some custom sauces that totally completed the sandwich.
The quality scotch and savory Cuban food were both big hits, but the highlight of the night was the 5-minute presentation by Nicholas Pollacchi, the Balvenie Ambassador. I've been to scotch tastings before where the ambassador of the spirit lays it down real thick. Like you really have a palette sophisticated enough to identify 35 different complimentary combinations of aromatic mixological madness. Pollacchi's approach was much better. A quick, light-hearted presentation on the spirit followed by a tasting that let the scotch speak for itself. As Nicholas put it, he's not a big fan of highlighting the taste of "children playing in daffodils" or quality ingredients "picked by left-handed people." He lets the spirit do the talking. It was an efficient and entertaining showcase that allowed the taste of the Caribbean Cask to take center stage.

Chances are you've seen hottie Natalina Maggio in a quite few places. The head-turner has appeared in multiple TV and film projects. Most recently, you can spot her in flicks like Couples Retreat, Get Him to the Greek, Iron Man 2 and The Social Network. We're looking forward to seeing this Orange County native in many more hot girl roles. In the meantime, enjoy these shots from photographer Jimmy Santos.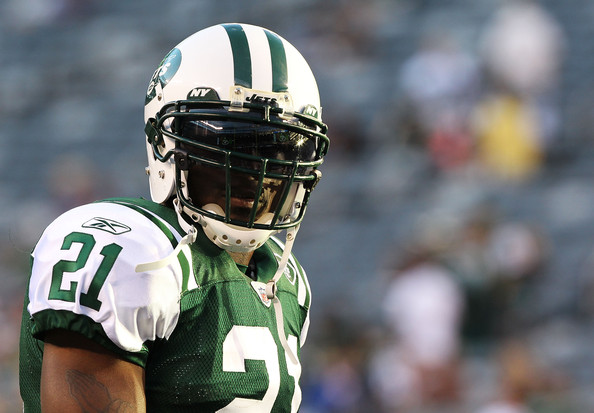 Let's not talk about last week's unfortunate set of 4-10 picks. Kudos to you if you knew that the Steelers would lose in the last 36 seconds, the Broncos would come back to win, the Packers and Saints wouldn't come close to covering and the lowly Jags would topple the mighty Colts. Last week pushed me under .500 for the season. 27-31-3 to be exact. Let's try to right the ship in Week 5.
At Baltimore -7 Denver
The Ravens aren't as dominant in stopping the run as they once were. That's great 'cause the Broncos don't have a running game anyway. You might have heard that Kyle Orton is the best fantasy player of all time, but even if he throws the ball 50 times, it'll be hard to light up the scoreboard against a Ravens team playing at home and coming off an emotional win in Pittsburgh.
PICK: Baltimore -7
At Buffalo -1 Jacksonville
The Bills got absolutely embarrassed last week and the Jags got their biggest win in a long time. Look for a correction of sorts as the Bills move closer to respectability and the Jags come back down to Earth a bit. Still, if the Jags can keep the ground game rolling and get TE Marcedes Lewis involved against a Buffalo team that has trouble against the run and TEs, then the Jags should win on the road.
PICK: Jags +1
At Indianapolis -7 Kansas City
I don't know what's more surprising, the fact that the Colts have two losses or the Chiefs have none. The Colts aren't going to lose this game. If the Chiefs somehow remain unbeaten after facing a pissed off Peyton Manning, they'll shock the world. A win for Indy seems much more likely.
PICK: Colts -7
At Detroit -3 St. Louis
Shaun Hill's had a couple good weeks, and the Lions are the best winless team ever, but Jahvid Best isn't right yet and Sam Bradford is bringing boyish swagger to a much-improved Rams team. If Best was healthy, I'd say Detroit all the way, but he's just not 100 percent. Stephan Jackson proved he can be a beast even when he isn't healthy, and the Rams defense is playing inspired.
PICK: Rams +3
Atlanta -3 At Cleveland
The Falcons barely squeaked by the Niners last week thanks to Roddy White's amazing forced fumble. Cleveland pulled off the upset against Cincy and showed that they can actually win games with good defense and large servings of Peyton Hillis. You got to love how Hillis has changed the identity of this team, but the Falcons are going to stay take this one. They just have too many weapons.
PICK: Falcons -3
At Cincinnati -6.5 Tampa Bay
I like the Bucs. The Steelers clobbered 'em, but other than that they've been pretty solid this year. The Bengals just look off.
PICK: Bucs +6.5
At Carolina -1.5 Chicago
For the second straight week, the Chicago Bears game promises to be the most unwatchable game on the schedule. Julius Peppers returns to face the team he hates, but this much more to hate in this Todd Collins vs. Jimmy Clausen battle. Chicago's ground game is nowhere and Todd Collins can't get it done. Will Chicago's defense and special teams step up and create some much needed points? Do yourself a favor, bet the under and don't watch a minute of this horrible game.
PICK: Under!
Green Bay -2.5 At Washington
Green Bay is better than Washington. There are no revenge plot lines this time around for McNabb. Just a better opposing team. Packers win easy.
PICK: Packers -2.5
At Houston -3 NY Giants
Wow, who knew the Giants were so damn good at rushing the passer? You know what helps combat that? A sick-ass rushing game behind surprise-beast Arian Foster. The G-men will get their chances, but Houston will prevail in a shoot out.
PICK: Texans -3
New Orleans -6.5 At Arizona
Max Hall, baby! He's the new Kurt Warner, I tell ya. Well, that's what Peter King and Kurt Warner think. Personally, I'd like to see the guy take a snap in the NFL before crowning him the next feel-good sensation. The Saints are without Pierre Thomas, but so what? They ran the ball effectively last week with Ivory and Betts. Drew Brees hasn't looked like his cyborg self lately, but the Saints are lightyears beyond the Cardinals.
PICK: Saints -6.5
San Diego -6 At Oakland
The Polish Rifle keeps bringing the Raiders within winning distance, but the Chargers are rolling. I'll take Antonio Gates and that defense over Bruce's heroics.
PICK: Chargers -6
At Dallas -7 Tennessee
I just don't trust the Cowboys. I don't really trust the Titans either, but in this coin-flip matchup, I'll bet on Cortland Finnegan to pick up another fine and the Titans to edge out the Boys in Dallas.
PICK: Titans +7
At San Francisco -3 Philadelphia
This one's tough. Does Kolb play like the preseason fantasy stud we all thought he'd be? Do the Niners rebound from a gut-wrenching loss and defend the honor of their beleaguered coach at home? I think the edge has to go to the home team here. If Alex Smith can minimize his mistakes and if the defense plays like it has been playing, the Niners should earn a win.
PICK: 49ers -3
At NY Jets -4 Minnesota
So many storylines here. Revis vs. Moss. Favre vs. his own Johnson. Adrian Peterson getting more room to run. The possibility that Percy Harvin can light it up with all the attention going to Randy. But if you forget about all that's new and improved with the Vikings, you realize that the Jets are in top form right now. LT's found his groove, Sanchez is playing remarkably well and if anyone can contain all of Minny's weapons, it's the Jets D. Gotta go New York here.
PICK: Jets -4