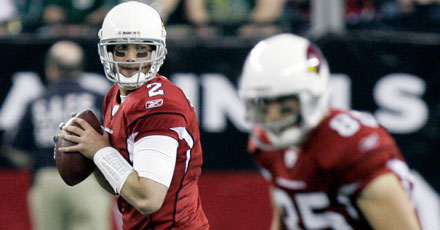 Damn right that's a photo of Brian St. Pierre! (Back when we was the third-string QB for the Cardinals). Brian's getting the call for the Panthers this week. Carolina is not going to be Baltimore, but we can still cheer for a guy who's only thrown five passes in eight NFL seasons. Go BSP!
At Miami -2.5 Chicago

PICK: Dolphins -2.5

At Jacksonville -1.5 Cleveland

PICK: Jags -1.5

At Pittsburgh -7 Oakland

PICK: Steelers -7

At Kansas City -8 Arizona

PICK: Chiefs -8

At NY Jets -7 Houston

PICK: Jets -7

At New Orleans -11.5 Seattle

PICK: Saints -11.5

Baltimore -10.5 At Carolina

PICK: Ravens -10.5

Atlanta -3 At St. Louis

PICK: Falcons -3

At Tennessee -7 Washington

PICK: Titans -7

At San Francisco -3.5 Tampa Bay

PICK: Bucs +3.5

At Dallas -6.5 Detroit

PICK: Lions +6.5

At New England -3.5 Indianapolis

PICK: Pats -3.5

Green Bay -3 At Minnesota

PICK: Packers -3

At Philadelphia -3 NY Giants

PICK: Eagles -3

At Cincinnati -6 Buffalo

PICK: Bills +6

At San Diego -10 Denver

PICK: Chargers -10
Last week: 5-8
Season: 69-67-6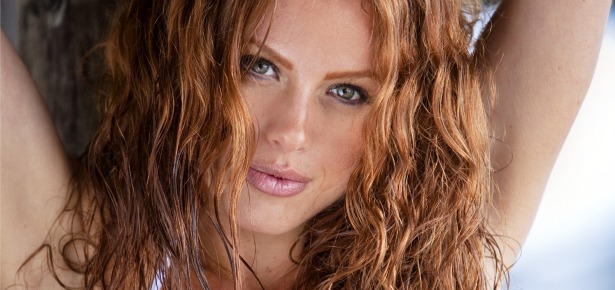 A graduate of New York University's Tisch School of the Arts, Jo Newman is a gorgeous, up-and-coming actress who's about to make her big screen debut in the upcoming film Love and Other Drugs, starring Jake Gyllenhaal and Anne Hathaway. Newman has made numerous TV appearances including spots on Gossip Girl, The Sopranos and Law and Order: SUV. I had the chance to speak with Jo about her acting background, TV experiences and her excitement over the November 24th release of her first feature film.
CS: So where are you from originally?
JN: I was born in a little hippie town in western Massachusetts and then I was in New York for 8 years and I moved out here in January.
CS: So in your hippie town did you grow up a Patriots fan?
JN: I somehow along the way became an Eagles fan (laughs)
CS: An Eagles fan from Massachusettes? Wait a minute.
JN: Eagles fan.
CS: So you said you just came out in January, how does the West Coast compare to the East Coast?
JN: Well, obviously the weather is fantastic
CS: Right, no complaints here.
JN: It seems like this is absolutely where the concentration of the industry is. You know it was a much more eclectic mix of people in New York. I'm really happy to be here. I feel really motivated. I feel good and encouraged and it feels good. And I just love riding around in a convertible in January.
CS: (laughs) Yeah, that's awesome. So did you get into modeling before you started doing acting?
JN: No, I moved to New York when I was 17 and I went to the American Musical and Dramatic Academy which is an acting conservatory. I decided I wanted a much deeper and more thorough education and I got into Tisch at NYU. So I studied Meisner for two years, Shakespeare, Viewpoints with Mary Overly and then I did some television school for the last two years I was there and really got into it. Then my first job after NYU, I think I graduated and a month later I got a spot on The Sopranos. Things were rocking and rolling in New York. I figured after I cast this move, I did some very cool modeling campaigns and then I got a great spot on Law & Order and I figured "okay, time to try L.A."
CS: So was it totally awesome being on The Sopranos?
JN: Oh my god, it was so much fun. I was a month out of college, I'm on set and I had a scene where they killed my boyfriend. So I'm wearing this J.Lo type dress – it's down to my bellybutton – I'm 21 years old and I'm being splattered with blood on everything.
CS: (laughs)
JN: I could not have had a better time, it was awesome.
CS: So how many takes did you have to get splattered?
JN: A lot. I mean, a lot a lot. I mean those guys were perfectionists. It felt like being on a movie set. I think that was one of the reasons that it took so long to get the seasons out there, because it just took them a long time to shoot it. I probably got blood splattered on me like 25 times.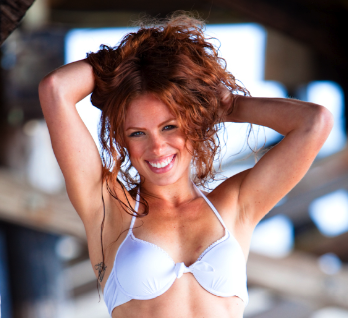 CS: Oh wow.
JN: And there's a guy under the table with a little blood apparatus.
CS: (laughs)
JN: Yea, I had to keep my legs crossed during that scene.
CS: Oh geez.
JN: (laughs)
CS: So what was your role on Law & Order?
JN: On Law & Order I got – it was on SVU.
CS: Okay.
JN: I played a girl who works in a copying – like a Kinko's – shop and she was the last person to see the victim alive. She was a super ditz, and I had hot pink underwear sticking out of my jeans.
CS: (laughs)
JN: And I got interrogated by Chris Meloni. It was a blast!
CS: Oh nice. So is that guy really intense or what?
JN: He turns it on for the camera and in between takes he's showing me pictures of his kids on his iPhone. He's a good actor you know he just … I don't know if it's because we all know him as a detective but he's just shifts into the role so seamlessly. It's a good acting study for a young person.
The Palm Springs Playboy Golf Scramble took place this past Friday and Saturday at Fantasy Springs Resort Casino. The Eagle Falls Golf Course played host to the event for the fourth consecutive year. Six Playboy Playmates and 60 Girls of Playboy Golf were on hand to celebrate this annual golf event in the desert.
The Playboy Playmate event hostesses included: Jennifer Pershing (Miss March 2009), Kimberly Phillips (Miss September 2009), Jaime Edmonson (Miss January 2010), Kassie Logsdon (Miss May 2010), Amy Leigh Andrews (Miss April 2010), Shanna McLaughlin (Miss July 2010).
The Golf Scramble was just one part of a weekend-long party schedule. Playboy Golf raises money for charity in all their events. A putting contest at this year's Palm Springs Playboy Golf Scramble generated $1,000 for the FIND Food Bank of the Coachella Valley.
Here are some photos from this year's event: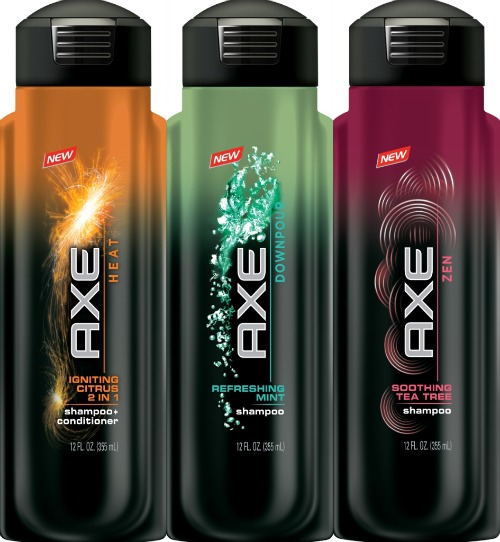 AXE recently sent us some samples of their new shampoos. We tried 'em out. Here's what we thought:

AXE Heat – Igniting Citrus 2 in 1 Shampoo + Conditioner
Some guys are really into the 2-in-1 shampoo and conditioner action. If you dig soft hair, this stuff will do the trick. The best part about the Heat 2 in 1 is the smell though. It's got this warm, caramelized flavor to it that smells like oranges, but isn't too pungent. It manages to stay mellow even with the sweetness coming through. It could easily go jolly rancher, but it stays subtle. It works.
AXE Downpour Refreshing Mint Shampoo
This shampoo is great for a good wake-up call. Like when you need to head to the office after a long night of drinking and you need a little kick in the ass during your shower recovery. It's like a little minty alarm clock for your dome. The peppermint action is refreshing and brisk, without coming across like a candy cane or a York peppermint patty. In addition to hangover recovery, this shampoo also works well for those times when you're extra-filthy and you just wanna get some extra sparkle freshness going before you head out for the day.
AXE Zen Soothing Tea Tree Shampoo
This shampoo option works best for those end-of-the-night, winding down shower times. It's like the obligatory green tea ice cream desert after a long and expensive sushi dinner. It's a calming, fragrant shampoo that's ideal for a shower head massage. When you want to call it a night and prep yourself to pass out, this realxing shampoo will do the trick.
So there you have it. These shampoos cost $4.99 a bottle and they're good for different things at different times. I don't know if they'll get you laid, but if you want to mix up your shower routine a bit, try 'em out. You'll be surprised how you alter your shampoo selection to fit your specific shower situation.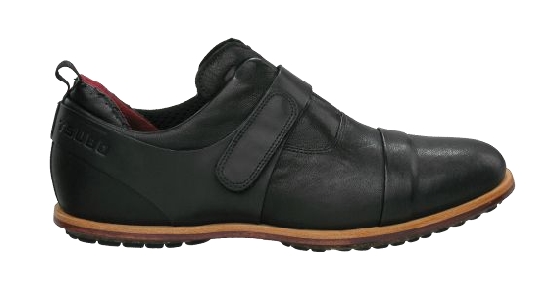 Finding the right pair of dress shoes can be a challenge. You don't want to go too cheap or too expensive, and you don't want to sacrifice style for comfort. When looking for snazzy shoes, it seems like the options are often limited. When you search for shoes that can match up with slacks or jeans, it feels like there are only a few styles available with little differentiation. It's hard to find a distinguished looking shoe that still has some character to it.
Tsubo, a shoe company founded in 1997 and acquired by Deckers Outdoor Corporation in 2008, seems to understand the balance between style, comfort and class. The company manufactures shoes that combine serious comfort with unique personality. It's hard to stay classy and funky, but Tsubo has quite a few shoe types that seem to achieve this goal.
I received a pair of Tsubo's Men's Krieken shoes to review, and I wasn't sure if they were supposed to be dress shoes, casual kicks or ergonomic sneakers. The shoes seem to fit in each of these categories. The Krieken features soft premium leather and a layer of 3D mesh lining that improves air circulation. There's an instep strap that makes for easy adjusting. It's kind of odd to see a strap on a dress shoe, but it works. The Krieken also includes rubber pods on the leather outsole which gives the shoe a bit of a sneaker-like bounce.
Bottom line, the Krieken is light and comfy. They can pass for classy, but they also got this modern, funky Euro feel that gives 'em plenty of personality points. If you need to look sharp, but you don't want a pair of uncomfy clunkers in the same tired styles, check out Tsubo's site to find some relaxed, gentlemanly shoes that can be paired with just about anything.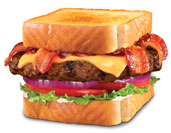 Hardee's recently rolled out the Texas Toast Bacon Cheese Thickburger, and we're putting together a giveaway package for you to try it. Hardee's, which is the sister restaurant of Carl's Jr., specializes in big burgers and sandwiches that can satisfy even the manliest hunger. The Texas Toast Bacon Cheese Thickburger is a monster. It features two thick pieces of grilled Texas Toast, bacon, American cheese, tangy BBQ sauce and a fat, 100% Black Angus beef patty. There's no way you can stay hungry after consuming this thing. The winner will receive eight coupons to try it out!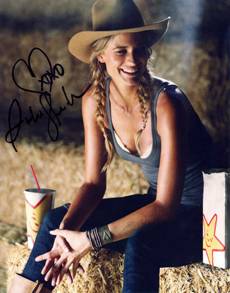 As part of this giveaway, we're also throwing in an autographed photo of Sports Illustrated swimsuit model Julie Henderson, Hardee's new southern spokesperson. If you like hot chick autographs and coupons for free big burgers, here's how to enter:
Follow us on Twitter (@MANjrcom)
Leave us a comment telling us why you love Hardee's/Carl's Jr.
Winners will be chosen at random
Giveaway ends next Tuesday, November 23rd