The Palm Springs Playboy Golf Scramble took place this past Friday and Saturday at Fantasy Springs Resort Casino. The Eagle Falls Golf Course played host to the event for the fourth consecutive year. Six Playboy Playmates and 60 Girls of Playboy Golf were on hand to celebrate this annual golf event in the desert.
The Playboy Playmate event hostesses included: Jennifer Pershing (Miss March 2009), Kimberly Phillips (Miss September 2009), Jaime Edmonson (Miss January 2010), Kassie Logsdon (Miss May 2010), Amy Leigh Andrews (Miss April 2010), Shanna McLaughlin (Miss July 2010).
The Golf Scramble was just one part of a weekend-long party schedule. Playboy Golf raises money for charity in all their events. A putting contest at this year's Palm Springs Playboy Golf Scramble generated $1,000 for the FIND Food Bank of the Coachella Valley.
Here are some photos from this year's event: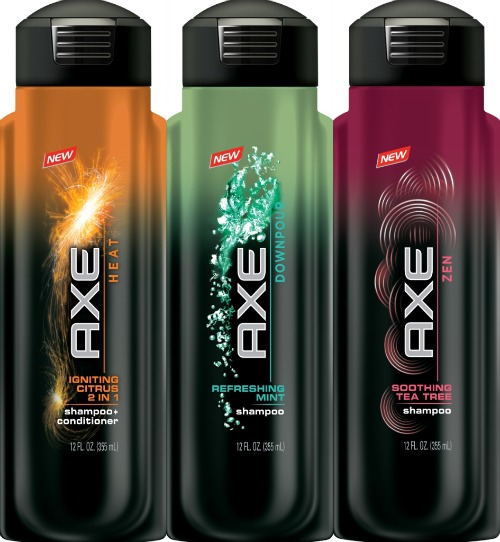 AXE recently sent us some samples of their new shampoos. We tried 'em out. Here's what we thought:

AXE Heat – Igniting Citrus 2 in 1 Shampoo + Conditioner
Some guys are really into the 2-in-1 shampoo and conditioner action. If you dig soft hair, this stuff will do the trick. The best part about the Heat 2 in 1 is the smell though. It's got this warm, caramelized flavor to it that smells like oranges, but isn't too pungent. It manages to stay mellow even with the sweetness coming through. It could easily go jolly rancher, but it stays subtle. It works.
AXE Downpour Refreshing Mint Shampoo
This shampoo is great for a good wake-up call. Like when you need to head to the office after a long night of drinking and you need a little kick in the ass during your shower recovery. It's like a little minty alarm clock for your dome. The peppermint action is refreshing and brisk, without coming across like a candy cane or a York peppermint patty. In addition to hangover recovery, this shampoo also works well for those times when you're extra-filthy and you just wanna get some extra sparkle freshness going before you head out for the day.
AXE Zen Soothing Tea Tree Shampoo
This shampoo option works best for those end-of-the-night, winding down shower times. It's like the obligatory green tea ice cream desert after a long and expensive sushi dinner. It's a calming, fragrant shampoo that's ideal for a shower head massage. When you want to call it a night and prep yourself to pass out, this realxing shampoo will do the trick.
So there you have it. These shampoos cost $4.99 a bottle and they're good for different things at different times. I don't know if they'll get you laid, but if you want to mix up your shower routine a bit, try 'em out. You'll be surprised how you alter your shampoo selection to fit your specific shower situation.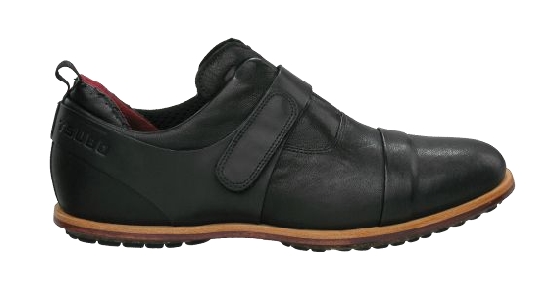 Finding the right pair of dress shoes can be a challenge. You don't want to go too cheap or too expensive, and you don't want to sacrifice style for comfort. When looking for snazzy shoes, it seems like the options are often limited. When you search for shoes that can match up with slacks or jeans, it feels like there are only a few styles available with little differentiation. It's hard to find a distinguished looking shoe that still has some character to it.
Tsubo, a shoe company founded in 1997 and acquired by Deckers Outdoor Corporation in 2008, seems to understand the balance between style, comfort and class. The company manufactures shoes that combine serious comfort with unique personality. It's hard to stay classy and funky, but Tsubo has quite a few shoe types that seem to achieve this goal.
I received a pair of Tsubo's Men's Krieken shoes to review, and I wasn't sure if they were supposed to be dress shoes, casual kicks or ergonomic sneakers. The shoes seem to fit in each of these categories. The Krieken features soft premium leather and a layer of 3D mesh lining that improves air circulation. There's an instep strap that makes for easy adjusting. It's kind of odd to see a strap on a dress shoe, but it works. The Krieken also includes rubber pods on the leather outsole which gives the shoe a bit of a sneaker-like bounce.
Bottom line, the Krieken is light and comfy. They can pass for classy, but they also got this modern, funky Euro feel that gives 'em plenty of personality points. If you need to look sharp, but you don't want a pair of uncomfy clunkers in the same tired styles, check out Tsubo's site to find some relaxed, gentlemanly shoes that can be paired with just about anything.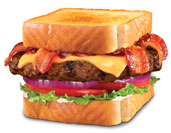 Hardee's recently rolled out the Texas Toast Bacon Cheese Thickburger, and we're putting together a giveaway package for you to try it. Hardee's, which is the sister restaurant of Carl's Jr., specializes in big burgers and sandwiches that can satisfy even the manliest hunger. The Texas Toast Bacon Cheese Thickburger is a monster. It features two thick pieces of grilled Texas Toast, bacon, American cheese, tangy BBQ sauce and a fat, 100% Black Angus beef patty. There's no way you can stay hungry after consuming this thing. The winner will receive eight coupons to try it out!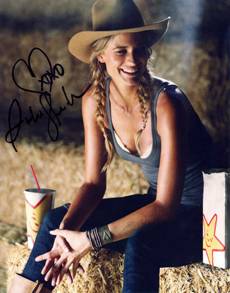 As part of this giveaway, we're also throwing in an autographed photo of Sports Illustrated swimsuit model Julie Henderson, Hardee's new southern spokesperson. If you like hot chick autographs and coupons for free big burgers, here's how to enter:
Follow us on Twitter (@MANjrcom)
Leave us a comment telling us why you love Hardee's/Carl's Jr.
Winners will be chosen at random
Giveaway ends next Tuesday, November 23rd

(And/Or Travesties)
Oh, what a tough pill to swallow. When your boy, or group of boys wearing your favorite team colors are deemed ineligible, and are subsequently suspended from particular bodies of competition due to…duh, duh, duh…SCANDAL.
It's hot again. Reggie Bush gave back his Heisman trophy, and now some fella named Kenny Rogers has opened a can of night crawlers and dumped them on Auburn quarterback and Heisman Award hopeful, Cameron "Cam" Newton.
I had to roll with the parenthetical based solely on the fact that the BCS is to me, a scandalous organization, as is the NCAA. Case in point–the F.B.I. is involved in this latest Cam Newton saga? The F.B.I. Really? MmmMmm. Let's dive right in!
10. Cam Newton – Auburn University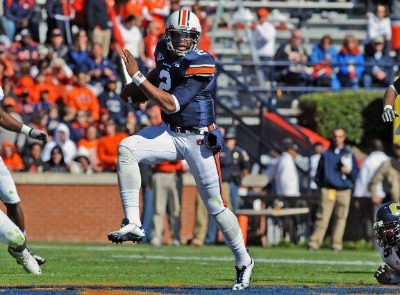 It has potential to be huge, but it's still too fresh. He could be clean; his pops could be dirty. Either way, it's looking like Cam Newton might find himself suspended down the line for his dad soliciting funds from Mississippi State University–a team Newton was considering coming out of Jr. College. You are more than likely aware that Newton was once a student athlete at Florida, playing behind Tim Tebow. Yes. In all of this, his less than squeaky clean record has also shown its teeth. Whether any money was exchanged at Auburn…? We won't find out for quite some time.
9. Rich Rodriguez – University of Michigan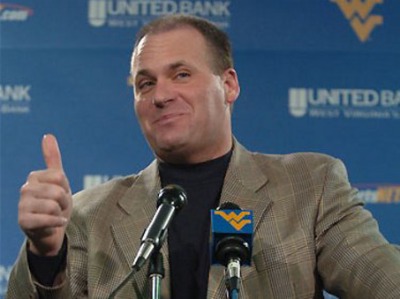 It's easier to miss the scandalous when a team sucks, or is in a period of "rebuilding." Rich-Rod bailed on West Virginia, and came to Michigan to get the show turned around in the Big House. Apparently, as part of the rebuilding process, he required overtime…of everyone. Working them beyond what is legal according to the NCAA. The university slapped itself on the wrist.
8. 2004 Auburn Tigers – Shafted!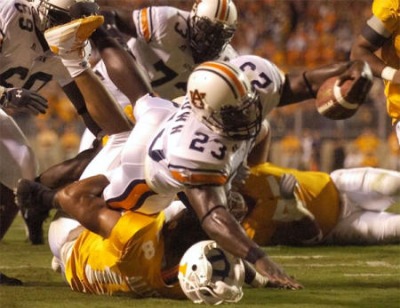 You probably don't remember this one, do ya? The Auburn Tigers went undefeated in SEC play and in their regular season, won the SEC Championship Game vs. Tennessee, and was shafted into a Sugar Bowl match-up vs. a potent Virginia Tech squad. Yep. Oklahoma and USC battled it out for the "National Championship." Heck yes, I'm a biased SEC fan, but this was criminal. Especially considering that USC thrashed OU in the title game, and that win has been vacated due to USC's own scandal. Stupid Coaches Poll. Stupid AP Poll. Stupid NCAA. Scandalous.
7. Scooter McDougle – University of Toledo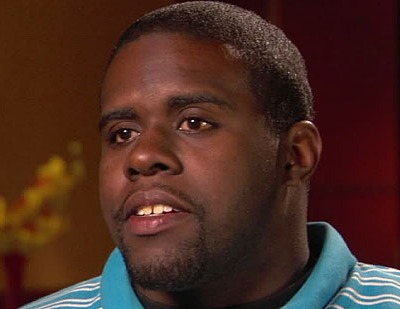 This one can just be filed into the category of strange. Toledo running back, Scooter McDougle was somehow at the center of a point-shaving scheme that involved several other University of Toledo players. Players would not play in games due to mysterious injuries, or would play poorly to ensure spreads. The final note has yet to be played in this fiasco.
6. Bogus Music Class – Florida State University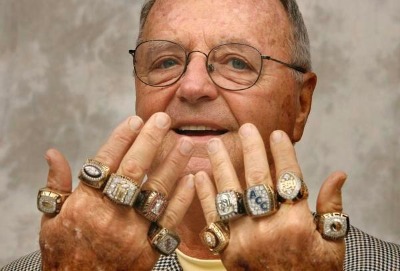 When people said Bobby Bowden was "out of touch," perhaps this is what they were eluding to. This happened in 2007, and included 25 student-athletes who admitted to having "assistance" on tests and quizzes for a music class. When I say assistance, I mean somebody took the tests for them. I can't imagine why anyone got suspicious with so many players taking the same class and scoring similarly? This cost the squad the last really good season that Bobby, and the university, have enjoyed.
5. Lawrence Phillips – University of Nebraska

This dude. Geez. A guy who had it. That thing. Jaw-dropping skills. Unfortunately, he also had some jaw popping skills. After running for 206 yards on 22 carries for 4 touchdowns vs. Michigan State, Phillips returned to Lincoln, NE, with the team and was arrested for assaulting his girlfriend. After being suspended, Phillips played out the season, winning a national championship, then declared for the NFL draft. He had a few NFL highlights, but more problems. In 2009 he was sentenced to 31 years in prison for multiple violent outbreaks, including an incident in which he hit three teenagers with his car after a disagreement in a pick-up football game.
4. Marcus Dupree – University of Oklahoma

Featured recently on ESPN's 30 for 30, Marcus Dupree was considered by many, "The best who never was." Before signing with Oklahoma, it was necessary to score some goods for the family. Dupree's mom wanted a new double-wide mobile home. She got one. In an attempt to secure Dupree for a documentary in the early 80s, a recruiter let the funding team know it would take at least $150,000. Dupree went on to be a Freshman star at Oklahoma. Injuries hampered his sophomore season, and after a handful of games, Dupree announced that he would be leaving the university.
3. Reggie Bush – University of Southern California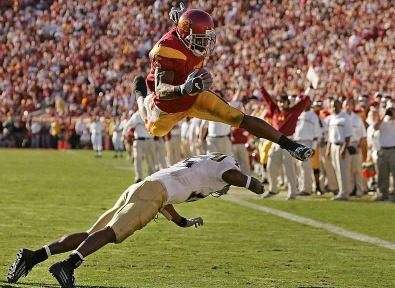 Everyone is familiar with Reggie, and the USC scandal. The scandal that has the Trojans watching the big games from the sidelines every holiday season for the next several years. It all had to do with Reggie, and/or Reggie's parents, accepting improper benefits. We have to presume that somewhere in the mix there would be some cash involved. Though the university has been punished, and they no longer "have anything to do with Bush," it all peaked this fall when Bush returned his Heisman Trophy.
2. Katie Hnida – University of Colorado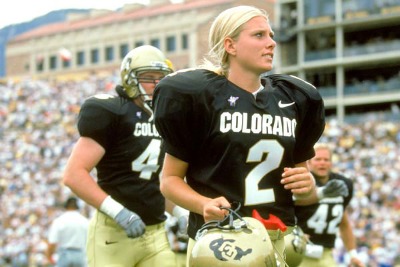 Katie Hnida? College football scandal? Oh, how soon we forget, and how soon the University of Colorado wants us to forget. Female. Football player. Kicker. Multiple teammates took advantage of Katie, and ultimately tore their entire program apart. Hnida stated that she was harassed, assaulted and eventually raped by her male counterparts.
1. 1986 SMU Mustangs – The NCAA Death Penalty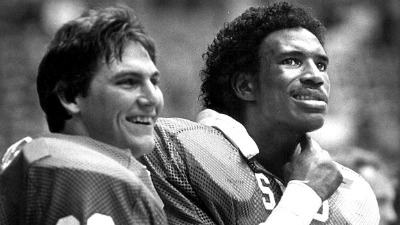 Sweet mercy. This one still takes the cake. Everyone was seemingly involved in this mess. The Governor of Texas, local and state politicians, coaches and of course, players. At the center of the controversy was the continuation of a "slush fund" for players who required some cash, from the mid-70s to the mid-80s. After the university and so many university supporters were found to be dealing in corruption, an NCAA committee voted to cancel the entire 1987 SMU football season. The NCAA only allowed SMU to participate in away games in the 1988 season. This nearly destroyed the SMU program. It also led to the death of the Southwest Conference.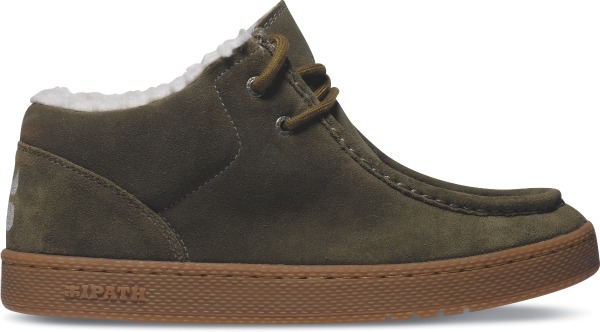 I'm usually a sneaker guy. I tend to sport a pair of Sauconys no matter what the situation is. What can I say? I just like having my feet feel comfy. If you enjoy foot comfort too (and really, who doesn't), check out the IPATH Cat.
I received a pair of these semi-moccasin things, and my first impression was that they were huge. The rubber outsole base is wide and the upper ankle portion makes these kicks feel more like boots than sneakers. But sneakers they are — cushy, boot-like house-shoe sneakers that surround your feet in with a thick lining of fluffy shearling fleece. It's like putting two sheep on your feet, only much more stylish.
So they're big and comfy, but they're not clunky. The shoe is form-fitted with thick tongue padding, and they're not too heavy. You can sport 'em as everyday kicks and not feel restrained. Each shoe has a pocket in the tongue for convenient storage.
Bottom line – there's a lot of personality to these kicks. They're half-sporty, half-causal and all kinds of comfortable. They may look like boats from afar, but once you slip 'em on, you won't feel burdened by their size. For $80, you'll feel like you're getting a relaxed fluffy foot hug all day long.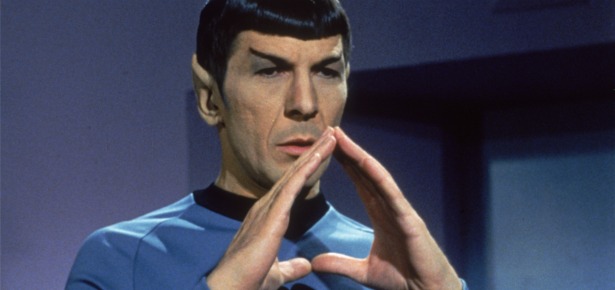 Leonard Nimoy is an interesting dude. The world knows him as Spock, but the guy's about so much more than pointy ears, living long and prospering.  Over the years, Nimoy has wrestled with his status as a pop culture icon. He wrote an autobiography in 1977 called I Am Not Spock and followed that up with another autobiography in 1995 titled I Am Spock. Whenever you see Nimoy, it's hard not to associate the man with the character he made famous. That said, there's a ton of randomly fascinating things about the guy that you probably didn't know. Here are 10 reasons (in no particular order, except for No.1) why Leonard Nimoy is more interesting than you thought:
10. Pet Shop Boy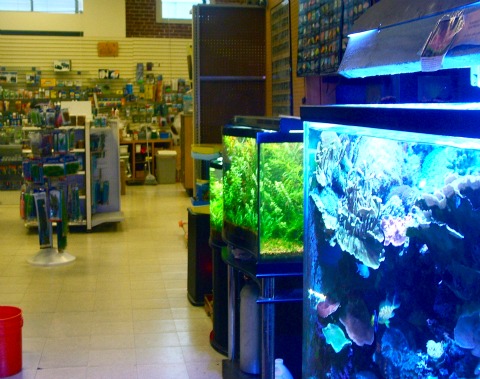 In 1970, after Star Trek was cancelled, Nimoy opened up an exotic pet shop. Imagine shopping for some tropical fish and running into Spock behind the counter. You'd probably freak out a lil' bit.
9. Twilight Zone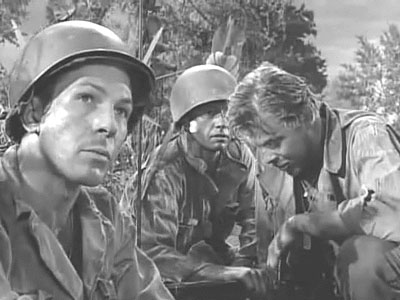 Nimoy appeared opposite Dean Stockwell (of future Quantum Leap fame) in "A Quality of Mercy," the 80th episode of the Twilight Zone. The episode originally aired in 1961 (five years before Star Trek). This episode from the third season of the TV series was later adapted into the first portion of Twilight Zone: The Movie, the feature film that was released in 1983.
8. A Poet and a Scholar
Nimoy speaks fluent Hebrew and Yiddish. He has a Master's Degree in Education and he was awarded an Honorary Doctorate of Humane Letters from Antioch University for his efforts in Holocaust Remembrance. He published his first book of poetry, "You and I" in the 1977, and has published several more volumes of poetry over the years. He also dabbled in some playwriting and hosted the awesomely educational program In Search Of… from 1976 to 1982. The dude's smart.
7. Nimoy the Musician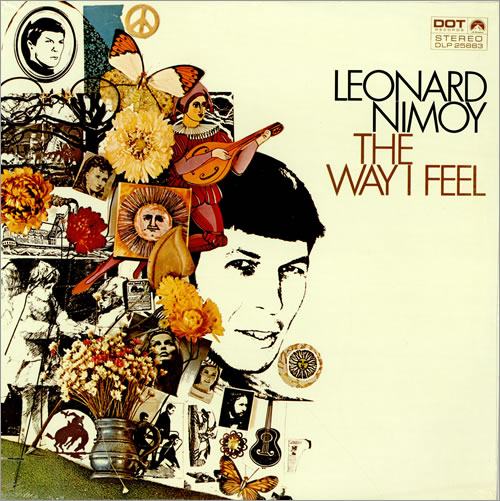 Nimoy knows music too. The guy recorded five albums for Dot Records. Here's a look at his discography:
The video up top is for the "Ballad of Bilbo Baggins." Nimoy also covered "Proud Mary" (seriously), did a super slow-head rendition of Bobby Hebb's "Sunny," and put out some seriously spacey-loungey tripout tracks like "Music to Watch Space Girls By." (Click that link, you won't be sorry).
6. Music Video Director
I don't know how this pairing got started, but Nimoy hooked up with The Bangles and directed (and appeared) in the music video for the song "Going Down to Liverpool." Check it out.
5. Voice of Galvatron in The Transformers: The Movie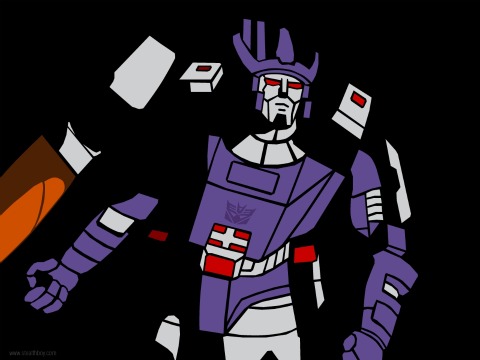 The original Transformers movie was the best. Sure, Michael Bay and Megan Fox can put on a good show, but the original cartoon movie had a kickass 1986-flavored soundtrack from Stan Bush. The Touch wasn't the only highlight though. The film also featured some heavy-hitting voice acting from Robert Stack, Orson Welles and Leonard Nimoy, who put his voice behind Galvatron, leader of the Decepticons.
4. Married to Director Michael Bay's Cousin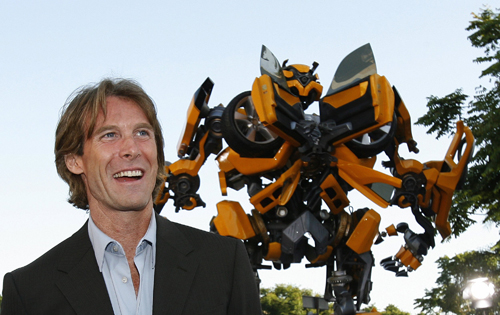 Speaking of Michael Bay, Nimoy's been married to Bay's cousin, Susan Bay, since 1988.
3. Accomplished Photographer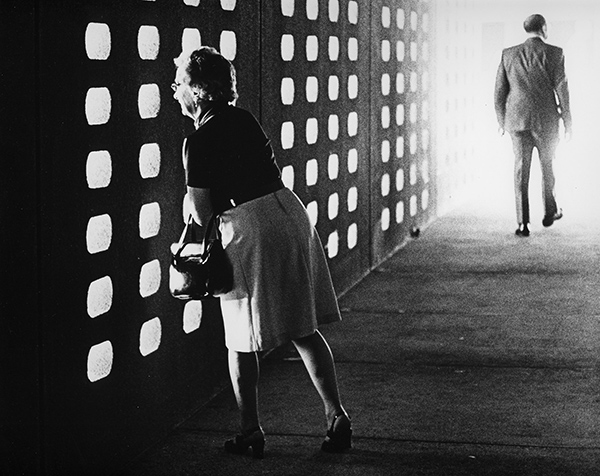 Leonard Nimoy studied photography under Robert Heineken at UCLA in the 70s. His work was recently on display at the Massachusetts Museum of Contemporary Art, and according to R. Michelson Galleries, Nimoy's work can be seen at The Museum of Fine Arts, Houston, The Judah L. Magnes Museum, The LA County Museum of Art, the Jewish Museum of NY, The New Orleans Museum of Fine Art and The Hammer Museum. Dude also received an "artist in residence" appointment from the American Academy in Rome. Check out his galleries to see for yourself.
2. Donated $1 Million to Help Renovate the Griffith Park Observatory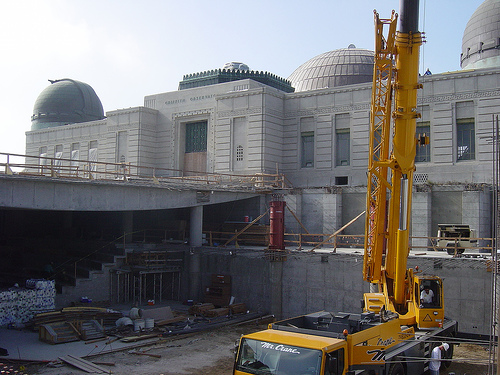 Nimoy, along with his wife Susan, donated $1 million dollars to the renovation effort of the Griffith Park Observatory in Los Angeles. Nimoy now has a theater at the observatory named after him, the Leonard Nimoy Event Horizon Theater. He narrates a documentary that can be seen at the theater called The Once and Future Griffith Observatory.
1. Directed the 1987 hit film Three Men and a Baby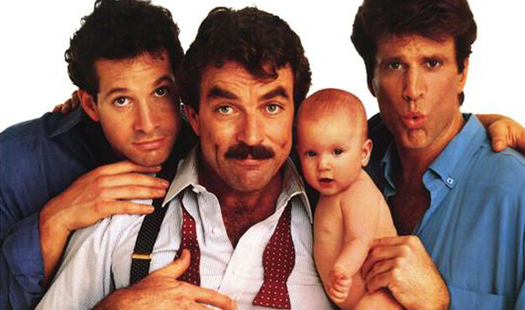 Nimoy has directed five feature films including two Star Trek films – Star Trek III: The Search of Spock in 1984 and Star Trek IV: The Voyage Home in 1986. He also directed the highest grossing film of 1987, Three Men and a Baby. If you haven't seen this timeless Selleck-Gutenberg-Danson classic lately, you're missing out. Back in '87, it was totally acceptable for a woman to leave her baby on the doorstep of an apartment shared by three straight dudes who love short shorts. Things were different then. You'd have to watch this time capsule buddy flick to really understand the era.
So there you go. Nimoy's an accomplished actor, scholar, poet, photographer, musician, director and exotic pet shop owner.  He's philanthropic, down with Transformers and he's responsible for Three Men and a Baby. That's a pretty sick set of accomplishments. Add on the whole Spock thing, and you got yourself a legend.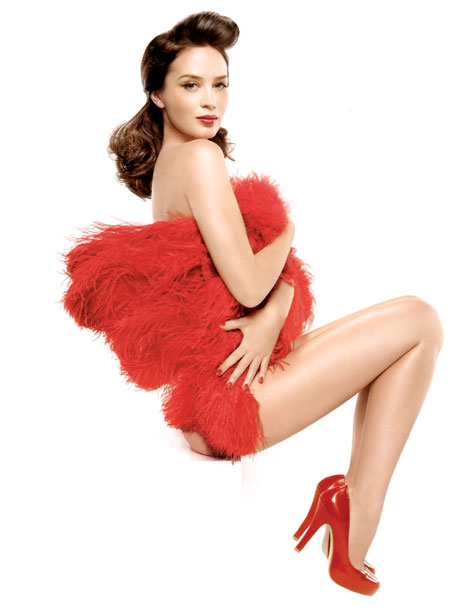 The 25 hottest modern pin-up girls (BroBible)
The 50 greatest college football players that never won a Heisman Trophy (Bleacher Report)
Victoria's Secret Fashion Show 2010 (Mankind Unplugged)
Top 5 most uncomfortable questions asked on a date and how to answer them (Leftos Blog)
The 20 hottest photos of Mila Kunis (HEAVY)
12 mind-blowing landscapes made entirely of food (The Bachelor Guy)
Olivia Wilde gets all wet for Vanity Fair (Guyism)
Top 10 Leonardo DiCaprio movies (Perez Solomon)
25 hilarious cheerleader fail videos (HolyTaco)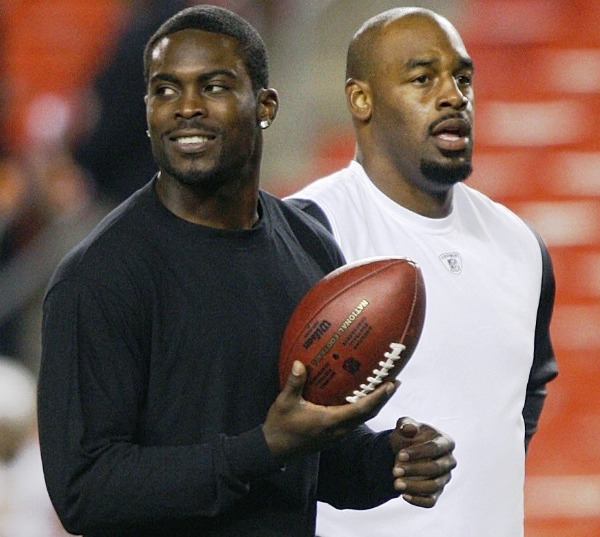 At Indianapolis -7 Cincinnati

PICK: Colts -7

Kansas City -1 At Denver

PICK: Chiefs -1

At Jacksonville -1.5 Houston

PICK: Houston +1.5

At San Francisco -6 St. Louis

PICK: Rams +6

Tennessee -2 At Miami

PICK: Titans -2

At Arizona -3 Seattle

PICK: Cardinals -3

Minnesota -1 At Chicago

PICK: Vikings -1

At NY Giants -13.5 Dallas

PICK: Giants -13.5

At Buffalo -2.5 Detroit

PICK: Lions +2.5

At Pittsburgh -4.5 New England

PICK: Steelers -4.5

NY Jets -3 At Cleveland

PICK: Jets -3

Philadelphia -3 At Washington

PICK: Eagles -3

At Tampa Bay -7 Carolina

PICK: Bucs -7

Last week: 7-5-1

Season: 64-59-6