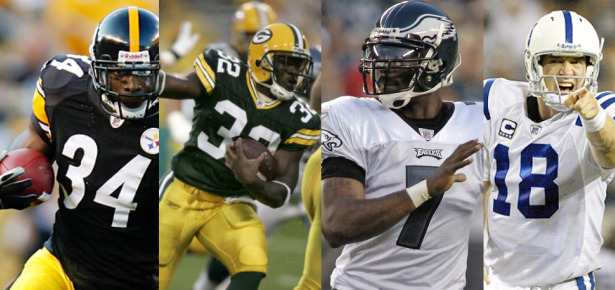 Alright so last week's picks weren't that fantastic, but I still hit a nice parlay after Rashard Mendenhall took it to the house in Pittsburgh's overtime win against Atlanta. Seven correct calls, six incorrect calls and three pushes against the spread. Nothing to write home about, but not a total embarrassment either. Odds makers are starting to figure teams out a bit better, so this week pick's features fewer upsets and some more reasonable spreads. Here are the picks:
At Cleveland (-2) Kansas City
The Chiefs looked pretty good against San Diego last week. In rainy conditions, KC played physical football and excelled on special teams. Jake Delhomme hasn't practiced this week because of an ankle injury, and the Browns were edged out by the lowly Bucs in Week 1. Shaun Rogers isn't ready to rumble at full speed yet either. With Seneca Wallace starting, I like the Chiefs here.
PICK: Chiefs +2
At Green Bay (-13) Buffalo
Don't let the loss of Ryan Grant fool you into thinking that Green Bay will lose a step. Brandon Jackson is a capable fill-in for the high-octane Packers offense. And the kinda Bills suck. Buffalo will be without linebacker Paul Posluszny, who hurt his knee against Miami. The spread is huge, but the Packers are at home. I don't care how many decent running backs are on the Bills roster, Packers win and cover.
PICK: Packers -13
Baltimore (-2.5) At Cincinnati
The Ravens didn't look all that pretty against the Jets, but they still got the W. That defense is as stiff as any unit in the league, and even on an unimpressive day, Flacco and his new set of offensive weapons look like they can do some damage. The Bengals got bombarded by the Pats, but found a way to make the loss less painful in the end. No matter how you stack it up, Baltimore is just better (even on the road).
PICK: Ravens -2.5
At Tennessee (-5) Pittsburgh
Upset special! Interim Steelers QB Dennis Dixon looked horrible on short throws, but his 52-yard pass to Mike Wallace shows that, in a pinch, the guy can fling it. Mendenhall's day was fairly unimpressive until he broke out for a 50-yard TD run in overtime. But the Steelers D is back, baby! Troy's pick last week was game-changing and Pittsburgh's defense only allowed 58 rushing yards. Chris Johnson isn't going to break off a 150-yard game against this squad. Vince Young has never faced Dick LeBeau's blitzing schemes. Look for Young to make some plays with his feet and some mental mistakes in the passing game. As long as Dixon doesn't have three turnovers, the Steelers can squeak by the Titans.
PICK: Pittsburgh +5
Philadelphia (-6) At Detroit
In the battle of the backups, I'll take an inaccurate Michael Vick over an inaccurate Shaun Hill. When plays break down for Hill, he'll toss the ball to Megatron, triple-coverage be damned. When plays break down for Vick, at least he'll have a chance to do something with the football in his hands. Jahvid Best scored two TDs last week, but he also averaged 1.4 yards per carry. Detroit should have won last week, but this week's loss won't be controversial.
PICK: Eagles -6
At Dallas (-7.5) Chicago
Chicago couldn't punch the ball in from the goal line last week. Matt Forte had a big game, but not on the ground. In Mike Martz's pass happy system, Jay Cutler's gonna rack up some serious yardage, but he's also gonna make some mistakes. The Cowboys know all about mistakes. A dumb holding call at the end of last week's game against Washington erased a Romo-to-Roy Williams touchdown and a comeback victory for Dallas. The Cowboys leading rusher, Marion Barber, only mustered 39 yards against the Redskins. Miles Austin proved he was worth the money, though. Austin caught 10 passes for 146 yards and a score. The Bears got a gift last week, but Romo is no Shaun Hill. He'll make some big plays against Chicago's suspect secondary and put the Cowboys in a position to win.
PICK: Dallas -7 (buy the damn .5)
At Carolina (-3.5) Tampa Bay
Matt Moore suffered a concussion in Week 1's loss to the Giants, but it looks like he'll play this week. Moore had three picks and a fumble in Week 1.Yikes. Carolina's offense really needs to get it together, but I think things will start clicking in Week 2 (as long as Moore finds Steve Smith and hands the ball off repeatedly). Tampa Bay's defense looked piss-poor against Cleveland in the first half last week, but the Bucs tightened up and capitalized on turnovers in the second half. Look for Carolina's offense to find a rhythm against the Bucs in Week 2.
PICK: Panthers -3 (buy the .5, again)
At Atlanta (-6.5) Arizona
The Falcons lost a tough one last week in Pittsburgh. Michael Turner couldn't get going and Atlanta never found the endzone. Arizona moved the ball well against the Rams, but the Cardinals had four turnovers and almost allowed the Rams to take the game. Beanie Wells isn't healthy and Derek Anderson is who you thought he was. The advantage in this game goes to the home team. Look for the Falcons to rebound.
PICK: Falcons -6.5
At Minnesota (-5.5) Miami
Favre's rusty as hell, but the Vikings are still a damn good football team. I like the Dolphns, but not against a Vikings team at home in the dome. There's no way the Vikings don't feed Adrian Peterson. He only got six second half carries last week. Minnesota makes the adjustments this week.
PICK: Vikings -5.5
At Oakland (-3.5) St. Louis
It's doubtful that the Rams will let Sam Bradford throw 55 pass attempts every game, but the fact that they let their rookie QB go to the air that many times shows that St. Louis has confidence in the new face of the franchise. Michael Bush practiced this week, but he's still not close to taking over the featured tailback role. If you got surprise fantasy love from Darren McFadden in Week 1, you'll probably have one more week to capitalize.
PICK: Rams +3.5
At Denver (-3.5) Seattle
Who knows what to think of Seattle? Is the team that good or did the 49ers meltdown that bad? I think the Broncos can take 'em, but with so many other games to wager on, I'd steer clear of this one.
PICK: Broncos -3 (buy .5)
Houston (-3) At Washington
Arian Foster's not going have a monster game against the Skins. He'll be a useful back for weeks to come, but Schaub's going to do the heavy lifting this week. Washington looks like a solid football team, but the Texans are too fired up.
PICK: Texans -3
At San Diego (-7) Jacksonville
The Jags are for real, but the Chargers bounce back from last week's loss to win at home.
PICK: Chargers -7
New England (-3) At NY Jets
Revis isn't a 100 percent. Mark Sanchez and Shonne Green didn't light up any highlight reels last week. Meanwhile, Tom Brady and the Pats came out all fired up against Cincy. The final score didn't reflect the initial shellshock that New England delivered. For all the bluster in the offseason, the Jets are going to start the year 0-2.
PICK: Pats -3
At Indianapolis (-5.5) NY Giants
Peyton gets the edge in the Battle of the Mannings. Ahmad Bradshaw puts up good fantasy numbers, but Colts take the shootout in Indy.
PICK: Colts -5.5
New Orleans (-5.5) At San Francisco
The Niners dominated the Seahawks at the start of last week's game. After the first quarter, everything fell apart. Now there's all kinds of finger-pointing and Singletary smells a rat. On the flip side, the Saints hung on in a low-scoring season opener, but Pierre Thomas can pound the rock, Brees can distribute at will and the Saints can certainly handle a team in early-season disarray.
PICK: Saints -5.5

I wish I was still in school. As crazy as that may sound think about the logistics. No work, no bills, guaranteed parties on the weekends and of course random free stuff. Companies love to attach themselves to schools because they know college kids have the most disposable income. This is the reason they giveaway so much free loot!

Case in point LenovoBlogU.com. This site allows students to blog on their site for prizes including a whopping $20K in scholarship money. This opportunity is only for students eligible at accredited universities. That means if you go to your neighborhood community college (*pointing at myself) you are ineligible. We often miss these absolutely free contests because we're so concerned with getting our work down (or goofing around) that we blow them off.
My advice to young college students is to take advantage of every free opportunity given to you. I made the mistake of only looking for free food deals, (thanks Chipotle) that I missed the bigger picture. I've heard stories of students traveling around the world for free, based on a couple emails and an application form. I'm not saying these are common, but they definitely do exist.
Hopefully this inspires all of you to strive for more, and by more I mean the free stuff! If all else fails try betting on your grades. It's legal, fun and there's actually a website dedicated to it.
Cheers!
Thomas Müller took the world cup by storm at the 2010 World Cup. The aggressive 21-year-old midfielder won the Golden Boot and the Best Young Player award for his amazing performance in the tournament. A garbage handball call and subsequent BS yellow card forced him to miss the semifinal match against Spain, and the German squad just wasn't the same in his absence. After balling it up on the global stage, Müller is making noise in the UEFA Champions League as well. Check out this ridiculous goal that Müller scored in Bayern Munich's 2-0 victory against Roma:
The Daily Show has been clicking on all cylinders this week. From the interview with Tony Blair to this awesome Islamophobiapalooza segment, it's been a good week for Jon Stewart and company. Check out the video below. Classic line starts around 2:45 minute mark:

We all know that French dudes have a thing for Eva Longoria, but Thierry's gotta be a bit more subtle about scoping the merchandise.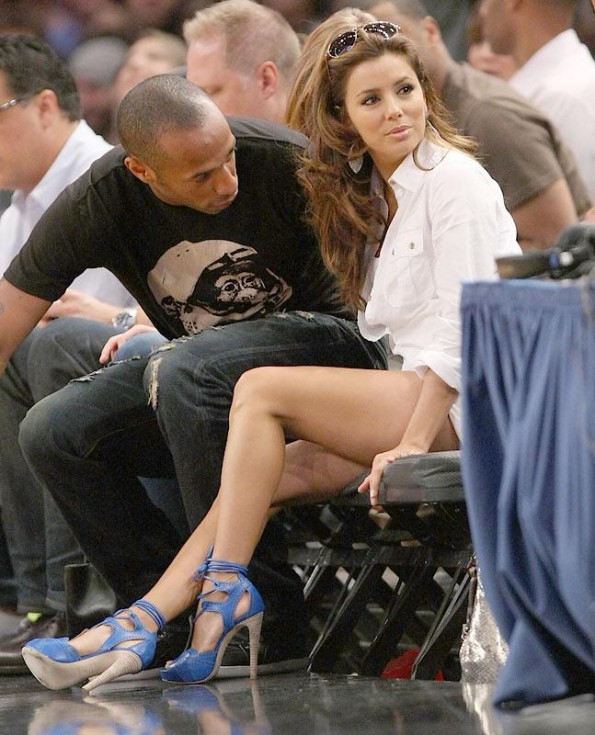 Via: Total Pro Sports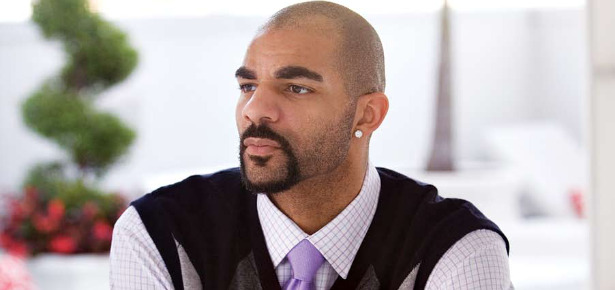 This past weekend, Chicago Bulls Power Forward Carlos Boozer served as the commissioner for the Gatorade REPLAY 3 rematch between Brother Rice and Bloom Township in Chicago. Danny Dabiri sat down with Boozer to talk about his new team, Derrick Rose, Sarah Palin, nightlife in Chicago and what it's like to play with Kyle "Ashton Kutcher" Korver.
Carlos Boozer Interview – MANjr.com from Chris Stout on Vimeo.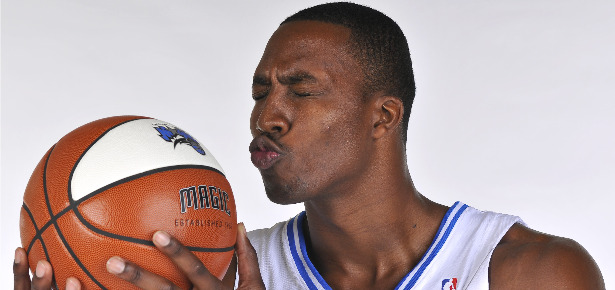 Orlando Magic Center Dwight Howard served as an honorary coach for the Gatorade REPLAY 3 rematch between Brother Rice and Bloom Township in Chicago. Howard scrimmaged with the players from Brother Rice and promised that they would take down the Bloom Township squad coached by Dwyane Wade. Danny Dabiri sat down with Howard before the game to discuss Howard's thoughts on the best centers of all time, playing in the Olympics, coaching Brother Rice and incorporating a sky hook in his game.
Dwight Howard Interview – MANjr.com from Chris Stout on Vimeo.

In the third installment of the Gatorade REPLAY series, Chicago high school powers Bloom Township and Brother Rice were afforded the opportunity of a lifetime. Ten years after most of their athletic careers ended, they were granted a chance to relive their glory days.
From Brother Rice's perspective, it was an opportunity to right a terrible wrong. In 2000, Bloom Township earned a controversial 42-40 playoff victory over Brother Rice thanks to standout Joe Chapman's tip-in at the buzzer. The referee called the basket good but replays suggest that the bucket probably should not have counted. Take a look:
Fast forward 10 years. With the help of Gatorade, the two teams got to settle things in front of a raucous sold-out crowd at St. Xavier University in Chicago. Chicago Bulls forward Carlos Boozer served as the game commissioner and thanked all 2,380 spectators for providing such a frenzied atmosphere. The new Chicago Bulls forward sat down with MANjr for an interview, and was a real cool guy to chat with (check out our Carlos Boozer interview).
To prepare for the big rematch, both teams endured an eight-week training program courtesy of Gatorade and Velocity Sports Performance. During the training, honorary coaches Dwight Howard and Dwyane Wade scrimmaged with their respective teams.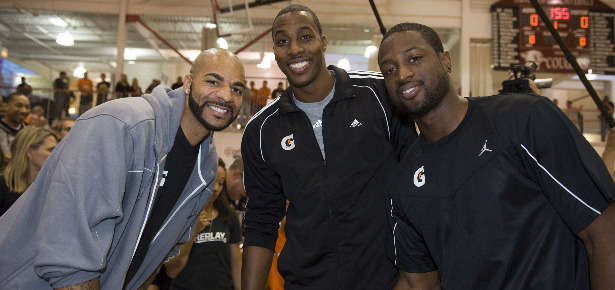 Before the game, we had a chance to speak with honorary Brother Rice coach Dwight Howard and he promised a victory (here's a link to the full Dwight Howard interview):
Danny Dabiri: Are your boys gonna take it tonight?
Dwight Howard: They gonna take it tonight. I'm lookin' forward to it.
Danny Dabiri: No doubt?
Dwight Howard: NO doubt.
Danny Dabiri: Blowout? Or a squeaker? Another buzzer beater?
Dwight Howard: No, we probably win by 10 to 15 points. We're ready. I've been coaching those guys. They ready.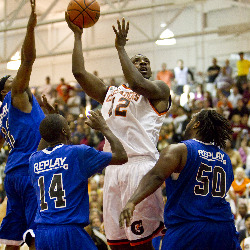 And ready they were. The Brother Rice Crusaders jumped out to an early lead with some hot perimeter shooting. The Crusaders hit six three-pointers and led 30-17 after a quarter.
The second quarter was played at a frenetic pace. Both teams moved the ball up and down the court. Trailing 54-38, the Bloom Township Trojans closed out the half with six straight points. Brother Rice led at halftime 54-44.
Dwyane Wade must have pumped up the Trojans during the break because Bloom Township owned the third quarter. Antonio "Snugg" Cool scored 12 points to spearhead the comeback. Bloom outscored Brother Rice 30-15 to take a five-point lead into the fourth.
Trailing 74-69 entering the fourth, the Crusaders dug deep and engineered an impressive comeback. Led by game MVP Sidney Holmes' 22 points and 18 rebounds, Brother Rice outscored Bloom Township 30-19 in the final frame. Leading 95-93 with 20 seconds remaining, Crusaders point guard Vince Greene knocked down to two clutch free throws to seal the victory. The final score was 99-93. After ten years, Brother Rice had their sweet revenge.
After the game, MVP Sidney Holmes summed up the experience pretty well:
"The best part of this night and the past weeks has been hanging with my old friends and being able to play basketball in front of friends and family. It's a blessing."
This was the most exciting basketball game I'd ever seen. From the crowd to the players to the emotion and energy on the court, it was really a wonderful experience.
Here are some highlights from this amazing game:
Be sure to catch REPLAY the series on Fox Sports this November. Check out REPLAY the series on Facebook to find out more about the show.

AXE recently teamed up with the Smell and Taste Treatment and Research Foundation to find out what scents really turn girls on. In addition to breaking down the top female scent preference in 10 cities, the study also shows that girls really do care a whole lot about dudes and how they smell.
Here's a map and some quick highlights from the study: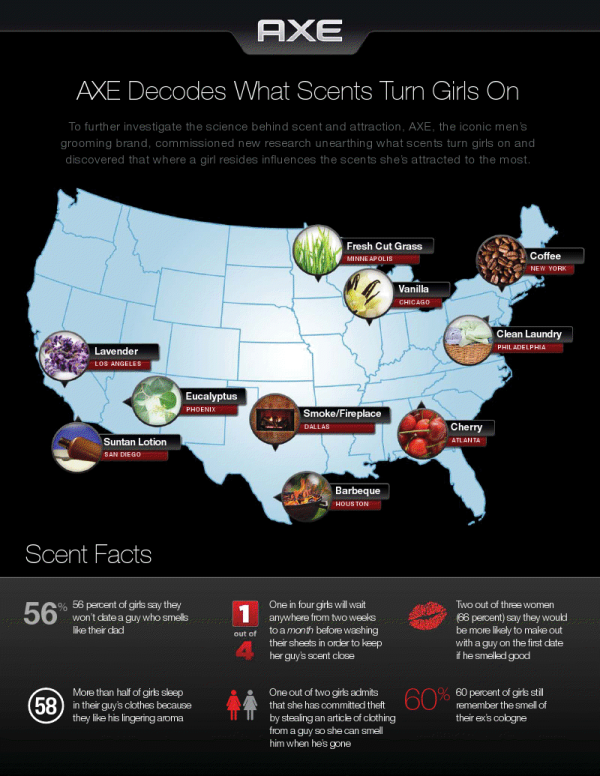 Couple of observations:

Reports surfaced last week that the Heisman Trust was going to strip Reggie Bush of his 2005 Heisman Trophy. Despite denials by the Heisman Trust that any decision has been made, Bush decided to forfeit his Heisman Trophy today.
In a statement released by the Saints, Bush described winning the Heisman in 2005 as "one of the greatest honors of my life" and "a dream come true." Here are some additional excerpts from the statement: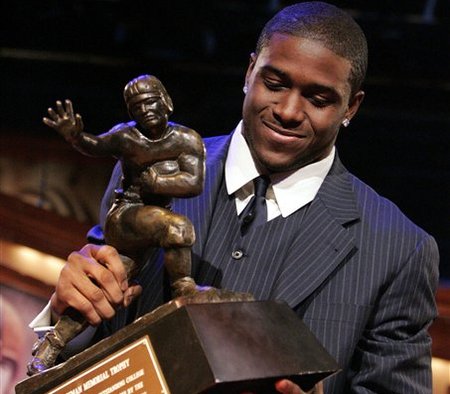 "But I know that the Heisman is not mine alone.  Far from it.  I know that my victory was made possible by the discipline and hard work of my teammates, the steady guidance of my coaches, the inspiration of the fans, and the unconditional love of my family and friends.  And I know that any young man fortunate enough to win the Heisman enters into a family of sorts.  Each individual carries the legacy of the award and each one is entrusted with its good name.  It is for these reasons that I have made the difficult decision to forfeit my title as Heisman winner of 2005.  The persistent media speculation regarding allegations dating back to my years at USC has been both painful and distracting.  In no way should the storm around these allegations reflect in any way on the dignity of this award, nor on any other institutions or individuals.  Nor should it distract from outstanding performances and hard-earned achievements either in the past, present or future."
I like it. I like the whole approach. Bush is basically taking the high road while still being a bit defiant. I don't want to sully this amazing award with drama, but I'm still the best, I was the best and I will continue to be the best.
Here's more from the statement:
"For the rest of my days, I will continue to strive to demonstrate through my actions and words that I was deserving of the confidence placed in me by the Heisman Trophy Trust.  I would like to begin in this effort by turning a negative situation into a positive one by working with the Trustees to establish an educational program which will assist student-athletes and their families avoid some of the mistakes that I made.  I am determined to view this event as an opportunity to help others and to advance the values and mission of the Heisman Trophy Trust."
So Bush vaguely admits that he made mistakes, but he goes a step further to call out a broken system where unpaid student athletes are semi-invited to make mistakes. I like the fact that he took action and gave it back. I like the defiance too. For whatever mistakes Bush semi-owned up to, there's no changing the fact that he was one of the greatest college football players of all time.
"I will forever appreciate the honor bestowed upon me as a winner of the Heisman. While this decision is heart-breaking, I find solace in knowing that the award was made possible by the support and love of so many.  Those are gifts that can never be taken away."
His legacy may be sullied, but memories of his dominant college football career cannot ever be erased.