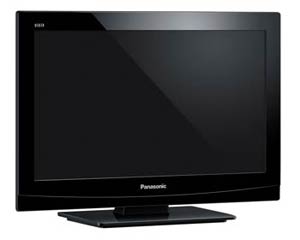 Do you like Doritos? Or the Super Bowl? Or Lonely Island? Or free HDTVs? If you answered yes to any or all of the above, keep reading, man. MANjr is teaming up with Doritos to giveaway a 32-Inch LCD HDTV. The giveaway is a tie-in to a much more ridiculous challenge, the Doritos Crash the Super Bowl contest.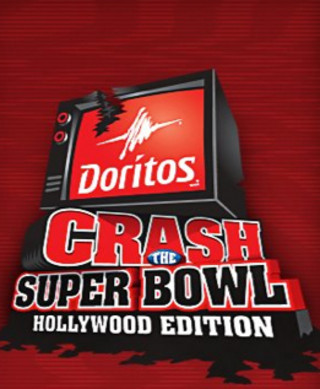 Doritos is currently accepting 30-second video submissions, Super Bowl commercial spot style. The rules are pretty simple. You just upload a 30 second commercial clip that expresses love for Doritos. If you visit the Crash the Super Bowl website, there's a section that gives you tips and a toolbox where you can download product shots, logos, animations and music to use in your commercial clip.
Why would you bother helping Doritos out with commercial ideas? Well in January, Doritos is going to announce five finalists and put it to an online vote. The first place finisher that's selected will get $25K and a trip to Super Bowl XLVI in Indianapolis, where they'll see their commercial go head-to-head against a Doritos commercial created by The Lonely Planet.
If the finalist's commercials scores No. 1 on the USA Today Super Bowl Ad Meter, that person will receive one million dollars and a chance to work on a future Doritos project with The Lonely Island. If The Lonely Planet scores No. 1 on the Ad Meter, those dudes will get a million to donate to their charity of choice.
Here's the kicker: the deadline to submit your clip is November 21. That's really soon. So you better scratch your weekend plans and put something together – action, drama, funny, whatever, just as long as it's unique enough to get recognized.
So what do you have to do win the MANjr 32-Inch Panasonic Viera LCD HDTV giveaway? Just follow us on Twitter and tell us which previous Doritos Crash the Super Bowl commercial was your favorite. We'll select a winner at random next Thursday, November 24. Good Luck!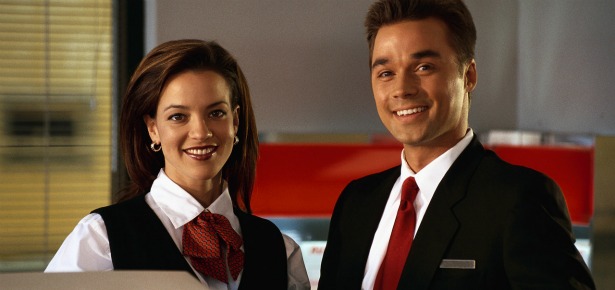 Nobody likes flying. We all love the excitement of traveling, but most sane people hate the actual flight. And for good reason. The airline industry sucks balls. Most planes are outdated, low-tech germ cans that were built to accommodate people the size of Willow. If you like cleanliness, modern technology, edible food or leg room, flying is a big pain in the ass. But with the right attitude and a few helpful tips, you can make your next plane ride less painful. Here are nine ways to make airplane travel suck less:
Drink Before, During and Potentially After Your Flight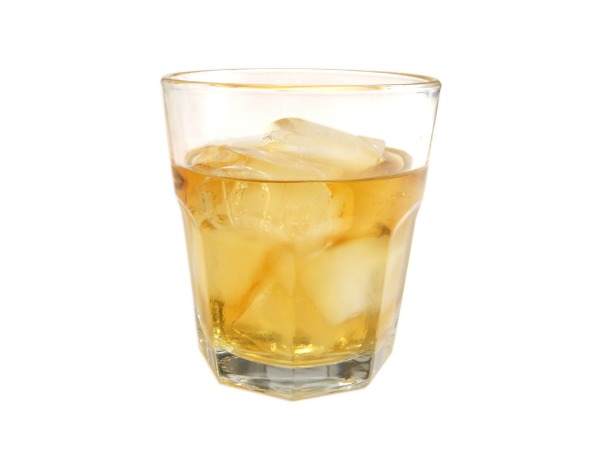 Scotch makes airplanes better. It really does. Beer works for some people, but if you have the bladder of a small child, it's just not a good idea. Liquor is quicker and it'll keep you in your seat. Pay the outrageous fee for an in-flight head change.
Buy the WiFi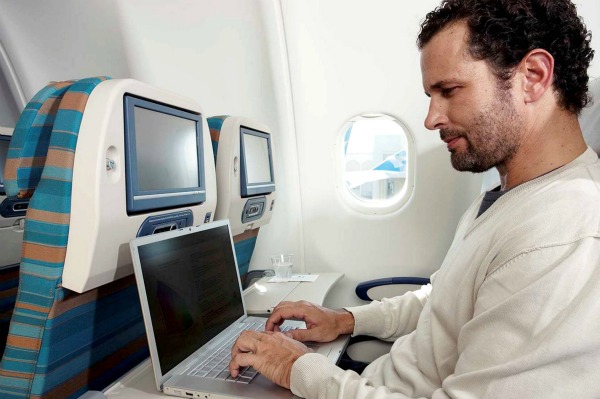 Why the hell isn't WiFi free in every airport and airplane in the country? If coffee shops can provide you with free Internet access, shouldn't the airline industry do the same? Sadly, like everything else these days, airlines charge you extra for web access. Splurge for this expense. It's totally worth it. Don't get stuck squinting to see the shitty in-flight movie. Forget about the Skymall mag, too. Pay whatever king's ransom they're charging for WiFi and boost your ability to stay sane during a long flight.
Own the Armrest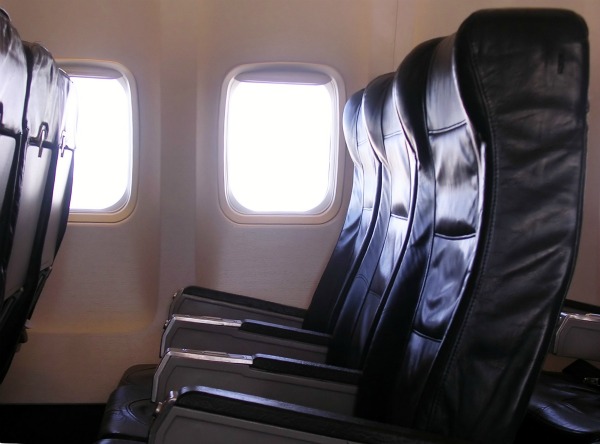 No matter where you sit on an airplane, stake your claim to the armrest early. Establish your elbow dominance as soon as you take your seat. Get big, box out your neighbor and own it for the whole flight. If you snooze, wait for the right opportunity and pounce that elbow back in there. Never give up. Never surrender. Hold the line like your life depended on it.
Spring for a Bottle of Water at the Gate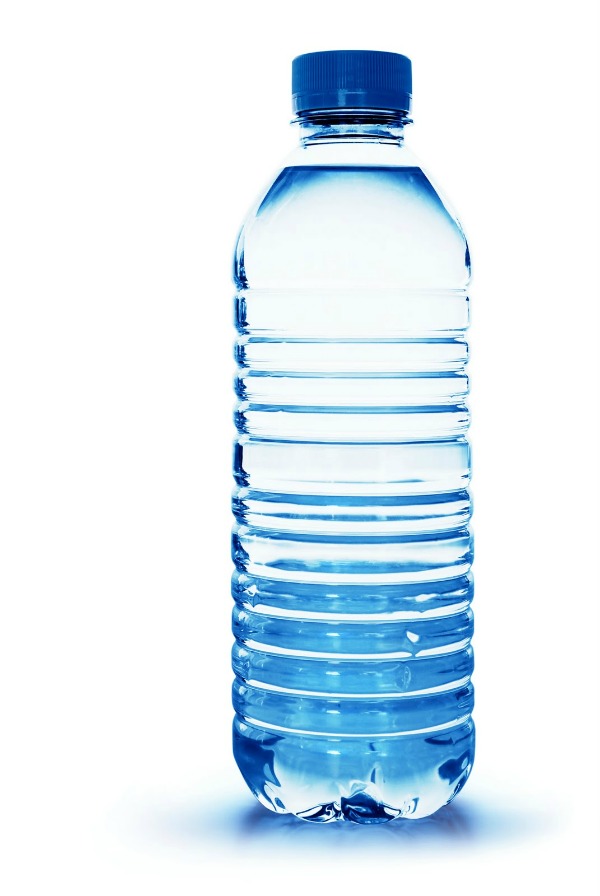 Nothing's worse than having cotton mouth on a plane. Sure, the sky waitress will bring you a beverage when you hit the right altitude. But you need some liquids to get you through that first half hour or so of non-service.
Be Nice to Airline Employees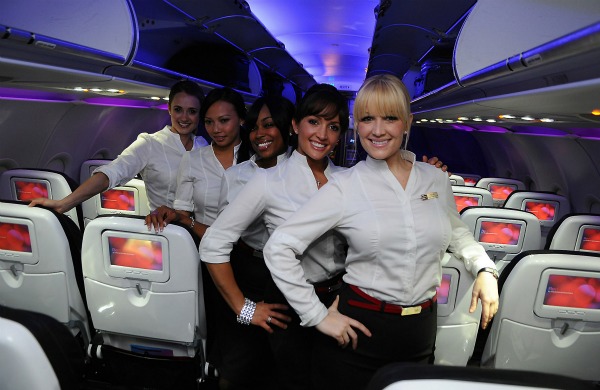 You think flying is a big inconvenience for you? Imagine if that shit was your job. Folks who work in the airline industry have to deal with stressed, uncomfortable and annoyed people every single day. They see people at their worst, so be nice to them. You'd be surprised how far a couple of extra smiles and thank yous can take you. I once got two free mini bottles of Johnny Walker from a flight attendant just for being the least douchiest person in my row.
Wear Shorts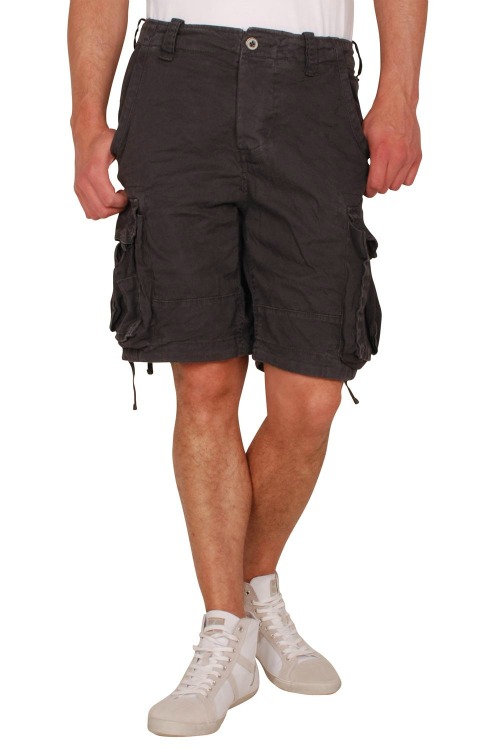 It's rare to find yourself on a plane and think, man, it's freezing in here. It can happen, yea, but the more likely scenario is you sitting in a cramped seat with a bad case of the schweaty balls. Do yourself a favor and wear shorts on your next flight. If it get's cold, you can always reach for a jacket or blanket. It's not like you can air out your junk when things get extra toasty. Leave the air on, too. A little air circulation never hurt anybody.
Bring Snacks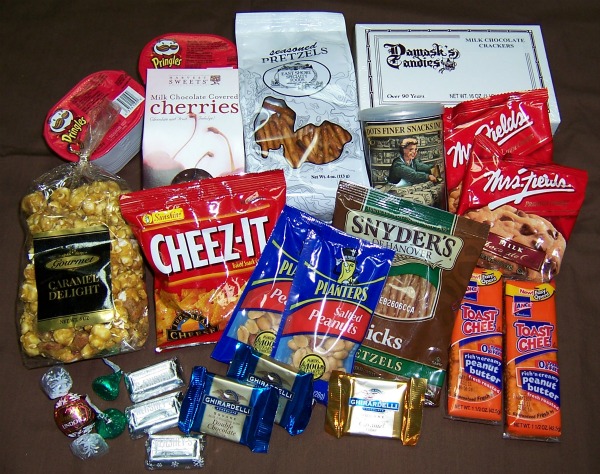 Gone are the days of endless peanuts and complimentary in-flight snacks. Airlines make you pay for everything, and nine times out of ten, the soggy sandwich or questionable cheese & cracker combo or whatever overpriced snack option their pushing just isn't worth it. If your famished, you'll pay any price for airplane food, but you're going to feel dirty about it afterward. You're going to feel used. So stash some granola bars in your bag and schedule some time to snack it up before you board.
Don't Smell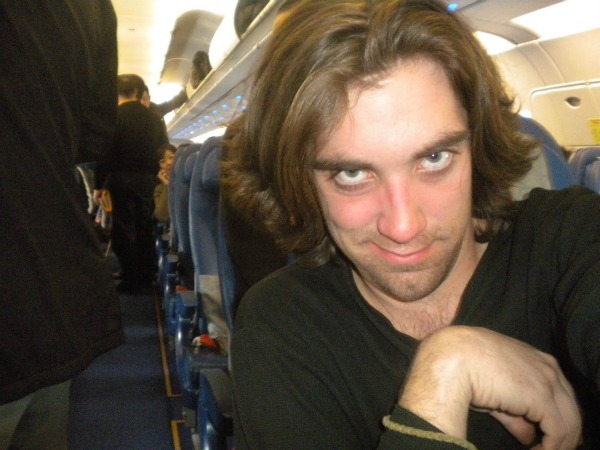 Sounds simple, right? And yet so many people insist on traveling extra ripe all the time. Don't be one of those people. If you can't figure out where the stank is coming from, it's probably coming from you. Do the whole bathing/deodorizing/clean hair/clean socks thing. It's a win-win for everyone.
Zen Out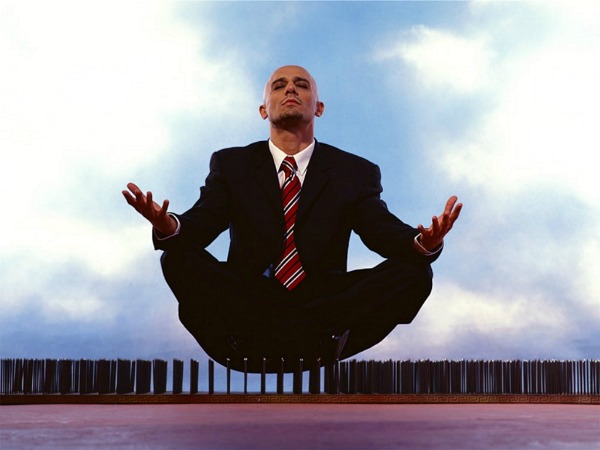 Whatever it is you do to get to your happy place, make sure you can reach that state of mind on a plane. Get into breathing exercises, put some Enya on your iPod, pack a photo of a loved one or a favorite location. However you get there, the ability to zen out hard is a critical carry-on. With the right preparation, you can block out anything – chair kickers, coughers, aggressive screaming babies, loud white girls – you name it. Learn how to transform yourself into a zen master at will and nothing will get under your skin.

Sortable The Hairy Truth About The Moustache. Go to Movember.com and make a donation today.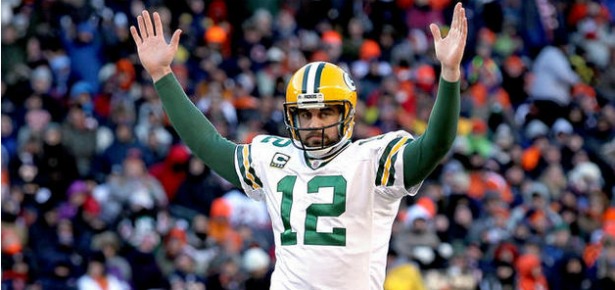 At San Diego -7 Oakland
The Chargers have lost three in a row, and when they do win games, they don't win by a wide margin. In four wins this year, San Diego's average margin of victory is 6.25. That includes a 10 point win over the lowly Dolphins. This isn't a team that blows people out. The Raiders and the Chiefs are also 4-4, so this division is up for grabs. Carson Palmer has looked decent for the Raiders, but he's also thrown six picks in his six quarters as the starting QB in Oakland. McFadden is out for Oakland, Matthews is back for San Diego. The Broncos rushed for almost 300 yards against Oakland on Sunday.
Pick: Chargers -7
Pittsburgh -3 At Cincinnati
Tough loss last week for the Steelers, but the Ravens got it done. They swept the regular season series and pushed the Steelers into third place in the division. The Ravens own the tie-breaker should Baltimore and Pittsburgh finish with the same record, but Baltimore currently shares first place with the Bengals. The Bengals play four division games in a row over the next four weeks, including two games against Pittsburgh. We're about to find out if Cincy's feel good story is for real. I think the Bengals are a legit team, but I like the Steelers here. They're coming off a tough loss and they can't afford a two-game slide, not in this division. But the Steelers are going to have a hard time running the ball against a Bengals team that's allowed only 84.5 rushing yards per game. Big Ben will need to connect with his young wideouts often and avoid throwing those game-changing interceptions that he likes to toss from time to time.
Pick: Steelers -3
At Kansas City -3 Denver
After riding high on a four game winning streak, the Chiefs got dismantled by a winless team last week. The Dolphins sacked Cassel five times and didn't let a single Chief cross the goal line. Denver ran all over Oakland, with Willis McGahee leading the way with 163 yards and two scores. Tebow threw two TDs and added 118 yards on the ground. He actually had a respectable passer rating, too (98.1). As soon as you think the Broncos are out of it, they find a way to win some games. But I think the Dolphins loss is going to wake up KC. They win at home.
Pick: Chiefs -3
Jacksonville -3 At Indianapolis
Someone's gotta win this unwatchable game. The Jags score a league-worst 12.2 points per game, but MJD loves running against the Colts. He should be in line for a big game against the 31st ranked defense against the run.
Pick: Jags -3
At Dallas -5.5 Buffalo
I like what the Cowboys are doing. The defense palys hard, they're getting all kinds of production out of dynamic workhorse DeMarco Murray and Tony Romo's putting together a pretty decent year. Even with Miles Austin out, Romo's going to turn in another strong effort. The Bills disappeared in the 3rd quarter of last week's game against the Jets. A home win feels right here.
Pick: Cowboys -5.5
Houston -3 At Tampa Bay
The Texans are putting on a clinic on how to run the rock in this league. It doesn't matter whether it's Foster or Tate behind that line, Houston can run the rock on anyone. It's like this team doesn't even miss Andre Johnson. With an improved D and unstoppable ground game, the Texans should take out the Bucs in Tampa Bay.
Pick: Texans -3
At Carolina -3 Tennessee
The Titans look terrible lately. When they're down, they're really down and even when they're up, they find a way to blow leads. Chris Johnson showed some spark last week, and he should have an opportunity to put up big numbers against the Panthers, but something tells me it won't be enough. Carolina only has two wins, but they sure can move the ball. After a hot start, Tennesee's D looked pretty strong, but as the competition grew stiffer, this defensive unit started moving back toward the middle of the pack. Carolina has more firepower no matter what CJ2K does.
Pick: Panthers -3
At Miami -3.5 Washington
The Fins won a game! Now they get a team that's averaging less than 13 points over its last six games. Miami's gotten solid production out of Reggie Bush for two straight weeks. I don't think Washington's going to dink and dunk their way to a road win here.
Pick: Dolphins -3.5
At Atlanta PK New Orleans
Drew Brees vs. Atlanta's secondary? I don't care where this game is being played, I like that matchup.
Pick: Saints
At Chicago -2.5 Detroit
Man the Bears looked good against the Eagles. Forte did his thing, but Cutler's looking sharp as well. He's got Earl Bennett in the mix and he's getting the protection he needs to scan the field and get the ball out.
Pick: Bears -2.5
At Cleveland -2.5 St. Louis
It's amazing that the Browns have three wins. They're rank near the bottom of the league in rushing yards and passing yards per game. Their pass defense is the lone bright spot, but teams have averaged 144 yards per game on the ground against Cleveland. I like S-Jax to play big and give the Rams a much needed W.
Pick: Rams +2.5
At Philadelphia -14 Arizona
So much for Kolb's return to Philly game; he's out and Skelton's in. Skelton actually played not too shabby while filling in for the injured starter, but Kolb's season, like Arizona's season, has been a big disappointment. The Eagles need to basically win out to be part of the playoff picture. The Cards got the W last week on a punt return TD in overtime. The Eagles season has been a big letdown, but for one week, they can look like the dominant team they were supposed to be.
Pick: Eagles -14
Baltimore -6.5 At Seattle
The Ravens aren't all that on the road, but last week's win in Pittsburgh should give Baltimore the momentum they need to cover against a two-win team playing at home.
Pick: Ravens -6.5
At San Francisco -3.5 NY Giants
The Giants are really good, but I love the Niners this year, especially at home. They can stop the run, prevent points and keep games close. The Giants have played sharp, but they're traveling across the country to play a team that always keeps it close.
Pick: Niners -3.5
At NY Jets -1.5 New England
The Jets picked apart the Bills last week and the Pats have looked extra vulnerable of late. If you factor in the Revis on Welker effect, the Pats might have a difficult time winning on the road.
Pick: Jets -1.5
At Green Bay -13.5 Minnesota
Green Bay scores a league-best 34.4 points per game. The Vikings rank 25th in the league in points allowed (24.9). Sorry Ponder, the Packers are going to cover easily.
Pick: Packers -13.5
Week 9: 8-6
Season: 75-50-9 ATS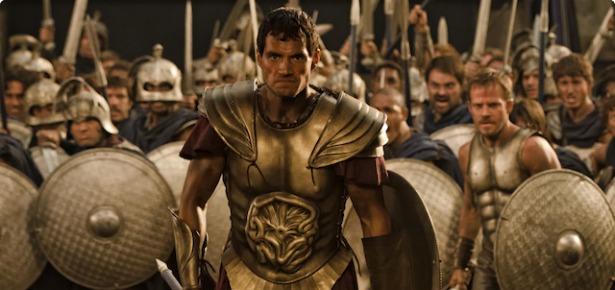 Immortals, a 3D action adventure epic that takes place in ancient Greece, opens this Friday. Henry Cavill, the guy from The Tutors and the new Superman, plays Theseus, a mortal villager chosen by Zeus to lead the charge against King Hyperion, a ruthless king played by Mickey Rourke who's ravaging Greece in search for a super weapon that will destroy all of humanity. Hyperion's aim is to wipe out all the mortals and take down the Gods of Olympus so he can rule the world. With the help of Phaedra, a sexy Oracle played by Frieda Pinto, Theseus assembles a small crew to take on Hyperion and save the world from total annihilation. Check out the trailer:
To celebrate the film's release, we're giving away an Immortals prize pack that includes a $100 Best Buy Gift Card, an Immortals Graphic Novel and an Immortals Men's Tank Top. To enter the giveaway, follow us on Facebook and drop us an email below telling us why you want to see the movie. We'll pick a winner at random next Thursday.
To learn more about Immortals, visit the film's Facebook page or check out Twitter for all the latest of on the release.


Source: DailyInfographic.com

To celebrate the launch of Call of Duty: Modern Warfare 3, more than 4,400 GameStop stores will be hosting Midnight Warfare events. The party starts 8pm, when COD fans will have the chance to play the new game and participate in various Call of Duty-themed challenges. If you live in New York or LA, you should check out the massive Midnight Warfare events in West Hollywood and Union Square. You can meet some of the game's developers and pick up your copy of the MW3 at midnight.
For more info on the Midnight Warfare events tonight, visit GameStop.com/CallofDuty.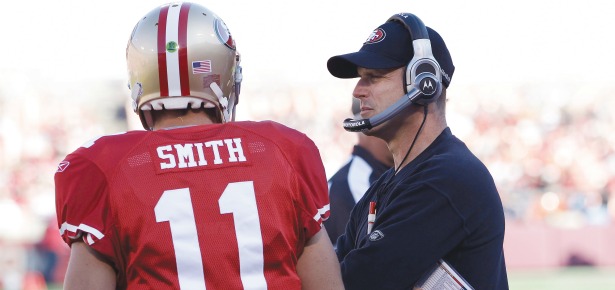 Atlanta -7 At Indianapolis
The Colts rank 31st in the league against the run, and the Falcons have been dialing up heavy doses of Michael Turner in recent weeks. Add in a healthy Julio Jones, and the Falcons should be able to handle a winless team that hasn't been in a close game in weeks.
Pick: Falcons -7
At New Orleans -8 Tampa Bay
The NFC South features three teams that could make some noise in the playoffs. The "youngry" Bucs are streaky as hell, and the Saints have lost two straight. Blount is back for Tampa Bay, but I think the edge has to go to the home team here. Remember, the Bucs beat the Saints by three points earlier this year, but the Saints tend to crush people in the dome.
Pick: Saints -8
At Houston -10.5 Cleveland
The Texans have only lost once at home this season. The Browns offense is anemic at best, and it sounds like Hillis reinjured his hammy in practice this week. While Cleveland is pretty solid in defending the pass, the Browns are so-so at best against the run. Arian Foster has averaged 161.8 yards from scrimmage the past five games. Expect heavy doses of Foster as Houston wins easy.
Pick: Texans -10.5
At Buffalo -1.5 NY Jets
The Jets haven't won a game on the road this season, and the Bills are just a hard team to root against. They've lost two games this season by a combined total of six points. The Jets have lost on the road to Oakland, Baltimore and New England, and those games weren't really close. Sanchez should have a decent game, but I love Buffalo here. It's a big opportunity for the 5-2 Bills to show that they're first place status in the AFC East is legit.
Pick: Bills -1.5
At Kansas City -4 Miami
The Chiefs have won four straight after starting the season 0-3. The Dolphins are still searching for their first win of the year. As hard as Miami is playing, you just get the feeling that the Chiefs are working with some extra good vibe ju-ju right now. Fear the Haley beard and go with the home team that has all the momentum.
Pick: Chiefs -4
San Francisco -3.5 At Washington
All the 49ers do is win games and cover spreads. The John Beck era in D.C. has looked terrible. With a conservative approach on offense and a nasty streak on D, the Niners just need to play their game and watch the Skins implode on their own.
Pick: Niners -3.5
At Dallas -11.5 Seattle
This Cowboys team is frustrating as hell. One week their going toe-to-toe with New England and the next week they're getting blown out by the Eagles. Romo needs to get on the same page with his receivers. Dez Bryant and Miles Austin were both held without a catch in the first half last week. Seattle surrenders 237.1 yards per game through the air, but Eli Manning and Big Ben tore up this defense. If Romo can sync up with his receivers this week, he could be in line for a big game. The spread is huge, but so is the urgency for the Cowboys to bounce back.
Pick: Cowboys -11.5
At Oakland -7.5 Denver
Carson Palmer says he's got the offense down. We'll see about that. Guy looked rusty as hell in his first game back. Darren McFadden is likely out, but Michael Bush is no slouch. He's no DMC, but he can carry the load. Denver sucks. Tebow can't get it done and everyone knows this.
Pick: Raiders -7.5
At Tennessee -3 Cincinnati
The Bengals make big plays on D and they play well on the road. Their only road loss was to the Orton-led Broncos in Week 2, who barely hung on to win by two points. The Titans have had an up and down season, and their running game has left much to be desired. The Bengals have held opponents to 85.4 yards per game on the ground, second best in the league. As long Dalton has a relatively mistake-free game, the Bengals should be able to win this one.
Pick: Bengals +3
At Arizona -3.5 St. Louis
Kevin Kolb was supposed to be the answer in Arizona, but it just hasn't worked out that way. Now he's hurt and there's a good chance that John Skelton will get the nod. Starting four games last season, Skelton completed only 47.6 percent of his passes. His QB rating was 62.3. The Rams are coming off a huge upset win against the Saints. Steven Jackson rushed for 159 yards and two scores and AJ Feeley managed the game. With Bradford likely to sit again, expect S-Jax to carry the load for St. Louis. The QB that makes the least mistakes wins. I say it's the Rams.
Pick: Rams +3.5
At New England -9 NY Giants
New England doesn't lose at home, but the Pats will face all kinds of pressure upfront from New York's dominant pass rush. The Giants sure can pass the ball, too. While Nicks and Bradshaw will probably miss the game, the Giants still have plenty of weapons. The Pats love bouncing back after tough losses, but I think this spread's just a tad too high. The Pats win, but the G-Men keep it close.
Pick: Giants +9
Green Bay -5.5 At San Diego
Rivers actually had a pretty good game before he fumbled the win away in KC. He started slow and ended poorly, but the middle was strong. Rivers should be able to find some creases against a Green Bay pass defense that ranks 31st in the league and gives up 288.9 yards passing yards per game. That said, the Packers offense is just too damn good. They seem a little less potent on the road, but it's hard to bet against this team. Expect a shoot out.
Pick: Packers -5.5
At Pittsburgh -3 Baltimore
Game of the week right here. We got a primetime slugfest between the two biggest rivals in the NFL. The Steelers want vengeance after their Week 1 road thumping in Baltimore. The Ravens offense has looked out of sync the past couple weeks. The Steelers have looked great on both sides of the ball, but the team will be short on linebackers on Sunday. Woodley and Farrior are out and Harrison's questionable. Big Ben had a nightmare game against the Ravens is Week 1, but he did beat this team in seven consecutive starts before that. Even with the missing pieces on D, the Steelers are going to win the rematch. And after playing each other three times in the last two seasons, you just know these two teams are going to meet again.
Pick: Steelers -3
At Philadelphia -7.5 Chicago
I'm pretty sure I haven't called a Bears game right all season. When you think they can dominate, they find a way to lose. When you're think they're vulnerable, they deliver a victory. This game seems like a tough one to call. The Eagles looked great against Dallas – balanced, efficient and equal parts desperate and devastating. The Bears have won four straight. Coming off the bye, I don't think the Bears are going to get manhandled like the Cowboys did. The Eagles will probably win this one, but I think the Bears and their underpaid workhorse will keep things close.
Pick: Bears +7.5
Week 8: 9-4
Season: 67-44-9 ATS