Today is World AIDS Day, and everyone is focused on bringing awareness to this epidemic. Promoting safe sex is just one step. Everyone knows that using a condom is the simplest way to practice safe sex, but do you know how condoms are produced? In this video, you'll see how LifeStyles produces and thoroughly tests condoms that help keep people safe.
The testing is no joke, either. You'll see these little latex wonders go through rigorous air inflation tests, water tests and electronic testing to gauge microscopic defects that can't be seen by the human eye. Take a look: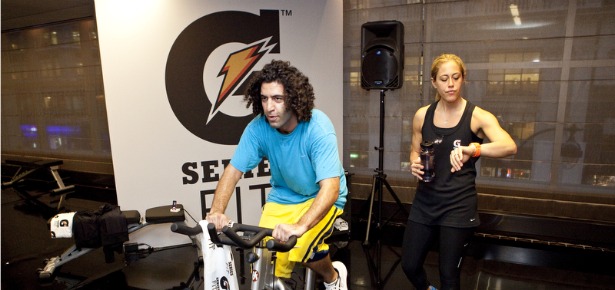 A couple weeks ago I had the privilege to get a sneak peek at a new product line that Gatorade will be unveiling in the upcoming months. The fine folks at Gatorade invited MANjr out to New York to test out the new line and learn more about health and fitness. The event was held at a brilliant location, The Setai Fifth Avenue, right in the heart of Midtown. Led by world-renowned fitness instructor Jay Blahnik and super cool Michigan alum Kate, I viewed a presentation of what Gatorade has in the works to improve the life of the athlete.
I was very impressed with the presentation. Details are limited, but the new line will surely revolutionize the athletic experience. World Shape magazine selected Jay as one of the top 5 fitness instructors on the planet. He has appeared in a slew of award winning videos and has traveled the globe spreading the importance of health and fitness. His unsurpassed expertise on the subject makes Jay an invaluable consultant to mega companies like Nike and Gatorade.
The highlight of the presentation was my personal workout session with preeminent fitness guru Lacey Stone. Founder of Lacey Stone Fitness and innovator of TheBigGame! fitness class and BOOTYCamp workout, Lacey's mission is to inspire people to reach levels they thought were impossible. A former Division I basketball star at Maine, Lacey whipped me into shape with a grueling 45 minute spinning session. This shit was no joke. Lacey's unyielding motivation combined with a sweet play list to jam to kept me peddling away. Take a look:
I was able to complete the workout, but afterwards, my legs were jelly. I decided to hang around and recover a bit and received helpful dietary advice from sports nutritionist Susan Kundrat. Thankfully, Gatorade team member and all-around good dude Andrew hooked me up with some refreshments and directed me toward the spa.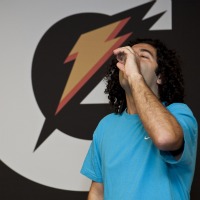 Two weeks later, I'm still sore. Lacey had me working muscles that have been in hibernation for decades. Her brilliant ability to motivate got me through the workout, but the aftermath has been a struggle.
Even with the after-pain, the experience was great and damn-near life-changing. I intend to apply what I learned in my time with Lacey, Jay and the entire Gatorade team. Lacey's motto is Passion + Persistence + Patience = Excellence. Definitely solid words of wisdom.
Special thanks to Andrew, Kate and Ashley for making me feel very welcome and affording me this remarkable opportunity to learn about the new product line and push myself physically at the same time. I look forward to utilizing the new products on a regular basis in the near future.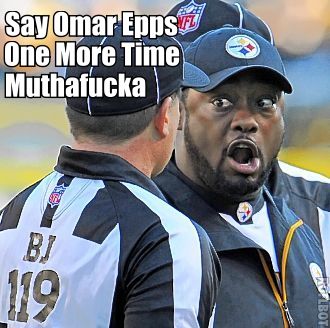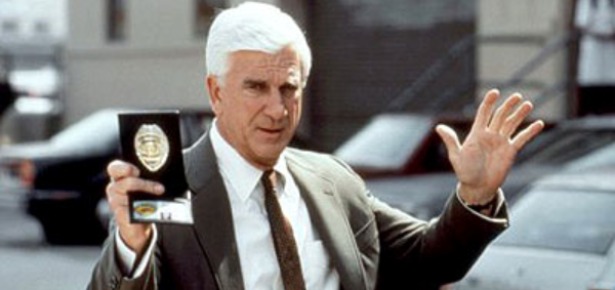 Master spoof specialist Leslie Nielsen passed away on Sunday at the age of 84. Nielsen's acting career spanned six decades. In 239 film and TV roles since 1950, he was embraced as a lead man, a serious actor and a dead-pan comedian who perfected the art of being oblivious to the shenanigans that surrounded his characters. To honor this legend, we came up with a list of the top 5 Leslie Nielsen films. It's certainly not an exhaustive list (it leaves out all of his TV work), but it's how we remember the guy. Feel free to share your favorite Nielsen moments in the comments.
Spy Hard
Spy Hard was the last great comedy that Nielsen made. The spoofs in his later career got a little bit out of hand, but Spy Hard was vintage Nielsen. His character's name is Dick Steele (Agent WD-40) and he runs around with Nicolette Sheridan while battling an evil Andy Griffith. There's just too many laughable moments in this 1996 flick to not have it on the list.
The Naked Gun 2½: The Smell of Fear
I watched this movie so many times growing up. The third Naked Gun movie was subpar, but 2½ was right up there with the original film and TV series. The second film brought in the most cash, too. The first Naked Gun grossed $78 million, the second film grossed $86 million and the third film brought in $51 million. Priscilla Presley was still hot in this one too.
Forbidden Planet
Oh yes, that is a young Leslie Nielsen in this sci-fi classic from 1956. If you haven't seen this film, you should really check it out. It's got Robby the Robot, a sweet electronic music soundtrack, amazing (for the time) special effects and a 30-year-old Leslie Nielsen as Commander John J. Adams. Forbidden Planet made a huge impact on Gene Roddenberry, who said that the film served as inspiration for his creation of the Star Trek universe.
The Naked Gun: From the Files of Police Squad!
The original film, based on the TV series, is still the best. You had O.J. Simpson as Nodberg, Ricardo Montalban as Vincent Ludwig, Reggie Jackson trying to kill the queen and that awesome baseball scene. Nielsen will forever be remembered as Lt. Frank Drebin, and that's not such a bad thing. That character can get laughs in any era.
Airplane!
This is by far Nielsen's best role. It was Nielsen's first attempt at comedy, and he created his 'super-serious in the face of all kinds of ridiculousness' style that would serve as his calling card for 30 years.
Rest in peace, Leslie. You will be missed.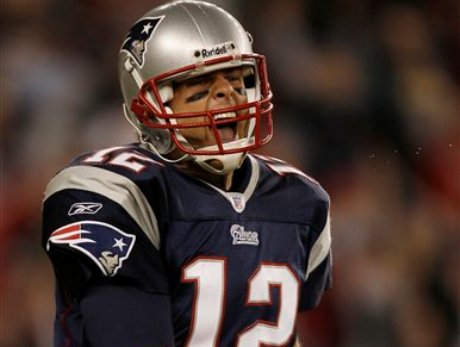 New England -6.5 At Detroit

Pick: Pats -6.5

At Baltimore -7.5 Tampa Bay

Pick: Ravens -7.5

New Orleans -3.5 At Dallas

Pick: Saints -3.5

Philadelphia -3.5 At Chicago

Pick: Eagles -3.5

At NY Jets -9 Cincinnati

Pick: Jets -9

At Atlanta -2 Green Bay

Pick: Packers +3

At Washington -2.5 Minnesota

Pick: Vikings +2.5

At Oakland -3 Miami

Pick:  Raiders -3

Pittsburgh -6.5 At Buffalo

Pick: Steelers -6.5

Kansas City -1 At Seattle

Pick: Chiefs -1

At Houston -6.5 Tennessee

Pick: Texans -6.5

At Denver -4 St. Louis

Pick: Broncos -4

At NY Giants -7 Jacksonville

Pick: Jags +7

At Indianapolis -3 San Diego

Pick: Colts -3

At Cleveland -11 Carolina

Pick: Browns -11

San Francisco -1 At Arizona

Pick: Cardinals +1
Last week: 11-5
Season: 80-72-6

This photo is just plain awesome. I caught it on Danger Shark's Facebook page, always a source for inspirational material. Here's the caption that Danger Shark included, which I could never even attempt to top:
"Michael Jackson, dressed like a hipster, swigging vodka straight from the bottle, partying with coked out midgets."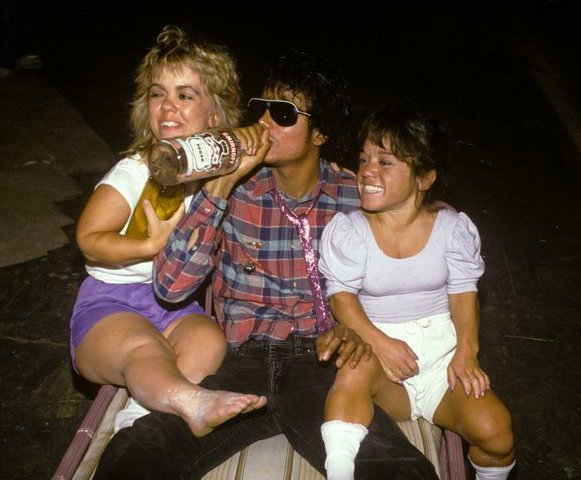 Brilliant.


The State Farm Garage was a big hit at the LA Auto Show, and the garage will be making the rounds to other local auto shows in the coming months. Visitors who check out The State Farm Garage will have the chance to play a driving challenge game, compete in home run trivia and they also have this thing set up where you can see how your wing span measures up to LeBron James.
To go along with this auto show installation, State Farm is also running a pretty sweet contest: The State Farm Garage Makeover Sweepstakes.  For this contest, State Farm is teaming up with GarageMahals to give away a custom garage makeover valued at $35,000. You have to be 18 or older and live in the contiguous US (sorry Alaskans and Hawaiians). The grand prize winner gets a gift certificate redeemable for a 400 sq. ft. Prestige Class GarageMahal makeover in the winner's garage.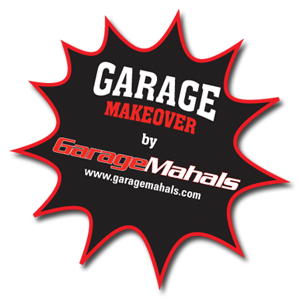 The Prestige class makeover includes the following:
GarageMahals® creative and detailed design services
GarageMahals® metallic floor coatings
GarageMahals® rolling door storage
Upgraded electrical system
Moderate framing and drywall changes
Complete paint scheme
Architectural surfaces
Custom trim
Customized lighting
So basically, you can really transform your garage into a custom mancave-like area that you can brag about for years. You can enter the sweepstakes at your local auto show or just visit the official sweepstakes site. The sweepstakes ends on 5/9/11. Here's a full list of the local auto shows where you can check out The State Farm Garage:
11/19/10-11/28/10 Los Angeles Auto Show at the LA Convention Center in Los Angeles, CA
1/27/11-1/30/11 St Louis Auto Show at America's Center and Dome in St. Louis, MO
2/11/11-2/20/11 Chicago Auto Show at McCormick Place in Chicago, IL
2/26/11-3/6/11 Cleveland Auto Show at the I-X Center in Cleveland, OH
3/12/11-3/20/11 St. Paul & Minneapolis Auto Show at the Minneapolis Convention Center in Minneapolis, MN
4/7/11-4/10/11 Dallas Auto Show in Dallas, TX at the Dallas Convention Center
4/22/11-5/1/11 New York International Auto Show in New York, NY at the Jacob Javits Center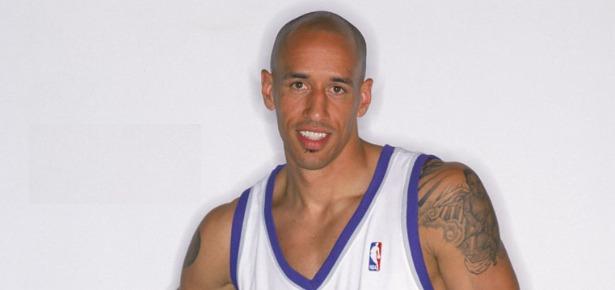 Doug Christie was a ridiculous defender during his 14-year NBA career. Since retiring in 2007, Christie has focused on his charity works, business ventures and his family. Christie home-schools his kids and every year, he and his wife get married on their anniversary – a full blown wedding to celebrate their vows. When he played in the NBA, Christie would signal to his wife countless times each game. A New York Times article published in 2002 detailed the strong bond that the couple shared. Christie and his wife Jackie even wrote a book about their relationship – No Ordinary Love. People like to give Christie shit about how his wife constantly keeps him in check and so on, but when talking to him, Christie sounded like a dude who's genuinely happy to have such a tight relationship with his wife. When he talks about how important his family is to him, it really comes across as honest and authentic. Christie is a family man and he's damn proud of it.
Christie and I discussed charity and sports management, married life for NBA players, trash talking,  how Kobe stacks up to Michael Jordan and Game 6 of the 2002 Western Conference Finals.  Here's the full interview:
CS: What do you want people to know about the organization you founded last year, Christie Sports Management?
DC: Well Chris, Christie Sports Management is about mind, body and basketball. I train athletes from youth – my son, he's nine, I train him – all the way to NBA. I trained Matt Barnes with the Lakers. I have an athlete in college at Washington State University, William Ayears. Obviously I love the game, but more than anything learning how to play the game the right way. The mind part of it is understanding how to break down your opponent, thinking the game, understanding clock management and all these different things. And then the body part of it is, you know, guys want to do all these fancy moves, Chris, and do all this stuff. And then you see guys breaking down like Greg Oden with knees and all these different things. But you have to strengthen your body. You have to understand how to move your body. And it's kind of like martial arts, and the more you learn and understand it, the better obviously you will be.
CS: So now do you have a bunch of different people who help out in this effort or is it really just more of a one-on-one approach where you're helping these athletes out?
DC: Well, it's just me. Christie Sports Management is me. I'm the main trainer and I work with them one-on-one. Sometimes we get together in groups. I did a workshop last year in Sacramento where I got together some guys, they were going to Europe – some guys going to Europe, some college guys up in that area – and I worked with them. I had like eight guys. So it just depends. But like with Matt I worked with him one-on-one. William, I worked with him and actually he has a little brother who is in high school in Washington so I work with them together. But most of the time it's one-on-one so I can really … one of the things I try to do is bridge the gap in communication. Because a lot of the times the coaches nowadays they just say one thing to everybody and you really can't do that. Everything isn't for everybody. So the methods that I give to one person, I'm giving somebody else the same message, but I'm giving it to them totally different so that they get it specifically for them.
CS: It's got to be pretty rewarding when these guys go on to have some success, right?
DC: No question. I think even more than the team success in all of that is the moment of what I call the "a-ha" moment. Like with riding a bike where you get it. And when I'm talking to them and I'm trying to get them to grasp a concept or something, and all of a sudden I see that they got it and it's like a-ha, that's probably one of the most gratifying parts of the whole process. Just watching them learn from all the different things that I have picked up from Pete Carril in Sacramento and Rick Adelman to Pat Riley to all the different coaches that I've had to pick stuff from. And then all of the studying that I've done with the body and different stuff, watching them grasp that is just the ultimate reward.