Chris Stout
Posts by Chris Stout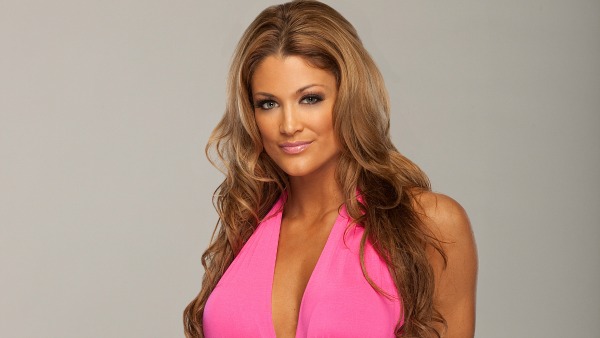 WWE Diva Eve Torres Interview
WWE diva Eve Torres knows the thing or two about devastating combos. Trained in Brazilian jiu-jitsu, the former Clippers Spirit dancer turned wrestling sensation has carved out quite a career for herself. In addition to being a three-time WWE Diva's champion, Torres has also appeared in multiple TV shows (Deal or No Deal, Stars Earn Stripes, Attack of the Show) and ad spots. Her latest partnership is with the pretzel-filled snack food COMBOS and she's participating in a web series called The COMBOS Files. In the series, Torres and other celebs try out different combo experiments suggested by fans. The series airs on www.facebook.com/COMBOS.
We had a chance to interview Torres, and we discussed her wrestling career, whether LA will ever become a Clippers town, the best and worst thing she's tasted on The COMBOS Files and a whole lot more. Here's the interview:
CS: So tell me about this web video series you're doing with COMBOS.
ET: Yeah so COMBOS – it's called The COMBOS Files and me and Sam Punk are a part of it this year. It's an interactive web series that COMBOS produced where we – myself, Sam Punk, and some other celebrities – meet up with celebrity chef Graham Elliot and we test out some of the COMBOS flavors that fans have suggested and submitted through on the Facebook page. Some of them are really good and others are really not good (laughs), but we had the pleasure of trying them. So these videos basically show us taste testing them. Sam Punk and I also got to create our own COMBOS flavors and Graham Elliot got to make them come to life in an amazing way and it was a lot of fun. The videos are all on the COMBOS Facebook page. Check out me and Sam Punk battle it out in the hot wasabi challenge.
CS: Oh, so let me ask you this. I guess we'll start here. What's the worst fan-created combo that you had to try?
ET: I had one that was like squid and cheddar.
CS: Ooh, that doesn't sound good.
ET: Yeah. It was like – it literally had little squids on top of it. I was like… let's just say, it was hard to eat (Laughs).
CS: (Laughs) All right. So on the flip side, what was the best fan creation?
ET: Probably the best one was, well… the best one was the one I created of course.
CS: Obviously (laughs).
ET: Peanut butter.
CS: Peanut butter and what?
ET: It was banana and peanut butter.
CS: Okay, that's always good.
ET: Yeah. So I'm like nothing's wrong with that. So I've got to say that was my favorite. But second place might have been pumpkin pie, which you can also see me try out on one of the videos on the COMBOS Facebook page. And you can also see what I would look like as the Statue of Liberty in that video.
CS: Okay. We'll check that out. So I know that you danced for the Los Angeles Clippers Spirit from 2006 to 2007, do you think LA can ever become a Clipper town?
ET: LA is a bandwagon town, that's what they are (Laughs).
CS: Yeah, it's true.
ET: If the Clippers are doing really well then guess what? They're a Clippers town.
CS: Yeah. Good point.
ET: But unfortunately I think it's always going to be a Lakers nation here. Which, you know, I don't mind being the minority. I don't mind being the ones that stay by the Clippers even when they're not doing so well.
CS: Yeah, which has historically been true. I understand. So how does dancing or cheering at a sporting event compare to the rush of actually participating in wrestling and the intensity of the ring?
ET: Well I mean it's a good warm up, I'll say that, it's a good warm up; like performing in front of thousands of people at a basketball game. But the difference is in dancing you're one of many girls out there and the spotlight isn't necessarily on you per se.
CS: Right.
ET: So coming to the WWE, once that spotlight is on you, and you're in front of the same amount of people or more, you know – 70,000 people maybe at Wrestle Mania – it changes a little bit. All of a sudden the stakes are a little bit higher and it's a much different experience. But I have to say, it's so much more fun. So much more fun. I mean don't get me wrong, I love to dance. I still love dancing, but it's just a different kind of rush. And especially when you get to the competitive part of it and the competition in-ring, there is absolutely no rush in the world that I've ever had like completing for a high stakes match. And some of the matches that I've had, you know, against the Beth Phoenix or at Madison Square Garden or at these historically places and matches that I will remember for the rest of my life. It's an incredible feeling.
CS: So what inspired you to try out for the WWE Diva Search in 2007 in the first place?
ET: Well you know it was one of those things that I just looked at and I was like "I think I can do that."
CS: "I can do that" (Laughs).
ET: I think that's me, I think I can do that. I'm competitive, I like to perform. I just felt like it encompassed all the things that I enjoy doing and am passionate about. The performance aspect, traveling around the world. And, like I said, the competitive and athletic aspect of it. I knew I had that, being a gymnast growing up, and a dancer, and someone who has practiced martial arts as well so, what can I say? Here I am five years later and I realized I was right.
CS: (Laughs). So have you ever had a serious injury in the ring while you're competing?
ET: No but, I've been really lucky, knock on wood. I've never really had anything I couldn't work through. So I've had a pretty semi-broken nose. I don't know, that's probably not the doctor's term for it (laughs), but I've pretty much had my nose smashed on television and that was not good. So I've had quite a few black eyes in my time, and I hyper-extended my arm actually a couple weeks ago, which I'm still kind of recovering from. But considering how many matches I've had and how much time we are in the ring, that's pretty good.
CS: And how long do you see yourself continuing to wrestle?
ET: You know, I don't know. It's like, I'm still having fun doing it so, you know. Someday, it may no longer fun, then I think that's what it would tell you, but it's also hard on a woman's body for sure. But I still enjoy doing it and there's still more, I think, to accomplish. But yeah, I think it's just something that your heart will tell you whenever the time is right and you think it's come to that moment. But I think it's important to just feel like you've accomplished everything that you set out to accomplish in the WWE. So yeah, whenever that happens.
CS: So back in September you became the first three-time WWE Diva's Champion, and you won in Boston which is your birthplace, and it was just a couple days after your engagement as well. Was that an exciting stretch of time for you and your family and did you really enjoy that?
ET: Oh god, it was absolutely an incredible couple months to be honest. Because I had just won the Stars Earn Stripes show and that was a great thing. And then I got engaged and in that one week I got a lot of bling added to my repertoire.
CS: (Laughs).
ET: Both the engagement ring and the title, it was nice. But yeah, it really was a great, great time. And actually Boston was where I won my last championship in the Fatal Four-way.
CS: Oh nice.
ET: Yeah.
CS: How much does the actual Brazilian jiu-jitsu and kickboxing skills come into play when you're in the ring? Because it's a little bit different. I mean it's not the same as, say, an MMA fight or something like that. Do you see a lot of parallels? Do you see there being a distinction?
ET: Well it's very different. But it helps a lot. I mean it helps me just kind of know. It helps me with my confidence in the ring for sure. Just kind of knowing how my body works, knowing how other people's bodies work, and it actually helps more than you'd think, just having that athleticism and the confidence that I get from jiu-jitsu helps a lot. Even if the actual moves or holds or whatever aren't actually transferred over, I have to say it's helped me in-ring a lot.
CS: Do you have to just have a mental switch to know that you're not going to try to break someone's arm or something real quick?
ET: Yes. you do. (Laughs)
CS: (Laughs).
ET: Yes. And that's why I love what I do. It is different. It's not MMA, it's entertainment and it's a lot of fun and it takes some creativity and you're telling a story and I want to do that in the best way possible, whether it's using jiu-jitsu techniques or not.

The second annual Pass the Crown program officially ended this week with one final steal. Jersey Girl Sports put out the most number of tweets with the #PassTheCrown hashtag and took the honors of making the final swipe. The iPad Mini's, which had already changed hands a couple times, was the last item to be stolen.
Because of all the retweets and Twitter mentions, Crown Royal was able to send out 1400 gift bags to our troops as part of the Crown Royal Heroes Project. Among the gift bags that went out, was this one right here which was put together at the Cowboys/Saints game by Playboy playmate Kylie Johnson: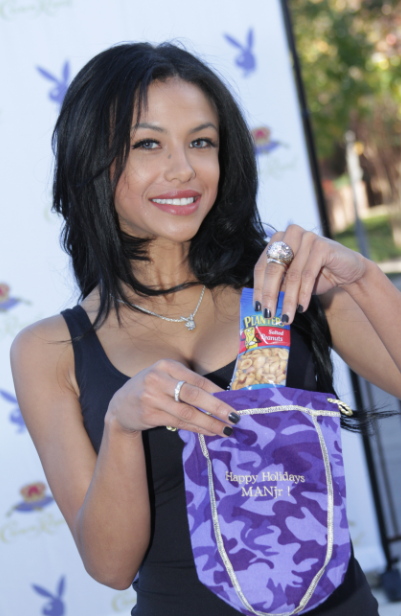 We were able to hang on to the Crown Royal XR Happy Hour that we jacked from The Roosevelts. So stay tuned for details about the next MANjr/Crown Royal event.
Thanks to everyone who got going on the retweets and helped make the second annual Pass the Crown program another fun experience.
Green Bay -3 At Chicago
Bears are floundering. Injuries piling up. Packers aren't all that healthy either, but they are a better team.
Pick: Packers -3
At Atlanta -1 NY Giants
Can the Falcons prove they deserve the top seed? Or will the Giants come in to town with their late-season mojo.
Pick: Giants +1
At New Orleans -3.5 Tampa Bay
Rough season almost over for the Saints. Only playing for pride now, they should cover at home.
Pick: Saints -3.5
At St. Louis -2.5 Minnesota
AP is a monster, but the Vikings need to support him a little.
Pick: Rams -2.5
At Cleveland -4 Washington
Cousins look good last week, but the Browns just love covering spreads these days.
Pick: Browns -4
At Miami -7.5 Jacksonville
Spread feels a bit high for this game, but I guess you got to go with Miami
Pick: Dolphins -7.5
Denver -3 At Baltimore
The Ravens will have a hard time getting Rice going against the Broncos run defense. Baltimore plays better at home, but I feel like Denver has hit a bit of a playoff-ready stride.
Pick: Broncos -3
At Houston -10.5 Indianapolis Luck might not win but he should help Indy cover.
Pick: Colts +10.5
At San Diego -3 Carolina
Win one more for Norv? Seems more likely than play hard to save Ron.
Pick: Chargers -3
Seattle -4.5 At Buffalo
Not a slam dunk home game, but Seattle's up to the road challenge.
Pick: Seahawks -4.5
Detroit -6 At Arizona
Lions should crush the rudderless Cards.
Pick: Lions -6
Pittsburgh -1.5 At Dallas
Pittsburgh puts it together on the road and keeps pace with Cincy.
Pick: Steelers -1.5
At Oakland -4.5 Kansas City
Someone's got to win this game and it's going to be the Raiders.
Pick: Raiders -4.5
At New England -4 San Francisco
The better conference makes a statement.
Pick: Pats -4
Last Week: 10-5-1
Season 103-95-5
Last Season: 140-120-12
Cincinnati-5 At Philadelphia
The Eagles shocked the world by playing inspired football for one week. But it's all too little too late. The Bengals have something to play for. They lost to Dallas so they're still below the Steelers for that last AFC wild card spot. Andy Reid's a goner, and even if the Eagles came out hot and motivated to win one for the Walrus, it's just not gonna happen.
Pick: Bengals -5
Last Week: 10-5-1
Season 103-95-5
Last Season: 140-120-12
At Washington -2.5 Baltimore
The Skins have momentum and last week, the Ravens showed that they're not exactly unstoppable.
Pick: Skins -2.5
At Cleveland -7 Kansas City
Tragedy fueled an inspired victory for the Chiefs. I don't think they can maintain that level of emotional intensity for another week, on the road.
Pick: Browns -7
At Pittsburgh -8 San Diego
The Chargers could be in house cleaning mode while the Steelers could be playoff bound if they keep winning. Big Ben's return prompts a big win in Pittsburgh.
Pick: Steelers -8
At Indianapolis -5.5 Tennessee
These Colts could make some noise in the playoffs.
Pick: Colts -5.5
NY Jets -3 At Jacksonville
The Jags got beat up pretty bad last week. A big game from Montell Owens likely won't be enough to put the Jags over the top in a sloppy game.
Pick: Jets -3
Chicago -3 At Minnesota
AP is putting together an incredible season. The Bears are coming off a tough loss and their defense needs to get healthy. This game could be close for awhile, but the Bears should pull away.
Pick: Bears -3
Atlanta -3.5 At Carolina
The division rivalry that wasn't. The Falcons are just better.
Pick: Falcons -3.5
At Tampa Bay -7.5 Philadelphia
This season just can't end soon enough for the Eagles.
Pick: Bucs -7.5
At Buffalo -3 St. Louis
The Bills showed a spark last week, but the Rams are riding high as well. I like St. Louis a bit better in this situation.
Pick: Rams +3
At Cincinnati -3.5 Dallas
You don't bet against tragedy. There's just too many examples of tragic circumstances translating into inspired play.
Pick: Cowboys +3.5
At San Francisco -11 Miami
I feel like the spread is too high for this new look Niners team. They'll probably cover though while playing such an inferior team at home.
Pick: Niners -11
At NY Giants -5 New Orleans
As much as I want to pick the Saints again, the Giants just have more to play for. They have to win now to keep this playoff hope thing going.
Pick: Giants -5
At Seattle -10 Arizona
This Cards team needs a new something. QB, head coach, something. Seattle is winless in their division, but undefeated at home.
Pick: Seahawks -10
At Green Bay -7 Detroit
This just isn't Detroit's year.
Pick: Packers -7
At New England -3.5 Houston
Game of the week right here. In primetime no less. Edge goes to the Pats.
Pick: Pats -3.5
Last Week: 8-8
Season 93-90-4
Last Season: 140-120-12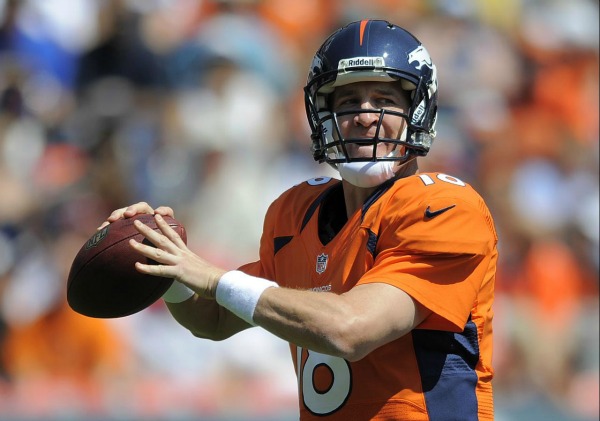 Denver -10 At Oakland
This game could get ugly real quick. Sure the Raiders have a historical knack for surprising the world and knocking off superior opponents at home, but with Peyton coming to down firing on all cylinders an upset is a near impossibility. The Raiders get DMC back, but the Broncos shut that guy down earlier this season. Manning completed 80 percent of his passes in the last matchup. Pick Denver with confidence.
Pick: Broncos -10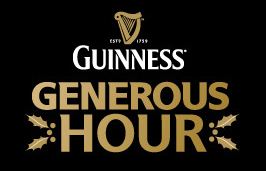 Guinness is a great holiday beer. There's just something about a frothy stout pint that fits well with the colder months. I'm a bit partial to Guinness Black Lager myself, but this holiday season, you have options. You can keep it simple with a traditional Draught, get in on some extra stout action, enjoy the light-flavored-darkness of the Black Lager or reach for the new holiday brew, Guinness Generous Ale.
Guinness Generous Ale is the first winter-themed beer from the Irish brewery that's been putting out great beers since 1759. The new Ale is brewed as a traditional winter ale and features a more medium brown color and a distinct roasty flavor, almost like a nutty coffee with caramel undertones. The hops flavor shines through, and the resulting bitterness isn't too invasive. It's good, folks.
In addition to rolling out the Generous Ale, Guinness is also launching a campaign designed to get people to give back this holiday season. The program is called Generous Hour. Basically, Guinness enthusiasts are being encouraged to do something generous with their time during the holidays. To participate, visit GuinnessGivesBack.com and make your pledge known. Here's mine: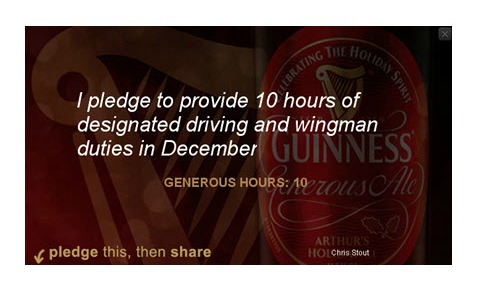 So you see, you don't have to go out and try and save the world. Just think about being generous in your own way. Go take the pledge and spread the generous cheer this holiday season!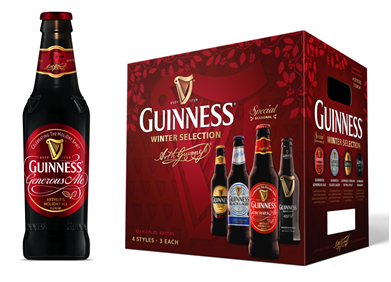 Big day today, MANjr fans. Today is our turn to make a move in the second annual Pass the Crown blogger gift battle! So it's decision time and we got till 4 PM Eastern to make the call. We swipe another gift from one of the 25 participating bloggers or do we open up our embroidered purple bag to see what's inside?
The gift that's on the table comes with a hint: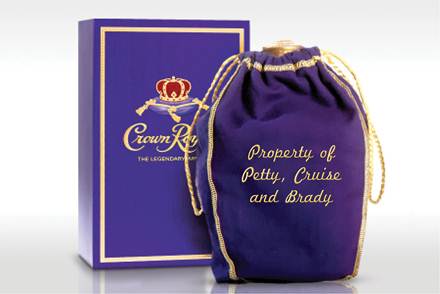 But what does it all mean? Is it NASCAR-related? We know how much fun it can be posting up at a NASCAR event with the good folks from Crown! Indy was a blast. But we also know how much fun a Crown Royal happy hours can be for everyone in attendance. Tough call!
And then you got stuff like iPad Minis, Kindle Fires, Samsung Digital Cameras, Sonos Play 3, and a bunch of other cool gear that we can pilfer from other people. Help us decide what to do! Drop us an email below with your thoughts or hit us up on Twitter @MANjr. Check #PassTheCrown to follow all the gift war action. And this year, whenever the hashtag #PassTheCrown appears on Twitter, Crwon Royal will send out a gift bag to a soldier. Click retweet and support the troops!
Oh, one last thing. Whatever we end up with, we'll be giving away the same gift to one lucky reader. So chime in if you want to sway our decision!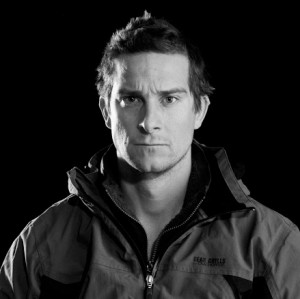 We love Bear Grylls. Dude was super cool to talk to and he seemed to be the same guy whether he was chatting with you off the air or talking straight to the camera. Guy's had an interesting life, and it looks like he's not slowing down any time soon.
Bear is working with NBC on a new reality TV competition series. Billed as "the ultimate outdoor adventure competition," the new series will feature teams of two competing in a remote wilderness location for the chance to win "a reward of a lifetime" and serious survivalist bragging rights.
Think you got what it takes to hang with Bear and go head to head with other people who love danger? Well good, cause NBC is casting doing an open casting call for the series over the next few weeks. To apply, visit www.nbcbearshow.com.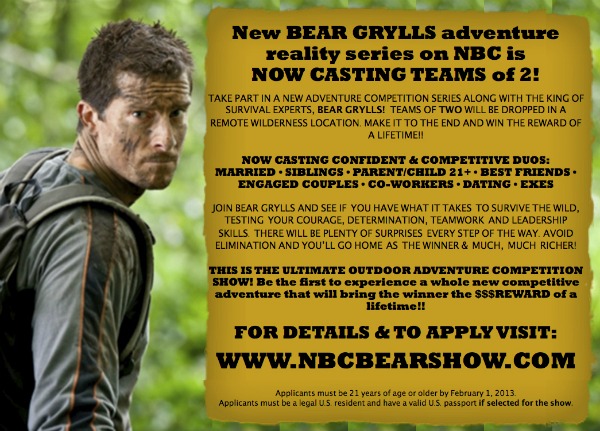 Here's the list of remaining casting calls available:
ATLANTA, GA
SATURDAY, DECEMBER 8, 2012 • 10 AM – 4 PM
THE GEORGIAN TERRACE HOTEL
659 Peachtree Street NE
Atlanta, GA 30308
Discounted self-parking validation will be available for $5
DETROIT, MI
SATURDAY, DECEMBER 8, 2012 • 10 AM – 4 PM
GARDNER-WHITE
4445 North Atlantic Blvd
Auburn Hills, MI 48326
DALLAS, TX
SUNDAY, DECEMBER 9, 2012 • 10 AM – 4 PM
GILLEY'S DALLAS
1135 South Lamar Street
Dallas, TX 75215
FAYETTEVILLE, AR
SATURDAY, DECEMBER 15, 2012 • 10 AM – 4 PM
FAYETTEVILLE ATHLETIC CLUB
2920 East Zion Road
Fayetteville, AR 72703
LOS ANGELES, CA
SATURDAY, DECEMBER 15, 2012 • 10 AM – 3 PM
THE BOYS & GIRLS CLUB OF VENICE
2232 Lincoln Blvd
Venice, CA 90291
NEW YORK CITY, NY
SATURDAY, JANUARY 12, 2013 • 10 AM – 4 PM
FLATOTEL
135 West 52nd Street
New York City, NY 10019
PHOENIX, AZ
SATURDAY, JANUARY 12, 2013 • 10 AM – 4 PM
SUPERSTITION SPRINGS CENTER
6555 E. Southern Ave
Mesa, AZ 85206
Get out there with your partner and go show Bear that you can survive!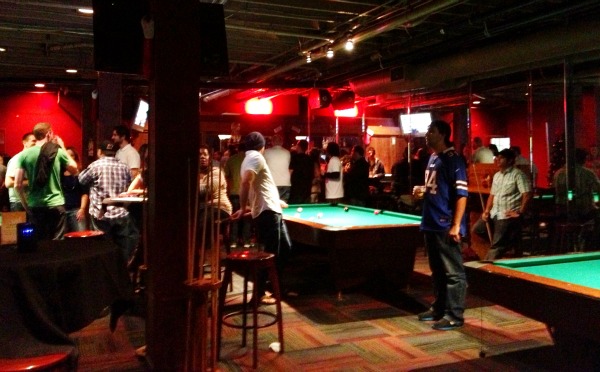 We've done a lot of cool stuff with Crown Royal in the past, and on Sunday we got to team up with Crown for a sweet happy hour event at Yankee Doodles in Santa Monica. The event was a way to bring folks together to sip some great Crown cocktails, grab some grub and enjoy a great set of afternoon football games.
Crown Royal provided us with a few beverage options for the Happy Hour. We were serving traditional Crown, Crown Royal Black and the newest addition to the Crown whisky line, Crown Royal Maple Finished. The Maple launched last month. It's finished by running whisky through maple toasted oak, which results in a subtle-sweet maple flavor that's not too dessert-driven and retains the quality Crown flavor you already know and love. If you want to try this stuff out, look for the copper and auburn label with the maple leaf background. Thanks Canada!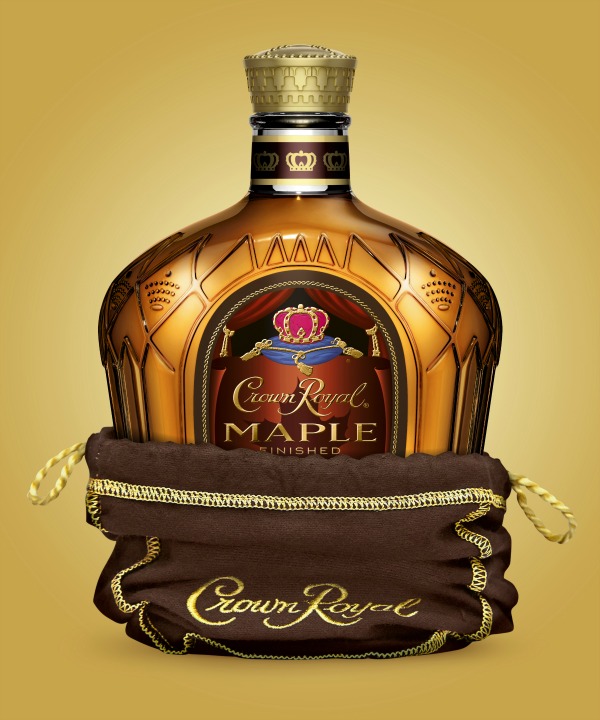 In addition to the Crown options, there was a full menu of signature cocktails available. There was the Crown Royal Press, a brisk mix of Crown Royal Deluxe Blended Whisky with dashes of bitters, squeezed lemon wedges and a splash of lemon-lime soda. The Crown Royal Black and Ginger was a big hit, a simple mix of Black and ginger ale topped with a lime slice. The King George was one of two cocktails that featured the new Maple. It was a combo of Crown Royal Maple Finished, lemon juice, pineapple juice and simple syrup. People seemed to enjoy the Manitoba as well, a combo of Maple with lemon juice, simple syrup and a topper of ginger beer.
So we had great drinking options, good people and great football! The Rams pulled out a surprise victory in overtime. The Colts had an exciting comeback. And, most importantly, the Steelers won. Thirty-seven-year old backup QB Charlie Batch had some awful looking throw early, but he did what he had to do to secure the victory. Good times!
Thanks to everyone who came out to enjoy the great atmosphere and tasty libations! Special thanks to Taylor and super-star weekend visitor Christina Kavanaugh for coordinating such a fun event.
Stay tuned for more Crown Royal updates, as MANjr will be on the clock soon for this year's Pass the Crown gift exchange game. Follow this cross-blogger gift battle on Twitter with the hashtag #PassTheCrown.