Chris Stout
Posts by Chris Stout
At Cincinnati -7.5 Oakland
Will Carson Palmer get his revenge? I think not. Raiders will get Reece going, but the Dalton outshines Palmer
Pick: Bengals -7.5
Pittsburgh -1 At Cleveland
The Steelers can win with Charlie Batch. I mean they were pretty damn close with Leftwich, who was all kinds of hurt in the second half of last week's game against Baltimore. The Browns got something special with Trent Richardson, who took the blame for last week's loss for failing to plow into the endzone and instead going over the top of the defense at the goal line, which was not successful. That's the kind of good stuff you like to hear from a first-year, featured piece of the franchise. But Richardson can't do it all by himself. The Steelers D has been stepping up of late, and with some combo of basic Batch, steady Mendenhall and battering Dwyer, the Steelers will take this one.
Pick: Steelers -1
At Indianapolis -2 Buffalo
Fred Jackson is back in the mix, giving the Bills a two-headed boost in the run game. The Colts are coming off a Patriot pounding, but they haven't lost at home since September. The Bills win streak stops at one game.
Pick: Colts -2
Denver -10.5 At Kansas City
It's a large spread yes, but the Chiefs are riding a seven game losing streak for a reason. Hillman steps in for the Broncos and Peyton continues march this team into the playoffs.
Pick: Broncos -10.5
Tennessee -3 At Jacksonville
Will Chad Henne keep it going and play himself back into a regular starting job? Will Chris Johnson continue his run of quality starts? I'm not really sure on either account. Both these are playing for pride at this point. The Jags are done already, but the Titans could squeak their way into playoff contention if they get hot. With more to play for, edge goes to the Titans.
Pick: Titans -3
At Chicago -6.5 Minnesota
With Cutler expected to start and Percy Harvin expected to sit, it's safe to trust the Bears again.
Pick: Bears -6.5
Atlanta -1 At Tampa Bay
Even though the Bucs have put together an impressive stretch of games, and despite the fact that I don't get overly impressed by the championship-hopes of the 9-1 Falcons, I still think Atlanta will pull away in this matchup.
Pick: Falcons -1
Seattle -3 At Miami
The Seahawks need to figure out a way to win on the road consistently. Golden Tate has been doing good things for Seattle, accounting for four TDs in the last two games. Miami has been shooting itself in the foot and that offense just hasn't been clicking for some time now. Go with Seattle.
Pick: Seattle -3
Baltimore -1 At San Diego
The Ravens are a different team on the road. The Chargers have shown a bit of spark lately. I think the Ravens get edged out in San Diego.
Pick: Chargers +1
San Francisco -2.5 At New Orleans
It's hard to think back to the 0-4 Saints. They've won five of their last six, and even though the 49ers have gotten better after the QB switch, I like the Saints at home.
Pick: Saints +1.5
At Arizona -1 St. Louis
Both teams are in a bit of a tailspin, but the Rams will make a mess of things for Ryan Lindley.
Pick: Rams +1
At NY Giants -3 Green Bay
The Giants have lost two straight. They're lock on the NFC East is looking a bit vulnerable at this point. In this battle of the last two Super Bowl champs, I like the winners of Super Bowl XLV.
Pick: Packers +3
Carolina -3 At Philadelphia
Steve Smith called this the battle of the bads, a pretty apt description. Who's worse? Hard to say. You want to believe the Eagles can stop the bleeding and not go out like this, but it's the end of the line for the season and for the Reid regime. Everyone knows it, and it's hard to stay motivated when a big house cleaning is right around the corner.
Pick: Panthers -3
Last Week: 6-8
Season 79-74-2
Last Season: 140-120-12


Houston -3 At Detroit
The Texans can win in so many ways. They can pound the rock and eat the clock. They can let Chad Henne throw for four TDs and respond with 527 passing yards from Matt Schaub. This team is going to make all kinds of noise in the playoffs. Lions are at home, yes, but the Texans are going to close the season strong and lock up a cushy playoff spot.
Pick: Texans -3
At Dallas -3 Washington
The NFC East is wide open, with the Cowboys and Redskins gaining ground on the recently slumping Giants. There's something about the Cowboys on Thanksgiving, though. I don't think the Skins are going to go into Dallas and dominate. They keep it close, but the Cowboys edge 'em out.
Pick: Cowboys -3
New England -7 At NY Jets
Like the Texans, the Pats are riding a four game winning streak. Like the Texans, the Pats are going to lock up their division sooner rather than later. The Jets impressed with a big win last week, but they're likely just playing for pride at this point. They're not going to get blown out or anything, but this game is going to the Pats.
Pick: Pats -7
Last Week: 6-8
Season 79-74-2
Last Season: 140-120-12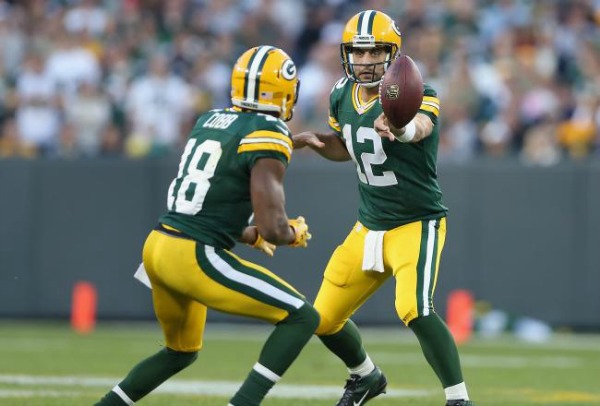 At Buffalo -2.5 Miami
The Bills stood tall against the Pats last week, but they still got the loss. The Fins offense has disappeared of late. Bills take this one at home.
Pick: Bills -2.5
At Washington -3.5 Philadelphia
I'm not sold on Foles, but the Redskins D gives him a chance. If he wins, he's the future. If he loses, it's back to the drawing board. It's lights out in Philly after the season, but I bet they win this one.
Pick: Eagles +3.5
Green Bay -3.5 At Detroit
The Lions start slow and usually finish strong. That's not going to work this week. Packers win convincingly.
Pick: Packers -3.5
At Atlanta -10 Arizona
The Cards are a mess. They've lost five games in a row. With or without Julio Jones, number six is on tap.
Pick: Falcons -10
Tampa Bay -1.5 At Carolina
The Bucs are making noise. They're above .500 and running the ball with authority. The Panthers are a two win team that just can't seem to dial up the ground game when they need it. Should be a seesaw battle, but edge goes to Tampa Bay.
Pick: Bucs -1.5
At Dallas -8 Cleveland
I've been trying to will the Browns into achieving more, but they refuse. Weeden;s just turned the ball over too much. Boys win at home.
Pick: Cowboys -8
At St. Louis -3.5 NY Jets
I'm not sold on Bradford. Dude looked scared last week. The Jets are a dysfunctional mess, though, and they're going against their former o-coordinator who's got to have a pulse on all of their weaknesses.
Pick: Rams -3.5
At New England -9 Indianapolis
The Colts aren't going to go down lightly. I expect the Pats to win, but not by two scores.
Pick: Colts -9
At Houston -15.5 Jacksonville
The spread couldn't be high enough,
Pick: Texans -15.5
Cincinnati -3.5 At Kansas City
Arrowhead isn't an easy spot to visit, but the Bengals are coming off a big win, and I think Brady Quinn will give that defense plenty of chances to make plays.
Pick: Bengals -3.5
New Orleans -5 At Oakland
The Raiders are missing their best player. The Saints can light it up and get to .500.
Pick: Saints -5
At Denver -8 San Diego
There's something wrong in San Diego. Norv's about to lose it, Ryan Mathews has a pain in his neck and big free agent acquisition Robert Meachem is riding the pine. Meanwhile, Peyton's making John Elway look like a genius.
Pick: Broncos -8
Baltimore -3.5 At Pittsburgh
I really want to believe in the Mendenhall-ready, Ben-less Steelers, but it's just too hard. Baltimore's D is suspect against the run, but Byron Leftwich is just suspect all round. With no Troy, no Ben and no Antonio, the Steelers might have to wait a couple weeks to get their win against the Ravens. That said, I'm a shameless Steelers fan and I gotta go with my boys.
Pick: Steelers +3.5
At San Francisco -4.5 Chicago
Alex Smith and Jay Cutler both got knocked on the noggin. Cutler's not expected to play. Smith is expected to start. I'd like Chicago a lot better without Jason Campbell under center. He's good for a couple of turnovers.
Pick: 49ers -4.5
Last Week: 8-6
Season 73-68-2
Last Season: 140-120-12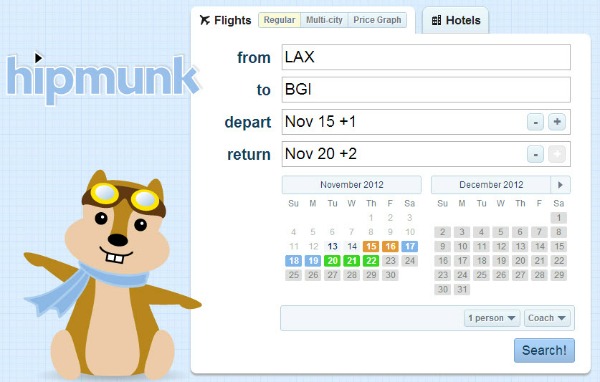 If you've got vacation days stored away, we're about to enter the annual sweet spot for taking time off work. It's about time you cashed in those vacay days, man. It doesn't have to be an epic trip that breaks the bank. Just figure out a game plan and move on it. Whether you're meeting family or friends or just trying to experience something solo, spending on travel is never a bad investment. You deserve the joy that comes with experiencing something new and different.
The new and improved Hipmunk site can help you plan your trip without wasting valuable time and energy. Hipmunk has a simple philosophy and travel planning. Everyone wants to find good value when booking a flight or a hotel, but cost isn't the only consideration. Is it really worth 150 bucks for you to book a flight with two additional stops and a 10 hour layover? Probably not. You want to save money when you travel, but you have to balance cost with pain, travel convenience and a host of other factors.
This is what makes Hipmunk so cool. The site pitches itself as a better flight search and hotel booking engine, and really, it is. If you visit a big aggregator site like Expedia, Travelocity or even Kayak, you are bombarded with information about every single flight available to you. Sure, you can sort by price, duration of travel, non-stop vs. multi-stops, etc. But more often than not, there's just way too much information to sift through. Hipmunk has some unique features that help you get past the information overload, so you can find a flight plan sweet spot that's specific to your needs.
A couple weeks back, I started planning a trip to Barbados using Hipmunk. You begin the process by entering in your destinations and desired days of travel. It's easy to add a plus or minus range to your dates. Next, you take a look at the results. They're presented kind of like Gantt chart, with price on the right, duration of flights in the middle and expandable results to the left. Take a look: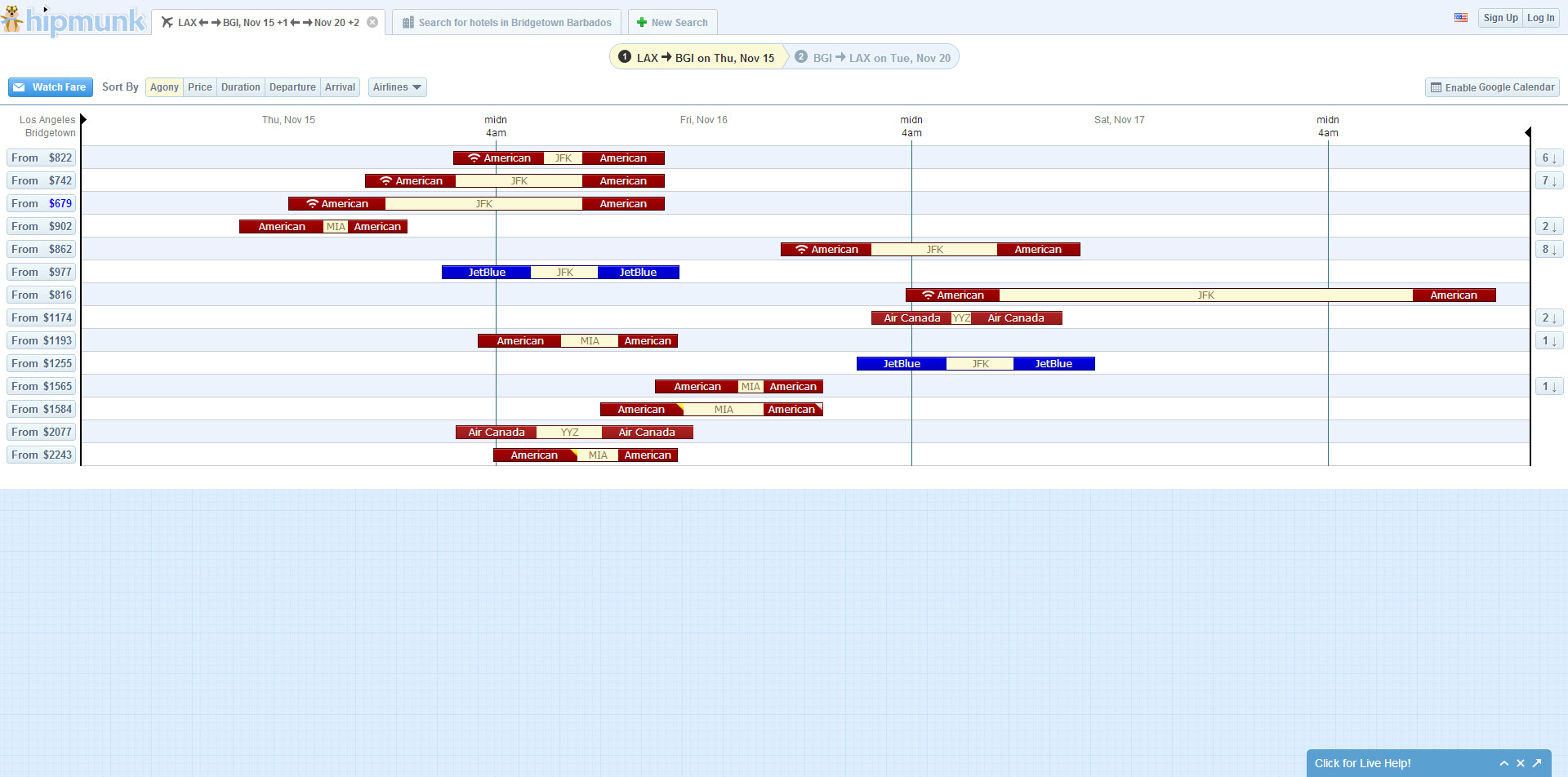 So instead of looking flights up by price or duration, you get a quick, highly focused view of your options sorted by overall pain (price/duration). If you want to view more results that are similar to a particular flight, click on the left to reveal more options. You can hover over specific flights to get more details and you can easily select the right combo of price and time costs.
I found a flight from LAX to Barbados via New York that was affordable, included minimal layover time (just over two hours each leg) and featured the all-important flight option: Wi-Fi. I clicked on the link and booked directly through the airline site.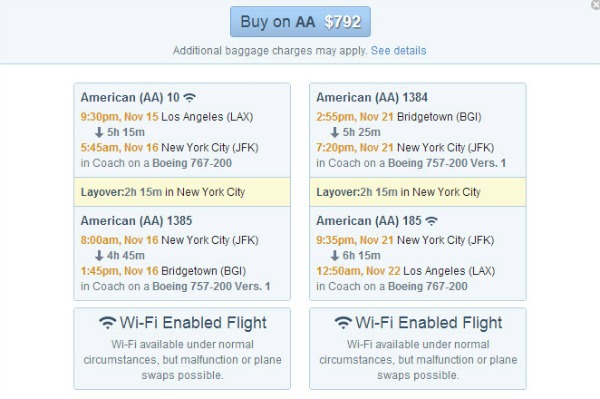 Once you've selected a flight, it's time to start checking out hotels. Hipmunk just revamped their hotel search this week. You can view local hotel options that cater to your specific travel interests. Variables include property type, chains, amenities and neighborhood features like family, LGBT, romance, business and adventure. The results are provided by Trip Advisor, so you can dive into user reviews of each hotel pretty quickly. You can also sort the results by price, reviews or "ecstasy."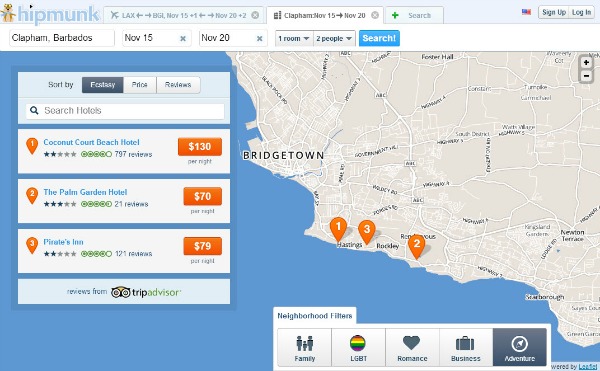 It's a really efficient way to cut through all the nonsense. You get a sense of a locale before you visit, and you can find accommodations that'll fit your specific agenda.
So I used Hipmunk to book my Barbados trip, and I even checked with a travel agent buddy to see if he could get a better price. The Himpmunk price turned out to be cheaper. This whole process seriously cut down on the shopping around time, and you can sign up for email alerts that will let you know when any price changes to your flight take effect. If you're still planning a trip by pouring through endless flight search results or hundreds of hotel reviews, try this site out. It'll save you some time and money during the coming travel-heavy holiday season.

At New England -13 Buffalo
No Hernandez, but the Pats should handle the Bills. Fitzpatrick is on borrowed time as a starting QB in the NFL.
Pick: Pats-13
NY Giants -4 At Cincinnati
The G-Men can look vulnerable at times, but they should be able to close out the Bengals. Look for New York's offense to look both sluggish and effective throughout the course of the game.
Pick: Giants -4
At Tampa Bay -3 San Diego
This Doug Martin guy can play. San Diego will keep it close, but I like the Bucs to continue their newfound winning ways.
Pick: Bucs -3
Denver -4 At Carolina
The Panthers got their first win in weeks, but they're hosting their former coach who's bringing in a far superior team. John Fox gets the last laugh.
Pick: Broncos -4
At Miami -6 Tennessee
Will the return of Jake Locker give the Titans a boost on the road? I think not. The Dolphins can stop the run, force turnovers and they should cover at home.
Pick: Dolphins -6
At Baltimore -7.5 Oakland
Oakland's banged up backfield can't take advantage of this decrepit D. Baltimore continues to look better than they really are.
Pick: Ravens -7.5
Atlanta -2.5 At New Orleans
You got to like the Saints at home. With a newly discovered respect for running backs, this Joe Vitt led Saints team feels more potent. Too bad they can't stop anyone on D. Still like them to edge out Atlanta in a shoot out. Saints spoil the fun.
Pick: Saints +2.5
Detroit -2.5 At Minnesota
No Percy cripples an already pass-challenged offense. Lions offense gets it going even with Calvin Johnson not in top healthy form.
Pick: Lions -2.5
At Seattle -6 NY Jets
Grinder of a game. Edge goes to the home team.
Pick: Seattle -6
Dallas -2 At Philadelphia
Philly's downward spiral continues.
Pick: Cowboys -2
At San Francisco -12.5 St. Louis
In another week of big spreads, the heavy favorites keep on covering.
Pick: Niners -12.5
At Chicago -1.5 Houston
This game should be fun to watch. Tough conditions, tough defenses, you got to love it.
Pick: Texans +1.5
At Pittsburgh -12.5 Kansas City
The Steelers need to ride the hot hand in the backfield. Dwyer and Redman are both capable, but both backs perform better under featured circumstances. They just need to get in the rhythm of the game. Emmanuel Sanders is going to step right in and make plays. The spread's pretty steep, but you have to like Pittsburgh here.
Pick: Steelers -12.5
Last Week: 11-3
Season 65-62-2
Last Season: 140-120-12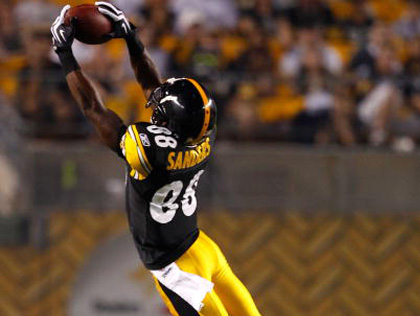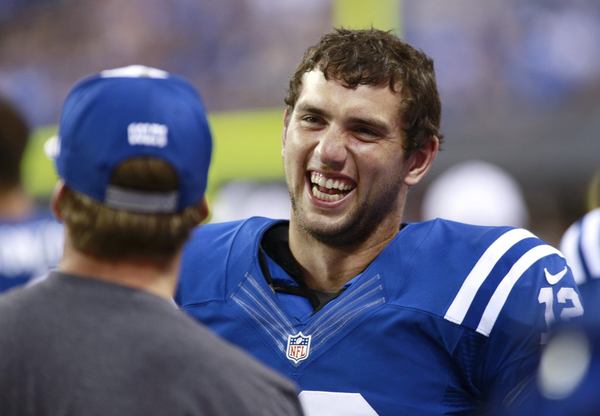 Indianapolis -3.5 At Jacksonville
Luck went off last week and he's going up against a one-win team that ranks 25th in the league against the pass. Jacksonville's only win this year came against the Colts in Week 3. The Colts are 4-1 since that game, and there a few hours away from being 6-3 on the season and right in the AFC playoff mix.
Pick: Colts -3.5

More great stuff from Justin Halpern at Grantland: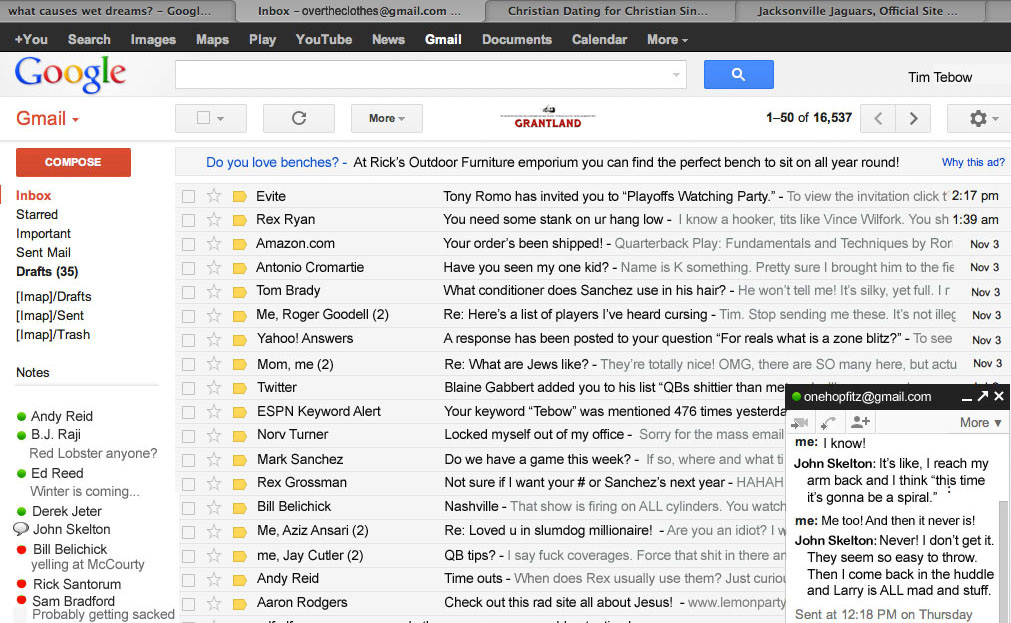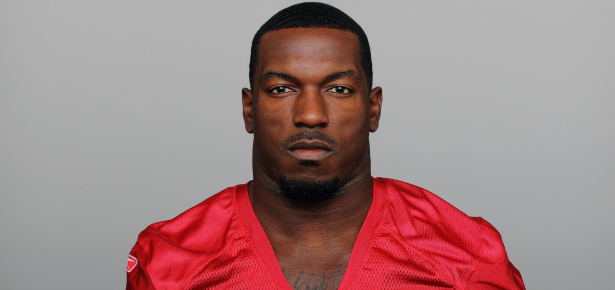 Last week I had a quick chat with 49ers All-Pro linebacker Patrick Willis, a beast of a guy with the most intimidating neck you will ever see. Willis has been a tackling machine ever since he has drafted out of Ole Miss in 2007. The guy's never missed the Pro Bowl. In any conversation about the best linebacker in the NFL, Willis tops the list. Dude's just a monster.
He also had a really tough upbringing. The guy grew up in extreme poverty, supported his younger siblings and had to leave home because of an abusive father. But he always believed in himself and his abilities. And he's promoting that sense of self-will with a new Duracell campaign.
The Duracell Trust Your Power campaign encourages people to trust the power they have within to achieve their dreams. When fans tweet #TrustYourPower or comment on the Trust Your Power YouTube video (below), Duracell will make a $1 commitment to provide disadvantaged youth scholarships to ProCamps, an organization that runs sport camps for kids ages 7-14.
We talked to Willis about his head coach, the hardest guys to tackle in the NFL, how long he plans on playing and what advice he has for kids going through tough times. Here's the interview:
Patrick Willis Interview
CS: Coach Jim Harbaugh – I get the feeling that guy still wants to suit up and play.
PW: Oh yea.
CS: Can he still fling it?
PW: You know what, he can. He gets out there every day before practice and throws some passes with the guys and whatnot. He's out there running around and sometimes he even does some of the drills. One time he tried to do a special teams drill and coach slipped and fell completely on his backside. There's no doubt in my mind that if he could suit up today, he would.
CS: So he can be used as an emergency QB?
PW: Yea, I think so. He wouldn't be able to move that much. He'd probably just sit in the pocket.
CS: (laughs) Who do you think is the toughest player to tackle in the NFL?
PW: Toughest player… I don't know.  I've played against a few of 'em. Adrian Peterson and Marshawn Lynch. Those two guys, from the running back position, those are two tough guys to bring down. There's more, but those two guys really stand out.
CS: Do you plan on playing as long as Ray Lewis?
PW: I'm going to play as long as my body allows me to. As long as my mind and body tell me I can still do it and my production level is still good, then I'm going to play.
CS: You had kind of a rough upbringing. What words of encouragement do you have for kids who find themselves in similar tough circumstances?
PW: Really, you got to look at this campaign – Trust Your Power. Only you know what you're capable of. Only you know what you can give. At the end of the day, you know inside that you have all the power in the world and trust it and go after what you want to go after. Don't let anyone else tell you otherwise.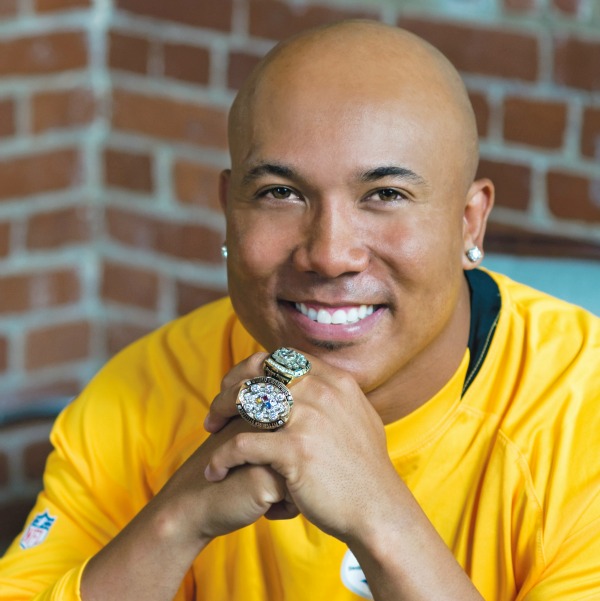 Former Steelers wide receiver Hines Ward was a vicious blocker who made big plays in the passing game when it counted most. Taken in the third round of the 1998 NFL Draft, the former Georgia standout played 14 years with the Pittsburgh Steelers and hauled in 1,000 receptions for 12,083 yards and 85 touchdowns. He owns the Steelers career receiving records for all three of those categories. He was a four-time Pro Bowler, a two-time Super Bowl champion and Super Bowl XL MVP. He also won Dancing With the Stars, appeared in the last Batman film and played a zombie in last night's episode of The Walking Dead.
So the guy's accomplished some things. And he's done it all with a big smile.
Well now Hines has his sights set on another challenge, a 140.6-mile swim, bike and running challenge to be exact. That's right, Hines Ward is teaming up with REFUEL | 'got chocolate milk?' in his quest to conquer the 2013 IRONMAN World Championship. But he's not doing this IRONMAN thing solo. He's taking two weekend triathlete warriors with him.
Hines will train over the next year to compete in the IRONMAN World Championship Kona-Kailua, Hawaii on October 12, 2013. Two everyday athletes will join him in a program called BECOME ONE. Their journey with Hines will be filmed as part of an online documentary that will air next year.
Think you got what it takes to compete with Hines? Visit www.gotchocolatemilk.com to learn more about the BECOME ONE program and how chocolate milk can help you recover from workouts.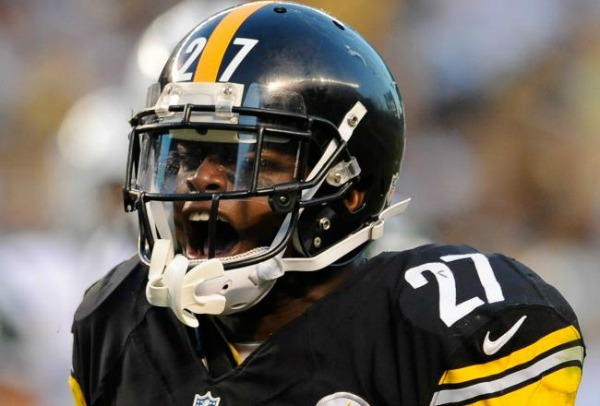 At San Diego -7.5 Kansas City
Norv Turner keeps his job for at least one more week. The Chargers benefit from hosting a team that's a bigger mess than they are.
Pick: Chargers -7.5
Denver -3.5 At Cincinnati
Peyton keeps rolling along as Denver's D puts the clamps down on Dalton.
Pick: Broncos -3.5
At Green Bay- 11 Arizona
After winning four games in a row, Arizona has lost five straight. The bleeding won't stop this week. The Packers are a bit challenged when it comes to covering the spread, but they seem to have an easier time achieving this at home.
Pick: Packers -11
Miami -2.5 At Indianapolis
I kicked myself for not picking the Fins last week. This team is just a tough squad to close out. The Colts pulled out a win in overtime last week, and they do enjoy playing at home (3-1 at home, 1-2 on the road).  After watching Hard Knocks, who woulda thought that Miami would be a winning team going into the second half of the season.
Pick: Dolphins -2.5
Baltimore -3.5 At Cleveland
Call me crazy, but I think the Browns can do it. The Ravens are coming off a bey and they're all well rested and everything, but their defense looked terrible before the bye. The Browns can run on these guys.
Pick: Browns +3.5
At Houston -10 Buffalo
The Bills have been blown out by teams that aren't as dangerous as the Texans. This one could get ugly.
Pick: Texans -10
At Washington -3 Carolina
Carolina lost a heartbreaker last week. They totally had that game. The Skins really need this game if they want to get out of the NFC East basement. With both teams desperate for a win, I see a back and forth battle here. Both teams can run, but RG3 > Cam.
Pick: Skins -3
Detroit -4 At Jacksonville
The Jags aren't going to go down easy, but the Lions have rediscovered their swagger.
Pick: Lions -4
Chicago -3.5 At Tennessee
This Bears team is frustrating. They can hang with tough teams and then they look vulnerable against teams they should beat. This Chris Johnson fun stops this week and the Bears come in and knock the Titans around.
Pick: Bears -3.5
At Seattle -5 Minnesota
The shine has faded from Christian Ponder and the Seahawks are undefeated at home. They can run and stop the run. A big day from Percy won't be enough to overcome all that. I'd feel more confident if the spread was lower, but you gotta like Seattle here.
Pick: Seahawks -5
At Oakland -1.5 Tampa Bay
Freeman has stepped up his game and Doug Martin is in full-on breakout mode. Palmer likes finding Moore in the endzone, but there's too many holes to cover in Oakland. Bucs are cleaning house and buying in.
Pick: Bucs +1.5
At NY Giants -3 Pittsburgh
If Dwyer plays, the Steelers will pound the rock, dink and dunk, control the clock, keep Eli on the sidelines and squeak out a win in a tight game.
Pick: Steelers +3
At Atlanta -4 Dallas
The Falcons are good. The Spread should be at least 7.
Pick: Falcons -4
At New Orleans-3 Philadelphia
You get the feeling that things are going to get blown up in Philly. The Saints can't do anything on defense, but there's just something about that offense in the dome that you just can't bet against.
Pick: Saints -3
Last Week: 6-6
Season 54-59-2
Last Season: 140-120-12