Chris Stout
Posts by Chris Stout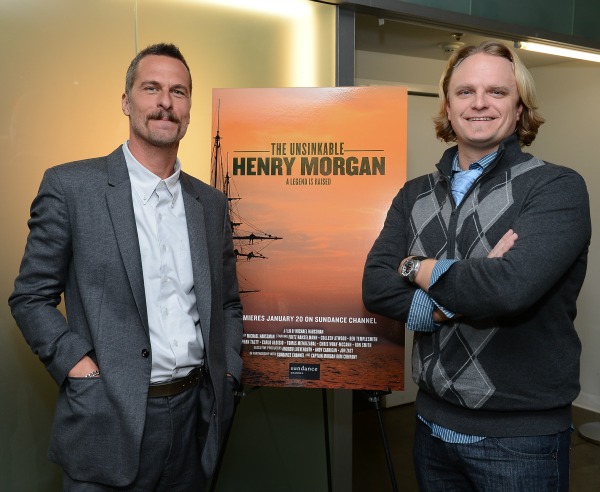 This past Tuesday I attended a screening of The Unsinkable Henry Morgan, a 30 minute documentary that will air on the Sundance Channel this Sunday night. The film will also be showcased at Sundance over the weekend.
The documentary follows underwater archeologist Fritz Hanselmann and a team of specialists who conducted an archeological expedition in Panama with the hopes of finding five ships that Morgan lost in 1671 by the Lajas Reef. Among the ships lost was Morgan's flagship, The Satisfaction.
The documentary covers the crew's work that was conducted this past summer, but the story really starts back in 2010, when Hanselmann discovered six iron cannons belonging to Sir Henry Morgan himself. After receiving funding from the Captain Morgan rum brand, Hanselmann has been able to go back to Panama each summer to try and uncover more historical goodies found in the lost wreckage of a ship that dates back to the same era.
Directed by Michael Haussman, the documentary is put together really well. The film provides a good bit of history into this Captain Morgan's pirating ways, British challenges to the Spanish Main and Morgan's impact on the history of Panama. You get into the characters as the try to rebuild/revisit the world of Captain Henry Morgan. And Fritz Hanselmann is just a badass.
Here's the trailer:
So basically its 30 minutes well spent. After you're done watching football this weekend, make sure to queue it up on your DVR. Oh, and the film is best viewed with a Captain Morgan cocktail in your hand (trust me). Here's some Captain cocktail inspiration from the screening: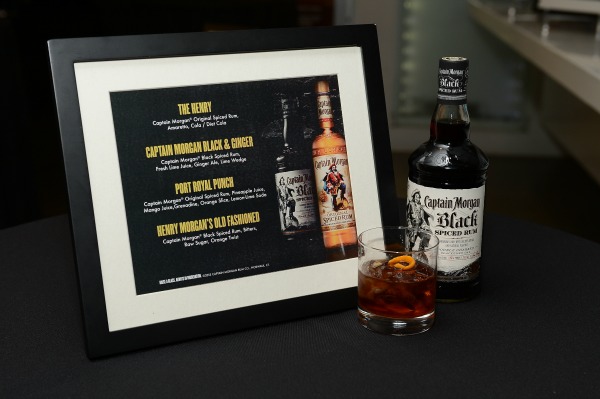 At Denver -9 Baltimore
Manning steamrolls at home.
Pick: Broncos -9
At San Francisco -3 Green Bay
Green Bay gets revenge.
Pick: Packers +3
At Atlanta -2.5 Seattle
Seattle confirms Atlanta's playoff weakness.
Pick: Seahawks +2.5
At New England -9.5 Houston
Brady makes sure the Texans play from behind.
Pick: Pats -9.5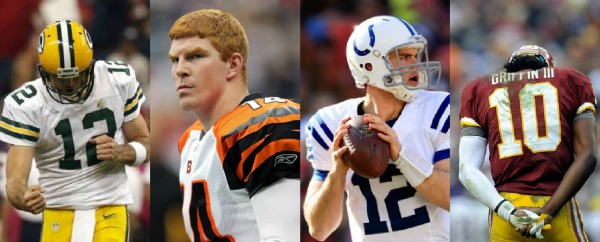 At Houston -4.5 Cincinnati
It's strange to think that Andy Dalton has more playoff experience than Matt Schaub, but it's true. Schaub's set to make his first postseason start, and his team has dropped three of the last four games. The Bengals, on the other hand, are coming in pretty hot. I think both of these teams are not likely to make a deep run, but I like the Bengals to come in to Houston and put up a damn good fight.
Pick: Bengals +4.5
At Green Bay -7.5 Minnesota
I want to believe that the Minnesota magic will continue, but I think it stops here. The Packers are healthy, humbled and ready to put a stop to all this Vikings madness. Everyone knows AP's carrying the load, but I think this time, it won't be enough.
Pick: Packers -7.5
At Baltimore -7 Indianapolis
I'm a big fan of momentum going into the playoffs. Teams can't just turn it on at will. You gotta be riding on something positive to sustain success in the postseason. The Ravens have lost four of their last five games. The Colts have won nine of their eleven games. The links between these two franchises run deep, but the momentum is all on Indy's side.
Pick: Colts +7
Seattle -3 At Washington
Two sensational rookie QBs duke it out for the chance to advance. If this game was in Seattle, the Seahawks would be favored by multiple scores. It'd be an easy call. But the Skins get home field advantage, and they're gonna need it. The Seahawks are riding a five-game win streak and that includes a three week stretch where they absolutely crushed people, beating the Cardinals, Bills and Niners by a combined 150-30. One thing to consider though, is the only quality opponent that Seattle has beaten on the road is the Bears. And that was in overtime. Seattle's road victories include wins at Arizona, Carolina, Buffalo and Chicago. This is easily the toughest road challenge they've had all season. If Seattle can get over this hurdle, they'll make some noise. I think the Skins, winners of seven straight, can feed off the home crowd and stay in it.
Pick: Skins +3
Last Week: 10-6
Season 132-114-5
Last Season: 140-120-12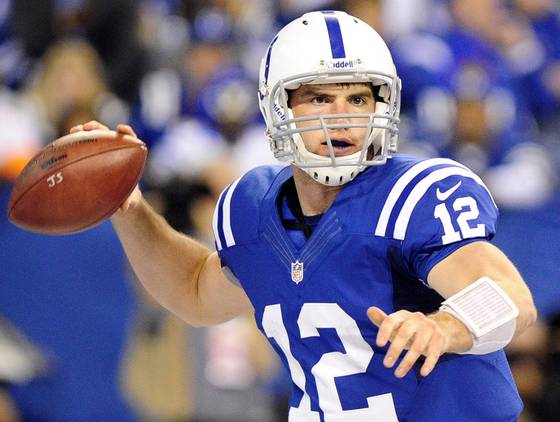 It's the last week of the regular season, folks. It's been an interesting year. Young QBs have injected hope in sad, sorry franchises. The playoff-bound teams of the AFC look similar to the group that went last year, with the Colts being the only new addition. There's been considerably more turnover in the NFC, with the final slot still TBD.
Fantasy football is over, but there's still time to make a few more bets or look to bet on the Super Bowl online. On to the picks.
At Buffalo -3.5 NY Jets
Sanchez gets the call and no one can be happy about that. On the flipside, Ryan Fitzpatrick is fielding questions on whether this will be his final NFL start. Both QBs could be destined for clipboard duty soon.
Pick: Bills -3.5
At New England -10 Miami
The Pats put forth a sorry effort last week. Look for them to end the year with a convincing W.
Pick: Pats -10
At Cincinnati -2.5 Baltimore
This game changes nothing about the AFC Playoff picture. I think the crowd in Cincy will fire the Bengals to victory.
Pick: Bengals -2.5
At Pittsburgh -10 Cleveland
Everyone who can make plays for the Browns will not be making plays on Sunday. Thad Lewis gets the nod under center, with Brandon Weeden and Colt McCoy out. Trent Richardson is sitting too. This is a meaningless game for both teams, but you'd think the Steelers would show some pride and close out the season at home against what amounts to a second-string team.
Pick: Steelers -10
Houston-6.5 At Indianapolis
This game means more to Houston than it does to Indy, but I don't think that's going to dictate how things will unfold. The Texans have never won in Indy, and they'll be up against a raucous crowd, a playoff-like atmosphere and the return of Chuck Pagano. I like the Colts to ride into the playoffs with some inertia.
Pick: Colts +6.5
At Tennessee -4 Jacksonville
The Titans are coming off a serious drubbing. The Jags are a two win team riding a four game losing streak. There doesn't seem to be anything compelling here, but I think the home team with the better record gets the benefit of the doubt.
Pick: Titans -4
At NY Giants -7.5 Philadelphia
The Giants need all kinds of help to get to the postseason. It all starts with a win against Michael Vick, who's basically treating this game like a job interview. New York needs a win plus a Dallas loss or tie, plus a Chicago loss and a Minnesota loss to get in the tourney. It doesn't look good. Still, I think the G-men show up for the first time in weeks.
Pick: Giants -6.5
At Washington -3 Dallas
A win for Dallas clinches the NFC East. Same thing is true for the Skins. This is really a playoff game for both teams. The Skins can still sneak if they lose, provided that the Bears and Vikings both lose as well, but this is a win and in situation. As awesome as Romo and Dez Bryant has been these past few weeks, I like the Skins' chances better. RGIII is healthier and ready to will this team to the postseason.
Pick: Skins -3
Chicago - 3 At Detroit
The Lions can spoil things for the floundering Bears. The Bears need a win and a Vikings loss to get through. It all starts in the Motor City though. The Lions are going to come out chucking the football, trying to get Megatron over the 2,000 yard mark. The Bears haven't exactly been lighting up scoreboards these past few weeks. I say they finally get it together and put up some points.
Pick: Bears -3
Green Bay -3 At Minnesota
It's hard not to love the Vikings. They've been on such a roll of upsets. And I know the Packers are already locked in to the playoffs, but I still think they're a much better team. Still, there's something about the Vikings at home. They're 6-1 at home this season and oone more win gets them in.
Pick: Vikings +3
At Atlanta -3 Tampa Bay
The Bucs have lost five in a row and Atlanta's not resting any starters.
Pick: Falcons -3
At New Orleans -5 Carolina
Up and down year ends on a high note for the Saints.
Pick: Saints -5
At Denver-16 Kansas City
The Chiefs are the lowest scoring team in the NFL. The Broncos are second only to the Pats in the points department. The Broncos are locked in to their playoff slot, but Peyton Manning knows all too well what happens when you let up off the gas to close out the regular season. Broncos roll.
Pick: Broncos -16
At San Diego -8 Oakland
This one's for Norv!
Pick: Chargers -8
At San Francisco -16.5 Arizona
Brian Hoyer makes his first NFL start. It could be his last. Aldon Smith has 19.5 sacks on the year. He's within striking distance of Michael Strahan's sham sack record and you know he's going to be gunning for Hoyer all day. Six players from San Francisco's defense are heading to the Pro Bowl. Six! Arizona's looking at a painful end to a painful season.
Pick: 49ers -16.5
At Seattle -10.5 St. Louis
The Seahawks look like the team most likely to do damage in the playoffs. At home, they're lights out. Look for them to go 8-0 on the year in Seattle.
Pick: Seahawks -10.5
Last Week: 11-5
Season 122-108-5
Last Season: 140-120-12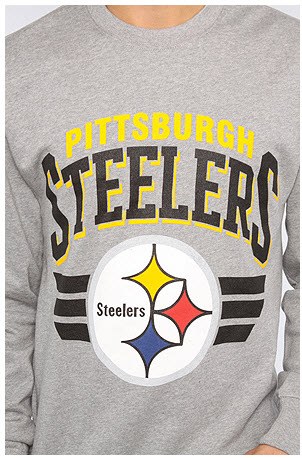 The NFL playoffs are right around the corner, and it's not too late to show your team spirit with a bit of an old-school flavor. Karmaloop's Mitchell & Ness Nostalgia Co. collection offers some pretty sweet throwback gear for teams from the NFL and other major sports.
Sure, Mr. Purist, it would be nice to get your hands on the real, authentic, old-school deal, but you know it's just way too hard to track down your favorite team's throwback stuff at a thrift store, flea market or other vintage purchasing spot. Plus, if you do find old-school gear for your team, it may not be in the best shape. And it may not be as comfy as the new-school throwbacks that are currently available from Mitchell and Ness.
We were sent an extra cozy Steelers sweater, and I got to say with LA temperatures hitting an all-time low of 55 to 60 degrees, I've been sporting this thing on the regular. It's super-soft, pretty durable, and it's something you can wear on the couch, in the bar, out and about, you name it.
So if you want to support your team going into the playoffs (or if you're a Jets fan and you just want to show your rebellious pride/hope for next season), I suggest checking out the collection of old-school gear (hats, jackets, sweaters, jerseys) available from Mitchell & Ness Nostalgia Co. Stuff isn't cheap, but you do get what you pay for: unique, high quality, throwback team support apparel that's totally worth the price.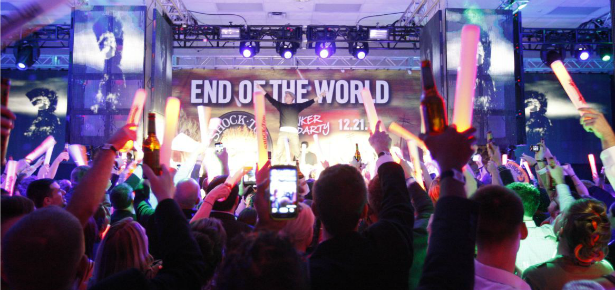 Zombies, hot pin-up girls, Rev Run, a full military evacuation, off-roading, zip lines and ATVs, spa treatments, freshly fallen snow, southern luxury, a decommissioned government bunker and one really posh hotel built in the mid-nineteenth century. If the world was supposed to end, this is where you'd want to be.
December 21, 2012 came and went, and we're all still alive. But if for some reason the world had come to a close, the MANjr team and 400 other party goers would have been save and sound. That's all thanks to Shock Top and the End of the World Bunker Party that the beer brand hosted at The Greenbriar in West Virginia.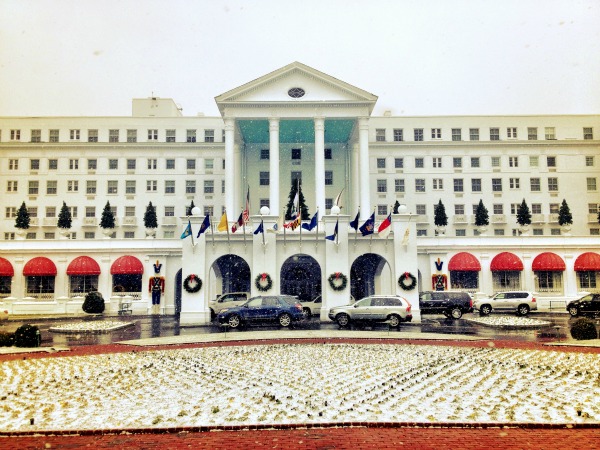 The winners came from far and wide. Some people won a trip to the party from Facebook. Others gained entry through giveaways and sweepstakes held at bars, on the web and on the radio. However they got there, the people assembled were ready to party like there was no tomorrow.
The whole event was a study in clever brand marketing, high-level logistics and epic execution. Designated survivors were notified weeks in advance of the party and were sent top secret materials about the weekend's events and festivities. We were given the option to choose from a variety of "end of the world" training events. This included a 5K Zombie run, off-road driving training, a zip line and ATV adventure, a trip on a biplane (which was cancelled due to the weather conditions), polar plunge, bungee jumping or the chance to do nothing and get pampered at the spa and hit the casino.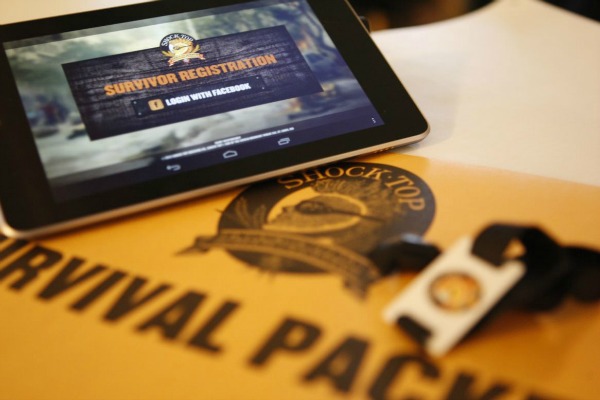 Although we didn't get to participate in these training events, by all accounts each activity option was pretty awesome. With the amount of unfiltered beer I consumed the previous night, I don't think I would've survived the zombie run. But that's just me.
After the activities were completed, it was time to rest up for the final, epic last meal. This was really a treat. The multi-course meal was set in a large banquet hall.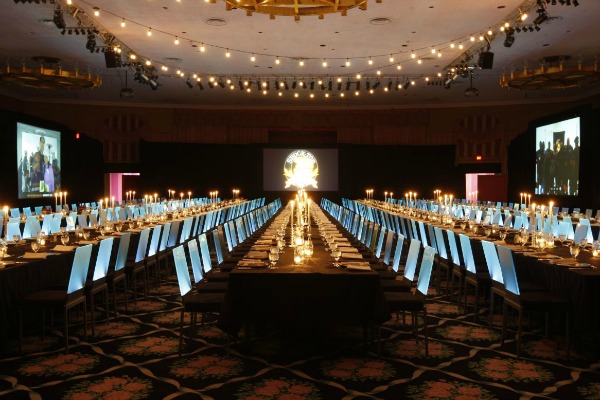 Here's the breakdown of the courses:
First Course (Most Important Meal of the Day)
Sugar Glazed and Fresh Cut Fruit Topped Donut
Melting Chocolate Chip Made From Scratch Pancakes
Thick Cut Applewood Smoked Bacon
Scrambled Farm Fresh Eggs
Suggested Pairing: Shock Top Raspberry Wheat
Second Course (Living off the Land)
Deep Fried Seasoned Country Chicken
Memphis Style Cole Slaw
Sothern Baked Macaorni and Cheese
Suggested Pairing: Shock Top Belgian White
Third Course (Break Bread Together)
USDA Prime Cut Strip Steak
Hot Fresh Baked Rolls and Light Churned Butter
Country Mashed Soft Fluffy Potatoes
Select Mixed Green Salad with a Light Vinaigrette
Fourth Course (End of the World Midnight Snack)
Double Stuffed Oreos served with ice cold milk
Chocolate Sundae waffle cups with chopped nuts, whipped cream and cherries
Orange Sorbet dollop floating on a Shock Top Belgian White
Plated Snickers bar on Fine China with sterling silver
Epic last meal indeed. All the guests were stuffed by the third course and before the midnight snack desert could be served, the dinner was interrupted by a news broadcast that reported the demise of the globe and the existence of a group of survivors set to post up in a bunker in West Virginia. That was immediately followed by a rush of military personnel calling for an evacuation of the survivors assembled in the banquet hall.
Everyone got up out of their seats and grabbed what beers they could. We were handed these metallic heat jackets and loaded on to buses. A short ride later, we arrived at the main entrance to the bunker, with Humvees and military members standing watch. We entered the bunker (a decommissioned Eisenhower-era top secret U.S. government relocation facility for Congress) ditched the heat jackets, and the party was on.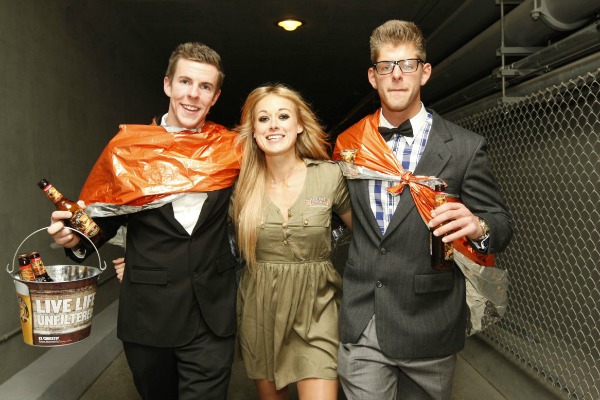 Gorgeous Shock Top girls littered the crowd and ensured that everyone had a beer in hand and a smile on their face. The setup was pretty elaborate. All the Shock Tops were present: Belgian White, Wheat IPA, Lemon Shandy, Raspberry Wheat, Apple Cider and the specially-brewed End of the World Midnight Wheat.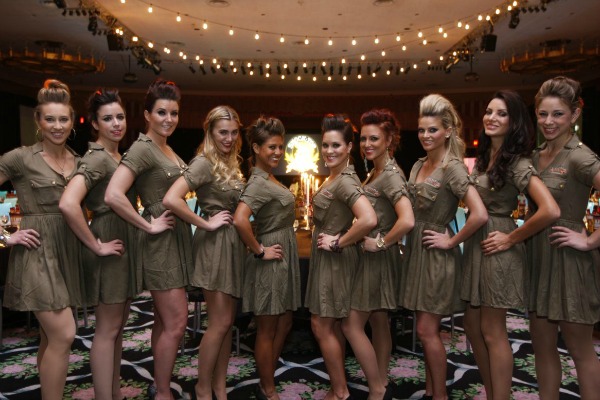 "We set out to brew an indulgent beer for a once in a lifetime occasion," said Shock Top's brand manager Zach Hotz. "We achieved it by combining midnight wheat, chocolate malt and chilies."
We danced, we drank, we hoped for survival…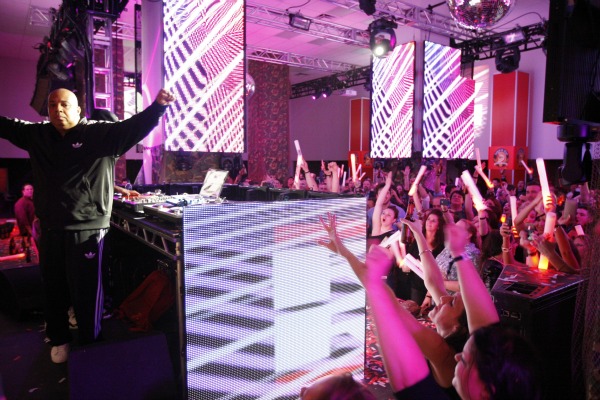 At midnight we were treated to a surprise guest – Rev Run from Run DMC. He fired up the crowd and kept the party going. Good times we're had by all.
"The Shock Top End of the World Bunker Party provided a unique experience for a unique group of beer drinkers," Hotz said. "A time to have fun, cross items of the bucket list and enjoy good beer with great company."
The event was success all around. Posh digs, cool activities, an elaborately executed schedule. Some serious planning must have gone in to the whole weekend.
Thanks to Shock Top for sending us out to cover such a fun event. The Shock Top End of the World Bunker Party definitely lived up to the hype. If the world was going to end, there's no place I would've rather been than drinking good beer with good people in a party bunker atmosphere.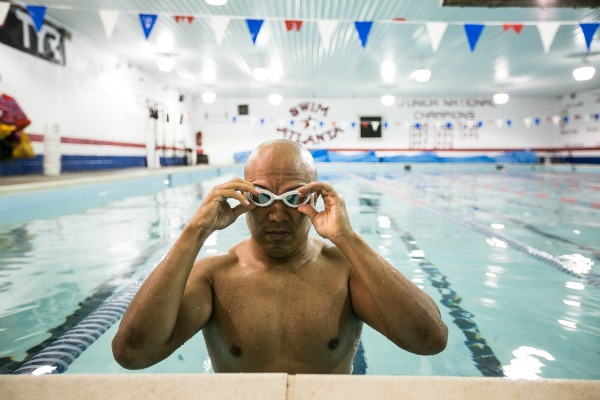 The New Year is right around the corner. Time to start drafting those resolutions and map out a plan for a healthy and happy 2013. It's also time to start challenging yourself so that you can push outside your limits in the coming year. Some people are already getting a head start on that.
A few weeks ago, we told you about Hines Ward and his efforts for the upcoming 2013 IRONMAN World Championship. Ward  is partnering up with REFUEL | got chocolate milk? to bring in two weekend warriors to compete with him in the 2013 triathlon competition in Hawaii.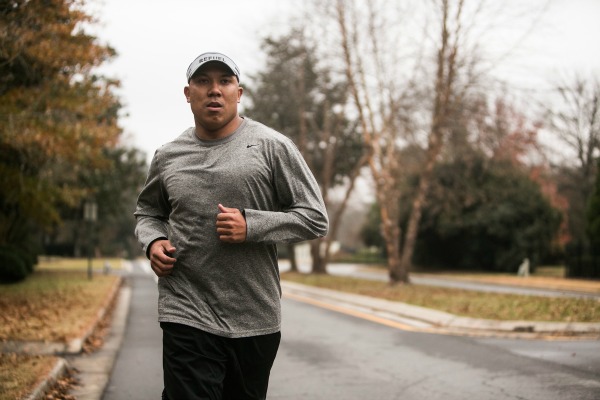 For Ward, the training has already begun in Atlanta. To get ready for the 140.6-mile competition, Ward has been swimming, running and cycling pretty hard, and refueling afterwards with lowfat chocolate milk to recover after his workouts.
His journey (along with the two athletes will join him) will be documented via a new web series called BECOME ONE. You can follow all the action at gotchocolatemilk.com.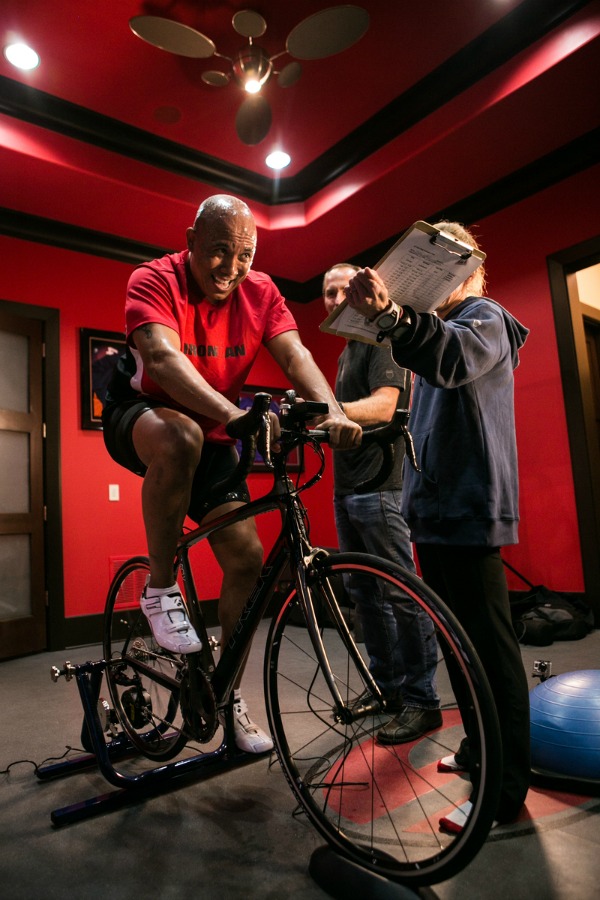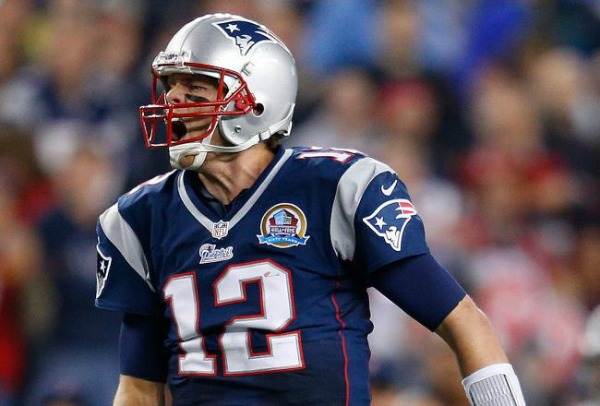 At Green Bay -10.5 Tennessee
Packers cover the big spread. Titans prep for next year.
Pick: Packers -10.5
At Carolina -9 Oakland
Oakland doesn't have the Chiefs to kick around last week. Panthers roll.
Pick: Panthers -9
At Miami -5 Buffalo
Miami is technically is technically still in the playoff hunt. That'll end on Sunday, but Fins will still win.
Pick: Fins -5
At Pittsburgh -3 Cincinnati
Crazy playoff implications here. The Steelers are in if they beat the Bengals and Browns. The Bengals just need to get a W in Pittsburgh. AJ Green is going to give that banged up secondary problems, but if the Steelers can minimize miracle turnovers, they should take this.
Pick: Steelers -3
New England -14 At Jacksonville
Talk of Tebow coming to town next season is going to do nothing to soften this beat down.
Pick: Pats -14
Indianapolis -5 At Kansas City
Colts are playoff bound. Chiefs are ready to clean house.
Pick: Colts -5
At Dallas -3 New Orleans
I like the Saints as spoilers. There's a lot of pride left on a good team that had a tough year.
Pick: Saints +3
Washington -5.5 At Philadelphia
RG3 is back. Philly's done.
Pick: Redskins -5.5
At Tampa Bay -3 St. Louis
Both teams got shellacked last week. Going with Fisher over Schiano here.
Pick: Rams +3
NY Giants -2 At Baltimore
Baltimore is sliding a bit. The Giants haven't looked that sharp either. Giants bounce back.
Pick: Giants -2
At Houston -7.5 Minnesota
I keep picking against the Vikings and they keep winning. You'd think the Texans could cover, but with AP playing like a man possessed, who knows.
Pick: Texans -7.5
At Denver -11 Cleveland
Manning train rolls through Cleveland.
Pick: Broncos -11
Chicago -7 At Arizona
The Cards won last week! The Bears have lost three straight. Chicago shows up for Lovie.
Pick: Bears -7
At Seattle -2 San Francisco
Niners are coming off a huge win, but Seattle just dominates at home.
Pick: Seahawks -2
At NY Jets -2.5 San Diego
Change to the QB spot took way too long for the Jets. Same goes with the regime in San Diego.
Pick: Jets -2.5
Last Week: 8-8
Season 111-103-5
Last Season: 140-120-12
Atlanta -3.5 At Detroit
The Lions have been a pretty big disappointment this season. With another losing season secured, the only thing left to play for is personal accomplishments. Megatron is closing in on Jerry Rice's single season record for receiving yards and he's likely going to get it. Outside of Stafford feeding his big receiver early and often, there's nothing else to the Lions can offer here. I'm not sold on Atlanta's chances to do damage in the playoffs, but they should be able to cover here.
Pick: Falcons -3.5