Capture the Crown – Curtiss Shaver Brickyard 400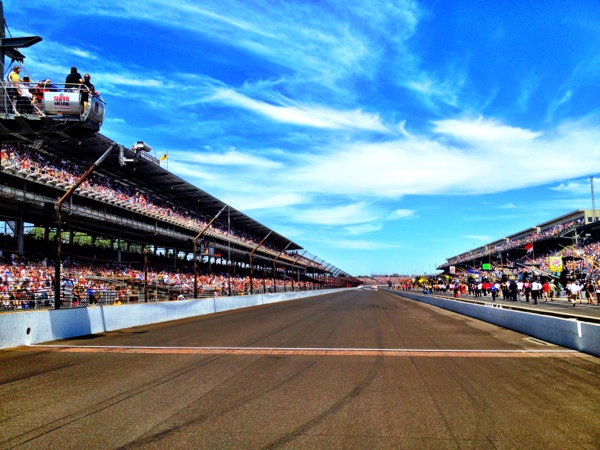 Crown Royal hooked it up big time this past weekend. The makers of everyone's favorite purple-pouched whisky flew me out to Indianapolis to participate in an elaborate scavenger hunt and attend an epically named NASCAR race: Crown Royal Presents the Curtiss Shaver 400 at the Brickyard Powered by BigMachineRecords.com.
Why so many names? Let me break it down. The race was part of the Your Hero's Name Here campaign, an initiative started by Crown Royal that awards NASCAR race naming rights to a local hero who exemplifies service. This year's winner was Curtiss Shaver, an all-around amazing dude from Troy, Alabama who lost his leg in an accident, was rescued by fire fighters and then became a firefighter himself. More on Curtiss in a bit.
The Brickyard portion describes the track itself – the storied Indianapolis Motor Speedway. Home to the world's most famous race, the Indy 500, IMS has been around since 1909, when over three million bricks were used to create the track's first oval. This rich 100-plus-year history lives on with the "kissing of the bricks" ritual that pays proper homage to this storied spot. The place can fit over 250,000 fans, and it's the largest stadium of its kind in the world. It's also the very first place to ever be named "speedway." The Brickyard 400 has been an annual NASCAR tradition at IMS since 1994.
The race was powered by Big Machine Records. The label put on a few concerts over the weekend, with The Band Perry, The Mavericks and Justin Moore all performing for race fans. The whole race was sponsored by Crown Royal, which I was sipping consistently/responsibly throughout the weekend.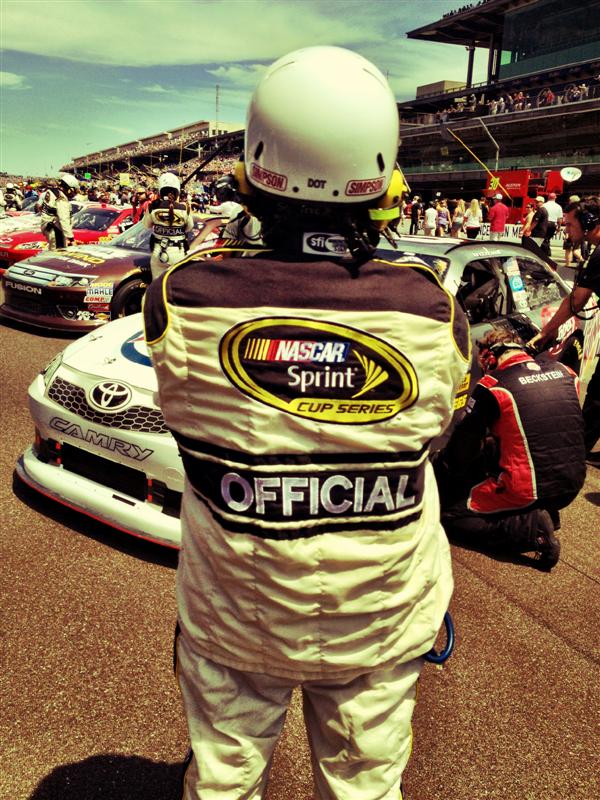 A Very Humble Hero
Anyway, back to Curtiss Shaver. This guy was legit. He really was. He was humbled and honored by all the adulation, but he also embraced it. He knows that he's a source of inspiration and admiration, but he's still a genuinely approachable, happy-to-see-you-again kinda guy. I chatted with him a couple times, and each time we talked, I left feeling that the world needs more human beings like this Curtiss Shaver.
During one bus ride back from the race track to the hotel, Curtiss rode with the bloggers who attended the event and fielded some questions. He talked about the accident that took his leg, the emotions he went through and how he made peace with God and was ready to check out. He spoke of the firefighters who found him and saved his life and how they inspired him to follow the same path.
When asked if he feels like he's a hero, Curtiss had a great response:
"I feel like a represent firemen, firefighters and paramedics for what they do. And I represent all of those heroes. I really don't think I'm a hero. I don't. I just do my job and I try to do a good job. I do believe my accident gives me a lot of insight on that person needing rescue. So I do believe it helps me be a little bit more dedicated, a little bit more dot the I's and cross the T's type of guy… A hero? I don't feel like a hero by no means."
The guy talked about marrying his high school sweetheart and playing high school football. When asked if he was any good, the humble hero with his name plastered all over Indy said he wasn't all that great, but he tried real hard. Classic Curtiss.
I asked him how many new friends he's made in Troy, Alabama during the last couple weeks. Curtiss said that his number Facebook friends, which used to be about 300 or 400, jumped into the thousands.
"Troy is a tight town," Curtiss said. "We only got like 20,000 people. Everybody knows everybody and if you don't know somebody, you know somebody else who does kinda thing. I think it's crazier though than a big city. Because everybody talks to me about it, cause everybody knows everybody. Where in a big city, you probably just have your little core people that you know, and it doesn't get out that much. Anyway, it's cool. I had a lot of friends before, though. I really did."
It's easy to see why a guy like Curtiss has so many friends. It was a pleasure chatting with him and seeing him enjoy himself around the track. You could tell he was really enjoying the moment and the honor was much deserved.
Capture the Crown
In addition to attending the race and interviewing the hero who lent his name to the event, I also got to participate in a competition with other teams of bloggers. It was an intense scavenger hunt called Capture the Crown, and it took place over a period of two days. I was teamed up with David Dennis from TheSmokingSection.com and Nick Evans from StraightPinkie.com. Our team lead was Brittany Edwards, and she gave us a huge advantage.
As we went around the speedway trying to complete tasks like getting an autograph from a crew chief and a photo with Miss Sprint Cup, Brittany knew quite a few people. She got us into the drivers meeting and navigated us through the different areas of the track with a big smile. With her guidance and our team's strategy, we completed more of the scavenger hunt tasks than any of the other squads, and ended up winning the competition. Team Win indeed. The prize was a new iPad and a future Crown Royal sponsored trip at a location that's still to be determined. Not a bad way to end the weekend.
The Race
The first NASCAR race I attended was in Charlotte. I pretty much figured that all speedways followed a similar layout, but Indy was way different. In Charlotte, you can see the full track and follow the action at every turn. In Indy, you really get more limited view of the track. The only action you see is what's right in front of you. Watching the race from the Pagoda was pretty sweet. If you're only going to get one view of the track, an elevated view of the finish line is the way to go. Walking around the track before the race started, taking a lap in a pace car and seeing a pit crew in action just a few feet in front of me during the race was awesome.
Jimmie Johnson won the Brickyard 400 in pretty convincing fashion. He led 99 of 160 laps. Johnson became the second driver after Jeff Gordon to win the Brickyard four times. Johnson started in sixth place and finished the race five seconds ahead of runner-up Kyle Busch. It was the largest margin of victory in Brickyard history. Fan-favorite Dale Earnhardt Jr. finished in fourth place and jumped to the top spot in the Sprint Cup season standings.
I had a blast hanging out with all the bloggers. Thanks again to the folks at Taylor and Crown Royal for sending me out. Good times all around!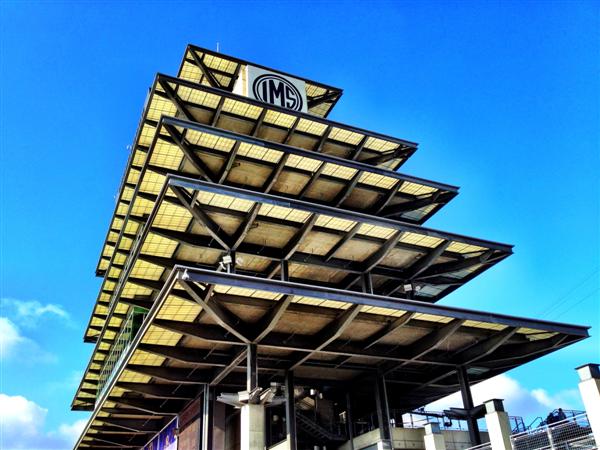 Related Posts
| | | |
| --- | --- | --- |
| | Print article | This entry was posted by Chris Stout on August 2, 2012 at 11:03 pm, and is filed under Sports. Follow any responses to this post through RSS 2.0. Both comments and pings are currently closed. |
Comments are closed.