Art Eddy III
This user hasn't shared any biographical information
Jabber/GTalk: Art Eddy III
Posts by Art Eddy III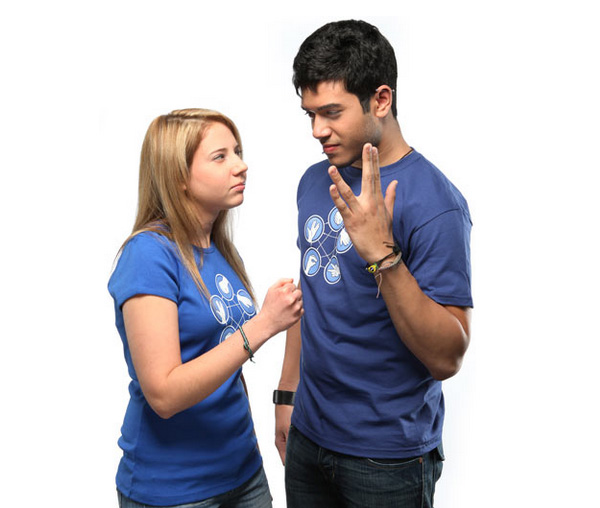 As guys we tend to rock many different T-Shirts. There are the ones that support your favorite sports team, have a famous line from a film, or pays respect to iconic figure like Pac-Man.  Then there are the shirts make people squint as they try to read or comprehend what your shirt means. For me I love these types of shirts. I have a stack of sweet T-Shirts that take a bit of thought to unscramble the message. Here is a list of shirts you can rock that will turn some heads.
One of these tees that I own gained popularity from the hit comedy show, "The Big Bang Theory." It is the Rock Paper Scissors Lizard Spock shirt. Even though the show made the shirt famous the game was not invented by Sheldon Cooper and company, but two guys named Sam Kass with Karen Bryla. To me a shirt with only three hand signals is so 2000's, but a shirt with five of them well now you are talking. Another good reason to own this shirt is that if you are bored well now you and a friend can play Rock Paper Scissors Lizard Spock and have the rules of the game guide on your shirt. It's a win, win unless you lose to rock, or lizard, or…..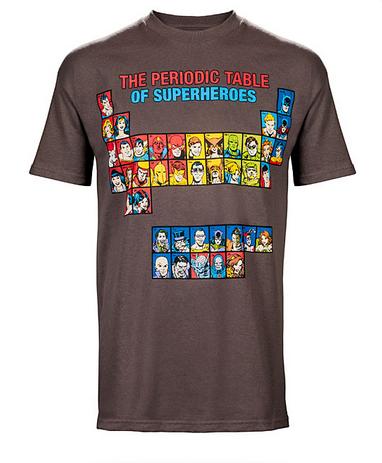 Going along with the geek theme is the Superhero Periodic Table T-Shirt. If you are into chemistry and comics well you might have to pick up this shirt at ThinkGeek.com. Just be prepared for people to have their eyes fixed at your chest trying to figure out if Batman is really the symbol for helium.
Another shirt you should have in your wardrobe is the Lannister/Lannister 2012 shirt. You can show your love for "Game of Thrones" by donning this political campaign style shirt.  What is cool about this one is that people will wonder if the Lannisters were really on the 2102 ticket and if you are democrat, republican, or independent. I bet you the political junkies will check online to see who these political candidates are are affiliated with once they catch a glimpse of your shirt.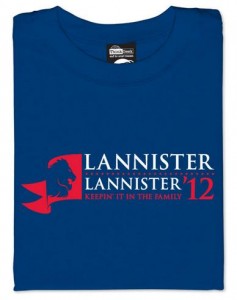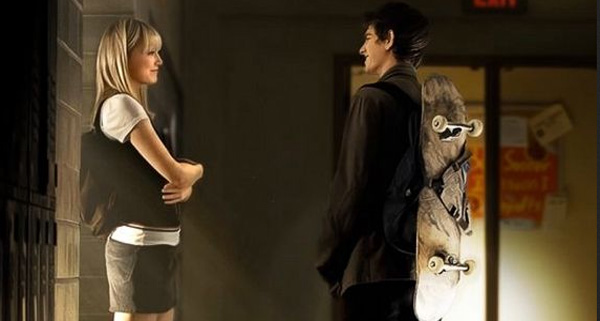 If you have not seen the Bad Lip Reading video collection do yourself a favor and check out their YouTube channel. Recently they had a huge success with their NFL video. I still am quoting lines from that one. Earlier this week the guys from Bad Lip Reading just released their take on the "Amazing Spider-Man" film. Here all the great and romantic love scenes between Peter Parker and Gwen Stacy are turning upside down in a good way. Enough talk….check out the video!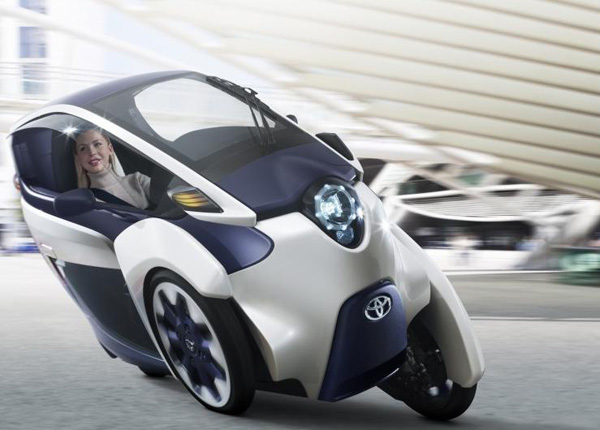 At the 2013 Geneva Motor Show Toyota revealed the i-Road concept car. The three wheeled vehicle stands out on the look alone, but Toyota is looking make a car that is eco and urban friendly. The battery powered electric car runs on a lithium-ion battery. The battery powers up a pair of 2 kilowatt electric motors that drives the two front wheels.
The battery needs three hours to fully charge and you can use a regular power outlet. The i-Road has a feature called "Active Lean" which is a self leaning system intended to automatically balance the car when it turning or riding over some bumpy terrain.
According to Toyota's website, "the system features a lean actuator motor and gearing mounted above the front suspension member, linked via a yoke to the right and left front wheels. An ECU calculates the required lean based on steering angle, gyro-sensor and vehicle speed information. And the system automatically moves the wheels up and down in opposite directions, applying lean angle to counteract the centrifugal force of cornering."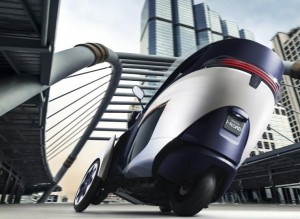 The i-Road measures at 7.7 feet long, 4.7 high, 2.8 feet wide, and weighs a little over 660 pounds. This vehicle is looking to car that you can navigate through a busy city with ease. They also dubbed it as a Personal Mobility Vehicle (PMV) and it looks to provide a safe, intuitive and enjoyable, helmet-free driving experience for one or two people.
The Smart Car has bit of a following and if the concept car makes it out to the public you might see one driving near you. Some might think of it is an enclosed motorcycle while others see it as a way help the environment. With a top driving distance of 30 miles per charge you wonder how many of these cars will be sold.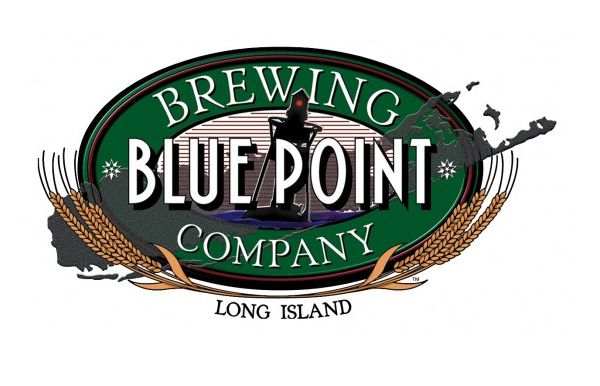 In this edition of Know Your Beer, we look at Blue Point Brewing Company. They are a microbrewery in Patchogue, New York. Founded in 1998 by Peter Cotter and Mark Burford, the two friends started out gathering brewing equipment and began to start crafting some fine beers. They built a brewery in a 1970s Penguin Ice Factory and never looked back. In 2011 Blue Point was ranked 34th in the Top 50 Craft Breweries in the Unites States. Their Toasted Lager won a World Beer Cup Gold medal in 2006.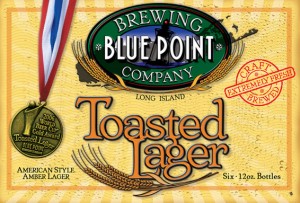 Blue Point started their construction of beer in a traditional 25-Barrel Brew House. Scorching hot flames from a unique direct-fire brick Brew Kettle imparts a lightly toasted and complex flavor to their brews. Blue Point always uses natural fresh ingredients and is never pasteurized. They use quality hops from all over the world in places like Germany, United Kingdom, Belgium, New Zealand and here in the United States.
If you are in the New York area you should make it a point to go out to Long Island in the town of Patchogue for a beer in their tasting room or for their annual Cask Ales Festival. I was there in 2010 and 2011 for the Cask Ales Fest and had a blast tasting the craft beers from over 20 breweries. Their tasting room is located at the brewery and you can sample 12 different types beer every Thursday and Friday from 3-7pm and Saturdays from noon to 7pm. Not only do you get taste some great beer, but the staff is well educated on pairing food and beer.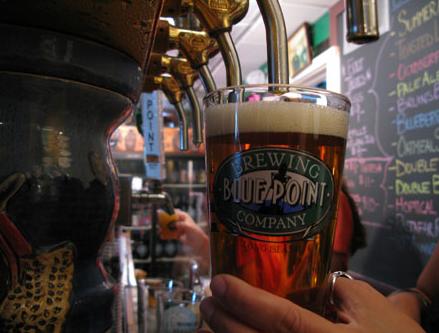 Blue Point staples are the Toasted Lager, Blueberry Ale and Hoptical Illusion and all three are available all year round. Some of their seasonal beers are Spring Fling Copper Ale, Summer Ale, Oktoberfest and Winter Ale that are sold in a variety 12-pack. Other notables are Old Howling Bastard, Double Blonde, Golden Ale, Oatmeal Stout, Sour Cherry Imperial Stout, 10th Anniversary IPA and No Apologies Imperial IPA. For more info on how you can find their beer in your area go to their website.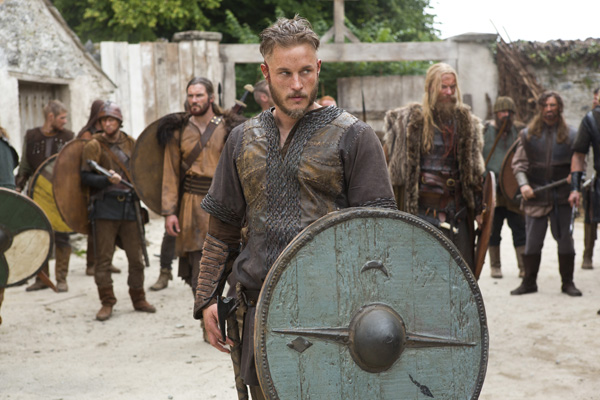 VIKINGS is a new show on the History Channel that takes a look into the world of the Norseman and how they learned to travel to different places looking for treasures to bring back to their people. The series looks at how they worshipped ancient gods like Odin, Thor, Freya and Loki.
The main character Ragnar Lothbrok played by Travis Fimmel feels that he is a direct descendant of the Norse god Odin, who, as well as being the god of warriors slain in battle, is also the god of curiosity. The nine part series centers on the curious and compelling Norseman who is always looking to break through barriers and discover new worlds to conquer.
Lothbrok has a family and is a farmer, but he is deeply frustrated by the unadventurous policies of his local chieftain, Earl Haraldson, who is played by Gabriel Byrne. Haraldson continues to send his Vikings raiders east every summer, to the Baltic States and Russia, whose populations are as materially poor as themselves. VIKINGS looks at Lothbrok's stand against Haralson and his mission to go west and explore new lands.
I was able to chat with Travis about the show and talk about his character and that he hopes fans will love the show as much as he loved filming it.
Art Eddy: First off can you tell me a bit about your character Ragnar and what viewers can expect from the show?
Travis Fimmel: Well Ragnar is based on a historical character. He is very adventurous and he is one of the first people to sail west and discover England and do what Vikings do when they discover places. Say good hey to the ladies and beat up people.
AE: Your character is based on the real life Viking leader Ragnar. What type of research did you do for your character?
TF: Well I was very lucky, the writer and creator, Michael Hirst is an amazing guy and he gave me a lot of information. My job as an actor is to make it relatable to the audience. He has got a family, brothers, and he had got his wife and his children and has the same conflict that any family does even in this day and age.
AE: Ragnar's brother, Rollo seems to be a wild card in the show. He takes whatever he wants and he looks to have eyes for Ragnar's wife Lagertha. How would you describe the relationship between Ragnar and Rollo?
TF: It is a real power trip between Ragnar and his brother Rollo. Both of them want to be the leader, but there can only be the leader and that causes conflict between them and jealousy. You know I am sure at one stage they certainly will be against each other.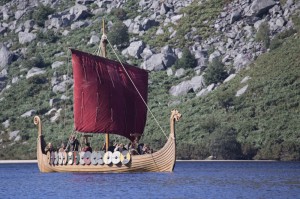 AE: I have seen a few episodes so far and I have to say you guys to a great job of portraying that time in history. Where did you guys shoot the series?
TF: We shot in Ireland for five months. It is an amazing country and it is so beautiful. Very bloody cold there man, very cold. The people were amazing. The crews are amazing. It was a really good experience. We all enjoyed making it, so hopefully the audience will sure enjoy watching it.
AE: You challenge your local chieftain Earl Haraldson, played by Gabriel Byrne, who always wants to travel east, while you think going west is the way to go. Why is Ragnar so curious about the east?
TF: He is so curious. He thinks he is a direct descendant from a god named Odin, who was a god of slain warriors and curiosity. Legends say that the god Odin killed himself just to see what death felt like. Ragnar has that same curiosity about stuff. Nothing is good enough for him. He wants to know what is out there. It is not just for the raping and pillaging stuff. He wants to learn about people and the gods they worship, what the look like, and their customs. He is just a curious person and his curiosity doesn't end.
AE: I love the character Floki, who is played by Gustaf Skarsgard, and how he sees himself as the Norse god Loki. Gustaf seems like he would be cracking people up on the set. How was working with Gustaf and shooting the scenes with him?
TF: He is just a great actor in a role that he was playing. He is a funny guy and he made a great character and he is very interesting to watch. I think my character really enjoys his company so you will see plenty of Floki.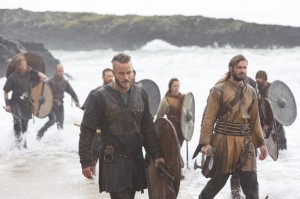 AE: In one of the upcoming episodes you guys raid a monastery in Lindesfarne and these monks get a firsthand look at what the Vikings are all about. You also save the life of Athelstan played by George Blagden. What does Ragnar see in the young monk to save his life?
TF: I think they definitely will and they do actually. He is very intrigued by Athelstan the priest. George is a great actor. He can learn so much from him. He can learn where the other settlements from the priest. The priest is a wealth of knowledge for him and it would have been silly for him to kill him.
AE: What can we expect to see in future shows of the Vikings series this season on the History Channel? Will there be a second season?
TF: There are nine episodes. It really keeps building. It gets better and better and I look forward to seeing the finished show. For the second season I don't know. That is the producers job and I stay out of it.
To listen to the interview, click here.
VIKINGS premieres Sunday, March 3 at 10 p.m. (ET) on the History Channel.