Art Eddy III
This user hasn't shared any biographical information
Jabber/GTalk: Art Eddy III
Posts by Art Eddy III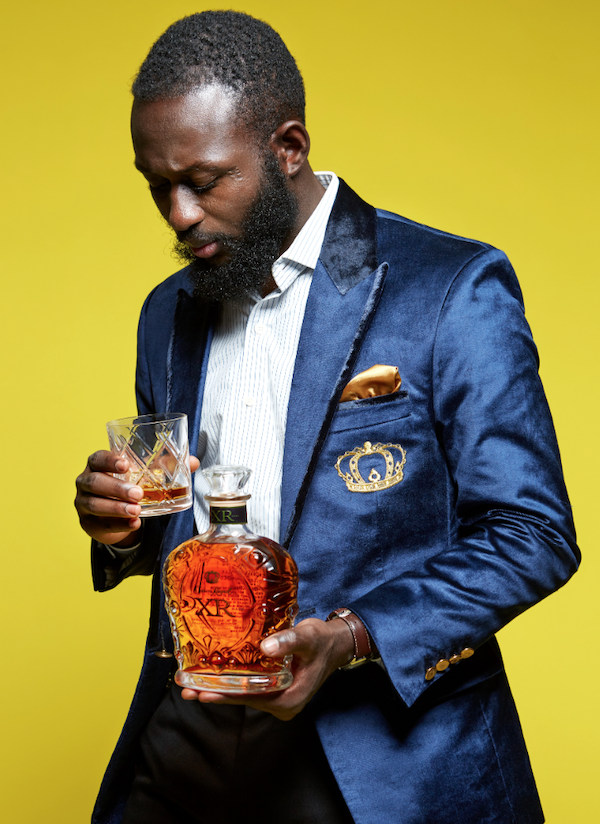 Treat yourself or that extra special someone to an exceptionally unique, luxurious and limited-edition gift this holiday season – the Crown Royal Blazer.
In partnership with renowned celebrity designer ALBA, Crown Royal presents the Crown Royal Blazer. The hand-stitched blazer is inspired by Crown Royal XR Extra Rare, the brand's rarest whisky which is expected to run out very soon. The blazer features rich tones of gold and royal blue and embodies the sophisticated character of Crown Royal XR Extra Rare from the now-closed LaSalle Distillery. Much like the whisky it celebrates, the bespoke blazer is a carefully crafted collector's item for the luxurious, modern individual.
The Crown Royal Blazer is available next Monday for purchase at in limited quantity for a limited time only – see HERE for link.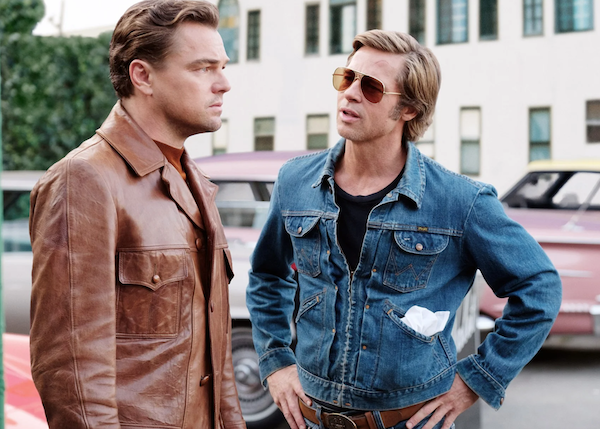 Quentin Tarantino's Once Upon a Time… in Hollywood visits 1969 Los Angeles, where everything is changing, as TV star Rick Dalton (Leonardo DiCaprio) and his longtime stunt double Cliff Booth (Brad Pitt) make their way around an industry they hardly recognize anymore. The ninth film from the writer-director features a large ensemble cast and multiple storylines in a tribute to the final moments of Hollywood's golden age.
Arriving December 10th is a limited 4K Ultra HD Collector's Edition of the film, sure to make any Tarantino fan's holiday wish list. Premium collectible packaging will contain a 7" vinyl record with two of the soundtrack's grooviest tunes (complete with turntable adapter), a collectible vintage poster for the Rick Dalton film Operazione Dyn-o-mite! and an exclusive new MAD Magazine parody of the Rick Dalton TV series "Bounty Law," Lousy Law. The collector's edition is available for pre-order today from Amazon.com, Walmart.com, BestBuy.com and Target.com.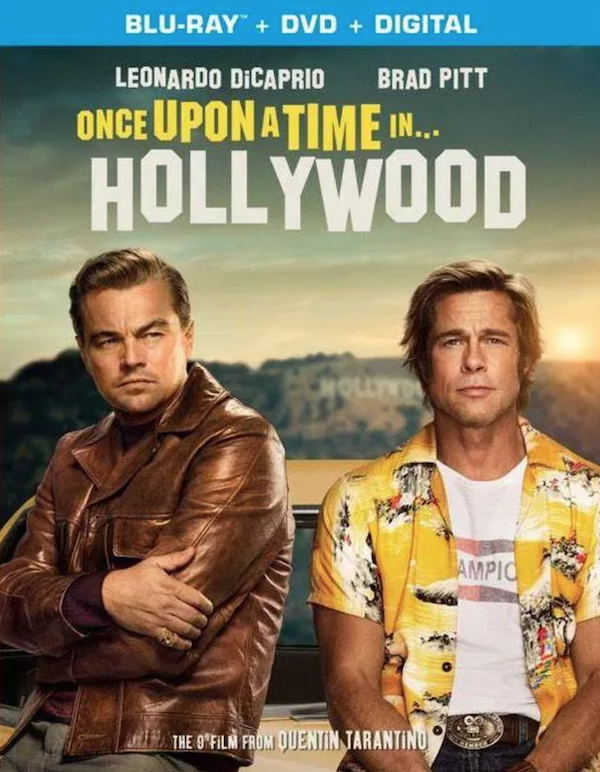 The 4K Ultra HD, Blu-ray, DVD and digital releases come loaded with even more sights and sounds of the '60s, featuring over twenty additional minutes of footage that delves deeper into world of Rick Dalton's Hollywood. The 4K Ultra HD, Blu-ray and digital include an additional behind-the-scenes look at the film's production design, cinematography, costume design, cars and more.
Collectors will also be delighted by exclusive packaging and gifts-with-purchase offered at retail for the film's Blu-ray release. These include "Rick Dalton" movie poster cards available at Walmart, a vintage-style film magazine with over 26 never-before-seen production photos available at Target and a collectible steelbook available at Best Buy. All exclusive offerings are available for pre-order today.
To win a cop all you have to do is tweet at me over at @ArtEddy3 your favorite actor in Once Upon a Time… in Hollywood. Good luck.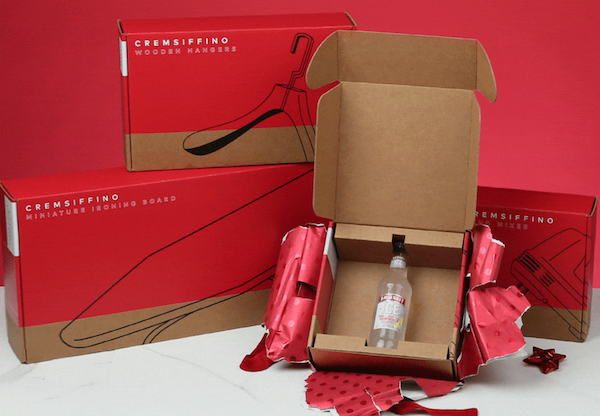 As an adult, the holidays can be, well—predictable. You work entirely too hard to sit through another boring White Elephant office party and pretend that you actually love those mugs you won—sorry lady from finance, but how many mugs can one person have?!
To spice up the gift giving season, Smirnoff Ice has created three cardboard boxes that look like luxury (admittedly boring) appliances, but when the unexpecting gift recipient opens their box of hangers or mini ironing board they are sure to be surprised when they  find the real prize inside—a bottle of Smirnoff Ice!
Have a White Elephant party coming up? Don't panic. The boxes, sold under the name Cremsiffino (an anagram for Smirnoff Ice), are available for purchase starting today for $20 (plus shipping) from giftagram.com/smirnofficeboxes. If you live in a state where GiftAGram cannot ship alcohol, just purchase the box by itself for $10 and add in your own bottle of Smirnoff Ice once it arrives!
It's time to end the decade the right way and surprise your friends or favorite coworker (over the age of 21, of course) with a gift they won't see coming – wrap and it's ready to be gifted! Just be sure to remind the recipient to chill their bottle of Smirnoff Ice Originally before enjoying for the holidays.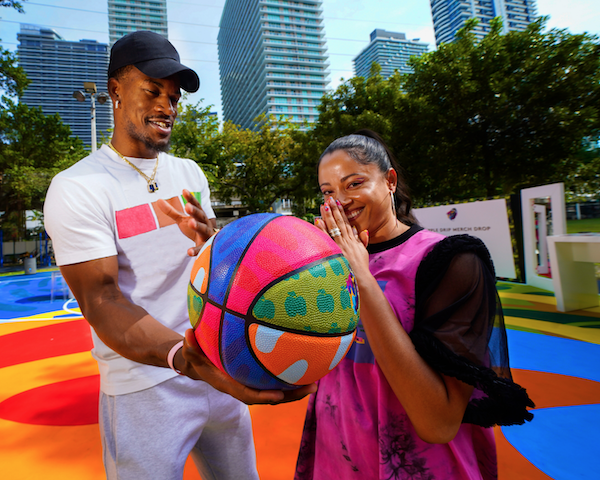 Last week, Crown Royal Regal Apple teamed up with four-time NBA All Star Jimmy Butler Miami native and multimedia artist D'ana of COVL to unveil THE ROYAL COURT in Miami during Art Week.
Through The Royal Court, which was designed by D'ana of COVL, Crown Royal Regal Apple refurbished a beloved neighborhood basketball court in Miami and turned it into a remarkable piece of art that the whole community will enjoy. In addition to refurbishing Southside Park basketball court, there were merch giveaways and activations that bridge together the intersections of art, culture, and basketball while inspiring a fresh new wave of creativity and inspiration for Miami's residents.

Crown Royal Regal Apple and Jimmy Butler were natural partners, both with a deep respect for crisp culture, creativity, and creators. Neither ascribes to the typical stereotypes of what athletes or whiskey brands should be, and instead brought to life a shared vision of inclusion that gives back to the city of Miami.
While other brands come to Miami Art Week for one weekend, Crown Royal Regal Apple wanted to partner with Jimmy Butler to focus attention on creating experiences, products and opportunities that continue to give back to Miami's New Royalty – artists, athletes, creators and leaders – and Miami at-large long after the weekend ends.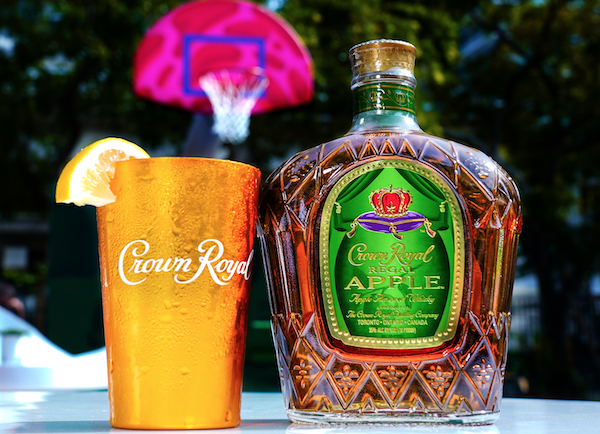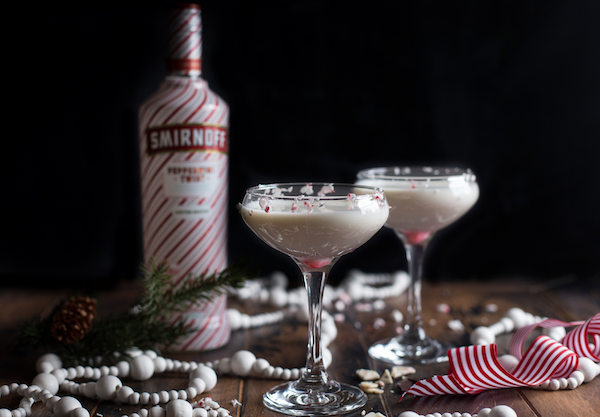 Winter is coming and the only thing you need to be prepared for this cold season are delicious cocktails that you can enjoy while staying warm! Whether for a gathering with friends or a cozy holiday movie night in, Smirnoff has a few cocktails that are sure to be the marshmallow to your hot chocolate. If you're looking for a sweet treat that is super cute for the holidays, then the Smirnoff Peppermint Bark Martini is perfect for you.
Or maybe you're looking to get a head start of your New Year's resolution and cut back on your sugar intake? The Strawberry Rose Sparkler or Cucumber Lime Tea Infused Mule are delicious better-for-your cocktails that are the perfect drink to cheers the night to.
Peppermint Bark Martini – Serves Four
Ingredients:
·         3 oz Smirnoff Peppermint Twist
·         3 oz. Smirnoff Vanilla
·         3 oz. good quality white chocolate
·         5 tbs. granulated sugar
·         6 oz. heavy cream
·         6 oz. whole milk
·         2 tsp. vanilla extract
Directions: Roughly chop white chocolate and place in a large heat-proof bowl. Add sugar, heavy cream, and whole milk to a saucepan. Heat over medium low heat until the mixture is hot to touch—do not allow the mixture to boil.
Pour the hot milk mixture over the chocolate and stir until the chocolate is completely melted and the mixture is smooth. Allow the mixture to cool completely. Stir in the vanilla extract, Smirnoff Peppermint Twist and Vanilla Vodkas.
To serve, add four ounces of the homemade liqueur to a cocktail shaker with ice. Shake vigorously for 30 seconds. Pour the mixture into a peppermint-rimmed martini glass.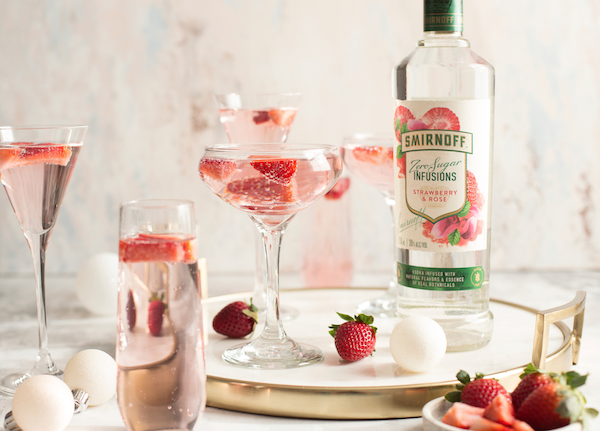 Strawberry Rose Sparkler- Serves One
Ingredients:
·         1 oz. Smirnoff Zero Sugar Infusions Strawberry & Rose
·         4 oz. sparkling rose wine
·         Frozen strawberries for garnish
Directions: Add a frozen strawberry to the bottom of a champagne flute. Top with Smirnoff Strawberry Rose Vodka. Pour in the sparkling rose.
Cucumber Lime Iced Tea Mule – Serves One
Ingredients:
·         1.5 oz. Smirnoff Zero Infusions Cucumber & Lime
·         4 oz. lightly sweetened iced tea (preferably freshly brewed)
·         1/4 oz. lime juice
·         1 oz. ginger beer
·         Garnish: mint, sliced cucumbers, lime wedges
Directions: Fill a mule mug with crushed ice. Add vodka, iced tea, lime juice, and ginger beer. Stir to combine. Garnish with mint, sliced cucumbers, and a lime wedge.


Bulleit Frontier Whiskey and South Florida artists Elidea and Jason Skeldon unveiled a limited-edition Art in a Bottle Collection for Miami Art Week. The collection is available for purchase starting today on SaatchiArt.com/shows/BulleitArtInABottle, just in time for the holiday gifting season.
The art collection is the latest installment of the Bulleit Frontier Works program – the Bulleit 3D Printed Frontier and  includes 12 original works of Bulleit Art in a Bottle and two complementary hand-painted canvases by Elidea and Jason. Bulleit Art in a Bottle was unveiled last night at the Bulleit 3D Printed Frontier Experience at Red Dot Miami and Spectrum Miami art fairs alongside the Bulleit 3D Printed Bar and some of the world's first Bulleit 3D printed cocktails.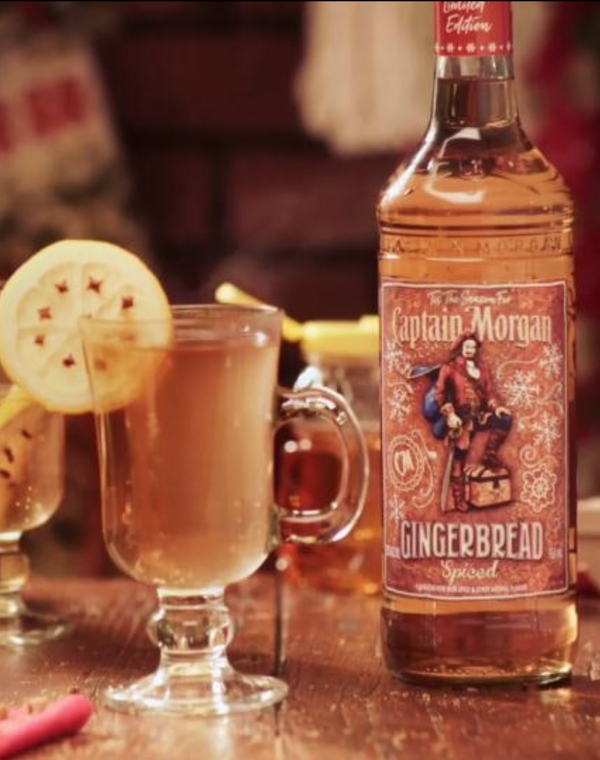 'Tis the season for everyone's favorite holiday treats and traditions – peppermint and poinsettias, egg nogs and yule logs, even fruitcakes and baked hams – but it's hard to think of a flavor with more power to transport someone back to their fondest holiday memories than gingerbread. That's why Captain Morgan is adding its signature style of fun to gingerbread this holiday season with the release of Captain Morgan Gingerbread Spiced.
With a snow-frosted cap and textured label that mimics a gingerbread cookie, Captain Morgan Gingerbread Spiced is distilled with the sweet and warming taste of gingerbread for a deliciously seasonal spiced taste that the whole crew will love. Just like any holiday indulgence, moderation is the way to go when enjoying Captain Morgan Gingerbread Spiced.
Captain Morgan Gingerbread Spiced is on shelves now for a limited time across the country for some responsible holiday cheer. The 750mL bottle with an ABV of 30% has a suggested retail price of $14.99.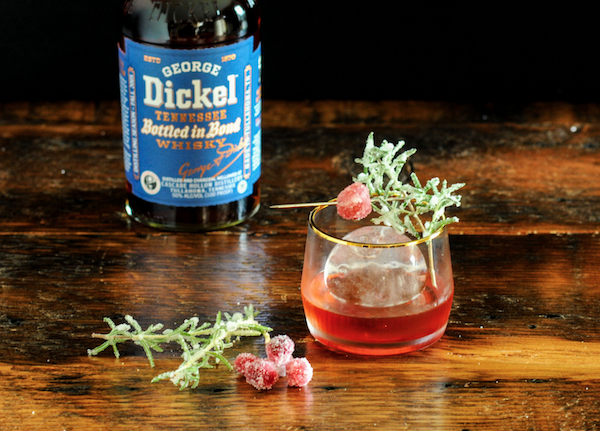 George Dickel Bottled in Bond is great for those on your holiday list that loves whisky. Bold and balanced, this 13-year-old whisky is rooted in authenticity and taste giving it an impressive 95 out of 100 from Wine Enthusiast magazine! At 100 proof, George Dickel Bottled in Bond is back in time for the holidays and can be enjoyed neat or on the rocks in addition to being well-suited for many of your favorite holiday cocktails. The best part is that George Dickel Bottled in Bond is available for an SRP of $35.99 for 750 mL making it a must have for any whisky lover!
Check out some cocktail recipes below.
CRANBERRY OLD FASHIONED
Cranberry Rosemary Old Fashioned
1.50 oz George Dickel Bottled in Bond Whisky
.25 oz Cranberry Rosemary Simple Syrup
2 dashes bitters
sugared cranberries and rosemary
Combine whisky, simple syrup and bitters in a glass with ice. Stir to combine. Garnish with sugared cranberries and rosemary.
COFFEE HOT TODDY
1 oz cardamom simple syrup
1.50 oz George Dickel Whisky #12
4-5 oz hot coffee
2 dashes Angostura bitters
Whipped Cream and cinnamon
Combine syrup, whisky, and coffee in a mug. Add in bitters. Top with whipped cream and a dash of cinnamon.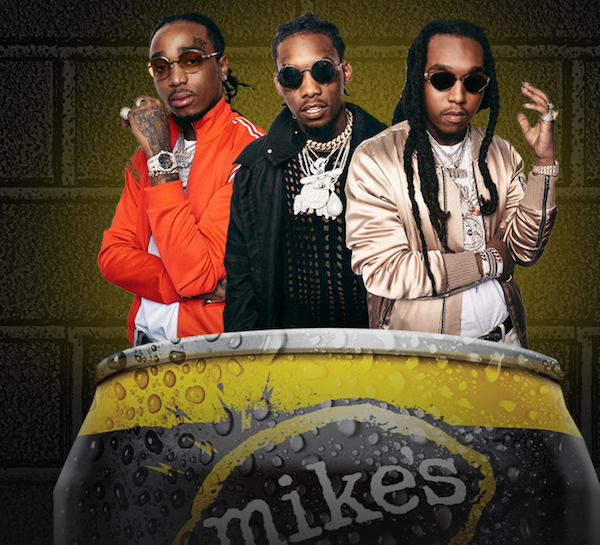 mike's Hard and mike's HARDER Lemonade is teaming up with chart topping hip-hop trio, Migos, and has officially launched a contest in search of two fans primed to go HARDER and "walk it like they talk it."
Now through December 31, fans can enter by sharing how they want to celebrate like Migos on Twitter by using #DudeThatsMigos, or by visiting www.dudethatsmigos.com. Those entering via Twitter must have a public account, follow @HARDER and include #DudeThatsMigos, along with #contest, in their posts. The contest will run until December 31st, 2019 and winners will be announced in early 2020. The lucky winners (trip for 2), aged 21 years or older, will get to party like – and with – the famously lavish hip-hop moguls, complete with a Migos approved prize pack, including:
· A $20,000 stack
· HARDER chain to show off your own personal drip
· Dope accommodations during the stay
· A ride in a luxury vehicle to box seats at a professional basketball game with the Migos crew in Atlanta.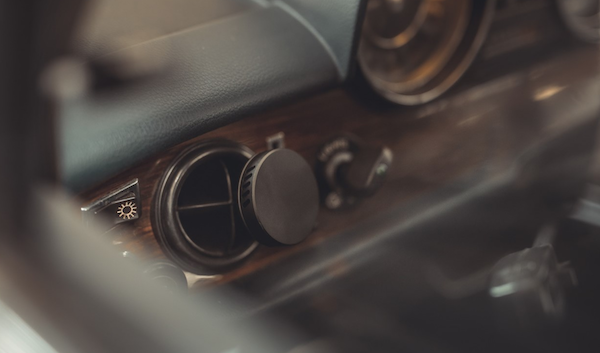 For most of us we spend a lot of time in our car. One of the results from this could be some unwanted smells in your car. This is where Rove comes in. Rove is the definition of quality design. It's minimalistic design and sleek matte black finish doesn't skimp on function as it attaches perfectly to any air vent.
Smart design paired with modern scents (always phthalate free) like the floral Bloom, tropical Grove, or musky Teak that make Rove an ideal gift for anyone who knows it's not just where you're going, it's how you get there. It's for those who stand out without being the loudest in the room.
Rove is subscription based. All you have to do is select a desired scent, strength and simply replace the scented refills each month. Rove packages start at $14.99 for the first month and only $5 per refill. Rove makes the perfect gift for anyone on your list. For more info on Rove go to their website.