Art Eddy III
This user hasn't shared any biographical information
Jabber/GTalk: Art Eddy III
Posts by Art Eddy III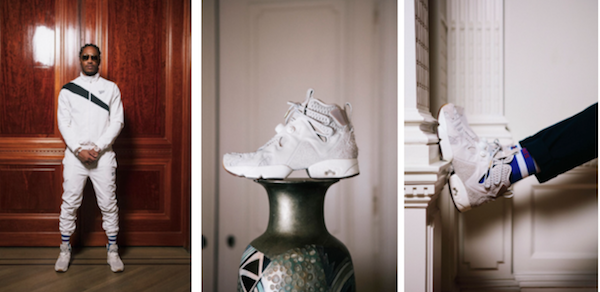 Reebok Classic and Future announced this week that the highly anticipated Furykaze will release on November 11.  As an ode to Future's favorite Reebok sneakers, this brand new silhouette is a combination of the beloved Instapump Fury and Kamikaze II.  Inspired by the Scorpion, Future's astrological sign, the texture of the suede upper is reminiscent of the hair on the scorpion's tail, claws and legs, while the molded vamps emanate the ribbed body.  The TPU heel collar also mimics the flexibility of the scorpion's tail and folds easily down for ease of wear.
The Furykaze will be released in a fresh Sandstone colorway with an external Pump bladder on the upper reminiscent of the Fury. The split tooling sole, Graphlite shank, tonal midsole and gum outsole also pay homage to the Fury, while the mid-cut and zig-zag design of the Pump bladder are reminiscent of the original Kamikaze.  Finishing off the look and giving it Future's own feel, Freebandz stars are included on the suede loop at the heel and the wordmark on the metal lace tips of the round tonal laces.
The Furykaze will be on sale for $250 on November 11, 2017 at Reebok.com and select Reebok retailers worldwide.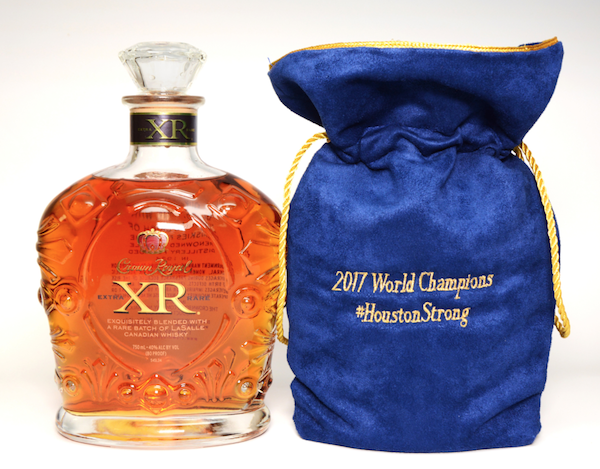 Not only does Jose Altuve know what if feels like to win a World Series, but he knows how to give a great gift. As the team returned to Houston as kings of the city and had their victory parade, second baseman Jose Altuve generously gifted bottles of Crown Royal XR to the entire 2017 championship squad. The bottles of $130 whisky come enclosed in a blue velvet bag that were embroidered to reflect the team's achievement. As the number one selling whisky in Texas, Crown Royal was the perfect way to commemorate the season and celebrate like royalty.
Altuve had the following to say about their accomplishment:  "I literally love this team," said Houston Astros second baseman Jose Altuve. "I wanted to do something special to thank them for bringing the first ever championship to Houston which is why I gifted everyone a bottle of Crown Royal XR to celebrate our win."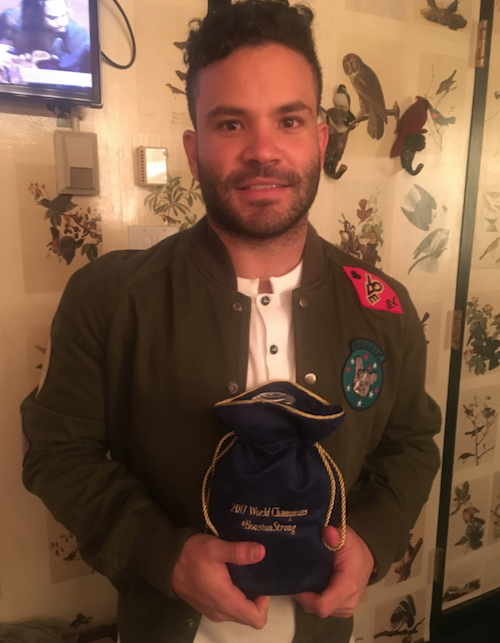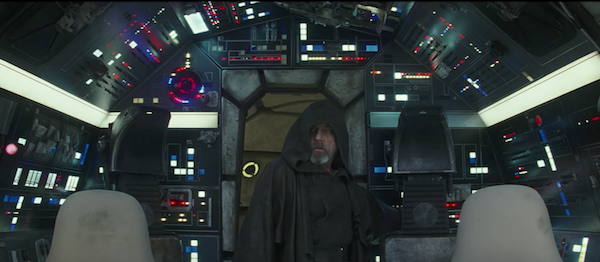 Did you see the trailer last night for Star Wars: The Last Jedi? Well if not here you go! The Skywalker saga continues as the heroes of The Force Awakens join the galactic legends in an epic adventure that unlocks age-old mysteries of the Force and shocking revelations of the past. Star Wars: The Last Jedi opens in U.S. theaters on December 15, 2017.
In Lucasfilm's Star Wars: The Last Jedi, the Skywalker saga continues as the heroes of The Force Awakens join the galactic legends in an epic adventure that unlocks age-old mysteries of the Force and shocking revelations of the past.
The film stars Mark Hamill, Carrie Fisher, Adam Driver, Daisy Ridley, John Boyega, Oscar Isaac, Lupita Nyong'o, Andy Serkis, Domhnall Gleeson, Anthony Daniels, Gwendoline Christie, Kelly Marie Tran, Laura Dern and Benicio Del Toro. Star Wars: The Last Jedi is written and directed by Rian Johnson and produced by Kathleen Kennedy and Ram Bergman. J.J. Abrams, Tom Karnowski and Jason McGatlin are the executive producers.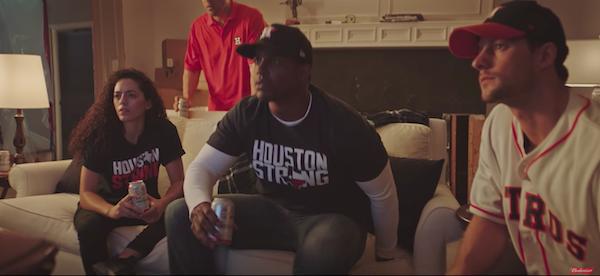 Did you watch the Houston Astros win the 2017 World Series Championship last night? Houston is a lot of things: strong, determined, dedicated and persevering. And for the first time in 56 years, they can add World Series Champions to that list. At the end of a record breaking 7 game World Series run— and 25 home runs later— the Astros are world champions!
To celebrate, long time Major League Baseball sponsor Budweiser has released a unique video in honor of the city and team that truly embodied the fighting spirit of Houston. Complete with footage of the Clubhouse celebration, the video celebrates a city that we also call home Budweiser's Houston brewery has been around since 1966…almost as long as the Astros!
Just a few months after one of the worst recorded hurricanes to hit the city, Houston's enduring spirit would not and could not be denied.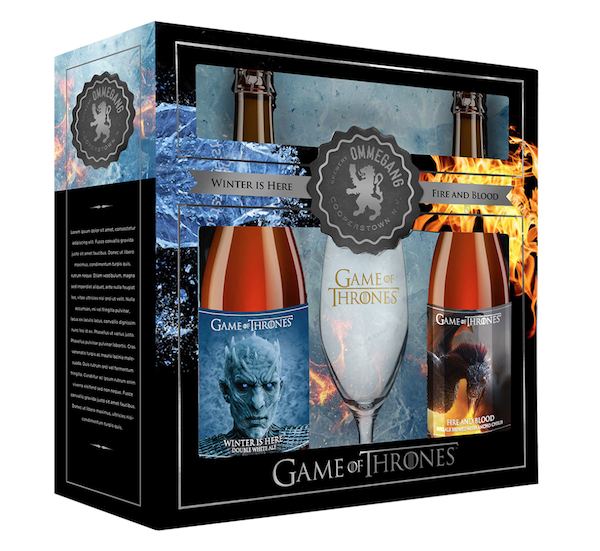 Take it from one of your favorite Game of Thrones characters, Tyrion Lannister. He uttered the memorable like I drink and I know things. Now you can too. Grab a goblet and raise a glass, the newest beer in the Game of Thrones series from Brewery Ommegang and HBO Global Licensing is available this month nationwide! Winter is Here, the latest beer in theGame of Thrones series from Brewery Ommegang and HBO Global Licensing, is now available in 750ml single bottles and on draft across the country.
Perfect for your Thanksgiving or 'Friendsgiving' feast, or for gifting during the winter holidays along with the Game of Thrones: The Complete Season Seven Blu-ray/DVD (available December 12th), Winter is Here will also be released in a collectible gift pack alongside the previously released Fire and Blood Red Ale and a special commemorative glass.
To find the all-new Winter is Here beer or gift set near you, visit http://ommegang.com/blog/beer-finder/
Winter is Here is brewed with pilsner malt, white wheat malt, and soft red wheat flakes, hopped with Saaz hops, and spiced with white pepper, sea salt, coriander and sweet orange peel. Brewery Ommegang's house yeast is used in primary and secondary fermentation. This double white ale pours a hazy pale straw color with a stark white head. Aromas of banana, clove, and pronounced peppery phenols lead, and the flavor is slightly sweet malt, subtly balanced by hints of sea salt. Despite a full mouthfeel and healthy ABV, it still manages to drink quite lightly. The finish gradually builds in a warming crescendo of peppery spice.
Fire and Blood was the third beer in the collaborative series, originally released in spring of 2014. It's brewed with pilsner, spelt, rye, and other specialty malts, hopped with Styrian Golding and German Tettnang hops, and spiced with ancho chilies for additional complexity. The hue is deep, dark red with a persistent, creamy, off-white head. The aromas of ripe fruit, raisins, slight spice and malt mix nicely with a slight floral, spicy hop character. The flavor of sweet malt gives way to faint dryness and is balanced by spicy rye and hop flavors with underlying raisin and prune notes. The finish offers balanced malt and spicy characteristics from hops and rye. Fire and Blood is 6.8% ABV, and the label art features one of the original three labels, a fiery image of Daenerys Targaryen's dragon, Drogon.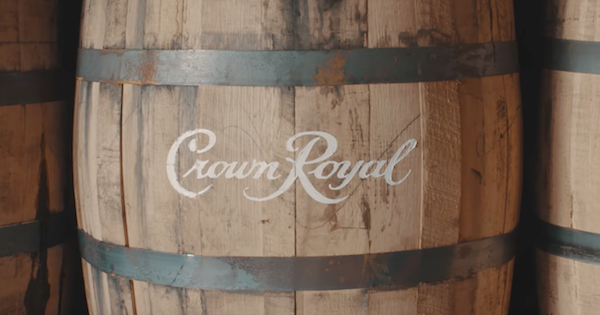 I am a fan of traveling on great adventures and Crown Royal. Put the two together you will have a fantastic experience. Crown Royal, in partnership with Black Tomato, is launching a video series that celebrates Canada's 150th anniversary. The partnership showcases a new, bookable trans-Canada itinerary including an once-in-a-lifetime visit to the Crown Royal distillery in Gimli, Manitoba.
The three-part video series goes on a westward journey from Gimli, Manitoba to Vancouver, British Columbia. The videos retrace the steps that King George VI and Queen Elizabeth took on their famous 1939 tour across the continent by rail, 78 years later.
Highlights of the trip include a private helicopter ride from Winnipeg to Gimli, Manitoba for an exclusive hard-hat tour of the Crown Royal distillery. (Special access is granted only to Black Tomato guests.) Private whisky tastings straight from the barrel in the Crown Royal warehouses, curated exclusively for Black Tomato guests. A trip on the iconic Rocky Mountaineer railway, which weaves through the stunning mountains of Alberta and British Columbia in true luxury. An adventurous heli-hike to Alberta's Rockies. The opportunity to receive a beautiful, customized bottle of Crown Royal whisky.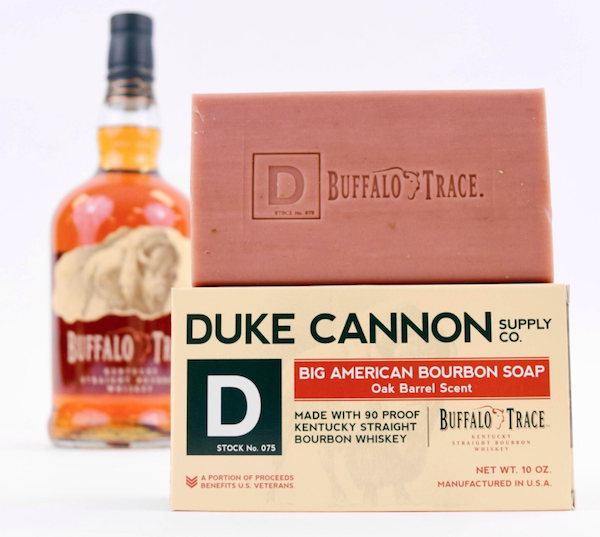 We all like a good bourbon right? Well so do the guys at Duke Cannon. They enjoy a glass of good bourbon after a productive days work. That got them thinking…. In collaboration with their favorite distiller, Buffalo Trace, Duke Cannon is now unveiling its most recent addition to their Big Ass Brick of Soap arsenal, The Big American Bourbon Soap.
This 10oz. magenta-colored bar features a rich, oak barrel scent and includes small bits of corn, a nod to the bourbon making process also turns out to be a great way to exfoliate the skin. Duke Cannon refuses to sacrifice quality when it comes to selecting a bourbon and choosing the  ingredients for their products, so a partnership with Buffalo Trace made too much sense. The Big American Bourbon Soap smells just as good as bourbon tastes and is the perfect gift for a gentleman that appreciates a fine drink and a clean shower.
Key Benefits & Product Features:
·         2-3x the size of common, dainty soaps
·         Has small bits of ground corn which help rough up dead skin
·         The unique, oak barrel scent is masculine and outstanding, but not overpowering
·         Yes, we really put delicious Buffalo Trace Bourbon in the soap
·         Does Bourbon benefit the skin? We have no idea, but bourbon tends to make everything better, so why not?
Duke Cannon's new Big American Bourbon Soap is now available at Duke Cannon's Online Store for $9.50 USD for The Single Barrel (1 unit) or $30.00 for The Four Finger Pour (4 units).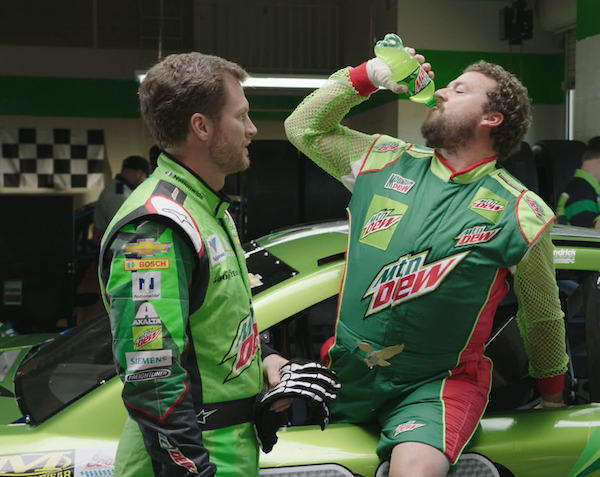 When you are one of the best in your field people are always looking to take your place. This happens in NASCAR and Dale Jr. is seeing that right before his eyes. Who is taking his place? Well it is a guy named Dewey Ryder. He even penned a letter about what he is looking to do. We at MANjr got our hands on the letter and we want to share it you!
Dewey writes:
What's up, racing fans. I'm Dewey Ryder, here to announce the biggest racing news since lug nuts. Me. The only person capable of filling Dale Earnhardt Jr.'s green firesuit when he retires at the end of the season. And as the handsome new face of Mountain Dew, I'm issuing this official press release while I chug that bold, citrus nectar.
I'll be picking up right where Junior left off. Driving fast cars. Endorsementing. Basically, the same stuff that he does.
While I have never actually driven a stock car, I know enough to be dangerous. Now, you may be asking yourself, "Aren't you Danny McBride, the world's funniest actor? What are you doing racing cars?" To which I say, "Pfft. I'm Dewey Ryder, the rightful heir to this throne."
This is surely a bittersweet announcement for some of you. Dale Jr. and Mountain Dew have been partners since 2008. Dale Jr. is super popular and everyone says he's a swell guy. But every time a stock car door closes, another stock car door opens [editor's correction: stock cars do not have doors] and I'm here to pick up the mantle.
For the future generations, I videotaped the passing of the torch moment and it's on the interweb right now. It's a real tear jerker. While this was completely 100 percent my idea, I am supposed to mention it was in collaboration with the ad nerds at BBDO. You can witness the momentous occasion on NBCSN Sunday, Oct. 29, during the Martinsville Speedway race. You're welcome.
But don't just take my word for it. When I spoke to my buddy, Dale Jr., he said, and I quote, "My partnership with DEW goes back almost a decade and it's been an amazing ride. I knew the guy who'd come after me would be someone special, and Dewey's definitely… well, he's someone."
DEW can back that up too. "Dewey has no racing experience. No training behind the wheel. And, we have no idea how this is going to work out," said Chauncey Hamlett, Senior Director of Marketing, Mtn Dew. "We'll definitely miss seeing Dale Jr. behind the wheel as he starts his retirement, as he is an incredible partner to the brand. Dewey Ryder brings something we've never seen before, from the way he holds a bottle of DEW to his bold, fun and boundary-pushing style."
There you have it. To recap, Dale Jr. is retiring and I'm the new model – the upgrade – if you will.
Stay tuned. Down the road there will be more Dewey for many moons to come. To join the conversation, just follow @MountainDew on Facebook, Twitter, Instagram and Snapchat and use the hashtag #DeweyRyder.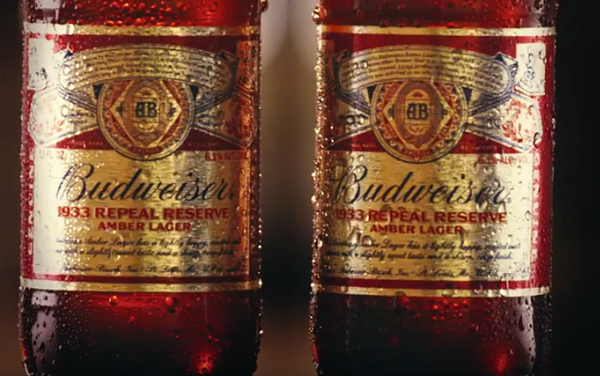 Ever wonder what beer tasted like during the Prohibition period? Well now you can. Budweiser is giving beer lovers the chance to experience and taste history with the release of its limited-edition 1933 Repeal Reserve Amber Lager. The recipe behind Repeal Reserve dates back to the pre-Prohibition era when Adolphus Busch created and brewed a special Amber Lager for his friends and local community to enjoy. Due to the onset of Prohibition in 1920, the beer didn't have a chance to be distributed widely outside the St. Louis area… until now. Beginning today, Budweiser is releasing this historically inspired recipe nationwide to celebrate the Repeal of Prohibition.
The Prohibition era marks a defining moment for the Great American Lager, as the brand, and the country, faced 13 years without a drop of beer. Budweiser's limited-edition 1933 Repeal Reserve is brewed to recognize and raise a cold one to America's determination through Prohibition.
The amber lager consists of a light, hoppy aroma and a rich caramel-malt taste. As a nod to the pre-Prohibition era, Repeal Reserve boasts a higher ABV than original Budweiser – 6.1% vs. 5%. And, inspired by the earlier style of beers, new Repeal Reserve comes packaged in a vintage Budweiser stubby bottle.
As part of the launch, the brand is bringing the Prohibition era to life by unveiling a fleet of antique cars in partnership with Lyft, Budweiser's preferred safe rides partner. On Wednesday, October 25, New Yorkers (21+) will have a chance to score the Bud Vintage Mode for a ride in an authentic, vintage car to experience the 1930's first-hand, between the hours of 3-7 pm ET by visiting www.lyft.com/BudVintageMode. During the specialized ride, passengers will cruise through the famous streets of New York, passing landmarks and neighborhoods that were integral to Prohibition, while learning about the newly released beer.
From New York and beyond, fans can experience a taste of history with Budweiser as part of Repeal Reserve's full marketing campaign inclusive of new TV commercials, digital content and Clydesdales appearances. Budweiser is also partnering with Drizly to deliver a taste of history to beer drinkers across the country with a special code for $5.00 off their first purchase of 1933 Repeal Reserve, using the code Prohibition.
To score a ride in the Bud Vintage Mode with Lyft visit www.lyft.com/BudVintageMode. For more information on 1933 Repeal Reserve, visit Budweiser on Twitter, Instagram, Facebook and YouTube.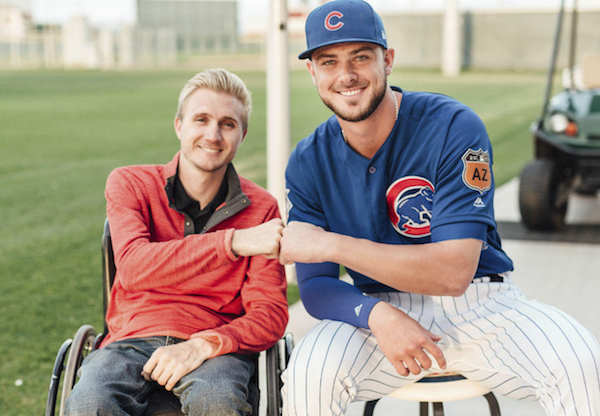 The Chicago Cubs are out of the playoffs, but Kris Bryant is still doing his part to spread some magic in October.  During MLB's "Players Weekend" in August, Kris Bryant wore three pairs of specially designed cleats to shine a light on spinal cord research. Now, fans can bid on those game-worn cleats at charitybuzz.com/KBcleats.  In those cleats, Kris Bryant went 4 for 11 with a homerun and a sizzling .364 average against the Phillies.
As you may know, the cause is near to Bryant because he is friends with Cory Hahn, a former All-American high school baseball player who was paralyzed sliding into 2nd base in 2011 while a freshman at Arizona State University.
As background, three Chicago street artists designed the cleats with a theme of "Wings" in honor of the Wings for Life Foundation, which is dedicated to raising money for spinal cord research. Each pair also celebrated one of the three cities that have given Kris Bryant his wings in life – Las Vegas, San Diego and Chicago.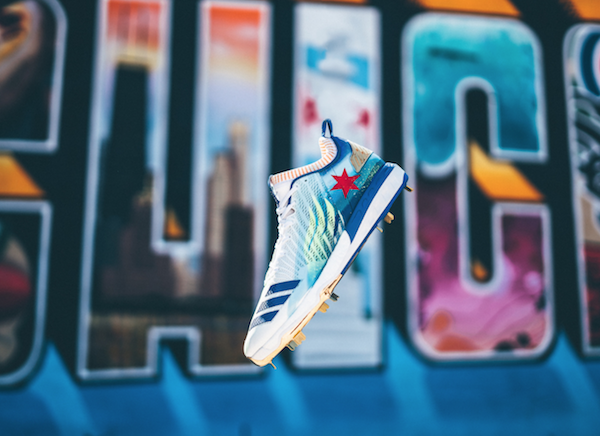 Who are the artists?
The Las Vegas edition cleat was designed by artist Joseph Perez – aka "Sentrock" – using inspiration from Bryant's hometown of Las Vegas.
The San Diego edition cleat was designed by street artist JC Rivera, in honor of Bryant's University of San Diego days when he became a nationally known name in the world of baseball.
The Chicago edition cleat was designed by artist Max Sansing, who was born in Chicago and has a history with Kris Bryant dating back to Summer 2016 when he collaborated on a stunning mural of the player that is still up in the heart of Chicago's Wrigleyville.