Art Eddy III
This user hasn't shared any biographical information
Jabber/GTalk: Art Eddy III
Posts by Art Eddy III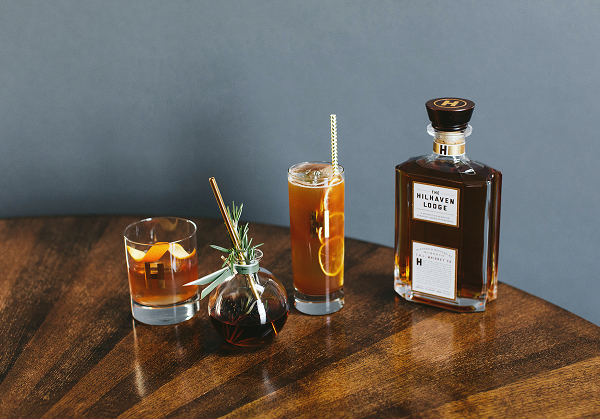 Next weekend we get to see who will be taking home the award that every actor, director, and so on would want to win. Who do you have winning? What was your favorite film this Oscar season? Another question that I have for you is what are you doing for the Oscars? Are you throwing a party? If so why not try these cocktail recipes below. Your guests will be thankful that you did.
Renowned mixologist Charles Joly created the below four signature cocktails, making a statement for Hollywood's most memorable evening. The Hilhaven Lodge's Tinseltown roots run deep – the whiskey is named after the luxurious estate, Hilhaven Lodge, home of The Hilhaven Lodge partner and legendary director Brett Ratner.
Attendees at Governor's Ball will have their choice of The Hilhaven Lodge Old Fashioned, The Road Less Traveled and The Lodge. Cîroc will offer a modern twist with their Cîroc French 75.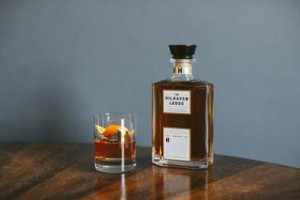 Hilhaven Lodge Old Fashioned
1.5 oz. The Hilhaven Lodge Blended Straight American Whiskey
0.5 oz. Demerara Simple Syrup
1 dash Angostura Aromatic Bitters
1 Orange Peel
Combine all ingredients in a mixing glass with ice and stir until chilled. Strain into a rocks glass over fresh ice, mist with orange oil and place twist decoratively.
The Road Less Traveled
1.5 oz. The Hilhaven Lodge Blended Straight American Whiskey
0.75 oz. Fresh Lemon Juice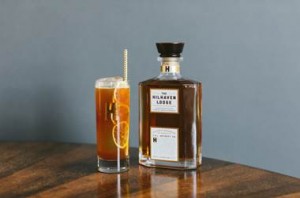 0.5 oz. Bourbon Vanilla Chai Tea Syrup
1 oz. Dandelion Burdock Root Soda
Combine The Hilhaven Lodge with tea syrup and lemon juice. Shake gently. Roll in dandelion and burdock soda. Pour into Collins glass over large cubes. Garnish with dehydrated lemon wheels.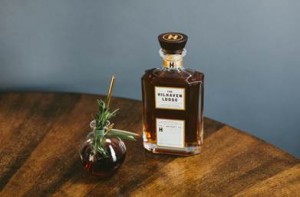 The Lodge
1.5 oz. The Hilhaven Lodge Blended Straight American Whiskey
0.3 oz. Punt e Mes Sweet Vermouth
0.3 oz. East India Sherry
3 drops Chocolate Bitters
Combine The Hilhaven Lodge whiskey with vermouth, sherry and bitters. Stir to chill and dilute. Pour over large cube into an Old Fashioned glass. Mist with orange oil and garnish with fresh rosemary.
Ciroc French 75
1.5 oz. Cîroc Vodka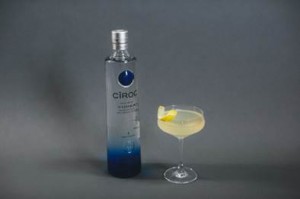 0.75 oz. Fresh Lemon Juice
0.5 oz. Simple Syrup
Splash of Champagne
Combine Cîroc, lemon juice and simple syrup in cocktail shaker over ice. Shake gently. Roll in champagne and strain into a chilled coupe glass. Mist cocktail with lemon oil and garnish with a twist.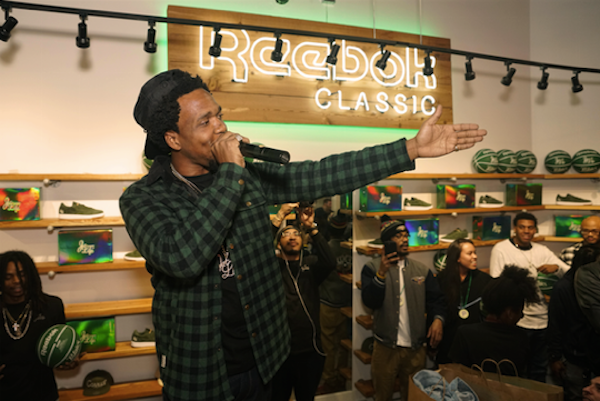 We are getting to see some fantastic kicks this NBA All-Star Weekend. So as we see players and fans descend into New Orleans for an action packed weekend, Reebok Classic along with Curren$y hosted a special event last night at the Sneaker Politics powered by Reebok Classic and Mitchell & Ness store to launch Curren$y's new collaboration with Reebok: the Reebok Classic x Jet Life Club C 85.
Curren$y (aka Spitta) has repped New Orleans rap since the early 2000s, starting out with No Limit, followed by Young Money, and finally now as an independent rapper, known for his love for sneakers and vintage cars.  Curren$y in his signature laid back style strolled into the store and kicked off the party surrounded by his friends, family and fans.  He signed the iridescent greens shoe boxes and custom basketballs fir fans, and then hopped onto the stage for an energetic set to cap off the night.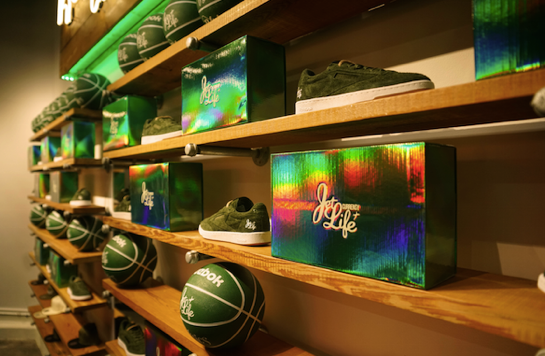 The Reebok Classic x Jet Life Club C 85 is inspired by the legacy Curren$y has built, both in and out of studio. The shoe features several design elements special to him, including both "Jet Life" branding at the heel and "Andretti OG" logo on the insole, a premium hairy green suede upper with GUM bottom, and a hidden stash pocket behind the tongue label.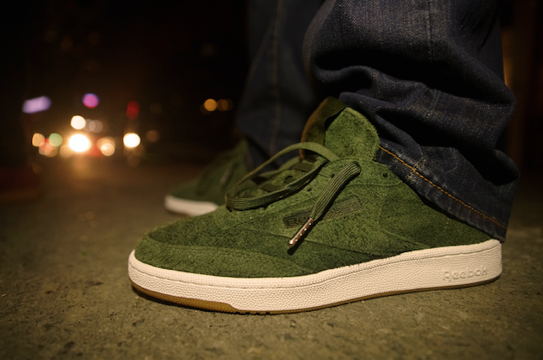 The Reebok Classic x Jet Life Club C 85 is now available at the Sneaker Politics powered by Reebok Classic and Mitchell & Ness store at 216 Chartres Street, New Orleans, as well as www.sneakerpolitics.com for $100 available in Kids and Men's sizing.  The Club C will have a wider release in mid March on Reebok.com and additional retailers in mid March.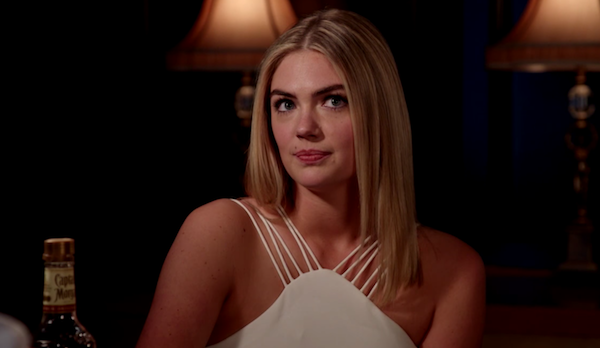 What is Kate Upton doing after SI announced she will be the cover model once again for the swimsuit issue? The answer is simple. She hangs out with Jimmy Kimmel. Kate Upton sat down with late night host Jimmy Kimmel to answer "3 Ridiculous Questions" over a Morgan Mule cocktail with Captain Morgan.
The cover model chatted with the Oscars host about her thoughts on clowns, having pies for feet and whether or not she could learn to love Jimmy.
If you like what they are drinking well you can make up a Morgan Mule from the cocktail recipe below.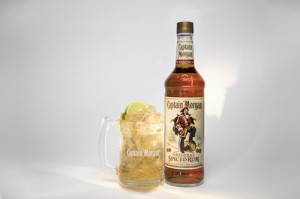 Morgan Mule
1.5 oz. Captain Morgan Original Spiced Rum
4 oz. Ginger (beer or ale)
Lime Wedge
Serve on the rocks and garnish with a lime wedge.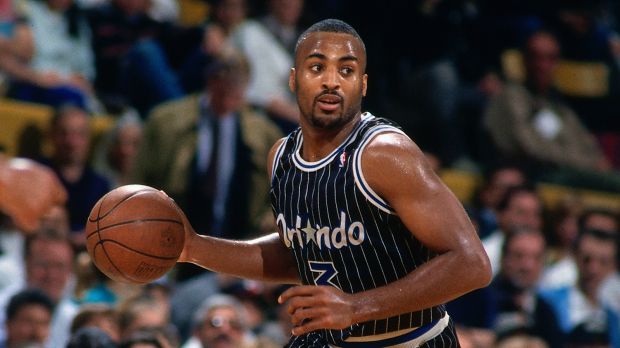 I had the great opportunity to talk with former Orlando Magic great, Dennis Scott about his work with Mountain Dew for the DewNBA 3X series. You can watch teams duke it out during the NBA All-Star festivities this weekend in New Orleans.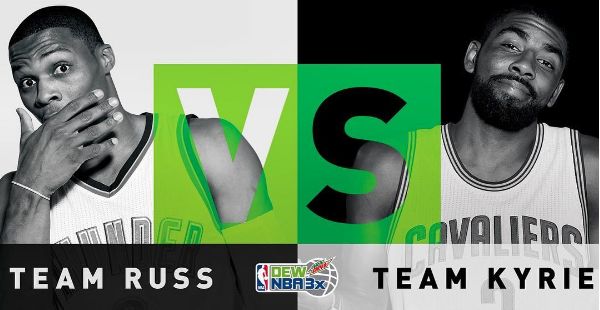 Following a six-city tour of DewNBA3X, Mountain Dew, the NBA, and TNT are bringing the event to a national stage in New Orleans, where Shaquille O'Neal and Dennis Scott scouted the top elite amateur players from across the country for GM's Russell Westbrook and Kyrie Irving.  These players matched up for some tough one-on-one elimination games to see who would make it to the finals, where two teams will play alongside team captains Jason Williams and Baron Davis with a 30-minute special about DewNBA3X airing on Sat. Feb. 18 at 6pm EST on TNT leading into All-Star Saturday Night coverage.
The 30-minute special featuring Dennis Scott, Shaquille O'Neal, Kyrie Irving, Russell Westbrook, Jason Williams and Baron Davis airs on Sat. Feb. 18 at 6pm EST on TNT.
Click HERE is my interview with Dennis.
Follow Dennis on Twitter @3DTV and follow MTN Dew @MountainDew.
Check out the first episode of a six-part DewNBA3X series – showcasing how the players, coaches and GMs are qualifying and preparing for All Star 2017 in New Orleans.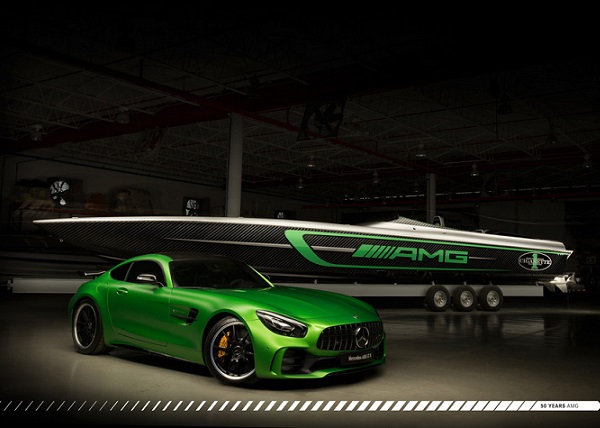 There is some cool news coming out of Miami. Mercedes AMG is getting together with Cigarette Racing teamed up again this year by presenting the Cigarette Racing Team 50' Marauder AMG boat inspired by the stunning Mercedes-AMG GT R.
The new Mercedes-AMG 50' Marauder AMG boat is making its world premiere at the 2017 Miami Boat Show. Designed for high-speed and further improved dynamics, carbon-fiber was employed extensively in the design to help shed more than 1,300 pounds. The deck, cockpit and consoles were developed using advanced laminate analysis techniques and are all constructed from carbon-fiber with foam core. The engine hatch is also completely carbon fiber, employing vacuum infusion technology for its construction.
The Cigarette Racing Team 2017 50' Marauder AMG is powered by a pair of Mercury Racing 1550/1350 QC4v (Quad Cam 4 Valve) engines and M8 stern drives, delivering up to 3,100 hp. These sophisticated powerplants are dual calibration engines, which enable the operator to switch engine power levels through an electronic key fob. The Race Key fob unlocks up to 1550 hp, requiring race fuel. The Pleasure key fob is used for operating at 1,350 hp with 91 octane fuel.
The front-mid-engine concept with a transaxle, handcrafted AMG 4.0L V8 biturbo engine rated at 577 hp, extensively modified suspension, new aerodynamics and intelligent lightweight construction laid the foundation for an especially dynamic driving experience. In addition, the unmistakable AMG Panamericana grille celebrated its standard-production premiere in the Mercedes-AMG GT R, with its 15 chrome-plated vertical fins inspired by the look of the new AMG GT3 race car and the Mercedes-Benz 300 SL that won the legendary Panamericana Mexican road race in 1952.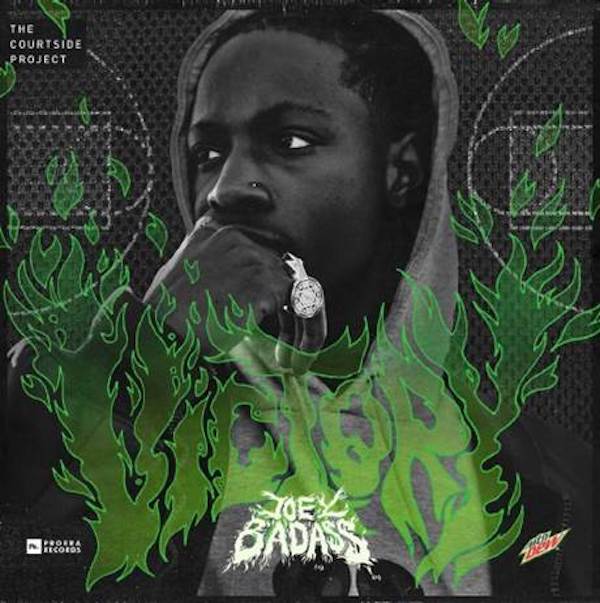 As we head to NBA All-Star weekend MTN Dew is doing their best to get you ready for the fantastic weekend. Joey Bada$$ teamed up with Mtn Dew to create an ode to basketball called Victory. With Victory, Joey showcases his love for the game, a sport that he's always been passionate about, playing as a young kid in Brooklyn and still balling as a form of exercise and enjoyment today. The song just dropped today and can be heard HERE!
This track is the first project out of The Courtside Project, a unique collaboration by DEW that brings together NBA players and trendsetters across style, art and music, debuting at All-Star 2017.
To celebrate the release of Victory, Joey Bada$$ will be in New Orleans at Courtside HQ – Dew's consumer experience at NBA All-Star Weekend – to help launch The Courtside Project and to film a music video for the exclusive track while performing it live for the first time. The music video will be released later this NBA season.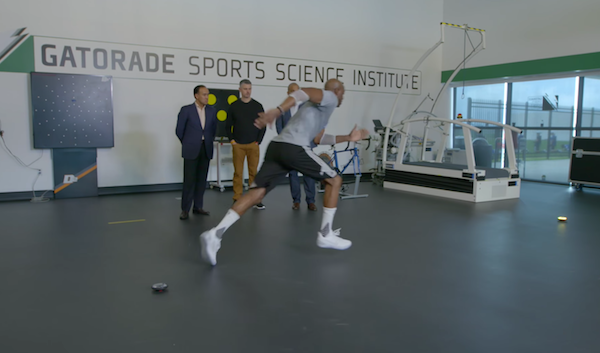 We have all seen players in the NBA rehydrate with Gatorade when they are on the bench during a game. Now the partnership is going even further. Beginning with the 2017-18 season, the NBA Development League (NBA D-League) will be renamed the NBA Gatorade League (NBA G-League) as part of a multiyear expanded partnership announced today by the National Basketball Association (NBA) and Gatorade. This marks the first time a U.S. professional sports league has named an entitlement partner.
As part of the partnership, the NBA and Gatorade unveiled a new NBA G-League logo that will be featured across all game balls, team jerseys, on court signage and league digital assets.  Additionally, Gatorade will incubate its latest product and equipment innovations into NBA G-League locker rooms, and teams will have the opportunity to collaborate with Gatorade to help players maximize their athletic potential and on court performance.
Through the Gatorade Sports Science Institute (GSSI), the sports fuel company will collaborate with the NBA G-League on programs to enhance player sports performance and recovery.  Since 1985, GSSI has helped athletes optimize their sports performance and well-being through research, education, innovation and providing high-caliber sports nutrition science services.  GSSI scientists will partner with the NBA G-League on player nutrition and training programs, incorporating the newest technology and innovations in Gatorade testing, product and equipment.
The partners will also collaborate on custom, behind-the-scenes video content which will capture NBA G-League players on their respective journeys, highlighting a shared commitment to enhancing performance through innovation.A founding partner of the NBA D-League, Gatorade will continue to present the league's Gatorade Call-Up platform.  Since 2001, there have been nearly 500 Gatorade Call-Ups from the NBA D-League to the NBA.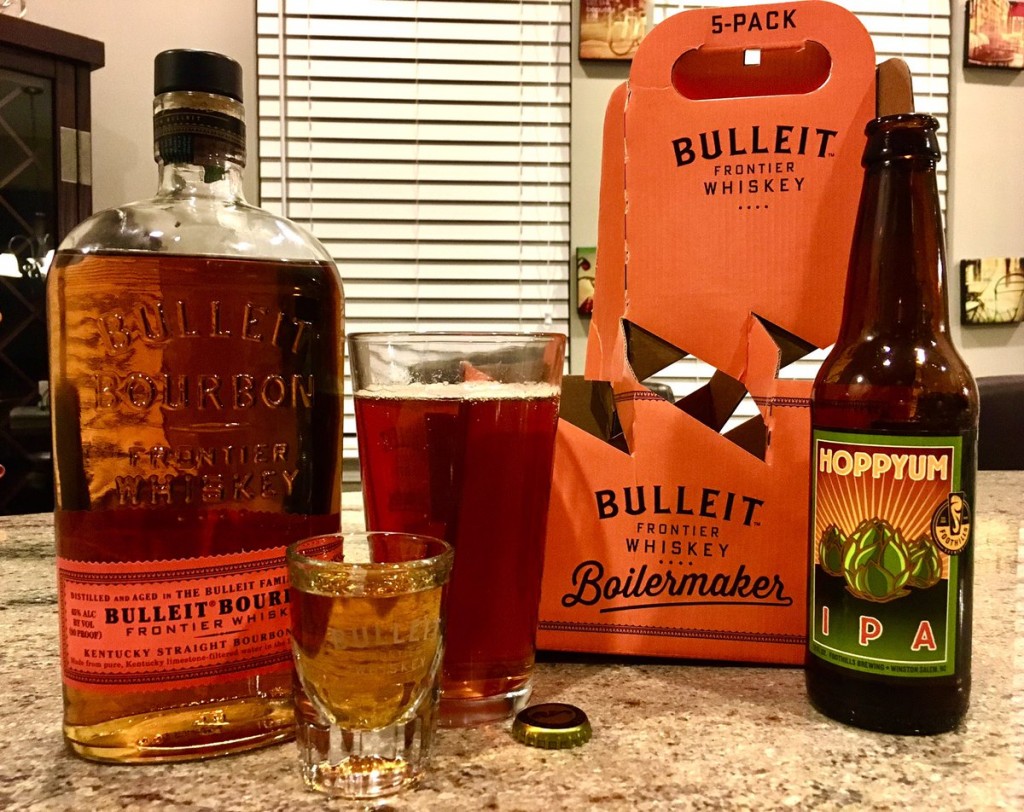 There are assignments as a writer that I gladly accept. One of them recently was when the fine folks over at Bulleit Bourbon asked me if I was interested in finding the right beer to pair with Bulleit to create the perfect Boilermaker.
Most of you know that a Boilermaker is created when you combine a cold beer with a shot of whiskey. There are few theories on when the Boilermaker was created. Some say that Boilermaker came to be in the 1800s when blue collar workers headed to the bar after a long shift and it is believed that the drink was named after the workers who built and maintained steam locomotives during that same time period.
Another idea is that the first Boilermaker was created when Richard Trevitchick and his friends celebrated after his steam powered vehicle made its first successful climb up his village's steepest hill on Christmas Eve in 1801.
No matter how the Boilermaker came to be the popularity of the Boilermaker is making a comeback. So with that notion Bulleit is asking for my help and yours as long as you are 21 years old or older to find the beer that when paired with any variety of Bulleit Bourbon will create the best Boilermaker.
Over the next few months I will be trying out a few local beers or maybe some national ones to see if I can find the best pairing. This month I am going with an IPA. The IPA is from Foothills Brewery in North Carolina. It is the Hoppyum IPA. This is IPA as Foothills says has nutty malts that lend a surprisingly sweet base to copious additions of tangerine-y Simcoe hops. Great aroma, superior taste, clean dry finish. It is the most popular beer and I thought I should give it a try with Bulleit.
As I poured the IPA into the glass I was looking forward to seeing what it would taste like with Bulleit Bourbon. I pour a shot of Bulleit into a shot glass and then dropped the glass into the beer. I picked up the glass and drank the whole thing.
I was really happy with the taste. The two complemented each other well. It was a strong first entry into the quest for the perfect Boilermaker. I would say that this one had a score of 7.5 out of ten.
What is your pairing? Below is the recipe you can use. Let me know which beer you used with Bulleit. I'm always looking for some good suggestions.
Boilermaker
1 oz. Bulleit (Bourbon, Rye or 10-Year-Old)
6 oz. Beer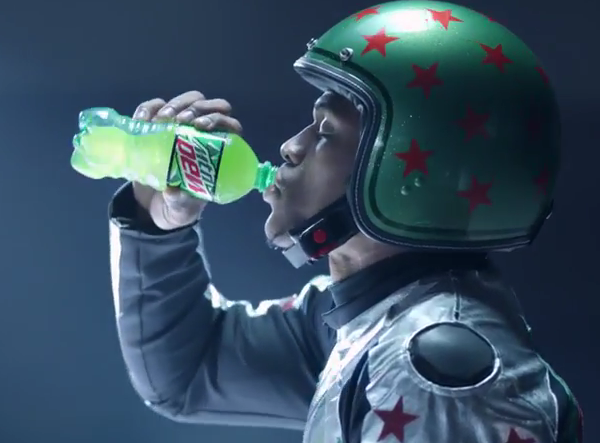 Last weekend we saw Russell Westbrook's former teammate Kevin Durant come back to Oklahoma City. Durant and his new team the Golden State Warriors won the game, but Westbrook can hold his head up high because he is still paving his own way.
There is a new video featuring DEW partner and MVP candidate Russell Westbrook. In Don't Do They, Russell and DEW challenge 'they,' instigating a culture that pushes boundaries and encourages people to "do you."
Westbrook is an athlete who constantly challenges the status quo, inspiring individuality. In Don't Do They, Russell truly embodies what it means to Do the DEW. The new ad also coincides with DEW's launch of overall plans for NBA All Star 2017 in New Orleans.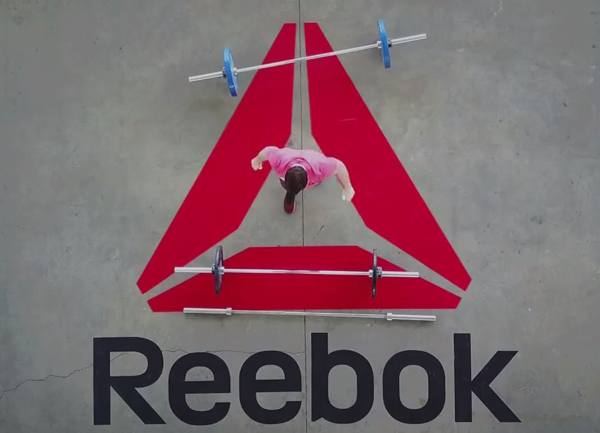 What did you do today? If you feel that you are having a productive day you should check out the latest video from Reebok. Powered by the brand's newest functional training shoe, the Nano 7, Reebok gathered special guests and athletes around the world to break 44 of the top fitness-based GUINNESS WORLD RECORDS titles in just 24 hours. The global, record-shattering event showcased the versatility of the Nano 7, which has broken more world records than any other shoe on the globe.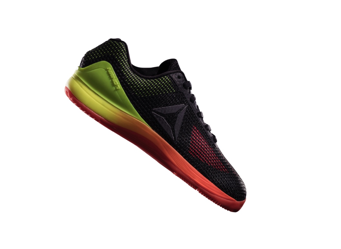 Reebok athletes, brand partners and excited volunteers descended on London, Sydney, L.A. and New York last week in attempt to break an unprecedented amount of fitness-based records all in one built-for-anything shoe. Attempts ranged from 10-year old Milla Star trying for the most burpees in one minute to Eirik Lundstein attempting the most barbell backflips in 1 minute with 20kgs. Notable athletes and participants in the attempts included:
Max Greenfield – Actor
Annie Thorisdottir – CrossFit Athlete & 2x CrossFit Games Champion
Milla Star – 10 year old fitness phenom
Logan Aldridge – Adaptive athlete and CrossFit Coach
Dan Bailey – CrossFit Athlete & 5x CF Games Competitor
Scott Panchik – CrossFit Athlete and 5x CF Games Competitor
Rob Forte – CrossFit Athlete and 6x CF Games Competitor
Kara Webb – CrossFit Athlete and 5x CF Games Competitor
Camille Leblanc-Bazinet – CrossFit Athlete and former CF Games Champion
Of the dozens of attempts, 44 official records were shattered – a record-breaking accomplishment in itself.