Art Eddy III
This user hasn't shared any biographical information
Jabber/GTalk: Art Eddy III
Posts by Art Eddy III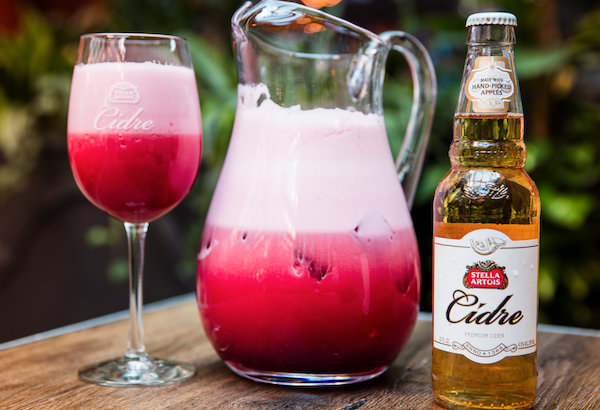 Fourth of July celebrations will be starting tonight and Stella Artois Lager and Stella Artois Cidre have the beverage options covered. Whether you are stocking the cooler for a weekend at the beach or hosting friends for a backyard BBQ – Stella Artois offers beverage options to suit any occasion.
On-the-go this summer holiday? Stella Artois 6-pack cans are ideal for any beach-goer, rooftop sunset watcher or pool floater – and not to mention perfect for places that don't allow glassware.
Hosting a Fourth of July party? Stella Artois Cidre cocktails are deliciously refreshing for a hot summer day and an insta-worthy choice for guests with options like the Stella Artois Cidre Cherry Pom Pomme, the Stella Artois Cidre Margarita or the Stella Artois Cidre Hibiscus Frosé.
Whether it be a large BBQ party, seated backyard dinner, or an impromptu after-work gathering with friends Stella Artois is hoping to help people savor the moments big and small all summer long.
Stella Artois Cidre Cherry Pom Pomme
Ingredients:
½ oz. grenadine
½ oz. lemon juice
Stella Artois Cidre
Bradied cherry (to garnish)
Directions: Mix ½ oz. grenadine and ½ oz. lemon juice; shake over ice. Pour into a highball glass and top with Stella Artois Cidre. Garnish with a brandied cherry skewer.
Stella Artois Cidre Hibiscus Frosé
Ingredients:
4 oz. Raspberry Hibiscus Infusion*
6 oz. Stella Artois Cidre
Directions: Add Raspberry Hibiscus Infusion, Stella Artois Cidre and ice to blender. Blend for 20 seconds, and pour into Stella Artois Cidre Glass.
Raspberry Hibiscus Tea Infusion
Bring 2 cups water to boil – remove from heat and add 4 hibiscus tea bags. Let seep for 5 minutes then remove tea bags. Add 1 cup raspberries and return to boil for 10 minutes. Remove from heat, add ¾ cup sugar, stir and strain. Let cool for about 10 minutes before serving.
Stella Artois Cidre Margarita
Ingredients:
1 oz Reposado Tequila
.75 oz Lime Juice (Juice of 1 lime)
1.5 oz Blood Orange Juice (Juice of 1 blood orange)
.5 oz Fuji Apple Juice
4 oz Stella Artois Cidre
Dash of Orange Bitters
Dash of Himalayan Pink Salt
1 tablespoon Blue Agave Nectar
Directions: Combine ingredients in a cocktail shaker with ice, shake, then pour into double rocks glass. Top with 4 oz. Stella Artois Cidre and garnish with a wedge of lime and a blood orange twist.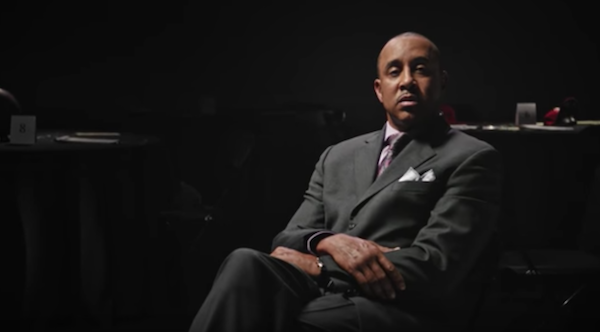 Just in time for tonight's NBA Draft, Budweiser released a new spot called "The Undrafted", featuring former New York Knicks star John Starks. The film tells the story of John's path as an undrafted player in the NBA, in celebration of those who refuse to give up on making their dreams a reality — inside and outside of the NBA.
As we start another year for the NBA, Budweiser wants to both raise a toast to those players who will hear their name called on Draft Day tonight as well as the players, like John, who refuse to give up on making their dreams a reality. This film was created as a tribute to them and their hard work.
John Starks, New York Knicks Legend, "I never had the opportunity to hear my name called on Draft Day," said John Starks, former New York Knicks star. "I carried that chip on my shoulder every single day, determined to work harder as I made a name for myself in the league. I'm glad I can share my story with Budweiser, reminding the next generation of players that their careers will not be defined by their draft positions; the journey is just beginning."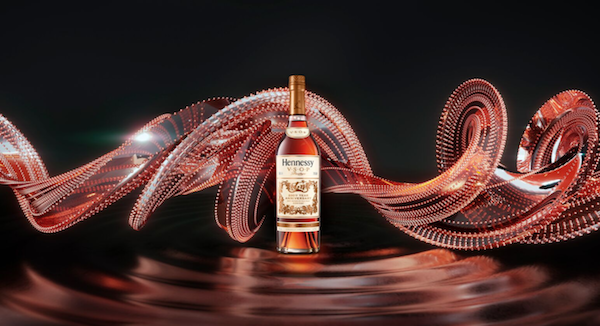 If you are a Hennessy fan than you need to pick up the latest edition. Two centuries ago the future King of England George IV requested an exquisite eau-de-vie, which was delivered by Maison Hennessy to the royal court in 1818. With what would be called Hennessy V.S.O.P Privilège, Hennessy created a new style of Cognac that would transform the art of Cognac making, inspiring the future "Very Superior Old Pale" designation. V.S.O.P Privilège is the perfect embodiment of the mastery of Hennessy's Comité de Dégustation, a manifestation of Hennessy's unwavering dedication to innovation.
The Hennessy V.S.O.P Privilège 200th Anniversary Limited-Edition Pack has a collector's box that pays homage to the original V.S.O.P design with a traditional Charentaise bottle featuring the vintage vine & grapes of its original label through a modern lens.
Housed in a metal canister with a leather handle, the commemorative 750ml bottle will retail for a suggested price of $80. For more information, visit Hennessy.com
Hennessy  V.S.O.P  Privilège  200th Anniversary  Cocktail
The  Timeless  Mastery
2  oz.  Hennessy  V.S.O.P  Privilège  Cognac
.5  oz.  Madeira
3  dashes  Peychaud's bitters
1  dash  Angostura  bitters
Orange  twist  and  gold  leaf  garnish
Method:
Combine  all  ingredients  in  a  mixing  glass  with ice,  stir  to  chill  and  strain  into  a  rocks  glass;  garnish  with the  expressed  oils  of  an  orange  twist,  discard  the  twist  and  add  gold  leaf.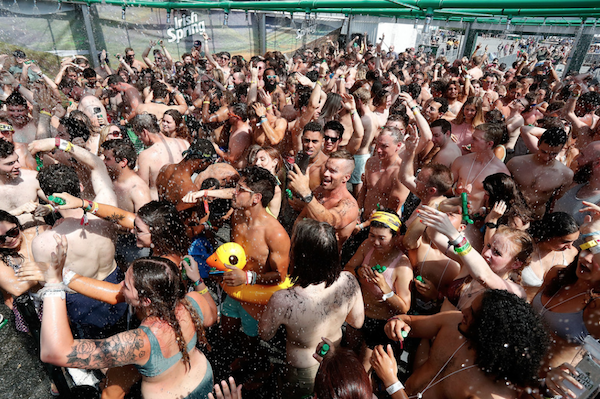 Last week music fans and festival campers made some news! They got dirty before lathering up to help Irish Spring break the GUINNESS WORLD RECORDS title for the Most People Showering Simultaneously (Single Venue) at Firefly Music Festival in Dover, DE. Festival goers gathered in a custom built shower as water sprayed down from overhead while DJ Jim Pierson kept the party going.
Irish Spring ultimately broke the GUINNESS WORLD RECORDS title at 10 a.m. with 396 participants showering simultaneously for five consecutive minutes – exceeding the previous record holder by 65 people.
Known as the East Coast's largest live music and camping festival, Firefly Music Festival attracted over 70,000 campers spanning over four days, according to the festival's website (2018, June). As the Official Grooming Product of Firefly Music Festival, Irish Spring also supplied body wash to over 400 showers across the campground throughout the weekend.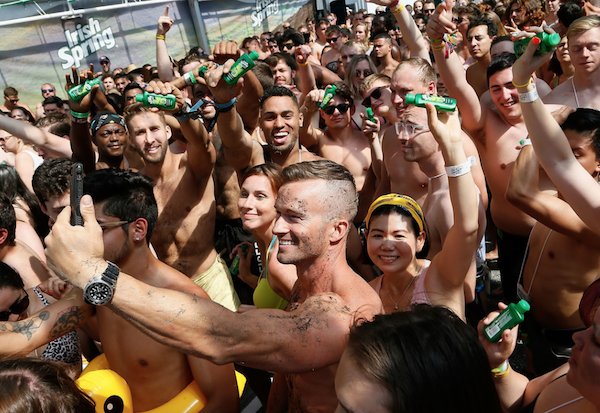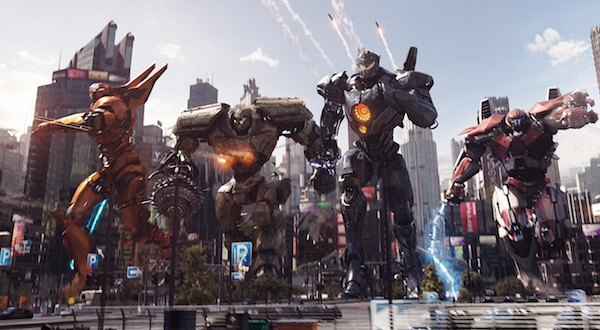 Ten years after the events of the first film, the Kaiju return in Pacific Rim Uprising with a new deadly threat that reignites the conflict between these otherworldly monsters of mass destruction and Jaegers, the human-piloted super-machines that were built to vanquish them. Pacific Rim Uprising arrives on Digital and the all-new digital movie app MOVIES ANYWHERE on June 5, 2018, as well as on 4K Ultra HD, 3D Blu-rayTM, Blu-rayTM, DVD and On Demand on June 19, 2018 from Universal Pictures Home Entertainment. Building on the striking visual world created in the first film, Pacific Rim Uprising features a next-generation battleground complete with upgraded Jaegers and new Kaiju that offers a captivating a state-of-the-art spectacle perfect for your next night in. Experience one-of-a-kind special effects and more than forty minutes of bonus content when you own the next installment on 4K Ultra HD, 3D Blu-ray, Blu-ray and DVD.
In Pacific Rim Uprising directed by Steven S. DeKnight, John Boyega (Star Wars: The Force Awakens) stars as the rebellious Jake Pentecost, a once-promising Jaeger pilot whose legendary father gave his life to secure humanity's victory against the monstrous Kaiju. Jake has since abandoned his training only to become caught up in a criminal underworld. But when an even more unstoppable threat is unleashed to tear through our cities and bring the world to its knees, he is given one last chance to live up to his father's legacy. Jake is joined by gifted rival pilot Lambert (The Fate of the Furious' Scott Eastwood), 15-year-old Jaeger hacker Amara (newcomer Cailee Spaeny), returning veterans Charlie Day ("It's Always Sunny in Philadelphia"), Rinko Kikuchi (Pacific Rim), Burn Gorman (The Dark Knight Rises) and a talented crew of fiercely young cadets. The international cast also includes Tian Jing (Kong: Skull Island) and Adria Arjona ("Emerald City"). Rising up to become the most powerful defense force to ever walk the earth, they set course for a spectacular all-new adventure on a towering scale.
You can win a Pacific Rim prize pack from MANjr. All you need to do is tweet at me HERE your favorite Pacific Rim character. You will the following items: Good luck and we want to thank Universal Pictures Home Entertainment for the prize pack.
Pacific Rim Uprising Blu-ray
Pacific Rim 1 Blu-ray
Pacific Rim Pins/Buttons
1 Pacific Rim T-Shirt


Lexus, the official vehicle of the championship for the 12th consecutive year - is providing a range of amazing onsite opportunities inside the Lexus Performance Experience, including:
Exclusive autograph sessions with Lexus golfers Jason Day, Peter Jacobsen and Johnny Miller
A chance to win a two-year lease on a 2018 RX 350L with a simulated hole-in-one challenge
VR experiences allowing fans to drive a sporty RC F around a famous racetrack
Golf's most celebrated weekend is back, returning with official vehicle Lexus. The 118th U.S. Open Championship takes place June 14-17, 2018 at prestigious Shinnecock Hills Golf Club in Southampton, N.Y. for the fifth time in its significant history.
"The U.S. Open is one of golf's most exciting majors," said Greg Kitzens, general manager, Lexus marketing. "Our longstanding partnership with the USGA and its championships allows us to provide our customers and fans with premium experiences at the U.S. Open, connecting with them in a unique way."
The Lexus Performance Experience, located near the main entrance in Fan Central, provides fun, interactive activities for all attendees throughout the weekend. With the "Lexus VR Experience," fans have the opportunity to be virtually transported into the seat of a Lexus RC F 467-horsepower sports car while a world champion racecar driver aggressively speeds them around a racetrack. Attendees are also invited to try their skill with the Lexus Hole-in-One Challenge. The fan that sinks the ball in this simulated replica of the famous 7th hole at Shinnecock Hills will win a two-year lease on a 2018 RX 350L – the automaker's best-selling SUV, the vehicle that created a category and now provides even more space with a third row. Additional activities include the "Putt Like a Pro" simulation, photo opportunities with the U.S. Open Trophy, and autograph sessions with Lexus Golf Ambassadors Jason Day, Patrick Cantlay and Charles Howell III, among others.
Over the course of the Championship, Lexus will provide almost 350 courtesy vehicles to players and officials. Several Lexus vehicles will be displayed throughout the grounds, including the all-new 2019 ES and UX near the course and the 2018 LS 500 F SPORT and LC 500 Inspiration Series in the Lexus Performance Experience.
Lexus is the first and only automotive partner in USGA history, serving as the official vehicle of the USGA and its championships, including the U.S. Open, U.S. Women's Open, U.S. Senior Open, U.S. Senior Women's Open and U.S. Amateur Championship. Lexus also partners with an impressive team of professional players and golf legends. Current Lexus Golf Ambassadors include Jason Day, Patrick Cantlay, Charles Howell III, Wesley Bryan, Jamie Sadlowski, Lydia Ko, Annika Sörenstam, Natalie Gulbis, Johnny Miller, Peter Jacobsen, Mark O'Meara, and Mark Pfeil. Leading up to the Championship, a luxurious Lexus LX transported the U.S. Open Trophy in style during a 61-day tour throughout the tri- state area.
For more information on the full line of vehicles, visit Lexus.com. Follow the conversation on social media at #LexusGolf.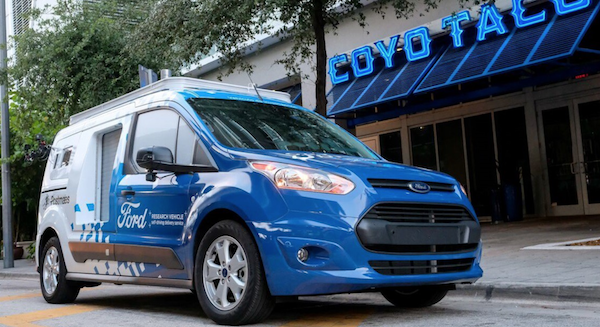 People in Miami and Miami Beach may be in for a big surprise the next time they order from Postmates. Today, Ford Motor Company announces its first pilot program with Postmates to offer on-demand self-driving delivery services from restaurants, hardware stores, coffee shops and more than 70 retailers in the Miami area.
How It Works:
After receiving an order, the restaurant prepares and packages as it would any order it receives via Postmates. Meanwhile, the self-driving research vehicle is dispatched to the restaurant to pick up the order.
After the order is loaded into the vehicle, the vehicle either picks up additional orders or proceeds directly to the customer's address to drop off the delivery.
When the vehicle arrives, the consumer is alerted on their phone, asked to proceed to the curb, and given a unique code that will give them access to the locker where their order resides.
The Vehicle:
Ford has outfitted a specially-designed Transit Connect vehicle for the pilot program with an external-facing, three-locker system that secures your food and allows Postmates to serve multiple customers per delivery route.
This is Ford's first self-driving research vehicle modified to test a variety of interfaces and features to help inform the design of Ford's purpose-built self-driving vehicle that's scheduled to arrive in 2021.
The Postmates collaboration will help inform how to transport goods more efficiently and on a larger scale, explore how new ideas and mobility solutions can transform the way people do business in our changing cities.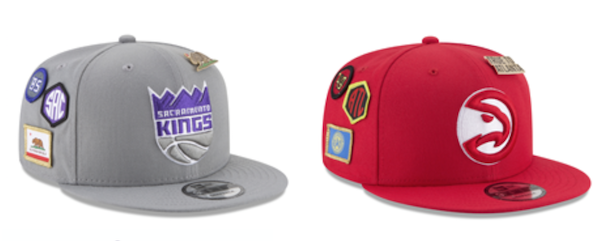 With the NBA Draft fast approaching, the lives of 60 young players are about to change forever, as their dreams are realized the moment they put on their new team's cap. Today, New Era Cap, the Authentic Cap of the NBA, announces the release of NBA Authentics: Draft Series,the caps that will be given to draftees on June 21 when they are welcomed to their new city.
This year's collaboration between New Era and the NBA highlights team colorways with unique design elements – using localized patches and pins to pay homage to the NBA's 30 team cities. The cap embellishments denote something unique for each franchise, including city or state flags, the year the team was established, an alternate team logo and monogram marks.
The NBA Authentics: Draft Series collection is available now in stores and online at NewEraCap.com. The 9FIFTY's are available in team colorways, denim and Storm Gray for $36.  Additional cap silhouettes will be available ranging in price from $28 – $38.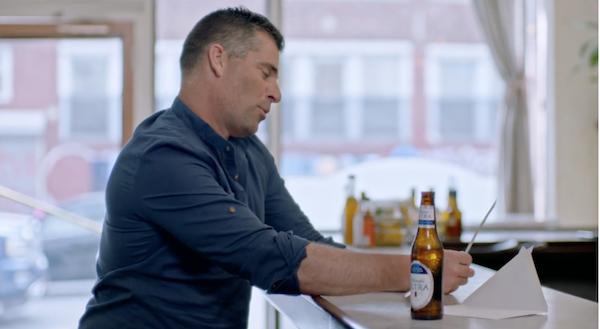 In celebration of the impact of non-traditional 'dads,' Michelob ULTRA has created an emotional film, titled Dear #ULTRADAD, that enabled three real people to pay a touching tribute to their father figures.
The video features real people from around the country including fitness influencer and NFL player Dale Moss and Brent Decker, his high school basketball coach from South Dakota, a NYC-based dancer Mary Callahan and Lloyd Culbreath, her dance instructor and mentor and Brooke Carrel, a woman who lost her father at the age of 12, and her stepfather David Terpstra
Michelob ULTRA is also encouraging consumers 21+ to share tributes to their own father figures on social media using the #ULTRAdad hashtag. When consumers share a tribute to their father figure, they have the power to do good and give back to those who play this very role. For each post shared, Michelob ULTRA will donate $1 to Up2Us Sports.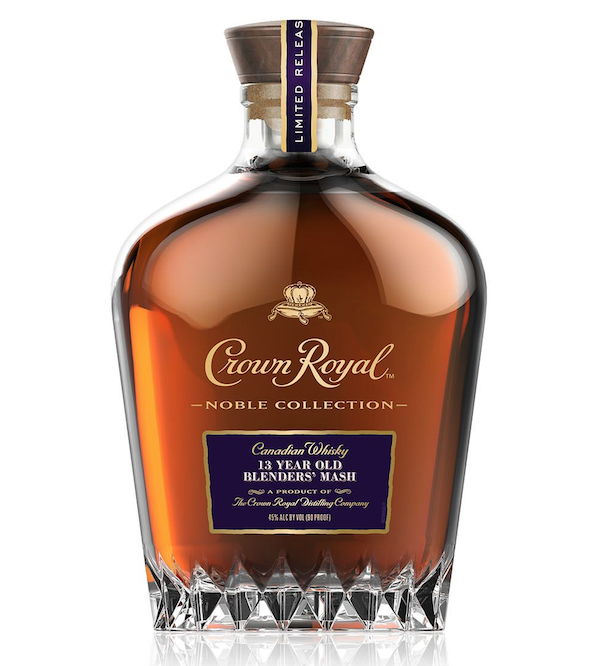 Crown Royal just released the third expression in its Noble Collection, Crown Royal 13-Year-Old Blenders' Mash, a rare stock of the Canadian whisky made with a corn-forward mash bill. Carefully aged in new, charred American oak barrels for no less than 13 years, this is the first age statement offered from the Canadian whisky brand, the world's bestselling Canadian Whisky. The complexity of the liquid intensifies with the aging process, bringing out richer and deeper notes of caramel and fruit.
Crown Royal 13-Year-Old Blenders' Mash was named Best Canadian Whisky and received a Double Gold Medal at the 2018 San Francisco World Spirits Competition.
APPEARANCE: Amber
NOSE: Crown Royal 13-Year-Old Blenders' Mash begins with a nose of orchid fruits, butterscotch with a hint of toasted oak.
TASTE: Crown Royal 13-Year-Old Blenders' Mash encompasses the taste of rich caramel, vanilla and toffee notes.
LOOK AND FEEL: Crown Royal 13-Year-Old Blenders' Mash is packaged in a sleek bottle with a crystal-cut style base and a re-sealable cork top. A thick, purple bag with gold accents encases a bottle and the carton is a rich purple with an iridescent glow.