Art Eddy III
This user hasn't shared any biographical information
Jabber/GTalk: Art Eddy III
Posts by Art Eddy III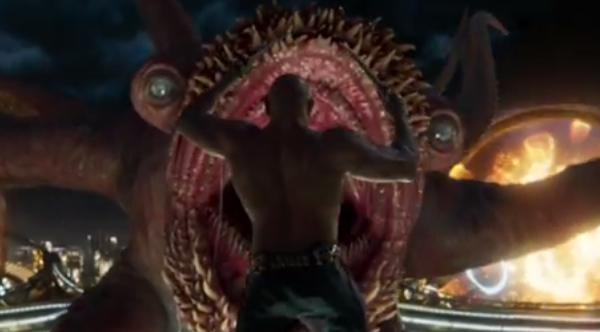 Recently on Jimmy Kimmel Live Chris Pratt helped debut the latest trailer forGuardians of the Galaxy Vol. 2 that costars Zoe Saldana, Bradley Cooper and more. The film is in theaters May 5th. Set two-to-three months after the first film, the Guardians of the Galaxy travel throughout the cosmos and struggle to keep their new-found family together, while helping Peter Quill learn more about his true parentage.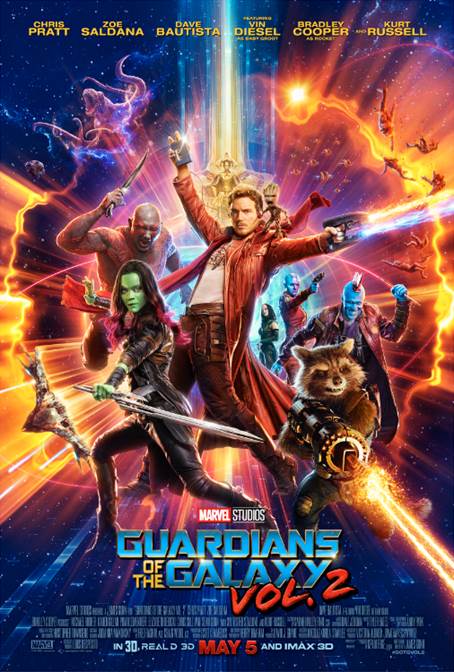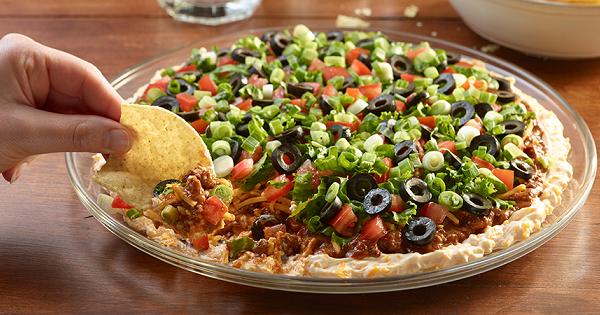 No matter what time of the year it is there is always a great recipe for chili. We have four new takes on chili that you will love trying out for dinner, lunch or even breakfast. That is right I said breakfast. Which one will you try first?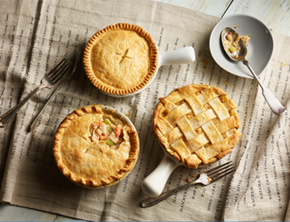 Chicken Chili Pot Pie
Makes 4 servings
1 tablespoon olive oil
½ cup chopped carrots
½ cup chopped onion
½ cup chopped fresh cilantro leaves
2 (15-ounce) cans HORMEL® chicken chili with beans
1 (14-ounce) package refrigerated pie crusts
1 large egg, lightly beaten
1 tablespoon water
Directions: Heat oven to 375°F. In medium skillet, heat oil over medium heat. Sauté onion and carrot 10 minutes. Stir in chili and cilantro; cook until heated. Transfer mixture to baking dish or to individual baking dishes. Either cut circles to fit with slits to vent or cut strips to make a lattice pattern over chili mixture. In small bowl, whisk together egg and water. Brush pie crust with egg mixture. Bake 25 to 30 minutes or until crust is golden and filling is bubbly.
Vegetable Chili With Kale And Quinoa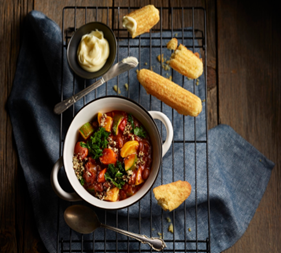 Makes 8 to 10 servings
2 tablespoons olive oil
½ medium onion, chopped
1 carrot, peeled and chopped
2 celery ribs, chopped
1 medium zucchini, chopped
1 small yellow squash, chopped
1 red bell pepper, chopped
4 ounces sliced mushrooms
3 (15-ounce) cans HORMEL® chili
½ cup quinoa
2 cups chopped fresh kale
Directions: In large Dutch oven, heat oil over medium-low heat. Sauté onion, carrot and celery 10 minutes. Stir in zucchini and next 3 ingredients and sauté 8 minutes. Stir in chili, quinoa and kale and simmer 15 minutes.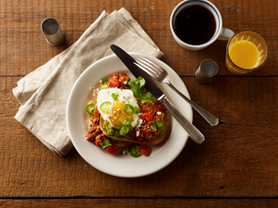 Chili Avocado Breakfast Toast
Makes 1 serving
2 slices whole grain bread, toasted
2 (1-ounce) packages WHOLLY GUACAMOLE® minis
1 cup HORMEL® chili, heated
1 large egg, fried
Garnish: Spread avocado on each toasted bread slice. Spoon chili over avocado and top with fried egg. Garnish with jalepeno slices, tomatoes, cilantro leaves and cheese, if desired.
Walking Taco
Makes 2 servings
1 (9 1/4-ounce) bag corn chips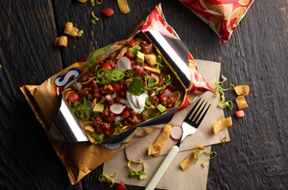 1 cup HORMEL® chili, heated
Toppings: shredded lettuce, chopped tomatoes, chopped  avocado or quacamole, sour cream, shredded cheddar cheese, sliced green onions, sliced fresh jalapeños or pickled jalapeño slices, sliced ripened olives, pico de gallo, sliced radishes, and chopped fresh cilantro
Directions: Cut slit in front side of bag or cut top of bag off. Spoon chili over chips. Top with desired toppings.


Did you know that March 3rd is National Moscow Mule Day? Well now you do. Plus we are giving you more info on the Moscow Mule. It was invented in 1941 by Smirnoff, the Moscow Mule has been making a comeback in recent years. March 3 (or 3-3) is significant as there were three people involved in the cocktail's creation, three ingredients in The Original Mule and when turned counterclockwise the numbers become an M-M.
So now it's the perfect time to celebrate with a classic Moscow Mule (easily made with 1.5 oz Smirnoff vodka, 4 oz of ginger beer and a lime wedge or with one of the fun twists below.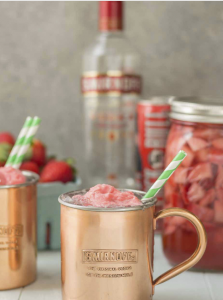 Strawberry Moscow Mule Float (courtesy of Megan Marlowe from Strawberry Blondie Kitchen)
1.5 oz Smirnoff No. 21 vodka
Juice from 1 lime
4 ounces ginger beer
Scoop of strawberry sorbet
Into the bottom of a copper mug, add vodka, lime juice and ice.  Top with ginger beer and a scoop of sorbet.
Cherry Lime Moscow Mule (courtesy of Kendra Darr of Simply Darrling)
3 oz Smirnoff No. 21 vodka
1 bottle Cherry Ginger Beer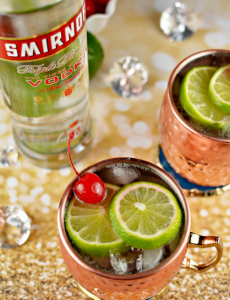 5 oz Cherry Limeade
Cherries and sliced lime for garnish
(Serves 2)
In a cocktail shaker, mix ice, Smirnoff No. 21, Cherry Ginger Beer and Cherry Limeade. Stir until combined and strain into copper mug over ice. Garnish with cherries and sliced limes.
Sunrise Over Moscow Mule (courtesy of Jay and Leah from The Gastronom)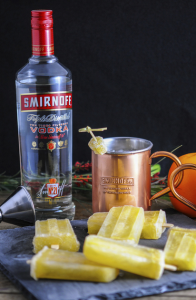 Cocktail:
1.5 oz Smirnoff No. 21 vodka
2 oz Fresh squeezed orange juice
.5 oz fresh squeezed lime juice
4 oz ginger beer
Fill copper mug with crushed ice. Add vodka, orange juice and lime juice into the mug. Stir and top with ginger beer. Garnish with candied ginger.
Ice pops:
1.5 oz Smirnoff No. 21 vodka
4 oz orange juice
.5 oz simple syrup
.5 oz lime juice
4 oz ginger beer
Add all ingredients into a bowl and whisk to mix completely. Pour mixture into ice pop molds and place into freezer. After about 90 minutes, insert sticks into the molds. Allow ice pops to freeze overnight.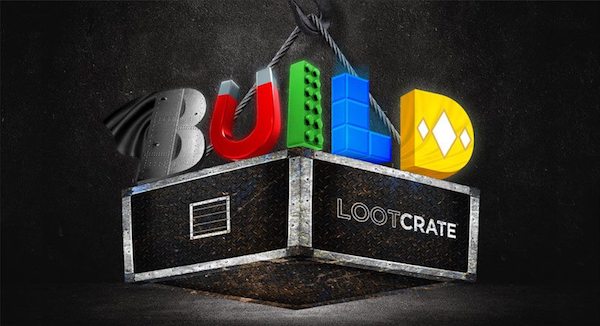 Loot Crate has done it again. As a geek and a collector I am always loving what the good folks over at Loot Crate put into their crates each and every month. This month's Loot Crate theme was BUILD. It showcased items from LEGO Batman and Power Rangers which both franchises have movies out this year.
The items in this month's crate are a Lego Batman Head Food Container, one Lego Dimensions Fun Pack. You will either get Benny, Wonder Woman, Cyborg, Unikitty, or Bad Cop. A Megazord Pin + 3 Power Rangers digital comics from Comixology, a Megazord Blueprint shirt and a TETRIS Flexible Magnet Sheet – Flat magnets for your fridge.
Like what you see? Get a subscription. March's theme is PRIMAL! That roar in the distance is a call. Will you answer it? This month they are unleashing the beasts of some of pop culture's most ferocious franchises! Plus there are different themed crates as well. There is a Loot Anime, Loot Gaming, Loot Pets, Firefly, and LVLUp. They even have limited edition Star Wars and Call of Duty crates. You can pick out the best one that fits your style and your budget. Go to www.lootcrate.com for more info on each one and to start your subscription today!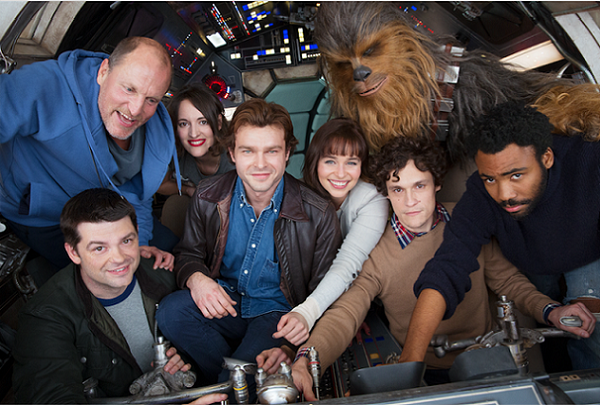 Disney has been doing a great job with the Star Wars films. From The Force Awakens to Rogue One fans of the movie franchise have been loving these movies. Now we get a Han Solo movie that comes out next year. The adventure-filled past of the iconic scoundrel and everyone's favorite Wookiee is going before cameras this month when principal photography on the untitled Han Solo Star Wars Story officially began February 20th at Pinewood Studios, London.
The movie will explore the duo's adventures before the events of Star Wars: A New Hope, including their early encounters with that other card-playing rogue from a galaxy far, far away, Lando Calrissian. Phil Lord and Christopher Miller are directors co-piloting the movie, with a cast that includes Alden Ehrenreich as Han Solo, Woody Harrelson, Emilia Clarke, Donald Glover as Lando Calrissian, Thandie Newton, and Phoebe Waller-Bridge, with Joonas Suotamo as Chewbacca.
"Watching such inspired people from all over the world, with such unique voices, come together for the sole purpose of making art, is nothing short of miraculous," Lord and Miller said. "We can't think of anything funny to say, because we just feel really moved, and really lucky."
Written by Lawrence and Jon Kasdan, it will be produced by Kathleen Kennedy, Allison Shearmur, Simon Emanuel and co-produced by Kiri Hart, Susan Towner and Will Allegra. Lawrence Kasdan and Jason McGatlin will executive produce.
Crewing the ship will be some of the industry's top talent, including Academy Award nominee for his work on "Arrival," Bradford Young (Director of Photography), Chris Dickens (Editor), Dominic Tuohy (SFX Supervisor), Rob Bredow (VFX Supervisor) and Brad Allan (Action Designer).
They will be joining returning Star Wars veteran crew members Neal Scanlan (Creature & Droid FX Creative Supervisor), Neil Lamont (Production Designer), Dave Crossman and Glyn Dillon (Co-Costume Designers), Jamie Wilkinson (Prop Master), Lisa Tomblin (Hair), Amanda Knight (Make-Up) and Nina Gold (UK Casting Director).
The untitled Han Solo Star Wars Story is slated for release on May 25, 2018.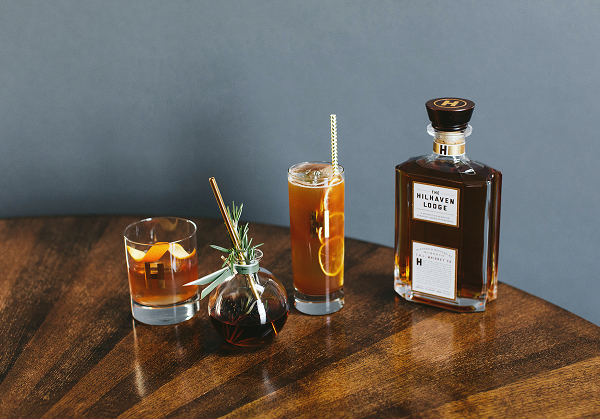 Next weekend we get to see who will be taking home the award that every actor, director, and so on would want to win. Who do you have winning? What was your favorite film this Oscar season? Another question that I have for you is what are you doing for the Oscars? Are you throwing a party? If so why not try these cocktail recipes below. Your guests will be thankful that you did.
Renowned mixologist Charles Joly created the below four signature cocktails, making a statement for Hollywood's most memorable evening. The Hilhaven Lodge's Tinseltown roots run deep – the whiskey is named after the luxurious estate, Hilhaven Lodge, home of The Hilhaven Lodge partner and legendary director Brett Ratner.
Attendees at Governor's Ball will have their choice of The Hilhaven Lodge Old Fashioned, The Road Less Traveled and The Lodge. Cîroc will offer a modern twist with their Cîroc French 75.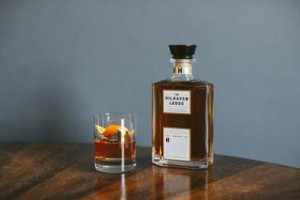 Hilhaven Lodge Old Fashioned
1.5 oz. The Hilhaven Lodge Blended Straight American Whiskey
0.5 oz. Demerara Simple Syrup
1 dash Angostura Aromatic Bitters
1 Orange Peel
Combine all ingredients in a mixing glass with ice and stir until chilled. Strain into a rocks glass over fresh ice, mist with orange oil and place twist decoratively.
The Road Less Traveled
1.5 oz. The Hilhaven Lodge Blended Straight American Whiskey
0.75 oz. Fresh Lemon Juice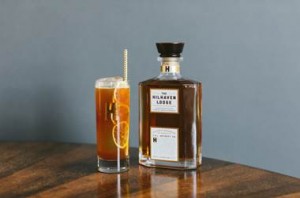 0.5 oz. Bourbon Vanilla Chai Tea Syrup
1 oz. Dandelion Burdock Root Soda
Combine The Hilhaven Lodge with tea syrup and lemon juice. Shake gently. Roll in dandelion and burdock soda. Pour into Collins glass over large cubes. Garnish with dehydrated lemon wheels.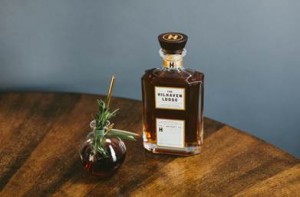 The Lodge
1.5 oz. The Hilhaven Lodge Blended Straight American Whiskey
0.3 oz. Punt e Mes Sweet Vermouth
0.3 oz. East India Sherry
3 drops Chocolate Bitters
Combine The Hilhaven Lodge whiskey with vermouth, sherry and bitters. Stir to chill and dilute. Pour over large cube into an Old Fashioned glass. Mist with orange oil and garnish with fresh rosemary.
Ciroc French 75
1.5 oz. Cîroc Vodka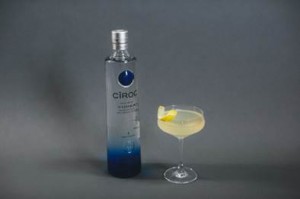 0.75 oz. Fresh Lemon Juice
0.5 oz. Simple Syrup
Splash of Champagne
Combine Cîroc, lemon juice and simple syrup in cocktail shaker over ice. Shake gently. Roll in champagne and strain into a chilled coupe glass. Mist cocktail with lemon oil and garnish with a twist.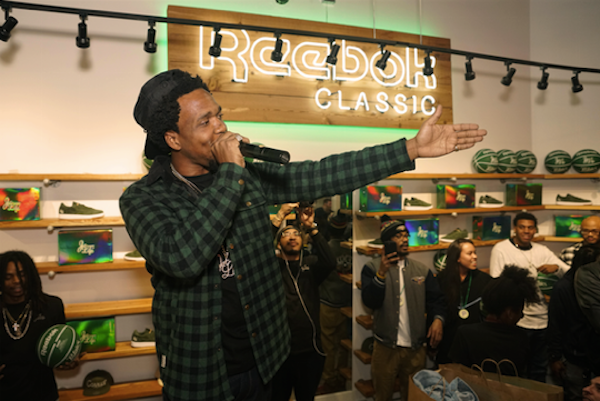 We are getting to see some fantastic kicks this NBA All-Star Weekend. So as we see players and fans descend into New Orleans for an action packed weekend, Reebok Classic along with Curren$y hosted a special event last night at the Sneaker Politics powered by Reebok Classic and Mitchell & Ness store to launch Curren$y's new collaboration with Reebok: the Reebok Classic x Jet Life Club C 85.
Curren$y (aka Spitta) has repped New Orleans rap since the early 2000s, starting out with No Limit, followed by Young Money, and finally now as an independent rapper, known for his love for sneakers and vintage cars.  Curren$y in his signature laid back style strolled into the store and kicked off the party surrounded by his friends, family and fans.  He signed the iridescent greens shoe boxes and custom basketballs fir fans, and then hopped onto the stage for an energetic set to cap off the night.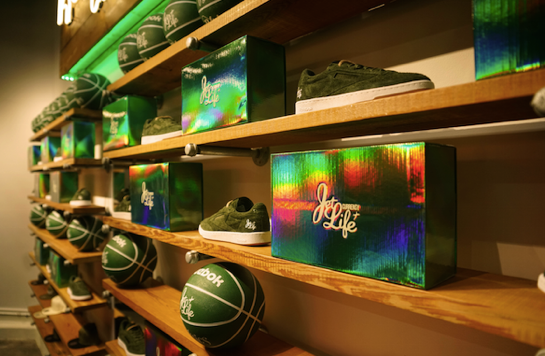 The Reebok Classic x Jet Life Club C 85 is inspired by the legacy Curren$y has built, both in and out of studio. The shoe features several design elements special to him, including both "Jet Life" branding at the heel and "Andretti OG" logo on the insole, a premium hairy green suede upper with GUM bottom, and a hidden stash pocket behind the tongue label.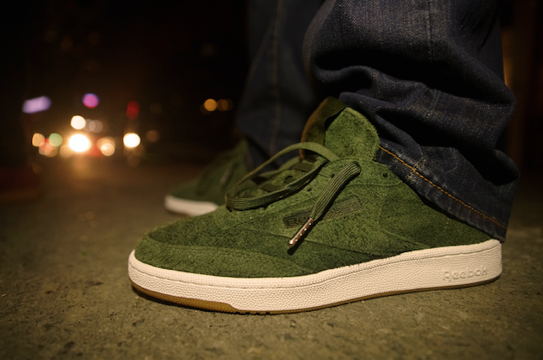 The Reebok Classic x Jet Life Club C 85 is now available at the Sneaker Politics powered by Reebok Classic and Mitchell & Ness store at 216 Chartres Street, New Orleans, as well as www.sneakerpolitics.com for $100 available in Kids and Men's sizing.  The Club C will have a wider release in mid March on Reebok.com and additional retailers in mid March.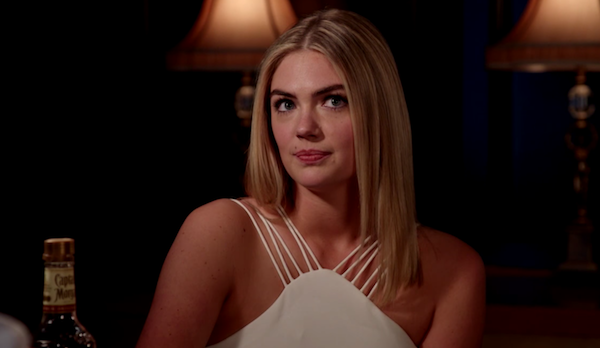 What is Kate Upton doing after SI announced she will be the cover model once again for the swimsuit issue? The answer is simple. She hangs out with Jimmy Kimmel. Kate Upton sat down with late night host Jimmy Kimmel to answer "3 Ridiculous Questions" over a Morgan Mule cocktail with Captain Morgan.
The cover model chatted with the Oscars host about her thoughts on clowns, having pies for feet and whether or not she could learn to love Jimmy.
If you like what they are drinking well you can make up a Morgan Mule from the cocktail recipe below.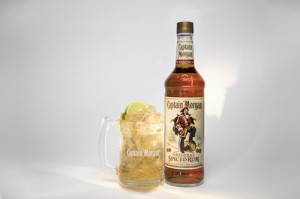 Morgan Mule
1.5 oz. Captain Morgan Original Spiced Rum
4 oz. Ginger (beer or ale)
Lime Wedge
Serve on the rocks and garnish with a lime wedge.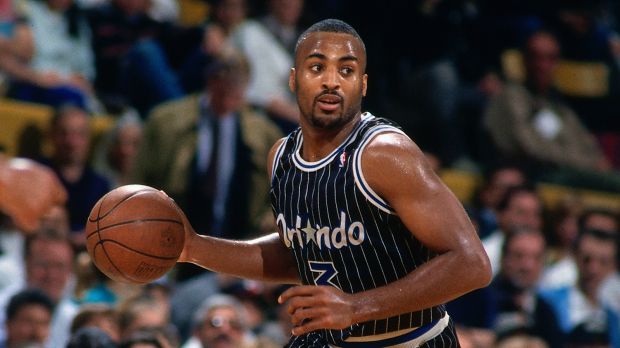 I had the great opportunity to talk with former Orlando Magic great, Dennis Scott about his work with Mountain Dew for the DewNBA 3X series. You can watch teams duke it out during the NBA All-Star festivities this weekend in New Orleans.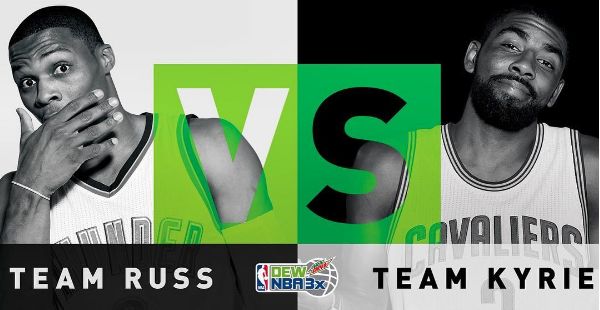 Following a six-city tour of DewNBA3X, Mountain Dew, the NBA, and TNT are bringing the event to a national stage in New Orleans, where Shaquille O'Neal and Dennis Scott scouted the top elite amateur players from across the country for GM's Russell Westbrook and Kyrie Irving.  These players matched up for some tough one-on-one elimination games to see who would make it to the finals, where two teams will play alongside team captains Jason Williams and Baron Davis with a 30-minute special about DewNBA3X airing on Sat. Feb. 18 at 6pm EST on TNT leading into All-Star Saturday Night coverage.
The 30-minute special featuring Dennis Scott, Shaquille O'Neal, Kyrie Irving, Russell Westbrook, Jason Williams and Baron Davis airs on Sat. Feb. 18 at 6pm EST on TNT.
Click HERE is my interview with Dennis.
Follow Dennis on Twitter @3DTV and follow MTN Dew @MountainDew.
Check out the first episode of a six-part DewNBA3X series – showcasing how the players, coaches and GMs are qualifying and preparing for All Star 2017 in New Orleans.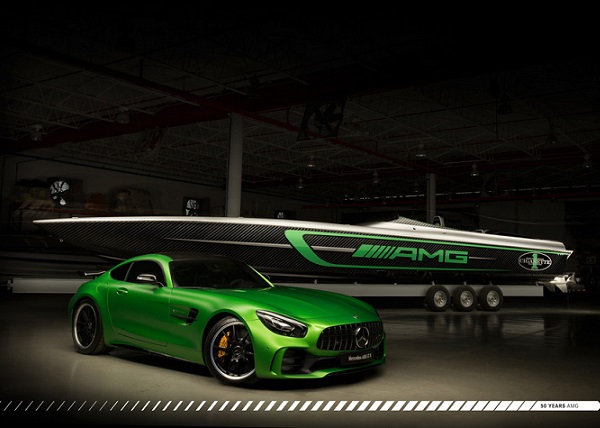 There is some cool news coming out of Miami. Mercedes AMG is getting together with Cigarette Racing teamed up again this year by presenting the Cigarette Racing Team 50' Marauder AMG boat inspired by the stunning Mercedes-AMG GT R.
The new Mercedes-AMG 50' Marauder AMG boat is making its world premiere at the 2017 Miami Boat Show. Designed for high-speed and further improved dynamics, carbon-fiber was employed extensively in the design to help shed more than 1,300 pounds. The deck, cockpit and consoles were developed using advanced laminate analysis techniques and are all constructed from carbon-fiber with foam core. The engine hatch is also completely carbon fiber, employing vacuum infusion technology for its construction.
The Cigarette Racing Team 2017 50' Marauder AMG is powered by a pair of Mercury Racing 1550/1350 QC4v (Quad Cam 4 Valve) engines and M8 stern drives, delivering up to 3,100 hp. These sophisticated powerplants are dual calibration engines, which enable the operator to switch engine power levels through an electronic key fob. The Race Key fob unlocks up to 1550 hp, requiring race fuel. The Pleasure key fob is used for operating at 1,350 hp with 91 octane fuel.
The front-mid-engine concept with a transaxle, handcrafted AMG 4.0L V8 biturbo engine rated at 577 hp, extensively modified suspension, new aerodynamics and intelligent lightweight construction laid the foundation for an especially dynamic driving experience. In addition, the unmistakable AMG Panamericana grille celebrated its standard-production premiere in the Mercedes-AMG GT R, with its 15 chrome-plated vertical fins inspired by the look of the new AMG GT3 race car and the Mercedes-Benz 300 SL that won the legendary Panamericana Mexican road race in 1952.