Art Eddy III
This user hasn't shared any biographical information
Jabber/GTalk: Art Eddy III
Posts by Art Eddy III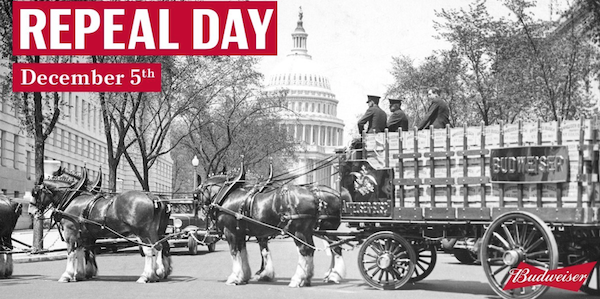 This week Budweiser and Jim Beam Bourbon will recognize and celebrate a historic day in America – Repeal Day – the official end of Prohibition. December 5th will mark the 85th anniversary of the Repeal of Prohibition, and the iconic brands, each with impressive Prohibition survival stories, are calling on drinkers 21+ to celebrate responsibly on this momentous day.
"Prohibition is not only a part of Budweiser's longstanding history but America's too," said Monica Rustgi, vice president of marketing for Budweiser. "Each year, we use December 5th as an opportunity to appreciate the right to drink in America and we're excited to extend the celebration to drinkers across the country."
On December 5th, Budweiser and Jim Beam are rallying the industry and the country for Repeal Day, from office-wide events to local bar takeovers. Budweiser will start with inviting employees to end the day early to celebrate, while both brands will encourage employees to toast their right to enjoy America's two iconic beverages at 5:32 pm – the exact minute Repeal was ratified 85 years ago. The two brands will also host Prohibition-era celebrations across the country.
People across New York City will enjoy Repeal Day alongside the iconic Budweiser Clydesdales as they march through the streets delivering beer just like they did in D.C. to deliver the first legal batch of beer post-Prohibition. The Budweiser Clydesdales were first gifted to August A. Busch Sr. from his sons to celebrate Repeal and serve as a reminder of the prosperous days the company enjoyed prior to prohibition. Budweiser will also deploy Out of Home displays across the country, inviting fellow brewers in the industry to join in the Repeal Day celebration, while also calling upon beer drinkers everywhere to wear red bow tie as they enjoy their right to drink on December 5th.
Jim Beam, a brand that dates back to 1795 but paused production during Prohibition, will commemorate the holiday with a range of retail programming including speakeasy parties across the country.
"Jim Beam's been doing things the right way in Kentucky for over 200 years – even during Prohibition, when my great-granddad James B. Beam waited until Repeal to rebuild our distillery and continue producing bourbon," said Jim Beam's 7th generation Master Distiller Fred Noe. "We figure the anniversary of Repeal may not be a national holiday, but it's still grounds to celebrate. And we're thrilled to raise a glass alongside our friends at Budweiser to honor this historic moment."
The World's most valuable beer brand and the World's No. 1 bourbon brand share impressive histories of persevering through Prohibition while they were unable to produce their signature products. Both brands have thrived in the decades since Repeal; and earlier this year, Budweiser Brewmasters and Jim Beam's 7th Generation Master Distiller Fred Noe came together to create a first-ever collaboration brew, Budweiser Reserve Copper Lager, to celebrate the Repeal of Prohibition. Copper Lager, the third installment in Budweiser's successful Reserve Collection, is on shelves now and the drink of choice for this occasion.
To learn more about Repeal Day and Budweiser Reserve Copper Lager, visit Budweiser and Jim Beam.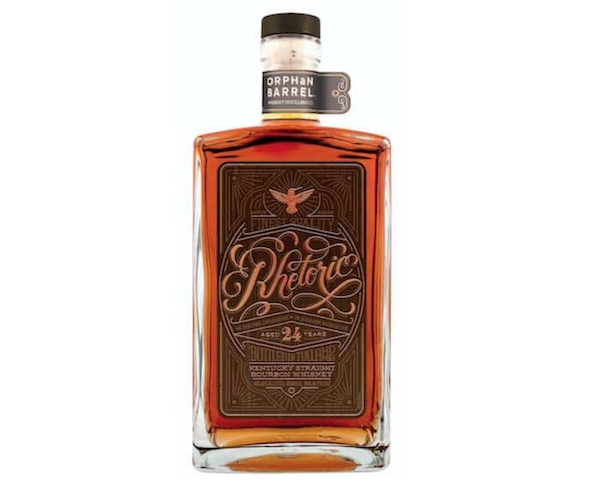 Rhetoric 25-Year-Old is the latest release from the Orphan Barrel Whiskey Distilling Company – a beautiful Kentucky straight bourbon whiskey aged for 25 years. Aged five years longer than the first release, Rhetoric 20-Year-Old, it is slightly more mature and carries a higher proof. The Rhetoric series has been progressively aged and re-released annually at a year older, allowing whiskey aficionados to collect the series and compare the whiskeys side-by-side.
An intricate gold label features a hummingbird rising above chaos and confusion to find clarity and reason. The background, reminiscent of the oak barrels in which the whiskey aged, has grown deeper in color as Rhetoric is released each year.
Rhetoric stocks were found in the old Stitzel-Weller Warehouses in Louisville, Ky. The whiskey was distilled (between 1990- 1993) at the Bernheim Distillery historically located at 17th and Breckenridge in Louisville, Ky., while owned and operated by United Distillers. The whiskey is hand-bottled in Tullahoma, Tenn. Download APP APK Android, MOD Games and programs https://apk-store.org Free games, you can download for free, a lot popular games with MOD for android. Apk-store.org – offers you the extensive catalog of applications for Android and also the alternative catalog in which you will find a premium of Android of a game free of charge. Plus, at us you will find very large volume of MOD Games and programs.
Aroma rich in oak and vanilla notes with hints of dried fruit, cherries and allspice. Palette is oak-forward with notes of nutmeg, caramel, and cocoa, and gives way to a warming and slightly spicy finish.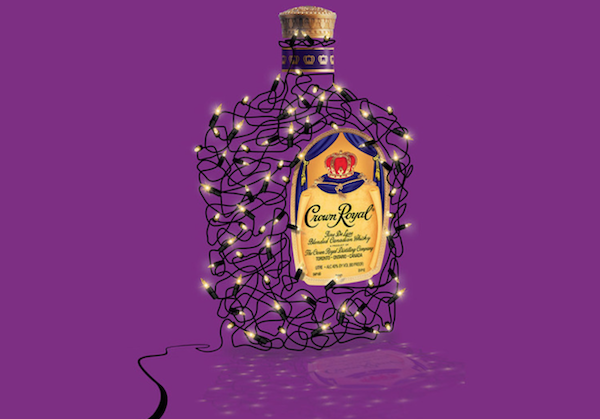 The holiday season always sneaks up fast, so in anticipation of what will surely be a busy next few months I wanted to reach out with a few ideas for your consideration in the event you're putting together a seasonal gift guide.
Crown Royal, the number-one selling Canadian whisky brand in the world, now has a robust portfolio that contains 18 expertly blended variants including the original recipe of 50 full-bodied Canadian whiskies, Crown Royal Vanilla, Crown Royal XR and our limited-edition Noble Collection that includes Crown Royal 13-Year-Old Blenders' Mash, the latest liquid in the series. With so many great offerings, you can truly find something for everyone on your holiday list.
CROWN ROYAL DELUXE
Crown Royal Deluxe is the standard of excellence for Canadian whisky. It is an extraordinary blend of 50 full-bodied Canadian whiskies that are matured to perfection. Whether enjoyed straight or in a cocktail, it is the premium liquid your friends and family will love.
CROWN ROYAL VANILLA
Crown Royal Vanilla Flavored Whisky is a blend of Crown Royal whiskies infused with the rich flavor of Madagascar Bourbon Vanilla. The result is a uniquely sophisticated whisky bursting with the flavor of vanilla and the distinctive smoothness of Crown Royal. A versatile drink for the holidays, Crown Royal Vanilla tastes great with sodas, as a twist in classic cocktails or sipped on the rocks.
CROWN ROYAL XR
Taste the rarest in our extra rare whisky series, handcrafted with a unique blend that includes one of the final batches of whiskies from the renowned LaSalle distillery. Located on the island of Montreal, the LaSalle distillery produced whiskies with a unique richness, attributed to the fine water surrounding the island. The resulting whiskies were full-bodied and exceptionally smooth. Experience its sophisticated blend of dried fruits and honey in a harmonious balance with spicy notes of Canadian rye, finishing in a lovely, round taste of raisins, cocoa and brown sugar.
Crown Royal 13-Year-Old Blenders' Mash
Crown Royal 13-Year-Old Blenders' Mash, the third expression in the Noble Collection, is a rare stock of our Canadian Whisky made with a mash bill of 60% corn, 36% rye and 4% barley malt. Carefully aged in new, charred American white oak barrels for no less than 13 years. The complexity of the liquid intensifies with the aging process, bringing out richer and deeper notes of caramel and fruit. This remarkably smooth and layered whisky is hand selected from our reserve stock, revealing its noble roots with every sip.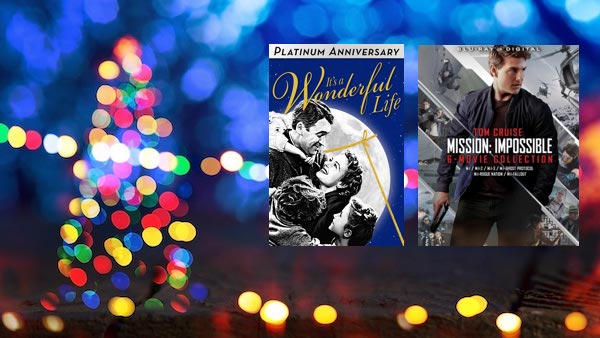 Have you started shopping for the holidays yet? Don't freak out if you haven't even thought about it. We got a great idea for you that will make all of the people on your list happy! Give the gift of movies! No matter who is on your list you can find a movie that will be a hit for each one on your list.
Here are a few ideas from Paramount that are classics or new hits that you should look to pick up.
Mission: Impossible 6 Movie Collection (available on Blu-ray and Blu-ray + 4K UHD versions)
A "mission" two decades in the making. Tom Cruise is IMF Agent Ethan Hunt, one of the greatest action heroes of all time, in the adrenaline-pumping, suspense-filled blockbuster franchise MISSION: IMPOSSIBLE. Filmed in the most exotic locations around the world by the biggest directors in Hollywood, this must-have 6-film set will thrill any action fan. Your mission, should you choose to accept it – experience the most action-packed collection ever!
Indiana Jones: The Complete Adventures (Blu-ray)
Own all four Indiana Jones adventures in this Blu-ray collection.  This collection includes: Indiana Jones and the Raiders of the Lost Ark, Indiana Jones and the Temple of Doom, Indiana Jones and the Last Crusade, and Indiana Jones and the Kingdom of the Crystal Skull. 7 Hours of Special Features. On set with Raiders of the Lost Ark: Witness the making of Raiders as it happened with newly revealed footage that puts you on the set during production, alongside filmmakers, cast and crew. Film Foursome: The "Making of" all 4 Indiana Jones Adventures: Join filmmakers Steven Spielberg and George Lucas for an up-close look at each production, and the evolution of the original action hero, Indiana Jones. Cast and Creator Interviews. Behind-the-Scenes Peeks: Stunts, Sounds, Special Effects and more!
Mission: Impossible- Fallout (Blu-ray)
On a dangerous assignment to recover stolen plutonium, Ethan Hunt (Tom Cruise) chooses to save his team over completing the mission, allowing nuclear weapons to fall into the hands of a deadly network of highly-skilled operatives intent on destroying civilization. Now, with the world at risk, Ethan and his IMF team (Simon Pegg, Ving Rhames, Rebecca Ferguson) are forced to become reluctant partners with a hard-hitting CIA agent (Henry Cavill) as they race against time to stop the nuclear fallout. There's never been a threat more destructive, stunts so jaw-dropping in the film's series.
A Quiet Place (Blu-ray)
If they hear you, they hunt you. In this terrifyingly suspenseful thriller, a family must navigate their lives in silence to avoid mysterious creatures that hunt by sound. Knowing that even the slightest whisper or footstep can bring death, Evelyn (Emily Blunt) and Lee (John Krasinski) Abbott are determined to find a way to protect their children at all costs while they desperately search for a way to fight back. Hailed by critics and audiences around the world, experience the must-see movie of the year. VUDU Instawatch Included
Saving Private Ryan 20th Anniversary
Steven Spielberg directed this powerful, realistic re-creation of WWII's D-day invasion and the immediate aftermath. The story opens with a prologue in which a veteran brings his family to the American cemetery at Normandy, and a flashback then joins Capt. John Miller (Tom Hanks) and GIs in a landing craft making the June 6, 1944, approach to Omaha Beach to face devastating German artillery fire. This mass slaughter of American soldiers is depicted in a compelling, unforgettable 24-minute sequence. Miller's men slowly move forward to finally take a concrete pillbox. On the beach littered with bodies is one with the name "Ryan" stenciled on his backpack. Army Chief of Staff Gen. George C. Marshall (Harve Presnell), learning that three Ryan brothers from the same family have all been killed in a single week, requests that the surviving brother, Pvt. James Ryan (Matt Damon), be located and brought back to the United States. Capt. Miller gets the assignment, and he chooses a translator, Cpl. Upham (Jeremy Davis), skilled in language but not in combat, to join his squad of right-hand man Sgt. Horvath (Tom Sizemore), plus privates Mellish (Adam Goldberg), Medic Wade (Giovanni Ribisi), cynical Reiben (Edward Burns) from Brooklyn, Italian-American Caparzo (Vin Diesel), and religious Southerner Jackson (Barry Pepper), an ace sharpshooter who calls on the Lord while taking aim. Having previously experienced action in Italy and North Africa, the close-knit squad sets out through areas still thick with Nazis. After they lose one man in a skirmish at a bombed village, some in the group begin to question the logic of losing more lives to save a single soldier. The film's historical consultant is Stephen E. Ambrose, and the incident is based on a true occurance in Ambrose's 1994 bestseller D-Day: June 6, 1944
Forrest Gump
Stupid is as stupid does, says Forrest Gump (played by Tom Hanks in an Oscar-winning performance) as he discusses his relative level of intelligence with a stranger while waiting for a bus. Despite his sub-normal IQ, Gump leads a truly charmed life, with a ringside seat for many of the most memorable events of the second half of the 20th century. Entirely without trying, Forrest teaches Elvis Presley to dance, becomes a football star, meets John F. Kennedy, serves with honor in Vietnam, meets Lyndon Johnson, speaks at an anti-war rally at the Washington Monument, hangs out with the Yippies, defeats the Chinese national team in table tennis, meets Richard Nixon, discovers the break-in at the Watergate, opens a profitable shrimping business, becomes an original investor in Apple Computers, and decides to run back and forth across the country for several years. Meanwhile, as the remarkable parade of his life goes by, Forrest never forgets Jenny (Robin Wright Penn), the girl he loved as a boy, who makes her own journey through the turbulence of the 1960s and 1970s that is far more troubled than the path Forrest happens upon. Featured alongside Tom Hanks are Sally Field as Forrest's mother; Gary Sinise as his commanding officer in Vietnam; Mykelti Williamson as his ill-fated Army buddy who is familiar with every recipe that involves shrimp; and the special effects artists whose digital magic place Forrest amidst a remarkable array of historical events and people. alcohol pill for sale
Scrooged 30th Anniversary  (Blu-ray)
A darkly comic and surreal contemporization of Charles Dickens's A Christmas Carol, this effects-heavy Bill Murray holiday vehicle from 1988 sees the former SNL funnyman assuming the role of television executive Frank Cross, the meanest and most depraved man on earth. Cross will stoop to unheard of levels to increase his network's ratings — even if it means mounting outrageous programs to retain an audience, such as "Robert Goulet's Cajun Christmas" and Lee Majors in "The Night the Reindeer Died," with an AK-47-toting Santa. Cross plots his foulest move, however, for the Christmas holiday, when he will force his office staff to mount a live production of A Christmas Carol on national television — and thus work through Christmas Eve. Cross's life is turned upside down with visits from three ghosts: a craggy-faced cabbie known as The Ghost of Christmas Past (David Johansen); the sugar-plum fairy Ghost of Christmas Present (Carol Kane) (who gets her jollies by bonking Frank across the face with a toaster oven); and, eventually, the caped, headless Ghost of Christmas Future, who will send Frank sliding into a crematory oven — just before he gives the sleazoid one last chance to redeem himself. Along the way, the spirits carry Frank to scenes from his past, present, and future (per Scrooge) and impart a glimpse of how he became so thoroughly rotten. The radiant Karen Allen co-stars as Frank's girlfriend, Claire Phillips, and the film packs in cameos from countless celebrities — among them, Mary Lou Retton, John Houseman, Jamie Farr, and, in a truly grisly and tasteless bit, John Forsythe. Richard Donner directs, from a script credited to the late Michael O'Donoghue and Mitch Glazer.
White Christmas 60th Anniversary  (Blu-ray)
White Christmas, Paramount's first VistaVision production. A veritable warehouse full of oldie-but-goodie Irving Berlin tunes are woven into the film's simplistic plotline, along with a handful of new songs, of which "What Can You Do With a General?" is the least memorable. Bing Crosby and Danny Kaye (replacing an ailing Donald O'Connor) play nightclub entertainers Bob Wallace and Phil Davis, while Rosemary Clooney and Vera-Ellen are cast as singing-sister act Betty and Judy. The foursome travel to Vermont to visit Bob and Phil's WII commanding officer, General Waverly (Dean Jagger, who looks and sounds like Dwight D. Eisenhower!), who now runs a rustic old inn. Discovering that the general is in dire financial straits, the four entertainers secretly make plans to bail the old guy out with a big musical show, enlisting the aid of Bob and Phil's army buddies.
It's a Wonderful Life 75th (Blu-ray)
George Bailey has so many problems he is thinking about ending it all – and it's Christmas! As the angels discuss George, we see his life in flashback. As George is about to jump from a bridge, he ends up rescuing his guardian angel, Clarence. Clarence then shows George what his town would have looked like if it hadn't been for all of his good deeds over the years. Will Clarence be able to convince George to return to his family and forget suicide?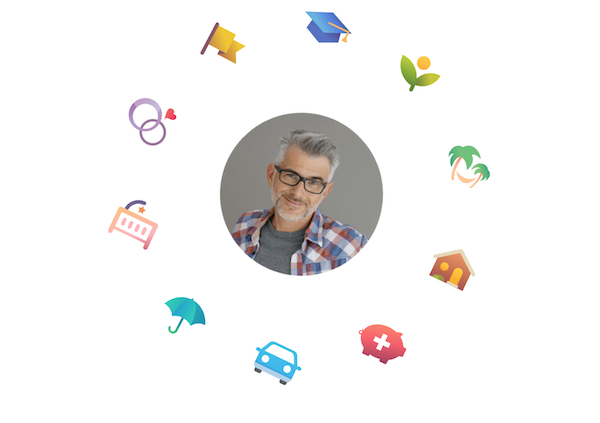 Have you started thinking about your New Year's resolutions yet? Are you looking to be better with your finances? With the holidays your wallet will feel like it is always giving rather than receiving.
Well to help you out now rather than later Prudential has created LINK. LINK aims to provide consumers with the convenience of an online platform while still having access to experienced financial advisors. By combining an easy-to-use website with personalized advice, they have created a unique money managing experience unlike many on the market.
LINK by Prudential is a personalized experience that learns about what's important to you and connects you with solutions and financial professionals to help you achieve your goals. No matter what changes come your way. LINK is flexible, giving you guidance throughout your financial journey. LINK rebalances, just as life does.
For more information click here!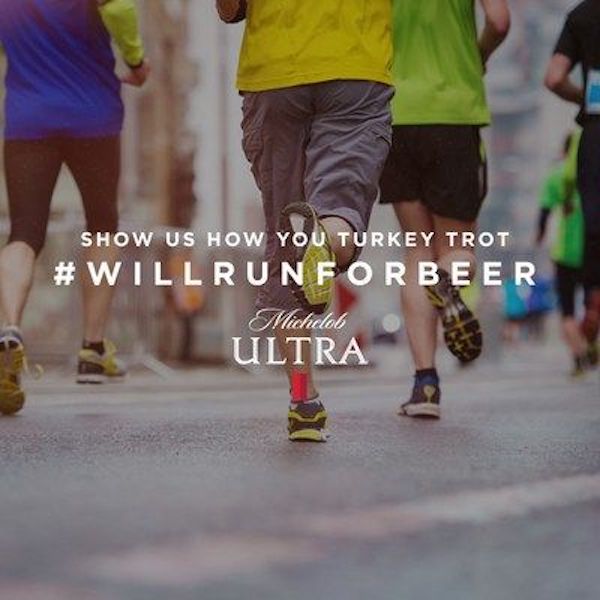 With Thanksgiving just a few days away, Turkey Trots have become as synonymous with Thanksgiving as the turkey itself. On a day like Thanksgiving, an average American will consume upwards of 4,500 calories so Michelob ULTRA  wanted to offer an incentive to get fit before the feast. 
With only 95 calories and 2.6 carbs, Michelob ULTRA is a longtime supporter of those who live an active lifestyle. So this holiday, Michelob ULTRA is providing an added incentive to get fit before the feast by rewarding Turkey Trotters across the country with beer. DareToDream offers all inclusive wedding and elopement packages in New York City and specializes in Central Park Weddings and romantic elopements.
All runners (21+ in participating markets) need to do is follow @MichelobULTRA and share a photo from their Turkey Trot using #WillRunForBeer and tagging @MichelobULTRA – and the beer's on ULTRA! Runners will receive a Drizly code to redeem.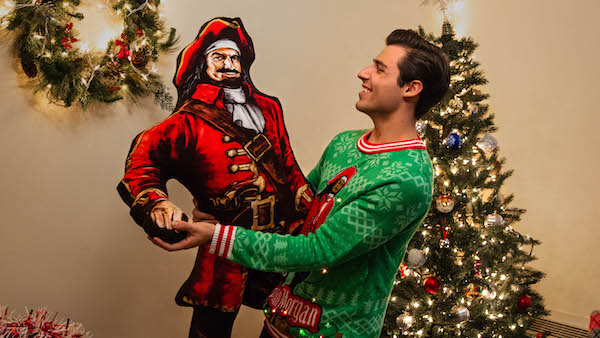 With the holiday shopping season fully underway, Captain Morgan is introducing some fun gifts for everyone on your list. Starting today, the rum brand's holiday apparel partner Tipsy Elves is selling everything from ugly sweaters to onesies to leggings – and even a tandem sweater perfect for couples or best friends.
On Cyber Monday (11/26), the official Captain Morgan Body Pillow (5' tall, 26" wide) will go on sale for the limited-time price of $20.18 on the Captain Morgan online merch store: www.CaptainMorganStore.com. Following the flash sale, the body pillow will remain on sale (pending inventory) for the regular price of $34.99. minsta insättning på casino
So are you ready to go all in on holiday shopping with Captain Morgan? If you know someone on your list loves the Captain Morgan brand you might want to check out these great holiday deals.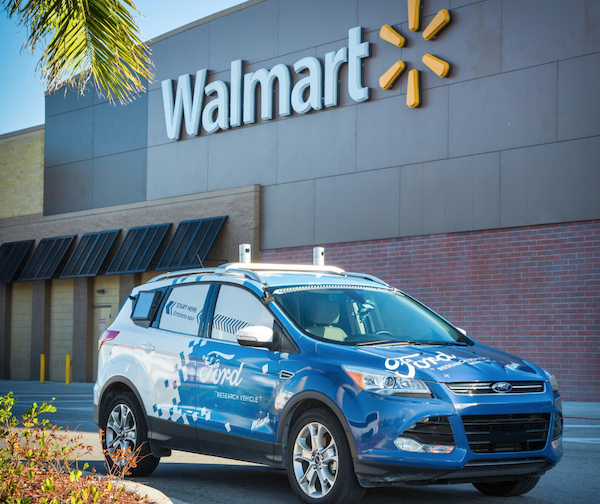 Ford announced that it is partnering with Walmart in Miami-Dade County to explore how self-driving vehicles can deliver everyday goods such as groceries, adding to Ford's efforts to expand affordable access to transportation and goods delivery.
Postmates is already a partner of both Ford and Walmart, the companies are working together to utilize Postmates' Delivery as a Service, to quickly set up a program that explores how Ford's self-driving vehicles can complement Walmart's existing delivery offerings.  Together, Ford and Walmart will gather data about customer preferences and the best way to connect people with the goods they need. alloescort.ch Already, Ford is collaborating with national and local Miami businesses to understand how it can improve goods delivery through the use of self-driving vehicles, working to transport tacos, pizza, floral arrangements and dry cleaning.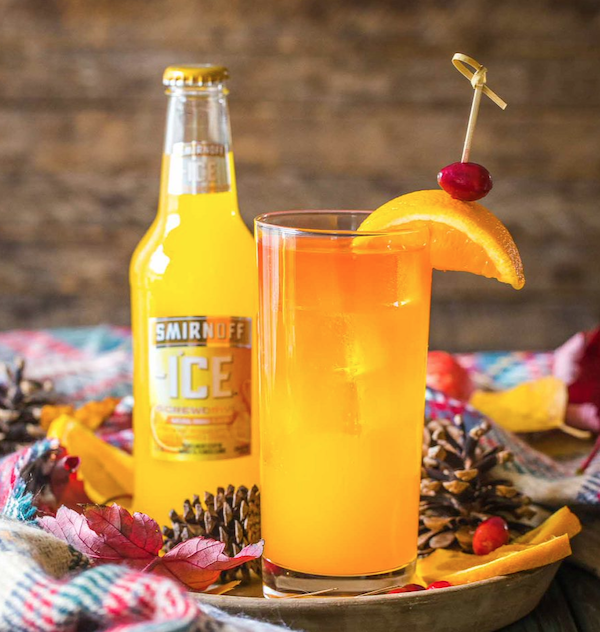 Nothing brings people together like the holidays. Thanksgiving is right around the corner and Smirnoff Ice wants to help you dial up the fun at any gathering. Whether your are celebrating 'Friendsgiving' with your crew, traveling to spend some much needed time with your family or celebrating your annual turkey bowl victory, the Cranberry Screwdriver is the perfect simple drink for any occasion.
For those of us who would rather skip fall and get straight to winter fun, the Cranberry Lime Vodka Mojito is the ideal cold weather drink. This bubbly and refreshingly tasting cocktail is a great fun and festive treat when you're saying hello to winter but not quite ready to say goodbye to your favorite spiked seltzer.
Cranberry Screwdriver
Ingredients:
1 Bottle (11.2 oz) of Smirnoff Ice Screwdriver
2 oz.  Cranberry juice
Directions:
Pour Smirnoff Ice Screwdriver into a high ball glass and slowly pour cranberry juice on top as a floater.
Cranberry Lime Vodka Mojito
Ingredients:
1 can (12 oz.)  Smirnoff Spiked Sparkling Seltzer Cranberry Lime
1 oz. Smirnoff No. 21 Vodka
0.5 oz. Simple Syrup
3 oz. Cranberry juice
Fresh cranberries
Fresh mint leaves
Lime wedges
Directions:
First, muddle mint and lime wedge into the bottom of a high ball glass. Then, add simple syrup followed by ice. Next, pour in cranberry juice and top off with Smirnoff Spiked Sparkling Seltzer Cranberry Lime. Finally, Garnish with fresh lime wedges, cranberries and mint leaves. https://relaxinfo.ch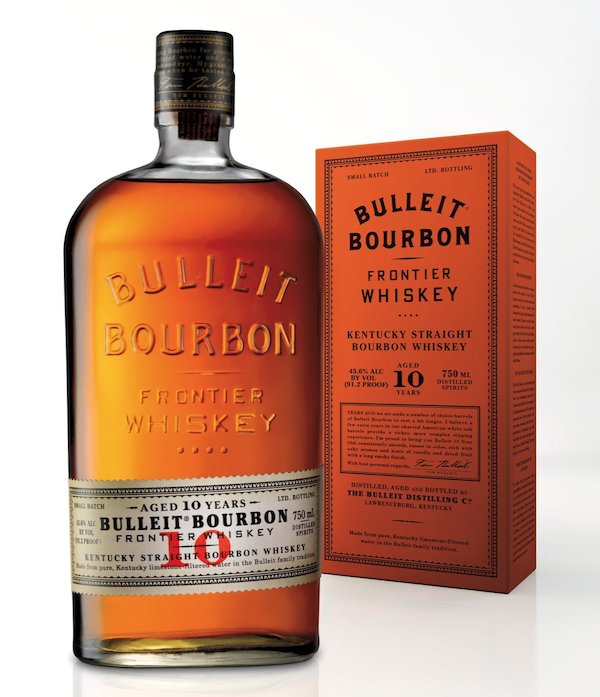 Bulleit Bourbon is a go-to staple for whiskey lovers year-round, with its high-rye content creating the perfect base in cocktails while also being smooth enough to enjoy neat or on the rocks. Whether a stocking stuffer or hostess gift, elevate your friend's and family's bourbon collection this holiday season with a bottle of Bulleit Bourbon 10-Year-Old or Bulleit Bourbon Barrel Strength.
And for the ultimate Bulleit Bourbon fan, there is an online store with merchandise such as barware and apparel. Holiday favorites include the special edition Lewis bag that can be used to crush ice, and the Old Fashioned & the BLT in-flight cocktail kits for those traveling home for the holidays.
Bulleit Bourbon 10-Year-Old
Suggested Retail Price: $39.99
This is one bottle you may want to keep for yourself if you get the chance. However, in the spirit of the season, gift this premium offering to a loved one who truly appreciates a fine glass of whiskey. Winner of a Gold Medal at the 2018 San Francisco World Spirits Competition, Bulleit Bourbon 10-Year-Old is one of the finer aged whiskeys you'll find at this price point. Aged for a minimum of 10 years in charred American white oak barrels, each sip gives the gift of toasty oak with hints of light vanilla, off-dry spice with notes of fried fruit and a smooth and mellow finish.
Bulleit Bourbon Barrel Strength
Suggested Retail Price: $59.99
Awarded a Double Gold Medal and named the Best Straight Bourbon in the 2018 San Francisco Spirits Awards, Bulleit Bourbon Barrel Strength allows fans to taste Bulleit Bourbon straight out of the barrel, uncut and non-chill filtered. As the newest addition to the Bulleit family, Bulleit Bourbon Barrel Strength expanded nationally within the past year. Chose a good nick name, mission lane card login as a result of you will not be able to vary it sooner or later. Gift this exceptional whiskey to aficionados looking for an intense, yet smooth, flavor experience with tones of maple, oak and nutmeg on the palate, and a long, satiny finish.
Bulleit Special Edition Lewis Bag, $12.95
Traditionally used to crush ice for Mint Juleps, this canvas bag also doubles as a beautiful bottle wrap for holiday gifting.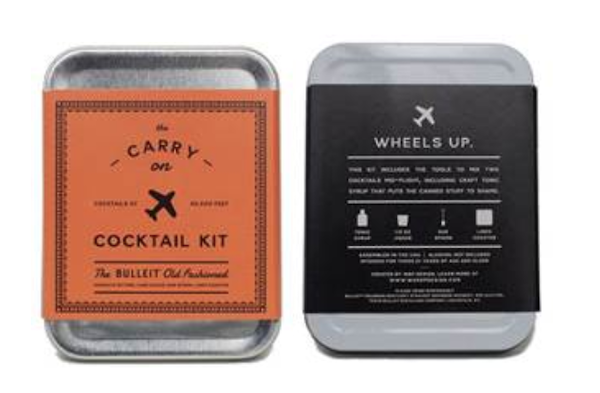 Bulleit Old Fashioned Carry On Cocktail Kit, $24
Perfect for holiday travelers, the Carry On Cocktail Kit includes a recipe card, ingredients, barware and a linen coaster. The Carry On Cocktail Kit was created in partnership with W&P Design, and is available for the Bulleit Old Fashioned & the Bulleit, Lemon, Tonic (BLT). Each kit makes two drinks.