Art Eddy III
This user hasn't shared any biographical information
Jabber/GTalk: Art Eddy III
Posts by Art Eddy III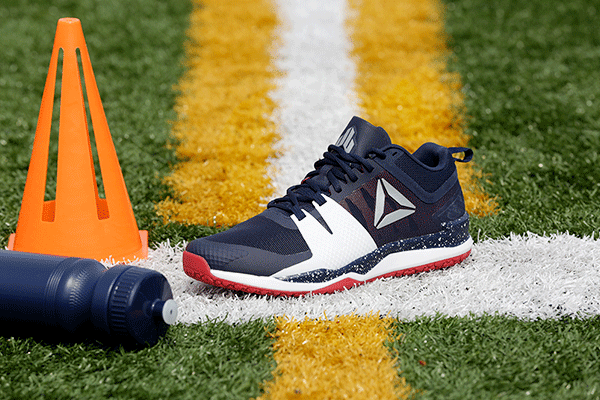 Even though J.J. Watt might be recovering from injury it didn't stop him and Reebok on releasing a brand new can't-miss colorway of his first signature training shoe – the JJ I Preseason Training. The navy, red and white colorway serves as a nod to those who inspire him both on and off the field – his teammates and fans. J.J. gifted all of his teammates new pairs of JJ I's.
As he continues to push his limits, the JJ I Preseason Training will be there every step, cut, and jump of the way. The JJ I Preseason Training will be available at 12am on August 5 for $99.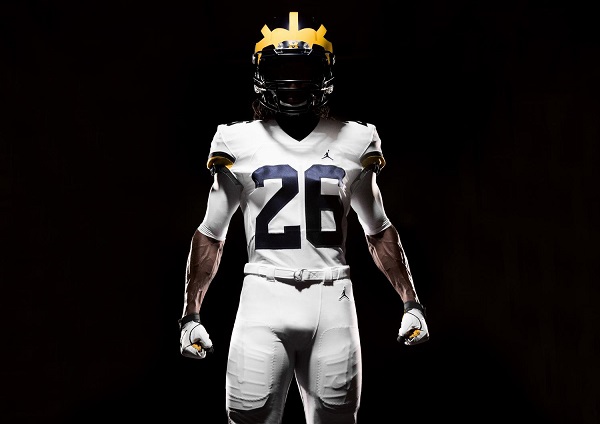 First it was Michigan getting Jim Harbaugh to be their head coach for football. Now it is Michigan teaming up with Jordan Brand to upgrade their uniforms and gear. The University of Michigan is more than just a school. It is a community and family represented by a single letter, two hues: Maize and Blue, and a longstanding tradition of excellence — a reputation of leading both academically and athletically.
On the gridiron, Michigan has, since fielding its first team in 1871, claimed more victories than any other school. The university also lays claim to 11 national championships, over 120 first-team all-Americans and three Heisman trophy winners, including Jordan Brand athlete Charles Woodson. Beyond, the program's Winged Helmet, introduced in 1938, and remains an icon of college football.
Similarly, the Jordan Brand is more than one man. For over 30 years, Jordan Brand has built a culture by pushing the boundaries of innovation and style; the Jumpman logo has come to represent greatness and unites athletes around the world who are willing to push their limits to be the best.
"Michael Jordan never settled. His career was defined by his competitive drive, unwavering work ethic and a dogged pursuit of winning," says Larry Miller, President of the Jordan Brand. "These same principles have guided the Jordan Brand since its inception, and we see a like-spirit in the University of Michigan. What started with a phone call between Michael and Coach Harbaugh comes to life today in an unprecedented partnership which further diversifies the Jordan Brand's commitment to football and athletes."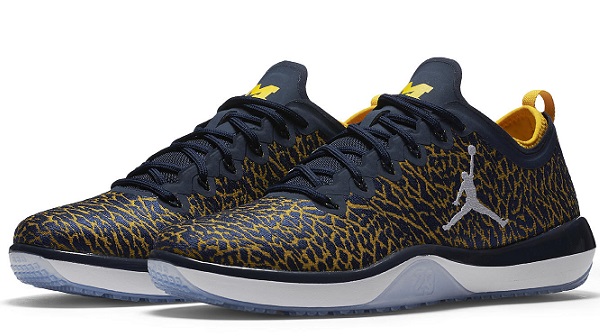 This fall, that legacy will continue to transcend sport as the Michigan football team debuts the iconic Jumpman on the gridiron.
The Michigan jersey, built on the Nike Vapor Untouchable chasse, features a minimal-seam design and stretch woven materials. Focusing on fit, range of motion and breathability, the jersey includes tailored lines that are articulated to move with the body and laser perforations in the front and back panels to maximize ventilation.
Additionally, taking into account the importance of preparation to success, Jordan Brand will outfit the team with the Jordan Trainer 1 Low. Created by Jordan footwear designers to help eliminate distractions on the practice field and in the weight room, the shoe enhances natural motion, comfort and increased sensory feedback. Speed flex technology in the midsole, Zoom Air in the heel and a Flyweave woven upper facilitate stability and support.
The Jordan Trainer 1 low "Michigan" will be available August 6 on Jordan.com and at The M Den, the official retailer of Michigan Athletics.
Stay tuned to Jordan.com and GoBlueHailMichigan.com for more information on the Michigan x Jordan partnership.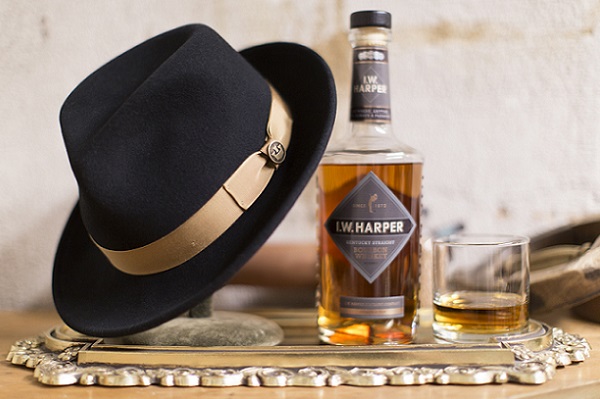 There are certain fashion trends that are a headscratcher. You look at the latest trends and wonder who would wear that. Still there are fashion trends that stand the test of time. So with that notion I.W. Harper has long been immersed in style. Following the brand's return to the U.S. last year after more than 30 years abroad, I.W. Harper has renewed their love of fashion. They teamed up with their friends at Goorin Bros. to create a hat spotlighting our iconic Bowing Man on the interior, complete with a whiskey colored hat band.
Inspired by I.W. Harper's stylish roots and dapper present, The Harper will launch this Holiday season and be available at Goorin Bros. locations nationwide and at www.Goorin.com. So for those of you who are 21 years of age or older why not pick up a bottle of I.W. Harper Whiskey and get a stylish hat from the Goorin Bros.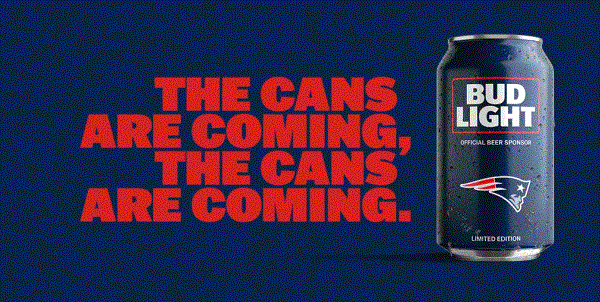 The NFL regular season is almost here. We got preseason football just around the corner. To celebrate Bud Light – the Official Beer of the NFL – is once again helping devout fans showcase their team pride by introducing all-new custom cans for its 27 NFL team partners.
The cans – which are on shelves now and will be available throughout the 2016-17 NFL season – are draped in each team's colors, feature its logo and will be brought to life in each market through localized, signature sayings that every team's fans will recognize and embrace.
The cans are part of Bud Light's "Beer With Your Team On It" campaign, which will celebrate NFL fandom and passion for Bud Light throughout the season.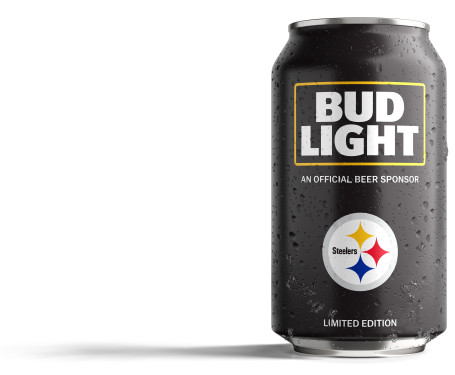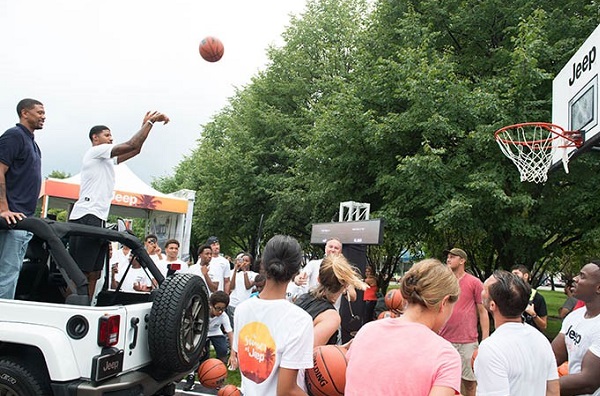 For those who are missing the NBA take heart. Current players and retired players are missing it as well. It seems that Paul George and former NBA player and now ESPN analyst Jalen Rose played a unique game of HORSE. Why is it unique? It took place from the back of a Jeep Wrangler.
This took place at the "Summer of Jeep" event at Navy Pier in Chicago last week.. The event celebrated the Jeep brand's partnership with USA Basketball.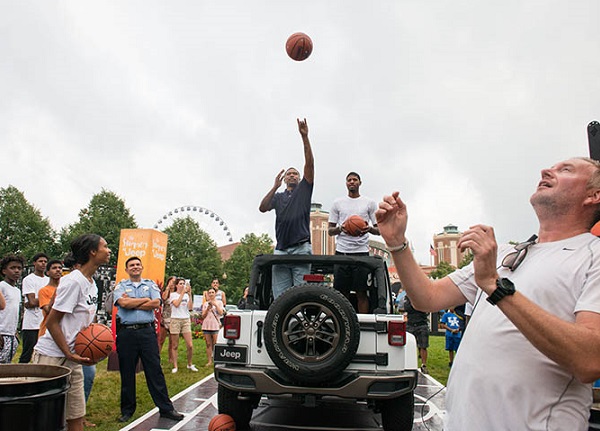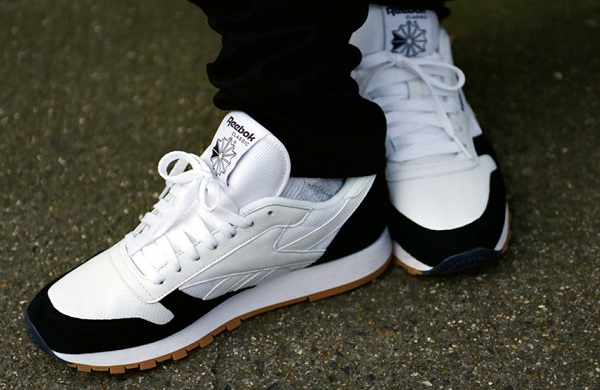 Earlier this summer Kendrick Lamar's kicks from Reebok sold out immediately. Now following the black and white campaign earlier this month, Reebok Classic is launching the final installment in the photography series with acclaimed director Nabil and Grammy Award winning artist Kendrick Lamar.
Reinvigorated in color, the new shots bring to life the previous B&W campaign, and feature Kendrick in his new Classic Leather Perfect Split pack, which reflects the split sides to Kendrick's personality across a distinctive men's and women's design.
In respect to the authenticity and originality of both Reebok Classic and Kendrick Lamar, globally acclaimed director Nabil shot the campaign entirely on vintage camera equipment to celebrate creative art forms in their most real, original and unique formats. A series of beautifully candid and nostalgic portraits capture Kendrick at his most raw and characterful, in a range of poses that are natural to him and reflect the different sides of his personality.
The Classic Leather Perfect Split pack brings Kendrick's split personality to life, as the silhouette's understated white and stone base is updated with contrasting color blocked accents, alongside 'split' rubber outsole combing retro GUM with contemporary ICE.
The Classic Leather "Perfect Split" is available now for $74.99 at retailers including Reebok.com, Champs and Footaction.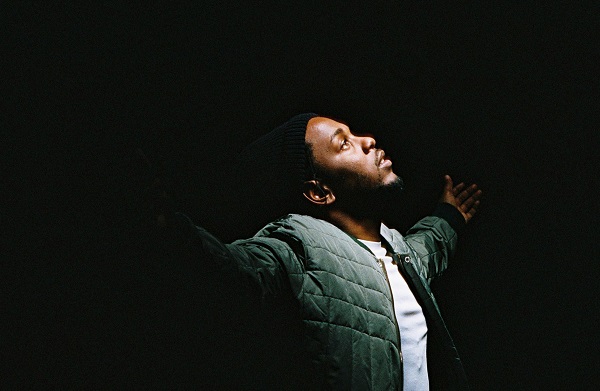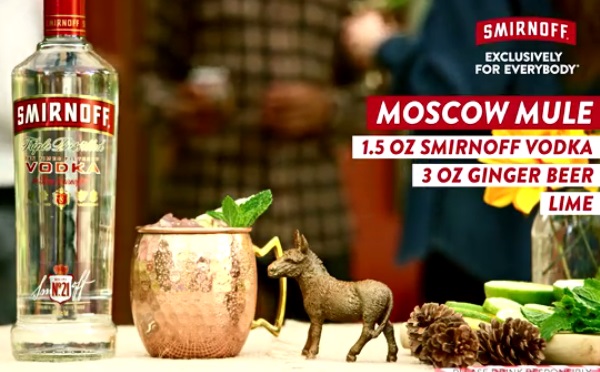 You might have recently ordered a Moscow Mule. You have seen them being showcased in bars and clubs, but did you know that this cocktail is 75 years old?  Now more than ever you will see cocktail menus across America feature the Moscow Mule and creative variations of the recipe—but there's only one original. As the co-creators of the original Moscow Mule in 1941, SMIRNOFF vodka and Cock'n Bull Ginger Beer are celebrating seventy-five years of America's first vodka cocktail.
In the late 1930s, John G. Martin was the president of an American alcohol company, Heublein, which owned the rights to SMIRNOFF vodka.  One historic day seventy-five years ago, in 1941, Martin sat at the bar of The Cock'n Bull, an iconic pub on Hollywood's Sunset Strip, with owner Jack Morgan.  At a time when brown spirits were king, Martin was struggling to market his newly acquired vodka to American palates.  Morgan, too, had a dilemma: few people cared for or even knew about his ginger beer. Martin and Morgan made cocktail history when they created a solution to sell both products by combining SMIRNOFF™ No. 21 vodka with Cock'n Bull Ginger Beer and a spritz of lime in a copper mug. This was the world's first Moscow Mule.
Following the creation of the cocktail at The Cock'n Bull, Martin travelled to bars around the United States encouraging bartenders to make a Moscow Mule, giving each of them an instant photograph of themselves with the final creation. Martin took a copy of the instant photograph on to the next bar, encouraging other bartenders to make the cocktail and eventually sparking a frenzy for the Moscow Mule across the country.
To kick off the celebration of this milestone anniversary, SMIRNOFF hosted a series of immersive dinners at the 14th Annual Tales of the Cocktail, one of America's premier spirits festivals that highlighted the Moscow Mule during an annual cocktail competition. Throughout the evening, invited guests of legal drinking age were transported back in time to experience the story of the Moscow Mule in a pop-up restaurant modelled on the historic meeting between John G. Martin and Jack Morgan.  Guests responsibly sampled original Moscow Mules, made with SMIRNOFF No. 21 vodka and Cock'n Bull Ginger Beer.
For 150 years, the SMIRNOFF brand has been enjoyed by legal drinking age consumers around the world, but it wasn't until the Moscow Mule was created that vodka became a popular spirit in the United States. The mixability of SMIRNOFF vodka and its quality have inspired other vodka varieties across the globe and served as the basis for popularizing some of the world's most famous cocktails.
No matter when or where you craft an original Moscow Mule to commemorate this tremendous milestone, please remember to always enjoy it in a copper mug and drink responsibly.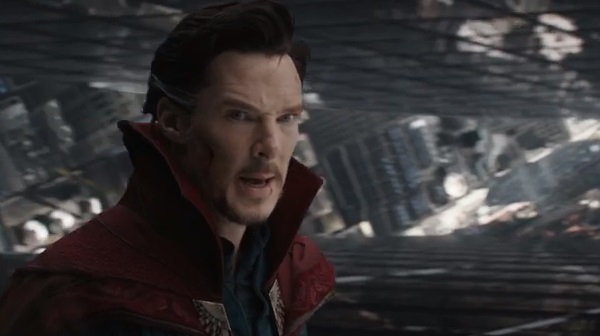 San Diego Comic Con is known for showcasing a ton of new trailers each year. Marvel just released the new Doctor Strange trailer and man does it look good. The film showcases the good doctor, who discovers the realms of magic and alternate dimensions after his hands become crippled in a devastating accident. This looks to follow Marvel's tradition of making great films for their fantastic characters. What do you think of the trailer?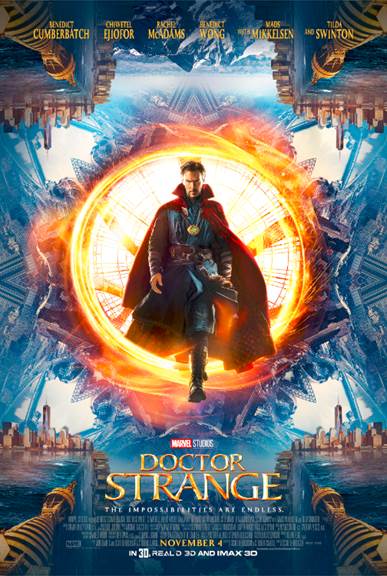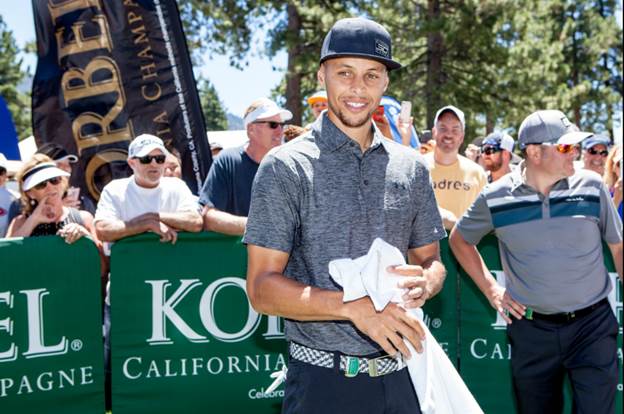 He might have lost to the Cleveland Cavaliers in NBA Finals, but Steph Curry is popping bottles of champagne. It is all part of the 2016 Celebrity Spray-Off took place on July 21st in Lake Tahoe at the American Century Celebrity Golf Championship with celebrity and athlete competitors including Steph Curry, Jerry Rice, Roger Clemens, Alfonso Ribeiro, Aaron Rodgers and more!
Just before celebrity superstars teed off on the 18th hole, Korbel California Champagne challenged them to show off their champagne celebration skills as part of the Celebrity Spray-Off. Contestants competed to see how far they could shoot the cork from the top of a bottle of Korbel.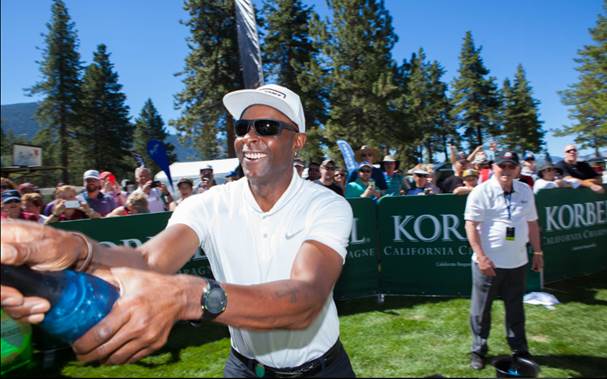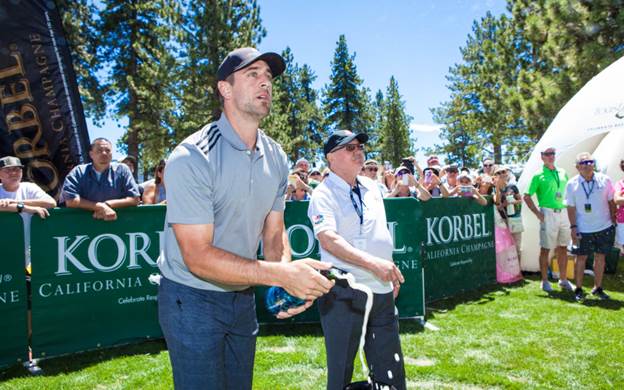 Right now some of you are getting to check out the wonderment of San Diego Comic Con. That is one of the things that I still need to check off my bucket list. If you are like me and couldn't make it to San Diego I have a very worth alternative. It is Loot Crate.
Loot Crate sends you a month box of goodies. Each box has about four to six items over $45 of retail value in every crate. You can even get a discount and special gifts if you sign up for a 12 month plan. These crates are money. Below you can check out my unboxing video from the month of July. The theme for this month's Loot Crate was futuristic. I was thrilled to get the Futurama Planet Express Ship in this month's crate.
Like what you see? Get a subscription. July's crate had items from some of pop culture's favorite predictions of science and the future like Star Trek, Futurama and more.
There are different themed crates as well. There is a Loot Anime, Loot Gaming, Loot Pets, Firefly, and LVLUp. They even have limited edition Star Wars and Call of Duty crates. You can pick out the best one that fits your style and your budget. Plus all subscribers are entered to win our monthly Mega Crate and Mini-Mega Crate Free Giveaway. Some of those crates are valued at $2,000. How cool is that? Go to www.lootcrate.com for more info on each one and to start your subscription today!