Art Eddy III
This user hasn't shared any biographical information
Jabber/GTalk: Art Eddy III
Posts by Art Eddy III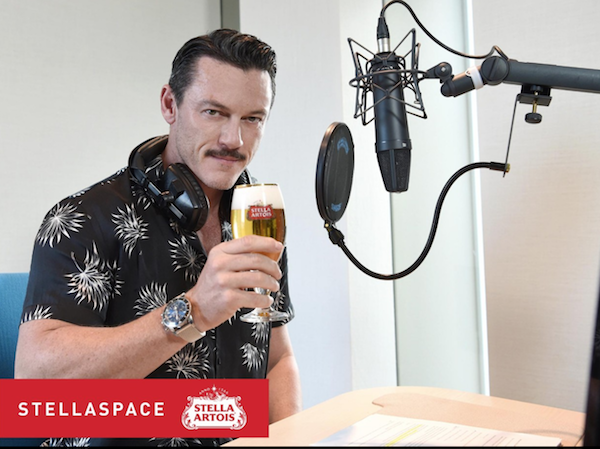 Luke Evans is teaming up with Stella Artois to share some knowledge.  Stella Artois is launching the first-ever mindfulness guide to properly enjoying a beer in partnership with the modern meditation experts at Inscape. STELLASPACE is a 20-minute audio guide that takes users on a journey through mindfully sipping a Stella Artois – blending meditation techniques with beer tasting notes and witty personal anecdotes from narrator and actor Luke Evans for a complete sensory experience.
Why 20 minutes? The Stella Artois beer experts agree: 20 minutes is the optimal time needed to truly appreciate every sip of this full-flavored Belgian lager. In short STELLASPACE is intentionally designed to inspire mindful drinking with friends as listeners breathe, focus and "sip and know they are sipping."
You can purchase the Sip & Savor Chalice ($12.00) – while supplies last can be found HERE
Stella Artois Cidre Spritz Summer Cocktail:
A twist on the cocktail of the summer, and Luke Evan's personal favorite – an Aperol Spritz – the Stella Artois Cidre Spritz offers a refreshing option easy to create for a perfect evening of summer sipping with friends. Less time cocktail mixing, more time to enjoy happy hour.
Ingredients:
·         5 oz of Stella Artois Cidre
·         1.5 oz Aperol
·         .5 oz Grand Mariner
·         1 oz Grapefruit Juice
·         Grapefruit Twist
Directions: Build ingredients in a Cidre wine glass with ice, stir. Garnish with a grapefruit twist. Open the Inscape app, turn on STELLASPACE, sip slowly, and enjoy.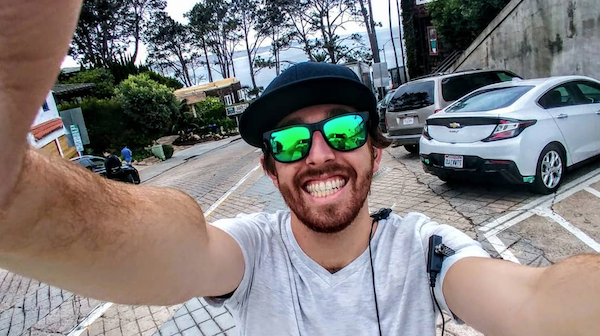 Aaron Roberts sits down with me to talk about his new series called Chartered. This series is a Mockumentary Comedy. The plot follows a kid named Eric that is based off of Aaron's life. When Eric Scutella is pushed by his parents to attend the relatively new, off-beat but surprisingly successful local Charter High School, he struggles to find his place in a school filled with established cliques, quirky teachers and bizarre traditions.
In a parallel plot, first year teacher Jessica Graham is hired the day before school starts and strives to handle her first day with strength and class, but two minutes into her first period and Jessica wonders how she'll make it through the year.
The series stars Sloane Morgan Siegel, Mark Christopher Lawrence, Jonathan Joss, Daniel Van Kirk, Claire Engler.
To listen to the entire interview click HERE.
Follow Aaron on Twitter and Instagram at @AlwaysArob and follow Chartered on Facebook and Instagram at @CharteredTV.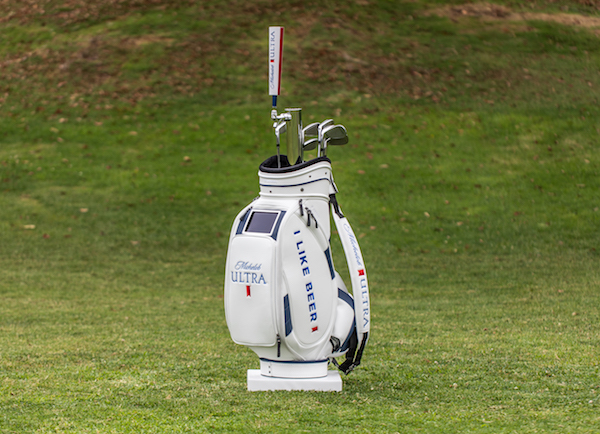 Golf just got a whole lot better. Michelob ULTRA is unveiling the caddie that every golfer and Caddyshack fan could only ever have imagined in their wildest dreams. The Michelob ULTRA Caddie Bag is the latest innovation from the fastest growing beer brand in the country and includes everything you could ever need for the optimal 19th hole experience.
The one-of-a-kind bag includes:
·         128 oz. refillable beer keg with a tap handle and pint glasses
·         BOSE Bluetooth speaker
·         LED lighting
·         Built-in tablet for streaming all your favorite media
Want your own ULTRA Caddie? Consumers everywhere can enter for a chance to win the bag by sharing how they live ULTRA with @MichelobULTRA using #ULTRACaddieContest on Facebook, Twitter or Instagram.
As the official beer of the PGA Championship, Michelob ULTRA will debut the first ever prototype of the ULTRA Caddie Bag this week at the PGA Championship at Bellerive Country Club in St. Louis.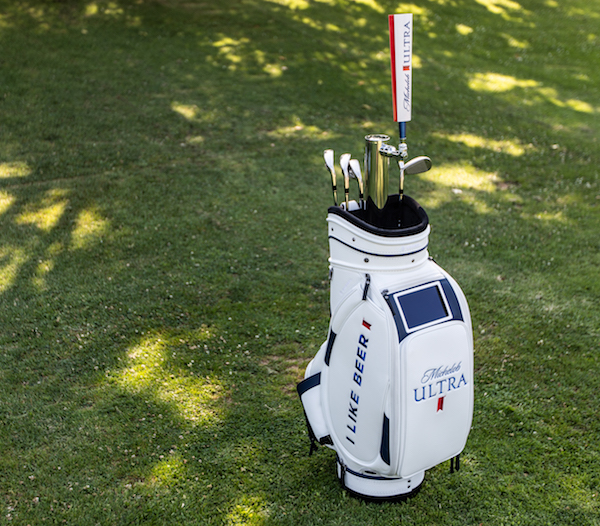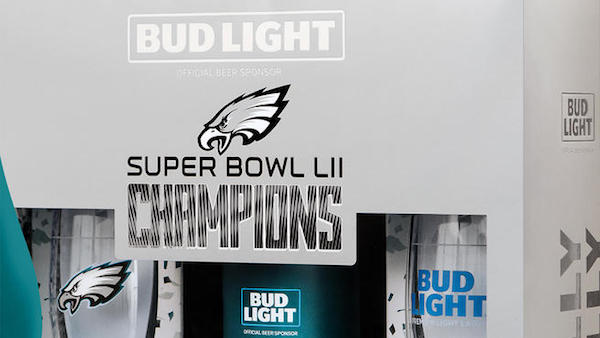 Bud Light looks to honor the Eagles. Earlier this week Bud Light revealed its limited edition "Philly Special"-themed Super Bowl LII commemorative pack that will hit stores Aug. 16, when the Eagles head to Foxboro for a preseason rematch with the Patriots.
According to a press release, there are only 20,418 packs available — and that was done on purpose. The Eagles beat the Patriots in Super Bowl LII on Feb. 4, 2018, or 2/4/18.
Each pack will cost $29.99 and will include a 25 oz. Bud Light aluminum bottle and two glasses with the "Philly Special" play on it. A select number of packs will allow fans a chance to receive tickets for the Eagles' season-opener Sept. 6 against Atlanta.
Check out Eagles offensive tackle Lane Johnson and teammate Brandon Brooks unboxing their very own commemorative pack on Twitter HERE.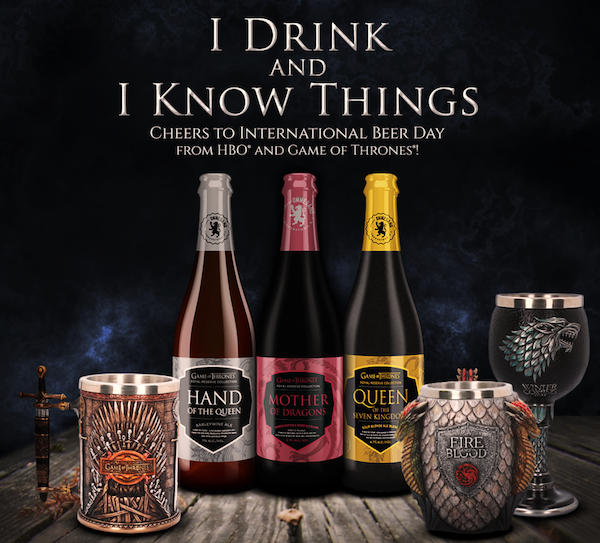 Today is International Beer Day! HBO wants to help Game of Thrones fans celebrate this special day like a Stark, Targaryen or Lannister, offering a great selection of quality beer distributed by Brewery Ommegang, along with drinkware such as incredibly designed Irone Throne and House Targaryen tankards, and a sleek House Stark Direwolf goblet, available at the HBO Shop HERE!
The Royal Reserve Collection is a series of limited beer releases, each designed and brewed as a homage to epic figures engaged in the battle for the Seven Kingdoms. The series began in April with Hand of the Queen, a barleywine, and was followed in June by Queen of the Seven Kingdoms, a sour blonde blend. Following the release of Mother of Dragons, the final beer will be announced later this year. To find the beer at a retailer near you, please visit the beer finder HERE!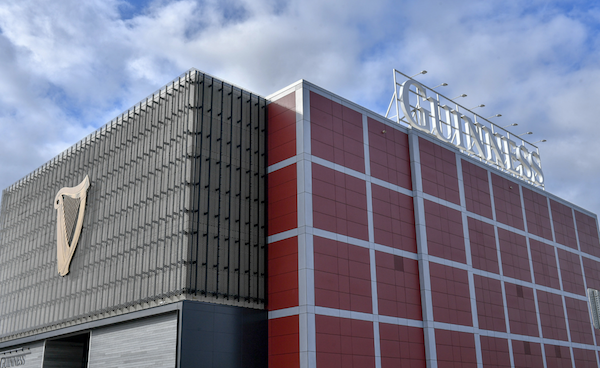 Today a new era for Guinness in the U.S. began! Guinness brewers and executives, beer industry friends, Maryland government officials and special guests gathered for a ribbon-cutting event at Guinness' highly anticipated new home in America – the Open Gate Brewery & Barrel House in Halethorpe, Maryland.
During the ceremony, Diageo and Guinness executives expressed their excitement in joining the Baltimore County and larger Maryland beer communities and joined with Governor Hogan and the Brewers Association of Maryland to officially cut the ribbon on the brewery.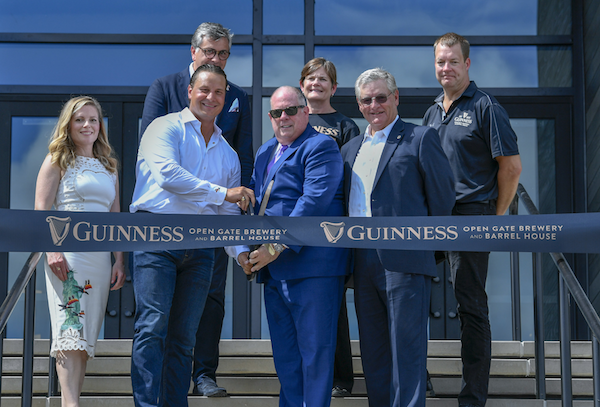 At 3 p.m. tomorrow (August 3) the doors will open to the public, and they will have the chance to experience the Open Gate Brewery & Barrel House by touring the brewery, sampling beers in the on-site tap room and much more!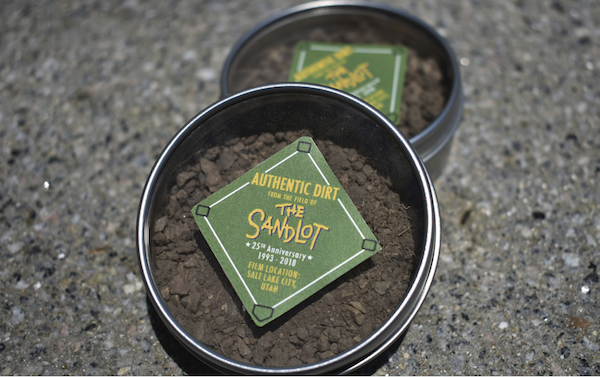 For years, sports collectors have had the opportunity to own mementos from the nation's most cherished baseball fields, including Old Yankee Stadium, Wrigley Field, Fenway Park and more. In celebration of the 25th anniversary of hit classic, The Sandlot, Shop.FoxMovies is offering fans limited-edition collector's capsules packed with dirt from the field that hosted Ham's epic home run, Smalls' lost baseball signed by Babe Ruth, and The Beast, the unforgettable threat that taunted fans' favorite kids.
To showcase its authenticity, each capsule features an individually-numbered hologram seal. Shop.FoxMovies will offer these limited collectibles free with the purchase of any Sandlot merchandise from its exclusive line of apparel, home goods, stationary and Funko Pop! Figures, while supplies last.
"The Sandlot is a classic film that means so much to people of all ages," said Craig Radow, VP of Global Marketing of Fox Consumer Products. "To honor the film and the devoted fans it has cultivated since its 1993 theatrical debut, we wanted to share this collector's item, which can proudly be displayed to simultaneously celebrate the spirit of the film and the cherished game of baseball."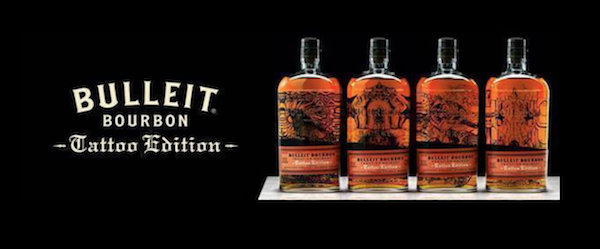 Bulleit is shaking up tattoo culture with the announcement of a new series of limited edition Bulleit Bourbon bottles. Bulleit Bourbon teamed up with four trailblazing tattoo artists to release Bulleit Bourbon Tattoo Edition. Participating artists include Shawn Barber (Los Angeles), Jess Mascetti (New York), Thomas Hooper (Texas) and Jason Kundell (Oregon).
As part of an ongoing series of projects and collaborations with modern cultural creators, the latest Bulleit Frontier Works project is a limited collection of tattooed Bulleit Bourbon bottles. The limited release tattoo collection marks the first time that the iconic Bulleit Bourbon bottle has been altered.
The series contains four unique tattoo designs on the iconic Bulleit bottle from the artists whose work is inspired by the frontier spirit and the culture of the cities they live in. The limited release tattoo bottles will be available for purchase in each artist's respective state beginning in August and select bottles will be available nationwide.


G-III Sports announced a multi-year partnership with The Alliance of American Football, a professional football league debuting February 9, 2019, bringing iconic sports brand Starter, owned by Iconix Brand Group, back to the football field. Starter, through G-III Sports, will be the official on-field apparel and game day uniform supplier for all eight Alliance teams.
"This is the right opportunity for Starter to make its return to the football field," said Carl Banks, president of G-III Sports, a Division of the G-III Apparel Group. "Our partnership with The Alliance is built on a shared commitment to the game, players and fans."
He added, "In 1985, while playing for the New York Football Giants, I was signed as a brand ambassador for Starter. That experience served as a crash course in learning about the connection between sports, culture and fashion. It has been an incredible journey, and I'm proud to take this next step. From the field, to the sidelines, to the stands, I look forward to introducing Starter to a new generation of players and fans while delivering on what people with affinity for the brand have come to expect."
A premium athletic brand established in 1971, Starter pioneered the merger of sports clothing with popular culture by forging partnerships with the major pro football, basketball, baseball, hockey and college leagues.
"We're proud to bring Starter, an iconic brand with over 45 years of rich sports heritage, back to the football field," said Charlie Ebersol, co-founder and CEO, The Alliance. "A pioneer in the space, they were one of the first brands to be on the field and a must-have item for die-hard sports fans across the country. Starter has long been associated with your favorite sports teams, whether through the classic Starter Jacket or throwback uniforms of stars like Alliance executives Troy Polamalu and Hines Ward. We look forward to taking our first snap with the instantly-recognizable Starter logo emblazoned on our jerseys as well as on our sidelines."
Lucasfilm's "Solo: A Star Wars Story," directed by Academy Award®–winning filmmaker Ron Howard—the creator of unforgettable films, such as "A Beautiful Mind," "Apollo 13," "Parenthood" and "Splash"—is an action-packed journey that explores Han's first encounters with future friend and copilot Chewbacca (Joonas Suotamo) and notorious gambler Lando Calrissian (Donald Glover). The film takes viewers on a ride showing Han's adventure-filled past alongside fellow street thief Qi'ra (Emilia Clarke) and career criminal Beckett (Woody Harrelson). "Solo: A Star Wars Story" bonus material takes fans behind the scenes with the star-studded cast and screenwriters Jonathan Kasdan & Lawrence Kasdan (writer of Star Wars: The Empire Strikes Back and Star Wars: Return of the Jedi). Special features include a revealing feature on Chewie and his enduring friendship with Han; a close-up look at the original version of the Millennium Falcon and Han's first time piloting the infamous ship; the creation of the film's otherworldly settings and pulse-pounding action sequences; and eight never-before-seen deleted and extended scenes. Watch instantly on Sept. 14th as the Millennium Falcon sets course digitally in HD and 4K Ultra HD™ and on Movies Anywhere, and bring the adventure home on Blu-ray 4K Ultra HD™, Blu-ray™, DVD and On-Demand on Sept. 25.