Art Eddy III
This user hasn't shared any biographical information
Jabber/GTalk: Art Eddy III
Posts by Art Eddy III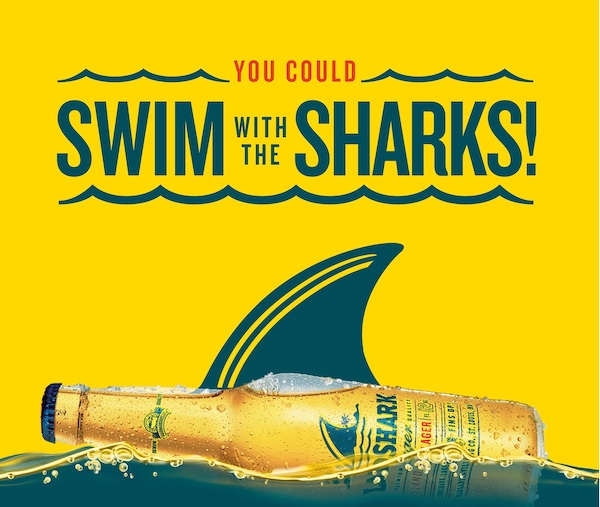 Margaritaville's favorite island-style brew, LandShark Lager is teaming up with global conservation activists at Shark Angels. Through this partnership, LandShark is aiming to aid in their efforts to educate and provide awareness to the biggest issues facing sharks and their ecosystems today. LandShark is proud to donate to their cause and in-turn adopt 100 sharks.
"We are beyond thrilled to have LandShark partner with us in order to further our mission and help drive the movement to save sharks and our oceans," says Jamie Pollack Shark Angels Executive Director. "This donation will be used to further our educational programs and help empower the next generation of shark ambassadors around the world."
To bring a shark experience to life – the Island style lager is offering fans an opportunity to visit Jimmy Buffet's Margaritaville and swim with sharks. Six lucky winners (and a friend!) will win an all inclusive trip to Margaritaville Resort in Hollywood, Florida for two nights, leading up to the ultimate experience – a real shark dive.
A trip for adrenaline lovers, sun chasers and shark afficinadoes, all fans 21+ have to do is text SHARK to 78896 for a chance to win. Fans interested can now enter through August 24th, with the trip set on September 12-14. Come hang with us our home of Margaritaville – one of the world's greatest places to party – where the sun is always shining, the tide is just right and the LandShark flows freely.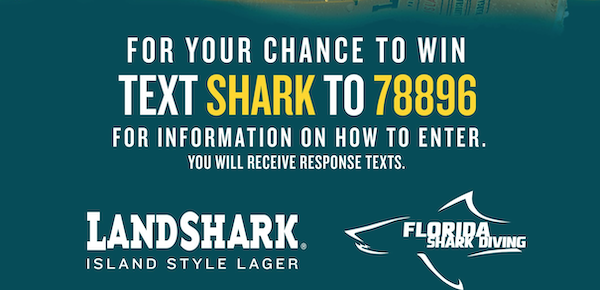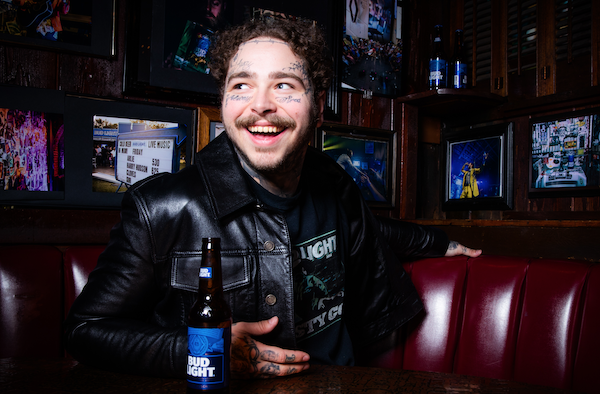 Bud Light and Grammy-nominated artist Post Malone announced the next evolution of their partnership - a limited-edition merch collection available nationwide on Monday, August 5, 2019 exclusively onShop.PostMalone.com.
To kick-off the launch, Bud Light is hosting a New York City-based pop up shop for two-days only - Sunday, August 4th from 2-8PM and Monday, August 5th from 3-7PM at 89 Crosby Street, New York, NY 10012.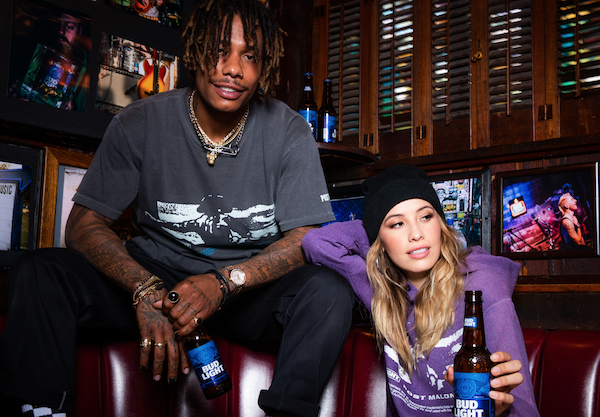 The premium, unisex streetwear line takes equal inspiration from some of Post's favorite things as well as Bud Light's heritage to create a one-of-a-kind collection that will bring fans closer to Post Malone and Bud Light than ever before. The collection, all priced between $10 and $250, draws inspiration from Post Malone's distinct tattoos, Americana and his favorite light-lager, Bud Light, with notes from his upcoming album cover art and unreleased lyrics on select pieces.
"It's cool to be able to grow my relationship with Bud Light and collaborate on a merch collection with them. Feels good to give the fans something that represents a good-ass time," said Post Malone.
Following the pop-up activation, NYC fans have the chance to catch Post Malone perform on Bud Light's Dive Bar Tour stage where he will return for an intimate show for fans and will announce when the full merch collection will be available online at shop.postmalone.com.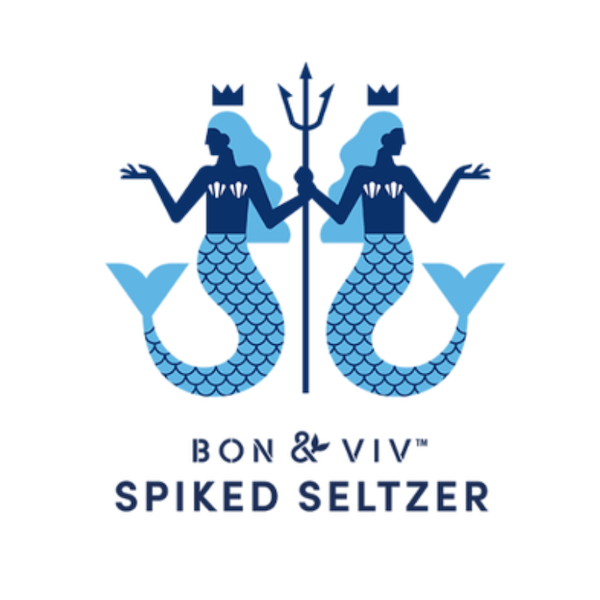 Just in time for summer's hottest months, BON & VIV Spiked Seltzer is releasing Classic – a refreshing new variant now available in cans and on draft, making it one of the first hard seltzers to be offered on tap.
Knowing unflavored seltzers are popular in the non-alcohol market, BON & VIV Spiked Seltzer is launching a hard seltzer option that can be enjoyed on its own, with a squeeze of fruit or as a base in your favorite cocktails. Classic is naturally gluten free with 90 calories, 0g of sugar and 4.5% ABV.
You may have tried unflavored hard seltzers before, but BON & VIV Spiked Seltzer believes the taste of Classic is unmatched! Don't just take our word for it. Tasting is believing, so crack open a can of BON & VIV Spiked Seltzer Classic next to the competition and discover great taste for yourself.
In addition to on draft and in single flavor packs, Classic also now comes in a limited-edition Coastal Variety Pack which just launched in select locations and features brand new flavors including Coconut and Mango, alongside Lemon Lime.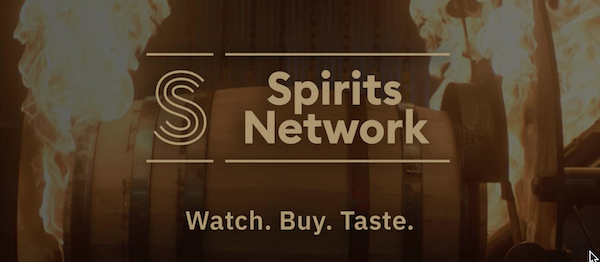 For all those people out there that love cocktails and drinks there is a new channel for you. Award-winning media company NBTV Channels has announced the launch of Spirits Network, the first shoppable entertainment network and personalized membership service coupled with physical products and premium original content. Spirits Network will bring unparalleled access and expertise to the culture of premium spirits' growing audience.
With a mission to "discover, buy, taste," on every device, Spirits Network launches today as an OTT platform, mobile app and online. It combines expert product curation with original content that gives members the story behind the bottle and the people who create it. Spirits Network product selection is supported by experts across all spirits categories, led by Flavien Desoblin, from NYC's Brandy Library and Copper + Oak lounges. It will also be supported by other curators and experts including internationally-renowned bourbon expert Fred Minnick, mixologist Rob Floyd and celebrity friends. The products they have selected bring together the most exclusive brands – both craft and commercial – all available for real-time purchase through proprietary click-to-buy technology.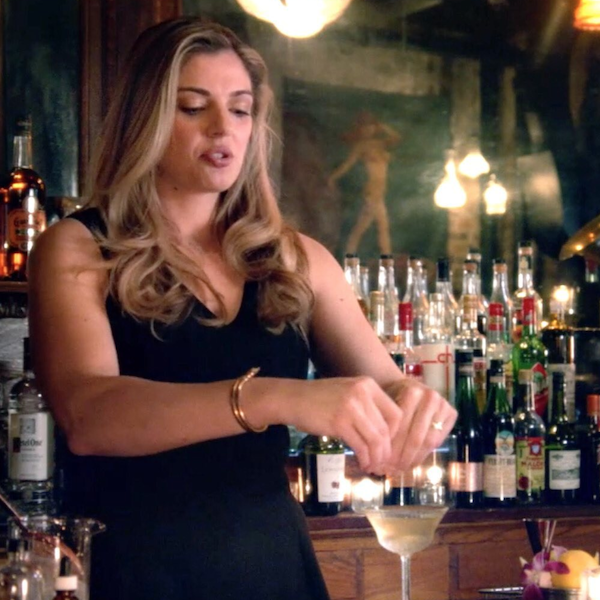 "This is the future of media," says NBTV Chairman & CEO and Spirits Network co-founder Nick Buzzell. "This isn't an analog business anymore, and we're creating a new kind of network without interruptive commercials that bring product experiences directly to consumers. For example, we're working with Diageo, a global leader in beverage alcohol with an outstanding collection of brands across spirits and beer, to tell stories, like how Don Julio Gonzalez (of Tequila Don Julio) made tequila for his friends, as well as the brand he created. These are entertaining stories first and, at the same time, a celebration of premium spirits and the community that enjoys them." Further, as a leader in this space, we are proud to work with the Distilled Spirits Council of the United States and Responsibility.org to integrate responsibility into everything we do."
Spirits Network will feature:
Original Content:  See the stories behind the bottles, whether it's a short snippet of a Japanese whiskey-tasting on mobile or a documentary about tequila on the big screen. Our award-winning series uncovers the characters of legend and the tastemakers of today obsessing with craft whiskeys, vodkas, tequilas, gins, brandies and other liquors across fine spirits categories.
Shoppable Content Members can buy rare and even exclusive product in two ways: One, product windows will be visible within content screens with a "Quick Buy"" option available. Two, subscribe to a monthly Spirits box and have our experts select products based on tastes and areas of the desired exploration whether it's a monthly bourbon box, craft gin or the latest in tequila. Those offers will also be available as gifts for the holidays, bridal party, or even the office party.
Community: Spirits Network is building a new kind of social network, one where spirits enthusiasts can connect to each other as well as the personalities and experts that define the spirits business.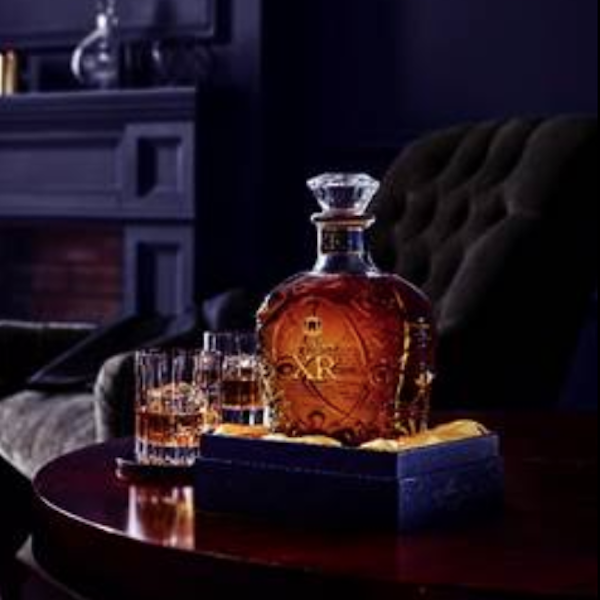 Crown Royal XR, the second addition to the Crown Royal Extra Rare Whisky Series, is a limited-edition whisky crafted from one of the final batches of whiskies produced at founder Samuel Bronfman's original LaSalle Distillery. And with LaSalle Distillery production closed in 1993, Crown Royal XR will not be available for much longer.
Crown Royal XR is the rarest in our whisky series and boasts an exceptionally full-bodied and smooth sipping experience. The sophisticated blend of dried fruits and honey harmoniously balance the spicy notes of Canadian rye for a round finish that tastes of raisins, cocoa and brown sugar.
Before it is gone, add a piece of Crown Royal history to your whisky collection or gift a bottle to the aficionado you know will appreciate the legacy and craftsmanship of this collectible release.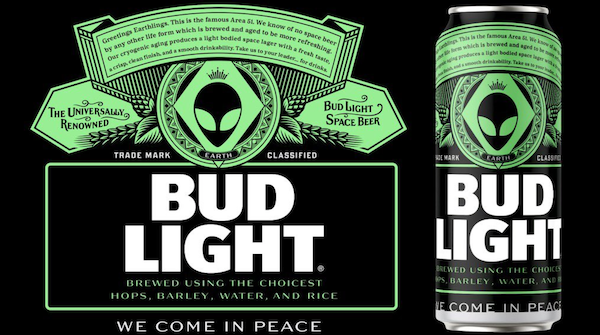 Bud Light set out to up the ante on the Area 51 raid scheduled for Friday, September 20, by offering free Bud Light to any alien that escapes Area 51 – and that was only the beginning.
The thought of offering America's favorite light lager to creatures from another world got Twitter users buzzing, and Bud Light doubled-down on the promise by serving up a Bud Light Area 51 special edition label.
Fans immediately hopped on board with the thought of a limited-edition label, and Bud Light shared that if this tweet receives 51,000+ RT, they will make the label a reality.
A Bud Light spokesperson behind the mission shared, "Whether you're from this planet or another galaxy, nothing says 'welcome to our planet' like a few beers. The way we see it, there's no better way to show these aliens 'we come in peace' than a few BLs. Who knows? Maybe a few beers will make this a party rather than a raid."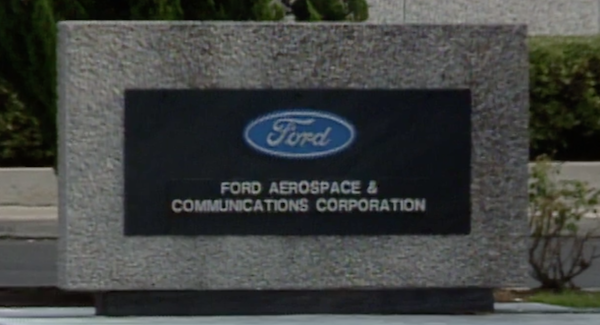 With the 50th Anniversary of the moon landing on July 20th let's take a look how Ford played a part in the Apollo 11 mission.
Ford Aerospace and Communications Corporation built and maintained Mission Control (now Johnson Space) Center, providing all the equipment used in the Apollo mission and the transmission of Neil Armstrong's voice back to Houston and out to the rest of the world.
Ford also provided technical and engineering support personnel during the construction and ongoing operations.  The system designs were updated for each mission, some of which required as many as two million wiring changes. The work by Ford Aerospace and the Mission Control staff was even more complex as many of the elements had never been tried before.
Some other notable details about Mission Control include:
More than 1,500 different items of telemetry data – from the astronaut's health to the results of test to flight data – flowed into the center simultaneously.
The Mission Control Center housed the largest assembly of television switching equipment in the world.
More than 60 thousand miles of wiring were laid and maintained to continue operations.
Five IBM 360/75 mainframe computers sent data to more than 1,300 indicator switches to be monitored by mission flight controllers.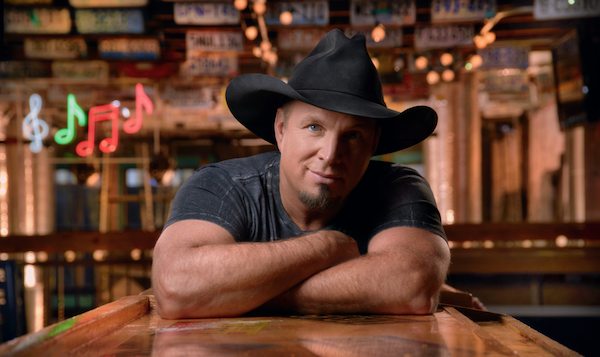 1.2 million lives are lost each year worldwide because of drunk driving and together, Garth Brooks and Seagram's 7 Crown Whiskey are seeking to reduce that number through pledges—700,000 to be exact— to never drive impaired at jointhepact.com.
This summer coming off the debut of Brooks' new song "Dive Bar", the American icon announced on Seagram's 7 National Dive Bar Day (July 7) he will be asking dive bar patrons nationwide to #JoinThePact and pledge to never drive under the influence.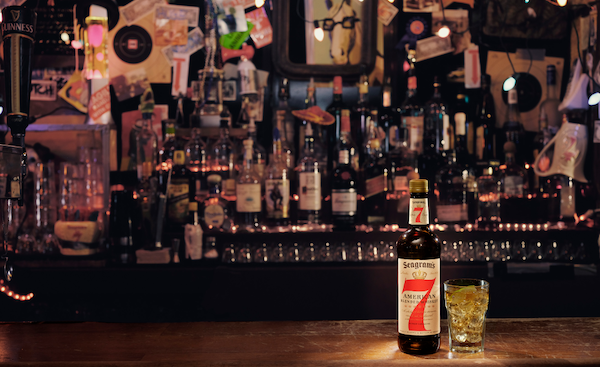 "Dive bars are all about the people inside of them. These people are our family…the ones we can talk to about anything and the dive bar itself is a lot of times, the calm in the storm, our getaway from the daily grind," said Brooks. "I applaud Seagram's 7 and share the mission to help our favorite neighborhood hangouts live to see another day. That's why I urge all my friends to #JointhePact and pledge to never drive impaired, so together we can keep the celebration going all summer long."
Seagram's 7 Crown and Brooks are proud to support Join the Pact, a global mission to help make our roads safer for everyone by reducing road-related accidents as a result of driving impaired. Follow the conversation on Facebook and Twitter with #JoinThePact,and take the pledge to drink responsibly at jointhepact.com.


Continuing what has already been a huge summer for soccer, Captain Morgan announces that it's signed with Major League Soccer (MLS) to become the league's official spiced rum and exclusive spirits partner through 2022. The Captain's message to soccer fans is clear: there's more fun to be had. The new deal names Captain Morgan as an official sponsor of MLS All-Star – taking place in just a few weeks in Orlando – Campeones Cup (August 14) and MLS Cup (November 10).
The rum brand also becomes an official sponsor of the following clubs: Chicago Fire Soccer Club, D.C. United, New York City FC, Philadelphia Union and Seattle Sounders FC. With Captain Morgan as a fellow supporter, fans of these five teams can expect even more fun during the season. Additionally, fans of legal drinking age will soon be able to purchase custom labeled bottles of Captain Morgan Original Spiced Rum featuring official team colors and crests to be enjoyed responsibly with their fellow supporters.
"From New York to Seattle to Los Angeles, everything about Major League Soccer, its intensely passionate fanbase, the atmosphere at each match, and the exciting growth of the sport in the U.S. mirrors the energy that Captain Morgan stands for," said Christina Choi, DIAGEO Senior Vice President, Rum, Gin & Tequila. "Our goal is to reward that dedicated fanbase, and the crews that get together to support their clubs each and every week, with the fun only Captain can bring because we know there is more fun to be had. We'll kick off the fun later this month when we're on the ground at All-Star Week in Orlando, and we can't wait to see the fan fervor firsthand."
"We are pleased to welcome Captain Morgan to our roster of partners," said Carter Ladd, Major League Soccer SVP of Business Development. "Captain Morgan believes in the future of MLS and is committed to joining us in our ongoing efforts to elevate soccer's popularity to even higher levels in North America. We look forward to working with Captain Morgan to authentically engage fans in fun and innovative ways for many years to come."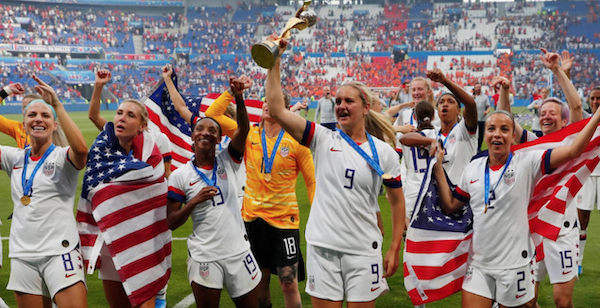 As the official beer of the U.S. Women's National Team Budweiser is making a pledge to continue supporting women's soccer – not just every four years, but on a year-round basis.
Women's soccer is never bigger than during the World Cup, with sponsors clamoring to support the stars of the game. But when these women get home, they play for half-empty stadiums and hardly any sponsors. Budweiser wants to change that. That's why this year, the end of the World Cup marks a new beginning – Budweiser is proud to become the first-ever beer sponsor of National Women's Soccer League.
Budweiser's multi-year partnership with the NWSL is designed to support the players, the fans and the sport. The deal makes Budweiser one of the biggest sponsors of the NWSL, with naming rights to the playoffs, the championship, the MVP trophy, and a newly created "Most Valuable Supporter" award for the league's biggest fan. Budweiser will activate the sponsorship locally, with support of the teams and stadiums. And Budweiser's commitment won't stop at the end of the NWSL season. An innovative off-season program will give NWSL players immersive training in the business side of sports from Budweiser executives.
In celebration of the partnership, Budweiser released an anthem video titled – "We Won't Stop Watching" – that aims to inspire fans and brands to support the sport when the stars come home. The film features soccer legend, Brandi Chastain speaking over real scenes of U.S. Women's National Team stars competing in empty American stadiums. Debuting moments before the World Cup Final yesterday, the film asks a provocative question: "The world will watch them play today. Who will watch them play tomorrow?" Chastain's voiceover goes on to celebrate the stars and supporters of women's soccer while announcing that Budweiser won't stop supporting the sport when the World Cup ends.