Art Eddy III
This user hasn't shared any biographical information
Jabber/GTalk: Art Eddy III
Posts by Art Eddy III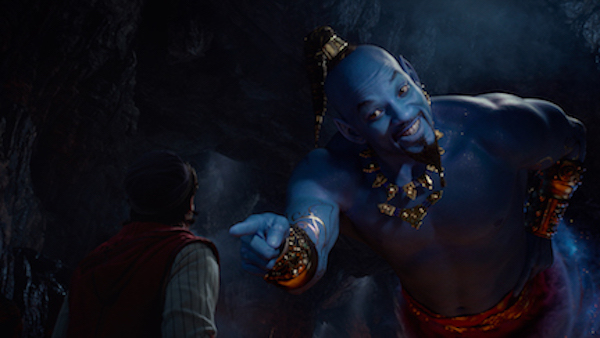 A thrilling and vibrant live-action adaptation of Disney's animated classic, "Aladdin" is the exciting tale of the charming street rat Aladdin, the courageous and self-determined Princess Jasmine and the Genie who may be the key to their future. Directed by Guy Ritchie, who brings his singular flair for fast-paced, visceral action to the fictitious port city of Agrabah, "Aladdin" is written by John August and Ritchie based on Disney's "Aladdin." The film stars Will Smith as the Genie; Mena Massoud as Aladdin; Naomi Scott as Jasmine; Marwan Kenzari as Jafar; Navid Negahban as the Sultan; Nasim Pedrad as Dalia; Billy Magnussen as Prince Anders; and Numan Acar as Hakim.
"Aladdin" is produced by Dan Lin, p.g.a., and Jonathan Eirich, p.g.a., with Marc Platt and Kevin De La Noy serving as executive producers. Eight-time Academy Award®-winning composer Alan Menken provides the score, which includes new recordings of the original songs written by Menken and Oscar®-winning lyricists Howard Ashman and Tim Rice and includes two new songs written by Menken and Oscar and Tony Award®-winning songwriters Benj Pasek and Justin Paul.


Celebrate the iconic and heart pounding music of Queen and Freddie Mercury with the highest-grossing biopic of all-time when Bohemian Rhapsody comes to Digital and Movies Anywhere January 22 and 4K Ultra HD, Blu-ray™ and DVD February 12. Fans can experience the story behind the band and the making of "Bohemian Rhapsody," the #1 streamed song of the 20th century and other favorites like "We Will Rock You," "Somebody to Love," "We are the Champions" and more, for a music adventure that will make you laugh, sing, dance and cry.
Nominated for two Golden Globe® Awards including Best Motion Picture – Drama and Best Actor in a Motion Picture – Drama (Rami Malek), and two SAG Awards for Outstanding Performance by a Cast Motion Picture and Outstanding Performance by a Male Actor in a Leading Role (Malek), Bohemian Rhapsody has captured the hearts of fans globally.
Bohemian Rhapsody is an enthralling celebration of Queen, their music, and their extraordinary lead singer Freddie Mercury (Malek), who defied stereotypes and convention to become one of history's most beloved entertainers. Following Queen's meteoric rise, their revolutionary sound and Freddie's solo career, the film also chronicles the band's reunion, and one of the greatest performances in rock history.
For the first time, fans can experience a truly one-of-a-kind music movie event with the complete "Live Aid" Movie Performance featuring two never-before-seen songs ("Crazy Little Thing Called Love" and "We Will Rock You) packed into a 22-minute collective experience recreating the original event. In addition, on Blu-ray & Digital, fans will get a look behind the making of the film including interviews with Queen, the cast and creative team.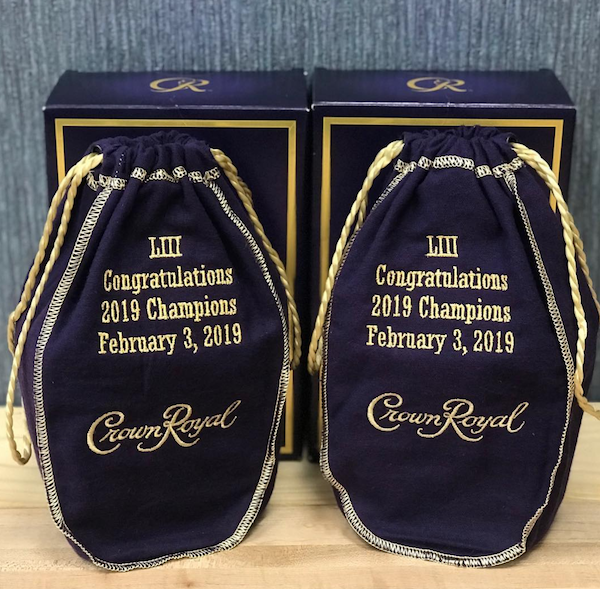 In honor of their Big win, twins and teammates Jason and Devin McCourty are gifting the 2019 championship team with two bottles of Crown Royal – one for them and one to share with someone who helped them achieve their dreams. Jason and Devin will be gifting their mom who has loved and supported them over the years.
The McCourty brothers had the following to say about their accomplishment:
"It's undeniable that this has been such an incredible journey for both of us as brothers, but it's even more special to have made it here with our team. We're excited to gift each member of this historic team with two bottles of Crown Royal featuring special embroidered bags – one to enjoy and one to gift to those special people who helped them realize this dream. We're giving our bottle to our mom for her love and support over the years. Today, we toast as brothers and as champions!"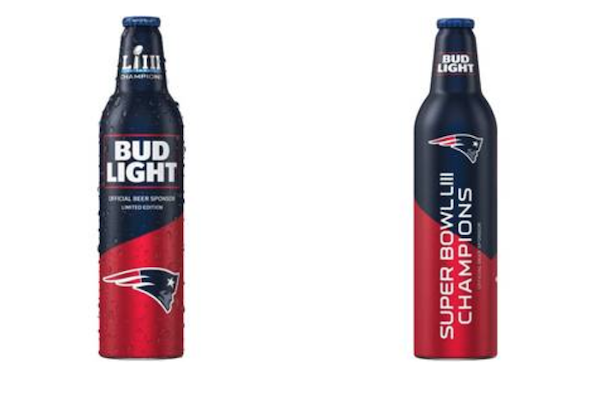 Bud Light congratulates the Patriots for winning Super Bowl LIII. To celebrate, they will be bringing Bud Light to Patriots fans 21+ attending the Super Bowl celebration parade later this week. We also wanted to share first look imagery of special edition New England Patriots Super Bowl LIII Championship Bud Light Bottles which will be available for fans to celebrate with at select bars in the Boston area.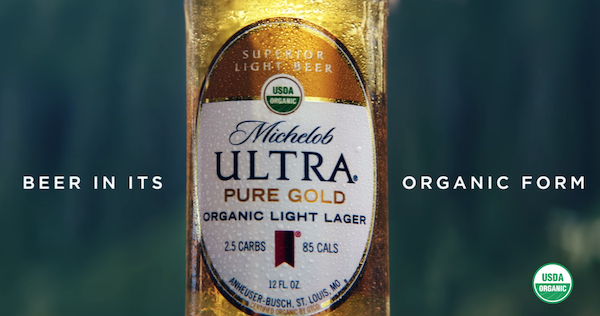 Michelob ULTRA unveiled a second Super Bowl commercial, putting the spotlight on its new USDA certified organic beer: Michelob ULTRA Pure Gold. The goosebumps-inducing commercial, titled "The Pure Experience," is shot ASMR-style and stars actress Zoe Kravitz.
Using unique audio cues and an idyllic natural visuals, the new spot is all about the power of an organic beer to help people reconnect with nature. And as someone who embodies organic living, Zoe Kravitz was the perfect partner to lead viewers through this full sensory experience.
Michelob ULTRA Pure Gold is the first major organic beer brand to hit the market, and has seen an incredible response since it debuted in 2018. The new commercial marks the innovative beer's first time in the big game. Check out the video here.


Michelob ULTRA, the fastest growing beer brand in the U.S., unveiled its highly anticipated Super Bowl commercial which uses robots to reinforce the message that while the world today is full of artificial, your beer is one thing that shouldn't be.
With no artificial flavors or colors and only 95 calories and 2.6 carbs, Michelob ULTRA believes being human is about being fit and fun. The new commercial reminds drinkers that balance is possible, and all the hard work you put in at the gym is only worth it if you can enjoy the reward, like a cold beer with friends.
Award-winning Latin music superstar, Maluma, also makes a cameo in the commercial marking the beginning of a larger partnership with the brand.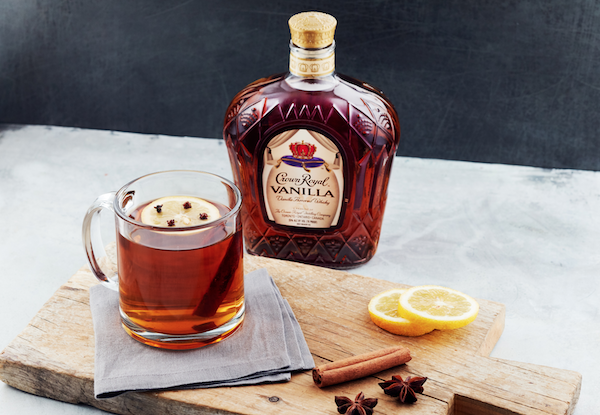 Whether hosting a viewing party or a tailgate, #CrownYourGameDay and cheer on the final two teams with the smooth and flavorful taste of Crown Royal. These simple yet fun to make game-day recipes are a touchdown for everyone.
This season Crown Royal kicked off its largest-ever responsible drinking campaign, the Crown Royal Water Break, to encourage fans to drink responsibly and hydrate moderately on game day. Whether you're watching this year's matchup at a bar, in the stands or at home, make sure the whole squad participates in a water break between celebrations to stay hydrated and stay in the game.
L.A. Crownberry Apple
Ingredients
1.5 oz. Crown Royal Regal Apple
Cranberry Juice
Directions
Mix 1.5 oz Crown Royal Apple into glass.
Fill to the top with cranberry juice.
Wicked Hot Toddy
Ingredients
1.5 oz. Crown Royal Vanilla
1 TSP fine grain sugar
2 small cloves
1.5 oz. boiling water
Directions
Mix 1.5 oz Crown Royal Vanilla, grain sugar and cloves into glass.
Fill to the top with boiling water.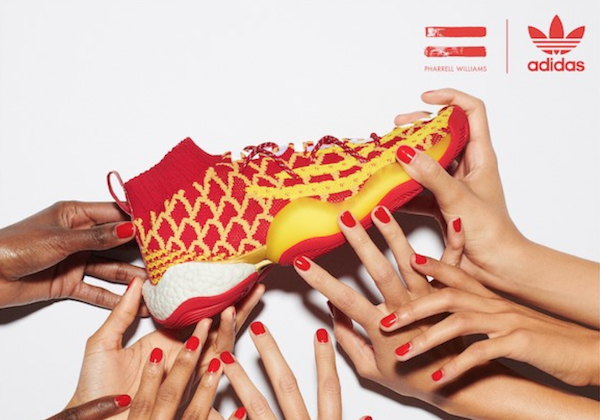 Maintaining their commitment to inspiring creativity though sport and design, Pharrell Williams and adidas Originals deliver the PW CNY pack, featuring special Chinese New Year make-ups of the SolarHu Glide and BYW models.
Poignant odes to Chinese culture feature throughout the design of each sneaker. Taking inspiration from Chinese color symbolism both shoes are made up in predominantly red uppers with gold embellishments, seeking to bring good fortune and happiness to the wearer in the New Year. Continuing this theme, the SolarHu Glide CNY features an embroidered 'Fú' symbol on its upper, which is traditionally placed upside-down on the doors of Chinese homes in order to bring prosperity to the household. Similarly, the BYW CNY features the word 'ambition' embroidered across both the left and right uppers, inspiring its wearer to remain determined throughout the coming year.
Featuring a red and black knitted upper combined with a full length BOOST sole, the SolarHu Glide CNY seamlessly blends striking visual tones with unparalleled performance running technology. Meanwhile, boasting a blend of soft breathable knit fabrics atop a split sole with white BOOST heel tooling, the BYW CNY model represents the pinnacle of comfort and aesthetic design.
The adidas Originals By Pharrell Williams Chinese New Year Hu Pack will release globally on Friday, January 26th.


Check out the new Budweiser ad that will be "airing" during the Super Bowl. (See what I did there?) Titled, "Wind Never Felt Better," this year's commercial tells the story of Budweiser's commitment to renewable electricity for a more sustainable future and features the iconic  Budweiser Clydesdales, the Budweiser Dalmatian April alongside wind turbines set to the soundtrack of "Blowin' in the Wind," sung by music legend Bob Dylan.
The spot and its important message builds on Anheuser-Busch's ambitious 2025 Sustainability Goals. Reinforcing its commitment, Budweiser is donating clean electricity to the host city of Atlanta to power Super Bowl week.
Atlanta is a city with remarkably high sustainability goals– and by donating this electricity, Bud is offsetting 100% of the electricity used to power Super Bowl week with clean, renewable electricity.
Budweiser is partnering with Drift, a leader in the clean electricity space, to make it easier than ever for people to upgrade their own homes with green electricity. Beginning today, through February 7, Budweiser and Drift will cover the first months' worth of green power for anyone who signs up for one of Drift's renewable power plans. To make the switch to clean electricity, visit joindrift.com/Budweiser.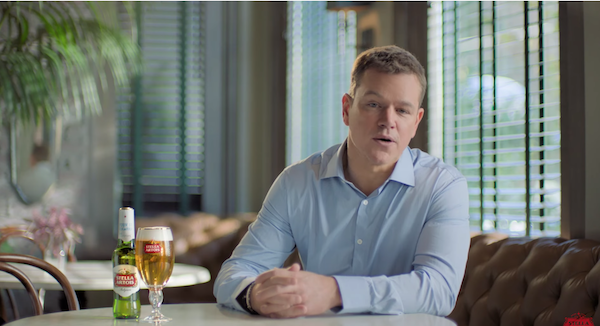 Stella Artois and Water.org co-founder Matt Damon are kicking off a campaign that's rallying America to "Pour it Forward" by choosing Stella to help end the global water crisis.
And this year, they're recruiting some famous friends to spread the word, starting with Jeff Bridges and Sarah Jessica Parker for the cause.
In a new :15 digital spot, available here, Sarah Jessica Parker revisits her iconic role of Carrie Bradshaw in a homage to Sex and the City's opening sequence. Carrie can't "help but wonder" what might happen if she changed up her 'usual' drink, the Cosmo, in favor of a Stella, to help give access to clean water for someone living without it.
HOW DONATIONS WORK:
It's so easy to get involved, for every Stella purchased from now until March 31, 2019, the brand will donate a month of access to clean water to someone living without it, through their longstanding partnership with water.org.
HOW YOU CAN HELP:
The more Stella enjoyed, the more lives changed – so stock up on Stella Artois for your Super Bowl party, birthday party or snowed-in movie night to help give access to clean water for someone in need.