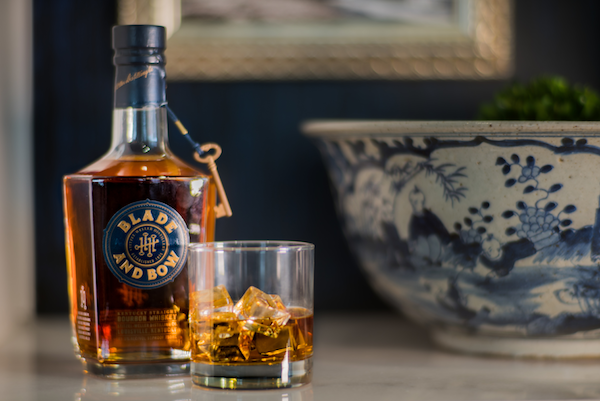 Next month in September marks the 10th anniversary of National Bourbon Heritage Month, which was passed by the U.S. Senate in 2007 to honor America's native spirit. The month-long holiday celebrates the history, cultural heritage and legacy that the bourbon industry contributes to the United States.
If you are traveling in the Kentucky area you can visit Stitzel-Weller in Louisville, which has been home to many of the industry's iconic brands, including Blade and Bow, Bulleit and I.W. Harper. As one of the stops on the Kentucky Bourbon Trail, guests can learn more about the history of bourbon and taste our incredible whiskey portfolio while they visit.
Blade and Bow Kentucky Straight Bourbon Whiskey
Blade and Bow Kentucky Straight Bourbon Whiskey pays homage to the artful passion and renowned craftsmanship of the legendary Stitzel-Weller Distillery, often recognized as "The Cathedral of Bourbon." The solera aging process preserves some of the last remaining bourbon produced at Stitzel-Weller before it shut its doors in 1992. This luxurious award-winning spirit is great for any whiskey enthusiast who truly appreciates a fine glass of bourbon.
Suggested Retail Price: $49.99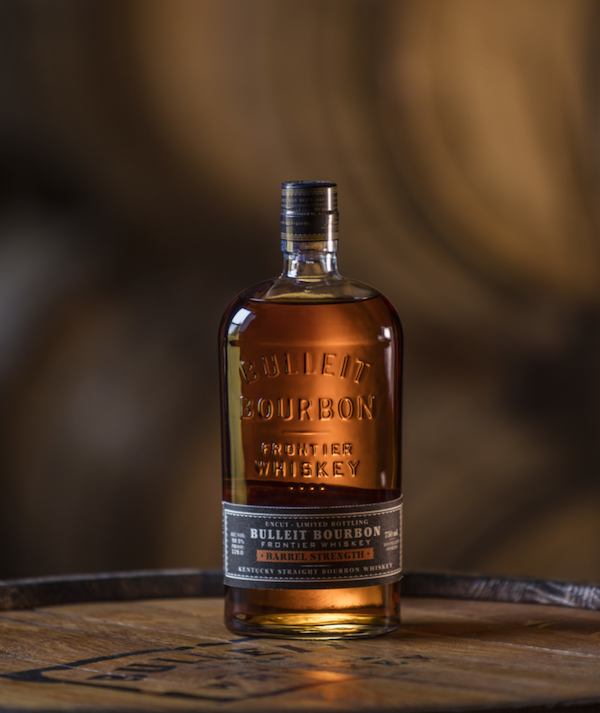 Bulleit Barrel Strength
Bulleit Barrel Strength is an ongoing annual limited release and gives whiskey fans the opportunity to taste the classic Bulleit Bourbon straight out of the barrel, uncut and non-chill filtered. Originally available only in Kentucky, the new offering has expanded to eight additional markets this year. 2017 has been a hallmark year for Bulleit, which celebrated its 30th anniversary this year with the ribbon cutting ceremony for the Bulleit Distilling Co., its brand new state-of-the-art distillery in Shelbyville, Ky.
Suggested Retail Price: $59.99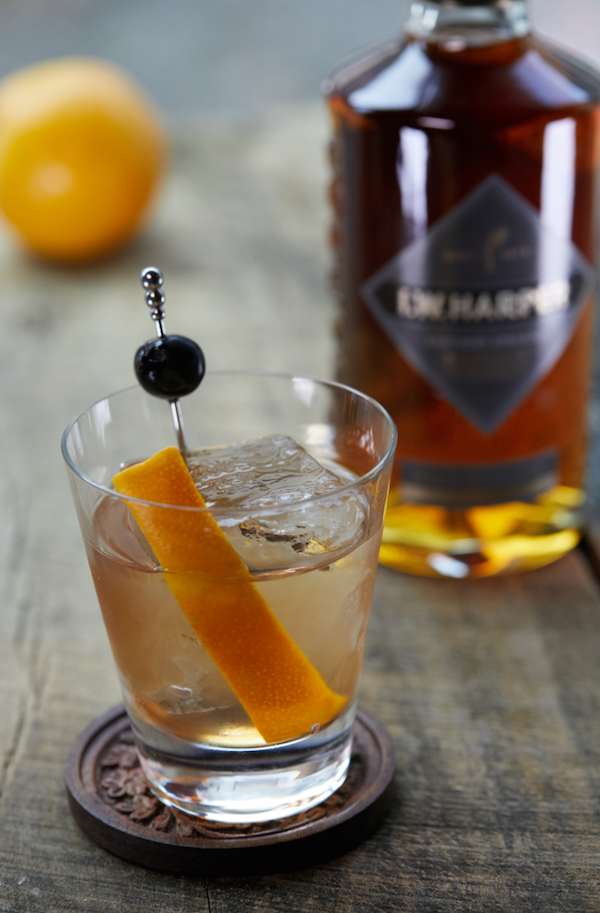 I.W. Harper Old Fashioned
• 1.3 oz. I.W. Harper Kentucky Straight Bourbon Whiskey
• Spoon of Brown Sugar
• Dash of Angostura Orange Bitters
• 2 Dashes Aromatic Bitters
• House-made Cherries
• Garnish with Orange Twist
Instructions: In an Old Fashioned glass, muddle bitters and brown sugar. Add bourbon and ice, then stir with a bar spoon. Garnish with cherries and orange twist.


The NFL season is almost here! We love watching the stars shine each week. We all know that Odell Beckham Jr. has crazy talent on the football field. Now you can check out his comedic acting chops as well.
He will be featured in a new Verizon ad with Silicon Valley star Thomas Middleditch. The new ad, which shows how Verizon's network and unlimited data makes sure football fans don't miss anything important this season, debuts on Sunday during the MTV Video Music Awards.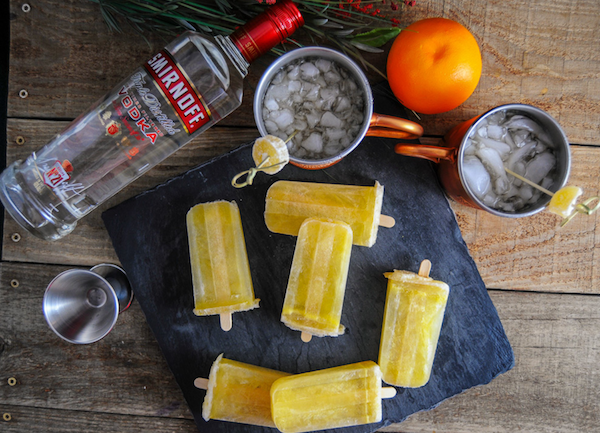 The summer is winding down. Still we can celebrate this Labor Day Weekend! Whether you're at the beach, hanging by the pool, or at a BBQ with family, here are a few 'labor-less' cocktails that are festive and delicious without any of the hassle.
These cocktails – made with Smirnoff No. 21, Smirnoff Red White & Berry and Smirnoff Sourced Watermelon – are the perfect addition to your weekend festivities.
The Tropical Melon Bliss is made with Smirnoff Sourced Watermelon, a new product that's gluten-free, made with no high fructose corny syrup and contains just 87 calories!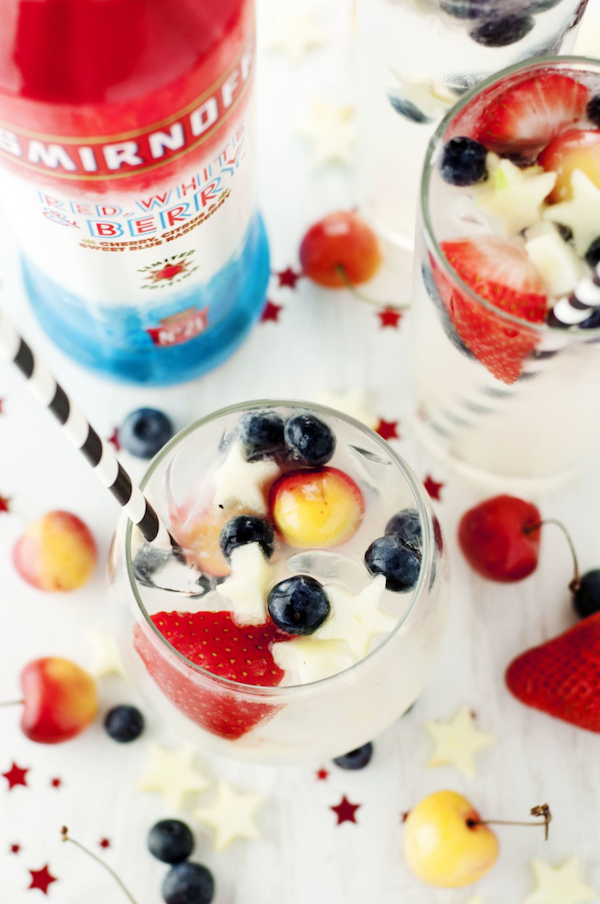 Patriotic Vodka Lemonade Spritzer (courtesy of Karly Gomez, A Simple Pantry)
Single serving:
•       1 ½ oz. SMIRNOFF Red, White & Berry
•       3 oz. black cherry seltzer
•       4 oz. lemonade
In a tall glass filled with ice, add the vodka, followed by the seltzer and lemonade. Garnish with fresh fruit in patriotic colors.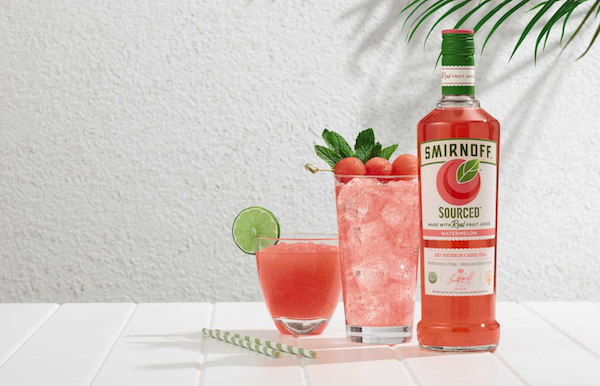 Tropical Melon Bliss
•       1.5 oz. SMIRNOFF SOURCED Watermelon
•       1 oz. coconut water
•       1 oz. pomegranate juice
•       ½ oz. lemon juice
•       ¾ oz. simple syrup
Combine ingredients and serve over ice.
Garnish with watermelon wedge.
Sunrise Over Moscow Mule
(courtesy of Jay and Leah from The Gastronom)
Cocktail:
1.5 oz Smirnoff No. 21 vodka
2 oz Fresh squeezed orange juice
.5 oz fresh squeezed lime juice
4 oz ginger beer
Fill copper mug with crushed ice. Add vodka, orange juice and lime juice into the mug. Stir and top with ginger beer. Garnish with candied ginger.
Ice pops:
1.5 oz Smirnoff No. 21 vodka
2 oz Fresh squeezed orange juice
.5 oz fresh squeezed lime juice
4 oz ginger beer
Add all ingredients into a bowl and whisk to mix completely. Pour mixture into ice pop molds and place into freezer. After about 90 minutes, insert sticks into the molds. Allow ice pops to freeze overnight.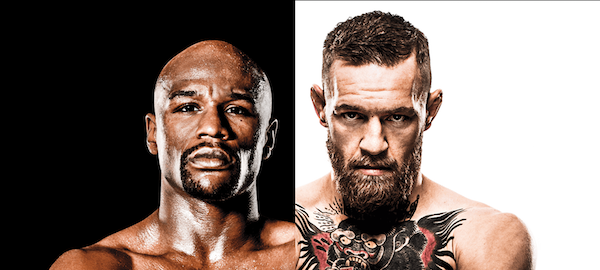 Lot of people say they are buying the Mayweather/McGregor fight. Are you? In preparation for Saturday night's fight, AT&T is promoting the fight, which will be available to DIRECTV and U-verse customers.
Cross-country building projections w/ real time polling – Fans in Atlanta, Chicago, Dallas, Houston, Los Angeles, Miami and New York will be able to get in on the action from their hometown. Select buildings in these cities will project massive videos on their structures promoting the fight, along with LIVE polling of Mayweather/McGregor fight winner projections.
Below is a list of where projections will take place in each city. So if you live near one of these areas you might want to take part in the action.
Atlanta: Peachtree Center Ave & Auburn Ave
Chicago: 830 S Wabash Ave
Dallas: 2201 N Field St
Houston: 1410 Pease St
Los Angeles: W Olympic Blvd & S Flower St
Miami: 5th St & Ocean Drive
New York City: 8th Ave & W 27th St
There is a Fight Microsite for fans looking to enjoy the fight from the comfort of their own home, they can order it on DIRECTV and U-verse  through our dedicated microsite which breaks down the matchup and also includes real time polling from twitter. There is also a Sports Bar Finder app – The DIRECTV Sports Bar Finder app on iOS and Android devices helps fans to figure out which locations near you will have the fight available.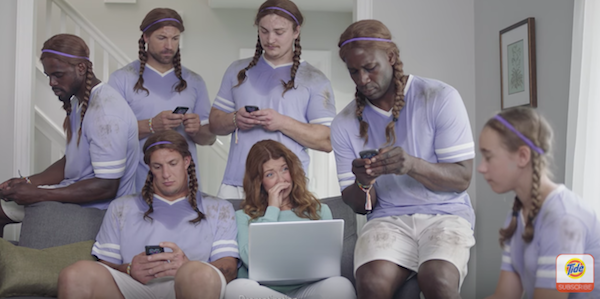 Everyone loves New England Patriots tight end, Rob Gronkowski, but not the way he smells after a game. When you are done working out or playing hoops outside on a sunny day you won't be smelling great either. Gronk teams up with Tide to launch the brand's newest product, Tide Sport PODS.
In the new videos, Gronkowski embodies an amateur girl athlete's sport smell – pigtails and all – to show that amateur athletes can stink just as much as professional athletes and to encourage kids everywhere to give it their all out on the field, no matter how much sweat it takes, because Tide Sport PODS will take the odor out of any athlete's gear! With the launch of Tide Sport PODS, athletes everywhere now have the power to experience what it means to have clean athletic-wear that is smell and stain-free. Tide Sport PODS clean, brighten and fight the toughest stains and odors to make even the sweatiest of athlete's game-ready day in and day out!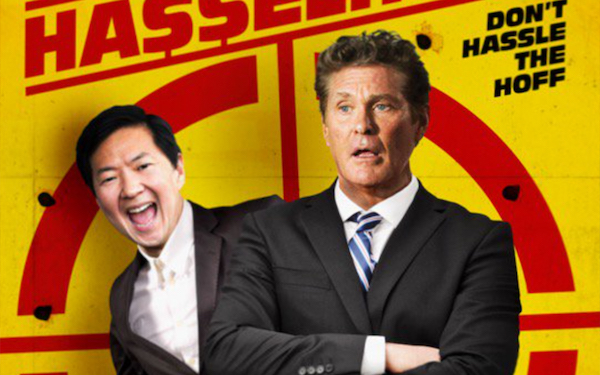 Might sound like a strange question, but after watching Killing Hasselhoff I know why that question was asked. The Knight Rider and Baywatch star, David Hasselhoff teams up with the very funny Ken Jeong in a comedy of one man's desperate attempt to kill the Hoff.
I really enjoyed the humor and outrageous one liners in the film. If you are looking for a comedy that doesn't hold any punches then Killing Hasselhoff is for you!
Co-produced by the team behind 2017's Baywatch and David Hasselhoff himself, the laugh-out-loud movie is packed with a host of celebrity cameos including comedian Howie Mandel musician Kid Cudi, and The Hoff's original "Baywatch" partner in life-saving crime, Gena Lee Nolin. Rounding out the cast is Jon Lovitz, Rhys Darby and Jim Jefferies.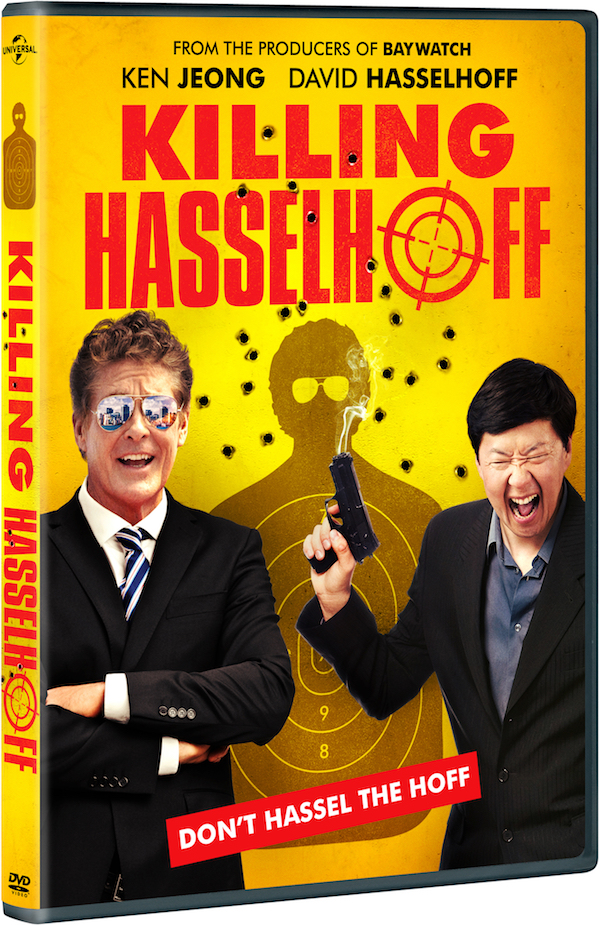 The premise of the movie is this, what started out as a regular week quickly turns into the worst few days of his life when Chris (Jeong), a struggling nightclub owner, fails to pay back a loan shark and decides the only way to get the money is to kill his pick in the annual "Who Will Die This Year" celebrity death pool: David Hasselhoff. Aided by his friends Fish (Darby) and Tommy (Jefferies), Chris desperately tries everything he can to off the master of slow-motion running and claim the jackpot. But the task is not as easy as he thought, especially when your target is The Hoff!
Killing Hasselhoff, available on DVD and Digital, comes filled with exclusive and hilarious deleted scenes taking viewers further into the film's crazy adventure.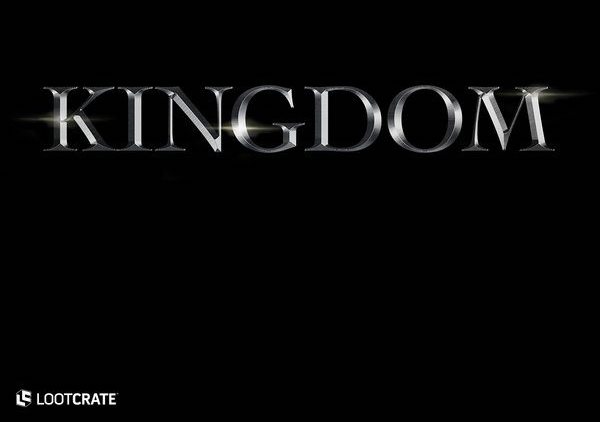 This month's Loot Crate theme was Kingdom. If featured items from Lord of the Rings, Adventure Time and Legend of Zelda. The Loot Pin was a Kingdom Crest Pin that was done really well. The pin has a roman numeral inscription. The shield is set up into four different fields, one of which features the Loot Crate logo, while two sport crossed axes, and the fourth depicts a boar's head.
I really loved this month's T-Shirt. The designers took me back to my childhood with an exclusive The Legend of Zelda Link 8-bit map shirt. The outline of the map is cut out like Link and it is how you see him in the game for the original Nintendo system. The design, colors and nod to the 8 bit tech was superb.
Any Adventure Time fans out there? If so you will love the Nice King & Gunter figure. The colors are bright and sharp on this collectible. I gave this item to one of my friends who was geeking out over it. He was thrilled that he can now add one more item to his Adventure Time collection.
There was also two Lord of the Rings items in this month's crate. The first one was an exclusive The Lord of the Rings color changing glass modeled after The One Ring. When you fill up the glass with a cold drink fills the writing turns color. This is a really well crafted glass and I can't wait to pour a nice cocktail in it! Can I say it is one glass to rule them all?
The second Lord of the Rings item is a beautiful art print of a scene from Tolkien's The Two Towers:  Merry, Pippin, and Treebeard take the battle to Saruman in Isengard, as illustrated by artist Matt Ferguson and designed by Bottleneck Gallery. I need to find a frame for this artwork. I really enjoyed both Lord of the Rings items.
Next month is Loot Crate's September crate which the theme is Robotic. You have until September 19th to order it. The crate will feature the franchises Blade Runner 2049, Aliens, Star Wars, and Star Trek: Mirror Universe.
There are different themed crates as well. There is a Loot Anime, Loot Gaming, Loot Pets, Firefly, and LVLUp. They even have limited edition Star Wars and Call of Duty crates. You can pick out the best one that fits your style and your budget. Go to www.lootcrate.com for more info on each one and to start your subscription today!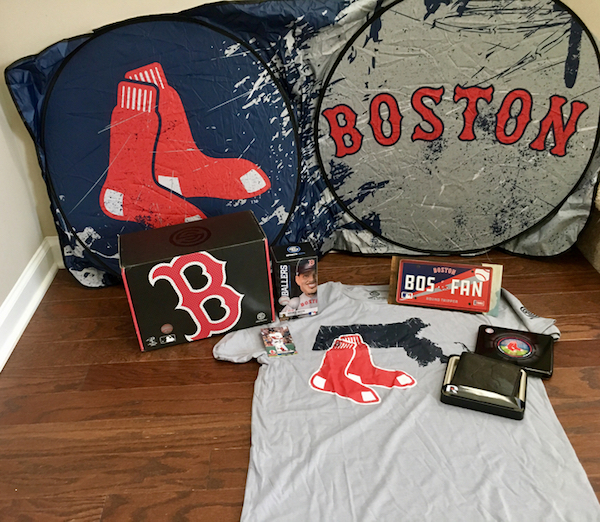 This month I received my third Boston Red Sox Sports Crate. The theme was a road trip or round tripper. The summer season is almost ending and people are taking one last road trip before we go into the fall.
Some people are lucky enough to go see their favorite team play in another ballpark. These road trips are a great way to see the country and create memories with family and friends. I feel that SportsCrate nailed this theme with all of the goodies that were in the crate.
First and foremost if you are driving to your destination that a lot hotter than what you are used to then the sun shade will come in hand. Not only do you get to protect your car from turning into an oven, but you get to rep your team while keeping things cool!
The next item is a really sick shirt. It is the "Hit the Road" shirt that has the Red Sox logo in front of the state of Massachusetts. Love the design, colors and feel to the shirt. This is a must need for when you go on the road to see the Sox play. Well done SportsCrate….well done!
What do you need when you are taking a trip? How about money, an ID and credit cards. Now you can show love to your team by using the Red Sox wallet. Not only can you store the above mentioned items, but you can hold your tickets to the game in there as well.
This month's crate is highlighted by the one and only Mookie Betts. You get an action figure and a Topps trading card. Glad to see SportsCrate is giving the nod to Betts. He is one of my favorite current Sox player.
As you can see SportCrate keeps stepping up to the plate with all of these goodies in each crate. If you are a fan of the teams that are available through SportsCrate you should start up a subscription.
With licenses from Major League Baseball and the Major League Baseball Players Association, Sports Crate is now the Exclusive Licensed Subscription Box of MLB. The new division of Loot Crate, Sports Crate will launch with 10 teams initially, providing fans of the Boston Red Sox, Chicago Cubs, Detroit Tigers, Kansas City Royals, Los Angeles Dodgers, New York Mets, New York Yankees, San Francisco Giants, St. Louis Cardinals and Texas Rangers with exclusive apparel, collectibles, experiences and more every month.
The monthly subscription service will feature exclusive team-focused products and possible VIP one-of-a-kind experiences.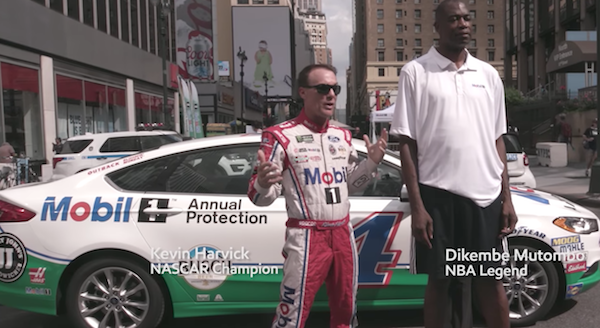 Last week in NYC there was a cool event that brought the world of NASCAR face to face with an NBA legend. There was a fan-friendly event called "Mobil 1 Annual Protection: The Drive" to support the company's latest synthetic motor oil offering.
Mobil 1 Annual Protection is a groundbreaking synthetic motor oil from ExxonMobil that was launched in March 2017 and offers consumers the convenience of driving one full year – or up to 20,000 miles, whichever comes first – between oil changes.
Basketball and motorsports fans joined Stewart-Haas Racing's Kevin Harvick and Basketball Hall of Famer Dikembe Mutombo at a pop-up basketball court where they were given the opportunity to put their shooting skills to the test in a series of challenges to win Mobil 1 Annual Protection prizes and rewards.
One lucky fan was given the once-in-a-lifetime opportunity to ride with 2014 Monster Energy NASCAR Cup Series champion Harvick in a Mobil 1 Annual Protection car, with Mutombo joining as a fellow passenger.
"Now that I've driven Dikembe around the streets of New York, I think it's only fair that he gives me some one-on-one lessons on the court," said Harvick. "'The Drive' showed off Mobil 1 Annual Protection motor oil, a great new product from ExxonMobil that allows drivers to go one full year without changing their motor oil."
"The Drive" is not the first time Mutombo and Harvick have teamed up this year, with both appearing in the Mobil 1 Annual Protection motor oil nationwide advertising campaign as miniature-sized roommates living in an engine. Mutombo also got his first taste of NASCAR at the Kobalt 500 NASCAR Cup Series race at Las Vegas Motor Speedway in March, where he joined Harvick and the No. 4 Stewart-Haas Racing team on pit road.
"It's been great to be back in New York City, hanging out with fans on the basketball court, then driving around Manhattan with Kevin and our lucky fan," said Mutombo. "I hope that all those who came to 'The Drive' had fun and, most importantly, remember, 'One year, one oil change!'"
"There was no better way to continue celebrating the launch of Mobil 1 Annual Protection motor oil than teaming up with two of our greatest partners: NASCAR and the NBA," said Kai Decker, global sponsorship manager at ExxonMobil. "'The Drive' was a great way for us to engage fans and deliver the benefits of Mobil 1 Annual Protection motor oil in a fun and unique way."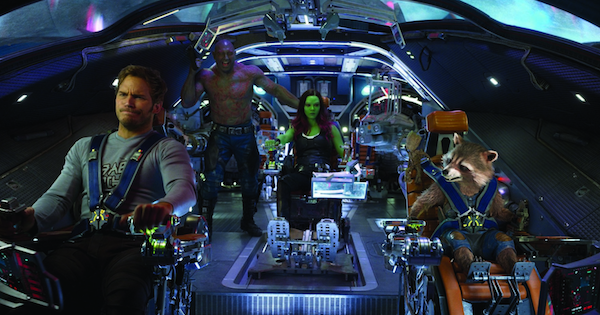 Music is an essential part of life. It can make you happy, sad, and even give you a jolt of energy when you are trying to beat your fastest mile. If you have seen either of Marvel's Guardians of the Galaxy films you know the main character, Peter Quill aka Star Lord has a passion for music.
In the first film his mother made him a mix tape that he cherishes. Those songs mean something to him. Those songs are part of his identity. I think we can all relate to Peter. For me music was introduced to me first by my parents. My dad and mom introduced to me artists like The Beatles and Michael Jackson.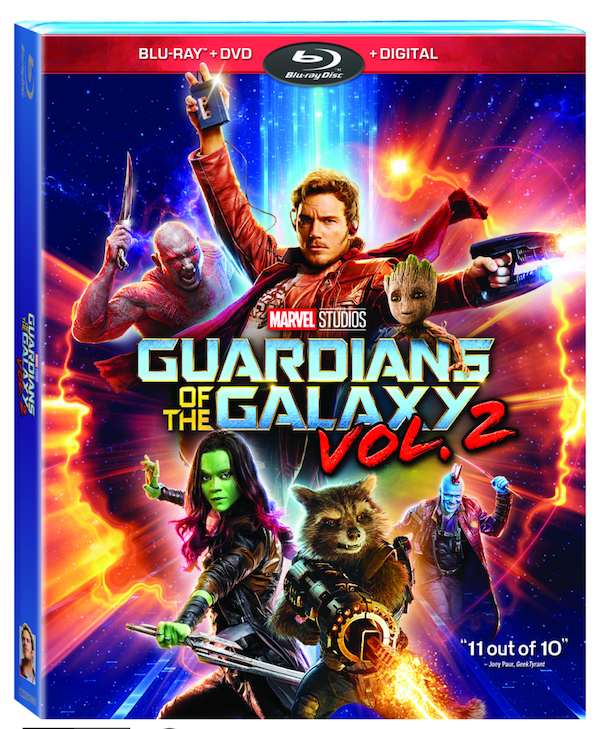 As I got older I started finding my own music. In high school artists like 2 Pac, Outkast, Young M.C. were part of my soundtrack at that time. As I got older more and more artists and songs got put into my soundtrack.
What is your soundtrack? What songs mean the most to you? Tell me your playlist and you could win a very cool Guardians of the Galaxy Vol. 2 Prize Pack from Marvel Studios.
You can win the Blu-ray of Guardians of the Galaxy 2 Vol 2 that is out now on Digital HD and will be released on Blu-ray on Aug. 22nd. Plus you can win a Groot Plush, Rocket Funko Pop, Soundtrack CD, Sound Machine, and a Puzzle. Just share your playlist with us and you will be entered to win the Guardians of the Galaxy Vol. 2 Prize Pack.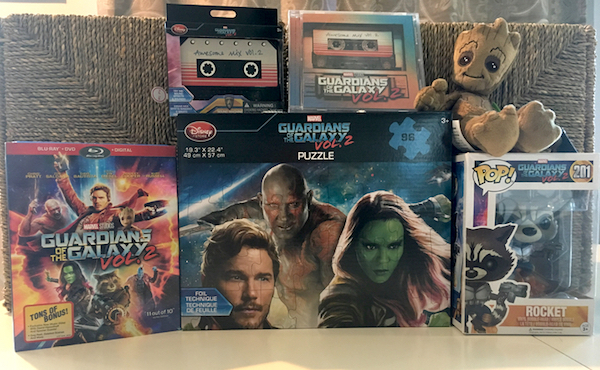 Two months after defeating the fanatical Kree terrorist Ronan, the Guardians of the Galaxy continue to soar the spaceways, fighting for justice, and trying to get along with one another. The team's leader, Peter Quill, takes them on a new mission. Their journey leads them to a powerful cosmic being named Ego, and his charge, the empathic Mantis. But they also find a new threat to the galaxy, and Quill, Gamora, Drax, Rocket, and baby Groot must do all they can to save the lives of billions.
Set to the all-new sonic backdrop of Awesome Mixtape #2, the film's storyline continues the team's adventures as they traverse the outer reaches of the cosmos. The Guardians Chris Pratt as Peter Quill/Star-Lord, Zoe Saldana as Gamora, Dave Bautista as Drax, Vin Diesel as the voice of Groot, and Bradley Cooper as Rocket must fight to keep their newfound family together as they unravel the mystery of Peter Quill's true parentage.
Here is my playlist below. Share yours to win the prize pack. Good luck!
Old School – 2 Pac
Smooth Criminal – Michael Jackson
Know How – Young MC
Blackbird – The Beatles
Crossroads – Bone Thugs N Harmony
ATLiens – Outkast
The Message – Nas
Free Falling (Cover) – John Mayer
Gone Going – Black Eyed Peas ft. Jack Johnson
Juicy – Notorious B.I.G.