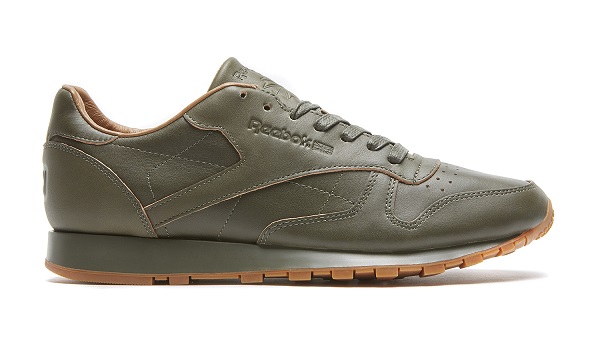 After dominating this year's music award show season and dropping his third major label studio album to critical acclaim, Kendrick Lamar returns with the Classic Leather Lux. A timeless yet distinctive design, the sneaker is executed in olive green premium leather, representing the Compton saying that "mixing Red and Blue makes Green'; when we come together united we can inspire and encourage growth. The eye-catching green combined with embossed accents of red and blue text on the heel tabs, to symbolize the existing divide between gangs and to emphasize Kendrick's message of a call for neutrality. A retro gum sole provides an interesting contrast to the muted green upper, and the starcrest tongue branding completes the look in Classic style.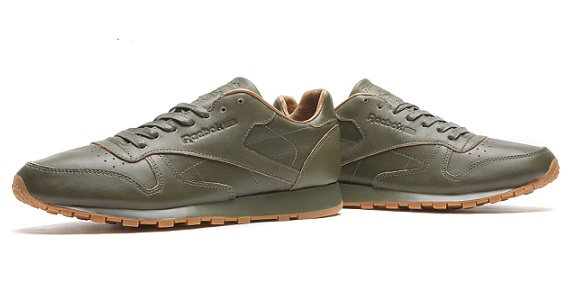 Speaking to the collaboration, Kendrick Lamar said, "Similar to my collaborations with Reebok in the past, I want to create products that provide fans with larger meanings and messages – particularly ones that inspire unity and growth within communities and youth. In Compton, we have a saying that 'mixing Red and Blue makes Green.' While 'green' is usually thought of in a monetary respect here, this shoe represents a new definition of 'green' – community growth. If we work together, we can break down barriers and prosper."
Available in unisex and kid's sizes, the Reebok Classic x Kendrick Lamar Classic Leather Lux is available at Reebok.com and limited global retailers from November 25th 2016.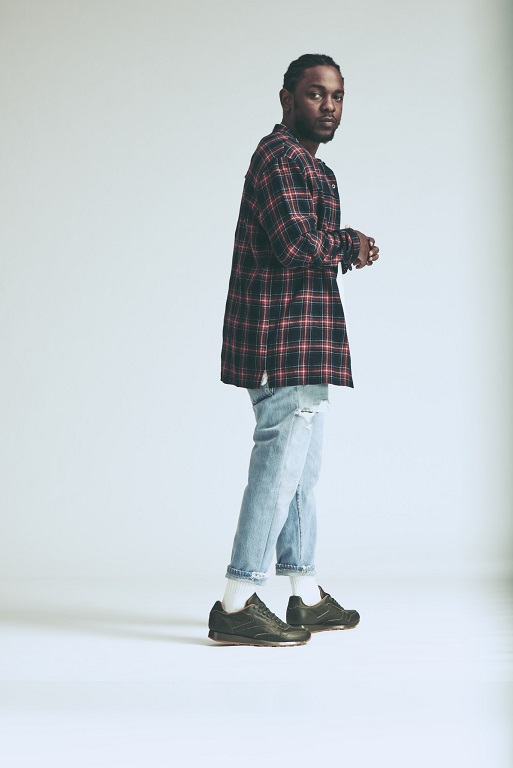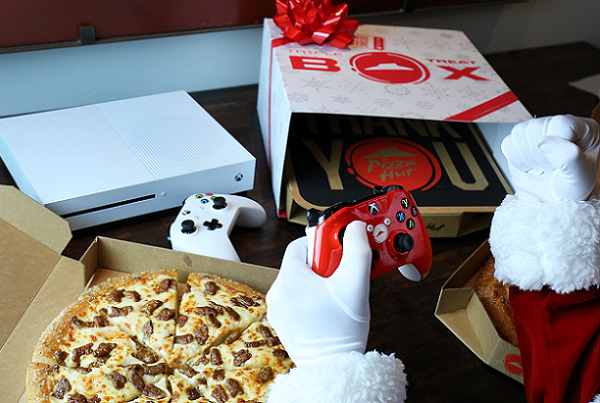 With all the shopping that you will be doing for others why not get some food that could reward you with an awesome gift? Since we are nearing the holidays Pizza Hut and Xbox have teamed up to spread holiday cheer by giving pizza lovers the chance to win an Xbox One S and custom made Pizza Hut controller every hour on the hour from Nov. 7 through Dec. 24. That's 1,140 given away in 48 days.
With every purchase of the returning tri-level, holiday-themed Triple Treat Box, customers will receive an entry code for a chance to win an Xbox One S and custom Pizza Hut designed red controller, as well as an instant offer for $10 off an Xbox One game.
The Triple Treat Box will be available starting today for just $19.99 and includes:
Two medium one-topping pizzas (available on Hand Tossed, Thin N' Crispy® or Pan)
A Hershey's Ultimate Chocolate Chip Cookie
A chance to win holiday fun for the whole family with the Xbox One S giveaway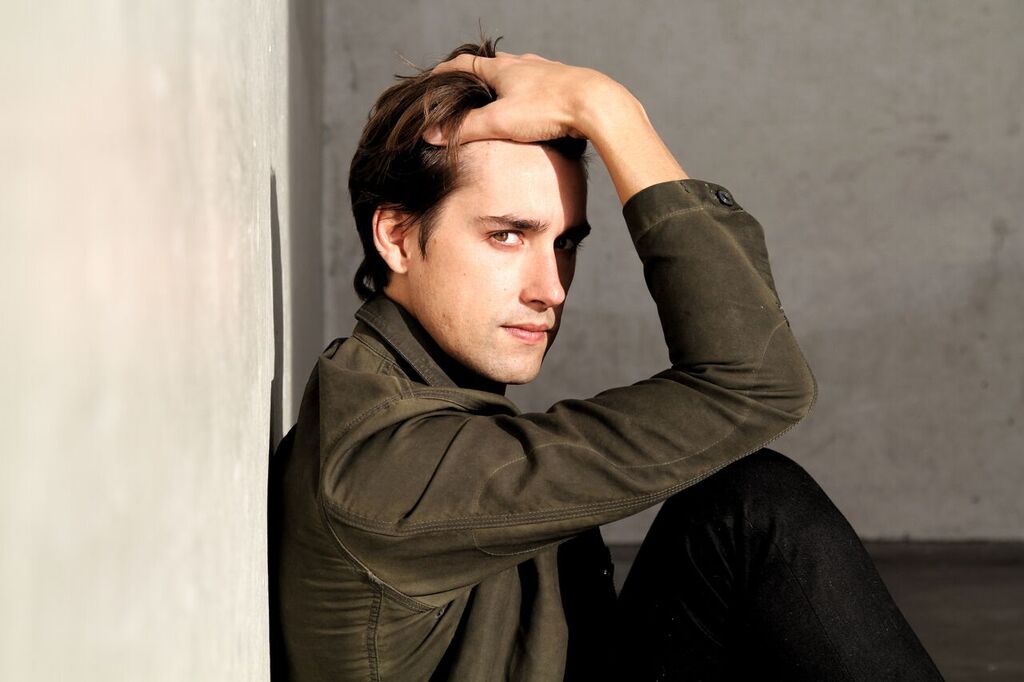 Nick Clifford was born and raised in New York City. That is where he began his career on stage starring in High School productions of "Guys & Dolls" and "Grease." His terrific performance earned him an apprenticeship at the Powerhouse Theater Company and New York Stage & Film at Vassar College where he studied classical theater. He went on to attend Brown University where he majored in Financial Economics while simultaneously taking lead roles on Brown's main stages, in student television series, and with the hugely popular on-campus sketch comedy team Out of Bounds. Nick also served as Executive Director of the Ivy Film Festival at Brown, the largest student-run film festival in the world, which sent him to the 2007 Sundance Film Festival.
Now Nick has been on shows like Showtime's smash hit "Masters of Sex" and continues to shine on the TV and film. I had the chance to chat with Nick about acting, how he got into the entertainment business, and so much more.
To listen to the interview CLICK HERE!
Go to Nick's website and follow him on Twitter and Instagram.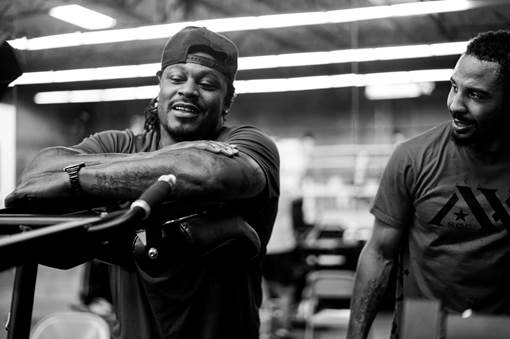 You might be wondering what former NFL superstar Marshawn Lynch is doing in his free time. Well besides doing some funny commercials he paid a visit to Two-Time World Champion Andre Ward at training camp, ahead of his "Pound For Pound" showdown against Sergey Kovalev on Nov. 19 at T-Mobile Arena in Las Vegas.
Since announcing his retirement from the NFL, Oakland-native Lynch hasn't missed a single Ward fight this year. In Ward's first fight at light heavyweight against the then-undefeated Sullivan Barrera at Oracle Arena, Beast Mode was part of a star-studded entourage including Steph Curry, Draymond Green and Michael B. Jordan that walked Ward into the ring and then proceeded to rush the ring upon the fighter's unanimous decision victory.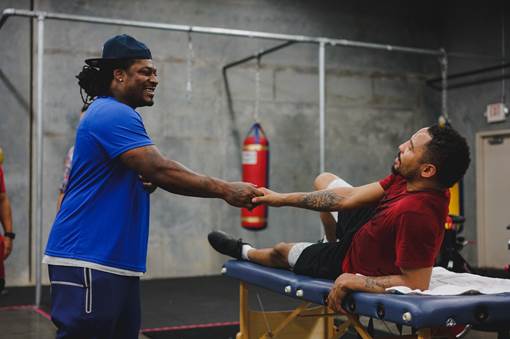 Kovalev vs. Ward "Pound For Pound", a 12-round mega-fight for the WBO/IBF/WBA light heavyweight title at T-Mobile Arena in Las Vegas, is presented by Main Events, Roc Nation Sports, Krusher Promotions and Andre Ward Promotions and is sponsored by the MGM Grand Hotel & Casino, Corona Extra, Zappos, JetLux and Monster Products. The championship event will be produced and distributed live by HBO Pay-Per-View beginning at 9:00 p.m. ET/6:00 p.m. PT. Tickets are available on axs.com and the T-Mobile Arena box office.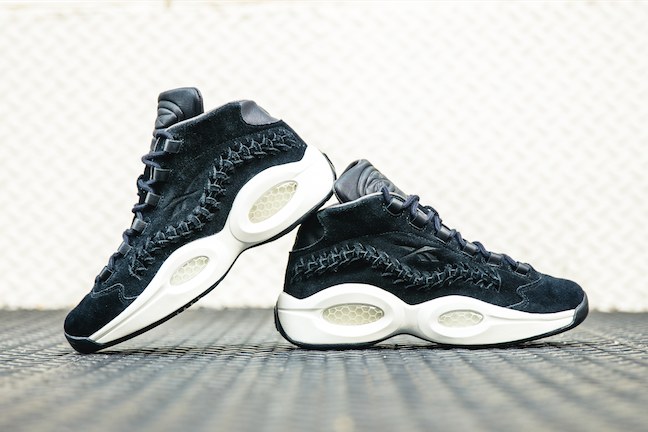 Over the years Reebok has teamed up with artists and companies to create a new take on their classic sneakers. Now Hall of Fame is the next brand to collaborate with Reebok to help celebrate the Year of the Question, with their very own 20th anniversary edition of the legendary Allen Iverson signature shoe. Like many of the other collaborators throughout the Question's big year, the Los Angeles-based sportswear label looks to an important piece of Iverson's history and style on and off the court for inspiration for their colorway. In this case, Hall of Fame highlights one of AI's most iconic style statements: his cornrows.
The shoe is constructed in a premium black nubuck upper with woven paneling referencing his braids, all in a deconstructed design with the usual padding removed to create a sleeker, lifestyle-minded silhouette. Further refinements to the Question by Hall of Fame include leather utilized for the lace gillies, inner lining, and sockliner, along with embossed leather branding throughout. Every pair will also come with multiple lace options in Philly's alternate uniform colors.
The Hall of Fame x Reebok Question Mid launches at Hall of Fame's LA store and on HallofFameLTD.com this week, and on Reebok.com and select Reebok Classic retailers this Friday, November 11th.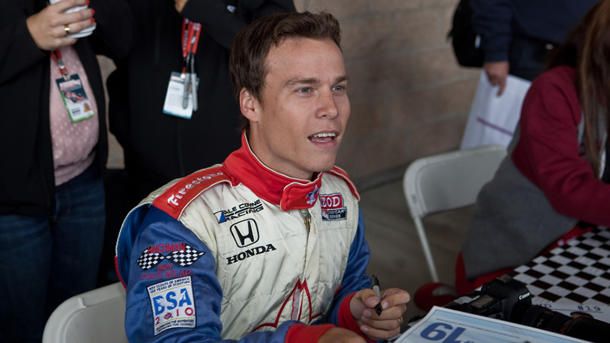 Alex Lloyd made a name for himself as an Indycar Driver and now he can help share some fantastic information about the process of buying or selling a car, what to watch out for, how to avoid losing out on a deal with a company called Beepi. Beepi feels that people are at the heart of everything they do. It all started with one person – therr CEO, Ale Resnik – and his horrible car buying experience. After doing a ton of research and test driving a certified pre-owned car, he bought the car only to have it catch fire days later. Ale met Owen Savir, both serial entrepreneurs obsessed with breaking down complex problems, and together they vowed no one should ever have that bad experience again. They resolved to reinvent the entire way people buy, sell and own cars. Beepi was born.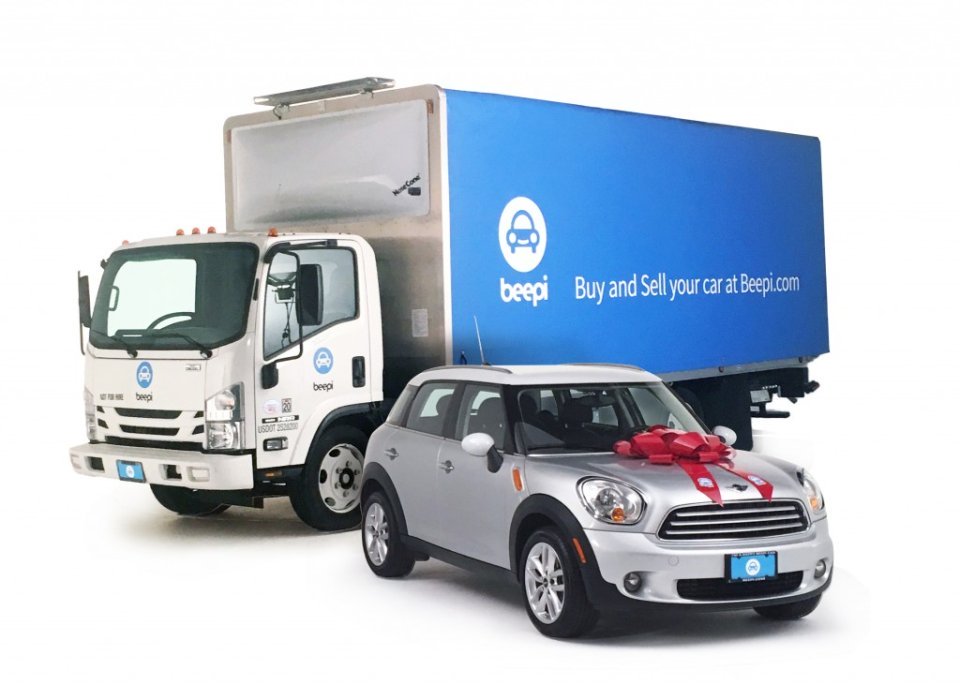 For Alex he loves cars and was looking for the next career after racing. Lloyd says that, "There's no question racing was a fun portion of my life. But I'm most excited about this next stage—disrupting an entire industry, putting the customer first, and making life simpler. I'm moving my entire family out west—a small village, if you will, consisting of my wife, four children and our five animals. I'm doing this because I truly believe in that future."
For more on Alex follow him on Twitter at @alex_lloyd and go to Beepi's website on how they can help you purchase or sell a car.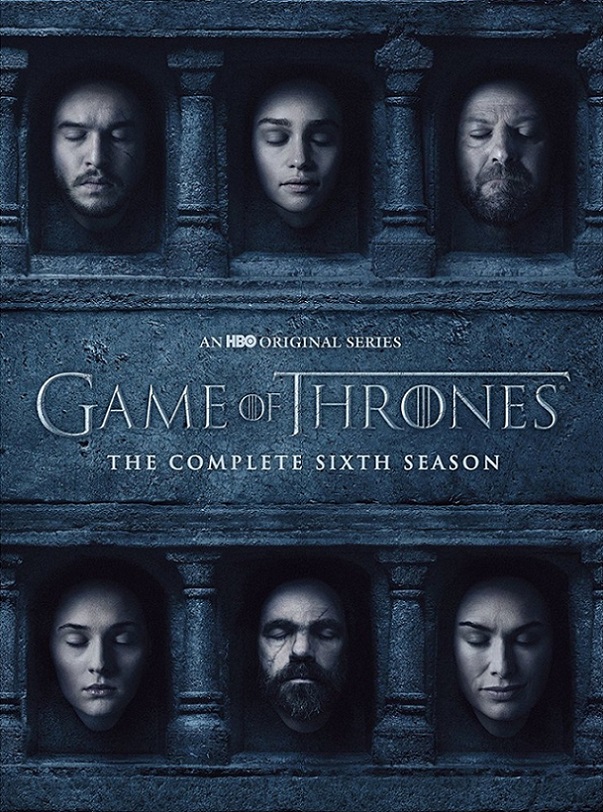 What is better than watching an episode of Game of Thrones? How about watching the entire season back to back? If you missed out on Season 6 don't worry. We got you covered. Want to win Season 6? Just tweet me here and tell me your favorite Game of Thrones Character and use the hashtag of #GoTGiveaway
If you don't win it from me, but still want to get go to HBO's site right here.
The most-watched series in HBO history and a worldwide TV phenomenon, Game of Thrones returns with another power season. This year, after the shocking developments at the end of Season 5 – including Jon Snow's bloody fate at the hands of Castle Black mutineers, Daenerys' near-demise at the fighting pits of Meereen, and Cersei's public humiliation in the streets of King's Landing – survivors from all parts of Westeros and Essos regroup to press forward, inexorably, towards their uncertain individual fates. Familiar faces will forge new alliances to bolster their strategic chances at survival, while new characters will emerge to challenge the balance of power in the east, west, north and south.
There is a ton of bonus content besides the all 10 episodes from that season. There is the digital HD download as well as the bonus features below.
Bran's Journey – A nine-minute feature delving into the shocking and revelatory journey Bran Stark took in Season 6.
The Dothraki World – Behind-the-Scenes featurette bringing viewers up to speed on the Dothraki culture, not seen since Season 1.
Inside Game of Thrones: Prosthetics – Behind-the-Scenes featurette detailing what goes into the show's prosthetics creation.
The Game Revealed – Five-part series covering the creation of Season 6's most epic set pieces and scenes.
In-Episode Guide – Dig deeper into the show with this in-feature resource that provides background information about on-screen characters, locations, and relevant histories.
Histories and Lore – Learn about the mythology of Westeros and Essos as told from the varying perspectives of the characters themselves in 18 history pieces.
The Old Way: narrated by Euron Greyjoy (Pilou Asbæk)
The Kingsmoot: narrated by Euron Greyjoy (Pilou Asbæk)
The Sunset Sea: narrated by Euron Greyjoy (Pilou Asbæk)
War of the Ninepenny Kings: narrated by Brother Ray (Ian McShane)
The Great Tourney at Harrenhal: narrated by Meera Reed (Ellie Kendrick)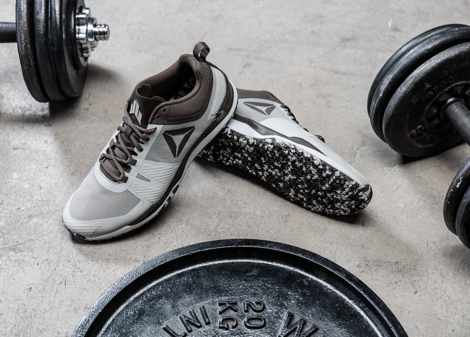 J.J. Watt's signature shoe the JJ I is going to get the military treatment in the latest colorway. Even better than being a great shoe to work out in, it is going to help veterans. The JJ I is inspired by J.J.'s appreciation for our servicemen and women, the Military Edition of the ultimate training shoe is created to inspire others to show their support at this time of year.
The JJ I Military Edition also leads the proud partnership between Reebok and the Boot Campaign, which raises awareness of the unique challenges that service members face during and post service (www.bootcampaign.org). The multi-channel marketing push for the JJ I Military Edition features the Boot Campaign throughout, spreading the word for a cause close to the hearts of J.J. and Reebok.
In J.J.'s words: "We as athletes are often the subject of headlines and highlights, when in fact it is the men and women of our military who truly deserve the adoration and praise. I chase a ball around a field for a living. These men and women lay their lives on the line to secure and protect our freedom. They are real American heroes. The JJ I Military Edition was inspired by them and serves as a daily reminder to take advantage of every opportunity this great country has to offer thanks to these men and women. Reebok and I are very proud to support The Boot Campaign and all of the men and women who are so deserving of our respect."
As well as featuring all the technology that makes the JJ I the ultimate training shoe, the new colorway pays homage to J.J.'s appreciation for our troops with subtle sandstone, brown, and tan colors along with a camouflage outsole and bottom.
Reebok has a longstanding and year-round support for the military. The global fitness brand offers 20% off all product to military, veterans, first responders, and their families throughout the year.
The new JJ I Military Edition will be available on November 11 for $99 at Reebok.com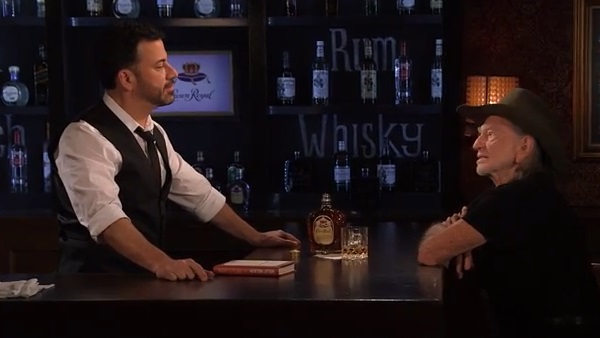 When you host a music legend like Willie Nelson you need to make sure you serve nothing but the best. That is why Jimmy Kimmel brought out the Crown Royal when the two were having a chat. Willie Nelson stopped by Jimmy Kimmel's bar, where he enjoyed a Crown Royal cocktail while answering "Three Ridiculous Questions." He and Jimmy touched on a bunch of different topics which are pretty hilarious to watch.
Plus here is a cocktail you can enjoy responsibly next time you have some friends over at your house.
Crown Royal Press
1.5 oz. Crown Royal Deluxe® Whisky
3 dash(es) bitters
2 squeezed lemon wedge(s)
1 lemon wedge(s)
1 splash(es) lemon-lime soda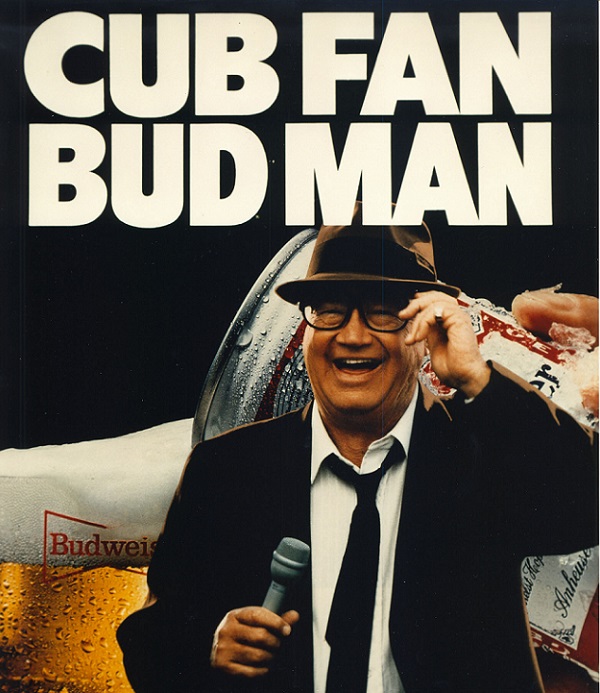 Chicago Cubs fans can rejoice! They just saw their team win the World Series. To celebrate long time Major League Baseball sponsor Budweiser pays tribute to legendary sportscaster and Cubs play-by-play man Harry Caray for Cubs fans everywhere.
The ultimate Cubs fan (and Bud man) Caray dreamed of the day his beloved Cubs would win the World Series but of course never got to call the final out for a Cubs Series win. Until now. The new video was made a reality by Budweiser working with the Caray family estate to get Caray's actual audio/voice and then lay it over with footage from last night's win in Cleveland and celebration here in Chicago. The result should give any Cubs and Caray fan goose bumps hearing Harry call the Series as if he was still here with us on earth.