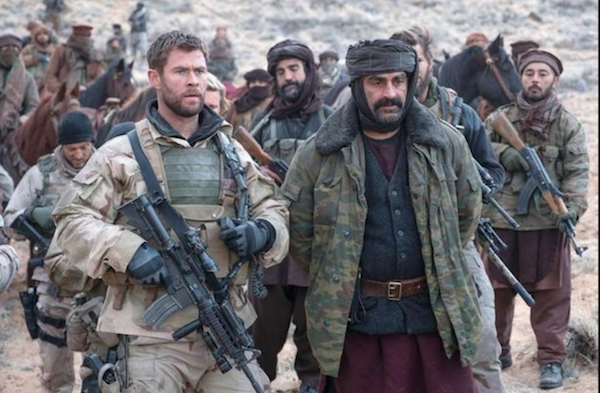 We are giving you a chance to win a copy of both 12 Strong and 15:17 to Paris. Both movies are packed with action and are based on a true story. All you need to do to have chance to win is to tweet me HERE the name of the actor who is in 12 Strong that was in the military before he become an actor! Good luck!
12 Strong
"12 Strong" is set in the harrowing days following 9/11 when an elite U.S. Special Forces unit, led by their Captain, Mitch Nelson (Hemsworth), is chosen to be the first U.S. soldiers sent into Afghanistan for an extremely dangerous mission in response to the attacks.  Leaving their families behind, the team is dropped into the remote, rugged landscape of northern Afghanistan, where they must convince General Rashid Dostum (Navid Negahban) to join forces with them to fight their common adversary: the Taliban and their Al Qaeda allies.
In addition to overcoming mutual distrust and a vast cultural divide, the Americans—accustomed to state-of-the-art warfare—must adopt the rudimentary tactics of the Afghan horse soldiers.  Despite forming an uneasy bond and growing respect, the new allies face overwhelming odds: vastly outnumbered and outgunned by a ruthless enemy that does not take prisoners.
15:17 to Paris
In the early evening of August 21, 2015, the world watched in stunned silence as the media reported a thwarted terrorist attack on Thalys train #9364 bound for Paris—an attempt prevented by three courageous young Americans traveling through Europe. The film follows the course of the friends' lives, from the struggles of childhood through finding their footing in life, to the series of unlikely events leading up to the attack. Throughout the harrowing ordeal, their friendship never wavers, making it their greatest weapon and allowing them to save the lives of the more than 500 passengers on board. We test the latest Survival Gear in rigorous backcountry conditions. Rotorm.com will help you build your complete survival arsenal. To be 100% confident you've got everything you need for a survival emergency. However, this survival gear list will only cover gear and not supplies. Expert Survival Gear Reviews at Rotorm,com – Shop for the best survival gear and emergency gear, including survival tool, carabiner, knife, whistle and emergency flashlight with worldwide free shipping USA.