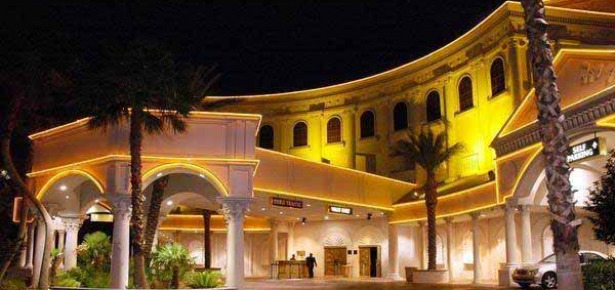 When the guys at Rick's Cabaret invited the MANjr team out to Vegas for a review of their club, we were all for it. Who doesn't like Vegas and strip clubs? They go together like pinstripes and Yankees, like socks and shoes, like hummus on a pita. But the strip clubs in Vegas aren't like the seedy shacks off the train tracks you find back home. The strip clubs in Vegas are epic pleasure palaces reserved for VIP types like Kiefer Sutherland and Rick Fox.
Well the MANjr team got the full VIP treatment at Rick's Cabaret, and we'll never look at a strip club the same way again. Once you go VIP at a place like Rick's, there's no going back.
It all started with curbside pickup at the casino. After chowing down some amazing steak and lobster at the ARIA, we got picked up by Miles in a Rick's Mobile SUV. Miles was cool as hell. He's in a band called Lik that opened for Molotov and he scored bonus points for knowing that Portos Bakery is awesome. When Miles pulled up to Rick's, he hollered at some schmuck to move his limo so that he could drop off his VIP cargo in style.
Super-cool manager Bill greeted us at the back entrance and escorted us into the club like we were Henry Hill's crew from Goodfellas. Bill promised to show us a good time, and after our initial glances at the gorgeous women in and outside the club, we knew Bill would live up to his pledge.
Once inside, Bill led us to our own VIP section with three couches and a clear view of the main stage. He introduced us to Jennifer, an attractive, energetic hostess who served as our bodyguard and guide for the rest of the night. Jennifer introduced us to Sandy, an equally perky bartender who ensured that our glasses were full the entire night. As the first round of Macallans and beers came out, Sandy suggested we all try her signature shot, Sandy Peaches. The shot was as sweet as the company we kept that night.
As we tossed back the first round, we began to realize just how massive this place was. Rick's Cabaret is a multi-level complex of poles, intimate corners and private rooms. Sportscenter was on at the bar and two amazing brunettes were vying for attention on stage. There's a central staircase that leads up to a level that's reserved for private dances only. It's the kind of daunting staircase that a drunk dude would only brave with the help of a friendly, scantily-clad guide.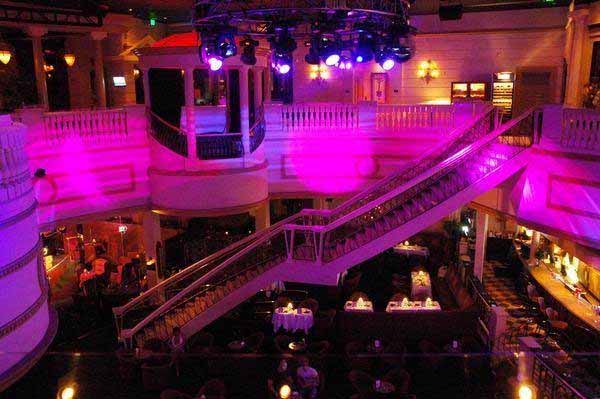 Luckily those guides were all around us. As we conversed with Jennifer and learned about her family, her Sonora roots and her love of interior design, the MANjr team started to disperse. One guy met up with a Thai Goddess and got lost for the next three hours. Another dude found chemistry with a Russian blondie and made his way upstairs. One dude enjoyed a moment with a stunning Playmate from 1989. $20 lap dances were had by all, but the private dances cost a bit more. It's quite easy to spend a lot of money at a place like Rick's.
The MANjr team highly recommends the Rick's VIP experience to anyone who wants to live it up in Vegas. Bachelor party? Don't go anywhere else. Birthday party? Do it up in style. Whatever the occasion is, you can't go wrong with Ricks. The place offers a level of personal attention and quality service that's genuinely welcoming and refreshing. You'll find public amusements and private encounters that'll suit budgets and titty agendas of all sizes. And with the sheer volume and variety of beautiful women on hand, there's really is something for everyone.
So the next time you mob out to Sin City with your boys, schedule some time to visit Rick's Cabaret. The playful ambiance, first-rate management, upbeat service and impressive selection will change the way you look at gentlemen's clubs in Vegas.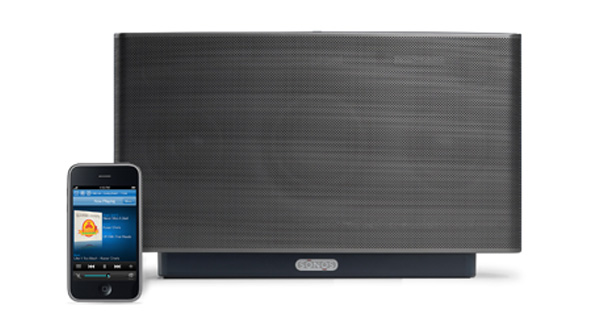 I'm not the techiest of guys when it comes to speaker systems. All I every really need is a system that's easy to use, can play my music loud, and can bump basslines. I've collected folders upon folders and drives upon drives of mp3s, and now my music system requirements are a bit more sophisticated. I want something that can play mp3s from my computer, that I can control with a remote, and that can be played in multiple rooms, even my back patio.
I've pretty much found the music system that meets all these requirements: The Sonos S5 Wireless Music System. ($399) This thing is pretty effin' sick. Like I said, I'm not that techy, so I won't go into the specs. What I can say is that YOU CAN PLAY MUSIC IN EVERY ROOM OF YOUR HOUSE! That's a pretty big deal for me since my girlfriend wants to hear music while she's cooking in the kitchen and I want to hear tunes while I'm waiting for my girlfriend to cook in the kitchen. The Sonos S5 lets you do this pretty easily.
Setup
The setup wasn't time consuming, but you do have to read the instructions. It pretty much consists of installing software on your computer, attaching the Zone Bridge to your router and then placing your Sonos speaker anywhere you want in your house. The thing is wireless so you can pretty much unplug it and move it to whatever spot you want.
Playing Music
If you've got a lot of music on your computer and you want to have access to those files from anywhere in your house, this system does it easily. During setup, the installer will take you through associating your music folders or iTunes to your Sonos S5 system. If you want to listen to internet radio stations, Sonos lets you have your cake and eat it too. You can access thousands of free internet radio stations and broadcast programs. Just press Radio. Sonos S5 will also let you access your Pandora account and paid music services like Napster, Rhapsody, and Sirius. Check the Sonos site for updated music service listings.
Controlling your Sonos S5
The cool thing about the Sonos S5 is that you can control your tunes with your iPhone or iPod Touch. Sonos provides a free app that turns your iPhone into a controller. If you don't have an iPhone or iPod Touch, you're going to have to cough up $349 for one the controllers that Sonos provides. It's definitely a music system that's best served with Apple devices if you want to keep the costs down.
Other Cool Features
If you want to use headphones with the S5, no problem, there's a jack in the back. There's also a line-in jack if you want to connect a portable music player, CD player, or TV.
So all in all, it's a damn good music system. The sound is great, it's small enough to move around to different rooms (if you don't have the funds to buy one for every room in your place), and it's easy to control. Did I mention that you can have different tunes playing in different rooms? With all the music you've stored up over the years, accessing your library from anywhere in your home is a pretty sweet deal.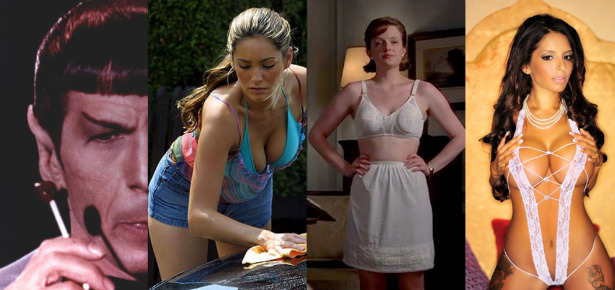 Star Trek off-camera photos (Dave & Thomas)
Tehmeena Afzal is unquestionably fit and sexy (MankindUnplugged)
The 20 hottest celebrity bikini car wash photos (Sub5Zero)
The evolution of Mad Men's Peggy Olson (Nerve)
15 players who've had their fantasy stock drop during the preseason (Rotoworld)
That fat Indonesian baby finally stopped smoking (CNN)
15 badass TV credit sequences from the 70s (Kold Cast TV)
10 Mistakes That Start-Up Entrepreneurs Make (Wall Street Journal)
The first 6 things a girl notices in a guy (Leftos)
10 teams Hard Knocks was made for (Gunaxin Sports)
How Frank McCourt plunged the Dodgers into serious debt (LA Times)
Michael Silver's NFL owner rankings Part 1 (Yahoo! Sports)
Michael Silver's NFL owner rankings Part 2 (Yahoo! Sports)
5 fantasy football predictions for 2010 (AskMen)
10 famous dudes with only one ball (Asylum)
Video of some dumb crazy bitch throwing puppies into a river (Buzzfeed)
How to make hot homemade Sriracha! (Food52)
Ultra-disturbing video of Yoko Ono bustin' out a fake orgasm on the mic at MoMA (YouTube)
6 celebrities who got their fake boobies removed (The Frisky)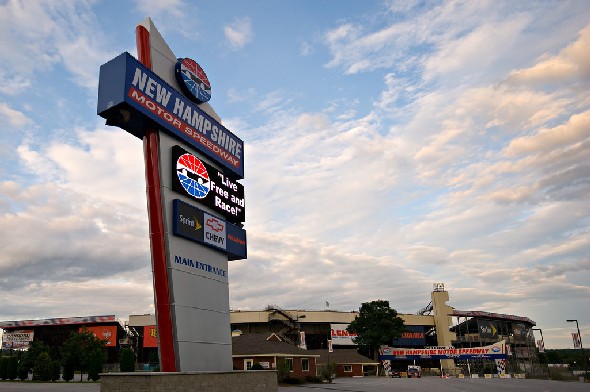 The SYLVANIA 300 is a NASCAR Sprint Cup Series race that's held every year at the New Hampshire Motor Speedway in Loudon, New Hampshire. This year's SYLANIA 300 will take place on Sunday, September 19th. If you've ever wanted to experience NASCAR in style, lighting leader SYLVANIA is running a contest that you need to check out.
The SYLANIA Ultimate VIP Experience contest is a NASCAR lover's dream come true. One lucky fan (and a guest) will get to experience the event in true VIP style. The winner of the contest will arrive at the speedway in a helicopter, tour the NASCAR Sprint Cup garage, attend the drivers' meeting, watch the race from a luxury suite, visit victory lane and receive a gift basket filled with lighting products and race souvenirs.
Anyone who purchases tickets to the race will be entered in the contest automatically, but fans who have not purchased tickets can enter the contest at no cost.
To enter the SYLANIA Ultimate VIP Experience, just visit the New Hampshire Motor Speedway site by September 10 and fill out a quick entry form. The winner will be selected on Monday, September 13.
What the hell is this?  Who the hell is Fred?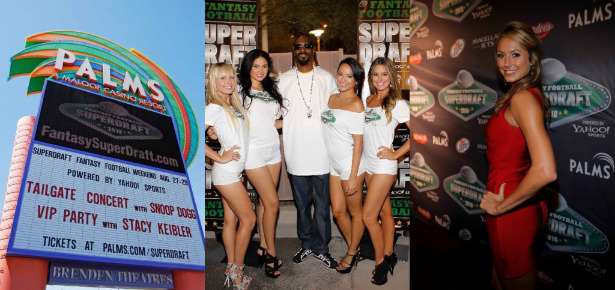 What do you get when you take 2,000 fantasy football nerds, countless beautiful women, tons of football-lovin' celebs, a handful of fantasy experts and put 'em all in the Palms Casino in Vegas? The ultimate fantasy football draft experience, aka Fantasy Football Superdraft 2010.
The MANjr team was more than happy to attend this year's epic fantasy football celebration. We weren't really sure what to expect when we got there, but we were certainly impressed.
The Superdraft was designed to give fantasy football players a more memorable drafting experience. Why make your picks on your laptop at home when you can grab your boys and party it up in Vegas? Saturday was the main draft day. Players who reserved spots were making their picks, consulting with experts and checking out celebs.
Ashton Kutcher, TJ Jefferson and Nathan Zegura (aka The Fantasy Consultant) hosted a live fantasy football show on Friday. Stacy Kiebler hosted a VIP party at the Rain Nightclub inside the Palms. Kiebler knows her stuff too. She's a former Baltimore Ravens cheerleader and diehard Ravens fan who was drafting her squad in the main draft room on Saturday. Shannon Elizabeth had her own Superdraft party at the LAX nightclub at Luxor as well. While Kiebler gets props for being a former cheerleader, Elizabeth gets extra points for sporting a Troy Polamalu jersey on draft day.
Outside of all the celebs, you had throngs of jaw-dropping beautiful girls running around all weekend. Everywhere you turned you'd see babe armies making all the fantasy football heads nervous and happy. Whenever we rounded a corner at the Palms, troops of gorgeous gals (I'm looking at you Miller Lite girls) were marching down the casino floor.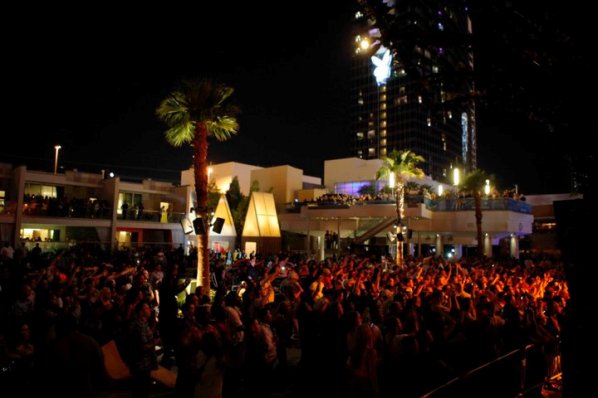 All the draft day action, VIP parties, celebs and eye candy aside, the best part of the weekend by far was the Tailgate Concert that Snoop Dogg put on. What an incredible show. Not like this is news or anything, but that guy Snoop can really rock a crowd. He came out with a bada dada da and the crowd erupted for the "Next Episode." Snoop played all the favorites. He mixed the old with the new:
"Nuthin' But a G Thang"
"Who Am I (What's my Name?)"
"Gin and Juice"
"Drop It Like It's Hot"
"Sensual Seduction"
"I Wanna Rock"
That set would've been amazing by itself, but Snoop showed all kinds of range. He did a "Rock Steady" duet with Fantasia and a cover of "Jump Around." Snoop paid tribute to 2Pac with "Hail Mary" and "2 of Americaz Most Wanted." Everyone in attendance lost it to "Ain't No Fun (If the Homies Can't Have None)" with Kurupt and Warren G both there doing their thing on stage. When Warren G busted out "Regulators," the crowd went nuts.
At one point in the show, Demi Moore got on stage and got all nasty with Snoop while Ashton took photos with his phone. There's something to tweet about, big guy. It's hard to look cool when your hot wife's getting down with the Doggfather, but Ashton was on the receiving end of some Demi freakin' as well. Damn, that lady's fit.
I don't see how this annual draft bonanza doesn't get bigger every year. It's too smart. The formula works too well. Babes (yea, model search!), clubs, fantasy experts, celebs, good music and a party atmosphere for your imaginary football team selection festivities – I can't think of a better way to kickoff the season.
We all know that Germans are hilarious. They just are. The proof is out there.
Now we have more proof. Watch this clip and try not to laugh. Go ahead: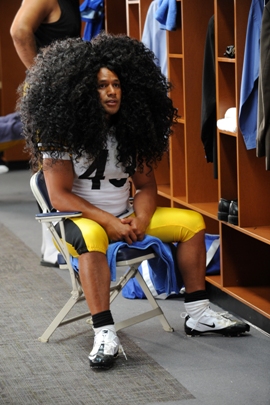 Troy Polamalu is a lot of things. He's a bone-crushing, acrobatic force of nature on the football field. He's a family man, a piano player and a deeply spiritual and soft-spoken dude. He's the key to the Pittsburgh's playoff hopes this season. When he's not covering the entire football field on every defensive snap, he grows flowers, makes furniture and serves as the spokesman for head & shoulders.
It's a brilliant pairing, really. Polamalu's hair has become his trademark. The guy hasn't been to a barber shop in over seven years, so he obviously knows how to take care of that crazy mane.
Well head & shoulders is taking care of Troy's hair, too. Big time. It was announced today that the company has taken out a $1 million insurance policy on Troy's signature hair.
"head & shoulders has gone above and beyond this year by insuring my Samoan locks for a cool $1 million. This reinforces that my full and thick hair is unstoppable," Polamalu said.
Polamalu's hair will be protected throughout the NFL season by Lloyd's of London, one of the most prestigious insurance agencies in the world.
"In developing this unique policy, we recognize that Troy Polamalu's famed head of hair is truly legendary and we are proud to partner with head & shoulders to protect it," said Jonathan Thomas of Watkins Syndicate at Lloyd's of London.
Troy's hair is such a useful marketing tool that it's been given its own website – TroysHair.com. You can visit the interactive site to learn more about Troy's hair (end to end it spans over 100 football fields), Hair Endurance for Men from head & shoulders and possibly win some NFL prizes like a VIP package to Super Bowl XLV.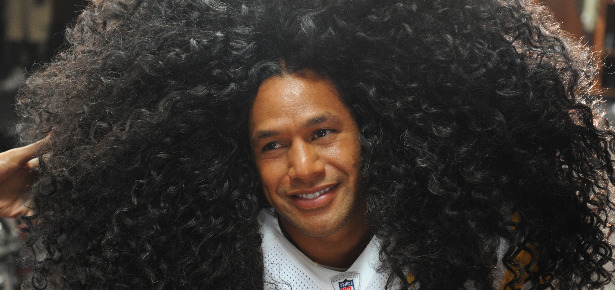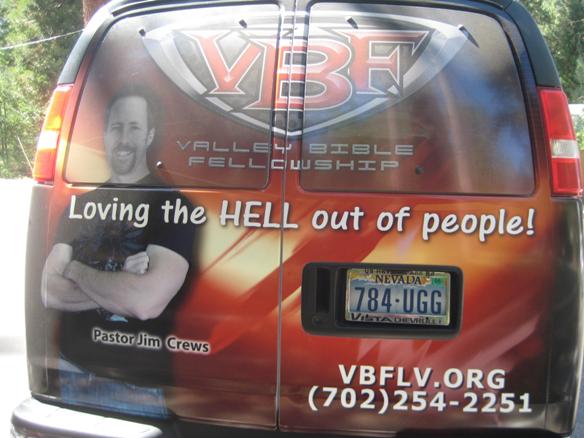 Via: Imgur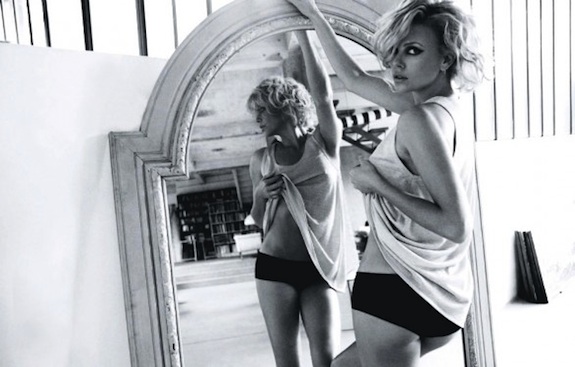 Top 10 Creative Drug Smuggling Operations (The Shark Guys)
7 Totally Ludicrous Subscription Services (Asylum)
9 People You See In Walmart After Midnight (Guysim)
20 Photos of No-Name Hotties (The Chive)
20 Things You Should Think You Know About Tom Cruise (EgoTV)
Charlize Theron in Elle Russa (MTV)
Sex Marathon Tips (AskMen)